Arguably the closest house in Britain to France and the rest of the world! Abbots Cliff House offers a new level of wow factor; with one of the most incredible views to behold, regal grandeur and sheer decadence from a modern day renovation retaining all the original period features and high ceilings, magnificent stair case, light filled rooms with floor to ceiling windows. On arrival guests are welcomed through into a grand hallway, which provides a taste of what is yet to come in all aspects of this luxurious stately villa. The ample rooms and stunning aspect make the house ideal for a special occasion and gatherings. The property has a state of the art kitchen with breakfast table; stunning views beyond the decked patio through bi-folding doors that brings the outdoors in. The Master suite is where you will find possibly the best seat in the house, although there are many with the most amazing views to France. Should you be able to pull yourself away from the house that has it all, with only the white picket fencing between you and glorious cliff walks leading down to the sandy beach, you will be forgiven for stopping by at the local English pub for an afternoon glass of wine or Sunday lunch. Abbots Cliff House is a superb family sized home with ample space, it offers that extra touch of class, perfect for those who enjoy staggering hill top heights and feel truly on top of the world!
Abbots Cliff House is situated on the most dramatic of cliff top locations in Capel-Le-Ferne, making it arguably one of most beautiful parts in Kent. The house is sandwiched between Dover and Folkestone, you will never be short things to keep you busy including walking the Saxon Shore Way. Popular eateries include Sandbanks at East Cliff by the Warren and Folkestone's award winning restaurant Rock Salt. Those who love a little bit of the seaside can also pick up the catch of the day from the Fish market at the quayside.
Room Type
Entire home/apt
---
Property Type
House
---
Accommodates
10
---
Bedrooms
Capel Le Ferne, Kent, United Kingdom
Double bed in our lean to snug! Different and cosy!
Our lovely elevated double bed in our outdoor snug is a first for everyone! Your be sleeping outside but under cover with warm blankets and use of a open fire! you have also got the space off the conservitery which is just off your room a lovely outside space with open fire and seating. Some nights may be a bit chilly so being warm clothing.
Lovely village with 1 shop just next door and 3 local lovely pubs with food.
Room Type
Private room
---
Property Type
House
---
Accommodates
2
---
Bedrooms
Capel-le-Ferne, United Kingdom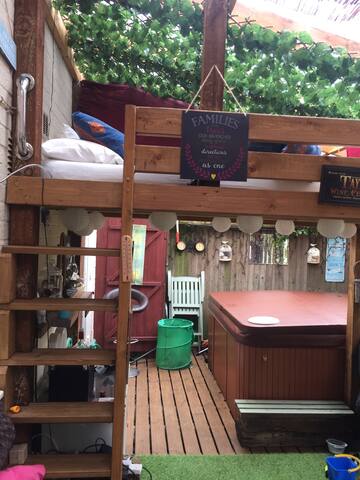 MARCH DISCOUNT £200 for 2 nights PLEASE NOTE THAT 1 NIGHT STAYS ARE ONLY AVAILABLE ON A SHORT NOTICE BASIS (unless winter off peak) AND ARE CHARGED AT £115. THIS IS BECAUSE OF THE WORK INVOLVED. Please check out my website if it makes the cost too high. The Valley Hut Our valley hut sits on a beautiful valley hillside with old meadow grass and wild flowers sleeps 2 adults and 1 child on the floor on an inflatable mattress which we provide.
Valley hut - simply a stunning valley hillside covered in wild flowers and beautiful views of forest. Amazing sunsets. The hut is heated by wood burner, has a gas cooker and hob and 12v fridge run by solar. There is an ensuite with shower and composting loo.
Our farm is set in an Area of Outstanding Natural Beauty and creates a beautiful wild escape but within close proximity of 2 villages.
We had a warm welcome from Hannah and Mark and really couldn't have asked for any more. Staying in the Shepherds Hut was a very unique experience and the surrounding area is beautiful and idyllic. It was a great start to the Easter Weekend with perfect weather too. Elham village is within easy walking distance and Canterbury a short drive away. Highly recommend this to everyone and definitely include the breakfast pack for a tasty start to the day.
Will
2016-03-26T00:00:00Z
We had a fantastic time staying at the sheperd's hut, a little gem! It's the perfect place to retreat to for a few days. Hannah and Mark were very welcoming and helpful. The area is perfect for nice walks! Would definitely recommend!
Carolin
2016-09-09T00:00:00Z
What a fantastic break. The hut itself exceeded our expectations and had everything we could need. The shower was really good which was a nice surprise. The location is fantastic, in a beautiful spot with nobody else around. The hut was immaculately decorated and all the bed extremely comfy. We utilised the bbq both nights and the oven for breakfast on Saturday, and both were excellent. Hannah was a great host. She welcomed us on arrival and gave good advice about where to visit. It was a wonderful stay and we will. Definitely be back. Highly recommended
Mark
2016-09-05T00:00:00Z
An amazing escape from the fast pace environment of London. You definitely have the relaxing-rustic life you wish to experience with tiny fireplace and BBQ meat. Stunning view and friendly owners ! I will go back for sure :)
Leonardo
2016-06-11T00:00:00Z
Wow, my only regret about staying here was not staying more than one night! The hut itself is well designed, well equipped and immaculate. The location itself is breathtaking, perfectly quiet and private, perfect for a relaxing escape! Sitting around the campfire at night was the icing on the cake. Hannah popping up to say hello (in the pouring rain) was a lovely added touch and we would definitely stay here again.
grace
2016-06-16T00:00:00Z
An absolutely lovely stay that was just the welcome break that we are after. The hut's position is simply magical in the evening and morning light and we had two very special days with our 6 month old. For us being tucked away from it all was exactly what we were after and the hut had everything that we needed for a truly comfortable stay. We could not have had a more relaxing break, a real little gem and we would go back in a heart-beat. When you need a break from it all and some time to zone back in on what's important, I would suggest you come here. Thank you Hannah
Kirstyn
2016-09-02T00:00:00Z
I've been to a lot of Airbnb's around the world. This has to be the best. A really unique find and something that is a rare quality in this day and age was that it was really peaceful and tranquil. Will definitely be back!
Jamie
2016-07-25T00:00:00Z
Hannah made us feel very welcome. It was a lovely spot, just like the pictures, with great views over the valley. We did a great walk into Elham and around Elham valley through lots of beautiful wheat fields and with three pubs in the village were spoilt for choice! We highly recommend!
O
2016-07-18T00:00:00Z
Room Type
Entire home/apt
---
Property Type
Hut
---
Accommodates
2
---
Bedrooms
Elham, England, United Kingdom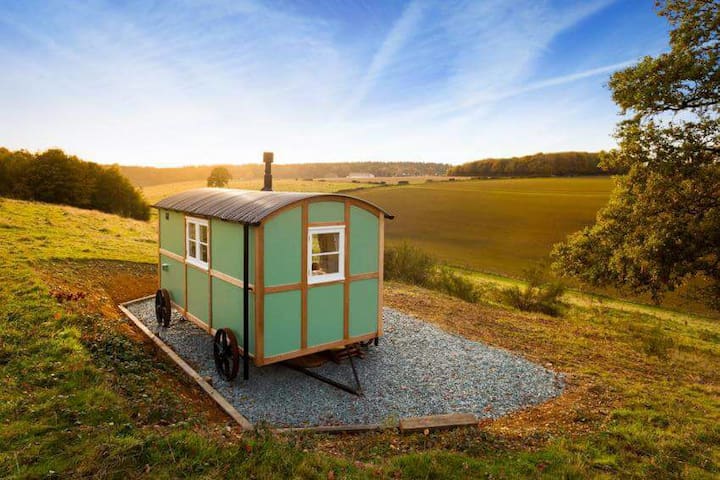 Grade 2 listed renovated farmhouse set in 5 acres of gardens. Fully modernised own room and bathroom in self contained wing. Elham is a village 20 mins from Canterbury 10 mins from tunnel 30 from Dover. North Downs AONB. 2 pubs and restaurant. Additional room for extra guests.
Secluded farmhouse in large gardens offers comfort and tranquility close to the major hubs of Dover Folkestone Canterbury and the Channel tunnel. This listed building has been modernised but retains original features ancient oak beams inglenook fireplace and comfortable spacious guest wing.
We live on a secluded farm in The North Downs AONB . The village of Elham has two pubs and a restaurant , and the surrounding villages provide similar amenities. If you enjoy the open countryside you will adore this beautiful place- if you want for city life Canterbury with the cathedral , mediaeval city walls ,shops and busy nightlife is 20 minutes away. The channel tunnel is nearby making this a perfect place to stop over for an early crossing .
We had a short but very great stay at Mark's house. The house is gorgeous, comfy. The bedrooms are roomy, and cosy. Large private bathroom too. The place is very quiet and peaceful. Due to our late arrival we have just meet Mark quickly. He has made his best to arrange our short stay in a remarkable manner. Thanks !
priscille
2015-11-20T00:00:00Z
Mark is a great host, friendly, welcoming and helpful but stays in the background if you prefer privacy. The house is wonderful inside, spacious and tastefully furnished and the private wing is huge - so is the bedroom and the bed which was very comfortable. Everything was spotlessly clean and uncluttered and more like a boutique hotel. Mark made us breakfast (huge kitchen) which we ate al fresco in the courtyard and we enjoyed chatting with him. Anyone who is keen on gardens and plants will find him most knowledgeable and his huge garden very pleasant to wander round. There's also a lovely summerhouse with couch you can relax in. The house is secluded and approached through beautiful woodland - not much phone reception but Mark has WiFi. We only stayed one night but felt very comfortable and would highly recommend this place.
Carol
2015-08-09T00:00:00Z
Doug and I had a wonderful time at Mark's beautiful home. The room was perfect for what we needed. Elham is a lovely place for a quiet get away. Thank you Mark for your hospitality, freshly made bread and your informative chats.
Andrea
2016-06-01T00:00:00Z
Mark's house is lovely. An idyllic location high on a hill with lovely views from the bedroom across a stunning, garden which winds and stretches round beautiful flower beds. We found a perfect spot by a sitooterie to sit and watch the sun go down. Mark was very friendly and welcoming and got up early on the sunday to give us breakfast and see us off - much appreciated. We had no trouble finding it but he always replied promptly by text anyway. Would highly recommend.
Kate
2015-08-02T00:00:00Z
This is a fantastic Airbnb. The house and grounds are truly beautiful and you could not ask did a nicer, more accommodating host. Elham is a lovely Kentish village with great pubs and Mark can advise you on other great village pubs. If you are considering staying here do yourself a favour and book right away. I'm sure it will soon become very difficult to get a reservation as the word spreads about how wonderful this house and host are.
cynthia
2016-08-24T00:00:00Z
We very much enjoyed our two night stay with Mark in the upstairs wing of his beautiful farmhouse. It was the perfect setting for us – a short drive from Canterbury – our main destination. Mark was the perfect host, baking bread and grinding coffee for our breakfast which we enjoyed in the beautiful sunny kitchen whilst his daughter played piano in the background. We had some interesting chats with Mark – he was as interested in our lives as we were in his (I think we even got him into football a bit!) - and he recommended a couple of good restaurants / pubs nearby that we visited and loved. We had such a lovely relaxing time here, thanks to Mark and his hospitality, and would highly recommend anybody visiting this area to book a room with Mark. We were sad to leave.
Laura
2016-05-03T00:00:00Z
We had a fantastic night's stay at Mark's enroute to the Channel Tunnel. The host family was really welcoming and made us feel quickly at home. The farmhouse is beautiful and the rooms are bright, airy, spacious and comfortable. The grounds around the house are amazing and we had a great walk before settling down for the night. The house is really convenient for the local beaches and for the Tunnel. Would defiantly stay again.
Nicola
2015-08-08T00:00:00Z
I wholeheartedly recommend this place. It's as beautiful as shown on the pictures. The very kind and charming Mark prepared us a lovely dinner with one of his exquisite wines. The freshly made bread was delicious. I am already longing to return some day!
Katja
2016-10-16T00:00:00Z
Room Type
Private room
---
Property Type
House
---
Accommodates
4
---
Bedrooms
Elham, Kent, United Kingdom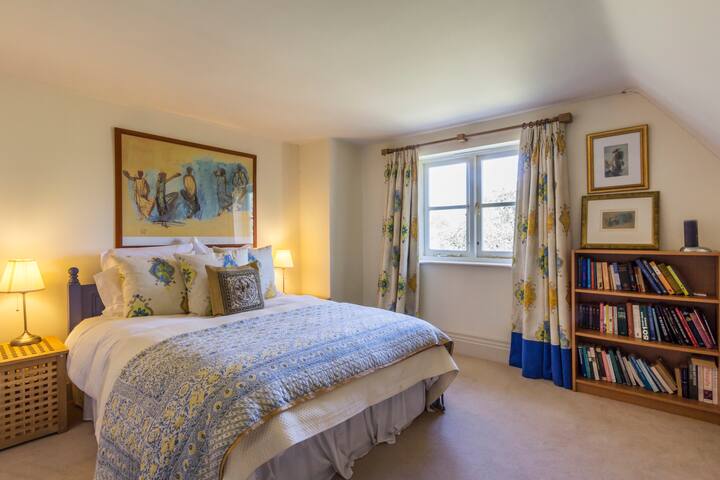 MARCH DISCOUNT £200 for 2 nights PLEASE NOTE THAT 1 NIGHT STAYS ARE ONLY AVAILABLE ON A SHORT NOTICE BASIS (unless winter off peak) AND ARE CHARGED AT £115. THIS IS BECAUSE OF THE WORK INVOLVED. Please check out my website if it makes the cost too high. The Woodland Hut Our woodland shepherds hut sits in a sunny glade among woodland flowers.The hut sleeps 2 adults and 2 young children under the bed on self inflating mattresses. Please bring children's bedding
The woodland shepherds hut sits in a beautiful sheltered sunny glade in 10acres of ancient woodland. Once the site of a manor house owned by St Radigund's Monastery. The woodland has a beautiful peaceful tranquil energy about it. There is a sea of bluebells during April/May time and there are orchids, primroses, wood anemones. Children can run free and climb trees.
Our farm is set in an Area of Outstanding Natural Beauty and creates a beautiful wild escape but within close proximity of 2 villages.
What an amazing find... From the moment I walk to the top of the hill to the hut all the stress had left my body. Once inside I was amazed by the quality and eye for detail that Hannah has achieved in such a small amount of space. There was nothing we needed for and the information book came in hand for all the bits of information we needed. The location in the woods was so beautify and peaceful. It was a tight squeeze with my two children and a dog, but that made it even more fun. The fire never stopped thanks to the endless supply of logs and the rope swings in the trees proved a massive hit with the children.
Dean
2016-07-31T00:00:00Z
All was great . Thank you very very much.
Victoria
2016-04-12T00:00:00Z
Amazing secluded cosy hut, which was just perfect. Set in a little clearing in trees, in your own field, I loved it here. Hut really warm with the real log burner going. All cooking stuff provided, and fresh milk and bread and even an Easter cupcake ! Comfy good sized bed and great having an ensuite composting toilet. Def would come back but stay longer next time. Thanks for welcoming us on your beautiful farm x
Mary
2016-03-31T00:00:00Z
The location is beautiful, the hut is simply breathtaking the host left us a little milk and there is tea and coffee, we also were left beautiful unpasturised milk and break and a little breakfast cereal, this location is simply truly outstanding. The weekend we visited the bluebells were in bloom in the woods all around the hut. I will certainly check availability next time i'm looking for accommodation in this area.
Julie
2016-04-17T00:00:00Z
The shepherd's hut was perfect for our weekend escape. Hannah and Mark were very welcoming, making sure we had everything we needed and their attention to detail was fantastic. The hut itself is beautifully finished and well fitted out. It is very well designed so that you have everything you need and still plenty of space, despite the small square footage of the hut. There are plenty of walks to the nearby villages and the setting was very relaxing. We ordered a BBQ pack and breakfast bakery pack from Hannah and both were great value. The BBQ pack was particularly good. We also really enjoyed the fresh, local produce such as milk and bread, provided in the hut. We really enjoyed our stay and would definitely recommend this to those looking to get away from it all but still have your creature comforts!
Gemma
2016-07-11T00:00:00Z
Une belle expérience que cette roulotte dans les bois, calme assuré à 100%, les balançoires sont un bon point pour les enfants. Attention toute-fois à la taille du couchage pour les enfants réservé aux petits. Tout est à disposition notamment le bois pour le chauffage au poêle sympa pour cette expérience dépaysante.
Sébastien
2016-04-08T00:00:00Z
Room Type
Entire home/apt
---
Property Type
Other
---
Accommodates
4
---
Bedrooms
Elham, United Kingdom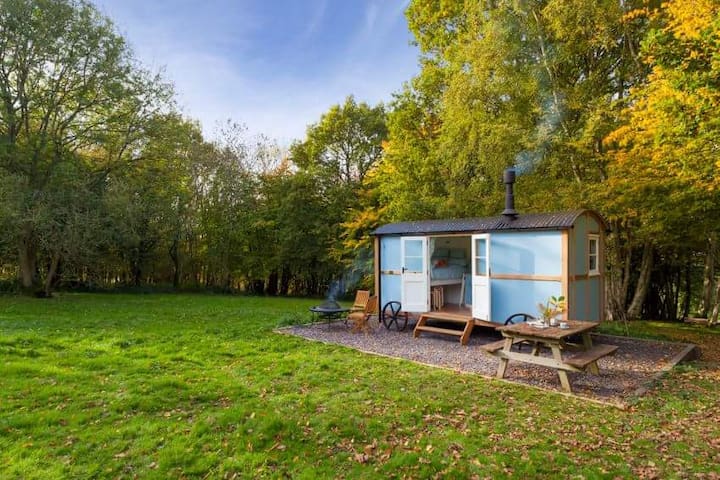 Situated in pretty Village South of Canterbury. Elham has three pubs a shop, tea room and hairdresser. The Cottage is quiet and peaceful. Large room with kingsize bed, TV, kettle etc. Private bathroom with bath and shower. Breakfast included.
The bedroom is spacious with a window overlooking the village green. TV, radio, tea and coffee in bedroom. Towels provided. Full English or continental breakfast served in the dining room or in the garden on the terrace is included. A pleasant garden is secluded and guests are welcome to relax in, if weather permits.
Elham is an historic quiet country village with a village square, three pubs and an old English Church. It is conveniently situated very near to the Dover Ferry crossing and the Euro Tunnel.
Jenny and Laurie made us feel very welcome.We greatly enjoyed our stay with them in their delightful cottage. Our room and bathroom were lovely and beautifully warm even though it was freezing outside. The bed was very comfortable.We appreciated the excellent cooked breakfasts and enjoyed their friendly conversations. We had good meals in the pub walking distance away.
Penny
2017-01-28T00:00:00Z
Very hospitable hosts in a lovely home and super village with an excellent local pub supper too. Highly rrecomme
Peter
2017-04-01T00:00:00Z
Superb all round, a really friendly and helpful couple. Pretty room, luxurious bathroom and very quiet location. Delicious breakfast as well. Many thanks for a lovely 3 days.
L
2016-06-07T00:00:00Z
Jenny and Laurie were perfect hosts and it was the perfect start to our holiday
Stephen
2016-08-08T00:00:00Z
Quiet room in a storybook setting village. Friendly village and pubs with good walks available. Close to Canterbury, yet complete rural Kent experience. The bedroom was gorgeous, bigger than expected,very tastefully decorated with a big comfy bed. The bathroom was also very private with modern facilities. Both the bedroom and bathroom felt very private and noise free. Jenny was an excellent host who made us feel welcome the whole time. An exceptional experience.
Jillian
2016-07-15T00:00:00Z
Jenny and her Husband were lovely and welcoming, especially given we were two hot and sweaty cyclists. Their bungalow is beautiful and the room and bathroom are gorgeous. Great pub in the village for tea. Absolutely great stay.
Minna
2016-07-25T00:00:00Z
Highly recommend
Natalie
2017-01-29T00:00:00Z
Jenny and Laurie were very welcoming and hospitable;we enjoyed tea and cake on arrival and they were able to give us information about local places today. The bedroom and bathroom were very comfortable and we enjoyed having outside on the patio in their beautiful garden.
vivien
2016-07-23T00:00:00Z
Room Type
Private room
---
Property Type
Bed & Breakfast
---
Accommodates
2
---
Bedrooms
Elham, United Kingdom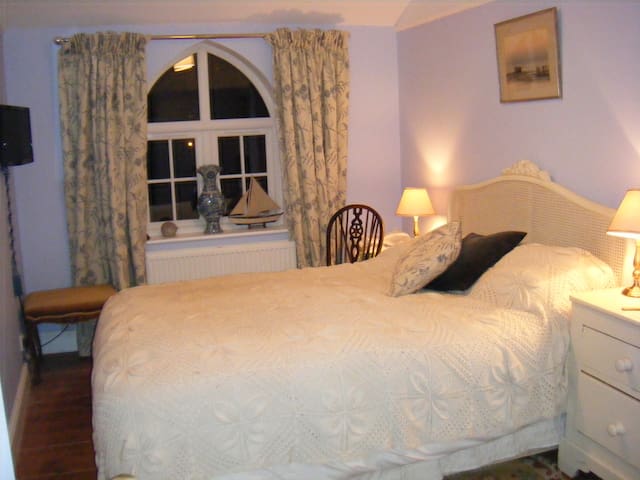 Our small cottage is situated in the lovely village of Elham, surrounded by beautiful countryside. The village was awarded Kent village of the year 2011/2012. On offer we have a small but cosy bedroom which has a Day Bed, which can be used as a double or single, depending on requirements. From our own experience, and that of former guests and family that have stayed, it is very comfortable. Our accommodation includes our main bedroom, a lounge/dining room, a small kitchen (with bathroom off) and a large conservatory with a modern and efficient wood burner...great in those winter months. We have an open fire in the lounge and central heating. There is a large back garden with a raised platform at the rear, giving lovely views out over the countryside. There are also views to the front over the village and the church spire. The village is located in the middle of a triangle formed by Canterbury (11m), Folkestone (9m) and Ashford (15m); these all have frequent train services to London and elsewhere, including the now well established High Speed Rail link. The nearest station is at Sandling (5.5m), the high-speed train taking only 60 minutes to London St. Pancras and Elham is on the Canterbury/Folkestone bus route, with an hourly service. If you fancy a trip across to France then the ferry at Dover is about half an hour's drive and the Channel Tunnel terminal is only about fifteen minutes away. Our village is picturesque and friendly and boasts two pubs, a restaurant in a beautiful period building steeped in history, a tea room and a village shop...not bad these days! We are in an Area of Outstanding Natural Beauty and there are lovely walks all around through rolling countryside and woodland. So if you like a good walk, you are in the right place. We also offer male/female bikes for anyone interested. There is plenty to do in the area...including Dover Castle, Canterbury Cathedral, the new Turner Contemporary Gallery at Margate, Howletts Zoo Park and Port Lympne Wildlife Park (all are major attractions in Kent). We are 15 minutes from the coast, with some lovely fish restaurants, walks and beaches. We can provide an evening meal if you'd like one and we use our own garden produce when in season. Above all, we are warm and friendly; we want you to enjoy your stay with us and look forward to meeting you.
The peace and quiet, the surrounding countryside and views, the ease of acces to nearby towns, our village life and friends, the local pubs for food and drink.
We had an enjoyable and welcoming stay with Steve and Pauline. They provide a comfortable bed and nice breakfast in their charming and very quiet cottage in the lovely village of Elham. The shared bathroom is a bit a of a trek downstairs but is fully functional. A good base for exploring the beautiful surrounding Kent countryside. RECOMMENDED:) Jeff and Jacqui - Bath UK
Keisha
2014-02-20T00:00:00Z
I liked this airbnb so much I came back the following week. Hosts are very friendly and welcoming. On sunny days breakfast on the deck overlooking fields on one side and the village church in the distance on the other were perfect. Location is peaceful. Great view from the bedroom window. Elham is a wonderful village. Public footpaths through the Elham Valley. Canterbury a very easy drive for a daytrip. National Trust properties nearby include the White Cliffs of Dover and South Foreland Lighthouse. Sissinghurst Castle with its famous White Garden, Batemans (home of Rudyard Kipling) and Bodiam Castle a little further afield via pretty country roads. Highly recommended.
Neil
2014-07-20T00:00:00Z
Had a lovely time staying with Steve and Pauline. The hosts were extremely accommodating and ensured my stay was comfortable - always a cup of tea at the ready! A quaint house in a very scenic village. I will definitely ensure to pop in if I am ever back in the area. Jason
Jason
2016-04-30T00:00:00Z
Stephen and Pauline made me most welcome, and as we had much in common I felt very at home, and thoroughly recommend their lovely house. The village and area are pretty, and there is a good choice of places to eat within five minutes' walk. I 'd love to spend more time there.
Mary
2014-08-31T00:00:00Z
We passed some nice days in the Pauline and Steve's house. Indeed, they have a small beautiful house. Elham is a calm and typical village. Pauline and Steve are welcoming and great people. We spoke english with them and they were patient in spite of our difficulties. So we recommend Pauline and Steve to pass great hollidays.
Fabienne
2013-05-14T00:00:00Z
We were welcomed in Elham with a nice pot of tea and some friendly conversation. After this, we browsed the room, the village and the countryside. The BnB was everh bit what we expected it to be, cosey, clean, and well-outillated. The tenants were warm and welcoming. We highly rcommend this BnB to everyone.
Marianne
2014-10-28T00:00:00Z
Stephen couldn't have been more accommodating. I was visiting for a wedding in the area and he made my stay very easy and enjoyable. I had a good breakfast in the morning and enjoyed chatting with both Stephen and Pauline. A lovely place to stay.
Gemma
2014-04-27T00:00:00Z
Stephen and Pauline made us feel extremely welcome.
Lizzie & Tim
2016-08-16T00:00:00Z
Room Type
Private room
---
Property Type
House
---
Accommodates
2
---
Bedrooms
Elham, Kent, United Kingdom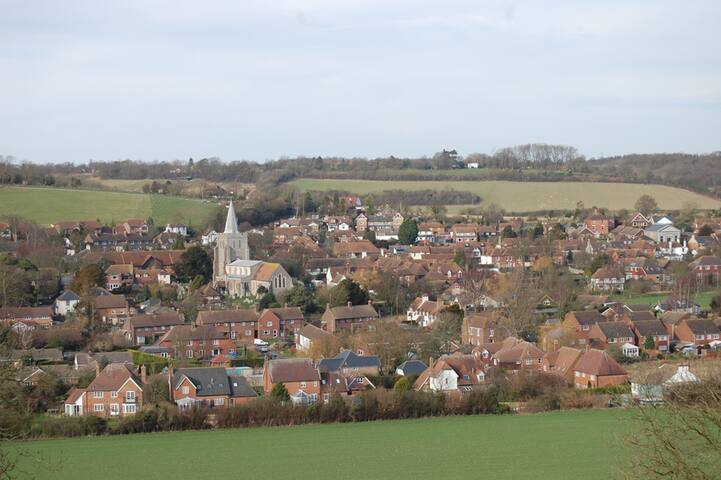 A beautifully decorated flat with original wooden flooring & new kitchen, just a 10 minute stroll from the beach, harbour, town centre, Creative Quarter & station. A 54 minute train ride from St Pancras, and relax into the Folkestone pace of life!
Wake up to the sound of seagulls, pop your trainers on and head down for a run along the beach! This little flat is newly decorated, with brand new carpets, new kitchen and new bathroom. It has been lovingly restored by its owners. The flat is arranged over 2 floors. The bathroom is at the top of the first landing, followed by the first bedroom and the open plan living area. The lounge has a big window seat which has a custom made cushion and enough scatter cushions to ensure a comfortable place to read a book or lie in the morning sun. The stairs from the living area lead up to the top floor, where there is a landing with a bookshelf and two further bedrooms. One is the smaller one which you can see in the photos - it has two single beds. The other is a larger double bedroom with a double bed. There is no patio or garden area - you don't need it when the beach is less than 10 minute walk away! All in all, a cosy and beautifully restored flat in a great location in Folkestone. There is no garden but all the walks, shops and restaurants of Folkestone are less than 10 minutes walk away.
Wake up to the sound of seagulls, pop your trainers on and head down for a run along the beach! Explore the Leas, two and a half miles of magnesian limestone cliffs or enjoy a bird observatory, viewing screens and wetland habitats at Whitburn Coastal Park. Walk or run along the finishing stretch of the world famous Great North Run or cycle the 10.5 miles that make up the two rivers cycle way. Explore The Creative Quarter - comprising The Old High Street, a winding cobbled lane lined with independent shops, and Tontine Street, a busy thoroughfare linking Folkestone Harbour with the centre of the town. Or for the more adventurous, enjoy a SUP session at Sunny Sands Beach. Buy some scallops on the way home and cook up a delicious seafood lunch, and then relax in front of the Calor Heater and snuggle up with a book. The flat is located in central Folkestone - so please don't expect a country retreat! This flat is perfectly located for exploring Folkestone and its many attractions by foot. It is located less than a 10 minute walk from everywhere in Folkestone - the harbour, the beach, Creative Quarter, leisure centre with swimming pool, yoga studios, beachfront, The Leas, Folkestone Central Station, the shopping centre AND the gorgeous restaurants of Folkestone.
The overall experience was pleasant. The location was fantastic with lots of things to do and see! We believe that the only downfall was the cleanliness of the apartment, with work tops being dusty and fixtures not being attached properly. Overall, a great stay and we would stay here again!
Joe
2016-08-13T00:00:00Z
This was such a lovely place - clearly all very new, and a few things still to be bought or sorted out but totally minimal and I look forward to staying again. The location is spot on, if you want to come down on the train from London. Walking distance to everywhere, with the Creative Quarter on your doorstep.
Gail
2016-05-23T00:00:00Z
ras
radha
2016-10-22T00:00:00Z
We had a very pleasant few days in Folkestone and the flat was a great base for visiting the town and the area around. The flat had plenty of space for the 3 of us. Maybe a little more attention to detail and a few more home comforts would improve it - a curtain in the living room, a few more plates and bowls, a mirror in the bedroom - and there were a few bits that looked like it was still a work in progress, however it was good value for money and in a very convenient location ( all be it on quite a busy road). Nic responded to emails very promptly and the process for getting the key was very efficient and easy. We would recommend it if you want a cost effective base in Folkestone.
Jane
2016-10-24T00:00:00Z
Overall we were reasonably pleased with our stay at this property, however there were a number of things that stood out to this not being a 5 star experience. These were: outside appearance, decorating not 100% finished, light in bathroom fitting was hanging, top bed needs replacing. Location close to old town was great for walking into, lots of restaurants nearby, open lounge/ kitchen area really good - including tv with Netflix and wifi very good.
Annelouise
2016-08-18T00:00:00Z
Lovely stay, nice flat. The location is great and we were able to walk to some great areas!
Allison
2016-06-04T00:00:00Z
This place was exactly what we needed. Perfect stopover to split our drive from NE England to France. We were also able to cook breakfast before we left (local grocery store, Tescos is literally down the street). Enough beds for 6 people (and a 4-month old baby), and easy to find - parking was no issue for 2 American cars. Very affordable! Highly recommend!!
Adrian
2016-11-10T00:00:00Z
A nice flat in a convenient location in Folkstone. Nick was very helpful and friendly. Thank you.
Rupert
2016-08-05T00:00:00Z
Room Type
Entire home/apt
---
Property Type
Apartment
---
Accommodates
6
---
Bedrooms
Folkestone, Kent, United Kingdom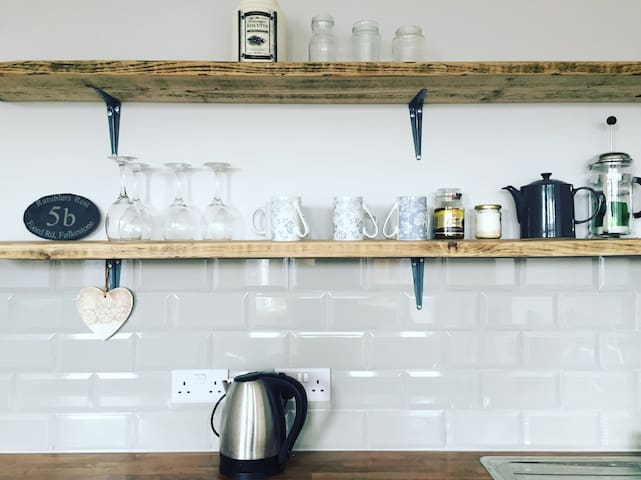 Great accommodation and a massage therapy room, best price in Folkestone. Only 12kms to Dover, 5 min from the vibrant artistic quarter & 5 min to the harbour. Double room with access to kitchen/living room. Guests get 50% off all massage treatments.
Double room at the top floor of a 4 bed house with access to a separate kitchen and living room only shared with one other room. The room is bright and warm. The bathroom was just completely renovated. great if you want to be close to the old town and all that beautiful Folkstone has to offer.
Good location and very comfortable !
Guillaume
2016-09-19T00:00:00Z
We felt very comfortable in this beautiful bedroom (pictures are accurate). Matthew is very friendly and welcomed us in his attractive flat. Even though we had to quit at 04 in the morning, everything was perfect and easy for us. Highly recommended !
Kevin
2016-05-27T00:00:00Z
This was our second visit to Folkestone and our first time staying at Matthew's place. We didn't get to meet Matthew himself, but received a lovely warm welcome from a lady named Denise who showed us around and to our room, explaining the shared facilities. On first impressions, we loved the room. It was clean, bright and airy with a comfy bed and simple yet homely decor. Renovations are mostly complete but there are still a few little touches needed (such as a lock on the shared bathroom door and a mirror in the bedroom) which would make all the difference to a comfortable stay. Overall however we thought it was a great place to stay, very conveniently located for the harbour and Creative Quarter (just a few mins walk), and great value for the price. Would definitely stay here again.
Lizi
2016-06-20T00:00:00Z
Matthew is a really friendly host and the room is lovely. Great to have use of a kitchen and wifi as I was staying there for a few nights. Would definitely recommend.
Charlotte
2016-08-10T00:00:00Z
Matthew was a great host.... easy and prompt communication, very friendly and welcoming... I run into some traffic on the M25 and arrived nearly 40 min late and he was real good about it... Nice bright spacious room with a super cosy bed..... Thanks for making my stay great even if it wasn't for long as I had to shoot off early to catch the ferry to France Will defo return on my future trips to Europe .... :-)
Manuela
2017-04-04T00:00:00Z
A really nice, comfortable and quiet room in a great location. Matt was very welcoming and friendly, and we enjoyed making use of the living room and kitchen. Parts of the house are still being 'done up', but Matt's place is a good budget option for a good place to sleep. Thanks for an enjoyable stay.
John&Helen
2016-05-04T00:00:00Z
Matthew was very accommodating given we arrived very late at night. The room is very basic but is fine if you just want to crash for the night. The bathroom is shared with guests from another room on the same floor. It could do with a latch.
Munny
2016-07-27T00:00:00Z
Matthew was very welcoming and easy to talk to. The room was big and the bed was really comfy. I recommend.
Madeline et Charles
2016-07-14T00:00:00Z
Room Type
Private room
---
Property Type
House
---
Accommodates
2
---
Bedrooms
Folkestone, Kent, United Kingdom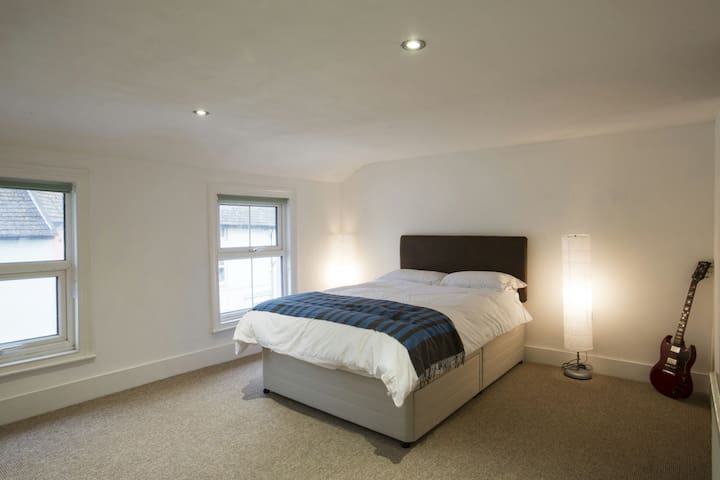 We are offering a lovely spacious ensuite master bedroom in the heart of Folkestone. Less than half a mile from the Folkestone central station and only a half mile from Folkestone town centre. The room offers a king sized bed, large tv with an Apple TV box and a hot drinks station. You will also be able to access the large newly renovated kitchen.
We're offering a newly renovated master bedroom with ensuite in a 3rd floor floor flat, in the heart of Folkestone. Complete with a King sized bed and ensuite bathroom. We have two single beds that we can put in the room to increase flexibility. Should you either need separate beds or more sleeping space. The apartment is within half a mile of Folkestone Central Station and the town centre with a wide range of shops, restaurants and supermarkets including a large ASDA and Sainsbury's. Its also a short walk to a local Co-op or Tesco metro depending what direction you take. The town also has a Lidl, Large Tesco and Morrisons but this may be a longer walk, drive away or a public transport option. Your room will have a hot drinks station and a large TV.
A helpful and friendly host. A big room very new renovated and clean. We recommend to stay with Jack.
Christiane
2017-04-10T00:00:00Z
Brilliant place very well set out with all the amenities and really comfortable. Jack is a great host we'll be back I'm sure. Strongly recommended.
Matt
2017-04-05T00:00:00Z
Everything perfect. Jack even left us the breakfast. Very kind
Pio
2017-04-07T00:00:00Z
The room was as advertised, very spacious & clean. The location was perfect too. In the midst of town centre and easy to go around. We absolutely loved our stay here.
Shabnam
2017-04-03T00:00:00Z
Das Zimmer ist sehr groß und gut ausgestattet. Das Bad direkt daran ist modern. Hier hat man ausreichend Privatsphäre.
Elena
2017-03-19T00:00:00Z
Room Type
Private room
---
Property Type
Apartment
---
Accommodates
4
---
Bedrooms
Folkestone, England, United Kingdom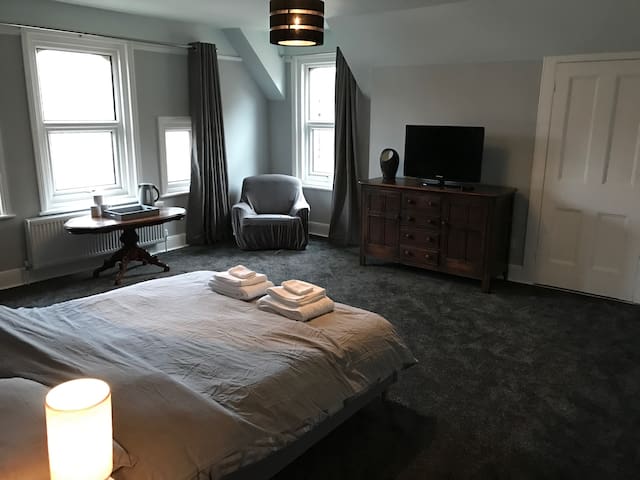 Come and stay at this beautiful, modern, very comfortable seaside apartment. Great location in the heart of Folkestone and the perfect place for friends, couples, families with small children, families with grown up kids, or the perfect place for some me time with me myself and I.
With 2 double bedrooms, fully equipped large kitchen with eating area, large dining area for 6 people and huge sitting room with double balcony outside. The bathroom boasts a extra large tub and power shower. The apartment is open, light and massive with a modern minimalist feel. There will always be a pint of milk in the fridge and something nice for breakfast to eat....
With so much to do you certainly won't get bored in Folkestone, with restaurants, bars, gallery's and the newly opened harbour arm there's always something to see and do. Beautiful costal walks a great park for little ones, Sandgate is down the road with loads of antique shops, there's a cinema and The Old High Street to explore.... Please note: building work is currently commencing outside the flat on the other side of the road so beach access is restricted to further down the road. Parking: parking is pay and display from April 1st-30th September. £6 for 5hrs max right outside the flat. The car park at the end of the road charges £5 for 24hrs.
Sophie flat was very beautifully presented, clean and an ideal base for exploring the area. Sophie was very helpful in arranging to let us in and letting us know how everything worked. We throughly enjoyed our stay.
James
2016-11-09T00:00:00Z
Everything about this place is perfect. A lovely view, the interiors are beautifully done. The welcome and communication was really sweet. I very wonderful home, thanks for having us!
Will
2016-12-11T00:00:00Z
Sophie was a great host. Really quick at getting back to messages. The flat is very comfortable and spacious and nice and close to town.
Jonny
2017-03-18T00:00:00Z
Sophie's place is absolutely beautiful. It's carefully and thoughtfully furnished, with lots of sweet details. Sophie is a lovely host, with great communication. Finally, breakfast was delicious! Thank you - we'll definitely be back! :)
Clarissa
2017-04-09T00:00:00Z
The flat is just beautiful, it made us feel like at home. Stunning views over the see. Totally recommend!
julio
2016-11-13T00:00:00Z
Sophie was the perfect host, welcoming us at a time convenient to us, and gave us a good intro and insight into Folkestone. We were blown away by the beauty of the flat, even better than shown in the photos. Fantastic sea view and stunning interior, the whole family could Happily have hung out there for days! Thank you sophie, we hope to come and stay again soon
Louise
2016-10-23T00:00:00Z
We had such a relaxing stay in this beautiful apartment, it felt sooo luxury and stylish, interiors all so well thought out and all little extras covered like coffee and soft drinks. The view is amazing and the location perfect. We will stay again every time we come back!
Clare
2017-04-02T00:00:00Z
Sophie's apartment is beautiful - over-looking the seafront with loads of light and lovely furnishings. Would highly recommend this place for a group (family or friends) visiting Folkestone.
Miranda
2016-11-28T00:00:00Z
Room Type
Entire home/apt
---
Property Type
Apartment
---
Accommodates
4
---
Bedrooms
Folkestone, England, United Kingdom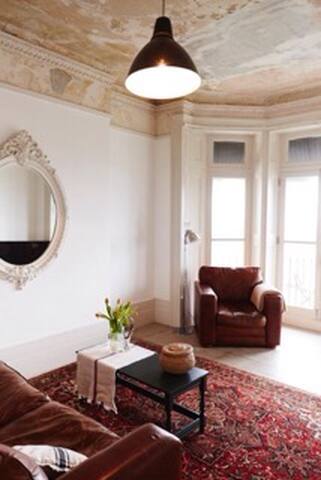 A unique opportunity to share a Grade 2 listed building in a self contained apartment with a glorious garden. This period accommodation, located above the Riviera at Radnor Cliff in Sandgate, has stunning sea views and nearby access to the beach.
The accommodation comprises of an en-suite bedroom with sea views; fully equipped kitchen; open plan lounge/diner with sea views. Access is via the apartment's own front door.
The area is steeped in history; there are sea and country walks; cycle tracks are close by. The property is within easy access of Dover, Folkestone, Sandgate Village , Hythe and the famous Romney Marsh. Visit (URL HIDDEN) and (URL HIDDEN)
Jacqueline and Chris are amazing hosts. From picking us up from the station to giving us lots of tips on the local area, they were so friendly and helpful. Myself and my son felt very looked after and very at home in the apartment which is in a breathtaking location, stunning views and very safe and peaceful.
Sue
2016-10-09T00:00:00Z
Lovely flat, great host. The bed was comfy, the sea-view was amazing, and the welcome was one of the best. The loaf of freshly baked bread was particularly delicious!
Anthony
2017-02-19T00:00:00Z
Jacqueline was helpful in giving us directions to find her home, which was a challenge for us coming from the U.S. and unsure of the logistics. She was a warm, welcoming host with great tips on the local Sandgate-Folkestone Beach Park & Leas area, plus tips on getting to Dover & Canterbury. We thoroughly enjoyed our stay and wished we had more time to enjoy the beach location and getting to know our host a little more. Thoroughly charming.
Patrick
2016-07-03T00:00:00Z
It was a great visit. They helped with making sure we got the best train station and taxi arrangements. They best advice they gave was to head into Folkstone and take in the recently restored 'harbour arm'. We took in the bar, some music, and food from a pop up restaurant there.
Erik
2016-05-09T00:00:00Z
Stunning view, good location and a nice place to stay
carmel
2017-03-18T00:00:00Z
We had a great stay. The welcome pack was everything essential and the views are magic. Watch the moon on the sea. Magic.
Ben
2016-09-14T00:00:00Z
This is a beautiful place! Jacqueline is welcoming , obliging in every way and provides everything you could want. The views are spectacular, the beach is seconds away and there is plenty to do in the area. We were lucky with the weather so the walk into Folkestone was great and it's a splendid town with lots of history.
Doreen
2016-07-10T00:00:00Z
I don't think we have ever been taken such a good care of by Airbnb host. Jacqueline made sure our experience was perfect, from the arrival to the very end of our stay. The apartment is a spacy ground floor on a beautiful house with a garden with three of even four levels. Pleasant stay, thank you very much!
Jussi
2016-10-24T00:00:00Z
Room Type
Entire home/apt
---
Property Type
Apartment
---
Accommodates
2
---
Bedrooms
Folkestone, England, United Kingdom
Lovely welcoming home and garden. Parking on Driveway. Very quiet secluded street, two mins from Folkestone Train station, the M20 Motorway and the Channel Tunnel. Shops, cafe, restaurants and petrol station all within 2 mins walk.
Perfect host, exceptional comfort, cleanliness and great value for money. Beautiful home.would go again.
Anna
2017-04-08T00:00:00Z
Melanie and John were fabulous and very welcoming and warm hosts. We only stayed for a night but they were so helpful and generous. Also their house and garden is beautiful and the little room so cosy and tastefully decorated. Melanie also recommended a nice restaurant only 10min walk away which was great. All in all a perfect stay!
Elisabeth
2017-04-02T00:00:00Z
The first thing you notice is the amazingly clean house. I felt like I was in a 5 star hotel. The bedroom was magnificent, and absolutely spotless. Bed was ridiculously comfortable . The hosts were just fabulous , such great conversations , very accommodating and sociable. The value you get for this place is also amazing , superbly clean home , close to the Chunnel and Dover , with very generous and gracious hosts. I would easily stay here again, and recommend anyone that passes through folkestone to also stay. Gorgeous home and hosts.
Ryan
2017-04-04T00:00:00Z
Room Type
Private room
---
Property Type
House
---
Accommodates
2
---
Bedrooms
Folkestone, England, United Kingdom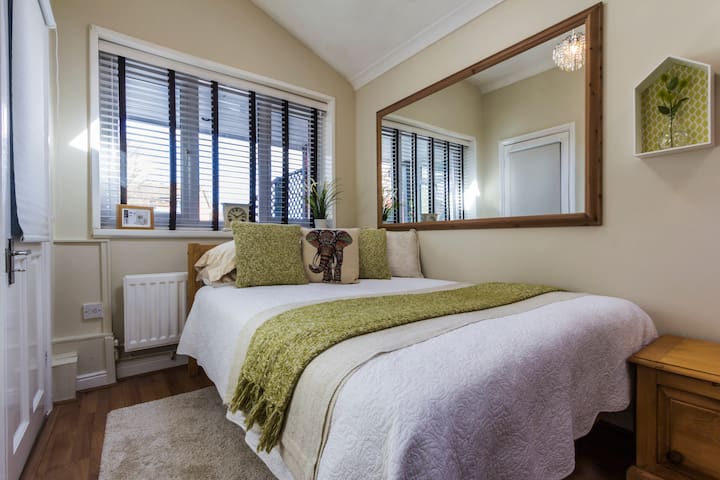 Modern interior with unspoilt original features. Central heating, Retro bath and modern power shower, separate toilet. Fully fitted self catering kitchen. We can accommodate up to 8 people in 3 rooms. Ideal for family or groups of friends. Quiet one way street, two mins from Folkestone central station. Shops and cafe 2 mins. Free street parking or driveway if required. EV car charging. Ten minutes drive from Ashford International.
The rooms are on the first floor of our large Victorian semi. Wardrobe with dressing gowns, Table and chairs, TV. There is the use of a dedicated, newly fitted kitchen, washing machine, dryer. Bathroom with power shower and separate toilet. Our sitting room is also available with TV if requested. Wifi is available throughout.
We are situated on a fairly quiet one way street 2 minutes from Folkestone central station. Café and shop just round the corner. A lively Pub which does food and has a pool table at the end of the road. The town centre is 7 mins away and the harbour is 10mins walk.
We really enjoyed our stay at Rod and Anne's. They were very welcoming upon arrival. Our room was very spacious and clean, along with our own kitchen, and bathroom, which had a fantastic shower. They had stocked the fridge and cabinets with snacks, breakfast food, tea, and coffee. The location was great, 2 minute walk to the train station, 15 minute walk to the town center, and only a 20 minute drive to Dover. Rod and Anne were very helpful and accomodating, I definitely recommend staying here.
Kayla
2017-01-16T00:00:00Z
Really spacious great place to stay. Very convenient for all in folkestonejhhh especially the train. Rod very accommodating. Thanks.
Katie
2017-03-26T00:00:00Z
Clean and very friendly. Spacious. Provided some breakfast and tea. Easy walk to everything!
Keisha
2017-02-05T00:00:00Z
The experience was amazing. We stayed over one night. Rod and Anne were extremely friendly and helpful. We loved the house. They provided us towels, robes and toiletries. Everything was just perfect. They also offered self catering breakfast.
Obeisy
2017-03-19T00:00:00Z
We had a wonderful stay at Rod's beautiful Victorian house. It was very clean and quiet. We have enjoyed the privacy of the separate first floor and having a Kitchen&bathroom an the same floor was great too. It very easy to find the town centre only a few minutes drive away. Perfect B&B! To recommend
Marco
2017-02-12T00:00:00Z
Un sitio perfecto, comodo, climatizado, limpio, cositas para desayunar, etc..
Jose Luis
2017-02-04T00:00:00Z
Room Type
Entire home/apt
---
Property Type
Townhouse
---
Accommodates
8
---
Bedrooms
Folkestone, England, United Kingdom
Ideally placed to access the train and bus services or walk into town and the sea, everywhere can be reached on foot. If you want a break in your journey, the house is only 7 miles from the Dover ferry service and a 10 minute drive to the Eurotunnel.
Garden facing room on entrance level next to family bathroom with double futon, wardrobe, chest of drawers. Sleeps 2 (no additional cost for second person),
Near the home is a well-equipped sports centre and swimming pool, a park, the mainline highspeed connection to London is at the end of the road as well as a bus service to historic Canterbury. The town and seafront are within easy walking distance along with a wide selection of restaurants and shops.
Ann is a very lovely host, hospitable, communicative and open minded. The room was as described. Even Towels were prepared for us. City Center and harbor are in walking distance. We were offered to use the kitchen to serve ourselves for breakfast. All in all very nice stay. Thank you very much dear Ann
Anica
2016-09-10T00:00:00Z
Ann is a very friendly person and a great host, we had such a good time and interesting conversations. Her house is very well located and she easy to reach. It was a real pleasure to stay at her place.
Martina
2016-07-11T00:00:00Z
Ann is a genuinely warm, welcoming and caring host. She was very attentive at settling us in comfortably. Our only complaint was the late night noise from Ann's grown up family when they came back from the pub. It woke us up several times. The sound insulation is not good.
Joanna
2015-10-24T00:00:00Z
Ann's daughter, Emma, made us feel very welcome as soon as we arrived. It was very nice chatting with her and she was great giving us tips on what to visit and where to eat. Ann is very easy going, nice to chat with and very flexible. Room is as pictured in the photo, good size and lots of storage. The house is 5 min walk from Folkestone Central and very close to the centre. Great house, good location and amazing host!
Angela
2015-10-18T00:00:00Z
The house resulted easy. Ann gave us some good tips on where to go around the city, and to have a fantastic breakfast. Quite and centric neighborhood
Irene
2015-09-21T00:00:00Z
Ann was lovely and welcoming and made sure I had everything I needed for my stay. As I was on placement I didn't really get the opportunity to explore Folkestone itself but Ann took me out one evening so I was able to see a bit of the town.
Naomi
2016-10-08T00:00:00Z
My colleague has a good experience at Ann's house - location is great and communication was good throughout. Would stay again. Thank you!
Kaya
2015-10-09T00:00:00Z
Ann was able to accommodate us at very short notice. She gave us a warm welcome to her home and the room was ready and fresh. She allowed us to have a lie in on Sunday morning which was particularly kind, as we were quite exhausted from a long hiking trip. We were also able to leave our bags with her for the day so we could collect them Sunday evening to jump on the train at the nearby station. This made our travel so much easier. Big thank you to Ann!
Astrid
2015-05-17T00:00:00Z
Room Type
Private room
---
Property Type
House
---
Accommodates
2
---
Bedrooms
Folkestone, United Kingdom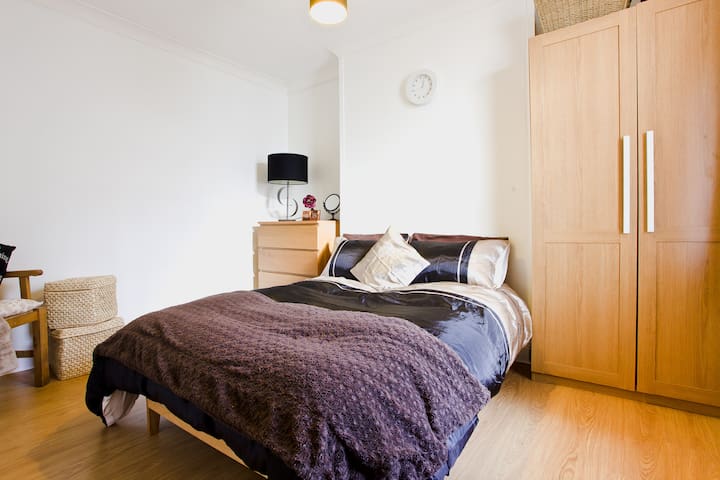 Great ground floor studio in the West End of Folkestone. A couple of minutes walk to "The Leas" and a serious flight of steps to the beach. "The Den" has everything you need for a private getaway. We are normally on hand for chats, local information, laundry etc.
"The Den" as we call it is on the ground floor, contains all your essentials, and is in a quiet building with friendly neighbours. There is an "Elfin" kitchen studio with ceramic hob, fridge and combi microwave cooker. We provide fresh linen, towels and tea making facilities. There is a comfortable double bed.
It is a quiet neighbourhood,with the lovely Grimston Gardens right opposite the Studio. 27 Grimston Avenue is a grand house converted into flats by my Grandfather in the 1950s. "The Den" has been recently updated with a studio kitchen. Everything you need i.e shops, restaurants, cafes, cinema, beach, theatre, hospital, pubs are all within walking distance.
This is a fantastic place to stay. Really big room, good kitchen area. Good wifi. I will always try to stay here when in Folkestone in the future
Patrick
2016-03-23T00:00:00Z
Great host, great place, great experience! The whole process from start to finish was a pleasure: from a very responsive and flexible host, to a lovely and convenient flat! We would definitely highly recommend and use again!
Guillaume
2015-07-05T00:00:00Z
Brenda met me on arrival and let me into the flat. I have been before so new what to expect. All good and little extras like milk and even a few chocolates etc
andy
2016-11-26T00:00:00Z
Lovely, clean studio flat on a beautiful green/square. It's obvious that Mark and Brenda have put a lot of love and care into the accommodation - even supplying tea, coffee and milk! We found the studio perfect for what we needed and would love to stay again if we are in the area. We had everything we needed and felt happy that the hosts were available should we have needed anything else. Lovely couple - thank you for making us so welcome at very short notice.
Richard
2015-06-21T00:00:00Z
Your search for a place in Folkestone stops here. I was fortunate to find Mark and Brenda's studio for a month-long stay. It had everything I needed for the whole visit, and Mark and Brenda went out of their way to make sure it was all perfect. The studio is an entirely separate apartment with its own bathroom and small kitchen. You can also enjoy the back garden. Mark is a jack of all trades and is even building some gym equipment you could use. By the end of my time in Folkestone, I considered Mark and Brenda not my hosts or landlords but my good friends - and isn't that what this whole thing is supposed to be about? 10/10 would stay again.
Joshua
2015-08-07T00:00:00Z
Thank you for a lovely stay for my first visit to Folkestone. Mark and Brenda greeted me on arrival and showed me the flat and how things worked - everything there that I could have needed. Very friendly and helpful. The location is excellent for walks and town.
Elizabeth
2016-05-18T00:00:00Z
Mark and Brenda were incredibly helpful before our arrival, which was great for us as first time Airbnb users! Collecting the keys and making ourselves at home was simple and completely hassle-free. The flat itself was actually more attractive than pictured and had all amenities needed for a comfortable stay. The area is lovely and quiet, with a nice grassed park-type area across the road. We would definitely stay here again, and it's very reasonably priced!
Rebecca
2016-05-26T00:00:00Z
We were very happy with our stay! Especially appreciated were the information about bus and train travel schedules and the makings for tea and coffee before we could get to a grocery store! Thanks so much, Brenda.
Jim
2016-04-28T00:00:00Z
Room Type
Entire home/apt
---
Property Type
Apartment
---
Accommodates
2
---
Bedrooms
Folkestone, Kent, United Kingdom
Enjoy the British Coast with stunning views over Folkestone harbour and the English Channel. This beautiful bungalow nestled on top of a Cliff offers 3 bedrooms all accommodating a double bed, chest of drawers for clothing storage and large mirror. The nautical theme carries through the house leading you to a large kitchen with dining table for 6 and a large lounge that over looks the English Channel. There is so much to do, Folkestone can be walked to or driven to in 5 minutes.
The views from this property are outstanding and very difficult to come by. The history due to the English Channel is endless with Martello towers, Dover castle, Sandgate castle, First World War bunkers to roman canals. and steam trains in hythe and an abundance of sports and water sports some of these include: hang Gliding (capel), dry ski slopes (folkestone), lydden Hill Race track(15 minutes away), Kite surfing (hythe), kayaking(hythe) and many more. This is really an amazing place to be.
Folkestone has a vibrant seafront with the recently developed Harbour having live music and a selection of quirky bars and restaurants with loads to do. click here to view more (URL HIDDEN) Sandgate has a beautiful promenade with multiple restaurants bars and lovely music on offer. Along with a long history Rocksalt (URL HIDDEN) Dover castle (URL HIDDEN) The Warren (URL HIDDEN) Folkestone Quarter House for comedy shows, plays and events. The Romney Marsh (URL HIDDEN) Romeny Steam Train (URL HIDDEN) Folkestone Water sports (URL HIDDEN)
Wonderful, scenic location. Easy drive into Folkstone or Dover.
Neil
2016-09-29T00:00:00Z
Great visit - Jack met us at the place and everything was good to go. It's an excellent location for travelling to Dover, Folkestone and Canterbury and you've got a great view from the property itself. Plenty of space at the house itself and good kitchen if you want to cook.
Tim
2016-08-26T00:00:00Z
amazing place, magical, morning coffee with this view tasted the best in the world, Jack is very nice, polite, and very helpful person, thank you for a wonderful stay.
Monika
2016-09-04T00:00:00Z
Yes, the view is phantastic and we enjoyed it very much. There was plenty of room for us two. But. The toilet and bathroom wasn't cleaned before and the cabinets in the kitchen were also not cleaned up. We had quite warm weather, but there were no chairs outside to sit comfortably. Did I mention that the internet was very unstable ? So there is much room for improvement. The best of this house is the location, really impressive !
Dirk
2016-10-08T00:00:00Z
As a first time user of Airbnb we could not have had a better introduction. Jack was really responsive throughout the booking and our stay and gave us a few ideas for things to do once we have arrived. The place is clean, tidy and decorated to a good modern standard. The views are spectacular and as good as they look in the photos it still doesn't do it justice
Mr
2016-08-17T00:00:00Z
The location of the cottage was stunning and right beside the coastal path to Dover. Everything was as described and more. The decor was attractive and the rooms very comfortable. We would definitely recommend it and look forward to a return visit.
Suzanne
2016-08-03T00:00:00Z
We absolutely loved our time at Jack's place. The house is spacious yet still very cosy and private. The beds are amazingly comfortable and the fireplace kept the house nice and warm but so did the wall heaters. The best thing of all is the view of the English Channel from the sun room!! On a clear night you can see France. We highly recommend Jack's whether you want somewhere you can just chill out or a place ideally located to explore the coastline. We would definitely come back!
Donna & Allan
2016-11-18T00:00:00Z
What an amazing place! The temptation is to just sit outside all day looking at the view. Homely, nicely decorated, excellent appliances ("bionic"panel heater were great for chilly evenings). Just the one loo, which was a bit of a prob for some of the family, but this didn't impact too badly. Would definitely recommend it. The Clifftop Cafe up the road provides similar views if you don't fancy cooking your own. If you don't fancy sliding down from the garden to the footpath (as we did one dark, adventurous evening) you can go back down the drive, do a left or right and rejoin it after houses on either side. Ps. Long way down to get your frisbee, but otherwise a great place to stay. Thanks v much to Jack
Ian
2016-10-25T00:00:00Z
Room Type
Entire home/apt
---
Property Type
House
---
Accommodates
6
---
Bedrooms
Kent, United Kingdom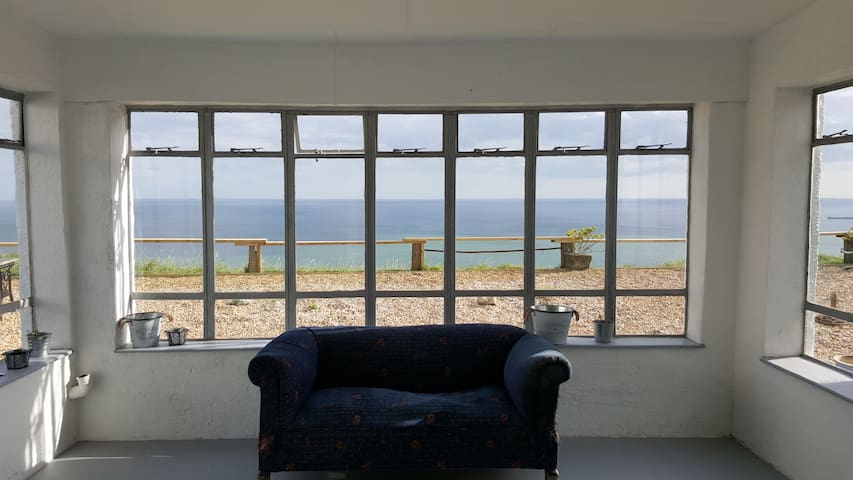 First floor flat in Folkestone Town Centre. Close to bus station and shopping centre. 10 minutes drive to Euro Tunnel and 20 minutes to the Port of Dover. Easy access to the motorway to London. Short walk to the beach, harbour and coastal park.
Town Centre location. Local parking. There is one double bedroom and one single bedroom, comfortably accommodating 3 guests, however we can provide a comfortable camp bed for a 4th guest. A travel cot can be provided for a baby/toddler up to 2 years old. A high chair, changing mat and baby bath is also provided. A welcome pack of breakfast items provided.
Town centre location, easy walking distance to shops, harbour, beach, restaurants and cafes. Bus station close by and taxis on the doorstep! Indian restaurant and new Turkish restaurant minutes away.
Avril and Mike were great hosts, made us most welcome(URL HIDDEN)Attention to detail and cleanliness were excellent. It was a pleasure to stay in their apartment and made a lovely end to our UK trip.
Jennifer
2016-09-09T00:00:00Z
We really enjoyed our stay at Avril and Mike's apartment. We are a small family with two young toddlers and everything about the flat was just homely. There was a cot and high chair for the younger one. Great touch with some toys and books to entertain them. Nice, clean and simple flat with everything we needed for our weekend away. Avril also left us some breakfast items and some treats for the toddlers. The beach was a short walk away and shops and eateries were nearby too. We were provided with parking permits during our stay. Would highly recommend staying here :)
Tazkera
2016-07-10T00:00:00Z
This is a lovely flat with everything you could need for a stay. Everything has been thought of in advance, down to the umbrella and shopping bag by the door. Ideally situated for Folkestone town and the coastal areas of Kent.
monica
2016-06-06T00:00:00Z
We had a wonderful experience for Christmas at Avril's place. The flat was very comfy, warm and cosy. All we needed, or would Have need was here. The linen and towels smells good! Thank you!!
Briou
2016-12-27T00:00:00Z
Good central location
Lara
2016-10-21T00:00:00Z
We had a lovely break at Avril's flat. She provided a mini-shop which we really enjoyed, that was very sweet of her. The flat had everything you need, it was certainly a home away from home. Thanks again. x
Modupe
2016-02-06T00:00:00Z
I had a great time staying in Avril's apartment. I was there on business and stayed two weeks. They went out of the way to welcome and left some nice breakfast goodies in the kitchen. The apartment itself is very comfortable and homely and I had not issues or faults with it. Location is excellent being close to the old part of town. It is also close to shops, restaurants and a short though steep walk down to the harbour. It was lovely walking through the old church grounds at the end of the short street. I would love to stay there again and can certainly recommend it.
Ian and Beryl
2015-11-28T00:00:00Z
We received a warm welcome from Avril upon arrival. Communication was prompt and easy at all times. Everything in the apartment was exactly as described. A very convenient location, clean and comfortable. Fully equipped kitchen (with breakfast supplies), fast WiFi, everything in working order. This is a great location for a longer stay.
Tate
2016-11-07T00:00:00Z
Room Type
Entire home/apt
---
Property Type
Apartment
---
Accommodates
3
---
Bedrooms
Folkestone, Kent, United Kingdom
Enter dates to see full pricing. Additional fees apply. Taxes may be added.