The Studio is your escape pad in the heart of Redfern / Surry Hills. Architecturally designed. Where industrial and urban combine to give a true inner city experience. Surrounded by wonderful parks and amenities. Close to transport. Walk everywhere
The Studio is a self contained space at the rear of my terrace house. Secure, peaceful and private. The Studio has its own private entrance off a wonderful park. Close to some of Sydney's best cafes, bars and restaurants. Guest will have their own ensuite with a simple yet functional kitchenette. Including a washing machine, bar fridge, microwave, toaster and kettle. Guests will have access to a private sunny courtyard shared by the owner of the house adjacent, surrounded by wonderful trees. I live and work from home. I can interact with you as much or as little as you desire. My home office space is well away from The Studio to maintain privacy for your stay. I have a small dog who is super cute, he will welcome you wholeheartedly. He can be isolated from the courtyard incase you're not a 'dog person'. The area of Redfern we are located in is on the border of Surry Hills. A mere 5 minutes walk to Bourke Street Bakery, Gelato Messina and many other local iconic establishments. Redfern is an interesting inner city suburb, with varying elements of urbanity. Our specify location is full of tree lined streets and grand Victorian Era Terrace Houses. Totally charming and relaxed. You will feel like a true local after your stay here, no doubt. Buses and train connections are all within 5 - 15 minutes walk from here. Closest station being Central Station, a relaxed tree lined 15 minute walk away. Bus connections are a 5 minute walk away. From here you can catch a bus into the city or to the beach, which is only a 20 minute bus ride away. Summertime in Sydney is so beautiful, so come and stay, enjoy the local pools, harbour beaches and ocean beaches aplenty everywhere.
The area of Redfern we are located in is on the border of Surry Hills. A mere 5 minutes walk to Bourke Street Bakery, Gelato Messina and many other local iconic establishments. Redfern is an interesting inner city suburb, with varying elements of urbanity. Our specify location is full of tree lined streets and grand Victorian Era Terrace Houses. Totally charming and relaxed. You will feel like a true local after your stay here, no doubt.
Quiet and safe neighbourhood with many nice eateries, supermarket, bus stops and train station located within walking distance. Check-in and check-out were smooth, had an undisturbed stay through out, plus a friendly dog in the house is a bonus! Thanks Daniel!
Grace
2016-07-27T00:00:00Z
Great little place, cool and stylish, immaculately clean. Daniel was a great host, easy to communicate with, very flexible on arrival and departure times. I really enjoyed my stay, it was in a quiet street close to lots of activity, amenities and public transport. I would highly recommend both the place and Daniel as host. Loved it!
Sandi
2015-12-16T00:00:00Z
We enjoyed staying at Daniels place. Really great neighbourhood with lots of nice cafes on Bourke Str. The location is convenient just 15 minutes walk to the Central station. There is no full kitchen, but everything what you need for preparing light breakfast as anyway you will be most of your time enjoying Sydney City. The room is cozy and nicely designed. Daniel was very friendly and helpful with things around. Highly recommended.
Martins
2016-04-21T00:00:00Z
Daniel was a good host. Gave us good directions from central to walk down. Helped with our plans with info on the city and even helped us with umbrellas when it was raining! Having Charlie Brown around was lovely!!
Nikhil
2015-09-28T00:00:00Z
Cosy studio, beautifully designed. Perfect for a weekend trip - quick walk to all Surry Hills has to offer. Daniel was easy to communicate with prior to arrival and left a helpful map of the nearby neighborhood, as well as other maps and info for greater Sydney. Highly recommend!
Ryan
2016-06-20T00:00:00Z
Really enjoyed my stay! Great location that is a safe and easy walkable distance to public transport, good food/shops as well as Surrey Hills area. Daniel was a great host and ensured I knew where everything was in The Studio as well as any info I needed for my stay in Sydney. He provided a bunch of guides and even his own annotated map of the local area that highlights the supermarkets, cafe/restaurants/bakery etc. If worried about insects (May's comments), Daniel has provided insect spray, fly swatter as well as an electronic mosquito repellent (plugged into wall) - window also has a fly screen. I enjoyed the fact it was backed onto a little park (that's where The Studio entrance is!) as well as the greenery that Daniel has in his lovely courtyard. The unique studio was fun to stay at and had the most gorgeous morning light shining through. Don't worry, there are thick curtains, in case you're worried :) Only thing was the neighbours were a bit noisy at night - probably had a gathering which could happen around any neighbourhood. Studio window opens to courtyard so if Daniel is having a meeting and you're 'home' during the day, you'll hear them. However I'm sure he wouldn't mind if you let him know - I didn't mind as I had a little afternoon nap one afternoon :) The fridge was stocked with an assortment of condiments and tea was also provided. Shampoo, conditioner, soap and hand soap in the bathroom. In addition to wifi access, a fan, TV/Netflix, washing machine, a little fold out table and some chairs. Nice space to hang up clothes. Really, everything you need :) Wifi is great as if you are from overseas as (SENSITIVE CONTENTS HIDDEN) maps is linked with the Sydney public transport system so you can use it to help you with which bus/train to take, what time and which stop. Felt totally comfortable and welcome at The Studio by Daniel and his lovely dog. Thank you for hosting me!
em
2016-03-03T00:00:00Z
A great little space in Sydney and Daniel has clearly gone the extra mile to make sure anything you could think of needing has been provided. Also wonderfully flexible for check in and out. Would happily stay again.
Corey
2016-11-28T00:00:00Z
Daniel welcomed us by showing us around the room, providing guides to the local area and a hand drawn map to nearby shops and restaurants. The room was warm, clean and the perfect amount of space for what we needed, although a little smaller than expected. The surrounding area is lovely with Moore Park just across the road and a great cafe just down the road. We loved our time here and would happily book again!
Kimberly
2016-07-11T00:00:00Z
Room Type
Entire home/apt
---
Property Type
House
---
Accommodates
2
---
Bedrooms
Redfern, NSW, Australia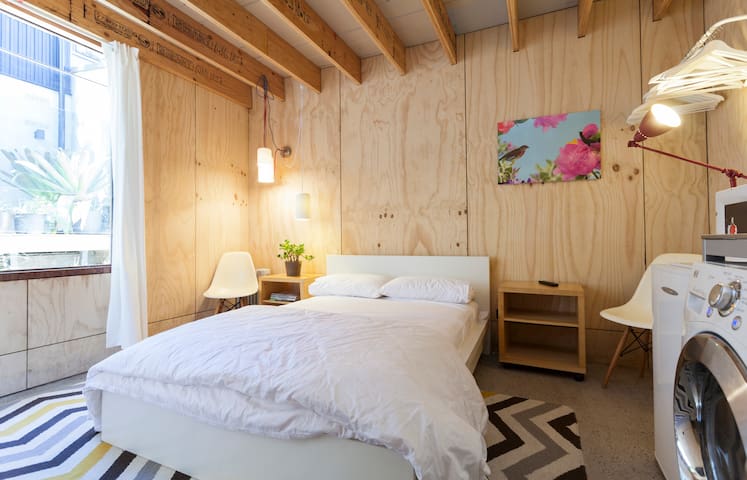 Our newly renovated one bedroom suite has its own private rear deck and separate access. We are in a fantastic Balmain location in a quiet little street, just 2 minutes walk from famous Darling St. Very close to Harbour Ferries & city bus stops. Non smoking. Temporary Visitors Parking Permit available.
Beautiful, private room with newly renovated bathroom and off street parking available. Separate street access ensuring full autonomy for guests without interacting with the Hosts. No kitchen, however a Bar fridge, Nespresso Machine, Toaster and Kettle are included.
Harbour walks and views minutes from the house Beautiful scenery Beautiful parks abound Lots of restaurants and cafes only minutes walk away Great shopping of all sorts and a big Supermarket minutes away
We had a great experience staying at Lindsay and Minny's. The room was beautiful, private and clean- perfect. Lindsay was helpful with all of our questions and gave us some great recommendations. It's a beautiful spot, highly recommended!
Claire
2015-12-08T00:00:00Z
Great location and unique private space for 1 or 2 people.
Brian
2017-02-05T00:00:00Z
Great location, clean and comfortable. Good communication from Lindsay and Minny and good value for money.
Joy
2016-11-11T00:00:00Z
Fantastic stay. Lindsay and Minny excellent hosts and accommodation comfortable and welcoming. Ideally located for easy access to Balmain and Rozelle with bus or ferry options to central Sydney. Would definitely stay again.
Meredith
2015-09-30T00:00:00Z
We were meet by our hosts and shown around. It was a hot humid day and they put two beers in the fridge to cool us down.
Sue
2016-03-04T00:00:00Z
Lindsay and Minny were just a great host ...they gave me clear directions prior to arrival, a warm welcome & walkthrough of my accomodation & very helpful with suggestions on what to do, place to eat, tips, etc. etc. Thank you very much.
PK
2016-04-16T00:00:00Z
Brilliant! :-) Our long-overdue return visit to Sydney was made all the more perfect thanks to our experience at Lindsay and Minny's B&B. Clean, quiet - very private - and just minutes to restaurants, bars, and the Balmain ferry, we couldn't have been happier. The parking pass was a plus, the washing machine an unexpected bonus, and the pear cider and fruit platter we devoured on arrival could not have been more welcome. We would recommend and return without hesitation. Age & Jill, Nashville, TN. :-)
Age & Jill
2015-10-04T00:00:00Z
Great place in the heart of Balmain!
Emily
2017-01-18T00:00:00Z
Room Type
Private room
---
Property Type
House
---
Accommodates
2
---
Bedrooms
Balmain, NSW, Australia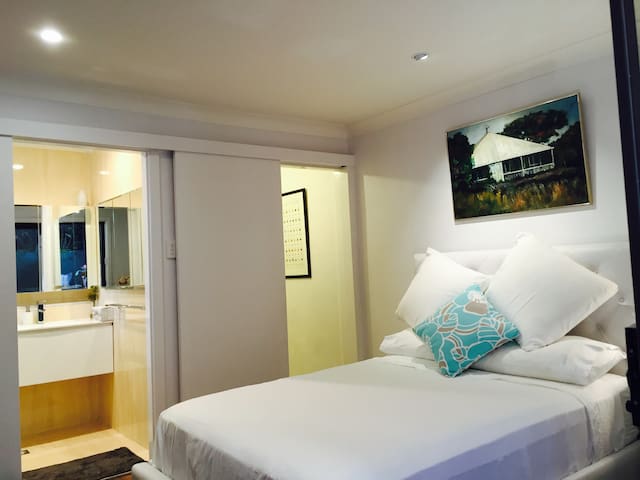 Gorgeous terrace house in Sydney's most sought after location. Large room with private balcony, beautiful bathroom, fantastic courtyard and full use of all facilities. Short walk to Bourke, Crown & Oxford Street shopping, bars & restaurants.
This is without doubt THE BEST LOCATION you could ever ask for when visiting Sydney. 2 minute walk to everything that is wonderful and local in the inner-city village of Surry Hills, and a short walk further to Sydney's CBD, Hyde Park or Centennial Park. Across the road from the iconic Sydney Cricket Ground and other sporting venues, 15 minutes to Sydney's beautiful eastern suburbs beaches including the world famous Bondi Beach. Start your day with a coffee at the amazing Bourke Street Bakery right around the corner. Our house is a very stylish, architecturally designed & recently renovated terrace house. A perfect combination of the old & the new, and incredibly relaxed environment. Your room is a large room with its own private balcony looking out over the neighbourhood & comfortable queen size bed. Plenty of hanging and drawer space for your clothes so no need to live out of a suitcase. This is also the home of Gascoigne & King - all guests will receive one of our beautifully handmade luxury scented travel candles (retail $25) for free when they check in!!
Surry Hills is an amazing inner city neighbourhood in Sydney's Eastern Suburbs. recently voted 23rd most sytlish suburb in the world!! Incredibly relaxed place, great facilities including a start of the art new library, awesome bars, cafes & restaurants. Fantastic mix of creative types, families, professionals & interesting locals :-) You will love it here. (website hidden)
We had a lovely stay at Bron's beautiful home. Bron was very welcoming and gave great recommendations for nearby restaurants. She was also very accommodating of our check-in and checkout times. The area is lovely, quiet, and conveniently located with many cafes and restaurants nearby. The room was very clean and the bathroom had lots of nice products.
Ellen
2016-04-26T00:00:00Z
Bron is a delight and so is the house. Great location. Will stay again.
Bec
2016-10-05T00:00:00Z
Dean & Bron provided a fantastic experience and insight into life in their lovely neighbourhood of Surry Hills. Their home was beautifully appointed and we were comfortable in our private room and bathroom.
Stephanie
2015-09-21T00:00:00Z
Bron's place was perfect for a short stay in Sydney and was located very close to lots of little cafe's and shops.
Eveline
2016-10-29T00:00:00Z
My husband and I stayed at Bron & Dean's home in Surry Hills for 2 nights whilst visiting a concert at Qantas Credit Union Arena in Sydney's CBD. Both were lovely, laid-back and really helpful hosts who made an honest effort to make us feel right at home. We felt very comfortable amongst their family and friends and enjoyed the freedom to come and go at our own leisure. The bedroom and bathroom are a decent size and I appreciated the beautiful styling of their home. We also loved their pets and the location of their terrace is extremely convenient! We were able to walk home from the concert and all areas of Sydney, including Bondi, were in very close proximity. As our first booking with airbnb Bron & Dean have definitely made a great first impression and we can't wait to travel widely using the service. Thank you for your hospitality – we wouldn't hesitate to come back!
Brooke
2015-03-29T00:00:00Z
The experience of living in Bron's House is unforgettable. We spent the Christmas morning together. Bron and her family are really nice. Her son helped us to carry luggages upstairs. Bron considered almost everything and did many extra things for us. She makes candles and planting flowers. I really like her taste of decoration and fragrance. The house always has a comfortable smell.The cats in the house are quiet cute. The location is good. With walkable distance to many restaurants, city centre and train station. Around 7 minutes walk to the big supermarket, 3 minutes to the bus station. It is a really pleasant stay in Bron's house, not only as host and guest, but also like friends.
Yiwei
2016-12-27T00:00:00Z
This is the best place I've stayed in Sydney to date. The house is very beautiful, clean and modern perfectly located in the coolest suburb of Sydney. There are many amazing restaurants within walking distance. The room itself is large with a comfy bed. Bron was a great host and very welcoming. We had a great long chat and she made me feel like home. I couldn't recommend this place more!
Michael
2016-02-10T00:00:00Z
Very friendly and welcoming hosts. We felt at home - even down to the cats and dogs. Comfortable room. Great locations. Would happily go back again(URL HIDDEN)
Annie
2016-09-03T00:00:00Z
Room Type
Private room
---
Property Type
House
---
Accommodates
2
---
Bedrooms
Surry Hills, NSW, Australia
Located near Sydney Harbour, the Opera House, the CBD & much more. Whether in Sydney for business or pleasure you will be well located to see what you want to see and do what you need to do, with the least effort.
Comfortable bedroom on the 2nd floor of an 1840's four storey terrace. Views to Harbour Bridge. Bathroom on next floor up (shared with one other room). Free high speed Wifi. Available next door to the bedroom is a large comfortable sitting room or a smaller sitting room down stairs that can be made available at an extra charge for your private use.
The house is in the historic Rocks precinct of Sydney where the first settlement of Australia occurred. Despite proximity to major tourist destinations it is a quiet neighbourhood. There are outstanding views of Sydney Harbour from many vantage points and numerous old buildings and other historic features. It is five minutes bus ride or 15 minutes walk to Sydney CBD. It is also a short walk to Barangaroo, with its new Headland Park opening in July 2015, which will provide extensive recreational opportunities and harbourside walks.
A very enjoyable 3 night stay. Great location. Excellent accomodation & a very welcoming host.
Judith
2015-08-21T00:00:00Z
The terrace house is beautifully renovated and spotlessly clean in a wonderful historic part of the city within easy walking distance of many major attractions. It was great to explore The Rocks, Millers Point and Walsh Bay. Mary made me very welcome. The room is quiet, spacious and sunny on the first floor with a view of the harbour bridge. The bed was very comfortable! The fine bathroom is on the floor above. It would be good to have some tea making equipment but there are excellent cafes, bars and restaurants close by. Mary was most helpful with her recommendations. I would love to stay again - thank you Mary!
David
2016-07-18T00:00:00Z
The quality of this listing is extraordinary! The location, unique features of the accommodation, which was both historic and modern, made it an absolute pleasure to stay. My wife and I wish we could only have stayed longer! Waking up to a morning view of the Harbour Bridge was spectacular!
Nicholas
2015-10-19T00:00:00Z
Staying at Mary's was like a dream. The view alone was worth every penny. The house is beautiful and every aspect homey and comfortable. Mary and her husband were so nice and informative, they directed me to one of my favorite breakfast spots! Not to mention her adorable pups greeted me every time I came home, so sweet. And the location was perfect! Literally a 5 min walk from everything you want to see. I highly recommend staying here and would definetly stay again.
Melissa
2015-09-04T00:00:00Z
Convenient, clean and quiet. place on top of all amenities Fab
Rog
2017-03-03T00:00:00Z
Excellent spot! Was a perfect location to stay the night and nice close to the Bridge Climb. Will recommend to family and friends.
Patric
2017-03-14T00:00:00Z
Loved it.
James
2017-01-13T00:00:00Z
Mary's house is lovely and perfect for seeing the sites of Sydney. She is very friendly and helpful as are the other family members. We can certainly recommend this to others.
Ruth
2017-03-27T00:00:00Z
Room Type
Private room
---
Property Type
House
---
Accommodates
2
---
Bedrooms
Millers Point, NSW, Australia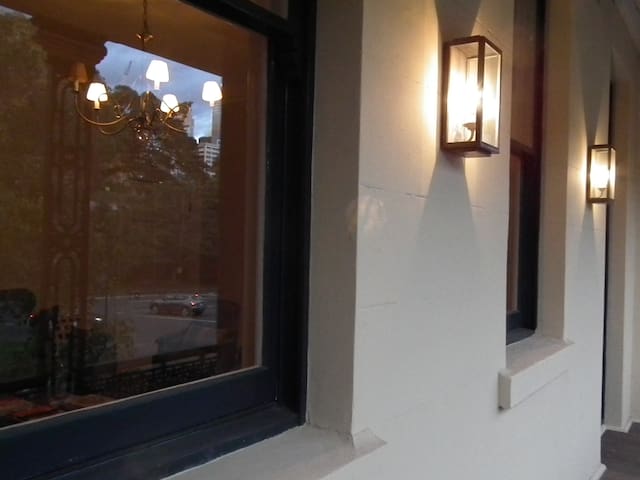 This large attic room with ensuite in a renovated terrace is perfect for your next Sydney visit. Centrally located, it's a 5 min walk to the train station, close to the city, Newtown, Redfern, Surry Hills; 5 min to Sydney Uni and 10 min to UTS.
This large room with ensuite is on the top floor of a renovated terrace in centrally located Darlington. It's a large private space but there's a spacious lounge room and sunny garden for you to enjoy too. The room has a lounge chair, desk and TV, or you are welcome to use the lounge, kitchen and garden downstairs.
Super central Darlington is close to the city, Newtown and Surry Hills with Sydney Uni and the train station just 5 min away. UTS is a 10 min walk away. There is no shortage of cafes, restaurants and bars within walking distance, as is renowned theatre, art and performance space Carriageworks and Eveleigh farmers markets. For more on what's going on in the area follow us on Instagram @hoodstagram500
Mary is a very helpful person, she give me all the advice to travel around & that's really cut down a lot hassle for us. The room is clean & nice, comfortable.Location is really convenience as it's near Redfern Train station, which you can access to any part of Sydney.
Wendy
2016-06-07T00:00:00Z
Unfortunately we could not meet Mary in person. She was working out of town. We use email to communicate and she was very responsive. All the instructions were clear and we had no problems getting there or with anything. She has a housekeeper, he was very nice and welcoming. The room was exactly as described, very nice and clean. Great location, the house is close to the University, a lot of young people, students, cafes, good vibe. Redfern Station is only a 10 min walk or less, and 4 stops to Circular Quay. We walked every night to King St to have dinner (10-15min), a very nice array of restaurants and people, we loved it. The transfers to the Airport were very easy, cheap and fast by taxi. Cons) We stayed in the attic room, very nice open plan with private bathroom, but with no doors.
Jennie
2015-08-26T00:00:00Z
Mary is fabulous - so easy going and her apartment is amazing. Bright, light and homey. The room is open and has been recently renovated, and added benefit of your own en suite. Loved it! The location is also brilliant - 3 minute walk to Redfern station which takes you into central Sydney in just a few stops... She made it really to connect when I arrived, offered tea and coffee in the morning...and equally fine with me coming and going to and from work.
Cori
2014-11-06T00:00:00Z
Mary wasn't around when we got there but her partner Steve was there to help us out with everything we needed to make our stay a comfortable one. The place was very accomodative and fully equipped with anything you propbably need in a house. Tucked in a cozy neighbourhood, walking distance to a lot of eateries and the train station, we will definitely consider coming back again next time we are in Sydney
Sofia
2016-05-16T00:00:00Z
Mary and Steve were fantastic hosts. Hugh was very friendly and helpful. Great location near Redfern station and a short walk to CBD. Room was bright and airy. Great to have a private en-suite and plenty of storage for clothes etc. We really enjoyed our time here and would highly recommend :-)
Kieron
2017-02-14T00:00:00Z
What a great place to base a Sydney visit from! Mary and Steve were so welcoming and easy to work with, and the location is ideal. The train station is literally down the street around the corner and so easy to use. We found fun places for an afternoon drink and great food options all close by. Would definitely stay again :) Thanks for everything!!!
Kathleen
2017-03-17T00:00:00Z
Very convenient location- train station is just around the corner but also within walking distance to Newtown. The room is light and very comfortable. Overall a very enjoyable stay. Would recommend to anyone visiting Sydney!
Valeria
2017-02-26T00:00:00Z
We had a lovely stay, Mary was an excellent and accommodating host. The room was spacious and very clean. Highly recommended.
Amy
2015-02-18T00:00:00Z
Room Type
Private room
---
Property Type
House
---
Accommodates
2
---
Bedrooms
Darlington, NSW, Australia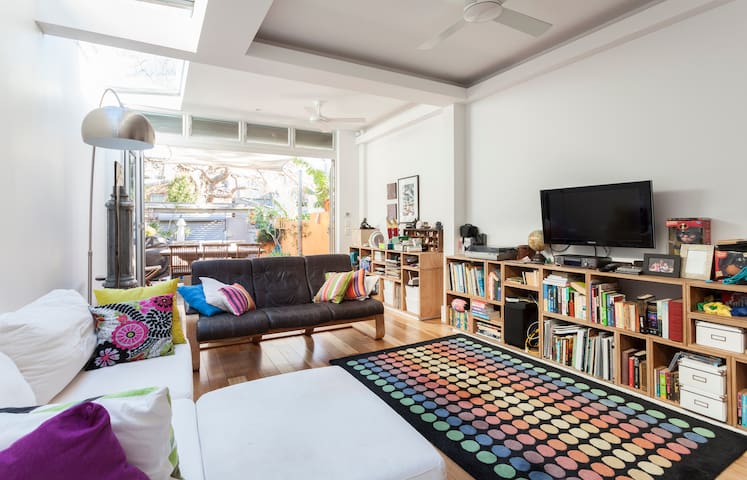 'McKenzie' is a beautiful heritage listed inner city terrace built in 1886. It is discretely nestled within a charming gated mews. Our quaint two bedroom/one bathroom house provides a gorgeous urban sanctuary and offers unbeatable value and convenience to the CBD. Parking is an additional $40 per day.
A home away from home! Please read below for details on the house and area.... Our house offers unbeatable value and convenience to the CBD, The Opera House, museums, the Botanical Gardens, the Art Gallery of NSW and has easy access to some of the best restaurants, vibrant cafes and nightlife in Sydney. The stunning Woolloomooloo Finger Wharf is a five minute walk away where you can dine at Otto Ristorante, Manta, Aki's Indian and China Doll. There is a Woolworths supermarket five minutes' walk away, a Coles supermarket in Kings Cross, Kings Cross Organic Food Markets (every Saturday) and a Harris Farm in Potts Point. Kings Cross station is a five minute walk away with a direct line to Bondi Junction, for Bondi Beach and it is a simple platform change for the airport. The CBD is a short ten min walk. Our terrace house has two bedrooms and a study on the first floor which leads to a sun drenched entertaining deck with striking city skyline views. There is a sleek modern kitchen, a stylish bathroom and timber floored lounge/dining with painted exposed brick walls, a beautiful chandelier and modern commissioned artwork. The loft bedroom has a beautiful aspect of Centrepoint Tower and the city skyline. The house can cater for six people in total; but this is a squeeze. The sofa bed on the ground floor can accommodate the two extra people if required. There is secure outdoor parking at the back of the property (for an extra $40 a day + Airbnb booking fees). Please book parking before your stay so we can organise. We also have access to a driver that can pick you up from the airport, cost is approximately AUS$90 - AUS$120 for four people from the Domestic/International airport. Please let us know if you would like further details. The house is suited for family groups, travellers and business stays. We will happily provide a porta cot, high chair and additional toys for your family if required. The house has two floors and there are stairs (see the pictures provided), we would, therefore, not recommend the place for people with mobility issues or lots of luggage. This is a no party house. The max people in the house at any time is eight. If there is a party, or a large group of over eight people in the property; you will be asked to leave. Any person staying in the house overnight will be considered as a guest. Check in is from 2.00pm onwards. We can usually accommodate from midday onwards with a $60 charge (to pay for the additional cleaner to speed things up). Check out is 10.00am or before. Please let us know your approximate check in and check out times when booking so we can organise the key exchange. This is a no smoking house. You can smoke on the balcony and outside the house, but please dispose of the cigarette butts thoughtfully (i.e. not on the floor outside or in the plant pots). We will make your stay comfortable with fresh towels, linen, milk, wine and chocolates on arrival, small samples of bathroom amenities, pantry necessities, toilet roll and kitchen roll. We supply the basics to get you started. For longer stays, once this is used, you will need to purchase your own. There is also unlimited Wi-Fi and our own personal written guide on the house and area, with maps, tourist information and top tips for the area. The guide is also translated into Mandarin. Details of the house as follows: Please also refer to the floor plan in the pictures that shows the size and space of the house. GROUND FLOOR *Living and Dining Free-flowing living and dining space Comfortable sofa-bed, that can be used for an extra two people (sofa bed is locked unless requested) Television IPhone player Portable Fan for the hotter months Six seater dining table Gas heater for the colder months Beautiful chandelier and mirror in dining room Exposed painted brick work and wooden floors Large Persian carpet Books and games *Kitchen Chic open-plan Corian Smeg kitchen Spacious open plan kitchen with fully equipped appliances, microwave, dishwasher, toaster and kettle etc. Coffee, tea and a small milk provided. Vintage dinner service with beautiful wine glasses Picnic basket Ironing board *Bathroom Attractive/compact modern bathroom with frameless shower screen (no bath). Large mirror vanity, sink and toilet. Heated towel racks. Hair dryer. Iron Integrated washing machine Laundry bin Clothes airing rack (There is no clothes dryer in the house) FIRST FLOOR *Office space on landing Split-system air conditioning/heating Ample storage Doors open out onto decking IPhone player with Blue Tooth Wooden flooring *Decking Outdoors decking with city views Comfortable outdoor furniture *First Bedroom Pillow top king size bed, which can be made into two singles if required. Feather/down bedding. SECOND FLOOR *Second Bedroom (in Attic space) King size bed pillow top with art deco mirrored headboard. Feather/down bedding. Large Velux window overlooking the city with black out blinds. Split-system air conditioning/heating. Please note that there is no door on the attic space and limited room to move around if you are 'tall', but this is our favourite room in the house with the views at night. THE AREA Woolloomooloo is an area rich in history with an assorted mix of people; the wealthy, the famous, bohemians, the Royal Australian Navy and the homeless. Woolloomooloo can be 'colourful' at times, but we have always felt 'safe' and entertained by the locals. As this is inner-city living you are likely to hear typical city noise from trains and cars. The availability calendar is accurate. If the dates you require are not available the place is already booked. Sorry :( Now, here's the most important part.....please use the code 'Woolloomooloo' when you book/message us; this is to let us know that you have read the above description and are absolutely ready for your Airbnb experience at our family home. Once booked, please have a read of our house manual and let us know if you have any questions. Thanks for reading! :)
In a great location, walk to all the Sydney touristy bits from here. The house has great character as does Woolloomooloo, Viv is a terrific host & was so helpful & accommodating.
Graham
2017-02-01T00:00:00Z
Very Nice place, a lot of space (we where with 4). Very Good Italian restaurant nearby. In a few minutes you are downtown, Sydney was amazing. The communication with Viv was also very Good. We had a great time!
Pauline
2017-04-05T00:00:00Z
Our stay at Viv's place was wonderful ! Her place is very tastefully decorated, and has all the necessary amenities for a good stay. We really appreciated the homemade guides of the area, as well as the helpfulness of Viv whenever we needed it. The house is very conveniently located, within walking distance to all major attractions. It is close to a road, but the soundproofing of the house is good and it is quiet inside. Thanks for an amazing experience of downtown Sydney, we will definitely recommend your place !
Gautier
2017-03-23T00:00:00Z
Hosts were very easy to communicate with and very helpful. Beautiful place in an excellent location, we felt very welcome and hope to be back!
Jeremy
2016-02-17T00:00:00Z
Viv's place is the model Airbnb rental: all the amenities, great location, and loads of style. Viv was an amazing host who bent over backwards to make out stay great.
Amir
2016-10-26T00:00:00Z
Wow what a great place. So central only a few blocks from the CBD, and even closer to all the action in the city and Kings Cross and Surry Hills. The house is comfortable and inviting and exactly as described. The rooftop balcony is comfortable and great for relaxing and people watching. We cannot wait to come back.
Charles
2015-11-23T00:00:00Z
Viv was a great host and the house is lovely! Me and my friends loved it, prime location and clean! Would definitely stay there if I am back!
Shreyaa
2015-10-27T00:00:00Z
Convenient location and close to Hyde Park. Cozy home with a good view and nice balcony. Very helpful and accommodating host!
Charles
2015-10-20T00:00:00Z
Room Type
Entire home/apt
---
Property Type
House
---
Accommodates
6
---
Bedrooms
Woolloomooloo, NSW, Australia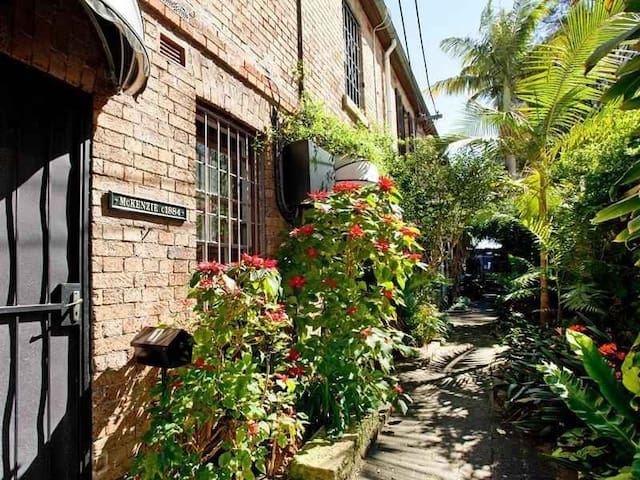 Our home is yours to stay in Sydney on a hidden quiet side street! It's a four minute walk from Central Park and a short several minute walk to Central Station Seven mins from Darling Harbor, CBD, Chinatown, USYD, UTS and Fish Markets!
My family helps me run our Airbnb. Please contact them if you have any questions! If you choose to stay, you'll have the whole home to yourself. I modeled the rooms to be very modern and relaxed. You'll find all the amenities and functions in our room. I can't stress enough to all AirBnb guests, that our rooms are not hotel rooms =(. We try very hard!!!. But, please understand, that we are welcoming you to our home shared with others. And like many homes, they have their own interesting quirks! I will make sure you'll enjoy your stay at my place! Please note there is no air conditioning and no on-site parking available. But, we have a nice large fan and heater available at all times!
It's cozy and peaceful! But, once you walk 5 minutes, you're in the heart of the City. Everything is so convenient!
I booked this place for my mum's friends who came from overseas to stay for a couple of days. Jimmy was very friendly and helpful, and came right away when they were a bit confused where the bedrooms were.
Lora
2016-11-09T00:00:00Z
Sebastian is very very very warmly to introduce the city and recommend the intrested places and delicious food for us. Thanks so much!In addition,if there are some curtains on the window will be better.
小姐
2016-12-04T00:00:00Z
Host is really nice and warmhearted,he will contact you before you arrived, and will give some good advice. Good location and very convenient to the popular places,like Chinatown,central railway station,fish market ,darling Harbour.....don't need to take any vehicles,only on foot is enough. Enjoyed & recommended this palce.
Jennifer
2016-11-04T00:00:00Z
excellent location with yummy food around. Seb was extremely friendly and helpful. great recommendations he gave us for sightseeing and places to eat. best host ever!!
kieyin
2017-01-07T00:00:00Z
James answered emails promptly and made us feel very welcome. He went out of his way to accommodate our requests. Location was very central.
Richard
2016-06-04T00:00:00Z
Whilst James was lovely, introduced himself and had a friendly chat, we were left underwhelmed by our stay. The property was smaller than depicted in the photos which was understandable for the location and style of the property. We did however feel that the furniture could have been in better condition, with the upstairs bed lumpy, unconfortable and seeming to be somewhat broken. The cleanliness of the upstairs facilities was also unstatisfactory with the floor having considerable build up of hair and dust, the bathroom floor being quiet wet and the mirror left in poor cleanliness. The location however was great, close to everything you need and perfect for a weekend discovering Sydney CBD. We would have like a TV to be present for some evening and morning chill time and some furniture to enjoy the nice courtyard sun. That being said for a short stay with majority of our time being out of the house it was all we needed.
jessica
2016-08-22T00:00:00Z
It's a very nice experience in Sydney. Jimmy and his brother-in-low are really nice. Rooms are very clean and has good style. the kitchen is convenience to use.It takes only ten minutes waking from the house to central station. Big shopping center and lots of restaurants nearby. 步行到中央火车站需要十分钟左右,厨房有烤箱,炉灶,餐具和锅,自己做饭很方便,两个房间都准备了heater,服务很棒很整洁。
Yu
2016-10-02T00:00:00Z
Great place, great hosts. Very close to the city and transport
Dean
2017-01-12T00:00:00Z
Room Type
Entire home/apt
---
Property Type
House
---
Accommodates
4
---
Bedrooms
Chippendale, NSW, Australia
Our cosy two storey town house is right in the heart of chippendale. Minutes walk from central station, the CBD, paddy's market & surrounded by beautiful parks. plenty of pubs & cafes, literally on our door step.
the room itself has polished floor boards, a cute little balcony, ornate fireplace & plenty of room for your belongings in a built in robe with floor to ceiling mirror doors. the bed is brand new double mattress. the house is two storey, with three bedrooms & one bathroom. it has a gas stove, microwave & a big fridge in the kitchen to keep the beer cold.
Chippendale is so close to everything! so many beautiful parks around, cafes & pubs, supermarkets & malls, paddy's market is just down the road. it's an easy walk other cool suburbs like surry hills & redfern too.
Room Type
Private room
---
Property Type
House
---
Accommodates
2
---
Bedrooms
Chippendale, NSW, Australia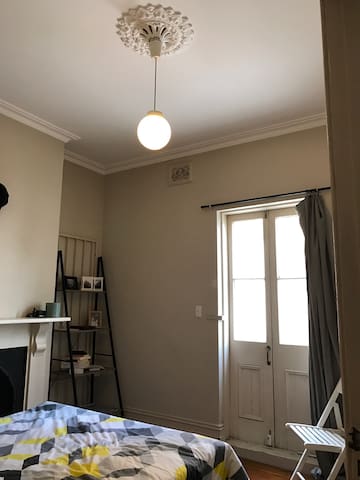 IMPORTANT NOTE: Our cat Bam Bam will be staying home for the weekend while we are away, we would love it if you could keep him company & feed him for us. If you are unable to do this, we will organise for a friend to drop in and feed him during your stay. Located on the top floor of a dual terrace in trendy Chippendale, everything you need is on your doorstep. Great food, coffee, art galleries and retail centres close by. We are also central to both UTS and USYD, as well as public transport.
We are located on the top floor of a dual terrace in the heart of Chippendale. Only a stones throw from our doorstep you will be able to find great food, coffee, retail centres, and art galleries. Universities 'UTS' and 'USYD' are also only a short stroll from our front door, and for wherever else you need to go both Redfern and Central station are both easily reached on foot. Inside you will find a comfortable bunk bed which can sleep up to three people, as well as a queen bed sleeping two, there is also a couch if you need to accommodate a sixth guest. You are welcome to treat all of the common areas of the house as your own including the spacious roof top patio.
Chippendale is right in the centre of it all, we are situated within walking distance to Newtown, Surry Hills, Glebe etc.. And anywhere else you need to go can be accessed by train from nearby Redfern or Central railway stations.
Damien was great to deal with. Although being away he made sure somebody was there to meet us out side of check in hours. The apartment was great very happy with our stay! Would definitely recommend this place
Christian
2016-08-27T00:00:00Z
Damien's place was great - fantastic neighbourhood and a short walk to bars, cafes, transport. We opted to walk into the city each day. The place was very clean and comfortable with everything you would expect (towels, kitchenware etc). We didn't meet Damien but his communication was good and his friend who provided access was very friendly and easy to deal with. I would definitely recommend his place to others.
Tash
2016-08-22T00:00:00Z
Damien was a great host and very patient with us as it was our first time in Australia. The house situation is fantastic as close by to shops and Central station. We were a bit cold due to winter season and maybe jet lag. the flat looks like home. I will recommend for familly trip or with friends.
christine
2016-08-05T00:00:00Z
Fabulous place. Great hosts. I'd go back again and again.
Louise
2016-08-18T00:00:00Z
Damien was really nice, ensured that all is good, very thorough with everything, and keeps very clear communication! Awesome experience.
Kevin
2016-07-19T00:00:00Z
The place was perfect for our group. Has a nice upstairs balcony area to chill and enjoy a sydney day. The place is nice and cosy and a great distance from town, shops and train station
Briana
2017-01-01T00:00:00Z
Room Type
Entire home/apt
---
Property Type
House
---
Accommodates
6
---
Bedrooms
Chippendale, NSW, Australia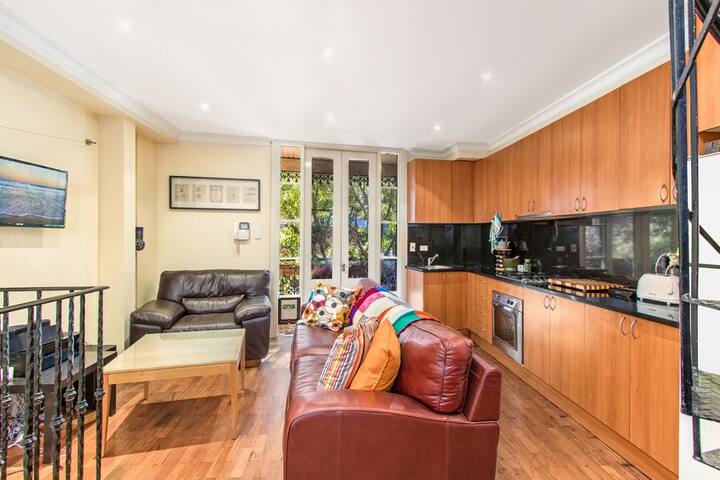 My place is close to 3 Unis, dozens of cafes, swimming pool, parks, shops, Clock Hotel, Prince Alfred Park Pool, Ester Restaurant, MoVida Sydney, 121BC. You'll love my place because of the high ceilings, the location, the cosiness, sunny room, quiet. My place is good for solo adventurers and the room has a single bed for one person. It's the famous "Sydney's Sustainable House". Another bedroom with loft: Sydney lovely quiet room in city. Long term rental possible.
Lovely airy and sunny room with a single bed suitable for one person.
Lots of cafes, three unis, a clean olympic sized swimming pool is ten minutes walk away in a large park and shops are nearby.
Michael was an amazing host from the moment I got there until I left, ensuring I had everything I needed and was most helpful recommending places to go around the area. The location was fantastic and I had some wonderful chats with Michael about his home and sustainability. I will definitely stay again and keep in touch. Thank you!
Sara
2016-09-26T00:00:00Z
Michael was a great host. Kind, considerate and accommodating. The house is fantastic. It's quiet and close to the city and an inspiring example of sustainable living.
Daniel
2016-09-21T00:00:00Z
Michael was an excellent host. The room was bright and well light and the bed was very comfortable. Micheal's communication was excellent. The neighbourhood was quiet but close to the city which made it very convenient. I would recommend this place to everyone.
Gus
2016-10-25T00:00:00Z
Michael was very helpful in navigating a Sydney visit. He was very accommodating in scheduling and very friendly.
Amy
2016-12-22T00:00:00Z
I enjoyed staying at Michael's house very much. Everything is excactly how it is described on his Airbnb site. The house is very comfy, the room is spacious and the concept of running sustainably is very nice. Michael is a great guest, very helpful and kind. Thanks for the interesting conversations Michael, I really enjoyed!
Burkard
2017-01-15T00:00:00Z
Lovely eco house, would happily stay again. Great location. Peaceful neighborhood n great host.
Brendan
2016-10-17T00:00:00Z
Linens fresh and all but overall place not super clean. Michael was great and very accommodating.
Susan
2017-01-25T00:00:00Z
Michael was very prompt in replying and helpful with a list of places to recommend. The house was well-lighted and nicely decorated, very comfortable experience. Location was also centralised between two train stations.
Nicholas
2016-10-15T00:00:00Z
Room Type
Private room
---
Property Type
House
---
Accommodates
1
---
Bedrooms
Chippendale, NSW, Australia
Our home is in the heart of Chippendale, with many of Sydney's best cafe's, pubs, and markets just footsteps away. Located on a green and lush street, you'll forget you're basically in the heart of the city. You'll be able to walk to Central Station, Broadway shopping centre, farmer's markets, many pubs, cafe's and restaurants. The private room includes an ensuite bathroom with stand up shower, a beautiful balcony overlooking the neighbourhood, a queen size bed and an extra attic/study space.
A large private room with own en-suite, balcony and study/attic space, where the second bed is located (which is a sofa bed).The room is within a terrace house with a a lush garden, parking spot, and courtyard. There is a kitchen that has everything you'll need to make all your meals. The house has a lot of natural light and is a cozy place to hang out or a convenient place to base yourself out of while staying in Sydney.
Chippendale is a beautiful inner city suburb, located just minutes away from Sydney's most iconic locations. Surrounded by community gardens and large parks, you will forget how close you are to the hustle and bustle of everything.
Room Type
Private room
---
Property Type
House
---
Accommodates
4
---
Bedrooms
Chippendale, NSW, Australia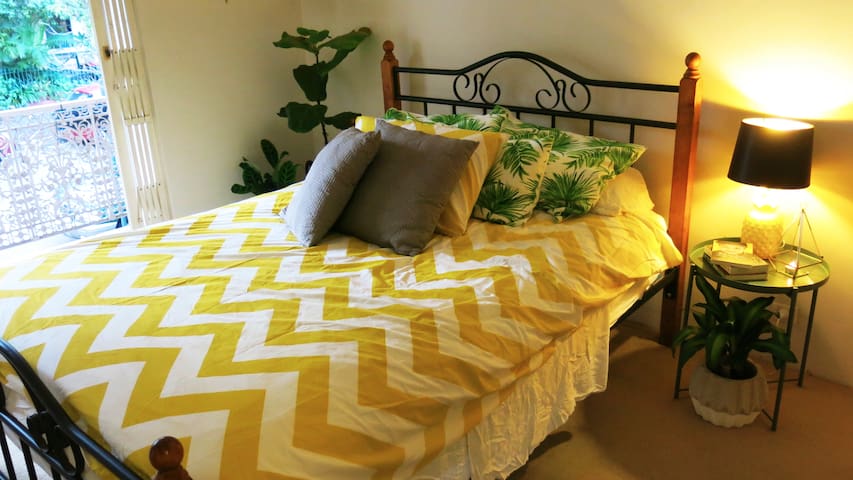 Our spacious 3 Bedrooms modern home is located in the heart of Balmain only 10 mn to the city by bus or ferry. A master bedroom with a full ensuite , two bedrooms with one bathroom and large open plan living dining & kitchen leading to a sunny terrace with outdoor furniture .
Our home is very spacious , on 3 levels with 2.5 bathrooms with a front & a back yard & a terrace for your night bbqs. It is the ideal home for a family or a group of friends . The street is quiet , yes you can hear birds in the morning yet 5 mn walk from the Main Street where the buzz is.
In Balmain you get to experience the life in a village & while being 10 mn to the CBD ! Balmain is known for its markets during the weekends , fabulous restaurants , wine bars, pubs & cafes !
Amazing stay, thanks so much For letting us stay.
Greg
2017-01-04T00:00:00Z
Room Type
Entire home/apt
---
Property Type
House
---
Accommodates
4
---
Bedrooms
Balmain, NSW, Australia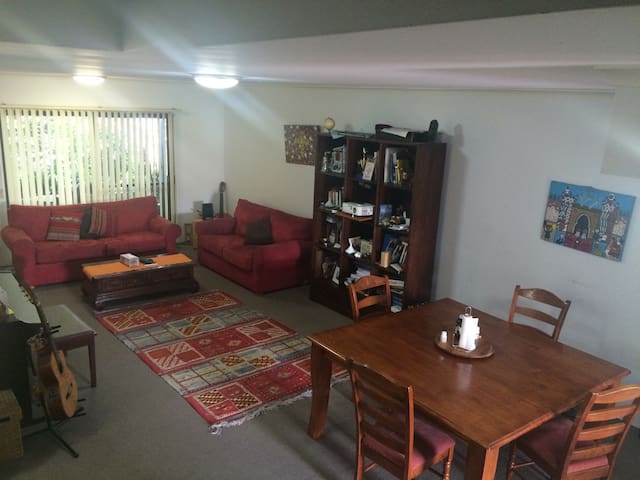 Welcome to our listing! Glad you could join us! You are booking our WHOLE Home ALL TO YOURSELF. Minutes away to some of Sydney's best local restaurants, marking this quiet, simple home ideal for any holiday adventurists, tourists, business travellers and local getaway people! The WHOLE home comes FULLY FURNISHED with all that good stuff needed for your stay, along with FREE Wi-Fi access
THE WHOLE HOME IS FOR YOU! Can easily accommodate 4 people! This simple, splendid, self-contained home houses two cosy bedrooms, both containing QUEEN sized beds. A complete living area with a sofa and dining table to seat four correctly. An appropriately equipped kitchen, housing the necessary kitchen appliances. Also provided is an iron and ironing board. Please note that the bathroom is detached from the terrace and that our home features a steep staircase. The bathroom is private and the bathroom and shower are separated with its own doors. The shower door is in the home, the bathroom right behind, is a couple of steps behind out in the courtyard. To see more of this unique space, please view the extensive collage of PHOTOS that showcase the apartment and its surrounding attractions. This homely apartment comes fully equipped with essentials such as: - Unlimited WIRELESS INTERNET - Fans - Heaters - Iron & ironing board BEDROOM AREA - Queen sized bed - Dual layer quilt, 4x pillows, sheets, and covers - Bedside table and lamp - Balcony BATHROOM AREA - Shampoo & conditioner, body wash and hand soap - Shower - Toilet paper & bin - Hair dryer KITCHEN AREA - Oven and electric Cooktop - Fridge & freezer - Dishwashing detergents and hand soap - Kettle & Toaster - Cups, mugs, plates, bowls, cutlery - Pots, pans, cooking utensils - Knife set, chopping boards & drying rack LIVING AREA - Dining table & chairs (to seat 4 comfortably) - Sofa - Tallboy Dresser
Our family's home is located within Vibrant Chippendale with the prized Central Park a mere 5 min walk from our home Chippendale is known for its exquisitely unique Cafes, shopping stores, attractions and restaurants. Located practically in the heart of the city, it is the link between the lower and upper halves of the Sydney city. Chippendale is known in Sydney as a safe, clean and iconic neighbourhood. A quick stroll in any direction and you will find a list of things to do. Chippendale is a suburb known for its variety of quality restaurants and home-style foods, and the location of our home is no exception we have many great places to dine and relax that is just moments away.
My mother and I spent our stay at the apartment, and it was great. Our bedroom was comfortable, even though it was too hot, we found ways to cool it down. It was nice having a lounge to ourselves and a kitchen where we could cook, and we actually felt at home while we were on the trip. They prepared all the cutlery, sauce pans, plates... that you need for simple yet effective dish and he also provides shampoo and shower gel, which is a bonus. They also prepared a lot of brochures about what to visit in Sydney and were is easy to approach if you have a question. It was nice chatting with him, he was easy going and pleasant to talk with. I definitely recommend staying at his place, I almost forgot to mention that the location is definitely a plus.
Seb
2017-03-05T00:00:00Z
We enjoyed our stay at Jim and Shirlee's place. It was clean and well equipped. We definitely loved the location and hope to be back soon!
Hyo-Jin
2017-03-19T00:00:00Z
Fantasitc!!! Really good, clean example of this period property in a vibrant part of Sydney. The road is quiet and in easy reach of shops, Central Park, Central Station, Darling Harbour and USYD/UTS with good bus/train links to the city and its many other attractions. If you plan on hiring a car for a couple of days for those further out of the city attractions, then you'll need to plan your parking well before hand as there is no parking on any of the nearby streets for any more than an two hours, but there is free overnight parking on the main roads (just check your signs!) If you're sticking to the stuff in the city then you'll find travelling around by public transport easy and cheap. The stairs are very steep and can be a little shallow for people with big feet so go steady on them, and the bathroom is detached in the back of the home but this just adds to the character of the house. All in all, a good place and great experience!
S&J
2017-02-28T00:00:00Z
Jim and Shirlee's place is a quirky older home in a great location. I would recommend it, for sure! It's walking distance from some great bars and restaurants on George Street. When we arrived, all of the kitchenware was well organized and the beds had clean sheets and towels. The hosts like to welcome everyone in person which was appreciated, though a bit tricky to coordinate with late flights. The hosts are very responsive, and the home is clean, though we did find a few bugs in the kitchen.
Jack
2017-04-11T00:00:00Z
A quirky lovely house that is near to all amenities. We loved our stay and would thoroughly recommend this lovely house to others
Christine
2017-04-05T00:00:00Z
很棒!Recommended! It's a very nice experience in Sydney. Jimmy and his brother-in-low are really nice. Rooms are very clean and has good style. the kitchen is convenience to use.It takes only ten minutes waking from the house to central station. Big shopping center and lots of restaurants nearby. 步行到中央火车站需要十分钟左右,厨房有烤箱,炉灶,餐具和锅,自己做饭很方便,两个房间都准备了heater,服务很棒很整洁。
Tony 7
2017-03-02T00:00:00Z
A perfect place to stay for up to four people. I was in Sydney for a business trip and my needs were very basic. The place was very clean, the bed was very comfortable, there was plenty of space and the kitchen was well equipped. No complaints. I got to meet Jim and he was very hospitable. I would definitely stay again!
Mark
2017-03-16T00:00:00Z
The house is exactly what it says advertises. older and small but kept very clean. It's in a fine location that is close to sydney's prime suburbs and a short ubur or doable walk from CBD. It's extremely affordable for its location and the amount of people its able to accommodate and i was grateful my friends and i were able to stay there! It was very easy to find the place, get the key and check in. we were greeted by the owners brother-in-law who was super nice and offered to answer any of questions and left us with good recommendations. We definitely felt welcomed! I would recommend to anyone traveling on a budget!!
Genevieve
2017-03-27T00:00:00Z
Room Type
Entire home/apt
---
Property Type
House
---
Accommodates
5
---
Bedrooms
Chippendale, NSW, Australia
Trad terrace with garden courtyard right in the heart of Chippendale. Next door to cafes, galleries & restaurants. 10 mins stroll to Chinatown, 15 mins walk to Town Hall, a short bus ride to Circular Quay & the Opera House. Friendly dog in residence.
We really enjoyed our stay with Catherine. The location was great and the terrace house and room was amazing - so well kept and immaculately clean. Catherine was such a friendly, helpful and gracious host. We would love to visit again. Would highly recommend this place!!
judy
2016-12-03T00:00:00Z
We only stayed for one night before heading to the Blue Mountains, but staying with Catherine was a great experience. The room as well as the rest of the house were beautiful and bright and everything was very clean. The bed was comfortable and Catherine was a wonderful host, serving a delicious breakfast in the morning and even driving us to the train station. We enjoyed meeting her and her friendly dog Trevor. Chippendale is also a nice neigbourhood.
Barbara
2016-05-16T00:00:00Z
Catherine and Toby (her dog) were lovely hosts!! Her house is a charming restored cottage very conveniently located near Surry Hills, Central station, local shops. She was very helpful with directions, was warm and welcoming and made me feel at home. The bed is cosy! A gréât discovery was the néw Humming Puppy yoga studio and tea shop below a few minutes walk up the road. Would définitely love to stay again :-)
Lauren
2016-07-25T00:00:00Z
Loved staying at Catherine's. Was clean and private and had everything we needed for a get away. Catherine was lovely and really friendly and helpful.
Eleni
2016-11-19T00:00:00Z
Catherine was hospitable and unobtrusive. Her place is well situated to public transport, shops and fabulous restaurants. The room was spacious and very comfortable with good quality linen and toiletries. To our surprise a delicious breakfast was included. great value. Will definitely visit again.
Robyn
2016-07-22T00:00:00Z
Excellent!!!This was such a good experience, Catherine did much more than we expected snd than she was supposed to as a host. The house is beautiful and super clean, recently renovated, our room was very spacious and the breakfast was delicious, she had fresh fruit and yogurt on top of the classic breakfast items which was excellent for me. She even offered to drive us to the train station, even if she was walking with crutches because she had recently hurt her leg. Her dog is a bit shy but very cute. We were very closely located to the train station and to chinatown, and you have to try the food on spice alley which is very close by. One of the best Airbnb experiences!
Teodora
2016-10-31T00:00:00Z
I can highly recommend staying at Catherine's beautiful place. Catherine was a great host, she made me feel very welcome. The room itself is luxurious and spacious, with a balcony and leafy outlook, and a super comfortable bed and high quality linen. The shower is also luxurious! I appreciated all of Catherine's thoughtful touches like a jug of water and drinking glass left outside my room, the delicious breakfast and flexibility with checkout. It was only a one night stay for me, but if it was longer I'm sure I would have spent some time in the lush courtyard with it's beautiful plants. The location is very central to all the interesting parts of Sydney. Thanks Catherine! You'll be my first choice if I need a place to stay in Sydney again :)
Amy
2016-04-05T00:00:00Z
Catherine was very helpful and friendly, and did everything possible to make our stay comfortable. Location was ideal for our city-based visit. Breakfast provided was everything we could have wanted. Thank you, Catherine!
Marjorie
2016-04-11T00:00:00Z
Room Type
Private room
---
Property Type
House
---
Accommodates
2
---
Bedrooms
Chippendale, NSW, Australia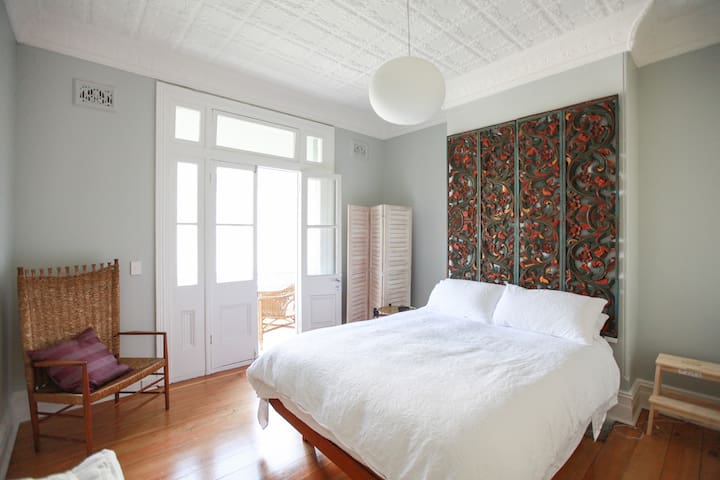 Welcome to our beautiful terrace. Close to Surry Hills, Redfern and Chinatown and Newtown (the best parts of Sydney!) Chippendale is one of one of Sydney's most vibrant and central areas. Close to White Rabbit Gallery, LP Quality Meats, Ester, Automata and Brickfields. You'll be welcomed by a beautifully comfortable bed and some wonderful hosts. Free surfing lessons are offered in a space that is perfect for couples, solo and business travellers.
Top floor of a shiny new terrace all to yourself? Yeah absolutely! Our house is a recently built terrace set over four floors. Three of the floors have a private balconies with plenty of natural light and ventilation. A modern layout, the house if furnished with pieces that Reece and I have collected over the years.
Chippendale is nestled between Surry hills, Redfern, Newtown and the city CBD making it one of the most accessible areas of Sydney. Not only easy to get around, Chippendale (and the surrounding suburbs) are some of the coolest areas in Sydney. Surrounded by artists, galleries, bars, cafes and restaurants (easily the best upcoming restaurant precinct in my opinion) you're never too far from a great time.
A great place to stay. Within walking distance to central station and buses + cafes and restaurants + shops. The house itself is a very relaxing and welcoming atmosphere and the boys made it a very comfortable place to chill and just relax after being out all day.
Lauren
2017-03-26T00:00:00Z
Staying with Jamie and Reece was the best experience ever! They're lovely hosts and we enjoyed every minute staying with them. The location of the apartment is perfect in walking distance to central station and CBD. The room was spacious and clean and the cherry on top: We had our private balcony! Thanks again guys for having us and for taking us to the beaches! xo
Jana
2017-04-03T00:00:00Z
The host canceled this reservation 3 days before arrival. This is an automated posting.
舒雯
2017-04-01T00:00:00Z
Jaime and Reece are REALLY REALLY NICE GUYS ! This is my perfect beginning of staying in Sydney, it is a beautiful town house with brand new facilities, and the whole top floor is all yours, don't need to worry about the privacy. Also excellent location, For me, it's walking distance to everywhere. Come here and enjoy your holiday ☺️
ALEXA
2017-03-22T00:00:00Z
Room Type
Private room
---
Property Type
House
---
Accommodates
2
---
Bedrooms
Chippendale, NSW, Australia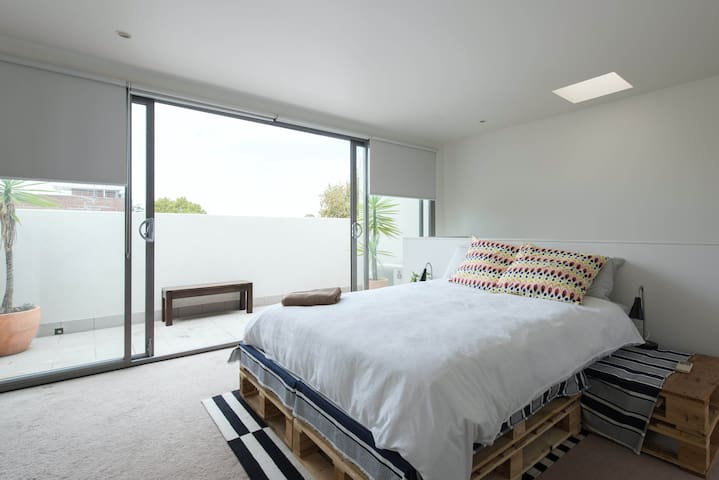 Private room in a modern terrace. Close to Central and Redfern Station, with plenty of excellent cafes, restaurants and bars in walking distance. The room is cosy and comfortably furnished and the house has been recently renovated with a spacious bathroom all to yourself!
Chippendale is filled with interesting and quirky cafes as well as suave restaurants. Spice Alley is close by and Central Park is a short distance away with a Woolworths, chemist, food court and shops.
Room Type
Private room
---
Property Type
House
---
Accommodates
1
---
Bedrooms
Chippendale, NSW, Australia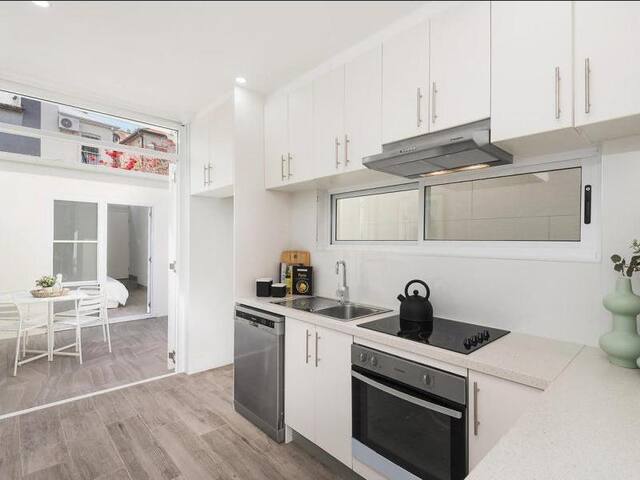 Incredible and spacious upstairs room in a big house. Nice view, big living room and kitchen integrated. The house is 10 min walking to Central Station, Coles, victoria park, Broadway shopping. Available now! The price is 50AUD/day Or we can negotiate if you want to stay more
Cosy and big house in the heart of central area of the city. Close to all the amenities. 10 min walk to Central station, Coles, Victoria Park, Broadway Shopping, Uts... The room is very big and sunny. 2 beds available (1 single matress/ one queen size) Very friendly house. We love sports, music and outdoor activities! The price is 57Aud/day Or we can negotiate if u want stay more. Any further details please contact Tiago (PHONE NUMBER HIDDEN) See you!
Room Type
Private room
---
Property Type
House
---
Accommodates
2
---
Bedrooms
Redfern, NSW, Australia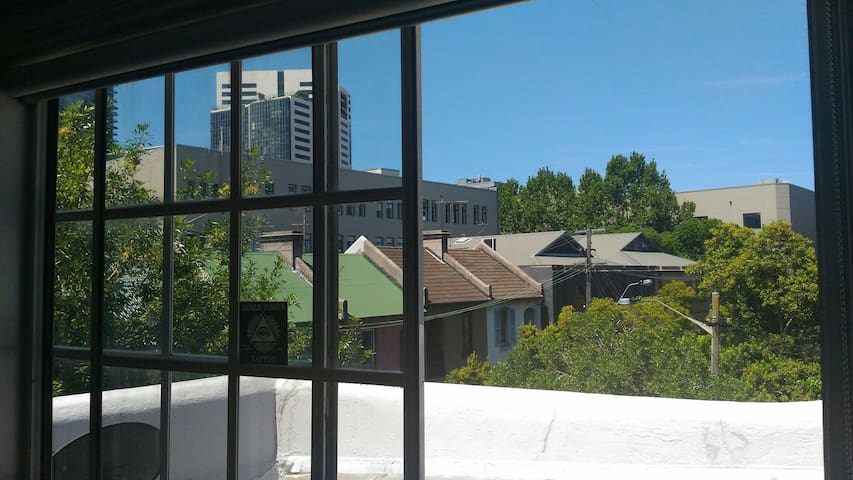 My place is close to Central train station, Redfern train station, Buses, Central Park, White Rabbit Gallery, Spice Alley, Award-winning restaurants (Ester, Automator, Kensington Street Social, etc), University of Sydney, UTS, and Notre Dame University. You'll love my place because of the high ceilings, the location, the people, the convenience, public transport, the quiet setting. My place is good for couples, solo adventurers, and business travellers.
This master bedroom in a restored Victorian terrace comes with 3 metre high ceilings, stained glass windows, an unused fireplace and double doors that open onto a balcony with partial City views. The current resident is currently travelling through Australia.and the room is available while they return on the 18th of April. The room comes with a queen-size bed, antique study desk (equipped with a large monitor with HDMI and VGA connectivity, along with a sound system to watch movies off your device) and half of a large closet for use by guests. The room also has a two full bookshelves that are available for used while guests are in residence.
Jarrod is a very nice and friendly gentleman! He has been very helpful, the room is very nice and clean, the location is wonderful! Everything is perfect!
Shuchu
2017-04-09T00:00:00Z
Room Type
Private room
---
Property Type
House
---
Accommodates
2
---
Bedrooms
Chippendale, NSW, Australia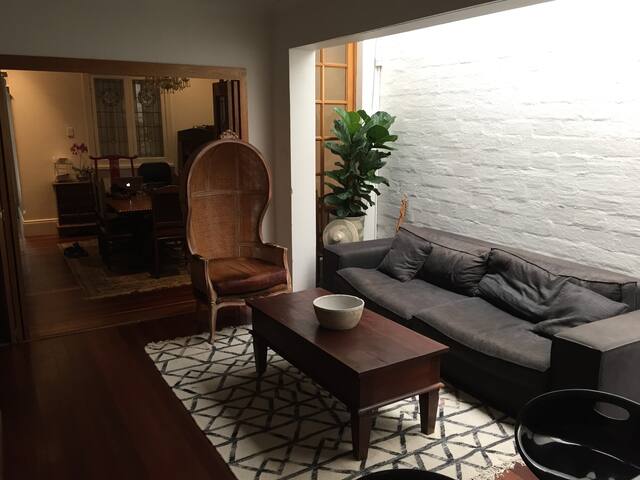 Chippendale - Airbnb
:
Average

4.8

out of

5

stars from

1275

guest reviews
1

–

18

of

300+ Home Rentals
Enter dates to see full pricing. Additional fees apply. Taxes may be added.