House ideal for short and long holidays in the nature of the protected area of the Adda Park. The house has a beautiful loft with double bed, covered balcony, fireplace and enclosed garden for barbecues and sunbathing.
Tiziana was a wonderful and caring host, welcoming us with a cup of coffee and some home made biscuits and pizza - a great thing to have after a long drive. The apartment was perfect for a family of four - with two separate bed rooms, a spacious bathroom, balcony, outdoor cooking and a cosy living room cum dining with open fire place. The location was just perfect - silent countryside with pigeons and roosters waking you up in the morning, fresh air, lots of green, yet only few kilometers away from the downtown bustle. A great find was Crespi d'Adda, a UNESCO world heritage site, just a hop away in the neighboring town of Trezzo. Major lesson learnt from this stay: never take (SENSITIVE CONTENTS HIDDEN) street view for serious: what looks like a run down place online, hides a wonderful patio of an old monastery.
Marcus
2016-04-03T00:00:00Z
Great quiet place. Host is very kind, and there was any problems.
Jolanta
2016-07-03T00:00:00Z
We did not see Lilla too much, although we stayed only a couple of days, for a short"city"break. Nice quiet country side
Ferenc
2016-07-14T00:00:00Z
Clean apartment, friendly communication. Everything fine!
Sergey
2016-05-22T00:00:00Z
tl;dr Unbelievably accomodating host, clean and modernly equipped house in a quiet location. Half an hour drive from Bergamo airport. Smokers will appreciate the front porch and the couch on the first floor veranda. Highly recomended. --- We sent Tiziana a request for the house less than twelve hours before our arrival. Nevertheless, she accepted it. It was already dark when, following our GPS, we arrived at what seemed like the middle of nowhere. :) No worries though. As Tiziana had promised, her mom was expecting us. She showed us around the house and we found ourselves understanding most of what she was saying, even though we don't speak Italian. :) When Tiziana joined us, about half an hour later, we were trying to figure out a way to order from a local pizzeria (remember, number of Italian speakers: zero). Now get this: Tiziana not only offered to place the phone order for us, but when she found out that the place had closed for the night, she and her boyfriend actually DROVE us in THEIR car to the NEXT village to find sth to eat. Now, that, right there, is the definition of hospitality! A superhost, richly deserving her title. Thank you Tiziana!
Christos
2016-07-10T00:00:00Z
The house is situated in the village with an original italian flair and Tiziana is a really nice person. We arrived in the night at 00:45. Tiziane was waiting for us. Thank you, Tiziana!
Martin
2016-06-13T00:00:00Z
All really nice, especially the option for the chimney.
Michael
2016-11-06T00:00:00Z
It was an amazing experience to stay in Lilla's house. It is situated in the countryside 40 km far from the center of Milano. So it's useful to have a car. The apartment is fully equipped, very comfortable and stylish! Especially those who like art will feel wonderful here. Lilla's family and neighbors are very kind. I recommend this place for other guests and I hope I will come again sometime in the future.
Pavlína Viktoria
2016-07-09T00:00:00Z
Room Type
Entire home/apt
---
Property Type
House
---
Accommodates
4
---
Bedrooms
Cascina Corteana, Lombardia, Italy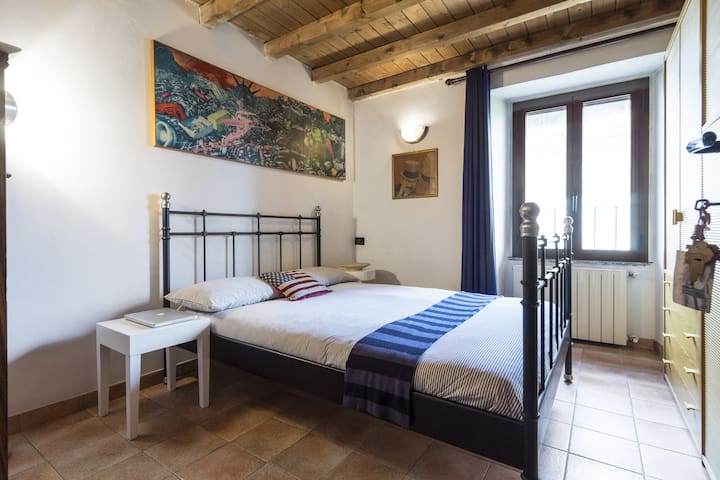 My accommodation is close to beautiful panoramic views and restaurants. You will like my accommodation for these reasons: the comfort of the bed, the high ceilings, the intimacy and the kitchen. My accommodation is suitable for couples, lone adventurers and business travelers.
Lovely place, Yulia and her family were super helpful.
Jozef
2016-10-31T00:00:00Z
We had a great stay at Yulia's house, and she was very hospitable. It was a comfortable room and the facilities were very good, we were even invited to have dinner with Yulia and her family. A lovely breakfast was included, and overall it was a very good stay. Amazing value for money
Zack
2016-08-20T00:00:00Z
The beautiful place, everything was perfect thanks Yulia!
Esther
2016-07-11T00:00:00Z
Stay at Yulia's house was very nice, she took care of us and provided everything we needed including food, lift, information and much more. I surely recommend if you want to spend pleasure time close to Bergamo or Milano. :)
Tina
2017-02-21T00:00:00Z
What an exemplary host. The house formerly belonged to italian counts & is 1000 yrs old! That's 4x the age of USA! The room had its own piano & fireplace. But the warmest, most compelling, inviting part is Yulia. She's a truly exemplary host. Her whole family is warm & inviting. The food, the generosity, the flexibility, the helpfulness ... They truly went above & beyond for me.
aj
2017-01-26T00:00:00Z
Yulia is really kindly and friendly person, we never met somebody like Yulia. She helps us with everything - bus, train, guide to Milan and Bergamo, she reccomended to us a lot of places and things to do in Italy. We are young couple and it was our first bigger trip, where we didnt know what awaits us. So it was really good experience :) we reccomended these people if you want to know some Italians with very nice home and atmosphere around them. Breakfast, dinner, smiley people and you can feel there like at home. Yulia is amazing person. She speak in english, italian, russian and maybe in more languages :) Gracie .. for everything you did for us. See u soon :)
Martin
2017-02-09T00:00:00Z
Yulia is wonderful host , she will take you everyvere you wont to be or see, she has wright information , and she is very friendly , sociable and cominicative person. You will stay in very old house with history and she nas a very nice cute family. Thanks Yulia se you soon Elizabeta and Stanisa
Elizabeta
2017-03-29T00:00:00Z
We are absolutely impressed by Julia , her husband and their daughter!!! Julia is nice, light, pleasant person with amazing energy! She helped us so many times in all things! Her house is terrific! Its ancient, but so comfortable. So, Julia is a perfect host! I recommend her very much! Also she has a wonderful upright Piano, for us now it was important. We were very glad to spend time there! P.S. its good variant for living people, who travelling to Bergamo or Milano.
Михаил и Соня
2016-08-03T00:00:00Z
Room Type
Private room
---
Property Type
House
---
Accommodates
3
---
Bedrooms
Bonate Sotto, Lombardia, Italy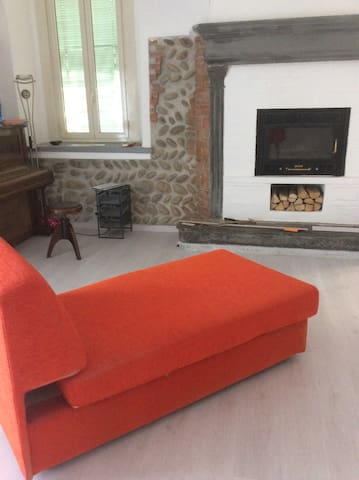 La mia casa con giardino vi farà sentire sempre in vacanza. Posta tra Milano e Bergamo è vicina a Lecco e alle sue montagne. A due passi dall'Adda, che qui forma un canyon e un paesaggio unico con le chiuse Leonardesche e la pista ciclopedonabile. Posizione comoda per raggiungere Leolandia. Casa tranquilla, silenziosa immersa nel verde. Luogo ideale anche per lunghi soggiorni.
La casa dispone di una cucina completa; è molto luminosa; è circondata dal verde; offre totale tranquillità; ha un ampio giardino; dispone di un box per un'auto; su richiesta disponibili biciclette per gita al fiume.
Classico quartiere di paese immerso nella natura. Silenzioso e tranquillo. Ampi spazi e aria pulita.
The host canceled this reservation 23 days before arrival. This is an automated posting.
Marcin
2016-09-30T00:00:00Z
Room Type
Entire home/apt
---
Property Type
House
---
Accommodates
3
---
Bedrooms
Cornate d'Adda, Lombardia, Italy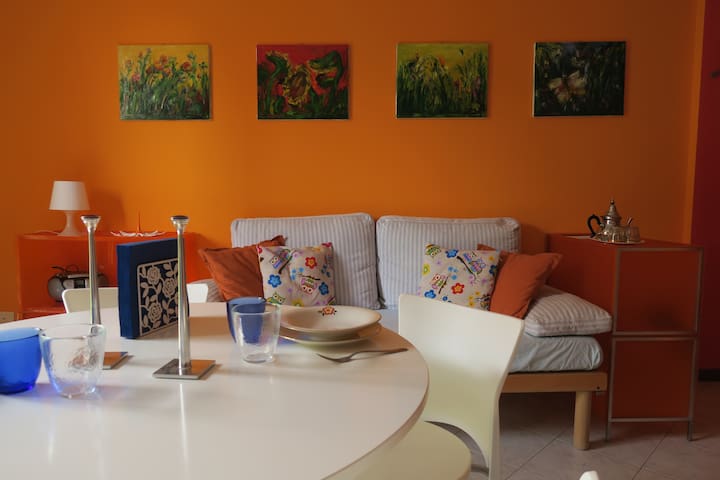 Nice apartment - tavern consisting of living room, bedroom, kitchen and bathroom . Near the railway station, you're connected with Sesto San Giovanni ( 30 min by train ), then metro MM1 gets you directly to the Expo. Quiet and green.
The apartment is located in the basement of single villa situated in the middle of the green. Tranquility and relaxation are granted . Convenient access to transport means provides quick access to Milan , Monza , Bergamo and Lecco . Possibility of walks along the Adda on foot or by bicycle . Mountains're just an hour 's drive ( Valsassina and Bergamo valleys )
Room Type
Private room
---
Property Type
House
---
Accommodates
2
---
Bedrooms
Paderno, Lombardia, Italy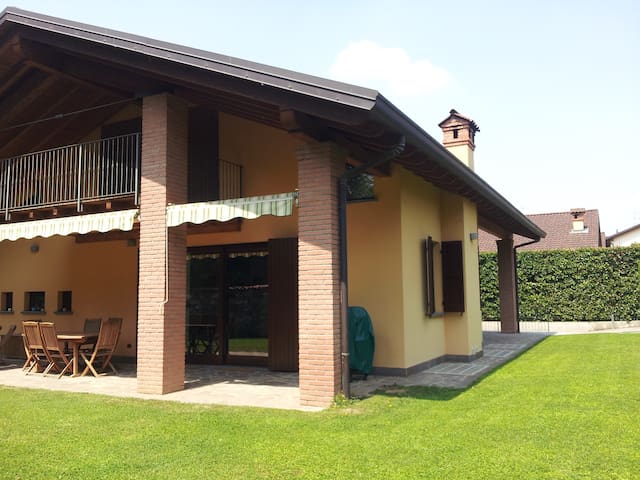 Il monolocale ai trova al piano terra della mia abitazione ha ingresso indipendente e posto auto riservato. All'interno si presenta fresco di ristrutturazione è dotato di cucina attrezzata comodo divano letto matrimoniale,bagno e lavatrice.
Vicinanza ospedale merate
Zona tranquilla
Room Type
Entire home/apt
---
Property Type
House
---
Accommodates
2
---
Bedrooms
Robbiate, Lombardia, Italy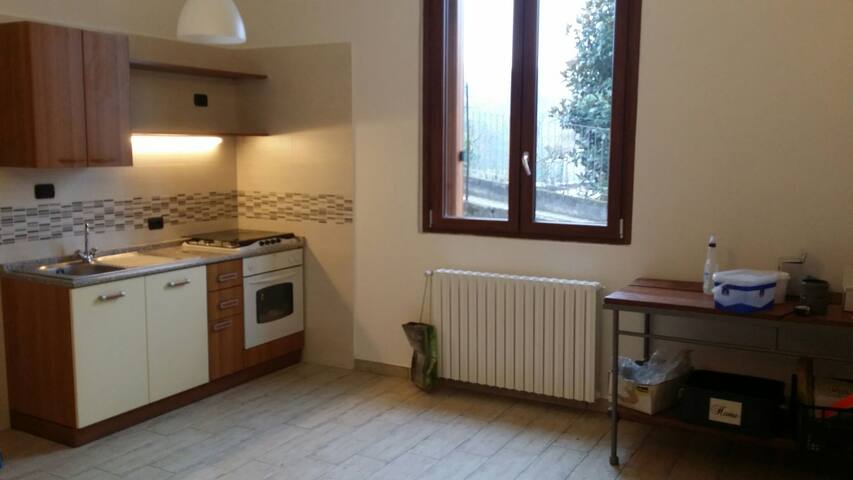 Our main residence until recently, the house is very spacious and furnished with comfort in mind. Located 30 mins from Milan, Bergamo and Lake Como, it's an ideal base for exploration as well as for off the beaten track discovery of local delights.
Enjoy a complimentary bottle of wine on arrival! Home away from home! However short or long your stay is, our aim is to make it comfortable. The property is ideal for two couples or family with children. The master bedroom on the first floor has a veranda and separate bathroom while on the ground floor the ample living room/double bedroom has a sofa bed which accommodates two more adults or children who can also enjoy the luxury of their own bathroom. The fifth person is accommodated on an inflatable bed which can be positioned downstairs or upstairs. Enjoy a drink al fresco in the patio garden surrounded by our beloved collection of fruit tree. Set at a distance from the road, the house is nice and quiet and the courtyard offers a safe place for children to play too. The property is very spacious and decorated in a contemporary fashion including a Japanese courtyard garden. Internet is available via Vodafone WiFi service available at about 3 euro per day.
The house offers a great base for famous sites though the real beauty lies in the lush greenery of the surrounding areas. If you love the outdoors, there is a lot to see and do locally from river walks to discovering the neighbouring medieval town of Merate (15 minute walk). The pre-Alps bordering Lake Como are just 20 minutes away which offer fabulous views, local delicacies and many of the villas open their gardens to the public.
Very nice cozy apartment with good books inside:) We personally liked kiwi garden very much. Great thanks to Doris for letting us stay in her house:)
Darya
2016-09-06T00:00:00Z
It was a nice stay can say we feel at home. All the arrangements were made as told and advertised in the airbnb site. Father in law of Doris is a nice and helpfull person. House was big enough to accommodate a gamily of 5. Rooms, kitchen and bathrooms were clean. It was around 40 kms far from Milan but well connected to highways.
Sarjeewan
2015-04-28T00:00:00Z
There were no surprise in the accomodation everything was clean and nice, I can recommend it for everybody who want to make trip around the country.
domonkos
2016-08-06T00:00:00Z
We had a great stay in Robbiate at Doris' place. Everything was perfect. A nice, tidy house with a fabulous small garden. Thank you Doris! And a special thanks to your father-in-law who met us at arrival.
Mervi
2016-10-01T00:00:00Z
This was a comfortable, spacious home. We used it to explore Milan, Bergamo and Verona. The value was unbeatable and I'd recommend it to anyone!
Chris
2016-10-12T00:00:00Z
There was a bottle of wine in the fridge, witch was very nice. The place was very clean and cosy. The problem was no internet and quit far from everything. It would be very helpful to leave a list from places to see or the places where you can swim. Anyway if you have a car and don't mind to drive you can visit a lot of things.
lydia
2014-08-09T00:00:00Z
Doris's home was a great place to stay during our stay and trip to the Formula 1 in Monza. The house is only 20 minutes away from Monza and 40 minutes from Milan. It was immaculately kept and we felt right at home. There was even a bottle of wine left there for us. We thoroughly enjoyed the house and its outdoor patio with fruit tree's.
Keith
2014-09-08T00:00:00Z
Excellent!! Very cosy!!
Sami
2015-09-15T00:00:00Z
Room Type
Entire home/apt
---
Property Type
House
---
Accommodates
5
---
Bedrooms
Robbiate, Lecco, Italy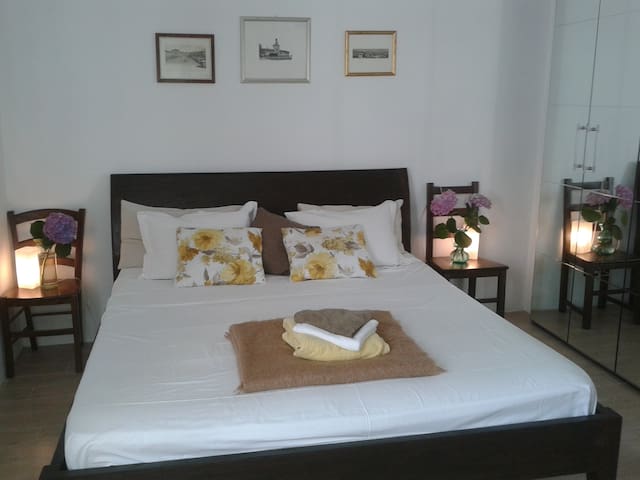 A nice touch of history. My house is practically about a 1000 years old. A nice way to explore Italy living in the real family.
Room Type
Private room
---
Property Type
House
---
Accommodates
3
---
Bedrooms
Bonate Sotto, Lombardia, Italy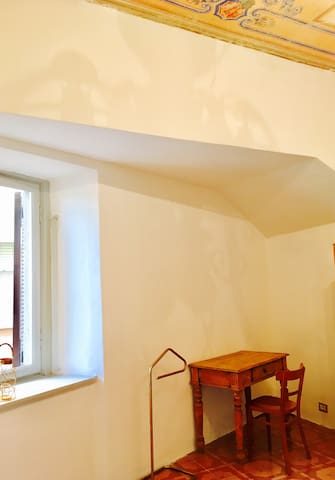 4 minutes walking distance to the centre and 2 km from train station which leads directly to Milan or Lecco. free WiFi internet access.
Exclusive relaxing bedroom in a beautiful contest with private bathroom. Kitchen, living room, garden - VERY QUIET -
Close to the city centre in a unique contest, incredible view.
Cesare is absolutely incredible. He welcomed us into his stunning house and had wine and breakfast already bought for us. He is a wonderful person with a breathtaking home, fabulous friends, adorable dogs (next door) and a fantastic taste of wine. The beautiful pictures on Airbnb cannot capture the real beauty of the location; and Cesare with everything and everyone that comes bundled with him just made the vacation even more paradisiac. He took care of our well being at all times and treated us like his friends, not his guests. My friend and I also had quiet, relaxing and private moments, but he was always right there when we needed him.
Melanie
2016-05-30T00:00:00Z
Cesare was very welcoming and he even took us out for an area tour. The house has lot of nice design details and we loved the garden and the pool even with the rain :) Totally recommend his place for a nice relaxing weekend!
Oana & Roberto
2015-08-01T00:00:00Z
Cesare was a friendly and helpful host. The house is not far from center of merate but is situated in very quit neighborhood. Perfect to explore Milan and como-lake.
Geert
2014-07-22T00:00:00Z
A very beautifull and esthetically decorated house. Located on a hilltop in Merate. You'll have the greatest view at the skyline of Milan. A quiet and peacefull place. We had a wonderful stay of two days doing absolutely nothing else hten emotionele the rest and going out for dinner in trendy places in Merate with Cesare and his marvelous friends.
Ernst
2014-08-18T00:00:00Z
Extraordinary place !
Mihai
2017-04-08T00:00:00Z
Cesare é molto gentile e disponibile, e la stanza é molto bella. Pulizia di prim'ordine. La mattina colazione abbondante... Bellissimo il posto e la casa, con vista sulla pianura. Consigliato!
Claudio
2015-09-22T00:00:00Z
Sono stato accolto da un amico, più che da un padrone di casa. Cesare è una persona splendida ed estremamente disponibile. La sua casa e' molto bella. La camera degli ospiti è in linea con il resto. Cibo sempre a disposizione. Finendo con un tuffo in piscina, davvero niente male. Voto 10.
Elena
2016-08-17T00:00:00Z
Room Type
Private room
---
Property Type
House
---
Accommodates
2
---
Bedrooms
Merate, Lombardia, Italy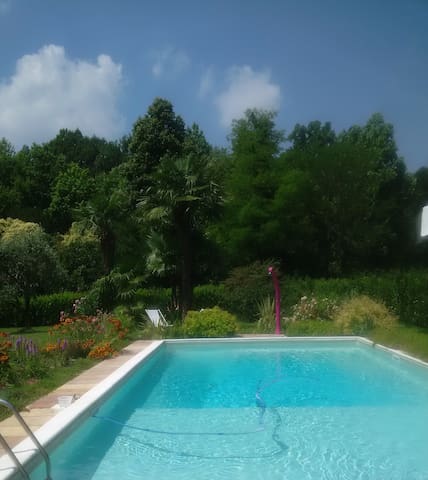 Roncalli Villa is a magnificent 17th century country house fully renovated at the end of the 90's. The Villa offers families, groups, friends and couples 3 apartments: "Il Rustico" is the name of one of these apartments, which are all fully connected to the Villa's main body. The other apartments will be available soon. Il Rustico welcomes up to 3 people and consists of a double bedroom, a single bedroom , a lovely kitchenette and a spacious living room. Roncalli Villa is provided with internal
Casa Roncalli si trova nel cuore di Mapello, provincia di Bergamo, a cinque minuti da Sotto Il Monte, paese del grande Papa Giovanni XXIII, e a soli dieci minuti da Bergamo, stupenda e magnifica città che merita assolutamente di essere visitata in ogni suo particolare. Vicino all'aereoporto di Orio al Serio (15/20 minuti di macchina), Mapello dista poco anche da Milano e dagli stupendi paesaggi vicino al Lago di Lecco e di Como. Casa Roncalli è un'ottima soluzione per chi cerca riposo e relax, ma anche un viaggio stupendo nei meravigliosi posti che vi sono nei dintorni.
Edoardo is the perfect host! We had such a pleseant stay at his accommodation. New, clean and beautiful place, with private courtyard, table and chairs for a perfect lunch, dinner or snack outside. Wi-fi available. Safe for children to play outside. Great interaction and communication. You can't find a better place for your stay around Bergamo.
Marzia
2017-04-07T00:00:00Z
Casa muito confortável, tem um lindo jardim, próximo de tudo e muito tranquilo, adoramos o lugar.
Jonathan
2017-02-25T00:00:00Z
Room Type
Entire home/apt
---
Property Type
House
---
Accommodates
3
---
Bedrooms
Mapello, Lombardia, Italy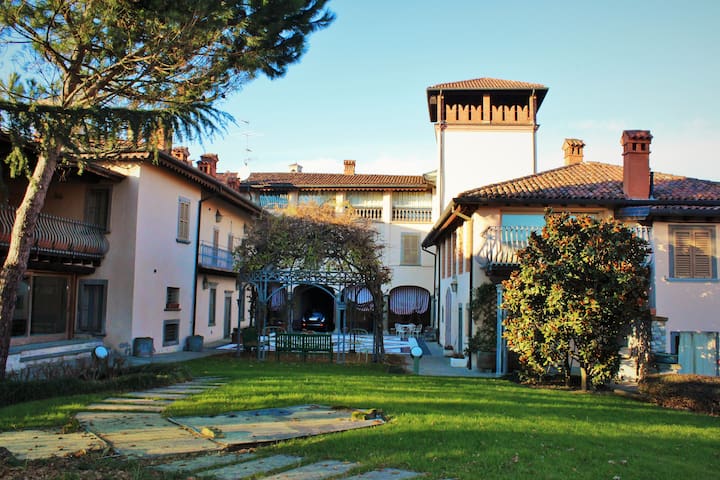 The house is immersed in nature and situated on the top of the hill near the famous S.Egidio Abbey. Many years ago the house was a barn, from the bedroom you will enjoy a fantastic view of Bergamo's landscape. The kitchen is at your disposal.
peacefull home, quiet enviroment
This place is called "Fontanella" and is very quiet. Fontanella is on the top of an hill. Here there are a Restaurant, a Church, wineries and many paths for walking. Fontanella is located in Sotto il Monte, the birthplace of Pope John XXIII.
In one word-Perfect! if you need a relaxing beautiful place, with a great view and a host that makes you feel at home even when you are far away-this is the place for you. Thank you James, for our amazing 2 night stay, hope to come back soon!
Noam
2016-10-13T00:00:00Z
Nous avons beaucoup apprécié la maison (son environnement, la qualité des équipements, le calme exceptionnel du lieu, la décoration sobre et avec goût, adaptée à l'environnement...). Nous remercions James de mettre un tel lieu à disposition, et nous serons heureux d'y revenir pour un séjour plus long.
agnès
2016-08-20T00:00:00Z
Purtroppo per un incidente son rimasto bloccato a letto e ho avuto non ho usufruire della prenotazione. Ho chiedo a James se fosse stato possibile spostare in avanti la prenotazione ma purtroppo i termini dell'accordo non lo permettevano ;-(
giuseppe
2016-05-15T00:00:00Z
Room Type
Entire home/apt
---
Property Type
House
---
Accommodates
2
---
Bedrooms
Sotto Il Monte Giovanni XXIII, Lombardia, Italy
Glycine Villa is close to Milan and Como, on Adda river in a green village with tennis and air swimming pool. It's perfect to visit Milan and Como Lake by car and motorbike(URL HIDDEN) Ideal for bike tourism (rental available).
Green and relaxing area for sport
Vriendelijk welkom door Monica en haar echtgenoot. Het huisje staat op een veilig omheind resort met tientallen andere vakantiehuisjes, van voornamelijk Italiaanse bewoners. Parkeren kan op het terrein, maar niet altijd voor de deur. De buren zijn erg vriendelijk en onze kinderen hebben erg leuk gespeeld met andere kinderen op het park. Het appartement is smakelijk ingericht, met veel 'persoonlijke' spulletjes. Omdat jongere kinderen (we hebben er twee en een baby) wel eens onhandig of onstuimig kunnen zijn, was het voor ons (2 ouders) wel eens spannend of we zonder schade uit zouden kunnen checken (is gelukt! :-) ) Het zwembad hebben we niet uitgeprobeerd (de kinderen wilden geen badmuts op) De Airconditioning is een mobiel apparaat, welke (het was erg warm) 's avonds voor het slapen gaan goed is gebruikt de slaapkamers te koelen. Uitstekend appartement, maar vanwege de inrichting misschien minder geschikt voor gezinnen met jonge kinderen.
Markus
2015-07-29T00:00:00Z
Logement conforme à la description Quartier calme Attention pour la piscine bonnet de bain obligatoire
Sophie
2016-08-14T00:00:00Z
Casa molto accogliente pulita e con tutti i comfort in mezzo al verde con giardino e stanze soleggiate. Quartiere con molte possibilità di attività come il tennis, la piscina e parco giochi ideale sia per bambini che per animali domestici. E inoltre il vicinato è molto cordiale. Il quartiere è silenzioso si può dormire e rilassarsi che è una meraviglia. Si può anche raggiungere facilmente il fiume Adda che dista pochi km dall'abitazione per poter fare una passeggiata.
anita
2015-08-23T00:00:00Z
Buona accoglienza e disponibilità dei proprietari.residence carino e curato.bella e tranquilla piscina.carina la passeggiata sul fiume Adda.casa ideale per coppia o famiglia con figli.
rodolfo
2015-08-16T00:00:00Z
Room Type
Entire home/apt
---
Property Type
House
---
Accommodates
4
---
Bedrooms
Arlate, Lombardia, Italy

The single room is in a nice, warm house in a small town near Bergamo, around 40km from Milano where my dog, cat and I will be very happy to welcome you !
The house has a garden, two bathrooms and parking space outside. You would be hosted in a single room and have your own private bathroom with shower.
The house is located in a quiet small town, around 10km from Bergamo center (that can be reached by bus) and around 45km from Milan.
Very good room for one person, with a nice bathroom and and excellent Italian coffee in the morning !
Christophe
2016-08-08T00:00:00Z
The host canceled this reservation 57 days before arrival. This is an automated posting.
Rose
2016-02-14T00:00:00Z
Quiet and Cozy. That I found in Miry's . I twirreled around Bergamot following GPS , so make sure to enter the neighbourhood, and not only Bergamot, cause every place has at keast tgree Leonardo da Vinci street! With a little help from Sandy we were able to see a lot more and for a service in latin I will really be back Miry! Yes, the Citra Alta is my favourite spot to breathe the latin atmosphere. Ciao from Lorène , also to the adorable cat: meow!
Caca
2016-02-23T00:00:00Z
The house is really good. The dog and the cat are very nice and quite. Miry make me feel at home and his son is really friendly. My room and the bathroom are really clean and also the house. Internet works perfect. His son helps my with some things like phone caheger adapter and brings me to eat a good pizza. I used the kitchen for breakfast and it was ok too...
ghazi
2016-09-14T00:00:00Z
Very nice host ! The house was clean and the room really comfortable. I had a nice stay at this place.
Frédéric
2016-04-28T00:00:00Z
The host canceled this reservation 15 days before arrival. This is an automated posting.
Emanuele
2015-10-07T00:00:00Z
The host canceled this reservation 4 days before arrival. This is an automated posting.
Alexei
2015-12-16T00:00:00Z
Miry and her son, Ricardo are sweet, friendly, accommodating and they make you feel at home the minute you walk in to their home. Their home is very clean and comfortable.The bedroom is very tidy, spacious for one person and the bathroom is quite luxurious. It is located in a very nice and quiet residential area, it is perfect for someone who has his own vehicle and wants to explore Bergamo, Milan ,Lake Iseo or fly out from Bergamo airport. Miry even let me park my car at her house and took me to the airport to catch a flight to Spain for a week. Thank you Miry. I highly recommend to anyone who are looking for a place to stay in this area. I throuroughly enjoyed the time I spent in her home. And will definitely stay here again if I return to Bergamo.
Prem
2016-08-21T00:00:00Z
Room Type
Private room
---
Property Type
House
---
Accommodates
3
---
Bedrooms
Osio Sopra, Bergamo, Italy
The genuine and friendly hospitality of the family Beretta will also welcome in six rooms, each dedicated to one color, set up the first floor of Cascina Magana, to make you spend a night wrapped in the tranquility and peace of the Brianza countryside. The rooms are built in the old peasant houses, tastefully decorated to the past. They are also equipped with all modern amenities including wireless internet connection.
Room Type
Private room
---
Property Type
House
---
Accommodates
4
---
Bedrooms
Burago di Molgora, Lombardy, Italy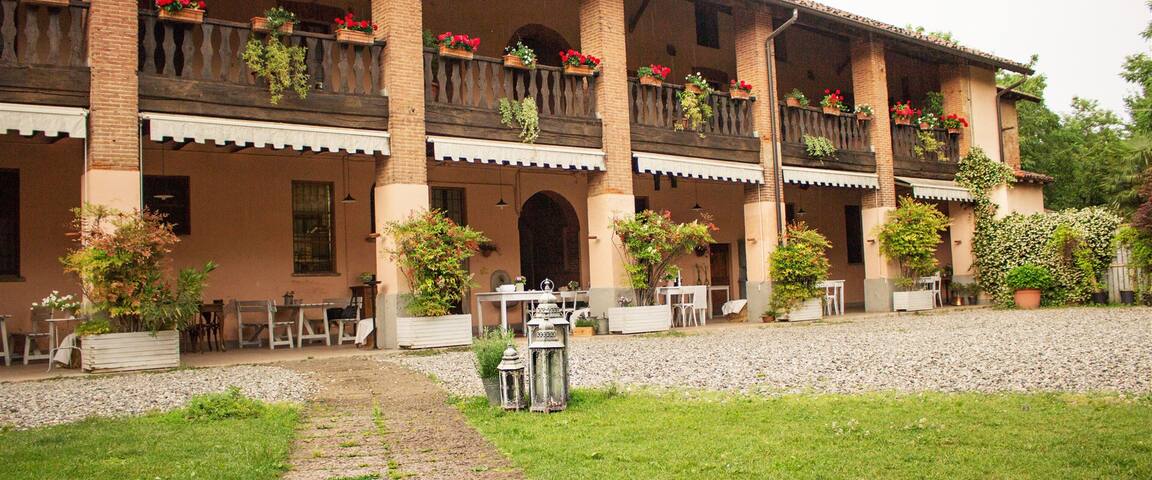 I let in Carnate - 25 km (15 miles) from Milan in the beautiful and green Brianza region - two double bedrooms with a private bathroom with shower and all comforts. The house is close to the main motorways and city ring roads if you come by car. It
I let in Carnate - 25 km (15 miles) from Milan in the beautiful and green Brianza region - one double bedroom and a single bedroom. There is a private bathroom with shower and all comforts. The apartment is available all year round and more than 3 persons can be hosted upon request.
It's very handy to reach Milan, the Milan Rho Fair and all the main northern cities and Switzerland.The house is close to the main motorways and city ring roads if you come by car. It is also connected easily by railway Trenitalia to Milan and Lecco in half an hour, Como and Bergamo in an hour. Monza is just a few minutes away. Locally you can visit Imbersago on the Adda river where the ferry designed by Leonardo da Vinci crosses the river even today. Montevecchia, renowned for its panorama and its tipical cheeses and the characteristic iron bridge of Paderno are nearby. Also the lakes of Lecco and Como are very close by.
Room Type
Private room
---
Property Type
House
---
Accommodates
4
---
Bedrooms
Carnate, Lombardy, Italy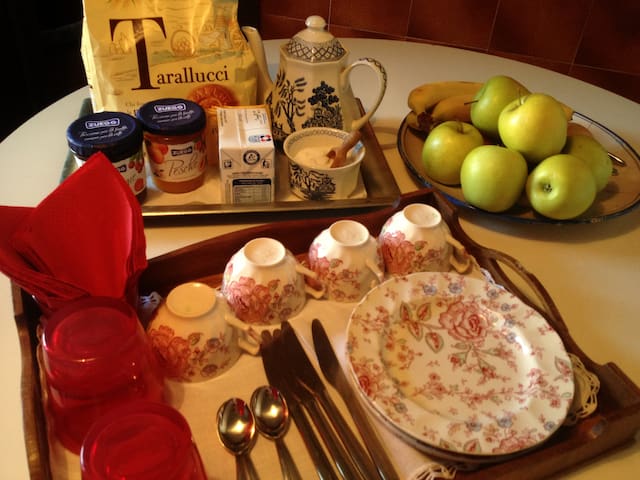 Monolocale semi-indipendente, con giardino privato, immerso nel verde del Parco del Curone, a meno di due Km dalla stazione fs di Olgiate Molgora, da cui si possono facilmente raggiungere le città di Lecco, Monza, Milano, Como e Bergamo. Dotato di internet wi-fi, cucina ed ampio bagno con lavanderia a disposizione degli ospiti.
Monolocale con giardino privato posto al piano terra di una villetta, con riscaldamento indipendente. Bagno con doccia e lavatrice. Cucina con frigorifero, forno a microonde e lavastoviglie. Televisione e collegamento internet gratuito L'alloggio è posto all'interno della tranquillità del Parco del Curone, ma in una posizione strategica per raggiungere (con auto privata o mezzi pubblici) le principali città della zona: Lecco, Monza e Milano, ma anche Bergamo e Como. Gratuitamente a disposizione degli ospiti biciclette per escursioni.
This place is a little out of the way from Milan, but it is definitely worth the trip. Enrico is a great host. His house is beautiful and the room is very nice. Enrico went out of his way to make sure we were accommodated. Wish we had time to spend more than one night here. The countryside is very relaxing.
David
2017-01-29T00:00:00Z
Enrico' s father and mother was so welcoming! We arrived very late but they was so kind make a tasty dinner for us! Father knows English very well so we could communicate very nicely. And they even have 10 turtles in their garden like a pets! They are so cute and they love watermelons! :)
Inga
2016-08-15T00:00:00Z
Stay at Enrico was absolutely wonderful! :-) We spent our days in very cosy and artistically vibing apartment, having a piece of beautiful garden for our disposal and enjoying a nearby natural park and its small adorable corners - still untouched by crowds of tourists. On top of that, we were treated as kings :-D, because Enrico and his family are amazingly generous people, words are not enough. And language was not any barier - even if Enrico's mother speaks only few words in English, we made ourselves understood very well... still not understanding how, but we did! :-D And Enrico's father helped us so much when he hurried straight to Milano to return us some jackets we forgot in the closet on our departure. His hospitality doesn't know any limits! :-) Thank you very much one more time. ;-) We definitely recommend you to visit this small piece of heaven! ;-)
Martina
2016-08-11T00:00:00Z
We stayed in the studio for 1 night. Enrico picked us up from the train station and dropped us off. The house was located in a beautiful natural park with rolling vineyards. It was a great place for hiking or running. The studio had everything we needed for cooking. Enrico was very kind and helpful. Thanks for a great stay!
Becky
2016-09-04T00:00:00Z
Persone davvero speciali e disponibili, ottima accoglienza, io personalmente mi sono sentita a CASA. Grazie
Affy
2016-12-23T00:00:00Z
Abbiamo soggiornato 2 notti in un immobile semi indipendentemente immerso nel Parco del Curone, ottimo host. Consigliatissimo!
Vittorio
2017-03-26T00:00:00Z
Andrea e la sua famiglia, che abitano nello stesso stabile, sono stati gentilissimi. La zona è molto calma e tranquilla. Il minialloggio ricavato al piano basso si affaccia su un bel giardino ed è attrezzato di tutto: cucina, lavatrice, bagno indipendente con grande doccia, tavolo per mangiare all'interno e all'esterno.
Andrea
2016-07-07T00:00:00Z
Enrico e la sua famiglia sono degli host coi fiocchi!! Ci siamo sentiti piu' che accolti, coccolati! La casa è fornita di tutto il necessario per sentirsi come a casa propria, giardino privato e la posizione nel Parco di Montevecchia sono elementi top! Super facile raggiungere a piedi i sentieri. Consiglio per staccare dalla città Montevecchia e sopratutto la casa di Enrico sono perfette!
Eleonora
2017-04-04T00:00:00Z
Room Type
Private room
---
Property Type
House
---
Accommodates
2
---
Bedrooms
Province of Lecco, Lombardy, Italy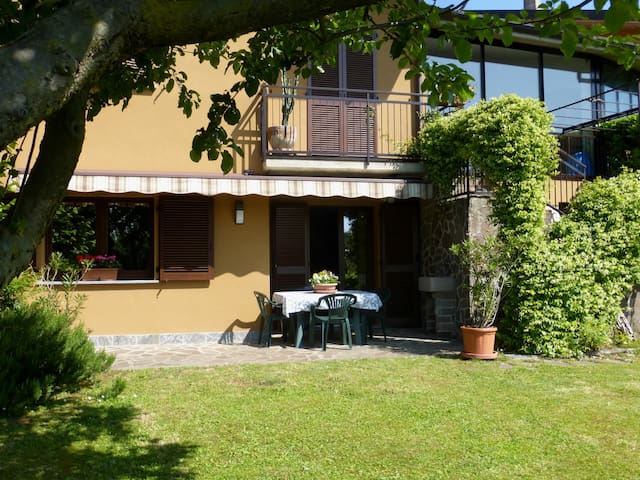 Beautiful, typical fully renovated farmhouse It composed of 8 rooms with private bathrooms, 20 beds, living room of 250 meters equipped kitchen for large numbers, covered porch of 150 meters, garden, courtyard. Private parking adjacent to the property. Barbecue
The Colombee is a renovated farmhouse surrounded the Montevecchia Regional Park, nestled in an oasis of tranquility and nature. Arranged two two levels, the ground floor dining kitchen, bathrooms; the first floor rooms with private facilities in camera.Dal Garden you can enjoy a fresh air and views of the vineyards.
Montevecchia: a few hundred d imetri from the house there is a tennis court, the soccer field, fitness trail, and a playground for kids and children .; There are many paths for excursions on foot with which you can reach the sanctuary of the Blessed Virgin Mary. and the old town of Montevecchia where you can admire the peaks of the Resegone and Grigna .A Montevecchia are produced the famous cheese, meats, wine, honey, medicinal herbs Montevecchia is the destination of the Way of St. Augustine only route to Italy to visit the Romanesque churches. Montevecchia is the most beautiful country of Brianza, is immersed in the park of the Curonian. Milan and Lecco can be reached in about 30 minutes by train from cernusco merate station (1 km) .The calm, the green silence and nature: all just a few kilometers from Milan make the Colombee the ideal destination to relax
Roberto was extremely nice and flexible and helpful as a host. The area is fantastic, very picturesque. The house is nicely arranged. The rooms were pleasant. We ordered additionaly breakfast on three days, which was a traditional Italian breakfast (sweets and coffee). We also had the chance to try Roberto's dinner, which was very good, too.
Malgorzata
2015-04-21T00:00:00Z
The place was great, beautifully designed and had a very rustic feel to it. The rooms were simply amazing. Roberto was very hospitable and our family has a wonderful time.
Phillip
2015-12-22T00:00:00Z
un excellent accueil à recommander sans hésiter le lieu est très bien rénové, chambres toutes différentes, propres et bien équipées. Nous avons demandé à Roberto de nous préparer un dîner pour le soir pour 12 personnes. Le repas était excellent, copieux, beaucoup de goût, et une disponibilité du personnel appréciable. le village est calme, entouré de verdure...parfait
laure
2015-04-18T00:00:00Z
Room Type
Entire home/apt
---
Property Type
House
---
Accommodates
16
---
Bedrooms
Montevecchia, Italia, Italy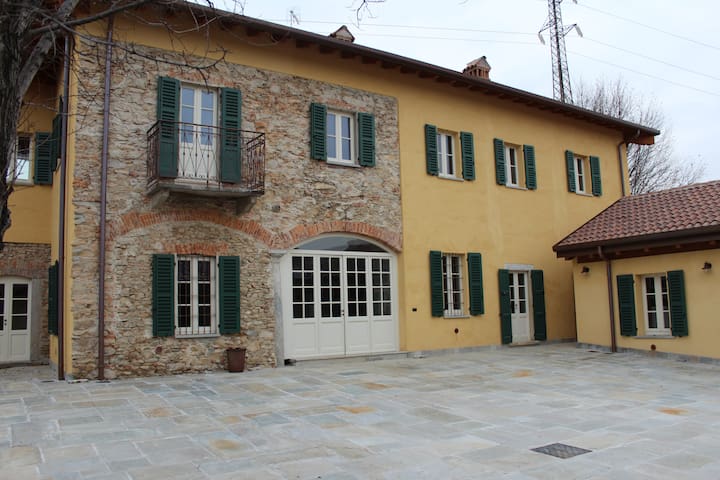 In zona collinare immersa nel verde a 3 km dalla stazione ferroviaria che collega Milano o Lecco. A 2 km da uno splendido laghetto dove fare passeggiate. Contesto molto tranquillo.
Camera matrimoniale spaziosa e luminosa con bagno privato. Cucina, soggiorno, giardino e parcheggio.
A 3 km dal centro della città, posizione collinare tranquilla, immersa nel verde con stupendo panorama.
Casa bellissima ed accogliente, confortevole, full optional, situata in una bella zona nelle vicinanze della Riserva Naturale Lago di Sartirana, panorama le montagne del Resegone da dove escono ed o potuto ammirare delle albe spettacolari. Host simpatica e disponibile. La consiglio Veramente
Benedetto
2016-01-24T00:00:00Z
Bella esperienza per i mei suoceri. La casa è immersa nel verde ed ha tutto il necessario. La mamma della proprietaria è una persona molto gentile e disponibile così come la proprietaria con cui abbiamo comunicato benissimo via messaggi.
Francesca
2016-03-25T00:00:00Z
Mi sono trovata benissimo!!!! Posto stupendo... Albe meravigliose... La casa è arredata molto bene e cucina super accessoriata. Posto incantevole fuori dal mondo, ma in un attimo nel centro di Merate. Beatrice gentilissima.... Ti viene incontro per qualsiasi esigenza. Tappo, il cane bassotto della Bea, simpaticissimo!!!!
Stefania
2015-11-17T00:00:00Z
Room Type
Private room
---
Property Type
House
---
Accommodates
2
---
Bedrooms
Merate, Lombardia, Italy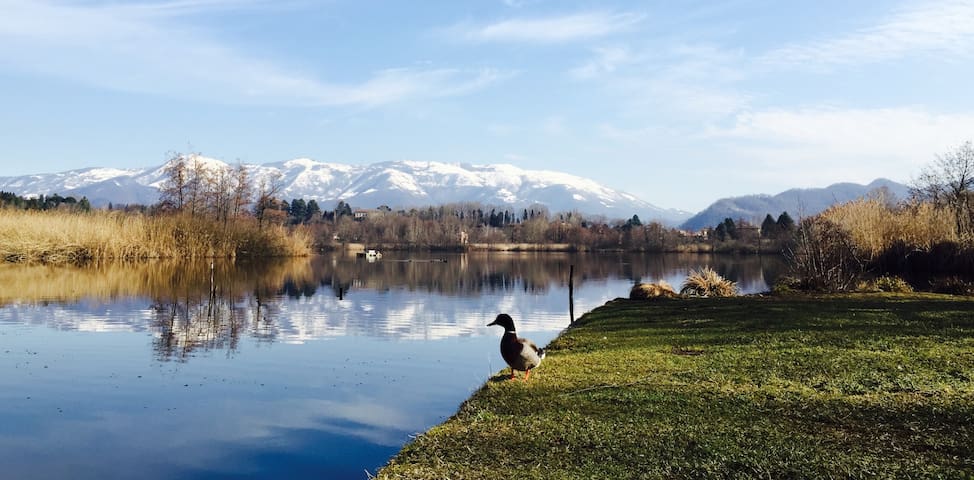 period house with three rooms, each with its own bathroom, large living room with fireplace and a breakfast room, with a kitchenette. Private parking, Wi-Fi.
Room Type
Private room
---
Property Type
House
---
Accommodates
6
---
Bedrooms
Mapello, Bergamo, Italy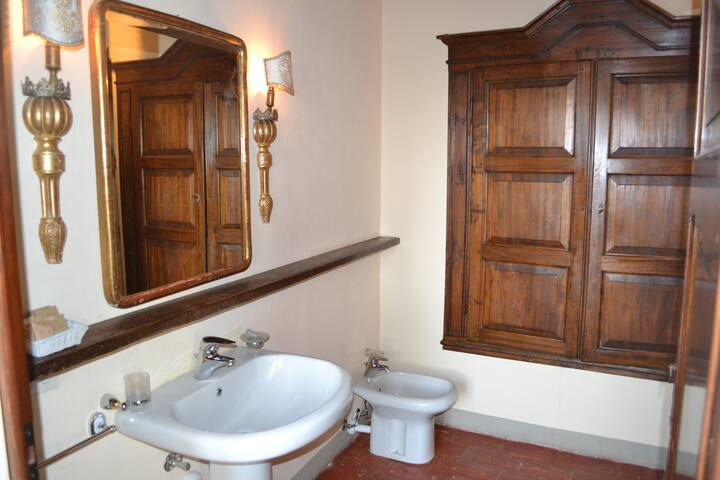 Cornate d'Adda - Airbnb
:
Average

4.56

out of

5

stars from

169

guest reviews
1

–

18

of

106 Home Rentals
Enter dates to see full pricing. Additional fees apply. Taxes may be added.