Private studio in Sant Just Desvern. Entrance independent from our house, private bathroom, no kitchen but an electric water kettle, plates, cutlery, glasses, tea and coffee are available. A new water boiler has been installed in February 2017, to guarantee hot water in the shower! Quiet area, next to the tram station T3 "Rambla de Sant Just": 25 min to Camp Nou next to Barcelona Univ. Park
Our studio is ideal for independent travellers who want to visit Barcelona but also stay in a quiet place and be able to reach the mountain in a snap. Parking is free in our area.
Quiet area. Residential and safe, 30 min to Barcelona by tram (T3). 15 min to the airport by taxi. We are at walking/running/biking distance from the mountain Collserola with its natural park and the Carretera de las aguas with splendid views over Barcelona. If you are like sport you may also bike 1h30 to the Delta de Llobregat with its natural park.
This place was great! Close to tram to take you into city (stops running late at night though!) pascal and his wife were very nice and accommodating and were there for anything we needed! Definitely recommend!
Maddie
2015-06-19T00:00:00Z
Pascal was really helpful, apartment was great, big, roomy and private. easy public transport into the city via train, bus or tram
Harry
2016-03-10T00:00:00Z
This place is really functional and perfectly clean if you just want a place to sleep and leave your car after a long day spent walking around the city. The neighborhood is connected to the downtown by bus and tramway, and it's safe even at night. Pascal is a nice, polite and educated person.
Rafael
2015-08-17T00:00:00Z
Nice place, a bit humid and cold inside. The tiny heater could not do a great job. Pascal was very helpful and friendly.
Tito
2016-11-05T00:00:00Z
Beautiful and authentic accommodation, so well organized and handled by Pascal, on one high and very professional level. The location has an outstanding comfort - an unique apartment, that serves for variety types of Barcelona journeys, explores and visits, and also so well connected to the city transport network. Un lugar genial y muy recomendable en todos aspectos - desde su autenticidad, con un confort y organización perfectamente gestionados por Pascal, hasta su proximidad al transporte publico.
Nikola
2017-03-31T00:00:00Z
Pascals house was comfortable, well provided and had all the facilities to make a good stay. Pascal stays right next door so he is always available. The public transportation is good so you can get to any place easily.
Deepti
2015-09-12T00:00:00Z
We had a very warm welcome by Pascal who owns the little studio above his garage. The place is not too big but is had everything you need and a nice bed. It was very clean and with a few hiccups the wifi worked :) pascal pointed a nice restaurant out to us where whe had a nice and simple but tipical Spanish lunch. It takes you about 45 minutes to get to the center of Barcelona by tram and metro. When we want to visit Barcelona again we would go back for sure! Thank you for your hospitality and help :)
Jolijn
2015-09-21T00:00:00Z
Great value for the price !
Julien
2016-10-08T00:00:00Z
Room Type
Entire home/apt
---
Property Type
Villa
---
Accommodates
2
---
Bedrooms
Sant Just Desvern, Catalonia, Spain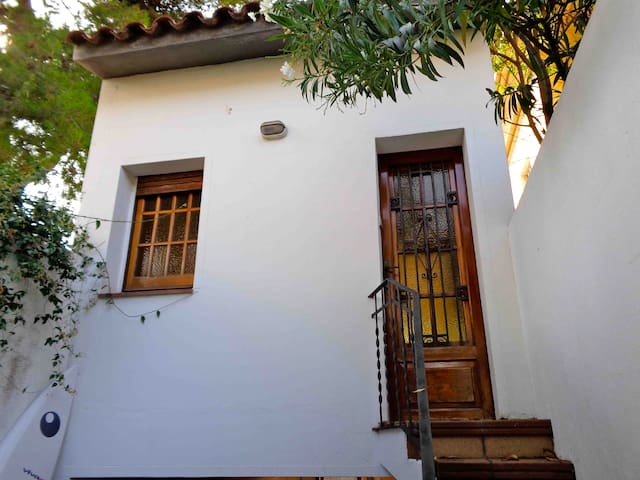 Very good value/quality relation, luxury villa with 5 suites, unrivalled views, private pool and garden For being a villa is the closest you will get to the downtown of Barcelona, moreover as described is in a top district and very well connected.
'THE MAN WHO FOLLOWS THE CROWD WILL USUALLY GET NO FURTHER THAN THE CROWD, THE MAN WHO WALKS ALONE IS LIKELY TO FIND HIMSELF IN PLACES NO ONE HAS EVER BEEN' - Alan Ashley-Pitt ARCHITECTURE, DECORATION & VIEWS The house is built on the side of a hill; far from finding difficulties in the uneven land, Villa Rock takes full advantage of it, with breathtaking views over the city of Barcelona due to its predominant location, with 'W' hotel and olympic mountain of Montjuic or the mediterranean sea. Its elegant and modern architectural lines and its inmense windows makes this villa very singular and unique. Together with its exclusive finishes and furnishings of exceptional quality guarantee the comfort of this luxury residence. Its details are second to none, seeking always to create new feelings in its guests. DISTRIBUTION AND GARDEN Villa Rock is a three-storey villa of 600 square meters. On the top floor we find the main entrance, the hall leads to the master suite. The magnificent master suite is complemented by a spacious dressing room, an amazing bathroom with huge bath tub and a private south-facing balcony with scenic views. On the Ground floor we find the main living room with panoramic views over the city of barcelona and access to the garden and swimmingpool, in this floor additionally we find 3 suites more, the kitchen and a courtesy bathroom. On the lower floor, we find an additional living room and the last suite. The southfacing orientation of the villa and the garden, makes that guest can enjoy the maximum their stay, incredible sunrises in the mediterranean sea in the early morning, enjoying a relax morning reading in the lounge area or lying down in the sunbeds, having fun with bbq and cocktails for lunch, and enjoying chill out music and the swimming pool in the afternoon or evening. FACILITIES The villa is full of facilities, please see the details section for futher information. The kitchen: is fully equipped, with all type of appliances, nespreso coffee machine, microwave, oven, toaster, blender, dishwasher, etc. The bathroom: hand soap, hair dryers, dirty cloth basket, etc. Clenning appliance and material: dishwasher, vacuum, washing machine, tumble dryer, etc. LOCATION In Barcelona there are two top districts, Pedralbes and Ciutat Diagonal, both of them known as the best, villa rock is in one of them, a highly prestigious area with private security 24 hours a day, just ten minutes away driving from downtown Barcelona. For being a villa is the closest you will get to the downtown, moreover as described above is in a top district, very well connected: 15 minutes driving to the airport, 10 minutes driving to the downtown, 5 minutes driving to Barcelona stadium, 20 minutes to Barcelona port. Renting a car is strongly recommended, even though the public transportation exist the quality is poor. MANAGER/OWNER EXPERTISE Lastly but not least, the manager and owner of the villa has lived all his life in Barcelona and is keen to give advice on how to experience the modern and cosmopolitan city of Barcelona like a local. Such as, sporting events like going to a FCB football match, F1 GP or MotoGP, learning about the culture and history of Barcelona with a guide, tasting the rich gastronomy of Barcelonas restaurants, going to the theater or doing excursions to villages or town in the surroundings. PRICES & AVAILABILITY Please check prices on our rates section, prices may vary depending on the season. Prices are for 10 guests, we do offer the possibility to host extra guests but at an extra cost. The prices include one set of bed cloth, one set of bath towels, a swimming pool towel, general expenses for light, water and gas, and gardener that will access the property two/three mornings per week. Please check availability on our calendar section. Calendar is updated daily and there holds of the property are not offered. RENTING PROCESS The renting process of Villa Rock is very easy and straight forward. Consisting of two setps legal requirement and payment dates. LEGAL REQUIREMENTS, you will need to fill and sign the terms and conditions, send a copy of a valid passport of the person signing the terms and conditions, and make the payments as described in the payment conditions. PAYMENT DATES, the payments are as follows 30% of the rental value at the date of the booking, balance of 70% of the total rental value 40 days prior to the date of arrival. In case your date of arrival is within less than 40 days 100% of the payment will be required. Security deposit of 1.200 euros is mandatory. EXTRA SERVICES We do offer pre-arrival concierge service for free, a list of the most common service required by guests are: Pre-Stocking service: Fee of 80 euros plus food costs, the service includes going to do the grocery and leaving the food unpacked in the cupboards and fridge. Pre-arrenged taxis for a smooth arrival: from 60 euros. Chauffeur: from 120 euros Maid Service: 18 euros per hour. Extra set of bed cloth, bath towels and swimming pool towels: 40 euros. Butler: from 250 euros / day. Private Chef: from 300 euros / day. DJ session: from 800 euros / session. Lipdub: 800 euros / session. Wine tasting: from 150 euros plus wine costs. Guide: from 250 euros plus tickets and transfer costs. If you are interested in any activity which is not listed please do let us know. WE ARE HOPING TO HOST YOU, PLEASE GET IN TOUCH WITH US!!!
In Barcelona there are two top districts, Pedralbes and Ciutat Diagonal, both of them known as the best, villa rock is in one of them, a highly prestigious area with private security 24 hours a day, just ten minutes away driving from downtown Barcelona. For being a villa is the closest you will get to the downtown, moreover as described above is in a top district, very well connected: 15 minutes driving to the airport, 10 minutes driving to the downtown, 5 minutes driving to Barcelona stadium, 20 minutes to Barcelona port.
The reservation was canceled 20 days before arrival. This is an automated posting.
Martin
2015-02-09T00:00:00Z
This is a really hard review to write. The main problem with this property is a massive mis-match between the price and what you get. We were looking for a truly top of the market property, which is what we expected to get for £600 plus extras per night for a "four plus one" bedroom property far from the centre. While it was pretty good overall, it really failed to match the expected standards. On the positive side, the house is really impressive. The design is nice and unique, the view is spectacular, there is a swimming pool, nice outside area and you really get a lot of privacy. The area is very beautiful, although be warned that it is quite far from the city. Sadly, while the potential is huge, the condition of the house and the management let us down. First, the property is really not well maintained. Many walls were dirty/marked, some floors are badly scratched, the pool was not very clean. A number of fittings needed repairing: one of the showers had unusably low pressure, one of the bed-side tables was broken, most of the window locks were broken and used steel bars to block them shut, loads of light bulbs were blown. The state of it was generally very tired. Many bathroom fittings were nasty cheap plastic numbers. The management as well left much to be desired. First, the lack of communication. It took a number of days and attempts to get a reply out of them and I tried to email, airbnb message them and call. I finally got a reply one day before the check-in day, even though I booked about a week earlier. Second, the remarkable lack of provisions in the property. I appreciate there was no promise of it, but it is customary to leave some coffee, tea and sugar for one's guests. Also, shampoo and shower gel would be nice. For £600 a day property, it is not much to ask! Third, no sound system was provided - only two small ipod docks. Apparently this was to avoid parties. I don't care if you want to avoid parties - vet your guests better or charge a higher deposit. When I pay £600 a nigh, I demand a decent hi fi! Finally, there was an overall lack of attention to the guests. A text message we sent was completely ignored, they were late to come for the check-out without calling us to let us know and the so-called "house manual" contained zero information about the area or things to do in Barcelona. It instead focused on how much they would take out of our deposit if we breached their rules. Perhaps the property's shortcomings relate to the management company having 200 properties they look after. Sadly for the owner, this is not my problem! When I pay £600 a night, I expect more than what I got! Ultimately, either of two need to happen: up their game or halve the price!
Nikos
2015-09-06T00:00:00Z
Room Type
Entire home/flat
---
Property Type
Villa
---
Accommodates
10
---
Bedrooms
Esplugues de Llobregat, Catalonia, Spain
A double room in a unique villa located on top of Tibidabo, with a lovely garden, an amazing swimming pool and spectacular views over the city. Perfect for those who want to be in a relaxed environment, enjoy the privacy and intimacy and still be 20min from the center of Barcelona.
The setting of the house is what really sets it apart. It is located in the heart of the Natural Park of Collserola that rises up over Barcelona's Metropolitan Area. This well-preserved, 8,000-hectare natural area is a paradise for hikers, bikers and nature lovers. The house offers amazing views to both sides of the mountain: to the east you are greeted with a fully-fledged panoramic view of the city. From the garden, you have view of the valley, and on clear days you will see the mountain of Montserrat. Vallvidrera village is only less than 1 km away, and it is a lovely walk if you are in need of some basic groceries or if you want to enjoy a beer in the sunny plaza. The village has one convenient store and a bigger supermarket. It also has one of the most emblematic restaurants of Barcelona: Antigua Casa Trampa, which is more than 100 years old and serves local homemade meals at very good prices. (Please note that Casa Trampa is closed during the month of August). In the mornings it is an experience in itself to walk to the village and buy fresh bread at the local bakery. The house is also only a 5-minute walk away from one of Barcelona's main family attractions, the amusement park of TIbidabo. In addition the house is just a 5-minute walk away from the Temple of Tibidabo, which is one of the landmarks of Barcelona´s skyline. It is possible to go all the way up to the Pantocrator with an elevator and enjoy a 360º view over the metropolitan area of Barcelona, the Collserola Park and Montserrat. On the way down going to Vallvidrera, you can also visit the Tower of Collserola, by the architect Norman Foster. The tower has an observation deck, 560m above the sea level with a magnificent panorama over the city. If you want to meet Barcelona's runners, you are very close to Carretera de les Aigües, where most of them train. There are also many cyclists and walkers with dogs and kids. Carretera de les Aigües is a 20 km-long graveled path that can be done overlooking the city the whole way long. Please note that the neighborhood enjoys of 2 to 4 degrees less during the whole year, making summer temperatures very pleasant. In conclusion, Vallvidrera and Tibidabo is one of the most cozy, authentic and envied neighborhoods in Barcelona. The reason is its amazing natural surroundings, the calmness you can enjoy, but still being it so easily accessible to the city center. So, if you are a family, a group of friends or even a couple, this is a perfect option because you will be able to combine both relaxing times by the swimming pool, walking around the park or just tanning in the terrace, with more hectic days in the amazing city of Barcelona. In addition you will get a feeling of how it is to live in one of the most tranquil and charming neighborhoods of the city and you can stay assure you will be feeling like a real local during your whole stay.
My mum and I stayed at Martha's and Oyvin's place in the beginning of April for 6 days and we had the most amazing time! The house is newly renovated and situated on a very privileged location with amazing views over the city of Barcelona on one side and the hills surrounding the city on the other side. It takes you about 30 minutes to get down to the center of the city by public transportation (first a bus, then a funicular and then the metro), which makes it a perfect place for those wanting to combine the calmth and peacefulness of the nature surrounding Barcelona and little trips to the inner city. Martha and Oyvin are a very warm and inspirational couple who like to share their life experience (which is mind blowing) and are really eager to meeting new people and getting engaged in all sorts of projects. My mum and I came back from this trip inspired and will definitely keep in touch with them! I would definitely recommend it to everyone, and mostly to open-minded people looking for an escape in an amazing setting!
Maud
2017-04-05T00:00:00Z
We had an amazing weekend here! Martha and Øyvin are inspiring people, really open and kind. We were the first people to stay there after the renovations. Because of that, there were some minor complications to the room. This was handled well by the couple. Definitely recommend this place!
Billy
2017-03-26T00:00:00Z
Room Type
Private room
---
Property Type
Villa
---
Accommodates
2
---
Bedrooms
Barcelona, Catalunya, Spain
Modern Villa located in Vallvidrera, inside a natural park, connected to Barcelona with a funicular+the subway. Splendid views over Montserrat and Barcelona. Private garden & Pool, BBQ, Aircon, very light, spacious (500m2), optimal for families. New.
Room Type
Entire home/apt
---
Property Type
Villa
---
Accommodates
8
---
Bedrooms
Barcelona, Catalunya, Spain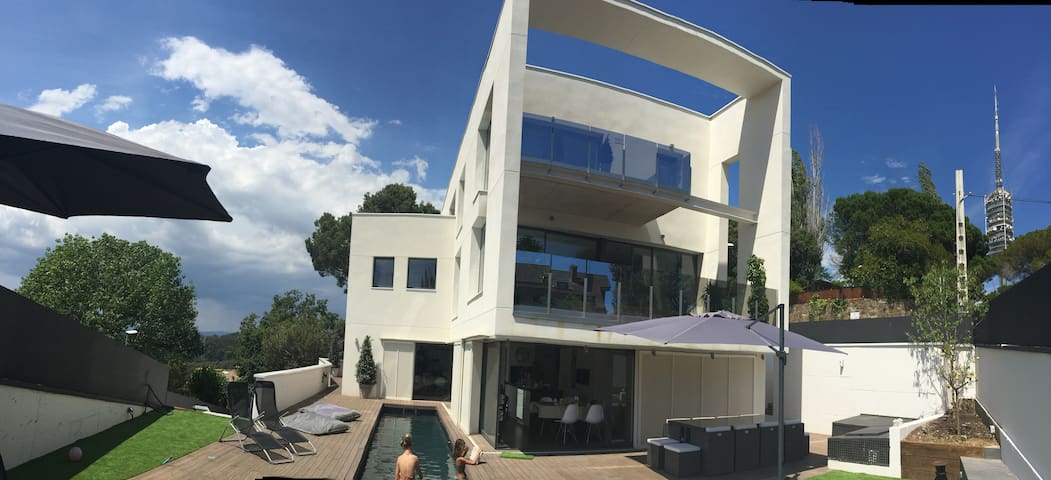 " A conserved, period villa situated in the midst of the "lung" of Barcelona.Unbeatably situated within the metropolitan area of Barcelona and in the midst of the Collserola Nature Reserve. A beautiful, 1930s house" Tourist L :HUTB-009025 The house is at 3 minutes walking to the metro station
" A conserved, period villa situated in the midst of the "lung" of Barcelona.Unbeatably situated within the metropolitan area of Barcelona and in the midst of the Collserola Nature Reserve. A beautiful, 1930s house, pleasantly situated in typically Mediterranean woodland with terraces. Recently restored maintaining its original, officially catalogued style. , at an unbelievable 5, 10 or 15 minutes by metro to the center and at only 3 minutes walk from the nearest station, Les Planes. Surounded by nature, wildlife and silence, yet maintaining the advantages of a great city, the house is ideal for combining work and holidaying, creativity and culture activities or simply enjoying moments of tranquility away from the hustle and bustle of the city. Consisting of two-floors, the house is spacious and comfortable. On the upper floor there are 3 bedrooms and a small studio, a bathroom and a terrace with lovely, parkland views. On the lower floor there is a self-contained single bedroom, equipped with a shower; a living room with a sofa-bed; an American style kitchen-dining room; and a hall. A spacious garden terrace surrounds the house which is itself, surrounded by mixed woodland and attractive villas. On the garden terrace there are numerous spots in which to relax and read, chat, play table-tennis or make bar-b-ques. Surrounded as it is by trees, the house is cool and fresh on summer nights. "
This is a natural park with birds wild boars and the situation is really a missing. The park is inside the city.
Beatriz's place is spacious. We love Les Planes, close to city center, and in a mountain setting. Her house is just a few minutes walk to the train station.
Diana
2016-12-29T00:00:00Z
Very beautiful view from the villa! Cristina and Roman are super nice people! Easy to get to the center of the city. Wonderful experience for everybody who want to spend lovely time in Barcelona! Best wishes for all the tenants after!
Yi
2013-05-26T00:00:00Z
Cristina's (aka Beatriz's) villa is lovely and, as many others have noted, extremely convenient to the center of Barcelona. It was wonderful to be ensconced in what felt like a small mountain village (that included daily encounters with some friendly local wild boars on the 5 min. walk to the train station), and yet have just a 20 min. trip to Barri Gothic, Barceloneta and all the pleasures of our favorite neighborhoods. Cristina is very warm and friendly, and graciously welcomed our group with cake, muffins, fruit and coffee. She provided insider tips about restaurants and activities, made phone calls on our behalf, and offered practical suggestions about how to avoid lines at popular tourist sights. She also responded immediately when we had problems with the bathroom drain -- it was repaired the following morning. Two of the three upstairs bedrooms have french doors that open out onto the beautiful terrace overlooking the town. The downstairs bedroom is small and directly off the kitchen, but it does have a private bath. There is a large patio with ample outside space and a ping-pong table that helped keep the kids occupied. One key issue: if you are heading to the villa from the airport, either have Cristina arrange a taxi for you, or take the airport shuttle to Plaza Catalunya and get on the FGC train (which is right there in Catalunya) to the Les Planes station (just north of the city). The villa can be quite difficult to find by car -- most taxi drivers have no idea how to get there, so the fare can get quite high if they get lost! Overall, a wonderful place to stay and get the best of all worlds -- country and city! Many thanks, Cristina!
Barbara
2013-04-02T00:00:00Z
This location is just perfect. There are several beautiful places around the house to relax at every daytime. In 15 minutes you reach the city center by train. We had a great time. Thanks for all.
Dario
2014-07-02T00:00:00Z
We flew in from Reus and thus arrived late in the evening, but this was no problem. Beatriz made it so someone was waiting for us, with coffee! We couldn't have wished for anything better! The house was superb (and clean), situated in a quiet green area only 15 minutes away from the center of Barcelona. We will definitely stay here again!
Idris
2016-01-06T00:00:00Z
Tell others in the Airbnb community about your stay.
Dana
2013-04-23T00:00:00Z
Staying at the Villa was an amazing experience! I was in Barcelona for some time and moved around to determine which area I really liked and to experience the city. This was definitely one of the best! Christina was a fabulous host. Everything was ready for us and she was very accommodating. The house is large and wonderful. The terraces are especially beautiful. There are so many terraces on all sides. Wonderful places to eat breakfast and dinner. Though the house is outside the city, there is a train station about 3 minutes walking distance. The train to Plaza Catalunya comes every 7 minutes and takes only about 15 minutes to get into the city. It's really cool how you can live in a beautiful calm house and still get into the core of the city that easily. A very unique situation. I would recommend any larger group of people to stay here! We cooked, played games, hung out on the terraces watching the shooting stars, and just had a fabulous time.
Noam
2011-07-08T00:00:00Z
My family of 4 stayed here for a week in November. Cristina was so nice and helpful and speaks very good English! She even arranged a taxi for us and she also left her phone number in case we needed anything. The house has central heating, wifi internet, cable TV, a DVD player, and is just so clean and beautiful! The photos are just how it looks in real life. The train station is very close to walk to which makes getting into the city super easy. We loved the house and all it has to offer. There are beautiful views and the furniture is very nice (beds are super comfortable too!). I love how Cristina has decorated the house! It is a mix of old and modern. Very Chic!!! Plus, she left us soap, and some food and drinks, and there were guide books, maps, and lots of pillows and blankets which made our stay so easy and comfortable. This area seems rural and you have a garden (and roosters crowing in the morning) and yet you are just next to all the city has to offer! There are large grocery stores in Sant Cugat (just a couple of train stops away) and we brought some big Ikea bags with us so when we needed food and drinks, bringing it back was easy. Sant Cugat also has many shops and restaurants. Overall, we loved this place and our host! I would stay in this house again for sure!!!
Julie
2011-11-30T00:00:00Z
Room Type
Entire home/apt
---
Property Type
Villa
---
Accommodates
8
---
Bedrooms
Barcelona, Catalunya, Spain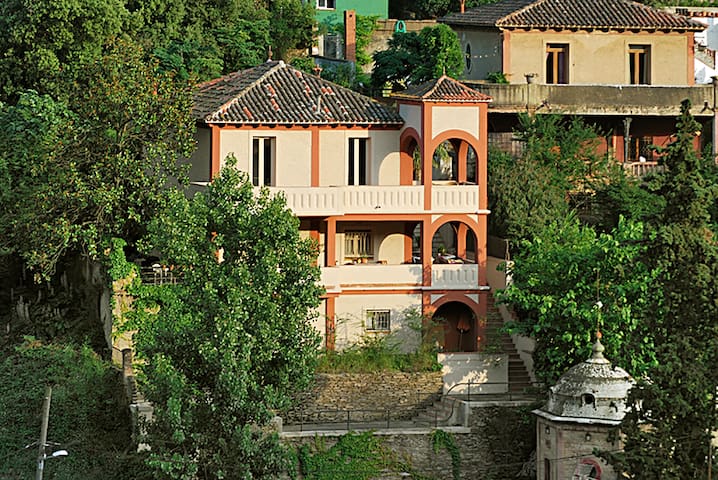 Enter dates to see full pricing. Additional fees apply. Taxes may be added.