Jolie petite maison en bois et toit typique du pays, dans un grand jardin tropical. Chambre, cuisine, salle de bain, terrasse, patio, logement séparé pour petits groupes (+4 pers.). Propriété entièrement fermée et sécurisée, avec piscine, spa, sauna.
Petite maison cosy, pour personne seule ou pour un couple, comprenant une chambre à l'étage et en bas la cuisine, la salle de bain, la terrasse avec table à manger et fauteuils, et un patio avec un petit rancho , table à pique-nique et BBQ. Si plus de 2 personnes voyagent ensemble, nous logeons les invités supplémentaires dans une autre unité qui comprend 2 logements pour 2 personnes chacun. Coût additionnel de 30 $US par personne ou 40$ pour un couple. Le tout est construit en surplomb de la piscine, dans un grand jardin où l'on trouve une quantité incroyable d'oiseaux. Toute la propriété est fermée et entièrement sécurisée. À proximité, on trouve des restaurants, un café/boulangerie, une pulperia (épicerie), etc. Village logé entre la mer et la montagne, Ojochal abrite une sympathique communauté francophone de provenances diverses (France, Québec, Belgique, Suisse) et est réputé pour la qualité de ses restaurants. Commodément situé sur la route du grand parc Corcovado, tout près du parc marin Ballena, c'est une escale très appréciée des voyageurs qui découvrent le pays du nord au sud. Série de belles plages sauvages tout au long des 30 km qui séparent Ojochal de Dominical. Plusieurs activités intéressantes dans la région dont une incontournable sortie en bateau dans la mangrove, à la recherche des très nombreuses espèces d'animaux et d'oiseaux qui y ont leur habitat. Pour bien profiter de son séjour dans la région, il vaut mieux avoir loué un véhicule à l'arrivée mais il n'est pas impossible d'arriver à Ojochal en autobus. Il faut juste être patient...
Petit village logé entre la mer et la montagne, Ojochal abrite une sympathique communauté francophone de provenances diverses (France, Québec, Belgique, Suisse) et est réputé pour la qualité de ses restaurants. Commodément situé sur la route du grand parc Corcovado, tout près du parc marin Ballena, c'est une escale très appréciée des voyageurs qui découvrent le pays du nord au sud. Série de belles plages sauvages tout au long des 30 km qui séparent Ojochal de Dominical. Plusieurs activités intéressantes dans la région dont une incontournable sortie en bateau dans la mangrove, à la recherche des très nombreuses espèces d'animaux et d'oiseaux qui y ont leur habitat.
The host canceled this reservation 38 days before arrival. This is an automated posting.
Edith
2016-06-20T00:00:00Z
We wanted a cozy, private, and beautiful location to spend our 40th wedding anniversary. This place was ideal for such an occasion. We were pleasantly surprised to find good restaurants and appreciated good explanations of activities in the area which included a memorable mangroves boat tour down the Sierpe River. Though temperatures were in the high 80s and it was humid, the private pool was at the perfect temperature and we frequently cooled off at our leisure. The grounds were immaculately maintained and we especially found intriguing and enjoyable the pleasant songs of a variety of birds throughout our stay.
William
2016-11-18T00:00:00Z
My stay in Ojochal was really fantastic, not only because of the beautiful environment but mainly because of this amazing accomodation. From the first moment I felt like at home. The cottage itself, the provided amenities, the surrounding - everything was perfect. And not to forget Marie-Danielle & Robert, they were helpful, gave me space and it was very easy to communicate with them. I was happy to have been their guest and highly recommend house and hosts. Thanks again for hosting me!
Marcel
2016-04-18T00:00:00Z
I think that this house is the place I liked the most in my trip to Costa Rica. Marie-Danielle and her husband have a wonderful house that will make you fell like at home, in addition, they are very respectful and they will guide you through the surroundings with the best recommendations about what to do and where to do it. The location of Ojochal take advantage of being quite close to Sierpe and Marino Ballena, so it is a perfect place to place your camp. The experience there was great and highly advisable.
Alonso
2015-06-15T00:00:00Z
I totally appreciated MR and her Husband for there kindness to me and if you decide to stay here at this Villa you will not be disappointed. Its very cozy and private. It has all the amenities that you will need. Private parking pool Jacuzzi sauna laundry patio, you name it they have provided it. Its really pretty too, its a very thought out plan and you will be amazed just how cute it is. I highly recommend it and its very affordable. You will not be disappointed... enjoy!!!!!
john
2016-11-26T00:00:00Z
We loved our stay on her property, and Marie-Danille is such a gracious host and we are very appriciative! More beautiful then the pictures, close to great food, and beaches. Great place to kick off our honeymoon, would definitely stay here again!
Hannah
2016-05-01T00:00:00Z
Nous avons passé un excellent séjour chez Marie-Danielle et Robert qui sont des hôtes formidables à la fois accueillants et intéressants. Nous avons dormi dans une petite maison indépendante et toute équipée. La propriété est située dans une très belle partie du Costa Rica. Un grand merci aux hôtes !
Agathe
2016-03-18T00:00:00Z
On s'est tout de suite senti chez nous dans cet endroit tout à fait paradisiaque! Le rancho était très sécuritaire, intime et facilement accessible par la route. On y a trouvé tout le confort nécessaire et même plus! En cas de besoin, Marie-Danielle et son mari étaient là pour nous aider et nous conseiller tout en respectant notre intimité. Ojochal est idéalement situé afin d'explorer les parcs nationaux, les magnifiques plages et les nombreuses chutes le long de la côte Pacifique.
Simon
2015-07-03T00:00:00Z
Room Type
Entire home/apt
---
Property Type
House
---
Accommodates
2
---
Bedrooms
Ojochal , Osa, Costa Rica
Pretty typical house exotic wood with large terrace making living room and kitchen overlooking jungle and mountain, river down the house. Easy access from the Costanera has Coranado 2.5 km and 1 km Tres Rios
This house in the jungle and the river is a paradise for rest
A really quiet place, perfect to relax. You only hear animals and rain. If you are quiet you can see toucans, aracaris, trogons and a lot of other birds. We did enjoy this place. Very warm contact with the family.
Michael
2015-11-01T00:00:00Z
Excellent séjour en famille dans une maison agréable, spacieuse, au calme et en pleine nature. Idéal pour ceux qui recherche une location en dehors des lieux parfois un peu trop touristiques. Propriétaires très sympas, accueillants et toujours disponibles pour vous conseiller sur les activités à réaliser ou les sites à visiter.
Florence
2016-04-16T00:00:00Z
Room Type
Entire home/apt
---
Property Type
House
---
Accommodates
4
---
Bedrooms
Coronado, Puntarenas, Costa Rica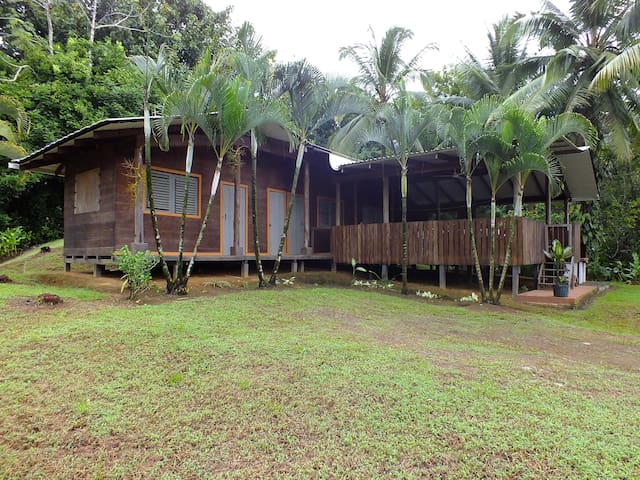 This 2 bedroom, 1 bath house in the Southern Zone is situated on a plateau with amazing views of the mountains. Relax in the built in pool or just a short drive to many of Costa Rica's beautiful beaches and waterfalls.
We spent a total of 6 days at the property and enjoyed each and every one. The home is well equipped and easily met all of our needs. The location of the property is fantastic, sitting on top of a hill we had great views of the area. We were treated to daily visits by Toucans and a wide variety of other wildlife. The house provides a feeling of remoteness while being only minutes from all of the necessities. Pam was very helpful and ensured that our stay was enjoyable. We would definitely consider a return visit if we visit the Osa area again. Thanks for allowing us to share your peace of paradise.
Chris
2016-01-06T00:00:00Z
We had a fantastic time at the house enjoying the pool, scenery and the toucans. We spent most of our time at Hermosa beach, which is great for hanging out all day, grilling and of course the sunset. Everything was very comfortable and the house was extremely well equipped. We hope to be back soon!
Jake
2017-01-06T00:00:00Z
Great place to stay. Very nice, comfortable.
gianne
2017-03-02T00:00:00Z
Room Type
Entire home/apt
---
Property Type
House
---
Accommodates
6
---
Bedrooms
Tres Rios, Puntarenas, Costa Rica, Costa Rica
House located in quiet rural area. It has alarm, air conditioning, terrace and a private swimming pool, DVD and TV (if you has a laptop you can see movies with the Internet). The house is very well located because it is very close to the mountains and the most famous beaches in the world as Bahía Ballena National Park, Spheres National Park (archaeological site), Corcovado National Park and many other beaches. It is perfect for couples with or without children, friends and pets.
You will enjoy a terrace with private pool. Look a video at YouTube as: Sanbuenas Delfin Azul
Perfect spot for little kids. Totally fenced/gated. The pool was amazing. Simple house, small, but stocked with everything we needed. No screens on the windows but there was air conditioning. The house had an alarm. All in all it was great. Less than a 15 minute drive to three Amazing beaches; tortuga (free), Ventanas ($3), and Pinuela in the national park ($6/person). Also just a walk up the highway was an outdoor restaurant with great food and across the road from the house was a fruit stand with bananas and avocados.
Byrdi
2017-01-30T00:00:00Z
The house is great and has all the accommodations you will need during your stay. The house keeper lives next door and she can answer any questions you have. The location is a quiet neighborhood with a bus stop & fruit stand nearby. I rented a car and it took us 25 minutes to get to Uvita. The gps coordinates were about a mile off so make sure to keep going until you see a San Buenas Villas billboard, it's the blue house on the left.
Alina
2017-02-27T00:00:00Z
Great!
Will
2017-03-02T00:00:00Z
Room Type
Entire home/flat
---
Property Type
House
---
Accommodates
6
---
Bedrooms
San Buena, Provincia de Puntarenas, Costa Rica
If you are looking for full relaxation you found the correct place. This is really paradise and nature everywhere you see. The river is next to our house with crystal clear water where you can take a smim in the hot days. You cant miss this deal
My house is a place where you can fully relax. It quite and all around pure nature. Some mornings you can listen to monkeys and toucans. You will sure will relax in this piece of paradise. I love it here and I am sure you will enjoy it as well.
People in the neighborhood are nice and friendy and helpful. The area is safe but it is always good to keep your room door lock when you are no in the house to be on the save side. El barrio es lindo, amigable y seguro de todos modos es de mejor precaucion siempre mantener su cuarto con llave cuando no esten en la casa.
Manolo welcomed us when we arrived at night. The place is nice and has a pool, a common area for guests, and a private room with air conditioning. The place is surrounded by nature, which was very nice in the morning, especially from the balcony in the room. Thanks!
Jad
2016-12-24T00:00:00Z
El lugar es fantastico. Rodeado de vegetacion. La cabina tiene todo lo necesario y si te falta algo Manolo te lo presta. Tiene aire acondicionado cosa imprescindible. Pero lo mejor de todo es manolo su dueño. Sin duda repetiria aqui
Mª Teresa
2016-04-23T00:00:00Z
Room Type
Private room
---
Property Type
House
---
Accommodates
3
---
Bedrooms
Ciudad Cortés, Puntarenas, Costa Rica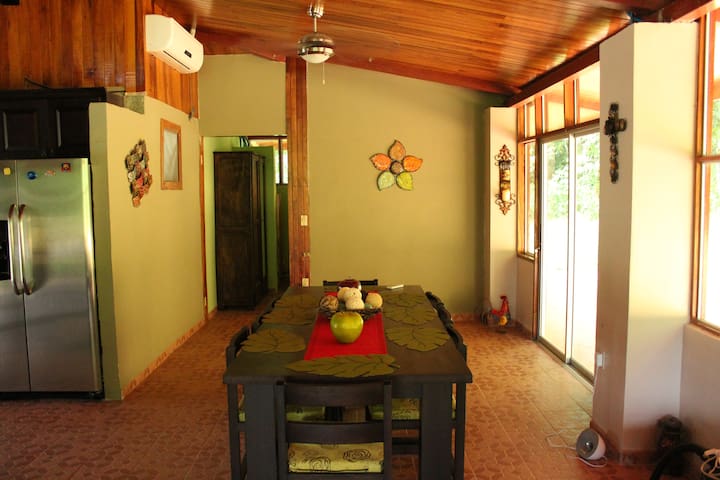 A comfortable house with a stunning mountain view and a window on the sea on the second floor! Everything you need is within reach and yet, you will live a true nature experience.
In the charming town of Ojochal, international oasis on Costa Ballena. Only 2 minutes from the Costanera Highway. Live in the jungle with monkeys, sloths, toucans and parrots, but with all the refinement of civilisation close by: several restaurants (simple to white cloth), cafés, French bakery, grocery stores with imports! Jungle tours, surfing, zip lining, golf, white water rafting, horseback riding, Caῆo Island snorkeling and diving, beachcombing, and visits to natural reserves are all within a few minutes drive. Several of Costa Rica's best beaches are minutes away: for all tastes (some very calm and safe for kids, others with great waves for surfing). Easy to get by in English and French, as well as Spanish. Gorgeous, all equipped recent construction: hot water, pool, washer, Internet, bedding, all necessary kitchen equipment, etc. on a 13 acre lot with a cascade.
Calle Perezoso is a calm residential dirt street close to Main Street and the Costanera. The distance between properties is enough to insure great privacy. Our house overlooks the valley. Unfortunately, there is a construction site higher on the street that causes a lot of circulation theses days.
Francine's house met our needs and expectations. Unlike many places the internet worked well. The road is quiet and you don't need a 4 wheel drive to reach the house. The kitchen furnishings exceeded our expectations. There was a full size refrigerator, gas stove, microwave, toaster and coffee pot. The salad spinner was a pleasant surprise as we we're invited to a potluck and asked to bring a salad. It is a place we will definitely consider renting when we return to the area.
Donna
2016-04-14T00:00:00Z
What a great experience! We loved the house. A beautiful place to stay, in a lovely little town. We had monkeys and toucans right out the back door. Leo, the property manager was very helpful in arranging tours in the area. Would absolutely recommend this to anyone!
melissa
2012-12-29T00:00:00Z
The house is beautiful, just like the pictures. Easy to find and Leo the caretaker was really helpful. Lovely location with a lot to do in the area. Would recommend.
Harriet
2015-03-25T00:00:00Z
We had a great time at your home. Close to many things to do, nice beaches and great food! The home was just as advertised!
Clure
2014-12-27T00:00:00Z
Our family had a wonderful stay at Francine's house in Ojochal. The house is very comfortable, well equipped and private. We thoroughly enjoyed the setting, the views from the patio, and the pool. Ojochal is a great place to stay if you want to get away from a lot of tourists but still enjoy good food, beaches and other C.R. activities. We plan on returning and highly recommend it.
Tony
2014-12-15T00:00:00Z
I stayed with my family at Francine house Dec 22nd,2015-Jan 4th,2016 .Beforehand Francine ensured I got all the information regarding the house location (positioned on the picturesque Calle Perezosa with an easy car access). Francine house is designed to host comfortable 6 people ; is very functional and designed to accept breeze ( makes it very convenient on the hot days and nights); also there is a pool which we used all the time. The house provides the privacy from the main road thanks to the beautifully kept tropical landscape. Another great feature is a superb location- its located in a walking (or very short car drive) distance from many excellent restaurants- Citrus; Mamas and Papas; Azul at El Castillo; Bamboo room at Alma (just to mention few). Francine is the most wonderful host ;very easy to communicate and very providing. The house and its surroundings proved to be more than accurate of its description. We loved and appreciated the opportunity to stay there. We had nothing to worry about just to enjoy Pura Vida.There is a house keeper available all the time in case of any difficulties- Leo; but we hardly ever needed to call him up. I highly recommend to everyone to stay at the Francine house. You gonna have care free and very relaxing holiday spent in this beautiful house. Million thanks Francine! I will be back for sure! Cheers!!!
Anna
2016-01-05T00:00:00Z
Nous avons été séduits par l'endroit dès notre arrivée. Les photos nous démontrent qu'une partie du paysage que nous offre la vue magnifique de la terrasse. Nous avons été très bien renseignés sur les directions pour accéder à la maison et avons reçu un très bon accueil de Léo. La maison dispose de tous les commodités et conforts pour faciliter un séjour en famille dans un environnement sécuritaire. Il est facile de trouver tout ce qu'il faut pour l'épicerie au village Ojochal et/ou à une distance de 15 minutes vers Dominical. Nous avons été agréablement surpris de pouvoir savourer de bon repas aux restos Mamma e Papà et bien sûr au Citrus! Merci, Francine et François, de nous avoir donné la chance de pouvoir profiter de votre coin de paradis!
Linda
2017-01-03T00:00:00Z
La maison est très belle et vraiment propre! Le cadre est pittoresque et la vue, extraordinaire. Il y a tout ce qu'il faut pour passer une belle semaine dans la région. Il y a une laveuse, mais pas de sécheuse. Il y a une corde à linge. Il faut savoir qu'avec l'humidité, les vêtements sèchent difficilement. À prévoir, donc, avant de faire le lavage.
Dominique
2016-07-12T00:00:00Z
Room Type
Entire home/apt
---
Property Type
House
---
Accommodates
6
---
Bedrooms
Ojochal, Costa Ballena, Puntarenas, Costa Rica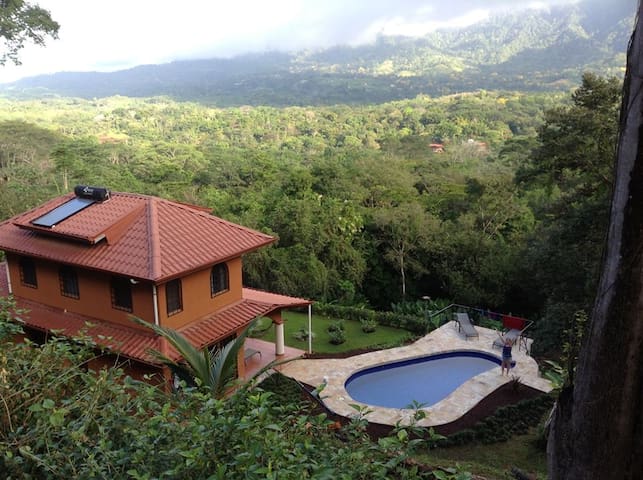 If you are looking for full relaxation you found the place. We are next to a crystal clear river you can swin in the hot days and listen to the monkeys and toucans. This is paradise and you cant miss this deal. You will remove all your stress here.
I am opended minded and easy going. I like for my guests to feel at home rather than to feel like they are in a hotel. Soy una persona simple y facir de llevar. Me gusta que mis huespedes se sientan como en casa y no como en un hotel durante sus vacaciones.
Family friendly neighborhood and safe.
Room Type
Private room
---
Property Type
House
---
Accommodates
3
---
Bedrooms
Ciudad Cortés, Puntarenas, Costa Rica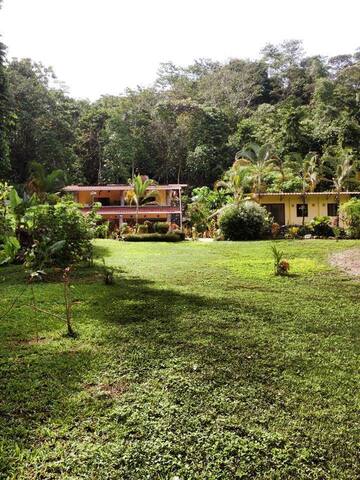 Cómoda con Tv cable, agua caliente, en la montaña con fácil acceso a 15 minutos de la playa río con catarata abanicos de techo en los cuartos y de pie en la sala y cuartos horno microondas lavadora automatica. Se escuchan animales y aves.
Puede comprar un Safari Kayak en los humedales del rio terraba incluye almuerzo frutas costo del tur $70 clase 1 y 2 You can buy a Safari Kayak in the wetlands of the river terraba includes lunch, fruits cost of tur $ 70 class 1 and 2
Barrio tranquilo.
Cristian is very helpful and accommodating. We got lost finding his place so here are some directions to help others, you will turn left off the main road (this is a dirt road and you will need 4x4) follow the signs to the Alma resort. When you come to a fork in the road don't go right to Alma resort, go left towards Bamboo resort. Keep going until you come to another fork in the road. Don't go to Bamboo resort go left up a bumpy road. Keep going and you will pass tennis courts on your right, keep driving until there is another "street" on the right. Take that road and Cristian's gate will be the first one on the left and then there is an intercom to call him. The house is very clean and perfect for a family. He lives on the property up the hill and has an amazing view of the ocean and the national parks. There is no AC but there are screens and fans. There is TV is every room but no wifi. The wifi is at his house and he let us use it whenever we needed to. There is a washer and a BBQ! There is a fridge and plenty of dishes. And hot water but we all liked the cold showers :) We got to heard lots of animals and holler monkeys. We saw a ton of birds, toucans, parrots and macaws. We enjoyed staying at this place, the price is great for what you get. If you have 4x4 and don't mind sweating a little you will like staying here!
Zoe
2017-03-18T00:00:00Z
Room Type
Entire home/apt
---
Property Type
House
---
Accommodates
5
---
Bedrooms
Ojochal, Puntarenas, Costa Rica
Situé entre la mer et la montagne, dans un quartier paisible d'Ojochal, à moins de 3 km de la playa Tortuga, le Casas Buenas Brisas propose deux superbes maisonnettes entièrement équipées et entourées d'une nature luxuriante et d'une faune animée.
Chaque maisonnette du Casas Buenas Brisas dispose d'un lit double, des espaces de rangement, d'une cuisine entièrement équipée (réfrigérateur, micro-ondes, plaque de cuisson, cafetière, grille-pain, chaudrons, vaisselle, ustensiles, etc.), d'une salle de bain avec douche (eau chaude), et d'une grande terrasse meublée offrant une vue magnifique sur la piscine creusée à l'eau salée, la montagne et le jardin. De plus, l'espace piscine du Casas Buenas Brisas est aussi agrémenté d'une superbe terrasse couverte et meublée.
Petit village sympathique logé entre la mer et la montagne, Ojochal accueille une communauté francophone de provenances diverses: Suisse, France, Québec, Belgique. Plusieurs restaurants réputés et différents commerces s'y trouvent. C'est un endroit très apprécié des voyageurs qui découvrent le Costa Rica du nord au sud. Dans les environs, il vous sera possible de pratiquer de nombreuses activités (surf, pêche, plongée, équitation, etc.) et de profiter des innombrables plages sauvages qui longent la route entre Ojochal, Dominical et le parc national Manuel Antonio.
André makes the difference! We had a week of Pura Vida and talking/listening Esperanto in a home that felt like a home and with a blooming and calm gardensurrounding that gave us every opportunity without any expectations on the other hand. We extended our stay because we enjoyed Ojochal and found a warm welcome for all our needs and requests. The Studio, which is quite a house!, is protected perfectly against any bugs & mosquitos :-) My fellow traveller was quite thankful! We've been happily surprised about the great kitchen facilities and also the outdoor grill besides the pool! Honestly Airbnb recommendations are often so yeah...love...joyfully that I give a damn! BUT this is definitely a recommendable accomodiation. Thanks for the great time André
Annette
2016-02-05T00:00:00Z
Andre and his wife are wonderful host an amazing people they are always on good mood and they will kindly help you in anything you need with a smile. Staying with Andre was the best choice we could made, it's easy to pass ojochal without notice but once you find ojochal it is very easy to find Buenas Brisas,playa tortugas is just five minutes for Buenas Brisas and Parque Marino it's just 20 min from the listing. The listing is just as described with a lot of nature surrounding it, you can relax in the garden or in the pool or even better you may even watch the sunset from your bed. Overall we totally recommend André!!!
Juan
2016-03-24T00:00:00Z
My fiancé and I chose Buenas Brisas as our home away from home before heading to Envision :) The digs are absolutely gorgeous, beautifully designed and surrounded by wildlife. André and Joann were very welcoming and more than happy to make suggestions for places we should visit while in Ojochal. Their property is lovely and even more beautiful than pictured. For those wanting to venture further, I would recommend renting a 4X4 vehicle in order to maximize ground covered, as Buenas Brisas is a little hike from the main road (at least for this Floridian). That being said, thank you very much Joann for driving us to and from dinner our first night, and André for driving us all the way to Uvita for Envision!! This was our first visit to Costa Rica and I am very glad we chose to begin it with Buenas Brisas! :)
Jean
2017-02-24T00:00:00Z
Our casita was perfect and the hosts are such wonderful people and so accommodating! Wonderful breezes through the beautifully landscaped property. Make sure to visit The Bamboo Room for live music at sunset! When we come back, we'll stay here again!
Lynda
2017-03-21T00:00:00Z
Our stay with André was amazing ! The place is great, very well-built, a little more secluded and very calm. The kitchen was well furnished, equipped for us to cook there if needed, and we could as easily head out to go out. Overall, it was a great experience, and we would go back there without any doubt.
Gabriel
2016-03-29T00:00:00Z
We realy enjoyed our stay in Buenas Brisas- it was a great base for visiting the area. It is a tranquil spot nice for watching birds and just a few minutes drive from the main road. The Casita was very well furnished to a high standard and the range and quality of the kitchen equipment was impressive- it looked very new. It was a good sized casita with plenty of hanging space for clothes and lots of room to spread out. The pool was fantastic- very clean and very refreshing at the end of the the day. Andre was a great host; he gave us helpful advice about the area and even took us to his favourite beach hidden down a track off the main road.
Stewart & Roxana
2016-01-10T00:00:00Z
Andre and Joanna are kind and wonderful hosts. The spacious casita is new, very clean and pretty with everything you need, nice tiled bathroom, good towels and comfortable bed with good sheets. The pool is heavenly after a hot day out sightseeing! The casita location is so beautiful and private it makes the bumpy gravel and dirt road worth the drive. You are up on top of a hill with a high view across to the rainforest canopy and the hosts will point out monkeys, toucans, and iguanas in the trees. It's a bird watcher's Paradise! Get directions to the gorgeous El Pavon waterfall nearby that has 2 tilapia farms with restaurants on the river on the same road. Also get directions to the best beach nearby for an amazing sunset.
Kate
2016-03-01T00:00:00Z
I absolutely adored this place! This was our first stop during our CR adventure. The casita was so clean, comfortable and it was the absolute best experience of the Costa Rican jungle we had! The pictures do not do this house justice because it is so beautiful! We saw howler monkeys and toucans and hummingbirds etc. If you stay here make sure you wake up as soon as the sun comes up, the view is breathtaking and that is when we saw all the animals. Andre and his wife were the most wonderful hosts! So welcoming and they gave great recommendations. Really an unforgettable experience! I would 100% recommend las Casas Buenas Brisas if you want the most authentic Costa Rican experience.
Elizabeth
2016-03-11T00:00:00Z
Room Type
Entire home/apt
---
Property Type
House
---
Accommodates
2
---
Bedrooms
Ojochal, Puntarenas, Costa Rica
A professionally managed, large oceanview villa located in the hills of Ojochal; this architectural gem offers its guests a home away from home in a tranquil, serene jungle setting without sacrificing accessibility or modern day luxuries - Such as air conditioning, a private pool, professional chef's kitchen, WiFi & much more! Enough room for the whole family in 5 separate bedrooms, escape everyday life for a tropical paradise.
Perched over Ojochal on 5,000 square feet of untouched, natural Costa Rican greenery, this contemporary luxury home provides unforgettable 360 degree views of the surrounding jungle, mountain tops and oceanfront. With a total of 5 bedrooms and 3 bathrooms, this villa can accommodate up to 15 guests very comfortably, with plenty of room to spare! Fully equipped with all amenities a guest could ever ask for and providing direct access to the highway, a vacation experience here would impress even the most discriminating guest. OUTDOOR LOUNGE AREA & POOL Pictures simply don't do justice to the luxuriousness and beauty that are at a guest's disposal. Leading up to the entrance to the villa, breathe in the fresh smells of the Costa Rican jungle while you take in the view that overlooks mountains and surrounding Ojochal area. Lined with stones as a pathway and flanked by trees and flowers, enter the main courtyard through flower-covered iron gates. Lined with columns and a beautiful stone fountain in the middle, feel all your worries melt away. Entering the pool area and surrounded by numerous seating areas, there is no shortage of places to kick back and relax. Enjoy an outdoor barbecue on the backyard patio furniture (seating for the whole group), catch some rays to keep up your tan, or spend the evening chit chatting on the outdoor lounge chairs under a starry night's sky. If you want to escape the sun, the sheltered seating areas are equipped with large, wall sized retractable sun shades. But, don't miss the sunset! Watch the sun disappear over the ocean with a glass of wine in hand. Want to rinse off after a beach day in style? An extremely large outdoor shower is at your disposal! With room for as many as three people, enjoy the sounds and smells of Costa Rica while you rinse off! LIVING AREA & KITCHEN: With an open concept, the living area boasts fantastic views and contemporary, stylish furnishings with a hint of tropical flair. Entering the fully air conditioned living area, it's hard not to feel right at home. With a comfortable and welcoming atmosphere, there's no shortage of places to sit back and relax after a long day in the sun. With ample seating available on multiple couches and armchairs, have a seat in the living room area with a cup of coffee to plan your day. With its three separate large patio doors, open up the blinds to let in the sunshine and enjoy the view! The main living flows directly into the kitchen and dining area. Enjoy a home cooked meal at the 8-person, wood adorned dining table. If you're coming with a large group, don't worry! There's a separate kids table, and further seating at the kitchen island! The newly renovated and professionally designed kitchen is embellished with wood, steel, and only contains top of the line equipment. With its extra large fridge, handmade Tunisian tableware, and fully stocked appliances, you'll have everything you need! Don't feel like cooking? We can provide you with a private chef for your in-house meals! (extra fees apply). BEDROOMS MASTER BEDROOM: Extremely large and adorned with wood finishings,, the master bedroom contains a high end king size bed and plenty of drawers to unpack to make yourself feel at home! The master bedroom has its very own, well appointed granite en-suite bathroom. Providing astonishing views of the garden, get ready in the morning to the sounds of the Costa Rican nature. BEDROOM 2 Located on the second floor, the loft bedrooms contains a queen and a king size bed. With high ceilings, plenty of natural light, and a couch for some late night reading & relaxation, enjoy the stunning views every morning of the surrounding area. BEDROOM 3 + 4 Located on opposite sides of a shared Jack & Jill bathroom, bedrooms 3 and 4 both contain double beds. BEDROOM 5 The fifth and final bedroom of this large, stunning house contains a double bed. *All bedding and linens are of the utmost quality to provide you and your guests with a good night's sleep. A half bath is located in the courtyard to accommodate those without an en-suite bathroom, and an outdoor shower is on site for a real Costa Rica experience. _ _ _ AMENITIES: The villa is professionally managed, fully cleaned before every stay, and for your convenience, it comes with everything you'll need for a comfortable stay. The entire villa is air conditioned for your comfort, and comes with high-speed wireless internet. Your stay includes: Communication with the property manager to provide expert tips & suggestions Groundskeepers and pool service staff to keep everything in pristine condition for your stay Clean luxury linens & bedding Towels, soaps, kitchen utensils, and all other cooking & cleaning products Bathroom amenities such as toiletries, Q-tips, hair dryer, curling irons Access to housekeeping ($50/day as requested) Access to chef services (Extra fees apply) Your satisfaction and comfort is guaranteed. MUST DO ACTIVITIES: Explore the caves at Playa Ventanas Surfing at the infamous Playa Ballena Snorkeling excursions at Cano Island Hiking at Corcavado National Park Seeing Boruca, the indigenous tribe (personal tours of Boruca for additional fees) Zip Lining at the Osa Canopy Tour Horseback riding tours at the Nauyaca Waterfalls A Jungle ATV tour in Uvita A taste of local flavors at The Bamboo Room And for the golfers out there, test your skills at the local course at The San Buenas Golf Resort & Spa! _ _ _
With all your essentials easily attainable nearby, your villa is located just: Minutes to The Bamboo Room 5 minutes to Playa Tortuga 5 minutes to highway access 7 minutes to Playa Ventanas 8 minutes to Playa Ballena 15 minutes to the Osa Canopy Tour 15 minutes to the Jungle ATV tour in Uvita 35 minutes to the Nauyaca Waterfalls 30 minutes from Palmar Sur Airport 1 hour from Quepos 3.5 hours from the San Jose International Airport
The house was great and beautiful, better in real life than pictures! Angie is very nice person and on top of things. She made our stay very pleasant. Very much recommended!
Raquel
2017-01-04T00:00:00Z
Room Type
Entire home/apt
---
Property Type
House
---
Accommodates
15
---
Bedrooms
Ojochal, Puntarenas, Costa Rica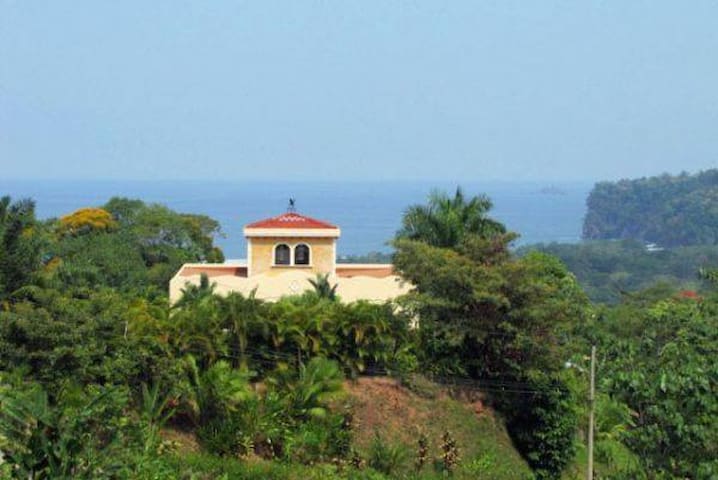 Our house is located within the premises of our life-long retirement dream the Yabá Chiguí Lodge, in the heart of Ojochal, Osa, in the southern Pacific region of Costa Rica. We designed our home to blend in with the project in the most sustainable way, therefore nature, tranquility and peace are the main elements you will experience, mixed in with the amenities a house and lodge can offer. So, more than a modular house you will almost have a lodge just yourself!
Go whale watching early in the morning, dare to do some ziplining, or juts re-energize with a night massage. Be amazed by the nearly flawless pre-Columbian stone spheres. Immerse yourself in the mysteries of the mangroves. There is also scuba diving, kayaking, horseback riding, stand-up paddle, hiking and bird watching, among other attractions. Different possibilities of volunteering could fit your aspirations as well. Get captivated by the tranquility and the 'bio-rhythm' of Ojochal, today they augment the appeal of this little village with small hotels, exotic restaurants and sweet-scented bakeries. Indulge yourselves in the immaculate scenery of nearby Playa Ventanas or Playa Piñuela. Admire the estuary of the biggest river in Costa Rica, the Térraba river, the wetlands and the sea.
Room Type
Entire home/apt
---
Property Type
House
---
Accommodates
5
---
Bedrooms
Ojochal, Provincia de Puntarenas, Costa Rica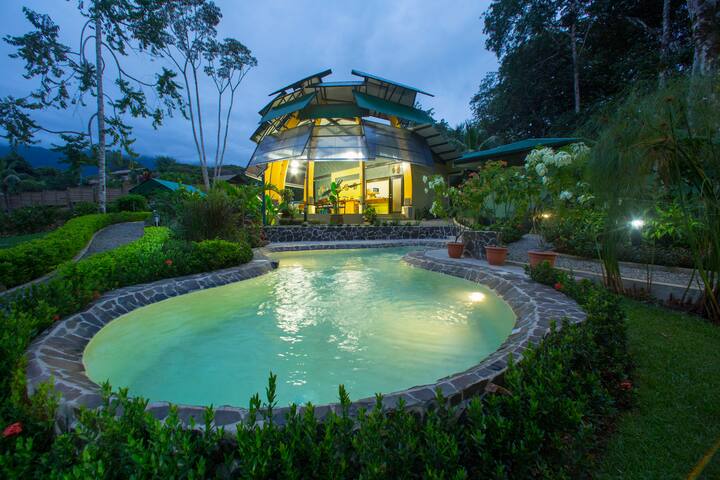 Here at Bali Rica, we have the pleasure to offer a peaceful place for our guests to be. We offer: Weekly "wellness classes". The Massage House The "Labyrinth" for meditation walks Jungle Path Tropical gardens We are working on creating a more Eco-friendly property with active composting, fruit gardens, culinary and medicinal herb gardens and other ongoing projects. We are "Mother Earth" friendly!
Comfortable and private for two guests, Casa Rica is located in "Bali Rica", a gated 5 acre estate of tropical gardens, fruit trees and exotic plants. The scent of ylang ylang trees perfume the air and the view from your porch is of large Guanacaste trees, exotic flowers, and the jungle faced coastal mountain range. The fruit garden provides a bounty of bananas, starfruit, coconuts, mango, citrus and more The house is made of Balinese wood, having been designed and built on the island of Bali Indonesia and transported to Ojochal. The king sized bed is extra comfortable with a pillow top mattress, and the full bathroom and kitchen bring all the comforts of home. There is a security safe for valuables and an ipod station for your music. The private plunge pool will refresh and is surrounded by a deck which steps to the Balinese gazebo, where you can lounge away the day - or night. From the porch, the mountain and garden views are beautiful with many birds and butterflies making their home, including morphos - the electric blue butterfly. The gardens are ever changing with seasonal fruits and flowers at hand for your enjoyment. There are paths throughout the 5 acre estate which will lead you through the botanical zen garden, the labyrinth, through bamboo groves to the Spa House, the meditation stream, or wherever you wander. You may hear the call of the area resident rainbow macaws, along with many other bird species. Of special note is the on-premises "Palm Spa", which offers convenient spa treatments for guests of Casa Rica. The garden is also home to The Namaste Pavilion, an open-sided, teak-floored sanctuary. This is where yoga classes are held every Monday, Wednesday and Friday mornings, or private classes, by appointment, are available for your wellness and pleasure. There is also a DVD player and a choice of DVDs. Guests have also used this inspiring space as a painting studio. And for those considering a more permanent situation in Costa Rica, we will be happy to guide you to trustworthy people who can show you available properties in the area. The village of Ojochal is ideal for lovers of gourmet cuisine with a number of the area's finest restaurants. There's also a popular French bakery nearby with delicious breads, and a Licorea for those looking for special ingredients to cook at home. Casa Rica is located 3 minutes from the scenic and paved Costa Rican coastal highway. No 4wd vehicle is necessary to access this property. This retreat will feel remote, but is convenient to many activities the area has to offer. Just 5 minutes away is one of Costa Rica's most beautiful beaches, Playa Ventanas, and the popular surfer's beach in Dominical, is approximately 30 minutes north. The newly built San Buenas Golf Course is 10 minutes south, and many other local attractions are close by; waterfalls, horseback riding, zip lines, off shore fishing and boating, etc.. For book lovers there is a library within walking distance. A perfect retreat, honeymoon hideaway, or for the solitude of one, Casa Rica is a place which can be a comfortable home base for exploring the riches of Costa Rica, or a private hideaway to rest and revive.
The 'Bali Rica' is a small patch of heaven on earth! The place itself is a beautiful Bali casita imported to Costa Rica! We had our own private little pool and outside bed, the most beautiful interior decoration. This place is perfect for lovers, to enjoy the hidden beauties of Costa Rica (Uvita beach, Citrus restaurant). Walking through the grounds of the property was truly a magical and spiritual experience! We loved every second of this experience. Very highly recommend!!!
Alicia
2017-02-25T00:00:00Z
Staying in Bali Rica is a wonderful experience. Quiet and serene but close to loads of beaches and activities. Sharon & Mac are wonderful hosts too with great advice about where to go and what to do. Would wholeheartedly recommend to anyone looking to get away from it all
Justin
2016-12-30T00:00:00Z
We selected Bali Rica as an ideal private stay. What we found out amazed us! The land is cared for and vibrant, the casitas are the the best we have found and the vibration is as lush as the jungle. Engage the meditation, yoga, and spa offerings to find out where you are, then rest in your private casita to experience Pura Vida!
Amory
2017-02-19T00:00:00Z
We went to Costa Rica for our honeymoon. It was magical. We loved Mac and Sharon's property and Ojochal. We'd highly renting a vehicle if you stay there. We really appreciated the welcome basket with fresh banana bread. Minor, the gardner, was such a lovely individual and very helpful. We wish we spoke more spanish to communicate more with him. All in all, a fabulous experience and we would highly recommend it.
Rachel
2013-09-06T00:00:00Z
We had the most amazing stay at casa rica - had read many of the reviews before arriving all saying that the place is paradise - they are all true!!! We couldn't recommend the place any more highly - Sharon is a great hostess - very thoughtful, generous and kind. The apple pie and welcome basket a wonderful touch. Cristina and Alison
cri
2014-12-27T00:00:00Z
From the second we arrived at Bali Rica, we felt like we were at home. Sharon and Mac were amazing hosts, settling us in for our 3 day stay on their heavenly property. Casa Rica was even lovelier than what we imagined from the photos. Although we only spent 3 days, we could have easily spent 7. From sitting on the porch watching one of the resident hens teaching her chicks to look for food to wandering the trails full of fruit trees, flowers and jungle - the experience was totally zen. The dipping pool, the outdoor Balinese bed, and the furnishings inside the casita made it a very comfortable stay. Ojochal is the perfect home base for a trip to southern Costa Rica. If you're a foodie - this is your Mecca. Check out Exotica if you visit (my mouth is watering now!). Playa Ventanas was spectacular, never have either of us felt ocean water that hot! A quick drive to Quepos and Manuel Antonio but infinitely more beautiful - lush and so much less touristy. We were lucky enough to have dinner with Mac and Sharon and several of the volunteers working on the property one night during our stay. With Canada, the U.K., Germany and the US/Indonesia/etc represented at the table, we had some lively and enlightening conversation - a moment in time that will define our trip. Mac and Sharon - thank you for the special moments and opportunity to experience a little piece of Costa Rican living with us! Steve and Alison.
Alison
2016-04-07T00:00:00Z
Words cannot describe how amazing and magical BaliRica is. Grateful and can't wait to visit you both along with the furry and feathered:) thank you.
Jodi
2013-07-11T00:00:00Z
Casa Rica is more beautiful than you can imagine. Seeing the pictures is one thing, but arriving and seeing it in person is a whole other experience. Sharon and Mac do an excellent job of keeping the place looking like a tropical paradise, with beautiful landscaped gardens, plants, and trees. Walking around the grounds was a point-of interest. There is so much to see on their 5 acres. Everyday smelled like fresh flowers. Every morning the sounds of birds would wake you up and the sounds of crickets, frogs, and nightlife lulled you to sleep. We couldn't have stayed at a more perfect place. It truly made our experience in Costa Rica memorable and we want to come back very soon!
Albert
2012-08-12T00:00:00Z
Room Type
Entire home/apt
---
Property Type
House
---
Accommodates
2
---
Bedrooms
Ojochal, Puntarenas, Costa Rica
FIRST TIME EVER! We are making available Casa de Teca for the month of April, 2017! Book Today! Listen to the roar of the ocean. Enjoy ocean, mountain and forest/jungle vistas. Our casa is 1.4 kilometers from Tortuga beach and 2+ kilometers to Ventanas beach. At the bottom of our hill you will find the tourism center, Pancito Cafe, a mini market, the local bar and the police station - all within walking distance!
If you are looking for a place to commune with nature, you will want to consider our house. From the wrap around porches you have incredible ocean, mountain and forest/jungle vistas. Casa de Teca is a Teak house. Our home is self ventilating, wall vents to capture ocean and mountain breezes, topped by a central copula for heat exchange. Ceiling fans for air circulation.
Casa de Teca is located on 1st ridge sitting above the Pacific Ocean. There are 6 homes on Calle Estrella, our street. Each home sits on one - five very private acres. Ojochal is made up of Ticos (native Costaricans) and ex-pats from around the world. The first ex-pats to arrive were French Canadian, so there is a strong French cultural flavor to the community. If you are into food and dining, we have two wonderful French bakeries and a collection of nationally known restaurants offering international fare. Some of our favorites include Exotica, Citrus and Ylang Ylang each offering fine cuisine. For coffee and croissants, try the Pancito cafe at the bottom of our hill. Pacito Cafe have just recently expanded to include an evening menu three times a week. For sunsets, just stay home, or head over the the El Castillo Azul Restaurant and hotel. Have one of their special cocktails and enjoy the sunset; or, stay for some of Azul's fine dining. Ojochal is known for it's community initiatives supported by Ticos and ex-pats alike. We proudly fly the coveted blue flag, awarded for community environmental initiatives.
We had such a wonderful time on our trip. Lyle was incredibly responsive to all of my inquiries and very helpful. The layout of Casa Teca and the area was just perfect for what we needed. The layout of Casa Teca was amazing with a wrap around porch and the area was just perfect for what we needed.
Aimee
2017-03-31T00:00:00Z
This private, secluded casa is everything stated in Lyle's description. The view from the swinging chairs on the front deck and pool is beautiful with an overwhelming capture of the setting sun over the Pacific Ocean. The casa is very well appointed, containing pretty much everything you will need for both short and extended stays. We stayed at the casa for 2 weeks and spend as much time enjoying the property, home and view as we did exploring the area. We frequently woke up to the sound of the Scarlet Macaws or Toucans calling from the trees surrounding the home. Restaurants and grocery stores are within walking distance and we found the buses easy to use to access nearby communities. We would definitely stay at Casa de Teca for future visits to the area.
Ivan
2017-01-23T00:00:00Z
Room Type
Entire home/apt
---
Property Type
House
---
Accommodates
4
---
Bedrooms
Provincia de Puntarenas, Provincia de Puntarenas, Costa Rica
this house is it located in a quiet resting place rent per month or per week near beaches, with spectacular views
Room Type
Entire home/apt
---
Property Type
House
---
Accommodates
2
---
Bedrooms
Uvita, Provincia de Puntarenas, Costa Rica
Superb bungalow, tropical style with palm roof, 60m2, fully equipped, 1 bedroom, full kitchen, bathroom, private swimming pool, terrace you can open or close peaceful environment and Zen with river views, 3 km from the Pacific in francophone village
Looking for privacy and quiet ?? You will be out of place in this place full of tranquility. You can relax in the middle of nature with the sweet sound of the lapping of the river and you will be waked up by the cries of howler monkeys and parrots. You have every comfort at disposal, a fully equipped kitchen, a terrace that you can open or close at wish and all the linens. You can refresh yourself in YOUR PRIVATE pool of 2.5mx 5m, fully tiled and relax on the wooden deck. To join your friends you have the WIFI at disposal . The capacity is ideal for 2 people
The house is located on the hills of Ojochal, a french village, 3 km from the Pacific. There are two well-French bakers, gourmet restaurants and a lot of good moon.
The place is beautiful and very private, the hosts are very nice and helpful
Tanya
2015-12-01T00:00:00Z
We stayed in this place for 2 nights. It is a great place with a private pool. The owners that live next door, Richard and Nicole, did everything to make our stay memorable. We'd love to come again!
Michiel
2015-04-13T00:00:00Z
Words, pictures, or videos cannot capture the incredible nature of this place. The "Casita Mariposa" is truly beautiful and picturesque. It reminded me of overwater bungalows in Bora Bora, but for a fraction of the cost and in Costa Rica! Nicole and Richard are also amazing hosts and provided us with everything we needed to have a memorable experience. If you want to get away from the crowds, feel completely disconnected from the stress of work life, and feel completely safe and relaxed, come here! Some recommendations would be to make sure you are renting a car if you are staying here. This is not the kind of place to visit if you want to walk everywhere and be close to public transportation. Also, for breakfast and lunch, visit the Pancito Cafe (a French bakery) and for dinner (if you want a 5 star experience) have dinner at Citrus or Exotica. The nearby Playa Tortuga is also one of the best and least crowded beaches we visited in Punta Arenas. What an amazing stay!
Martha
2015-12-31T00:00:00Z
Super nice place! Super recommended☺!
Fabio
2015-04-21T00:00:00Z
Un vrai moment de bonheur et de détente . C'est une maison où l'on c'est senti bien de suite . On a pu profiter des charmes de Ojochal et de ses alentours et se détendre au bord et dans la piscine de cette fabuleuse maisonnette . Sur les hôtes rien à redire , des personnes très agréables et accueillantes, à l'écoute , serviables et d'une gentillesse incroyable . Un grand merci pour ce petit paradis . Notre seul regret : ne pas avoir pu y rester plus longtemps !
David
2015-11-27T00:00:00Z
Le logement est top et bien situé. Nos hôtes ont été très accueillant. Je recommande sans hésiter.
Céline
2017-01-04T00:00:00Z
Room Type
Entire home/flat
---
Property Type
House
---
Accommodates
2
---
Bedrooms
Ojochal, Puntarenas, Costa Rica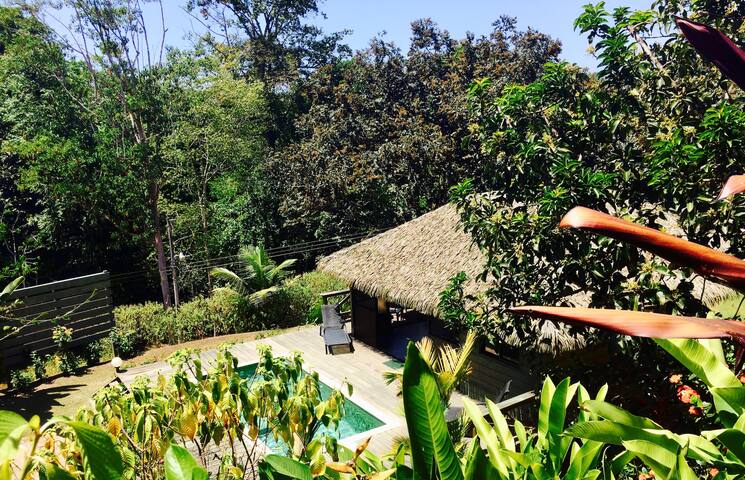 Situé entre la mer et la montagne, dans un quartier paisible d'Ojochal, à moins de 3 km de la playa Tortuga, le Casas Buenas Brisas propose deux superbes maisonnettes entièrement équipées et entourées d'une nature luxuriante et d'une faune animée.
Chaque maisonnette du Casas Buenas Brisas dispose d'un lit double, des espaces de rangement, d'une cuisine entièrement équipée (réfrigérateur, micro-ondes, plaque de cuisson, cafetière, grille-pain, chaudrons, vaisselle, ustensiles, etc.), d'une salle de bain avec douche (eau chaude), et d'une grande terrasse meublée offrant une vue magnifique sur la piscine creusée à l'eau salée, la montagne et le jardin. De plus, l'espace piscine du Casas Buenas Brisas est aussi agrémenté d'une superbe terrasse couverte et meublée.
Petit village sympathique logé entre la mer et la montagne, Ojochal accueille une communauté francophone de provenances diverses: Suisse, France, Québec, Belgique. Plusieurs restaurants réputés et différents commerces s'y trouvent. C'est un endroit très apprécié des voyageurs qui découvrent le Costa Rica du nord au sud. Dans les environs, il vous sera possible de pratiquer de nombreuses activités (surf, pêche, plongée, équitation, etc.) et de profiter des innombrables plages sauvages qui longent la route entre Ojochal, Dominical et le parc national Manuel Antonio.
Andre made us both feel very welcomed. He has a beautiful home, recently built, it is very spacious and modern looking. We were very comfortable and enjoyed our stay very much. For the price we paid and value we received, it was definitely our best place in Costa Rica. We got to use their very clean and refreshing pool as well. The grounds are beautiful; would not mind staying here a while!
Alex
2016-02-29T00:00:00Z
We had an amazing experience here. Andre and his wife are very nice and were very helpful in in directing us to several beautiful beaches, an amazing waterfall that we were able to swim in, and tips for local night life. They have a gorgeous home in the jungle with a beautiful view with wildlife to see everyday like monkeys, iguanas, and toucans. The listing made it seem wonderful but it was even better in person.
Sven
2016-03-06T00:00:00Z
This is a studio not a flat. However it was modern, well equipped and clean. There were good cooking utensils and drinking water from the tap. There was a good clothes line outside. Good location, although it is difficult to find so ensure you ask for directions. However and this is a big minus for us as we work on line; the internet worked maximum 10 per cent of the time we were there despite the listing saying there was wifi.
Vincent
2016-02-23T00:00:00Z
A beautiful place! I would love to stay here again. I wish my trip allowed me to stay more then one night here. Thank you so much Andre!
Christina
2016-02-25T00:00:00Z
Nous avons passé un mois formidable à la Casas Buenas Brisas. André nous a très bien reçu. Un endroit magnifique où il fait bon se reposer. Au cœur de la jungle avec les singes et des oiseaux de toutes sortes. Nous nous sommes bien reposé. André est une personne accueillante et très généreuse . Il nous a fait sentir chez-nous dės notre première journée. Nous avons visité la région beaucoup de choses à voir. Les plages sont magnifiques et les gens sympathiques. Merci André pour tout ces bons moments , nous avons apprécié la façon dont tu t'es occupé de nous. Un endroit à découvrir pour les amants de la nature. Ghislain et Nathalie
Ghislain
2016-02-09T00:00:00Z
Muy bonito lugar, tanto André como Johanne fueron excelentes anfitriones. El entorno, la piscina y la casita nos gustaron mucho!
Manuel
2016-03-25T00:00:00Z
Room Type
Entire home/apt
---
Property Type
House
---
Accommodates
2
---
Bedrooms
Ojochal, Puntarenas, Costa Rica
Tangara Azul is a wonderful choice, it is a tranquil and relaxed place to be. Our collection of artisan bungalows, surrounded by beautiful gardens and wildlife are very comfortable, private and secure. Easy access to local beaches nestled against the backdrop of a mountain range and lush rainforest. You are in nature with high speed internet! Includes an exquisite restaurant Citrus and a souvenir shop. You will feel like you are at your home away from home, a charming and lovely experience.
Each bungalow has it's own private space, separated from the others with yard and hedges and gardens intermixed, the bungalows themselves are filled with wood and are airy with a comfortable elegance to them. The floor plan of the units is open and roomy and art is all around with each window offering views of nature. Natural elements are also incorporated into the design with buddha statues resting on gorgeous tree stump side tables and fresh flowers adding to the beauty. Even the bedding has art on it! The bedrooms are spacious and filled with light. The queen sized beds are wonderfully comfortable and fit perfectly with the rooms. The mix of interior and exterior space is perfect. The open air dinning area is a perfect compliment to our natural setting. Cozy but elegant With curtains available to close if desired but which always allow the air to flow. Lovely flatware, classy fun place settings, our style has a touch of fun in it. The relaxed reading/ day dreaming area has art in it as well. Just 1,000 yards from the beach where you will be surrounded by lots of monkeys, birds, some toucans, a sloth or two, and lots of butterflies, including the unique Blue Morpho.
Tangara Azul is located in the southern pacific zone of Costa Rica just north of the Osa Peninsula, Ojochal is a culinary hub and it is known to have the best restaurants along this part of the coast! .
Marcella and her staff will go the extra mile to ensure a pleasant stay at their lovely boutique cabinas. Everything we needed was supplied and the staff were happy to help with any special requests (i.e., we asked for a bit of ice and they provided a whole bag, we asked for an extra towel and they provided several). Marcella herself is a lovely woman and fabulous chef. Don't miss out on a meal at her amazing Citrus restaurant. We had one of our best Costa Rican dining experiences there!
kat
2017-03-17T00:00:00Z
I cannot recommend Marcella's place enough! The cabanas are clean, comfortable, and decorated beautifully. The open porch is surrounded by gorgeous gardens and you feel like you are in a private oasis! The beds are very comfortable, as is the entire place. The other definite plus for this place is the location. It is walking distance to a beautiful beach that had only a handful of people, had calm and warm water, and was shallow enough to walk out far into the water. There is also a restaurant on site that is incredible. I The decor is beautiful and the food was unbelievable! You will not be disappointed!
Lori
2017-01-25T00:00:00Z
Great little place. Secluded and you feel like you are in the middle of the jungle, but close to the main road. Lots of night animal life noises ;0) A humble little place. We stayed for 2 nights and enjoyed our stay. We cooked every meal here. Grocery stores 10-15 min away with everything you may need. Use Waze for navigation.
Anna
2017-02-26T00:00:00Z
This property is so relaxing, I loved hanging out on the open air patio being surrounded by nature and having the option to sleep comfortably at night in the air-conditioned room - which are decorated very tastefully. There are no monkeys or sloths and we didn't see any macaws but a toucan has made its home in one of the trees. The waterfall and beaches are within driving distance but for me personally, too far to walk - the waterfall is definitely too far to walk to. I was a little disappointed that the pool is a bit dated. The feel is not what is represented in the photo. There is a mini-market very close by and a few restaurants that you can drive to, as well as the one on the property which is very popular. I would stay here again.
Laura S.
2017-02-28T00:00:00Z
Marcella's place is beautiful. It' s a really nice boutique hotel with a great menu if you have the chance to eat there. The communication was great since the beggining and Marcella is a great host. The bedrooms are beautiful, the house is really nice and the kitchen is totally equiped for cooking. The nearest beach is about 15 minute drive and there are a lot of nice places to eat nearby and a lot of nice places to visit around.
Ana
2017-01-06T00:00:00Z
Loved it
Steve
2017-02-23T00:00:00Z
Room Type
Entire home/apt
---
Property Type
House
---
Accommodates
4
---
Bedrooms
Provincia de Puntarenas, Provincia de Puntarenas, Costa Rica
This gorgeous beach-front property was formerly a boutique hotel, and is now available for exclusive bookings as your home-away-from-home. It is located on a 75-acre Biological Reserve. Five-star restaurants are only minutes away in the village. Nearby beaches to visit, adventurous and educational tours to consider, or simply relax and lounge by the pool. There are refreshing waterfalls nearby for a refreshing swim, nature hikes to explore, and more wildlife than you can even imagine.
This unique beach-front exclusive listing sits on a small cliff over-looking the Pacific Ocean, with only a 5-minute walk to a quiet beach perfect for long, leisurely strolls. It is nestled on a 75-acre Biological Reserve with a variety of nature hikes right on the property. Being a protected wildlife zone, you can enjoy the daily scarlet macaw fly-bys, the raucous toucans, and those mischievous white-faced monkeys as they make their rounds through the property. The open-air design captures the ocean and mountain breezes, with extraordinary views all day long and the most stunning sunsets you have ever seen. Each room has its own private deck to relax and enjoy all this exotic beauty. The architecture is Spanish-Mediterrean design, with exotic tropical wood furnishings throughout the property. The style is an open-concept design to take advantage of the delightful ocean breezes throughout the day, and then refreshing cool mountain breezes during the evenings. The kitchen is deluxe, fully equipped with all the conveniences you would need to create luscious meals. There is WiFi access in the common area to stay in touch with friends and family back home. There is free laundry service provided by the daily housekeeping staff. The pool is one of the largest pool in the region at 20' x 40' with plenty of towels, wooden lounge chairs, and even a selection of fun pool 'toys'. Each of the bedroom units has its own private deck with wooden lounge chairs to watch the tide ebb and flow, listen to the sound of the ocean roar each night, take in the sheer lushness of the surrounding rainforest, and enjoy the serenade of birds as they greet the new day. This is the place for that dream holiday you always wished for! Make this your local home-away-from-home while you explore the local beaches, communities, and even fresh-produce open-air markets nearby. This is the perfect location for exclusive bookings for your group holiday, family reunion, wedding, business conference, retreat, or home-away-from-home while you explore the Southern Pacific region. Each of the 3 units are spacious 2-storey rooms, with a sitting room and full bathroom downstairs. The bedroom, with ensuite bathroom, is upstairs complete with exquisite wood furnishings, and a private deck to enjoy and relax. Watch as the ocean changes with the tides, count the exotic bird species as they roost in the nearby palm trees, or simply bring your book to relax and settle into your holiday.
Costa Rica itself is one of the most bio-diverse countries on the face of the Earth, and the Southern Zone takes the lead as the most diverse area within the entire country. Countless species make their home within this region. Toucans perch on trees outside your window, and white-face monkeys bounce playfully along palm tree-lined beaches. The Southern Zone is your chance to experience the lush, tropical beauty that is Costa Rica. The Southern Zone is all about diversity, from the rugged landscape to the amazing wildlife. Hiking through the dense jungle or swimming in natural waterfalls, watching whales with their young, or lounging out by the pool, you can find it all in Southern Costa Rica. For such a small corner of Costa Rica, there is an amazing range of diversity – in geography, climate, history, wildlife, and social life. Everything you need is close by – 5-star restaurants for fine dining or explore the local cuisine at local cafes, a wide variety of sports and nature tours to consider, and local outdoor markets to sample the tropical fruits and vegetables. Some of the nearby restaurants even offer live music provided by our local talent. Within easy driving distance, the business hub of Uvita includes banks, supermarkets, hardware stores, souvenir shops, and a tourist information center to get all your questions answered. We even have a 9-hole golf course 30 minutes south of the property. Use this location as your home-base while you explore the region by day, and then return home each evening. There are 3 National Parks within easy driving distance. They are convenient for day-trips to hike through the nature trails, indulge in some beach time, or book a whale-watching tour complete with snorkeling on the reef. If you or anyone in your group is a surfer, there are many beaches and tours to consider. Some of the most consistent and reliable surf in the world, and a number of beaches to try. Or if anyone in your group is a fisherman, there are a variety of fishing tours available. Fishing for marlin, snapper, tuna, or sailfish are all catch-and-release, but there are some species you can bring home to cook up for dinner. Costa Rica is strategically located where there are two distinct whale watching seasons. The best times are December to April, and August to December. Both Northern and Southern Hemisphere humpbacks pass through our region. Come and mingle with these gentle giants of the seas.
Room Type
Entire home/apt
---
Property Type
House
---
Accommodates
6
---
Bedrooms
Provincia de Puntarenas, Provincia de Puntarenas, Costa Rica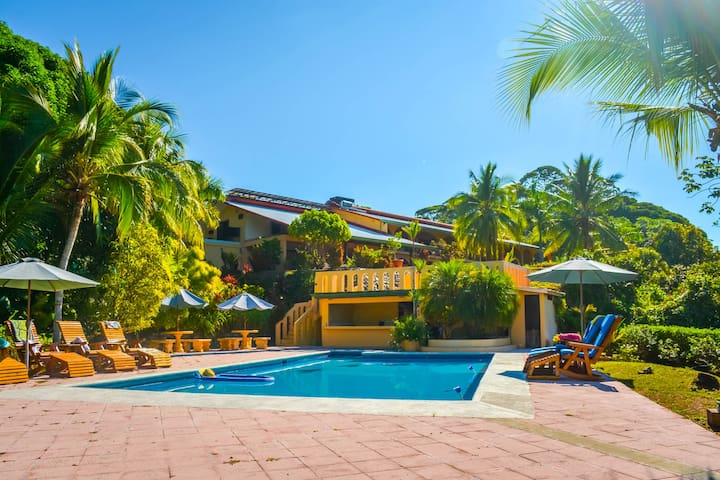 1

–

18

of

65 Home Rentals
Enter dates to see full pricing. Additional fees apply. Taxes may be added.