Affitto a 5 minuti d'auto dal centro di Aosta stanza indipendente completamente ristrutturata, composta di zona notte e un bagno fornito di doccia e servizi. Ideale per raggiungere la stazione sciistica di Pila.
Affitto a 5 minuti d'auto dal centro di Aosta stanza indipendente completamente ristrutturata, composta di zona notte e un bagno fornito di doccia e servizi. Ideale per raggiungere la stazione sciistica di Pila L'alloggio
L'alloggio si trova a meno di 50 metri sia dal "Café de la Place", un accogliente bar per le colazioni, sia dal "Genzianella, un ottimo ristorante&pizzeria in cui gustare ottimi piatti ad un prezzo equo. Inoltre, a meno di un chilometro, si trova l'Area Verde Comunale "Grande Place", soprannominata "il polmone di Aosta", dalla quale si può accedere alla Pista Ciclabile Regionale che collega Pollein con svariati altri Comuni della Valle d'Aosta, da Sarre a Saint Vincent.
Fulvia is very nice, very kind, helpful, and so on. The room exactly corresponds to the pictures and is very comfortable. Fulvia even prepared us a little breakfast :-) Highly recommended !
Cibils
2016-03-22T00:00:00Z
Excellent couple of days Fulvia is very helpful with her local knowledge and gives a welcoming drink. The room is spacious, clean and well equipped and tastefully decorated. We will be back. Thank you Fulvia
bev
2016-03-25T00:00:00Z
Fulvia was an amazing host, very warm and welcoming to her space. Was welcomed to the space by stopping by her cafe for a cappucino first! Would recommend to anyone travelling to the area.
Bradley
2016-09-07T00:00:00Z
Grazie Fulvia! Our stay could not have been any better. The room was gorgeous & there were so many lovely touches - slippers, bath robes & snacks. Fulvia was incredibly generous - offering us coffee & snacks from her bar for our drive & even giving us advice to miss a large road roll & take a more beautiful road.
Gemma
2016-09-28T00:00:00Z
Our stay was truly a unique experience. The room is very cave-like, but with modern furnishings: a perfect retreat in the mountains. Fulvia, the hostess, provided key insight about the area as well as a great cups of cappuccino, which helped us to enjoy our stay in the Valle d'Aosta. All in all, great experience. We hope to visit again!
Christopher
2016-03-03T00:00:00Z
Very cool room in transformed stables under a stone house. Fulvia is the most welcoming host, making supper reservations for us and feeding us breakfast. A truly lovely stay.
Gwen
2016-07-02T00:00:00Z
Thank you for your warm welcome! The room was charming, exactly like the description, very clean, spacious, comfortable. Quite a unique experience sleeping in a vaulted cellar!!
Julia
2016-04-03T00:00:00Z
We had a wonderful one night stay with Fulvia, and will come for a few days next time. She greeted us with an Aperol Spritz and salami and cheese. Very unexpected, generous and appreciated. Fulvia's place is close to Aosta, where we had a wonderful evening eating pizza and watching the passing parade. Our room was well appointed and stylish. The bed was comfortable, and there were breakfast items provided for us. The area is very authentic with no tourists. We like this very much. Fulvia made us a cappuccino to send us on our way. She is a big hearted, friendly person, and people like Fulvia are the reason we choose to stay Airbnb.
Christine
2016-09-10T00:00:00Z
Room Type
Private room
---
Property Type
House
---
Accommodates
2
---
Bedrooms
Pollein, Valle d'Aosta, Italy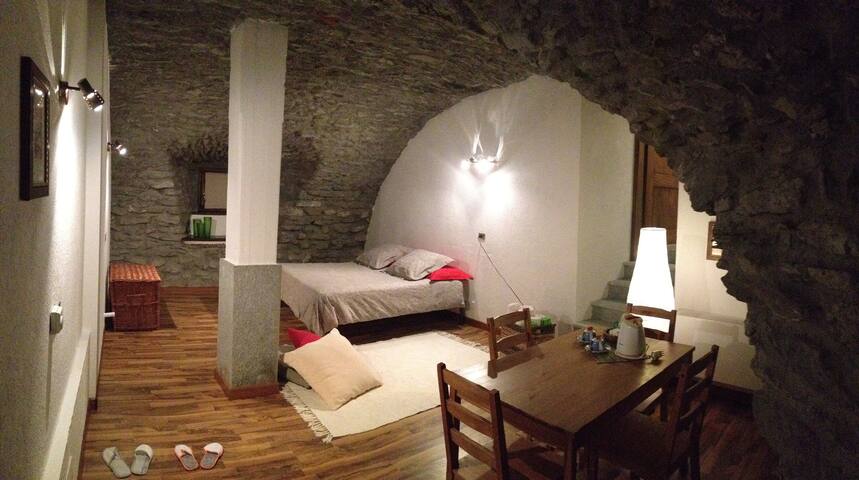 The house recently renovated is located 5 minutes by car from Aosta, from the Pila cable cars and the train station and bus station. A few steps away it is also the stop for the buses going directly to the center in a few minutes. The accommodation is ideal for couples and families up to four people, it has two floors, kitchen to living room with sofa bed, two bathrooms and a double bedroom. This includes parking and Wi-fi.
The Old Barn is located in the quiet village of Saint Christophe, in the Meysattaz hamlet, just minutes from downtown, with views of the neighborhood also of mountains and meadows. Inside, the new finish furniture and ceiling completely made up of wooden beams help to make the room warm and comfortable.
The apartment is located in a quiet village 3 km from the center, composed mainly of stone and wooden houses in a typical Aosta Valley style. A 2 minutes from the house there are supermarkets (Conad, Lidl, Eurospin, Carrefour) stores (technology, clothing, games), pharmacy, restaurants and bars.
We stayed at Valeria's house for 7 weeks total and had an amazing time. The house was newly renovated and everything was like described. The house is located in a peaceful and beautiful location very near to all the daily necessities. Valeria and her family were very friendly and everything during our stay went smoothly.
Jussi
2017-03-31T00:00:00Z
Abbiamo trascorso un bellissimo soggiorno. La casa è nuovissima e accessoriata di tutto. Ringraziamo Valeria per l'accoglienza e la disponibilità dimostrata. Da ritornare.
Silvano
2017-01-07T00:00:00Z
Room Type
Entire home/apt
---
Property Type
House
---
Accommodates
4
---
Bedrooms
Saint-christophe, Valle d'Aosta, Italy
Enjoy your holidays in the countryside of the Aosta Valley. We're in Grand Brissogne, about 10 km from Aosta. The centrality of our position in the Aosta Valley Region offers many possibilities to spend an interesting holiday, full of variety in the sight of the Alps. The cable car to Pila is located about 20 minutes drive from the house.
The house is on 3 levels: the ground floor is the living area with wood burning fireplace; in the first floor there is the master bedroom; finally the attic with two single beds.
The house is located in an excellent position to enjoy some days of total relax. However it is situated in a central location in the Aosta Valley, from which you can quickly reach the main attractions of our region, such as: making skiing on the ski slopes of Pila; visit the "Skyway", the new cable car of Mont Blanc; visit the "Roman Aosta"; spend your time for relaxing at the thermal baths of Pré-Saint-Didier or Saint-Vincent etc. etc. For those who wish to take a trip a little further, we recommend the wonderful city of Turin, home of the Olympic Games of 2006, which is about 100 km from our location. The nearest food trade is located 4.8 kilometers (83/A Frazione Neyran, Brissogne, AO 11020); after there is the Carrefour, 8.1 km (Pollein, Località Autoporto, (PHONE NUMBER HIDDEN) Pollein AO); The nearest laundromat is located 8.5 km.
We, a family of four, had a wonderful stay in Aosta and the house of Helmut was even better than I had in mind! First Helmut was a very nice, welcoming and helpful host. The house was well equipped and with the garden, just perfect for us and the cildren. The Aosta area is something I also would recommend and surely would like to visit again.
Frida
2016-07-12T00:00:00Z
Helmut's place is all we have hoped for. Half way up rhe hill overlooking aosta Valley with its breathtaking view it is very well equipped, clean and cosy. No kitsck, this old little house is rhe real thing. We"ll definitely come back!
Monika
2016-07-19T00:00:00Z
We had a wonderful stay at the Kleiner Hof! The apartment is really charming and suits the environment very well. Helmut and his family have been very kind and helpfull and made sure that we had a pleasant stay. We will definitely consider staying here again!
sanneke
2016-09-24T00:00:00Z
We had a lovely time. Helmet and his father were so welcoming. The house was lovely as was the surrounding area. It was nice and cosy with the woodburning fire in the dining/lounge area, and very near to Aosta and the national park. It was pristine and although not massive it was perfect for what we needed. Definitely recommended. Thank you!
Lisa
2016-05-09T00:00:00Z
For a mountain get away this is a perfect retreat: beautiful views and clean mountain air!!
paul
2017-01-26T00:00:00Z
The Kleiner Hof was a wonderful base to explore the Aosta valley. Helmut and his family were extremely helpful before and during our stay. Couldn't have wished for a better stay. Many thanks
Kenneth
2016-08-10T00:00:00Z
A wonderful, cozy valley retreat. We were welcomed with delicious local biscuits. Thank you both!
Sarah
2016-12-29T00:00:00Z
Abbiamo passato nella casa Kleiner Hof il ponte del 25 aprile con il nostro bimbo di 3 anni. All'arrivo abbiamo trovato Helmut ad attenderci con un dolce pensiero di benvenuto (vassoio di buonissimi baci di dama e tegole). Casa pulitissima, calda e accogliente. Ottima selezione di libri e fumetti. Bell'arredamento tradizionale
Emanuele
2016-04-26T00:00:00Z
Room Type
Entire home/apt
---
Property Type
House
---
Accommodates
4
---
Bedrooms
Grand Brissogne, Valle d'Aosta, Italy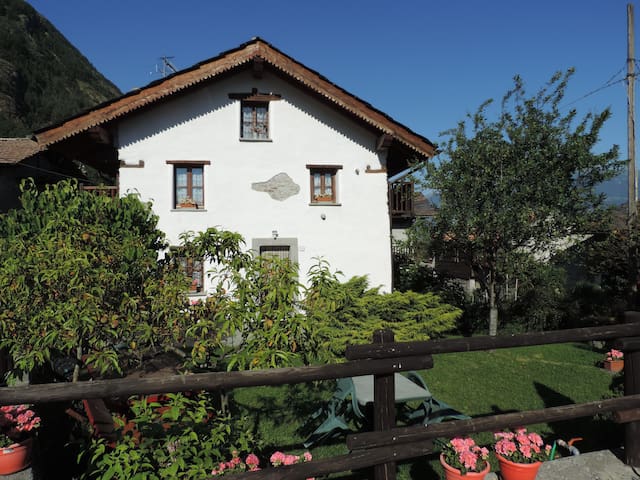 La mia splendida villa è su due piani con tre camere da letto, due bagni, salotto e cucina. La casa è circondata da un ampio giardino e situata a pochi minuti Aosta sulla collina adiacente.
Fab place really enjoyed an excellent stay in Aosta. Would say that you need a car to stay here. Lovely views of the mountains.
John
2017-01-05T00:00:00Z
Alessandro went above and beyond our expectations in hosting us. The place is very well kept, it's clean and we were welcomed so nicely by Alejandro and his family. The place is unique in its kind with a lot of outside space while still close to Aosta city. All in all: perfect spot! We're hoping to come back and connect again in the future.
Reinier
2017-03-24T00:00:00Z
The House IS perfecto for ski holidays. 10 minuts to pila with excelent views to the Aosta Valley mountains. Alessandro is a perfect host, helped us with everything and he waited for us to arrive very late in the night. Recommend it!
Matilde
2017-03-01T00:00:00Z
Casa tipica valdostana molto bella, ben curata, pulita e accogliente. La famiglia é davvero eccellente, molto cortesi e premurosi. Cosa più importante:casa molto calda e quando si sta tutto il giorno a -5 gradi, avere un ambiente caldo è davvero importante. Tutti molto gentili. Colazione fantastica...fette biscottate, the, latte, biscotti, succo di frutta, ... tutto davvero OTTIMO. Ambiente molto accogliente e familiare. Consiglio vivamente.
Elia
2016-12-18T00:00:00Z
Alessandro e la sua famiglia sono stati sempre disponibili e attenti alle nostre esigenze fin dalle prime comunicazioni. Ci hanno subito accolto con estrema cortesia e disponibilità facendoci sentire come in famiglia; sempre pronti a consigliarci anche solo su un ristorante e rispondendo in modo approfondito ad ogni nostra curiosità. Ci siamo sentiti coccolati come fossimo a casa nostra. La casa è spaziosa, pulita, accogliente e dotata di ogni comfort compresa una jacuzzi per rilassarsi dopo una lunga sciata. A pochi minuti dalla partenza della cabinovia di Pila e dal centro storico di Aosta. Consigliassimo per famiglie.
Daniele
2017-03-05T00:00:00Z
La gentilezza di Alessandro e della sua adorabile famiglia è imbattibile, sono stati sempre presenti, ci hanno dotato di ogni comfort possibile e ci hanno fatto trovare dell'ottimo cibo nella dispensa ed in frigo!! la casa è bella e spaziosa, calda e in posizione ottimale per girare in valle d'Aosta. unico appunto: la stanza al piano superiore è in realtà quasi una quadrupla, noi eravamo un gruppo di amici quindi nessun problema. consiglio vivamente di scegliere questa bella casetta, vi faranno sentire come uno di famiglia!
Chiara
2016-12-11T00:00:00Z
La casa è meravigliosa così come i proprietari! Cordiali e super disponibili! Consigliatissjma!
Valentina
2017-01-08T00:00:00Z
Alessandro ci ha accolto davvero in modo caloroso, ed è stato molto attento ad avvicinarsi alle nostre esigenze fin dalle prime comunicazioni. Avevamo una bambina di 2 anni tra noi ed è riuscito a mettere un piccolo lettino in camera! Davvero sorprendente, la casa è fantastica e non manca di nulla.. è una casa che mi ha fatto sentire a casa! Le foto non rendono la bellezza della casa, l'ordine e la pulizia!
Davide
2017-02-19T00:00:00Z
Room Type
Entire home/apt
---
Property Type
House
---
Accommodates
6
---
Bedrooms
Chef-Lieu, Valle d'Aosta, Italy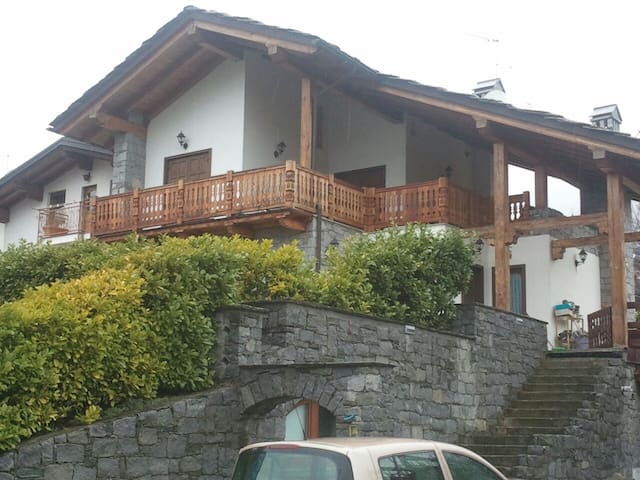 the apartment is at the ground floor, has one bedroom with double bed and a little one for a child 2-4 years, a living room with a single bed and one more if necessary and the kitchen with oven and fridge and everything to cook meals. The bathroom is big with a shower and washing machine. In spring and summer time there are table and chairs in the garden. It's good to have a car, because the bus stop is distant 800 m. there are few shops some restaurants at the same distance. the apartment is 3 km far from Aosta and just 2 km from funicular to Pila (ski piste). That is a nice place where to spend your holidays and know our valley. anything you need we leave at the first floor.
Angela was tremendously welcoming! Her place is very accurately represented in the pictures. Her home is cozy, and the surroundings are fantastic! Aosta valley is a wonderful place to explore and Angela was great giving tips on things to do, good places for groceries. My family and I would happily go back. GPS coordinates take you up some pretty small narrow roads, windy and steep - but there are much easier roads to get to her home - and parking 30m from the house was easy and no problem.
Katherine
2016-05-05T00:00:00Z
Great place!! Beautiful house with all the amenities including a great BBQ oven in the yard. Close to amazing hiking nearby. Hosts were awesome and we felt welcomed from day one (including an amazing home made pie!). First day went out to local store, bought meats, cheeses and wines and came back for a nice BBQ and at a great view. Awesome start. There is some hiking near the house but the best one is about 30-45 min away (Mont Blanc area). We had a car rental so it was not an issue. We could have easily stayed an extra few days as there is so much to see and hike nearby. Highly recommend!!
Jorge
2014-06-18T00:00:00Z
Angela and her husband have been very kind and we spent a great time there. The place is amazing and has a very good vibe. It's close to everywhere and still very quiet. We would really come back.
Gaston
2014-03-17T00:00:00Z
We stayed in this house for two nights in February 2015, while skiing in Pila. The house location is perfect for Pila resort, just 3km from departure station. Angela and Sandro were great hosts! Angela even made us tasty wellcome pie!! They helped us on every request, so staying there was very comfortable!!
Katerina
2015-02-08T00:00:00Z
Appartamento davvero molto carino, ben tenuto, pulito e in posizione davvero invidiabile per scoprire l'intera Val d'Aosta e per rilassarsi: si trova davvero "ai margini del bosco" tanto che abbiamo sentito più volte il bramito dei cervi. Angela e Sandro sono 2 persone accoglienti e molto disponibili per qualsiasi necessità. Consigliatissimo!!
Alessio
2013-08-25T00:00:00Z
Squisita accoglienza da parte dei nostri ospiti, simpatici accoglienti e molto premurosi. La casa è ottimamente attrezzata, anche di un magico barbecue che ha reso il nostro breve relax in Val d'Aosta più "country style". Da ripetere!
Monica
2015-04-08T00:00:00Z
Angela é uma pessoa muito gentil e nos sentimos em casa em Pollein! Como alguém já havia comentado, ela nos recepcionou com uma torta deliciosa! Ela nos deu várias dicas sobre os locais que poderíamos conhecer e também sobre estradas alternativas, onde o preço do pedágio seria bem mais barato ou nem seria necessário o pagamento. A casa fica bem perto do centro de Aosta e para quem vai para esquiar ou caminhar, é um ótimo local. Altamente recomendado!
Marcelo
2015-04-14T00:00:00Z
Angela e Sandro sono stati squisiti, ci hanno messo tutto a disposizione, prodotti dell'orto compresi! al nostro arrivo crostata e vino come benvenuto ... direi SPECIALI!! La casa è perfetta e non manca di nulla, posizione comoda a tutti i servizi in soli 5 min di auto, la comunicazione è stata puntuale e davvero semplice. Una vacanza bellissima che ci sentiamo di consigliare ad altri ospiti di Airbnb
mara
2016-08-17T00:00:00Z
Room Type
Entire home/apt
---
Property Type
House
---
Accommodates
4
---
Bedrooms
Pollein, Aosta, Italy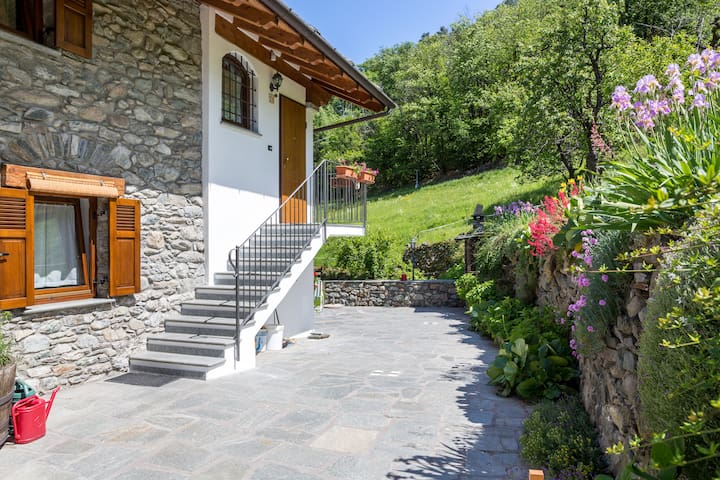 L'appartamento è situato a 15 minuti di macchina dal centro storico di Aosta e a circa 9 km dalla partenza dell'ovovia per Pila. Situato nella zona centrale della Valle d'Aosta e a pochi km dall'uscita dell'autostrada. Per le indicazioni Stradali, Vedere la sezione 'DOVE, INDICAZIONI E CONSIGLI UTILI' L'alloggio è situato ad una quota di 800 metri s.l.m. sulla sinistra orografica (L'Adret) e affaccia sull'imponente Becca di Nona(3.142mt.)ed il Monte Emilius(3.559 mt.),da qui,Vista mozzafiato!
L'alloggio è situato ad una quota di 800 metri s.l.m. sulla sinistra orografica (L'Adret) e affaccia sull'imponente Becca di Nona (3.142mt.) ed il Monte Emilius (3.559 mt.), Vista mozzafiato sull'intera catena montuosa della Valle d'Aosta, da est a ovest. La zona è ideale per gli appassionati di outdoor e della montagna; questo è il luogo ideale per rilassarsi e fare sport all'aria aperta come il trekking, mountain bike, sci di fondo, sci di discesa e racchette da neve. I castelli medievali di Quart, Fenis, Issogne, Sarre, Saint Pierre, Aymavilles sono facilmente raggiungibili. Inoltre l'appartamento dispone di una caminetto a legna per allietare le bianche notti invernali. Unito all'appartamento, è possibile usufruire di un'area verde con Barbecue nel quale rilassarsi e farsi coccolare dalle caldi estati di sole.
Si tratta di un piccolo Villaggio di Montagna composta da circa 6 case. Vista spettacolare sulle montagne e poco distante dal Centro storico di Aosta. Adatto per chi ama rilassarsi, fare camminate o escursioni outdoor o per chi vuole visitare la Valle d'Aosta.
We stayed at Gianluca house with our 3girls. it is very convenient for a family with 2 separate bedrooms and a big living room. we had some difficulties finding number 1 house but our host had everything ready waiting for us. the view from the house is amazing. A Nice place to stay near Aosta on mountain slope with great view from balcony Sandrine
sandrine
2016-08-21T00:00:00Z
We had a wonderful time in Aoste Vallee! We were very friendly welcomed by Gianluca, the neighbors were friendly, the house was nice and clean, with a fully equipped kitchen and even a lovely fire place! The environment is beautiful, nice for hicking, even with children. We would love to come again!
Marjolein
2016-05-09T00:00:00Z
Nice, clean, silent house over the Aosta valley. We found everything we need and would come back.
Jörg
2016-07-30T00:00:00Z
Gianluca's cousin welcomed us to the appartment, he was very available and accomodating! The appartment was even more beutiful than the pictures, everything was clean. The appartment has an incredible view, and a little garden which is amazing if you are bringing a pet or if you want to have "colazione" with that amazin view. Near to the appartment is the Quart castle which is an enchanting place, there are free guided visits everyday. Also from there there are several trekking routs with amazing views. Lastly, the appartment is quite close to Aosta. Everything was great so we will sure come back!! Thanks Gianluca and Stefano!!
Nancy
2016-08-15T00:00:00Z
Communication before we arrived was very helpful and prompt. We were warmly welcomed, and well cared for throughout our stay. La casa delle Rose is spacious, comfortable and well-equipped. It's in a very quiet location with fantastic views across val d'Aosta. No problems parking nearby. La comunicazione prima del nostro arrivo era molto disponibile e sollecito. Siamo stati accolti calorosamente, e ben curato durante il soggiorno. La Casa delle Rose è spaziosa, confortevole e ben attrezzate. E 'in una posizione molto tranquilla con una fantastica vista sulla Val d'Aosta. Nessun problema di parcheggio nelle vicinanze.
Stephen
2016-02-20T00:00:00Z
l'accoglienza è stata splendida e accurata. La casa è carina e ha tutto il necessario. La location è splendida. Ringrazio Gianluca e Stefano per tutto e sicuramente ci si tornerà.
Giorgio
2016-08-20T00:00:00Z
Accueil parfait ! Disponibilité et patience exemplaires Dommage que nous n'étions que de passage !
Jean Michel
2016-07-14T00:00:00Z
Veramente un'ottima abitazione, la descrizione e le foto rispecchiano la casa, che a mio avviso dal vivo è ancora più bella! Alto livello di pulizia, e di comunicazione con Gianluca! L'area verde in uso con la casa è qualcosa di paradisiaco, con una vista mozzafiato sulle bellissime montagne. Ci siamo trovati così bene che abbiamo prolungato il soggiorno visto che Gianluca non aveva prenotazioni nei giorni successivi. Vista la nostra esperienza posso solo che consigliare questo splendido posto.
Dimitri
2016-09-23T00:00:00Z
Room Type
Entire home/apt
---
Property Type
House
---
Accommodates
7
---
Bedrooms
Quart (Aosta), Italia/ Valle d'Aosta, Italy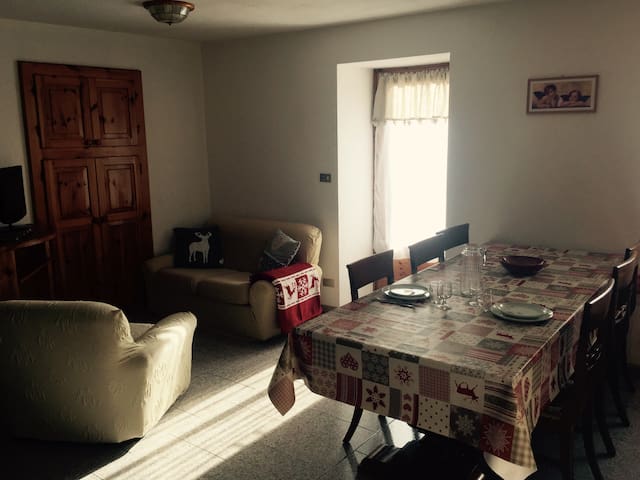 Nestled in the cool silence of the Village Argnod on Quart, new and quiet apartment of 55 square meters with green area. It is 15 minutes from Aosta and from the Aosta-Pila and 5 minutes from the motorway. Pets are welcome.
In the center of the village, quiet and cozy in a restored 1700 country house
Tbjs appartment was perfect, its description fits with the reality. We went 4 friends and althought we had booked just 1 day before, everything was nice including Cecilia of course. The wifi cooking and tv works perfectly. Beds are confortable and everything was clean. Cecilia was very nice and kind, she supplies us everyrhing we needed. There was cold water to have a shower and we met dishes ,glasses and tools for cooking. Noce to meet you Cecilia i would return to your pretty house!
Marina
2016-03-28T00:00:00Z
Everything was uncomplicated. We booked very short-termish and nevertheless we found a nice clean studio with an awesome view and everything was sufficiently equipped. I can certainly recommend this place.
Lukas
2015-09-06T00:00:00Z
A great place to stay lovely and warm and fantastic views of mount emille. Maria was inviting and although lived on site was not at all intrusive.
Melanie
2016-02-10T00:00:00Z
I love everything about them. They are really kind and respectful. Also I have to say about Maria's beautiful house and her kind friends Cristina and Huogo... we love them. Who can say less than word " perfect" for this unique experience with great people. Maria and her friend shared their everyday life with us and we understood the meanig of life... we went to one of the incredible mountain in the Alp region and the showed us sone marvelous views. .. I suggest you try this place with its numerous villages and mountains. .. The life is too short and this place is really beautiful. .. Just visit this beautiful and clean house and enjoy its wonderful view. Besides these feeling I have to add something really good for this recommendation. Maria's punctuality, responsibility, kindness, caring and patience make her a perfect host.
Hadi
2015-08-23T00:00:00Z
Lovely accommodation with an incredible view. Marie Cecilia is a welcoming, helpful host. We'll be returning!
Rachel
2017-02-10T00:00:00Z
My son and I stayed at Maria's studio for a week. We went skiing at beautiful Pila ski resort for 4 days (in my opinion the best in the area), one day at Cervinia and a day at Courmayeur. The studio is very clean, big, functional and characteristic. Aosta is 15 minutes away and there is an excellent pizzeria Cavallo Bianco 5 minutes from the house. Maria is great, no words can describe, simply the best host. I recommend it 100%. Thank you Maria
Moshe
2017-03-15T00:00:00Z
The apartment was perfect and Maria was very accommodating of our late arrival.
Tim
2016-01-24T00:00:00Z
Wonderful flat! Spacious with a great kitchen and garden. Towels, bath robes and extra blanket were provided which was very nice!
Hanna
2015-08-15T00:00:00Z
Room Type
Entire home/apt
---
Property Type
House
---
Accommodates
4
---
Bedrooms
Quart, Aosta, Italy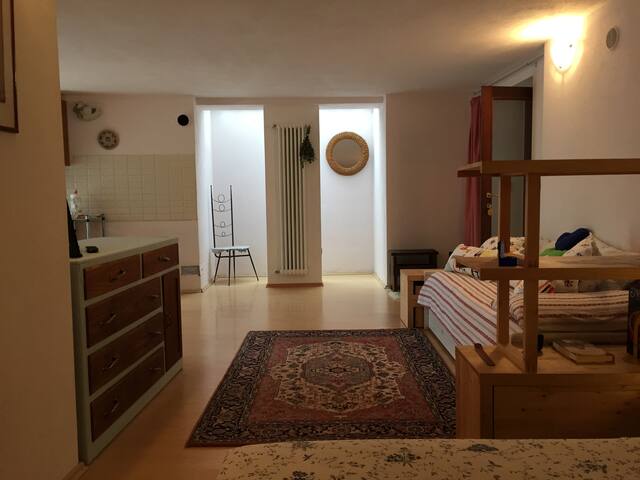 5 minutes walking from the center - 300 meters from the cableway to Pila - 200 meters for a big supermarket - 800 meters train and bus stations - 800 meters ice rink, swimming pool and athletic field Breakfast, car parking and WIFI included in the price Near to our house there are many restaurants, but if you want, for an economic price, you can eat with us (for mor info send me a message)
Alice's room, my sister. Now she lives in Venice for the University. In the room there are some wardrobes with her clothes but, no worries, one it's only for you. We have a bathroom only for guests and we give an ample breakfast (in the kitchen cooking is NOT allowed). Cozy and warm room, close to everything!
Quiet zone, but very close to everything (less than 1 km)
My great enjoyment in the 5 days staying in Aosta was mainly due to this wonderful, hospitable, caring family. It was so easy to get attached to the wife, husband and, daughter who were at home at the time I stayed there. Location great, generous breakfast trying to cater to your taste, smiling and welcoming people whenever you come back "home". It is worth going back to Aosta just to visit them and stay with them again. Definitely, will recommend it heartily.
Hanna
2016-08-24T00:00:00Z
Superhost with great house. Wonderful experience. The room is very clean. The breakfast is splendid.
beilei
2016-12-10T00:00:00Z
Thanks to Eugenio really felt even better than home very kind and lovely people i think there is no better place to be Clean Calm ... im so happy after my short stay ;)
Omar
2016-05-09T00:00:00Z
Everything was OK for me, hosts were very nice, friendly and also helped me to fix my car! It is quite close to the city center, convenient to go somewhere in the evening :). I fully recommend this place.
Adam
2016-10-16T00:00:00Z
The place is neat and clean with a cozy bathroom. A very homey feel to sleep at their daughter's room with her personal decor. The hosts are very friendly and are very willing to help in any way they can. They are so kind to be flexible with my check in and check out time requests due to my circumstances. Though they don't speak English much, they try their best to communicate well using technology. I surely would like to stay with them again if there's a need.
Lavinia
2017-03-11T00:00:00Z
It's really comfortable room, the host family are friendly and helpful,they do the best to treat me as their family member,body language and (SENSITIVE CONTENTS HIDDEN) translation let us communicate without problem.Thank you all family so much !!Recommend it !!
Juchen
2016-07-12T00:00:00Z
A perfect location to access the telecabina for Pila and a short walk to the centre of the old town for restaurants and bars. My hosts were fantastic and looked after me so well. I cannot recommend this place enough.
Ian
2017-02-06T00:00:00Z
Eugenio's family was extremely hospitable. I felt like family while staying with them...a great experience overall.
Daniel
2016-10-22T00:00:00Z
Room Type
Private room
---
Property Type
House
---
Accommodates
1
---
Bedrooms
Aosta, Valle d'Aosta, Italy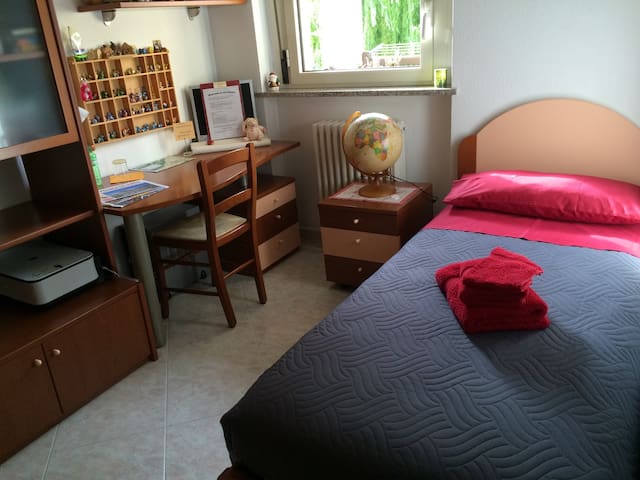 Bright and modern villa on three floors, independent, romantic and comfortable. Large terrace and veranda, both in common. A 7 km from the center of Aosta in the residential area of Quart, panoramic views of Mount Emilius. Nordic design
geothermal heating, heat pumps, solar panels, eco-friendly, wood cladding, brise-soleil, romantic
The property is managed by a hotel in town, which makes it very easy to check-in and receive any assistance. The house itself is open and filled with light...a lovely space.
Phelps
2015-12-30T00:00:00Z
Loved the place , great design (both interior and exterior ) and view. I can't wait to go back !
Massimo
2016-12-20T00:00:00Z
Super maison dans un cadre magnifique qu'est la vallée d aoste! ! Merci à Luana pour l accueil et sa réactivité ! Je recommande c'est sur! !
thierry
2016-01-05T00:00:00Z
Casa splendida, dotata di ogni comfort. Ci resterà nel cuore.
Ilaria
2017-01-05T00:00:00Z
Nous avons passé deux semaines dans cette magnifique maison et nous pouvons que vous la recommander! Elle est spacieuse, lumineuse, calme (située dans une rue privée) et bien équipée (lave vaisselle, four,...). Les terrasses sont parfaites pour profiter de l'extérieur à toute heure. De plus, sa situation est idéale pour se rendre sur les différentes randonnées dans cette belle vallée d'Aoste et à Aoste en environ 15 minutes. Luana a toujours été là pour répondre à nos questions et demandes. Efficace et très agréable. On a déjà hâte d'y retourner !
Aude
2016-08-20T00:00:00Z
Room Type
Entire home/apt
---
Property Type
House
---
Accommodates
2
---
Bedrooms
Villair-Amerique, Valle d'Aosta, Italy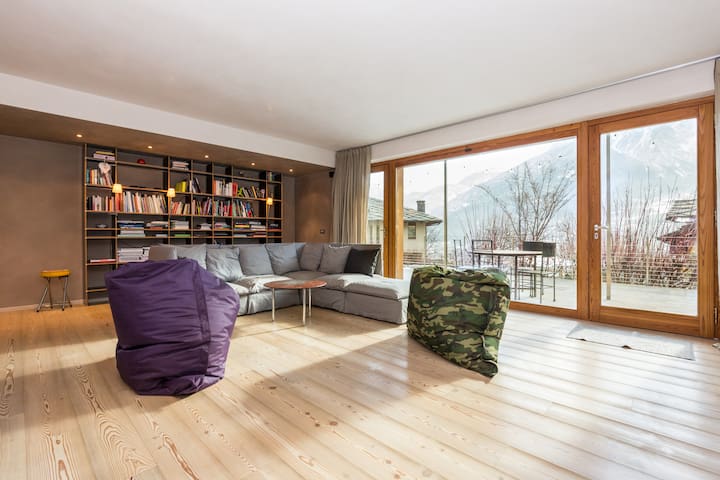 the old Aosta house with walled garden, the interior of which is decorated in wood, warm mountain style. Two separate entrances. Quiet neighborhood, a short walk from the center. Convenient free parking nearby
The proximity to the monuments of the "Roman of the Alps" Augusta Praetoria Salassorum (ancient name of the city of Aosta), the stillness of the flowing river and a central yet quiet district at the same time make your stay relaxing and rejuvenating stay
The host canceled this reservation 3 days before arrival. This is an automated posting.
Diego
2016-10-27T00:00:00Z
Esperienza bellissima 3 giorni da favola. La proprietaria davvero gentilissima e (URL HIDDEN) casa davvero grande spaziosa e molto accogliente....niente che dire non vedo già l ora della prossima vacanza in montagna per tornare a soggiornare dalla sig.ra Elena!!! Bellissimo davvero tutto!!!!
Andrea
2017-01-08T00:00:00Z
Casa in una posizione ottima! Vicinissima al centro storico, negozietti e mercatini, 5 min a piedi! Parcheggio davanti a casa... Elena é stata gentilissima e molto disponibile! La casa è molto pulita e ordinata, c è tutto quello che serve! Per gli amanti della montagna gli impianti di risalita per pila sono a 10 min di auto,con comodo parcheggio! tutto davvero ottimo, peccato essere restati solo 2 notti! A presto!
Marella
2017-01-05T00:00:00Z
Il mio soggiorno è stato breve, ma intenso. La casa è carinissima e ha un ottima posizione vicino al centro. La proprietaria è una persona squisita, gentilissima e sempre disponibile. Credo che ci torneremo!! Grazie mille elena. ...
alessandra
2015-12-23T00:00:00Z
Room Type
Entire home/apt
---
Property Type
House
---
Accommodates
7
---
Bedrooms
Aosta, Valle d'Aosta, Italy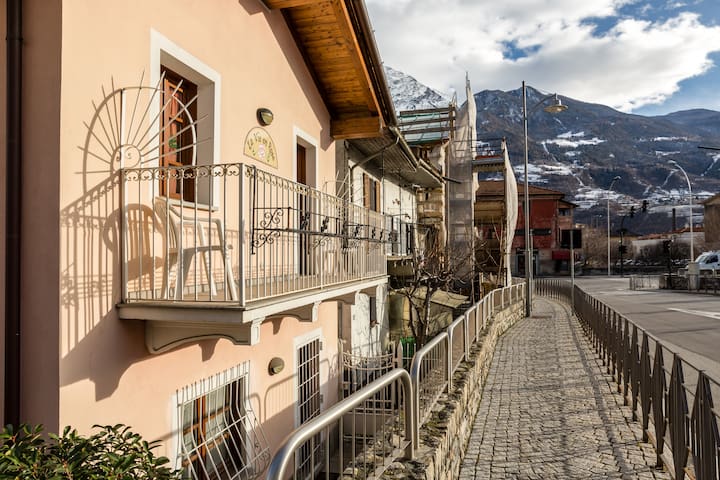 In dominant position and panoramic valley of the center, next to the most important and prestigious locations and ski slopes of the Aosta Valley, recently renovated apartments have been created.
room apartments that can accommodate up to 4 people and large apartment max 7 people.
Room Type
Entire home/apt
---
Property Type
House
---
Accommodates
4
---
Bedrooms
Saint-christophe, Valle d'Aosta, Italy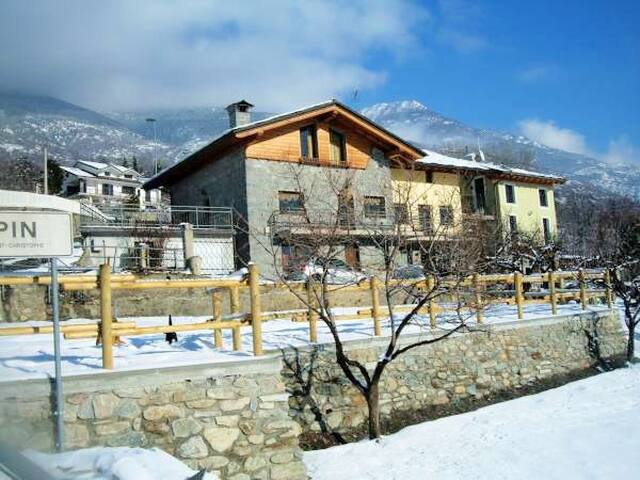 L'appartamento è nuovo, nato dalla ristrutturazione di un vecchio fienile inserito nel paese di Pollein con splendida vista panoramica sulla Becca di Nona e il monte Emilius. E' adatto a copie, avventurieri solidali, chi viaggia per lavoro e famiglie (con bambini). Si trova in una posizione strategica per sciatori e appassionati di trekking, di MTB, per amanti della natura e di storia. A 3,5 Km si può prendere l'ovovia AOSTA PILA o dirigersi verso la città Romana di AOSTA.
L'appartamento è composto da una camera da letto matrimoniale, una vasca da bagno con cabina doccia, è un (URL HIDDEN) hi-tech touchscrem massaggio plantare e sauna, WC bidè lavatrice. C'è inoltre una cucina attrezzata di stoviglie, forno, lavastoviglie, microonde combinato, congelatore. Nel soggiorno c'è un divano letto matrimoniale, televisore a schermo piatto.
Il paese si trova nelle vicinanze della città di Aosta ma fuori dal caos e dal traffico, offre ai propri ospiti ogni tipo di di confort e servizi. negozio alimentare, Bar, Pizzeria, Ristoranti, Tabacchino, Bancomat, un'area verde denominata Grand Place il tutto senza dover prendere la macchina.
We are completely satisfied and happy for our stay in Cecilia's place! We felt very welcome. Apartment is clean, comfortable and compact. You have everything you need and all the appliances are new and work well. In 5min by car you get to Aosta and to the Pila cableway. Very convenient for skiing. 50 m from apartment is local food store. You leave your car 100 m in a garage.
Iveta
2017-03-13T00:00:00Z
Room Type
Private room
---
Property Type
House
---
Accommodates
4
---
Bedrooms
Pollein, Valle d'Aosta, Italy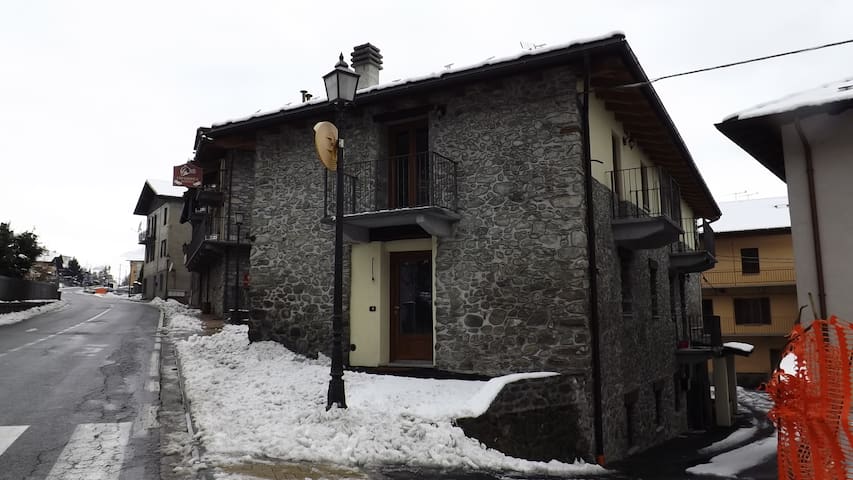 In the historic center of Aosta, in absolute tranquility, with views of the greenery surrounding the Roman walls and the massif of the Grand Combin, the accommodation is located on the first floor of a building of the Twenties, known as Villa del Sole.
Equipped with front garden and large private parking (two parking spaces) is about fifty meters from the main street of the old town, completely pedestrianized. The main places of historical and artistic interest, such as the Cathedral and the cryptoporticus Roman, the Roman walls, the Regional Archaeological Museum are equidistant two hundred meters from the building, from which you can leave on foot to visit the entire city.
Il quartiere è collocato a pochi metri dalle mura romane e dalle torri medioevali. Consente la visita a piedi a tutti i luoghi storici della città. Benché a cento metri dalla via principale sembra di essere in campagna. Ampia varietà di locali di ristoro.
Four of us had a fantastic couple of nights at Domus Solis. Raul was very helpful in advance of our stay and welcomed us kindly upon arrival. The fresh fruit and Prosecco was a generous and much appreciated gift. In terms of location it couldn't be beaten, so central in Aosta and having the parking space was very useful. The apartment was spacious and light and very clean. I would highly recommend a visit to Domus Solis if you're visiting Aosta, and if you have time make a trip to the beautiful Lillaz Waterfalls. Other recommendations from our stay include Pizzeria Grotta in Aosta and Maison de Laurent in La Thuile. Thank you Raul!
Christina
2016-07-07T00:00:00Z
We are a family of 5, we stayed 3 nights & enjoyed the apartment very much. Great location for visiting Aosta. Walking distance to all the sites, shopping and restaurants. Lovely apartment with all the facilities you'd required. Raul is a welcoming host, there was fruits ,jams,biscuits, and a bottle of prosecco waiting for us - Thank you Raul!
MIRIAM
2016-08-25T00:00:00Z
Our host, Raoul, is a discrete and helping person, nice to talk to, offering his help when it was needed. Domus Solis apartment has everything to accommodate a small family or 2 couple of friends. The apartment has high speed internet, independent heating system, 2 bathrooms, complete furnished kitchen and a magnificent view. Airdbnb listing description is accurate. The neighborhood is safe and quiet and the apartment is situated in the city center which is perfect when you do not want to use your car. The parking is private so no worries there. Your car has to have displayed a print that is provided by Raoul that gives you access in the walking area (you have to cross it to get to location.) Treats were waiting for us in the kitchen when we arrived and good coffee (thank you Raoul !). Overall is very good experience and we'll recommend this to our friends.
Mariana
2014-12-02T00:00:00Z
Great location, walking distance (around 10 min) to cable car to pila
Pimwatana
2017-02-16T00:00:00Z
We had the pleasure of staying in Raul E Veronique's apartment. The apartment is lovely - it is beautifully furnished, immaculately clean and in a great location on a quiet side street in the pedestrianised part of Aosta. The apartment is close to lots of amenities - it is approx 1 min walk to the nearest bakery for fresh rolls in the morning. Raul is a great host - he organised for his son to meet us on arrival as he was away. On his return, Raul visited us to make sure all was OK. We would happily stay here again.
Deirdre
2017-02-24T00:00:00Z
This is the perfect flat to visit the town of Aosta and the region.
Emily
2017-01-02T00:00:00Z
I and my mother stayed at Domus Solis in late August 2014. Raul made us feel immediately welcome, even if we had to wait a few minutes for the cleaning of the apartment to be finished. When we went in, it was immaculate, with everything you might possibly need. The pictures depict the apartment to perfection. And there were even some treats waiting for us in the fridge! On top of it all, Raul recommended possible tours around the old town and suggested out-of-town activities according to the weather conditions. He was very attentive and catered to our every need. He even dropped us at the train station on his way to work. :-)
mariela
2014-08-28T00:00:00Z
Thanks a lot to Raul for his hospitality and care. The apartment is very nice and included the parking (very closer). There are all of you need for wonderful holiday!
Svetlana
2016-02-20T00:00:00Z
Room Type
Entire home/flat
---
Property Type
House
---
Accommodates
5
---
Bedrooms
Aosta, Valle d'Aosta, Italy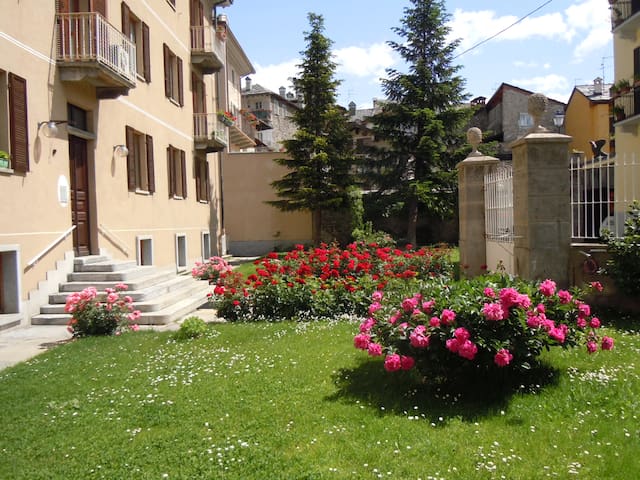 Appartement se composant de 2 chambres et d'une sdb avec wc séparées, + à l'étage 2 lits double et un coin tv. Vaste coin séjour, salle à manger avec cuisine aménagée. Le bien se situe à moins de 5 km de Aosta et de la télécabine pour Pila.
L'appartement se situe dans le centre du village à proximité des commerces (Epicerie, bar, restaurants, marchand de journaux). Si vous souhaitez ne pas utiliser votre véhicule, il y a à 100m de l'appartement un arrêt de bus qui vous dépose directement au centre d'Aoste qui se situe à 5km. Pour ceux qui veulent skier, l'appartement est idéalement situe car il se trouve au centre de la Vallee d'Aoste et par conséquent des plus grands domaines de skis de la région (5mn du départ de la telecabine pour Pila, 30 minutes pour les installations de Courmayeur, 40minutes pour La Thuile, 50 minutes pour Cervinia, et environ 1 heure pour les installations du Mont Rose)
We stayed at Sylvain's place for one week with our two kids (4y and 10m). The flat was as described in the ad. Sylvain was a perfect host, both welcoming (a bottle of proseco was waiting is the fridge) and helpful. The flat is located 5 mn driving from the cable car to Pila which makes it a very convenient place for those skiing. All in all, we would highly recommend this place.
Alain
2017-03-05T00:00:00Z
Living room (open space) is really nice to spend evening gaming and talking. Big table in kitchen gathers all guests together and at comfortable atmosphere You can eat and talk, talk, talk. Bedrooms are very OK, siutable for parents. We put children upstairs, so they could arrange games together. There is no doors to separate downstairs and upstairs, so too loud conversations downstairs can be a problem (for kids?). Alltogether it is a very good place to spend a week- You will not get tired of a place.
Krzysztof
2017-01-21T00:00:00Z
L'appartamento è molto carino, spazioso e ben equipaggiato. Si trova a pochi minuti da Aosta ed è facile spostarsi per raggiungere le varie località della Valle D'Aosta. Sylvain ci ha accolti benissimo ed è stato un host veramente molto disponibile!!
Carolina
2017-01-07T00:00:00Z
Nous avons été très bien reçu avec ponctualité par Sylvain qui nous a fait découvrir le bel appartement spacieux et bien équipé, nous avons profité tranquillement du pot de bien venue, nous aurions aimé rester un peu plus de temps, ce sera peu être pour un autre fois...
Laurent
2016-08-11T00:00:00Z
On a passé un super séjour dans l'appartement de Sylvain. Il nous a fait un super accueil. Son appartement est parfaitement équipé et très agréable.
Anastasia
2016-08-07T00:00:00Z
Nous avons passé 5 jours au Refuge des amis. La communication avec Sylvain a été très fluide et on a été très bien accueillis à notre arrivée. L'appartement est grand et tranquille, avec un séjour très spacieux (comme dans les photos), deux belles chambres en bas, avec de grands lits confortables, et une autre chambre avec espace-séjour à l'étage. L'appartement dispose de tout ce dont on a besoin pour faire la cuisine : casseroles et tout type d'ustensiles, et aussi des basiques pour cuisiner : huile, sel, sucre, et même des aliments qui ont été laissés sur place probablement par de précédents hôtes. Malheureusement on sentait de temps en temps un léger odeur d'égouts, malgré les désodorisants installés. C'est dommage aussi la manque de pression de l'eau dans l'appartement, mais cela semble être un problème généralisé dans la Vallée. La location de l'appartement est parfaite pour prendre la télécabine pour Pila et profiter au même temps d'un peu de campagne. Le petit village de Pollein a tout ce dont on a besoin pour passer quelques jours et on peut se rendre à Aoste en voiture en quelques minutes.
Olga
2017-02-24T00:00:00Z
Sylvain est vraiment un hôte adorable, qui nous a tout de suite fait nous sentir comme chez nous. Tout était prévu pour notre petit déjeuner et une bouteille de Prosecco nous attendais même au frigo :-) Comme nous cherchions un restaurant pour le diner il a passé quelques coups de fil pour nous (heureusement car notre Italien n'est pas suffisant pour cela) et nous a trouvé une adresse très sympa dans un village de montagne à quelques minutes. Une halte remarquée dans notre voyage.
Damien
2016-07-31T00:00:00Z
Ottimo appartamento e ottimo proprietario. Consigliatissimo.
Giuseppe
2016-10-31T00:00:00Z
Room Type
Entire home/flat
---
Property Type
House
---
Accommodates
6
---
Bedrooms
Pollein, Aosta, Italy
Il mio alloggio è adatto a coppie e famiglie con (URL HIDDEN) trova a 10 minuti a piedi dall'inizio della via pedonale ed è stato interamente ristrutturato nel febbraio /marzo 2016 . Situato al primo piano con ascensore in una zona tranquilla della citta' servita benissimo da bus e navette anche per chi arriva senza la propria (URL HIDDEN) palazzo è in un quartire con tutti i servizi necessari: negozi, banca, posta....
Persona squisita e appartamento perfetto. Appena ristrutturato e attenzione ai dettagli.
Andréa
2016-06-05T00:00:00Z
Room Type
Entire home/apt
---
Property Type
House
---
Accommodates
5
---
Bedrooms
Aosta, Valle d'Aosta, Italy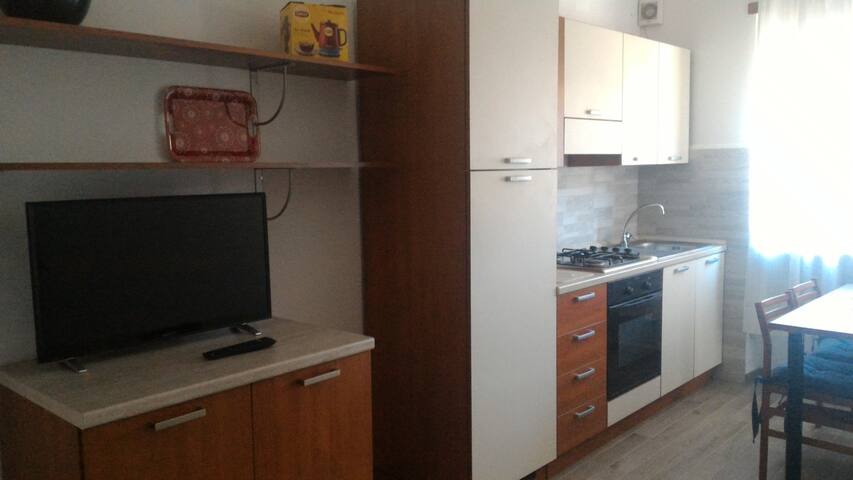 Entire house on two floors with balcony and parking at 30 meters consisting of two bedrooms, a bathroom with shower and washing machine, a living room with Sat TV / DVD and a beautiful fully equipped kitchen, available a room for skis or bicycle storage .
The host canceled this reservation the day before arrival. This is an automated posting.
Matteo
2016-07-15T00:00:00Z
I would highly recommend this place to anyone looking in Aosta. It's a huge place with everything you could ever need. But more than that we were greeted by Eric's lovely wife Monica who spent a very long time talking to us about what to see and how to get there and any information we could need. The place has no wifi but it's so beautifully nestled 15minutes up the mountain from the town that it really didn't bother us at all. We really enjoyed ourselves and highly recommend it!
Sarah
2015-08-10T00:00:00Z
Eric was a great host! He was very accommodating and informed about the area and things to do and the house was wonderful. The house is a little ways up a hill and it was about a 20 min. walk down to Aosta or a quick cab or bus ride. If neither of those things bother you or if you have a car I would highly recommend staying here.
Brina
2016-01-07T00:00:00Z
This was a very nice house in a great area, Eric gave very clear directions on how to get to a place to meet him and then take us to the apartment where he showed us about the house and also provided some great tips for what to do in town, and up the mountains. Eric is an excellent host and this is a great place to stay
Richard
2015-09-01T00:00:00Z
Eric was a great host, he welcomed us as soon as we arrived and had lots of knowledge on the town. There is no Wifi, so come prepared with your entertainment.
Jordan
2017-04-02T00:00:00Z
All perfect with all details . Eric great at all times. Recommended for mountain routes in Gran Paradiso
Antonio
2015-08-20T00:00:00Z
Aosta is wonderful and Eric a superb host. After some trouble with our phones and traffic we arrived late (in the dark) and Eric had left for work, we were worried that we had missed him and went back into town to call from the restaurant. Eric very kindly came to the restaurant with the keys for us so as not to miss us again. He is a wonderful host and his apartment is amazing. As mentioned we arrived in the dark so did not fully appreciate the gorgeous courtyard (with vegetable garden) of homes where Erics apartment is located. After a very comfortable sleep, we walked out to the most amazing view of snow capped mountains, old stone roofs and the clearest blue sky with hot air balloons above us. Erics apartment is located up in the trees on the side of the hill and is very quiet and super comfortable. Well equipped kitchen - but with the amazing restaurants in old town Aosta just a quick drive down the hill - go out for breakfast, lunch and dinner! Aosta is a beautiful old Italian town to visit and we really enjoyed it - thanks Eric for a wonderful visit and especially your kind help.
Brad
2015-10-25T00:00:00Z
Eric is a great host. He received us on the time agreed and the house was perfect, well furnished, clean and really comfortable. He also suggested us where to find car parking and restaurants. We will come back.
Rana
2015-12-08T00:00:00Z
Room Type
Entire home/apt
---
Property Type
House
---
Accommodates
4
---
Bedrooms
Aosta, Valle d'Aosta, Italy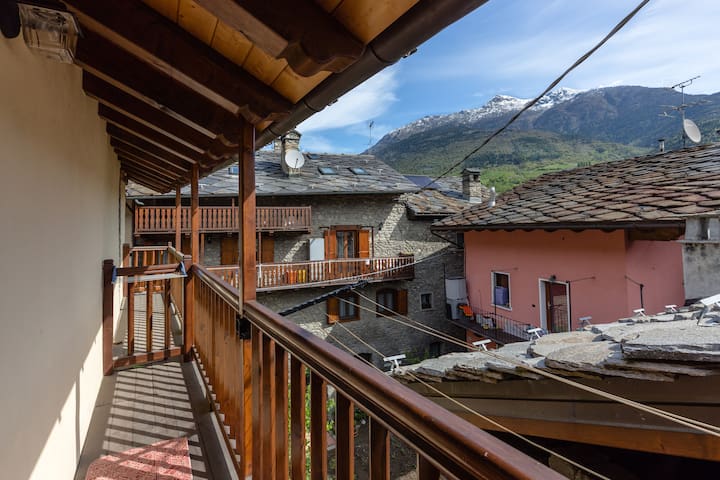 A recently renewed cottage in a typical historical village offers a relaxing stay on the hillside of Aosta. The location is perfect for summer hikes and winter ski; Arpuilles is about 10 min by car from the city centre.
We completely renewed a cottage in a typical village of Aosta Valley and transformed it in a comfortable modern house. The living room is a unique sunny space with a fireplace and an amazing view over the mountains. The kitchen has everything you need, including the oven, the dishwasher and the freezer. The main sleeping room has a double bed and a television; the wardrobe is in another room next to it. The second sleeping room is a sleeping loft giving onto the living room with two single beds; it is ideal for children and young guests. There's a main bathroom with toilet, bathtub and a shower; there is another service bathroom with the toilet and the washing machine. We offer you some board games for everyone! We have floor heating system; a boiler and solar pannels provides hot water. Last but not least, let's protect the environment: RECYCLING! In Aosta Valley we collect recyclates from general waste stream. You will find all the information in the house and if you have any doubt about this we'll be glad to help you.
Arpuilles is a small village, on the hillside of Aosta at 1000 mt on the sea level. It's a sunny place and it keeps the typical characteristics of rural Aosta Valley villages. WHERE TO EAT? Nearby Arpuilles there are some great traditional restaurants, which cook their dishes with local products. You can also buy traditional food from farms and typical shops. We'll give you some more precise tips when we'll meet! HIKES walking, by bike, riding horse! From the village different hikes link Arpuilles to other villages on the hills, along small stream or through nice woods. Many mountain hut are open from May till October. Also some summits are easily reachable from the village. Some path are practicable by bikes and mountainbikes (check out (URL HIDDEN) site) or with the snowshoes in winter. Driving the nice Salassi road you can reach Vetan (around 1700 mt on the sea level) where you can experience a horse ride, in winter and in summer. SKI Pila and Crevacol are nice and quite big ski resorts; you can reach both of them in about 30 minutes by car. You will also find many cross-country ski places. As we live in the middle of Aosta Valley you will be able to reach easily all the ski resorts of the region by safe routes (from Courmayeur and La Thuile to Cervinia and Monte Rosa Ski). It is also possible to organise many ski touring trips (have a look at the site (URL HIDDEN) MOUNTAIN OUTDOOR SPORTS Our region offers many spots where you can do some rock climbing, boulder, vie ferrate, multi pitches rock climb, ice climbing, rafting, down hill, paragliding, gliding, hot-air balloon, mountain flights. RELAX The thermal sites of Saint Vincent and Pré-Saint-Didier have an international popularity: you can relax in a hot bath with the snow around you, in front of an amazing view of Mont Blanc and other Aosta Valley mountains. SIGHTSEEING Aosta is a roman city where you still find monuments and ruins from the past, both in the city centre of Aosta or in the smaller villages. During all the year, mostly during weekends, there are celebrations and fairs of traditional products and art. One of the most known historical site is Forte di Bard (here is the link to the site: (URL HIDDEN) where you can visit the expositions as well as the structure of the castle.
Beautiful location and very friendly hosts. The view is wonderful and the village is charming. Paolo met us and explained everything about the house. The home spacious and is great for a family.
Rob
2016-06-06T00:00:00Z
The host canceled this reservation 16 days before arrival. This is an automated posting.
giuseppe
2016-03-10T00:00:00Z
The house is very beautiful, furnished tastefully. Very beautiful services. I advise it largely. The hosts are really welcoming, kind and available. Great!
Sabine
2016-08-16T00:00:00Z
Paolo was fantastic, so welcoming and helpful with suggestions of places to go and things to do. Silvana, his wife was really lovely and when we were leaving, generously gave us two jars of her homemade jams. The home is wonderful! Even bigger than it appears in the photos, spotlessly clean and with everything we needed. The views were spectacular and the parking was close by. We would thoroughly recommend this lovely home and thank Paolo & Silvana for sharing it with us for the past week.
Helen
2016-10-02T00:00:00Z
Beautiful house in the heart of the mountains. Highly recommended location and host!
Diana Barbara
2017-01-05T00:00:00Z
Paolo was an exceptional host and provided us with a very enjoyable stay in their fabulous house in the small village of Arpuilles overlooking Aosta. The house has been renovated to a very high standard and was a great base to explore the valley - even in not so good weather! Paolo spent a lot of time helping with local tourist tips and recommendations which we gratefully followed. We would love to go back and spend a lot more time there and highly recommend staying at Paolo's place as this was one of our top Air B&B experiences.
Guy
2016-10-25T00:00:00Z
Lovely spot. Great Hosts. Well equipped. Lots of Hot Water
Nick
2016-10-15T00:00:00Z
Paolo is a great host. He met us within 2 minutes after arriving and made us feel very welcome. He explained a lot about the city and surroundings and gave great tips about things we could do nearby. The apartment is lovely and the views are stunning! The village is very quiet (apart from the church bells). The nearest supermarket is a 10-15 min drive (there are no shops in the village), which we knew before hand so wasn't a problem. Overall an amazing place for a quite and relaxing stay, close to wonderful hiking routes and gorgous views.
Karin
2016-08-30T00:00:00Z
Room Type
Entire home/apt
---
Property Type
House
---
Accommodates
4
---
Bedrooms
Arpuilles, Valle d'Aosta, Italy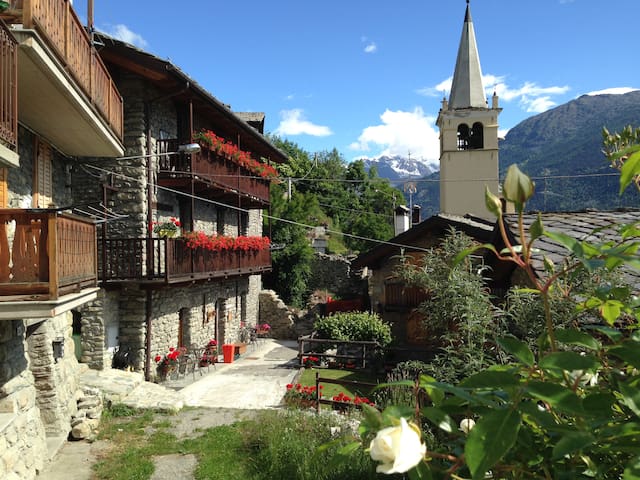 Luminoso appartamento trilocale a pochi passi dal centro storico di Aosta e a 10min dalla cabinovia per Pila.Posizione strategica per raggiungere le principali vallate.Dotato di Parcheggio riservato davanti casa e deposito per attrezzature sportive. Ospedale Parini di Aosta a qualche minuto a piedi. Vicino all università di Aosta. Possibilità di aggiungere lettino per neonato(box)
The apartment is in a three-family house located in via Paris, at 10 minutes walk from centro.parcheggio front of the gate of the house.
We were a group of 4 friends staying at Alessandro's place for 4 days. We arrived very late at night and Alessandro was so kind to wait for us. He also offered his help during the all staying. The house is very nice, big rooms and well decorated. It is simple to park the car and in 5 minutes you can reach the cable way if you come here for skiing. The main room face on the street and you might hear the car passing, but personally it was not a problem...
Gabriele
2017-02-07T00:00:00Z
L'accueil de Alessandro et Valeria très chaleureux, tj, joignable. L'appartement très sympa, propre, draps, serviettes... toutes sur place. Parking devant la porte. Ski dans quelques minutes en voiture à Pila. Proche de la veille ville d'Aosta (7min. à pieds) Je recommande ce lieu forcement. Par contre la rue est assez fréquentée.
Uta
2017-03-03T00:00:00Z
Alessandro è stato disponibile più di ogni altro host io abbia mai incontrato tramite AirBnb. Lui e la sua ragazza sono stati molto disponibili, sia al momento del Check in che durante il nostro soggiorno. Essendo due coppie, abbiamo chiesto se in una delle stanze potessero essere uniti i letti e loro ci hanno fatto trovare direttamente i letti uniti e con un materasso matrimoniale unico. La casa ha tutti i confort, addirittura anche la Wii. L'appartamento è accogliente e comodo anche per cucinare in casa qualora dopo una giornata di sci si fosse troppo stanchi come eravamo noi. Ringrazio Alessandro e Valeria di cuore per aver contribuito a rendere ancora più bella la nostra vacanza.
Alice
2017-02-13T00:00:00Z
La casa stupenda! Accogliente calda profumata e molto silenziosa nonostante la vicinanza alla strada. Noi siamo arrivati senza macchina ma in caso è dotata anche di posto auto ! Soggiorno consigliatissimo e Alessandro ottimo padrone di casa!
Giulia
2017-01-04T00:00:00Z
Appartamento molto accogliente e pulito. Ci sono tutte le cose utili ( Wi-Fi, asciugamani, biscotti, the, caffè, ecc.). Alessandro è stato gentile e premuroso anche e' sempre disponibile e risponde subito in qualsiasi necessità. Siamo sentiti a casa. Buona posizione per arrivare in auto e/o muoversi in centro. Lo consiglio vivamente!!
Elisabetta
2016-12-26T00:00:00Z
Nous avons été reçu très chaleureusement par Alessandro et sa compagne Il nous ont donné toutes les explications nécessaires à notre séjour. L'appartement en rez-de-chaussée de chaussé est très bien agencé ,confortable et pratique, avec une grande salle de bain et deux grande chambre dont une avec un lit kingsize 2m/2m . Les petites attention pour l'accueil était formidable . Il y a tout pour faire un vrai petit déjeuner italien . Je reviendrai chez Alessandro et sa compagne Je les recommandes ABSOLUMENT !!! Ciao
Philippe
2017-01-31T00:00:00Z
La casa è grande,calda, accogliente, profumata e Completa di tutto. Sia Alessandro che la sua fidanzata sono stati gentilissimi. C'erano anche le cose per la colazione. Ci hanno fatto proprio sentire a casa
SARA
2017-02-19T00:00:00Z
La casa di Alessandro è molto carina, luminosa, pulita, profumata ed accogliente. Dista 5 minuti a piedi dall'ospedale di Aosta e dal centro storico della città. La casa è fornita di tutti i comfort, compreso in comodissimo posto auto. Alessandro e Valeria sono gentilissimi e disponibilissimi. Durante il soggiorno ci hanno aiutati e consigliati fornendoci informazione e mappe della città. Al nostro arrivo abbiamo trovato tutti i prodotti per la colazione. In casa non manca davvero nulla. Altro punto a favore sono le 2 ampie e comode camere da letto e il bagno molto spazioso. Consiglio vivamente Alessandro e la sua casa per una permanenza anche lunga ad Aosta.
Raffaele
2017-03-29T00:00:00Z
Room Type
Entire home/apt
---
Property Type
House
---
Accommodates
4
---
Bedrooms
Aosta, Valle d'Aosta, Italy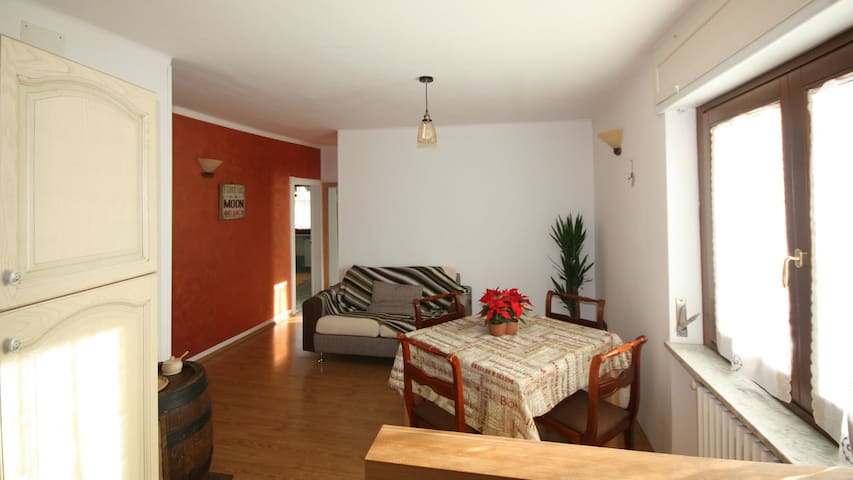 Creton - Airbnb
:
Average

4.87

out of

5

stars from

456

guest reviews
1

–

18

of

46 Home Rentals
Enter dates to see full pricing. Additional fees apply. Taxes may be added.