THE REMODELED BACK 1 BEDROOM APARTMENT WITH BED/COUCH LVG RM AND ONE BEDROOM, BOTH WITH SEPARATE BATHROOMS. CAN SLEEP 4 COMFORTABLY WITH ROOM FOR MORE. A LARGE SHELTERED DECK FACING THE OCEAN WITH A WHALE WATCHING PERCH. CLOSE TO SANTA CRUZ, BIG BASIN AND WILDER STATE PARKS, ANO NUEVO RESERVE, BEACHES, MOUNTAINS, SWANTON BERRY FARM, HIKES, RESTAURANTS, WINE TASTING, MICROBREWERY, FARMERS MARKET SHOPPING, 1 1/4 HR TO SF OR MONTEREY Check out our you tube video "Davenport Beach Airbnb"
We are located in Davenport 10 minutes north of Santa Cruz, directly on HWY 1 next to the Whale City Bakery. We have a one bedroom apartment with living room with a full size bed and a pull out couch and 1 bedroom with a captains bed. A remodeled granite kitchen with eating area and 2 separate bathrooms with showers. Very comfortable space for 4 people. From the front of the property you can see the the Pacific ocean behind us the Bonny Doon mountains ,quite nice. This area is a gold mine of things to do. You might find yourself grabbing some local roasted coffee and a hand made pastry in the mornings right next store from us. You could look for beach glass on the beach across the street or head 9 more miles north and visit the elephant seals at Ano Nuevo. There is Los Oso to Big Basin a beautiful day hike, the opportunities are endless. We provide a perfect home base for ADVENTURE or LEISURE. washer/dry wifi internet cable event space catering on request Any questions call Michael (PHONE NUMBER HIDDEN)
This a small town of 400 with many eating and entertainment activities.
This was a lovely little spot, and we enjoyed our time here. Michael was a lovely host and we look forward to coming back!
nick
2012-10-29T00:00:00Z
Davenport is a lovely gem on the coast, and Michael's lodging was great.
Claudette
2014-12-10T00:00:00Z
Wonderful place, very special inside and outside. Lovely owner, great bakery nextdoor, nice beach oposite. To our surprise in spite of bakery nextdoor and road in front, nice and quiet at night.
Corien
2016-08-14T00:00:00Z
I really enjoyed my experience here. Michael was easy to communicate with, and the property was exactly as described. A great location for access to the beach. Also, I really enjoyed kicking back on the balcony.
Christopher
2015-10-31T00:00:00Z
Our experience at the 480 Villas in Davenport was more than we could have ever hoped for, complete with whale sitings, a musical jam session, a breathtaking beach, and beautiful home to call home away from home for a weekend. Michael was a most gracious host and from the moment we arrived we felt welcome within the community. We visited the Whale City Bakery Bar & Grill, a lovely breakfast spot, and fine dining at the Roadhouse Restaurant & Inn. My family and I will most definitely be returning!
Lauren
2014-04-27T00:00:00Z
Nice place to stay at a great location.
Andrea
2016-05-30T00:00:00Z
Our stay at Michael's beach house was fun and pleasant. The apartment is clean and well-furnished. Michael's friend let us in even though we checked in late in the evening and we appreciated that. There is a lovely cafe next door (less than a minute walk) with freshly-baked pastries and breakfast treats.. Across the street in front of the house is the ocean... we didn't see any whales though :p but we had a great time.
Jade and Olivier
2013-05-08T00:00:00Z
We had a wonderful time 'in heaven' as my kids dubbed Michael's place in Davenport. Amazing proximity to the beach... lovely courtyard to play in... cool murals and garden... very comfortable abode. We hope to return.
Lela
2017-04-05T00:00:00Z
Room Type
Entire home/apt
---
Property Type
Apartment
---
Accommodates
4
---
Bedrooms
Davenport, CA, United States
This cool and comfortable private space is a great spot to stay while visiting Santa Cruz. Close to everything yet private and in a quiet setting with an outdoor sitting area. The neighborhood is old Santa Cruz and close to everything. And don't forget the comfortable king bed! Make sure to read INPORTANT NOTE!
The unit has its own entrance. Very private with an outdoor garden sitting area. The bed is a cal king with a comfy gel top and the sheets are 100% cotton sateen. There is also a couch that could be used as a bed for a third person or there is an air mattress available. The main room is carpeted. There is a kitchen and bathroom with Saltillo tile floors. The kitchen has a toaster oven, microwave, refrigerator and coffee machine. Coffee, tea, cream and sugar are provided along wth filtered water. I also have breakfast items and various snacks. There is a flat screen tv with Netflicks. There is also wifi. Shampoo and conditioner, bath soap and a hairdryer are included. An iron and ironing board are available on request. The linens are freshly laundered after each guest. For those who want to do laundry, there is a laundromat at the end of the block.
My house is located in the BEST location. The neighborhood is centrally located. Its a short walk downtown or to west cliff drive. Westside Santa Cruz is home to many restaurants, coffee houses, bakery's and brewery's. It's a great location if you want to go to the university, the beach or downtown where you can find even more restaurants and bars! It's a great place for walkers because everything is relatively close. It's also good for bikers with bike rentals close by and some of the best biking trails in the area such a Wilder Ranch not far away. There is also public transportation at the end of the street.
Toni's place was great! Very cozy and quiet. Toni was quick to respond and very easy to communicate with.
Nick
2017-04-02T00:00:00Z
Toni's place was in a great location - close to town but away from tourists, with easy parking and a homely feel. It was well stocked (bagels for breakfast!) and clean. The wifi was fast and the best very comfortable. I'd definitely recommend Toni's place to anyone visiting Santa Cruz or capitola
Katie
2017-04-05T00:00:00Z
Stayed in Toni's very charming studio, which is attached to the house using private entrance from the side walkway. Apt was just like photos depicted. Clean, stocked with coffee, water, muffins and more. Bed was probably the most comfortable AirBnb bed we've slept in. Toni met us at check in and walked us to the apt. Explained wifi and other items. We felt very welcomed. We had our 10month old boy who wakes / cries several times at night but was not a bother as the apt is well insulated to sound. Heater in the room works very well too. The Apt is just a few blocks distance to several restaurants and is well located. Only 10 min drive to downtown Santa Cruz. Thank you for a great stay and will hope to visit again soon.
Ken
2017-03-31T00:00:00Z
Room Type
Entire home/apt
---
Property Type
Apartment
---
Accommodates
2
---
Bedrooms
Santa Cruz, CA, United States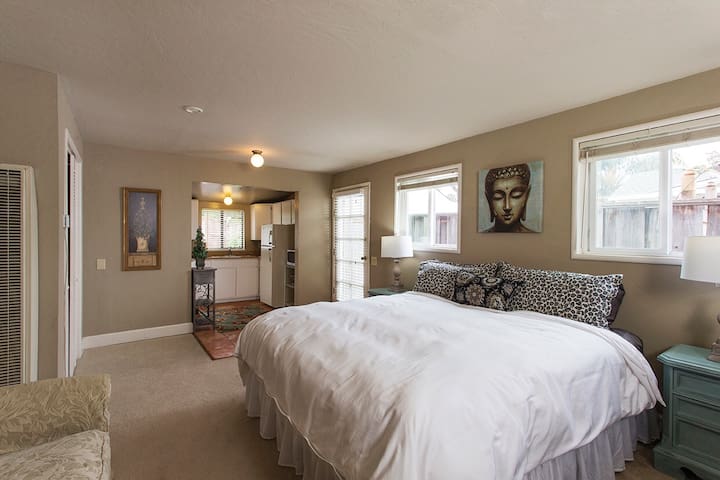 Our charming downstairs "casita" is located on the beautiful Westside of Santa Cruz, within walking distance to downtown shopping and restaurants. We are just a 10-15 minute walk to the Santa Cruz Beach Boardwalk, Santa Cruz Wharf and beautiful beaches.
We are just a 10-15 minute walk to the Santa Cruz Beach Boardwalk, Santa Cruz Wharf and beautiful beaches. We are right down the hill from the beautiful UCSC campus and close to the Metro bus line.
Parking on our street is free and there is usually a space available right in front of our house. Our neighborhood is perfect for strolling with easy access to both casual and fine dining at local restaurants, shopping and just plain fun!!
Dann and Colleen we very friendly and helpful with travel advice. They left refreshments in the fridge for us to enjoy. The studio is attached to their own house we found it very comfortable and spacious. The studio is within walking distance to the beach, wharf and Boardwalk. We enjoyed our stay and would recommend this property.
Mark
2015-06-08T00:00:00Z
Dan and Colleen greeted me as soon as I stepped out of the car. They made me feel at home immediately. I was amazed at how well prepared and thoughtful the place was. Would definitely recommend them to anyone.
Cory
2016-10-12T00:00:00Z
It was perfect and I will most definitely seek out their cottage in the future when I'm back in Santa Cruz. Colleen and Dan were super accommodating and super hospitable. Felt like I was staying at a relative. Very comfortable and relaxing!
pary
2016-08-01T00:00:00Z
Colleen & Dann are such a welcoming host with a beautiful property! As soon as you pull up the colors make you feel you've just arrive somewhere exotic! Spanish style house on a cute, quite street-- perfect for your beach/surf get away. It's a perfect place to come relax after you've spend the day at the beach or checking out the town. Colleen and Dann are very easy to work with and very detailed. Planning the stay with them was smooth. They're flexible-- which made it great for driving up bc we didn't really know exactly what time we would get to Santa Cruz for Los Angeles. Defiantly recommend staying with Colleen & Dann if you plan to check out the Santa Cruz area-- location is great and they're wonderful! Would stay again for sure!
Ashley
2014-11-06T00:00:00Z
Dann and Colleen's place was perfect! Wonderful hosts, great location, beautiful back yard, bikes to ride down to the beach, even goodies for snacks and breakfast. We will absolutely try to stay here again and recommend it to anyone traveling to Santa Cruz. Thanks Dann and Colleen!
Lauren
2015-02-26T00:00:00Z
Colleen and Dan were great. The place was in a perfect location and stocked with niceties and the bed was very comfortable. Colleen gave us the tour and was always available if we needed anything, but left us to enjoy our stay on our own.
Bob & Myleen
2015-11-25T00:00:00Z
Colleen and Dann's place was in a perfect location to get downtown and over to the beach. Their colorful decor was welcoming, and the bed was incredibly comfortable. Being in a basement apartment made it really easy to sleep in, which was just what we needed on this part of our vacation. The cereal bars and other breakfast snacks were great and kept us going through lunch. Highly recommend their beautiful space!
Aaron
2016-04-15T00:00:00Z
We were welcome by friendly people! we fell in love with these peoples and their dog Molly! The bachelor was above my expectations and closer to the beach with a small garden to relax! 5 STARS!!!! :0)
Sonia
2014-07-30T00:00:00Z
Room Type
Entire home/apt
---
Property Type
Apartment
---
Accommodates
2
---
Bedrooms
Santa Cruz, CA, United States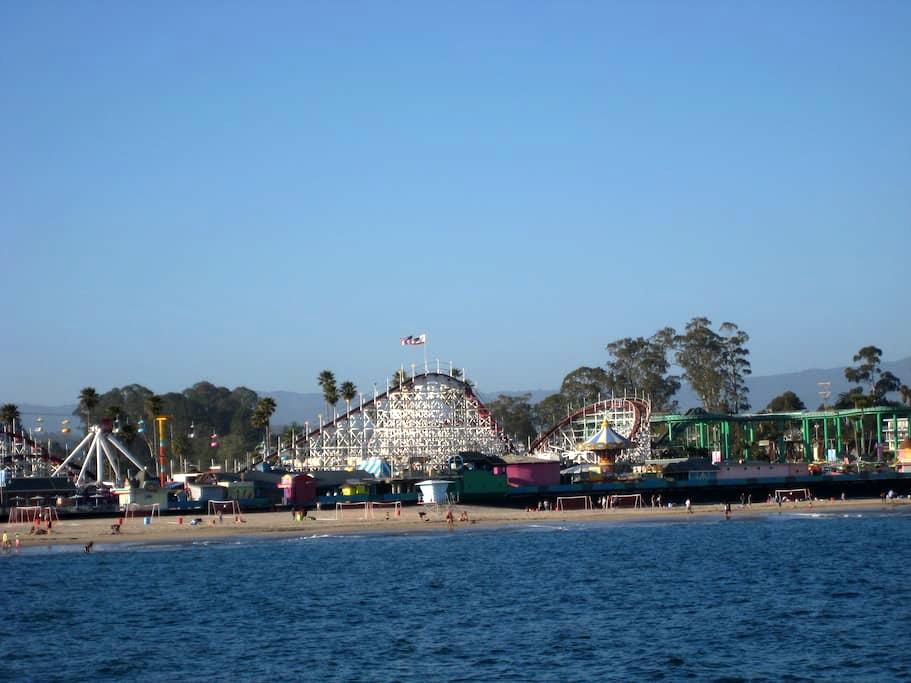 Enjoy a unique combination of natural beauty, outdoor recreation, a vibrant arts and cultural scene, boutique wineries, state parks, and of course, a seaside amusement park, the renowned Santa Cruz Beach Boardwalk.
On California's Central Coast, Santa Cruz County is approx. 70 miles/112 km south of San Francisco, 30 miles/48 km southwest of San Jose, and 35 miles/56 km north of Monterey, and 375 miles/800 km north of Los Angeles. Of interest locally, there is the Monterey Bay National Marine Sanctuary, Big Basin State Park and Henry Cowells State Park, The Mystery Spot. Santa Cruz is also the home to two National Historic Landmarks: Roaring Camp Railroads and the Santa Cruz Surfing Museum.
Location, location, location.
Great location close to the beach and West Cliff Drive. It was an easy, comfortable and quiet stay. Everything was as described and we really appreciated the breakfast goodies in the fridge!
Krisa
2017-03-06T00:00:00Z
Great weekend!! Will definitely stay again, if available. The home is in an excellent location. Dawn is a wonderful host. The home was clean and comfortable. Dawn supplied coffee along with other breakfast items. The two rooms worked perfectly for our 2 yr old daughter.
Connie
2016-09-11T00:00:00Z
Amazing place! Much closer to the ocean than I expected. 5-10 minutes walking distance away is the world renowned surf spot, Steamer Lane. Dawn was a great host and check-in was super easy. I hope that Dawn's place is available every time I'm in Santa Cruz!
Adam
2017-02-16T00:00:00Z
A great launching pad for the west cliff area-very convenient! Fantastic property set-up with separate entry and everything we needed for a perfect stay in Santa Cruz. Host Dawn and her husband have obviously given much thought into organizing their property for guests and were so accommodating. We will be back!
Norm
2016-02-13T00:00:00Z
Dawn was a great host. Her place was perfect for us. It was in a great location and quite neighborhood. She greeted us and made sure we had everything we needed and enough blankets because of the storm. She left snacks and wine for us. Great host. Will definitely stay there again
Chonny
2016-03-13T00:00:00Z
Dawn provided welcome breakfast food. We loved being able to walk to the cliff. The dishes and glassware were adequate.
Lynn
2016-06-22T00:00:00Z
We enjoyed our stay immensely. It was as perfect for a short stay in Santa Cruz as it could be. Love the proximity to West Cliff Drive, Lighthouse Point and Steamer Lane. The park is the perfect buffer to the hubbub you might be likely to find there on a busy summer weekend. Dawn was gracious and generous. We'd come back in a heartbeat!
Ernie
2016-08-22T00:00:00Z
Dawn has a really great place and showed amazing hospitality. They unit itself was comfortable and spacious, and the kitchen was well stocked with all the equipment you would need to feel at home. The bacon, eggs and bagels left for us in the fridge were a nice touch. I would stay here again in a heartbeat!!!!
Mike
2016-08-29T00:00:00Z
Room Type
Entire home/apt
---
Property Type
Apartment
---
Accommodates
2
---
Bedrooms
Santa Cruz, CA, United States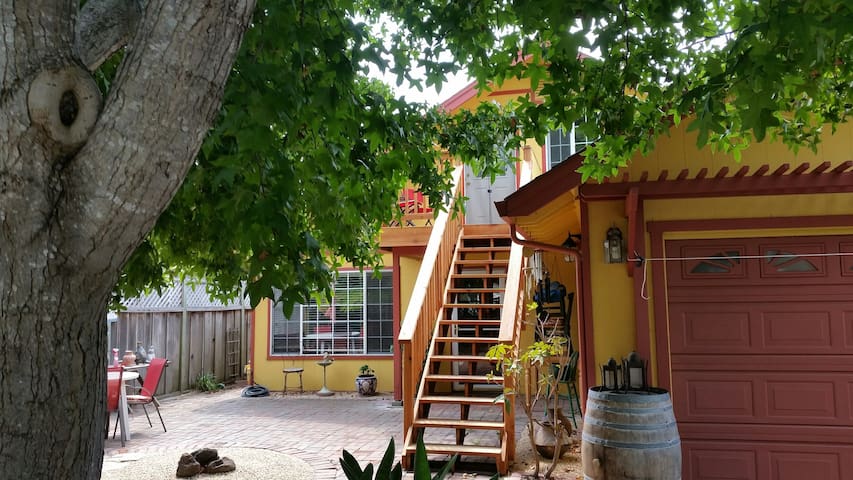 Newly refurbished and nicely appointed studio with a separate entrance. Enjoy your private patio or the peaceful common courtyard garden. Convenient location within walking distance of the ocean, Westside wineries and taprooms, coffee shops and bakeries. And if you want to explore downtown Santa Cruz, it's just a five minute car drive.
Our quaint, cozy studio is a perfect space for one or two people. The full-size memory foam mattress accommodates two comfortably. The studio has an interesting floor plan, where the shower and toilet area are off the kitchen, yet you have privacy afforded by a curtain between the kitchen and living areas when needed.
'Westside Wonderful' is located in 'The Circles' in Westside Santa Cruz. It has an interesting history: "The Circles is largely considered a "marvelous planning disaster" by the architecturally minded. It was developed in a haphazard fashion. Tent homes made of plywood and canvas were common in the early years. The circle pattern also resulted in many odd and substandard-sized lots; many are between 2,000 and 3,000 square feet, while a standard city lot is (phone number hidden). Today you will see many large houses with strange angles crammed into these tiny lots. That said, the neighborhood does have a more cohesive feel than many. It still has a local market and a distinctive laid back and friendly atmosphere; a good thing since it's so easy to get turned around!"
Clean and cozy little spot, conveniently located in westside Santa Cruz. We really enjoyed our stay.
Shannon
2015-12-18T00:00:00Z
Beautiful and very private apartment. Everything as shown in website with one exception, it's super super clean!!! you can't show that in a picture!!! you will enjoy your stay at Douglas' place. He's very knowledgeable about all things in Santa Cruz. In this stay we discovered the West Side of Santa Cruz and we've been delighted! Great stay and great spring kick off.
gabriel
2016-03-20T00:00:00Z
We had a fantastic time at Westside Wonderful! Douglas was a great host and made us feel at home. The accommodations were perfect and just what we needed for our short stay in Santa Cruz. We were able to walk to the pier and enjoyed a great dinner overlooking the ocean. Our only disappointment was not staying longer!
kaly
2016-06-27T00:00:00Z
Absolute perfection. Impeccably clean. Very comfortable. The sheets were so soft. The pillows were excellent. Everything you need in a cozy little spot. Location is fantastic. Plenty of parking. Easy to get around. Douglas is super nice, showing you all the perfect items and where to find things. Theres a little sofa and dining table. Everything you'd need to cook. A little heater warms the place up quickly and effectively. Lots of privacy with nice shades on the windows. Of all the places I've stayed, this was the CLEANEST. YAY! He let us store our wetsuit and surfboards right outside on the porch, so that they were safe out of our car. One thing to note: this place is intimate (in the BEST way possible). It's all one room. The door on the bathroom is a sliding, folding door. And the shower is right in the room, so not much privacy. Probably best for couples or friends who don't need personal space. ;). We LOVED it. We felt comfortable and calm. No TV made for a wonnnnnnderful weekend.
Alexa
2016-11-27T00:00:00Z
We had a wonderful stay at Douglas and Allison's little cabin! The place itself is really lovely, and the neighborhood was exactly what we were looking for - a quick walk (or run!) to the beach, and also walking distance to some nice little neighborhood restaurants. We even walked downtown one night (although that was a little bit more of a hike) to check out the bookstores and shops. Thank you Douglas and Allison for making our little mini vacation possible!
Melinda
2015-10-25T00:00:00Z
Our experience with Douglas and Allison, and their home, were lovely from beginning to end! Douglas was helpful in providing us with directions to the home, and upon arriving we were met with a lovely curated set of dinner recommendations. The space was exactly as it appears, and cozy without being claustrophobic. It was also incredibly convenient: we went to the beach, yoga, and several great restaurants, all within walking distance.
Sorcha
2016-01-31T00:00:00Z
This was the ideal location and airbnb experience! Hosts were so friendly, helpful and accommodating. They truly thought of everything!
Alyssa
2016-10-13T00:00:00Z
Douglas and Allison were very accommodating. The studio was comfortable and the kitchen big enough to cook full meals. The coffee and tea selection was a welcome touch!
Jake
2016-01-22T00:00:00Z
Room Type
Entire home/apt
---
Property Type
Apartment
---
Accommodates
2
---
Bedrooms
Santa Cruz, CA, United States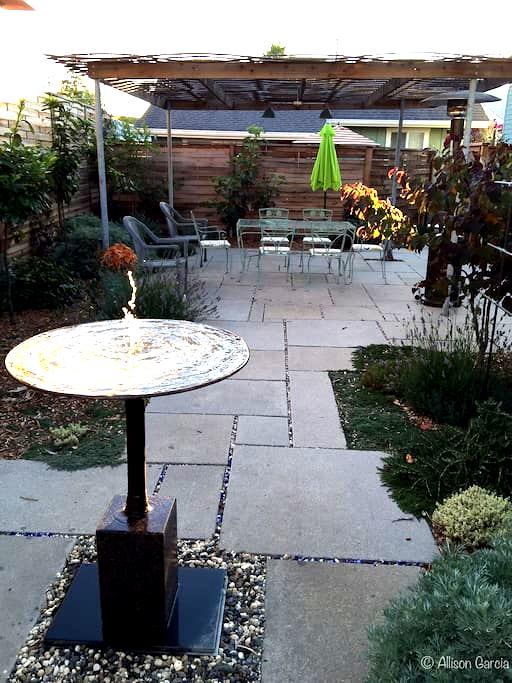 This beautiful Spanish style home is one of four 'Spanish Sisters' that was built in 1929 by architect L.W. Miller. The apartment is 0.5 miles from the east entrance to UCSC, 1.5 miles from the beach and 1 mile from downtown Santa Cruz. It is very quiet, VERY private, comfortable and spacious with 1000+ sq ft of living space. Cable tv, Netflix and wifi is available. There is a beautiful sunny patio with a peek of the ocean.
Our apartment has 1000+ square feet and is partially below our home. This said, we are completely unaware of your presence and you will be unaware of ours. The apartment is VERY private and quiet with your own entrance and patio space. You will have all of the comforts of home with luxury linens and toiletries. The kitchen is fully stocked with the exception of perishables. Appliances included: Refrigerator, microwave, two burner hot plate, blender, coffee grinder, electric kettle and toaster. There are two 7 speed bicycles with helmets and U-locks for you to enjoy. We will have a light breakfast for you of organic yogurt and granola. The coffee/tea bar will be fully stocked for your entire stay. When you arrive you will have a bottle of red wine and sparkling water for your enjoyment. You will have access to beach equipment including a boogie board, chairs, beach games, umbrella and towels. The apartment has saltillo tile with area rugs so you may want to bring house slippers or socks for comfort. PLEASE note that this apartment is for one or two guests only.
We are located in the highly desirable West Side neighborhood of Santa Cruz. You can easily bike/walk to UCSC, the beach, many restaurants, gourmet groceries, wineries, bakeries, the famous West Cliff Drive, the Santa Cruz beach Boardwalk/amusement park, downtown, the Westside Neighborhood and The Seabright Neighborhood to name a few fun locations. Please do not hesitate to let us know if you would like any new assistance with your itinerary while you are here. We would love to assist you with ensuring a great time while you are in Santa Cruz!
We had a marvelous stay at Jenna's! She has impeccable taste and the cottage was a dream. The kitchen is stocked with everything you need and we were charmed by all the thoughtful details. You will be very close to plenty of restaurants and shops - we loved all of Jenna's recommendations and would do it all over again in a heartbeat!
sandra
2017-02-20T00:00:00Z
This space is so unique and magical. Everything is on point and you feel very relaxed and taken care of. We loved all the personal touches. Sitting and relaxing on the porch with view of the neighborhood and ocean was our favorite part....aside from the very comfy bed. 5 stars!!
Liz
2017-03-12T00:00:00Z
The best air bnb experience. Jenna has a great aesthetic and included so many special extra amenities from bath products to gourmet food items.
Nancy
2017-01-15T00:00:00Z
Jenna and Gavin's apartment is beautiful and comfortable, with tasteful design. There were so many thoughtful touches that they put into our stay. They really thought of everything! Jenna was communicative and friendly throughout our stay, always sending messages checking to see if we needed anything but overall the space was very private. The place is on a quiet street in a nice older neighborhood with updated homes. On a clear day the apartment has a nice view of the bay, perfect for enjoying with a glass of wine from the chairs on the porch. We had a such a good time here!
Thomas
2016-10-24T00:00:00Z
The entire apartment and experience was wonderful, in fact the best airbnb I have staying in and for a great value. Jenna really thought of everything you could need and allowed us total privacy while still being available for anything. The apartment is also very quiet and you can watch the sunrise from the living room.
Leah
2016-11-06T00:00:00Z
I've stayed in a lot of Airbnb, this one is exceptional. Jenna and Gavin are wonderful, warm and responsive hosts. Checkin was super smooth. The rental is cozy, spacious, comfortable, beautifully styled and well appointed. Their attention to detail shows in the carafe of water with glasses and a small bowl of berries that were left on the bedside table when we checked in. I also appreciated the designer organic soaps and lotion in the bathroom. They've got good taste! The bed is super comfortable, made up with designer linens. The living room was a great space to chill out and watch a movie after we rode the cruiser bikes they provided all around west cliff and town, all super close and easy to get to. It's got its own entrance and was very private and quiet. We went down to the awesome organic market to stock up on essentials, and the little kitchen served us well. My wife and I went to a friend's wedding in Santa Cruz, and this was a perfect, romantic place to stay. Thank you Jenna and Gavin we will definitely be back :)
Marc
2016-10-09T00:00:00Z
Jenna was an amazing host! Very informative, clean home, privacy, styled beautifully, comfortable, the amenities were amazing. We were overall very pleased and shocked to have our first airbnb go so well. Thank you for your hospitality and allowing us to stay in your beautiful home!
Michael
2016-10-29T00:00:00Z
Jenna's place is restful and quaint. The outdoor seating area brings another level of relaxation. We enjoyed sitting on the porch with a glass of wine. Jenna filled the space with thoughtful details from the decor to the yummy chocolate. Quality toiletries, delicious coffee, soft bedding, lovely wine . . . what more could you need. We loved and appreciated the use of the bikes. The bikes are new, high quality and very user friendly. The local natural food market was a five minutes bike ride and the beach about ten minutes. Perfect in every way!
Janet
2017-03-05T00:00:00Z
Room Type
Entire home/apt
---
Property Type
Apartment
---
Accommodates
2
---
Bedrooms
Santa Cruz, CA, United States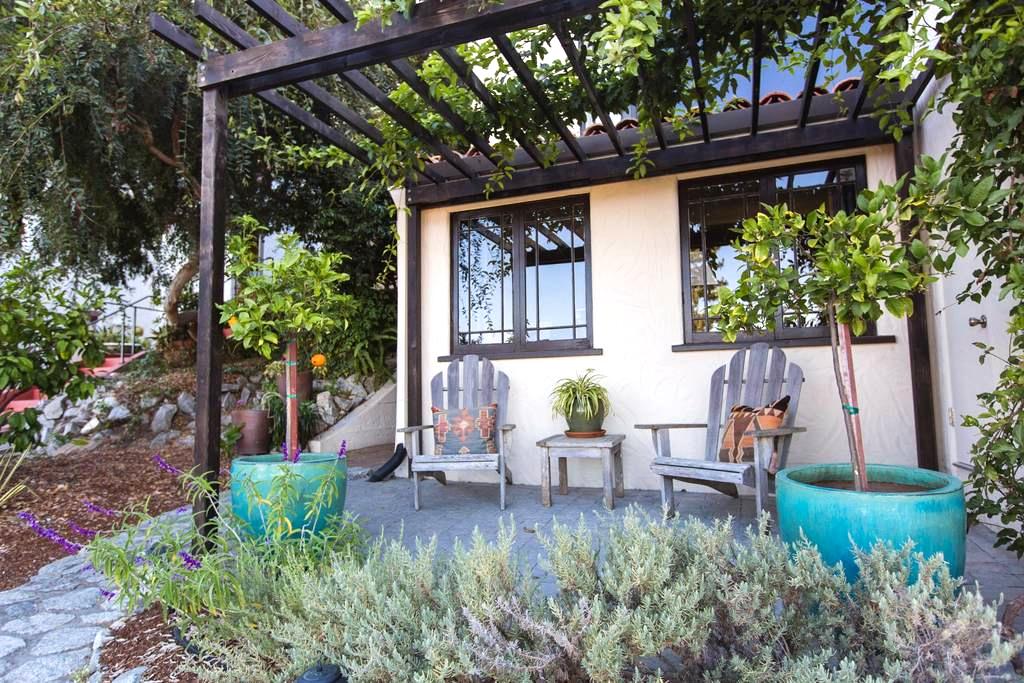 Beautiful quiet separate apartment with lovely patio, fruit trees and organic gardens. Fits two w/private full bath. Easy access to east/west cliff surf spots. 5 minutes to beaches, the wharf, harbor or downtown.
The apartment has a private entrance and a full private bath. There is a full size (double) bed with a BRAND NEW MEMORY FOAM MATTRESS made of natural latex, AND NEW BOX SPRINGS, new pillows, sheets and a down comforter. The bathroom is new and immaculately clean (we use only non toxic cleaning products). The apartment has just been freshly painted with non- v.o.c. paint. There is a mini fridge, hot water kettle, and coffee or tea. We provide towels and beach chairs. Help yourselves to any of the organic fruit trees when they are in season. There are pears, apples, persimmons, meyer lemons and loquats!
This neighborhood is known as the banana belt because it's the sunniest spot in Santa Cruz! We are located in easy walking distance from several great local restaurants like the Crepe Place (best place to see live music most nights of the week) and Lillian's (Italian restaurant, extremely popular). There's also great sushi (Akira) and Thai food (Real Thai-delivers!). It's a 5 minute walk to the Buttery Bakery (amazing pastries, coffee, brunch) and to Shopper's Corner (best local market). It's a quiet residential neighborhood without the seedy elements of Santa Cruz but still with quick and easy access to beaches, boardwalk and downtown.
This was such a cute place! The apartment itself was tastefully decorated and the bed was one of the most comfortable we've slept in, the only thing I wish is that we'd been able to stay longer and enjoy the garden and cute little table! Jonathan was also a fantastic host - really friendly!
Heylen
2014-04-04T00:00:00Z
A really nice place in a very convenient location, I had no trouble finding it when driving down from Menlo Park. The apartment was extremely clean, and the bed was very, very comfortable. Lyle the dog is a real charmer. You can tell he's well-trained because he won't enter the apartment even when the door is wide open (but once you step outside you might find him nuzzling up to you affectionately). I would definitely stay again next time I'm in Santa Cruz, it was a pleasure.
Nathanael
2014-04-17T00:00:00Z
Jonathan is a great host. We arrived at 10pm and he waited for us in front of their house and welcomed us. Room is very clean and the place is quiet not too much noise. Here is a good place to stay. Hope next time can stay longer.
Zora
2014-07-05T00:00:00Z
Beautiful spot, with an inviting garden, welcoming hosts, and an adorable golden retriever. Room was cozy and clean, and I slept very well. Especially liked the list of recommended restaurants/local attractions that Suzanne and Jonathan provided--I went to several of them, and they were spot-on!
Emilie
2016-08-09T00:00:00Z
Super cute little spot centrally located in Santa Cruz! The owners are really nice to talk to and very accommodating. The neighborhood was quiet and safe. We really enjoyed our stay and recommend this spot.
JC
2015-10-13T00:00:00Z
Very easy check in process. Nice we were able to check in easily without scheduling a specific time. Friendly dog at the gate with a farmhouse feel.
Aden
2017-03-18T00:00:00Z
Loved this room! Did not get a chance to meet Jonathan but Suzanne was very hospitable as was Lyle the dog. She asked multiple times if my girlfriend and I needed anything to make the stay more comfortable, to which we answered no because the room was already just what we needed. Highly recommend this to anyone needing a getaway to Santa Cruz!
Vincent
2017-02-20T00:00:00Z
The place was perfect and met every one of our needs. Location is prime making it easy to get to downtown and Capitola with ease enabling us to prepare for our friend's elopement! Jonathan was great and had plenty of suggestions for things to do in the area and their dog is a sweetheart! The property boasts an amazing garden with plenty of fruit trees to around. We would definitely come back and stay!
Paige
2015-11-08T00:00:00Z
Room Type
Entire home/apt
---
Property Type
Apartment
---
Accommodates
2
---
Bedrooms
Santa Cruz, CA, United States
*Remodeling is currently underway. New floor, paint, kitchen, bath, and new queen bed. New photos available by May 1, 2017. One bedroom apartment walking distance to historic downtown Santa Cruz with its many eateries, cafes, bars, stores, yoga studios, and a movie theater. You have a private entrance and a small deck overlooking a tranquil large creek with trees and green vegetation. The apartment has a small kitchen with all the cooking basics and a private in-apartment bathroom with shower.
Ideal for couples but we can accommodate one small child. This is a new rental and the place is completely renovated and clean. It should have everything you need but if something essential is missing or you have recommendations, just let me know. I want you to have an amazing experience. The location is central to town and tranquil. I want to give you a place to stay where you can feel at home.
The home is on a short dead-end road off of a small one-way lane with other homes. It is a very quiet little neighborhood. Please park in the driveway as the street parking requires residential permits. Once situated, I recommend walking down the path and steps at the end of the lane to get to downtown Santa Cruz.
Room Type
Entire home/apt
---
Property Type
Apartment
---
Accommodates
2
---
Bedrooms
Santa Cruz, CA, United States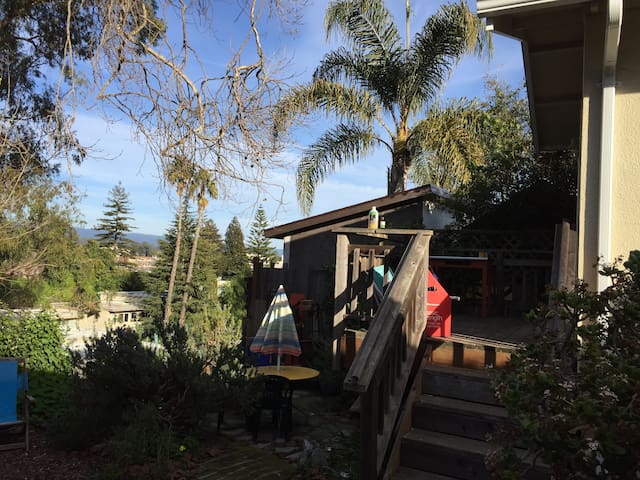 This is it. Go nowhere else. Why because for this price you get a little hideaway that you will never forget.. Close to Lighthouse State Beach Park, Steamer Lane and Cowells surfing spots. Super comfortable low key all yours.
This is it. Go nowhere else. Why? Because for this price you get a little hideaway that you will never forget. Close to Lighthouse State Beach Park, Steamer Lane and Cowell's surfing spots. Super comfortable, low key, all yours. Ask a neighbor and they will tell you this is the best block on the best street in Santa Cruz. There is a queen size bed in the loft and a queen size bed in the main room, a table and chairs, full bathroom, outside seating, outside surf shower, big couch, wireless internet, internet phone, and TV with DVD player. [NOTE: there is no full kitchen here, NO kitchen sink. There is a refrigerator, microwave, toaster oven,weber grill, and counter space. PLEASE SEE THE PICTURES OF THE LOFT LADDER!!! Make sure if you are going to use the bed in the loft that you are OK with going up and down. There are good handrails...but do not rent if you need to use the upstairs and do not feel comfortable with the access...Walk to the beach, Santa Cruz Boardwalk, Santa Cruz Wharf, downtown, restaurants. Bring your bikes and explore. So much fun in the sun!!!
Good neighborhood street parking.
The listing was accurate, the place clean and just as pictured. The neighborhood is very nice, and an easy walk to the beach. The beds are very comfortable, the kitchen area workable - even without a sink. The heater was easy to figure out, and worked well. We were comfortable and happy that we chose the Hidden Treasure Surf Shack.
Julie
2014-12-28T00:00:00Z
The surf shack wax perfect and exactly as described. Just a short walk through the park to the ocean and close to everything in town. What a great property. Can't wait to come back again!!!
Jon
2014-07-12T00:00:00Z
Our stay at the Surf Shack was fantastic. The shack's location allowed for picturesque morning runs along West Cliff Drive as well as awesome dining at nearby Ristorante Avanti and Kelly's French Bakery. We were very happy with our stay and hope to return again soon.
Robert
2014-07-22T00:00:00Z
Very happy with our stay at the Serf Shack. It's comfortable, clean & a short distance to the beach. Nice patio area, quiet neighborhood and we were very happy with our stay. Cute cottage with everything plus more than we needed. Not a Shack indeed! You will love it!
Evelyn
2014-10-30T00:00:00Z
We loved our stay! The location is incredible! Just steps away from some great surf spots and bike paths. Easy walk or a short drive to downtown. The cabin is tucked away and very private. The beds were comfy and the heater had the place toasty in no time! We would love to come back in the summer to enjoy the backyard! Getting in was very convenient and the host was prompt in answering any questions. Enjoy!
Caitlin
2014-12-03T00:00:00Z
We loved this little hideaway in Santa Cruz. I lived in SC for 5 years and can tell you that this is my favorite neighborhood. From this spot you can walk to West Cliff in a couple of minutes and also drive to downtown in 5 minutes. The place was surprisingly spacious and very clean.
Kayla
2015-01-15T00:00:00Z
Excellent location within a short walk to the Ocean. We are a family of five and we spent 4 nights at the Surf Shack. It was very comfortable and suited our needs perfectly. We had our breakfasts and BBQ our dinners at the outdoor patio. We would love to come back and would recommend this place without hesitations.
Boris
2014-08-19T00:00:00Z
We really enjoyed this cozy place, especially the walking distance to the ocean. Definitely a place to come back to in Santa Cruz!
Ari
2016-01-25T00:00:00Z
Room Type
Entire home/apt
---
Property Type
Apartment
---
Accommodates
4
---
Bedrooms
Santa Cruz, CA, United States
The Surf Shack is a tiny apartment, that is in the back of my main house. It is alley facing and has no view. It is perfect for small families, a couple or anyone who wants to be near everything and is excited that it's half the price of a motel room next door. Walking distance to everything. In being compliant with the Santa Cruz transient occupancy tax(11%) the city tax is included in price.
It's location, location location! Near the beach, two blocks from the roller coasters(you may hear peals of laughter from the Boardwalk) a ten minute walk to downtown or your surf lesson!...This is the REAR, ALLEY facing apartment in the back of our home (listed on airbnb.com as Sand Surf and Roller Coasters) It's a small one bedroom apartment, that is the converted rear porch on our 1905 bungalow. It has one little bedroom, tiny living room, minuscule galley kitchen. ( doll like stove, full size refrigerator, stocked kitchen with pots pans/knives and cutting boards) Bathroom with shower. It sits above the ground on a private, locked, rear porch. (alley facing-no view) Yes we have an oven. Need to whip up an egg white omelette, blend a green smoothie-no problem! This is NOT the place you will want to chill for hours on end. This is the place to collapse after conquering THE CRUZ. You, the perfect renter will arrive with your well worn running shoes, your surf board, SUP or your volleyball. You will love that it's a ten minute stroll to downtown and a mightier 20 minute jog to the really cute strip in Capitola. You are here for the BIG KAHUNA Tri, the Santa Cruz Marathon or the Wharf to Wharf race. IF you want a place to lay your weary head, lock your gear and keep your grub cold then you WANT the SURF SHACK! The bed is comfy, queen size-memory foam, the sheets are cotton, we have two foam mattress camper style cots for a third person or your two kids if you are a couple. High speed Internet/Wi-Fi and a TV with a host of channels With the free Friday Night concerts at the Boardwalk(80's Big hair bands) $1 Tuesday rides after 5, Wednesday is movie night at the beach, Bowling, PeeWee Golf and Laser Tag or the Catalyst downtown for live music, are you really going to watch TV? The bus to UCSC is across the street, the main transit station is a ten minute walk and located downtown. Surf, SUP and kayaking lessons are offered nearby, a five minute walk to the Wharf and Cowell Beach. . The $10 surcharge after two people is simply to cover water usuage. As with most of California, Santa Cruz rations water. We wash our linens, beach towels and bath towels onsite and the $10 covers the difference between what we use at a regular rate and what we use at a higher rate because we are over our allotment. If your party number changes, simply leave the difference on the kitchen table, it has worked well for us on the honor system.
This is Beach Flats-it's near the Boardwalk. It may be loud depending on the day and crowd? It's definitely a touristy neighborhood with many motels nearby.
Sydney was welcoming and even went so far as to get us an iron and board as we were going to a wedding and she understood that our suits would probably be wrinkled after the flight. This apartment was clean, centrally located and exactly as the pictures showed. I would recommend The Surf Shack to anyone interested in being in the middle of the downtown Santa Cruz action.
Simon
2016-06-28T00:00:00Z
Great little place near the boardwalk! It's a 4 mins walk! My family had a blast! The dedicated parking space alone was awesome, especially how busy Santa Cruz gets during the summer! Communication with owner was awesome! Would definitely stay again.
Emmie
2016-07-25T00:00:00Z
The surf shack is literally a block from the boardwalk! It was so convenient for us. We parked our car and never got back in it till we had to leave. It's small but it works, Sydney fully stocked the apt with necessities including a bottle of wine which was key after the hwy 17 drive. If you are looking for peace and quiet this is not the place. It's really loud, noise from the house that's attached to, noise from the street, noise from the neighbors, noise from the roller coaster! We had a great time, thank you.
Janipher
2014-08-01T00:00:00Z
This our second year staying at the beach shack. We also got to meet Sydney this year. We love coming to Santa Cruz for the summer and enjoy this place for the location to beach/boardwalk and convenience of being in an apartment opposed to a hotel. Her place is clean, warm and safe. There are bikes, beach chairs, toiletries, grill, outside area, beach towels, a comfortable bed and a clean bathroom/shower/kitchen. We look forward to coming back next summer.! We even left a hat and Sydney is returning it to us. Thanks again. See you next summer.
Melinda
2015-07-23T00:00:00Z
The Surf Shack was a great place for our time in Santa Cruz. The location was convenient to Downtown and the Boardwalk and the free parking was great. The space itself was awesome...plenty of space and homey amenities like beach gear, toiletries, and DVDs.
Emily
2015-06-24T00:00:00Z
Fantastic little apartment, we rented this along with the main house for our 21 year old daughter and her boyfriend who came on vacation with us and it was perfect for their needs. Fantastic location.
Paula
2014-08-08T00:00:00Z
Great location, adorable apartment, very comfortable!
Karla
2014-09-06T00:00:00Z
The checkin was well prepared and simple. The flat was clean and had everything we needed.
Jomo
2016-08-15T00:00:00Z
Room Type
Entire home/apt
---
Property Type
Apartment
---
Accommodates
3
---
Bedrooms
Santa Cruz, CA, United States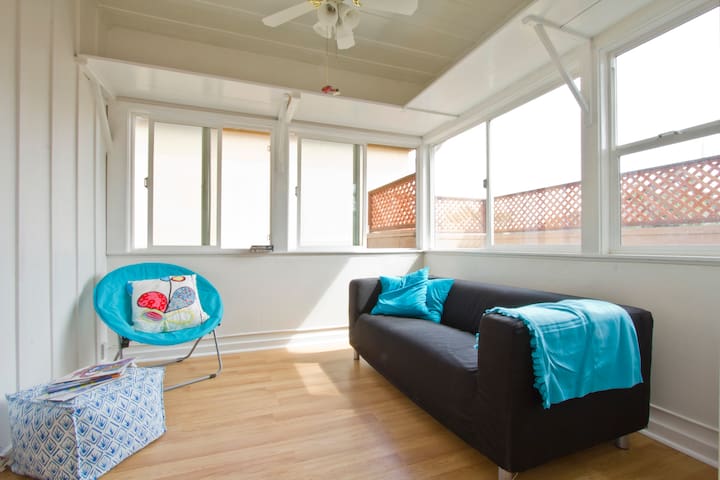 Fantastic Seabright Location. Pick your beach! Only 8 min walk to world famous Santa Cruz Beach Boardwalk and 5 min to Seabright State Beach. You can enjoy all that Santa Cruz has to offer. First time users: Go to this URL to get $40 off your first booking - www.airbnb.com/c/marysolc46
1 bed/1 bath 650 sq ft Single level Cottage Apartment in a small complex Private Patio Area with BBQ Grill Master Bedroom - Queen Bed, Memory Foam Mattress Living Room - Full Size Sofa Bed 40" Flat Screen Roku TV - Netflix, Showtime, HBO, and more Wireless Internet Access Full Kitchen - Refrigerator, Gas Stove, Microwave, Toaster Oven, Keurig Coffee/Tea maker, Cooke ware, condiments, and complimentary snacks Wood Floors throughout
The Seabright neighborhood itself is an attraction. There are several points of interest. This is a good and safe place to walk or ride a bicycle. Go north along E. Cliff Dr., toward the San Lorenzo River to the "Point" where you can look across the river toward the Boardwalk, the Santa Cruz Wharf, the Steamer Lane Museum Lighthouse, back toward Walton Lighthouse and Seabright beach. Wander the neighborhood and you'll see little late 19th and early 20th century summer cottages in various styles and unique contemporary bungalows.
Mostly nice and quiet, very nice host, good communication.
Nick
2017-03-23T00:00:00Z
Love the place. It's clean and quiet. Host is super good with communication and attending to what my boyfriend and I needed. One of the best hosts ever. Would definitely come back. Highly recommend this place.
Phoebe
2017-03-03T00:00:00Z
Marysol was a wonderful host and responded right away. The location was walkable to the boardwalk and wharf which was perfect. The unit was very clean and she even left out lots of snacks for us. It was a little cozy with 3 little kids but for a couple of nights it works.
Amanda
2017-03-26T00:00:00Z
Awesome location, easy to walk to everything. Very cute house and a very nice host.
Ella
2017-02-25T00:00:00Z
Such a fantastic spot... she understates exactly HOW close you are to the boardwalk - literally a 2 minute walk. Perfect little landing pad. Easy parking & super cute. We highly recommend this as a must stay place.
Monica-Michael
2017-04-04T00:00:00Z
Marysol was great! Easy to communicate with and very responsive to all my questions.
Christine
2017-04-06T00:00:00Z
Marysol's cottage was perfect for our one night stay. It was very clean and cozy. Very close to shops, restaurants and boardwalk.
Thalya
2017-03-27T00:00:00Z
Super clean and super cute. Short walk to the beach! We had a great time!
April
2017-04-02T00:00:00Z
Room Type
Entire home/apt
---
Property Type
Apartment
---
Accommodates
4
---
Bedrooms
Santa Cruz, CA, United States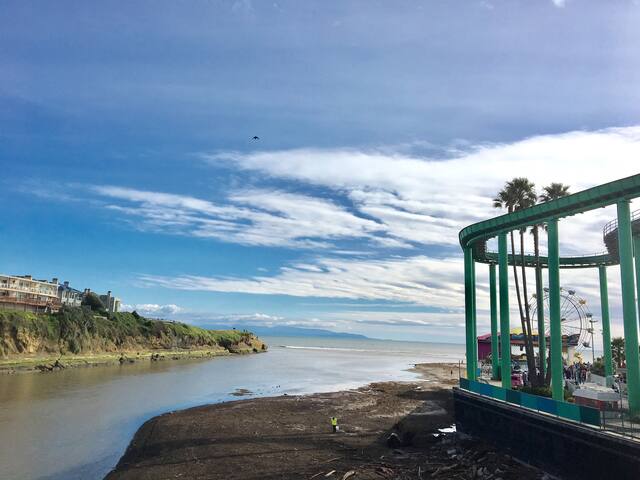 This a gently upgraded mid-century building. You'll enjoy a wonderfully bright space filled with color, lovely furnishings and artful details.
This is a clean and cozy Seabright area duplex. Thanks for looking in! Our local beach is a bit quieter and the walk is so peaceful. I'm in a premium location, walking distance to most everything! There's only a shower and no bathtub and there's really no yard so you'll need to have your dog on a leash and be sure to pick up after him or her, please. I have a small electric fireplace in the living room for a touch of warmth and ambience. Just pull down the front grill and you'll find the controls for the fan an heat level. So nice to watch a movie after a day at the beach while sitting in front of the "fire"! The black "C" table at the far end of the sofa is adjustable and perfect for using a laptop or iPad. I offer free wi-fi, Apple Play, Amazon and Netflix.
Right in the middle of the desirable Seabright district, with it's rows of Victorian homes and nearness to the world famous Boardwalk, is this small row of mid-century duplexes. The interiors have had upgrades over the years and exude a charm not unlike the craftsman bungalows. It's fun to stroll around and drink in the landscapes that includes a beautiful dog friendly park that is also a shortcut to the Boardwalk. If you choose to drive or take the bus, which stops nearby you'll be sure to see some breathtaking scenery. I love that several wonderful markets are within walking distance and have fresh organic fruits and vegetables, specialty foods for restricted diets and a whole host of ready to go selections that you can take on a picnic or just take home to enjoy. If you like to shop thrift or consignment stores you'll have a great time in Santa Cruz. When you're ready for a delightful breakfast or lunch, do try the Buttery, just a block away. Wendy can fill you in on a few other places and there'll be some information in the rear hall that you'll want to check out, too. I hope you sleep sweetly and rise with joy!
Room Type
Entire home/apt
---
Property Type
Apartment
---
Accommodates
5
---
Bedrooms
Santa Cruz, CA, United States
Private studio on the dynamic west side of Santa Cruz. Inside you'll find a queen sized bed with natural fiber linens, brushed fir floors, and reclaimed redwood detailing. The studio includes a well appointed kitchen with granite countertops.
The pied-a-terre is a compact studio apartment, with kitchenette and sleeping alcove. It has a built in desk/work station, large closet area and bathroom with shower. There is a private garden area with a small veranda and outdoor seating.
We are five short blocks from Mitchell's Cove and scenic West Cliff Drive, bike/pedestrian path. We are a block or two away from many cafes, restaurants, brew pubs, yoga studios, boutiques, and naturals foods emporiums. It's a super fun and dynamic neighborhood. No need to drive anywhere, if you're not inclined.
I booked Shelby's place for my parents when they came to visit me in Santa Cruz for a long weekend. This is what they thought of it: This studio is located in a nice area of Santa Cruz. A beautiful beach is within easy walking distance as are several casual restaurants. The apartment is well equipped & spotless.
Evan
2016-04-26T00:00:00Z
This spot is in a great location- within easy bike riding distance to the always gorgeous west cliff drive/natural bridges, and within walking distance to some great new coffee shops/restaurants/markets. We loved being able to use the bikes and how much the neighborhood has changed! It was fun to explore. The little studio has everything you need to feel comfortable at a home away from home. Shelby let us check in about an hour early, which was great for us since we were already in the area. I would definitely recommend this spot if you aren't looking for anything too fancy, just cozy and convenient.
Maria
2016-11-08T00:00:00Z
Fantastic efficiency apartment of high quality construction and details...location affords easy walking/bike riding to the best of the neighborhood and Santa Cruz. (upon arrival we turned off the car and restarted not until we departed). We had brief yet very enjoyable visit with Shelby and Bill shortly after arrival which helped enrich our stay.
George
2016-10-06T00:00:00Z
We had such a fun time! Shelby was very accommodating and gave great recommendations for coffee, food, yoga and hiking! The bikes were a huge perk and we used them to get around daily. Def recommend! Thank you!
Lindsey
2016-09-03T00:00:00Z
Great space, super clean and cozy. Great location and Shelby was so nice! Would for sure stay here again and definetly recommend this space!
Keira
2016-06-15T00:00:00Z
Charming place very close to the water and many restaurants. The hosts were so sweet and accommodating. They let us use their beach cruisers to get around and even adjusted the seat on the bike since it was too high for me. Very quiet and relaxing neighborhood, and I would definitely recommend others to stay here.
Lucy
2016-05-30T00:00:00Z
We had a great stay in Santa Cruz. This is an ideal location. Shelby was great and quick to respond to any needs. She let us borrow some bikes and we rode to the wharf and boardwalk. Very easy and fun ride along the coast. The place is walking distance to a great coffee spot as well as a brewery and market. Nice comfortable place to see Santa Cruz. We used it also as a home base for visiting Big Sur, Carmel, and Monterey.
Blake
2016-06-28T00:00:00Z
Our host, Shelby, communicated details of arriving perfectly. She greeted us warmly and we felt like we were old friends. The location of the studio is on a busy street but so perfect in location to everywhere we wanted to be, the beach, the restaurants, the shops and wine tasting. The bed was very comfortable as was the ambiance of the studio. We thoroughly enjoyed our stay and hope to return.
janie
2016-10-24T00:00:00Z
Room Type
Entire home/apt
---
Property Type
Apartment
---
Accommodates
2
---
Bedrooms
Santa Cruz, CA, United States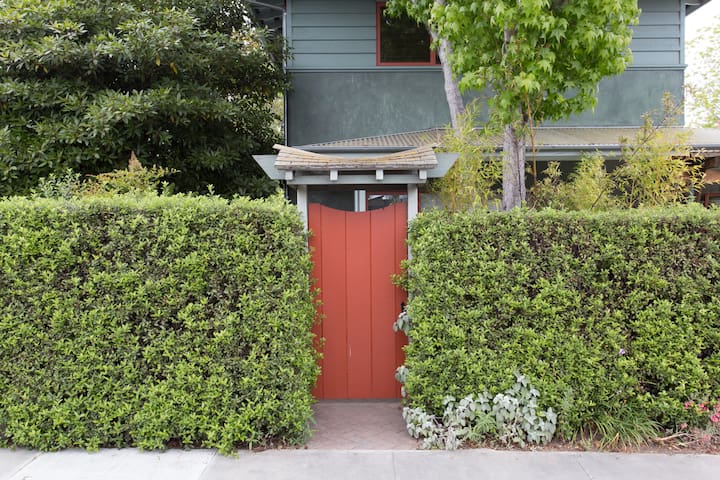 My 1 BD/1BA half-duplex apt close to town, Boardwalk and beaches. Midtown with organic grocery stores and great dining. Sleeps two in bedroom and two or more in living room. Shower bathroom. Full kitchen with gas stove and all kitchen utensils needed to cook meals. Deck with grill for barbecuing. Parking space included. Beach gear available.
T Quieter, cozy Seabright Beach is also close by. Whole Foods and Shoppers Corner (a popular, old-school grocery store--the kind with a butcher) is a block away. The Pacific Garden Mall with all of its eclectic shops is also less than a mile away. As for the space itself, the pictures pretty much say it all. The floors are all hardwood or tile so we're good with pets. We can provide an extra cot, mattress, or other suitable sleeping device for additional people. It is a shower only apartment so unfortunately, long hot baths are not an option :( But you should be out enjoying our sunshine and marvelous town anyway! I look forward to meeting you and your family!
The Seabright neighborhood is one of the most desirable in Santa Cruz because of its proximity to everything, great food shopping (Whole Foods and Shoppers Corner) and is a real, family neighborhood. Also the local favorite The Buttery is just down the street. Oceanview Avenue has many historical Victorians and Craftsman homes to see as you walk down to the children and dog friendly park. Park also is a shortcut walk to the Boardwalk.
We loved staying with Wendy! The house was clean and comfortable, and everything was a short walk or drive away. I will definitely come back if I'm ever in Santa Cruz again.
Kyla
2015-12-22T00:00:00Z
Wendy was a great host! The apartment was exactly as described on the photos. I would recommend her to everyone visiting Santa Cruz.
Daniel
2016-11-09T00:00:00Z
Due to an unexpected event, I couldn't make it to the trip, however, Wendy was kind enough to let my friend Sophie (who was on the original booking list) to take over my booking. Wendy was very easy to communicate and had had everything prepared at the apartment. Sophie said she found the place very cozy and as the post described. Thanks for providing such a great time!
Leslie
2015-11-16T00:00:00Z
Wendy was there the moment our car parked on her driveway. She was very nice, gave us a very thoughtful gift upon our arrival and was very responsive whenever we had questions and stuff. We loved the charm of her place and had the best time with my cousins and friend over the Halloween weekend. I would definitely come back!
Anna Katrina Heiman
2016-10-31T00:00:00Z
Wendy was a great host and her house is very cute and cozy! She left a key for me in an easy to find place, and the house was extremely clean and had all the necessary amenities to enjoy our stay. The house is really close to downtown and the Boardwalk and we had a great stay! The only comment was that my husband wished the TV had HD, but we were hardly in the house anyway so it didn't matter.
Gina
2015-10-26T00:00:00Z
Wendy and her place was perfect for our mini getaway. We got to use the BBQ our first night and ate dinner all fresco. The bed was so comfy!
Reggie
2016-06-27T00:00:00Z
A cozy home perfect for four people. Fully equipped with cooking essentials and bathroom ammenities. Wendy was a perfect host and was available next door for any problems that could have arose. The house was walking distance from the boardwalk and the Catalyst.
Sara
2017-01-02T00:00:00Z
Nice welcome message very comfortable house
Bill
2016-10-12T00:00:00Z
Room Type
Entire home/apt
---
Property Type
Apartment
---
Accommodates
5
---
Bedrooms
Santa Cruz, CA, United States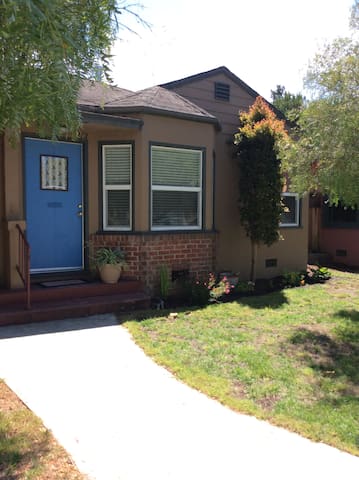 Our studio apartment is so close to some of the best surf in Santa Cruz!
This light-filled private studio attached to the main house is clean, comfortable, and very conveniently located, with a private sitting area in a large yard. The studio offers a queen bed, kitchen and bathroom, all fully furnished with daily needs. Full-sized kitchen includes stove, microwave, small refrigerator, toaster and coffee maker. Studio also has sitting table, chairs, desk, and a large closet.
We live in a quiet, safe neighborhood. Whichever direction you turn you'll find something exciting: beautiful park just down the street, natural food store, wine tasting, and delicious bakeries and cafes around the corner, stunning West Cliff drive and beaches just blocks away, or a local pub that often features live bands. These are only a few of the local features nearby!
Close to the boardwalk as well as natural bridges. Perfect for two people
Talia
2016-07-28T00:00:00Z
Great location 1 block from New Leaf Community Market, coffee shops, and restaurants and only a couple blocks from the beach. The room is very private and well equipped. Would definitely stay here again.
Jean-Paul
2016-12-23T00:00:00Z
Quiet studio, comfortable and clean.
Anna
2016-05-23T00:00:00Z
Had a great time. Host was fantastic. Great location to the ocean.
Tyson
2015-11-08T00:00:00Z
Sharon's studio was a deal being close to the water and a few places to eat and drink. Sharon was helpful throughout the entire process.
Kevin
2015-08-07T00:00:00Z
It was a sweet spot! Thank you!
Jody
2016-06-28T00:00:00Z
Really great experience
emily
2015-05-19T00:00:00Z
We really enjoyed our stay in Sharon's studio. It was really close to the boardwalk and beach. It was clean and comfortable. The bed was awesome! Best night sleep we've had in a long time! The neighborhood was quiet and after a long drive and a day at the boardwalk, it was much appreciated! Sharon was very friendly and accommodating, making herself available to us if necessary but also giving us privacy. We would definitely stay here again.
Allison
2016-07-09T00:00:00Z
Room Type
Entire home/apt
---
Property Type
Apartment
---
Accommodates
4
---
Bedrooms
Santa Cruz, CA, United States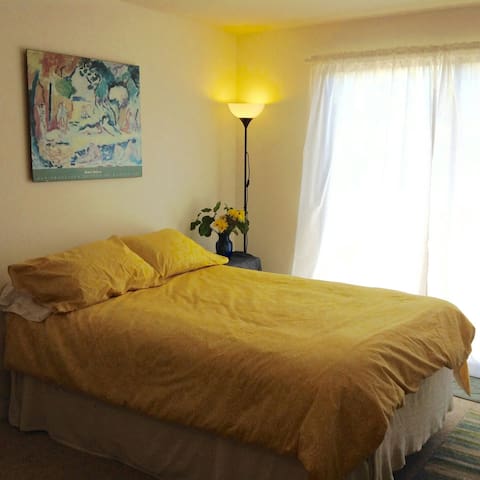 This strikingly attractive, recently constructed, one-bedroom, one-bath stand-alone apartment is nestled behind a charming 1920s home, where Joe DiMaggio and wife Marilyn Monroe once were guests.
This strikingly attractive, recently constructed, one-bedroom, one-bath stand-alone apartment is nestled behind a charming 1920s home, where Joe DiMaggio and wife Marilyn Monroe once were guests. In this highly desirable Westside Santa Cruz neighborhood, you will be only a short walk from: the Boardwalk, voted the "World's Best Seaside Amusement Park; the 100-year old Municipal Wharf with its restaurants and kayak rentals; world-class surf breaks (Cowells, which is beginner-friendly, and Steamer Lane); and a choice of beaches. From this strategic Westside location it's easy to get to downtown's shops and eateries as well as UCSC – an extraordinary hillside campus and home of the Summer Shakespeare Festival in a redwood glen – as well as pristine beaches and surf breaks just north of town on Highway 1. Redwood forests with the tallest trees on our planet are just a short drive away. Santa Cruz is a favorite of those into outdoor activities and communing with the natural setting of the Monterey Bay, a premier National Marine Sanctuary. Your Aloha apartment, tastefully appointed with top-quality furnishings, includes a fully equipped kitchen, dining area and comfortable queen-size bed in a private bedroom. In the living room, you'll find a comfy couch, leather chair, DVD-player with flat screen smart T.V. and streaming Netflix service. Free Wi-Fi. A forced-air furnace will keep you cozy if there's a chilly seaside morning. Outdoor garden-level area to relax as well as a hot shower and hot tub, shared with the main house. Residential street with free parking – a favorite parking street for surfers and those wanting to walk, bike or run on West Cliff Drive along the Monterey Bay. I provide a variety of teas and coffee for your enjoyment. You will find a bike rack you can use. And surfers will be stoked with the outdoor (but out of sunlight) rack for drying their wetsuits. In the Aloha spirit, one half of the net revenue from Airbnb is donated through the Community Foundation of Santa Cruz County to help people in need and worthy causes. Kindly note: The City of Santa Cruz levies an 11% Transient Occupancy Tax to be paid by all short-term guests. Even though most cities have such a "hotel tax," Airbnb isn't yet set up to charge this (hopefully that changes soon!) and doesn't allow hosts to include it in the rates. Therefore I need to ask you to bring with you a check (payable to the City of Santa Cruz) or cash equivalent to 11% of what you paid airbnb. Apologies in advance for the awkwardness of this, and thank you for your understanding.
Quiet, peaceful, seaside home-owner neighborhood. (And if you open the windows you may well hear barking seals and surf when it's raging.)
Matthew made us very welcome and was very helpful. The apartment was exactly as described and was a very comfortable and well equiped. The location was excellent in a lovery quiet neighbourhood, just a short walk from the sea.
Paul
2016-07-17T00:00:00Z
The place was perfect for our needs. Located in a gorgeous area of Santa Cruz, conveniently located to Downtown. We loved the place and felt very welcomed by Matthew. He even had fresh cream and coffee (as well as tea) for us! Lovely! I would highly recommend this apartment.
Karen
2014-10-15T00:00:00Z
The location was amazing....a short stroll to Cliff ave. and just a few minutes to the beach. The guest house was the perfect accommodation for our family. Will rent again !!!!!!
William
2014-11-27T00:00:00Z
I love Matthew's place. Its adorable. Very close to the beach. We didn't walk there, but we could have easily. We saw lots of people running and walking along the beach in the mornings. We found street parking no problem. The bed was comfortable, the atmosphere was relaxing and refreshing. We also had the best tacos of our trip to Cali at a little place on a corner just a mile or so away. I would stay here again!
Maria
2014-04-19T00:00:00Z
We stayed at the Aloha apartment for a weekend in May, and thoroughly enjoyed our stay! It was clean, comfortable, and very quiet. The location is great too - we walked to the pier and boardwalk area, and to some nearby beaches. Parking at the apartment was easily found, and we were thankful to be close enough to walk and not deal with Santa Cruz traffic/parking issues at the popular attractions.
Tina
2014-05-05T00:00:00Z
We had a wonderful stay at the aloha apartment. So close to everything you want to see and very comfortable. Boardwalk is 10 minutes away we will definitely be recommending and returning to this beautiful house.
Travis
2014-06-08T00:00:00Z
This was our second time around trying out an airbnb place. This time we rented an entire home and it was everything and more! Why pay for an even more expensive hotel room with no personality? We loved the Aloha Apartment, we hope to visit again!
Becca
2015-05-16T00:00:00Z
We loved the Aloha Apartment and it's surf theme. It was very clean, comfortable, and in a great location to walk, bike, and surf. We enjoyed our walk to the Boardwalk, the beach, and West Cliff Drive bike trail for sunset. Soaking in the hot tub was a great way to end the day. We would recommend staying here and hope to again. Try the Santa Cruz Mountain Brewery for fish tacos and beer and the West End Tap Room for dinner. Great food and atmospheres!
Anne
2014-10-04T00:00:00Z
Room Type
Entire home/apt
---
Property Type
Apartment
---
Accommodates
2
---
Bedrooms
Santa Cruz, CA, United States
A lovely, beautiful, clean completely private one bedroom cottage located on the desirable Westside of Santa Cruz. It comfortably fits two-three people and is located on a quiet street. It has brand new kitchen, bed and living space with a private back yard. The location is ideal that is driving or walking distance to the beach, downtown, boardwalk and the desirable westside wineries, restaurants and bakeries. We are also close to awesome mountain biking trails, the best surf, runny trails..
*Please read the details in it's entirety. Probably ALL of you questions will be answered here. *We prefer the weekends to be 2 day rentals. If you are looking for one, you can send a request. *Please include the extra person for anyone over 2 years old. Thanks!! The cottage has a separate kitchen (brand new!), bathroom and one large spacious room (where both beds are located) with high ceilings and everything you need! Room Features - Brand new comfortable queen bed - Expandable couch that sleeps two - Private bathroom with walk in shower, washer and dryer - High speed internet connection - Keurig coffee maker or french press, coffee, tea assortment - Flat-screen plasma TV w/ basic cable and roku (for netflix etc) - Full refrigerator, stove, toaster oven - Hairdryer, shampoo and conditioner - Complimentary neighborhood parking pass ($50 fee if not returned) - Beach chairs on request - Eco friendly products - Couch and chairs for your comfort **Note: again the kitchen and the bathroom are separate and the main living area is one, spacious room. If there are more than 2 people, you will all be sleeping in the same room.
The neighborhood is quaint and quiet and is located in the desirable Westside of Santa Cruz. Downtown is just a 10 minute beautiful walk. Downtown has many restaurants, movies and nightlife. We are located minutes from the UCSC campus as well! We have plenty of parks nearby, beaches and trails.
What a lovely place! It was so peaceful, quiet and relaxing. We we're even lucky enough to meet her neighbors bunny who followed me around the yard. I highly recommend staying in her clean cozy cottage if you're looking for a place in the area.
Nikki
2016-03-23T00:00:00Z
Beth's space is a paradox. Inside, all is lovely and comfortable. The kitchen is great and the bed has high-end linens. However, there is no private backyard as advertised. There is the short end of the L-shaped backyard, which her children ran by several times and during the short time we were present in the evening, a man also walked by. At breakfast, we were startled by her two-year old son peering in the window at us. So, I can recommend this place only to people who are traveling with children, and want a kid-friendly space a 5-minute drive to the Boardwalk. But if you're looking for romantic privacy, look elsewhere.
Kathy
2015-05-17T00:00:00Z
Beth's place is very comfortable as she provided us with a great clean environment and very assessable to Santa Cruz hot spots.
Carlos
2016-07-04T00:00:00Z
Beth's cottage was the perfect place for me, my husband and two kids to stay on our recent trip to Santa Cruz. Even with the queen-size air mattress set up, there was plenty of room to move around. Everything was clean and as described, and the free coffee and cookies were much appreciated. Beth was super helpful when the wifi went out and when we locked ourselves out of the cottage. She responded to texts very quickly. I definitely would recommend staying here, and look forward to staying again in the future!
Jennifer
2014-06-26T00:00:00Z
The host and location of the cottage was excellent for our 2 day adventure. Their location was close to local restaurants and beautiful running trails. The cottage was a little warm, but we expected this in the middle of summer. Thanks for the great stay!
Juliana
2014-07-27T00:00:00Z
We had a great experience at Beth's cottage. It was the right match for my husband, me, and our 14 month old son. We would happily come back and stay any time.
Mary Ellen
2015-03-16T00:00:00Z
Beth had the cottage neat and ready for us. She even went to the trouble to set up special accommodations for our family.
John
2015-07-18T00:00:00Z
This cottage has it all, and Beth is a wonderful host. The kitchen had everything I could possibly need, even coffee and tea. The bed was very comfortable and the decor lovely throughout. It's located in a very peaceful residential neighborhood but still close to everything. Downtown restaurants are within walking distance, and UCSC and beaches are only a short drive away. My stay was fantastic, and I will definitely be back!
Diane
2014-04-27T00:00:00Z
Room Type
Entire home/apt
---
Property Type
Apartment
---
Accommodates
3
---
Bedrooms
Santa Cruz, CA, United States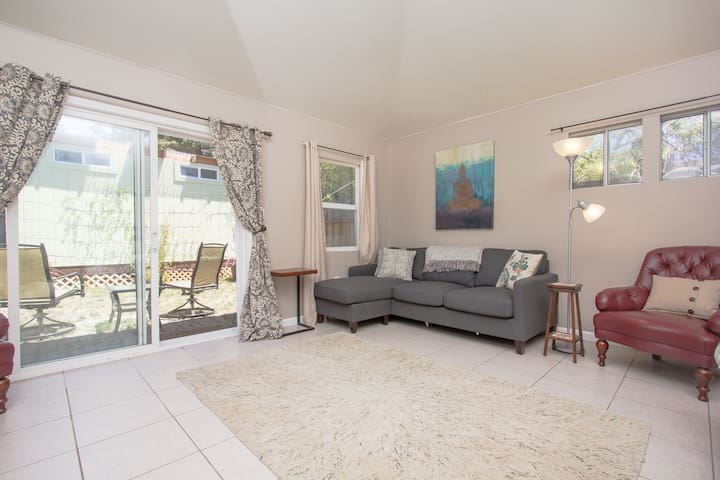 This is an upstairs apartment with a sun-drenched balcony and a very quiet and desirable street nestled in one of Santa Cruz's most sought after neighborhoods. The Tuscan-style architecture, complete with grape vines, creates a romantic getaway for a couple or a couple with one child. Walk to Seabright Beach, Santa Cruz Harbor, and Santa Cruz Beach Boardwalk. Restaurants, a brew pub, and pizza are all within a few blocks. Great bike riding, too, along the coast. New 32" TV with Roku service.
The Seabright neighborhood is one of the most desirable in Santa Cruz. It is generally the first to have the fog "burn off" in the summer, and has wide streets with a mixture of homes built over the last 100 years. Easy strolls to the beach, restaurants, the yacht harbor, and the famous Santa Cruz Boardwalk. It is excellent for biking and hiking, with lovely trails within a 6 minute drive, or walk from the apartment to the harbor or Boardwalk. It rates very high on "bike friendliness" (94/100) and reasonably high on walkability (61/100). (URL HIDDEN)
You're staying about five blocks from a broad sand beach nestled between the Santa Cruz Yacht Harbor and the Santa Cruz Beach Boardwalk. Easy walking distance to restaurants, pubs, and some groceries. About 5 minutes by car from downtown Santa Cruz where you have lots of shopping and dining options. 10 minutes to Santa Cruz by bike. Easy access to local wineries in the Santa Cruz mountains, several state parks, UC Santa Cruz, and wonderful hiking and biking trails. See: Wilder Ranch State Park, Henry Cowell State Park, and of course the Monterey Bay Aquarium. UC Santa Cruz is 17 minutes away, and Cabrillo College is 12 minutes away. Monterey Bay Aquarium is 50 minutes south, and San Francisco is 90 minutes north.
Great relaxing place in the heart of Seabright. Walk to restaurants, harbor, beach. The neighborhood is quiet and low key. Chuck was great to communicate with and the apartment well stocked. Will be back to stay the next time we go to Santa Cruz.
Andrew
2017-04-02T00:00:00Z
A charming, clean & welcoming apartment! We loved the neighborhood - close to the ocean, downtown, and a great health food store. The place itself is cute, clean, & appointed with thoughtful touches, such as a delicious bottle of wine, snacks, and quality linens. Chuck was a pleasure to communicate with! Promt, courteous, and flexible. I wish I could have met him in person. :) If I had to nitpick, I'd love it if there was a larger tv (the one they have is more of a computer screen size) and better quality (non-Teflon) pots & pans. I feel like Chuck & Susan are doing an amazingly great job as hosts! And for such a reasonable price. I'd definitely stay again in the future!
Carissa
2016-01-26T00:00:00Z
Our stay at Chuck's was great. It was a very clean and cozy apartment. The wine, water bottle and fresh fruit were a nice touch.
Tory
2016-01-30T00:00:00Z
Chuck was a supreme pleasure to deal with. The snacks and bottle of wine were an added touch! The location was perfect, and we were excited to get some solid R&R in his perfect estate. It's located in a convenient spot, and we truly loved every moment there. You can't go wrong with this cottage. Thanks Chuck.
Jason
2016-09-06T00:00:00Z
Cannot say enough nice things about this apartment. It's spacious, adorable, peaceful and in a great location. From the bedroom alone you can hear the fountain, waves crashing, birds chirping, and sea (URL HIDDEN) Chuck was extremely communicative and helpful, and understanding when the dates of my trip changed at the last minute. Another few days and this place might have converted a New Yorker into a Santa Cruz girl :-)
Kira
2016-09-27T00:00:00Z
This house was a great place to stay in a lovely neighborhood. The bed was comfortable and the kitchen & restroom were spacious. We enjoyed having Seabright Brewery close by as well- great food plus a good space for a toddler to run around.
Cecilia
2016-11-19T00:00:00Z
All I have to say is Chuck and Susan were delightful, prompt and graciously hospitable. The Plum Street slice of heaven property was beyond the pictures and we wanted to extend our stay we loved it so much, but alas it was already booked up...of course. We cannot recommend this sacred special little gem enough. Lovely neighbors and great location. Wonderful restaurants just a few blocks away, close to the beach, quite and an adorable little temple keeper (cat) who welcomed us and kept us company throughout our stay.
Mark Anthony
2016-02-11T00:00:00Z
Chuck made us feel very welcome! There was a nice bottle of wine and breakfast items, a nice little welcome booklet with recommendations for walks and dining. He was also very responsive to any questions by email or phone. The venue is ideal and the cottage extremely warm and inviting. We felt very comfortable and relaxed.
Denise
2016-11-27T00:00:00Z
Room Type
Entire home/apt
---
Property Type
Apartment
---
Accommodates
3
---
Bedrooms
Santa Cruz, CA, United States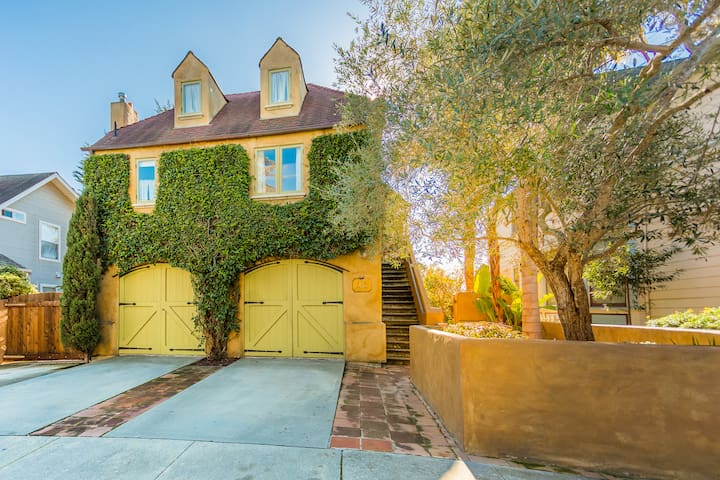 1

–

18

of

98 Apartment Rentals
Enter dates to see full pricing. Additional fees apply. Taxes may be added.