Bright 3 bedroom semi detached home that's both comfortable and warm in a nice quiet part of Dublin. There is garden decking south facing which is great during the day to relax with a coffee or a glass of wine in the sunshine. If you wish in the evening you can turn on the fire and unwind with a movie, tv or just hook up your smartphone to a bluetooth speaker and listen to some music on the couch.
Room Type
Private room
---
Property Type
House
---
Accommodates
2
---
Bedrooms
Artane, County Dublin, Ireland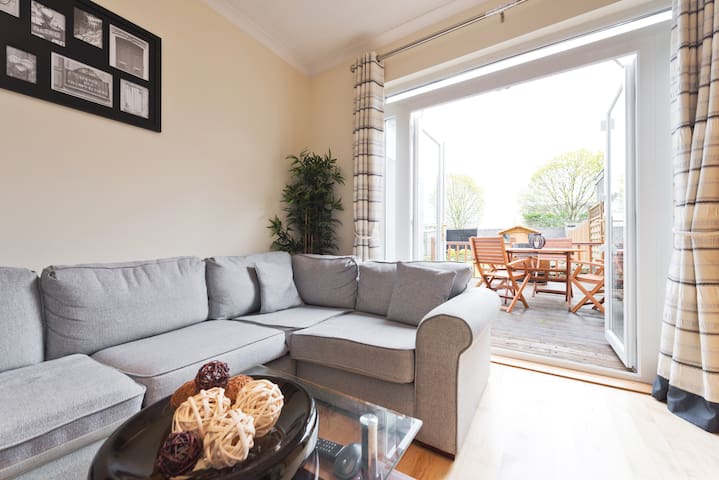 Single room suitable for student or tourist in clontarf lots of walks and amenities close by and ten minutes by bus or dart. This room is for one person only
As before perfect for me, second time staying here and will again
Jerome
2016-07-07T00:00:00Z
Louise was very friendly and accommodating. The room was large and comfortable. I'd recommend staying there.
Lucy
2016-11-02T00:00:00Z
The room was nice and clean. The neighnorhood was a bit far from city center but it was actually great to get a feel for the suburbs of Dublin. Having a view of the cricket field isna plus! Only downsides are that I didnt get to chat with Louise much at all, and no breakfast (my fault, my jetlagged ass wasnt up until 2pm!!)
Hyung
2016-05-12T00:00:00Z
I had such a wonderful experience. This was my first time staying at an airbnb and Louise made me feel so welcome. It's in a really cute area right outside of the city center, so you get the small town feel while only being a bus ride away from all of the hustle in the city. Great first impression of airbnb!
Jeanette
2016-02-28T00:00:00Z
Her house was located in a wonderful suburban area. it takes only about 20 min. by bus (29a, 31/32 etc.) from Central Dublin . As her place is popular I was lucky to be able to stay there last Sat night to catch my flight back to USA via Dublin next day. The room is a good sized single room with a large closet. It was very comfortable and her son and his friends were helpful when I arrived. Louise is kind and responds to email inquires very quickly. I do not mind exploring the nice area near the ocean front (as she recommended) but unfortunately no time this time. Highly recommendable.
Mariko
2016-03-07T00:00:00Z
Unfortunately Louise wasn't feeling well, so didn't meet her, location was great, seems very safe.
Jerome
2016-07-05T00:00:00Z
Louise was welcoming , the location is easy to get to and ideally situated in a quiet location next to Clontarf rugby and cricket club, the facilities suited my purposes . I was more than happy with my stay, and would be happy to stay with Louise again
Pearse
2016-04-07T00:00:00Z
Louise was very helpful even before the stay with giving directions. She made me feel welcome and had a lot of great advice. The small room was comfortable and tidy - I really enjoyed staying there.
Anna
2016-05-11T00:00:00Z
Room Type
Private room
---
Property Type
House
---
Accommodates
1
---
Bedrooms
Clontarf, Dublin, Ireland
Incredibly comfortable & welcoming room with a very comfortable bed as well as ample wardrobe space.
Hello imelda
Annick
2015-10-18T00:00:00Z
As soon as I saw Imelda , I felt that at last I was in Dublin. She is the the typical Dubliner I had in my imagination through Jame Joyce 's poems - with lovely skin, freckles, bright eyes and with a genuine smile . However , the main point is that it was the most pleasant experience I had on airbnb. I absolutely felt at home. The room , bathroom and the whole house is so clean, cozy and light. In the morning she offers a delicious breakfast set on the table in Irish exquisite (URL HIDDEN) cut a long story short , if you plan your trip to Dublin all roads lead to 40 Brookfield Artane. I will be soon be back again! Thanks Imelda for your warm welcome and comfy stay.
Natia
2016-05-13T00:00:00Z
I am not even sure how I can start this review without giving it the justice it deserves. First time solo traveller here and from the minute I booked accommodation with Imelda I've been happy. Happy with Imelda's quick responses to my questions right down to the moment we first met. After a 26 hour travel time from home to arriving at Imelda's home, I was fairly tired and extremely nervous and anxious. Imelda welcomed me into her home, showed me around and gave me the space I needed to get my bearings, shower and rest. A lovely table setting laid out every morning with a large variety of cereals, breads, spreads and tea. Imelda assisted me with bus and train information and gave me some ideas of the things I might like to do during my stay. Imelda was friendly and approachable and clearly loves having guests stay in her home. The room as described and location perfect to bus and trains. Imelda was awake early as I needed to leave the house at 4.30am and kindly booked the taxi for me, waiting with me to calm my nerves I had about heading towards my next destination. If anyone is after a homely place to call home for a night or two (or more) I wouldn't hesitate in recommending Imelda's home to stay in. Thanks for making this a memorable trip for me, Imelda. Perhaps we shall meet again!
Rebecca
2016-07-04T00:00:00Z
Very nice place to stay. Comfortable room, good location and lovely host.
Aine
2016-09-17T00:00:00Z
Imelda was a welcoming and helpful host. She made me feel at home - free to make cups of tea, and breakfast from her pantry. She also helped me schedule public transport to suit my tourism needs.
Gabriel Mary
2016-07-15T00:00:00Z
My stay with Imelda at Artane was just what a I wanted and expected from her profile and description. The room and bed were comfortable and cosy with a nice upstairs view out of a big window onto a ver, very quiet , pleasant street. Imelda is a genuinely friendly and welcoming host and couldn't have done more to make me comfortable. She was relaxed but extremely organised, always on hand with local information, including reliable public transport times. The local bus was very convenient for getting to the city. Breakfast was a good selection with even quality Irish preserves on offer. I thoroughly recommend this place.
Pauline
2016-03-29T00:00:00Z
Imelda is a wonderful host, I arrived at 12 in the night & she was there to welcome me, helped me with the local city information , bus routes etc, I had an early morning return flight so she booked a taxi for me,overall it was a great stay ,so next time you are in Dublin her place is a must stay !
Divyanshu
2016-08-31T00:00:00Z
Imelda was a dream host! Everything was perfectly ready for me. We had a nice breakfast and talk. She helped me out with everything I needed and was very kind to me! Thanks a million, Imelda!
Františka
2015-12-29T00:00:00Z
Room Type
Private room
---
Property Type
House
---
Accommodates
1
---
Bedrooms
Artane, Dublin, Ireland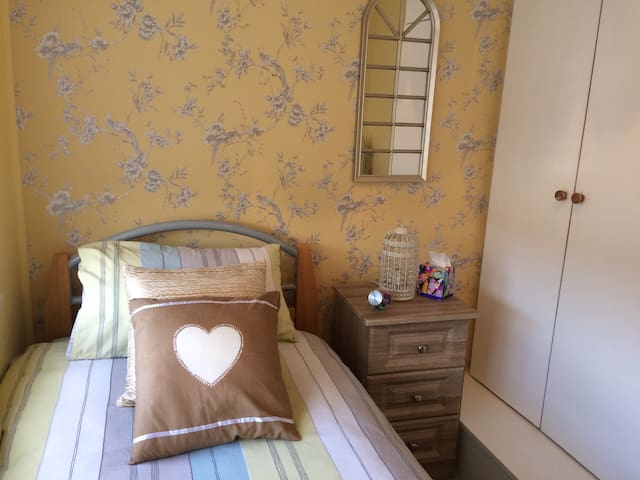 Our apartment is close to beautiful St Annes Park, Dollymount Strand, Howth Head, and is very handy to Dublin Airport. You'll love our Studio because of the location, and the way it's been recently renovated. Our place is good for couples, solo adventurers or business travellers. The entire apartment measures just 28m square, so it is certainly compact, but you will find that it has everything you need, with style and character as well.
Dollymount Strand is a stunning 5km beach and an easy walk from the Studio. Raheny Village is even closer. Or go exploring in St Anne's Park, which is just on the other side of Watermill Road. Take the DART or bus to Howth Head and walk the Summit to Sutton via Red Rock Beach. With so many beautiful options on your doorstep, you'll have a hard time choosing which to do first!
Great place in a great location.
Matt
2017-03-20T00:00:00Z
Room Type
Entire home/apt
---
Property Type
Apartment
---
Accommodates
2
---
Bedrooms
Raheny, Dublin, Ireland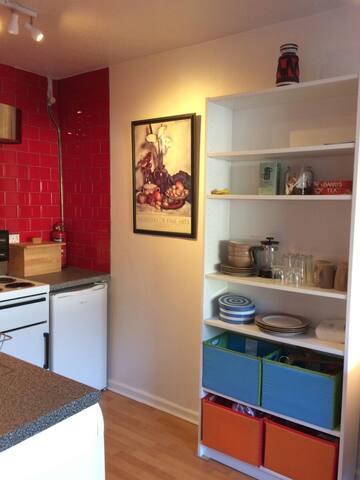 A private end of terrace house situated in a mature residential suburb of Dublin City just off the Malahide Road, only a twenty minute drive from Dublin City Center and a fifteen minute drive from Dublin Airport. Within a three minute walk to the nearest bus stop providing a choice of bus routes with direct access to Dublin City Center. Within a ten minute walk to the nearest Train Station providing direct access to the Dublin City Center and the coastal villages of Howth and Malahide.
Private double bedroom in privately owned house with single occupant. Shared bathroom with electric shower. Private parking facility to front driveway.
Within walking distance to numerous local shops, pubs, restaurants, cinema and leisure center.
Aidan was a wonderful host. He was flexible with the check in and the check out and he was super kind. The room and the entire house is spotless. He made a guidebook where you can order some food to eat at home which was really much appreciated it. I recommend him highly!
Carla & Lorena
2017-04-02T00:00:00Z
Excellent host, brilliant value to money, clean, accommodating. Highly Recommended
Brian
2017-03-25T00:00:00Z
Our stay at Aidan's place was wonderful, from beginning to end we felt entirely at home. The house and room was spacious, clean and very comfortable. The location is extremely convenient, close to the airport and a simple and short bus ride into the city center. The best thing about our stay was Aidan's incredibly generous hospitality. Nothing was too much trouble and he went above and beyond to ensure that we had a great stay. We will definitely be staying here next time we are in Dublin, and recommending Aidan's place to all family and friends. A special mention goes to his amazing spaghetti sauce! :)
Gemma
2017-04-01T00:00:00Z
Aidan's place was a cozy welcoming Irish stay. Easy to find, very clean, and wonderful chats with Aidan.
Anna
2017-04-04T00:00:00Z
Aidan is a very friendly and uncomplicated host. The accommodation was tidy and we felt very well there. We would stay there everytime again.
Oliver
2017-04-06T00:00:00Z
Close to the airport if u take the taxi, needs almost an hour to reach by public transport. Very fast answering texts and queries, and nice house. Nice host and good to provide breakfast:)
Bella
2017-04-03T00:00:00Z
Room Type
Private room
---
Property Type
House
---
Accommodates
2
---
Bedrooms
Artane, County Dublin, Ireland
It is a spacious attic with outstanding sunset and sunrise view. Less than 10 minutes walking distance from Dart station and bus and 30 minutes walking from the coast and Bull Island . There is a choice of local shops and a Centra very close by
Ten minutes walking from Bull Island and Clontarf Promenade and Saint Anne Park
Raheny village is a nice litlle village that offer a wide range of shop and restaurant. The village is lively and very friendly. The major feature is the nearly 5 km beach known as Dollymount Strand, on the nature reserve of North Bull Island. There are also two parks: North Bull Island itself and Saint Anne's Park (formerly the home of the Guinness family of brewing and later banking fame), as well as Edenmore Park (with a pitch and putt course and playing fields) There is excellent walking and cycling on the sea front (one can walk or bike from Howth to Dun Laoghaire, on North Bull Island, in St. Anne's Park and around the leafy streets.
It was very nice to be a guest by Sonia and her family. The room was clean and we had enough place to stay there with three people. The whole family was very friendly and obliging. I can really recommend to stay by Sonia and her family. We enjoyed the days and wish the best to the family. Regards, Madeleine
Madeleine
2016-10-30T00:00:00Z
It was a perfect place to stay. The house and the rooms were clean and especially the family of Sonia was very welcoming. We enjoyed and recommend this place to everyone. (Especially if you want to visit Howth, beach, etc.)
Hugues
2016-07-07T00:00:00Z
Sonia and Marco were very welcoming. They allowed us to drop our bags off early in the morning, we had breakfast cooked for us both mornings and we were even given a lift into town rather than taking the train with our heavy packs. Such a lovely family. They went out of their way to make our stay a great one! The location is very easy to get to via public transport. The room is huge and the bed is very comfortable - great night's sleep. Oh - and the wifi works well too! Would definitely stay here again. We had a wonderful stay. Thankyou!
Kingsley
2016-07-24T00:00:00Z
Amazing welcoming, good family, childrens were so friendly with us. Je Despite Sonia friday, she stayed wake up until our arriving. The bedroom was clean and fonctional with so much of plugs. Concerning the kitchen, it was easy to cook. We had lots of food for the week. Concerning the bathroom, we had access to the second floor. There were wc in the same space. And to finish, Marco had the sweet idea to show us valleys and lakes of glendalough, the avoca made house clothes and an seaport. It's so easy to talk and we have shared our culture with them. Thank you so much again.
Johann
2016-07-13T00:00:00Z
A really cozy room in a well situated neubourhood (just 8 minutes walking to the nearest train station). The house is clean and warm. As for the breakfast, it is pretty good and Marcos is always there to serve and prepare anything you want. You can enjoy the breakfast whenever you want, you just have to tell Marcos. The family is nice and very polite. We totally recommend this house if you want to spend some days in this lovely city.
Ona
2017-02-05T00:00:00Z
Good value for the money, about 10-15 mins from city center by dart & about a 10 min walk to the dart. Marco makes homemade bread, eggs, & bacon in the morning and both Marco & Sonia are very accommodating. They allowed me to do 2 loads of laundry since I am traveling for a while. The only down side was that there is no room to lounge in, since you only have access to your bedroom & the bathroom...other than that it was great! Very nice people. Thank you Marco & Sonia!
Kristen
2017-03-20T00:00:00Z
Sonia and her family are very friendly and the room is clean and lovely. Even though we arrived quite late, they were still waiting for us. Highly recommended this flat.
Sandra
2016-07-15T00:00:00Z
The attic space is great for 2-3 people. You have full access to the house even when Sonia isn't home. The homemade bread and tea for breakfast was outstanding.
Wayne
2016-11-27T00:00:00Z
Room Type
Private room
---
Property Type
Bed & Breakfast
---
Accommodates
3
---
Bedrooms
Raheny, Dublin, Ireland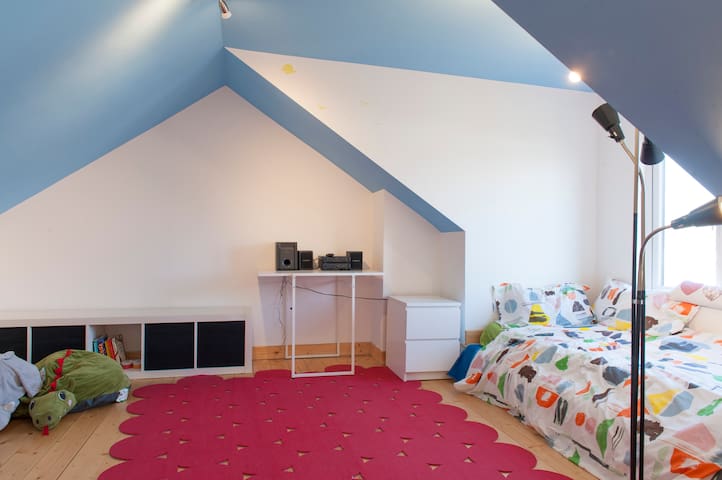 Large double room with Private Bathroom. Many free parking spaces. Light breakfast included. Free WIFI. TV/DVD. The house is in the leafy suburb of Raheny. 15 minutes from Dublin Airport. 15 mins from city. Plenty of spaces. Location on map below and on popular map apps.
We are 20 mins from Dublin City Centre, 15 minutes from the airport (by car or taxi €20), 5 mins from the historic village of Raheny Village, 2 mins from large a supermarket and takeaway restaurants. 5 mins from Dollymount beach and Bull island, a UNESCO biosphere reserve and a bird sanctuary. Kitebaording and paddle boarding are popular in the bay. 5 mins from St Annes Park, the second largest municipal park in Dublin. It features include an artificial pond and a number of follies, a fine collection of trees, a playground, parklands walks and recreational facilities including golf. 15 mins from Croke Park Stadium and many theatres and concert venues. Raheny village has a range of nice restaurants, shops, cafes, bakeries, pubs etc. There is quiet traditional pubs and large busy bars with live music. There is a large supermarket, beauty salon, hairdressers, gym (pay as you go) dog kennels, independent bakery, boutiques, coffee shops, takeaways. There is also 3 banks and ATM's. There is also a cinema 10 mins away. Our house is a great base to explore Dublin City and the coastal villages north of the city such as Howth and Malahide. If you don't know where to start just ask me (Treise) or my husband Mick and we will point you in the right direction-to the nearest pub!! Ha Ha.
Near the beach, a beautiful park and it is a quiet peaceful neighbourhood.
Treise was an excellent host with a very quaint, clean and welcoming space. She was also very accessible for when we needed to contact her.
Troy
2016-08-11T00:00:00Z
Treise was very accommodating and the room was lovely. Very nice location with easy transport to town.
Darragh
2016-10-23T00:00:00Z
We had a fantastic stay in Raheny with Treise and her family. The location was easy accessible on the Dart from the centre of Dublin, and Raheny itself has a few pubs, restaurants and a shopping centre down the road if you don't want to go into Dublin. We felt very comfortable and at ease while in their house and they were happy to offer advice and tips about what to do in the city. Would definitely stay there again.
Lucy
2016-08-06T00:00:00Z
Treise and her family were super sweet and helpful for my entire stay, they informed me how to get into town, and how to get to my next destination via transit after I had checked out. The room was exactly as the pictures described, their place was easy to get to, and their house is beautiful. I would definitely stay again if I ever get the chance to come back to Ireland! Thank you so much Treise and family!
Evelyn
2016-07-18T00:00:00Z
Trieste is a nice host who is always cheerful, same as her lovely baby daughter. I am delighted that she helped me to sort out the matter of toll fee which I am not aware how to settle after a week has been lapsed. A very helpful host.
edmond
2016-07-08T00:00:00Z
The house is absolutely comfortable and cozy! The room is clean and tidy, the toilet as well! The family is really adorable and helpful for any questions, and the baby is the most lovely and cutest!! And the position of the house is in a quiet zone near the city center. Absolutely recommended :)
Giulia
2016-11-14T00:00:00Z
Treise and Mick are very kind, helpful, and welcoming hosts. They gave us good tips on what's around the area. Our room was clean, very comfortable, and the neighborhood is very quiet. Perfect for getting away from the city's hustle without being too far away. It can be easily reached by taking the DART, and a stone's throw from picturesque fishing town Howth. My husband and I had an excellent stay, and highly recommend this place!
Patricia
2017-04-05T00:00:00Z
Only stayed one night since I had to catch a flight from Dublin airport, but Treise was very welcoming and kind! Appreciated everything they did for me during my short stay.
Kristine
2016-07-17T00:00:00Z
Room Type
Private room
---
Property Type
House
---
Accommodates
2
---
Bedrooms
Raheny, Dublin, Ireland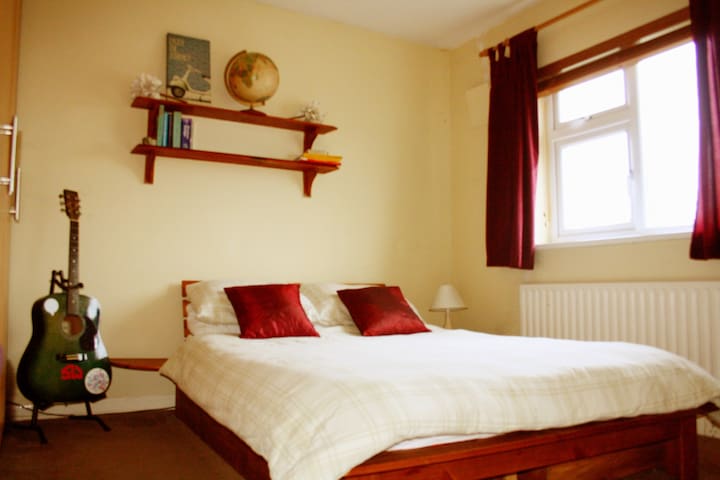 Clontarf is a coastal village 5k from City Centre. The bus stop is the 2 mins from house . It takes 20mins by bus to the city Train 15 mins walk to killester Dart station - 3 stops to centre Close to famous St Annes park former home of Guinness family and Dollymount beach Room has a comfy kingsize bed and also power shower with instant hot water cable TV / wifi very quite room
Large double room with king size bed and power shower lots of storage TV with lots of channels
my house is 20 mins by bus to the centre of dublin. Beside St Annes park and 10 mins walk to the seafront
Lovely comfortable bed in spacious room with my own shower. Clare puts on a huge spread for breakfast and is a great host.
Brian
2016-05-09T00:00:00Z
We had a great stay with Clare. The hospitality was great and she gave us a lot of practical information on arrival with a nice cup of tea. She was at any moment available for questions, but gave us enough room to be on our own.
Frank
2016-08-22T00:00:00Z
Clare is the best Airbnb host I've stayed with. She was so helpful and my room was always warm and the breakfast was fantastic. Clontarf is a lovely coastal village a short commute to Dublin city centre. Great place if you appreciate home comforts and a quiet safe residential area. Thanks Clare!
Roisin
2017-03-29T00:00:00Z
Warm, comfortable, great bed, fluffy towels, and very welcoming and friendly
Gobnait
2016-12-14T00:00:00Z
Clare is a very friendly lady who just knows the right balance between checking in on me and allowing me to retreat to my privacy. She was very hospitable, making me tea each day and offering to make me breakfast, which I couldn't accept on occasion because I slept in. Despite the TV breaking down in my room, she offered her Netflix account. Clare was pleasant in conversation and just knew when to let me retreat to my room -- very understanding of her!
Khoon Yu
2016-12-22T00:00:00Z
Highly recommended!! I couldn't have picked a better place to start off my trip. Clare is a great host. She makes it easy to feel comfortable. The room is very nice and everything was perfectly clean. It really felt like a vacation HOME. Clare was around and it was always nice to talk to her when we met in the living-room area. At breakfast you would most likely meet the other guests which I thought was also nice. It altogether made the perfect Airbnb experience. The house is in a very nice and quiet area. I also really liked Clontarf. You can get to the city easily, but spending time in this small town, walking to the beach or sitting on a bench in the beautiful park around the corner made my trip to Dublin very refreshing and relaxed.
Mirjam
2017-03-16T00:00:00Z
Excellent location very clean and easy to deal with. Highly recommend.
Niall
2016-12-17T00:00:00Z
Clare is the nicest person ever. She made us feel welcome from the moment we got there and was very helpful all through our trip. The room was big, clean and comfortable and the shower inside is a big bonus. Thank you so much for everything.
Adrie
2017-03-19T00:00:00Z
Room Type
Private room
---
Property Type
Bed & Breakfast
---
Accommodates
2
---
Bedrooms
Clontarf, County Dublin, Ireland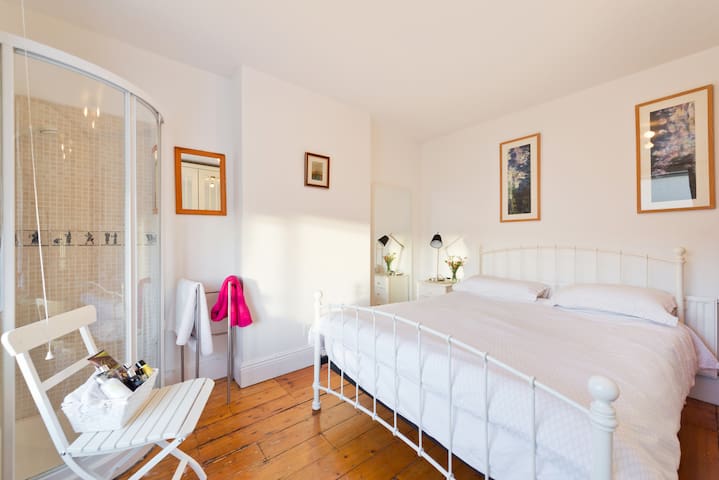 Lovely single Bedroom with own separate bathroom and shower in family home. We are Cathal and Suzanne, our sons are Conor and Charlie and the family dog is Memphis. This is a friendly and relaxed family home with 3 yrs experience. welcoming visitors!
We are a family who hosted students and people doing internships and people just travelling around Ireland for the last 3 years. Your room is a Single Room on the second floor. In your room, you have access to Wifi and a wardrobe as well as Privacy. Your Bathroom is located at the back of the house downstairs, you may use everything in the bathroom, apart from any of the family's Personal items. The entire house is always tidy and well kept. If any problems arise, there is usually at least one person in the house at all times.
Our neighbourhood is friendly and quiet, we are a 2 minute walk from a Newsagents and a Takeaway. We are in a central location making easy access to city centre!
Thank you Suzanne and all the family, I had a lovely stay, the bedroom is clean and close to the station, it might not be a 5 star hotel but you made me feel like one. Thanks!!!
Doris
2016-05-30T00:00:00Z
This is a very nice family. welcoming and friendly. they can help if problems arise. I can confidently recommend.
Olga
2015-07-05T00:00:00Z
I had a lovely time staying at Suzanne and Cathal, they have a beautiful home and a lovely family, they were always willing to help and provide information, the house is at a very quiet area of Dublin close to transportation and stores, it doesn't take more than 20 minutes to get to the city centre. I would recommend them as hosts without a second thought, thanks for everything guys all the best for you and your family.
Andreas
2015-01-24T00:00:00Z
A wonderful Airbnb experience, this lovely family were friendly, helpful and very pleasant to talk with. The room is warm and comfortable, close to DART station and bus routes heading into the city. I was very happy with this stay and recommend hands down the experience.
David
2015-03-16T00:00:00Z
Suzanne is a very kind lady. Starting with a nice cup of tea for arrival through short chats after long days of sight seeing, it was really a pleasant stay. I was out most of the time and downtown can easily be reached via DART (Dublin Area Rapid Transit). Thanks for having me, Suzanne!
Julia
2015-05-19T00:00:00Z
I had a wonderful stay at Suzannes house. From the very first minute I felt welcome and home. Suzanne and his husband are extremely friendly, cordial and helpfull hosts. Whenever I needed something, they were happy to help me. The house and facilities are pretty and clean, the guestroom is cozy and the bed is very comfortable. I definitely would stay at Suzannes house again whenver I come back to Dublin.
Kathrin
2016-02-27T00:00:00Z
Suzanne and her family were wonderful. I arrived in the dark due to a flight delay and haven't had any dinner. Suzanne was one step ahead, and offered me home made shepard's pie! It was delicious. Through out the stay, she made me feel very welcomed. Unfortunately for me, I fell sick and it was Suzanne to the rescue again! From honey water, vitamins and the much needed pills, she even made beef stew for me and brought it up to my room. She is really a very caring host. If I were to visit Dublin again, I would choose to stay with her again.
Physilia
2015-09-24T00:00:00Z
Really friendly and welcoming hosts! Very accommodating! Room was warm and comfortable and in a nice area with great links (bus and rail) to the city Would definitely stay again! Thanks for everything! :-)
Regina
2015-03-07T00:00:00Z
Room Type
Private room
---
Property Type
House
---
Accommodates
1
---
Bedrooms
Artane, Dublin, Ireland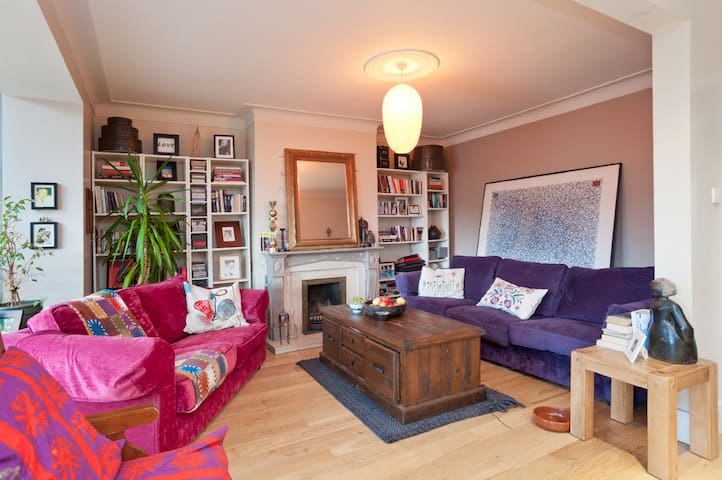 Females only. Single room available in large private home. Beautifully decorated with lovely views, not overlooked, and within walking distance to all amenities and bus/train routes direct to the city. Includes breakfast & free wifi.beech and park nearby.
It's peace and quiet it's very comfortable bed !
It's a beautiful village lots of trees shops pubs it has everything the beech is near and st Ann's huge park just lovely for walks!
I had a really good time staying with Margaret. She was very friendly and always offered her help. The room was nice and the breakfast was great. I would definitely recommend staying with her!
Mareike
2015-11-15T00:00:00Z
Margaret's home was the perfect place to stay for my trip to Dublin and in a perfect location on the outskirts of the city, conveniently (5-10 min walk max) to DART service and to the local shops, pubs etc. The room was great, with a very comfortable bed and nice views outside, Margaret even made a delicious breakfast each morning during my stay. I really enjoyed my stay, and found Margaret very approachable and enjoyed having a chat in the evenings. I would definitely recommend if you're planning a trip to Dublin. Thank you.
Brian
2016-03-30T00:00:00Z
Margaret's room is awesome! Margaret is very friendly, warm-hearted and absolutely helpful. As to her welcome, she already gave advice of how best to get to Raheny, picked me up and made some tea. Breakfast was grand! Margaret offered a huge variety of things. In general, everything is super clean and comfortable. Her little dog is adorable, well-behaved and just unique. The room is well-located in Raheny with both the bus and the DART being in walking-distance so that Dublin city centre is around the corner. In Raheny itself, there is a supermarket (super-value), two pubs, and several smaller restaurants (e.g. for Pizza, Chinese food or Marcari's for fish & chips). I stayed with Margaret for 12 days. She is a perfect host. Her room felt like home for the time being! :)
Daniela
2015-10-11T00:00:00Z
Margaret are not just Margaret. She is a Saint Margaret. She cooked breakfast for me at 7 a.m. 7 a.m.!! She gave me a sandwich, because I left for an early flight at night and did not have time for breakfast. I felt at home. Her house is located in a beautiful quiet location near the Dart. I had a great time!!
Illa
2016-06-01T00:00:00Z
Margaret is a great host - welcoming and helpful but gives you your own space too. The house is lovely and in a great spot, near the coast and close to the train that goes right into the city. I'd recommend a stay to anyone
Ben
2016-08-27T00:00:00Z
Excellent stay. Margaret was extremely welcoming and very helpful. Excellent breakfasts. Very accessible to transport links into the central city. Really enjoyed my stay there.
Kirsten
2016-03-17T00:00:00Z
Very nice stay. To try
Paolo
2015-09-28T00:00:00Z
Margaret made me very welcome in her home. I could not recommended her highly enough. She is warm and friendly.
Ann
2016-10-06T00:00:00Z
Room Type
Private room
---
Property Type
House
---
Accommodates
1
---
Bedrooms
Raheny, Dublin, Ireland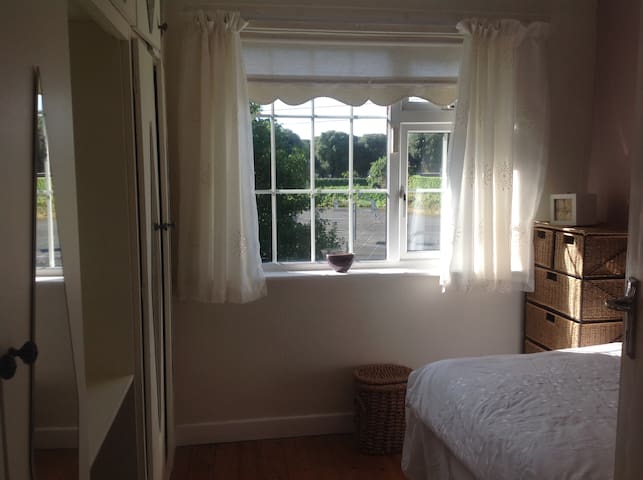 Warm comfortable 2 bedroom house in Clontarf, 2 miles from City Centre. Free parking. 5 miles from Dublin Airport - €25 taxi from Dublin Airport. House is not on a direct bus/train route to Airport. 2 double rooms - one super king size bed! Memory foam mattress on all 3 beds. Separate kitchen, dining area. Gas Central Heating. Good shower, 120mb Wifi. Bus stop 3 minute walk - house is about 5 short stops to City. You can walk it in 30 minutes. Train 10 minute walk. Sea front 5 minute walk.
Clean 2 bedroom terraced house with 50mb broadband, TV and kitchen. Two double bedrooms upstairs, bunk beds in one. Clontarf is a family friendly safe residential neighbourhood on the Coast close to shops, bars & restaurants - The Yacht Bar and Restaurant is a 5 minute walk. 40 minute walk to the City Centre, 2 minutes to bus stop and 10 mins to Dart (inter city train) €25 Taxi to the house from the Airport. The City Centre is 6 bus stops away or 2 Train Stops. House is walking distance from Clontarf Village and East Point Business Park. Toiletries, Hairdryer, fresh Towels and Dublin Guide Books provided. House is located on very quiet street, behind the Main Road, away from noise. The famous Clontarf Castle is 2 minutes walk. Beautiful walks along the sea front a few minutes away. Walks to Bull Island and Dollymount Strand. Great location for your trip to Dublin. No cleaning fee charged.
Clontarf is a quiet sea-side village with shops, bars and restaurants and the village is just ten minutes outside the city
Staying at Fiona's home was amazing. The location was close to the sea, which allowed my friends and I to have some memorable walks. Bull island which was very close, gave you some great views of the entrance into the port and the surrounding mountains. Fiona helped us every step of the way and had a great information packet for us to use. Due to Fiona's hospitality and those of the locals, we really enjoyed our stay in Ireland.
New
2015-01-29T00:00:00Z
Everything was perfect. A very nice location that was very close to the water and in a very nice and quiet neighborhood. Everything was very comfortable and there wasn't anything we didn't need.
Tara
2016-07-14T00:00:00Z
Our visit to Dublin at Fiona's house was wonderful. The home was in a great location - walking distance to great restaurants and grocery stores, and buses to downtown Dublin. Great notes on things to do. The house was perfect, with a nice kitchen and very comfy beds, and a gas fire for the stormy evenings. Fiona was incredibly kind and flexible on our checkout.
Doug and Katherine
2015-12-01T00:00:00Z
Fiona was at the townhouse waiting for us. She had kindly allowed us to check in early. This was so welcome after a long flight from Australia. There was plenty of information about Dublin and Fiona not only showed us around the townhouse but was also very helpful in what to see in Dublin and how to get around on the buses which are close by. Clontarf Castle is only 5 minutes walk away and I would recommend an evening meal up at the Castle. The townhouse is very comfortable and had everything we needed. Fiona supplied bread, milk and some fresh ham. The townhouse was in a great location, very quiet and it was nice to get away from the hustle and bustle of Dublin.
Ross
2014-08-21T00:00:00Z
Fiona was fantastic and the condo was amazing. Everything was easy and convenient and this condo sits in a great neighborhood.
Ryan
2015-07-21T00:00:00Z
We enjoyed our stay in Fiona's house. The house looks just like in the pictures. A beautiful location, quiet neighborhood. Communication with Fiona was excellent although we didn't meet personally. Her neighbor Martha was very kind to show us around upon our arrival. Fiona was really helpful with all our questions prior to arrival and once in Dublin. If you are looking on for accommodation in this area and want to feel right at home, look no further. Truly recommended!
Vesna
2014-10-01T00:00:00Z
Fiona's townhouse was absolutely great - extremly quiet and great beds - I slept like a log. Everything was there, well arranged and clean. Connection by bus to the city is fast with easy access (5 min walk to the busstop). Fiona is a lovely host, I thoroughly recommend her townhouse, we would stay again. We had a great time in Dublin. Thank's Fiona.
Martin
2014-06-03T00:00:00Z
Great host, made sure everything was ready and was there if we needed anything. Had welcoming snacks ready! Great location, near a bus stop, the sea and clontarf castle. We loved our stay and would recommend Fiona to anyone!
Leah
2017-02-20T00:00:00Z
Room Type
Entire home/apt
---
Property Type
House
---
Accommodates
4
---
Bedrooms
Dublin, Dublin, Ireland
My place is good for couples, solo adventurers, and business travellers. The house is a dormer bungalow and the bedroom and shower room offered are on on the first floor and completely private. Access is via a proper staircase. There are excellent transport links to Dublin city centre (10kms) and the beautiful seaside villages of Howth (7kms) and Malahide (10 kms). Dublin Airport is 11kms and Dublin Port 10kms. Dollymount Strand and the Bull Island nature reserve are within walking distance.
As the house is a bungalow all of the activity of it is on the ground floor so your bedroom and shower room are completely and absolutely private being the only rooms on the first floor. Note too that my house is only 30 seconds walk from the sea!
North East Dublin really is a beautiful area and the suburbs of Clontarf, Raheny, Sutton, Howth, Malahide and Portmarnock are special places. The sea is all around us as you can see from some of my photos. The area is choc-a bloc with restaurants, cafes and bars. Go to Howth and walk along the pier, climb to the summit or watch the fishermen come in with their catch. Go to Malahide, browse in all the little shops and visit the castle. In Portmarnock walk along the magnificent beach...you might even have it to yourself. Visit the Bram Stoker museum in Clontarf. Look at the beautiful old church in Raheny and walk from there down to see what creativity can do with the remains of a tree. Maybe even play golf in Sutton.....the possibilities are endless.....and that's before you even visit the wonderful city of Dublin, a quick train journey away on the Dart.
Mary was an amazing host! Super helpful and friendly! She made the trip so much more enjoyable. I highly recommend her as an Airbnb host!
Brandon
2017-03-20T00:00:00Z
We lived for one month in Mary's house and highly recommend it. It was a pleasure to stay with her, because she is such a nice and helpful person. Mary showed us everything in the area and even drove us to the next bigger grocery store as we had no car (but there are many little shops on the street as well). The house is beautiful, very clean and quiet and the private en-suite room has a really comfortable bed. Her little dog is very sweet and calm. The location close to the sea is gorgeous and there are plenty buses driving as well as the DART which allows you a quick drive to the city center and many must-see places like Howth and Bray. Thanks a lot for hosting us! Best regards, Melanie & Sebastian
Melanie
2017-03-12T00:00:00Z
We found staying at Mary's place very good both she and her daughter were very helpful. It was a very good location for us. It was spotless clean and everything we needed was there
Bridie
2017-03-27T00:00:00Z
I had a lovely time staying with Mary. The room was spacious and clean with my own private bathroom, lovely views from the sky window. The rest of the house was very beautiful as well. Mary laid out a nice breakfast for me each morning. The house is a stones throw from the coast where you can get easy access to Howth, Bull Island and in to Dublin city itself either by bus or by train. The perfect place if you want to be near the city but also lookign for a bit of peace and quiet. Mary was an incredible host, going above and beyond whenever she could. She was flexible with check in and check out, gave me a few lifts, great advice about the city and what to do. She was very welcoming and approachable but gave me plenty of space to get on with my own thing. It's the only place I will be staying in when I visit dublin again.
Vishal V
2017-03-25T00:00:00Z
Mary's place is wonderful and Mary is a great host. The room is very private and quiet as it is located upstairs. The room is decoratly tastfully and Mary even put a little welcome chocalate on the pillow. Breakfast was delicious with coffee, tea, toast, jam, fresh berries and juice being beautifully presented. I would recommend Mary's place highly.
Theresa
2017-04-02T00:00:00Z
Room Type
Private room
---
Property Type
Loft
---
Accommodates
2
---
Bedrooms
Kilbarrack, County Dublin, Ireland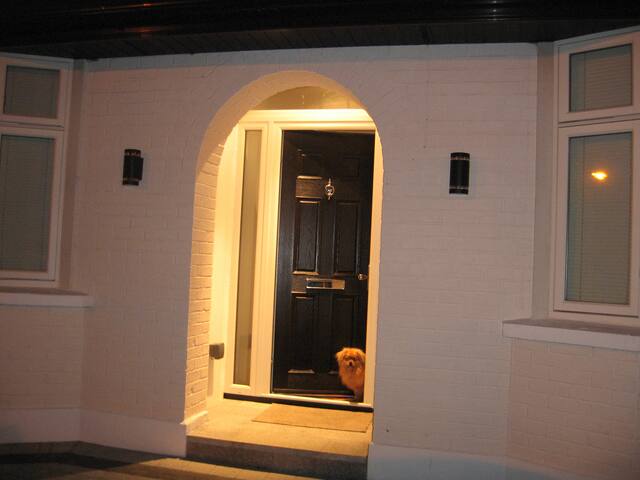 The Cottage is 10 seconds from the beach and 10 minutes from Dublin City Centre by car or 15-20 by bus. This is a unique location with wonderful walks on the island. There are several excellent restaurants a stroll away. You have the use of windsurfers, Kayaks and a Peco sailing dinghy for the water or bicycles for the 10k cycle path around the bay! We love to share this very special location with anyone that enjoys something out of the ordinary!
The twin bedroom available for €25 per bed per night would probably only suit families as the only bathroom is the ensuite through the double bedroom or an outside toilet!!
The choice of instant access to beautiful walks and scenery or buzzy city life!
The b&b was perfect, great cottage, nicely decorated and had all we needed, even more including bikes&kayaks for our use whenever we liked. There was milk, orange juice, milk, bread, bacon&eggs in the fridge so no shopping for breakfast needed. The cottage is at beatiful spot near the beach and also near city centre. Thank you so much, we had great stay!
Karolina
2016-08-30T00:00:00Z
Miranda is friendly and helpful! The location is absolutely marvelous, because both the city centre and the seaside are nearby. It's has been lovely to enjoy the peaceful surroundings of this location in a city like Dublin. Unique location!
Alinda
2016-08-03T00:00:00Z
We couldn't have asked for a more perfect place to stay! I booked Miranda's beautiful cottage for my family to stay in during their visit to Dublin. The cottage is lovely and is exactly as described, if not better! It is very homely, clean, and has all the amenities you need. It's in a great location, situated very close to the beach and not far from the city centre and public transport links. Miranda is a great host! On arrival she waited outside to welcome my family and had very kindly stocked the fridge with milk,and eggs etc, for their breakfast! There were bikes and kayaks available to use whenever they wanted which was a great way to explore and enjoy the local area and surroundings. Miranda was very helpful and kind and available to offer any help if needed. We would highly recommend staying at her cottage. It was just perfect! Thanks Miranda for such a wonderful experience and we look forward to staying again in the future :)
Juliette
2016-09-02T00:00:00Z
This is our nr1 in Dublin. The house is not big but the place is so lovely and the owner Miranda is SUPER. We enjoined our stay from the start (big storm and the Wooden Bridge closed) till the last minutes.
Bert
2017-02-05T00:00:00Z
Thank you Miranda we loved your place and look forward to staying there again soon. Everything was wonderful. .
Callista
2016-07-25T00:00:00Z
Miranda's cottage is one of only seven cottages on a small island accessed by a wooden bridge from the road. It is tastefully decorated and was a perfect place for our three night stay. There is parking outside, while back across the wooden bridge there are lots of places to eat and also a bus straight into Dublin. If you prefer, you can walk past the cottages, to the end of the road where there's a nice beach which is used regularly by the locals. The cottage itself is well set up. There are toiletries in the bathroom and in addition to tea, coffee and orange juice, Miranda left us bacon and eggs for breakfast which was a real treat. Miranda herself was lovely. There she was, out there with a smile and a wave when we arrived, making sure we we in the right place. After showing us around and chatting for awhile, she went home (next door) and I thought what a shame we aren't staying longer as I'd like to get to know her better. This is a place I would happily recommend without hesitation.
Geraldine
2016-08-23T00:00:00Z
This cottage was an excellent place for our honeymoon. The location is close enough to the bus stop, good restaurants and shopping centers that you can spend the whole trip without a rental car if you choose. The area that surrounds the cottage is very quiet in the evenings and is a spot that locals come to during the day because of the nice walking and swimming areas. The bed was very comfortable and having a washer and dryer was fantastic. I'd definitely recommend this Airbnb to anyone. It was one of the best Airbnb experiences we've had.
Alex
2016-09-19T00:00:00Z
What a fantastic and unusual cottage & location. Miranda was a great host, lots of information about places in the area and very welcoming & friendly. Quite how unique the location is, is very hard to describe but I know Dublin extremely well and this place surprised me. And so convenient for great restaurants & the city centre itself is just a short drive or bus away. Brilliant!
Philip
2016-11-14T00:00:00Z
Room Type
Entire home/flat
---
Property Type
House
---
Accommodates
4
---
Bedrooms
Dublin City, Dublin, Ireland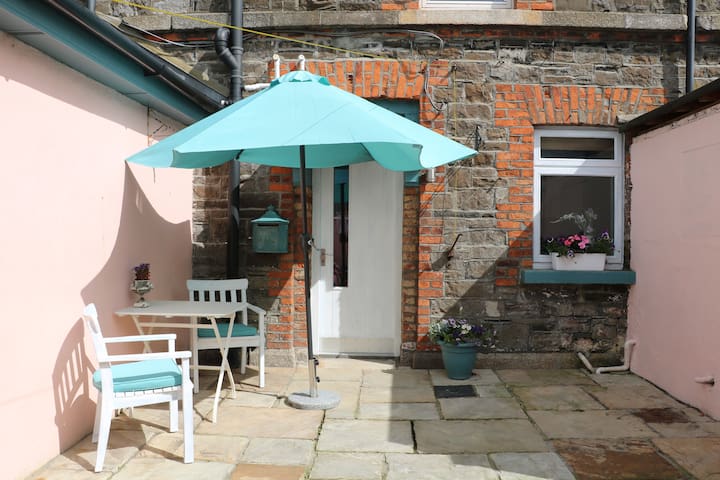 Five Lamps Suites is set in Dublin, 700 m from Croke Park Stadium. Convention Centre Dublin is 900 m from the property. Free WiFi is available throughout the property. Trinity College is1.4 km from Five Lamps Suites.Dublin Airport is 8 km away
The suites/apartments are furnished to a high quality standard, providing all the home-from-home comforts you will need. Each suite/apartment has a well-equipped kitchen with fridge, freezer, washing machine, dryer, microwave and hob/cooker. All utensils including crockery, cutlery, pots and pans are provided. The suites/apartments feature an open-plan kitchen/dining and living room. The lounge area comprises of a comfortable couch and armchair, coffee table, sideboard and 32" LCD television with 18 cable channels. High speed wireless internet is also provided in all apartments. All bedrooms have a king-size quality bed, large sliding wardrobe and chest of drawers/dressing table. The modern bathrooms have a combined bath and power shower. Bed linen and towels are provided and are changed as part of the weekly cleaning service.
There are plenty of amenities in the area, a short walk to Henry Street, Grafton Street Dublin's premier Shopping District, an abundance of Eateries, cafe's, Clubs and traditional Irish Pubs.
Room Type
Entire home/apt
---
Property Type
Apartment
---
Accommodates
4
---
Bedrooms
Dublin, Dublin, Ireland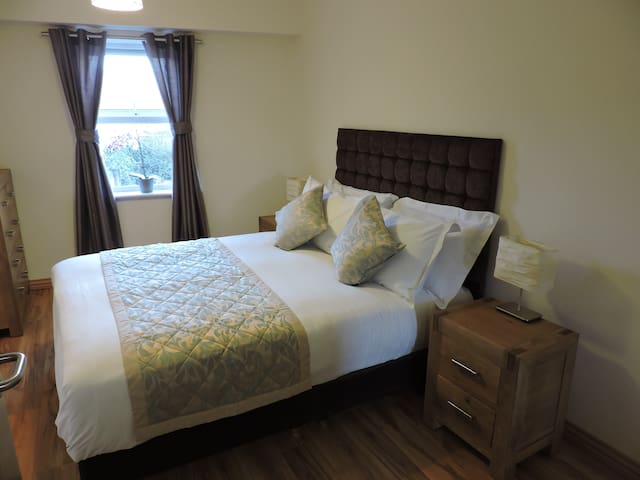 Coastal, Cosy & Luxurious King size bed in Private Room. Kettle, Teas & Coffee in room, Travel Cards, WiFi. Towels & toiletries, maps to city & area. Short walk to Train or Bus. City 25min - Airport 20min, Beach & Park. Bakery, Post Office, EuroSpar w/ATM, Italian Restaurant
Situated by the coast, Malahide + Clontarf castle & Howth. Airport+City 20 mins. Leap Cards provided for Rail+Bus great location for getting around. Coastal walks, Beach and Park on your doorstep. Laptop table, toiletries, towels, Free WiFi Comfortable and luxurious King size bed in Double Room. Towels, Laptop/Tablet table, toiletries, maps to city & area. Filter Coffee & selection of Tea's. Walking distance to Train & Bus for City & Howth. Green and leafy area. I provide 2 x Leap Cards for guests to use on DART, Bus and LUAS which saves you money, you just need top up at the DART Station for your journey's
Great location if you love the Coast! Quiet Neighbourhood. Promenade walk at the bottom of the street can take you to the beach and Park, where there are markets & cafe's. Or if you prefer a longer walk the other direction takes you to Howth a lovely fishing village with a host of Pubs, restaurants and fish n chips if you prefer the price point and dining Al fresco. It has its own market at the weekends. Malahide & Clontarf castle are a short distance away and can be reached by bus, Bus Stop is on the coast road. There is a local Spar, Post Office & Bakery 2 min's from the house. Local Dart station to either Howth or City Centre. Croke park en route or stay on to get to Landsdowne Road and onto Bray. Bus Stop to Howth, Malahide and City Centre.
The house and bathroom were spotless, it's a very warm, relaxed and welcoming atmosphere. Sandy is very friendly and helpful, and as other reviewers have said makes home made scones, which are absolutely delicious. Being a local, she knows the area really well and is very knowledgeable about local places to visit, some of which are not that well known. She told us about a lovely, wonderfully unique bar/restaurant called "The Bloody Stream" which was great. Would definitely stay again! Highly recommended.
Steve
2015-06-06T00:00:00Z
Great host. Made breakfast everyday. Super flexible.
Sajid
2015-11-05T00:00:00Z
Beautiful home, decorated nicely and warm. The room is spacious and clean, very nicely decorated as well. Lots of travel information about Dublin and Ireland. Sandy is helpful and a very nice person, her son Luke is lovely too. The daily breakfast is heart warming. Neighbourhood is safe and pretty, close by waterfront and good for a morning jog. Highly recommended to anyone going to Dublin.
Peter
2016-05-25T00:00:00Z
Sandy was very helpful, from our initial communications to the moment we left. She gave us concise and clear information on how to get from the airport to her house, how to get around in Dublin and even helped us move in to our new house half way across the city. The room was very comfortably and clean. As far as I recall it was exactly the same as stated in the advertisement. Sandy is a great host, who both my wife and I strongly recommend to anyone coming to Ireland. She is a friendly, helpful and generous person who is sure to make your stay a comfortable as possible.
Ullin
2015-05-21T00:00:00Z
Had a great few days at Sandy's place. Very clean+ had everything I needed. Sandy was very friendly +informative about what I could do+where to go.
Ros
2016-07-13T00:00:00Z
We had a wonderful time in Dublin staying in Sandy's house. She and her family are extremely welcoming and very helpful about anything. Breakfasts were always lovely and it was nice chatting with Sandy and Marc while eating! The room is nice as well and the location is great! Using the DART you get into the city center very easily and quickly. I highly recommend!
Johanna
2015-08-19T00:00:00Z
We had a lovely stay with Sandy. The room was amazing and Sandy did everything to make us feel home. We had everyday a fresh and very good breakfast and got a lot of good information about the city. I can highly recommand to stay with her, I would certainly stay there again.
Lisa
2015-06-30T00:00:00Z
Sandy and her son were lovely. Check-in was easy, as was communication with Sandy. The neighborhood is quiet with a few restaurants and shops within walking distance. There is a path along the water nearby that we didn't get to enjoy due to our schedule, but looks like a refreshing walk. Our bed was cozy, and the kettle and other basic amenities were perfect for a quiet evening in, as well as preparing our son's breakfast in the morning. Sandy was happy to help and answer any questions. She is very warm and welcoming.
Katie
2017-03-17T00:00:00Z
Room Type
Private room
---
Property Type
House
---
Accommodates
2
---
Bedrooms
Sutton, Dublin 13, Ireland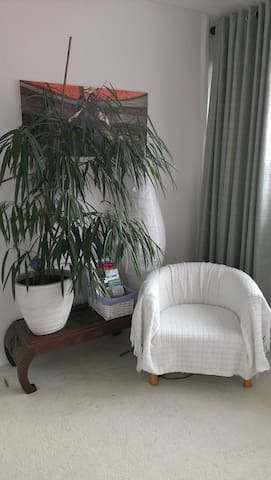 Very central to the city, 10 minutes away. Train and buses close by. Taxi only 15 minutes to airport. Plenty of local shops, pubs, hairdressers and restaurants within walking distance.
Really welcoming home to stay in and we felt very comfortable in our clean and spacious room. Would recommend to anyone.
Pamela
2017-03-16T00:00:00Z
Derek and Lesley were super nice and welcoming! They were very informative and their cat was really cute! Their house is very nice and room is clean and cozy. Very close to a dart station and not too far from city centre. They made us feel at home and made our stay in Ireland very nice! Would highly recommend!
Emma
2017-02-25T00:00:00Z
Derek and his partner Leslie went absolutely above and beyond what was expected of them. Very good communication, decent location and good value for money in Dublin. They are very helpful and also keen for a good chat which was really refreshing.
Sophie
2017-03-26T00:00:00Z
It was so nice to stay at Derek's airbnb. We had a lot of fun and the train to dublins city center is very close! Very lovely
Alena
2017-04-02T00:00:00Z
Derek and his wife are very helpful people and I definitely recommend staying at their place. Dublin's city centre is easily reached and the room is good as well.
Linda
2017-03-27T00:00:00Z
Great one word describes it sll
A
2017-03-06T00:00:00Z
It was great, thank you !
Vincent
2017-03-19T00:00:00Z
We highly recommend this accommodation. Derek, Lesley and Jess :) were really nice hosts, friendly and very helpfull. The room was cozy, clean and lovely decorated. We even got breakfast and a good cup of coffee. If we would come to Dublin again, we defenetly would stay here again!!
Alexander
2017-02-18T00:00:00Z
Room Type
Private room
---
Property Type
House
---
Accommodates
2
---
Bedrooms
Killester, County Dublin, IE, Dublin, Ireland
A lovely toasty room with everything you need for a stay. A comfy bed it's on the middle floor of the house and close to the bathroom. Breakfast is toast, juices, cereal and if you have any special needs like gluten free that's fine.
We are a family who hosted English language students people doing internships and people just traveling around Ireland to see the sights for the last 12 years. We don't have too many rules in the house just that you respect it's a family home. There is no curfew. Breakfast in the morning in the kitchen. Great value for your money you won't be dissapointed. Your room is a very comfortable single room (Size: 5.9m² (63.0 sqft). In your room you will find a TV, desk, internet access, mirror and a wardrobe. You will have access to a shared bathroom during your stay. We live 5 minutes from the train station on the North side of Dublin. It takes 10 minutes to get to the City Centre. It takes 10 minutes in a taxi from the Airport and we can arrange a pick up. We have the internet and cable tv. The rooms are very clean and well kept. We often host two- three people at a time, with some of them coming back to stay with us again. Our home has a relaxed and friendly atmosphere about it. We often have our students come back and stay again. Dublin has a vibrant nightlife and is reputedly one of Europe's most youthful cities, with an estimate of 50% of citizens being younger than 25. There are many places to eat an drink in the City Centre that we can recommend. Our home is comfortable and welcoming and we'd love to have you stay with us.
If we fancy a spot of history there's Clontarf Castle a walk away and the beautiful Malahide Castle a bus journey. When we want to get away from the hustle and bustle we have seaside village of Howth a ten minute trip on the train it's full of great fish restaurants and the famous seals who loved to be fed by everyone. There's live Irish music in the local pubs and great night spot Wright's if you like loud music.
Absolutely wonderful stay! Debbie and John are wonderful people and very accommodating. Thank you, Debbie, for the home cooked spaghetti and meatballs :) I highly recommend staying here if you want to stay in Dublin for a good price. Short ride on the Dart to the city center. Couldn't recommend these people more!!
Meghan
2014-07-14T00:00:00Z
I arrived at the house in the middle of a snow storm (which are apparently extremely rare) and Debbie welcomed me with a cup of tea. 1 hour later it was sunny. It was always a pleasure to talk to Debbie, the apartment is well located and the room is comfortable.
Julien
2015-03-07T00:00:00Z
Debbie was there to receive me at Dublin Airport. The moment I saw her I knew I was in Safe Hands. We reached her home and it was one the cutest, spik and span home I ever stayed. Beautiful Small Backyard to relax. and a very quite neighourhood. You cannot ask for more . A very clean bed with fresh sheets and four pillows and a very clean bathroom. Debbie is a perfrect host. Your breakfast is always ready on the table, well laid out. You have to ask and she has all the info for you to make your stay in Dublin a unforgettable expreince. Less than 5 minutes walk from the house and your are at the Train Station to take you to the city center. The best part is you are given the key to the house, and you just let in and let your self out, as if it is your own. Makes your holiday great. I spent six days at Debbies house AND DID NOT MISS MY HOME. John is great guy, clam and quite. Very Freindly. It was very difficult to say goodby to such a great host. I will be back with my friends , because now I also have a great friend In Dublin Debbie. Thank you Debbie and John(URL HIDDEN)
sunder
2015-07-01T00:00:00Z
Debbie and John were both very friendly and helpful during my weekend stay. It was my first time in Dublin and my first time using the Airbnb service. The house was not far from the DART and was in a nice, quiet area. They were always quick to offer advice or directions if I needed them. Overall a good experience.
Adele
2015-01-12T00:00:00Z
Debbie was fantastic, always welcoming. Thanks again for inviting me into your home.
Kris
2015-12-10T00:00:00Z
I really enjoyed my stay with Debbie, John and their family. They were very friendly and accommodating. They also gave good advice on where to go. The room was very clean and they had a wide selection for breakfast. I would definitely stay again!
Susan
2015-02-15T00:00:00Z
Debbie, John and Daughter (when present!!) Sarah were the perfect hosts! From a welcoming cup of Tea upon arrival, to excellent advice about local do's and don'ts, they always seemed to know when to help and how much space to give. The room was comfy and clean, and an orienting tour of the entire house gave me all the info I needed for a perfect stay!
Michael
2015-04-07T00:00:00Z
Debbie was great! She greeted me with a warm cup of coffee and was very helpful! I definitely recommend the place; great value. Only downfall that it was a bit cold during the day. But overall a nice old and cozy country house with two lovely pets! Thanks for the stay ;)
Tania
2015-04-03T00:00:00Z
Room Type
Private room
---
Property Type
House
---
Accommodates
1
---
Bedrooms
Artane, County Dublin, Ireland
This bright and spacious duplex apartment has two double bedrooms each with its own ensuite bathroom. You will be able to stay in my room which is the upstairs double bedroom/bathroom. There is also a sofabed in living room which my be used. My place is in the lively neighborhood of Grand Canal Docks close to The Marker Hotel Dublin, with several restaurants and supermarkets at its doorstep. You'll love my place because of its location, cosiness, spaciousness and brightness.
This place is very clean, comfortable and relaxing after a day all around the city. We spent a really nice stay there.
Elvire
2017-01-10T00:00:00Z
The host canceled this reservation 35 days before arrival. This is an automated posting.
julie
2017-01-18T00:00:00Z
Awesome huge apartment, close to everything by walking or DublinBikes, would for sure come back!
Steph
2017-01-01T00:00:00Z
Great value and a lot of space. Nice and quiet but not too far from the city center. We walked everyday. Everything you need, comfortable bed!
Kaila and Taylor
2017-01-15T00:00:00Z
Room Type
Private room
---
Property Type
Flat
---
Accommodates
2
---
Bedrooms
Dublin, County Dublin, Ireland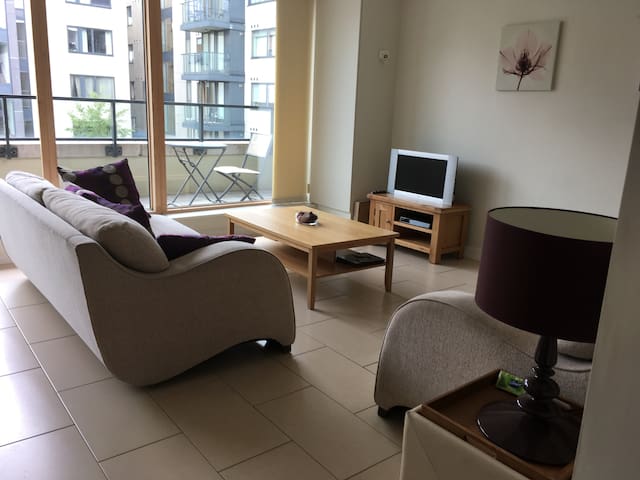 Enter dates to see full pricing. Additional fees apply. Taxes may be added.