- We have 3 dogs at home, they are sleeping in a separated room. - VERY CLOSE TO SKY AREA - "Ski Park Kubinska Hola" ! - Close to Oravsky hrad - Your room is on the first floor - no elevator - only stairs! - Free Parking (you can park inside the closed property), Free WiFi!
We stayed at Jana's parents house for just 1 night before going to ski at Kubinska Hola. Pleased by the atmosphere and hospitality. We spent evening chatting with the host and was even offered breakfast the next day. Definitely worth recommending.
Kajetan
2017-02-05T00:00:00Z
Jana's parents are golden people. Special thanks to Jana's mom who was such a great host!
Kamil
2017-03-15T00:00:00Z
We didn't meet Jana but everything went super smooth. Jana is very nice and she helped me a lot with the transportation to dolny kubin. Jana's dad picked us up from the train station. Her parents were extremely welcoming, and treated us as if their daughters. The last day when we left, we felt like leaving home... Their dogs are very friendly, clean, and doesn't smell. I was never so close to dogs! The made us awesome breakfast and even drove us around. I am sooooo thankful. The house is very beautiful and clean. We were able to communicate in german, and we had some long nice chats! This was one of the best airbnbs I've every stayed in!! I would definitely come back again!
馨
2016-12-22T00:00:00Z
All round 5 stars! Luxury house, and most important, nice Family! They even provided breakfast! Thanks Jana for receiving us!
Paulo
2016-12-30T00:00:00Z
great! :)
Martin
2017-02-12T00:00:00Z
really nice person with a nice family. thank you for all.
Piermario
2016-08-13T00:00:00Z
Very nice place to stay, super friendly and nice hosts, beautiful house, very close to Kubinska Hola Ski Park which we liked a lot too. Only positive experience!
Alexey
2017-01-20T00:00:00Z
On our roadtrip we stayed mostly at Airbnb rooms, I can honestly say this was one of the most hospitable places. Jana herself wasn't at home, her parents were. they were very kind and although they just know the basics of english/german language, it was very easy to communicate with them. directly after arriving They gave us some beer and snacks, which was very kind. They also made some breakfast in the morning. they also gave much information about the surrounding area. furthermore, the house had a great bath, the dogs were very nice (and stayed downstairs so they wont bother you at night) and it was really close to the Orava Castle. Although Jana wasn't at home, she called when we arrived and asked if anything was alright and if we had any questions. Would definitely recommend this room.
Dylan
2016-07-18T00:00:00Z
Room Type
Private room
---
Property Type
House
---
Accommodates
2
---
Bedrooms
Dolný Kubín, Slovakia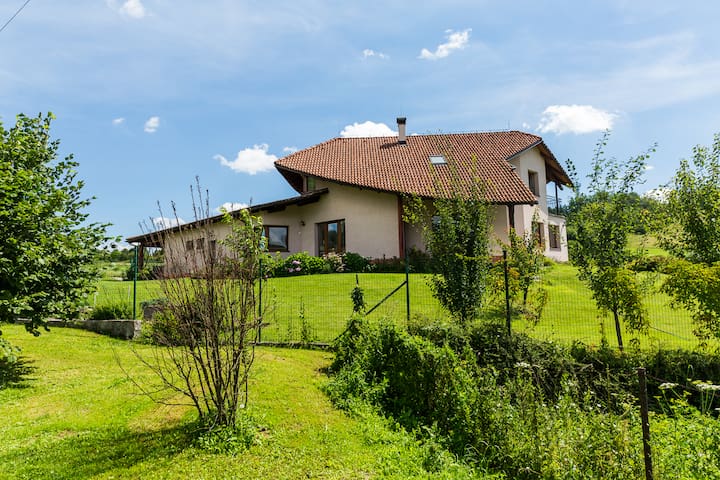 My place is close to Restaurants, parks and the church. It is also close to the mountains, which have terrific trekking routes for those who enjoy nature. The Orava river crosses the town and is ideal for kayaking. Very quiet, family-friendly neighborhood The living room where you'll be sleeping has two comfy sofas which both of them can be pull out and become a double bed. My place is good for couples, solo adventurers, business travelers, and furry friends (pets). 30 min. to Poland
The room you will be using is the living room. It has 2 big pull-outs sofas that become double beds when opened (bed-sheets and duvet provided). If you come with a friend, you can choose to share a bed or each sleep in separate sofa-beds.
This is a quite, family-friendly neighborhood with little shops and cafeterias.
Me and my girlfriend had great time in Carolina's place. Carolina is very nice, communicative and friendly person. The room where we were is nice and comfortable, dog was cute and friendly, we had no problem with her. We recommended to everyone who want to stay in Dolny Kubin to stay in Carolina's place, you will not regret it! :)
Ondrej
2017-02-19T00:00:00Z
very nice place to stay, and even better meeting with the hosts! :) we didn't expect such a warm welcome with cake and wine ;) and 3 minutes walk to the best pizza place in Slovakia!
Konrad
2017-01-29T00:00:00Z
Room Type
Private room
---
Property Type
Apartment
---
Accommodates
2
---
Bedrooms
Dolný Kubín, Slovakia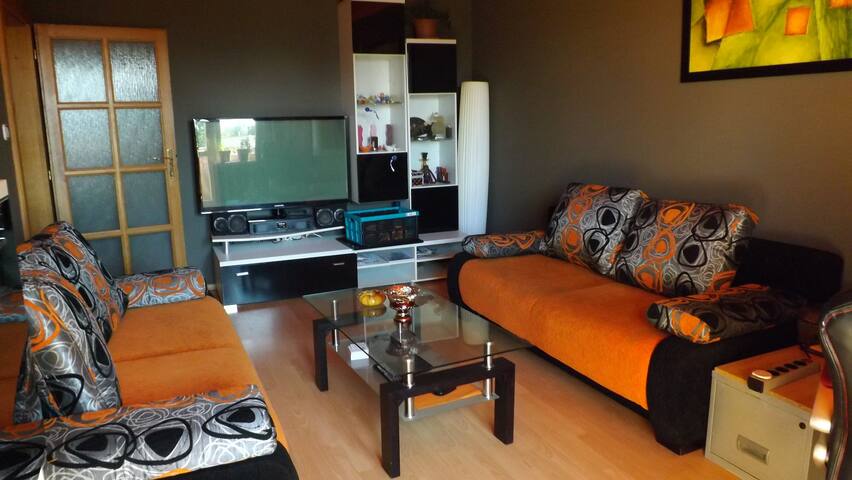 You'll love this place because of its location, home made food, hearty breakfast, its close vicinity to trekking trails, Kubinska Hola Ski park, Aquapark in Dolny Kubin and lots of other things to do and see nearby. My place is good for couples, solo adventurers, families (with kids), and big groups.
The guests may use sauna in the house for additional 10 EUR. The house consists of 5 individual bedrooms, shared kitchen and TV room with balcony. 1st room has its own bathroom that can host 4 persons (suitable for a family), 2nd room with king size bed and single bed sharing bathroom with 3rd room with king size bed. There are also 2 attic rooms sharing one bathroom, each attic room can accommodate up to 5 persons.
Mountainous countryside close to Kubínska Hola Ski Park, Aquapark Dolný Kubín, thermal spa Lúčky, Oravký Hrad castle, Orava river rafting...
This was great! Very friendly women with nolage about the region. Even all the breakfast were region products. A lot of them home made like yoghurt and milk from own cows fruit from own garden. She made very fresh marmalade from it. Hmmmm! Beautiful sightseeing and again luba is fantastic person always wanting to help.
Eveline
2016-08-06T00:00:00Z
It was a great pleasure to be in Luba's home , it's a family pension, the room comfortable and clean. She and her daughter are super kind and friendly, they recommended us a really good restaurant where we had traditional Slovakian dishes. Thanks Luba!!
Mercedes
2016-07-18T00:00:00Z
Luba was a wonderful hostess. She operates a hostel with many rooms. Fortunately this is the slow season and we were her only guests. We stayed in a room with a private bathroom but many of her rooms have shared bathrooms so make sure you check if you are looking for "the entire place". Also, the kitchen is shared space also. She is situated in a rural area with a brook running in front of her house and a green hill in back of the house. She will even cook for you if you need. We had a wonderful stay
Ernest
2016-08-03T00:00:00Z
Luba and her daughter were so friendly. We had a lot of questions about the neigborhood. The weather was perfect and they recommended to go to a lake 'Sutovo', a 20 min drive and we loved it!
Lies
2016-08-26T00:00:00Z
It was great to be a guest at Lubas place. Its good for connecting with other guests. I loved the breakfast together and small talks later in the evening.
Tomas
2017-02-24T00:00:00Z
Very nice place and welcoming host. Easy communication.
Žygimantas
2016-07-27T00:00:00Z
Het appartement is ruim en schoon. Gelegen in een rustige omgeving. Luba en haar dochter Susan zijn ontzettend vriendelijke en behulpzame gastvrouwen. We voelden ons erg welkom en komen graag weer eens terug :)
Chrissy
2016-07-09T00:00:00Z
Dobrý den, moc děkujeme za příjemný pobyt a tipy na výlety, dojeli jsme v pořádku a poslední den pobytu se počasí vydařilo, vyšli jsme na Malý Kriváň a měli krásné výhledy. Děkujeme :)
Tomáš
2016-08-14T00:00:00Z
Room Type
Private room
---
Property Type
Bed & Breakfast
---
Accommodates
5
---
Bedrooms
Dolný Kubín, Žilina Region, Slovakia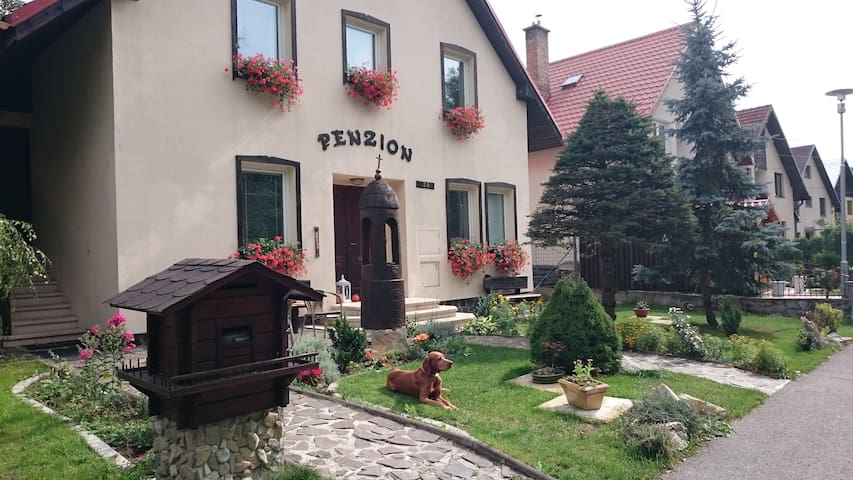 Nice and clean apartment with nice view to the city of Dolný Kubín. It is located near the nice nature of Orava region. Apartment is completly equiped for comfort staying.
Nice and clean apartmen with nice view and balcony in Dolný Kubín the centre city of regionbcalled Orava.
I love living in Dolný Kubín and i can do some small trips to the place that i like.
Room Type
Private room
---
Property Type
Apartment
---
Accommodates
2
---
Bedrooms
Dolný Kubín, Slovakia, Slovakia
Strešný slnečný mezonetový 4-izbový byt v Dolnom Kubíne o rozlohe 140 m2 s panoramatickým výhladom na mesto a Kubínsku Holu na 3 poschodí. V byte sú použité nadštandartné kvalitné moderné materiály: rohová vaňa, sprchový kút, bidet, sklobetón, úsporné podlahové vykurovanie v podkrový, drevené točité schodisko s antikorovým zábradlím, luxusná kuchynská linka, bezpečnostné protipožiarne dvere. V byte je plávajúca podlaha + podlahové vykurovanie ( dlažba v kuchyňi, chodbe, kúpelni).
Room Type
Entire home/apt
---
Property Type
Guest suite
---
Accommodates
2
---
Bedrooms
Dolný Kubín, Slovakia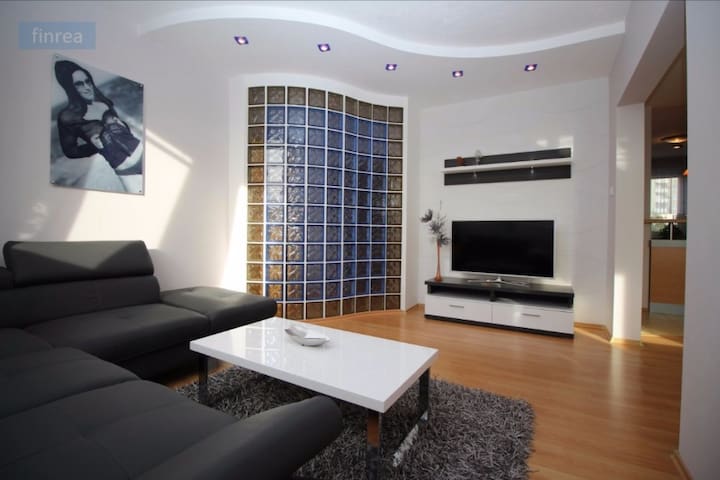 Rodiinny dom, v ktorom najdes 4 spalne, 2 kupelne, kompletne vybavenu kuchynu s umyvackou riadu, a priestrannu obyvaciu izbu. V dome je zabezpeceny pristup na internet a tiez kablova televizia. Z domu je to blizko do meskeho aquparku, do lyziarskeho strediska Kubinska Hola. V sirsom okoli sa na chadza Oravsky hrad a kusok je to aj do Rohacov. Kazdy si tu najde to svoje.
Room Type
Entire home/apt
---
Property Type
House
---
Accommodates
7
---
Bedrooms
Dolný Kubín, Slovakia
- 3-room apartment with 7 beds and all the necessary equipment - beautiful surrounding - mountains, forrests, sport and relax opportunities, hot springs, castles,
- restaurant and bar (100 m) - sporting facilities: summer and winter stadium
Room Type
Entire home/apt
---
Property Type
Apartment
---
Accommodates
7
---
Bedrooms
Dolný Kubín, Slovakia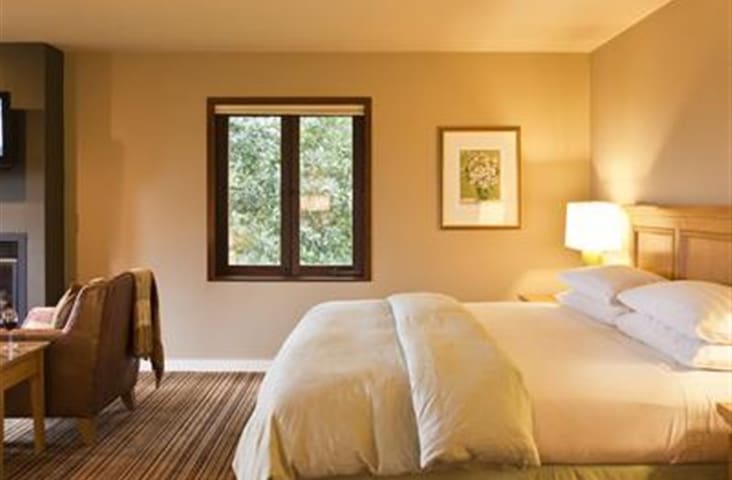 The apartment offers two bedrooms and a living room. It is available for 4 guests with possibility of extra bed/cot.The apartment is equipped with fireplace, kitchen, bathroom with toilet and bath.
Our guest home consists of 3 luxury nature surrounded apartments that offer relaxation, peaceful rest and various acivities . It's a perfect getaway for couples, families or those who prefer activities such as hiking and skiing .
My friends and I truly enjoyed our stay at Jasmina's beautiful apartment. This 2 bedroom apartment easily fit 5 of us--2 in each bedroom and 1 on an air mattress in the living. The apartment was spotlessly clean; the beds were firm and comfortable; and the internet connection was strong (which was very important to us). The apartment is chic and modern, and appears to have been recently remodeled. Also, from the balcony, there is a nice view of the Tatras! Although it's more comfortable to take inexpensive taxis everywhere, my friends and I managed to walk to the grocery store (about 20 minutes) and a local restaurant (about 15 minutes). Most importantly, Jasmina is a fantastic host. She is kind, incredibly helpful, and very accommodating. She called taxis for us all weekend, helped us navigate the town, and happily let 7 American celebrate Thanksgiving in her beautiful apartment!
Annie
2014-12-01T00:00:00Z
Pension Emilia was the perfect resting stop for our family after many days of travel. The apartment is absolutely spotless, and the children were able to enjoy all the toys and outdoor space, which allowed the adults a few quiet moments to relax! There is parking just outside the front door, and the neighborhood is peaceful and secure. The owners were welcoming and attentive, and the surrounding area offers some very nice places to visit and dine. Pension Emilia is an ideal place for families during travels through the beautiful countryside of Slovakia.
Kevin
2016-06-03T00:00:00Z
Great place to stay for familly. Clean, well equiped and calm appartement in quiet part of the city. Owner very helpful and discrete. Better to have a car to reach city center or any other attractions. I strongly recommend.
Paulina
2017-02-24T00:00:00Z
Just a really lovely place. We. Much enjoyed being there. All very good
Harry
2016-07-15T00:00:00Z
The host was great and very welcoming! She helped us with everything we asked and we felt like staying with family. I highly recommend Penzion Emilia if you are looking for a nice place in the Tatra area. I came with my little boy and The place was perfect for children/ It has toys, a baby's nob and a tub.
Efi
2014-08-28T00:00:00Z
Skvele ubytovani s kompletnim zazemim. Vyziti i pro deti na zahrade. Pisek, houpacky, prolezacky.
Martin
2015-07-13T00:00:00Z
Room Type
Entire home/apt
---
Property Type
Apartment
---
Accommodates
4
---
Bedrooms
Ruzomberok, Slovakia, Slovakia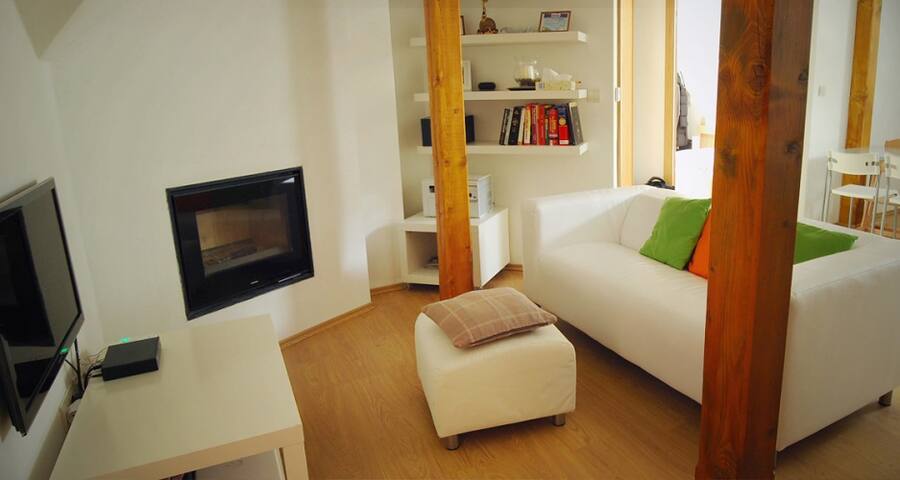 My place is close to nightlife, public transport, in city center, parks, and the Poprad airport. Skiing resort Malino Brdo-round the corner, spas Gothal, Besenova,Tatralandia, hiking opportunities, Liptovska Mara lake, Gallery of Ludovit Fulla. You'll love my place because of hospitality, billingual home (ENG/Slovakian), original artistic interior, warmth, location, the views, the high ceilings, the coziness, the people. My place is good for couples, solo adventurers, and families (with kids).
Come and see!
Mountains, lake, historic town centre, Gallery of Ludovit Fulla.
Zuzana's place was absolutely lovely, with close proximity to everything you need - the train/bus station is a 10 min walk, the city centre with restaurants & cafes is a 5 min walk and the nearest grocery store is literally around the corner. The purpose of our trip was skiing in Malinô Brdo - we didn't have a car but there is a free skibus going up to the mountain and the bus stop was a 2 min walk from the apartment, which was super convenient. The room was huge and everything was very clean. Zuzana was very responsive to messages (and always gave us tips/suggestions for getting around Ruzomberok). The place is decorated in a very unique, yet super cosy way. We had full access to the common areas and Zuzana even gave us keys to the basement where we could store our ski gear. Would definitely recommend!
Emma
2017-02-15T00:00:00Z
Zuzana is very kind, generous, open minded and cares greatly about the well-being of the hosts. She has two lovely children who are naturally curious about guests. The apartment is very close to the train station and the town centre.
Gaudenz
2017-02-25T00:00:00Z
Milí cestovatelé, pobyt u Zuzky vám velice doporučujeme. Je velice milá a vstřícná. My jsme se u ní cítili opravdu jako doma, pomohla nám se vším, co bylo potřeba. Město a okolí je velice zajímavé. Jestli máte cestu tímto směrem, tak neváhejte...Zdraví Jiráskovi
Petra
2017-03-09T00:00:00Z
Room Type
Private room
---
Property Type
Apartment
---
Accommodates
3
---
Bedrooms
Ružomberok, Slovakia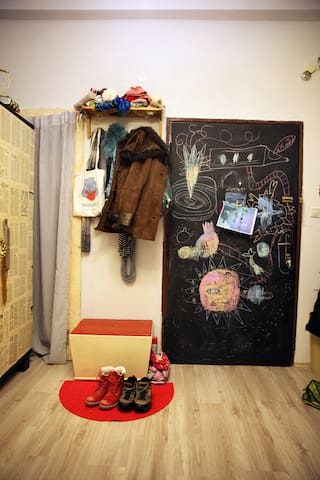 Pôvodný dom s novým interiérom. Nachádza sa v centre malej dedinky na Liptove, hneď pri rieke Váh. Vynikajúce východzie miesto pre lyžovanie, turistiku, termálne kúpaliská, rybolov, cykloturistiku. The original house with a new interior. Located in the heart of a small village in Liptov region, by the river Vah. Excellent starting point for skiing, hiking, thermal baths, fishing, biking.
Obec medzi Západnými Tatrami, Veľkou Fatrou, Nízkymi Tatrami a Chočskými Vrchmi. Autom do Jasnej na lyžovačku a večer relax v termálnej vode v Bešeňovej. Vyskúšať si voľný pád v Hurricane Factory a potom tobogány Tatralandie. Rybačka na jednom z najlepších revírov v Európe priamo pred domom. The village between Western Tatras, Great Fatra, Low Tatras and Choc mountains. By car to Jasna for skiing and in the evening relax in the thermal water of Besenova. Try a free fall in Hurricane Factory and then waterslides in Tatralandia. Fishing in one of the best grounds in Europe, right in front of the house.
I recommend to all who choose to go skiing. Close to Jasna. Quiet and clean place. Whole group was very satisfied! :)
Dariusz
2017-02-21T00:00:00Z
Room Type
Entire home/apt
---
Property Type
House
---
Accommodates
4
---
Bedrooms
Ivachnová, Slovakia
The room in the back of the house is located in a single-level house with together two small apartments, sharing a common entrance. In either case, the privacy for the occupants of both apartments is guaranteed. Family friendly.
I'm on a rather extended trip around Europe and got sick so I needed a place to stay for a few days while I got better. I picked the perfect place, up in the mountains of Slovakia! The apartment has everything you need and makes an excellent base to explore the nearby peaks. Would definitely recommend!
Jim
2016-09-12T00:00:00Z
We had a fantastic time, very nice place, clean and tidy. The host Peter was very kind and helpful. He loved our dogs :) Thanks for the hospitality!
Istvan
2016-06-18T00:00:00Z
I had a great stay in this lovely apartment. Communication was quick and helpful. The apartment is small, but really cozy. Location in a small village outside of Liptovsky Mikulas. Nice restaurant only 300 metres from the apartment. I will recommend this to everyone interested in a vacation in the Slovakian countryside.
Dennis
2016-03-14T00:00:00Z
Everything was okay and wonderfull the place was calm,warm,comfortable and fully equipped
Monika
2016-01-23T00:00:00Z
Highly appreciated for perfect stay in your apartment! Thanks for prompt replies and excellent service. Best wishes in 2016 and see you again!
Vladimir
2016-01-01T00:00:00Z
The host were amazing, even that there was a misunderstanding with the dates from my side, they manage to receive us the best way as posible. I definitely recommend this place is you're into winter sports or natural, just a few minutes from the mountain and the ski place.
Choche
2017-01-07T00:00:00Z
This is a very nice self contained apartment, basic but it has everything you may need. There is a good strong warm shower. In the kitchen unit there is a sink, electric hobs, fridge (with small freezer cabin), microwave and pots, pans, plates, cutlery, mugs... all you may need! It is clean and tidy and the heating works well. The hosts are very easy to contact and always very helpful and give good responses. We used this location as a base to ski at jasna but my advice to future travelers is that it is a little too far from jasna unless you have a car. It takes over 1 hour with 2 buses to go to jasna by public transport. If you have a car then it takes about 30 mins. However, for beginers there is a small ski station with 1 chairlift, 2 button lifts and 4 runs within 5 mins walk.
Rhys
2017-01-20T00:00:00Z
Staying at this flat was a great experience. I stumbled upon it while driving through Slovakia, and then found out that it's close to a ski hill so went for a ski the next day. The room is nice and private and clean. I would definitely recommend this flat.
Vincent
2016-03-05T00:00:00Z
Room Type
Entire home/apt
---
Property Type
Apartment
---
Accommodates
3
---
Bedrooms
Závažná Poruba, Žilina Region, Slovakia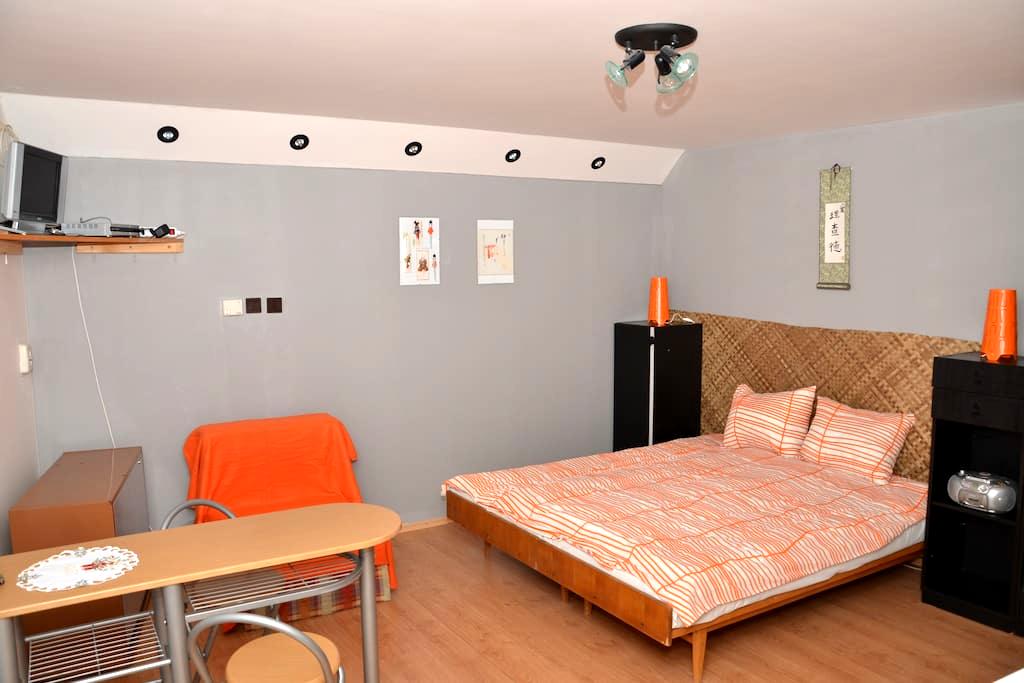 Brezko's house with gorges garden 15 min. walk from the center of Lipt. Mikulaš on the way to Jasna - Demänovská dolina, near by highway. Kaufland, Tesco, MacDonald within 7 minutes walk. Bus stop to Jasna ski resort within 3 minutes walk. Tatralandia Aquapark 5 min by car, 25 min by bike. Backcountry Guide (winter, summer), bike rental, kayak rental, garden BBQ, great company available any time. Languages spoken: slovak, russian, english, chinese, polish, česky samozřejmně ;)
We stayed on Brezko's home for 4 days. Martin is friendly and open-minded person. He invited us very well and showed everything, we could use whatever we needed. Our room was spacious, clean and cozy, we felt there very comfortable, just like in our house and really enjoyed our time there. He has a lovely garden with two cute cats. The location is near by to Tatralandia - 10 min drive by car and even closer to shopping center so it was just perfect for us. We recommend Martin's home as a nice place to rest and relax.
Rafał
2016-08-14T00:00:00Z
Martin's house is a really friendly place to stay. It was really clean and located in a nice, quite neighbourhood. Martin as well was really friendly and helpful. And for those who love cats, he has also two really cute cats. ☺
Sara
2016-08-29T00:00:00Z
Martin picked us up from the train station and was very informative and welcoming. he told us about the area, and gave us a good hiking map. the place was clean and comfortable, and the cooking facilities were good. Only a few of the pans worked with the induction stove, but no worries. Overall we had an enjoyable stay and would recommend.
Jarrah
2016-08-07T00:00:00Z
Everything is fine... you get what you paid for and this is good budget place for a stay.
Kenny
2017-02-05T00:00:00Z
Many wrong points on this listing: 1. Ask the host before coming whether you will get the listed room because we got a completely different room (approx. 2-3 times smaller). When I asked why we were not given the listed room, I was told that it was because of the pricing (so that during holidays we would have paid 2x for a normal room, so we got a "discount" with a small room). That is not a logical thing to say considering that I booked the listed room and not some other room so I expected to get what was listed. If you can't provide the listing, better inform the guests during the booking so that they are not deceived. 2. Another point was WiFi - as somebody else wrote, the connection was barely working. I managed to connect with laptop but no connection on brand new Samsung Galaxy S7 and spotty connection with Samsung Galaxy S7 Edge. We arrived on Tuesday evening, informed Martin about this in an hour or so, he said it should be fixed by Friday evening but nothing has improved. We were later told it should be fixed the day before leaving but it also was not working later, the connection even worsened. I even asked whether we can use some public space in the house to maybe come closer to router and get a better connection and was informed that I can access the common area only. Which brings me to another point - 3. If your guests can't access some areas of the house, why would you put the pictures of these areas (i.e. fireplace etc) in the listing? 4. From the listing I was expecting to share the house with Martin and his cats, but it appears the place is more like a hostel - with 3 other rooms being rented out at the same time. Not much fun when you have to share a single bathroom in the morning between up to 8 people.
Auridas
2017-01-03T00:00:00Z
We had a great time all was very good only downturn was one bathroom with toilet for 4 rooms which could get pretty busy in the morning before hitting slopes but it wasn't a big deal for us. Considering the price it is great value for money!
Dawid
2017-02-20T00:00:00Z
Martin is a very nice host. And the location is great.
neta
2016-09-04T00:00:00Z
Clean and quiet. A great place for the price when you want to hike around the amazing mountain region. Also, Brezko is a kind and helpful person, and a great host. I really liked my stay—thanks!
Piotr
2016-10-04T00:00:00Z
Room Type
Private room
---
Property Type
House
---
Accommodates
3
---
Bedrooms
Liptovský Mikuláš, Slovakia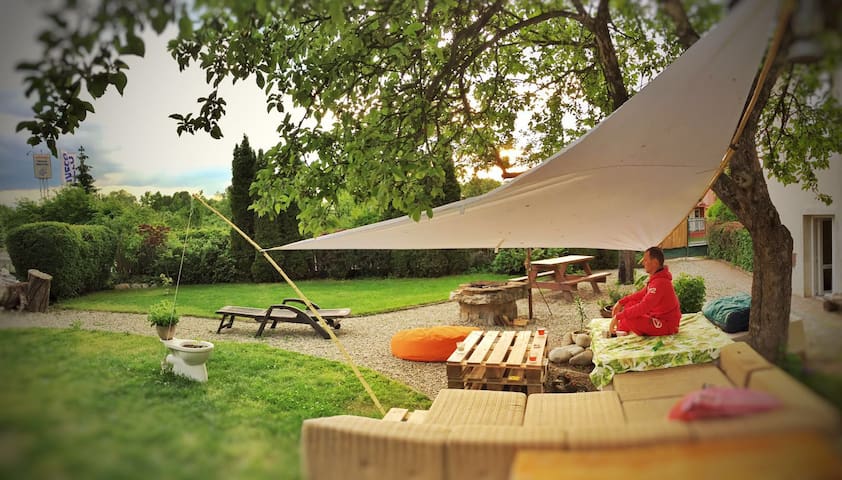 Jednoizbový apartmán na treťom poschodí apartmánového domu s balkónom na sever. Nastaviteľné elektrické podlahové kúrenie. V predsieni skriňa, v izbe manželské lôžko, rozkladací gauč, TV, stolík a 2 stoličky, barový pult a 3 barové stoličky, kuchynský kút so sklokeramickou dvojplatničkou, malá chladnička, mikrovlnná rúra, rýchlovarná kanvica, základné vybavenie na varenie a stolovanie. Na balkóne sedenie pre 2 osoby. K apartmánu prislúcha aj malá pivnica na odloženie kočíka, bicykla alebo lyží.
Hrabovská dolina - Veľká Fatra.
Room Type
Entire home/apt
---
Property Type
Apartment
---
Accommodates
4
---
Bedrooms
Ružomberok, Slovakia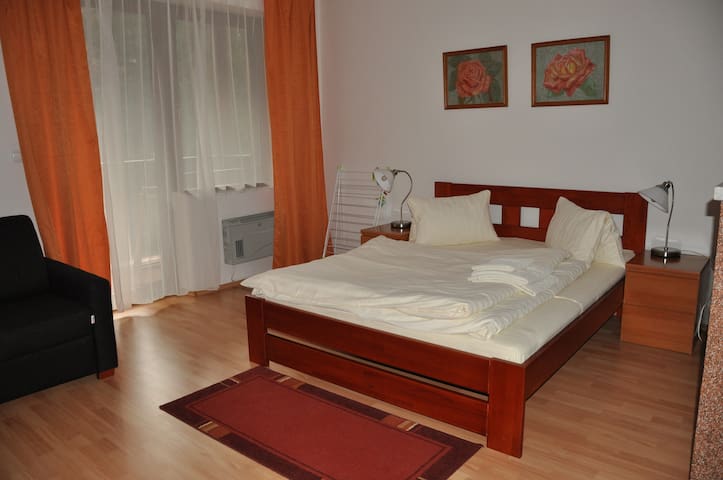 It's me close to Tatralandia 1 km, 1 km Liptovská Mara, Liptovsky Mikulas 1 km, 15 km Clear. My accommodation is great for couples and solo travelers.
The host canceled this reservation 9 days before arrival. This is an automated posting.
Татьяна
2016-09-27T00:00:00Z
Nice place. If you compare price to the standards it is great.
Cezary
2017-02-26T00:00:00Z
The place was according to the photos, clean, the host Peter was very nice.
Alexandra
2017-03-02T00:00:00Z
Peter's apartment was clean, spacious, warm with all the basics and more for a pleasant stay. Would definitely come back.
Thomas
2017-02-19T00:00:00Z
Pěkné ubytování blízko Tatralandie. Výborný kontakt i komunikace s majitelem, příjemné jednání, pěkný světlý pokoj, vybavení ke stolování (mikrovlnka, varná konvice, nádobí ...), čisto a teplo :-) . Děkujeme. Jednoznačně doporučuji ostatním.
Radek
2016-09-25T00:00:00Z
Ubytovanie bolo veľmi čisté, pekné a v príjemnej lokalite, takisto aj komunikácia s hostiteľom bola veľmi dobrá. Určite odporúčam.
Alžbeta
2016-10-23T00:00:00Z
Pobyt sedel s fotkami, pan bol velmi prijemny, odpisoval na spravy a komunikacia bola vyborna aj cena privetiva, poradil nam aj cestu do Tatralandie. Cez noc bola trocha zima.
Martin
2016-12-18T00:00:00Z
bol som spokojny
Ľuboš
2016-12-09T00:00:00Z
Room Type
Private room
---
Property Type
House
---
Accommodates
2
---
Bedrooms
Liptovský Mikuláš, Slovakia
Spacious private room ( 20 m2 ) contains two single beds, tv, table, chairs, wardrobes. Very cozy and light room, in a quiet neighborhood, close to the town, supermarket, restaurants and also nature! Ski resort and wellness is near. Priestranná samostatná izba pozostáva z dvoch postelí, televízie, stola, stoličiek a úložného priestoru. Je veľmi útulná a presvetlená, nachádza sa v tichom prostredí, blízko do mesta, supermarketu a reštaurácii a takisto do prírody! blízko wellnessu a ski resortu
Quiet, light and cozy spacious room ! In a great location, close to anywhere, just choose what you like: skiing, swimming, hiking, climbing, cultural sightseeing? Everything is soo close ;)
Quiet neighborhood and very close to the nature, you can walk everywhere. 25-30 mins by walk from train/bus station and by taxi is 5 mins, 15 mins by walk to city centre, 5 mins by walk to Tesco store, 20 mins by walk to Hrabovo lake. Swimming pool and wellness 5 mins by walk.
Perfect host! Karolina is open and accessible! She will give you good advises on were to go and eat! And she baked a delicious cake =)! The location is 20min walking distance to a nice Lake, however a car will take you to other nice places around!
Simine & Daniel
2016-08-01T00:00:00Z
Really large room in a spacious apartment with everything you could ever need. Karolina did an excellent job organising our stay despite being away from home, and her mum did everything possible to help us despite not speaking any English. Comfortable and great value, would recommend to anyone.
Luke
2017-03-17T00:00:00Z
Place was OK, communication with Karolina without any problems, so we had adequate stay for that price. If you have sleeping problems, be careful, the second bed hasn't good madrace. If you are looking for nice place with good price, this one is fine.
Ivana
2017-04-07T00:00:00Z
Bei Karolína verbrachten wir eine ruhige und erholsame Nacht vor unserem Aufstieg auf die niedere Tatra. Dankeschön!
Julia
2016-08-18T00:00:00Z
Przestronny czysty pokój " przy rodzinie " ze wspólną łazienka i kuchnią. Idealne miejsce dla tych , którzy czynnie spędzają czas: blisko do stacji narciarskiej Malino Brdo , Tesco kilka minut pieszo, kilka kilometrów do gorących źródeł Kupele Lucky i Besenowa. Kontakt z Karoliną błyskawiczny i bezproblemowy. Serdecznie polecam !
MAŁGORZATA
2017-02-05T00:00:00Z
Room Type
Private room
---
Property Type
Apartment
---
Accommodates
2
---
Bedrooms
Ružomberok, Slovakia
Welcome in our beautiful modern apartment in the center of Liptovsky Mikulas town (1 min by walk). We provide private guest room with balcony. The equipment (kitchen, bathroom, living room) of the flat is shared with us. The flat has a beautiful bathroom, fireplace in living room. Our apartment is a great place to enjoy the city center, Aquapark Tatralandia and also a great starting position for skiing - Ski Resort Jasna 16 km. Ski bus stop only 2 min by walking. Bike path 400 m.
We offer a very nice accommodation in our apartment in the centre of Liptovsky Mikulas town with beautiful bathroom and fireplace in living room. Liptov area is very popular tourist region. You can enjoy the Jasna ski resort, thermal aquapark Tatralandia, natural caves, hiking in mountains, a lot of cultural monuments, good food and many many others. We will love to help you with recommendations.
SKI RESORT JASNA – is the biggest ski resort in Slovakia with the best natural conditions for skiing and snowboarding. It offers over 49 km of perfectly snowed up slopes different difficulty from beginners to advanced skiers. AQUAPARK TATRALANDIA -14 pools with sea, thermal or pure water; 26 tubes and slides, attractions; surf waves, ... HURRICANE FACTORY TATRALANDIA is the only aerodynamic tunnel in Slovakia and in the wider area. You can try there how it feels to fly and float. AQUAPARK GINO PARADISE Besenova is built on the hot springs of the thermal waters. Many pools with thermal water (26-39 °C), tubes, slides and water attractions.
Great clean and modern apartment in the town centre with easy access to all that the area has to offer! Dominika and Ivan were great hosts, easy to talk to and gave us lots of good advice on where to eat, drink and get the equipment we needed for our week on the slopes. Would recommend to anyone.
Ennis
2017-02-26T00:00:00Z
Ivan and Dominika showed us so much of kindness and hospitality! They Are literally the nicest people. Even though we had some problems with finding the address They went extra mile to help us with getting there. Their apartment is beautiful and super clean, facilities Are awesome, you get everything you need. Beautiful mountain view from the kitchen with delicious coffee in the Morning was definitely the highlight of our stay. I wish every host on Airbnb was as great as Ivan and Dominika Are! Thank you for everything!
Aleksandra
2017-03-19T00:00:00Z
Very open, friendly and polite hosts. Apartment like in 5* hotel or just like in mommy home. I fully recommend it ;)
Wojciech
2017-02-11T00:00:00Z
Ivan was an excellent host. He has a great apartment which is situated in a very good location. He is very knowledgeable about the area and was more than willing to offer helpful advice. I would definitely stay at his place again. I strongly recommend anybody to stay here.
Hugh
2017-02-12T00:00:00Z
We had a very good time. Location is great, apartment is extremely clean, pretty, and well-furnished; location is short walking distance from both train station and down-town; hosting was very friendly and we had a good time. Would definitely recommend! :)
Sella
2017-02-19T00:00:00Z
We had a really nice stay at Dominika's and Ivan's place. The apartment is nicely renovated, you can find there everything you need. The location was also convenient: shops&restaurants just around the corner and the bus stop for the ski bus is close by as well. Dominika and Ivan were perfect hosts, always friendly and helpful (including driving service ;-). We truly recommend their place!
Katarzyna
2017-02-18T00:00:00Z
Ivan and his girlfriend are very friendly!! The house is super clean and i will in love for the shower.... I can tell just well of Ivan and his house!!
ivan
2016-09-19T00:00:00Z
Great place, I have realy hope to come back :)
Tomasz
2016-08-15T00:00:00Z
Room Type
Private room
---
Property Type
Apartment
---
Accommodates
2
---
Bedrooms
Liptovský Mikuláš, Slovakia
Het huis heeft vier slaapkamers, met ruimte voor maximaal 11 personen. (als de slaapbank meegeteld wordt zijn er nog twee slaapplaatsen extra). Er zijn drie 2-persoonsbedden (met verstelbare lattenbodems) en 5 één-persoonsbedden. Ook is er een baby-ledikant beschikbaar. Het huis is sfeervol ingericht en heeft een schitterende vrijstaande ligging. Het vakantiehuis is geschikt voor stellen, individuen, zakelijke reizigers (wifi), gezinnen (met kinderen), grote groepen en ook dieren zijn welkom.
This house is ideally for families with children. We were very happy. Children had a lot of fun there. The hills near house are great for sledding. The nearest ski slope, Racibor, is situated near Oravski Podzamok and it is great for beginners. There is a piano and fireplace in the house. You can spend very nice evenings sitting in the living room and listen to the live music
Michał
2017-02-04T00:00:00Z
Bardzo sympatyczny i przytulny domek, dla 2 czy 3 rodzin z dziećmi. Świetny kontakt z gospodarzem, wszystko zgodnie z tym, co ustaliliśmy. Polecam!!!
Konrad
2017-02-25T00:00:00Z
Room Type
Entire home/apt
---
Property Type
Villa
---
Accommodates
12
---
Bedrooms
Oravský Podzámok, Žilina Region, Slovakia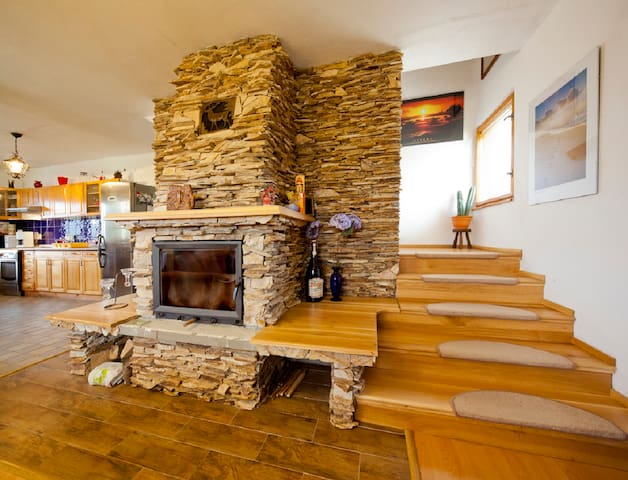 Apartment is a separate building in the common courtyard. It is situated in a centre of village. Vrátna valley is located cca 6km and Janošíkové diery cca 2-3 km. Near to apartment are bus station, grocery, restaurants Address: Vrátňanská cesta 1299. In the yard there are two houses. The first has number 475.
Apartment is located directly under the statue of Juraj Jánošík.
Awesome location, very nice hosts, would repeat any time.
Teodor
2016-10-14T00:00:00Z
We had a very pleasant stay in Terchova. We visited with our two five-year olds - which generally tends to present some additional challenges. Our hosts made it so much easier - making us feel welcome, and also making our kids feel at home. The kids ran around in the courtyard gleefully with the family dog. Our host, Maria, helped us navigate the area, recommending restaurants and advising us on things to do. She also lent us a sled, which we made full use of on a hill right across the road. Initially, we had intended going skiing, but our children enjoyed sledding so much that we ended up staying in town throughout our stay. The location is great - 5 minute walk to pretty good restaurants and 15 minute drive to Vratna.
Sapan
2016-12-30T00:00:00Z
the apartment was nice and clean and Adriana very responsive. I booked the accommodation and we agreed on the rest within next 15 minutes :)
Veronika
2016-10-02T00:00:00Z
Adriána's place is a lovely cabin in the yard of a private home in Terchová. I stayed there for a couple of nights and enjoyed it a lot. I was there in the off season: March, a bit late to ski but early for hiking. I went hiking anyway, but it was challenging since there was still lots of snow in the woods higher up. The cabin is nice and warm, with a kitchen / living room on the ground floor and a bedroom above. I think several people could stay in the cabin comfortably. There is also a super friendly dog in the yard - that was actually a plus for me. :) Recommended!
Adam
2017-03-09T00:00:00Z
Short however nice staying and lovely host.
Michal
2017-03-12T00:00:00Z
Very nice host, we've really appreciated their approach to make our visit smooth and comfortable.
Tomas
2017-02-21T00:00:00Z
The host canceled this reservation 65 days before arrival. This is an automated posting.
David
2016-10-27T00:00:00Z
Sukromie v samostatne stojacej budove s dvoma poschodiami. Skvela poloha v centre Terchovej. Prijemni a napomocni hostitelia.
Marek
2016-09-05T00:00:00Z
Room Type
Entire home/apt
---
Property Type
Apartment
---
Accommodates
6
---
Bedrooms
Terchová, Slovakia

Enter dates to see full pricing. Additional fees apply. Taxes may be added.