>90 sq.m brand new apartment >can sleep 4 people >free parking place >WiFi fast internet >5 minutes walking to top center >super market , restaurants around >5 minutes walking to shopping area >full equipment >design furniture >air conditioning
Room Type
Entire home/apt
---
Property Type
Apartment
---
Accommodates
4
---
Bedrooms
Δράμα, Δράμα, Greece
The apartments are newly built in the village center LYDIAS The distance from Kavala OF DRAMA AND IS 18 KM Located next to the archaeological site of Philippi Baptistery SAINT LYDIAS AND mud (URL HIDDEN)
TA apartment offers a playground and barbecue
The place was clean and the heating worked well.
Gabrielle
2016-12-16T00:00:00Z
The host canceled this reservation 161 days before arrival. This is an automated posting.
Mantha
2017-02-21T00:00:00Z
Room Type
Entire home/apt
---
Property Type
Apartment
---
Accommodates
3
---
Bedrooms
Lidia, Makedonia Thraki, Greece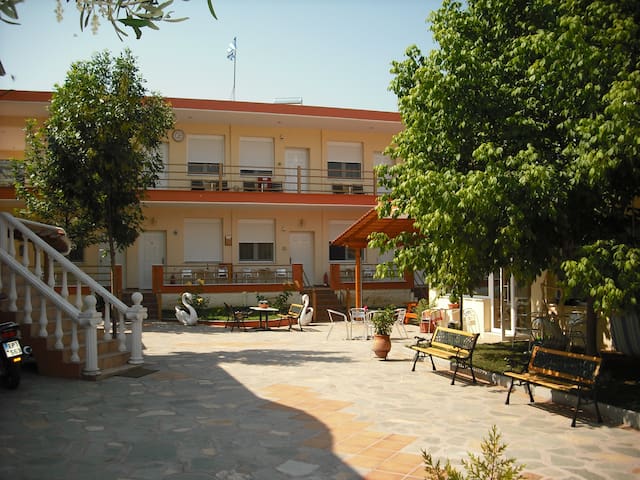 beautiful colorful and wellness room in the city center offers direct access to all the services of the city. The private room provides guests with all the comforts of a normal house. food to cook basic supplies clean beds, towels etc.
We stayed in Kavala only for two nights and we visited only to see some friends who live nearby. The flat was perfect for what we needed as it was in a good location and well equipped so that we didn't need to buy anything such as coffee, milk etc. We stayed during a very cold snap which meant we had some problems with the hot water in the shower but this was not the owner's fault. The flat is very comfy and is great value as a base to explore the city and the countryside. The hosts were very nice and met us even though we arrived a bit late in the evening. Would definitely book again in the future!
Chris
2017-01-08T00:00:00Z
It was a good stay.
Cristina
2017-02-27T00:00:00Z
This was my second experience on airbnb. I travelled to Kavala alone and booked a room in this apartment. It is a large apartment with three rooms actually and i could stay in the double room as i wished. Everything went very well and i liked the apartment really much with its facilities. Apart from the rooms there is a bathroom and a large kitchen with everything inside. Although i came in the early morning of Saturday, they welcomed me and i could get in the apartment easily. Fotis the owner, is really helpful and so friendly, his communication is very good, he knows what hospitality means, so, thank you very much again. I found my apartment in Kavala, i do not search for anywhere else next time. Thank you.
Mustafa Bahadır
2017-02-26T00:00:00Z
The room and the apartment are very large and clean, near the centre and the port. Fotis and his cousin Thanos are very kind.
Niccolò
2016-10-16T00:00:00Z
Clean and spacious room. With 10 minutes walk to the city centre.
Kelvin
2017-03-23T00:00:00Z
nice and central of kavalla room
Thomas
2016-11-15T00:00:00Z
Logement central qui vous permettra en quelques minutes d'être sur le bord de mer et de là, monter jusqu'au château (attention, cela grimpe bien). L'appartement est bien équipé, de quoi vous faire à manger si vous le souhaitez. Bonne expérience !
Romain
2017-04-03T00:00:00Z
Ο Φώτης ήταν εξυπηρετικός, ευγενικός και απόλυτα "εύκολος" στην επικοινωνία! Το δωμάτιο είναι πολύ ευρύχωρο, όλοι οι κοινόχρηστοι χώροι ήταν άνετοι και πεντακάθαροι, όπως και οι υπόλοιπες παροχές (σεντόνια, πετσέτες κλπ). Ο Φώτης προσεγγίζει την υπηρεσία του με μια πολύ τίμια και επαγγελματική ματιά.
Pavlos
2016-10-30T00:00:00Z
Room Type
Private room
---
Property Type
Apartment
---
Accommodates
2
---
Bedrooms
Kavala, Greece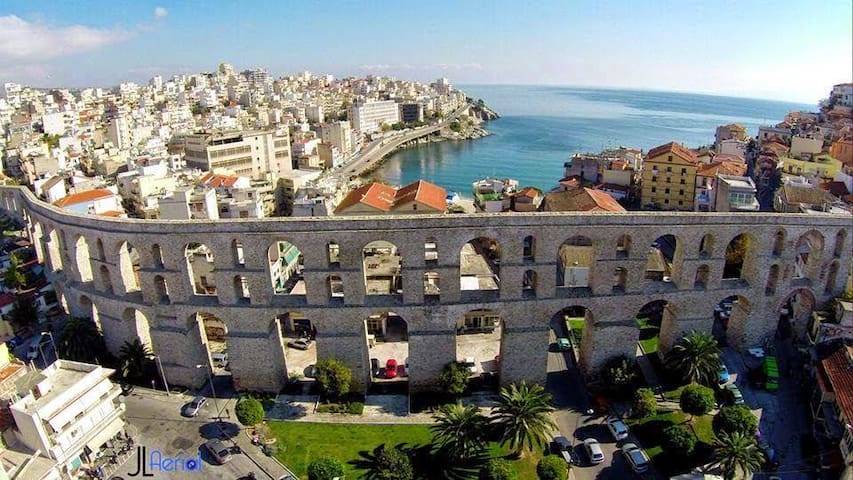 Sunny apartment with a view of Kavala, with a balcony and a yard. You can be at the center of town in just five minutes!
Our neighborhood is friendly and peaceful. Our mountain is close and beautiful for a nice walk or hike. There are small shops close by for any groceries you may need.
We highly recommend this wonderful place due to the following reasons: - Cynthia is a great host - always smilling, ready to help you with whatever you need. She even picked up us from the bus station (she insisted) and when we leaving - she take our luggage to the bus station. - Cynthia's place is great, clean, well equipped (You can just go there and start leaving - you will find everything you need) and very spacious (in reality, it is more spacious than as it looks on the photos). - The balcony - ... oh, the view is just great and very relaxing. - Location - it is located up on the hill, buses pass very close by, also u can use a cab (which is affortable). As being a small town you can just walk, which we highly recommend. There are a few stairs, but they are part of the charisma of the city. Thank you Cynthia! Beyhan and Simona
Beyhan
2016-09-09T00:00:00Z
We had a really excellent three night stay at Cynthia's apartment overlooking the lovely town of Kavala. There was everything that we needed and more. We also very much appreciated Cynthia's kind offer to pick us up from the bus station and back. We did not have much of a problem with the 15 minute walk from the town centre even though it was uphill and did not need to take the bus or (inexpensive) taxi. Very nice indeed!
Samuel
2016-09-12T00:00:00Z
We enjoyed staying at Συνθια's place a lot! The flat was very clean and has a beautiful view over the city. Συνθια was very nice and helpful - we would definitely come back!
Kristina
2017-04-02T00:00:00Z
Wonderful apartment with a great host!
Ali Can
2017-04-10T00:00:00Z
The apartment is so nice and cosy. There are everything. Full kitchen equipment, wonderful living room and bath. Even have a lot of toys for our child. The apartment is better of a 5 star hotel's room. If I return in Kavala again I will stay in this apartment. Thank you Cynthia for good and warm welcome.
Simeon
2017-01-01T00:00:00Z
Cynthia's apartment was one of our favorites on Airbnb. It's big, airy, and bright, meticulously cleaned and generously equipped in the kitchen and bathroom. We really enjoyed the large balcony for meals outside with near-panoramic views of Kavala. The decor and interior design of the apartment is very Greek and Cynthia did a really nice job making the place feel cozy and comfortable. The apartment is inside a duplex house in a typical residential neighborhood with kids playing outside on the streets, neighbors chatting, and folks relaxing on their patios and balconies. Parking is not a problem but for walking, keep in mind the apartment is up near the top of a steep hill about 12-15 minutes from downtown. Makes for a scenic walk but definitely a bit of an exercise. Cynthia was a great host, very responsive and flexible, and paid attention to a lot of details other Airbnb hosts do not. We would absolutely stay there again when back in Kavala.
Ondrej
2016-09-19T00:00:00Z
This was our first Airbnb stay and i can tell you Cynthia is the best host we will ever have! She is so kind, lovely and very helpfull about everything from city advises to washing machine lessons. :) Besides the amazing view of the house, it is also filled with all the stuff you may need during the stay from iron to razors etc. Everything is so clean and tidy we feel like home already. Anyway we are about to leave but my wife and the baby are sleeping on the sofa so we may delay for an hour just to enjoy this lovely home a little more. :)
Doğuş Yaşar
2016-09-14T00:00:00Z
Cynthia is a really wonderful host. She was extremely nice and helpful and she did anything possible to make our stay the most pleasant, including helping me when I was sick. The apartment is just as it looks on the pictures: a dream, with an incredible view on the sea, both from the living room and from the bedroom. The beautiful city center of Kavala is just 10 minutes walk from the house.. You will never want to leave this place, I already miss it and I hope I will manage to come back one day soon! If you want the best for your stay then this is the apartment you should book!
Giustina
2016-10-02T00:00:00Z
Room Type
Entire home/apt
---
Property Type
Apartment
---
Accommodates
2
---
Bedrooms
Kavala, Greece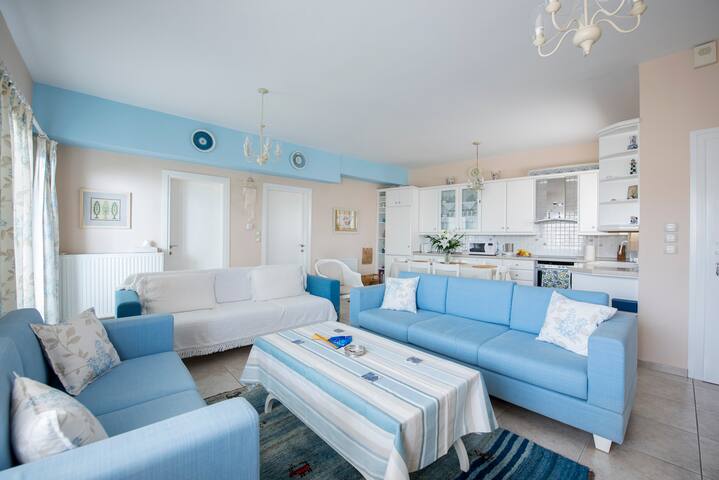 Comfortable studio with all amenities located on a hill offering a beautiful view from its spacious terrace. 5 minutes away by car from the center. 250 meters away from the nearest organized beach offering a beach-side restaurant and café bar.
Sofia is a really nice host. She replied immediately both per handy and phone and made herself sure that we feel comfortable. The apartment was clean and cosy with a great view and huge balcony. You can also find books and travel maps about Kavala and its sightseeings, which are worth visiting, for example the old town, the casle, the ancient city of Filipi and the Alistrati cave. Kavala is a city full of history and holds the typical greek spirit in it - It offers not only beautiful beaches, but also a lot of restaurants, touristic attractions and night life, which make it suitable for both families and youngsters. Sofia's apartment is located near one of the best beaches with a blue flag and the city center is easy to reach with a car or bus. I totally recommend visiting Kavala and staying at her place.
Nona
2016-08-26T00:00:00Z
The apartment is really good and the view is breathtaking. Sofia and her mom are great hosts and welcomed us warmly! The beaches around are amazing and I'll recommend Ammolofoi! Great place!
Emil
2016-06-14T00:00:00Z
The host canceled this reservation 65 days before arrival. This is an automated posting.
Panos
2017-04-05T00:00:00Z
We've spent great 4 days in Kavala. The city is beautiful and Sofia's flat is just as it looks on the pictures. It is nice, clean and comfortable and has splendid view over the sea. Sofia is a great host, very helpful and polite. I would definitely recommend the flat and would come back again
Georgui
2016-08-31T00:00:00Z
The apartment is superb - the hosts have thought of any detail you might need to feel at home. It is bright and cosy and terrace is great with its sea view. The location is perfect for someone who would like to be at a walking distance from a nice beach and not far from the centre, and stay in a quiet residential area at the same time. The bus stop is just 2 minutes away from the place and it takes 10 minutes to be in the very centre of the town. Sofia and Andreas are very very kind and welcoming! Thank you so much for the hospitality!!!
Isabella
2016-09-20T00:00:00Z
A great flat, close to the beach, comfortable, quiet, great balcony, which gets the sun. It has a good kitchen, well equipped. the bed is a very small double, which is a little too small for two people to be honest.
Nico
2016-06-10T00:00:00Z
We spent wonderful time in the apartment. It was very clean and looked like as in the photos. It was comfortable and well equiped, with a large terrace with a nice view to the sea and Thassos island, ideal place for a morning coffee, daily meal and evening contemplation of the sea. The apartment has a good and convenient location, very close to Kalamitza beach and also a shot drive to other beautifull beaches like Toska and Amolofi. Quiet neighbourhood. We would come again.
Silvia
2016-09-11T00:00:00Z
Wonderful, wonderful, wonderful - everything is perfect, Kavala is beautiful city.
Lazar
2016-09-07T00:00:00Z
Room Type
Entire home/apt
---
Property Type
Apartment
---
Accommodates
4
---
Bedrooms
Kavala, Greece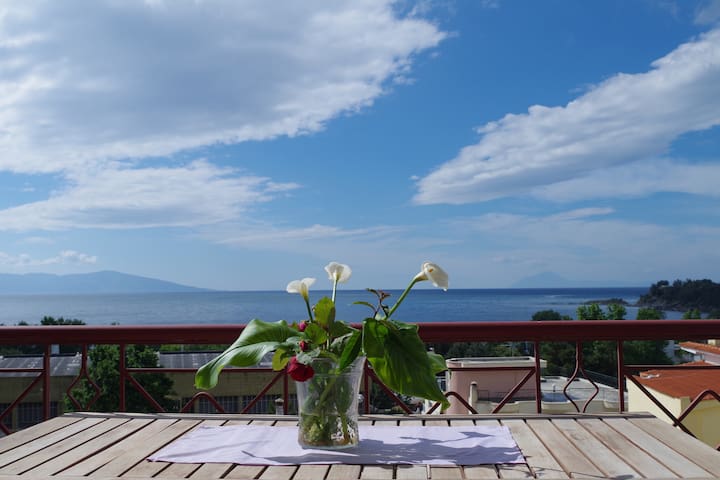 The apartment is 3km far from the castle of kavala by foot, 12km far from the theatre of Filipous by car
Apartment with big living room- kitchen, a big bedroom and a bathroom. For four people (one double bedroom & double sofa-bed). Airy, bright and near the center of Kavala ( 10min by foot)
The host canceled this reservation the day before arrival. This is an automated posting.
Romain
2017-04-01T00:00:00Z
Ο Λουκάς ήταν άψογος οικοδεσπότης. Πολύ επικοινωνιακός και εξυπηρετικός. Ανταποκρίθηκε άμεσα σε κάθε μας ανάγκη. Το σπίτι με παραδοσιακή ελληνική διακόσμηση και με ό,τι χρειάζεσαι για ευχάριστη και άνετη διαμονή. Τα υλικά για το πρωινό πλούσια σε ποσότητα και ποικιλία. Η παρέα μας έδωσε λάικ και στον χώρο και στον οικοδεσπότη.
DIMITRIOS
2017-02-27T00:00:00Z
Room Type
Entire home/apt
---
Property Type
Apartment
---
Accommodates
4
---
Bedrooms
Καβάλα, Καβάλα, Greece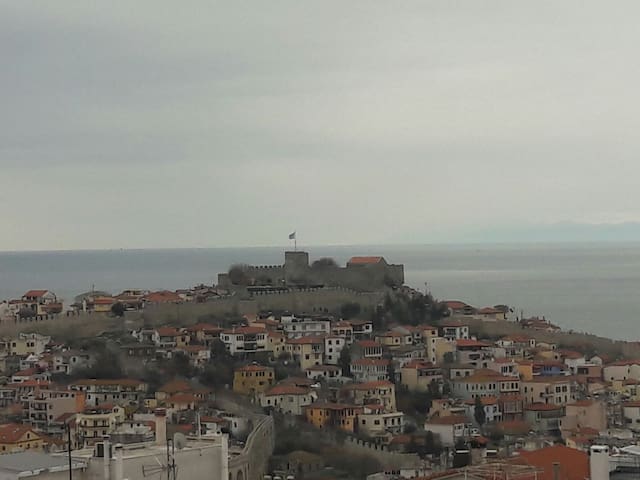 Cosy apartment in the old town of Kavala, a place which every visitor in Kavala has to see. Incredible view of Thassos Island.
The apartment consists of two rooms. One (where the entrance is) has a kitchenette, a double sofa-bed a small table and a closet.This room serves as living area but the sofa bed can accomodate 1 adult or two people (queen size). The second room is the bedroom equiped with a double bed. From this room you can get out to the balcony which has an amazing view of the sea and the surrounding area including Thassos island. Lastly there is also a small bathroom equiped with a shower. Furthermore there is a barbeque area on the balcony that can be opened for you per request.
The house is situated in the most traditional area of Kavala (Old town) a place that every tourist in Kavala have to visit. The main attractions of the area are the City Castle (5 minutes walking uphill), the lighthouse with the excellent view and the statue and house of Mehmet Ali, an Egyptian Pasha (high ranking official) that lived in the city (also 5 minutes walking from the property). Walking towards the city center you will pass through the old aqueduct of the city (nowadays call "Kamares"). If you enjoy swimming in rocky shores you can easily go swimming in 2 minutes walking from the property. Please note that there are several strThere are also another 2-3 places you can go swimming in Panagia, all with small stones and/or rocks. If you prefer sandy beaches the are several steps on the way to and from the sea which wouldnt be a problem for the average person but it might be for the elderly or someone with mobility issues places you can go in Kavala and the surrounding areas but you will need some sort of transportation.
The house of Dimitris is exactly how its describe on the announe. You will enjoy a nice view on the sea and a comfortable flat situated in the old town of Kavala. I highly recommend it.
Maxime
2016-10-04T00:00:00Z
Everything was perfect. The host's were helpful and kind. The apartment is a dream and we couldn't be happier. We recommend this strongly!!!
Patricia
2016-09-22T00:00:00Z
First of all, we loved the apartment. It was nice and cozy, and even nicer than it is on pictures. The view is so good you don't even have to leave the apartment :) everything you need, you have there, it felt like home for us, and we would definitely go back. Everything was in 5 minutes walk, beach, bars, shops, beautiful sights, museums are also all in a circle of 15 min walking, etc. We didn't meet Dimitris, but spoke with him on the phone. He seemed nice and friendly and helpful. His parents were also really nice, they helped us with some problems we had and never bothered us. We loved the apartment and Kavala and we would recommend it to everyone.
Tina
2016-07-30T00:00:00Z
Πολύ όμορφο και άνετο σπίτι. Η θέα από το μπαλκόνι μαγευτική.Λίγο με το παρκάρισμα δυσκολεύεσαι αλλά έτσι είναι όλες οι παλιές γραφικές περιοχές. Θα ξαναπάω Καβάλα και σίγουρα θα το ξανακλείσω αν είναι διαθέσιμο.
Bill
2016-08-22T00:00:00Z
Un appartement très agréable situé dans la vieille ville de Kavala. La literie est neuve et il est équipé avec tout ce dont j avais besoin (repassage, sèche cheveu, serviettes). La cuisine est petite mais permet de préparer facilement à manger. La maison est climatisée (mais je ne m en suis pas servie) et le wi-fi fonctionne bien. Il y a aussi une télé (mais je ne l ai pas allumée). La maison est dans un endroit calme et les cafés et endroits qui bougent sont à 10 mn à pied. Idem pour le ferry et les stations de taxi. Le bus pour l aéroport est à 20 mn à pied (avec valise) de la maison. Et évidemment, la terrasse est superbe. Elle est plus grande que le laisse penser les photos et la vue est à couper le souffle. Je recommande donc chaudement.
Gaelle
2016-07-23T00:00:00Z
Room Type
Entire home/apt
---
Property Type
Apartment
---
Accommodates
4
---
Bedrooms
Kavala, Greece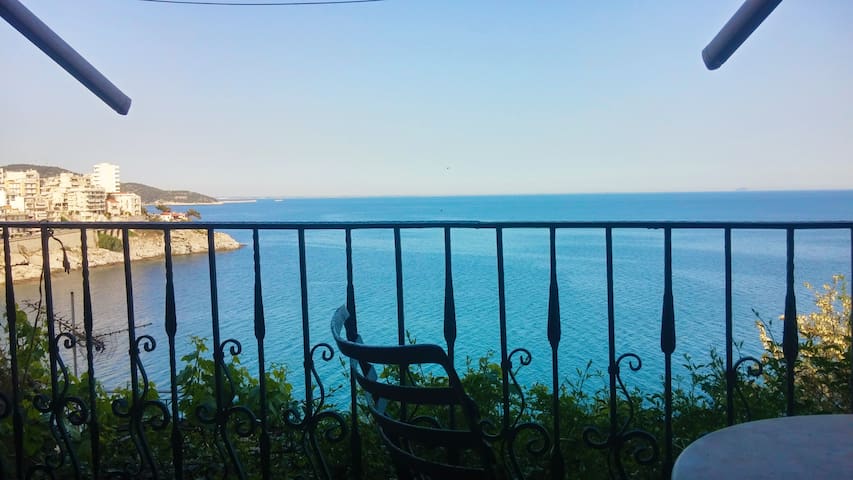 Beautiful house at the center of Kavala. Sunny terrace with sea view, four minutes walking distance from the closest beach. One big bedroom, fully equipped kitchen and two living rooms.
Everything is in walking distance. Beach, market, old city, tavernas.
The place is excellent - perfect location, fantastic view. Thanos was kind and responsive.
Hristo
2016-09-06T00:00:00Z
Excelent house and the host was more than excelent.
NIKOLAOS
2016-11-20T00:00:00Z
Thanasis was great host! I stayed on his apartment for 1 night it's on the center of town everything is around. The apartment is cozy and big very clean the bathroom and bedroom especially. If i will be again in kavala i will stay again on thanasis apartment. Recommended 100%
Fotis
2016-07-10T00:00:00Z
I highly recommend Thanos place, the location is perfect and there is plenty of space in his aparment. We stayed for 3 nights and coulnd't find a thing to complain about :) Thanos is a really nice guy and gave us some cool advices about Kavala.
Patrick
2016-09-09T00:00:00Z
I had a great time staying at Sunny house at the center of Kavala, when I visited Kavala! Thanos is the best AirBnB host. He made sure I felt at home and had great recommendations for bars and restaurants in town. The apartment is nice, clean with panoramic sea view and well equipped, has fast internet, large widnows/balcony doors, and is 3 minutes from a supermarket. I can't imagine that any other rental in Kavala can beat this experience or this price. I will definitely stay here again the next time I'm in Kavala.
Argyris
2016-07-31T00:00:00Z
Thanos was a perfect host. He helped to us everything we needed. He also gave to us lots of information and suggestions about our vacations. The house is very closed to centre (2 min by walking). The sightseeing of the balcony is like a dream, you will feel perfect! Cleaning is also well! The house is very big (2 rooms and 1 bedroom) you can find whatever you need. We want to go to kavala and stay in thanos's house in every year!
Oktay
2016-08-30T00:00:00Z
Simple but nice (URL HIDDEN) what you need when you're in Lovely Greece? Perfect location. Thanos and Fotis are great guys! I recommend Thanos place!
Borislava
2016-10-27T00:00:00Z
Thanos was an excellent host. We had a wonderful time staying in Kavala. The flat was very clean, very cosy and indeed sunny; the rooms also were quite spacious. In addition to that, the flat was fully furnished; in fact nothing was missing, even the fridge was full! The view from the balcony was very beautiful as you can literally see the sea out of the window and the location of the flat is great, too. There are quite a few supermarkets nearby, a pharmacy, a bus stop, etc. The flat is very close to the city centre which helped a lot. Thanos as a host was very helpful, cooperative, approachable, polite and punctual, which we appreciated a lot. He was always there when we needed something, he gave us recommendations, etc. The neighbours were quiet, AC was included, there was enough space for storage, the furniture was beautiful and well maintained, and the internet speed was quite good, as well. We would highly recommend this place to everybody. We're very pleased with the whole experience. We thoroughly enjoyed our vacation in Kavala and the flat we rented played a major role in that. Felt like home. Highly recommended.
Χρήστος
2016-08-23T00:00:00Z
Room Type
Entire home/apt
---
Property Type
Apartment
---
Accommodates
2
---
Bedrooms
Kavala, Greece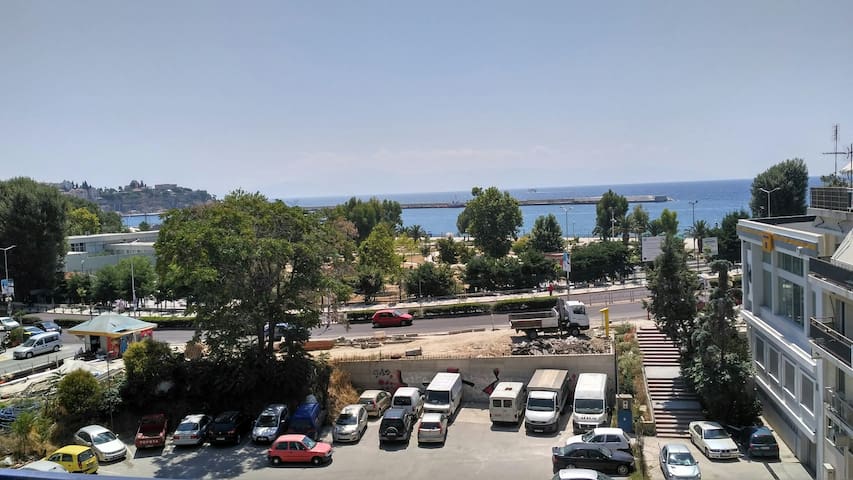 Fully-Equipped, Traditional Apartment on the Garden Floor of a Beautiful Country Villa, Consisting of 1 Large Double Bedroom, Living Room with Fireplace, Dining Area, Kitchen, Bathroom and Terrace. It Has Its Own Terrace, Access to BBQ Area and 500 sq. m. Garden.
The Apartment is an Autonomous Part of a Countryside Villa. Its size is approx 90 sq. m. and sleeps 4 people. It is ideal for families because of its Space, Garden Access and Small Distance from a Beautiful Sandy Beach. It Consists of a large Open-Plan Area which includes a Spacious Living Room with two sofa beds, a Dining Area and a Fully-Equipped Open-Plan Kitchen with a Kitchen Table. The Apartment has a Large Bedroom with a Built King-Size Bed and Floor-to-Ceiling Wardrobe, a refurbished bathroom and Second Floor-to-Ceiling Wardrobe next to the Bathroom.
The Villa is built in a Quiet and Peaceful Area, on the Slopes of the Hills Overlooking the Bay of Palio, only 10km from the City of Kavala. In the Area Our Guests Will Find Quality and Affordable Taverns, Super-Markets, Gas Stations and a Pharmacy. The Beautiful Beach of Palio is within a 5' Walking Distance. The Beach Stretches across the Bay and Has Organised Areas (with Beach Bars and Sea Beds) but also some Remote and Peaceful Areas away from Crowds.
The hosts were very helpful and kind to us. Some items were not suitable for our young children, but they were moved to safer places. The neighbourhood is very peaceful and the steep streets are more than compensated for by the beautiful sea view from the terrace and the garden. We had a great vacation and would recommend warmly this location.
Georgi
2016-08-28T00:00:00Z
As I am a person who prefers simplicity, in simple words: that was simply the best apartment I have ever been in Greece. Everywhere in the house I could feel the love and hospitality of our hosts. This was not just an apartment we have visited, but a real home. Thank you very much for everything. I would visit again if I had the chance - over and over again.
Ina
2016-09-04T00:00:00Z
We never believed it was so nice to go to sea in early fall.Away from the crowds in the summer.Kavala region is the right place for that .And the atmosphere in the house of our hosts and their hospitality made our experience even more memorable!Thank you for everithing !
Radi
2016-09-25T00:00:00Z
We had an excellent vacation and the place was exactly what we needed for our children. The house is very spacious and beautiful decorated, very clean, the kitchen had everything we needed, excellent cleaning service during our stay. The hosts are very kind and they surprised us by providing many useful children-related items, they were flexible about arriving and leaving hours considering the fact that we traveled with two little children, they exceed our expectations and we appreciate all the care. The morning coffee in the garden with the sea view was priceless! There's a beautiful beach at a walking distance and many places to see in the nearby. Thank you for having us there and i definitely recommend this listing!
Adina
2016-08-18T00:00:00Z
This place was perfect! The hosts were so kind and helpful and the house is located only 200 meters from a nice beach. If you go by or rent a car there are also lots of nice beaches close to here. The house got a terass with a beautiful sea view and everything is very clean and comfortable. We had an amazing experience here, one of the friendliest place we have visited! We would love to come back here again!
Sanna
2015-07-31T00:00:00Z
We had a really wonderful experience: the accommodation was great, very comfortable, spacious and spotlessly clean! The house is located within short walking distance from the beautiful beaches of Palio and has a very nice garden with a beautiful panoramic view over the sea. But most important, our hosts did their very best to make us feel welcome and enjoy our stay! They were very thoughtful, helpful and kind and surpassed our expectations by generously spoiling us with yummy homemade treats and snacks! We highly recommend this listing for an overall great holiday experience and look forward to coming back next year!
Raluca
2015-08-23T00:00:00Z
I had a really wonderful experience staying at this house. For starters, the location itself is very good as it's close to several beautiful sandy beaches with clear water. Kavala is only 10 km away. The house itself is amazing, very clean, comfortable and cozy. I especially liked the garden and it's sea view - perfect surrounding for a morning cup of coffee with friends. I don't have any remarks, all rooms had everything needed - kitchen supplies, bathroom accessories, etc. I have only kind words to say about the hosts, they were very polite and easy going so it was a pleasure meeting them. When we arrived we were pleasantly surprsied by a worm welcome with cookies and coffee ;-) All arrangements were kept as agreed, the hosts made sure we had everything needed and that we felt comfortable. I would definitely recommend this listing, I believe future visitors will have no regrets choosing this place ;-)
Elitsa
2015-07-26T00:00:00Z
Room Type
Entire home/apt
---
Property Type
Apartment
---
Accommodates
5
---
Bedrooms
Kavala, Makedonia Thraki, Greece
The apartment is got a double bed with a lovely balcony and a combined kitchen and living room with a second balcony and amazing view. Parking spaces are available on the ground floor.
Χώρος "ζεστός", μέσα στον οποίο υπάρχουν κομμάτια της γιαγιάς, κληρονομιά μου, καθώς επίσης και αρκετά χειροποίητα κομμάτια από διάφορα υλικά, τα περισσότερα εξ αυτών φτιαγμένα από υλικά ανακύκλωσης. Worm atmosphere with a personal touch, furnished with some antique items of my grandma's house and many other hand made decorative creations from me even from recycled materials
Η γειτονιά παντρεύει το παλιό με το καινούργιο. ... και συνδυασμένα με την όμορφη θέα στη θάλασσα, προσφέρει απόλυτη ηρεμία και γαλήνη...
I had a 3 days's stay at Nopi's place with my family, and I'm really happy that I chose this apartment. It has a perfect location, close to center, parking place on the ground floor, good wifi and a fabulous view from two balconies which are so cosy to seat in the evening and have meals. The apartment is not large, but very elegant, comfortable and perfectly equipped with all one may ever needs. My daughter of 4 y.o. was totally amazed by various pretty things most of which are hand-made I guess, maybe by Nopi herself, I forgot to ask. If so, she is very talent! The daughter said: Mummy, it's so cute here, let's stay in for all our time and not going outside))) But the most awesome is Nopi herself!) She is a wonderful and cares very much about her guests. New bread, different food in the fridge, shampoo for my child - she prepared everything we could need for the start. I was touched to the heart by Nopi's kindness and I'm pleased to recommend her place for anyone who is going to get knowledge of the city and its interior life.
Анна
2016-06-24T00:00:00Z
We are definitely going back to these place when we visit Kavala again: spotlessly clean, charming and very, very comfortable. We've had all useful information for everything in the flat and everything was working perfectly. The flat offers a stunning view to the city throughout the day and we didn't mind a bit of walking up. Besides, parking in the building itself couldn't be easier. Most of all we are impressed by warm, tact and hospitality of Noppi. She has prepared nice refreshments for us even though we arrived in the middle of the day when everything was open. (Well, how can anyone resist at least some home-made sweets?) We couldn't believe the attention to detail and generosity of Noppi. We even ended up taking home some fresh eggs which Noppi insisted we should take. Kavala is always a good idea, we've been here many times, but Noppi's place and Noppi itself make this idea even more appealing. 
Maria
2017-03-21T00:00:00Z
Our host Nopi and the apartment are simply wonderful ! Nopi made us feel more than wellcome, while the apartment is even more cozy and beautiful in real view. Location is great , close to center, spectacular views of the city! We had a fantastic experience , definitely recommend our host and her place !
Iva
2016-07-12T00:00:00Z
We had an amazing stay! Everything was so cozy, clean and well prepared. Thank you for being so caring and kind. Ευχαριστούμε παρά πολύ Νόπη!
Sandra
2016-06-09T00:00:00Z
That was a FAB stay!! If you decide to visit Kavala I would definitely suggest staying at Nopi's place. Words are not enough!! Where could I start?? The location is more than perfect. 10 min walk and a parking space plus an AMAZING VIEW and tranquility in an excellent flat, with so many amenities, so much warmth and originality and above all a very caring host. The place is so great that you do not want to leave it. Highly recommended. I am already thinking of going there soon! Adie Ειχαμε μια απιστευτα τελεια παραμονη στο σπιτι της Νοπης. Το σπιτι της εχει υπεροχη θεα και ειναι γεματο ζεστασια, χρωμα, μερακι και πολυ καθαρο.Τοσο τελειο που δεν σου κανει καρδια να το αποχωριστεις. Αισθανεσαι ηρεμια και πληροτητα σε τετοιο περιβαλλον. Εμεινα κατενθουσιασμενη και ανυπομονω να ξαναπαω! Adie
Adie
2016-05-02T00:00:00Z
It was a great experience to being in Kavala with hospitality of Νόπη:) We came too early at home becouse of the bus arrival but Νόπη did her best to accept us:) Home is realy comfortable and has a beautiful landscape. Highly recommanded... Thx Νόπη. Emre&Ezgi
Ezgi
2016-07-08T00:00:00Z
Amazing place! Couple friendly fully equipped apartment with gorgeous view to the old town and the sea Suitable for both long and short stays. The host lady gave us more than a warm welcoming. Highly recommended!
Nikola
2016-05-25T00:00:00Z
Nopi was great,very friendly and generous,her beautiful,bijou flat has all amenities and fabulous views of Kavala
Jeremy
2016-09-13T00:00:00Z
Room Type
Entire home/apt
---
Property Type
Apartment
---
Accommodates
2
---
Bedrooms
Καβάλα, Καβάλας, Greece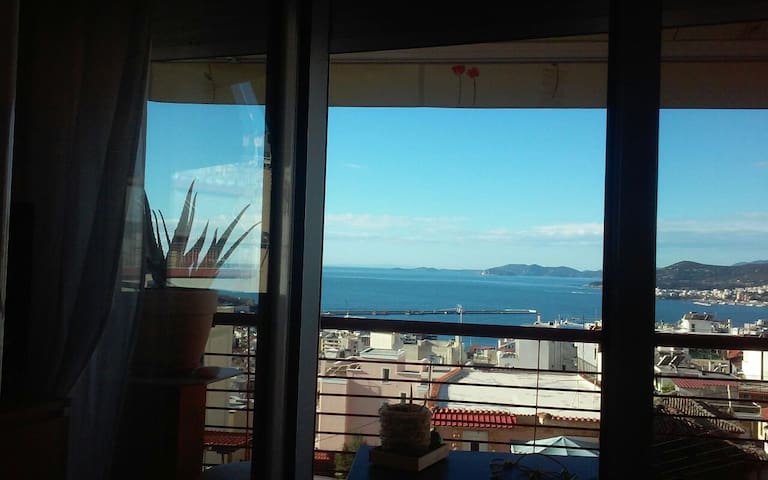 Beautiful new studio in kavala city.Its perfect for two (2) persons.its near to the beach Kalamitsa(200m). There are 3 bus station near the house if you want to visit the center of the city. The area of the house is very quiet and easy to enjoy your holidays
Όμορφο καινούργιο στούντιο στην πόλη της Καβάλας. Ιδανικό για 2 άτομα. Κοντά στην παραλία της Καλαμίτσας (200 μέτρα) όπως και στην πόλη της Καβάλας (5 λεπτά)καθώς υπάρχει πολύ κοντά στάση λεωφορείου..Η οικία βρίσκεται σε πολύ ήσυχη περιοχή! Super Market σε απόσταση 200μ απο το διαμέρισμα. Beautiful brand new studioi in Kavala
Το διαμέρισμα βρίσκεται εντός της πόλης αλλά η περιοχή λόγω της ομορφιάς της και της παραλίας θεωρείται παραθεριστική. Δίπλα στο σπίτι βρίσκεται παραδοσιακή εκκλησία. Από τις παλαιότερες της πόλης που μπορεί ο φιλοξενούμενος να την επισκεφτεί. Ήσυχη περιοχή. Μάρκετ για τα ψώνια και συγκοινωνία δίπλα στο σπίτι. επίσης στα 150μ. βρίσκεται μεγάλο αθλητικό κέντρο ελεύθερο για τους κατοίκους της περιοχής.
Room Type
Entire home/apt
---
Property Type
Apartment
---
Accommodates
2
---
Bedrooms
Kavala, Greece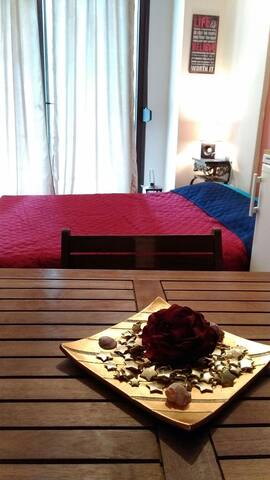 The penthouse is very close to the city centre (on foot), the sea and the beach (Rapsani). It is accessible by road with on-street parking. It is a short walk from the port (with ferries to Thassos and further afield), and the central bus station. It has AMAZING VIEWS, COMFY BEDS, a HUGE BALCONY, and it's BIG -113sq mtrs. Great for couples, solo adventurers, business travelers, and families (with kids). If you need to smoke you can do so, but in the balcony please, with the doors closed.
Great location, amazing view of Thassos Island, nice apartment, highly recommend!
Boris
2016-11-07T00:00:00Z
We had an amazing time staying in this beautifull flat. Everything was very clean and the flat was absolutely breathtaking: very large space, comfortable beds, nice furniture and appliances and amazing terace with one of the most beautifull views of Kavala and the sea. The host made everything possible to make our stay perfect. Richard and his wife are very kind and helpfull. Next time we go to Kavala we will certainly stay again at this beautifull apartment. I already recommended Richard's apartment to my friends and family, best value-for-money stay in Kavala!
Alexandru
2017-04-01T00:00:00Z
Потрясающе! Несомненно, наш лучший опыт по аренде апартаментов. Квартира находится на последнем этаже в жилом доме практически в сердце Кавалы. Бесплатная парковка для автомобиля. Дом находится на достаточно крутом холме - учтите это если едете с ребёнком. До моря неспешным шагом минут 7. Абсолютно все магазины и отличные кафе, рестораны находятся на расстоянии пешей прогулки. Непосредственно апартаменты, конечно, - бриллиант. Площадь очень большая, две отдельные спальни с балконом, выходящим на город и горы. И огромная гостиная с гигантской террасой, вид с которой просто сшибает с ног. Вид потрясающий - на Кавалу и на море. Прямо с террасы можно провожать паромы и круизные лайнеры, заходящие в порт. Окна в гостиной французские в пол, так что всей этой неземной красотой можно наслаждаться из любой точки гостиной днём и ночью. В апартаментах полностью оборудованная кухня (полноценная плита с духовкой, чайник, кухонная утварь, большой холодильник). Большая ванная комната со стиральной машиной. Высокоскоростной интернет. Хозяин Ричард всегда на связи, готов помочь решить любой вопрос. Несомненно, для остановки в Кавале рекомендую именно эти апартаменты!
Maria
2016-10-24T00:00:00Z
Room Type
Entire home/apt
---
Property Type
Apartment
---
Accommodates
4
---
Bedrooms
Kavala, Greece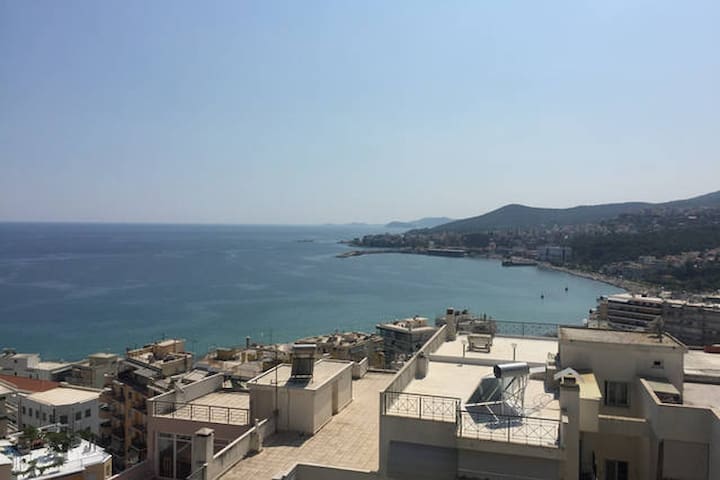 The building is new. It has been constructed in 2008. It's only 10 minutes walking from the center and just 5 minutes from the beach. The apartment is 24,5 sq.m. and is being redecorated right now, for its new use. It's a very comfortable studio, that includes double size bed, a couch-bed for 2 children or an extra adult, and a fully equipped kitchen. All the construction materials and the equipment are brand new and elegant, make you feel like home... while you're enjoying your vacation.
Room Type
Entire home/apt
---
Property Type
Apartment
---
Accommodates
2
---
Bedrooms
Kavala, Greece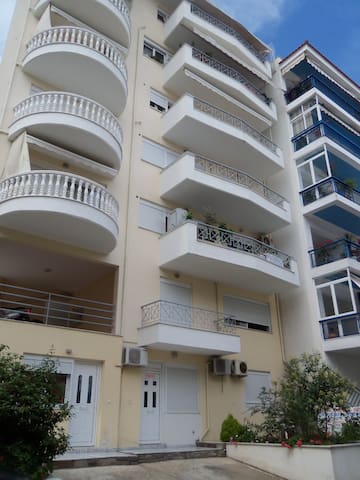 Ο χώρος μου είναι κοντά σε κέντρο πόλης. Ο χώρος μου είναι κατάλληλος για επαγγελματίες ταξιδιώτες και οικογένειες (με παιδιά).
Room Type
Entire home/apt
---
Property Type
Apartment
---
Accommodates
4
---
Bedrooms
Kavala, Greece
beautiful colorful and wellness room in the city center offers direct access to all the services of the city. The private room provides guests with all the comforts of a normal house. food to cook basic supplies clean beds, towels etc.
Great place to stay, fantastic location and a very helpful host!
Arvin
2017-04-03T00:00:00Z
Super nice welcome, appart nice, 200 m from the beach, what more?
philippe
2017-03-10T00:00:00Z
Room Type
Private room
---
Property Type
Apartment
---
Accommodates
2
---
Bedrooms
Kavala, Greece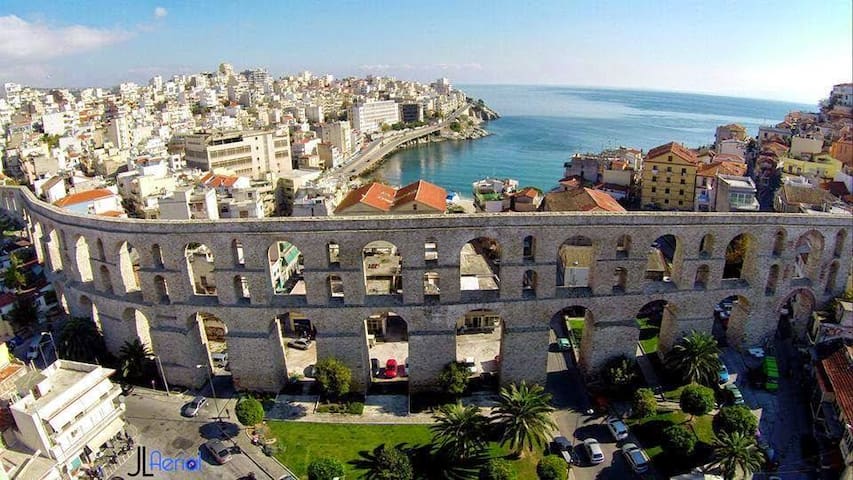 ΔΙΑΜΕΡΙΣΜΑ ΠΟΛΥΤΕΛΕΙΑΣ ΜΕ 2 ΥΠΝΟΔΩΜΑΤΙΑ,ΕΝΙΑΙΟ ΧΩΡΟ ΠΟΥ ΕΧΕΙ ΔΥΟ ΣΑΛΟΝΙΑ,ΤΡΑΠΕΖΑΡΙΑ,ΑΙΘΡΙΑ ΚΟΥΖΙΝΑ ΚΑΙ 1 ΜΕΓΑΛΟ ΜΠΑΝΙΟ ΜΕ ΚΑΜΠΙΝΑ.ΣΤΟΝ ΕΞΩΤΕΡΙΚΟ ΧΩΡΟ ΥΠΑΡΧΕΙ ΜΠΑΛΚΟΝΙ 180 Τ.Μ ΜΕ ΚΙΟΣΚΙ (ΜΠΑΜΠΟΥ ΣΑΛΟΝΙ - ΚΑΝΑΠΕΣ - 2 ΠΟΛΥΘΡΟΝΕΣ - ΤΡΑΠΕΖΑΡΙΑ)
ΤΟ ΔΙΑΜΕΡΙΣΜΑ ΕΊΝΑΙ ΑΝΕΤΟ ΜΕ ΠΟΛΥ ΗΛΙΑΚΟ ΦΩΣ ΠΟΛΥ ΜΕΓΑΛΟ ΜΠΑΛΚΟΝΙ , ΥΠΈΡΟΧΗ ΘΕΑ ΤΗΣ ΠΟΛΗΣ , ΕΥΚΟΛΗ ΠΡΟΣΒΑΛΗ ΠΡΟΣ ΤΗΝ ΠΟΛΗ ΑΛΛΑ ΚΑΙ ΤΗΝ ΘΑΛΑΣΣΑ
ΥΠΑΡΞΗ ΔΗΜΟΣΙΟΥ ΔΑΣΟΥΣ (ΠΑΡΚΟΥ) ΚΑΙ ΣΕ ΑΠΟΣΤΑΣΗ 150 ΠΕΡΙΠΟΥ ΜΕΤΡΩΝ ΔΗΜΟΣΙΑΣ ΠΛΑΖ ΜΕ ΕΛΕΥΘΕΡΗ ΕΙΣΟΔΟ.
The view from the apartment was stunning. It is close to the city port and all the tavernas so you have where to enjoy a good meal. Also, few rosds away you have a big supermarket. The apartment is clean, spacious. The terrace with sea and city view is very big and you can have a lovely breakfast there. There is wifi in all the apartment, it is quiet and very nicely decorated, although i don't think it is suitable for a family with children, because those decorations can easily be broken :). There is a bus station in front of the building so you can reach every part of the city. Maria is a nice host. I totally recommend it.
Andreea
2016-09-14T00:00:00Z
Very very good experience. Maria (the host) was very kind and helpful. The apartment is great - very clean and fancy. There's a huge balcony with awesome view over the whole city. It was very kind that Maria left us coffee and a little breakfast in the fridge.
Валери
2016-09-06T00:00:00Z
Maria war sehr gut und mit kurzer Reaktionszeit über E-Mail und Mobil erreichbar. Sie ist sehr gewissenhaft und ordentlich. Alles in ihrer Wohnung hat seinen Platz. Auf der Terrasse mit fantastischem Blick über die Stadt fühlt man sich schnell zu Hause. Die Innenstadt ist (unterwegs) gut zu Fuß in 15-20 Minuten zu erreichen, zurück kann man günstig ein Taxi für 4-5 Euro nehmen.
Horst
2016-08-03T00:00:00Z
Το σπιτι της Μαριας εχει ενα υπεροχο μπαλκονι και υπεροχη θεα προς τη πολη και τη θαλασσα .Η Μαρια πολυ ευγενικη και μας αφησε στο ψυγειο ενα πληρες πρωινο για την επομενη μερα .
Eleutheria
2016-07-18T00:00:00Z
Room Type
Entire home/apt
---
Property Type
Apartment
---
Accommodates
4
---
Bedrooms
Kavala, Greece
Ένα όμορφο, ευαερο, ευηλιο και άνετο διαμέρισμα μαζί με την μαγευτική θέα θα σας μείνουν αξέχαστα.
Very nice. For short and long stay also.
Vrilittos
2016-07-12T00:00:00Z
Great host great location great place to stay. Liliya was very helpful. She got us early in the morning and gave us enough time to check out. Listing is accurate and definitely would stay there again.
Zafer
2016-03-16T00:00:00Z
Liliya is an amazing host. She made us feel at home with a warm welcoming and her lovely apartment. I recommend that place for anyone who visits Kavala.
Dobromir
2016-07-18T00:00:00Z
Great location with amazing views, very clean and spacious flat
Yassen
2016-09-10T00:00:00Z
Liliya is kind and made us feel at home
Alex
2016-08-20T00:00:00Z
The flat is lovely, very new with absolutely everything needed. It was clean and more than comfortable. It is located on the top of the hill (the whole town is on a hill so bare in mind walking on very steep streets) which gave a stunning view of the sea from the balcony. There are not really many sockets (or in inconvenient places) but this is really nothing major. We had a great stay and if I go again to Kavala I would book this beautiful flat again.
Hristina
2016-08-14T00:00:00Z
The apartment was great and even had covered parking. The view is magnificent and the host Lilia was very nice and had prepared for us a welcome bottle of wine and some fresh local fruits :)
Kamen
2015-09-22T00:00:00Z
Great place, and really magical view. Liliya is a nice host and surprised us some fresh fruits and wine.
Ivo X
2016-07-30T00:00:00Z
Room Type
Entire home/apt
---
Property Type
Apartment
---
Accommodates
3
---
Bedrooms
Καβάλα, Καβάλα, Greece