Enter your check in date in the format dd-mm-yyyy
Enter your check out date in the format dd-mm-yyyy
Listings you can book without waiting for host approval.
Enter dates to see full pricing. Additional fees apply. Taxes may be added.
This July and August, you can try one of these 100 highly-rated homes, at all price points, and experience a local's view of Sonoma. 24-hour check-in, Instant Book, and local wine and snacks let you just sit back and enjoy your trip.
Our place is close to Shopping, Parks, Amarillo (70 miles), Lubbock (45 miles), Wayland University, Caprock Canyons, Palo Duro Canyon, Walking Trails, Country Club/Golf, YMCA, I27. We are just 2 miles West of town, in the country, but can see the city lights. You'll love our place because we are friendly, welcoming, and provide a relaxed, laid back, and quiet place for you to stay. We hope you feel like you are at home!
AVAILABLE 4/1/2017******* We live conveniently close to town but still quite and comfortable country living! We don't have neighbors only cotton, corn, cucumbers, and wheat fields surround our home. We have space to roam and walk around or just sit outside and enjoy the sunrises and sunsets. We are redoing our space to have a completely separate space/apt (approx 650 sq ft), in our home that will include two private entrances, one with handicapped ramp, two private bedrooms, each containing a small fridge, 1 that contains a full size bed, eating table and 2 chairs, desk, and rocker. There will be a hall shared bathroom with shower/bathtub combo, vanity, toilet and sink. The Second bedroom is larger and will contain a Queen Bed, queen sleeper couch, closet, dresser, desk. You will have a small private kitchen that contains a coffee maker, Instapot, refrigerator, sink, toaster oven, dishes, and snacks. The comfortable, cozy, common space will have a TV, another sleeper queen couch, chairs, great view of town and the wide open spaces that West Texas Panhandle is known for. This total space will be just what you need to relax and enjoy what we have to offer. We want you to be comfortable like you are at home. We will give you as much privacy and space as you need and want, but will be flexible and available for whatever we can do to make your stay a positive experience. You will have a key code to enter through the front door, or the larger bedroom on the South side of our home also has key code access with a handicap accessible ramp. I work from home and Substitute teach so I will be around and available to help you any way I can!
We live in the country on a caliche road and do not have neighbors. Quiet and serene! There is no public transportation that services our home. We are only 2 miles from town including many restaurants on our end of town, Walmart, and gas stations. We are conveniently located to I27 that goes to Amarillo and Lubbock. We do have a small fenced yard that will accommodate a small dog. We do h ave a 25lb weight limit and a $10 extra charge per night for your 4 legged furry friend! Please clean up after your pet. You are welcome to walk around our property as long as your dog is leashed. We do have a pug on site and he is our baby! Please do not leave your pet unattended in our home when you leave. We will be glad to keep an eye on your pet if they are pet friendly and not aggressive and if left in fenced yard will make sure they have water if we are home. Please just let us know if we can help and if we are home and available we will help any way we can. We love animals! *** We will update photos as the space is completed!! ***650 SQ FT SPACE WILL BE AVAILABLE TO RENT 5/1/17!
Room type
Entire home/apt
---
Property type
---
Accommodates
10
---
Bedrooms
2
Plainview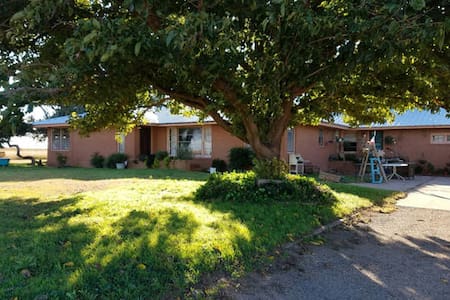 CITY CODE ENFORCEMENT OFFICER states that airbnb is illegal and neighbor complained. Plainview gas stations and restaurants lose out on money that will now be spent in Lubbock.
Due to city determination that airbnb is a Boarding House or Bed and Breakfast, both illegal due to our neighborhood zoning that prohibits multifamily usage I am unfortunately not taking any more reservations at this time. Private bedroom with a queen-sized bed, cable TV, DVD player with DVD library, and well-stocked magazine rack. The private bath (shower only) is stocked with toiletries. Guest-only living room has a gas fireplace and an outdoor patio, fenced-in back yard, dining room, kitchen with stocked 2nd "guest" refrigerator, laundry, one car garage or driveway parking. As much or little as they like! Typically, we enjoy spending time with them, but if they prefer to be alone, it's a big house!
Has many nice folks and one NIMBys who feels airbnb is an illegal boarding house or B&B and that their precious neighborhood should be zoned in such a way to keep out all of the undesirables that airbnb obviously attracts. You need your own car in Plainview You can call one day in advance for a city shuttle that picks you up at the house and drops you off anywhere in town, for $2. We are happy to give recommendations and directions or even a ride - just ask! We about 45 minutes North of Lubbock and 1 hour South of Amarillo. We are a great Austin- Denver layover! IF you prefer two twin beds to one queen, let us know. We can also provide an air mattress, cot, iron, hair dryer, etc. We also have a desktop computer YOU may use and Vonage for free international calls.
My sister and I had a really nice stay, bed was super comfortable, beautiful and clean room in a very nice house in a beautiful quiet area. Dave & Miluska get 5 stars (*****)from me for being such wonderful hosts; very accomodating with our very late arrival from a road trip. Generous as well and even insisted that we have breakfast with them spiced with great conversation before check out. Dave, Miluska and their household exude a warm and nice energy and exceeded expectation with water and chocolate in the room and a very clean bathroom, well stocked with travel sized bathroom supplies. Highly recommended for anyone looking for a comfortable and affordable stay.
Russell
May 2015
Dave and Miluska were very accommodating. They have a beautiful home and a wonderful daughter who told me so many amazing stories. It was a joy to have stayed with them.
Celeste
May 2015
We had a quick one night stay with Dave & Miluska. They were very accommodating and patient with our dogs, who were a bit excited to give themselves a tour of the house after a long car ride! They went above and beyond most of our other AirBnB stops with waters and chocolates in the room, a huge stash of travel sized bathroom supplies, and even breakfast in the morning. Highly recommended.
Jamie & Mehak
March 2015
Dave was a great host. He truly made me feel at home. He went above and beyond in terms of making amenities available, even giving me ideas for how I can become a better an AirBnB host. Thanks for your hospitality, Dave!
Krystal
March 2015
Great AirBnB experience! Dave was flexible when I was late checking in due to travel delays, room was great and hosts very generous with drinks and breakfast etc. I even got to sample some of Miluska's Peruvian home cooking - delicious! Thanks guys :)
Johnny
August 2015
Dave greeted me at the door as if I were a family friend and immediately gave me a tour of what was accessible. The room was very clean and is overall and excellent place to rest. I would highly recommend staying here!
Justin
January 2015
The room was very nice and clean. We had our own bathroom and also had our very own stocked refrigerator! How great is that!!! We also had a television in our bedroom stocked with a shelf of dvds. It was very homey. We got to meet Dave. He was very friendly and showed us around the house. We even had free and exclusive use of a large living area. This home is in a great neighborhood, less than a block from a very nice park. We did lots of walking there after a long day of driving from Texas. This was very relaxing! Thank you for the great visit!
Mary
June 2015
Had a very relaxing stay with Dave! Dave was very friendly and kind (but not TOO friendly if you like your privacy). The room is very sweet and we felt very well rested sleeping there. Had a great time! I would definitely stay with Dave again.
Tessa
August 2015
Room type
Private room
---
Property type
---
Accommodates
2
---
Bedrooms
1
Plainview
Our place is close to Lubbock TX- 45 miles, Amarillo- 75 miles, Wayland Baptist Univ, Caprock Canyons State Park, Palo Duro Canyon State Park, Restaurants, Walmart and I27, in the country but convenient. You'll love our place because you will have your own entrance, private bath and bedroom that is separate from our living space. We are a chemical FREE home. Sunrise and sunsets are gorgeous. Our place is good for couples, solo adventurers, business travelers, families w/1 child, and small dogs.
NOW: We are in the country so it is quite, secluded, and comfortable space, with beautiful views East and West, but only 2 miles West of town. Beautiful Sunrise and sunset! We have space to walk, farming fields all around.... Nice small fenced yard for a dog, and nice to sit outside. Very relaxed and comfortable. ***** FUTURE:: We are working on expanding and will have another bedroom with a queen bed and queen sleeper sofa, ready by NOVEMBER 22. This space will share a full bathroom with other guests, in a private section of our home***** This space will be handicap accessible, private entrance and will share common space with other guest if you do not rent both rooms** See other post Ellis Acres Country Living 2 NOW: We will provide a coffee pot/Keurig provided and is located in your private bath, Coffee supplied, there is a small fridge in your room, and you are welcome to sit in the front room. I will provide a light breakfast of Muffins or burritos, if you are interested and will have access to warm them in microwave! We will have snacks available: Fruit, crackers, cheese, oatmeal, and drinks, they will be in your room. ~~~Guests will not be permitted in our portion of the house. ** Construction and remodeling currently happening in our space! ;) My husband leaves very early to teach at the prison, 630am and returns around 330pm, M-F. I will be in and out, depending on the day. I substitute teach and work from home. I am flexible and available! We are mostly home after 4 and could share a meal if that works for both of us. We are in the other side of the house and will give you as much privacy as you need or require. We will be available if needed to help in any way we can.
We are in the country but close to town on caliche road.. House two barns and almost 4 acres! No neighbors. Farm land all around. Beautiful views of the sunset and sunrise. Private, secluded but convenient. If you are lucky enough to be here when we have storms the lightening is amazing! We do not have public transportation as we are outside city limits. There is no smoking or drugs, and no loud music. Please do not burn candles, or use air freshener, we do not use products with chemicals and toxins. We provide free Wi-Fi, no cable TV, but TV is available if you need to use for "large" screen for laptop/screen and is located in common area. I will be happy to help if you need laundry done or there is a very nice and new laundry mat in town. We are a chemical FREE home and will have those products available. If you have a dog, please clean up after walking, can we have a small fenced yard space that will be private for guests only. You are able to walk around the farm, caliche road or in the cotton fields! (25lb dog limit) Any questions please contact me!
Room type
Private room
---
Property type
---
Accommodates
4
---
Bedrooms
1
Plainview
Guest will have access to the whole house.
We really enjoyed our stay! Shelby's home was perfect for us. Clean and the home was really cute. Will book again! Shelby was also the perfect host!
Jami
August 2016
Private house in a residential neighborhood located about an hour from Palo Duro Canyon. Grocery stores and restaurants located within a couple of miles. The beds were comfortable, the kitchen was fully equipped, the bathroom was a bit small and didn't have a lock, but was fine. The backyard was great - nice and spacious, fully fenced in, with a nice back porch for drinking your morning coffee. Shelby was a very responsive and helpful host. Great experience overall!
Elizabeth
November 2016
Shelby was the perfect hostess. The house is wonderful and exactly as described. Shelby was very hospitable and made everything we needed available to us.
Sarah
December 2015
We would--and plan to--return!
Tracy
December 2016
We definitely enjoyed our stay here. The house was very clean. Special mention goes out to the shower (floor and walls were made of stone) which was awesome! Bedrooms are good-sized and beds are comfy. Wifi available. Great place!
Christian
April 2016
Awesome host! House was very clean and Shelby was helpful for whatever we needed! Definite stay if you need a place.
Justin
April 2016
The reservation was canceled 97 days before arrival. This is an automated posting.
Chris
Shelby's place was perfect for my visit to Plainview. I periodically work there and it was nice to have a home to relax in and make my own meals. Shelby's house was immaculate and the bed was comfortable. I will definitely return.
Melissa
December 2014
Room type
Entire home/apt
---
Property type
---
Accommodates
5
---
Bedrooms
2
Plainview