You'll love my place because of the location, the beautiful countryside and historic villages, comfy beds, peaceful nights and the cosiness. My place is good for couples, solo adventurers (such as cyclists), business travellers, and families (with kids).
It's a spacious double bedroom with an en suite bathroom with shower. Located in a family house on a private drive providing off road parking in the heritage village of East Bergholt, famous as the birthplace and home of the artist John Constable. Also available with this booking is a separate bedroom with 1 or 2 single beds and use of a separate bathroom (only shared if there are family visitors). Please contact for pricing.
East Bergholt is a heritage village in south Suffolk, well served by four pubs, a village shop and a wonderful bakery. Both it and the nearby hamlet of Flatford with its famous mill on the river Stour provided the settings for many of John Constable's paintings and these locations can still be seen today. There are amazing views over the Stour Valley and Dedham Vale, which is a designated Area of Outstanding Natural Beauty.
The room is very spacious, and so is the bathroom, everything is extremely clean and Jenny is a wonderful host and will explain everything you need. The place is really cozy, and is settled in a very nice village, is possibile to arrive in Dedham by a beautiful footpath that we suggest to try if you have time. The breakfast is really tasty and generous, and the conservatory is so charming! Jenny helped us with our trip organization and introduced us to the people at the pub - do not miss it!
Costanza
2016-12-29T00:00:00Z
The host was very welcoming and informative
Alan
2016-11-02T00:00:00Z
Room Type
Private room
---
Property Type
House
---
Accommodates
2
---
Bedrooms
East Bergholt, England, United Kingdom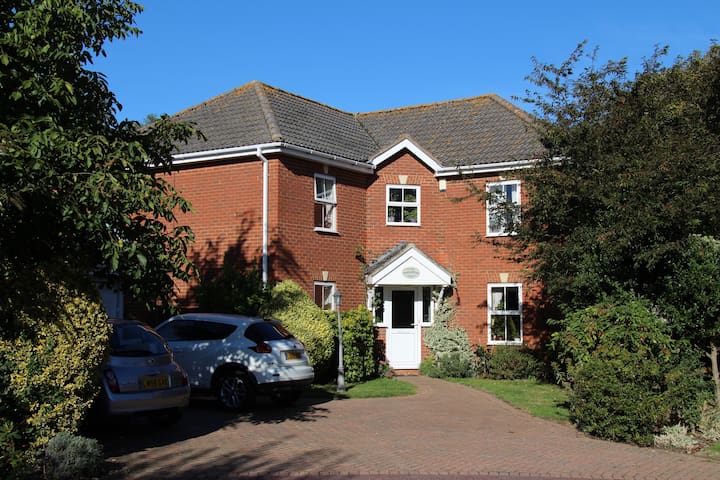 Lovely cottage, oozing with character, in a rural location but easily accessible by car. Offering peace and tranquillity plus a wood burner for cozy evenings in guests' sitting room. Close to Colchester and Ipswich, an hour on the train from London, adjacent to beautiful Dedham. Clean, centrally heated rooms, jacuzzi bath and separate shower in shared bathroom.
Two upstairs bedrooms, one bedroom downstairs.
Rural area between Ardleigh and Dedham, 1 mile from bus stop. Dedham Vale is preserved as an Area of Outstanding Natural Beauty, with beautiful walks and even rowing boats available to hire. The house is on a main road and easy to find.
Room Type
Private room
---
Property Type
House
---
Accommodates
2
---
Bedrooms
Colchester, England, United Kingdom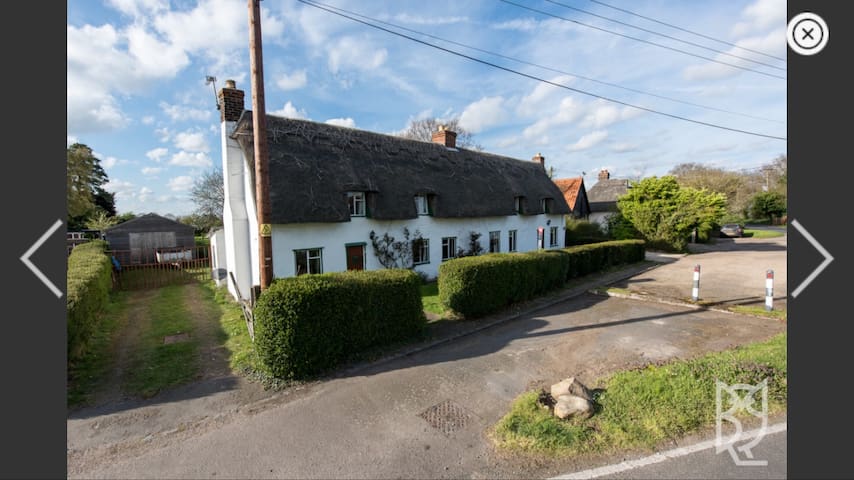 Our names are Vicki and Andrew, home is in the heart of Dedham Vale, just outside the village of Dedham. We are close to Colchester town, this is an ideal base for exploring the countryside, to help with this, Andrew has a wealth of knowledge of the area having lived and worked in the village for many years We have plenty of private, off road parking, and a large garden with plenty of space to relax. Breakfast is not included, but may be provided for a small extra cost on request
Our home is just outside the village of Dedham in the heart of Constable country, with its beautiful countryside and Flatford with its mill and river. We are close to main routes but far enough away to enjoy the tranquility and peace living in the country offers.
I had a one night stay and everything was expected. Great value, cracking cup of tea upon arrival and altogether a hassle free stay. Comfortable bed and a peaceful nights sleep. Ticked all the boxes for me. Thanks very much Guys.
Bruce
2016-11-06T00:00:00Z
The host canceled this reservation 13 days before arrival. This is an automated posting.
Costanza
2016-12-14T00:00:00Z
The host canceled this reservation the day before arrival. This is an automated posting.
Dumitru
2017-02-12T00:00:00Z
Room Type
Private room
---
Property Type
House
---
Accommodates
2
---
Bedrooms
Dedham, England, United Kingdom
Ideal for Constable country and city breaks. Home in converted granary offers ground floor, cosy room as twin or double. Superb spot for walks, bird watching, quality cuisine and town facilities. Parking and court yard garden. Sorry no pets or smoking.
Ground floor room can be either a super king size or twin. En suite bathroom with towels and shampoo provided. Kettle with tea and coffee provided in room. Fridge for your shared use in the ground floor kitchen where breakfast is also served Cooked breakfast on request for £5 per person.
Residential area with easy walking access to town facilities like eating and drinking. Excellent walks -- short or long to suit your energy levels and inclination.
Lovely stay, second time there, would gladly go back any time!
Bobby
2016-08-25T00:00:00Z
A lovely host and a lovely property close to the centre of Manningtree and also very close to Mistley as well. Lots of nice walks nearby plus few good pubs and restaurants. Not far from the Essex/Suffolk coast either. Ruth is knowledgeable on lots of subjects but if you don't feel like chatting she is happy to leave you be. Comfortable and quiet downstairs ensuite room. Also does a nice continental breakfast or a cooked one on request.
Lee
2015-09-02T00:00:00Z
Ruth was most gracious and helpful. My wife and I felt very welcome. We felt as if we knew Ruth for a very long time. Breakfast was perfect and the coffee awesome. Very beautiful place to put our heads down. Quiet and pastoral on the river.
Eddie
2016-06-28T00:00:00Z
Another lovely stay, thanks Ruth :)
Bobby
2016-09-03T00:00:00Z
We had a wonderful stay at Ruth's home. We weren't able to meet with Ruth, but the access was convenient and the home itself is picturesque inside and out. The location is also good for striking out into Dedham, is on the waterfront and a few mins walk from the small town centre.
Nico & Jo
2016-05-31T00:00:00Z
Although through circumstances we were unable to meet Ruth in person she made us feel very welcome with helpful advice prior to setting out. On arrival we found the home exactly, better even than, as described with fruit, breakfast supplies, drinks etc all laid on. A very useful file describing the location of everything we may need along with information about local amenities was appreciated. Add to that a perfect location with panoramic views of the estuary and lots of good walking. Plenty more to see and do in the locality too.
David
2015-09-25T00:00:00Z
Ruth was great!
Joanna
2015-09-20T00:00:00Z
This is an extremely well prepared place to stay, with a level of generosity not often encountered. There was fruit, milk, juice and yoghurt provided for us on arrival, and Ruth has an open attitude to sharing her kitchen. We also appreciated the comprehensive holiday information Ruth provides, right down to Ordnance Survey maps and tourism guides. The views of the river from the kitchen and first floor living room are stunning and provide continual interest. A special place.
Adrian
2016-08-22T00:00:00Z
Room Type
Private room
---
Property Type
House
---
Accommodates
2
---
Bedrooms
Manningtree, England, United Kingdom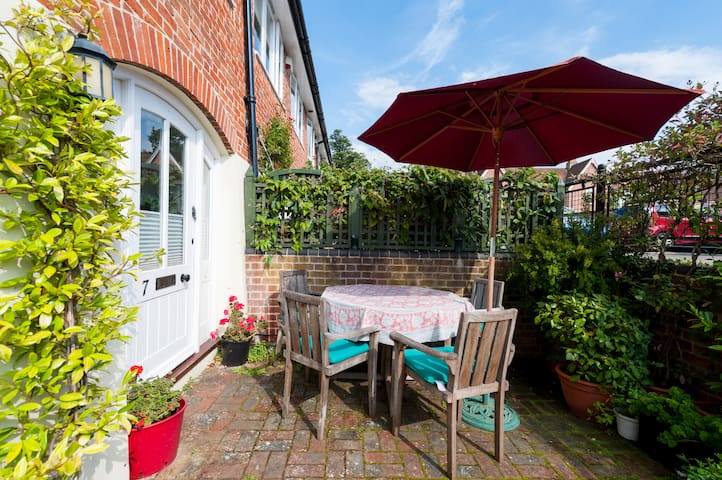 This former Wood Shed has been transformed into a holiday cottage. With a mix of old and new, The Wood Shed offers comfort, style, charm and tranquility. This charming property is located within a private estate in the heart of Constable Country.
Such a beautiful property and location. Host made us feel so welcome.
Steven
2016-07-26T00:00:00Z
We had a fantastic stay at the Wood Shed. The house was lovely - very clean and comfortable, with everything we needed. It's just outside a charming English village, set in beautiful countryside with lots of great places to visit nearby. The house also has a lovely garden - great for sunny days. Claire was really helpful and answered all our questions quickly. I would recommend getting directions to the house from Claire because the post code got us close but not quite to the house itself.
Sarah
2016-05-31T00:00:00Z
A really lovely nicely decorated modern holiday home with a personal feel to it on arrival. Clean, fresh, great shower, gorgeous grounds to walk around, thoroughly recommend
sarah
2016-10-24T00:00:00Z
I booked The Wood Shed for a business trip for myself and two partners. It was in a great location and was very clean. We were also left a breakfast pack that was great. Thanks again and we'll be back soon.
Gareth
2016-10-11T00:00:00Z
Room Type
Entire home/apt
---
Property Type
House
---
Accommodates
4
---
Bedrooms
Colchester, United Kingdom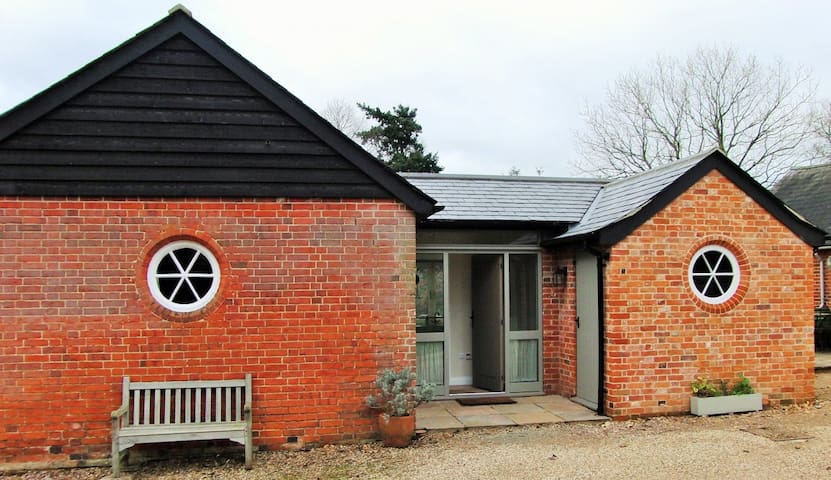 Welcome to 1 Kiln Cottages, our family home in the village of Dedham. We bought the house in the summer of 2015 and fell in love with the peace and quiet of the location and the stunning views across the meadows and towards the village church. The house is an old farm workers cottage built in the 1920's with an 180ft long garden with a field at the end of the garden where you will see horses, alpacas and goats grazing. There is a small copse to the side which is owned by the Munnings Gallery.
Quite simply, the views. The view at the end of the gardening is divine. Whether we are drinking a morning coffee or having a glass of wine as the sun sets, we consider ourselves very fortunate to have it in our garden. The cottage is cosy and has been modernised. It is child friendly and the garden will appeal to couples and families as we have toys, baby equipment and a wooden playhouse in the garden to help keep the little ones entertained. There is a bedroom with a double bed and 2 further bedrooms each with a single adult sized bed.
Set by the River Stour, Dedham is in the heart of Constable Country. It was here that Britain's greatest landscape artist went to school. The attractive main street is lined with Georgian-fronted houses, old inns and a large art/crafts centre. The magnificent 15th century church was built from the wealth of the medieval cloth industry. Dedham is frequently rated as containing some of England's most beautiful lowland landscape, most particularly the Water Meadows of the River Stour, which passes along the northern boundary of the village forming the boundary between the counties of Essex and Suffolk. Of longer influence in Dedham was horse painter, Sir Alfred Munnings who became President of the Royal Academy. His house in Dedham, Castle House, now contains a gallery of his work and his studio and is located just a two minute walk from our house.
Wonderful cottage in a beautiful village with spectacular walks straight from the door, loads to see and do for all ages, we visited with our 2 year old daughter and she adored the cottage and all it had to offer. Couldn't recommend enough and thank you to our perfect hosts for sharing.
Symon
2016-10-25T00:00:00Z
Room Type
Entire home/apt
---
Property Type
House
---
Accommodates
3
---
Bedrooms
Dedham, England, United Kingdom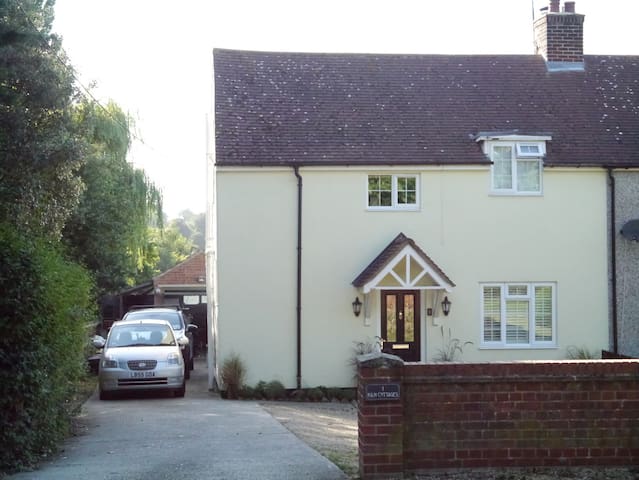 A wonderful open plan 15th century barn with stone floors, beams, a wood burner and fitted kitchen. Set in the grounds of a Grade 2 listed farmhouse nestled on the Essex and Suffolk borders. A peaceful and relaxing place with brilliant access.
The Haywain is ideal for a couple and has a beautiful double bed surrounded by 400 year old beams. They create a four poster bed feel. There is a sofa bed in the room which would be ideal for children to use if they wanted to but might be a bit cosy for four adults in the room unless you all knew each other really well! Please note we do not provide breakfast and the wine in the photographs is to inspire you - it's not included! If you do want any essentials like tea, coffee or milk then please let us know and we will be happy to provide.
We are ten minutes from Dedham where you can walk to Flatford Mill where Constable painted the Haywain. (Hence the name for the barn!) Britain's oldest town, Colchester is ten minutes away with lots of facilities. There is a nice pub a ten minute walk away that serves good food.
We had a great weekend escape in this lovely & very confortable refurnished barn - Mark & Claire provided us with everything we needed as we were supposed to bring bed linens and towels but were not able! We felt completely at home - would definitly recommend for a weekend getaway!
Cristina
2016-03-01T00:00:00Z
The hosts were lovely at the boomfeild barn couldn't have asked for a more welcoming family. I went here for my 3rd year anniversary and I had the best time relaxing and taking in the scenary. Pool and tennis court access allowed when set up with hosts which I thought was very nice for them to offer. And we had breakfast just outside the barn which was beauitful to wake up to in the mornings.
Olivia
2015-07-22T00:00:00Z
A truly amazing place, small and rustic with everything you need for a relaxing break. The photos really don't show the warmth or character of the barn and how comfortable it is. Mark and Claire were both extremely friendly and welcoming the times we saw them, easy to communicate with before we arrived and made us feel that if we had needed anything they would have been more than happy to help.
Trevor
2016-11-23T00:00:00Z
Mark & Claire are very welcoming and warm people. The barn is lovely. We enjoyed our stay and will look to stay again.
James
2016-02-09T00:00:00Z
The barn is set on a beautiful farm filled with character. The farm feels gives you the feeling your in the middle of nowhere however both Colchester and Dedham are an easy drive. Mark and Claire are the perfect air bnb hosts, friendly, approachable if you need anything, but happy to respect your privacy and leave you to it if not. Had a great stay and am planning on returning.
Mark
2016-04-12T00:00:00Z
We all had a fantastic stay at the Haywain - highly recommend this place for easy going family accommodation, was perfect for our family of 2 adults, 2 kids under 4 and a dog!! Will deep visit again soon!
Lucy
2017-03-17T00:00:00Z
The barn is lovely. Comfortable and peaceful. The bed is very comfortable and Mark and Claire were great hosts - happy to help with anything but giving me complete privacy too. I'd definitely go back.
Rebecca
2016-04-24T00:00:00Z
Booked as a surprise for my boyfriends birthday, and he loved it. I loved it. Such a lovely location, and the barn was amazing. The pictures do not do it the justice it deserves! I highly recommend booking. On arrival we met with Claire, who was very welcoming! We spoke with Claire each day while we were there, she left us to it but checked that we had everything we needed! Overall lovely location, lovely host, and good value for money!
Katie
2016-09-07T00:00:00Z
Room Type
Entire home/apt
---
Property Type
House
---
Accommodates
4
---
Bedrooms
Colchester, England, United Kingdom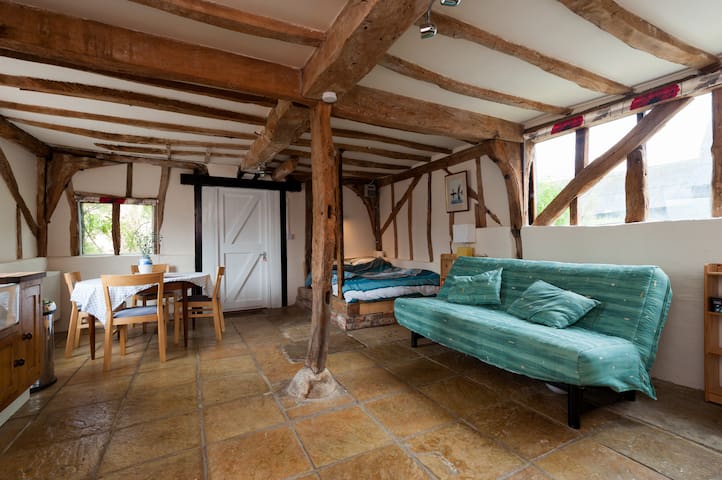 Our 1920's complete holiday home is in a truly idyllic location with the most amazing view over the Dedham Vale. Newly refurbished it oozes character with stylists props perched, 2 cozy fires, luxe ensuite, Fired Earth shower room, verandah & painters studio.
Modernised 1920's bungalow mixing old and new with a collection of treasure and objects for a relaxed and exciting stay. One gorgeous master suite with double ended bath and open fire. A double sofa bed in the attic, a double bedroom with walk in wardrobe and snug single bedroom with wardrobe. We are at the top of the Dedham Vale so if the wind is coming this way it can be chilly so wrap up warm - but we do have two indoor fires and a mini bar-b fire pit to move around the garden or just use near the view facing verandah in the evening watching the sun go down. We are booked between April and the end of July, so please do contact us if you like to enquire for dates before then, as we can offer a bed and breakfast offer now with crushed avocado on toast with chilli and fresh coffee before you go wandering, painting and exploring. We will have a resident house-keeper in the kitchen end of the house while you have your own bedroom suite, with cozy open fire ! Please do ask away and we'd be thrilled to help anyway we can.
Great quiet location with just one house either side of us on the lane facing the view. Commuting is an hour into the City from here (Manningtree is a £10 cab drive away) so perfect if you want a month in the country to paint, go to yoga, walk, cycle, write etc. Here you have space, peace and big skies. Maybe you just need a change of scenery or a great stay cation ... this place is truly uplifting. PLEASE note the garden is not fenced and there is no gate, so children must be supervised if they are inclined to wander. There is garden on 3 sides of the house. A lobby links the front to the back at one side, great for wellies and coats. The driveway is a TIGHT turn at the top so please take care and practise slowly squeezing into the corner to get down the driveway. (We couldn't bare to cut the fir tree down to widen the turning area!)
Great place in a beautiful spot!
Matthew
2017-01-08T00:00:00Z
Hello, We stayed at the Flatford Lodge for 11 days and have experienced exceptional times. The places are beautiful and very well located. And what about the warm welcome and the availability of our host. This house is very cozy, well appointed and everything has been thought to make us spend pleasant moments. We will return for sure.
Jean-Francois
2016-03-28T00:00:00Z
Room Type
Entire home/apt
---
Property Type
House
---
Accommodates
7
---
Bedrooms
East Bergholt, Essex, United Kingdom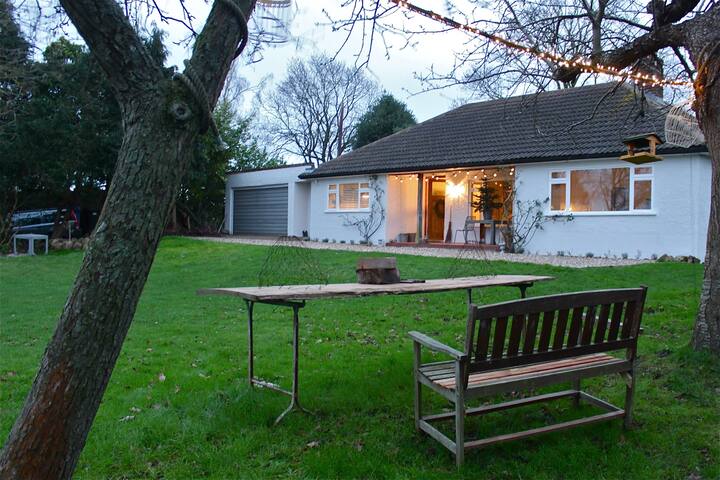 Enjoy a self-catering weekend retreat for up to 8 people in one of the UK's prettiest villages. Our converted Tudor candle factory has three bedrooms and a magnificent yoga studio. Steps from unspoiled Constable Country and a world class gastropub next door.
The Tallow Factory is a converted Tudor candle factory with three guest bedrooms. The property sleeps 8 people comfortably in 3 bedrooms and 3.5 bathrooms. Our master bedroom has a king-sized bed with ensuite bathroom and views of the garden and the surrounding area. Our second bedroom has two twin beds and is directly next to a shared shower room. Our third bedroom is on the top floor and is a two-room suite featuring a full double bed to sleep two in the inner room and two twin beds in the outer room. For an additional charge per person, there is a Z Bed and a double sofabed in the downstairs living room which enables us to accommodate up to 11 people. There is also a full bath with shower on the ground floor which also has a washing machine and dryer.
Dedham has everything you need for a relaxing getaway in unspoiled English countryside. Being in the heart of the village in a tranquil courtyard across from the church, you are steps away from a world-class gastropub and a lovely cafe, as well as walking distance to one of the country's best-stocked Co-op grocery shops, locally sourced butchers, pharmacy and more. In just a ten minute walk you can be down by the River Stour, and either retrace John Constable's steps along the banks or hire a boat and row to Flatford Mill, scene of the infamous Willy Lott's Cottage of "Haywain" fame. There are also tennis courts available for your use just 5 minutes walk away, as well as a safely enclosed children's playground.
This was a great house, enjoyed by our family and friends. It has all the amenities that would make the stay comfortable. Located in the countryside yet very close to London, I would definitely recommend the place
Ezel
2016-10-30T00:00:00Z
We had a wonderful stay, took the whole house for new yr, plenty of room, plenty of hot water, great location, pub just wonderful,& next door. Thank you Claire
Claire
2016-01-04T00:00:00Z
We had an amazing time at The Tallow Factory in Dedham. The house is spacious, clean and beautifully decorated and well-equipped. The house's fascinating history also added to the overall experience. Louise was so helpful in the run up to the weekend. She recommended, Lucy, an excellent Yoga teacher and a local masseuse, both of whom naturally helped us unwind and completely relax into the beautiful surroundings. There are excellent pubs, a co-op and lovely walks all close by. We were also able to hire rowing boats from The Boathouse restaurant, only a 6 minute walk away. I would definitely go back. Thank you!
Tanya
2016-07-04T00:00:00Z
A fantastic and enchanting property with ample space and history and an altogether stunning master bedroom. Situated in a fantastic little town with nearby amenities and attractions; the house is a perfect weekend getaway with friends. The top floor provides an interesting layout full of quirks and the contact and communication was easy and excellent too. Parking was fine and all 6 of us thoroughly enjoyed our stay here too. There is a pub directly next door to enjoy also - and whilst the weather was pretty dark and dismal; this did not dampen our spirits at all. A great weekend, lovely house and accurate listing in a beautiful area. Thanks for an awesome time!
James
2016-08-30T00:00:00Z
A beautiful house in a lovely location. Louise was very helpful and prompt with all her replies. The house is cosy and comfortable with some great period features and fantastic walks around. Stay here of you like history. Thanks Louise.
Maryann and John
2017-01-02T00:00:00Z
Room Type
Entire home/apt
---
Property Type
House
---
Accommodates
8
---
Bedrooms
Colchester, England, United Kingdom
Situated on the Essex/Suffolk border there is easy access to excellent walking/bird watching/canoeing/cycling around the Stour Estuary, Constable Country, Flatford Mill and Dedham. Situated in the town centre there is easy access to shops, local pubs and restaurants. On mainline link to London/Norwich plus close to Harwich for ferry. Friendly well behaved dog welcome (we have a dog). We do have a child's travel cot available.
Guests have their own private bathroom next to the bedroom.
Fabulous house - great central location but in a quiet road. Lovely bedroom & en suite - Sarah was excellent - great communication and very flexible - highly recommended
David
2017-04-08T00:00:00Z
Sarah answered my inquiry quickly and was very helpful. Although the train station of Manningtree was within 15 minutes walk, Sarah kindly offered to meet me on my arrival - and despite train delays, she was very flexible and was there as I stepped off the train! A short drive to the house - which is situated in the town, close to pubs, shops, supermarket and restaurants. Sarah made me feel at home immediately! I was given a key to the back door which meant flexibility without disturbing the main household. I entered a lovely courtyard with entrance to a well equipped shared kitchen and dining room. The house I believe was built in 17th century and has the most amazing and tranquil vibe with exposed beams and low ceilings - yet it feels bright and airy. I mostly had this area to myself and enjoyed a good breakfast each morning, left out for me by Sarah, and a delicious homemade Victoria sponge cake! I arrived at night and needed to head off on foot the following morning, so after a cup of tea, Sarah offered to give me a guided tour - taking me past restaurant options and showing me where I needed to go for the following day. My room and private bathroom were lockable from the inside and could be reached by exiting the dining room and taking a small winding staircase up. It was all very lovely, homely, warm and comfortable. The bed was comfortable and the bathroom had wipes and soaps and moisturiser (handy if I forgot anything). I really felt as if I had known Sarah for a very long time as she was so accommodating and approachable. I was left to my own devices and my time there went too fast! I enjoyed learning of the history of the Witchfinder General who left his mark on this village with some gruesome tales and ghost stories! Sarah once again kindly offered to drive me to the Station to see me on my travels home. I will definitely return , possibly with my dog next time. I would highly recommend Sarah and her lovely home. My first airbnb experience! Thank you
Tracey
2017-03-05T00:00:00Z
Room Type
Private room
---
Property Type
House
---
Accommodates
2
---
Bedrooms
Manningtree, England, United Kingdom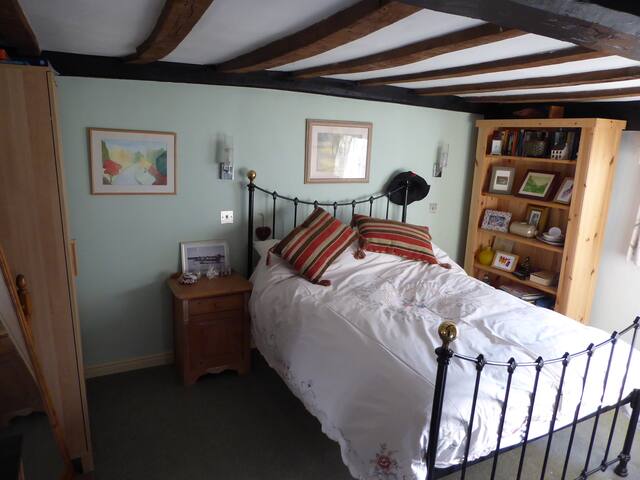 A Georgian house over looking the River Stour, Mistley. Ideally situated for exploring local Constable country and enjoying the scenic walks and country pubs.
The room is situated on the lower-ground floor with access to the courtyard and walled garden. The space offers one double garden room and a private bathroom with power shower and free standing tub bath. Guests will have access to tea and coffee making facilities and breakfast will be served in the dining room.
Thank you Sally for looking after me so well. Throughly enjoyed your hosting, company and fine breakfast. You made me very welcome in your lovely and interesting home
Andrew
2017-03-17T00:00:00Z
Room Type
Private room
---
Property Type
House
---
Accommodates
2
---
Bedrooms
Mistley, England, United Kingdom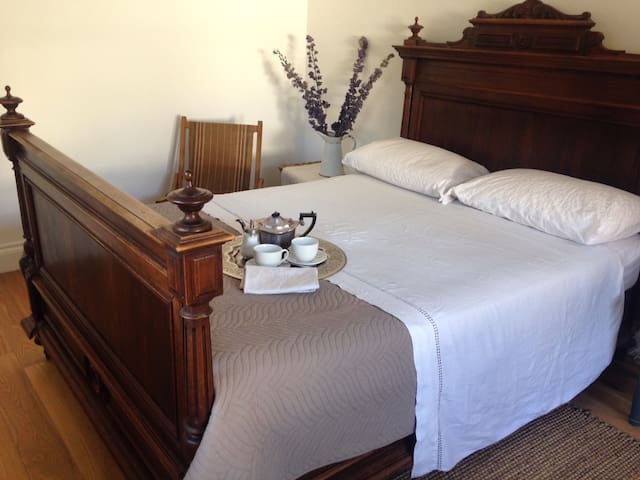 Lovely cottage, oozing with character, in a rural location but easily accessible by car. Offering peace and tranquillity with a wood burner for cozy evenings in guests' sitting room. Close to Colchester and Ipswich, an hour on the train from London, adjacent to beautiful Dedham. Clean, centrally heated rooms, jacuzzi bath and separate shower in shared bathroom.
Room Type
Private room
---
Property Type
House
---
Accommodates
2
---
Bedrooms
Ardleigh, Essex, United Kingdom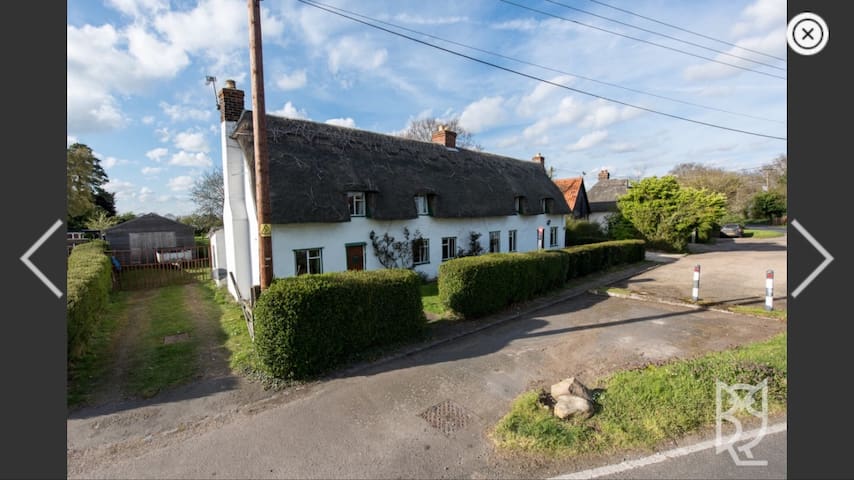 Our spare bedroom is located in our beautiful Suffolk home with a double bed and room for your furry friend if you wish, it's a calming house with space for yoga and beautiful surrounding walks.
We have a yoga room in the house that means you can do your own practise or enjoy a free session from the instructor (if available on your stay) It's a double room with black out blind close to the bathroom. We have a dual log burner for those chilly winter evenings
We have so many beautiful walks around us, the country side is beautiful and lovely local pub. Gorgeous town of hadleigh is a five minute drive or glorious 20 minute walk. We are close to Ipswich town centre, Manningtree train station and the historic town of Colchester
I can't even begin to describe how fantastic Jenny, Wibbs, Daisy and Dexter are as Airbnb hosts... I was down in Suffolk for a wedding, and as soon as I arrived (one day late because of a broken car!) I was made to feel so welcome in their lovely home (mostly by doggy cuddles from Dexter!) Their house is gorgeous - lovely bedroom, super comfy bed, great shower, garden to chill out in, have breakfast and listen to all the birds, a space to do yoga.. on the day of the wedding, Jenny and Wibbs very kindly offered to look after my dog while I was away, and also let my parents park their campervan in the parking space so that we were all nearer to the venue! I feel very lucky to have met these guys, and would completely recommend staying here because you will have a lovely time :) thank you so much J,W,D and D - I hope to see you again one day! Love, Phoebe and Skye xxxx
Phoebe
2016-09-25T00:00:00Z
We had a very warm welcome and a good nights sleep. Loved the dogs too! We recommend.
Mike
2016-09-17T00:00:00Z
We had a lovely time, it was ideal. Both Jenny and her partner are wonderful hosts and Jenny even provided cream for my sunburnt back!
Jason
2017-03-29T00:00:00Z
They had time to chat over a cup of tea when we arrived. The neighbourhood was very friendly and pleasant. They were enjoyable to chat with.
Sarah
2016-10-07T00:00:00Z
Room Type
Private room
---
Property Type
House
---
Accommodates
2
---
Bedrooms
Layham, England, United Kingdom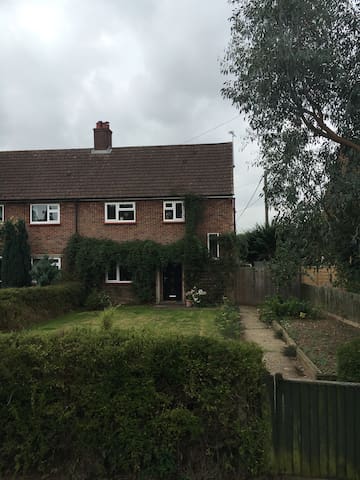 Walnut Cottage is on the Essex/Suffolk borders and is a 17th century extended family home which is situated on quiet country lane surrounded by apple orchards and rolling countryside. It is a perfect location to explore Constable country with Dedham and Flatford Mill just a couple of miles away. Also only 4 miles from Colchester and within easy distance of Ipswich, Bury St Edmunds and surrounding villages.
Walnut Cottage benefits from three double bedrooms including the impressive master bedroom which is part of the original 17th century cottage. There is a family bathroom, en-suite bathroom to the second bedroom and a downstairs cloakroom. The kitchen includes an old fashioned Aga Rayburn which both heats the house and can be used to cook on as well as a modern electric cooker plus washing machine and dish washer. All kitchen cutlery, pots and pans etc are provided. The large lounge includes a large log burner and two large sofas plus flat screen television with free view, surround sound and a Blue ray player. There is a separate dining room which can seat up to eight people. There is a 0.5 acre garden surrounding Walnut Cottage which backs on to apple orchards and rolling fields. A patio area includes outdoor table and chairs for six people.
Walnut Cottage is situated on a quiet single track country lane with just five other houses. It is more often you will see a horse going past than a car! The cottage is just 2.5 miles from Dedham the famous village with John Constable spent alot of his life and has a number of quaint shops, tea rooms and restaurants. Colchester - Britain's oldest city is just 4 miles away.
Room Type
Entire home/apt
---
Property Type
House
---
Accommodates
6
---
Bedrooms
Ardleigh, United Kingdom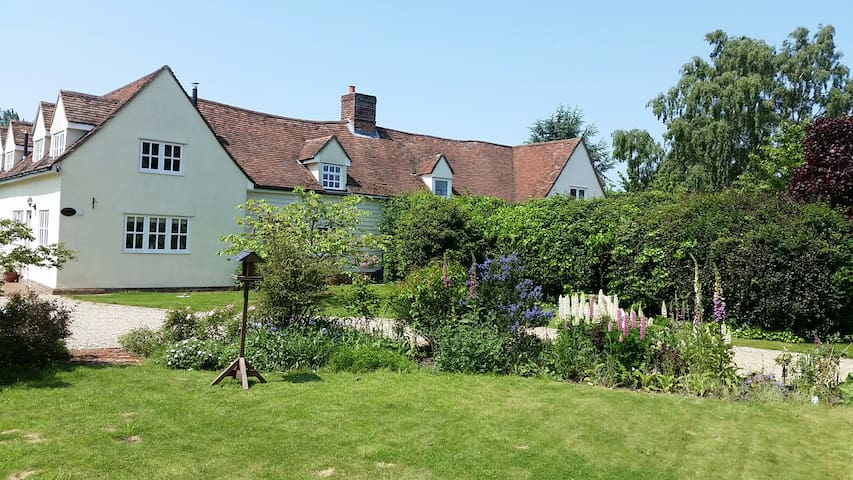 Cahmas Cottage is a spacious and well-equipped semi-detached Victorian cottage in the quiet, south Suffolk hamlet of Chattisham. Perfect for those looking for a peaceful countryside location with lots to see and do nearby.
Cahmas Cottage is a three bedroom house, with lovely countryside views front and back. The house sits on national cycle route 1 and attracts more cyclists than cars. Coupled with an enclosed garden, Cahmas Cottage is a safe place for young children or those in search of peace and quiet. There is one master double bedroom, a spare bedroom with a single daybed which pulls out into a king-sized double and a third bedroom with bunk beds. The upstairs bathroom benefits from a large bath and walk in shower. The large open plan living room/dining room has a wood burner for chilly evenings (guests have access to the well-stocked wood store) and a dining table which comfortably seats eight. The well-equipped kitchen is at the guests' disposal, and looks out onto a pretty garden with outside seating on the deck and a BBQ. The house is perfect for families as there are lots of toys, books and DVDs which guests are welcome to use.
Although Chattisham is a lovely, quiet hamlet, it only takes ten minutes to drive to central Ipswich where there are lots of shops, restaurants, a train station, cinema, swimming pool, museum and the beautiful Christchurch Park. There are loads of other local attractions nearby such as Jimmy's Farm, the Suffolk Food Hall, the Shotley peninsula and historic towns and villages like Hadleigh, Lavenham and Kersey. We are also only an hour from the Suffolk coastal towns of Aldeburgh, Southwold and Walberswick.
A lovely period house in a quiet Suffolk village. Nice to go for walks with the dog around the fields and the house is well suited to young children. Plenty to do in the surrounding areas and we enjoyed the beaches, historical villages and farm parks. We had a lovely stay and were made to feel very welcome. Would recommend staying here.
James
2015-07-11T00:00:00Z
The host canceled this reservation 11 days before arrival. This is an automated posting.
Sally
2015-10-13T00:00:00Z
A very lovely county side house. We enjoyed every minute while staying there. The house is surrounded by fields where you could walk. The location is also very suitable for cyclists. Also the communication with Jessie was perfect. Although we only met at the doors while leaving I wished we could've had more time together.
Valentin
2015-08-07T00:00:00Z
Beautiful peaceful location and spotlessly clean gorgeous cottage. Main bedroom overlooking cornfields and pretty garden at back. Spacious accommodation which comfortably suited me and my 2 adult kids. Nice selection of family Dvds too!
Sarah
2015-08-09T00:00:00Z
Room Type
Entire home/apt
---
Property Type
House
---
Accommodates
6
---
Bedrooms
Chattisham, Suffolk, United Kingdom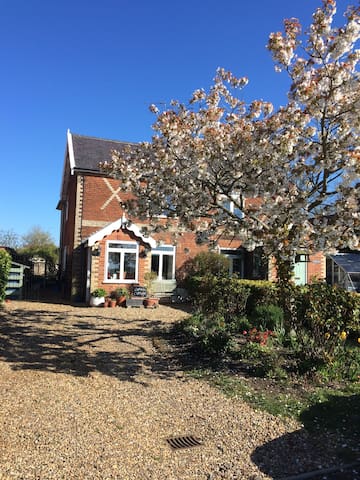 A delightful barn detached from our main house with parking for 1 car. The property offers 1 bedroom with ensuite bathroom and an open plan living area with sitting area and kitchen. Also benefits from a secluded and quiet courtyard. Located centrally in Hadleigh, Suffolk, ideal for nearby wedding venues and within a short walking distance of the High Street. A great base to discover Constable country, the Dedham Vale and the famous medieval town of Lavenham.
A spacious, warm inviting barn, with every eminently you could ask for. A very well thought out and comfortable space to relax in, or travel out from. The owners made us feel very welcome, with lots of goodies left, and flowers in every room. Only sad we stayed for two nights and didn't stay longer. The photos definitely don't do the accommodation justice. We will need to arrange a longer stay in the future.
Zalihe
2017-03-05T00:00:00Z
Room Type
Entire home/apt
---
Property Type
House
---
Accommodates
2
---
Bedrooms
Hadleigh, England, United Kingdom
The Pump House is close to the village of Stoke by Nayland which boasts two great gastro pubs shop etc. yet the Pump House is surrounded by a simple field with a small stream running through. The Pump House is at the centre of a footpath network within the Dedham Vale, an area of outstanding natural beauty. Great views and walks. You'll love my place. Its a quirky conversion of a water pumping station with every comfort and great views. My place is good for couples and furry friends (pets).
The space is open plan with the double bedroom curtained off and with a sofa bed and the TV on the balcony level. This cosy snug is reached by a steep paddle stair which is really not suitable for very young children or unsteady adults. The sitting area downstairs has extensive views all around to enjoy the wildlife. All very tranquil and quiet.
Two excellent gastro pubs in the village of Stoke by Nayland which is within easy walking distance. Ideal walking and cycling country straight from The Pump House.
We thoroughly enjoyed our stay at the Pump House, the location was excellent and The Crown in the village was first class. The only thing we would say is that the interior would have benefitted from refurbishment and a little upgrading.
Carol
2017-03-26T00:00:00Z
The Pump House is a lovely quirky little place where we had a great stay. Warm, quiet and relaxing it is a great place to stay (if a little off the beaten track) The stairs are a little tricky (as described); the garden is relaxing and the little village had a great gastropub. Lovely. Thank you.
Simon
2017-03-31T00:00:00Z
Douglas's places is beautiful and relaxing. The pump house does have its unique touch and personality. It's in the village, near a little stream and the underfloor heating works a treat to tired feet. The location is very quiet which is perfect for relaxing. Really good to enjoy the morning sun and wildlife whilst having a coffee. Lovely view of the outdoors. For the Internet do without's lol! Note* due to countryside the network signal is poor. I brought a 3 mobile WiFi dongle with a portable battery and had 7mb speed with the dongle outside on the porch. Good enough to keep in touch with the outside world. Really great stay!
Kieran
2016-11-21T00:00:00Z
Room Type
Entire home/apt
---
Property Type
House
---
Accommodates
3
---
Bedrooms
Stoke-by-Nayland, England, United Kingdom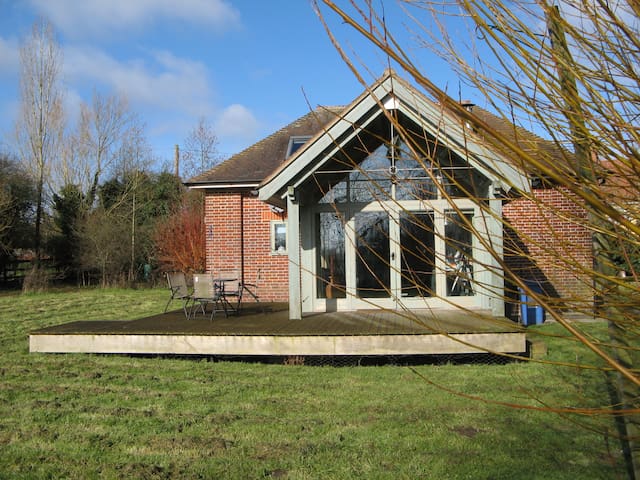 The Old Piggery is a 5 minute walk to the beach with incredible views looking onto the estuary. As a new build it is modern, open plan layout with large sash windows filling it with natural light. Wood burning stove & underfloor heating creates a cosy setting to relax & dine in.
Local village shop is a 10 minute stroll away. There are 2 pubs within 10 minutes walk also, The Kings Head is our personal favorite.
You will not be disappointed! The house and location are amazing.
Christina
2017-02-19T00:00:00Z
What a great place. Peaceful, secluded, amazing location, fun countryside area to walk around. Would stay again and totally recommend to anyone looking for a good rest and relaxation in a great part of the country. The piggery is also a great place to hang out eating and drinking, being merry with friends and family. Thanks Jash! Hope to visit you again.
chris
2017-03-24T00:00:00Z
Jash was a great host. We had a very nice stay at his place.
Scott
2017-03-01T00:00:00Z
Beautiful location and fabulous views from every room. Accommodation very spacious and finished to a high standard. Great walks from the doorstep and lots to see in the local area. Had a great weekend here would definitely recommend and would go back again. Thank you.
Nicola
2017-02-13T00:00:00Z
Amazing location, beautiful views, outstanding accommodation and very friendly and very welcoming host.
Cameron
2017-02-06T00:00:00Z
Room Type
Entire home/apt
---
Property Type
House
---
Accommodates
6
---
Bedrooms
Stutton, England, United Kingdom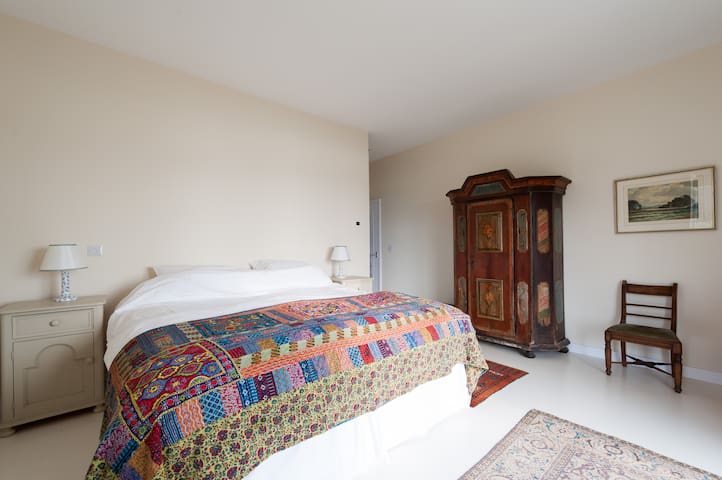 1

–

18

of

150 Home Rentals
Enter dates to see full pricing. Additional fees apply. Taxes may be added.