The property consists of a traditional style Garden Apartment in a Villa, it has a large Terrace and private pool with access to communal gardens and a secondary shared pool. Very light apartment as you can see in the pictures. 20 minutes from Valencia airport and Valencia city
There is Free Wifi in the property
The main villa is in a tucked away corner on its own, surrounded by landscaped gardens, the little Spanish town of Gilet is less than 1 km away and it has all the essentials like supermarket and there is also a train station. in total there are 3 apartments in the villa and this is the middle one.
Room Type
Entire home/apt
---
Property Type
Villa
---
Accommodates
6
---
Bedrooms
Gilet, Valencian Community, Spain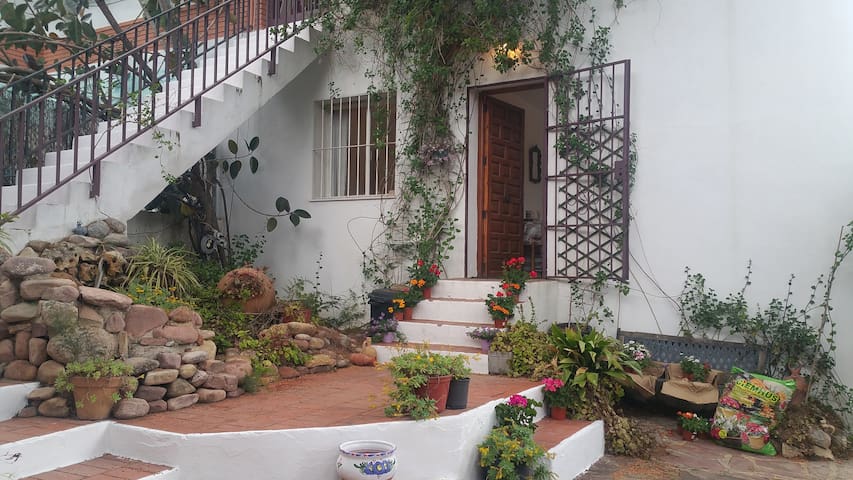 Private Pool. 8 Bedrooms. Sleeps +16. Suits Large Groups/Families. Located in a peaceful village, 20 minutes from Valencia either by car or by subway (3 minute walk to the station). Also 5 minute drive by car to get to a fantastic beach area. Aircondition !!
The villa is perfect for Families and friends to share good moments all together after a hard day sightseeing the city. Have KIDS? This is your place. They will be able to run and play around the private area safely while mom and dad are enjoying in the sun&pool, making the bbq or just chilling on the sofa enjoying a glass of Spanish wine. The villa is all white, inside and outside, combined with the blue of the sky and the water of the pool, makes it perfect to find PEACE&RELAX during your vacation. Come over, can you already feel it? the sun gets in side the house through the windows waking you up, everybody is sleeping, so everything is so quite, you turn on your favorite music get a nice shower and walk down to enjoy breakfast by the pool. Can you see it? Close your eyes. Don't you think that breakfast moment is a pleasure?. The beach and the sun are waiting for you, the sound of the waves will make you feel great. The city is moving and you want to move with it. Everything will be all right, lots of things to do and see, lots restaurants to enjoy, nice beaches and the great Sun will give you the power of life, the power that you only know how to enjoy... Don't hesitate to come and make it true, booking this house is the first step. Are you going to let it go? Thanks so much for your interest. The host, JUAN.
The town and the neighborhood are very peaceful. The metro(subway) station is 3 min walking from the villa. Also, There is a big supermarket 2 min walking, butchers, fishmongers and other services around. In addition, the town has a beach 5 minutes by car, where you can find many restaurants, entertainment area, bars, even a marina where you can practice activities and water sports.
Our dear Juan, We couldn't have found a better place to stay in Valencia with 14 twenty+ year old people. From the moment we arrived, we were absolutely in love with the villa. Juan welcomed us with pizza's, beer, soda, fresh ice and a breakfast basket for the morning after. the villa had everything to make our trip fabulous: plenty of rooms and bathrooms, a swimming pool, multiple big terraces, a good kitchen and even a barbecue... Everything was also very clean and stylish. And Juan changed all the towels after 3 days. On top of that, the metro to the center of Valencia was only 2 minutes walking and there was a supermercado near by. We didn't need a car at all! And then there was you, our friendly host! We were friends from day one and you really understood what we wanted to discover in Valencia :D You made paella for 17 people, you were in the kitchen for 2 hours... we hang out together and went to the club where you bought us some beers. :D What can we say more?! We are very grateful for that, dear friend, we hope we'll meet again soon! At the Airnbnb visitors: this is the house you're looking for and this is the host you want! Hasta la vista and see you soon Besos, Philippe-Lynn-Jasper-Winnie-Bram-Marieke-Benjamin-Jana-Mathieu-Eline-Sam-Fred-Robbe-Elien from Belgium
Philippe
2016-04-08T00:00:00Z
We have spent the weekend here with a group of colleagues. The goal was teambuilding and we've succeeded to the max. The villa is amazing, lots of space and luxury. Only 5 minutes walk from the train station with a direct line into the ciry centre of Valencia. The villa has a lot of bathrooms and spacious bedrooms. Also the public areas like kitchen. livingroom and garden with pool are very large and convenient. But the thing that really makes your stay special is the wonderful guidance of the host Juan! His knowledge, smile, help and eye for detail is overwhelming! He did everything we've asked for and so much more. He really makes the difference! Thanks again for everything and hope to see you again somewhere in the future!
Debbie
2016-10-23T00:00:00Z
Juan was very helpful from the beginning, offering suggestions for restaurants and bars etc. The villa did not disappoint! It was spotless. Big and open plan, perfect for big groups and chilling out around the amazing pool. The kitchen was well equipped for cooking and there was a well stocked local supermarket a 5 minute walk away. There was a festival happening the weekend we were there which we really enjoyed. Perfect place for a long weekend or a week in easy distance to valencia which is only a 20 minute taxi drive away which is full of lovely little bars and restaurants. Would recommend this villa to families or groups of friends wanting to chill out and have the option of exploring the city! Thank you Jusn for making us feel so welcome!
Alice
2016-09-11T00:00:00Z
Juan is an amazing host, really helpful and friendly from the point of booking right through to the end of the holiday. My family and I (14 of us) had a fantastic time in pobla de fernals, the town is great and has everything you need within walking distance (supermarket, a few bars and restaurants, ice cream shop and metro) and the beach is a free 10 mins bus away. The house is ideal for large groups, lots of space and a great pool. The outside kitchen is a great additional feature and makes cooking for large groups really simple. Valencia is 25-30 mins away on the metro (which is air conditioned). I'd recommend the science park and aquarium, both very impressive. Overall, highly recommend Juan's house - only point to note is having some basic Spanish would have been helpful for taxis and meals etc!
Daniel
2016-08-07T00:00:00Z
The house is beautiful, very comfortable, very high standard. Juan is a very welcoming host. Juan explains everything there is to do in Valencia and the city is very tourist. Many monuments, bars, restaurants, parks, ...
florian
2015-08-24T00:00:00Z
The description of the house is exactly the same: comfortable, big, with bbq, all kind of facilities around, etc. Also, the host atended us very well. 100% recommendable.
Josep
2016-10-28T00:00:00Z
Our trip to Valencia was really fantastic. The house was totally clean and got huge space for our group of 14 people. The kitchen is very big and had everything you need. The outdoor area with the pool is also huge, much space for chill and relax. There is also a little extra house for BBQ in the garden. Everything with the house was great, but the house isn't directly located in the city of Valencia. By metro (20 min, 11€/10 persons) or taxi at night (25€/4 person) you can enter the city. But we known that, the host Juan pointed before starting our trip. Another highlight of the house is the host Juan. He's a really great guy. When we arrived, he got a welcome present for us and took much time for us. He showed us many insider tips on a map, bars, restaurants, beach club. The whole time he was accessible for us and very helpful. One evening he and his nephew Pascual cooked wonderful paella for us, which everybody enjoyed. All in all we enjoyed the house of Juan so much. We felt welcome from the beginning till the end. We had a great time at #juanhousevalencia and would definitely come there again.
Maximilian
2016-09-21T00:00:00Z
Dear Juan, Thank you so much for your amazing welcoming in your home!!! Juan you're an incredible host and you kindness. You always try to satisfy us, give us a lot of advices to visit Valencia, or discover restaurant and bars. La casa is very design, beautiful and high quality. A lot of rooms so nice, a beautiful pool, and everything was great! We've so unforgettable moment thank to you and we want to come back soon!!! Thank for everything, it was an amazing long week end in family. You'll never find a better place to stay around Valencia, close to beach and the city.
Muriel
2016-05-18T00:00:00Z
Room Type
Entire home/apt
---
Property Type
Villa
---
Accommodates
16
---
Bedrooms
La Pobla de Farnals, Comunidad Valenciana, Spain
The situation of the house is perfect for those who enjoy nature, but also the tranquility of the beach. The house is located 500 meters from the beach you can walk by bike or car. For lovers of hiking and mountain biking is a 10-minute drive from Desert Natural Park of the Palms. For more music located 10 minutes drive from the precincts of the FIB / ROTOTOM. FIB: August ROTOTOM There are Bus stop
Para mi lo mas importante cuando viajo son tres cosas: La limpieza La cama que sea muy confortable La tranquilidad a la hora de dormir Esto es lo que encontrarás en mi casa Además cuidamos los detalles para que te sientas como en casa. Nos gusta el buen ambiente. For me, the most important thing when traveling is three things: The cleanliness The bed is very comfortable Tranquility at bedtime This is what you will find in muy house. We also take care of the details to make you feel at home. We like the good atmosphere
The area is ideal for those who want to enjoy a quiet stay on the beaches of the area and enjoy an evening in one of its bars as child and enjoy your food. It is also ideal for lovers of sports like paddle surfing, kite surfing, sea kayaking ... For those who like nature we have the Natural Park Desert Palms for hiking trails or venture by trialeras with the bike. To snorkel definitely have to go to the coves of the Renegá you can go sea kayaking or walking along the greenway. Very close to the area is LA VIA VERDE Benicàssim / Oropesa The old route through which flowed the train has been converted into a greenway. Links both populations with a 5.7 km wide path that runs parallel to the coast. lets us know unique places having two watchtowers, one microreserve, and even a tunnel, you can make walking or cycling, the views of the cliffs and coves of the Renegá are spectacular. The town of Benicassim has a lot of life and after a day of beach or mountain recommend a rosette spray and dining out at one of its restaurants. If the idea is to stay closer to the area without doubt go to the beach bar the beach where you can dine and enjoy the changing light sea at sunset with a peaceful atmosphere. SOLÉ is another beach bar style Gurugú reegue also offer meals. The area is perfect for Those Who want to enjoy a quiet stay on the beaches of the area and enjoy a sunset in one of Their chiringuitos child and not enjoy Their gastronomy. It is perfect for lovers of Simple past: such as sports paddle surfing, kite surfing, kayaking is ... For Those Who Have we like nature the Desert Natural Park of Las Palmas to make hiking routes or venture through the trialeras With the bicycle. To snorkel you must go to the coves of Renegá, you can go kayaking by the sea or walking along the greenway. Very close to the area is LA VIA VERDE Benicàssim / Oropesa The old route Where the train has-been converted into circulated a greenway. Both towns It Connects With 5.7 km of a wide road That runs parallel to the coast. It Allows us to see unique places with Two towers watchers, a micro-reserve, and even a tunnel, can be done walking or cycling, the views of the cliffs and coves of the Renegá are spectacular. The town of Benicassim has a lot of life and after a day of beach or mountain I would recommend a shower and go out to dinner in one of Its restaurants. If the thought is to stay closer to the area without hesitation go to the beach bar BEACH Also Where You can dine and enjoy the Changes of light of the sea at sunset with a quiet atmosphere. SOLÉ is another beach bar on the beach of the Gurugú Also reegue style meals offer
Was a beautiful stay and Mamen made sure I knew all about the sight seeing and recreational activities available in the area. She was a welcoming and I formative host.
Suzanne
2017-03-26T00:00:00Z
it was so great! a big garden, a very veautiful appartement with a great room, a and mamen is a veryyy sympa and nice person! it was wonderful!
Sophie
2016-07-29T00:00:00Z
Mamen's place is a great place to stay and she is a great host. Very comfortable and good location to get to the beach. I would recommend it.
Miller
2016-08-21T00:00:00Z
Simplemente fantástico. Gran anfitriona. Lugar mágico. Para repetir sin duda.
paola
2016-08-10T00:00:00Z
Muchas Gracias a mamen por todo. excelente persona,nos espero hasta que llegamos en la noche tarde para nuestra entrada. Aunque la estancia fue corta siempre, estuvo a la disposición para que nuestra estancia sea mas amena. La ubicación es genial, tienes mar y montaña cerca. La casa y la habitación espectacular. Hasta incluso nos dejo un detalle de despedida al irnos, 100% recomendado.
Emilio
2016-07-03T00:00:00Z
Muchas gracias. Super atenta, la casa preciosa, hemos estado super a gusto. Totalmente recommendable.
Jordi
2016-07-17T00:00:00Z
Das Haus ist etwas abgelegen am Rand einer Hauptstraße, die ab 23.00 Uhr ruhiger wird und um 8.00 Uhr morgens wieder regelmäßig befahren wird. Der Stand ist 5-10 min zu Fuß mit einem ruhigen und sauberen Strand. Da man von Benicàssim oder Castelon, etwas weiter weg ist, gibt es am Strand eine Strandbar Namens Sole, dort kann man auch gut Party machen. Das Haus ist sauber , die Gäste haben eine eigene Küche, Bad mit Dusche. In allem eine sehr nette und Schöne bleibe mit Garten und Pol. Das einzige das mich gestört hat ist, dass ich ein Zimmer bekommen habe das Bildern und Beschreibung passt. Es gab ein kleines Problem mit dem Abwasserschacht, dass hat Abends etwas gerochen so das es unangenehm war. Die Gastgeberinn hat sich sofort mit dem Problem auseinander gesetzt und mir das nächste freie Zimmer zu Verfügung gestellt. Und mir mein Geld erstattet für die Nacht
Nuriye
2016-08-17T00:00:00Z
Room Type
Private room
---
Property Type
Villa
---
Accommodates
2
---
Bedrooms
Castelló de la Plana, Comunidad Valenciana, Spain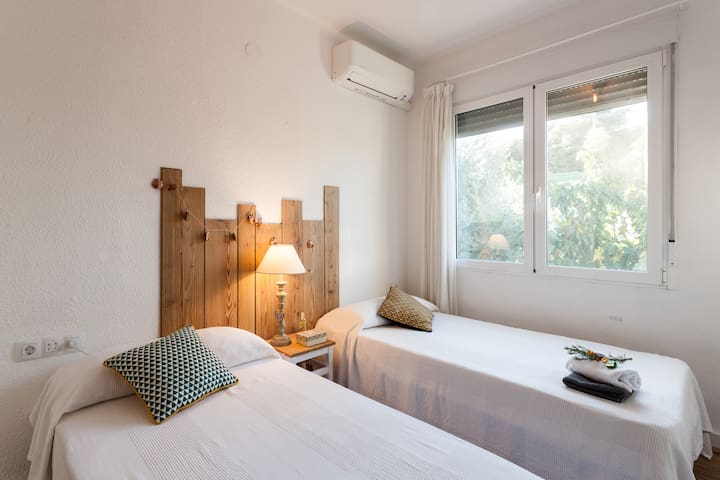 Habitacion en villa compartida, 10 min de Castellón en coche, urbanización privada con cancha de tennis,piscina,basket, casa super amplia muy luminosa bonitas vistas a el mar y Castellón.
Room Type
Private room
---
Property Type
Villa
---
Accommodates
2
---
Bedrooms
Plana Alta, Comunidad Valenciana, Spain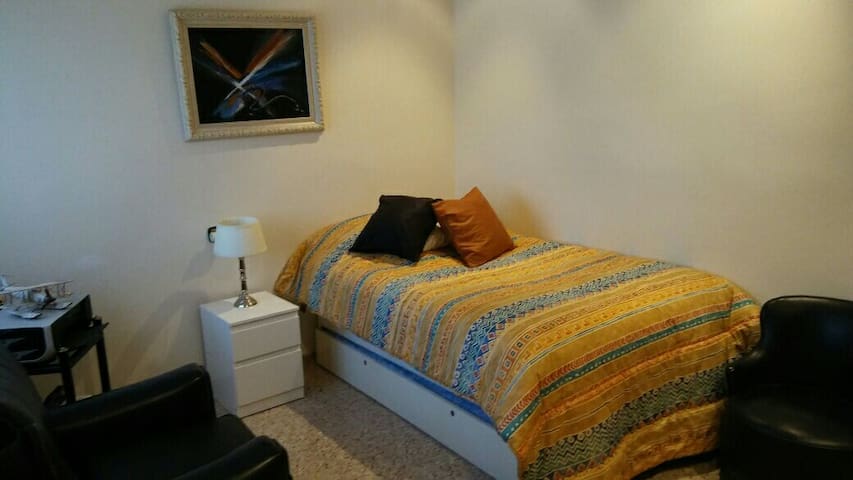 The villa has three bedroom, two of them are bedroom suite. Living room, dining room, two kitchen, winter terrace, one common bathroom (total three bathrooms), 300 m2 garden with 50 m2 swimming pool, and parking for one car
La casa tiene tres habitaciones,dos de ellas suite con bañera de hidromasaje. En total en la casa hay tres baños completos.Jardin con diferentes ambientes y una piscina de 50 metros cuadrados.El comedor-salon-cocina tiene 100 metros cuadrados muy luminoso y con vistas al jardin y piscina.
The villa is located near the Gurugu beach and "El Pinar", a big park of pine trees with a golf course inside, in a quiet neighborhood of villas and low houses. From there you can reach the port of Castellon in 5' and the city centre in 15' by car.
Nous avons passé des moments extraordinaires, la maison correspond bien au descriptif et aux photos. Elle est bien située, a 5mn à pied de la plage, dans une rue calme. Le jardin, ombragé et bien entretenu est très appréciable... Maria Dolores est une femme exceptionelle, intéressante et très chaleureuse, elle s'est montrée trés accueillante, toujours pleine de petites attentions elle nous a même préparé quelques spécialités locales (excellente la paella et les petits beignés de " bacalao"...
fabienne
2015-08-04T00:00:00Z
Мы отдыхали семьей 4 человека в июле. Это очень красивый, удобный и просторный дом. В доме есть абсолютно все необходимое. Описание и фотографии полностью соответствовали тому, что мы увидели. В действительности, дом даже лучше чем на фото. Совсем близко от пляжа. Отличный, широкий и чистый пляж, мелкий песок. До кафе легко идти пешком. Очень порадовал бассейн. Lola замечательная хозяйка. Lola спасибо за встречу и за поэлью и за приятное общение!!! И я надеюсь, что мы ещё вернёмся !
Olesya
2016-08-07T00:00:00Z
Великолепный отдых! Отличное расположение - море в шаговой доступности и, в тоже время, масса интересных мест вокруг. Очень гостеприимная хозяйка, приветливая, радушная. Дом полностью соответствует фотографиям и описанию. Соотношение цена / качество замечательное! Провели три прекрасные недели!
Elena
2016-10-06T00:00:00Z
Gran experiencia con Lola, muy buena anfitriona y pendiente de todo. ¡Gracias por todo! La zona es súper tranquila y muy cerca de la playa. La casa idéntica a las fotos. Repetiremos.
Luis
2016-07-15T00:00:00Z
Increíble trato recibido, una familia excepcional, la casa de 10, todo a la alcance de tu mano.
Jose Carlos
2016-07-02T00:00:00Z
Room Type
Entire home/apt
---
Property Type
Villa
---
Accommodates
6
---
Bedrooms
Castellón de la Plana, Valencian Community, Spain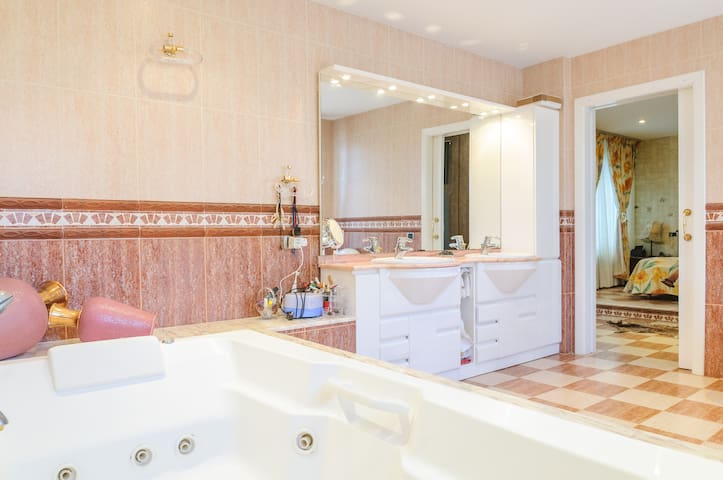 Spainsh Chalet perfect for a family vacation. The home has two stories: The master bedroom is on the ground floor with a queen bed and a private bathroom. Living room, dining room, kitchen and powder room are also on the ground floor. The second floor has two rooms, a den area and a full bathroom. One of the rooms has a queen bed, while the other has two twin beds. The den area is perfect for children to play in.
The home also has a garage and driveway where you may park your car. There is a front balcony and porch in the back by the pool, which are perfect for lounging . You can also take advantage of the open space and walk through the garden.
Room Type
Entire home/apt
---
Property Type
Villa
---
Accommodates
6
---
Bedrooms
Borriol, Comunidad Valenciana, Spain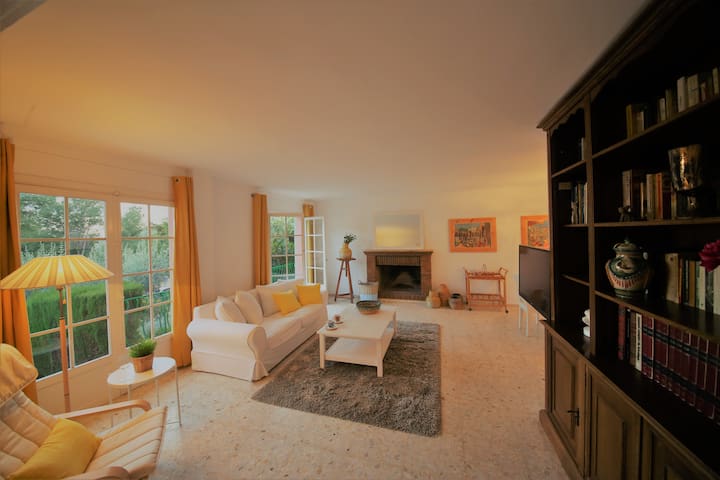 Villa equipped for 5 people with tennis court and community pool. It has 3 bedrooms, main with air conditioning. Small private garden with outdoor shower. Attractions: family activities, public transportation, and nightlife. You'll love my place because The villa is located 2 minutes from the beach .. My accommodation is good for couples, adventurers, business travelers, families (with children), large groups, and pets.
It is a 3 bedroom villa with kitchen equipped with kitchen utensils, stove, refrigerator and microwave. The bathroom is complete. The living room has a sofa two to three plaxas with footrest and television, plus a round dining table.
It is a quiet area to rest and relax by the sea. There are bars and restaurants and supermarkets in the area.
The host canceled this reservation 17 days before arrival. This is an automated posting.
David
2017-03-27T00:00:00Z
La descripción correcta, el sitio estupendo sobre todo para los niños. Hemos estado muy agusto!
Sara
2016-09-10T00:00:00Z
Room Type
Entire home/apt
---
Property Type
Villa
---
Accommodates
5
---
Bedrooms
Castelló de la Plana, Comunidad Valenciana, Spain
La villa Encica se encuentra en playa de Benicassím y muy cerca del recinto donde se realizan famosos festivales como el FIB y Rototom. En ella vive mi familia todo el año, por lo que la casa es muy acogedora y está muy bien acondicionada, tanto en verano como en invierno.
Encica villa, also known as La Casita de la Playa, is in the small town called Benicassím and near the place where they perform the famous festivals like FIB and Rototom. It is also very close to a very nice beach, just about 10 minutes walk. I live during all year with my family, so it is very well equipped in summer and winter. The house is equipped with air conditioned and heating. We are 2 brothers who speak perfect English and we will take care for your needs (take a lift in the airport at the airport, get close and pick you up at the fairgrounds daily). Breakfast is not included and is available at a price of 5 euro per persona and day. Our breakfast includes assorted cold meats, toasts, milk, varied juice, etc... Also, you can ask for a custom breakfast, and we will try to please you at any moment. We can also offer you the traditional products in the area that you will not find anywhere else, like horchata and fartons, home made honey and jams. The house has 4 bedrooms, 3 of them have double beds and the other room is very large and has computers with internet connection, trundle bed and bathroom, and is possible to rent for other two people. The bathroom is in the same floor. Everything is on the top floor isolated from the rest of the house, so all guests can enjoy privacy during their stay. We have 2 dogs very affective and quiet. We dont admit smokers, we admit responsible couples over 30 years old. There is a swimming pool available next to our place where you can relax and enjoy water. There is also a tennis court available for all of our guests.
Zona muy tranquila y de muy fácil aparcamiento a 10 minutos andando de la playa.
We had a very time at Albertos Home and we felt like a part of the family. They are wonderful people. The house is so beautiful with a nice garden and a comfortable balcony. We really really recommend this house!
Mary
2016-08-13T00:00:00Z
We really felt a part of the family!! All of the family is very friendly and extremely helpful!
Eren
2013-07-22T00:00:00Z
Night at Alberto's house was terrific, the house is very pretty, spacious and tidy. Alberto is a great host, he helps whenever you need anything. He is really nice and talkative, and his family... WONDERFUL. I felt like at home. It was a great pleasure to meet them, I hope to return there one day. With a clear conscience I recommend this offer.
Marta
2016-07-25T00:00:00Z
This is the ultimate host, very friendly and helpful.Albertos family makes you feel at home, alberto and his brother helped us to get to places by car whenever we wanted to. 3 min to the beach on bike, 7-10 min to downtown benicassim by car. Go to restaurant terremillas in the port of Castellon, awesome paella di marisco. What are you waiting for, book this place :)
Marcus
2016-08-19T00:00:00Z
We loved staying in Alberto's house. The atmosphere was warm and friendly, and we even managed to hang out together a bit. The breakfast with all the big family was fantastic! We enjoyed the town and we hope to come again one day and sure it will be the same place if it's still available. 100% recommended.
Vlad
2016-07-09T00:00:00Z
Sehr gute Kommunikation leider aus zeitlichen Gründen konnte ich nicht dort übernachten
Nabil
2016-05-28T00:00:00Z
Alberto okazał się serdecznym i gościnnym gospodarzem. Warunki naszego pobytu były zgodne z ofertą. Miły, czysty pokój w domu położonym z dala od zgiełku ulicznego oraz niedaleko od morza (ok. 7-10 min pieszo) z dostępem do łazienki oraz kuchni wyposażone we wszystko co niezbędne do ablucji oraz przygotowania sobie posiłku. Gorąco polecam.
HENRYK
2016-05-19T00:00:00Z
El lugar es precioso, nada masificado. La familia muy agradable, y desde el momento numero 1... Estuvieron atentos ante cualquier imprevisto. Antes de la llegada se estropeo el microondas y rápidamente consiguieron otro para nosotros. El único inconveniente, es que nosotros dos intentábamos no interferir, ni molestar... Y ellos si que querían disfrutar de nuestra compañía. De haberlo sabido nos hubiéramos relacionado... Fue un autentico placer.
Manuel
2016-05-04T00:00:00Z
Room Type
Private room
---
Property Type
Villa
---
Accommodates
11
---
Bedrooms
Benicàssim, Valencia, Spain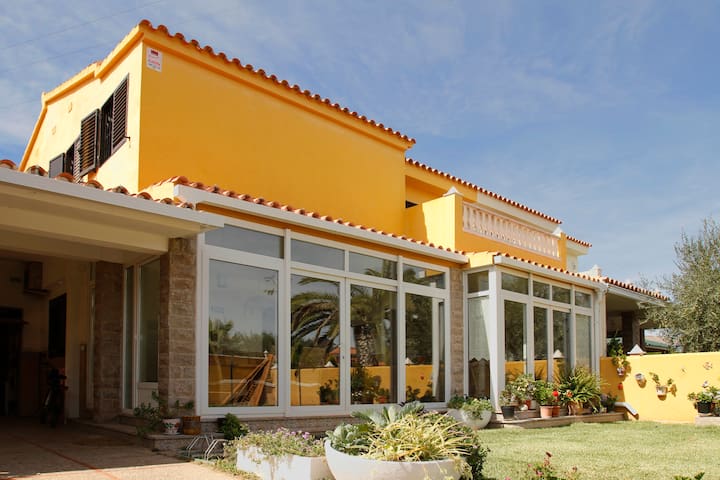 Attractions: Beach and mountains within walking distance. You'll love my place because of rest, peace and beach. My accommodation is good for families (with children) and pets.
Manque de propreté dans la cuisine (plat moisi dans le micro onde / champignons dans le frigo) L emplacement fait peur - on est dans les marécages - et pour parfaire le tout, un chien dans un squat voisin a hurlé toute la nuit.
Nicolas
2016-11-28T00:00:00Z
Room Type
Entire home/apt
---
Property Type
Villa
---
Accommodates
9
---
Bedrooms
Castellón de la Plana, Comunidad Valenciana, Spain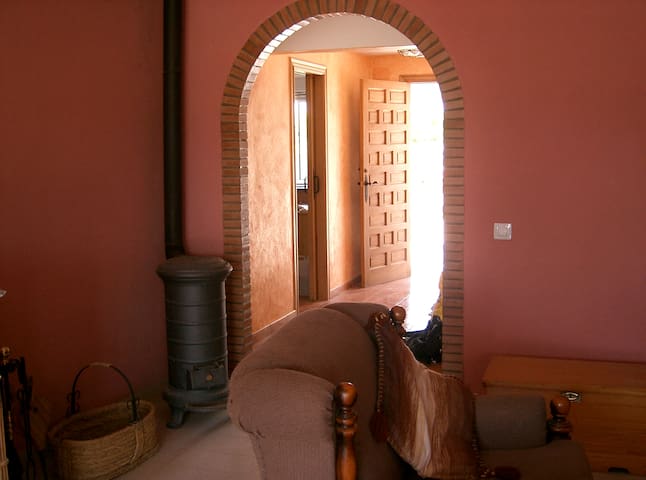 A great architecturally designed modern villa with pool on a small urbanisation 25 minutes north of Valencia. With 5 bedrooms and another guest/media room, this is a great place for families or groups of friends looking for a cool, relaxing stay.
The villa was designed as a home where my family could relax in both summer and winter. In the summer the doors open wide for a great indoor/outdoor flow and the terrace is perfect for evening meals. And in the winter, the wood burning fire and underfloor heating make it cozy and perfect for long evenings chatting with mates.
Mont Blau is a small urbanisation on the outskirts of Torres Torres, a quaint village with a couple of bars, a restaurant which makes a fantastic paella and a few small shops selling necessities. You can walk to Torres Torres through the orange groves in about 25 minutes. The villa is also a short drive away from Canet which which is a lovely beach town with bars and restaurants. The cities of Valencia and Castellon are also a 25 minute drive away.
Absolutely brilliant stay Very nice house, with more space, calm and nice weather. The Cristina house is perfect for holidays family! The swimming pool is large and congratulation for the children part ( less water) So to be honest we are very happy with the house. The Cristina' s father gave us all details and good adress for the beach and restaurant. Cristina, thank you so much to have proposed your house :)
Franck & Dominique
2014-08-17T00:00:00Z
Great house for an extended stay. Family was very helpful. Well located.
Enrique
2017-01-02T00:00:00Z
Very welcoming owner. Host (owners father) introduced us with house and explained which road to use and how to get where we need (we came here by minibus). Also he allowed us to use garage for preparing our bicycles for trainings and competitions. Very beautiful surroundings - hills, orange and vine yards. Seaside is not far away. Quite, calm place. Modern interior, perfect swimming pool - all is as You can see in pictures. All equipment is available for comfortable stay. Table tennis (ping-pong) available for evening leisure.
Gatis
2015-09-14T00:00:00Z
Très belle maison pour d'excellentes vacances. La maison correspond parfaitement aux photos. Merci Cristina
Thibaut
2015-08-01T00:00:00Z
Superbe villa nous avons passé un agréable séjour à 9. L'architecture de la maison est top, la piscine est très grande et nous avons partagé de très bons souvenirs ... La villa est située dans un cadre magnifique au milieu des orangeraies et a 15min des plages de sagunt La belle ville de Valence n'est qu'à 25min L'accueil était sympa avec Roberto et Mara
Freddy
2015-08-15T00:00:00Z
La villa correspondait parfaitement à l'annonce, villa très spacieuse, piscine formidable avec un petit bain pour les enfants(même les enfants de 3 ans ont pied ). Quartier calme proche des orangeraies, par contre aboiements incessants des chiens des voisins. Manque quelques équipements comme: transat(3 pr 10 pers!!!), wifi, clip et une vraie cafetière.. Problème de lumière extérieure au dessus de la terrasse, il a fallu trouver un projecteur dans le garage!!!
gregory
2016-08-21T00:00:00Z
Le Papa de Cristina est très accueillant, la villa est magnifique et la voisine Mara est extrêmement chaleureuse. Le cadre est idéal pour des vacances en famille ou entre amis.
Tej
2015-08-29T00:00:00Z
Room Type
Entire home/apt
---
Property Type
Villa
---
Accommodates
10
---
Bedrooms
Torres Torres , Valencia, Spain
A very well-located, modern, spacious house with very easy access to the best places in Benicasim. Experience our version of the Spanish concept of hospitality as you use our well-designed house as your home base for your Summer adventure!
Well-designed Villa , especially compared to other options at this price point in Benicasim Took 1 year to painstakingly renovate/re-design. It was a labor of love but the result was well-worth it. The layout is perfect for Airbnb as guests have lots of privacy. 250 Square meters with 2000 Square meters of Gardens barbaque &pool • Fully-equipped, renovated kitchen * high-end Nespresso Latissma Pro espresso machine * lots of other appliances * 4 bedrooms • 2 Spanish-style bathroom with shower/tub, and washer/dryer unit • High-grade entertainment center in living room * 50" flat-screen TV
• Within 5 minutes on foot of 2 large supermarkets, including 24hr supermarket, lots of restaurants, wine bars, cafes, etc. • 7/11 convenience store 1 minute away from house! • Ideally located just 5min on foot • Easy, direct access on 1 bus line to the most important stations in Benicasim * light breakfast items (fruit, pastries, toast). * capsules for Nespresso Latissma Pro Espresso Machine provided * a selection of tea also available (Japanese green tea, black tea, etc.)
Una estancia perfecta, muy recomendable para grupos grandes porque la parcela se disfruta muchísimo.
Sandra
2016-08-15T00:00:00Z
Room Type
Entire home/apt
---
Property Type
Villa
---
Accommodates
10
---
Bedrooms
Benicàssim, Comunidad Valenciana, Spain
A 3 minute walk to a beautiful, peaceful white-sand beach along a seaside wooded park. The park paths allow to practice any outdoor sport and it also provides playground for children. In the near Nature Reserve Desert de les Palmes, there are hiking trails with beautiful views. The closest town is 2 km away next to the harbour. NOTE: Check in and out dates must be on weekends. The villa is consigned clean and tidy for your arrival and we are expecting you leave it in the same conditions.
The villa was built during the 1970s and it still mantains that charm, preserving most of the elements of the architecture of those years. The 250 m2 property is situated on a 900 m2 plot and built over a single-storey. The garden circles the entire house. The façade combines different materials, wood, stone and face brick. All the rooms are spacious and bright, overlooking the garden. It has 4 bedrooms with room for 8 people, 3 bathrooms, a spacious kitchen leading to the rear terrace for breakfast/meals overlooking the children's playground with two beautiful olive trees, characteristic of the Mediterranean landscape. There is a large living area with a formal dining area for up to 8 persons, opening on to a 25m2 front terrace facing the sea with sofas, a coffee table and a dining table for up to 6 persons. All 3 main bedrooms are equipped with ceiling fans. Fully equipped kitchen, stove, oven, refrigerator, dishwasher, blender and microwave. There is an extra room prepared with washing machine and enough space to store beach gear, like chairs, mattresses, towels or umbrellas.
The beachfront villa is located in a residential area, only a 3 minute walk from a beautiful, long, peaceful white-sand beach crossing El Parque del Litoral, a seaside wooded and dunes park along the coast. The park is suitable to practice outdoors sports, as walking, running, biking, or rollerblading. There are several great beach restaurants and beach bars in the area together with playgrounds for children and picnic zones at the shadow. Yet is still only a 7 minutes drive (2 km away) from the closest town next to the harbour with all amenities – supermarkets, bakeries, fishmongers, pharmacies -. The fishing port provides freshly caught fish to fishmongers both in the maritime district and in Castellón, the nearest large town located 6 km away. The town fish market is one of the best provisioned on the coast. In the marina there is also a leisure area with bars, ice cream parlors, restaurants and cinemas. From the harbour, ferries and private boats depart towards the Columbretes Islands during the summer. The Columbretes islands are a marine reserve 25 nautical miles away with unspoilt marine life for scuba diving and snorkelling. There is a publicly-owned 9-holes golf course just 1 km away by the park Parque del Pinar. The Golf club premises also offers tennis courts. And on the opposite direction another 1 km away, you can enjoy a full fledged sports center just in front of the beach with gym, solarium, spa, saunas and paddle and tennis courts. Benicassim is located 10 km away, very lively during summer and host of the well renowned music festivals - FIB and others -. From Benicassim you can access the Nature Reserve Desert de les Palmes, a protected reserve of flora with a hugh ecological value and beautiful views of the coastline. It has wonderful trails for both hiking and mountain biking.
Una casa muy encantadora y limpia con un jardin maravilloso! Era muy agradable de comer sobre las terrazas. De mas en una zona tranquila, y muy bien situado, solamente a algunos metros de una gran playa muy bella. Somos frances y no hablamos español muy bien, pero el intercambio con la propietaria simpática y acogedora fue bien. Pensamos volver en este lugar!
Yolande
2016-09-12T00:00:00Z
Hemos disfrutado mucho de estas vacaciones. La casa es muy bonita y agradable y esta todo muy cuidado. Es muy espaciosa y tiene todo lo necesario para estar cómodo. Esta al lado de una playa que esta fenomenal porque esta limpia, no hay demasiada gente, ni jaleo.
Estrella
2016-08-30T00:00:00Z
Room Type
Entire home/apt
---
Property Type
Villa
---
Accommodates
8
---
Bedrooms
El Grao de Castellón, Comunidad Valenciana, Spain
Chalet, situated in 15 mn from Canet en Berenger or 30 mn from Valencia, a fantastic villa to relax & disconnect from the daily hustle, in a privileged environment. Idyllic views surrounded by mountain, on Sagunto castle, Valencia & sea in a plot of 2000 m2 with a beautiful mature garden, private swimming pool, barbecue. House with two bathrooms, four bedrooms, living room and kitchen, with air conditioning & fireplace. Internet, security service and garbage collection. To rent in any season.
The fourth bedroom and second bathroom are on level -1 of the house in the pool area.
Environment in height, with a garden raised and flowered, swimming pool for the sole occupants of the house. Beautiful panorama without vis-à-vis. Quiet residential area, close to amenities, historical and natural sites, the beach and Valencia.
No se puede empezar la casa por el tejado. No es posible alquilar una casa cuando no se tiene la seguridad de que todo está perfectamente preparado. Cuando llegamos la piscina no estaba preparada, lo estuvo para por la tarde, las sabanas de un dormitorio estaban sucias tuvieron que cambiarlas, el frigorífico no funcionó durante toda la estancia y se nos dijo que lo cambiarían pero nos fuimos y no llego con el consiguiente malestar por no tener bebida fresca y no poder dejar (URL HIDDEN) es lógico que durante unas vacaciones tengamos que estar preocupándonos por estos servicios que se suponen mínimos. Es una pena porque es una vivienda que a poco que la cuiden es muy bonita y tiene mucho potencial pero tienen que dedicarla algo de tiempo y dinero.
Angel
2016-08-07T00:00:00Z
Room Type
Entire home/apt
---
Property Type
Villa
---
Accommodates
6
---
Bedrooms
Sagunto, Comunidad Valenciana, Spain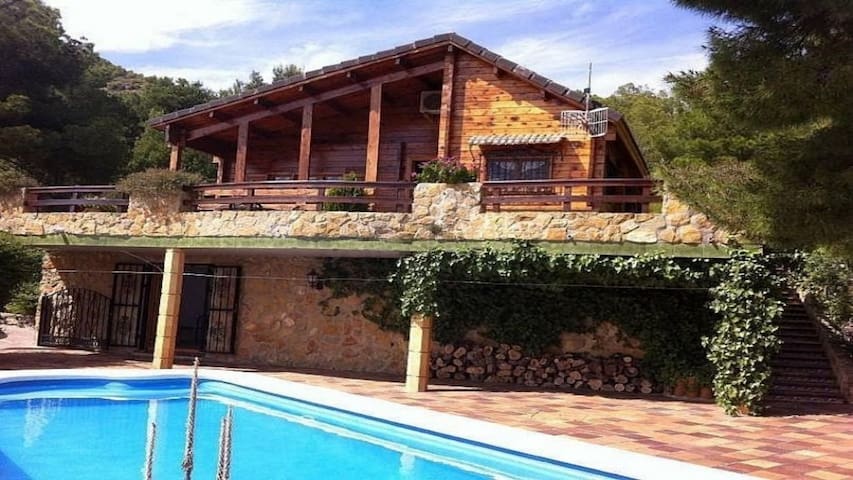 We have a lovely Villa in Grao de Castellon, Costa Azahar. Just 2 minutes walking distance to Mediteranean sea side, the location is near to several restaurants, pubs, night clubs, supermarket...everything you need is near by.
La casa es preciosa, enorme, cocina gigante equipada con todo, baño y terraza dentro de la habitación,todo muy amplio y cómodo.Ana,Carmen y Jose son encantadores, si algo faltaba enseguida lo solucionaban (compraron una cafetera aunq ellos no la usen),todo de 10. a 3 minutos caminando de la playa del Grao de Castellón.
Laura
2016-08-21T00:00:00Z
Room Type
Private room
---
Property Type
Villa
---
Accommodates
2
---
Bedrooms
Castellón de la Plana, Comunidad Valenciana, Spain
Ofrecemos un habitacion pequeño y comodo para estancias cortas con dos camas individuales, mesita y ventilador de techo y recientemente hemos instalado aire acondicionado. La casa esta situada en una zona tranquila de Benicasim conocido por su festival FIB y a menos de 10 min de la playa a pie. Somos una familia de 3 y hablamos Ingles y Español. El precio es por habitacion y noche. We are located on the east coast of Spain, about 45 min drive from Valencia and 1hr 30min from Reus Tarragona, well known for its theme park, Portaventura. We offer a small but comfortable bedroom in a villa with private swimming pool ( free to use) for short stays. There are two single beds,bedside table and ceiling fan in the room and recently installed air conditioning. Bed linen and towels are provided.The house is located in a quiet, peaceful area of Benicasim, well known for the FIB festival and Rototom festivals.The beach is 8 min away on foot. We are a family of 3 and speak English and Spanish. The price per night is 65 euro for the room. Breakfasts(coffee,tea,juice,fruit,croissants/cakes and toast) can be arranged for a small charge of 5 euro per person.If required please advise before coming. A drop off and pick up service (airport and stations) can also be arranged for a small fee. We offer a friendly and peaceful atmosphere and will do our best to help you make the most of your holiday. A small tourist info pack will be left in your room. More than 2 nights can be arranged. Should you require further information do not hesitate to contact us.
The neighborhood is very quiet with bars and supermarkets within walking distance. The neighborhood is quiet With some bars and supermarkets nearby.
We booked our accommodation at Ciara's place because it was close to the fib festival and it couldn't of been a better decision. To begin, Ciara picked us up at the station and boy was that a good idea. The station was quite far from her house (if you decide the walk in the crazy heat that is) and taxi's we're few and far between. Ciara was so helpful in telling us where to go for food, drinks etc and even showed us the way to walk to fib. (about a 30 min walk- but you won't mind walking off all the food and alcohol you'll be drinking during the day). Our room was perfect. Air conditioning and a clean bed is all you can ask for if your going to fib. The pool was amazing and it was all just a great experience. I must mention also that my partner had an ear infection and Ciara even offered to give him anti biotics and drive him to the doctors. She's definitely such a lovely person and was so helpful and caring. We would definitely recommend this place but may perhaps reconsider going to fib festival. The acts we're great but it was 90% Brits abroad. And for Aussies it was a bit too much for us ;)
Victoria
2013-07-23T00:00:00Z
My girlfriend and I stayed at Ciara's home for four nights during the Festival Internacional de Benicàssim, and can't say enough good things about the experience. We had hired a car to drive there, and parking was widely available along the street in front of the house. The location was fantastic, a quiet residential section of town within easy walking distance of the beach, festival venue and multiple local bus stops. Having access to a swimming pool, full kitchen, air conditioned bedroom and clean, spacious bathroom made us feel downright spoiled in comparison to the thousands of festival-goers camping out in the summer heat. But the best feature of the house is unquestionably the host. Ciara went above and beyond the call of duty in so many respects, and truly made us feel like part of her wonderful family. We feel genuinely lucky to have stayed here, and would recommend it to anybody.
Josh
2011-07-19T00:00:00Z
To Ciara & Sam and family a big thank-you. To travel half way around and arrive in Benicassim to be openly and honestly to be invited into your household is one experience I will never forget. It was if had known my host's (Ciara & Sam) for year's, as soon as Ciara picked me up from the train station I felt this was the place for me. The accommodation itself perfectly place 20mins walk to the beach and 45min walk to the "Rototom Festival". Both Ciara & Sam caring attitude towards me made this holiday one of the best, so I can only recommend to any travelers passing through that way, their hospitality will make your holiday one of the most enjoyable one. Ciara and Sam thanks again, I will be possibly be back to Rototom in 2015, so if you can save those dates for little mate from Australia. Mark.
mark
2014-08-25T00:00:00Z
We could not have been more impressed and satisfied with our experience here. Ciara was a fantastic host making us feel welcomed and comfortable immediately. Location was ideal and well walking distance to the beach and the FIB fest. The house and the rooms were comfortable with access to the kitchen and swimming pool which was a bonus. The real highlight, however, was Ciara herself and her family who were relaxed and a pleasure to be around. Definately recommended for benicassim especially to unwind.
Hari-Sharron
2012-07-17T00:00:00Z
Ciara was a wonderful and a very helpful host. The house is really beautiful, with a great swimming pool and a nice garden, located couple minutes of walking distance from the beach. Definitely would stay there again, this place is a must if you're coming to Benicassim or FIB!
Magdalena
2016-07-22T00:00:00Z
Great place to stay for a couple of days, clean and comfortable. The bathroom is deluxe. Very friendly welcome, we even got to taste some outstanding paella :) Ciaras family is very friendly and hospitable. Thanks for having us.
Ljubisa
2012-08-24T00:00:00Z
We had a great stay at Ciara's place. The place was quiet and close to everything. And parking was easy. Ciara was very welcoming and generous host.
Raisa + Torsten
2013-08-23T00:00:00Z
Ciara made us feel at home at the first seconds! It started with the offer to pick us up from the station and through the whole holiday. It was an amazing experience. The hospitality was superb. The conversation were great and the pool was a gods gift! I can recommend this place to anybody who want to visit the festival and have a good time relaxing before and after a hard night of partying. You cant get a better host in the whole of Benicassim.
Robin
2015-07-20T00:00:00Z
Room Type
Private room
---
Property Type
Villa
---
Accommodates
2
---
Bedrooms
Benicasim, Valencian Community, Spain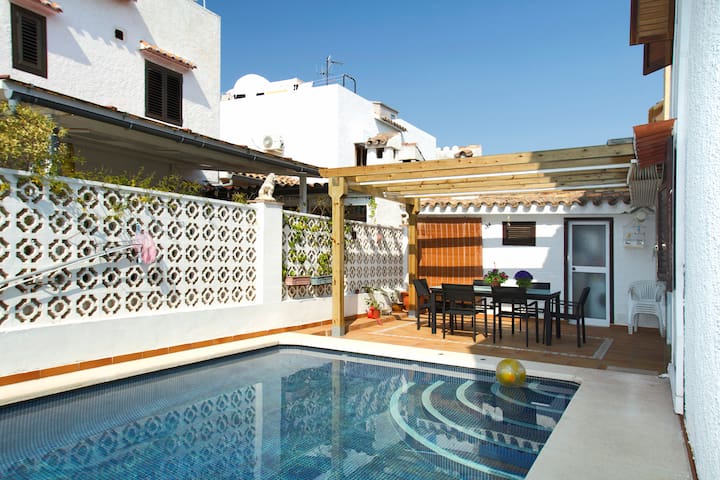 My room is close to a nature reserve, mountains, beach, Valencia, nature. You'll love my place due to the fact that it is located in a beautiful environment, the villa of all amenities and you can swim in the private pool. My room is suitable for couples, families (with children) and large groups.
Authentic Spanish villa including elderly gardener, very suitable for family holidays with children. Located in the nature reserve of the Sierra Calderona (bergketentje) and wonderful for walking. Still, the beach is not far away: 15min drive you are in the port of Sagunto, with an extensive beach suitable for children (takes a long time before you're deep in the water). You can also easily by train to the center of Valencia city. The villa is comfortable and well equipped. The decor dated but does the job.
The neighborhood is quiet, it's a place where a lot of "city-Spaniards" have a second home. You will therefore encounter little neighbors. At weekends and during the month of August, they suddenly appear and it may be that you occasionally hear a party in the bar (located on the road). People nearby often have a dog guarding things that make them simply weekdays at the house (other standards in terms of pets ...). However, they can not pass through the gates and are therefore completely harmless. Why can obviously barking.
Room Type
Entire home/apt
---
Property Type
Villa
---
Accommodates
8
---
Bedrooms
Albalat de Taronchers, Comunidad Valenciana, Spain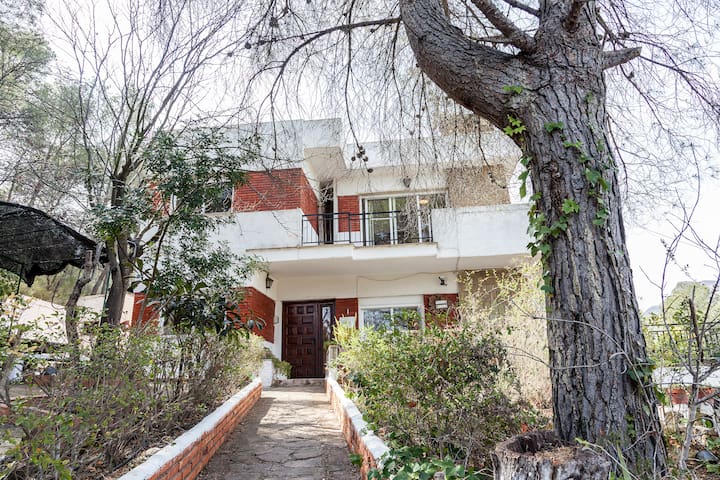 Exceptional Luxury Villa - tranquil, private and secure (24/7 security) in exclusive area with beautiful gardens,large private lockable pool and extensive terraces. Set at the edge of a nature reserve, yet within easy reach of the local village,beaches, restaurants, city night life and airports. This lovely spacious Spanish villa is ideal for relaxed, fun family villa holidays as well as for anyone wanting to find peace and tranquillity in the mountains whilst close to fun activities.
Looking for privacy, yet proximity to Valencia, beaches and mountains? Our secure and guarded neighbourhood provides the best of all worlds. Here you can walk out of the front door and be on amazing mountain walks within a few minutes in the adjoining Caldera Calderon, also known as the lungs of Valencia, have fun at the uncrowded local sea side, enjoy the mediterranean night life in the local village or in Valencia or just relax in the garden. You will be able to enjoy living in one of the most exclusive Spanish neighbourhoods of Valencia - truly a gem off the tourist track.
The villa , which is build in the old spanish style but has only recently been completely modernised by a famous spanish eco-architect, lies at the foot of the Sierra Calderone. This makes it a very pleasant place to spend the summer with its fresh breeze and the beautiful large trees that shade the garden sufficiently to make it a beautiful place to relax in during the hottest hours of the day. Although Valencia, which is only a 25 minute car journey away, is a little too hot to stay at in the summer, it is a wonderful place to visit in the evenings for its great night-life and the wonderful museums as well as its famous aquarium . You can also enjoy the local village with its colourful markets, fiestas, processions and local restaurants and bars. Then of course there are the wonderful blue flag beaches. I am always amazed how uncrowded they are in the summer - largely due to the fact that there is no hotel at the beach. Then of course there are all the wonderful villages to explore in the local mountains as well the wonderful evening walks through the local orange groves. Truly a little bit of paradise.
Room Type
Entire home/apt
---
Property Type
Villa
---
Accommodates
10
---
Bedrooms
Los Monasterios, Comunidad Valenciana, Spain
Lugares de interés: Playa a 1 minuto, parada de BUS para los Festivales Fib y Rototom Sun Splash. Zona de playa con restaurantes y bares tanto para comidas y tapas como para ambiente nocturno. Te va a encantar mi lugar debido a la luz y las zonas exteriores. Es ideal para familias, grupo de amigos y disfrutar del sol, playa y fiesta. El agua de la piscina...te dejara nuevo.
La casa tiene un gran jardín con varias zonas de descanso, con la piscina como centro de atención. Existe una zona de barbacoa muy práctica, tanto para paellas como fiestas nocturnas. También hay un garaje con espacio para útiles o un vehículo, aparte del amplio espacio exterior para aparcamiento. La casa tiene tres niveles con baño en todos ellos.
Es una zona de verano junto al mar con villas y apartamentos.
Room Type
Entire home/apt
---
Property Type
Villa
---
Accommodates
13
---
Bedrooms
Benicàssim, Comunidad Valenciana, Spain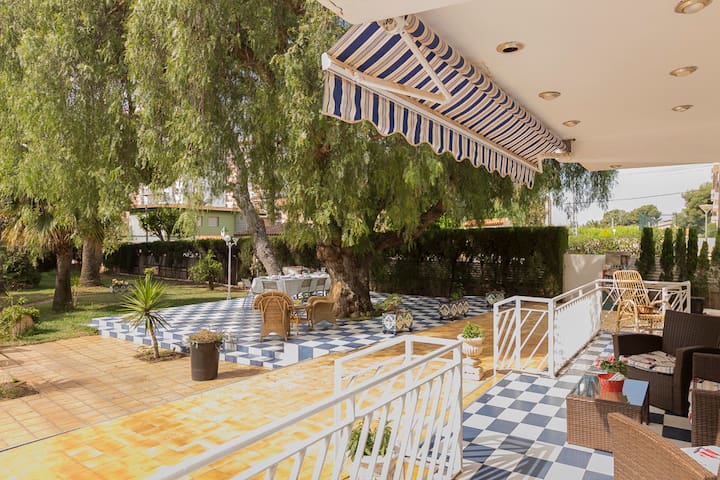 El Grau de Moncofa - Airbnb
:
Average

4.37

out of

5

stars from

92

guest reviews
1

–

18

of

34 Villa Rentals
Enter dates to see full pricing. Additional fees apply. Taxes may be added.