Antigua y tranquila casa reformada, ubicada en el extremo del pueblo, en un marco incomparable con espectaculares vistas al valle y al Pirineo. Ideal para amantes de la naturaleza, a 10 minutos de la Seu d'Urgell y a 20 minutos de Andorra.
Ancient and quite remodeled house at the town's end. Located in a unrivalled setting with spectacular views of the valley and the Pyrenees...just for nature lovers! At 10 minutes from La Seu d'Urgell and 20 from Andorra. Its a suitable destination for recolecting nature fruits as mushrooms, raspberrys and strawberries. It's is also close to skiing resorts as Andorra: Vallnord, Grandvalira y Naturlandia or Sort: Port Aine y Espot Esquí and Castellbó: Sant Joan de l'Erm. It's is also a strategic settlement to adventure sports as : Via ferratas: Via Regina, Roc del Quer, ..., Paragliding: Organyà Canyoneing: Fontanella, Font Bordonera, ..., Kayak and Piraguism: La Seu d'Urgell and Sort Climbing: Tres Ponts, Pared Bucòlica, Fígols, Coll de Nargó, ... During your stay, Carlos and Anna will show you the house and the activities that can be performed in the sourroundings.
El pueblo es pequeño y encantador, tiene zona de juegos ideal para los más pequeños... y además sin apenas transito rodado. Para acceder a los servicios de restaurante, farmacia, supermercado... deberéis ir hasta Adrall, a 5 minutos en dirección a La Seu d'Urgell. Si teneis pensado comer en la casa es mejor que ya vengais con las provisiones ( sal, azucar y elementos basicos los tendreis en casa). Para el pan, en Adrall a 5 min en coche hay un horno de leña que hacen un pan excelente y muy recomendable En la casa encontraréis más información al respecto.
We stayed at Un balcón en el Pirineo for 6 days with our 3 girls. the house was warm, clean and comfortable. the location was great, right in the middle between Andorra to Sort so we got to do all the activities we planned for the trip. with in 5 minutes drive we found a river dam where we could relax and swim in the afternoon.
avi
2016-08-16T00:00:00Z
Excelent old house and Tato a really great host. The view they have here is incredible. We will come back for sure.
Alexandru
2017-01-02T00:00:00Z
What a lovely, unique house. Very welcoming and warm-hearted hosts! An old historic house with stunning views in a historic village . My only regret is that I didnt book my whole holiday there. When you listen closely, you can hear the old dining table telling stories about the past centuries and about all the people who have been sitting there, sharing their bread and their stories. Lots to explore in the beautiful surroundings. I will be back !
Esther
2016-10-16T00:00:00Z
Un lloc molt especial. Una casa molt acollidora, amb tots els detalls, amb vistes espectaculars, i on es respira tranquilitat i pau. Un gran lloc!
Gerard
2017-02-19T00:00:00Z
Un viaje genial. La casa es preciosa con unas vistas alucinantes. Muy acogedora y con chimenea que en invierno viene muy bien para estar al lado del fuego después de estar todo el día conociendo esta tierra tan maravillosa. Los anfitriones un encanto, nos han atendido genial. 100 % recomendable. Nosotros queremos volver.
Esther
2015-12-29T00:00:00Z
El apartamento es lo que promete, una casa rústica centenaria, unas vistas espectaculares y tranquilidad absoluta. Anna y Tato son encantadores y echan una mano con lo que haga falta, incluso encender la chimenea! Muy recomendable para quien busque estar tranquilo y a la vez con buenos accesos a los Pirineos.
Guillermo
2016-12-11T00:00:00Z
Un lugar maravilloso, encontramos lo que estábamos buscando, paz, tranquilidad y desconexión. La vistas son espectaculares. Los anfitriones fueron muy amables, gracias Anna y Carlos! Volveremos! :)
Mario
2016-02-14T00:00:00Z
Un 10 per als amfitrions i l'allotjament. Un entorn màgic, un espai especial farcit de records. Absolutament recomanable!
Béatrice
2015-12-08T00:00:00Z
Room Type
Entire home/apt
---
Property Type
House
---
Accommodates
5
---
Bedrooms
La Parròquia d'Hortó, Catalunya, Spain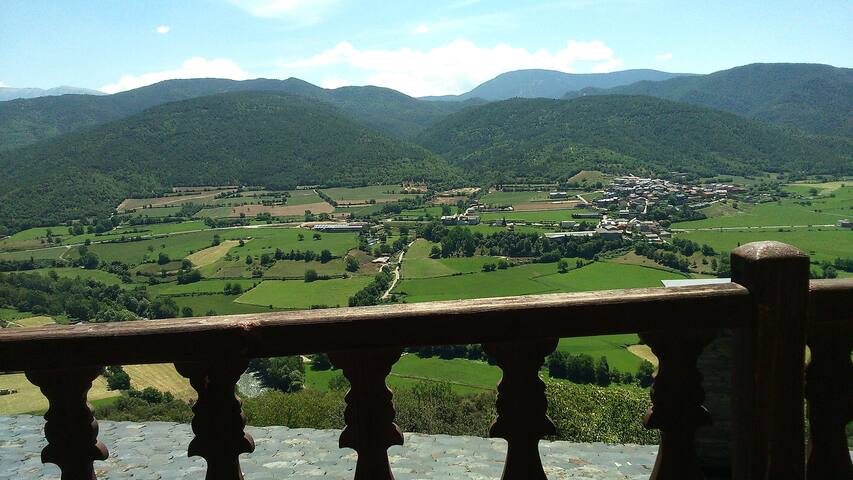 independent room of 15m2 located on ground floor. The room is separated from the house, it has two double bunk beds, a toilet and a shower. Breakfast included. We provide a microwave, kettle and fridge. Possibility to leave the car in the yard 5mt from the room. Service of cab available and washing machine.
Very nice, cozy and quiet place. Ideal for relaxing after a day of skiing, biking , trekking , rafting, kayaking , cultural activity or any other thing that could be done in the area.
very small town surrounded by mountains and fields with horses, cows and sheeps. Traffic of vehicles very small. Possibility of hiking or cycling from home. The village has a fountain and place with swings for kids.
We had an amazing stay at Jordi's and Alexandra's place! They were great hosts and gave us a lot of tips and information on the area. The house is located in a beautiful and peaceful area. The room was really nice, also the breakfast was delicious. Nothing but good words for Jordi and Alexandra!
Carine
2016-07-13T00:00:00Z
I was looking for a place for a weekend trip to Andorra and was lucky enough to find Jordi's and Alex's place. It's lovely located in a quiet village with great architecture, a friendly cat and good wifi. The hosts do speak English (which is not always the case in rural Spain), are very welcoming and chatty. Plenty of separate space with everything you need to survive (and more). Very well thought-through and organized. Breakfast was also included, but unfortunately I did not have the time to have it - but it looked very promising and tasty. Of course you need a car to get to the place, but if you have one everything you need (supermarket, etc.) is within a 10 minute drive and it's 25 minutes to Andorra. It's perfect for travellers from/to Spain/France via Andorra who need a convenient stop to rest. Be sure to check it out!
Slawomir
2016-08-15T00:00:00Z
La descripción era correcta y el anfitrión nos hizo sentir mejor imposible.
Monica
2016-03-26T00:00:00Z
Jordi was a incredible host and was very helpful during the stay. from tips where to go Mountainbiking, to a special bikers breakfast, extra care for the bicycle, it was all arranged, thank you for that! Bellestar is a remote mini-village in the neighbourhood of la Seu d'Urgell. Good for mountainbikers, the house is located on one of the routes. the room is located at the ground level and has all facilities. I will certainly return to finish the other routes.
Egon
2016-11-22T00:00:00Z
Nous sommes restes une nuit chez Jordi et Alexandra, et nous avons trouvé avec plaisir un endroit calme et super agréable, idéal pour se ressourcer. La maison se trouve dans un très petit village rural de Catalogne où le bruit et les voitures sont inexistants. Les hôtes sont attentionnés et nous ont très bien reçus. Alexandra parle Français ce qui a beaucoup aidé. La chambre est fidèle a la description du site et tout est pensé pour que l'on ne manque de rien.. bouilloire, microondes, wifi! J'ai dispose d'une chambre en rez de jardin avec salle de bain, petite mais bien agencée et d'une propreté irréprochable. Le petit déjeuner est incroyable, j'ai pu l'apprécier dehors dans la tranquillité de la cour. Merci pour votre accueil !
Sophie
2016-09-21T00:00:00Z
En Jordi es va mostrar atent en tot moment, contestant molt de pressa a la sol·licitud, indicant-nos com arribar i donant-nos consells sobre excursions i què veure a la zona. L'habitació estava decorada amb molt de gust i no li va faltar res. El poble de Bellestar és molt tranquil i acollidor. Vam trobar la serenor que buscàvem, estant molt a prop de la Seu d'Urgell per qualsevol cosa que necessitéssim. En resum, el lloc és fantàstic i en Jordi ens va fer sentir com a casa. Totalment recomanable!
Judit
2016-08-14T00:00:00Z
Un petit coin de paradis ! Niché dans les Pyrénées espagnoles, une Grange rénovée avec goût avec tout le confort d'une chambre d'hôtel ! Un petit déjeuner avec pain et confiture maison et des produits bio ! Un régal !! Le panorama est fantastique ! On se retrouve réellement déconnecté au milieu des montagnes ! Les routes sont superbes pour les passionnés de moto ;) Que dire des hôtes si ce n'est qu'ils sont parfait !! Merci encore pour tout ! On oubliera pas ce coin de paradis ! Laetitia et Mehdi
Mehdi
2016-08-07T00:00:00Z
Local (9m2) proposé pour 4 personnes !!! en rez de chaussée, sombre (carreaux vitrés de 10 cm de hauteur), sans fenêtre ouvrante, donnant sur la cour. La photo du lieu est trompeuse, l'étage vitré est habité par les propriétaires. Sur la photo on devine la porte coulissante en fer de l'entrée du "logement" situé à l'avant du véhicule, le reste est caché par le camion garé. Nous sommes arrivés après 500 km, à 18H30, 30° à l'extérieur nous ne dormons pas dans une cave sans ouvrant, même aménagée joliment. Heureusement il y a un hôtel à 5 minutes et il restait une chambre. Nous avons pris des photos que nous tenons à disposition. L'hôtesse agacée par nos remarques nous a dit "pour ce prix vous ne pouvez pas vous attendre à mieux"... Le meilleur accueil n'est-il pas l'honnêteté sur le bien qu'on propose ? C'était notre premier airbnb nous avons demandé le remboursement à Jordi et Alexandra et attendons les 3 jours pour leur réponse avant d'aller plus loin. Ce genre de location est inadmissible sans la description de la situation du local. Avoir une table de 40 cm, 2 chaises, 1 baignoire dans un local sombre et clos c'est peut_être génial mais voir un peu de lumière du jour et pouvoir respirer c'est mieux.
MICHEL
2016-08-29T00:00:00Z
Room Type
Private room
---
Property Type
House
---
Accommodates
4
---
Bedrooms
Bellestar, Catalonia, Spain
Llocs d'interès: Era de Cal Tomàs és una casa rural als Pirineus. Està situada al poble d'Arfa, a prop de la Seu d'Urgell i Andorra. A 700 metres d'altitud i al costat del riu Segre, en un entorn amb grans paisatges on podràs fer moltes i variades activitats. Ideal per a famílies amb nens, lluny dels perills de les ciutats i prop de gran quantitat d'activitats per poder realitzar amb tota la família .. El meu allotjament és bo per a parelles, famílies (amb fills), i mascotes.
Room Type
Entire home/apt
---
Property Type
House
---
Accommodates
6
---
Bedrooms
Arfa, Catalunya, Spain
Separate bedroomon the groung floor with bathroom and relaxing space. T.V., wardrobe and shelves. Wifi available. Spacious living room with a large t.v. where you can see the old wooden building typical of medieval times. Castellbò village: Gate of the " Natural Parc de L'Alt Pirineu i Aran". Hiking trails & B.T.T. indicated. Wild horses.Deep history linked to the Cathars & Arnau de Castellbò. Very close to Andorra.
Perfect for couples
Room Type
Private room
---
Property Type
House
---
Accommodates
2
---
Bedrooms
Castellbò, Catalunya, Spain

We like to welcome you at our Chalet "Rec dels Noguers" in Castellciutat - we offer a comfortable and sunny doble room (own bath) in a large chalet with beautiful garden and pool. It is 1,3 km from la Seu d´Urgell, the cultural capital of the pyrenees - with wonderful attractions, beautiful parks, sports facilities and nature all year round as well as festivals, traditions and markets. We look forward to welcoming you and hope that you will feel like at home here!
Our chalet is truly unique - here you will find both, country house charm with a cozy and hospitable atmosphere. In the warm season, our visitors are especially enthusiastic about the beautiful pool and the large garden.
La Seu d´Urgell is 1,3 km away - there is plenty to see and do. Not only very interesting places and attractions, but also an incredible variety of sports facilities. As well as many good restaurants. One of them is right next to our chalet. Afterwards, you can take long walks behind the house. Andorra, "the shopping paradise" is very near - also famous for its charming natural beauty. Of course there are also a lot of possibilities to celebrate, as well in la Seu as in Andorra.
Room Type
Private room
---
Property Type
House
---
Accommodates
2
---
Bedrooms
Castellciutat, Catalonia, Spain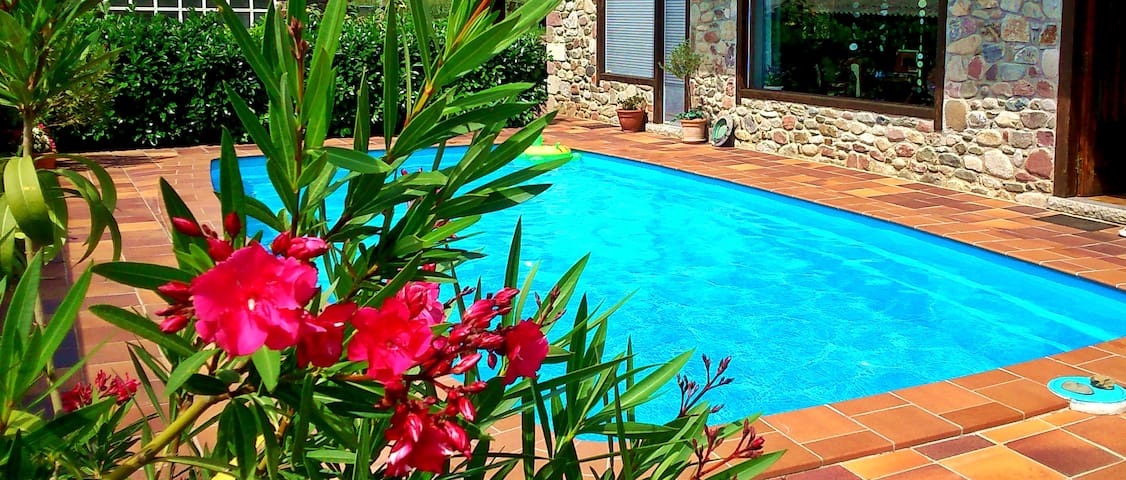 Our accommodation, located in the village of Arfa, is a former farmhouse restored and conditioned to the comforts of modern life without losing the essence of the spirit of rural areas. "El Jardí" is situated in a mountainous rural setting yet easily accessible. Near the river, it offers spectacular views. A 5-minute drive away is the town of La Seu d'Urgell and 30 minutes, Andorra.
El sitio es muy agradable y espacioso. Fuimos 13 personas y nos encontramos muy agusto. Los anfitriones son muy amables y tienen una mascota de lo más adorable. Si buscas un sitio tranquilo donde compartirlo con familia/amigos es perfecto.
Belen
2017-03-26T00:00:00Z
Room Type
Entire home/apt
---
Property Type
House
---
Accommodates
11
---
Bedrooms
Arfa, Catalunya, Spain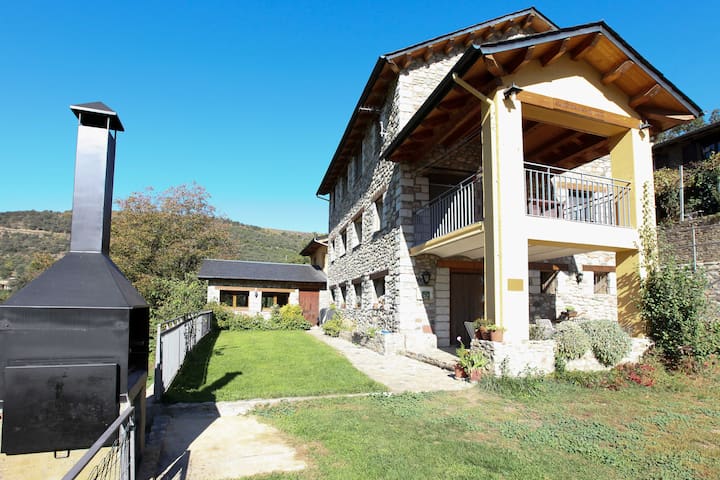 Alojamiento ideal para ir a esquiar tanto de descenso cono fondo, debido a la proximidad de las pistas 25 min aprox. Pueblo para disfrutar de tranquilidad con varios intereses turísticos. Apto para grupos y familias.
SERVICIOS ADICIONALES: - TV plana en sala de estar - TV plana habitación de matrimonio. - Cunas, barandillas, nórdicos y todo lo necesario para los bebes. - Equipo de sonido en el comedor. - Cocina totalmente equipada. - Amenities de bienvenida. - Habitación matrimonio Suitte Vestidor + Baño completo. - Secador de Pelo. - plancha. - Parquing a menos de 5 minutos. - Centros comerciales a 5 minutos. - Andorra la Vella a 10 minutos. - Se permite fumar en el comedor, resto del piso no.
Al lado de la Catedral de la Seu d'Urgell
We had a great weekend in La Seu. We would come back and stay in Joses flat again. It is perfectly located in the city center - close to everything. The flat is clean and big.
Katharina
2017-01-22T00:00:00Z
Hospitalité exemplaire ! L'appartement est très bien situé et très bien entretenu. Logement idéal pour une famille ou pour un groupe d'amis.
Bérenger
2017-02-26T00:00:00Z
Muy bien sitio del alojamiento, muy formales y correctos los anfitriones. Ha sido un placer, si vuelvo no dudaré y me hospedaré en su piso. Gracias por todo.
Adrià
2017-02-04T00:00:00Z
Hemos pasado un fin de semana en la Seu d'Urgel y sin lugar a dudas hemos escogido la mejor opción para alojarnos. El piso es realmente cómodo y hermoso. Todo es completamente nuevo y la ubicación inmejorable. Jose y Mari han sido sumamente atentos y amables desde el primer momento, por lo que no dudaremos en repetir cuando volvamos por allí! Muchas gracias por todo!
Irene
2017-01-01T00:00:00Z
El apartamento es genial! La casa está recién reformada, cerca del núcleo de La Seu y cuenta con todo el equipamiento necesario para disfrutar de una buena estancia. El trato recibido por parte de los anfitriones ha sido muy correcta, volveríamos a alojarnos aquí sin duda! Muy recomendable:)
Claudia
2017-03-12T00:00:00Z
La ubicación es inmejorable. La hospitalidad de los amfitriones también. Hem estado muy a gusto.
Cam
2016-12-29T00:00:00Z
La experiencia con Jose y el apartamento ha sido muy positiva. Ha sido de gran ayuda y el sitio era amplio y estaba muy centrico. De limpieza y servicios muy bien, lo único que le faltaría sería Internet. Contento de haber visitado la Seu y poder alojarnos en apartamento con tan buena relación calidad/precio. Anfitrión muy recomendable!
Fernando
2017-02-19T00:00:00Z
Room Type
Entire home/apt
---
Property Type
House
---
Accommodates
8
---
Bedrooms
La Seu d'Urgell, Catalunya, Spain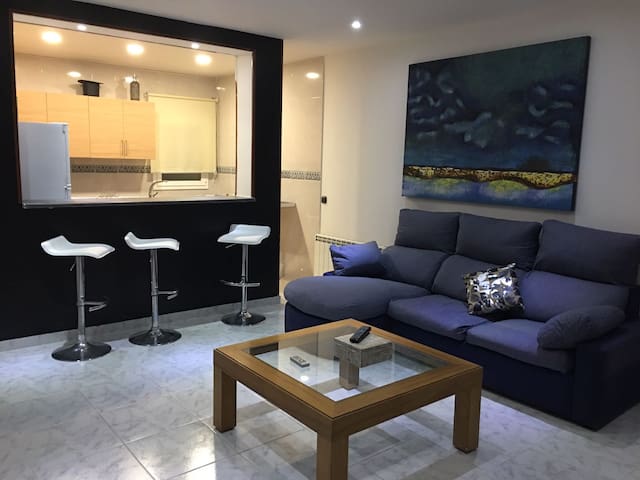 Llocs d'interès: Era de Cal Tomàs és una casa rural als Pirineus. Està situada al poble d'Arfa, a prop de la Seu d'Urgell i Andorra. A 700 metres d'altitud i al costat del riu Segre, en un entorn amb grans paisatges on podràs fer moltes i variades activitats. Ideal per a famílies amb nens, lluny dels perills de les ciutats i prop de gran quantitat d'activitats per poder realitzar amb tota la família .. El meu allotjament és bo per a famílies (amb fills) i mascotes.
Room Type
Entire home/apt
---
Property Type
House
---
Accommodates
6
---
Bedrooms
Arfa, Catalunya, Spain
El alojamiento se encuentra al lado del Parque Natural del Alt Pirineu. Es una casa decorada rústicamente, muy acogedora, equipada completamente para 6 personas.
La casa tiene tres plantas, abajo en el sótano hay el garaje con lavadora, tenis de mesa. En la planta del medio que es por donde se accede normalmente se encuentra la terraza orientada al Sur-Este con unas magníficas vistas, barbacoa, cocina, comedor y sala de estar con chimenea ambos con salida a un balcón. Arriba hay las tres habitaciones dobles todas con cama de matrimonio y un baño completo.
En la casa se les dará información detallada del Parque Natural del Alt Pirineu, equipamientos culturales, estaciones invernales del ámbito del Parque, elementos de interés, ambientes y que hacer en la zona.
Room Type
Entire home/apt
---
Property Type
House
---
Accommodates
6
---
Bedrooms
Guils del Cantó, Catalunya, Spain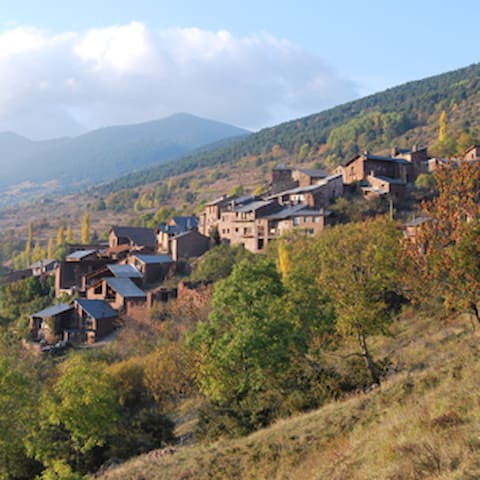 Llocs d'interès: Era de Cal Tomàs és una casa rural als Pirineus. Està situada al poble d'Arfa, a prop de la Seu d'Urgell i Andorra. A 700 metres d'altitud i al costat del riu Segre, en un entorn amb grans paisatges on podràs fer moltes i variades activitats. . El meu allotjament és bo per a parelles, aventurers, viatgers de negocis, famílies (amb fills), i mascotes.
Room Type
Entire home/apt
---
Property Type
House
---
Accommodates
4
---
Bedrooms
Arfa, Catalunya, Spain
Habitacion de matrimonio con terraza espectacular con vistas al centro historico. Baño privado. Totalmente nueva.
Facilitamos las sábanas y las toallas.
Ana was very nice and helpful, she acceptes to receive us even though we made the request at the last minute. The room was charming and well located, and Ana gave is some good tips for local dood and drinks. Je recommande chaudement.
Cecile
2016-08-15T00:00:00Z
The host canceled this reservation 5 days before arrival. This is an automated posting.
Jo
2016-11-05T00:00:00Z
En general todo bien, muy limpio, muy nuevo, super céntrico. Lo único es que la habitación es muy pequeña, y si vas en invierno la terraza que es muy grande no se puede aprovechar
Anna
2016-12-08T00:00:00Z
Room Type
Private room
---
Property Type
House
---
Accommodates
2
---
Bedrooms
La Seu d'Urgell, Catalonia, Spain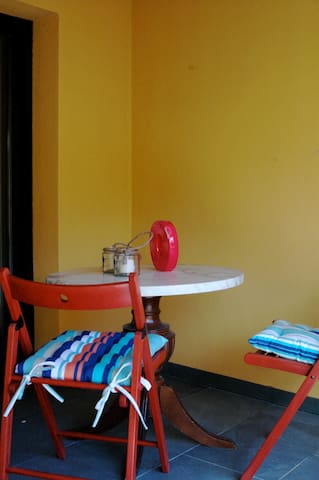 Llocs d'interès: Era de Cal Tomàs és una casa rural als Pirineus. Està situada al poble d'Arfa, a prop de la Seu d'Urgell i Andorra. A 700 metres d'altitud i al costat del riu Segre, en un entorn amb grans paisatges on podràs fer moltes i variades activitats. Ideal per a famílies amb nens, lluny dels perills de les ciutats i prop de gran quantitat d'activitats per poder realitzar amb tota la família.
Room Type
Entire home/apt
---
Property Type
House
---
Accommodates
5
---
Bedrooms
Arfa, Catalunya, Spain
Beautiful house of stone and wood with the warmth of yesteryear and the comfort of today, built in the fifteenth-century XVI.Reformada recently, a home to relax and enjoy the mountains and great views of the Pyrenees, near Andorra.
Beautiful setting with spectacular throughout the Valley of La Seu d'Urgell views. Perfect place to unwind.
Jean-Baptiste's house in Calbinya is beautiful and so is the view. If you are in the area and want something unique, this is a good option.
keenan
2016-07-11T00:00:00Z
Hemos tenido una estancia estupenda. Las vistas desde la casa y el entorno eran inmejorables. La casa estaba limpia y con todas las comodidades. Francesc contestó nuestras dudas en todo momento. Casa totalmente recomendable, tanto para familias como amigos.
Cristina
2017-02-26T00:00:00Z
Una casa molt maca i en molt bon estat. En un indret fantàstic a les muntanyes sobre la Seu d'Urgell. Unes vistes fantàstiques, i una tranquilitat envejable. Ens ha fet una bona nevada de primavera, però tot ha funcionat a la perfecció. Una experiència per repetir en qualsevol època de l'any.
Roger
2017-03-26T00:00:00Z
Casa ubicada en un pueblecito precioso con muy buenas vistas al valle de la Seu d'Urgell. Muy bien equipada con todo lo necesario. Francesc el propietario es muy amable y atento. Recomendable 100 %
Daniel
2017-01-02T00:00:00Z
La casa, el entorno y el lugar para desconectar y relajarse es maravilloso; ideal para familias...francesc es un anfitrión muy atento, en todo momento estuvimos en contacto y sobre cualquier incidencia que tuviéramos él estaba para solucionarla...casa muy equipada tanto en cocina como en dormitorios, con mantas,calefacción y (URL HIDDEN) pasamos en ningún momento frio...el parking es lo único negativo, pues es un poco pequeño y estrecho...recomiendo la casa sin dudarlo...
Victor
2016-12-11T00:00:00Z
Room Type
Entire home/apt
---
Property Type
House
---
Accommodates
7
---
Bedrooms
Calbinyà, Catalunya, Spain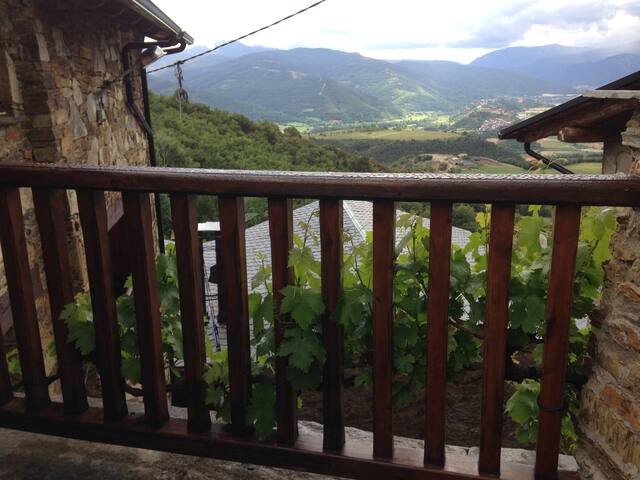 Casa costruida en 1704, y reformada en 1995 , situada en un pequeño pueblo de 300 habitantes a 5 km de Seu d´Urgell y a 15 km de Andorra. Un lugar donde relajarse, tranquilo, con unas vistas muy buenas a todo el valle desde la planta superior (terraza y Cocina, sala de estar) . Pueden relaizarse numerosas actividades , cerca de un campo de Golf 7 pistas de Sky en Andorra, Rafting en el park del segre, caballos montañismo, excursiones, pesca , cars,
la casa esta preparada para que se sienta a gusto como en su propia casa .
Localizada en el valle de Seu D'Urgell con vistas al valle y Rio segre A destacar Seu D'Urgell a 4 km, catedral i claustro románico , mercado martes y sábado, Parc del segre con actividades Kanoe kayak, rafting, paddel , equitación BTT, equitación A 8km campo de Golf en Aravell Y a 10km en Andorra para ir de compras y restauración
This was indeed a charming though very spacious rural house that met our needs. It was a great base for a variety of outdoor activities. I will certainly return for longer period to experience the numerous walking/running routes direct from house
Garry
2016-08-03T00:00:00Z
Hemos estado 4 días en la casa y todo estaba perfecto, en la cocina habían todos los detalles, en las habitaciones todo muy cuidado, y en el resto de la casa todo perfecto (leña para la chimenea, jabón en la bañera, toallitas, papel wc, ...). En definitiva una casa cuidada con cariño y al detalle. Ha sido un placer la estancia!!
Belinda
2016-03-28T00:00:00Z
La casa tiene mucho encanto y esta a 15 km de toda las pistas de esquí !! equipada con todo lo que puedas necesitar ..muy limpia y acogedora ..tanto josep que Mari han sido muy amables y (URL HIDDEN) camas son muy cómodas .seguramente volveremos
Marco
2017-02-05T00:00:00Z
El poble molt tranquil i la casa fantàstica.
Guillem
2016-08-29T00:00:00Z
El pueblo muy bonito cerca de la Seu, la casa antigua y muy bien preparada, con un salón y una terraza espectacular. Todo muy limpio y surtido de todos los elementos básicos.
Jose Luis
2016-06-21T00:00:00Z
Una casa y una estancia 10. Sin duda muy recomendable: espaciosa, bonita, con todo el equipamiento, cuidada y muy limpia.
GEORGI
2016-12-11T00:00:00Z
Vem passar una setmana destiu molt agradable, la casa està molt ben equipada, neta i el Josep va estar molt pendent de qualsevol necessitat que poguessim tenir. 100% recomendable No dubtarem en tornar a repetir si podem.
Jordi
2016-08-24T00:00:00Z
Casa rústica adorable. Todo funcionando normalmente. Barrio muy tranquilo com um excelente restaurante a 20 metros (Dolcet). Comercio local completo a 5 km. Josep y Mari fueron muy atentos em la recepción y la resolución de cualquier problema que surgia. La chimenea es óptima para las noches frias. Recomendable para famílias. Si vuelvo por la región, seguramente buscaré el mismo local.
Wilfredo
2017-01-06T00:00:00Z
Room Type
Private room
---
Property Type
House
---
Accommodates
8
---
Bedrooms
Alàs, Catalunya, Spain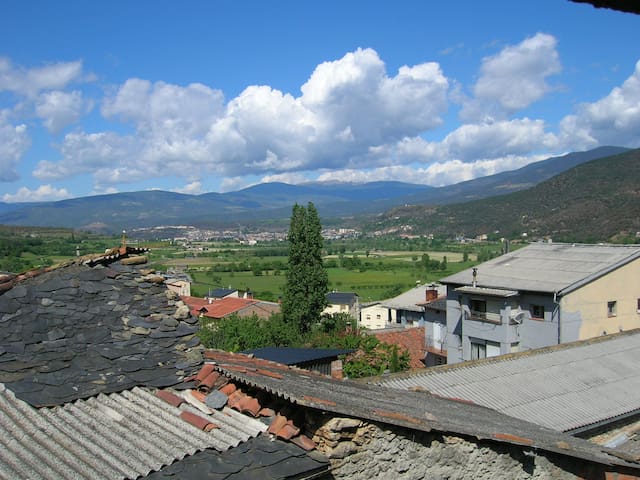 Numero de registro de (URL HIDDEN) . Casa de alquiler íntegro para 8-10 personas.Cinco habitaciones dobles con baño.Cocina-comedor y sala de estar con chimenea totalmente equipado. Zona de aparcamiento al lado mismo de la casa con terraza exclusiva para los clientes. En la parte superior una sala de juegos con:ping-pong y futbolin. Disponemos de wifi. Ideal para grupos:familiares,amigos,celebraciones,reuniones de empresa. Para hacer talleres de:queso fresco,jabón artesanal,cerámica...
Lugares de interés: restaurantes y comida, actividades en familia,pistas de esqui de fondo : Sant Joan de l'Erm,lles,,Aransa.. Mi alojamiento se alquila a un grupo de 8-10 personas : de parejas, aventureros, viajeros de negocios, familias (con hijos). Cada habitación con baño.Terraza con una fuente,mesa,sillas y la barbacoa.Zona de parquin al lado mismo de la puerta de la casa. Sala de juegos exclusiva para los huéspedes con un ping-pong y un futboolin. Casa libre de humo.No animales Antiguo pajar de 1850, restaurado como casa rural. Edificación con piedra, madera y pizarra elementos típicos de la zona. Ubicado en la parte alta del pueblo de Castellbò.Con 50 habitantes . Servicios de panadero artesanal,agrotienda,dos restaurantes,camping. Escuchar el silencio es el mejor regalo que os podéis llevar como recuerdo. Pueblo pintoresco del Pirineo de lleida .Con una gran historia y los restos de un Castillo Cátaro. La casa se alquila a un grupo. Dispodran de una cocina totalmente equipada ,comedor y una sala de estar. Una zona de parquin a la misma entrada de la casa. Terraza y sala de juegos exclusiva para el grupo. Tendran acceso también a una piscina y una pista de tenis que tenemos en la mismo pueblo particular que esta al lado de otra casa que alquilamos. Les damos total independencia a nuestros huéspedes.Estamos disponibles si nos necesitan,vivimos en el mismo pueblo donde hay la casa. Nuestro pueblo es muy pintorésco,estamos viviendo 50 personas toda el año.Aún así tenemos variso servicio: Un panadero que nos hace el pan artesanal coma antes. Una agrotienda con productos de proximidad:quesos,jabones,plantas aromàticas y medicinales,embutidos,artesania local etc. Dos pequeños restaurantes familiares,con platos típicos de la zona. Es un pueblo con mucha historia,les recomendamos que den un peseo por nuestras calles donde encontraran 10 paneles con información histórica,del paisaje,de los animales que tenemos . El transporte público mas cercano esta a 10km. a la Seu d'Urgell autobuses Alsa. Hay la opción de coger un taxi para lllegar a la casa. Recomendamos que tengan transporte propio, ya que podran llegar hasta la puerta de la casa con vehículo y dejarlo alli mismo. La casa tiene una terraza con un barbacoa, una fuente, mesas y sillas para poder escuchar el silencio .Una sala de juegos con un ping-pong y un (URL HIDDEN) zona de parquin al lado mismo de la casa.
Room Type
Entire home/apt
---
Property Type
House
---
Accommodates
10
---
Bedrooms
Lleida, Catalonia, Spain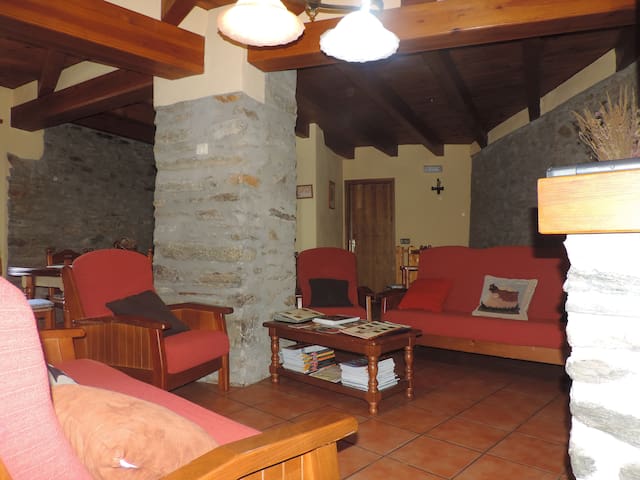 Sleeps 5-8 . 2 bedroom secluded country house with private swimming pool. Cal Peguera is a beautiful authentic farmhouse, ideal for families and friends who want total peace and want to enjoy the stunning nature. It has a private natural pool, outdoor barbeque area, a garden, total privacy and splendid views.
Cal Peguera is a lovely, completely restored and very well equipped authentic farmhouse with private pool. Set in 11 hectares of wooded and terraced farmland the house offers complete tranquillity, with only the sound of goat bells and birdsong to disturb the silence. It has a secluded situation and the nearest village with good restaurants, nice terraces, a bank and all kinds of shops is Organyà at about 4 km. The property is located at 900 m above sea level in a typically rural area of the Spanish pre-Pyrenees with many paths and tracks for walking, biking, horseback riding and with many lakes and rivers for swimming, fishing and white water sports. Cal Peguera is 35 km away from Andorra and 20 km away from La Seu d'Urgell, town that counts with all services. The town has a beautiful old part called Seu Vella with its medieval streets, lots of activities, fairs, festivals and outdoor market every Tuesday and Saturday. The natural swimming pool with adjoining lawns, the garden with the outdoor kitchen with bbq, the terrace on the other side of the house, all have stunning views over the valley of the river Segre and the surrounding mountains, and are ideal for relaxing and long summer night meals. Cal Peguera is the place to get away from it all, and you will notice that it is hard to leave this wonderful place. But, there is much more like experiencing Spanish live by getting in touch with the friendly local people on the different fiestas and markets, do numerous activities and daytrips, visit medieval picturesque villages, enjoy a drink and some tapas on a sunset terrace, etc.
The surrounding countryside has a rich diversity of birds and birds of prey, wild flowers and butterflies. In the evening you will be amazed by the breathtaking starry skies. There are plenty of opportunities for everyone for a great holiday: there is no mass tourism, it is a welcoming and quiet area, of interest related to gastronomy, geology and architecture. A place to relax and enjoy the beautiful scenery and wildlife, but it is also a place that tempts you to practice sports and have adventures. The people are friendly, helpful and welcoming. Eating out in the region is very reasonably priced; a 3 course meal of local specialties including wine and coffee costs around € 10,-.
Beautiful and well equipped house in the middle of nowhere with 360 degrees view of the mountains. Perfect hide-away to rest, read, cook, swim and sun bathe.
Jack
2016-07-10T00:00:00Z
lujosamente alojados en medio de la nada, aquella nada que lo es todo, una naturaleza cálida que te cobija y te proyecta a otra dimensión fuera de ti y de tu cotidiano, con dos anfitriones, (URL HIDDEN) y Iolanda que transpiran autenticidad, honestidad y muchos conocimientos para cada miembro de la tribu, los adultos más urbanitas y los menos, preguntatodo y sobretodo los niños...volveremos, engrosamos la lista de tareas todavía por hacer: comer en Cal Jesús, bañarnos en la piscina casi-natural y un largo etcétera...
Ignasi
2017-01-02T00:00:00Z
Prachtige locatie! Geweldig zicht! Alleen rekening mee houden dat de weg ernaartoe niet evident is. Je beschikt best over een 4x4 om er te geraken. Maar het loont de moeite. Prachtig huis, heerlijke zwemvijver, leuke moestuin, lieve hond. We hebben genoten van de rust en de mooiste sterrenhemel.
Griet
2016-08-14T00:00:00Z
Room Type
Entire home/apt
---
Property Type
House
---
Accommodates
8
---
Bedrooms
Organyà, Catalunya, Spain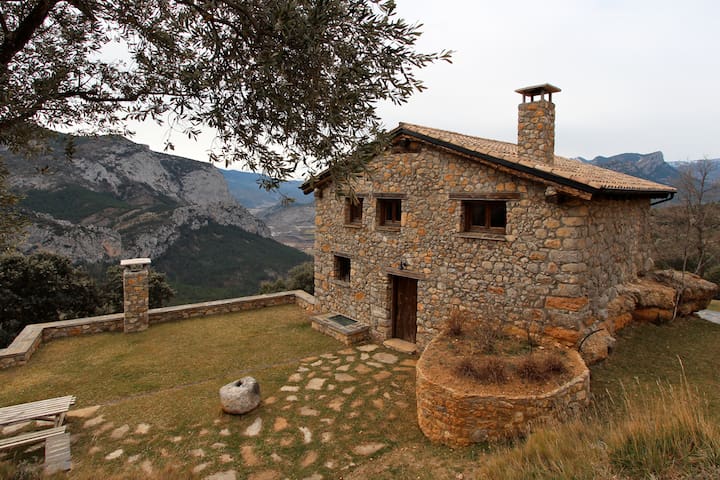 Es una casa situada en el pintoresco casco antiguo, en el centro, recién reformada y con una decoración alegre y cómoda. Es ideal para familias y grupos de amigos. Ofrece 6 plazas con camas y dispone de 3 camas supletorias más. Organyà es un pueblo con encanto que te permitirá desconectar del estrés de la ciudad, disfrutar de la naturaleza, los deportes de montaña, la gastronomía, la historia y la amabilidad de su gente. Nº registro Turismo Cataluña: HUTL-000947
En casa encontrarás en espacio recién reformado, agradable y limpio, y podrás vivir la experiencia de estar en una casa construida sobre un arco, con sus balcones de madera, una construcción típica de los pueblos de montaña del Pirineo. Dispone de un amplio comedor-salón, cocina totalmente equipada, un labavo con bañera y un aseo, tres dormitorios, una sala de juegos, un amplio recibidor, un lavadero y una terraza. Todas las estancias principales son exteriores con salida a balcones o a la terraza.
La casa se encuentra en pleno casco antiguo, formado por un conjunto de estrechas y pintorescas callejuelas con sus casas llenas de balcones con flores. En el pueblo destaca la iglesia románica de Santa Maria y su plaza como punto de encuentro de la gente del pueblo. En Organyà se encuentra el manuscrito de las Homilies, uno de los documentos más antiguos escrito en lengua catalana. Podréis verlo en la plaza del mismo nombre, donde también hay un punto de información al visitante y un parque infantil.
Una estancia perfecta y agradable. Carlota ha sido una gran anfitriona con una comunicación muy ágil. Muy cerca de Andorra y la Seu d'Urgell. Recomendable.
Ernest
2016-10-16T00:00:00Z
Ella és muy amble, pero el problema de la luz fue muy desagradable, aunque carlota lo solvento bien.
Aurora
2016-11-13T00:00:00Z
Carlota fue amable y el lugar magnífico.
Maria
2016-11-01T00:00:00Z
La nostra estada va complir les expectatives; és una casa al centre del poble molt maca, força equipada ( ens van faltar algunes coses per al quotidià que ja vam comentar amb l' amfitriona), vam tenir molt de contacte abans d'arribar, la zona és una passada i hi ha mil coses per fer. Vam trobar que faltava una mica més de cura en alguns aspectes de neteja i higiene i havent -hi estat crec que es podrien refer algunes imatges per tal de millorar la idea que ens fem de l' allotjament abans d'arribar. Molt recomanable per anar amb colla a fer sortides i activitats per la zona i força bon preu!
Laia
2016-08-16T00:00:00Z
Todo perfecto y Carlota muy amable. El pueblo es muy bonito y tranquilo.
Isabel
2017-03-19T00:00:00Z
Logement tres bien entretenu dans un cadre magnifique. Super bien accueilli par carlota. Très bon weekend
Mathilde
2016-08-28T00:00:00Z
Carlota ha estado pendiente de que no faltara nada y la descripcion de la casa era tal cual estaba en el anuncio. Nos hemos sentido muy cómodos en la casa y en el pueblo.
Anahi
2016-08-21T00:00:00Z
Organyà es un pueblo precioso, muy tranquilo y con calles con historia. Con productos tipicos de la zona, se come genial. Cerca de restaurantes y de la iglesia. Carlota es muy buena anfitriona, todo muy correcto, su casa es muy tranquila, muy limpia, no falta de nada, incluso las estufas enchufó antes de llegar, como bien dijo ella...llegar y disfrutar. Totalmente recomendable.
Cristina
2017-02-19T00:00:00Z
Room Type
Entire home/apt
---
Property Type
House
---
Accommodates
6
---
Bedrooms
Organyà, Catalunya, Spain
The house has four rooms decorated with different styles, each with its own bathroom, bed linen and towels, wardrobe, TV, wifi and exterior view. It has a room equipped with a refrigerator, microwave, toaster, coffee maker, TV and wifi; and a terrace with garden furniture and barbecue. It also has playground, board games and toys. ATTENTION: THE KITCHEN WILL BE AVAILABLE SOON
The house is located in the village of Cabó, which seems a manger for its stone houses and wood grouped on the mountain. The village is surrounded by mountains and valleys including belonging to the protected Nature Park Boumort. The house was an old barn that has been renovated faithfully following the original construction, offering comfort and authenticity.
The charm of this place lies in its geographical beauty (it is a beautiful valley surrounded by a horseshoe-shaped mountain) and has remained very true to its original architecture and way of rural and simple life. Because of its proximity to Organyà, La Seu d'Urgell and Andorra you can perform many cultural and sports activities.
Carlota was amazing! She is such a friendly host and was so kind even though we were an hour later than expected! The house is very rural and there are no restaurants nearby, Carlota realised we were hungry and put together a massive feast for just us, which was delicious! The breakfast was great as well and we ate out on the patio area listening to the birds and church songs. The accommodation itself is very clean and modern and the village is a beautiful village filled with character and stunning views. A fantastic weekend retreat! Towels, soaps and bedding is all provided and prepared. The shower is very powerful and everything clean :)
Ray
2016-09-05T00:00:00Z
Carlota could not have been more accommodating! We arrived late, after 10pm, she still prepared a full meal for us. Coming from a chef, the food was absolutely delightful! When we overslept our alarm the next day, again she was incredibly helpful to get us on our way. The area is a remarkable little farm village with amazing views. It's a lovely stop just off the typical path in to the mountains.
Angela
2017-02-20T00:00:00Z
Beautiful stone house with big and clean rooms in a very quite village located in a mountain valley besides a small river. The beds arw comfortable. The lovely Host Carlota offers a rich tasty dinner and a "spanish" breakfast, if you are hungry, for a cheap price.
Bilge-Kagan
2017-02-21T00:00:00Z
Very lovely host, her food was ju my! The only thing was the neighbour was doing drilling and renovation.
Carole
2016-09-27T00:00:00Z
We stopped at Casa Carlota for one night on our way further south in Spain. We felt so at home and delighted with her place that we stayed for a second! Carlota and her family are wonderful, welcoming people. We felt like we were staying with friends. Her breakfasts were delicious and thoughtful. The rooms were very comfortable, modern and immaculate. She took time to talk to us and give us lots of ideas for things to do with our three kids in the area. Do not miss an opportunity to stay in beautiful Cabo at Carlota's guesthouse. You will not regret it!
Katy
2016-09-08T00:00:00Z
Carlota is a great host, really friendly, on hand if you need anything and very warm. The accommodation is very clean and private. We wanted somewhere very quiet and surrounded by nature, this place ticked those boxes. We also have two young dogs, Carlota made them very welcome & they were able to run around in the courtyard. I'd definitely recommend booking in for meals, we had dinner & breakfast, both were great.
Jen
2016-09-26T00:00:00Z
Great place, very quiet and homely. Carlota is very welcoming(:
Elad
2016-10-13T00:00:00Z
La casa de Carlota es muy bonita y está situada en un pueblo con mucho encanto y un entorno muy especial. La casa en sí superó todas nuestras expectativas, todo está nuevo y muy limpio, la decoración es muy acertada y no echas nada en falta ya que está muy bien equipada. Carlota es una persona muy simpática y atenta con sus huéspedes, en todo momento se preocupó de que no nos faltase nada y de que nos sintieramos muy a gusto, es una persona encantadora! Nos alojamos un grupo de amigos, ocho adultos y dos niños, todos quedamos con ganas de repetir, los niños disfrutaron mucho jugando con la gran cantidad de juguetes y juegos de mesa que hay en la casa. También dispone de bicicletas de varios tamaños para poder pasear por la zona. Si tuviésemos que dar una puntuación tanto a la casa como a Carlota claramente seria un 10!!!
Feli
2017-03-05T00:00:00Z
Room Type
Entire home/apt
---
Property Type
House
---
Accommodates
11
---
Bedrooms
Cabó, Catalunya, Spain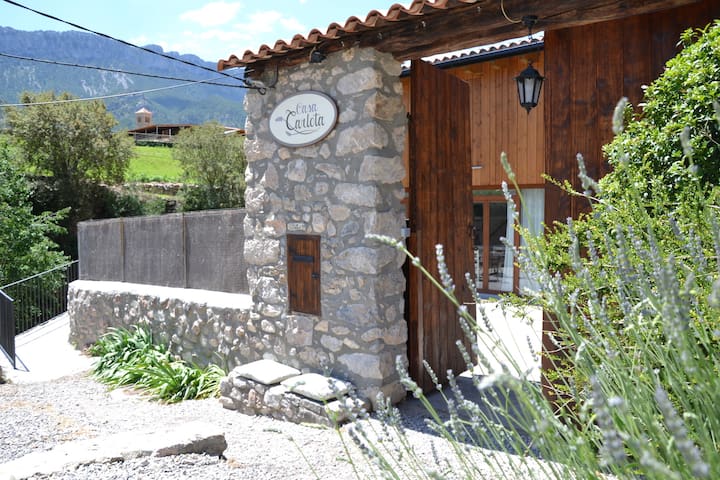 El Pla de Sant Tirs - Airbnb
:
Average

4.75

out of

5

stars from

104

guest reviews
1

–

18

of

25 Home Rentals
Enter dates to see full pricing. Additional fees apply. Taxes may be added.