Our apartment is conveniently located, cozy, has a double bedroom and a sofa bed, TV, air conditioning, wiffi and an impressive view terrace, is located in the center 2minuts, and that you have a well comunicat.Esperem very good stay.
Located in the heart of the city, two minutes from the Cathedral, and three minutes from the Ignatian Manresa (cave) .There is a large free car park 100 meters away. The apartment has TV, washing machine, wiffi, clothes, towels, kitchen equipped for four people and find everything to breakfast every day, and all that you may require to spend a few unforgettable days. The bus station is 15 mn, and the train station at 10 mn. 50 minutes from Barcelona 25 minutes from Montserrat, 25 minutes from the Castle of Cardona or le mines (website hidden) I live 10 minutes away, and all I need I can call tel. Or send me an email. Located right on the border between the Gothic Quarter and the city center, there are many stores that are open for many days, and is full of restaurants and places to visit, find all the prospects in the same apartment. You can also visit one of the most beautiful wineries in the county where you can try one of the best wines of the Pla de Bages. The bus stop is located ten meters from the door of the edifici.Tots buildings of interest in the city you can visit are a 10 minute walk. We hope you enjoy your stay. ;)
This CITUS just limit that limits the old town and the center is the city, there are many stores that are open for many days, and is full of restaurants and places to visit, find all the prospects in the same apartment, and if ppoden you have any questions call or send one email.
We had a pleasant stop in Manresa while walking the Cami Sant Jaume. The listing is centrally located and in a nice placa near the cathedral and many historical sites and restaurants. The apartment is quiet and has a very nice terrace. Jordi is a kind and friendly host and is very caring and responsive to his guests.
Kristina and Doug
2016-11-18T00:00:00Z
Great apartment at one of the best locations in Manresa. Very clean and functional with a wonderful terrace. We didn't get to meet Jordi, as we were arriving late, but communication was outstanding and his neighbor handed as the keys. Yes, there are a few flights of stairs but the place and the view well worth a little exercise. :)
Gene
2016-11-27T00:00:00Z
Great host, very helpful
Manuel
2016-08-21T00:00:00Z
Jordi was an excellent host who made sure we were happy and comfortable in the apartment, and Jordi was always available by message or phone call to answer any questions we had. Jordi made sure the apartment was very clean for our arrival and the facilities available were very good for the price. Manresa is very nice and the apartment is located in an ideal area for restaurants, bars, shops, etc.
James
2016-01-17T00:00:00Z
Jordi was a great host. Everything was very easy, and he was good o communicating and being reachable. The apartment is very nice, the terrace was our favorite part! Good location as well. Thanks Jordi for letting us stay at your appartment in Manresa, I would definitely stay here again.
Anais
2016-04-17T00:00:00Z
Communication with Jordi was easy and always on time. The apartment is perfect in summer cause it has a beautiful and wide terrace where you can have dinner enjoying the view of Manresa. The kitchen is well equipped even if we only used the glasses to drink the welcome bottle of wine (it tasted great and we really appreciated it. Thank you, Jordi!). The apartment is perfect for two or for a family with one or two kids; for 4 adults is a little bit small (with one bathroom you need some time management). it was clean and sufficiently equipped with towels for 4. It's perfect to stay in a town and be able to visit the beautiful mountain of Montserrat.
Francesca
2015-12-29T00:00:00Z
Place was very nice and the location is perfect. We met Jordi and his son and they are very generous and friendly hosts. Thanks!
Snezana
2016-07-02T00:00:00Z
We were made to feel very welcome and could leave when we wished. The flat is compact and has a large terrace with fine views over the town due to its elevated position on the top floor. It was very quiet and peaceful.
shane
2016-02-07T00:00:00Z
Room Type
Entire home/flat
---
Property Type
Apartment
---
Accommodates
4
---
Bedrooms
Manresa, Cataluña, Spain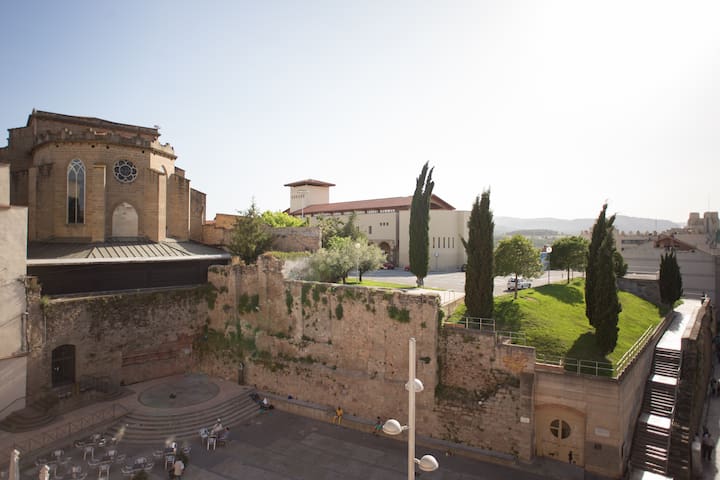 A cozy old restored house with garden and pool in a little country of Catalunya Its position allows to enjoy nature, landscapes and relaxing near Barcelona (50 minutes) Price / week indicator. Offers second season.
The house´s decoration is simple and smooth and has chosen maximum respecting the history of the house itself. It is ideal place to rest your family or for informal working meetings Excellent motorway connection Barcelona
Rural village of Bages
Angela welcomed us at her beautiful house with a smile. She is a great host and made sure we had everything we needed for our holiday. The house is absolutely gorgeous, the scenery stunning, and the garden amazing. The house is situated in Rocafort which is a tiny village and perfect for getting away from the hustle and bustle of everyday life. Nearby along the moutain side is the stunning town of Mura where you can find some lovely restaurants and we loved having a look around - some beautiful architecture. And of course, Barcelona is within easy reach. We loved our stay here and would highly recommend it for a peaceful holiday with lovely views in a home that is simply spectacular!
Lucy
2015-06-22T00:00:00Z
Best lodging in Spain! Not only was this beautifully restored farm house located in the perfect little hamlet at the apex of a scenic valley but every detail of the interior was impeccable. From wonderfully scented towels and sheets to fresh floral accents Angela thought of every detail. This lodging is the prefect getaway from busy Barcelona and the view will take your breath away.
Sarah
2015-10-11T00:00:00Z
Angela was a great host! Though we got there later than we told her,she was there waiting for us with a smile!The house is really nice and fully equipated. The garden is also great and even if the weather was not propper for a swim we enjoyed the outsides a lot. The arounds are also enjoyable,we visited the Montserrat Convent and walked to Mura where we had a very rich lunch.Being so close to Barcelona you always have the choice either to spend the afternoon in the city or outside,in nature. Thank you for all, Angela!
Andrei
2016-04-16T00:00:00Z
We had a very nice stay in this beautiful house. Angela is a very good host. Although it was a little cold outside, our children enjoyed the pool. It's a house you feel very much at home!
Dorus
2016-10-24T00:00:00Z
This wonderful place is a very special and rare place. Why ? Let's try to explain myself saying That this ancient house is so beautifully comfortable and welcoming that I even climb and re-climb stairs just for the viewing pleasure ? That arrived in the garden, the view from the garden (beautiful) was so spectacular that I struggled to climb the stairs without down them to go out? That we had such fun in the pool? That music was all around (thanks Angela for the surprise)? That wonders are easy to visit in the neighborhood? That Angela (and her family) are so adorable, helping, and interested-interesting host? All this and much more. Ce merveilleux endroit est rare et vraiment special. Pourquoi ? Vous dire que cette maison ancienne est si joliment confortable et accueillante que j'ai même monté et remonté ses escaliers juste pour le plaisir des yeux ? Vous dire que arrivée dans le jardin, la vue était tellement merveilleuse que j'ai eu du mal à remonter les escaliers sans les descendre ? Vous dire que nous nous sommes tant amusés dans la piscine ? Vous dire que la musique était partout (merci Angela pour la surprise) ? Vous dire que des merveilles à visiter se cachent dans le voisinage ? Vous dire qu'Angela (et sa famille) sont des hôtes si adorables, "aidant", et intéressants ? Tout cela et bien plus.
axelle
2014-08-24T00:00:00Z
Angela was a wonderful and helpful hostess. The house was more beautiful than described and the area around it was surprising and beautiful to explore. I wished i had more time.
rebecca
2016-06-04T00:00:00Z
Angela's home is a true gem. Peaceful, with vast expanses of views, a perfectly tended garden, elegant design, a delightful charming courtyard....We had an absolutely wonderful time. Angela was extremely attentive to our needs and we were delighted to come into the house and receive a free bottle of wine and a bounty of Spanish treats and delicious colorful fruits and vegetables. Angela is a very hands-on host and we heard from her several times during our short stay. The house is equipped with everything you need. It is right in the town of Rocafort which was a very, very quiet, peaceful town. We want to come back and would highly recommend this home to anyone seeking retreat from the city into the Spanish countryside.
Lopa
2014-10-06T00:00:00Z
My wife, our 2 kids (14 and 9 years) and myself really enjoyed the stay in a very nice house and the entire area. The house has a lot of details and was restored with a lot of passion and love for design details you´ll rarely find in that extension. Angela is a very warm and helpful person. We found a very nice welcome package with local bread, cheese and a bottle of wine. The garden is far bigger than expected, very beautiful and like the house with a lof of nice details. We like to barbecue and enjoyed a "Weber" barbecue, which is inline with the entire philosophy of Angela. There is nothing we missed or were we see an area of improvement. Even more, Angela was very helpful and provided us endless useful hints regarding sightsseing, good food, good wine and organized us special olive oil. If you like a quite and nice area apart from busy tourist area and enjoy a beautiful landscape and high quality products, this is the place to go!
Reiner
2014-06-15T00:00:00Z
Room Type
Entire home/apt
---
Property Type
House
---
Accommodates
7
---
Bedrooms
Barcelona, Barcelona, Spain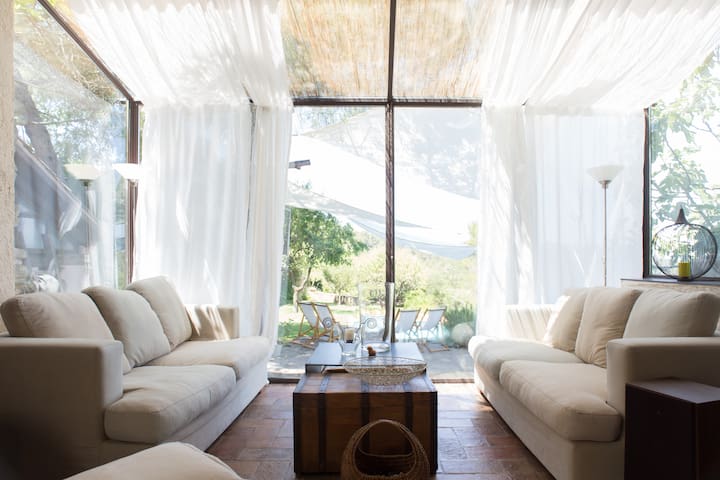 If you are looking for a brand new apartment in the historical centre of Manresa, Welcome Home! The flat is about 5-10 min walk from main city spots, and 4 min from Train Station. By car, you may reach Montserrat in 30 min and Barcelona in 50 min.
This is a brand new, comfortable, bright and modern flat in the very heart of Manresa (Note: Since I receive many requests about the exact location of the flat, I want to point out the flat it's not located in Barcelona city! it is located in Manresa, a city at about 60 km north from Barcelona). It is the perfect size for families or groups up to 5 members, very ample and spacious for a couple or a single. The flat has everything that you could possibly need and also offers peace and quiet.
Note: Since I receive many requests about the exact location of the flat, I want to point out the flat it's not located in Barcelona city! It is located in Manresa, a city at about 60 km north from Barcelona. Actually, the flat is located in the Gothic quarter (the historical centre of Manresa) and it is just about 5 minutes slow walk from the shopping area, some of the main city highlights like Seu de Manresa, Cova de Sant Ignasi de Loyola, the modernist route and 10 minutes walk from Teatro Kursaal and Passeig Pere III, the main avenue full of cafeterias, ice cream shops and terraces. The place is perect to rest and charge batteries in order to enjoy not just the city of Manresa but the whole county of Bages and its marvellous hidden gems: Montserrat, St. Benet, Cardona Castle, excellent vineyards, or trekking routes through the two Natural Parks that cross the county. Ah! and it is not that far from Barcelona, it would take about 50 minutes by car and one hour and a half by train.
Anna is truly a superhost. Yet another example of how she cares: when we accidentally broke one of her bedside lamps (made of glass) her concern was for our safety, not about the compensation that was due to her. I only hope that if we book AirBnB accommodations elsewhere, we will be blessed to have another host like her. Thanks once again Anna, and thank you to your sons, who made our stay in Spain so comfortable.
J
2017-01-06T00:00:00Z
My parents stay was made perfect by anna and her son ruben. The apartment was modern and beautifully designed. We were met by ruben who was very hospitable and informed us everything to see and do in manresa. The apartment block is very quiet yet in the middle of the shops restaurants etc etc. The hostess left lots of little extras such as breakfast, shower items etc. we would have no hesitation recommending this apt to friends and family. Actually we hope to have more friends visit later this year and would definately like to return to this apartment... Thanks for everything anna and ruben !!!!
suzanne
2015-06-10T00:00:00Z
A casa de l'Anna tot perfecte! Ens vam sentir com a casa! We'll come back for sure! Nice flate, very clean and close to the trainstation! Perfect to visit Barcelona!
Ursula
2016-04-25T00:00:00Z
Anna is an amazona host, warm, welcoming and friendly and her house really shows it! Great place to stay, minutes away from the sights, the river, the train station and the old part of town. Great host and great place for weekend getaways, totally recommended. Anna es una anfitriona excepcional, amable, atenta y entusiasta, el trato con ella es fácil y cálido y su casa lo refleja. Cuidada hasta el último detalle, limpia y cómoda, es un lugar increíblemente bien emplazado para conocer Manresa, al lado del río, la estación de tren, todos los monumentos y el casco antiguo. En general fue un placer conocer a Anna y hospedarme en su casa, y lo puedo recomendar sinceramente.
carmen
2014-12-01T00:00:00Z
We had a wonderful stay in a wonderful apartment. Anna took care of everything we needed. Furthermore, she was always very friendly and helpful. We enjoyed our stay from the first second and we can only recommend the host as well as the spartment.
Ivana
2015-04-27T00:00:00Z
Another wonderful stay. Since I have reviewed this place a few times, let me touch on another aspect this time: as someone born and bred in the tropics, one of my concerns was that the apartment may be too cold for me in winter. But Anna's apartment has adequate heating so it was no problem. We always looked forward to returning to our cosy "home" after a day out. Thanks Anna!
J
2016-12-23T00:00:00Z
Great and convenient place. Anna is full of carefull attentions. Feel so much like home that you will like to come back, like me.
Nicolas
2015-08-21T00:00:00Z
This appartment is in the centre of town at the edge of the pedestrian area. It is less than two minutes' walk from the Cathedral, below which ther is an (expensive) underground car-park. The appartment is well-furnished and well-equipped; and we found it spotlessly clean. Unlike other places that we stayed in, it is also quiet: decent sound-proofing and considerate neighbours. And unlike other places, ther is a lift. Our host's English-speaking son Ruben was in the apartment to welcome us. While we were in Spain, I did not have access to email, so I had not received the careful instructions on how to find the apartment and reply to my questions on parking, that he had sent us before we arrived. We greatly appreciated the time he spent showing us around the appartment, advising us on what to see in and around Manresa, helping us to make appointments for visits, and showing us where to park on-street free of charge. We also greatly appreciated the very generous welcome pack, although we did not use much of it.
Patrick
2015-09-22T00:00:00Z
Room Type
Entire home/flat
---
Property Type
Apartment
---
Accommodates
5
---
Bedrooms
Manresa, Catalonia, Spain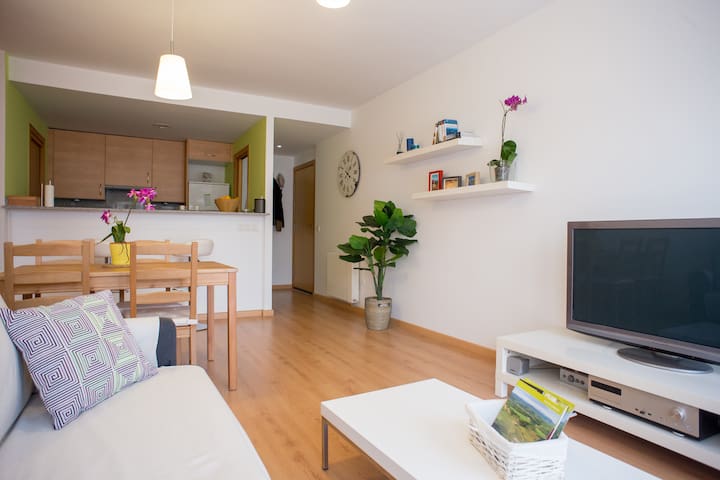 Apartment ( 2 floor ) in a quiet village with all amenities in the Natural Park of Sant Llorenç de Munt, 5km from Manresa, geographic and cultural center of Catalonia, 40 minutes from Barcelona, and 15 minutes from Montserrat mountain.
Located in the center of Catalonia, you can discover less than an hour cities and charming villages as Mura, Solsona or Monistrol de Montserrat, different museums and infinite excursions. We will be happy to explain you!
Our week in El Pont De Vilomara was amazing thanks to all the recommandations that Ester did about the different things to visit, the places to bath or hike, restaurants. She was always available to answer to our questions. The house is very clean and the village is calm, perfect to have a break ! It was a beautiful experience, I recommend this apartment and this place !
Leïla
2016-09-07T00:00:00Z
Ester's place was clean and nice.
Senja
2016-10-26T00:00:00Z
Great airbnb! Host is friendly and available to contact if you need anything! The views from the terrace are beautiful. Great parking for your vehicle. A nice quiet location within 40mins or Barcelona!!! Great stay
Fionn
2017-04-01T00:00:00Z
The apartment was amazing, the trip was amazing, and Ester and her partner Ivan were very very very helpful and the perfect hosts. They met me even though our flight arrived very late and it was 2 o'clock in the morning. Ester gave me directions which saved me over 25 euros in toll road charges and was very nice and extremely helpful all the time. I am giving her 5 stars in every category because everything was really great!
Alasdair
2015-09-27T00:00:00Z
Great appartment. Internet would be helpful to check out the area.
Andreas
2016-08-08T00:00:00Z
We had a fantastic stay at Ester's apartment. It was clean and warm through a chilly weekend in Catalunya. It was the perfect base for exploring the beautiful surroundings!
Harriet
2017-01-30T00:00:00Z
Great flat, nice terrace and cool host! :)
Ferran
2016-12-12T00:00:00Z
I told Ester that I am coming with a baby and she was willing to heat up the apartment before my arrival. It has many beds and free parkings in front of the apartment. Close to Monserrat. Thanks.
Daniel
2016-12-22T00:00:00Z
Room Type
Entire home/apt
---
Property Type
Apartment
---
Accommodates
6
---
Bedrooms
El Pont de Vilomara, Catalunya, Spain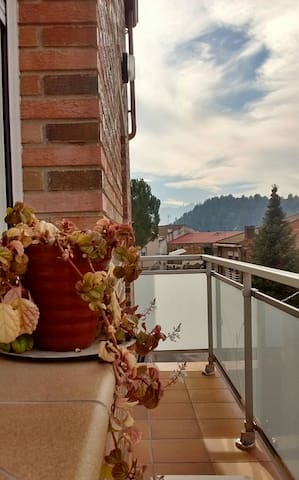 Nice apartment situated on the ground floor of a house in the village urbanization Marquet Paradis Pont de Vilomara. Near the mountain of Montserrat and 45 minutes from Barcelona. CUNA on request of the host. Additional cost.
APARTMENT MARQUET PARADIS Nice apartment situated on the ground floor of a house in the village urbanization Marquet Paradis Pont de Vilomara. Entrance to a large garden and without having to use stairs to access the house. The apartment has all the features that can give you your own home. Cot upon guest's request, will have an additional cost of 10 € for the entire stay. Check in time is from 14:00 until 22:00 maximum. Check Out des always be before 12:00 hours.
Being a rural urbanization, you can appreciate the tranquility that nature.
Marcos and his wife are incredibly friendly and extremely helpful and were the perfect hosts. They made us feel welcome and at home. The apartment was beautiful, comfortable, and well-equipped. They gave us the inside scoop on restaurants, which were some of the best we have been to during our time in Spain. We would stay with Marcos again without hesitation.
Sanders
2014-10-14T00:00:00Z
The appartment is located in a very quiet and peaceful town close to Manresa, perfect getaway from the hectic of the city. Marcos and his wive were very very friendly hosts. I can definetely recommend this accomodation.
Bianka
2014-04-07T00:00:00Z
Marcos's place was very nice, clean, and brand new. He and his wife were very friendly and made sure we had everything we needed for a pleasant stay in their quiet, peaceful town outside of Montserrat.
Alex
2014-09-23T00:00:00Z
Marcos and his family were very welcoming and helpful. The suburb is outside Manresa in an area called El Pont de Vilomara. I think we were the only tourists in town as it's not really a tourist area. It was perfect for us as we just wanted a place to chill out for a night and get out of the city. The apartment is very well equipped and suitable for longer stays as well. It's located fairly close to Montserrat if that is on your itinerary.
Kathy
2014-08-23T00:00:00Z
Marcos appeared to be a very friendly and helpful host within the total time we stayed at the apartment. There were no difficulties in communication to hand over the keys and hand them back. Plenty of information about the geographical region in terms of sight-seeing and dining, as well as transportation were given. I can fully recomment his hospitality.
Johannes
2015-12-30T00:00:00Z
We felt right at home. Nice quiet neighborhood in a beautiful location.
Chase
2016-10-17T00:00:00Z
I must say, it was the best experience, I ever had with AirBnB. Marcos and his wife were so friendly and nice. They were generous and hospitable. The location is not in Barcelona but I would stay here again for sure when I come back to Barcelona next time. The house is clean and nice! Better than the photos. If you want a entire home but want the hosts to leave together in same building this is it. Loved it and just want to say thank you to Marcos and wife again!
Dongkoo
2015-01-07T00:00:00Z
We were received very warmly by Famillie Estrada. We have felt immediately very welcome. It is great to know such nicely and dear people. The flat lies in a nice area and it is a perfect starting point for wanderings and sightseeing in the surroundings. It is very clean and nicely furnished. The modern equipment provides a comfortable feeling. The neighborhood conveys a very helpful and polite impression. We hope we will stay in contact with family Estrada for the future and we will be happy to visit them again in their beautiful House. Our first experience with airbnb could not be better. :)
Sohn Des
2014-09-29T00:00:00Z
Room Type
Entire home/apt
---
Property Type
Apartment
---
Accommodates
4
---
Bedrooms
El Pont de Vilomara, Catalunya, Spain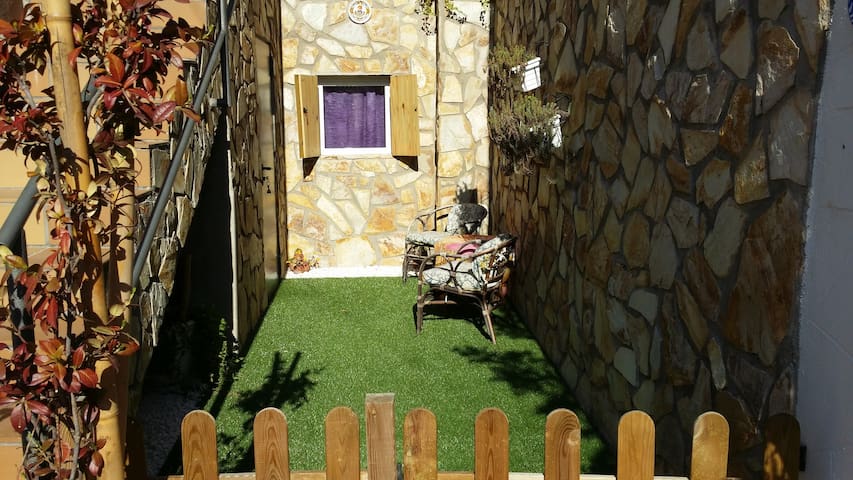 You will have a private room with a double bed and a private bathroom with everything you need for your stay. You can also use the shared spaces in the house: cinema, living room, kitchen, terrace, garden, garage, etc. En la casa habitan 2 perros, así que es imprescindible no tener miedo a los animales. Situada a poca distancia de la montaña de Montserrat en pleno parque natural de Sant Llorenç del Munt.
I live in a quite neighborhood in the middle of nature, very close to the magic mountain of Montserrat. It has everything you need around: pharmacy, grocery shop, public transport, etc.
I highly recommend Jordina's house, she is very kind and friendly. The house is big, very clean and comfortable, everything to feel good.
Guillaume
2017-04-05T00:00:00Z
Room Type
Private room
---
Property Type
House
---
Accommodates
2
---
Bedrooms
El Pont de Vilomara, Catalunya, Spain

Ideal para familias o grupos de amigos que quieran pasar unos días de tranquilidad.
Beautiful apartment with three bedrooms. All three bedrooms are double. One has a big double bed, and the other two rooms have two single beds. It has a big open plan kitchen with a large table for 6 people. The living room is very comfortable and steps out to a large terrace with another table where you can also eat 6 people. Lots of sun light. Located in the entrance of Manresa Village, it is one of the five apartments of the IXA building so that makes it ideal for groups, big families or companies aiming to give the employees a nice rest in a peaceful place.
Located at the entrance of Manresa village. Very close to the F.F.C.C. station (The Catalan Trains)
nuestra estadia fue muy agradable, el lugar es muy acogedor, amplio, de muy buen gusto, bien ubicado, familiar, la atencion excelente, esperamos poder regresar muy pronto.
Liliana
2017-04-01T00:00:00Z
Room Type
Entire home/apt
---
Property Type
Flat
---
Accommodates
6
---
Bedrooms
Manresa, Catalunya, Spain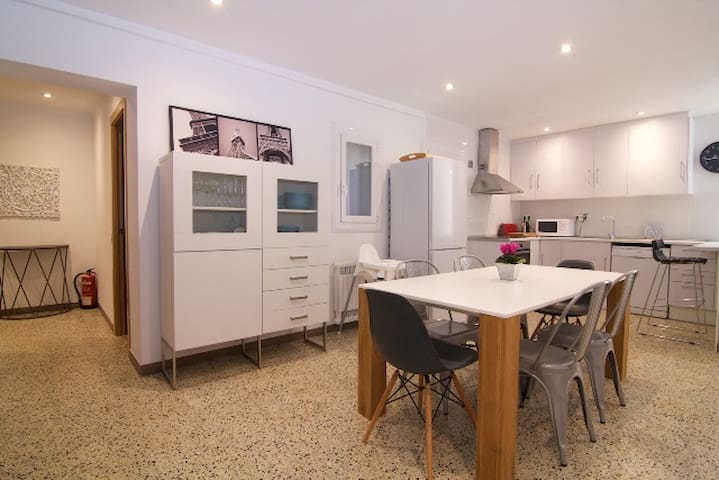 Single room in Manresa with acess to the swimming pool. The car can be parked in a car park next to the house where there is always place. The apartment is very quite connected, to 1 hour with car of the center of Barcelona(the room is in MANRESA), to 1h of the beach, to 20min of Montserrat, to 1h of Port del Compte. Train and bus station is 5min from the house. You can use the community swimming pool. There is a bar-restaurant just in front of the building. Airport transfer possibility.
Calm single room with trundle bed in Manresa to 15 min of the city center, and near supermarkets
Single room in Manresa to 15 min to the city center, near supermarkets and a bar-restaurant in front of the building.
Veronika and Pere were brilliant hosts, I stayed with them for four nights and they made me feel very welcome and at home. They are warm and generous people who offered friendship as well as hospitality. This was the first time that I had booked a single room, (I have previously booked entire flats for family travels), and Veronika provided space for me to come and go independenltly but was readily available for questions and company. Veronika and Pere's flat is just as shown in the photos. It is light, clean and comfortable. Well located for buses and trains and close to a variety of places to get drinks, food etc. We found the place you told us of Pere and enjoyed the curry! I recommend this listing and would certainly stay with Veronika and Pere again. Many many thanks to you both xx
Philippa
2016-11-22T00:00:00Z
It was my first experience with Airbnb when all the hosts are like Veronika and Pedro then I can only say GREAT! The two are super nice and friendly, the description fits and especially in Spain there are often problems with the parking but here is about 200 meters away a large free parking! Many thanks
Josef
2016-11-11T00:00:00Z
What a wonderful stay. I highly recommend anyone here i) great hosts, ii) modern apartment, iii) very clean, iv) good location. I felt very welcome and at home and personally I felt the hosts are very nice people. Thank you so much :)
Tim
2016-10-02T00:00:00Z
Veronika and Pere are very welcoming, friendly and helpful hosts. Their apartment is very modern, clean and comfortable. They made me feel like home, I had a great time in Manresa! Moltes gràcies, fins ara!
Sebastian
2016-10-27T00:00:00Z
Very welcoming and helpful. Clean, comfortable and modern.
Howard
2016-10-31T00:00:00Z
Veronika is a perfect host, very helpful and kind. The room is very comfortable and evrything is extremely clean. The location is ideal and very close to the bus and train station.
Laura
2017-01-14T00:00:00Z
Veronica is an excellent host and her apartment is a haven of peace in a busy town. Manresa is well worth a visit for the beautiful Basilica and the historic landmarks - just a 15-20 minute drive to Montserrat and the lovely villages surrounding the park. Definitely recommend!
Deanna
2017-01-02T00:00:00Z
Veronika and pedro are excellent hosts very helpful and friendly. Their home is very clean and confortable and they do everything to make the guest feel confortable and well accommodated.
Joana
2016-12-11T00:00:00Z
Room Type
Private room
---
Property Type
Apartment
---
Accommodates
2
---
Bedrooms
Manresa, Barcelona, Spain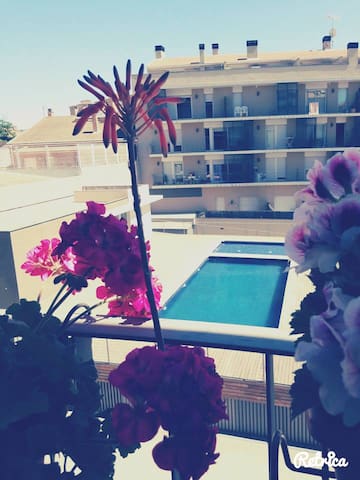 Habitación pequeña con aire acondicionado, TV y con un lavabo solo para el huésped. Desayuno incluido
Esta en el centro de Manresa.
Tranquilidad
Thank you very much! It was very nice stay. I arrive quite late and Anna met me on trainstation and then propose late dinner. Very good people! Thank you again
Sergej
2016-10-09T00:00:00Z
No tengo palabras para describirlo. Me voy de la casa de Anna contentísimo. Por todo, desde el trato tan atento y humano que han tenido hacia mí, hasta la calidad inmejorable de absolutamente todo lo que me han ofrecido en su casa. Espero volver muy pronto.
José Luis
2016-08-28T00:00:00Z
Els amfitrions són molt simpàtics i acollidors, i m'hi vaig sentir com si hagués estat a casa. El pis es situa en una zona tranquil·la molt a prop del centre històric, i l'habitació era neta i còmoda. L'esmorzar inclòs, i hi ha un gos molt amable. M'hi vaig gaudir d'un cap de setmana perfecte. Us recomano aquesta casa si busqueu un allotjament a Manresa.
YU
2016-10-23T00:00:00Z
Très bon accueil, Anna m'a bien renseigner. Très bel appartement et propre ! Quartier sympa et à proximité du centre ville. Je recommande vivement !!
François
2016-09-12T00:00:00Z
Me trataron como uno más !! Me llevo dos amigos geniales . Todo lo que diga es poco !! Gracias por todo!! Nos vemos pronto !!! Besitos
Antonio
2016-10-30T00:00:00Z
Fue una experiencia maravillosa, definitivamente repetiría. El lugar es súper céntrico, me trataron de lo mejor, fue mucho mas de lo que hubiera pedido. Anna y Eduard son muy calurosos y siempre resolvieron todas mis dudas de cualquier tema. Me llevo dos amigos y un recuerdo divino.
Priscilla
2017-03-19T00:00:00Z
Room Type
Private room
---
Property Type
Apartment
---
Accommodates
1
---
Bedrooms
Manresa, ES, Barcelona, Spain
2 habitaciones cn cama indivual un baño...parquet...vistas magnificas...cerca de bcn y de las hermosas montañas de montserrat
The host canceled this reservation 79 days before arrival. This is an automated posting.
Josep
2017-03-08T00:00:00Z
Room Type
Private room
---
Property Type
Apartment
---
Accommodates
2
---
Bedrooms
Castellgalí, Cataluña, Spain

Apartment 3 rooms, living room and integrated kitchen. 2 balconies, larger one with table and chairs and nice view of Montserrat. Ideal to know BCN and the interior of Catalonia, visit the monastery, climbing and mountain walks. Quiet atmosphere.
Hay dos camas matrimoniales y un sofá -cama doble por lo que pueden llegar a hospedarse hasta 6 personas. El pueblo es tranquilo, tiene vistas a Montserrat y lo cruza el río Llobregat.
El barrio y el pueblo en general es tranquilo, con los servicios básicos. Cuenta con piscina municipal abierta en temporada de verano y biblioteca.
we appreciated our stop in this lovely flat. We felt very well as "at home" and it was very clean and confortable. Sandra is really at disposal of her guests and she reacted fast whatever the Matter! All positive !!
franck
2017-02-26T00:00:00Z
Sandra's place was a great place for a climbing trip in montserrat ! The place was good and confortable for five people. The communication was clear and fast.
Tim
2016-12-11T00:00:00Z
Sandra was a responsive host even though she was not there, the appartment was as described. We had a nice stay.
Tatjana
2016-07-19T00:00:00Z
Nice appartement, very well equipped and perfect to visit Monserrat. Sandra is a nice host. We change our plan late and she proposed a solution for us. we recommend !
Jean-Francois
2016-07-05T00:00:00Z
Casa encantadora y agradable.
Alén
2016-10-10T00:00:00Z
Malgré notre retard, Sandra nous a accueilli avec le sourire et beaucoup de gentillesse. Elle a pris le temps de nous faire visiter son appartement qui est conforme aux photos. Nous nous sommes facilement garés dans la rue. Il y a des magasins à proximité pour faire les courses dont un, juste en face. C'est un agréable point de chute pour visiter Montserrat.
Anne
2016-05-08T00:00:00Z
...
Luigi
2016-08-20T00:00:00Z
Un accueil chaleureux, un appartement spacieux et agréable. Idéalement situé pour aller arpenter les chemins de Montserrat ! Merci Sandra !
Emmanuelle
2016-03-31T00:00:00Z
Room Type
Entire home/apt
---
Property Type
Apartment
---
Accommodates
5
---
Bedrooms
Sant Vicenç de Castellet, Catalunya, Spain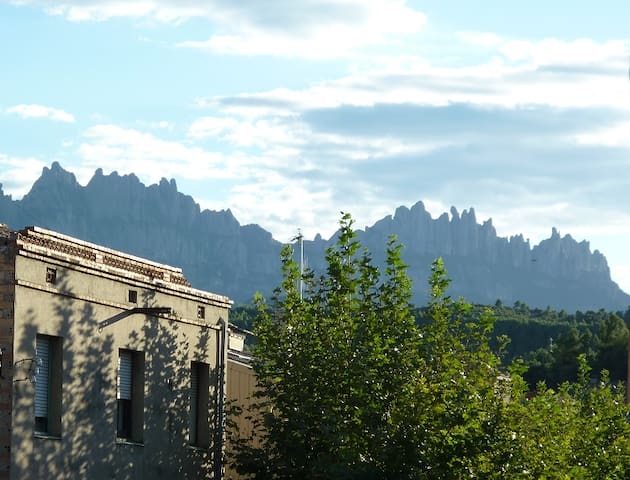 Country House XIII century located in the Natural Park of Sant Llorenc del Munt and l'Obac. The house has a double room with double bed (for single use 40% +) and two shared rooms with 4 beds each. Two bathrooms with shower. Garden area. Trekking routes. It Includes: Breakfast Buffet Free and taxi service to the station and town. Extra services: meals, meditation, massage, bath towels hire, taxi service (tourism)
The house has 350mt2. It is a country house (Masia) of the thirteenth century located in the Natural Park of Sant Llorenc del Munt i L'Obac. Disponde 3 room. (2 shared with 2 bunk beds each and one double. Lounge, fireplace, kitchen, common areas, terraces and large gardens. The old winery has been renovated and is now a massage room with fireplace bioethanol. Extra services ( prices on request): Meals, tours, Tastings Cheese with guided tours, workshops Meditation, Relaxation and anti-stress workshops, Massage, Workshops Vegetarian Kitchen collection service to the station (free).
The house is in a natural park so that peace, silence and tranquility are the kings of the place and a very special stay is guaranteed. In the area there are many hiking trails BTT i (La Mola, Montcau, Cova Simanya .... etc.) Places of interest: San Pere de Vallhonesta (well-preserved Romanesque church) / Sant Joan de Vallhonesta (old hostelry of ral way of Barcelona very important at the time). Organic cheese farm with guided tours and cheese tasting with wine pairing in the area. The house is 20 minutes drive Montserrat and other points of interest Mediaval: Manresa, Cardona, Suria, Mura, etc-
Nuria and David were wonderful hosts, they came to the train station to pick us up which made it very convenient for us. They provided us with a lot of suggestions for hikes in the area and for a small fee took us up to Montserrat and back after our hike. David prepared seitan marinated in wine one night for dinner that was really delicious. The house itself is lovely and in a very quiet spot up the hill, the only problem we had was with the toilets not working but they were both right on it to fix it. We would recommend this place to everyone!
liliana
2016-07-19T00:00:00Z
Si vous souhaitez vous ressourcer et faire le plein d'énergie, c'est une escale obligatoire Nuria et son mari vous accueillerons chaleureusement, dans une magnifique maison du XIII qui possède un charme certain, un lieu propice pour méditer et se ressourcer Petit ou long séjour, vous ne le regretterez pas
Elodie
2016-10-09T00:00:00Z
L'expérience avec Nuria et David était tout simplement magnifique: dès le premier instant à Can Mussol, je me suis sentie comme chez moi, et j'ai su que mon séjour serait de tout repos. Tout était fait pour que je me détende au maximum: les séances de méditation dans le jardin, les repas végétariens d'excellente qualité préparés par David, les trajets depuis/vers la gare, la séance de massage par Nuria... Et la région est tout simplement magnifique: j'ai pu effectuer des randonnées près de Can Mussol mais aussi à Montserrat. La vue de la région est tout bonnement spectaculaire! N'hésitez pas à demander des conseils à Nuria et David sur les randonnées à effectuer ou les lieux à visiter : ils se tiennent toujours à disposition pour vous aider à rendre votre séjour parfait! Pour ma part, une prochaine visite est déjà en projet! Petit conseil pour les futurs voyageurs: Nuria et David n'habitent pas sur place et, bien qu'ils soient flexibles et toujours prêts à vous aider, essayez vraiment de les prévenir au plus tôt de votre horaire d'arrivée et de respecter cet horaire!
Mélanie
2016-08-24T00:00:00Z
Room Type
Private room
---
Property Type
Villa
---
Accommodates
2
---
Bedrooms
Sant Vicenç de Castellet, Catalunya, Spain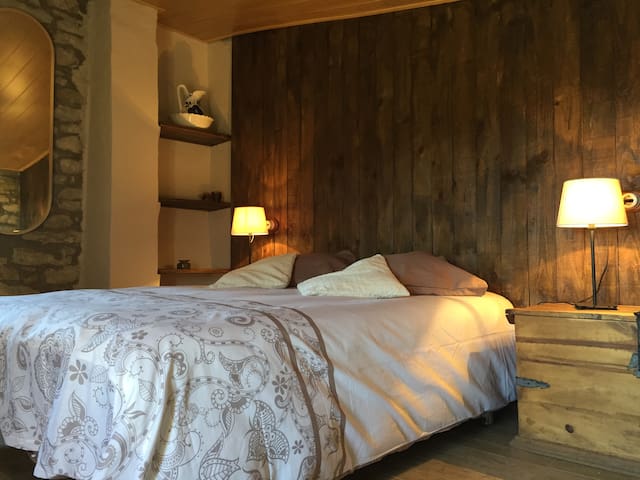 Manresa, capital of the region. Recommended places La Cova, La Seu, Montserrat, Parc de l'Agulla. The Apt. Has guides and places to visit and places to eat.
Apt. Of 90 m2, consisting of 3 double bedrooms (2 queen beds and 2 twin beds), a living room with exit balcony, an office, kitchen, bathroom with shower.
The neighborhood has all the amenities (shops, restaurants, pharmacy ...). The center is a 10-minute walk (Paseo de Manresa).
Room Type
Entire home/apt
---
Property Type
Apartment
---
Accommodates
6
---
Bedrooms
Manresa, Catalunya, Spain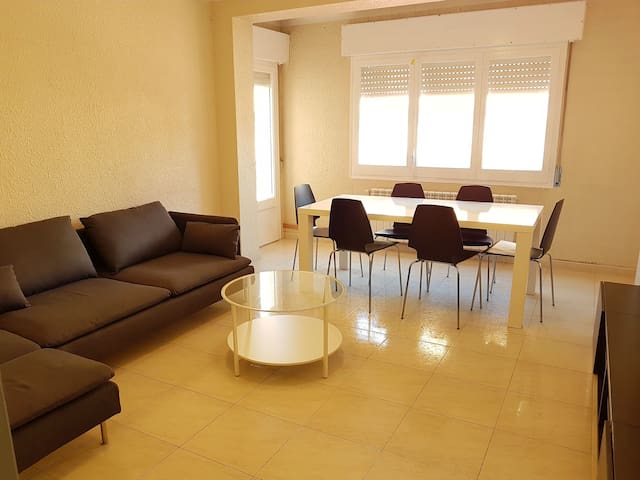 We are an American/West African multilingual family that manages a 3 flat hostal converted to long term living apartments. The renovated and vacant second floor apartment has been decorated and painted for our guests and travelers.
This space is a one bedroom. It comfortably fits 2 people, however, innovative types could tag along 2 additional people. We have never lived in the space, but we do store some of our additional items there. This space has been reserved for our out of town guests and family members who are travelling from overseas or other parts of Spain or the United States.
The neighborhood has a feel of old Catalonia. The majority of the buildings in the area (including our own) are old, so it's good for people who appreciate traditional and antique architecture. The neighborhood is diverse and vibrant, and the lingua franca of Manresa is Catalán.
The house is as advertised. A bit old but clean, on a old part of the town but this is Manresa you are two streets away (10 minutes walking) from the center. The host was very happy to help with my requests, just ask them they are very proactive (they live n the building). Don't expect a five stars place, but that's not what you are looking for. If I need to come again I'll consider with no problems coming back to Laurat's place.
Francesc
2016-07-25T00:00:00Z
Estuvimos a gusto la noche que pasamos en casa de Laurat. El trato fue excelente, aunque la casa podría haber estado un poco más limpia/ordenada.
Alvaro
2016-07-04T00:00:00Z
El piso esta muy céntrico, bien ubicado y desde ahí se puede recorrer la ciudad entera a pie. Hay bares, restaurantes, supermercados y tiendas cercanas. Está perfecto para pasar un fin de semana o una temporada mas larga. Laurat es una persona encantadora, muy buena anfitriona y siempre dispuesta a solucionar dudas o problemas. Volveré encantada!
Maria
2016-11-29T00:00:00Z
Room Type
Entire home/flat
---
Property Type
Apartment
---
Accommodates
2
---
Bedrooms
Manresa, Catalunya, Spain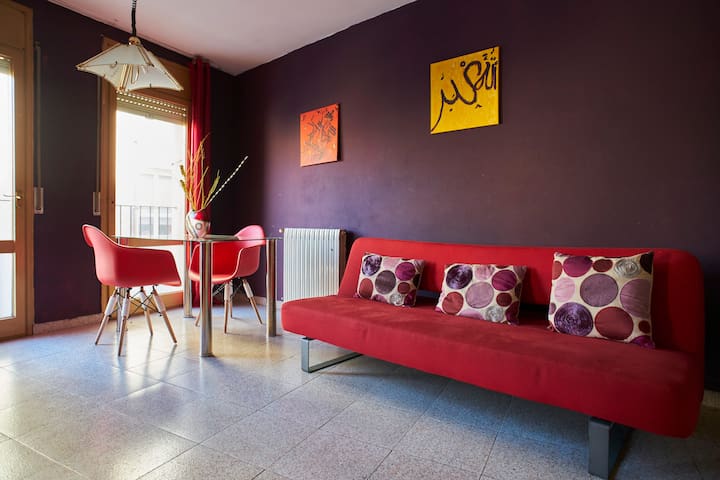 Lugares de interés: El centro de la ciudad, arte y cultura, historia de la Manresa Medieval, La Cueva de San Ignacio, Montserrat. Te va a encantar mi lugar debido a Tranquilidad, la comodidad de la cama, a 10 minutos del centro. Mi alojamiento es bueno para parejas y viajeros de negocios.
Room Type
Entire home/apt
---
Property Type
Apartment
---
Accommodates
4
---
Bedrooms
Manresa, Catalunya, Spain
Lugares de interés: parques y increíbles vistas. Te va a encantar mi lugar debido a la ubicación, las zonas exteriores, el ambiente, y las vistas. Mi alojamiento es bueno para parejas y familias (con hijos).
Os propongo alojaros en una autentica masía catalana (del 1753), rodeada de naturaleza, senderos. Esta cerca de Montserrat. La masía es amplia y ofrece todo los servicios que podáis necesitar para una estancia agradable. Tranquilidad, paz,y diversión. La masía tiene mucho carácter. La hemos restaurado con mucho cariño, respetando su estructura original. Cada detalle esta cuidado, y creo que se puede decir que es una casa que tiene alma. El entorno también es precioso, ya que la masía se encuentra en medio del parque natural de Sant Llorenç del Munt, cerca de Montserrat.
Hay algunas otras masías en los alrededores, pero esta todo muy tranquilo.
We really enjoyed the stay at Martina's house. We participated at the SpartanRace In Súria. It's an obstacle run. Martina's house is in a quiet area, so it was perfect to focus on the race and to relax afterwards.
Dominik
2016-10-10T00:00:00Z
excelente casa y martina y Montse son simpáticas y acogedoras
Alex
2016-10-08T00:00:00Z
Quelle semaine fantastique !!! La maison est magnifique, le cadre est calme, reposant, idéalement situé à 35mn de Barcelone. Les enfants ont également adoré ! Martina et Montce ont tout fait pour nous rendre ce séjour encore plus agréable. En plus du cadre, de la maison, nous avons rencontré 2 belles personnes. Merci à toutes les 2 !!! Nous gardons de précieux souvenirs de cette semaine. Hasta pronto ! Sophie, Margot, Baptiste et Yoann
Yoann
2016-08-16T00:00:00Z
Room Type
Private room
---
Property Type
House
---
Accommodates
4
---
Bedrooms
Sant Vicenç de Castellet, Catalunya, Spain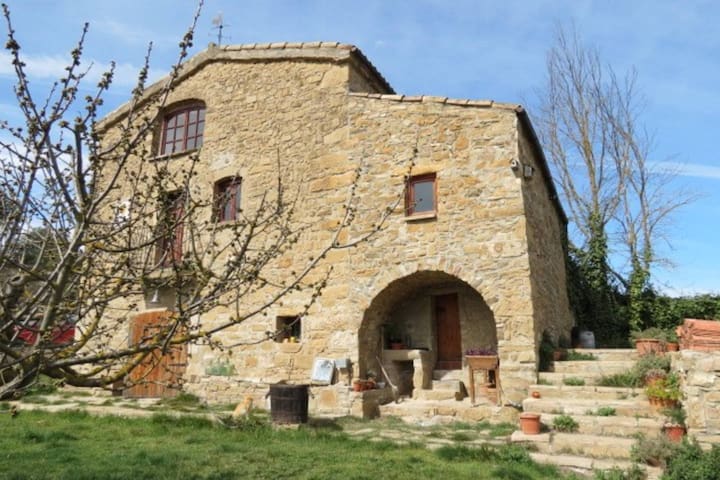 Es comodo y muy centrico. Intentamos tractar a nuestros inquilinos lo mejor que podemos. Para nosotros es una manera de mas conocer gente, culturals, comidas...
Esta en el centro de Manresa.
La localización, la tranquilidad. Puedes ir a todas partes sin necessidad del cotxe.
Una curta però molt agradable estada. L'Anna i l'Eduard son una parella molt acollidora i amb una comunicació molt fluida. Van aconseguir que la meva primera experiència amb airbnb fós molt agradable . Allotjament ideal per la intimitat que et permet una habitació i bany privat, i per la seva cèntrica ubicació. Totalment recomanable. Gràcies Anna i Eduard!!
Maite
2017-04-01T00:00:00Z
Room Type
Private room
---
Property Type
Apartment
---
Accommodates
1
---
Bedrooms
Manresa, CT, Spain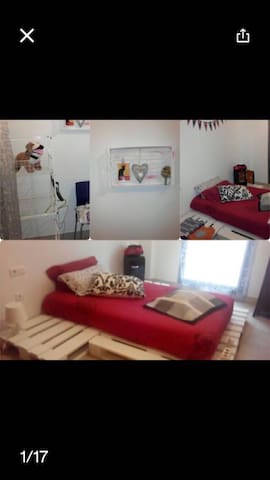 Loft apartment located in building renovated fully equipped with kitchen and kitchenware included, washing machine, refrigerator, 32-inch flat TV, free WIFI.
Accommodation Fully equipped for immediate use.
Located in the historic center of the city of Manresa.
The host canceled this reservation 8 days before arrival. This is an automated posting.
Pol
2015-10-08T00:00:00Z
We had a great stay and really liked Manresa. The room itself was very clean and the bed was comfortable. There was an air conditioning unit too which was an added bonus. The building itself is nicely converted and there's an elevator. The staff at Urbi were particularly helpful and were able to recommend nice restaurants in the town. We'd definitely stay again. A+
Alex
2016-08-20T00:00:00Z
Everything was nice! Just like the pictures
Lisa
2016-11-13T00:00:00Z
Room Type
Entire home/apt
---
Property Type
Apartment
---
Accommodates
2
---
Bedrooms
Manresa, Catalunya, Spain
El Pont de Vilomara - Airbnb
:
Average

4.68

out of

5

stars from

309

guest reviews
Enter dates to see full pricing. Additional fees apply. Taxes may be added.