Close to downtown! My place is close to Taco Mex, Roland's Soulfood, Austin Shaker, Downtown, Mueller area, Airport, Canopy, Daily Greens, . My place is good for couples and solo adventurers.
Ashley and Rudy were great. Very friendly and accommodating. I had never used Airbnb before and it was very simple and helpful.
Brian
2017-02-09T00:00:00Z
Ashley was great! Her place is clean, welcoming, and quite unique. The hospitality was excellent. She was very helpful in pointing us to different places in town. I would definitely recommend it to anyone wanting a small taste of a "day in the life" of Austin living!
Nicholas
2017-01-15T00:00:00Z
Ashley's loft is very charming and located a short car drive away from all the main attractions in Austin. Even though the bedroom wasn't private, Ashley made sure we had privacy. The blow up mattress was less comfortable than we would want, but the place was very cozy and had a great atmosphere. She communicated well with us whenever we needed something and was very pleasant throughout our stay.
Fernanda
2017-01-31T00:00:00Z
Very nice place and amazing people. Host is a very cute couple and have a pet dog. They give you a lot of privacy and are always available to help when you need them.
Harsh
2017-02-05T00:00:00Z
Nice place and great location. It was a nice first experience with Airbnb. Arrow is lovely and we actually missed him once we returned to our place. Talking about luggage, take small pieces with you instead of a big one since the spiral staircase is narrow.
Alejandro
2017-02-25T00:00:00Z
This was a great place to stay. Very clean, bright, pleasant space with a sweet dog. Ashley was friendly and accommodating. Definitely would recommend.
Gallagher
2017-01-08T00:00:00Z
Ashley's place was the perfect overnight stay for our trip to Austin. :)
Eric
2017-04-12T00:00:00Z
We got in a bit late and Ashley was accommodating. She (and her dog) welcomed us once we got there, but otherwise, we were in late and out early. The floors creak a bit, so we felt a little bit bad moving around to get settled in, because we were concerned about keeping the host up. A good value, though, especially if you are just an in and out guest, as we were.
Lisa
2016-12-28T00:00:00Z
Room Type
Private room
---
Property Type
Villa
---
Accommodates
2
---
Bedrooms
Austin, TX, United States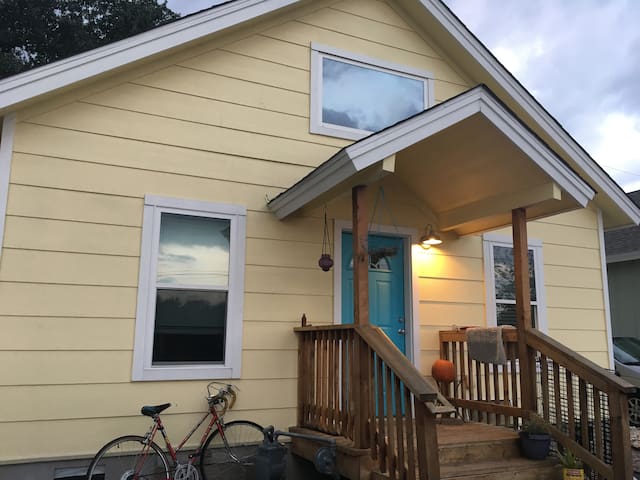 Rare Wild West-style compound, a world unto itself, just 5 1/2 blks from DT! 1 of a kind ultra hip 3 home compound blt around d-lux pool! Fully fenced & PRIVATE! SLEEPS up to 16 people! Patios, balcony and screened porch! 2 bd-1 ba Vintage 1910 home w/ orig wood flrs, BIG bdrms 1076 sq ft + Gorgeous 2 bd-1ba Southwest style villa 901 s ft. + beautiful 1 bd-1ba contemporary home above garage 625 sq ft. Both blt in 2000 w/ high ceilings loads of light, cool kitchens & covered porch! Garage apartment is automatically included for bookings above 10 people. Otherwise can be rented at an additional fee. Less than 10 mins walk to trendy East 6th St and ultra cool Rainey Street. 2 mins walk from the best Pizza (Bufalina) and Cocktail bar (Weather Up) in Austin Ideal for large groups coming for an event. Pool is not heated.
Everything was as advertised. Great spot for large group. House & host were great.
Matt
2016-10-10T00:00:00Z
This place was absolutely perfect for our bachelorette party group of 15. There was plenty of bed space for us all and even extra air-mattresses hidden in every corner. The salt water pool was super cool and we spent most of our time in the outdoor area. The location is ideal - we walked to bars/restaurants on 6th st or Rainey and took ubers or cabs back. David responded quickly. There were enough towels, linens etc etc etc. There was also enough parking for all four of our cars. We used all three spaces (house, guest house, pool house) and there were three bathrooms - one in each. Perfect!
Amanda
2015-04-30T00:00:00Z
This was the most unique and awesome place I've stayed at using Airbnb. We had 12 guys and there were plenty of beds and real (not air) mattresses for everyone. There is a ton of outdoor space near the pool and we spent 99% of our time hanging out there when we were at the compound. It's also located next to an amazing taco truck and incredible bbq at Kerlin BBQ. If you are traveling with a large group, I HIGHLY recommend staying at The Compound!
Chris
2017-02-12T00:00:00Z
This house was exactly as described and was a great home base for our crew of 12. With multiple bedrooms, bathrooms, and kitchens, you can find plenty of space without crowding too much. The location is near a few great restaurants, so that's a big plus. David was very easy to work with, and I highly recommend this rental to anyone with a large group.
Dylan
2014-11-11T00:00:00Z
I live in Austin and hosted a bachelor party at the house. I couldn't have asked for a better place to spend the weekend with friends.
Mike
2017-01-29T00:00:00Z
The house was great, in 15 minutes walking distance from Austin Convention Center. Very nice neighborhood. House was great and could easily accomodate 10 persons. David was very available and responded to all our questions in a positive way. A great stay for us during SXSW.
Erik
2015-03-23T00:00:00Z
Dave was an excellent host. Everything that was needed was provided. Great house for larger groups. Would love to stay again in the future.
Philip
2016-04-04T00:00:00Z
This place was awesome and I would stay here again. Very comfortable for a large group and close to all the night life in downtown.
Cy
2014-07-21T00:00:00Z
Room Type
Entire home/apt
---
Property Type
Villa
---
Accommodates
10
---
Bedrooms
Austin, TX, United States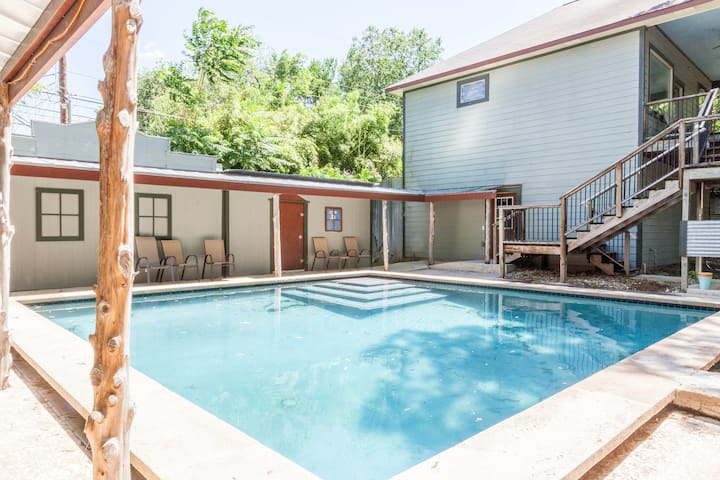 My place is close to FoodHeads, Amy's Ice Creams, Salvation Pizza, Party Barn, and Pad Thai. My place is good for couples, solo adventurers, business travelers, families (with kids), and big groups.
Room Type
Entire home/apt
---
Property Type
Villa
---
Accommodates
6
---
Bedrooms
Austin, TX, United States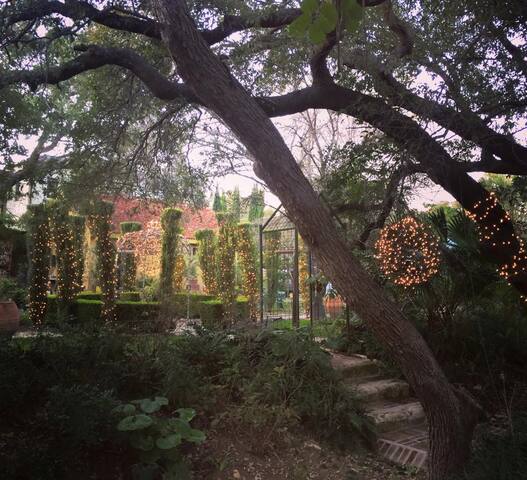 Highest value neighborhood; quiet; private; and walk-able to everywhere. The price is for 2 bedrooms that are spacious, with antique furnishings and 2 en-suite baths.
Two large suites, recently remodeled and refurbished with 2 en-suite baths in downtown Austin (an extra third bedroom also if needed). The rooms are spacious, with high ceilings, huge windows, en-suite refrigerator and an eclectic mix of modern and antique furnishings. Private entrance too! There is a large master bedroom with a queen, a second bedroom with 2 twin beds, and recently remodeled bathrooms. This 1st French Floor suite is 1000 square feet with full-size windows in all rooms and has its own entrance, parking spot, cable TV and wifi. The historic rooms are located downtown and near campus, between 15 & 19th near West Ave., making it an ideal location for events in Austin, such as ACL, Formula 1, SXSW and UT Football games just a short walk or bike-ride away (place has 2 bikes). Shuttles to Formula 1 leave from near-by downtown location(s). For example: CONVENTION CENTER ( #1.) 11min by bike on special lanes, paths & quiet streets, as it's down-hill, 15 to return ; --->#2.) 19min by 1 bus ( it's main line so many runs, 3 in 2min row, then 10min wait, 3 in row...etc.) (4 block walk & 3 block walk on each end) --->#3.) 30min easy safe walk there via historic streets by State Capitol (down-hill). 35min back (mix of flat & final up judges hill). I'd suggest some returns via cab or bus. The neighborhood is quiet and peaceful - a rare find given the central location. Nearby are all of Austin's best restaurants, cafes and nightlife. (3 to 8 blocks) This rooms are a separate areas in a large historic property where Pat & Bill live in with their family. You may view the home itself on Judges Hill Historic District web site. Pat owned an antique shop and has decorated the apartment. Welcome to Austin. We hope you enjoy your stay as much as we enjoy living here.
Historic homes and some professional offices in historic houses. Low traffic and nice walking
Pros: Very well-decorated and historic, feels like I've ridden the time machine back to the early 1900's (sinks had separate hot and cold faucets, hehe), it's walking distance to Old West Austin and UT Campus. and the bathtub was cleaner and had more water pressure than most of the modern apartments I've stayed in Austin Cons: Living room floor had leaves and debris from outside, rest of the rooms don't look like they've been vacuumed either, the guest bedroom smelled weird, rusty sinks that barely ran water, sinks and toilet gave out rusty water at first, rusting mirrors, inside of fridges look like they haven't been cleaned in a while. Lots of noise from the pipes, boilers, and creaky floors from upstairs, and even the buzzing of super-loud lights from outside. And honestly a little creepy. I didn't sleep much for the first 2 days due to the noises and how much of a scaredy cat I am. Bottom line: It's fascinating to visit but far from comfortable to live in. I wouldn't recommend it.
Jing
2013-02-16T00:00:00Z
Excellent central location in a nice, quiet residential section - very convenient to UT/downtown. Comfortable beds, great water pressure in the shower, all the basics are covered. While this is a separate unit with its own entrance, it is on the lower level of the main house where Pat & Bill reside.
David
2013-02-20T00:00:00Z
Pat and Bill are great people, but the place in the cellar of the house felt a bit like a 'bunker'. It was all quite old and seems to be an antique store on a day-to-day basis... The was basins looked really antique and were downright dirty. The location of the place in the top-West side of town is nice and the price is fair, but I wouldn't go there if you are used to tidiness and comfort... Also - in the master bedroom you can hear every movement of the people living above... which is rather annoying in the middle of the night...
Bart
2013-03-16T00:00:00Z
We really enjoyed our stay. The apartment is a little eclectic but you can't beat the price. Bill was an excellent host and had a lot of useful info on Austin.
Scott
2012-10-25T00:00:00Z
I very much enjoyed my stay at Pat and Bill's. They are a welcoming couple. Their house is in a beautiful old neighborhood and is a convenient walk to the University of Texas. I would stay there again. Thanks Pat and Bill!
Tara
2014-02-27T00:00:00Z
Very pleasant
Nathan
2013-11-20T00:00:00Z
We needed space for two couples for the UT/WVU football game and didn't want to go the Hotel route. This place fit our needs perfectly. This was our first time using AIRBNB and also Pat & Bill's first time to rent this unit. I thought the experience was great. Their location is perfect downtown and on the west side of campus. You can walk to the stadium/campus and even to 6th street if you are feeling energetic. The unit is good sized with two separate bedrooms, a living room and full Kitchen. Pat met us to check in on our schedule and was very friendly and helpful. Overall we recommend and do it again!
Scott
2012-10-08T00:00:00Z
Very nice couple, and very nice house in a reat neighbourhood. I would go back to them another time!
Erik
2015-03-18T00:00:00Z
Room Type
Entire home/apt
---
Property Type
Villa
---
Accommodates
6
---
Bedrooms
Austin, TX, United States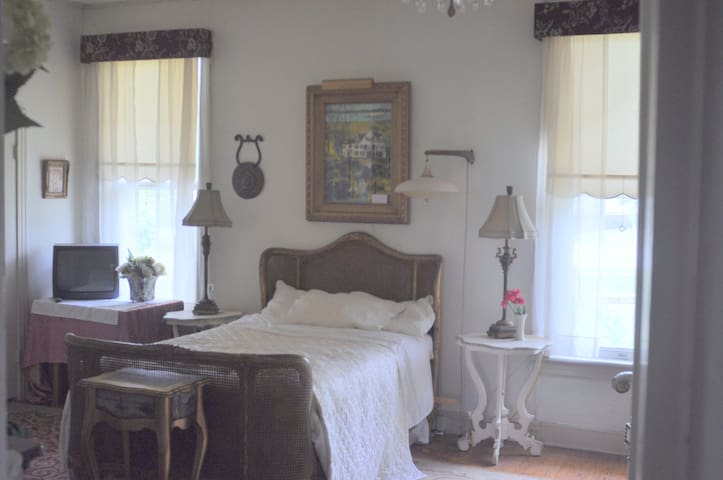 Enter dates to see full pricing. Additional fees apply. Taxes may be added.