Welcome to Exeter, CA - the gateway to the Sierras! Exeter is 28 miles from the entrance to Sequoia National Park - home of the GIANT Redwoods. Centrally located, our home is within walking distance to downtown Exeter, known for its many beautiful murals & fraught with antique shops, boutiques, and eateries. In our home, you'll have private access to the front part of the house - the game room where you can shoot pool, the mini dining room, a private bath, and bedroom. We hope you enjoy!
Your space makes up the front portion of the house while we will be living in the back half of the house. Our spaces are divided by curtains to give you privacy but should you need us we're just a holler away. Your space includes a private game room, mini dining area, bathroom, and bedroom. In the game room, you can play a round of pool or use the provided board games and cards for a little friendly competition. In the dining area, you'll be provided a Keurig Coffee Maker for daily coffee and tea with all the fixin's. On your table we provide breakfast bars, fruit, and popcorn for your mornings or late night snack attacks. There is a mini fridge where you will find a complementary bottle of wine and beer, water, yogurt, and extra space for items to keep refrigerated. Lastly, in your dining room you also have a toaster oven and a microwave. Your bathroom has complementary toiletries, a hair dryer, magnifying mirror, and bath/shower combo. The bedroom includes a full size bed, closet to hang clothing, a ceiling fan and table fan should you need it, and extra pillows/blankets. If you need an iron and ironing board, please let us know and we can make sure to leave it in your room. We have a tv that plays dvd's (a collection is provided). Note, a local Redbox location is within a mile.
Jon & Heidi are incredible hosts. My husband and I felt so relaxed the moment we arrived. The home is charming, spacious, and the sweet amenities make you feel so welcome. Jon & Heidi even went out of their way to take care of us as we ended up experiencing car trouble. It took us a few hours to get our car fixed so we ate a wonderful breakfast in the town of Exeter and were back to Sequoia National Park in no time. If you want to visit Sequoia National Park this is the place to stay!!
Heather
2016-07-24T00:00:00Z
We were very pleased with the place and amazed by the care Heidi and Jon put into their home and guests. The place is very spacious and clean, some nice treats were waiting upon arrival. The location is ideal for exploring Sequoia NP (for which we have to return as we needed a day off) and Exeter is very charming. Heidi and Jon offered great recommendations for food and provided a binder with touristic information. Jon gave us some breakfast (on top of all the snacks already there) and was very kind. We didn't get to meet Heidi unfortunately because of our late arrival, but it was very pleasant communicating with her over email and sms. I highly recommend this place! We would love to come back!
Sarah
2016-08-24T00:00:00Z
Why can I say. If there was another star I would have added to the rating. Lovely hosting, friendly and easy going but leaving us our own space. Pool table and drinks available for us. Supper comfy bed, lovely bathroom. Probably the best airbnb we've stayed in so far. Jon even ran the hose over our car to clean it off before we left. Cant recommend this place enough.
Conor
2016-10-15T00:00:00Z
One of my favorite Airbnb experiences to date!! Jon and Heidi are sweet, thoughtful, and engaging. They provided amenities above and beyond what we were expecting (snacks, beverages, toiletries, etc.). Their home is beautifully decorated and it really felt like a home away from home. There was lots of living space to unwind after a long day exploring the national park. We actually regret not being able to take advantage of the space for longer, it was so cozy! I would definitely recommend their space for anyone looking to spend a weekend at the NP's.
Elle
2016-09-12T00:00:00Z
Jon & Heidi's place was perfect! They were very friendly and offered everything we could've needed. The bathroom had all the amenities one usually forgets to pack and we even had a bottle of wine. From the second we arrived, Heidi made us feel very welcome, as if we were old friends. I highly recommend their place and would stay here again!
Gabriela
2016-10-25T00:00:00Z
Due to the free national parks weekend, Jon and Heidi were camping during our stay, but we kept in touch constantly and we were provided with plenty of advice on what to do, where to go, and where to eat. This truly felt like s home away from home, and the decor and the facilities are excellent. We played some pool (8 ball), enjoyed some home made cookies, and watched some DVDs in bed. This experience and helpful people like Jon and Heidi, who are so willing to go above and beyond for their guests, are exactly why Airbnb is a great thing, and shy you should stay here. We would love to have met Jon and Heidi, but I have a feeling we will be back ;)
Matt
2016-09-03T00:00:00Z
Jon and Heidi made our stay in Sequoia trully wonderful; they were welcoming, gracious, and very helpful hosts. Jon covered all Sequoia National Park things to see and do and gave us loads of helpful suggestions. This way we were able to make the most of our two days spent in the park. The room as well as the entire house are very beutifuly decorated and create a very romantic atmosphere. I couldn't have been any happier with my stay!
Ekaterina
2016-08-07T00:00:00Z
Jon and Heidi's place in Exeter is the perfect location for a weekend trip to Sequoia NP. They go above and beyond the typical airbnb host - through their attention to detail, hospitality, and genuine friendliness! For example, my husband and I were visiting the park for our 30th birthday and they welcomed us with birthday balloons, a bottle of wine, and a jar of pomegranate jam! They were also home as we were getting ready to leave for the park and they even offered us breakfast! The space itself is beautiful - it has its own private entry, lounging area, and gorgeous bathroom. Plus, they stock you with snacks, coffee/tea, and bottles of water for your trip to the park! They also have great recommendations for local places to eat - make sure you go to the Ol' Buckaroo on your way back from the park :) Overall, I would highly recommend Jon and Heidi's place if you are planning on visiting Sequoia/King's Canyon NP. They definitely do not disappoint!
Christina
2016-10-18T00:00:00Z
Room Type
Private room
---
Property Type
---
Accommodates
2
---
Bedrooms
Exeter, CA 93221, United States
On the south entrance to Exeter, this historical home offers views of surrounding citrus, foothills and Sierras! There are four rooms. Come see our petting zoo! 2 miles to downtown Exeter, a town filled with murals, restaurants (our own Monet's), apparel and antique shops. Only one hour to Sequoia!
Our guests can enjoy the entire home. We provide breakfast often and mingle with our guests.....over glass of wine, around a campfire or at Monet's, our French restaurant! The property also includes a massage room (you may schedule), full basement with fireplace and pool table and a petting zoo! All to be enjoyed by you!
The House is just as amazing in real life as it looks in the pictures. The rooms and interior are even prettier! A very special and unique place to stay. Jennifer is a caring and welcoming host and she took care of all of our needs and questions perfectly! Her family is just as lovely. It's a great place to stay for visiting sequoia national park. Highly recommend staying there, a wonderful experience!!!
Sanna
2017-01-10T00:00:00Z
Really enjoyed our stay here. The house is so neat and Jennifer has done a lovely job decorating it. We were the only guests so we had the whole place to ourselves and had fun exploring the home. Each room has its own unique character and charm. It was really an awesome experience to stay here. We'll be back the next time we go to Sequoia!
Stephanie
2017-03-08T00:00:00Z
I came back & brought my daughter this time - We were delayed by Holiday traffic so missed out on the Historic 1st TEA PARTY!!! but they will be happening in the future & we will be back yet again - to our spirit home. We got to have late tea after the Tea & watch the supermoon rise from the balcony - WOW!
Sandia
2016-11-15T00:00:00Z
His home is everything you can ask for , it's beautifully decores and spacious , therefore you get a chance to have alone time if with a big family or there's a little fire place / tv room where you can all sit around and watch a movie , we enjoyed the family room the most since tv and a pool table are there , definitely something we need to get out of the city and just have a nice quiet weekend. There's also a small petting zoo who our 4 year old loved with chickens and bunnies and a baby goat. I can't wait to book again sometime this year .
Lizeth
2017-02-12T00:00:00Z
The host canceled this reservation the day before arrival. This is an automated posting.
Eunyoung
Terri was a great host, me and my friends had so much fun, house were nice, linens and beds were comfortable. house was quiet, we had a restful sleep after our hiking at sequoia national park. Had good communication with Jennifer, she gave us suggestions on where to go. We enjoyed feeding the animals, it was a great experience, wish we stayed longer. Awesome place to stay. Thanks Terri and Jennifer!
Meg
2016-10-16T00:00:00Z
Jennifer was very friendly host. And we loved the place. Will definitely stay here if I come back! :)
Venkatesh
2016-09-11T00:00:00Z
We had a great stay in Exeter. The house is wonderful and very generously built. The rooms are beautifully decorated and comfortable (including even a small fridge with some snacks). The hosts were wonderful. Relaxed and easy-going as well as incedible welcoming and attentive. We stayed only for one night while visiting Sequoia National. However, if we had the chance we would love to come back to spend a few days in this wonderful place.
Sabine
2016-10-11T00:00:00Z
Room Type
Entire home/apt
---
Property Type
---
Accommodates
9
---
Bedrooms
Exeter, CA 93221, United States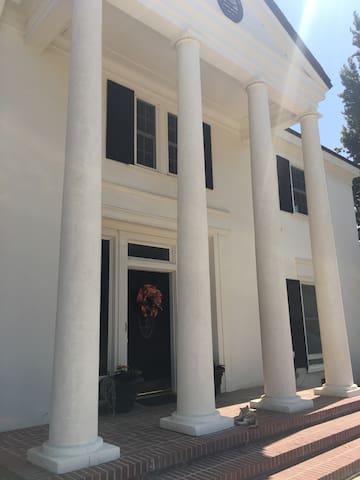 Beautiful horse ranch in Exeter CA near National Parks and other surrounding cities and close to Visalia and Tulare. Nice big home with 2 private bedrooms and full bath. Use of living space and kitchen! Outdoor space includes pool and fire pit.
Beautiful swimming pool and fire pit outside near a running stream.
I needed a place on somewhat short notice to attend the International Ag Expo in Tulare and found David's place. What a find! The house was lovely, and located in a very agricultural setting - horses out front due to David's world-reknown skills as a horseman, and some prize-winning goats and sheep to the side that his partner Derrick handles as part of a livestock showing circuit for youth 9-19. There are beautiful views of the snow covered mountains in the distance and a pool and fire pit in back. I was only sorry I didn't have more time in the house to appreciate it. I could not have felt more at home. And to add to the charm, there are three sweet-natured dogs who will practically lie down on you for lovies. The kitchen is spacious and well-equipped, and I had space in the fridge for my groceries, so I was able to cook at needed. I could not have asked for more delightful company than David and Derrick. It was a welcome reprieve to leave the hustle and bustle of the trade show to sink into the quiet and calm at David's lovely home. The bed was very comfortable and there is a second bedroom with two twin beds for families with kids. I could imagine this as a great launching pad for trips to Sequoia National Park, which I did not have the time to explore this trip. It also allowed me to attend the show arriving from the east, using back roads so I didn't have any traffic issues, just some fog the first day. Thank you for a relaxing and wonderful experience. If I have any future trips to the area, I'll look here first for a 5-star place to stay.
Mary
2017-02-17T00:00:00Z
Room Type
Private room
---
Property Type
---
Accommodates
4
---
Bedrooms
Exeter, CA 93221, United States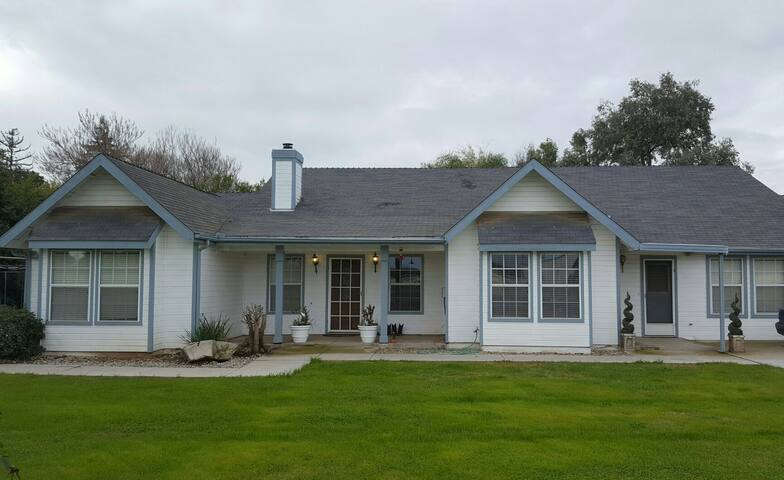 Master bedroom with attached bathroom, extra twin bed, fireplace and small refrigerator
This house is gorgeous inside and Jennifer has done an incredible job of giving each room a unique feel with antiques, art, and furniture with character. The grounds are also gorgeous, with a pool and a view to the mountains. There's an upstairs balcony that is great for taking in the view. Fun amenities include a record player, multiple fireplaces, a library with a fantastic selection of books, and a finished basement with a pool table and large screen television. The location is very convenient and easy to find - right on 65, a five minute drive (or less) from Exeter. Exeter is a really cute town and the murals are super fun. Jennifer works very hard to accommodate and responds to communication quickly. Sound travels fairly well in the large house, so keep that in mind when booking a single room (as opposed to the entire house). There is a small room with attached bath that is detached from the rest of the house, which is where we stayed. It was great to have the privacy and we didn't hear any sound from the main house.
Anna
2017-02-16T00:00:00Z
Jennifer has a great property in a beautiful area of the country. Her home is engulfed in ag land, California and has some really great views. I would recommend this stay if you are wanting to get away from the buzz of city life.
Neale
2017-02-22T00:00:00Z
Jennifer's house is exactly as in the photos on the website, the room we stayed in had a very comfy king size bed and plenty of space for our stuff. Before we checked in in the evening, me and my boyfriend we decided to go have dinner at Jennifer's french restaurant based in Exeter as well and called Monet's. The food was super delicious and fine tasting. We highly recommend Jennifer's place to any other travellers who wanna stop by or wanna visit Sequoia National Park or any other nature lover!
Andreea
2017-02-08T00:00:00Z
We really enjoyed our stay at Jennifer's place. She is very friendly and a great host. We also had dinner at her restaurant in town and it was a great experience!.
John
2017-03-05T00:00:00Z
Thank you for the hospitality and accommodations!
Brad
2016-12-26T00:00:00Z
Jennifer was great. Her guests were very nice and accommodating. Gave us a tour of the entire house and was extremely professional and polite. Made sure we were well taken care of and even provided a log for our fireplace in the master bedroom where we stayed for one night. Was very pleased with the overall experience and would stay again in the future.
Vincent
2016-11-27T00:00:00Z
This place is very cozy. We loved the fireplace! The owner is very friendly and helpful. There were other people staying in the house and it was nice to socialize with them.
Ramin
2017-01-05T00:00:00Z
Jennifer, our host, was very helpful and delightful in welcoming us to her "White House." The inside was tastefully decorated for the holidays and a private party was hosted on the first floor. My sister and I were attending a family Christmas gathering a few miles away so the location and accomadations were perfect. Upon our return we were greeted by Terri the caretaker who oversees the home and makes sure everything is running smoothly. Terri quickly escorted us in for a nightcap and introduced us to the others who were celebrating the holiday season. Jennifer, our host, made us feel more like long lost friends other than house guests. Our large room included a working fireplace and an attached bathroom. The bed was extremely comfortable and the comforter kept us cozy all night. Breakfast was prepared by Terri and it was yummy!
Kim
2016-12-24T00:00:00Z
Room Type
Private room
---
Property Type
---
Accommodates
3
---
Bedrooms
Exeter, CA 93221, United States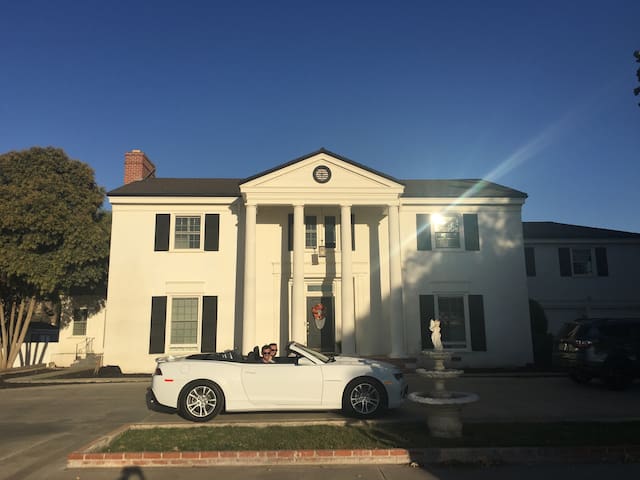 My place is close to Sequoia National Park, Yosemite National Park, beautiful orchards & countryside. You'll love my place because of the relaxing location away from the hustle & bustle. Completely remodeld 1940s bungalow.. My place is good for couples, solo adventurers, and families (with kids).
Room Type
Entire home/apt
---
Property Type
---
Accommodates
4
---
Bedrooms
Exeter, CA 93221, United States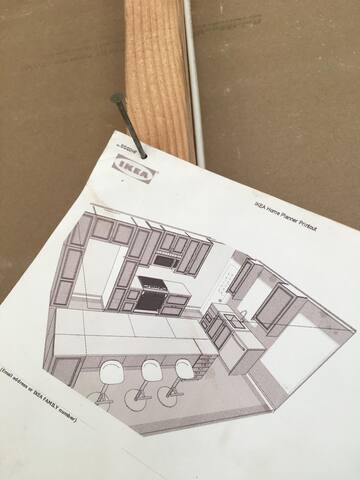 Private entrance mother in law quarters beautiful view w/ balcony. Queen bed in master Suite, has queen sleeper sofa bed in living room. Access to separate bathrooms. Small refrigerator, microwave and Keurig.
Right off Highway 198. 19 miles to Three Rivers and entrance to National Forest.
Antique Shopping in Exeter.
Great place, with a nice private entrance. I would recommend to anyone visiting the area. A+.
Alex
2016-10-09T00:00:00Z
It was a great place to stay! Everything as expected and really comfortable . We loved it
Diana
2016-10-24T00:00:00Z
The place was great. My colleague and I were staying here to go to the World Ag Expo. The scenery was beautiful. The only downside is that their wifi wasn't very good. Thankfully Verizon and Sprint had good cell service, so we were able to create a wifi hotspot. This would be a great place to stay if you were looking to visit the Sequoia National Forest too.
Michael
2017-02-16T00:00:00Z
The host was very welcoming. Even though we got there very early (we let her know beforehand, too), she still wanted to make sure that we can get the place as soon as possible. The night before we left, the family invited us to have some of their dinner, and we got to know a bit about the family as well as the area. It was great to get that connection.
Emily
2016-12-09T00:00:00Z
Such a great experience booking with Rita. She is an excellent host and the pictures do not do her place justice. Rita was super accommodating and offered up a ton of suggestions for local food. We only booked one night due to travel arrangements but would not hesitate to stay longer next time we pass through.
Michael
2016-09-02T00:00:00Z
We had an amazing trip. Rita has a beautiful house and was a lovely host. The room was clean and comfortable. The private balcony had a great view of the surroundings. Very easy to settle in. I would definitely stay there again.
Winston
2016-09-06T00:00:00Z
Room Type
Private room
---
Property Type
---
Accommodates
4
---
Bedrooms
Exeter, CA 93221, United States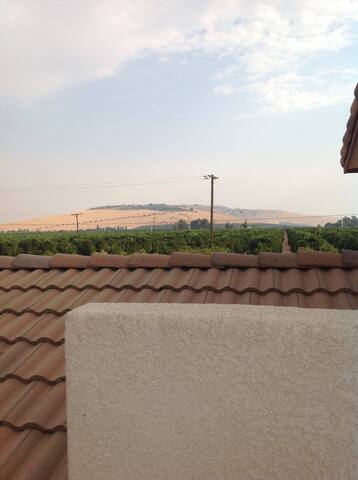 We have beautiful home with three rooms to rent one room queen bed and 2 rooms with 2 twins in each room. indoor fire place, pool, horses and fire pit its peaceful and relaxing but not to far from town 10 min to Visalia, on the way to the Sequoias
We rent the full house 3 bedrooms 1 1/2 baths 2 living rooms kitchen (excluding master room and garage )
My siblings and I had a very fun time at Irene's ranch house. The pool and barbecue were great. The horses and peacocks made for a very ranch-like feeling. Irene was a quick and clear communicator. There were no instructions provided during the stay nor for check out, but any time I messaged Irene to ask questions she was quick to respond. Our only complaint during our stay was that Irene's husband came to stay at the house one night and stayed until about 1pm the next day. Though he was in and out and we rarely saw him, it definitely didn't feel completely comfortable having a stranger walking in and out of the house unannounced. We felt that if the rental is listed as "entire home," then it really should be private to the guests for the duration of their stay. We felt that Irene could be more clear with guests before they make their reservation that she or her husband may show up and stay the night with very short notice. Other than that, we had a great time.
Erin
2015-06-28T00:00:00Z
Irene was fantastic! She was very easy to get a hold of if we had any questions regarding towels, or where things were located. All of our group had a great time at the property and felt at home as we spent the weekend there. We would recommend this house to any friends and family!
rj
2016-04-25T00:00:00Z
Quiet and comfortable! Excellent communication with Irene, we arrived with the house ready for us. Quiet neighborhood and having the horses next door was very relaxing and entertaining. Would absolutely come back next year !
Lee
2015-04-19T00:00:00Z
The host canceled this reservation 5 days before arrival. This is an automated posting.
Jasper
The reservation was canceled the day before arrival. This is an automated posting.
Clarisse
This is a lovely place to stay with plenty of space and everything you need for a short or even a longer stay. We are a family of 4 from the UK and stayed here for a few days to visit sequoia and relax on our way to LA. The pool was great and everything was well maintained although we had to keep a careful eye on the young ones as pool is quite deep. We would definitely stay here again if were passing through this way
Richard
2014-09-05T00:00:00Z
Beautiful house. Large and spacious. Very warm and accommodating host. Provided beyond our needs. Clean and very presentable. My stay here was absolutely awesome! Loved it. Thank you so much for the kind hospitality.
Sam
2016-10-01T00:00:00Z
The host replied quickly to my messages and calls. The house is very spacious and clean. We had great time there. Thanks a lot. Highly recommend.
Yan
2016-01-02T00:00:00Z
Room Type
Entire home/apt
---
Property Type
---
Accommodates
6
---
Bedrooms
Exeter, CA 93221, United States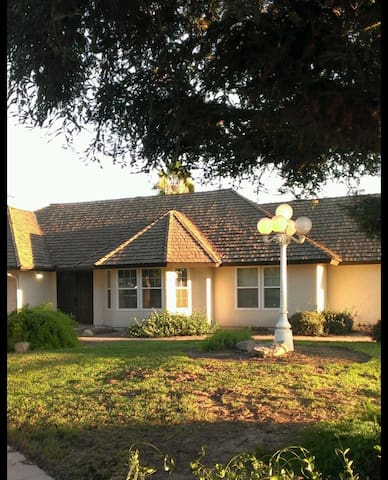 Enjoy this cozy room for two in this Exeter landmark. This 1940's home will charm you and take you back in time. Enjoy use of patio, pool, balcony, basement with pool table and kitchen!
It was the most amazing airbnb experience ever! Jennifer and the rest of her family were great hosts and made us feel at home. We stayed for one night as a pit stop before heading to Sequoia National Park and Yosemite. In the morning, we were able to catch the sunrise over the mountains from the balcony! Everything was absolutely perfect. Thanks for making our vacation so enjoyable.
lichen
2016-10-22T00:00:00Z
Overall, a good place to stay.
shu
2016-11-28T00:00:00Z
Thank you for welcoming us into your home on the busy day before Thanksgiving. That in itself was phenomenal! And what a welcome we got. We are so impressed with the incredible house and all the wonderful people there. Everybody treated us like friends and the atmosphere was genuine and generous. We really enjoyed the charming room, the character of the estate, and the menagerie of lovely animals in the side yard. Thanks again, Heidi &Gregor
Heidi
2016-11-28T00:00:00Z
Room Type
Private room
---
Property Type
---
Accommodates
2
---
Bedrooms
Exeter, CA 93221, United States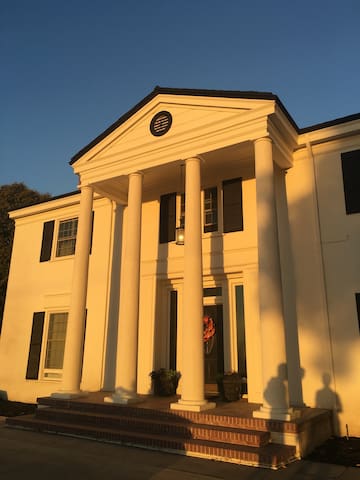 This 1946 historical home is perfectly located for enjoying Sequoia and downtown exeter......close to TULARE also, for farm show visitors! Enjoy our restaurant, Monet's, also! We will even do the driving for you!
Jennifer's house was awesome! Very spacious with lots of amenities and hosted by a super host! Definitely check out the Sequoias and Jennifer's restaurant! Will definitely say here again!
Francisco
2017-02-08T00:00:00Z
This property is as singular as it is comfortable. It's a mansion by all fair descriptions, but the vibe is surprisingly warm and soothing. It's got everything you would expect in excellent accommodations like nicely adorned private rooms, a well appointed kitchen, and sprawling communal spaces, but that's just the beginning... You'll also enjoy an unhindered view of the western Sierras, an opulent swimming pool, access to onsite massage services, and get this... a petting zoo (next door) for the kids! While we enjoyed every aspect of the stay, our host, Jennifer, was the best best part. She was unbelievably engaging, considerate, and attentive to our every need. She took what would have been a wonderful experience, and pushed it off the charts. FYI, she also operates a nearby restaurant called Monet's which is the absolute delight of downtown Exeter. Do not miss a chance to dine there as part of your visit as it was the highlight of our trip. This has been my best experience on Airbnb thus far, and I hope to visit again someday soon.
Michael
2017-02-08T00:00:00Z
Room Type
Private room
---
Property Type
---
Accommodates
2
---
Bedrooms
Exeter, CA 93221, United States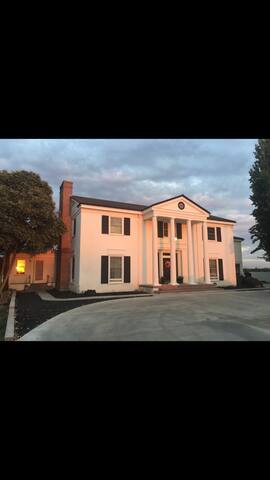 Cosy room 2 people private bathroom
Beautiful peaceful home
We spent two nice days in Dennis and Irene's farm in Exeter. The house and the surroundings are really beautiful: horses, pool, parking place, full equipped kitchen, private bath, comfortable and spacious rooms,and wifi was available. The house is near to Sequoia, so it's a good place if you would like to explore the national park. We couldn't met with Dennis and Irene, but our stay was very comfortable and pleasant there, thank you!
Zoltán
2014-07-02T00:00:00Z
Irene and Dennis were wonderful hosts! The house is lovely and getting to feed the horses carrots was the highlight to the stay. They allowed us full use of the kitchen and living room to watch TV, which was very nice.
Peter and Krista
2014-05-08T00:00:00Z
Even though she could not be at the ranch during our stay, she organized everything in the best way, being available by phone. We enjoyed the pool and the possibility of using the kitchen.
Meike
2014-09-18T00:00:00Z
Room Type
Private room
---
Property Type
---
Accommodates
2
---
Bedrooms
Exeter, CA 93221, United States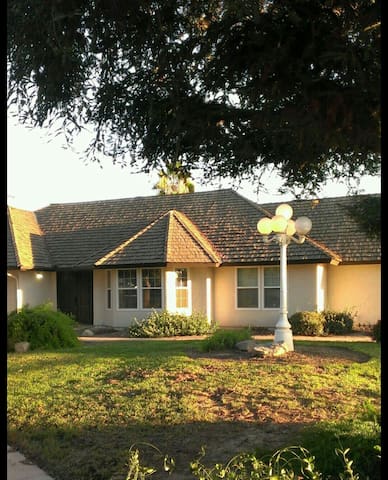 Enter dates to see full pricing. Additional fees apply. Taxes may be added.