The House "Sunflowers" is located in a nice residential area, the property enjoys a wonderful view of the mountains and the country given the favorable position. It 'very spacious and bright and has a beautiful esterno.Andalo space is a popular ski resort.
The House "Sunflowers" is very bright and has a great view. E 'divided into two floors: ground floor, which leads to a beautiful kitchen and open plan lounge with fireplace, very bright with sofas, television with DVD player and movies, radio a large table and a kitchen with dishwasher, blender and toaster, a bathroom with shower and washing machine. First floor: a well-lit staircase leads to the sleeping area, including a second bathroom with shower and 2 double bedrooms, one of which is a bunk bed. From both the bedrooms there is access to a large terrace. Outside there are open parking spaces and a beautiful garden which will give you 'the opportunity to enjoy relaxing and carefree moments. Behind the house are 4 loungers The house also has a carport. Andalo is a ski resort located in the province of Trento, located at the center of the plateau of the Brenta - Paganella in the natural park Adamello-Brenta. CURIOSITY: Andalo artificial mind covers almost 98% oF the ski area an absolute record in Italy. DO NOT MISS: For all lovers of cross-country skiers at the Andalo Sports Centre is a three-kilometer loop illuminated at night and concentric a five-kilometer loop that goes into overtime woods. Opening ski season from 11.26.2016 and closing 02/04 ski season 2017
The neighborhood where my house is a residential neighborhood near the city center, set on a hill, the channel concerned and 'a dead end. So maximum tranquility '
We absolutely enjoyed our stay at Simonetta's house. It is very clean, cozy and well equipped. The calm neighborhood and the nice host let us have some relaxing days in Andalo.
Andreas
2016-09-11T00:00:00Z
We hebben een geweldige vakantie gehad in het huis van Simonetta. Het huis staat in een mooie omgeving, Simonetta en haar buurvrouw deden er alles aan om ons verblijf zo aangenaam mogelijk te maken en het huis is van alle gemakken voorzien. Je kunt bovendien prachtig mountainbiken rondom Andalo en lekker afkoelen in en aan het meer van Molveno. Helemaal fijn dat je na een dagje zweten en zwemmen je kleding in de wasmachine kan stoppen. Alles is ook zo weer droog als je het in de tuin te drogen hangt. Omdat we met 4 man waren was het heel prettig om 2 badkamers te hebben en een vaatwasser. In de buurt ook genoeg gezellige restaurantjes waar je lekker kunt eten. Een aanrader!
Maurice
2016-08-26T00:00:00Z
Esperienza molto positiva, appartamento accogliente in zona tranquilla immerso nel verde. Grande disponibilità di Simonette e della vicina di casa Lorenza, molto premurosa. Da ripetere
Patrizia
2016-08-15T00:00:00Z
La casa è molto bella e non facile da trovare per tipologia ad Andalo; arredata con gusto (cosa non scontata in case vacanze in montagna), dotata di tutto quello che si può trovare a casa propria; la posizione è molto tranquilla, ma il centro del paese è raggiungibile in un attimo. Simonetta e Lorenza sono state molto cortesi e disponibili, da segnalare il fatto che ci è stato consentito di lasciare la casa ben oltre l'orario di check-out per fare le cose con più calma; spero d tornarci e la consiglio sicuramente.
mauro
2017-02-28T00:00:00Z
Tutto bellissimo! Io e la mia famiglia ci siamo sentiti come a casa nostra. Ci ritorneremo!
Stefano
2016-07-18T00:00:00Z
Appartamento bellissimo e molto comodo, facilmente raggiungibile, vicino al centro ed ai principali servizi di Andalo. Cucina iper fornita e spaziosa. Comoda l'idea dei due bagni. Eravamo sei persone ed abbiamo avuto la possibilità di rilassarci comodamente e condividere giornate di relax. Simonetta ci ha messo a disposizione molte comodità che non sono decisamente scontate! Ci siamo sentiti veramente a casa. Un grazie enorme anche a Lorenza! Se avremo occasione, ritorneremo sicuramente!
Sara
2017-01-02T00:00:00Z
Room Type
Entire home/apt
---
Property Type
House
---
Accommodates
8
---
Bedrooms
Andalo, Trentino-Alto Adige, Italy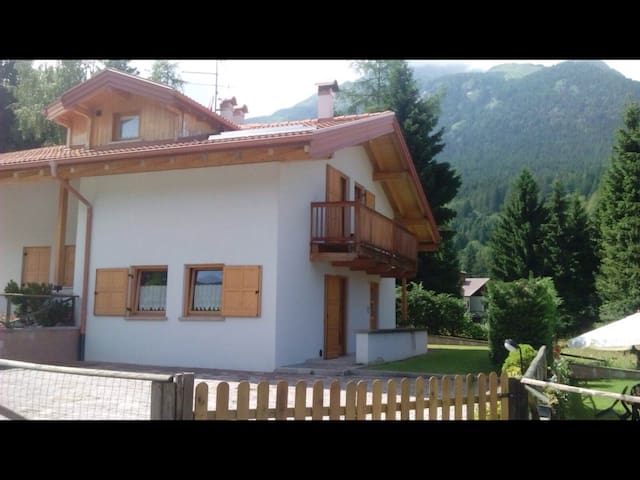 If you like nature, tranquillity and peacefulness you finally found it! Our gorgeous and little home is ready to host you and to help you to forget the stress of your daily life! Ideal for mountain bikers, trekkers, skiers or urban adventurers!
Small but very comfortable house, complete with all services, kitchen with wood stove, bathroom with shower (towels, shampoo, body shower products and hair dryer included), sitting area with a lot of board games, sofa bed for 2 people, low loft with double bed (with possibility of baby bed) and writing desk. It is equipped with autonomous heating in the winter months and a spacious garden with stunning views that you can use above all in summer time. Cars can be parked in a private area for free. Pets are welcomed!
Located 10 minutes from Trento (Dome Square, the famous Buonconsiglio Castle and some of the most interesting touristic and cultural attractions like Muse or Christmas Markets) and 30 km from Garda Lake in the marvellous "Valle dei Laghi", in the heart of Italian Alps and Dolomiti Ski area (near Monte Bondone or Paganella).
Arco's place was amazing! He immediately available when we arrived later in the evening. He showed us around the place, and there was even a cake on the table for our breakfast! Breathtaking scenery, a beautiful, interesting place to sleep in. His family was wonderful and we loved seeing the adorable dogs! I wish we had the time to stay longer, this is exactly what you want when you look for an AirBnB when you're away from home. Amazing.
Cristin
2016-05-15T00:00:00Z
I do airbnb for many years but Arco is one of the best, maybe even THE BEST host i ever met. Yea, really, thats true. Just read all the cheering feedbacks below - they are all true. Arcos place is wonderful especially when you are with kids - and his family and parents are just lovely, very friendly and extremely helpful. One example: When our car had a problem, they drove us in a convoy to Trento to the car repair, managed everything and drove us to get the car back when the repair was finished. Do not search longer, just book Arco!
Andreas
2016-10-15T00:00:00Z
Idyllic stay in a beautiful location. We stayed with Arco for four nights - it was not long enough! Arco had provided everything we could possibly need in the little baita - it was a home from home. Many thanks for having us - we will be back!
Amy
2016-04-28T00:00:00Z
Me and my wife had the most beautiful experience at Arco's hut. Everything about it was perfect. The hut's location is lovely, surrounded by mountains. The hut is cozy, clean and well equipped. It's an ideal place for people looking to relax. Arco and his family are extremely friendly and welcoming, they made us feel at home. Arco's mother even cooked Italian cake for us! This was one of the best experiences me and my wife have had since joining Airbnb. I definitely recommend Arco's place.
Adriano
2016-04-04T00:00:00Z
Quite possibly the best holidays we ever had. The hosts are extremely welcoming, the accommodation super cozy. We loved preparing meals in the well equipped kitchen, or just sitting around outdoors in the wonderful, well foliated garden. The gated property is a treasure. It's just a hop to the lakes. Come home for tea after a swim and wonder why you can't live here full time... Thanks, Arco!
joe
2016-05-30T00:00:00Z
Arco and family offered us a really warm welcome. The hut is really nice and clean, also the atmosphere around the house. Arco was really helpful, he helped us planning for activities and places to eat. We are really appreciated.
Grace
2016-12-29T00:00:00Z
This was an amazing place! It is truly unique because it is absolutely breath-taking! It is also very comfortable, fully furnished with appliances, toiletries and we were greeted with great hospitality by Arco and the family. We were provided free maps and materials, which really come in handy when you are new to the region. Arco was also very adept at providing assistance as needed, including directions and recommendations to restaurants and must see places. The listing exceeded expectations - the genuine care and enjoyment of Arco and his family made a huge difference in our experience of Terlago and Trento!
Elvia
2016-02-23T00:00:00Z
It was such a great experience for us to stay in the cozy hut from Arco and bis family! We were welcomed so warm and felt instantly so much at home, that we slept endlesly... We had great barbecue evenings but also loved cooking in the kitchen and spending the evening in the completely quiet and familiar atmosphere, far away from everything disturbing. It was the best choice we could have made. Thank you for those great holidays, Arco, we will be back :-).
Barbara
2016-10-08T00:00:00Z
Room Type
Entire home/apt
---
Property Type
House
---
Accommodates
4
---
Bedrooms
Terlago, Trentino-Alto Adige, Italy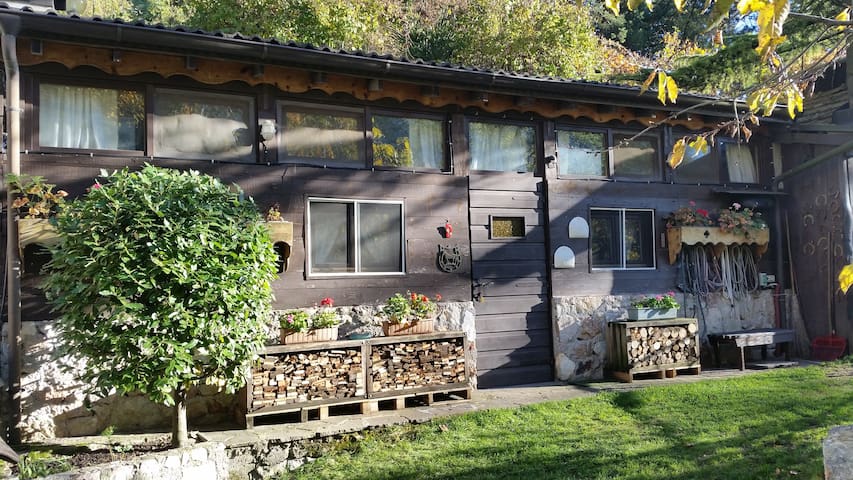 La casa si trova in un piccolo paesino rurale segnato dal suo trascorso storico austro-ungarico tutto da scoprire; Un'accogliente stanza matrimoniale e una cucina munita di focolare domestico riscalderanno le vostre giornate.
Gloria and Simon are one of the most lovely and friendly hosts i've Ever been. Me and my dog felt More than welcome there and I had a really good time with them. The house and my room were very nice, also the big garden and the wonderful view! If I decide to visit Northitaly again, I will Stay with them again :) Thanks for everything!
Alina
2016-07-17T00:00:00Z
The host canceled this reservation 8 days before arrival. This is an automated posting.
Yan
2016-08-31T00:00:00Z
I chose to spend my annual holiday in the Dolomite s. I booked the room at Gloria and Simon. They have opened their hearts, their home, their friends. You could say they "made" my vacation perfect. They speak a perfect English (very important). The house is located in a magical location , is centrally located for excursions around the Dolomite's and the whole middle and north of Italy. It's a beautiful mountain village, surrounded wine vineyards, like taken from a postcard. Just intoxicating atmosphere. Its simply to fall in love with it and them !!! As I went on my vacation spontaneously, I was not ready with where to go and what to see. They helped me with the itinerary with lots of patience and ideas. Places where Italians travelers visit rather than over crowded touristic places. I have no doubt I bought me a couple of friends for life. Plus as a bonus Gloria is making this beautiful jewelry, so you don't have to travel far for presents. I Strongly recommend It from the warmth of my heart, I will never forget my time with them.
Ruthy
2016-07-29T00:00:00Z
ECCELLENTE Il posto è fantastico, più che per una singola notte avrei voluto rimanerci a vivere. La casa è molto accogliente, tutto molto pulito, anche il letto è comodo. Non ci sono rumori, solo pace e tranquillità. Colazione ottima, con prodotti tipici e frutta fresca. Bagno pulitissimo. Simon e Gloria sono davvero molto simpatici e gentili, ti senti a casa.
Alessandro
2016-10-13T00:00:00Z
È stato un bellissimo soggiorno....Simon e Gloria sono due persone meravigliose e di un incredibile sensibilità e cortesia. La casa è molto accogliente e coccola in mezzo alla natura con un panorama mozzafiato. La colazione è squisita fatta con tutti prodotti esclusivamente di loro produzione. Consiglio vivamente,per qualsiasi occasione di permanenza,sicuramente tornerete rilassati:).
Danijela
2016-11-11T00:00:00Z
Room Type
Private room
---
Property Type
House
---
Accommodates
1
---
Bedrooms
Verla, Trentino-Alto Adige, Italy
.Disponibilità Comfortabele twee-kamer appartement in een rustige groene omgeving met tuin, strandstoelen, parasols en parkeergelegenheid, op korte loopafstand van het centrum en van de speeltuin. Het appartement heeft een kleuren-tv, wasmachine, magnetron, en een kluisje etc ...
Locatie: Fai della Paganella - Paganella (Brenta Dolomieten).
Room Type
Entire home/apt
---
Property Type
House
---
Accommodates
5
---
Bedrooms
Andalo, Trentino-Alto Adige, Italy
Apartments located in the central area a few kilometers from Andalo and the magnificent Brenta Dolomites.
Ottimo appartamento in centro a Cavedago, spazioso e pulito. Facilmente raggiungibili le località di Andalo e Molveno. Cortesia e disponibilità dei proprietari.
Elio
2016-08-22T00:00:00Z
Room Type
Entire home/apt
---
Property Type
House
---
Accommodates
7
---
Bedrooms
Cavedago, Trentino-Alto Adige, Italy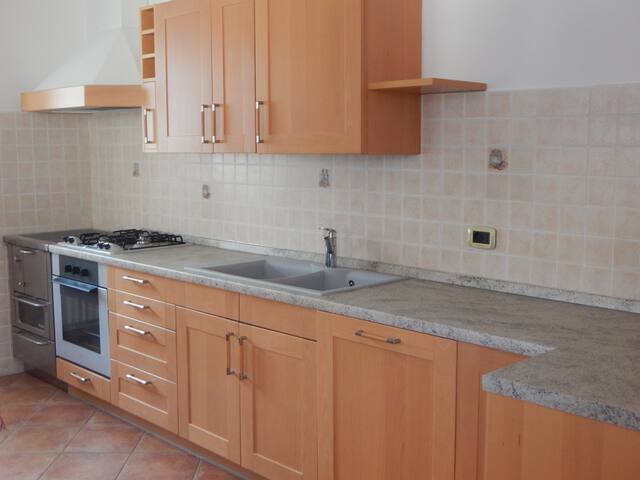 Our apartment is located in a small town in the heart of Val di Non, at the foot of the Brenta Dolomites, where peace and tranquility reign supreme. Strategic place as departure for mountain hikes, visits to castles and walks.
The apartment is on the ground floor of a family house, with a large living room with sofa bed, a double bedroom, a single bedroom and bathroom with shower. The apartment is equipped with all comforts: oven, hair dryer, bed linen and towels, wi-fi, parking and bicycle storage.
Tha apartment was exactly how it looks in the photos and was really nice and clean. He village is lovely and situated in a really good location if you are wanting to explore the Dolomites and the surrounding area. We really enjoyed our stay here. Elisa was a great host and even though we arrived later than we said she didn't mind and was waiting for us. Overall a great air b&b.
Lisa
2016-09-15T00:00:00Z
We loves the flat, modern and functional, surrounded by nice landakape.. The host was friendly and very helpful.
Liv
2016-07-23T00:00:00Z
Modern, warm and conveniently located across the road from a supermarket. Downstairs from Elisa's family which you hardly notice. It feels like your own place with parking right out the front. good base for exploring Val di Non.
John
2016-12-18T00:00:00Z
We booked last-minuet but Elisa was very flexible and offered us her flat. Everything in there is absolutely new and well furnished so that you can really lean back and relax. The kitchen is good equipped and the bathroom very luxurious. Elisa was really helpful and told us where to finde a restaurant that was still open since we arrived very late in the evening. All in all a very comfortable stay with a nice view in a quiet location. Very recommendable for people who don't want to stay in a big city center but a bit apart and don't mind to drive a little bit to reach the next big city.
Marc
2016-04-02T00:00:00Z
Elisa's apartment was exactly as described and pictured, quiet, comfortable, nice and very clean. We had there everything we needed and more. All equipment in the kitchen and bathroom was new. The place is perfect for people who has a car. Elisa is very nice and polite. We would highly recommend staying this place. Thank you Elisa.
Jacek
2016-05-08T00:00:00Z
Elisa's place is really cosy, the apartment is very new and spacious, all facilities are nice and we felt really welcomed there.
Luis Flavio
2016-04-03T00:00:00Z
the apartment is very nice, clean and well equipped. The host is very helpful. We recommend accommodation here
Sławomir
2016-07-10T00:00:00Z
Comfortable and well appointed apartment in a beautiful setting. Communication with Elisa was very effective.
Michelle
2016-07-13T00:00:00Z
Room Type
Entire home/apt
---
Property Type
House
---
Accommodates
5
---
Bedrooms
Campodenno, Trentino-Alto Adige, Italy
La casa si trova in un piccolo paesino rurale segnato dal suo trascorso storico austro-ungarico tutto da scoprire; Un'accogliente stanza matrimoniale e una cucina munita di focolare domestico riscalderanno le vostre giornate.
La vostra permanenza in questo piccolo paese alpino vi permetterà di assaporare le usanze e i cibi caratteristici del posto.
We spent 4 nights in Verla in august with our dog. Gloria and Simon were great hosts, it was a real pleasure being with them.  The house itself was well located: quite close to Trento in car but far enough to let enjoy the silence and peace of the mountains. Finding the place was easy and was parking as well in the garden. Our dog was not an issue for them. The bedroom was comfortable,the breakfasts delicious and  "very local",the bathroom nice and stylish, the whole house makes you feel at home. Cleanliness was not its strength but it was still OK. It's not an apartment for rent. If you go there you will get one of their rooms and will live with them. If one doesn't like such accommodation, it's better to choose a hotel. Gloria and Simon are curious to know you and your culture and open to show their lives and world. Special thanks for Gloria's extra attention to the diet my girlfriend follows and for the great goodbye-dinner. I really recommend the place and especially to single travellers or couples who are open minded and like to know people who are using airbnb to contact with others.
Zoltan
2016-08-17T00:00:00Z
Simon y Gloria son unos anfitriones hospitalarios y generosos. Nos sentimos como en casa desde el primer momento y lo mejor de toda la experiencia, además de la situación ideal de la casa, de las recomendaciones para hacer senderismo y las riquísimas frutas y verduras de la huerta de Simon, fue conocerlos a ellos. Todos los alimentos que se sirven sobre su mesa son orgánicos y deliciosos :) Si vuelvo por allí, sin dudarlo me alojaría otra vez en su casa.
mayte
2016-08-21T00:00:00Z
Siamo stati davvero molto bene a casa di Simon e Gloria e ci siamo sentiti subito a nostro agio. Ci hanno accolto con una fantastica cena di benvenuto e durante tutta la permanenza ci siamo sentiti come a casa nostra. Il posto è un paesino di montagna tra monti e vigneti e si gode di una bella vista panoramica.Speriamo di ritornare presto a trovarvi !!! Daniela e Davide
Daniela
2016-03-28T00:00:00Z
Simón y Gloria son unos genios, pasamos unos días hermosos verdaderamente no dan ganas de irse. Desde el parque de Simón se tiene una vista de las montañas y las vides que es increíble, y sólo a 15 minutos de Trento Simón y Gloria gracias por todo, si vamos nuevamente a Trento seguramente nos alojaremos con ustedes
Bruno
2016-03-23T00:00:00Z
Simon e Gloria sono una coppia FANTASTICA: sorridenti, solari, accoglienti, simpatici, spiritosi, allegri... Non credo possa esserci di meglio in questa valle, che loro amano così profondamente da esserne validissimi portavoce. Il loro amore si esprime tutti i giorni attraverso un costante lavoro nella terra, e una forma di accoglienza davvero.... speciale. Le foto non rispecchiano la casa che è molto più bella di quello che un'immagine può rendere, perchè fatta di energia, atmosfera, calore.. La colazione, che dire.. anche quella non si esime dall'eccezionalità dell'esperienza. Devo ripetere che è un posto molto più che consigliatissimo?
Giulia
2016-08-14T00:00:00Z
Simon è una persona meravigliosa, interessante, gentile e capace di un'accoglienza mai vista prima d'ora. Abbiamo trascorso dei giorni fantastici presso il suo appartamento, che è davvero confortevole e accogliente. Inoltre è stato bello vivere Verla insieme a Simon. Abbiamo avuto l'opportunità di fare incontri bellissimi e di vedere posti incantevoli.
Sara
2016-02-17T00:00:00Z
E' stato un piacere conoscere Simon. Sono stato accolto benissimo, con molte cose genuine da mangiare. Un bello scambio umano!
Luca
2016-02-03T00:00:00Z
Encontrar la casa no fue sencillo, pero tampoco necesitamos contactar con el anfitrión. A partir de ahí, la experiencia fue más que agradable. Simon nos recibió como un amigo, compartimos un poco de vino casero y una excelente comida. El lugar es sencillamente impresionante, hace que te sientas muy cerca de la naturaleza. Sólo nos quedamos una noche, pero nos sentimos como en casa. Con una cocina tradicional a nuestra disposición, y unos alrededores que, si el tiempo lo permite, es perfecto para sentarse y dedicar unas cuantas horas a contemplar las montañas y los viñedos. Lo recomiendo a los que busquéis, no sólo un sitio donde dormir, si no una parada donde podréis respirar aire puro con sabor a aceite de oliva.
Andrea
2016-02-27T00:00:00Z
Room Type
Private room
---
Property Type
House
---
Accommodates
2
---
Bedrooms
Verla, Trentino-Alto Adige, Italy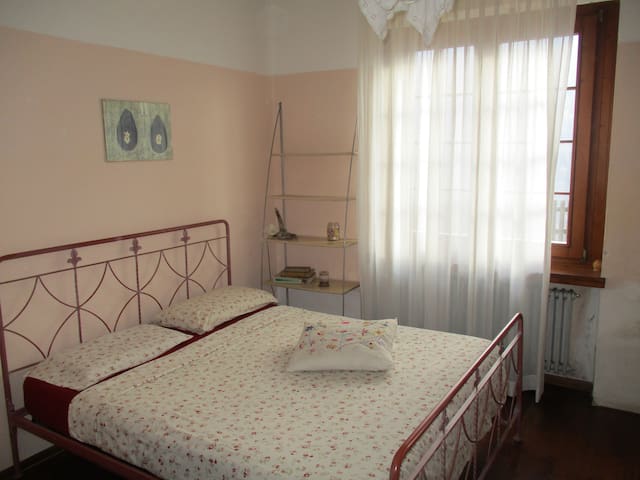 Agrihouse is a holiday house located between the Brenta Dolomites, Lake Molveno and Melinda apple orchards of Val di Non. It 'large, bright and functional, surrounded by a vegetable garden and perfect for family holidays and friends.
The accommodation is perfect for family holidays or with friends. Each room has its own bathroom, so that each enjoy their own privacy. However, in the evening you can end up in the large living-room, also equipped with a kitchen, where you will find everything you need for cooking and eating.
We had a wonderful time in this region of Italy. Laura and her family gave us great recommendations of places to explore , eat at, and get daily fresh bread. The house overlooked the apple orchards and neighboring villages, with beautiful views of the mountains. The house had ample space for all 10 of us, especially the kitchen table where we could have our meals together.
cindy
2016-07-16T00:00:00Z
Absolutely perfect. Large and nice appartement. Very helpfull and pleasent host. Wonderful view from the balcony.
Mark
2015-06-26T00:00:00Z
Our stay was really great and Laura's family was absolutely fantastic in welcoming us. We were 10 and we rent the whole apartment. It can be a little bit hot in the summer despite the available fans in the rooms. But otherwise, this is a great and big place to live, prepare and have dinners, etc... Lot of information on the region is available and the family is always keen to guide or help us. We were offered homemade wine. Don't hesitate to taste their delicious apple juice and salami! Thank you so much for this memorable stay.
Dung
2015-07-26T00:00:00Z
Host was great, location was great, will definitely be back!
Mark
2016-06-28T00:00:00Z
Naprosto úžasná zkušenost. Ubytování bylo krásné, místo v příjemné dojezdové vzdálenosti od hlavní vinné stezky. Zázemí mimořádné, každý ze tří pokojů vlastní šatnu, koupelnu atd. Společná místnost měla skvělou atmosféru. Krásný výhled, doporučuji všem kteří hledají klidné místo v krásném prostředí. Laura i rodina byli velice milí, ochotní, nemám co vytknout. Mimoto velmi dobrý jablečný džus i víno z rodinné produkce.. Jen se bojím, že při příští návštěvě bude plno.. :-)
Jakub
2015-05-11T00:00:00Z
Alloggio molto accogliente, completo di tutto il necessario e comodo per visitare la Val di Non
barbara
2016-12-27T00:00:00Z
Room Type
Entire home/apt
---
Property Type
House
---
Accommodates
10
---
Bedrooms
Dercolo, Trentino-Alto Adige, Italy
Located in the heart of the Lake Valley, only 7 km from Trento, is the ideal place to visit Trentino and it's Christmas Markets. Lake of Terlago is the nearest lake, 5 mins from Lake of Lamar, 20 mins from Arco, 30 mins from Lake of Garda. For sporty travellers, the house is just 30 mins to Mount Bondone or Paganella-Andalo ski resorts. The house is very near scenic locations, the city center, with it's art and culture. You'll love my place because of the views and the high standard of comfort.
This is a semi-detached house with three floors, 1 master bedroom and 2 large bedrooms with queen size beds. The kitchen is equipped with a dish washer and coffee machine, whereas there is also a large terrace with view and outdoor dining table for 6 people. Outside, connected with a staircase to the balcony there is a small and private garden with two sun beds. There are two bathrooms, a basement with an extra 2 people futon-bed and a kitchenette. The house is all tiled with oak wood planks as well as floor heating. There are stereos and a tv inside.
The neighborhood is a particularly quiet street, with friendly neighbors and silent nights. Perfect for a relaxing and laid-back time.
Where to begin??? Wow! A truly beautiful home in a stunning location! We will certainly be returning. Giovanna was a great host, extremely helpful, communication was very friendly from the outset. Honestly, the pictures on Airbnb of Giovanna's place are lovely, but in reality her home is so much more, it is fabulous. Beautifully furnished and everything in immaculate condition. It has a great open plan layout in the main living area, with a fully fitted kitchen with everything you could need. The bedrooms and bathrooms like the rest of the home are stunning, modern furnishings, beautifully presented. However, to top off this beautiful property are the views! Off the main living area there is a fabulous balcony and dining space with the most breathtaking, unspoilt views of the countryside and mountains beyond. We spent most of our time on this balcony .... the perfect place to sit back, relax, unwind and admire the surroundings. Not only is the home wonderful, it's in the most idyllic setting of beautiful countryside. There's so much to do - only a 10 min drive to beautiful crystal clear lakes that my children loved swimming in, a 10 min drive to the historical city of Trento (with fabulous shops and restaurants), and Lake Garda only 20/30 minutes away. I will certainly be returning, I'd love to explore in the winter months too! Thanks for hosting us Giovanna.
Louise
2016-09-03T00:00:00Z
What a lovely place ...the neighbourhood is great, quiet ,but you can walk down the road to the park or for a pizza if you like ( supermarket less than 5 mins walk away). We drove (10 mins approx ) to the nearby lake and it was stunning - clear blue water , swimming, a small cafe ...absolutely fantastic. We sat on the balcony overlooking the mountains for a quick drink, then into Trento for dinner - a great choice ( I'm afraid even in Italy we ate great Sushi!!). We will come back ( I understand its not far for skiing??) And that view!!! If we had longer, we would have popped to Lake Garda...(I think about 20 mins away) Clean, large and airy house with everything you need including a super coffee maker! Giovanna was a very good host - everything sorted - easy to communicate, right down to directions - would definitely recommend.
Emma
2016-09-19T00:00:00Z
Great place to stay! gorgeous house fully furnished and well positioned ( 8 km from Trento center and 3 km or less from the main roads). It was easy to get to the sking slopes ( and there are plenty around) as well to the lakes and nature landscapes. Lot of things to do in winter time and summer as well, turning the stay in a relaxing time. Host( Giovanna) welcomed us warmlly and very responsive to our requests. Wi-fi was missing, but we solved it thru the mobile data access, signal was good enough inside the house. PS Gastronomic experience at a high, with plenty of choices. Highly recommended and will return!
Alex
2017-01-04T00:00:00Z
Un soggiorno incredibilmente affascinante, avremmo voluto avere piu' tempo per godere di quel paesaggio cosi' unico. L'accoglienza e' stata molto cordiale e la casa assolutamente in Linea con la descrizione e le foto Sul Sito. Una bella esperienza, che io e Mia moglie ripeteremo certamente!
Borio
2016-09-22T00:00:00Z
La casa e' fantastica, pulita e compresa di qualsiasi confort consiglio a tutti
Dalla Chiesa Andree'
2016-09-11T00:00:00Z
La casa è splendida, così come nelle foto. Abbiamo trascorso un week end fantastico, a 10 min. da Trento. Salone ampio e luminoso, camere grandi e belle, cucina perfettamente arredata e completa di tutto. Abbiamo ricevuto le chiavi da Manuela che ci ha accolti e dato tutte le informazioni. Tutto perfetto..consigliatissimo!
Loredana
2017-01-08T00:00:00Z
Soggiornato con amici per un weekend tra mercatini di natale di Trento e cantine. La casa è a dir poco stupenda, su tre piani, spaziosissima e ben attrezzata; un bellissimo terrazzo che dà sulla vallata ed è a 10 minuti d'auto da trento. Consiglio con enfasi un soggiorno a Terlago per chi volesse fare via dei giorni da quelle parti!
tommaso
2016-12-11T00:00:00Z
Room Type
Entire home/apt
---
Property Type
House
---
Accommodates
6
---
Bedrooms
Terlago, Trentino-Alto Adige, Italy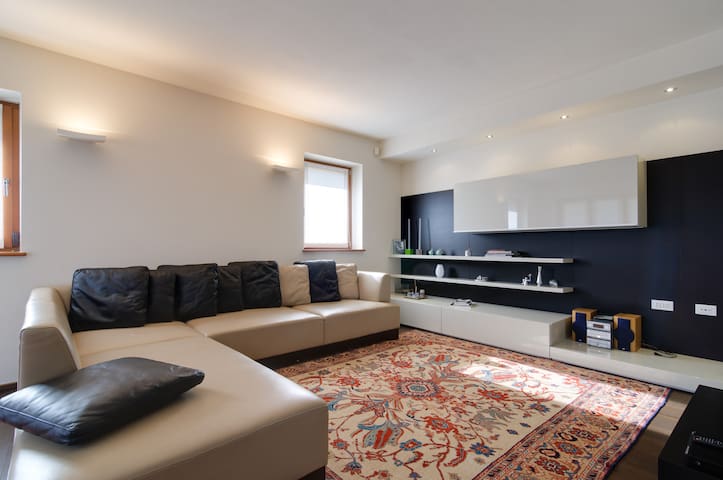 The lovely attic is located in a family house on three levels. It has a private bathroom and a sunny terrace with a beautiful view on the hills. The village is very quiet, well served by public transport and is just ten minutes far from Trento.
Questa romantica mansarda può ospitare due persone, ed è perfetta per godersi il verde della campagna circostante e allo stesso tempo essere vicini al centro della città! Ai nostri ospiti verranno forniti asciugamani e biancheria da letto.
Martignano e' un sobborgo di Trento, situato sulle colline a soli 3 km dalla città, circondato dai vigneti. La casa si trova a pochi passi dal centro del paese, dove si possono trovare tutti i servizi: fermata dell'autobus, supermercato, banca, poste, ecc.
Great place, clean and lovely, great landscape. The host were super nice.
Diego
2016-08-08T00:00:00Z
Staying at Elena's house was an Airbnb dream come true. The house is located on a mountain with a view to die for. The hospitality was unmatched. Elena and her family gave us what we had been lacking on our long travels--a feeling of home. Clean, great location, friendly, wifi, private balcony...top notch!
Karla
2015-05-09T00:00:00Z
Elena and her family are very kind people who gave us a warm welcome. Very nice and cosy house is situated in 3-5 minutes by car from Trento city center. The room has a private bathroom and a big terrace. Delicious breakfast. Recommend to visit! Thank you Elena it was nice to meet you.
Viktoriia
2015-09-21T00:00:00Z
Perfect place to stay for holiday! If you would like to stay in a lovely environment with lovely host people I can only suggest Elena and her parents. We are grateful for them making our holiday even better with the accommodation.
Rita
2016-11-27T00:00:00Z
A lovely and clean room in a quite and relaxing place! Elena and her mother are very nice and friendly! A very good breakfast! Thank you and see you next year Elena!!
Wilma
2015-07-20T00:00:00Z
Really nice and warm welcome by the family. The room was spacious and the terrace is great! The breakfast was everything we wished so excellent stay
Petra
2015-09-13T00:00:00Z
Elena and her parents were just incredibly welcoming and they helped my girlfriend and I to feel home. The room is very comfortable and organised with a tidy ensuite loo and a private balcony. I wish to go back as soon as I can!
Michele
2015-12-31T00:00:00Z
Our stay with Elena and her family right outside of Trento was excellent! The house was nestled into the gorgeous mountain side, and our private terrace allowed us a view of this beauty at any hour of the day. The family went fully out of their way to make our stay as wonderful, comfortable and personal as possible. They chased after us with picnic baskets and water jugs so that our park picnic could be special, and set out a beautiful breakfast buffet each morning (to name a few of their kindnesses). A short 15 min bus ride from Trento, ensured the location was quiet, and scenic. We could not recommend staying with this family more.
Madison
2016-06-26T00:00:00Z
Room Type
Private room
---
Property Type
House
---
Accommodates
2
---
Bedrooms
Trento, Trentino-Alto Adige/Südtirol, Italy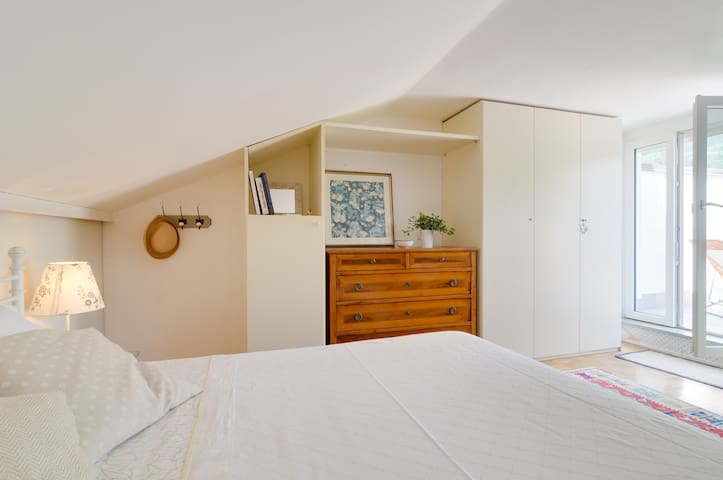 L'alloggio è situato a Cembra, piccolo centro rurale con tutti i servizi di prima necessità. Il paesaggio circostante è caratterizzato dalla coltivazione di vitigni e dai suggestivi muretti a secco. A pochi km dal centro abitato si raggiunge il Lago Santo a 1200m di altitudine, circondato da boschi e sentieri percorribili a piedi o in mountain bike. La val di Cembra è il punto intermedio tra la città di Trento che dista 25km e la Val di Fassa e Val di Fiemme cuore delle Dolomiti.
Io e la mia ragazza ci siamo trovati benissimo! Ottima l'accoglienza, grande disponibilità e letto comodissimo. Ho avuto il piacere di ringraziare Isabella per la gentilezza dimostrata nei nostri confronti. Siamo stati i suoi primi ospiti, quindi non posso far altro che consigliarvi questa stanza se capitate in zona.
Alessandro
2017-01-15T00:00:00Z
Room Type
Private room
---
Property Type
House
---
Accommodates
4
---
Bedrooms
Cembra, Trentino-Alto Adige, Italy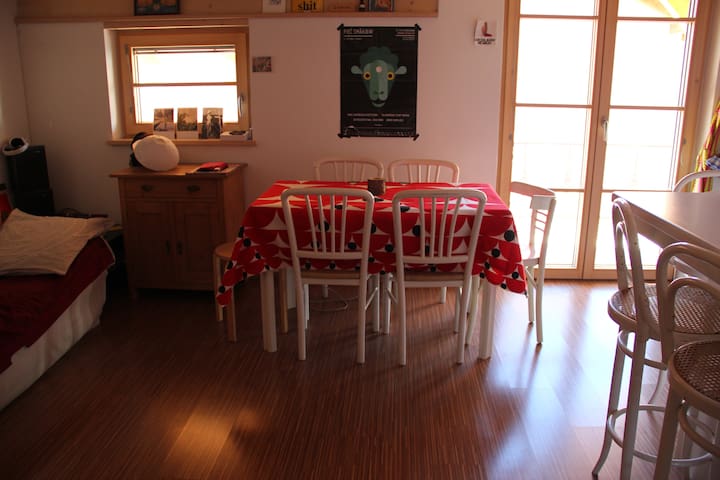 My home is located on the hill of Trento, about 15 minutes by car or bus from the historical center, for precision at the foot of Mount Calisio, From the center you can easily reach the bus number 9 This makes it ideal for short stays or for a holiday between nature and the center of Trento I'm often out of home, so often i can rent all home (ask me without problem) I have two bathrooms, two bedrooms with a double bed and a further sofa bed
La casa è arredata con una nuova cucina e un bagno appena ristrutturato, è su due piani, ad uno stanno gli ospiti e nell'altro quando ci sono io. Per i miei ospiti ci sarà sempre un bagno privato.
Villamontagna si trova ai piedi del monte calisio, luogo di formidabili passeggiate nella natura. una ad esempio è questa: (URL HIDDEN) Vicino a casa c'è un bar e il supermercato
Room Type
Private room
---
Property Type
House
---
Accommodates
4
---
Bedrooms
Trento, Trentino-Alto Adige/South Tyrol, Italy
My accommodation is suitable for couples and families (with children). Suitable for up to 4 adults or 3 adults and 2 children.
Guests will be completely autonomous as loft and bathroom are located on a private plane to them with security access. They include towels, shower gel and soap and of course the bedding. There is no kitchen.
The house is located near the woods south of Vezzano, a small village of the Valley of Lakes. A few steps from the house there is an excellent pizzeria / restaurant (Pizzeria Pomodoro). A little farther on a cozy bar and well stocked with fresh pasta (Bar Earthsea).
This apartment in the Italian Alps is a perfect spot for relaxing, and a great base for exploring the area (Riva deal Garda is a highlight). It's very well decorated, spacious, and equipped with everything for a comfortable stay.
Patrick
2016-09-26T00:00:00Z
La mansarda di Fabrizio, in cui ho soggiornato con il mio fidanzato, è molto ospitale e presenta come punto di forza un bel lucernario dal quale è possibile vedere le imponenti montagne circostanti. Molto confortevole la doccia polifunzionale, meno i divani letto. Ottima la posizione dell'alloggio, che permette di raggiungere rapidamente la città di Trento e la Valle dei Laghi. I padroni di casa misurano le parole ma dimostrano la loro generosità con i fatti. Consiglio questa sistemazione a chi ricerca una vacanza all'insegna del relax e della tranquillità.
Cecilia
2016-08-28T00:00:00Z
io e la mia compagna siano stati nell'appartamento soltanto una notte perché eravamo solamente di passaggio... devo però consigliarlo sia per come noi ai è fermato poco ma anche per chi vuole fare una sosta di più giorni...molto bello e moderno all'interno, doccia con sistema di altoparlanti per ascoltare la radio e idromassaggio che sono stati la ciliegina dell'appartamento, i proprietari gentilissimi e disponibili, disponibile posto auto esterno difronte l'(URL HIDDEN) zona fuori è molto carina e tranquilla in mezzo alle montagne trentine...località fantastica per fare escursione tra i monti e molto vicina sia ai laghi della zona ma soprattutto a Trento...45 minuti dalla città... e per concludere abbiamo mangiato la pizza alla pizzeria li vicino alla casa ed è stata molto buona...perciò appartamento consigliato a tutti ;-)
Manuel
2017-04-14T00:00:00Z
Appartamento comodo e pulito. Consigliato. Host disponibilissimo.
Gianvito
2016-09-30T00:00:00Z
La mansarda di Fabrizio é splendida, accogliente, curata, spaziosa, pulita e bella. Sono state 3 notti ottime, abbiamo dormito e riposato benissimo. Vicina a tutto, facile da raggiungere È comoda per tutto. Consigliato a chiunque voglia star tranquillo e star bene in una zona meravigliosa come questa.
Nicolò e Melissa
2016-10-21T00:00:00Z
La belleza del luogo e la vicinanza a Trento e alla valle dei laghi sono sicuramente punti di forza per a favore della scelta della sistemazione. L'appartamento corrisponde alla descrizione. Gli ambienti sono puliti e confortevoli. Molto comodo poter parcheggiare l'auto all'interno del box.
Mauro
2016-07-29T00:00:00Z
Casa molto accogliente e pulita. Tutto come da descrizione. Ottima colazione. Padroni di casa simpatici e disponibili. Tutto bene.
Federico
2016-07-01T00:00:00Z
pulito, accogliente, caldo. Perfettamente conforme alle mie esigenze
Stefano
2016-12-22T00:00:00Z
Room Type
Entire home/apt
---
Property Type
House
---
Accommodates
4
---
Bedrooms
Vezzano, Trentino-Alto Adige, Italy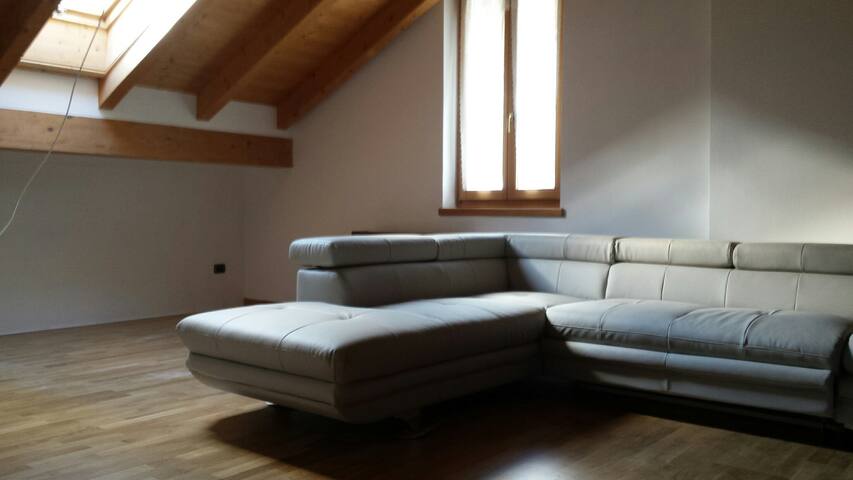 Studio apartment in the city center with full kitchenette with dishes, two beds, bathroom with shower completely autonomous. well taken care of within 5 minutes from the train station, 5 minutes from Piazza Duomo in 10 by Muse. ARMED WIFI
It is entirely independent and therefore ideal for business accommodation for study.
It is in front of the Buonconsiglio Castle and within walking distance of all amenities
Nice place located in a great area to explore! The host had some food and drinks waiting for me which was a nice welcome. Wasn't able to meet him, but helped me find the place easy through staying in contact. Would recommend for anyone visiting Trento.
Derrick
2015-08-10T00:00:00Z
The room was great! Super clean with a kitchenette and bathroom with a washing machine. And right in the centre storico so easy to walk around and just enjoy the streets. The hosts were so sweet and understanding. Really everything you need for a comfortable stay in Trento, which is really a nice smaller city! Definitely would recommend to anyone!
Jake
2015-05-15T00:00:00Z
Gloriana's b&b is at a very good location, quite central and close to all the places one wants to see in Trento. I stayed for three nights and I can say that the room was very clean and they served a very nice breakfast each morning. Even though there were some 'lost in translation' situations, still Gloriana and here staff were very friendly and they were giving their best for their guests to feel cozy and comfortable. Overall I am satisfied with my stay at this place in Trento.
Denis
2016-09-22T00:00:00Z
We loved our time with Gloriana in Trento! The location was great- easy walk from the bus/train station, right across the street from a 13th Century castle (now a killer museum), with easy walking to the main part of town. Bonus- in the park nearby there is a tennis club that has clay courts and great pasta- makes for a nice lunch spot! And our hosts were awesome- we arrived late in the evening, took off super early, and had a 3-day period in between stays (we were climbing up in the Dolomites, staying at huts), and not only was this not a problem but Gloriana was awesome about helping us out with all of that. The breakfasts were wonderful- a selection of scrumptious pastries with tea and coffee. And the room was exactly as described- cozy beds with en suite, quiet and clean. I can't wait to get back to Trento and wouldn't think twice about booking a stay at Gloriana's again!
Christopher
2016-08-22T00:00:00Z
Gloriana and her family made me feel very welcome. In addition to the warm welcoming, the beautiful room, the great location and view to the castle, Gloriana made special efforts to arrange a vegan breakfast for me. Highly highly recommended.
Matan
2016-06-25T00:00:00Z
The apartment is conveniently located in the city centre of Trento, in front of the Buonconsiglio Castle and 10 minutes walk from the train station. There is a Eurospar supermarket close by. The apartment is in a silent house and you can get a good-night sleep. It is extremely clean, spacious, comfortable and full of light. Moreover, is charmingly lay out with new and some nice vintage pieces of furniture. The bed linens were heavenly! The kitchenette is stocked with everything you could need, even olive oil from the hosts' olive oil plantation. Gloriana was available and responsive throughout my stay, a very respectful host.
Ramona
2016-05-03T00:00:00Z
The studio room of Gloriana is placed in one of the most central squares of Trento. Basically everything is in walking distance! That was exactly the accommodation I was looking for.
Andrea
2015-10-14T00:00:00Z
Gloriana and Antonio were as exceptional as the lovely B and B they have created. Across the street from the Palazzo and the historic district, our room was the perfect combination of old and new. Breakfast was delicious and we appreciated the time and information shared by our friendly hosts.
George
2016-05-28T00:00:00Z
Room Type
Private room
---
Property Type
House
---
Accommodates
2
---
Bedrooms
Trento, Trentino-Alto Adige, Italy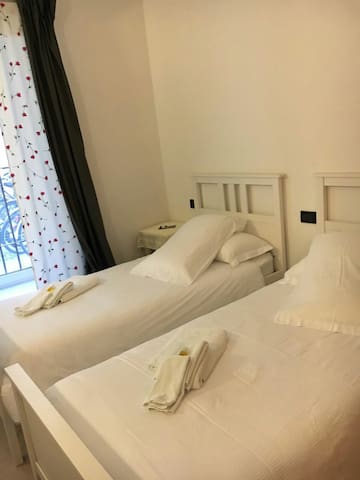 Casa storica di montagna, in porfido, su 4 piani, ristrutturata ed arredata con pezzi unici dai proprietari, un architetto ed una scenografa. Si trova in una località turistica piacevole per l'altitudine , le passeggiate nei boschi e i vicini laghi balneabili oltre alle famose attrazioni turistiche trentine.
La casa si sviluppa su 4 livelli, al primo livello cantina e zona lavanderia , da qui si può accedere al giardino di circa 200mq. Dal piano di ingresso si accede direttamente alla zona soggiorno-cucina e sempre sullo stesso livello si trova il bagno. Dalla scala verso l'esterno si scende in giardino. Al piano superiore due camere matrimoniali, una dotata anche di un letto singolo e l'altra dotata di un letto della misura di cm 170 (ideale per bambini). Da qui si accede al terrazzo. La casa ideale per un vacanza in pieno relax non è volutamente dotata di antenna TV ma è disponibile un video e lettore DVD in mansarda. Dal momento che sono presenti molte scale la casa non è adatta a persone diversamente abili. Si richiede di fare la raccolta differenziata.
Situata nella frazione di Tressilla, Il centro di Baselga dista 1 km a piedi , percorribile anche lungo un vecchio piacevole sentiero che costeggia il ruscello Silla.
Room Type
Entire home/apt
---
Property Type
House
---
Accommodates
5
---
Bedrooms
Baselga di Piné, Trentino-Alto Adige, Italy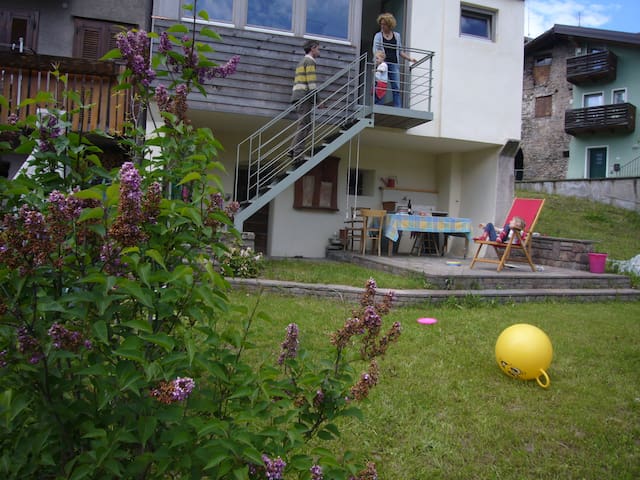 Clean and nice room in the city center. Bathrom and kitchen are very big and quite comforting. It 15 minutes on foot you can reach the Duomo square, and at 500m from the house is located MUSE. Bus station is 50m from home. Fast WI-FI (fiber optic) and parking.
Situated in one of the best parts of Trento on a quiet no through road. Facilities inc several pubs, restaurants, cafes, Post Office, hairdressers, parks and museums.
Nicola is an exceptional host and is very helpful and warm. The flat is extremely well located with excellent opportunities for exploring trento . the room itself and bathroom is immaculate and even nicer than the pictures and description. Trento is a wonderful city off the beaten track with a lot of hidden gems to discover and very friendly people. We look forward to coming back to visit and would definitely stay with Nicola again.
Dan
2016-06-14T00:00:00Z
Nicola was a charming person and an excellent host. He made us feel extremely welcome and also helped us with our car on our arrival. Everything was exactly as described and we had a very comfotable stay.
Marina
2016-10-27T00:00:00Z
Wonderful place to stay. Nicola was very helpful and accommodating and the place was very clean and comfortable!
Anne
2016-09-17T00:00:00Z
Nicola was the perfect host! He was so accommodating, he checked in on us during our trip, and he even came home when he was out just to help us fix a problem with the heat! His apartment was a little outside the city center, about a 15/20 minute walk. The most direct path to his apartment is mildly sketchy at night, so it might not be ideal for a solo female traveller, but my female friend and I had no problems walking together. We also were under the impression that there would be two beds, but the one bed was definitely big enough for us to share. Overall would definitely stay here again, the apartment was quite nice and Nicola was an excellent host!
Jessica
2016-12-04T00:00:00Z
Stayed at Nicola's place for 4 days. Location of the house is perfect. Quiet neighborhood, and very close to parks, the MUSE and the city center. The room was very tidy, the bed was great and it was nice to have a TV to watch movies. The Wi-Fi provided was fast and stabile. I came late at night, and I hadn't gotten anything too eat. Nicola was so nice and made me a traditional bowl of pasta and a beer! The coffee was also great, and I was free to make coffee whenever I wanted (and then sit in his little garden). Nicola was generally easy to talk to, and was very helpful answering questions such as directions, restaurants or attractions in Trento. Two students also rented rooms in the house, and they were also very nice to talk to! I highly recommend his place if you go to Trento.
Kasper
2016-05-25T00:00:00Z
The room is very cozy and the bathroom clean. The building is easily accessible. Nicola is very responsive to enquiries and very nice host.
Luca
2015-12-20T00:00:00Z
I had an amazing time there. He showed my mother and me around, we cooked Italian style one evening together and he gave us great tips about what to do. Nicola is a very open-minded and friendly person and his flatmate too. It was also very clean and you had a great view on the mountains. Perfect airbnb!!
Louise
2016-09-09T00:00:00Z
Nicola was very friendly and communicative. Even though, he was away for most of our stay, he arranged for a friend to help us settle in. Both of them provided with great tips as what to see and do in the region. The room was very nice and comfortable and so were the other rooms we shared with Nicola. The house is located at the edge of the neighborhood and it takes only 15 stroll to get to the historical center of the city. Also parking was no problem at all.
Štěpán
2016-08-27T00:00:00Z
Room Type
Private room
---
Property Type
House
---
Accommodates
2
---
Bedrooms
Trento, Trentino-Alto Adige, Italy
La casa si trova a Margone, un paesino dove si può gustare la vita semplice di una volta. E' un punto di partenza per passeggiate, trekking, sentieri per moutain bike, arrampicate e voli con il parapendio. A pochi chilometri ci sono anche molti laghi balneabili e piste ciclabili.
La casa è stata ristrutturata pochi anni fa. La caratteristica principale è che ogni ambiente e stanza si trova su un livello diverso. E' un punto d'appoggio per i turisti che nella Valle dei Laghi vogliono rilassarsi o praticare sport: dal trekking in montagna alle passeggiate intorno ai suoi bellissimi 7 laghi (di cui 4 balneabili) o alla bicicletta sulle ciclabili adatte anche ai bambini.
Margone è una piccola frazione. Nel vicino centro di Vezzano, si trovano: pizzeria e ristorante, edicola, farmacia, supermercato, bar, ecc.
La casa di Roberta e Luca è bellissima, in un paese splendido dove in mezza giornata si fa amicizia coi vicini :) Margone è un posto molto silenzioso. Non ci sono negozi di nessun genere, per cui ha il "limite" di doversi spostare per fare la spesa. In compenso il traffico è quasi inesistente e si potrebbe camminare in montagna partendo da casa per almeno una settimana senza dover prendere alcun mezzo. Volendo, c'è modo di fare escursioni in parapendio atterrando proprio accanto a casa... Siamo stati benissimo :)
Luisa
2016-08-23T00:00:00Z
Margone e' un posto incantevole tanto quato lo e' la casa di Mariaroberta.
Stefania
2016-09-05T00:00:00Z
Ci siamo trovati benissimo! La casa è davvero stupenda, è proprio una di quelle tipiche casette di montagna messa a nuovo però. Roberta e luca sono molto gentili e disponibili, per qualsiasi indicazione potete fare riferimento a loro e la valle dei laghi è meravigliosa! molti laghi balneabili e posti incantevoli. Il paesino di margone poi è tranquillo ed è quello che ci vuole per staccare un po dalla vita di tutti i giorni. Consigliatissimo A+++
Michelle
2016-08-08T00:00:00Z
Ich kann diese Wohnung nur weiterempfehlen. Die Wohnung ist schoen, gross und verfuegt ueber alles was man braucht. Margone ist ein perfekter Ort zum Entspannen. Maria Roberta war sehr nett und hilfsbereit, hat uns den Weg zur Wohnung gezeigt und in allen, unseren Anliegen geholfen. Alles super!Vielen Dank! Das war eine schone Zeit bei Euch in Margone.
Joanna
2016-07-11T00:00:00Z
Room Type
Entire home/apt
---
Property Type
House
---
Accommodates
4
---
Bedrooms
Margone, Trentino-Alto Adige, Italy
L'antica casetta del casaro è situata nel centro storico di Civezzano, a 7 Km da Trento, è composta da una zona giorno con cucina attrezzata, bagno con doccia; al piano superiore stanza matrimoniale con bagno privato e seconda stanza con 2 letti.
La casetta del casaro offre un soggiorno all'insegna dell'indipendenza e del relax in un'atmosfera curata dove tutto è stato ristrutturato con gusto. I vecchi muri di sasso, le finestrelle con le aperture di un tempo, la facciata affrescata, le travi a vista e il pavimento in legno e pietra rendono l'ambiente unico. La posizione privilegiata dell'immobile permette di raggiungere in pochi minuti di auto la città di Trento, il lago di Santa Colomba, l'altipiano di Pinè e la zona dei laghi di Caldonazzo e Levico.
Un soggiorno all'insegna del relax e del silenzio, in un ambiente curato e unico, un' antica casa con zona giorno con cucina, tavolo da pranzo e divano e ampio bagno con doccia e letto supplementare; una scala in legno conduce alla zona notte interamente mansardata con travi a vista. Qui si trovano 2 stanze da letto: una matrimoniale con ampie vetrate e bagno privato e l'altra con 2 letti singoli. A disposizione lettino per bambini. Bimbi gratis fino a anni 8.
The host canceled this reservation 26 days before arrival. This is an automated posting.
anna
2015-12-04T00:00:00Z
Casetta comoda situata in un paesino vicino a Trento. Host gentile e molto disponibile. Una tipica casetta del casaro.
Riccardo
2015-12-08T00:00:00Z
Vicinissimo Trento, l'appartamento si è rivelato un ottimo punto di partenza per chi, come noi, ha girato per i paesi circostanti alla scoperta dei meravigliosi mercatini di natale. La gentilezza e la disponibilità del padrone di casa inoltre ha reso il soggiorno ancora piú piacevole. Assaggiate i formaggi di Mario!!!
Mario
2016-12-11T00:00:00Z
Room Type
Entire home/apt
---
Property Type
House
---
Accommodates
5
---
Bedrooms
Civezzano, Trentino-Alto Adige, Italy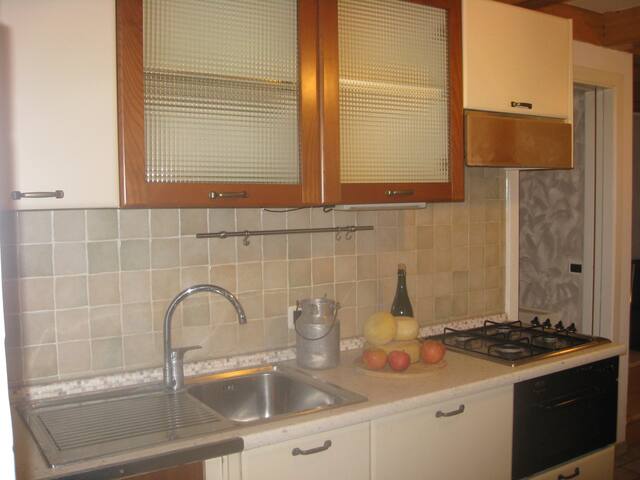 1

–

18

of

24 Home Rentals
Enter dates to see full pricing. Additional fees apply. Taxes may be added.