Ons vakantiehuis is gelegen in Berloz (Corswarem), het hartje van de Haspengouwse fruitstreek, die bekend staat om zijn glooiend landschap, kastelen en fruitbomen. In de nabije omgeving vinden we Sint-Truiden; Hasselt, de hoofdstad van de smaak en Tongeren, de oudste stad van België. Fietsliefhebbers hebben onmiddelijke aansluiting op het Euregio fiets-en mountainbike netwerk. Voor de fietsers die houden van een klimuitdaging ligt de muur van Hoei op 25 km afstand.
Room Type
Entire home/apt
---
Property Type
House
---
Accommodates
2
---
Bedrooms
Berloz, Wallonie, Belgium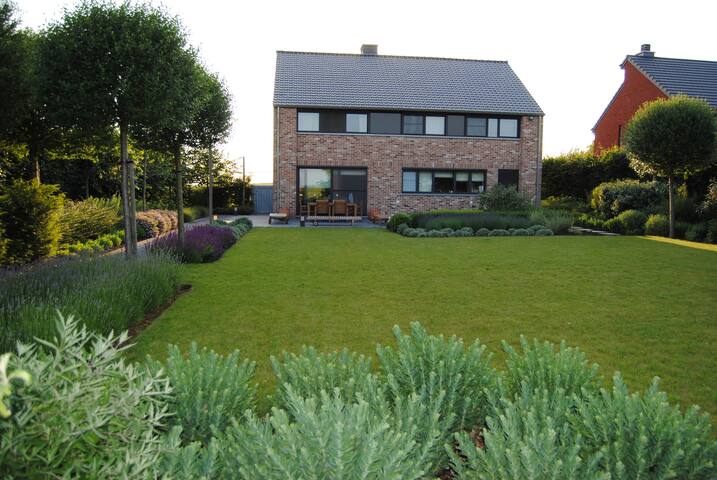 Nous vous accueillerons avec grand plaisir dans notre maison familiale. Pirouette, notre petit chatte noire, est toute discrète et reste au rdc. Vous serez les bienvenus dans notre cuisine/salle à manger: frigo à disposition, micro-ondes, bouilloire pour thé, Senseo (café), nourriture pour le petit-déjeuner ... et/ou un brin de causette! Vous disposez du 2e étage entier (hall, chambre et sdd). Thé et café dans la chambre. I can speak a bit of English .. hablo mejor espanol! WELCOME!
Vous aurez les avantages de la ville (commerces, restaurants, cinéma, piscine, transports en communs, hôpital, ...) tout en bénéficiant de la proximité de la campagne hesbignonne. Le quartier résidentiel est légèrement décentré (5' à pied du centre ville) ce qui permet d'être au calme mais proche de tout. - 5' à pied de la gare (trajet en train Waremme-Liège : 20' / Waremme-Bruxelles : 55'), d'une pharmacie, d'un supermarché, d'une boulangerie. - 25' en voiture de : Liège, Huy (charmante petite ville fortifiée), ... 45' de Namur, de Maastricht (Pays-Bas), des Ardennes belges, 1h de Bruxelles, Mons, Aix-la-Chapelle (Allemagne) .. 1h30 de la côte belge, du Luxembourg, ...
A votre arrivée dans la chambre, vous trouverez des adresses que je vous recommande vivement. Je serai bien entendu disponible pour répondre à toute question et ainsi rendre votre séjour le agréable possible.
Accueil chaleureux Un logement impec. Recommandé sans hésitation
Aris
2017-02-06T00:00:00Z
Prestation sérieuse et conforme à la description, accueil très sympathique, propreté,calme, petit-déjeuner de qualité ...Rien a redire et fortement conseillé pour votre séjour en solo ou en couple à Waremme.
Olivier
2017-02-19T00:00:00Z
Room Type
Private room
---
Property Type
House
---
Accommodates
2
---
Bedrooms
Liège, Liège, Belgium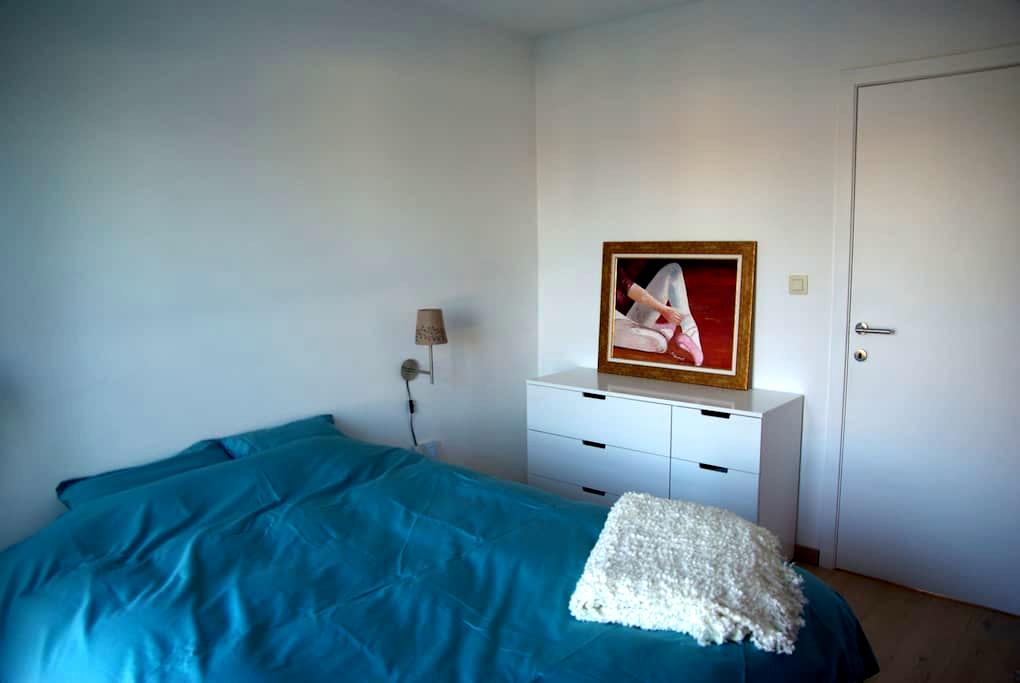 Logement calme,confortable ,cabinet de toilettes,a 5 minutes aeroport Liege,45 minutes de aeroport de Bruxelles,acces aux autoroutes vers Liege,Namur,Bruxelles Maastricht A 3 km d un centre commercial. Accueil personnalise francais, anglais,espagnol.
Cadre calme campagnard,TV et WIFI,cabinet de toilette,frigidaire personnel,climatisation,accueil familial...
Quartier vert et calme et possibilites de shopping, a 3 km: restos et breakfast des 6h du mat au shopping ou point resto autoroute
I was made to feel very welcome in the place of Christiane from the moment I arrived until it was time to leaveand of course everything in between, Christiane and her partner are very hospitable people and I would definately recommend anyone to stay there, even my french is not so good we managed for most of the time to understand what we are saying to each other many things are very naturally understood, but all in all I am very happy to meet them and would visit again when next in the area. thank you Christiane
David
2016-09-08T00:00:00Z
The stay with Cristiane was very pleasant, nice place, clean and neat. The couple is very helpful and willing to show you the area. Overall a very nice experience!
Peter
2016-07-11T00:00:00Z
Nous avons reçu un accueil charmant, même avec nos heures d'arrivées tardives, très familial. Christiane a été toujours très disponible et à l'écoute de nos besoins. Le petit-déjeuner est varié, copieux et délicieux.
Patrick
2016-04-25T00:00:00Z
arrivée vers 15h30 moment d'échange très agréable avec Christiane. boisson proposée directement. accueil très chaleureux. on allait à un mariage au soir et Christiane nous a permis de rentrer à l'heure que l'on souhaitait! chambre propre et lit hyper confo. super calme ! petits biscuits et bouteilles d'eau mis dans la chambre. chouette attention
Julie
2016-08-15T00:00:00Z
Christiane et son mari sont des hôtes charmants. Accueil sympa, chambre propre, bonne communication et flexibles sur les heures d'arrivée et de départ. Je recommande cet airbnb, notamment si vous êtes de passage à la ferme de hepsee toute proche.
Maxim
2016-10-09T00:00:00Z
Room Type
Private room
---
Property Type
House
---
Accommodates
2
---
Bedrooms
Verlaine, Région wallonne, Belgium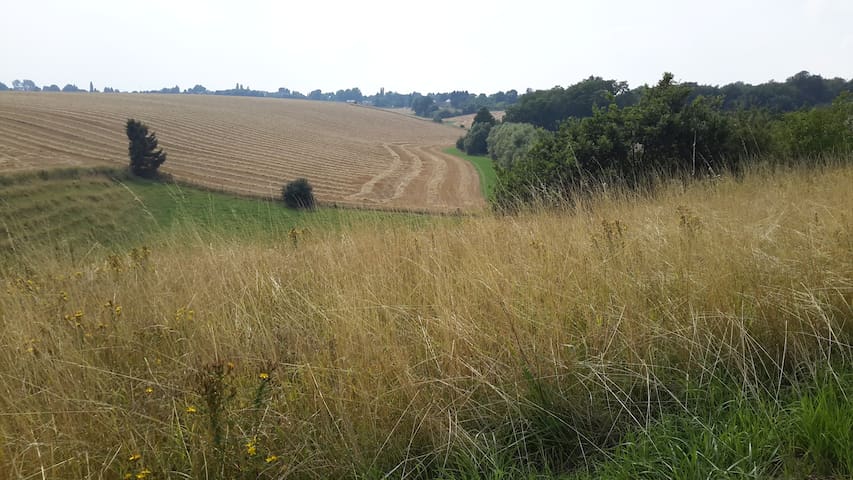 You want peace, tranquility for your weekends with family or friends? You might want to do some outdoor sports? So come visit us! **Students are not allowed**
Located in the Natural Park of Mehaigne-Burdinnale, our cottage is situated in an old 17th century farmhouse
It was a very nice stay! The house is perfect for a group of 15 people. Cynthia and Marc are very warm and relaxed people.,If you need anything you can just ask for it. We had a very nice time!
Lien
2016-01-02T00:00:00Z
We had a fine time in Braives at Marc and Cynthia's place. The arrival was hospitable.. all was ready for a nice weekend with our 3 families. During the stay all went well, many utensils in the kitchen for rich cooking and plenty of space for the group. We enjoyed using the fireplace.
Mark
2015-12-30T00:00:00Z
We have Spend our christmas time at the farm. Big space for big Groups with a big Kitchen to donyou cooking. All equipement is there. The dinningroom is cosy with its big fireplace and diningtable. The bedrooms are spacious. Inconveniënce of One double bedroom is you need to pass through another double bedroom ( fine with friends) but good to remember. The farm is a bit loud so when kids are in bed and adults are in the dining its sounds like One room. We were at the paintball of the owner which was big time. Fantastic Field to play. The collage is small and has not much to offer so need to drive within the region (Namur, Huy) to experience. Nice walking Area across the old WW1 train lane ( now wanderlane) and visit some small villages. A place to have a rest and enjoy your time at best in summer time the place will at his best you will def enjoy the pool and garden. A good place to enjoy with big families.
Joris
2014-12-29T00:00:00Z
Very big house in old farm style. Nice pool, clean and with lots of space around to relax. Rooms are spacious. House is a bit cold, even in summer. It's not like a hotel but it is a very good place to get out of the city! Owners are very friendly, thanks for checking out a bit later on Sunday so that we could stay in the pool-area a bit longer!
Suzanne
2016-09-12T00:00:00Z
We had a great stay at La Ferme Des Capucines! Cynthia and Marc are very nice people and the house was clean and spacious. They have a beautiful garden and a nice pool (even when it's cold).
Elise
2016-10-30T00:00:00Z
Cynthia and Marc were very welcoming. The house is perfect for staking with a group of people. The place is just like in the photos. With a big fireplace, huge kitchen and a very nice outdoor area with a barbeque and a swimming pool. We also booked a paintball activity with Cynthia, which was great. I would definitely recommand.
Luc
2016-06-06T00:00:00Z
This is a great place if you want to retreat with a larger group. We were with a group of 13 people which worked well since some people were sharing the double beds. If people don't want to share a double bed, the maximum group size would be 11 or 12 people. Marc and Cynthia were nice and accommodating to our needs and questions. Since we stayed here in the winter, we didn't swim or BBQ but we did use the cosy and warm fireplace. We cooked for ourselves and most of the basic kitchen equipment was available. This is a recommended place if you want a group retreat. (We used it for team building and seminars/discussions.) You can also make a nice walk in the environs of the farm, particularly in the direction of Fallais. If you don't have a car or, like us, only 1 car, there is a TEC bus from Landen or you can bring people in small groups from Waremme train station (15 mins by car).
Manuel
2015-02-01T00:00:00Z
Cynthia & Marc are great hosts and we had a very good time there! The location was well suited for us 13 people.
Constantin
2016-05-30T00:00:00Z
Room Type
Entire home/apt
---
Property Type
House
---
Accommodates
15
---
Bedrooms
Braives, Walloon Region, Belgium
Gezellige woning voor max. 4 personen in een bijgebouw vd voormalige pastorij. In de Haspengouwse natuur op 15min van St-Truiden, Luik en Tongeren. De woning beschikt over een keuken, een slaapkamer met dubbelbed en een living met 1 dubbel en 1 enkel zetelbed.
De woning bestaat uit een keuken, gelegen op de gelijkvloers. Ook is er een afwasmachine en een toilet. Op de eerste verdieping bevinden zich een slaapkamer met dubbelbed, een bad en een wc en een living met 2 zetelbedden. Er zijn keukenhanddoeken, afwaszeep, wasmachineblokjes, basiskruiden en koffie. De bedden zijn gedekt en er zijn badhanddoeken
Te midden van de velden maar op slechts 15min van Sint Truiden, Luik en Tongeren.
Everything went well. Thank you very much John. Place is nice with a lot of space.
Daniel
2016-09-07T00:00:00Z
I stayed a weekend at John and Hanne's place with two friends. The house, and the kitchen in particular, is well equipped. The house was rather cool despite the warm weather in the weekend we stayed here! Communicating with John and Hanne upon and at arrival and departure was easy going and clear. Hanne showed us the house and garden (the patio in front of the house was perfect to have coffee in the morningsun and the backyard has a picknick table for the guests). The village is quiet and only a few minutes by car from a somewhat larger village with grocery shop and bakery. When visiting this part of Belgium again, I would certainly return here!
Eva
2016-08-29T00:00:00Z
Great start to discover the surroundings, John is a lovely host who welcomed us with selfmade apple juice. Recommended!
Bernard
2017-01-01T00:00:00Z
Nice, quiet neighborhood, very close to the antique market at Tongeren. Great pizza place 7 minutes away. Host was super communicative and easy to deal with. Great value!
Margaret
2016-12-18T00:00:00Z
Aanwezig bij aankomst, kleine rondleiding en uitleg. Piekfijn in orde en heel vriendelijk. Alles wat vermeld stond op de site was aanwezig en zelfs meer. Ik had gemeld dat ik met mijn zoontje kwam: kinderstoeltje, bed en zelfs speelgoed stonden klaar. Keuken perfect uitgerust en gezellige woning gescheiden van het huis van de huurders met parking. Uitstekende ligging (autosnelweg, centrum, winkels in de buurt. Een aanrader!
Virginie
2016-10-29T00:00:00Z
Hôte très accueillant, maison et chambre conformes à la description.. La maison est très confortable. Recommandé
Dominique
2016-05-02T00:00:00Z
Mooie huisje is een rustig dorpje. Super gezellig en alle comfort. Luxe ligbad. De keuken is in oude stijl. Wij voelden ons direct thuis. Een aanrader!
Lukas
2016-10-21T00:00:00Z
Bon accueil malgré nos horaires difficiles. Quartier calme propice au repos nécessaire entre nos compétitions de karting.
Patrick
2016-08-21T00:00:00Z
Room Type
Entire home/flat
---
Property Type
House
---
Accommodates
5
---
Bedrooms
Heers, Limburg, Belgium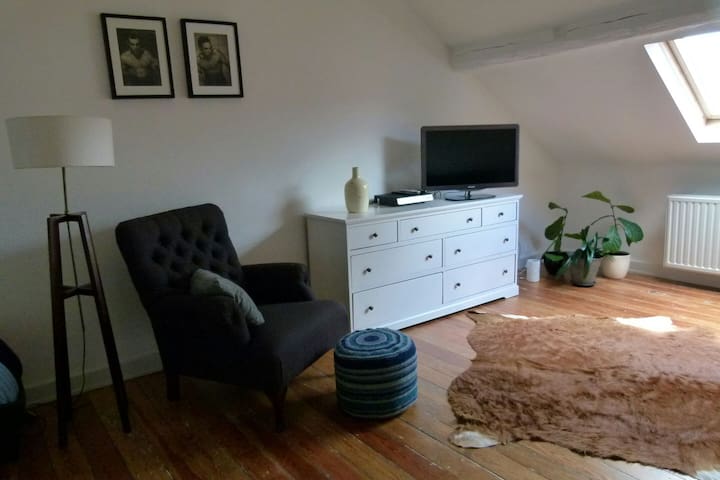 The studio is a very quiet place . contains everything to stay independent separate toilet, separate bathroom. Open living room and kitchen. nice terras
there is a nice double bed below and a one person bed on higher level
the use of the playground is free of charge upon request. The studios are also plenty of information brochures about the area. as well as walking and cycling routes
The host canceled this reservation 4 days before arrival. This is an automated posting.
Emmy
2016-08-08T00:00:00Z
The host canceled this reservation 2 days before arrival. This is an automated posting.
D.
2016-12-29T00:00:00Z
The host canceled this reservation 27 days before arrival. This is an automated posting.
Stuart
2016-03-27T00:00:00Z
Steve was a great host, he's always ready to help with anything that you may need! The Studio its in a very quiet area and had everything we needed, we stayed for 6 weeks.
Nuno
2015-12-06T00:00:00Z
zeer leuke ontvangst,hele rustige omgeving, en lekkere ruime woning met prachtige natuur
Anton's
2016-10-31T00:00:00Z
Room Type
Entire home/apt
---
Property Type
House
---
Accommodates
3
---
Bedrooms
Heers, Vlaanderen, Belgium
Located in Fexhe-le-Haut-Clocher, near Liège, Al Sèrinne, "Aux Sereines" is a complex of two cottages, in an old barn of the eighteenth century.
Frederic was a wonderful host. I had a couple of small problems when I first arrived and he sorted them out without hesitation. The house has been beautifully renovated and has a great 'new' feeling to it, with all the essentials you could possibly need on hand. It is also in a quiet village location with local supermarket and bank only a few hundred yards away. All in all I had a great stay and would recommend it to anyone looking to stay in the area.
Christian
2015-09-14T00:00:00Z
Un gîte de très grande qualité avec beaucoup d'espace, dans un quartier très calme. Accueil chaleureux, propriétaires très disponibles. Nous reviendrons !
Kévin
2016-01-10T00:00:00Z
Nous avons reçu un accueil très chaleureux. Julie et Frédéric ont su répondre à nos demandes, et avons beaucoup apprécié notre séjour et le moment agréable passé avec eux la veille de notre départ. Notre fille Clara, 9 ans, était très contente de faire connaissance avec Fly, le chat de la famille. Nous garderons un très bon souvenir de notre séjour en Belgique.
Jean-Francois
2016-08-25T00:00:00Z
Super expérience. Une maison pour se sentir comme chez soi avec des propriétaires super sympas. Maison super équipée, et la réalité est nettement mieux que les photos! Grand jardín, maison très spacieuse, et dans un état plus que neuf, avec des couleurs et la déco très appropriées. Nous ne manquerons pas de répéter l'expérience. Merci à Frédéric, son épouse et le petit Bastien.
Vincent
2015-08-12T00:00:00Z
Parfait !
Fôve
2017-04-02T00:00:00Z
Room Type
Entire home/apt
---
Property Type
House
---
Accommodates
4
---
Bedrooms
Fexhe-le-Haut-Clocher, Région wallonne, Belgium
Le gîte comprend une chambre avec un lit de 2 personnes, une salle de bain privative et wc, un salon, une cuisine complétement équipée et une buanderie avec lave linge Le tout meublé dans le respect du style hesbignon et situé dans un endroit calme.
L'entrée du gîte se situe dans la cour intérieure d'une ferme en carré. Nous avons conservé l'esprit authentique de l'endroit.
Situé dans un quartier riche en architecture (bâtiment classé) et dans la campagne hesbignonne
This is one of the best places we have ever stayed. The decor is gorgeous and charming, the old 1700s farm house is beautiful, and the hosts are really lovely, they even gave us fresh eggs, local beers, and home made jam. The kitchen is great, very easy to cook in. The space is pretty big, with a nice new bathroom, bedroom, entry hall, living room, kitchen and a laundry room. We loved our stay here and hope we can return to this beautiful village!
Montana
2015-09-25T00:00:00Z
Très bon accueil de Nadine dans ce gîte, situé dans un endroit calme, neuf, décoré avec goût et très bien équipé. Des propriétaires qui savent se faire discret mais néanmoins disponibles pour vous conseiller. On recommande ce gîte!
Helene
2016-01-01T00:00:00Z
Room Type
Entire home/apt
---
Property Type
House
---
Accommodates
2
---
Bedrooms
Hannut, Région wallonne, Belgium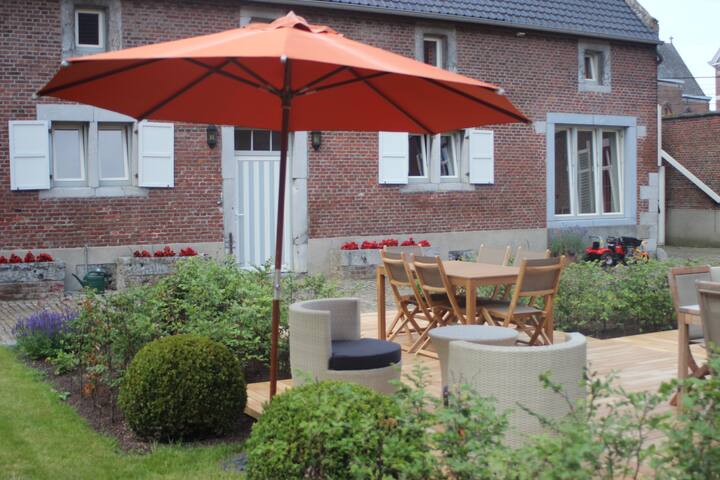 Une grande maison de 4 chambres pouvant loger 6 personnes (2 lits doubles et 2 simples). Une cadre de vie très calme. Une architecture moderne et audacieuse. Une maison passive chauffée à l'énergie solaire et au bois. Un grand jardin avec terrasse.
Maison moderne et passive (basse énergie) située en pleine campagne, au cœur de la Hesbaye (Wallonie), tout en étant aisément accessible par autoroute et pas éloignées des principales villes environnantes: - à deux minutes de l'autoroute Liège-Namur (sortie Braives); - quinze minutes de l'autoroute Liège-Bruxelles (sortie Hannut); - vingt minutes de Liège; - vingt minutes de Namur. Située sur un terrain en pente orienté plein sud, la maison bénéficie d'un ensoleillement maximal tout au long de la journée, de même que le jardin. La maison bénéficie d'un grand volume et comporte 4 chambres (2 doubles et 2 simples), 1 salle de bain et 1 salle de douche, 1 dressing, 2 salons (1 à chaque à étage), télévision numérique, wifi, cuisine entièrement équipée, salle à manger, terrasse couverte avec jacuzzi, grand jardin avec deux terrasses. Elle est située dans un quartier particulièrement calme, dans une rue avec quasiment aucun trafic, en bordure d'un champ et d'une forêt, sans presque aucun voisinage. Idéal pour des promenades, un peu moins pour les fans du shopping et des activités frénétiques! Voiture indispensable, pas de transport en commun à proximité. Pour les fans d'architecture et d'écologie : La maison est entièrement à ossature bois poteaux-poutres en douglas et en bardage de mélèze sur un petit terrain triangulaire orienté plein sud. Les parois s'accrochent librement sur la structure et abritent des espaces couverts extérieurs ; l'espace intérieur est ouvert sur les deux niveaux. La maison est construite en appliquant à toutes ses phases de conception et de réalisation une réflexion écologique élargie. Elle tente dès lors d'intégrer les aspects indispensables de l'écologie matérielle (matériaux sains, traitements naturels produits biologiques), l'orientation, le rapport inertie/ isolation, les besoins en énergie réduits, l'économie d'énergie et la récupération des eaux, l'épuration par lagunage, l'utilisation de matériaux locaux (douglas, mélèze,...), pour les rassembler en une cohérence formelle dialoguant avec le paysage, le domaine public, ses habitants, les autres, le paysage, la terre, le ciel, le vent et les nuages..
Le calme. La forêt. Les champs. Les oiseaux.
Unfortunately we only booked one night in this amazing house. We had a very nice stay in this special house and would love to come back to stay for a longer time and enjoy the great view and architecture.
Maggi & Ufuk
2014-04-14T00:00:00Z
Maison et prestations conformes a la description. Le sejour s'est très bien passé, coin calme et paisible. Petit détail très sympa: les poules et les oeufs frais... Excellent rapport qualité prix. Recommande vivement.
Victor
2014-12-30T00:00:00Z
Room Type
Entire home/apt
---
Property Type
House
---
Accommodates
6
---
Bedrooms
Villers-le-Bouillet, Walloon Region, Belgium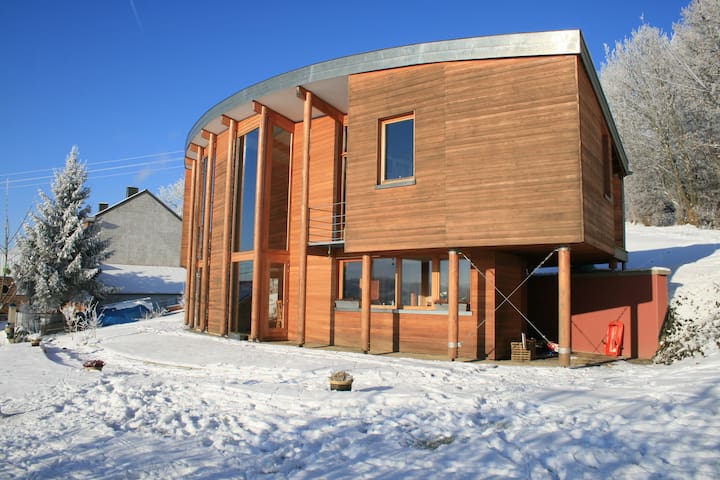 Spacious apartment with 3 bedrooms in a former farm , located in the peaceful Boekhout parish, nearby Sint-Truiden & Tongeren, in the middle of the Haspengouw fruit region. It has a large garden and its own terrace with a view of the orchards.
zeer ruime woning (110m2) :hal, toilet, woonkamer, keuken, 3 slaapkamers, badkamer
veel steden relatief dichtbij : Tongeren :10 km ; Sint-Truiden :5km ; Brussel:60 km ; Leuven:40km ; Maastricht:50km
Nice stay at this place! Cosy and well equipped house. Els was a great host. Communication was without problems and she had no problem to prolong our stay. Recommended!
Leona
2015-12-23T00:00:00Z
Super mooi huisje in een supermooie omgeving! Dankzij het rustig gelegen huisje een goede nachtrust gehad voor onze wielermeerdaagse die we reden. Erg tevreden over alle gemakken in het huisje.
Matijn
2016-05-09T00:00:00Z
We hebben een leuk verblijf gehad in het ruime, nette vakantiehuis. Een bezoek gebracht aan de wekelijkse antiekmarkt in Tongeren en aan Namen. Heerlijk gewandeld in de prachtige omgeving van het huis. We mochten ook gebruik maken van de prachtige, ruime tuin. Het was heel fijn dat Els flexibel was met de uitchecktijd, waardoor de laatste dag rustig af konden sluiten.
Mariëlle
2016-05-17T00:00:00Z
Wij waren hier vanwege werk. Maar het is een prima locatie en een mooi huis. Zeker een aanrader!
Manon
2017-01-27T00:00:00Z
Godne polecenia miejsce dla kogoś kto szuka spokojnego wypoczynku lub osoby na wyjeździe służbowym. Tomek
Tomasz
2017-03-31T00:00:00Z
Leuk verblijf in 't Eggenhof! Vriendelijke verhuurders, proper huis, mooie omgeving. Zeker een aanrader!
Amber
2015-12-14T00:00:00Z
We genoten van een zeer verzorgd verblijf in Sint-Truiden! Dit was de eerste keer dat we een verblijf boekten via airbnb en het is ons zeker bevallen! Bij aankomst bleek het huis veel ruimer dan verwacht. Alles was ook netjes en proper. Achter de woning is een prachtige tuin, waar we door ons drukke prograama zelf niet echt van hebben kunnen genieten. De hertjes tegenover de voordeur waren een leuke extra. Dit verblijf is zeker een aanrader!
Riet
2015-12-31T00:00:00Z
Nous avons été très bien accueillis dès l'arrivée, en français même si ce n'est pas la langue maternelle de nos hôtes, et avec une bouteille d'eau fraîche très agréable après notre longue route. Un petit tour de ce grand gîte très lumineux et l'accès à la petite terrasse et au jardin en commun avec eux. Grand bol d'air à la campagne, avec un élevage de daims en face, pour une petite touche naturelle originale. Pour ceux qui ne parlent pas flamand, la Wallonie n'est vraiment pas loin. Nous nous sommes bien reposés durant nos trois semaines. Els et Peter sont à l'écoute en cas de besoin vu qu'ils habitent à côté.
Olivier
2016-07-10T00:00:00Z
Room Type
Entire home/apt
---
Property Type
House
---
Accommodates
7
---
Bedrooms
Sint-Truiden, Flanders, Belgium
Contemporary house in the countryside. Free access to terrace and garden. Tea and coffe corner at the kitchen's bar. You will enjoy a peaceful home with large open spaces, the splendid view and the light. One double room, two rooms with bunk beds, perfect for couples, alone travellers and families (+ kids). Liège, Namur, Bruxelles, Hasselt, Leuven within less than 45 min drive). Price/room/night, reduced price for the booking of 2 to 3 rooms.
House situated at the heart of Hesbaye, in a quiet village. Ideal for long walks or bike rides. Ideally located to discover Belgium, several cities within less than 45 minutes drive (Brussels, Liège, Namur, Leuven, Hasselt, ...).
What an awesome place to stay. Karelle is very open and enthousiastic. She made is feel welcome from the moment we arrived and respecten our privacy same time. Beautiful house and a chance to feel child again!
Dennis
2016-08-27T00:00:00Z
Très belle maison, lumineuse, agréable et très propre ! Karelle est super. Nous recommandons vivement ce Airbnb !!
Elsa
2017-01-01T00:00:00Z
Karelle nous a très bien reçu avec le sourire et grande disponibilité, sa maison est situé un petit village de campagne , très calme. La maison est très lumineuse et très propre. L'hôtesse nous a montré notre chambre, et donnez toutes les explications requises. Nous étions proches de la destination qui nous intéressait et facile d'accès par les renseignements donnés par l'hôtesse de maison. La chambre est spacieuse ainsi que la salle de bain , la literie impeccable et très propre et le grand lit est super. Le petit déjeuner que nous avions demandé était bien fourni et nous avons eu un bon contact avec Karelle. C'était une première réservation AirBnb pour nous, nous adorons ce concept et je le conseille vivement à mes amis ainsi qu'aux voyageurs d'un jour .
Brigitte Brijou
2016-10-30T00:00:00Z
Alles was prima
Mira
2016-12-31T00:00:00Z
Room Type
Private room
---
Property Type
House
---
Accommodates
6
---
Bedrooms
Hannut, Wallonie, Belgium
The cottage Hildegard has 3 rooms for 2 people (2 single beds that can come together in a double bed) and a chance to sleep 2 people in the lounge chair that converts into a double bed. so you can be 6 to 9 people (8 adults and a baby) allais village has a history dating back to the Middle Ages since from the 13th century a castle was built there in the 15th century ... a King of France stopped there (Louis XI) and the 17th century another king of France stayed there
A large garden with terrace allows you relaxation and fishing for enthusiasts in Mehaigne All the comforts for your stay in it: washing machine, dishwasher, freezer, television, internet and Wifi on demand (you can disable it for electrosensitive) You must provide your bed linens and bath linen as they are not included in the rental search on internet our website and you will have better prices than here
Garden of 16 acres overlooking a river that runs through this natural park: the Mehaigne. You can go fishing there. Behind the river, 300m from the cottage is the Ravel that will allow you to make cycling, walking or horse The Valleys of the Burdinale and the Mehaigne propose 18 of walks (including 4 of Braives and on Fallais) , 4 mountain bike trails and 2 bike trails. n the village of Fallais, 350m from the cottage, the mill Fallais you can visit on reservation for 3 € per person There are two mills Fallais, an oil mill located 20 m from the cottage and a flour mill located 350m from the house ... You have a supermarket proxidelhaize in the village of Braives 4 km from the house (at the roundabout on the N64). The nearest town is that of Hannut, for shops (10min), but one that will be most interesting to visit is the town of Huy in Fallais, 200m from the house, you have a bakery.
Beautiful house in a beautiful village, garden with a river in the backyard, cant imagine better!
amit
2016-09-25T00:00:00Z
Très chouette gite
Perrine
2016-08-22T00:00:00Z
Room Type
Entire home/flat
---
Property Type
House
---
Accommodates
7
---
Bedrooms
Braives, Région wallonne, Belgium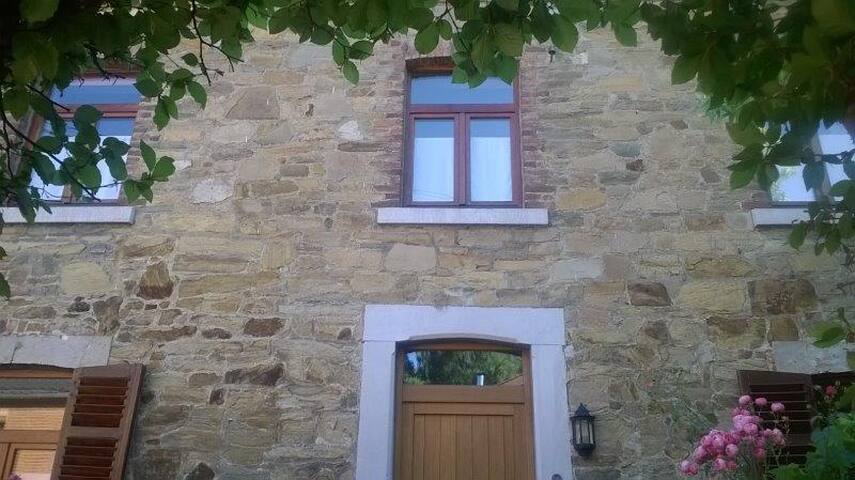 Nous avons voulu y faire un clin d'œil à la décennie de notre enfance en y apportant des éléments originaux chinés et remis en état ainsi que certains, neufs inspirés de ces années. L'esprit d'insouciance et de légèreté est omniprésent. Un parking sécurisé pour les véhicules est disponible.
L'ameublement est d'époque mais avec tout le confort moderne.
Situé dans un quartier riche en architecture (bâtiment classé) et dans la campagne hesbignonne
Nice and cosy place to stay. Communication with Nadine was little bit complicated because of a language barrier, however we solved everything. Recommended!
Leona
2016-02-01T00:00:00Z
Room Type
Entire home/apt
---
Property Type
House
---
Accommodates
4
---
Bedrooms
Hannut, Région wallonne, Belgium
Old house completely restored, dedicated to art, painting, sculpture. He reigns, through its contemporary and harmonious decor, a very special atmosphere of beauty, relaxation and inspiration. Amazing views ! to discover ...
Wonderful place to stay for the weekend with family. Magnificent views and beautiful house!
Astrid
2016-06-06T00:00:00Z
Due to traffic, we were very late and Gloria's husband was there when we arrived so hugely grateful for that. There was also a cold bottle of white wine for us as well which went down very well!
Harry
2016-08-30T00:00:00Z
Best Airbnb experience yet! Modern, clean, well-appointed (coffee and tea services, BBQ, breakfast condiments, a complimentary bottle of wine, some games and books ...). The rooms are airy and large with amazing views on the surrounding Meuse valley and hills. Big comfy box spring beds, large and clean bathrooms. We travelled with 5 friends and a toddler and still the house felt large and never crowded. Book this property and you won't be dissapointed.
Philippe
2016-08-01T00:00:00Z
We had a wonderful time in this beautiful place which is situated in a very relaxing environment. The house was clean, well taken care of and the pieces of art placed throughout the building are a really cool addition. On arrival there even was a bottle of wine in the fridge. All in all, I would recommend this place.
Bas
2016-09-10T00:00:00Z
Gloria's house was really perfect. We stayed there for two nights and the house provides everything we needed. Gloria was super friendly and helpfull. Totally recommend this place.
Dries
2017-01-04T00:00:00Z
Great place to be. Extra services like dinner and breakfast are super for team building or celebration.
Frie
2016-07-08T00:00:00Z
Glora is a great host of a wonderful house. We had a fantastic stay in atelier n 5 with our family (7 adults and a child). It was a nice suprice at our arrival to see that she provided wine, a lots of fruits and chips for the apero! Thank you very much Gloria, we will absolutly recommend your house to others!
Rebecca
2016-10-17T00:00:00Z
Fantastique de A à Z :-)
Cie Félicette
2016-11-25T00:00:00Z
Room Type
Entire home/apt
---
Property Type
House
---
Accommodates
8
---
Bedrooms
Vinalmont, Région wallonne, Belgium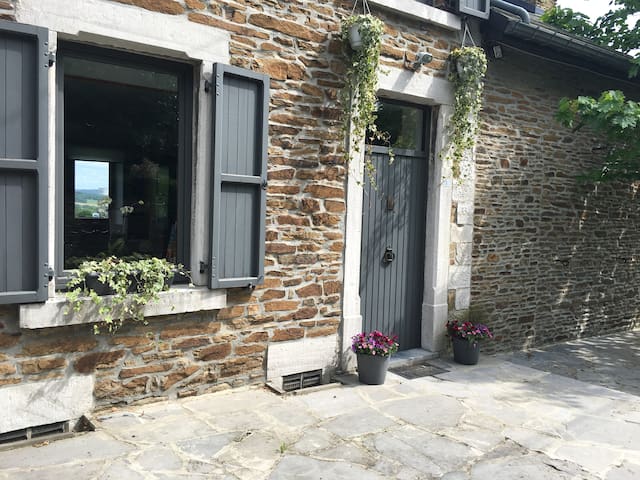 Mon logement est parfait pour les familles (avec enfants). Situé dans un quartier calme avec un garage et des places dans la rue. Situé à peine à 5 minutes de la sortie d'autoroute Saint-Georges-Sur-Meuse et à 20-25 min de Liège et pareil pour Namur. La maison est équipée d'un système d'air conditionné dans le salon, la cuisine et la chambre de deux personnes du rez de chaussée. La cuisine est équipée d'un four, de 4 taques vitrocéramiques, un lave-vaisselle. Une chaise bébé est disponible
Quartier calme, tranquille.
Room Type
Entire home/apt
---
Property Type
House
---
Accommodates
6
---
Bedrooms
Saint-Georges-sur-Meuse, Wallonie, Belgium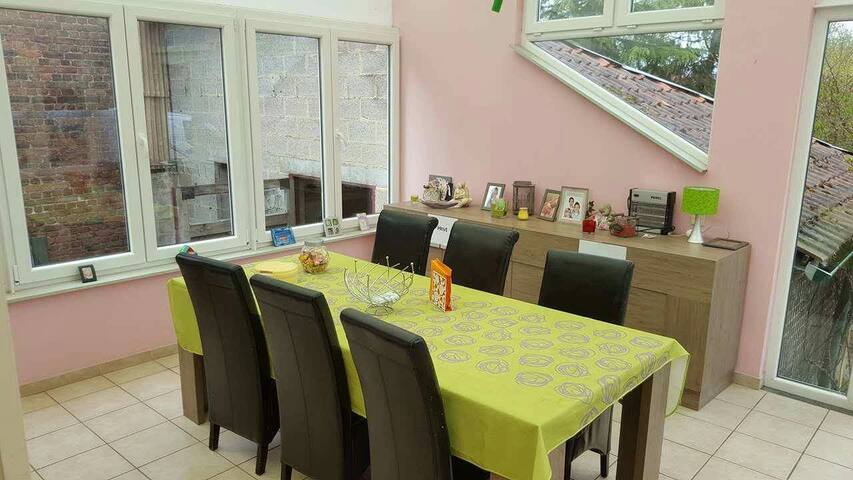 Votre maison est située dans un beau petit village (Huccorgne) à 10 km de Huy, proche de la E42 entre Liège et Namur. Idéal pour les amoureux de la marche et du vélo. L'été, la terrasse et le jardin vous procureront multiples plaisirs. Tandis qu'en hiver, une belle flambée dans votre feu ouvert vous réchauffera. Une cuisine équipée, 2 salons, 3 chambres, 1 salle de bains, le tout décoré avec goût. Parfait pour les couples, les voyageurs d'affaires et les familles
Vous séjournerez dans une grande maison comprenant : 1 hall d'entrée avec vestiaire, 1 WC, 1 cuisine équipée, un salon-salle à manger, un grand salon avec feu-ouvert (bois sur demande), télévision, billard. A l'étage: 1 salle de bain avec baignoire, un WC séparé, une chambre double (lit 140X200), une petite chambre (lit 100x200) et une grande chambre (lit 200X200) et lit convertible (160x200). Nombreux placards de rangement. .Mobiliers de jardin, barbecue, pièce d'eau. Parking 2 voitures devant le logement. Possibilité de parkings supplémentaires sur demande. Cette location ne convient pas aux personnes à mobilité réduite du aux différents niveaux.
Huccorgne est un petit village de Hesbaye. La maison se trouve sur les hauteur, dans un quartier calme. Vous êtes à 10 km de Huy, à 35 km de Liège, à 35 km de Namur. Le centre de Wanze (7 km) vous propose tous le commerces de proximité nécessaire ainsi que quelques restaurants de renommée. Le nouveau golf "le Naxhelet" se trouve à 4 km. De nombreuses balades à pied ou à vélo sont réalisables au départ de la maison. La plaine de jeux de l"Hirondelle " se trouve à 4 km et est belle expérience pour les jeunes enfants. La piscine communale de Wanze (6km) offre 3 bassins (pataugeoire pour les bébés, petit bassin pour enfants et une piscine de 25m), sauna et jacuzzi.
The house is very spacious and beautiful, as is the area. We enjoyed the impressive fire place after our many refreshing long walks. It was also very relaxing to play some pool. Everything we needed, had been thought of. We were even welcomed with a bottle of champagne. Valérie and her family are very nice and helpful. We will definitely come back here.
Katrien
2016-12-28T00:00:00Z
Room Type
Entire home/apt
---
Property Type
House
---
Accommodates
7
---
Bedrooms
Wanze, Wallonie, Belgium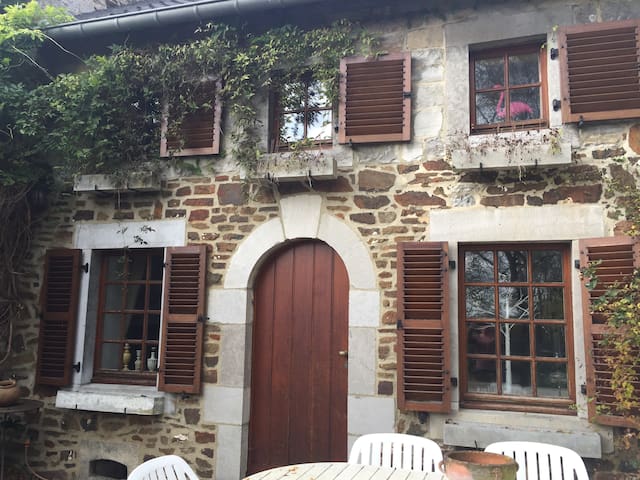 Marneffe with its 1.400 inhabitants is a lovely village in the Nature Park of the Valleys of the Burdinale and the Mehaigne. ideally located: at the same time in a very quiet area and at only 15 minutes of the motorways to Brussels, Namur, Liege, the Ardennes, the beautiful Flemish cities, North Sea, animal parks, amusements parks,… It takes only a few hours to go to the cities of nothern France, Luxembourg, Germany, the Netherlands and England. Our bright, cosy house is located in a quiet street of this village. We are three persons living in the house: Jean, Daria and Liza our sixteen years old daughter but the house has a capacity of four persons (with the possibility to put an extra bed in Liza's bedroom). Without any doubt the most attractive point of our house is its view on the garden and the surrounding countryside. You can enjoy this lovely view from the bedrooms, the kitchen, the lounge and our nice terrace. Children will appreciate playing and running everywhere in the garden while adults will choose the comfort of our nice terrace and rest in the deckchairs. Composition of the house: On the ground-floor: fully-equipped kitchen, dining room, lounge and laundry. Kitchen: fully equipped with induction cooker, oven, fridge, dishwasher… Lounge: TV, DVD player, Hi-fi system, Wifi Internet connections, printer, phones. Laundry: freezer, washing machine, toilets. Terrace (70m²): teak furniture, barbecue. Garden (800m²): swing, slide, henhouse with 5 hens and one cock, vines, fruit trees and kitchen-garden… On the first floor: 2 bedrooms, 1 bathroom, toilets. Bedroom 1: double bed (160x200) Bedroom 2: 1 single bed (90x200) + possibility of second single bed of complement. Bathroom: shower, bath, washbasin. For the shopping : On Saturdays and Sundays don't miss the village bakery. In the next village you'll find a grocer, some department stores are nearby. On your arrival, some products of our garden are waiting for you… " Our area is crossed by the RAVeL a network of routes that are destined to pedestrians, cyclists, riders… To give you the opportunity to traverse the RAVeL routes we put our 3 bicycles at your disposal. We can still write more and more. Please don't hesitate to ask us all the questions you want: about the house, the area, the tourist attractions and curiosities, the various possible activities…we'll give you information with great pleasure.
We had a wonderful stay at Jean and Daria's home. The big garden with vegetables, fruit and hens, all of it was perfect. Our ten month old baby could safely play on the grass and had a good time 'exploring' the beautiful garden (on daddy's arm). The house is spacious, with a very modern kitchen and bathroom. The ideal surroundings for a quiet and relaxing holiday. Thank you Jean, Daria and Liza!
Paco
2014-08-08T00:00:00Z
This is the perfect getaway! Jean and Daria's house is located in the hills above Huy and provide a quiet relaxing atmosphere. Our son loved exploring the backyard and collecting eggs from their chickens. Our 12 day stay went way to fast and wished we had more time to explore neighboring towns. Jean's wood burning grill gave us the best evening meals with amazing sunsets. The house is neat and clean and spacious. Thank you Jean and Daria for allowing us to spend our vacation in your beautiful home!
Josh
2013-08-10T00:00:00Z
Room Type
Entire home/apt
---
Property Type
House
---
Accommodates
4
---
Bedrooms
Burdinne, Walloon Region, Belgium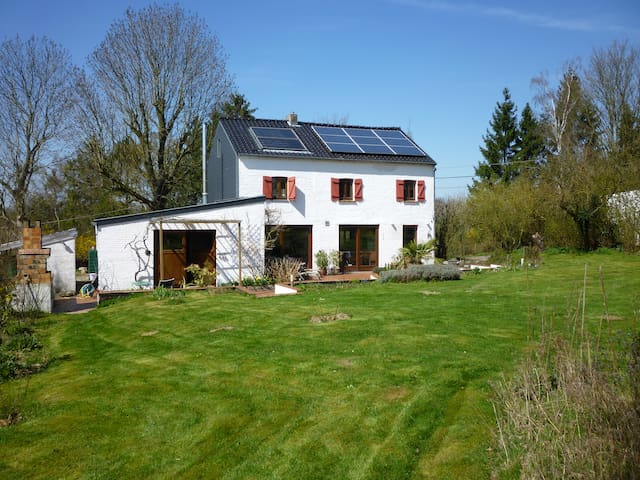 Dans un quartier résidentiel et proche des commerces, je propose une chambre avec une salle de douche indépendante. Les draps vous seront fournis, ainsi que les serviettes. Vous aurez accès au WiFi. La maison se situe à 5 min de l'autoroute de Liège
Chambre avec un lit 1m60 avec nouveau matelas et avec salle de douches indépendante. Les draps vous seront fournis, ainsi que les serviettes. Wifi disponible. Dans un quartier résidentiel proches des commerce. Situé à 5 mn de l'autoroute Liège Bruxelles, 30 minutes de Liège et 30 minutes de Namur. Le calme et la tranquillité. Votre arrivée se fait à partir de 17h00 et départ à 07h00. Le tabac est interdit dans toute la maison. Si vous souhaitez fumer, la terrasse couverte vous le permet. Il faut vous déchausser avant de monter à l'étage. Si vous utilisez la cuisine, merci de la remettre dans l'état dans lequel vous l'avez trouvée. Merci de ne rien jeter dans les wc hormis le papier wc ;-).
Le calme et la tranquillité.
Really friendly host.
laetitia
2016-03-04T00:00:00Z
The host canceled this reservation 26 days before arrival. This is an automated posting.
Jean-Luc
2015-12-05T00:00:00Z
Very very nice stay. Room was clean and comfortable with private bath. Home was located on a nice quiet street not far from city center. William was a wonderful host and was very helpful with sightseeing and traveling suggestions.
Marsha
2016-08-27T00:00:00Z
Airbnb as it should be.
Alain
2016-09-05T00:00:00Z
William nous a accueillies très gentiment le soir de notre arrivée. La chambre est simple était parfaite pour nous donner un point de chute pour dormir confortablement et nous permettre de visiter la région. La maison est située dans un quartier calme mais très proche du centre de Hannut, avec de nombreux magasins tout proches.
Marie-Chantal
2016-06-26T00:00:00Z
William est un hôte prévenant et très sympathique. Le logement est calme, très agréable et propre.
celine
2016-08-08T00:00:00Z
We zijn gastvrij ontvangen en het was een aangenaam verblijf. Op loopafstand van het centrum van Hannut, dat ons als stadje aangenaam heeft verrast.
Bart
2017-02-07T00:00:00Z
Nous sommes ravis de notre séjour chez notre hôte William. Nous avons été bien accueilli et il s'est toujours montré disponible pour nous durant notre séjour. Nous vous le recommandons. Etienne & Jessica
Etienne
2016-07-21T00:00:00Z
Room Type
Private room
---
Property Type
House
---
Accommodates
2
---
Bedrooms
Hannut, Région wallonne, Belgium
1

–

18

of

87 Home Rentals
Enter dates to see full pricing. Additional fees apply. Taxes may be added.