Maison située sur un terrain de 9 âcres à Fitch bay, dans les Cantons de L'Est. À 20 minutes de magog ,30 de Orford, 1h45 de Montréal et 45 minutes de Sherbrooke. Peut accueillir 4 personnes, il y a deux chambres à coucher ; 1 lit queen dans la chambre principale sur la mezzanine, et 1 lit double dans la seconde au rez de chaussée. 1 salle de bain complète à l'étage et une salle de bain avec douche au rez de chaussée. Foyer au bois, cuisinière au gas, cuisine super équipée, machine à café espresso, lave-vaisselle, BBQ, laveuse-sécheuse, internet haute-vitesse wi-fi , télévision, câble, literie, 2 hamacs. Ski alpin, ski de fond, raquette Mont Orford Bleu lavande à 3 km. Visite du plus grand producteur de lavande au pays. Champs à perte de vue, boutique sur place (mai à octobre) Magnifique village de Georgeville à quelques minutes, marina, gallerie d'art, restaurant. Endroit idéal pour admirer le lac memphémagog! Semaines du 23 au 30 décembre 2016 et 30 décembre 2016 au 6 janvier 2017 disponibles pour location de 7 ou 14 jours .
Jean meet us with a warm welcome and introduction to his beautiful home. A great host who makes sure everything is available to make your stay perfect. Every piece of this home was absolutely perfect for us. The open concept is bright, filled with natural light, extremely clean and inviting. The kitchen is well equipped and perfect for preparing meals while enjoying your company. The warm brick floors, fireplace and candlelight made for relaxing evenings and the morning view of the sun coming up is spectacular. Each evening we viewed the bright stars from the 2nd floor balcony before bed and each morning we watched the sunrise as we shared a coffee in bed. For us Jean's unique secluded home is "A Little Piece of Heaven" with perfect details that made us not want to leave! We will definitely be returning again very soon. Thank you Jean!
Jon & Kelly
2016-05-02T00:00:00Z
Great house. We spent three days doing nothing but relax. Definite repeat.
Tudor
2016-02-28T00:00:00Z
Amazing stay at the cottage! Jean welcomed us as per agreement, he showed us his amazing place and insured we have all the informations about the cottage and the region. The cottage is amazing! fully equipped, beautiful inspiring decor and very calm. We enjoyed every minute of our stay! If you are a foodie, the kitchen is a great spot to cook! I will definitely go back!
Raphael
2016-08-29T00:00:00Z
The host canceled this reservation 4 days before arrival. This is an automated posting.
Cat
2015-06-23T00:00:00Z
Jean was the perfect host! Easy to communicate with and so thoughtful. Jean's house is a perfect little hideaway. It is beautiful in every way: design, situation, furnishings, location. The pictures capture the feel of the place quite well, but in fact it is even nicer. The upstairs sleeping loft is light, and airy. The kitchen is truly a cook's kitchen: Viking stove/fridge, nespresso coffee maker, excellent knives, all-clad pots/pans, beautiful dishes. The house is on three levels, a lovely 'plein air' bathroom is attached to the upper level loft sleeping area, along with a lovely outdoor porch. On the main level is one big room: kitchen, dining area, sitting area, huge fireplace with plenty of wood. There is also a fantastic screened in porch/hammock. Downstairs is the second bedroom, and driveway entrance. With two full baths, it is perfect for two couples, or a family. There is a spectacular rose garden outside and a huge firepit that we were free to use. The village of Fitch Bay in Stanstead is small but charming. The depanneur nearby has delicious sausage made on premises, dried and fresh meats good produce and vacation necessities: milk, eggs, wine, beer, makings for s'mores, etc. Also nearby is the 'Bleu Lavande' lavender farm, and the charming Edwardian village of Georgeville. Further afield, but STRONGLY recommended is the 'Foresta Lumina' in Coaticook. It is magical and not to be missed. You must go here, you will be so glad you did!
Jennifer and David
2016-07-08T00:00:00Z
This is one of my favorite houses and I have been a few times already. The design, concept and style are very cool. The fireplace is my favorite and there is always plenty of wood to burn. It is an open concept ideal for a couple but there is plenty of room for friends. There are many places on the property to hang out like the fire pit, the hammock, etc. The area is fun to walk around and you can go to the lake, meet some funny dogs along the way. Jean is a friendly host who takes time to explain how some of the equipment works and responds to emails quickly. It's not too far from Montreal which makes for an easy weekend escape. I look forward to my next visit!
Greg
2016-04-25T00:00:00Z
Such a beautiful house and property! Every detail was absolutely perfect; felt like we were living in a magazine spread...hehe! Jean was a great host, made us feel very much at home. I highly recommend staying in this unique house. Although next time, i am definitely planning a dinner party! That kitchen is a chef's dream!!!!
Richard
2015-07-04T00:00:00Z
Jean's place was perfect for us. It has everything you would ever need. The kitchen is fully equipped. We cooked every single meal here and I even made a pie. We took advantage of the lovely fireplace also. Magog is 20 minutes away and has a well stocked Metro with all the French essentials. If you're into road cycling, this area is perfect but the hills are challenging. The route to Georgeville and back is beautiful as is the route to Standstead. It's a picturesque part of the country that is worth seeing. The drivers are very respectful of the cyclists also. There's a nice viewpoint to see just up Noel Street that gives you a lookout of the lake. The cottage it's self is very beautiful and if you can, get Jean to fill you in on all the work involved in building it. The garden and screened in porch is lovely. My husband and I will definitely rent it again.
Anna
2016-07-23T00:00:00Z
Room Type
Entire home/apt
---
Property Type
House
---
Accommodates
4
---
Bedrooms
Stanstead, QC, Canada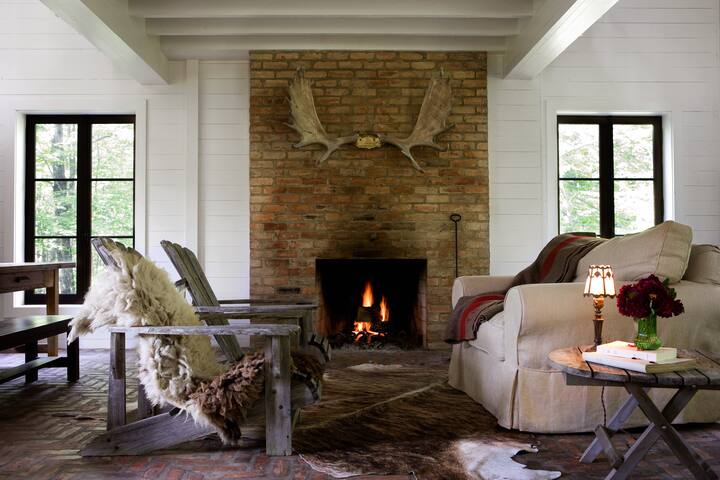 Au lacs Memphremagog dans la Bay de Fitchbay
Jolie chalet fraisement rénové au derniere tendance... spa, table de pool, 3 toilettes, foyer au propane, feux extérieurs avec bois fournis...
Pont couvert historique à visiter à environ 5 min à pieds...
The chalet was exactly as advertised and it was immaculately clean. Very spacious and there is a lot of great outdoor space. The host was very accommodating and easy to reach. The lake was a little further than we expected but that was alright for us. The cell phone coverage is spotty but there is decent wifi and a land line to use. I would highly recommend this chalet!
Rowena
2016-06-29T00:00:00Z
The pictures don't do this place justice! It was absolutely perfect for our winter weekend getaway. Warm, cozy, comfortable, beautiful scenery, close to the lake for skating, hockey, sliding, snowball fights, pool table, jacuzzi - all the greatest winter activities you could want, this is the place to be. Aside from sharing the house with what seemed to be a small ladybug colony taking shelter from the cold winter, and a slightly lower supply of toilet paper than what we needed for 9 people, this weekend getaway chalet is absolutely perfect and we would recommend without hesitation! In fact, we already want to go back! Merci beaucoup!
Shaundel & Suibhne
2017-01-22T00:00:00Z
Je n'ai pas rencontré le propriétaire mais le chalet est magnifique ! Très moderne, lumineux, bien décoré... on a passé un week-end extraordinaire! Il faut noter que l'on n'a pas de plage, donc on ne peut pas rester au bord du lac, mais il y a un canoë donc on peut faire des balades très sympas !
Barbara
2016-05-02T00:00:00Z
Room Type
Entire home/apt
---
Property Type
House
---
Accommodates
12
---
Bedrooms
Stanstead, Québec, Canada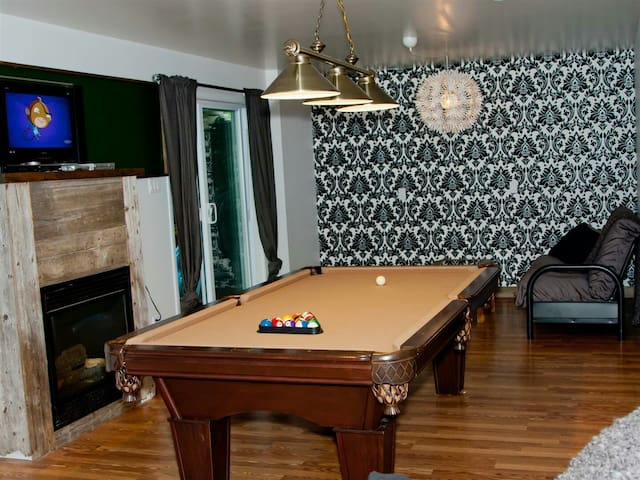 Aged 84 years, our house is furnished respecting the time of its construction. Bordered by a large garden where peacefully grow a dozen apple trees, it is located five minutes from a private marina on Lake Memphremagog.
Live a rural experience five minutes of the most beautiful lakes in Quebec. You would like 4, 6 or 12 friends for a meal in the garden? Or just take it easy in one of the most beautiful regions of Quebec? Malvina (the name of our house), will accommodate you.
The Eastern Townships region is distinguished by its topography, its history and the preservation of its natural and architectural heritage. 1776, Loyalists fleeing the American Revolution to settle in Lower Canada. Today, small villages reflect this unique heritage in Quebec. Our house is located in the quiet district of Ogden, close to the US border.
Room Type
Entire home/apt
---
Property Type
House
---
Accommodates
7
---
Bedrooms
Ogden, Québec, Canada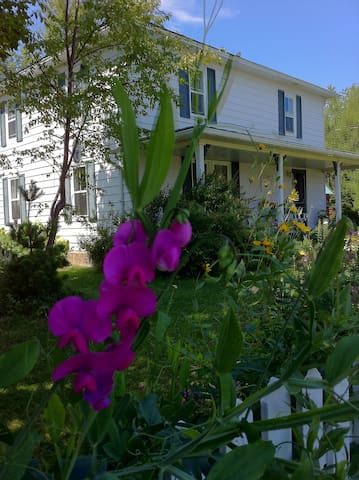 Which place offer you mountain and lake? -House with 2 full housing -1h30 of Montreal -2minutes walk from the ski slopes -50 meters from one of the most beautiful lakes: Memphremagog -Fireplace -BBQ -3min Drive the public beach -marina access
4 floors directly in the nature between skiing mountain and huge lake.
La nature, la tranquilité, les gens sympathiques,... tout!
The chalet was very nice and Alexandre was always available when needed. I would definitely recommend it for 10-14 people in the winter since it is really al walking distance from the ski slopes. Just a warning for summer goers: the is no access to the lake by foot. You will be looking at it through the trees but you can't go across the neighbohr's. There is a private beach right beside the chalet but we did not have access. We were a little dissappointed that there was nowhere to stay outside in the chalet: no garden or patio or anything. The forest was so thick that we had to keep the lights on all day long, there was just 30 min of sun in the morning. Also, the beds are beyond basic, as they are just plain wooden pallets wrapped in a sheet of plastic. Lastly, the bathrooms could use some renovation. I see that at time of this comments the owner changed the pictures and now they reflect reality. At the time of renting, the main picture showed just the private beach beside the chalet but the lack of access was nowhere to be found, hence we were misled into thinking that we were renting a chalet with lake access, and we paid accordingly. It was definitely too expensive for what it was in reality. All in all I would not have rented this place had it have the pictures it now has. Sorry, Alexandre, but we feel ripped off and I would not be coming back.
Julian
2015-08-09T00:00:00Z
The host was very kind and helpful and the site was wonderful. Highly encourage others to give it a go!
Thomas
2016-07-09T00:00:00Z
It's was a great place to spend time with your family , especially children's enjoyed a lot. House was well maintained and I didn't get chance to meet Alexander but he helped and serviced great :) I recommend this place strongly :)
ashwin
2016-06-18T00:00:00Z
Alexandre was a great host. Quick to respond to any of our questions and always available in case we were in need of help (which we weren't). The house was perfect for what we needed. We were a group of 12 and everyone had their own bed, which is hard to find for a group that size. The 2 kitchens had all the tools necessary for cooking and cleaning. We ended up bringing the table from the first floor to the second floor kitchen in order to all be sitting together during meals. The huge parking lot was perfect and we even used it as an outdoor seating area for the smokers in the group. The area itself was just what we wanted, secluded from the road, filled with trees and having the beach and marina neerby was definitely a plus. At one point during our stay, we met the neighbours and they were very friendly. All in all, we enjoyed our stay and would absolutely rent there again if the place was available. Thank you Alexandre, your place made our boys weekend a memorable experience!
Jonathan
2016-06-20T00:00:00Z
Charming house in a beautiful area. We went in the off season, so there wasn't much to do besides relax... Not really a problem. House was well equiped and very clean; it is actually two separate apartments, which you must go outside to switch between, but we did not mind this at all (was actually quite nice). Alexandre was responsive and helpful, and was an excellent host.
Reed
2016-05-02T00:00:00Z
The place is right at the foot of Owl's head which has a magnificent view of the lake from the top of the mountain. It took us 3-4 hours hiking to the top and back with the kids and it was a good walk and well worth it. Even thought the place doesn't have direct access to the water, there is a public water access 20 minutes walk away. (not for swimming though) The place is not far from magog where I had visited before and also a very nice to visit if you never been there. The hosts were super nice, answered all of our questions pretty quickly and setup rooms and beds as requested. They dropped by promptly and fixed some minor issue we had. The place has a lot of cooking utensils and pretty handy for us. We had a very good at the place and enjoyed the stay. We were their first guests and they did a pretty good job and I can only imagine the place will be becoming even better for others.
Kevin
2014-08-11T00:00:00Z
Great place for our family gathering. No indoor staircase was a bit strange but it was fine in the summer. We had a great time in the cosy place and enjoyed ourselves there and at the beach close by. A few things happened, broken fridge, no lights is staircase and no screen in some rooms but owner mentioned he would fix them....The beds were all comfortable with is huge. Great value and nice for big gatherings. The checkin at 6pm was a really bummer. Owner was unfortunately not flexible on that.
Martine
2016-07-07T00:00:00Z
Exceeded our expectations. Amazing location!
David
2017-03-19T00:00:00Z
Room Type
Entire home/apt
---
Property Type
House
---
Accommodates
16
---
Bedrooms
Mansonville, QC, Canada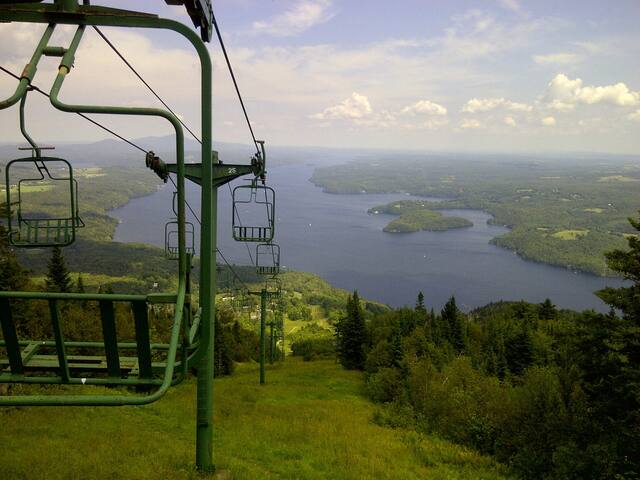 Petite maison avec 2 chambres a coucher et lits doubles. Idéal petite famille ou 2 couples. Il y a un divan lit dans le salon pour enfants au besoin.
Vue superberbe sur le Lac Memphrémagog et la Baie Sergent. A 10 minutes de Owl's Head Ski et du Golf selon la saison :-) A 20 minutes de Orford Ski et Golf. A 50 mètres du lac qui est à vos pieds. Je peux accepter animaux si vous faites un très bon ménage et qu'il n'y a pas de poils.
The house is located on top of a small hill overlooking the bay. Your house was built in the 60s. It definitely has the looks of the 60s. It is not new but it is warm and friendly place. There is a large balcony, to sit in the sun. The house is 100 m from the road. Located at 5 minutes from SPA CHUTES BOLTON.
We loved our stay at Luc's place! The view from the living room was picture-like, the house was old fashioned but very clean and the host was great. Always available over the phone for providing help, details and for answering any of our questions. Thank you Luc!:) We'd definitely return if we'll need a stay over in that area.
Laura
2016-10-16T00:00:00Z
The House was very clean and the view from the balcony/living room AMAZING ! Luc was a great host and nicely welcome us. Perfect location, would go again with pleasure.
Julien
2016-06-20T00:00:00Z
Luc, the host, was very responsive to our questions. The house was ready for our arrival. He left a few tourist information for us for activities to do. He worked with us to accommodate our need to stay past the check out time well beyond what would be required.
Carlo
2016-08-15T00:00:00Z
Nous avons passé un séjour des plus agréables au chalet de Luc. Spacieux, confortable, et très bien équipé. On ne manque de rien pour faire la cuisine. La vue est magnifique à partir de la table de la salle à manger ou du balcon où nous avons pris plusieurs repas sur la petite table. Nous avons eu la compagnie des jais bleus, colibris, cardinaux et outardes. Aucun bruit provenant de la marina se trouvant à proximité, si ce n'est que le tintement discret des gréements de voilier. L'emplacement est intime et les voisins invisibles. Nous n'avons pas rencontré Luc, mais toutes les communications par téléphone ou texto on été agréables. Luc répond très vite et ne laisse rien au hasard. Nous recommandons sans réserve !
Benoît
2016-08-13T00:00:00Z
Nous avons passé une belle semaine dans une tranquilité agréable, avec une splendide vue sur le lac. Notre hôte nous a fait une visite pour s'assurer que nous avions tout le nécessaire et pour nous souhaiter la bienvenue !
Joanne
2016-09-18T00:00:00Z
Super pied à terre pour explorer les Cantons de l'Est et profiter des couleurs de l'automne, nous nous sommes sentis très bien dans le chalet de Luc et avons passé un agréable moment. On recommence ce chalet !
cyril
2016-10-11T00:00:00Z
Chalet bien entretenu baignant dans une atmosphère calme et reposante , très belle vue sur le lac . À consommer sans modération !
mounia
2016-08-08T00:00:00Z
Petite maison très confortable placée dans un cadre vraiment idyllique. Nous y avons passé deux jours très agréable et Luc est resté disponible. Je recommande vivement ce logement!
Benoît
2016-11-24T00:00:00Z
Room Type
Entire home/apt
---
Property Type
House
---
Accommodates
5
---
Bedrooms
Austin, Québec, Canada
Magnifique maison de campagne sur le lac Memphrémagog à 5 minutes du golf et du ski Owl's Head. Réunions d'affaires, vacances familles. Services de concierge disponibles . A 1h30 de Montréal. ** Pour les mois d'été, seulement les réservations au mois seront acceptées.
La maison peut accueillir plus de 12 personnes ( pendant la saison d'été). Les aires communes sont très conviviales et l'espace est très aéré. Le balcon sur le lac est un endroit de vie extérieure protégé de la pluie et du soleil agrémenté d'un alcôve et d'une table pour 10 à 12 personnes .
Magnifique grande et chaleureuse maison sur le lac d'eau pure et non polluée avec plages avec jardin et fleurs exotiques . Au flanc de la montagne ,un ruisseau et une chute toujours en mouvement et une forêt de conifères. Il n'y a pas de moustiques dans les Cantons de l'est ce qui en fait une région très prisée par les voyageurs en été. Endroit exceptionnel , isolé du bruit. Pistes cyclables , golf , sentiers pédestres.
The host canceled this reservation 105 days before arrival. This is an automated posting.
Jim
2016-04-18T00:00:00Z
Our host Lison was very accommodating and when we had any questions, she responded immediately. Our accommodation was very clean, spacious, and beautifully furnished. We had four adult couples and there was plenty of room for us all. We were there for a ski vacation and the location was very accessible to the Eastern Townships ski areas. We highly recommend this home and would definitely stay here again
Nancy
2016-03-17T00:00:00Z
This is, hands down, the nicest place I've ever stayed on Airbnb! It was an awesome location for skiing, had stunning views of the lake, was very clean, had luxurious amenities, and is beautifully appointed. We arrived first and had the wonderful experience of getting lost (literally) looking around. My friends could not stop commenting on what an amazing place it was. I am really grateful for having gotten a chance to stay here. We were a group of 3 couples and 2 singles, but there was ample space for more. There were two unused twin beds, but all the couches were huge and comfortable. The beds themselves were also reallly comfy. I have literally no complaints - it was all perfect. Lison was a great host: quick with her responses, and happy to help at any turn. I can't recommend this place enough!
Catherine
2016-01-20T00:00:00Z
Room Type
Entire home/apt
---
Property Type
House
---
Accommodates
12
---
Bedrooms
Mansonville, Québec, Canada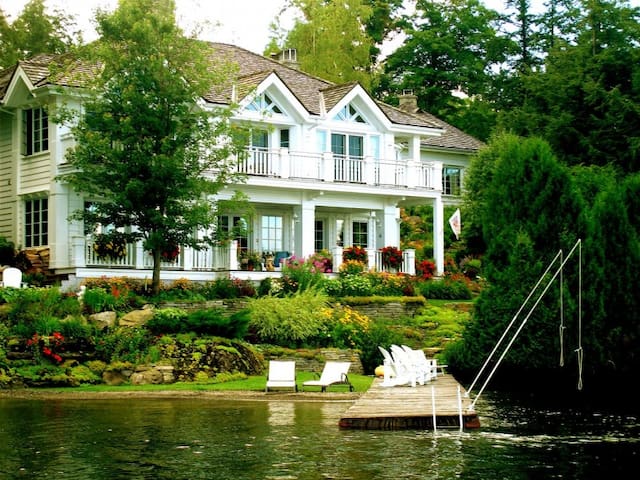 La maison avec une vue imprenable sur le Lac Memphremagog avec acces au lac, a 5 minutes du terrain de golf Owls Head a 20 minutes de Magog.Vous apprécierez notre maison de style contemporain qui se trouve dans la montagne de ski Owls Head en Estrie. Elle est situee en bordure dune piste de ski avec une vue imprenable sur le lac Memphremagog et les montagnes. Mon logement est parfait pour les couples et les familles (avec enfants).
Chalet 2300 pieds carres. Avec vue imprenable sur le lac Memphremagog et les montagnes de lestrie. En bordure dune piste de ski sur le Mont Owls Head.
Située en pleine montagne d'Owls Head, notre chalet bénéficie d'une entourage calme et paisible.
The host canceled this reservation 24 days before arrival. This is an automated posting.
JIN
2017-01-27T00:00:00Z
Fantastique maison,spacieuse ,claire ,bien aménagé. Endroit trés calme à proximité de la foret et en hauteur du lac. Vue sensationnelle sur le lac. Les photos représentent exactement la maison .Aucune déception. Jacynthe est formidable et à votre écoute. Nous avons passé 4 jours extraordinaires dans cette demeure et l'environnement est magique. Nous reviendrons et j'espère très vite!!!!
Stéphane
2016-10-30T00:00:00Z
Room Type
Entire home/apt
---
Property Type
House
---
Accommodates
6
---
Bedrooms
Mansonville, Québec, Canada
Le site est exceptionnel. Il y a des escaliers pour se rendre au chalet et les vues sont époustoufflantes. The site is exceptional; stairs lead to the cottage, the views are astonishing !
Rustic cottage: Winter highlights: At the foot of Owl's Head ski Resort, Eastern Townships. 5 minutes walk to ski slopes. Fireplace, astonishing views, wilderness, peacefull. 3 bedrooms, ideal for a family of 4. Snow removed and wood icluded for fireplace. Summer highlights: On the shore of beautiful Lake Memphremagog. Dock, boathouse, kayak, mountain bikes et golf clubs for your personal use. Swim in the clear waters of the Lake and golf at 2 km at Owl's Head reknown Golf Course.
The host was consistently helpful and responsive to all our questions and needs. And she always responded promptly.
Gwynne
2016-09-05T00:00:00Z
Marie was very quick to respond to all emails and texts!
Emily
2016-08-14T00:00:00Z
Nous avons passé un excellent séjour dans le chalet de Marie-Claude. Le chalet est exactement comme décrit. Les photos ne peuvent vraiment montrer la beauté des vues sur le lac. Marie-Claude a été disponible pour questions durant tout le séjour. Nous avons adoré et nous allons sûrement retourner l'an prochain. Le chalet à beaucoup d'escalier pour aller au stationnement et le lac, soyez préparé pour faire de l'exercice :)
Chantal
2016-07-11T00:00:00Z
Room Type
Entire home/apt
---
Property Type
House
---
Accommodates
5
---
Bedrooms
Potton, QC, Canada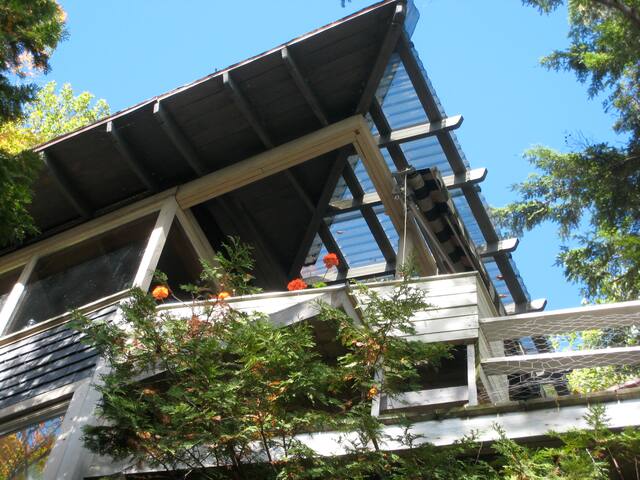 3 bedroom vacation home on a land of two acres with a stunning view of Owl's Head. Minutes from Lake Memphremagog and Owl's Head ski and golf. The cottage sleeps 6 comfortably and is fully equipped with appliances. The upstairs includes 2 bedrooms, living room, dining room, bathroom, office, kitchen and sun room with pool table. Large porch for BBQ and dining. Another bedroom and television room are located downstairs with access to the covered parking space. Outside you will find a large outdoor fenced in inground pool with diving board and slide. There is also a beach and picnic area available at Perkins Landing which is less than a 5 minute drive away. Fall and Winter Activities: Golf (2 kms), hiking and biking. Skiing and snowshoeing (Owl's Head 3 min, Orford 25 min, Jay Peak 35 min). St-Benoit du Lac Monastery (15 minutes), Magog and Knowlton's (20 minutes) boutiques and galleries, Ste Agnes Vineyard (30 min), Spa Bolton (10 minutes), Eastman Spa (25 minutes) and Nordic Spa (20 minutes). WINTER SEASON RENTAL: Monthly: 2400$ (snow removal and wood included) Season: 5000$ (snow removal and wood incl.) SPECIAL FEB-MARCH RENTAL: 3000$
Natalia was there to welcome us and make sure we ha everything we needed. The house has a great location for exploring the area, as well as every accommodation for a fine stay. The kitchen is well equipped. Thank you for a wonderful visit - we hope to be back!
Jacquelyn
2016-05-02T00:00:00Z
This is one of those places I fear reviewing well because the secret will get out! What a great spot, the private pool is very nice and the location in the townships couldn't be better. There's access to everything (ski, bike, beach, etc). The chalet itself is spacious and totally equipped for anything with a pool table, games, books and two living rooms. Natalie was very helpful and nearby but gave us our space so we could get some much needed rest. Our baby-now-toddler also enjoyed the huge amount of yard to run (and fall) on. Lastly there are no bugs! Ok, I got one mosquito bite (compared to my 25 at the family chalet).
Tawney
2013-07-15T00:00:00Z
Great view of Owl's Head from the terrace and living room! Hiking, kayaking, boat cruise, and many more activities in this amazing area. Leave some time to relax by the pool...The place is just perfect. Natalie was very nice and really took good care of us.
Katia
2013-08-12T00:00:00Z
L'endroit est magnifique ; les hôtes sont d'une grande gentillesse et discrets, mais toujours disponibles. Le logement est propre et tout équipé, extrêmement confortable. Nos enfants ont adoré la piscine et le grand jardin. Merci beaucoup Natalie !
Florence
2015-08-10T00:00:00Z
Superbe endroit pour se reposer, se promener ou bien skier l'hiver. Nous avons passé quelques merveilleuses journées pour l'Action de Grâces: une maison très agréable, très bien entretenue, avec tout ce qu'il faut pour se sentir (presque) comme à la maison !! Il y avait même quelques jouets et livres qui ont fait le bonheur de notre fils de 4 ans...
Luc
2013-10-15T00:00:00Z
Superbe semaine de détente dans un cadre champêtre idéal pour oublier la vie urbaine. La piscine est vraiment agréable, les enfants ont adoré leurs vacances. Le logement est très bien équipé, propre, et l'insonorisation des chambres et du sous-sol est appreciable. Nous recommandons vivement ce logement.
Laurent
2016-07-03T00:00:00Z
Natalia a été très accueillante, soucieuse que tout se passe bien. Le Chalet est confortable, nous n'avons manqué de rien, l'endroit était propre, la Piscine très bien entretenue, très agréable en famille, l'immense jardin aussi. Cette région est vraiment très calme, tout en étant proche de Magog ou du lac Stukely a Orford. Surement très interessant aussi l'hiver avec le mont Owl's head a 5 mn du Chalet. La vue de la terrasse est d'ailleurs exceptionnelle.
CAfeinecrew
2016-08-14T00:00:00Z
Room Type
Entire home/apt
---
Property Type
House
---
Accommodates
6
---
Bedrooms
Mansonville, QC, Canada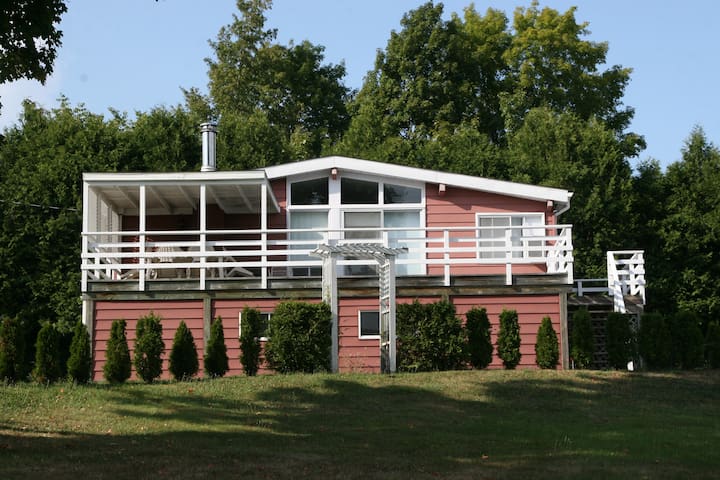 Our home is the main house of an Equestrian Estate where riding lessons and trail rides are offered in a charming little town of the Eastern Townships. We are close to different ski slopes and in the summer many beautiful golf courses are around.
Why We Love Our Home: Our house is everything you'd expect from a country home, fireplace and all! Magog, 5 minutes away, is one of the best touristic destination in Quebec! Although we live on a horse farm, we are only minutes away from the best restaurants!
Magog-Orford is one of the largest tourist regions in the Eastern Townships (Estrie). From here, enjoy a view of Lake Memphremagog that stretches over more than 40 km and of the mountains that make up the Parc national du Mont-Orford and Mount Orford. Take the Chemin des Pères tourist route... unforgettable moments. Only 15 minutes away, you'll find the Massawippi Valley, it is a region bordered by Lake Massawippi. Attracted by the location's beauty, wealthy American families came and built magnificient villas during the 19th century. A little bit further, maybe 30 minutes, is the border with the USA. The Border region is located on the Quebec-Vermont border. You'll discover a built heritage influenced by American colonization. Today, Stanstead's downtown core is being restored while highlighting the architecture of yesteryear. Consider taking the Découvertes sans Frontières tourist route… truly remarkable. On the other side of the lake, also 20/30 minutes away is the Missisquoi Valley, a peaceful haven. Next to the small village of Austin is the Saint-Benoît-du-Lac Abbey, a site that inspires renewal. Heading south, Owl's Head mountain overlooks Lake Memphremagog. Take the Tour des Traditions et du Terroir tourist route. Delightful discoveries are in store.
Room Type
Entire home/apt
---
Property Type
House
---
Accommodates
10
---
Bedrooms
Magog, QC, Canada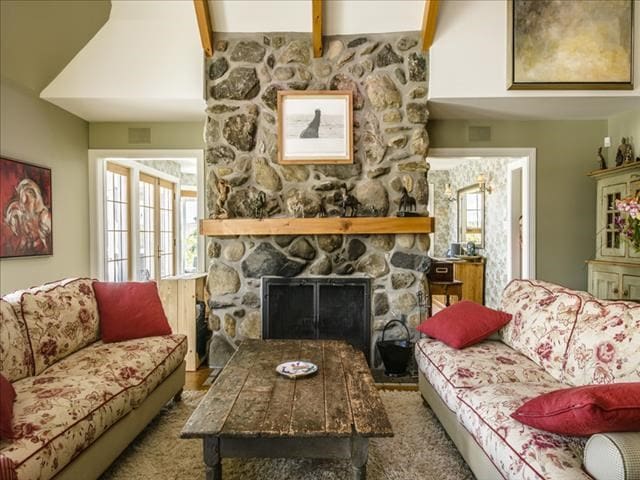 Superbe chalet de type maison de ville (unité de coin) ski in / ski out directement situé sur les pistes de ski. Le chalet est à Owl's head dans le comté de Potton - Mansonville. Énormément d'activités vous attendent dans ce petit coin du paradis.
Directement situé sur les pistes de ski. Directly located on ski slopes
En pleine nature, très bien situé, vous serez: - À 5 secondes d'une piste de ski Owl's Head - À 30 minutes de Magog et du Mont Orford - À 30 minutes de Jay Peak au Vermont - À 45 minutes du Mont Sutton In the heart of the nature, very well situated, the chalet is: - At 5 seconds from the ski slope at Owl's Head - At 35 minutes from Magog and Mont Orford - At 30 minutes from Jay Peak, Vermont - At 45 minutes from Mont Sutton
Room Type
Entire home/apt
---
Property Type
House
---
Accommodates
8
---
Bedrooms
Potton, QC, Canada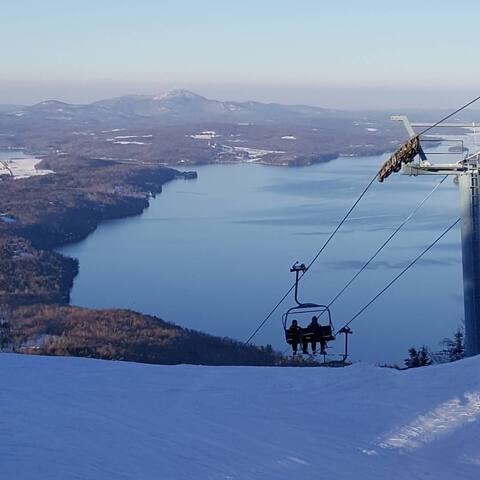 Welcome to this historic house in Austin, very comfortable and decorated with today's trends. Near 3 ski stations, suits 12 people.
A mix of old and new within a unique country house
You are next to the Austin village but the views are greens only.
The host canceled this reservation 37 days before arrival. This is an automated posting.
Marie-Pierre
2016-08-31T00:00:00Z
Great location for two ski resorts home easily handled 13 guests and is very well equipped!
Arthur
2017-02-21T00:00:00Z
The house was exactly as explained, and even more. Claude and Louise had everything ready. They left us to ourselves but where accessible almost any time by phone. The house was a gorgeous place, very tastefully decorated. Every bedroom had its own theme. We enjoyed Claud's and Louise's taste for decoration. They had a very good barbecue on their terrace. They had a huge TV and a very nice sound system which we used a lot for playing music and dancing to it.
Mostafa
2015-12-27T00:00:00Z
Claude was one of the best hosts I've experienced on Airbnb. His communication was constant and he went above and beyond for us. We were in a unique position where we had a few specific requests and he paid close attention to those and was extremely helpful for a team not from the area.
Aubree
2016-03-16T00:00:00Z
Belle grande maison, confortable, au décor original, en tous points conforme à sa description sur le site. Nous étions deux familles (9 adultes et un enfant). Tout y est pour assurer un séjour réussi: cuisine très bien équipée (des couteaux qui coupent!, dans un "chalet"!), et la disponibilité de condiments de base; chambres et lits confortables; espaces communs (salons, salle à manger) au confort douillet, bibliothèques garnies (livres, jeux, films) et cinéma maison au grand salon; solarium qui fut très fréquenté et apprécié malgré la froidure de la fin de semaine, puisque le soleil était de la partie; situation géographique à proximité de l'épicerie du village, du centre de ski Owl's Head et de l'Abbaye St-Benoit-du-Lac. Le décor, sur le thème du chevreuil notamment, nous a aussi plu. Nous avons d'ailleurs pu observer des chevreuils, à proximité de la maison, tous les soirs à la brunante. Il vaut la peine d'ouvrir l'œil! Les communications avec Claude ont été faciles et rapides, le tout se passant par courriel. Nous comptons bien y revenir.
Guylaine
2017-03-06T00:00:00Z
La maison de Claude est tout simplement parfaite. Très spacieuse, avec des espaces bien découpés qui permettent a toutes les personnes d'un groupe de profiter d'un espace a eux. Les pièces de vies sont également très conviviales et nous ont permis de passer de très bons moment tout au long du weekend. La maison dispose de tout l'équipement nécessaire a l'organisation d'un weekend de groupe. Nous avons grandement apprécié de trouver tout le nécessaire pour pouvoir cuisiner et nous organiser de bon repas tous ensemble. A l'étage, les 6 vraies chambres ont permis a chacun de disposer d'un espace personnel. La maison est également parfaitement adapté pour les petits enfants qui y trouvent tout l'espace nécessaire pour jouer ou se reposer au calme si besoin. Claude, Un grand merci a vous pour ce weekend. Votre disponibilité et toutes vos marques d'attentions ont été vraiment appréciées de tous. C'est avec plaisir que moi et mes amis y reviendrons et je recommanderai chaudement votre maison a quiconque me demandera conseil pour un logement dans la région. Charles
Charles
2016-03-29T00:00:00Z
Superbe maison que Claude et Louise nous avaient magnifiquement décorée pour noël, ce qui nous a permis une belle fête en famille! La maison est à la fois historique et moderne (wifi, télévisions, cuisine bien équipée) et très confortable. Idéale pour un séjour en famille. Seul bémol sur la région, en hiver: les activités hivernales sont 40 minutes ou bien plus (traîneau à chiens, motoneige, et il faut penser à réserver!): les déplacements peuvent donc s'avérer longs ou compliqués sur les petites routes enneigées ou glacées. Très bonne communication avec Claude par email et sms, qui nous a facilité l'entrée dans les lieux.
Pascale
2016-12-29T00:00:00Z
Notre coup de cœur de cette année! Voici le genre de maison de vacances que nous rêverions d'avoir! Séjour inoubliable, maison authentique et bien agencée... Claude a ete disponible lorsque nous l'avons contacté... On reviendra c'est sur!
Benoit et Céline
2015-08-29T00:00:00Z
Room Type
Entire home/apt
---
Property Type
House
---
Accommodates
12
---
Bedrooms
Austin, Quebec, QC, Canada
- Magnifique Lac navigable de 18 km de long. Eau cristalline et fond de sable. - Immense quai pouvant accueillir 6 bateaux,( fournit un pédalo, 2kayak). Amener votre bateau. Profité de la terrasse directement au bord du Lac avec coin feu et chaise longue. Aussi, prenez votre repas et votre apéro sur nos deux immenses terrasses superposé avec vue imprenable sur le panorama du lac et de ses montagnes environnantes. .
Room Type
Entire home/apt
---
Property Type
House
---
Accommodates
12
---
Bedrooms
ayer's cliff, Québec, Canada
1 min. drive to Owl's Head Ski, ancestral home, lots natural light, full kitchen, sunny deck, gas BBQ, 2 large living rooms with couches , wood stove and oil furnace heated, wood /snow removal included. Magic@ the Mountain!
The energy afforded by the interaction of Owl's Head and lake Memphremagog. Nature at its finest.
Close to alpine ski, x-country, ski-doo, snow shoe tails, golf, lake Memphrrmagog
The place is very close to the resort. Andrew is a great host! He always responses very quickly to any query. Beds are confortable. Lots of space. I definitely recommend this place and this region!
Lionel
2017-02-25T00:00:00Z
Room Type
Entire home/apt
---
Property Type
House
---
Accommodates
6
---
Bedrooms
Mansonville, Québec, Canada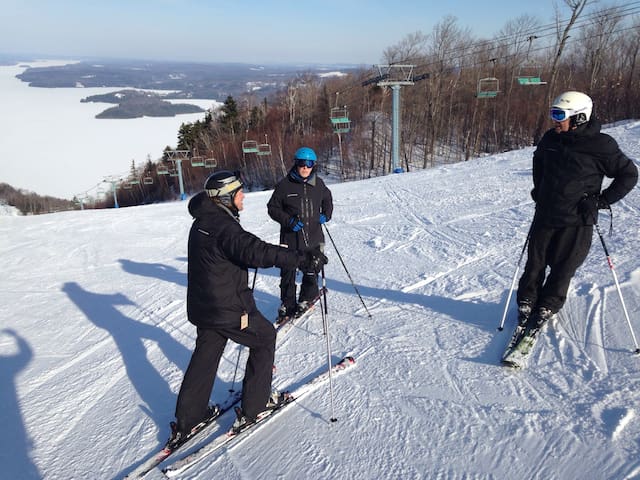 Country house on private road, 7 acres property, directly on Memphremagog lake with sand beaches with direct access to the lake. The water in the Bay is perfect for swimming, rowing, paddling, fishing, etc. Cottage was built in 2015. 5 bedrooms, 2.5 bathroom, very large terrace overlooking the lake with table,chairs,longchairs, BBQ Gas, fully equipped kitchen, fireplace, TV, DVD, Wifi (satellite), Firepit, PingPong table, etc.
3 floors cottage, directly on Memphramagog lake, 3 floors, very large terrace overlooking the lake. Access to sand beaches and lake. Fully equipped kitchen. All new appliances. In summer: Water-sports directly from the beach (paddle boat and canoe), fishing, beautiful sunset, hiking/biking trails nearby, fire pit area. Golf at 15 min. Very few bugs or mosquitoes. In winter: Nordique isolation (most nearby cabins are closed for winter). Iced lake, Ice fishing, Cross country skiing/snowshoeing in surrounded forrest or lake, Ski (Jay Peak, Orford), Large fireplace
&
Host was excellent the house was beautiful the neighborhood was quite excellent vacation.
Pat
2016-07-04T00:00:00Z
Great location amazing wildlife . Very helpful host . We would return
Kirsty
2016-07-23T00:00:00Z
My family and I enjoyed our vacation at this quiet lakefront property. The house was new, clean, and well-appointed. The beds were comfortable, and the kitchen and living room areas were spacious. We enjoyed sitting out on the deck overlooking the lake. The the deck had a gas grill and an outdoor table, equipped with a shade umbrella and comfortable chairs. The satellite internet was somewhat limited, but it suited our needs. We shared the two beaches, the canoe, and the rowboat with the family who rented the neighboring house, and there were no problems. We could paddle out easily to visit an additional beach south of the house or to see the setting sun. After obtaining a fishing permit, my son fished from one of the boats because the dock and boathouse were closed to renters. Philippe was very responsive, and sent a handyman over promptly if we encountered any problems with the house. All in all, this was an excellent place for a summer vacation.
Carol
2016-07-16T00:00:00Z
We had a fantastic time at Philippe's house. Everything Philip mentioned was provided and he did his uttermost to accommodate the many kids we had with us, making extra beds in the basement for them. The location is magnificent and nature was spectacular... The lake's temperature was perfect: Truly a gem of a location and house. The kitchen is very very well provided for and in all our communications Philip could not have been nicer. We came with the family and the space is large enough for us to have privacy. It was simply a very memorable vacation. Thank you Philip!!
Anbu
2016-08-08T00:00:00Z
Had a wonderful week in late August. Great house and location.
Al
2016-08-28T00:00:00Z
Nous avons passé un superbe séjour. Le chalet est très bien conçu, très fonctionnel et en même temps très beau, très bien fini. La vue sur le lac est splendide et la route d'accès fait une superbe piste pour les luges !
Philippe
2016-01-03T00:00:00Z
Nous avons bien aime notre sejour, nous avions de petit chocolat sur l'oreiller comme a l'hotel. Une cuisine parfaite. Salle de bain comme a la maison et non comme un chalet. Super rien a redire. Merci philippe. Nous allons fort probablement retourner.
marieve
2016-08-15T00:00:00Z
Room Type
Entire home/apt
---
Property Type
House
---
Accommodates
10
---
Bedrooms
Ogden, Québec, Canada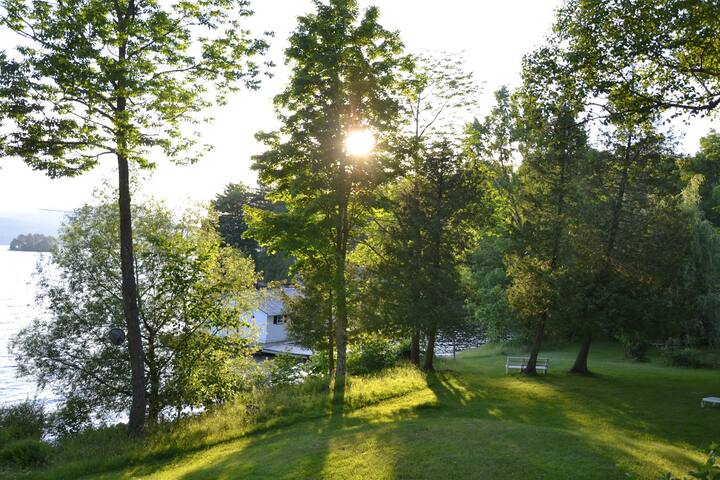 Bright, light,airy bedroom for rent in house in Stanstead,Quebec. The house is heated with a wood furnace in the winter so it's warm and cozy. There is access to WIFI, Television and to the kitchen.
Room Type
Private room
---
Property Type
House
---
Accommodates
1
---
Bedrooms
Stanstead, Québec, Canada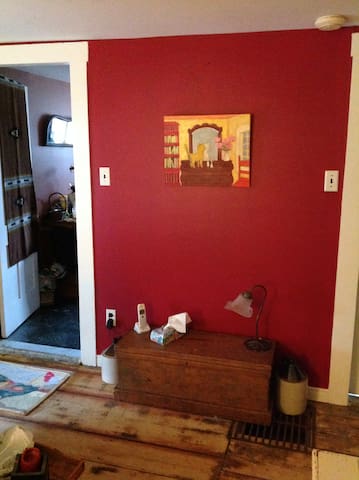 Très jolie maison prète à vous accueillir. Des modifications ont été apporté suite aux commentaires - Propreté des lieux impeccable. - lits et matelas changés. Venez-relaxer et vous amuser en couple ou entre amis, la maison est idéal pour vous !
LOCATED IN HISTORICAL EASTERN TOWNSHIPS, 10 MINS FROM CHARMING MAGOG VILLAGE, 40 KMS. FROM BORDER. ONE HOUR EAST FROM MONTREAL. 2.5 HOURS FROM QUEBEC CITY. EASY ACCESS TO ALL MAJOR ROADS. SECLUDED, 4 ACRES, FORESTED WITH NO IMMEDIATE NEIGHBORS. IDEAL FOR FAMILIY GATHERING WITH CHILDREN AND/OR NATURE LOVERS. TREED AND FLORAL-WITH POND-NATURE WALKS-MUSHROOMING-WILD BERRY PICKING AND BIRWATCHING. WITHIN 15 MINUTES FROM CHALLENGING SKI HILLS, LARGE FRESH WATER LAKES AND CHARMING VILLAGES FOR SHOPPING. TOURISM ACTIVITIES ABOUND IN THIS AREA WITH BEAUTIFUL SCENERY AND ACTIVE ARTISANS INDUSTRIES EVERYWHERE. . BACK COUNTRY SKIING/ SNOW SHOEING ON PROPERTY DURING WINTER, EXCELLENT DOWNHILL SKIING AT MT. ORFORD OR OWL'S HEAD JUST 15 MINS AWAY. ALL WATER SPORTS, CRUISES, SAILING AND SWIMMING ON LAKE MEMPHREMAGOG AND ORFORD LAKE. ORIGINAL PORTION OF HOUSE IS "CENTENNIAL" WITH LOVELY OPEN CONCEPT ADDITION. BEDROOMS ARE PRIVATE WITH ACCESSIBLE WASHROOM FACILITIES. LARGE LIVING ROOM WITH WOOD STOVE AND POOL TABLE, VIEWS OF LAKE, EXTRA LARGE COUNTRY KITCHEN AND DINING AREA, LAUNDRY FACILITIES, EXPANSIVE OUTDOOR GROUNDS FOR DINNING AND BARBEQUES. BIRD SANCTUARY FEATURES MULTIPLE SPECIES, LARGE BIRD HOUSE AND FEEDING AREA. HOME GARDEN. PEACEFUL, SPACIOUS RETREAT FOR FAMILY & FRIENDS!
I chose Jean's home for a family vacation over the long weekend because it was pet-friendly. I was pleasantly surprised by our entire experience! Jean is extremely friendly, and a great host. The home is loft-style, so the large bathroom and sleeping quarters are open (don't worry, there's a washroom with a door and fan downstairs!). The location of the home is remote, so it's a lovely spot to watch the stars or enjoy a nice walk. The large kitchen and dining room were very comfortable for four adults (and a poodle). The living area also has a wood stove, hearth, and pool table. The home is a duplex, so it is possible that you will be on the property with another airbnb family, but there were no issues with noise or sharing the lovely pond. We were also satisfied with the cleanliness of the home and property. Jean primarily communicates in French, but has bilingual family members who can contact you if you aren't fluent in the language of love. I would recommend this home if you're looking for an open cottage to stay at, while you check out Magog or the Route des Vins!
Michelle
2013-09-04T00:00:00Z
The host canceled this reservation 39 days before arrival. This is an automated posting.
Chandra
2016-06-21T00:00:00Z
Jean is very nice host - he met us very late at night, and was very helpful in general. The house is gorgeous -as well as the yard and the garden, where Jean kindly allowed us to pick fresh vegetables. We feel more like guests, not renters. Merci!
Oleg
2016-09-05T00:00:00Z
We were very pleased to find this lovely accomodation since we were not able to find anything in Sherbrooke due to Canada Summer Games at same time. We were contacted about a week before arrival to advise there was a miscommunication and booking for 1st 2 days of the 7 booked overlapped with another guest - after some discussion Jean's son was able to make other arrangements for us for the first 2 days, which worked out quite well/very enjoyable stay in town. The country cottage for last 5 days was different than we expected. The description, pictures, property are all very beautiful. We arrived to find what appeared to be folks living there/laundry on the line/etc. It turns out the house is divided into 2 separate accomodations. The photos for this listing showing pool table, modern kitchen, bathroom,etc were in fact the occupied side-we had the very rustic rough cottage side, with nice wood beams throughout, obviously very rustic. There are 2 bedrooms uostairs, with single bathroom downstairs. There is also a washer/dryer., and nice fireplaplace. The attached neighbour were very friendly, and their 2 friendly Irish setters enjoyed playing with out 6 month old puppy. The grounds, frog pond, back forest area were all great. The bathroom, kitchen worked well, although the stove is truly a very old combination gas and wood stove. Some TLC would go a long way to making this an even nicer place to stay. Jean and his familiy were all very hospitable and checked to make sure all was well.
Harold
2013-08-11T00:00:00Z
The house is really big and beautiful. The owner is very kind and I think that everybody can enjoy and have relax here. However, I would recommend a deeper cleaning to accommodate all kind of families (especially kids).
Luca
2013-07-02T00:00:00Z
Our time there was excellent! Jean showed us around and even left us some fresh eggs, which were great. It was a quiet, relaxing and refreshing. Thanks for the weekend, we will definitely be back.
Matthew
2015-04-07T00:00:00Z
Nous avons beaucoup apprécié la grandeur et le calme du chalet. Plusieurs lac et villages sont également très facile d'accès! Tout près du mont Orford et de Owls head... Très bien situé!
Xavier
2015-09-08T00:00:00Z
Nous avons passé un agréable séjour dans cette charmante maison centenaire. Le décor est enchanteur et reposant. Le grand jardin a ravi ma nièce. Dommage que le petit lac ne soit pas baignable.
Fanny
2013-07-16T00:00:00Z
Room Type
Entire home/apt
---
Property Type
House
---
Accommodates
6
---
Bedrooms
Austin, QC, Canada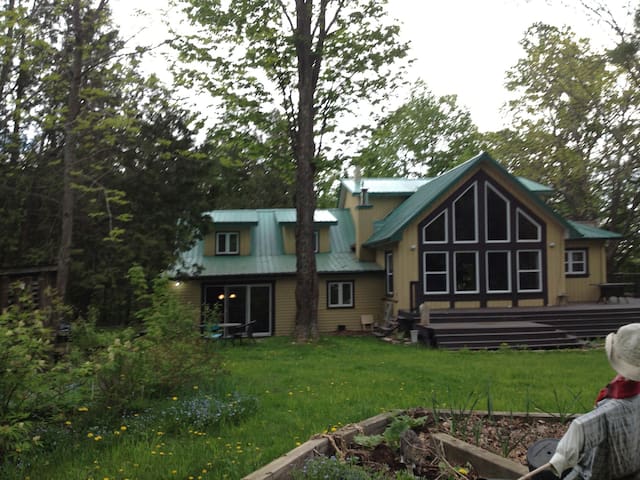 Beautiful home in the middle of Stanstead village, right next to the border. If you are looking for some peace and quiet, you have come to the right spot. A lovely café, a delicious French restaurant and a bicycle bath are only minutes away.
Beautiful home in the middle of Stanstead village, right next to the border. If you are looking for some peace and quiet, you have come to the right spot. A lovely café, a delicious French restaurant and a bicycle path is only minutes away. We have a cat. Un havre de paix au beau milieu du village de Stanstead, tout près de la frontière américaine. Café, crêperie bretonne, lac, boutiques (à Magog). Il est préférable d'avoir une voiture. Une fois à la maison, plusieurs choses se font à bicyclette.
Room Type
Private room
---
Property Type
House
---
Accommodates
2
---
Bedrooms
Stanstead, QC, Canada