A nice place to stay for a while , close to everywhere in Malta situated in the middle of the island .
Very quite street
The host canceled this reservation 10 days before arrival. This is an automated posting.
Nicola
2016-10-04T00:00:00Z
The host canceled this reservation 31 days before arrival. This is an automated posting.
Samuele
2016-11-25T00:00:00Z
Room Type
Private room
---
Property Type
Apartment
---
Accommodates
2
---
Bedrooms
Gzira, Gzira, Malta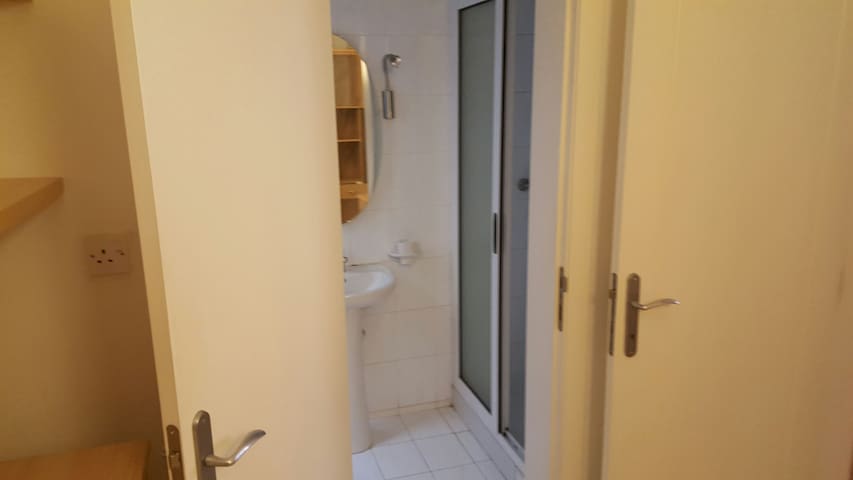 Gzira is very central. 15mins walk to Sliema Beaches, Valletta ferry, Blue Lagoon Ferry, Gzira bars and restaurants. 25mins walk to Paceville and St Julians 45 mins by bus to Malta's greatest beaches Jamesfenech94 G o anywhere by walk M ay use the public-transport close by. A lternatively you can rent a ca I am always there to help L
Gzira is very central. 15mins walk to Sliema Beaches, Valletta ferry, Blue Lagoon Ferry, Gzira bars and restaurants. 25mins walk to Paceville and St Julians 45 mins by bus to Malta's greatest beaches
Room Type
Entire home/apt
---
Property Type
Apartment
---
Accommodates
10
---
Bedrooms
Gzira, Malta
This designer finished 1 bedroom apartment offers a large kitchen Living space, bedroom and bathroom. Enjoying fantastic views and being completely equipped this is a perfect apartment for a great holiday.
Very quite neighborhood just 5 minutes walk from the seafront and about a 25 minute walk to St. Julians
We enjoyed our stay in Jason's apartament. It is well equipped, and clean, it is ideal for a couple. The flat is very near to the beach (Gzira and Manoel Island) and the bus stops are also near to the flat. There is an X2 bus stop about 200 meters which takes you to the airport directly. Jason was very helpful with us he has booked a taxi when we arrived to the airport , the driver gived us the keys- so we could get in very quickly. So we can reccomend Jason's apartmant to anyone who want to spend a pleasant and comfortable holiday in Malta. Thank you Jason! Jozsef and Erna
József
2016-06-29T00:00:00Z
I must say that Malta is a great holiday experience and it couldn't be any more perfect, all thanks to Jason. He is a great host who was welcoming all along our stay. We missed our stop when riding to the apartment from the airport and he came to our rescue (a huge thank you for that by the way Jason). The apartment itself is clean, spacious, has literally everything you need (even a barbecue set candles). You can watch a beautiful sunset from the balcony in the evenings. The beach is about 20 minutes walking from the apartment or about 10 minutes by bus (probably closer, but we always went to the one close to St.Julien's Bay. For anybody thinking of visiting Malta you should get a pair of comfortable swimming shoes since most of the beaches are rocky. Here are some things you might want to know if you are staying at this particular apartment. 1) Transport *The best way to get to the apartment if by public transport is by X2 bus, it stops right next to the apartment at "Librerija" bus stop. *If you want to ride to the beaches and along the coast the best stop would probably be "Gzira" (busses (PHONE NUMBER HIDDEN)) will take you to St.Julien's Bay and along the coast line. You can also go to Valletta from the same stop but the opposite direction using 12, 13 and 15 busses. *Getting around the island might also be easier from the Mater Dei Hospital (there are a lot of busses that stop there) 2) Shops *There are a couple of shops near by on the Triq tas-Sliema but I would personally recommend to go to either Gala Center (Triq Testaferrata) or Magic Village I think its called (on Triq l-Imsida) *If you have the time I would highly recommend going to Tower Supermarket (High Street) or Scotts Supermarket (Triq Amery) *You can get a lot of things at The Plaza Commercial Centre (Bisazza Street) and in the surrounding areas (there are a lot of shops) 3) Restaurants (most places are closed at 23:00 so watch out) *If you are visiting the beach at the Ghadir bus stop you should definitely visit a place called Mint (watch out its only open till 16:00) *Near Balluta bay there is a very nice restaurant Piccolo Padre *If you are in Valletta I really recommend Nenu the Artisan Baker (St Dominic Street) *If you are looking for something after 23:00 Cascata (Triq San Gorg) works 24/7 4) Sightseeing *Valletta is a must (period) *Mosta Dome is Beautiful *Visit Gozo (just choose the best option for you and don't choose Luzzu Cruises)
Andrei
2014-08-27T00:00:00Z
Friendly welcoming and helpfull contact from Jason. This mixed area (local people, students, tourists) is only 10 minutes walking from the Strend in Sliema but no need to go so far as pub, snack, small shops are just 2 minutes away. Somes buses also at 2 mn. If you walk 12 mn to Qroqq you will have access to a big bus hub to go everywhere. Valetta at 30 mn walk + bus. A bit noisy like most places around Valetta because of road traffic, night life and soundproofing standard.
laurent
2015-10-12T00:00:00Z
Taxi driver came to pick us up at the airport as arranged and we were handed the keys to the apartments. Other than that host was not there to give us any information. We had to call him to give us the Wifi information. We had water pressure problems and owner could not fix the problem for us. We had flushing and bathing problems. No water at the kitchen faucet.
Keith
2016-09-29T00:00:00Z
Great place. Just like on the pictures. My parents stayed in this apartment for a week. It is very close to everything. 10 min walk to sliema center and just 5minutes to the waterfront. Bus stops close by and also shops. Beautiful and quiet place everything you need is there And apparently the bed is very very comfortable. Definitely recommend
Kristi
2016-10-11T00:00:00Z
My girlfriend and I had a very pleasant stay at Jason's apartment. It was up to our expectations! Clean, modern and comfy. We were also happy about its location, close to the principal bus routes and the promenade on the bay's shore. Making contact with Jason and getting the keys were smooth and easy, practically as easy as it would have been at a hotel reception :)). Definitely recommended rent!
Arpad
2014-09-06T00:00:00Z
If you read this listing, just one sentence i could give at the very first beginning. YOU SHOULD STAY AT THIS PLACE! Jason's place is perfect it is situated not in the touristy area but still close to touristy area. The beach/Sliema only 7 minutes walk and you see boats and beautiful scenery. There are near shops/markts (2 minutes walk) to buy some meal to cook, snacks, water, etc etc. The bus ony 3 minutes away that can take you to Valletta/Sliema or directly to AIRPORT. But i would recommend to walk down a bit to find lot of busses in different directions. The space itself is spacious, provided with clean towels, clean, and kitchenette is great. Provided with AC, balcony, great sofa. We didn't meet Jason personally but he replied fastly every question we asked during our stay (really in 5 minutes, he will reply ;) ). and the lady that welcomed us explained very well about the place and neighborhood. This place really sums up our stay in Malta. Place of airbnb that we won't forget. Thanks Jason!! Nah.. I don't know Jason, but if you consider to have great stay in Malta, choose Jason's place.. Best way to stay. If i ever come back to Malta, will definitely stay at his place again, no doubt. -Hizri and Inggi-
Hizri
2015-08-23T00:00:00Z
Despite the construction work down the building, we had a really good time in Jason's flat. Communication was great and he was just so nice. Thank you.
Jeanne
2015-06-03T00:00:00Z
Room Type
Entire home/apt
---
Property Type
Apartment
---
Accommodates
3
---
Bedrooms
Gzira, Malta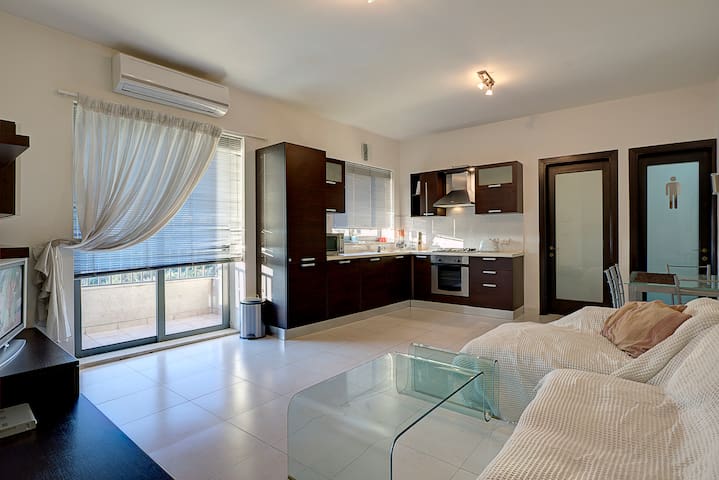 New & modern seafront 2 bedroom apartment, centrally located & close to all the hot spots. Property enjoys stunning views of the Grand Harbour, the capital city of Valletta & the fantastic promenade leading all the way to Msida, Sliema & St Juians.
Centrally located, modern, 1st floor apartment in the town of Gzira, on the north-eastern coast of Malta. The seafront of Gżira is famed for its breathtaking views of the walled city of Valletta, which are illuminated at night, forming a picturesque backdrop to Manoel Island, the Yacht Marina and a seafront promenade with a public garden also enjoying a fully equipped children's area. This property is at the water's edge and close to all services and conveniences. The accommodation consists of 1 double bedroom, 1 single bedroom, 1 bathroom, laundry/box room and a fully equipped open plan kitchen, dining room and living room enjoying a front balcony overlooking the promenade and its fantastic views. The apartment is air-conditioned and comes with cable TV, internet, telephone (charged extra), washing machine, tumble dryer, stand fan, heater, microwave and lift. This ideal location is just 10 min walk from the Sliema centre, known for its shops, cafés and restaurants. The lovely promenade is perfect for an early morning jog or for a relaxing evening strolling. The bus stop is just outside the front door with regular buses to different locations around the island. Crossing to the capital City of Valletta is only 20 min away by bus or 10 min with the water taxi. One can also opt to book all kinds of sightseeing excursions and cruises from boots located on the same promenade. Being an island Malta has many sandy and rocky beaches, the closest being only 20 min away by walk. And for those who prefer to dance the night away, a visit to Paceville (20min away by bus), packed full with clubs, bars and nightlife is recommended. Gozo is the second largest Island of the Maltese archipelago, its relaxed pace of life makes it an ideal secluded haven and at just 30 minutes away by ferry, the hop can easily be made for even the shortest of stays. On the other hand, the car free and virtually uninhabited island of Comino, situated between Malta and Gozo is a true paradise for snorkelers, divers, windsurfers and hikers. The island's main attraction is the Blue Lagoon. In summer, the 20 min ferry crossing makes this sheltered inlet of shimmering aquamarine water over white sand a very popular location for day-trippers. Comino is also worth a visit in winter, and is ideal for hikers and photographers. Being a small Island it won't take you long to get to any location and on the plus side, the buses run till the early hours and are all equipped with air-conditioning. Also Sicily is just a 90min crossing by catamaran! For lets of 1 month and over please contact for redused price.
The town of Gzira is centrally located and close to all hot spots. Cruises can be booked from boots located on the promenade and bus tops are just across the rod from the property. Grocery stores, bakery, butchers, fish shops, pharmacies, take aways, bars, restaurants, children's park, shopping centre and banks are at walking distance.
My trip to Malta was outstanding! Vicky's apartment is lovely - very spacious, has everything you need, and has fantastic views. The location is great with easy access to Valetta and lots of shops nearby. Unfortunately I didn't get to meet Vicky but I met her sister who was very kind and explained how to get to the areas we wanted to go. I messaged Vicky a couple of times during the trip (just general queries) and Vicky replied straight away and was very helpful. I would definitely recommend staying here and would consider coming back. :)
Temica
2015-10-12T00:00:00Z
Vicky very kindly arranged a taxi from the airport and we were able to leave our luggage as the apartment still had to be cleaned as check in was 3.00pm and it was only 11.30am. The apartment was very clean,exactly as the photos showed.We were unable to get any programmes on the TV but were not particularly worried as we didn't go on holiday to watch TV! We really enjoyed our holiday and found that although the apartment is on a very busy and noisy road, the bedroom is at the back, so we were not disturbed at night!
Jenny
2016-10-24T00:00:00Z
We were very happy with our apartment, which is spacious, clean and has amazing views. It is in an idael location to get to all places easily. Vicky communicated with us before arrival to make sure that we knew best arrival method and she was there to greet us. She explained everything thoroughly with good tips about sight seeing and local conveniences. She was very helpful and we appreciated this. Thank you Vicky for making our stay in Malta such a wonderful experience!
Leigh
2014-09-06T00:00:00Z
the flat is really nice, mordern and in a very nice plage in front of the see. Fantastic !
Marine
2013-08-20T00:00:00Z
We arrived quite late but Vicky was there to meet the group. We also had another person arriving 5 days later and Vicky provided us with another bed for that guest at no extra charge.
Bren
2016-09-26T00:00:00Z
Great location and view over the harbor Very nice appartment and super host. Very recommendable
Anders
2017-02-01T00:00:00Z
Amazing apartment in a great location.Vicky and her sister were so accommodating and helped out with queries throughout our stay.without a doubt would stay here again if returning to Malta.
Lauren
2016-07-28T00:00:00Z
Vicky was a very lovely host! She made pick-up and drop-off arrangements for us, which costs $20 each way (very reasonable). Upon arrival we were greeted warmly by her. She gave us a detailed tour of the apartment and answered most of the typical questions one may have regarding day to day operations (stove, washer/dryer, hot water, electrical usage, etc.). The apartment was well equipped with items necessary for cooking, cleaning, etc. The location was perfect, centrally located with everything you need right at your doorstep. The area felt very safe, day or night. In addition, Vicky took the time to offer us detailed information on local tours, restaurants, transportation options, day cruises, fresh markets, beaches and so on. Apart from our initial meeting, which was extremely informative, she remained accessible the entire time and answered our questions, promptly as they came up. The apartment and host were both wonderful! In the event we visit Malta again, we would definitely use her service again.
Heddy
2014-05-19T00:00:00Z
Room Type
Entire home/apt
---
Property Type
Apartment
---
Accommodates
4
---
Bedrooms
Gzira, Malta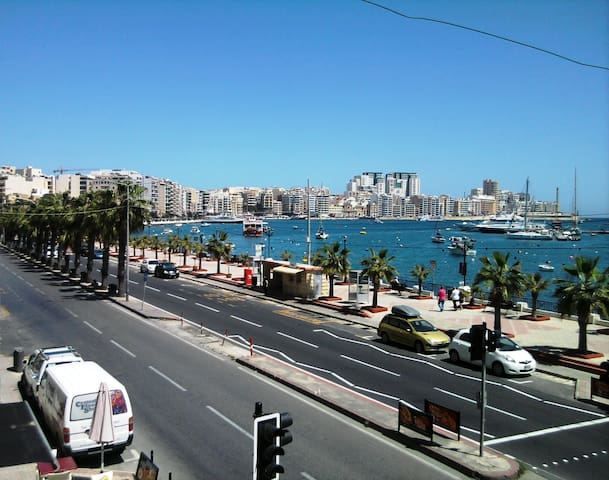 A fully equipped modernly refurnished third floor apartment in the heart of Gzira close to all major sightseeing and the wonderful promenade heading to Sliema and Saint Julians. The apartment is refurnished with style and it is composed by one big room and living room with a very comfortable sofa bed.
A fully equipped modernly refurnished third floor apartment in the heart of Gzira close to all major sightseeing and the wonderful promenade heading to Sliema and Saint Julians. The apartment is refurnished with style and it is composed by one big room and living room with a very comfortable sofa bed.
Really nice appartment is great location. I would recommend it to someone who wants to stay towards Sliema.
Silvio
2017-02-15T00:00:00Z
All the making of a great apartment but let down by being poorly equipped and with no water pressure!! We needed a relaxing break and would not have stayed knowing it was next to a huge construction sight.
Alex
2016-11-25T00:00:00Z
El anfitrión es muy amable y atento para facilitar la llegada a la vivienda. El barrio no es bonito pero está bien ubicado en cuanto a servicios y transporte y es una zona segura.
Leyre
2016-10-29T00:00:00Z
Appartement très bien situé pas trop loin de La Valette avec un bar juste en bas de la rue et très bonne ambiance :) peu cher , il manquerai juste un micro onde dans le logement et la télé qui ne marcher pas mais sinon très bien
Dylan
2017-03-02T00:00:00Z
Se deben hacer mejoras en el baño y tv
Rodrigo
2017-01-08T00:00:00Z
La casa è ubicata in posizione strategica per raggiungere tutte le principali attrazioni dell'isola. E' nuova e funzionale e siamo stati accolti con puntualità, gentilezza e disponibilità.
Alessia
2016-11-01T00:00:00Z
Room Type
Entire home/apt
---
Property Type
Apartment
---
Accommodates
2
---
Bedrooms
Gzira, Malta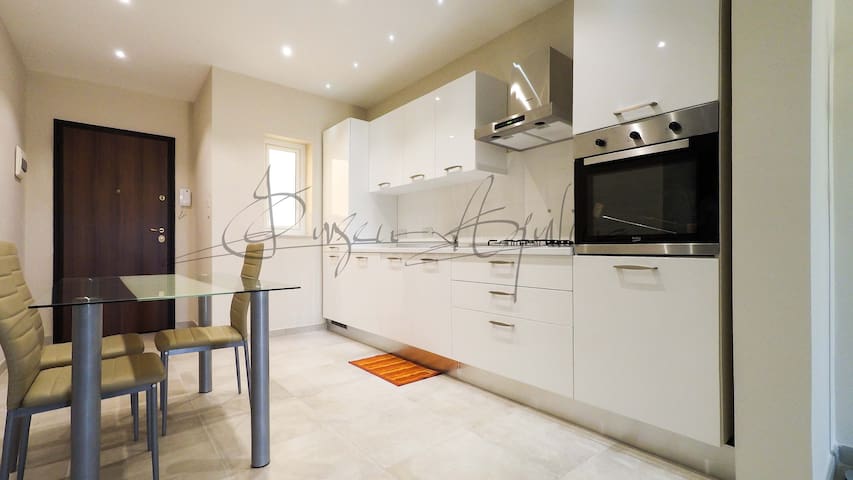 This modern apartment is located in Gzira which is walking distance from Sliema, where one can find many shops, restaurants, bars, cafeterias, as well as beaches. It is also walking distance from the University. The place is a cosy one bedroom apartment with an equipped kitchen and back balcony. Apartment will be refurbished/renovated with brand new kitchen, dining area and bedroom by 01 July 2017.
Marc is a very kind host, he thinks every details for his guests, %100 recomend for wants to stay in a private flat with very good price/performans ratio.
Atilla
2016-10-01T00:00:00Z
Marc was very nice and very helpful, when we had questions Marc replied quickly and effectively. The apartment was lovely and clean. We spent a very great time there! :)
Aimée
2016-07-01T00:00:00Z
The host canceled this reservation 10 days before arrival. This is an automated posting.
Paul
2016-09-05T00:00:00Z
Marc was very kind and very helpful. The apartment was nice, clean and very well located. I recommend the place.
Fred
2016-10-07T00:00:00Z
Room Type
Entire home/apt
---
Property Type
Apartment
---
Accommodates
4
---
Bedrooms
Gzira, Malta
I have 2 double bedrooms which i rent out to tourists or students in malta europe with their own bathroom close to the city centre and also to the sea just minutes away.
Lousie was a good host, always kind, she arranged the breakfast every morning and also suggested me some restaurants. The location is good, close to the bus stop and walking distance to Sliema. The house is big, has 3 bedrooms for the guests, Louise's bedroom, a bathroom, a kitchen that you can share and a living room. Four nice cats live in the house, if you like cats no problem, just bear a little theirs hair. The room wasn't super clean, but it was ok for the time I spent there just to sleep, having a shower and breakfast. Thanks Louise!!
Laura
2015-07-08T00:00:00Z
Louise was a very nice host, she picked me up, when I arrived, and help me in everything. The flat location is great. I can recommened this room if you like cats, because she has 4 (I already miss them :( ) Thanks again everything!
Eva
2016-04-23T00:00:00Z
everything was perfect and Louise was amazing . Thank you
Cosimo
2016-05-14T00:00:00Z
Good location, just a few minutes to walk to the sea. If you looking something basic for a really good price, then this what you will like. Not very clean kitchen, but you have hot shower, clean towels and fan:) Louise is very nice and helpful, she met me at night, as my flight was really late. And really friendly cats:)
Natalja
2016-10-18T00:00:00Z
Hey Louise, I came back to home and I already miss Malta! I had a nice stay at Louise's house. I found a clean room and a clean bathroom. Living and kitchen are not racomended to allergy sufferers. During the first day the internet connection and the flush were a bit tricky. Neighborhood was quite and very close to a very good pastizzeria and a little shop to buy some food and water. Overall was a great experience.
Beppe
2016-09-24T00:00:00Z
Everything was nice. Louise was very hospital, she told me where all amenities are located nearby. The neighborhood is very calm even in the night. There are a lot of little shops and markets where it is less expensive to buy products than on the seafront. Everyone is very friendly :) Balluta Bay and Sliema Beach is in 15 min on foot as Sliema shopping center and ferry station to Valetta. Bus stop is in 2 min on foot. As for accommodation: the breakfast is on the table each morning and my rooms have a balcony that is very comfortable and great. As other visitors already mentioned, Louise lives with 4 adorable cats but they are forbidden to enter the guest room. So if you don't mind cats this is very nice place for appropriate price. Also Louise picked me up early in the morning to the point of airport transfer.
Natallia
2016-08-08T00:00:00Z
A cat house. I love cats and I think some of them are loving me. Really nice cats in this place.
Elmeri
2016-10-08T00:00:00Z
Louise was fantastic host. She helped me a lot with practical information about Malta and she was very helpful :) Nice and big apartment with good bus facilities. Four lovely cats and breakfast on the table each morning! Will surely come back if I am coming back to Malta :) Absolutely worth money
Wojciech
2016-07-06T00:00:00Z
Room Type
Private room
---
Property Type
Apartment
---
Accommodates
1
---
Bedrooms
Gzira, Malta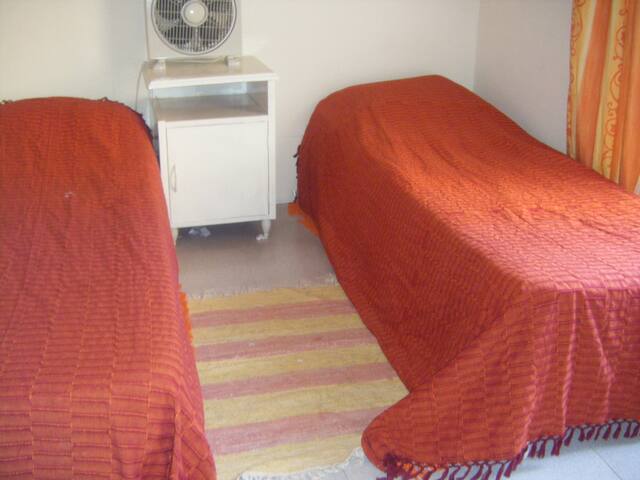 Just steps away from the sea and 5 minute walk from Sliema is this modern furnished 1 bedroom apartment with a balcony overlooking gardens and another large balcony with open views. This apartment is fully air-conditioned and is close to all amenities. *** Price is inclusive of gas, water, electricity, WIFI, Cable TV & final cleaning ***
Modern, spacious, 1 bedroom apartment in this popular building close to all amenities and two minutes from the seafront. 7th Floor apartment: Entrance leading to a spacious hall, sitting/dinning with balcony overlooking communal gardens, white gloss kitchen with all appliances including dishwasher, bathroom and large main bedroom with large balcony having open views. This apartment is full of natural light, fully air-conditioned and has a large flat screen TV. *** Price is inclusive of gas, water, electricity, WIFI, Cable TV & final cleaning ***
Gżira is an urban locality between Sliema and Msida on the western side of Marsamxett Harbour. It has a seafront promenade with views over Manoel Island and Valletta. The only landward access to Manoel Island is the bridge from the Gżira strand. This small island lies in Marsamxett Harbour between Sliema Creek and Lazzaretto Creek. The Knights of St John realised the potential of the Island as an isolation enclave against the plague and other infectious diseases and built a quarantine hospital here in 1643. In 1722, Grand Master Manoel de Vilhena began to appreciate the value of the Island for the defence of Valletta and commissioned the fortress which bears his name, Fort Manoel. Completed in 1726 in baroque style, it is a remarkable military edifice. The fort was badly damaged in World War II, but has been restored as part of the development of the Manoel Island and nearby Tigne' as a residential and commercial area. The Island has boat repair yards and winter berthing facilities. Gżira shops include numerous yacht brokers and chandlers which serve the nearby Ta' Xbiex and Msida Marinas.
siamo 4 ragazze e abbiamo soggiornato in quest'appartamento per una settimana. Nonostante il nostro aereo avesse fatto un'ora di ritardo, Suzanne, la proprietaria di casa, ci ha atteso fuori il parco alle 23 di sabato sera per il check in. La casa è esattamente come in foto, il wifi funziona benissimo e la pulizia era impeccabile. L'appartamento si trova in un parco tranquillissimo ed era provvisto di tutti i confort (lavatrice, stendipanni, tostapane, forno a microonde, aria condizionata). Suzanne ci ha inoltre permesso di restare in casa fino all'orario in cui siamo partite. Maria per tutta la settimana mi ha contattata per assicurarsi che andasse tutto bene ed è stata molto gentile nel prenotarci un taxi sia all'arrivo che alla partenza.
Imma
2016-08-14T00:00:00Z
Room Type
Entire home/apt
---
Property Type
Apartment
---
Accommodates
4
---
Bedrooms
Gżira, Malta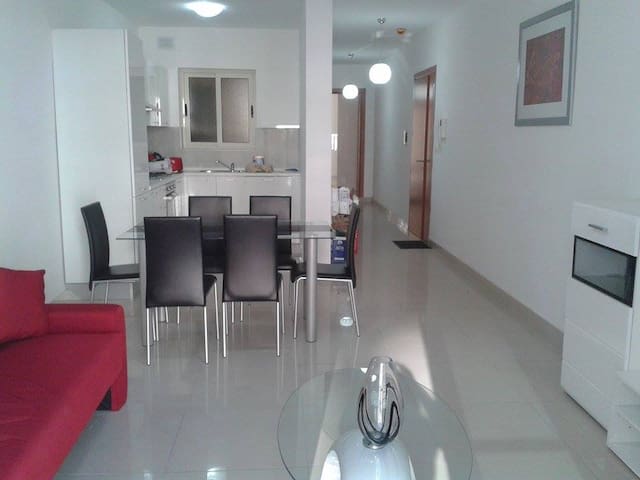 1 bedroom apartment with a front terrace and a back balcony. Only 5min away from the seafront and 15min walk from the shopping center in Sliema. Bus Stop is only across the road where it is only 30min away with the bus to Valletta and the nightlife.
The apartment is found in a central location
In the area you can find restaurants, bars, green grocer, health center and all other kind of small shops for every day need.
Alessio is very nice and helpful host!! He dropped us from the airport and willingly sought answers to our questions, and even odd problems. The apartment is spacious and fully equipped (including heating, air conditioning, iron, etc.). No lift forces to exercise. Breakfast in the bar on the ground floor are really filling. The location is perfectly connected with main attractions. I can honestly recommend !!
Marcin
2016-05-30T00:00:00Z
We had very nice stay in this appartement - comfortable and spaceous, with nice terraces. The location is good - near bus stop to Valetta, to airport, to San Juan, near to ferry stop... There are some restaurants, bars and shops in the area. Alessio is very kind and responsive. It was very convenient that he picked us up at the airport. The breakfast was also very good. These two things are a big advantage.
Petya
2016-06-08T00:00:00Z
We had a very nice stay in Gzira. The hosts are very kind and helpful people - location of the flat is great. If you visit malta, I recommend you to stay at times gone by. Thanks for everything!
Maria
2016-08-13T00:00:00Z
All its Good If come again in Malta stay here
michail
2017-01-26T00:00:00Z
We've had a great stay at this place in Malta. The location (Gzira) is very well connected and boasts some nice café's and restaurants. It is additionally very close to popular places like Valetta & Sliema. When we made this booking, transfer from & to the airport was included, as was a very nice breakfast. This was very convenient. Finally, Alessio has been a great host helping us with a variety of questions!
Loek
2016-08-01T00:00:00Z
As it was February that we stayed it was very cold in the apartment, which made it quite hard to sleep! I'm sure most of the year this will not be a problem with the hot weather though! We were able to get an airport transfer as stated when we arrived but not back to the airport, which was slightly awkward since it was a Sunday and the buses to the airport were not frequent! The apartment is close to the sea front and there are lots of places to eat close by and the bus stop is very near! The breakfast is a real bonus and for the money that you pay for the stay it is good value!
Morwenna
2017-02-12T00:00:00Z
Everything about this place was great ! The flat is nice, the atmosphere of the bar welcoming, the food is really good and the staff is really friendly and efficient ! It was easy to find the key and everything we needed around as well, as the place is really well located ! I'd go back there at anytime so I highly recommend it !
Sarah
2016-04-22T00:00:00Z
Alessio was a great host. He picked us up at the airport and showed us around. The apartment was nicely located and we loved the private roof terrace. The daily free breakfast was a nice surprise as well!
Jelle
2016-04-14T00:00:00Z
Room Type
Entire home/apt
---
Property Type
Apartment
---
Accommodates
2
---
Bedrooms
Gzira, Malta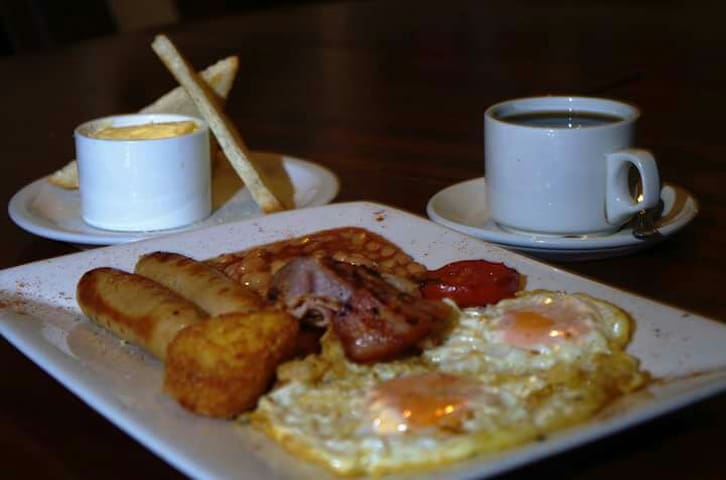 We have 2 double bedrooms available both with internal windows and modern decoration in a brand new duplex sea front apartment minutes away from Sliema center. Third bedroom ( red one ) only available in (URL HIDDEN) both rooms you have Internet, fans and heaters, also a desk and full bedroom furniture. Shared modern new bath room. Upstairs is our living area were there is a lovely large open plan living room dining room and kitchen.On both floors there are very large sea front balcony where you have a spectacular view of the harbor and yacht marina and also Valletta our capital city. This location is ideal as it's close to many things. It's just 10 min walk from Sliema center. We also have a lovely promenade ideal for evening strolling, and many shops , bars and restaurants.The bus stop is just outside our front door and buses to different locations pass regularly. One can book all kinds of sight seeing trips and cruises to see our beautiful Island just from the promenade infront. Also crossing to Valletta takes you only 20 min by bus or 10 min with the water taxi ! Gozo and Comono, our sister Islands, are only a 30 min crossing and you can spend a memorable day either strolling around the interesting,narrow old streets of Gozo with theirs quaint shops and market, or just relaxing on the sandy beach in the beautiful lagoon in Comino where you can do any kind of water sport. On the main land we have many beaches sandy and rocky, small and large. The good thing is, as it's a small Island it won't take you long to get there and the buses are all with AC. Just a 20 min walk from our place you will get to the closest place where you can swim. How good is that !! Also Sicily is just a 90 min crossing by catamaran!
I had the best time in Malta. Mariella and her family are very friendly. I liked it from the first momen when I arrived. We had a good time, we cooked together and talked a lot. Don´t forget the Melon-wodka :-) Thanks for everythink and for your help. Will come back soon!
Doreen
2012-10-16T00:00:00Z
I really felt at home with Mariella. She´s friendly, sociable and takes real concern with the people who stay at her place. Her home is cozy and comfortable, full of light and decorated with good taste. Besides, it couldn't be better located in Gzira! And another asset is that she is a really good cook ;D . No doubt I'll stay at her place again if I go back to Malta.
Bea
2012-09-03T00:00:00Z
The apartment was really beautiful and it had an amazing view. The bathroom was also really huge and clean. Mariella and her husband Paul were extremely welcoming and friendly throughout the whole stay, and they provided us with much valuable advice regarding Malta. It was also very convenient to get to the airport, St Julians and Valletta from the apartment. We even signed up for a Gozo tour which picked us up 50m from our doorstep. Overall a great stay, and I would definitely recommend Mariella's place to everyone heading to Malta.
Eileen
2013-04-16T00:00:00Z
Mariella and Paul were absolutely wonderful. They went above and beyond to help us enjoy our stay. Their dog Maya is such a gorgeous playful girl who will be sure to greet you with open arms. The view from the apartment was AMAZING. The location was perfect ! I highly recommend staying here :-)
Rachael
2016-08-27T00:00:00Z
I stayed here for 1 week, it was very easy to get to, the location is central and I was able to visit all the isle only by local bus. Mariella was a kind host, she make me feel at home. She often helped me to choose the best itinerary to do. The house was comfortable and i've never had any problem about space or other people who lived there. I've had a nice holiday in Malta, in Mariella's House.
Alessandra
2013-08-05T00:00:00Z
I would like to thank Mariella and Paul for their hospitality. They are both very friendly, responsive and are not intrusive at the same time, . I felt completely comfortable. Place of the apartments is ideal for those who come to Malta for traveling as almost in front of the door there are bus stops to any point of island, including sightseeing tours, as well as ferry terminal is not far. Room overlooking the bay is luxury and has absolutely the same view from the window as you see at the picture:-))))
Ilona
2014-04-07T00:00:00Z
Great place and a very nice host. Free parking in front of the door.
Sandra
2014-04-13T00:00:00Z
The appartment is very central and easy to find. The "red room" has a really nice view (on the bay) and is quite spacious. This is an ideal situation if you would like to visit the centre of Malta (La Valetta, St Giulan's...) by bus or boat. And Mariella is really nice and enjoys taking time to speak with people, helping you choosing your intinerary !
Valerie
2013-09-22T00:00:00Z
Room Type
Private room
---
Property Type
Apartment
---
Accommodates
2
---
Bedrooms
Gzira, Malta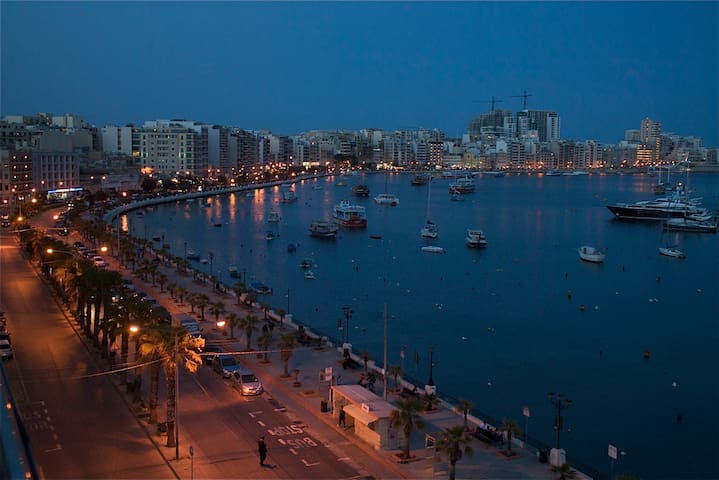 This newly refurbished one bedroom apartment is situated in an excellent location, just 5 minutes walk to the Gzira seafront. It consists of combined kitchen / dining, living room, double bedroom with AC, a balcony with views and a bathroom (shower).
This is an entire (whole) apartment and the apartment is NOT sharing with other guests. It accommodates two adults comfortably. This apartment is located in an excellent location as by walk you can reach the Gzira seafront (5 minutes walk) or the center of Sliema (5 minutes), you can even walk to St. Julians (15 minutes). The apartment consists of a combined kitchen / dining. The kitchen is fully equipped with fridge/freezer, oven and hob etc. There's a double bedroom equipped with air condition for heating and cooling. It has an open balcony with views. The bed can be double bed or two single beds. There's a bathroom that consists of a shower, toilet and sink and there's also a washing machine. Kindly note that the air condition is only in the main bedroom. This is a very safe location and the block of apartments is very well kept. The apartment is very comfortable, and it's excellent to accommodate two people.
This is a very safe and quite neighborhood. It is surrounded by shops, such as, grocery, fish shop, fruit and vegetables, convenience shop etc. There's also a nice cafeteria round the corner.
I stayed in Sinclair's flat with a friend of mine for 4 nights. Sinclair was very responsive for our questions before we arrived and he showed up on time and spent quite some time to give us information about Malta. He was very friendly and helpful. He provided some stuff that we needed during our stay i.e. hair dryer, extra eu socket converter. He also arranged our transfer to the airpot in the early morning. The flat is nice as you see on the photos and the location is central, walking distance to Sliema. It has a double bed which can turn into a twin bed which was useful for us. The flat was clean and tidy. We only miss some tea, coffee and sugar in the kitchen which would be nice if it was provided. I would recommend Sinclair's flat to anyone visiting Malta :)
Omer
2015-08-31T00:00:00Z
I stayed there for one week with a friend. The flat is really nice and in the middle of Gzira. You can walk to the next shops and also to Sliema. Sinclair is friendly and he organized us also a transfer from the airport to the flat. We met him there and he explained us everything important about the surrounding area and showed us the flat. The flat is exactly what you can see on the pictures. Maybe the bathroom was a little bit to small for our taste. But I would take the flat again, if I am coming back to Malta someday :)
Daniel
2015-09-08T00:00:00Z
Everything was perfect. Sinclair is kind and nice, helped us when we needed and the house is what we were looking for. Completely satisfied!
Gabriele
2016-06-08T00:00:00Z
We really enjoyed our stay at this lovely flat, it is bright and airy and very clean. Sinclair was extremely welcoming and always very helpful, with advice on places to go and even booked our taxis to and from airport which was much appreciated! The flat has everything you need and is in a great location, only a 10 minute walk to the waterfront!
Shannon
2016-06-15T00:00:00Z
The apartment is exactly as advertised. Spacious, clean, has everything you need for an enjoyable stay on Malta. The location is excellent, shops, restaurants, public transport, etc. are all close by. For those renting a car, parking spots near the apartment were easy to find. Sinclair also provides very good advice on all things Maltese; activities, areas to visit, nice places to eat, he helped us out tremendously. Would highly recommend this host and this apartment.
Sanne
2016-05-30T00:00:00Z
Sinclair was a real life saver : while my previous host was a very difficult person to deal with, Sinclair accepted my reservation seamlessly allowing me to literally improve my holidays. He is a warm hearted person and and make it easy for his guest. He showed me everything I need to know like the closest grocery store (across the street) and even came to pick me up on my way to his listing. The place is very well located, 5 minutes from the seafront where you can find anything (cruises, restaurants, shops, pubs, etc). I warmly recommend Sinclair's listing
Kevin
2016-05-17T00:00:00Z
Sinclar is a very helpful and nice person! there ist nothing I could complain about! Thank you very much for a nice stay!
Justyna
2016-10-17T00:00:00Z
Sinclair is very friendly, he helped us book a taxi take us directly to the apartment, and showed us around with his car. The apartment is the same like in the pictures, good location 5 minutes walk to Sliema seafront.
Chelsie
2016-05-24T00:00:00Z
Room Type
Entire home/apt
---
Property Type
Apartment
---
Accommodates
2
---
Bedrooms
Gzira, Malta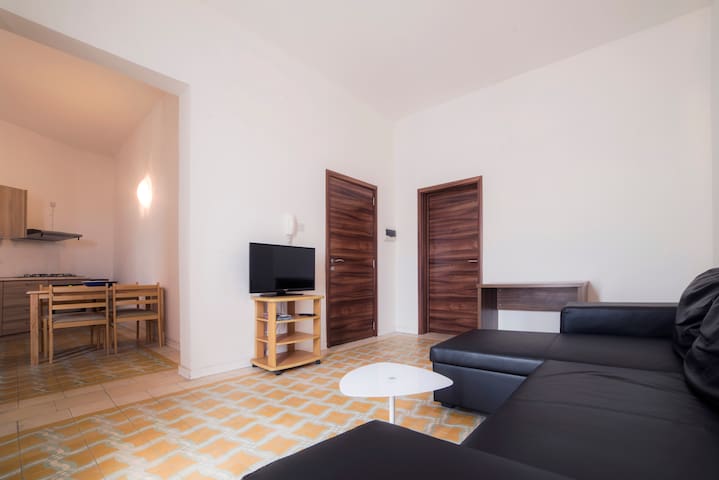 Brand New Duplex Penthouse with open plan kitchen/living and dining area, 2 double bedrooms with ensuite bathrooms, big terrace with Valletta and sea views, 3 balconies. Great location just 3 mins away from the Gzira/Sliema seafront.
A unique and stylish duplex penthouse minutes away from the seafront of the most vibrant area in Malta. The apartment is within in a quiet and discreet well presented block of just 3 apartments (not a high rise or large noisy block).
Gzira is a modern town in the north-east coast of Malta between Sliema and Msida along the promenade of Marsamxett harbour. The seafront of Gzira is famed for its views of the walled city of Valletta, which are illuminated at night, forming a picturesque backdrop to Manoel Island, the yacht marina and a seafront public garden.
We spent 3 nights in Claire's penthouse. We had a very good stay and did enjoy the new renovated flat as described in the ad & pics. Quality decoration materials were used from bottom to top. Everything was clean, furniture and decoration were new. This place suits family needs with two kids (smart TV & Wifi are available). We also enjoyed the air conditioning covering all rooms (very high temperature during summer). Merik gave us good explainations and gave us some hints. He also loaded the fridge with milk, orange juice & fresh water. The flat is well located near to easily access touristic places and close to food shops. The place is well secured, we had two pair of keys. Overall we recommend this place, during our stay in Malta we stayed in three different places and Claire's flat was the top one. Also there are different bus stations that allow trips anywhere including Airport. Good luck to you.
Fabien
2015-08-05T00:00:00Z
This apartment in Gzira is absolutely amazing. The balconies, rooftop, beds, are all great, and the apartment is incredibly modern. It's a five minute walk to the ferry to Valletta, which is convenient. Nearby craft beer bar highly recommended. Gzira itself is much more quiet than Silema or Valletta, and you definitely feel you're away from the crowds. There was some construction going on next door that woke us up pretty early, and it seems like a lot of apts in Gzira are being "flipped" right now, so that might be ongoing. Best for those who want to get out and on the town rather than those who want to sleep late, but that could just be incidental (who knows how long the construction is going to last). Also, check in was a total breeze. As for the city, we did paddleboard tour that was really incredible, and go down to the Silema beach club where there is an aquaduct for swimming and lounge chairs by a seaside bar. It's close to a hotel that is private, but this place is public and for 5 Euro you can hang out all day. I would not recommend doing the boat tour that takes you to Gozo and the Azure window, blue lagoon. Overrun with tourists. Paddleboarding on the south of Malta island itself soooo much more enjoyable. Have fun!
Chris
2016-05-27T00:00:00Z
We had a great time staying at Claire and Merik's apartment. They are easy to communicate with and with short notice thay were able to allow us to do an early check-in. The place is in very good shape. Spacious, nice and equipped with all basics you need. The top-floor patio is perfect for watching fireworks from Valletta and Manoel Island. Hope to be back soon again!
Lars
2015-08-14T00:00:00Z
Lovely apartment with stunning, modern and clean interior. However there was major building work going on immediately next door so we were woken up with drilling and banging at 7am and this impacted us being able to enjoy ourselves whilst we were in the apartment.
Ciara
2016-10-09T00:00:00Z
Claire was not able to set the welcome yet she made great effort to set all things for our arrival and all was working well. The house is in great location. It is in residential neighborhood with convenience store very close. Waterfront with all the ferries are in the walking distance. The flat is new with high quality equipment - enough for us as 4 members family. We really enjoyed our short stay there.
David
2016-07-20T00:00:00Z
We had a great stay in Malta and we enjoyed one week at Claires Penthouse. Claires place was as described and shown on the photos. It was clean, kitchen was well equiped and especially the rooftop terrace was great. The only inconvenience we had was the hot water in the kitchen which did not work. Claire was available by phone but the problem could not be fixed during our stay which was bad for cleaning dishes. Anyhow, we did not meet Claire in person but she always replied via SMS or mail very shortly. The location was perfect for our stay. You can even walk to Valletta (we did it and took the ferry back) and you can walk to the waterfront in a few minutes as well as to convenience stores located in the neighbourhood and even St Julians is in walking distance. We had a rental car and public parking in the street or in one of the side streets was not really a problem. All in all we had a great stay and we definitely recommend Claires place.
Frank
2016-05-14T00:00:00Z
My boyfriend and I, plus two other friends stayed in Claires beautiful apartment for 1 week. The place is clean, stylish and resembles the pictures quite accurately. Communication with both Claire and Merik was very easy; they answered quick both on mail and text message. Merik met us upon arrival, and had even bough water and juice for us. The place is situated on a calm street, and with a mere ten minute walk to the riviera (with shops no more than a 3 minute walk around the corner), I will recommend this place to anyone looking to have a good stay in Malta.
Line
2015-09-05T00:00:00Z
Modern, fresh & Large appartment very well located in Gzira, naar Sliema. Huge terrace to enjoy breakfast or a glass of wine after a day out. Good beds! 5 min walk to the ferry to valetta. Claire, the host, gave us very useful information before we arrived, key pick-up very easy. Answered any questions we had quickly. Friendly person! Tips: restaurant la trattoria in Birgu (3cities) and the compass lounge and Giorgio's in Sliema; great food! Would you like to visit Marsaxlokk: dont go on the Sunday (fishmarket), go on a weekday when it is lees crowded. We definitely recommend Claire's beautiful appartment!
Nina
2016-05-18T00:00:00Z
Room Type
Entire home/apt
---
Property Type
Apartment
---
Accommodates
4
---
Bedrooms
Gzira, Malta, Malta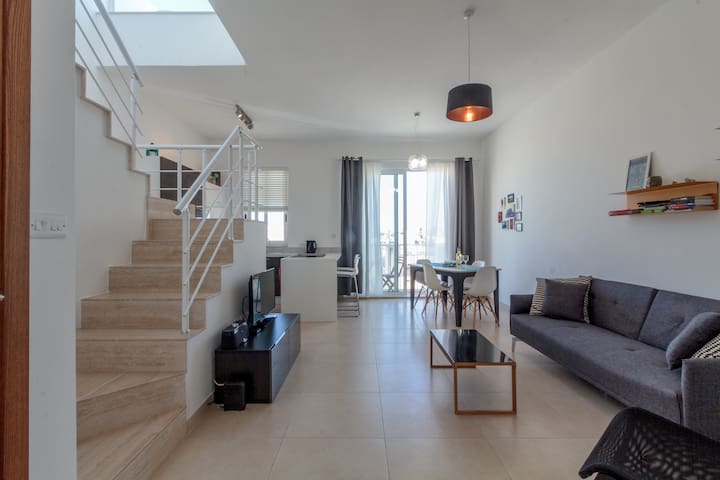 2 bedroomed apartment in a new build enjoying Spectacular Views, set in the heart of Gzira and close to the seafront This property that is full of natural sunlight consists of 1 double bedroom and a bedroom with 2 single beds.
2 bed-roomed apartment in a new build enjoying Spectacular Views, set in the heart of Gzira and close to the seafront This property that is full of natural sunlight consists of 1 double bedroom and a bedroom with 2 single beds, it has 1 and a half bathrooms, This apartment is centrally located and on the 9th floor. St Julians and Paceville are about 10 minutes away by bus while the historical/cultural capital city Valletta is just 15 minutes away by bus. One can also take the ferry to Valletta. There is a bus stop just across the road. A Terrace enjoying beautiful sea views and views of the distant Valletta across the sea.
The neighborhood is very central and very close to destinations such as Sliema, Paceville, St Julians and Valletta. Also very close to University and Mater Dei Hospital
Alexia met us at the airport and dropped us at the apartment. The apartment was very nice - clean & modern, good internet, and everything we needed in the kitchen and bathrooms. The balcony had a great view; we used it every morning for breakfast. The location was very handy for the waterfront at Sliema and St Julian's, and we were just a bus trip away from the rest of the island. We would definitely stay here again and highly recommend it!
Kristen
2016-03-29T00:00:00Z
Thank you so much to Alexia and Kenan for their hospitality! They're very helpful and available to any requests! We spent a really good time in their appartment!
Sarah
2016-07-22T00:00:00Z
We enjoyed our stay at Kenan's and Alexia's place very much! Very nice and lovely hosts. They picked us up from the Airport and secured we had everything we needed. The flat has neerly everything you need for daily life and was very clean! Also we were able to enjoy a stunning view from the balcony! We had a wonderful stay we would recommend to everyone! Thank you for the nice time!
Jannis
2016-10-30T00:00:00Z
We had a very pleasant stay at Kenan and Alexia's place. The apartment itself was modern, completely spotless and with an amazing view. Easy access to everything you want to see in Malta. Alexia was very helpful and kind. She picked me and my family up from the airport and showed us the apartment. We definately recommend Kenan and Alexia to be your future hosts! Thank you !
Ivica
2016-11-07T00:00:00Z
Me and my two friends enjoyed the stay at Kenans place a lot. We got picked up by Kenans extremely sympathic wife Alexia from the airport and she brought us to the apartment. The flat is quite close to Valletta (20 min with bus) and Sliema (10 min walking). The view from the balcony is amazing. During the day you can use it for sunbaths and in the evening it's the perfect place for a glass of wine with a beautiful view to Valletta. During our stay we were lucky to see some fireworks over Valletta while we enjoyed wine and strawberries which we got as a present from Kenan and Alexia. The kitchen was well equipped even though we used it only once for dinner because there are really good restaurants with reasonable prices in Sliema. Everything was clean and looked exactly like in the pictures. If we visit Malta again this flat will be our first choice!
Jan
2015-05-21T00:00:00Z
Kenan and Alexia have been helpful. Kenan come really early in the morning to pick us up at the airport, it was very appreciable. The apartment is really amazing. It's bigger in reality than on pictures. The big terrace is really nice to spend time and we have cooked severals barbecues. All what we need was available to have a really nice stay. This location is perfect to catch buses easily to go everywhere in Malta and there is fish shop, grocery etc. very close of the apartment. Thank you very much Kenan and Alexia !
Chloé
2015-09-07T00:00:00Z
Kenan and Alexia are great hosts! Everything was amazing from our arrival till depature. Flat is clean and tidy. Good location. Everything is as described! Thank You!
Kristina
2015-09-21T00:00:00Z
We had a very nice stay at Alexia and Kenan' apartment. The location is in town of Gzira, few mins by walk from the waterfront. From the apartment it is 10-15 minutes drive to Valletta or to St. Julians in the opposite dirction. The apartment is new, spacious, very clean and maintained, with splendid view. it is very convenient for families as it has two bedrooms and the kitchen is eqipped with everything. You can enjoy Malta and feel homey at Kenan and Alexia's apartment. Kenan and Alexia are very nice and understanding people. Thank you for your hospitality!
Vladimir
2015-12-27T00:00:00Z
Room Type
Entire home/apt
---
Property Type
Apartment
---
Accommodates
4
---
Bedrooms
Gzira, Malta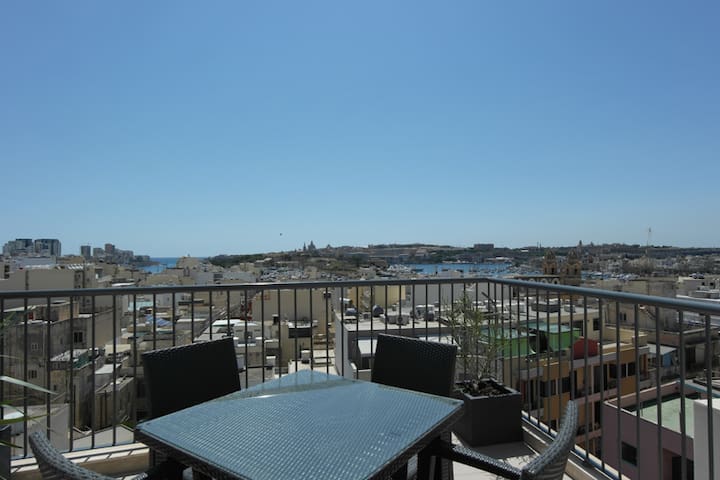 Elegant and spacious 1 bedroom seafront penthouse with breathtaking 180 degree views of Valletta bastions and Manoel Island from large terrace. 5-star hotel suite standard accommodation fully air conditioned in bustling centrally located neighbourhood in the heart of Gzira seafront, a strobe throw away from Sliema strand and luxurious Ta Xbiex. Full of restaurants, bars, cafes and eateries and activity.
2x2 metre tempur Mattress, 60 inch TV, Massive terrace with with weather proof retractable electric canopy, wonderfully cozy large sofa. Great locations and views...
Bustling fun busy full of restaurants bars cafes and with a park in front, the promenade to the left, yacht Marina in front and the most amazing and interesting views - day and night!
The host canceled this reservation 6 days before arrival. This is an automated posting.
Andrew
2016-12-10T00:00:00Z
Malcolm was very accommodating and was always available if we had questions or issues. The view is truly amazing. Great balcony to enjoy for the sunrise!
David
2016-12-27T00:00:00Z
Flat in a very nice place and close to bus stops that is very handy. Close to shops and restaurants. Kitchen is fully equipped for any type of cooking)) Spent really good time in this flat.
victoria
2017-01-08T00:00:00Z
Room Type
Entire home/apt
---
Property Type
Apartment
---
Accommodates
2
---
Bedrooms
Gzira , A, Malta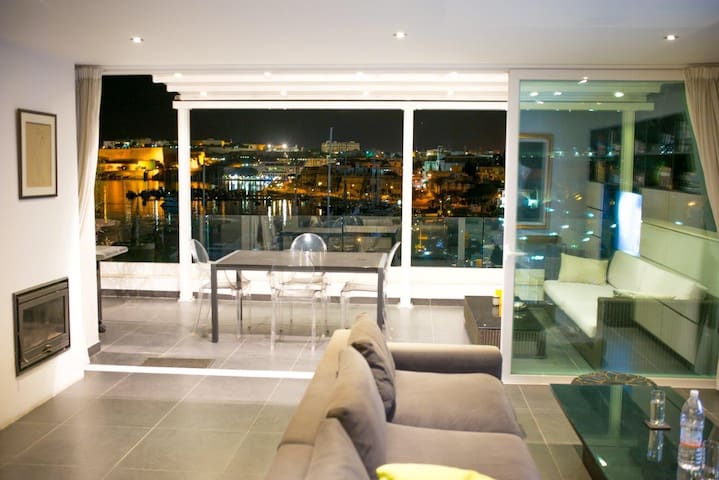 double bedroom available in a modern spacious apartment for long or short lets, located in Savoy Gardens, Gzira, which is very central to Sliema and St.Julians area, and includes all amenities. Sharing with another 2 people (3 bedrooms in total)
Really good location, nice and clean apartment and people who taking care that your staying is enjoyable and pleasant! !! Thanx for that Jordan & Cheryl! :))
Ieva
2015-08-19T00:00:00Z
Cheryl was just the best host I could expect. I was lucky enough to have the chance to spend some time with her and Jordan, her housemate; I was given many tips and suggestions about the island, how to get around, best spots, etc... Moreover, they were even kind enough to drive me around and show me some sweet places too, I had great fun with them and couldn't be more grateful! The house was just perfect: greatly located, handy and very cozy, closed to amenities, interests areas and the flat had an overall amazing chilled atmosphere. I couldn't recommend a better place where to spend your holidays! Thank you guys!
Enrico
2015-08-25T00:00:00Z
Modern perfectly located apartement, with a lot of space! Cheryl and her flatmate did everything to make my 2 months stay memorable! They are humorous, helpful and totally personable! Additionally, Cheryl knows everything about Malta. I am very grateful for the time i spend in the apartement! Book it!!
Julius
2016-06-09T00:00:00Z
Majoittaja toivotti minut tervetulleeksi tervetuloviestin avulla, koska hän ei pystynyt olemaan paikalla. Hän myöskin varmisti puhelimitse, että olin päässyt perille. Toinen majoittujista esitteli asuntoa ja muita juttuja. He olivat myös aina valmiita auttamaan ja neuvomaan ja pyysivät mukaan ajanviettoihin. Valitettavasti vain omat työajat ja menot estivät yhteisen ajan viettoa. Naapurusto ja ympäristö oli viihtyisä ja asunto sijaitsi hyvällä ja siistillä paikalla. Ympäriltä löytyi kaikki mitä tarvitsi. Asunnossa oli kaikki mitä tarvitsin ja huoneeni oli viihtyisä. Tunsin itseni kotoisaksi hyvin pian. :) Viihdyin 2 kuukautta todella hyvin! :)
Annastiina
2016-04-10T00:00:00Z
Cheryl es encantadora. Contesta en el dia a las solicitudes y preguntas. Desde el primer momento que entras en la casa, Cheryl hace que te sientas agusto y te ayuda con cualquier problema. La casa es preciosa y esta muy limpia. La habitaci'on dispone de aire acondicionado, lo que ayuda mucho sobre todo en meses de verano cuando el calor es insoportable. Mi experiencia ha sido de 10/10. Lo recomiendo 100%.
Lara
2015-08-03T00:00:00Z
Ospitalità eccezionale. Cheryl è una ragazza davvero deliziosa e ospitale. La casa molto bella, spazioza, luminosa e ben posizionata, e la camera altrettanto accogliente e pulita. Sono stata davvero bene e consiglio davvero a tutti voi di prendere in considerazione la possbilità di usufruire della sua gentile ospitalità.
stefania
2015-08-11T00:00:00Z
場所はバス停も近く、スリーマまでは徒歩圏内。部屋は特に夏はエアコンの存在はありがたい。キッチンやバスルームも使い勝手は良い。 しかし、シェリル本人ではないが、同居人に夜中にパーティーをする人がいる。うるさくて私は夜中の3時に起こされた。改善すべきだ。
YUJI
2016-07-24T00:00:00Z
Room Type
Private room
---
Property Type
Apartment
---
Accommodates
1
---
Bedrooms
Gzira, Malta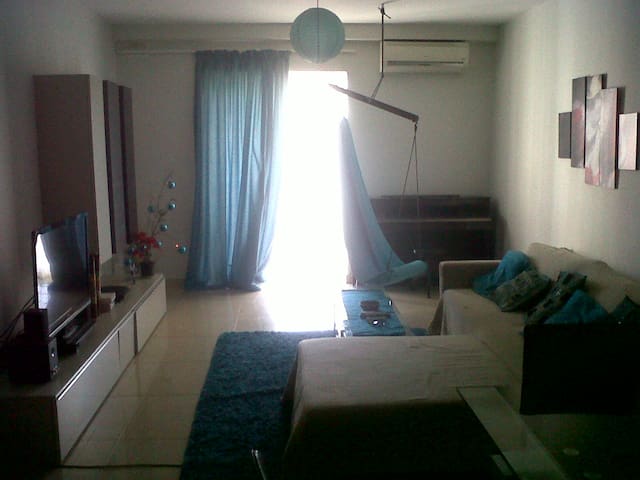 Enjoying sunlight, is this modern, one bedroom well equipped apartment on the 3rd floor of a new block. Situated in a very central area 50 meters from the popular Sliema promenade and just 5 minutes walk to the Valletta ferry (the trip from Sliema to Valletta is also just 5 minutes). The apartment is small, cosy and well equipped. We are experienced hosts so trust that everything will be well organised, we always do our best to make your stay comfortable.
The apartment was very clean, convenient and at a good location! Highly recommended!
Gregory
2017-04-11T00:00:00Z
Nice place, good host, great location, thoroughly recommended!!!
Dean
2017-01-03T00:00:00Z
Hi Aleksander is very friendly person, he meet us at the airport and help us with heavy luggages. On the way to apartment give us few good tips about travelling our the island. Apartment is very nice in good location just one block from the waterfront, shops, bars and restaurants. There is also an elevator if you are a little lazy. Super friendly host, nice apartment I'm giving 10 of 10.
Maciej
2015-10-20T00:00:00Z
Great place, everything is walking-distance away - lots of shops, restaurants and ferries!
Artur
2016-11-27T00:00:00Z
Alexander was an extremely accommodating host, very modern flat right on the Gzira/Sliema border, with easy access to the majority of Malta. Alexander was very thorough with offering explanation and assistance, and even offered transportation to/from the airport.
James
2016-08-12T00:00:00Z
The apartment was very nice and clean and a 2 minute walk to all the local shops and bars. I was collected the day before I got the keys to take a look at the apartment and then dropped off again which was perfect. The internet is really fast and you have everything you need down to plates and cooking equipment. I would highly recommend this place and will most likely stay here agin myself. The place is brand new and is minimal so you don't feel like your in someone else's house. 100% recommend.
Ryan
2015-10-12T00:00:00Z
Alex is a very kind and helpful host. He had tons of good recommendations on arrival. The flat was as described; very welcoming with a superb location (close to waterfront, ferry, bus stops, shops,...) I definitely recommend staying there once on Malta...
Dirk
2016-10-11T00:00:00Z
Alexander ci ha accolto con estrema gentilezza e disponibilità. L'appartamento é completamente rinnovato, con gusto moderno, ideale per due persone, dotato di tutto il necessario per poterci vivere. La posizione é perfetta: in una strada tranquilla a metà tra Valletta e la zona più turistica con i ristoranti e una vivacissima vita notturna. A pochi passi le fermate degli autobus per partire alla scoperta di tutta l'isola. Siamo stati benissimo. Sceglierei l'appartamento di Alexander altre mille volte!
Paola
2016-01-31T00:00:00Z
Room Type
Entire home/apt
---
Property Type
Apartment
---
Accommodates
2
---
Bedrooms
Gzira , Malta, Malta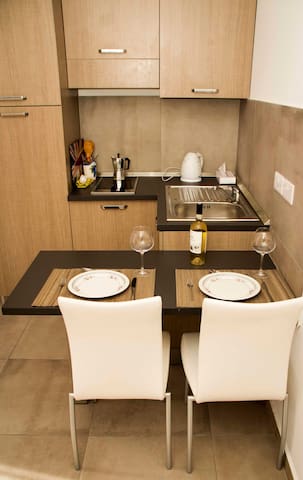 My place is close to great views, restaurants and dining, family-friendly activities, the beach, and nightlife. You'll love my place because of the people, the outdoors space, the ambiance, the neighbourhood, and the light. My place is good for couples, solo adventurers, and business travellers.
I had a nice stay at Nicola's place. Room was spacious and clean. Nicola is a good guy and my visit was like staying at Your friends'.
Margus
2016-07-16T00:00:00Z
La mia esperienza pressa l'abitazione di Nicola è stata positiva. La stanza era molto spaziosa ed esattamente come in foto. Ho incontrato Nicola 1 sola volta, ma è stata abbastanza per capire che è una persona molto per bene ed amichevole. Inoltre è stato molto disponibile e veloce a rispondere ogni qualvolta gli ho domandato qualcosa per messaggio attraverso airbnb.
Marco
2016-08-15T00:00:00Z
Room Type
Private room
---
Property Type
Apartment
---
Accommodates
2
---
Bedrooms
Ta' Xbiex, Malta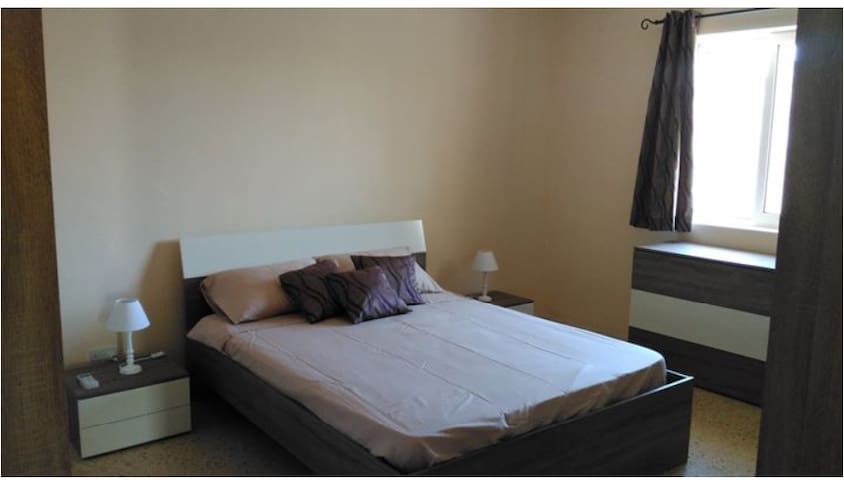 A clean, modern, fully furnished apartment that is centrally located, minutes away from the seafront, restaurants, shops... A home away from home! FREE Wi-FI & Cable TV. NO cleaning fee is charged. Water & Electricity included in price.
Welcome to our modern one bedroom apartment, centrally located in a highly sought after, yet quiet, area. Only minutes walk away from the seafront, restaurants, shopping centres, and also 10mins to Valletta by bus. Walking distance to the National Swimming Pool. 500 metres from University of Malta and Malta's public Hospital (Mater Dei Hospital). A mini supermarket is conveniently located, literally a few doors down from the apartment. Free public parking and a bus stop nearby. This air-conditioned, fully furnished apartment comprises an open plan kitchen/dining/living area. The modern kitchen is fully equipped with all utensils. The living area includes a 40" flat screen smart TV. FREE WiFi is available throughout the property. It is a very bright apartment having its own private balcony and it is served with a lift. There is a private bathroom with a bath. It includes an intercom system, an electric oven & hob, a washing machine, ironing facilities, shower/bath & more! Malta International Airport is 5 km away.
Gzira Apartment is only minutes walk away from the Gzira waterfront where one could enjoy a nice, relaxing walk along the promenade. This beautiful seaside promenade takes you all the way to Sliema and St. Julian's with spectacular views of Marsamxett Harbour.
Me and my girlfriend has just finished our stay in Malta. We stayed in Lorraines appartment for 3 nights, and we can highly recommend it. The appartment is clean, tidy, very well equipped and its location is ideal. There are several stops for buses in the near area, which makes it easy to travel to all areas of Malta. Lorraine is really the perfect host. She was always quick and helpful in her responses to our questions. She made us feel really welcome. - Elena and Tore
Tore
2016-06-05T00:00:00Z
Lorraine is an amazing host! She welcomed us at check in and then sat with us to answer questions and guide us through helpful information that she has in a packet full of bus and ferry guides and timetables in addition to other essential information. She even prepared a welcome gift for us and helped us get to the airport when our bus didn't arrive. The apartment itself is both modern and cozy. It was clean and well-equipped with a washer, drying rack, hair dryer, toaster, and more! The wi-fi was also very good. The location is pretty ideal for getting around. It is close to several bus stops within a 5-10 minute walk, and is a short walk to the waterfront between Sliema and Floriana/Valletta. It is also close to the University where you can find additional bus stops. There were several convenience stores in the vicinity and lots of great little eateries and shops nearby. Lorraine recommended Cafe Jubilee (just a short 5 min walk or so) and we are glad we followed her advice!
Brittany
2016-11-13T00:00:00Z
Lorreine the house is very cozy , clean, essential and corresponds perfectly to the description. Our host was gracious, friendly and very attentive and welcomed us with small good things in the fridge and even kindly accompanying us to our destination . thanks again for everything!
Maristella
2016-03-21T00:00:00Z
Lorraine and Robert are very nice and helpful people. They are very good organized. Me and my boyfriend had a great time in the wonderful and comfortable apartment. The apartment was very clean and with everything what we needed for our vacation. Close to the see and Sliema. Also close to Valleta with the bus. Amazing hosts! Thank you again! Andra and Bebe
ANDRA
2016-10-09T00:00:00Z
Lorraine was very kind and helpful! She offered local treats and guidance to get the best of the islands. The apartment was clean beautiful and smelled nice! I was there with my fiancé and we enjoyed every moment of it! We will be back for sure!
Vaggelis
2016-05-23T00:00:00Z
Great apartment, was very clean and Lorraine was very accommodating and helpful. She was always available to help and answer our questions. The smart TV was nice touch! Would stay again.
Esther
2016-08-25T00:00:00Z
In a word, Lorraine was perfect! It began with her picking us up from the airport, highly recommend this-better than a taxi and along the way she gave us so many tips on Malta that we were happily overwhelmed. The apartment was very close to the bus stop, three grocery stores which she pointed out before we got to the apt. The apartment was exactly as described and as photographed in the pictures. The epitome of professionalism, Lorraine provided us a contract , listing the services and amenities in the apartment, which was also exactly as described. Airconditioning with great,and A recommended absolute must in Malta. load of laundry was a luxury to do and it was wonderful to have clothes dried on the line right on our balcony. It was about a 15 minute bus ride into Valletta city convenient and beautiful. The most gracious of host, Lorraine also left us with some chilled maltese wine and some local snacks in the kitchen. When we had to check out early, Lorraine made herself available at the last minute to meet us and also gave us a ride to the bus station so that we could catch a ferry, which was a beautiful send off. At every touch points, Lorraine was a joy to have a long on our trip,I cannot recommend this listing enough. "ħerqana li tara int ġdid malajr" Lorraine. Maybe in Vancouver, all our best till then.
Alvina
2015-09-18T00:00:00Z
Fantastic apartment and friendly host. Clean and comfortable! Also very close to everywhere in Malta. Also, Lorraine was so kind as to pick me up from the airport when I arrived after midnight, and then drop me off again. I recommend the apartment to anyone on a small break or a longer holiday. Lorraine was also very prompt on all her responses to all my questions.
Dino
2016-04-30T00:00:00Z
Room Type
Entire home/apt
---
Property Type
Apartment
---
Accommodates
3
---
Bedrooms
Gzira, Malta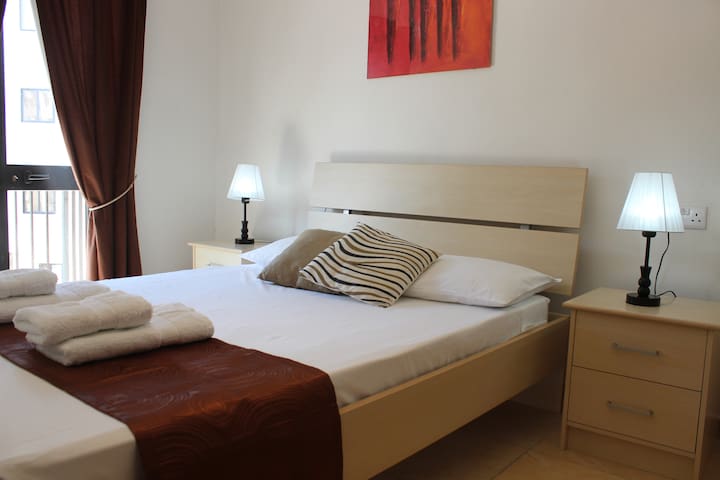 Gzira - Airbnb
:
Average

4.55

out of

5

stars from

382

guest reviews