We are a TRUE Bed and Breakfast! The $30 GCNP entrance pass, separate purchase at gate, is good for the whole week so, consider staying more than a night. The park pass is also good for the North Rim too. Note: The "SkyWalk" it NOT part of the South Rim~which is where we are. Use your favorite search engine for further info on SkyWalk. Now, that being said, here we go..! ________________ HAPPY HAPPY JOY JOY is a European styled B&B and the CLOSEST B&B to the GRAND CANYONS SOUTH RIM! We're only 20 minutes away from the GCNP entrance gates! Stays over $159 include breakfast. (See below for specifics.) We have 20 acres of peace, quiet and serenity with super-easy and DIRECT ACCESS on/off AZ HWY 64 (to Grand Canyon) with free parking right out in front! A water feature out back draws elk, deer, pronghorn sheep (aka antelope), various raptors, songbirds, hummingbirds, bunnies, coyotes and native wildlife too various to mention. We are a Certified Wildlife Habitat with the National Wildlife Federation. Also, you can actually see stars and the Milky Way horizon-to-horizon, especially on new moon nights! However, full-moon nights are something to experience too. These are just a few special qualities you'll experience here, oh-so-close, to the Grand Canyon. NOTE: Rooms accommodate TWO persons ONLY. Offered is The HUMMINGBIRD ROOM. After a big day at the Grand Canyon, there is a queen super-pillowtop bed for your comfy-cozy visit to dreamy-dreamland. There is a SHARED full-bath w/the Pilot Room. If calendar shows booked, and you'd really like to stay with us, drop me an line/inquiry and I may be able to help. ****BREAKFAST SPECIFICS**** -A one-night stay includes our SOUTH RIM BREAKFAST PICNIC (packed "to~go"). -Two nights includes our South Rim Breakfast Picnic and our leisurely, sit-down YUMMY-FOR-YOUR-TUMMY southwestern style breakfast. Or if you're really on the move and don't have time for a leisurely breakfast (served between 8:30a-9a) the Picnic is available both mornings. -A three nights retreat includes two picnics and a sit-down. Or three picnics if you'd like. -Four+ nights...let's talk! OFF-SEASON RATES LESS THAN $159 INCLUDES COFFEE/TEA or JUICE AND HOMEMADE BANANA BREAD. If your rate is less than standard and would like full-breakfasts let me know as there are ways to handle this.. We are flexible up here Grand Canyon way. So, please, if you have further questions or special requests send them on over and let's see what can be done. Look forward to talking w/you soon. Let it be known pets on property. So, if you have allergies bring along proper medication, if needed, or an aversion to pet hair, please do not stay with us. Cookie-Monster, our large medium-sized lab mix is a work in progress (a rescue w/diminishing trust issues thanks to the kindness of previous guests). She has two cats. LoverBoy and Razzle-Dazzle. LB was born under the house. RD is our latest addition. He loves people, will head-butt you and purr loudly. Don't be surprised if he comes visit you in your room so, keep door shut if you don't want a kitty visit. Cats may or may not be here as they live in Prescott now and come up to visit often. ________________ Rates are subject to change until you are a confirmed guest.
20 acres of wide open-space in sparse juniper~pinion pine countryside.
Sally was a friendly hostess. The bedroom was clean and the perfect size for two people. Very comfortable bed. Bathroom was also tidy.
Judie
2016-07-16T00:00:00Z
A great experience! The location is very convenient, 20min driving to south rim. The rooms is clean and comfortable. Our host is super nice. She offers a lot of suggestions on exploring the grand canyon in a limited time, as well as what to see on the way to Las Vegas. The breakfast is also good, almost enough for two days. I will definitely go to this place again if I have a chance to visit south rim again. Highly recommended!
Chenhao
2016-08-14T00:00:00Z
It was such a great and authentic experience to stay at the B&B. Peaceful, quiet and with hummingbirds flying around. Only 20 min drive to the south rim. Sally was so nice and helpful and made our long drive the next day much more exciting, by showing us different routes on the map. Besides she made us a picnic with more than enough food and drinks to keep us going for many ours on the road. We would definitely recommend this place.
Maria
2014-08-12T00:00:00Z
Sally's place is the ultimate cozy pad! Every thing is so soft and fluffy! From the lining to the carpet. Everything smells so fresh to. She's super sweet and welcoming, love her, don't hesitate to stay. The best b&b in town hands down :D
jomar
2016-01-22T00:00:00Z
Sally was as friendly as could be. She stayed up very late to welcome me, and told me all the right things to do while adventuring through the Grand Canyon and the local quilt shop.
Greer
2016-06-25T00:00:00Z
Such an awesome lively woman! Motherly like :) helped me TREMENDOUSLY with my itinerary and was very welcoming and caring. Loved her spot (although at&t doesn't work there-nothing to do with her works fine in the village and whatnot!) such a cute area, quiet and away from the canyon but close enough to enjoy it (40 mins from the village) 20 mins into first part of the canyon. Was excited to come back and tell her about my day too. She was VERY quick at responding even if I had questions through the day. Totally recommend.
happy
2017-02-27T00:00:00Z
Clean room and bath within Sally's home. Able to Use comfortable living room for reading/relaxing. Highly recommend getting her suggestions on places to go, things to see. Extremely knowledgeable of area and best routes to take. We opted for 3 portable breakfasts which offered a wide variety of snacks, food to fill us for breakfast and even enough to tide us over until supper! Sally was ok w using refrigerator for a couple items which we appreciated. Sweet low key dog named Cookie Monster and 2 affectionate cats!
Laurie
2017-03-26T00:00:00Z
Warm welcome from Ky, a stunning setting and a lovely home .... and arguably the best banana-bread ever
Andy
2017-02-11T00:00:00Z
Room Type
Private room
---
Property Type
House
---
Accommodates
2
---
Bedrooms
Grand Canyon, AZ, United States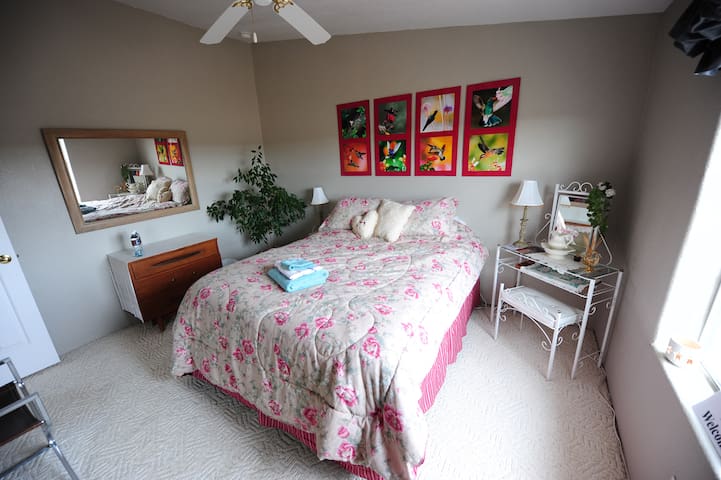 Conveniently located 30 minutes from the Grand Canyon South Rim Entrance and 30 minutes from Williams, AZ. We have twin porches to enjoy your morning and evenings; perfect for sunrise and stargazing. Look for Grand Canyon Escape II in Sedona.
This space is located in a rural area and not in Williams, AZ. It is located on 3 acres and has both a front and back porch for relaxing before or after going to the park. Internet and TV services are via satellite as it is off the grid except for electricity. You will see wildlife. (Hosts also offer accommodations in Sedona, AZ - Smaller space but multiple booking discount applies - contact the hosts.
This is remote. All homes are on 1-2 acre lots and it is very private. Neighborhood is very friendly but you probably will not see anyone.
Welcome basket was a pleasant touch.
Jean
2016-04-15T00:00:00Z
My wife and I had a great experience at Tamara's house, north of Williams, AZ. It is located fairly close tourney Grand Canyon entrance, about maybe a 25 min drive. The house has three bedrooms, 2 on the first floor (great for kids) and the master on second floor. Well equipped kitchen and nice views of surrounding mountains. When we woke up one morning, there were free range cows roaming just outside the house, which was cool. Overall, a good experience.
David
2016-03-23T00:00:00Z
This was a cozy little ranch close, but not too close, to the Grand Canyon. We stayed in Tamara's ranch house while visiting to run the Grand Canyon half marathon. It wasn't plush, but it was comfortable with the needed amenities and a nice basket of complimentary goodies provided by the host that was fabulous after our 13.1 mile mud run. We especially enjoyed the easy-to-use gas fireplace. The only drawback was internet connectivity. This isn't the hosts fault as this house is kinda in the middle of nowhere and there just isn't much availability of connectivity there. I would definitely recommend if you want more than a few people to be able to stay together at an affordable price.
Gia
2016-05-09T00:00:00Z
We rented the cabin for some quiet time on a long road trip (from Houston, Tx, to LA, CA): after all those noisy hotel rooms, the cabin was fantastic - it is SO quiet and peaceful. Very well maintained and good taken care off, spacious and generous. A detail we loved was the clothesline along the porch to dry the laundry, if you don't want to use the dryer. The cabin is close enough to the park (we came here driving through the park and didn't even go back but (EMAIL HIDDEN)munication with Tamara was easy and very efficient. Thanks, this has been exactly what we needed and envisioned.
matthias
2016-04-06T00:00:00Z
Wonderful clean place. We like the open plains setting. Views on all four sides. We liked out of town quiet, halfway between Williams and Grand Canyon. Nice outside porch for morning sunrise and back porch for sunsets. We would stay here again.
Scott
2016-10-02T00:00:00Z
Host had a lovely welcome basket complete with water wine and lots of snacks. Accurate description of the place, very remote but even late at night with (SENSITIVE CONTENTS HIDDEN) maps we were able to find it. Very comfortable and worked well with our large group. Make sure you read check out checklist prior to right before leaving...fairly extensive but doable. Thank you so much!!
Bridjet
2016-04-11T00:00:00Z
This is an awesome place to stay! We stayed here in order to take day trips to the Grand Canyon which is about 25 miles away. The place was very, very clean and since mainly used for travelers, very uncluttered and spacious. The beds were comfortable and the views were great. We had no problem finding the place using (SENSITIVE CONTENTS HIDDEN) Maps, but the maps are a bit misleading as it looks as if the home is in a neighborhood but it really is in the middle of an open range where cattle can wander by. You will have to open and close a fence to get to the house. It was so quiet and peaceful and I'd go back in a minute. The only drawback is that in internet is quite slow, which was fine for us as we were not depending on needing high speed access.
Liz
2016-05-21T00:00:00Z
Great place very well located ! Everything is convenient
Alexandre
2016-07-22T00:00:00Z
Room Type
Entire home/apt
---
Property Type
House
---
Accommodates
8
---
Bedrooms
Williams, AZ, United States
Enter dates to see full pricing. Additional fees apply. Taxes may be added.