Old Hawaii still exists on the famous Red Road of the Puna coast. Steps away from the ocean and surrounded by lush tropical jungle, Mana House is a retreat-like home located halfway between Kalpana and Kapoho with easy access to the flowing lava, tide pools, geothermal ponds and Kehena black sand beach. Immerse in the Aloha spirit and the natural beauty of the Big Island. Visit us at Mana.House
Mana Ohana is a private three bedroom suite on the first floor of our family's two-story home set on four acres of old growth jungle with direct access to the breathtaking coastline along the famous Red Road. Enjoy a beautiful nights rest to the sound of the ocean on our locally-made natural wool beds. Swing lazily in a hammock, rejuvenate in an outdoor shower, stroll to the front and watch sea turtles, dolphins and whales, or hike out back to explore the wild jungle with private lava tubes and caves. Mana Ohana consists of 3 bedrooms on the first floor, a private entrance, a screened-in lanai with hammocks, an indoor/outdoor shower, no kitchen (includes mini-fridge, electric kettle, toaster, french press, gas BBQ, Berkey water filter, cooking utensils and essentials are provided) a private bathroom and a second private screened-in lanai off of the queen bedroom. The bed setup is 2 kings and 1 queen. We offer a well-cleaned, well-loved and chemical-free environment. Additional services available by request include: 1. Massage on-site (Lomi lomi & Chraniosacral) by local masseuse. 2. Housekeeping 3. Laundry 4. Area guide 5. Transportation Please inquire in advance for rates and scheduling. Come enjoy the amazing setting, soak in the abundant natural beauty, enjoy the beaches, drum circles, geothermal warm ponds, flowing lava, ecstatic dance, farmers markets, Uncle Roberts, and explore the funky town of Pahoa. Take a short walk to Kalani retreat center for massage, organic meals, pool and yoga classes. Or do none of the above and love it just the same! The location and the spirit of this property are magnificent. Please come and enjoy the beauty and power of the Big Island.
Nestled in a magnificent jungle with direct access to the amazing coastline and all the beautiful landmarks of the famous Red Road area. Walking distance to Kalani resort. Steps to the ocean - across the road.
What great hosts! Jade, Adam and Nahla are wonderful people! We really enjoyed our stay with them. They did everything possible to make sure we were happy, comfortable and at home. It worked! We were ready to move in. We will miss falling asleep to the sounds of nature and the ocean waves. So soothing and relaxing. The Manahouse is very close to the lava site seeing in Kalapana, and hot water natural pool. It is characterized by its peacefulness and beautiful natural surroundings. The rooms are very large in size, with comfortable large beds. Perfect for families, even with young children.
Stephanie
2017-03-14T00:00:00Z
Adam and Jade are fabulous hosts. They are super communicative, understanding, flexible and willing to go the extra mile for their guests. Their place is also phenomenal - it's a little secluded from town, but that just means it's closer to the water and quiet spaces. Despite that, it is within driving distance of the Volcanoes National Park, black sand beaches, and hiking trails where you can see the lava. The other thing to mention is the guests and the cook at their place. If you have the opportunity to taste Venus's cooking - Adam and Jade's cook - I suggest you take it!!! Venus is, without doubt, one of the best cooks I have ever met!!! If you're looking for an quiet retreat, complete with good people, great food, hammocks and lanais, and transitable day trips to most of the Big Island's sites, I highly recommend booking with Adam and Jade. I would stay with them again in a heartbeat!! (Not to mention, the value can't be beat and everyone related to the house - Adam, Jade, Venus, etc - have amazing recommendations for off the beaten track places to go and things to do while you're on the Island. They will definitely be my one-stop-shop for future visits).
Robyn
2017-01-03T00:00:00Z
The host canceled this reservation 33 days before arrival. This is an automated posting.
Stacey
2017-03-27T00:00:00Z
The most perfect location to visit volcano activity. Just steps across the road to incredible coastline views with whales and turtles and ten minute drive to volcano hikes or boat trips.
Aidan
2017-03-17T00:00:00Z
We are happy to have chosen this house for our holidays in Hawaii. A beautiful red road with shadows from large trees led us to a wonderful house in which everything is done with love and warmth. The beds were so comfortable that in the morning I did not want to get up at all. And not only comfortable, but also very large in size, so that you could lie together like a star and don't interfere with each other. From the rooms you can hear the ocean! And the house itself is surrounded by the jungle. Birds are singing all the time. From the terrace with hammocks, a cat and a mongoose came to visit me, and a lot of small green geckos. Wonderful little Nola, the daughter of Jade and Adam, she collected a beautiful bouquet for us and treated grapefruits from the garden. It was so nice of her! In the garden, there are several caves made by lava, the children were delighted. The shower is awesome! At the top part, there's just a mosquito net, so you can see the jungle while showering. So, it's a total immersion in nature! And the most fascinating part of it was the ocean, just across the road from the house. We would often have a breakfast on an ocean cliff. Coconut palms and lava walls of the cliff create a unique landscape, which you want to admire every moment. Right below, in the water you can see the beautiful big turtles, and when you come to the cliff they also almost immediately appear above the water, I think they are very curious! Along the cliff there is a path, and you can walk in different directions. I liked walking to the left side, there I was with great pleasure practicing yoga and meditation in the morning during sunrise. Be sure to watch a sunrise there at least once, and you will want to do it again! And whales... we saw them a few times! It's an exciting sight when they jump out of the water and play, I will never forget those moments! But most important in this house are the people, Adam and his family are superb hosts. Very nice people - friendly, caring, attentive. They observe your privacy if you need and they are always glad to the company if you have a desire to communicate. I recommend this place to anyone who would like to immerse themselves in nature and real Hawaiian life without hurry. It was an unforgettable experience to us.
Kseniya
2017-03-02T00:00:00Z
This place is MAGIC. The food was extraordinary, the hospitality beyond all expectations and the land truly unique. Would highly recommend for people looking for quiet & beauty & to be truly nourished in all the ways.
Erin
2016-12-29T00:00:00Z
Adam and Jade are awesome. There place is nice and roomy in the heart of a gorgeous jungle and wonderful ocean front lot across the street. They are very accommodating, have excellent suggestions of places to visit, places to eat and things to do. We couldn't have asked for better hosts. Their place is also situated so snorkeling at Kapoho, surfing, swimming, snorkeling and hot pool soaking at Isaac Hale park, lava viewing at the end of the road and so much more are all just a short drive away. I highly recommend Adam and Jade's place for anyone ready to soak up the Aloha Spirit Hawaiian style.
John
2017-04-05T00:00:00Z
Room Type
Entire home/apt
---
Property Type
House
---
Accommodates
7
---
Bedrooms
Pāhoa, HI, United States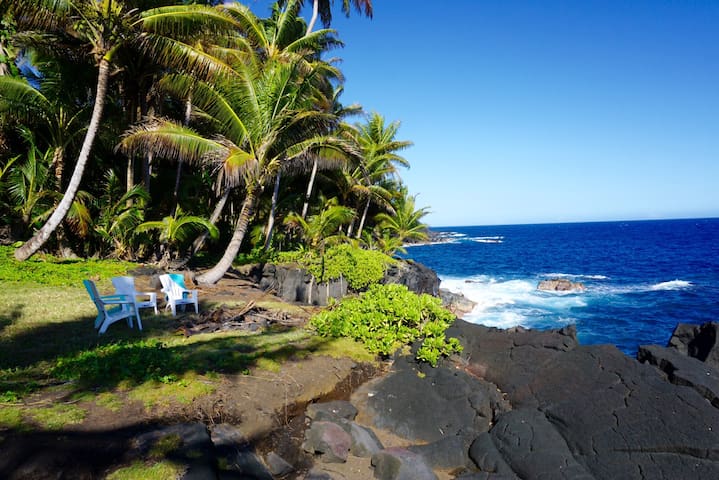 Cute home in a lovely quiet neighborhood surrounded by lush nature. Washer & dryer available. 8min walk to the coast line. 5min drive to Pahoa, 30min to Hilo airport &black sand beach. 20min to Kapoho tide pool & Ahalanui natural hot springs. Convenient drive to lava viewing & hiking.House is newly renovated with brand new kitchen, brand new appliances, bathroom, floor, painting, doors, etc and ceiling fan in every room. There are also additional fans in each bed room. 日本語でも大丈夫です!
Newly remodeled charming home. Kitchen is fully stocked with dishes and utensils. Home has a refrigerator, microwave and a electric oven and stove. Washer and dryer so you don't have to take home dirty laundry. Ceiling fan in every room and additional fan in each bed room. There are extra blankets and a folding mattress. Bathroom is fully supplied with soap, shampoo, towels etc...
Home is located on a very quiet area with lots of forest surrounding. 3min drive to the nearest store 10min drive to Pahoa town. Big hula event The Merrie Monarch is from 4/20 to 4/22 in 2017
Room Type
Entire home/apt
---
Property Type
House
---
Accommodates
4
---
Bedrooms
Pāhoa, HI, United States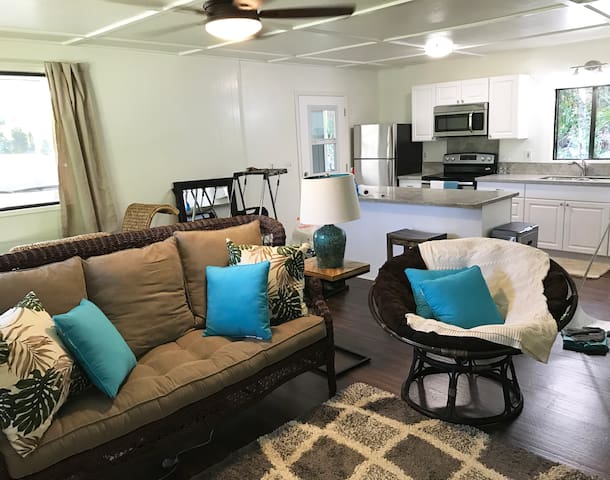 Welcome to the Lava Tree Bungalow, where the adventure of living in the jungle, meets modern convenience to create a memory of Hawaii that will be treasured for a lifetime. Here you will enjoy 5 private acres with the closest access to Lava Tree State Park on the island. Located just 5 minutes from Pahoa and the Kapoho hot ponds, 15 minutes from the active lava flow site, 30 minutes from Hilo, and 45 minutes from Hawaii Volcano National Park this is a perfect place for everyone to enjoy.
We are blessed to live in a wonderful and secluded area. There is ample privacy and very little noise pollution. Lava Tree State park is 100 feet from the entrance to our property and we only have 4 neighbors in a half mile proximity.
Great place to stay as a launching off point to enjoy the Volcanoes National Park and active lava flow at Kalapana. Jordan was a great hostess and very friendly and we loved her four rescue dogs. We liked that she provided a binder with information on the area and the Maku'u market was definitely a great Sunday morning activity that she recommended. The place is very comfortable and while we didn't do any cooking looked like it was well stocked. It was a tranquil quiet scenic place to stay.
Anne
2017-02-26T00:00:00Z
We loved this quiet, colorful home and it was perfect for our family trip to the Puna area. Jordan and Connor are so sweet and helpful and it was one of our favorite bnbs of the trip. Very close to the hotponds, and a quick drive to lots of other great places. Very clean, bright space!
Tara
2017-02-02T00:00:00Z
Jordan's place was absolutely perfect for our family. Clean, cool, safe and convenient. The kids loved the dogs! We would highly recommend Jordan's bungalow to anyone who wants a great location to visit Hilo, lava flow, crater and black sand beaches.
Clayton
2017-02-21T00:00:00Z
This little Bungalo looks like something off HGTV!! It's decorated beautifully and the scenery is gorgeous!! Perfect for a romantic getaway. There is no TV, so it's a perfect time to read a good book or just look around at the gorgeous view!
Joya
2017-01-12T00:00:00Z
My husband and I just got back from the Big Island. We went there for an anniversary trip, and we stayed with Jordan and Connor for 2 nights. This was our first time to do an Airbnb, and it was awesome. Jordan and Connor were VERY hospitable. They were always easily accessible if we needed anything, but let us have our privacy. I cannot say enough great things about their guest home. It is SO cute, was extremely clean, and all the decorations and paint are fabulous. I also loved how it seemed so open. The big windows allowed us to view the beautiful Hawaii outdoors from the inside. Though probably not needed in the neighborhood, the property being behind a locked gate gave us an extra sense of security. The location was perfect as well. It is a short drive to Volcano, very close to the lava boat tours, Pahoa is maybe 10minutes away for food/any shopping you may need to do, and Hilo is about 30mins from here. I can't say enough great things about this place. I would definitely recommend it to anyone traveling to the Big Island.
Haley
2017-01-16T00:00:00Z
This was a great place to stay to explore the area. The house was just as cute and comfortable as advertised with everything we needed to enjoy ourselves. The hosts were very attentive and super nice. We enjoyed being in a large green space and our children enjoyed playing with the dogs.
Tamar
2017-03-11T00:00:00Z
Jordan was such a nice host, the apartment was perfect located and the interior was made with love! Good starting point to get to see the lava, volcano and the rest of the island. Thanks alot!
Natascha
2017-03-03T00:00:00Z
Bungalow is pretty cool and host was super friendly. Lots of space on their property. Possibility for BBQ, which we sadly couldn't use because of the rainy weather during our stay. Would definitely recommend to stay here! :) Mahalo! Just a quick note: wifi was pretty slow but that wasn't a huge problem for us.
Johanna
2017-02-10T00:00:00Z
Room Type
Entire home/apt
---
Property Type
House
---
Accommodates
5
---
Bedrooms
Pahoa, HI, United States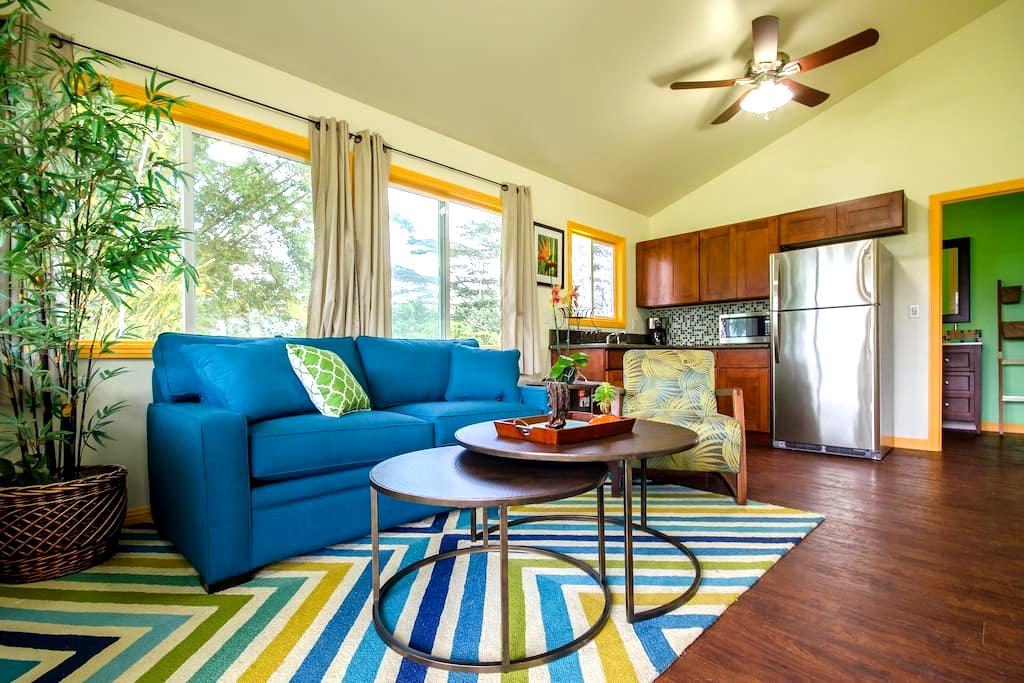 This modern Dwell Magazine inspired fully self-contained eco-farm loft is located 1 mile from Kehena black sand beach in lower Puna on the scenic coastal Red Road. Enjoy access to a thriving permacultural eco-epicurian farm!
This bright, modern, tropical eco-farm loft is the ideal vacation setting for two to three adults or a small family. With high ceilings, crisp, relaxing surroundings and privacy blinds, the colorful expansive loft combines luxury with open-air island living. Guests have their own gourmet, open-flow kitchen and many spacious, comfortable areas for lounging. The loft has an indoor/outdoor shower, plus a private infrared sauna. Located at the Seaview Epicurean Waterfarm you will have access to abundant non-GMO, organic gardens, delicious purified drinking water, serene settings for enjoying quiet moments. A few more notes: - All cleaning products used on site are natural and non-toxic. - We provide high quality sheets, towels and bedding. - Free Wi-Fi is available. -We do have 3 outdoor cats on property, but they are not allowed in the units. We also have a coop of chickens for eggs and a thriving hive of bees that provide us our honey. ** Note that this listing does NOT include the Hawaii state tax of 13.42% which will be collected in cash upon your arrival.
Our farm is devoted to the earth-conscious pursuit of sensual pleasure, especially to the enjoyment of water, local food and community comfort. The farm is located in the neighborhood of Seaview, a friendly, safe, eclectic and fun-loving tropical community. There are two parks, one school and a community center in the neighborhood.
Amazing experience. Stayed there for 2 nights, it's magical. Place is modern and clean. There's a beautiful garden with lots of fruits and vegetables. Got to pick and eat fresh passion fruit, papaya and pineapple. The three cats are very friendly. I got to meet Amanda and Robert who are super accommodating. The arrival time was also very flexible. Highly recommend staying there.
Laura
2016-07-31T00:00:00Z
I had an incredible stay at the Tropical Eco-Farm - this place is a true gem and I highly recommend staying if you venture to the Big Island! Melissa was very helpful and sent us great recommendations on the area and things to do. The neighborhood is a half mile walk to the ocean off of hwy 137 - which is a scenic coastline drive in the Puna district - truly magical! And about 15 min drive from the town of Pahoa. The loft had everything we needed and then some; this was our home away from home - we will be back!
Danielle
2016-11-24T00:00:00Z
We loved our stay at the Waterfarm. We really loved the delicious produce left for us and being able to feed the chickens! The loft was comfortable and really well equipped. We also found our host approachable and helpful. Definitely recommend a stay at the Waterfarm.
Fiona
2016-10-20T00:00:00Z
Robert and Sharon were both most welcoming and wonderful hosts to meet/hang out with. The garden with the amazing papaya's and the stargazing will be greatly missed as well as the nearby ocean and lovely community people. It was really nice of the hosts to provide some local honey, coconut oil, etc. and shared time. To me this was a perfect, magical, and wonderful stay...can't wait to go back.
Donat (Doni)
2016-03-08T00:00:00Z
We had the very best time at the Eco farm. Everything was even more amazing than we thought it would be. Sharon was a great host and showed us around the farm. We picked a rack of bananas and then she showed me how to properly split a coconut. She was more than generous with her time and knowledge. Everything was clean. The water was hot. The kitchen was fully stocked with pots and pans. There was a jar of honey from the farm and coffee beans. The location was incredibly interesting. Seeing the old lava fields was amazing. On our first day we saw a rainbow from the lookout tower and whales just down the street in the Seaview lawn. We got to meet Robert who helped us plan a perfect volcano visit. We are currently staying in Hilo and missing the Eco farm. And especially the frogs singing at night. We would absolutely stay here again. I can't recommend it enough.
Jodi
2016-01-25T00:00:00Z
This was one of the most beautiful places I have been. The house is surrounded by a wonderful garden and has an awesome outdoor sitting area. Robert was very friendly and welcoming. He told us lots about the place and the plants around. Last but not least I have to mention the wonderful and super delicious breakfast. I hope I will be able to come back soon!
Ivonn
2016-06-22T00:00:00Z
beautiful spot on the east side to relax for a few days. great water pressure in the shower, comfy bed...a really neat space! We really appreciated the fresh fruit and eggs.
Travis
2016-11-10T00:00:00Z
We loved it here! Paradise in paradise! The loft was spacious, light and comfortable. It had everything we needed, including a great kitchen with all the needed tools for cooking. The garden was beautiful, with lots of interesting plants and fruits (so many papaya and lemons!) everywhere. We loved being able to pick things to cook, and we really enjoyed the farm honey, coffee, and other items provided. Sharon was communicative and very helpful. We would definitely stay here again!
Daniel and Meghann
2016-02-06T00:00:00Z
Room Type
Entire home/apt
---
Property Type
House
---
Accommodates
3
---
Bedrooms
Pāhoa, HI, United States
Enjoy breathtaking views of active Lava and ocean in a beautiful and quiet home. As our guest you can drive into the restricted Lava Viewing area, and Hike (or bike) directly to the Lava from the house! For one night stays, we cannot discount the price, however please ask about our 3 night special! This rental is for the upstairs 1+ bedroom unit with private bathroom. Downstairs is available by request for extra fee and includes two more bedrooms plus kitchen.
Once in a LIFETIME opportunity! Enjoy DIRECT views of FLOWING LAVA right from the lanai. (When Pele wants to let you :) feel free to text me and ask how current lava conditions are. You will get to DRIVE into the restricted area of Kalapana Gardens, and hike directly to the Lava. This is an Unforgettable adventure for you and your family. House also has full ocean views and is clean and spacious. We also have a two bedroom with kitchen available so if you don't see the dates you want, feel free to contact us. You can also rent the entire 4 bedrooms, contact for details! A beautiful 2 story house, with full OceanViews, is located in the breathtaking lava field of Kalapana. Watch the sun set with long open views of paradise. A beautiful two story home with open wrap around decks and a Hawai'i feel. Right in the heart of the all the Kalapana pleasures and 10 minutes from the famous hot ponds and steam vents. Only 20 minutes from downtown Pahoa with restaurants and grocery stores. Watch the lava flow right from your Lanai, enjoy the ocean and hit the world famous Uncles Wednesday market less than 5 minutes away. This eco friendly zero footprint cottage will make you say ahhhhhh. The rental is for a 1 +1/2 bedroom + private bathroom with shower. (No kitchen) Smoking is allowed on the Lanai only (medical cannabis ok) There is an additional 2 bedrooms full Bathroom unit downstairs which is available by request. Or via our separate Airbnb listing. Includes Wifi, no TV, fully solar and wind powered with back up generator. Coffee pot and coffee provided as well as soap and shampoo. No fridge but it does have a cooler (you provide ice)
This is a rustic little neighborhood in the middle of a lava field!
It was really great to stay in the lava.
Sabrina
2016-11-22T00:00:00Z
The house is the lava field with a breathtaking 360° Grad view! It is an amazing surrounding!! At night you can see billions and trillions of stars! You can start here directly a tour where the lava flows to the sea! It's very clean and there is nice furniture on the very huge terrace! The place to be!
Luisa
2017-01-29T00:00:00Z
This place has the most incredible energy and if you want a once in a lifetime experience stay and go walk out to the lava 4 mikes up the road and watch the earth form. It has views that will leave you speechless. I was very quiet and serene. Mahalo
ed
2017-04-03T00:00:00Z
Jahred's place provided us access to lava viewing that we would not have been able to see otherwise! On the day that we stayed at Kalapana Gardens, they had shut down access to tourists because of the wind. We were able to go past security, and my boyfriend rode one of Jahred's bikes out to see the lava. I spent a lovely evening on the lanai, enjoying the sunset and stars.
Kate
2016-12-17T00:00:00Z
Amazing location for lava viewing! 7 mile bike ride round trip to the spot where lava flows into the ocean. The porch upstairs was nice and we enjoyed it in the morning for sipping coffee with a great view of the lava field all around you. Upstairs apartment is the perfect size for 2 people. Bathroom was very nice and looks to be recently renovated. Jahred was very easy to communicate with. Thanks for the great stay!
Becca
2017-02-10T00:00:00Z
The Lava and Ocean Views Upstairs apt is RIGHT on a lava flow.From the location you have some ocean views to the right, and from the lanai you can see steam billowing up from the current lava-flow hitting the ocean. We did not have time, but there is a road you can walk or ride a bike to see the current lava-flow. We happened to be there during a rain-storm, so we couldn't see much in the way of stars or the milky-way. But that's mother-nature for you! As a bonus, when the rain lifted a little in the morning, we were able to see snow on the top of Moana Loa! It is quite a drive out to the apt, but once I arrived I felt the drive was worth it. The apt is comfortable enough, with a couple beds and bathroom. Coffee pot and coffee were available! I couldn't get any hot water, so the shower was cold (and very quick!). Overall I enjoyed the stay.
Valarie
2016-12-02T00:00:00Z
Was a nice and unique stay. It felt like sleeping on the moon. Apartment is simple but all was good.
Peter
2016-12-09T00:00:00Z
Location, location, location! Jahred's house is a truly unique experience that should be at the top of everyone's bucket list.
Pam
2016-12-26T00:00:00Z
Room Type
Entire home/apt
---
Property Type
House
---
Accommodates
3
---
Bedrooms
Pāhoa, HI, United States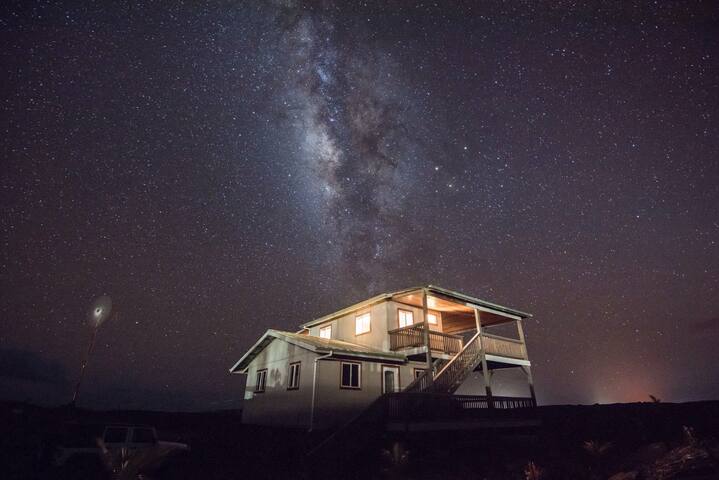 Wake up at the feet of Pele with an ocean view behind you! Charming one bedroom off grid, eco-cabin in sunny Kalapana. Sweeping ocean views and lava viewing from front yard. This is once in a life time bucket list material! Come check it off yours!
Cabin is inside of Kalapana gardens past the tourist parking and guard shack. Front row viewing of lava and closer, VIP access to lava hiking and exploring. Free parking on site at cabin so bypass all the tourist parking hassles! Closest rental cabin to lava and only one on the main county maintained road. All cars can park easily on my property. Ocean views on two sides of cabin and volcano view on the third! seperate bedroom with lanai, queen size bed with ocean views and amazing star gazing in the clear night skies. Solar powered cabin with full refrigerator and freezer, high speed wireless internet, propane dual burner cook top, french press for coffee, pots, pans and utensils. Cabin has hard wood floors and built in sky lights to allow lots of natural light in during the day. Compost toilet which we use to make soil to replant palm trees and native Hawaiian species on the scorched lava earth. Cabin also has an open air propane heated hot shower! Perfect for couples or small families. Enjoy the best sunrises and sunsets in the world all from the raised viewing lanai/yoga deck out back. The property is covered in papaya trees, banana trees & pineapples. It also has cherry trees, mango, avacado, dragon fruit, lime, coconut and several variations of palms. There's also numerous Ti trees which in Hawaiian culture are used to line the borders of your property to ward off evil spirits. Cook pine trees, beautiful and bright coleus bush's, orchids, plumeria and bougainvillea. There's also hundreds of different small succulents that line the paths in the back of the property. Look closely to find these exotic gems that thrive in the lava and abundance of sun that Kalapana is blessed with. Make sure to stay on the paths so you don't crush any of these lovely small plants. I love the blank canvas the land provides and I'm excited to watch my garden and beautiful plants grow! You'll be surrounded by the energy of an active volcano and the deep blues of the Pacific ocean this is truly a once in a life time opportunity! Seize it!
Kalapana gardens was a housing subdivision that got covered over by the 1991 lava flow. The cabin sits directly on the old flow built a top dry lava. The current flow is approx 4 miles out and heading away from my cabin. You can see the lava glow at night (depending on volume of lava flowing) and see the molten rivers flowing down the volcano cliffs! Staying here provides locals only access to the gardens and free on-site, front row parking to one of nature's coolest displays! Grab a beer, kick back and enjoy this amazing feat of nature.
Sean communicated fantastically. We had a wonderful 2 night visit at his cabin and enjoyed the amazing opportunity to witness Pele in all her glory creating an amazing show flowing into the ocean. I would recommend this cabin to anyone with a sense of adventure who is willing to give up just a few creature comforts. If you go, sit out on the yoga deck, have a beverage of your choice and enjoy the stars!
Michelle
2016-11-06T00:00:00Z
Sean was a great communicator. He kept us informed before getting to his place and gave us lots of information once we were there. It was a wonderful stay with great views of the sun and the lava. His place was a cool, comfy, cozy, and clean space. Would definitely stay there again. Loved it!
Nancy
2016-08-16T00:00:00Z
Sean's place is very unique, located just a little bit away from the bike vendors on the lava fields. It is beautifully decorated and has all the necessary amenities: sink, burner, shower, toilet, WiFi, lamp, microwave, fridge. Everything is either solar or gas operated. We were there while it was raining pretty hard and was cloudy, so the solar took a hit and we ran out of power several times, which limited our access to the amenities. But Sean was very responsive and came out and charged the solar batteries from his van, but they ran out again late at night. From what I understand we were there on an off-week, and usually it's super sunny, so it's not an issue. Also, if you are the type of person that needs very quiet environment to sleep - this place is not for you. The walls are pretty thin. Lastly, there is construction going on next door - so it gets pretty loud during the day. It didn't bother us much because we were out and about sight seeing. All in all, it's a unique place to spend some time while in Pahoa with a helpful host.
Masha
2017-03-02T00:00:00Z
Great place to stay for a night to see the lava! We loved being able to rent bikes and ride from Sean's place down to the end of the long road to see the lava! It was an adventure staying on the lava, great star watching location off the back of the cabin at night!
Caileigh
2016-12-22T00:00:00Z
Chill and amazing. Simple and stunning access to lava. Host was super responsive to all inquires. A unique experience!
Tammy
2017-01-01T00:00:00Z
One of my favorite places I stayed on the island! Sean is very easy going and it was an easy check-in Cozy and one of a kind. He did a great job with his whole solar setup Great location!! I loved my night bike ride to see the lava flowing into the ocean! I wanted to see the beauty of that lava flow again so i hiked out there in the morning. Around 3.5miles to see LAVA, mind blown! Had some great conversations with some down to earth locals. Definitely recommend!
shawna
2017-02-08T00:00:00Z
If you are looking for a close access point to walk to ocean entry, or have a truly unique getaway, this is for you. It is indeed very basic accomo and has everything you need. It does get super dark so I recommend having a flashlight on hand if you arrive in the dark. Because of this, you may just see a million stars in the sky.
gail
2016-12-09T00:00:00Z
Amazing place to stay. Sean was very helpful and communication was easy. The location is one of a kind and this little cabin is very reliant on the land which I really enjoyed. A very unique living situation in a very unique area, DEFINITELY not one to miss, I would recommend to ANYONE! Plus, very close to the lava!
Annelise
2016-10-26T00:00:00Z
Room Type
Entire home/apt
---
Property Type
Cottage
---
Accommodates
4
---
Bedrooms
Pāhoa, HI, United States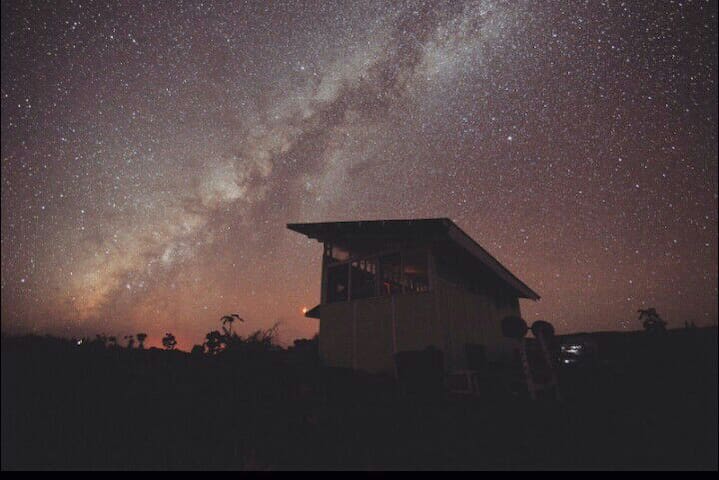 Aloha! Welcome to your home away from home. Just a 30-second walk overlooking the never-ending sea, enjoy spectacular coastline views, excellent whale watching and unforgettable sunrises at our cozy, newly renovated suite located in the lush rainforest of the Big Island, Hawaii.
If you are looking for a true escape on the Big Island of Hawaii and an authentic Hawaiian experience, away from mass tourism and the business of the city, then you have come to the right place. Our laid back, Hawaiian Beaches Suite is located on a quite spot on the island. Our peaceful, friendly neighbourhood is surrounded by lush nature, the spectacular unobstructed blue waters of the Pacific and a true Hawaiian feel. Begin your day by witnessing spectacular sunrises, enjoy fishing, hiking, check out the tourist attractions, go snorkelling, witness live lava flow (something very few people on Earth ever have, and ever will see and experience), and enjoy black and green sand beaches, during the day. And then fall peacefully asleep to the ocean waves, jungle noises and to the occasional sound of tropical rainfall. During November to March you can even hear the whales singing and blowing at night. A beautiful 15-minute drive to the cute town of Pahoa, (about 30 minutes from Hilo), you will truly experience lush nature and never-ending ocean. (Yes... You do need a car to get around and a GSP is a good idea too). This newly renovated 550 sq ft suite features brand new doors, windows, freshly painted walls, all new furnishings, towels, linens, and essentials. We also just built a brand new 200 sq ft wooden deck (lanai) facing the lush tropical gardens where you can enjoy your breakfast, lunch and dinner. The delicately lit lanai is especially enjoyable in the evenings as you unwind and enjoy each others company. The suite is located on the very Eastern side of the island but is located so that you can easily get to your favorite things to see and do. Here is our list of our top 10 things to see that are 45 min or less from our house: 1. Watching the spectacular ocean sunrise and whale migration sitting on lava rock- 2 min 2. Fishing your own lunch with the provided fishing gear- 5 min 3. Visit Lava Tree State Park via a beautiful ocean/jungle drive- 15min 4. Visiting picturesque Pahoa and seeing the recent lava flow- 15 min 5. Snorkeling in Kapoho tidal pools with the provided gear- 20 min 6. Visiting a Macadamia nut farm and the Hawaiian Zoo- 20 min 7. Swimming in the vulcanically warmed Ahalanui ocean pool- 30 min 8. Visit the clothing optional Kehena Black Sand Beach- 30 min 9. Swimming with turtles or shop the outdoor markets in Hilo- 45 min 10. Seeing actual lava flow/eruptions in the Mauna Loa State Park- 45 min There are many other places to visit on the Big Island from majestic Waipio valley to beautiful Kailua-Kona white sand beaches, the nature is simply breathtaking everywhere you go. Book now and have an unforgettable, original Hawaii experience on the Island that offers it all! ***Please save yourself and us time & effort by reading the entire listing description before requesting a reservation. Please also take note of the cancellation policy before booking***
This is a very quiet and peaceful neighborhood right at the ocean. The loudest noise you will hear is the ocean waves and the (mostly night time) rain showers. It's safe to walk anywhere including the beautiful Kahakai Park just 2 minutes away to watch the beautiful sunrise with the ocean crashing against the lava rock cliffs or to go to Papio Ocean Park to go fishing with gear we provided just 5 min away. You can also enjoy a gorgeous view of the ocean right from our lanai.
If you are looking for an escape away from everything than stop searching here! Nash's place is within a small local living area surrounded by lush rainforest and almost at the lava cliffs. It takes you by car approx 10 min to the next grocery and 35-40 min to Hilo with a huge shopping area for daily products and the airport. It will take always 30 min to reach one of the highways which leads around the island because the road to Paho and Hawai'ian Beach Suites is a dead end. The apartment is more than well equipped with everything you might need for your holidays. I felt very comfortable. If you are a light sleeper I recommend to bring earplugs because everything from the upper apartment is clearly audible. I didn't meet Nash and Don but they provided me in advance and at arrival detailed information so that I found my way without any problems. The communication was all the time easy and very friendly. I would recommend this place to people how love nature!
Sophia
2016-03-18T00:00:00Z
We loved our stay! The place was exactly as they had descirbed and shown in photographs. It did get quite warm in the suite but opening all the windows to get the ocean breeze helped and plus you can hear the ocean waves, rain and frogs (so relaxing!).
Krystelle
2016-08-12T00:00:00Z
The Hawaiian Beaches Suite is a cozy little place with everything you need and even more. There is a waching machine, dryer and a lot of things you can use for the beach. Nash and Don don't live here, but you get all the information you need in the welcome book. We really enjoyed our stay.
Simona
2016-10-09T00:00:00Z
Nash and Don's place was wonderful! Great location and nice space for my husband, 8 year old and myself. We loved being in such a quiet, beautiful neighborhood. Everyone we met was so friendly. Nash and Don left lots of great information for things to do and we're great communicating with us.
Jen
2016-08-08T00:00:00Z
Everything was as Nash and Don advertised; the place is very quiet, clean and away from mayor urban centers. Nash and Don where very helpful too. Just note that internet was good, but not fast enough to use Netflix .
Daniel
2016-09-17T00:00:00Z
The place was exactly as Nash and Don stated. It is a beautiful place to stay in Pahoa. We were able to view the sunrise one of the mornings from near the house and it was gorgeous. You can hear the birds and coqui frogs from the house too. It was a really peaceful place to stay for our trip. Definitely recommend!
Charles
2016-06-01T00:00:00Z
The suite was just magical, newly renovated one bedroom apartment and we found it very calming going to sleep to the sound of the ocean and sweet sound of the coqui frogs. The apartment is very private in a quite area. The manager, Ashton, is also very welcoming and helpful in ensuring everything is okay. Nash and Don have thought of everything to make for a pleasant holiday, including little extras like folding chairs and picnic sets for outings. What we also found extremely helpful, was the effort Nash and Don had gone to in providing us with the 'Top Ten Things to do'. It was better than any Tourist information we could get. It took us a week but we got to tick them all off, including seeing the most recent lava flow near Pohoa, where it flowed last year. Thank you for making our holiday very memorable.
Katinka
2016-02-09T00:00:00Z
This is a small suite in a nice neighborhood. The suite itself doesn't have any particular views (other than of some lush greenery), but the ocean itself is indeed a very short walk away. The suite was comfortable and the neighborhood is very pretty indeed! It's also very, very quiet. This is excellent, though it should be noted that you'll need to drive for 20 minutes or so to get to most services. Overall a nice experience!
Joshua
2016-08-28T00:00:00Z
Room Type
Entire home/apt
---
Property Type
Apartment
---
Accommodates
3
---
Bedrooms
Pāhoa, HI, United States

You can contact me if you think about this. Eight of my Zero friends Eight to much.Eight hundred and Fifty Four people came to visit me. My mum is Sixty Seven and I am Fourty Nine.
This is your own private space on land which has 4 Bamboo bungalows
You will be able to walk to the famous black sand Kehena beach (URL HIDDEN) and also walk to seaview lawn (URL HIDDEN) or drive 5 miles to the Famous Uncle Roberts Awa Bar (URL HIDDEN) Kalani beach resort is also about 2 miles in which serve 3 meals per day they have daily and monthly spa passes for the use of there pool Sauna and Hot tub (URL HIDDEN)
Aloha Karen this is Rene, being back from our trip to Hawaii we definitely miss the islands and your bungalow,YOU definitely made our trip unforgettable and definitely memorable. (We love you Karen).Karen was a great hostess she showed us our stay and if we had any questions she was very helpful. The place had plenty of privacy and it was very serene and relaxing which was a great plus.we had all the amenities we needed and felt very pampered by the place,which was nothing less than spectacular. Noticing some great things was that her property was very convenient, close to the black sand beach, the fresh new lava flow a local farmers market, downtown Pahoà and the famous tide pools of the island. Also the towns variety of fresh healthy foods and restaurants were wonderfully delicious, and after your dinner you can sit under the stars and watch all of the stars and the milkyway as your evening romantic entertainment!!! We look forward to coming back again and again. thank you for being a wonderful hostess. Anyone who stays here is lucky and will definitely understand the aloha feel of the island through this great place which was magical. ALOHA!!!!! A HUI HOU!!!!
Rene
2016-08-09T00:00:00Z
The reservation was canceled 2 days before arrival. This is an automated posting.
leslie
2015-05-11T00:00:00Z
Room Type
Entire home/apt
---
Property Type
Cottage
---
Accommodates
2
---
Bedrooms
Pāhoa, HI, United States

A unique and custom built house, fifteen feet above ground, using natural Ohia wood, solar powered and nestled amid a 24 acre fruit farm lending peace and tranquility to your Hawaii adventure. The location is a perfect 7 minutes to the town of Pahoa, 15 minutes to the lava flow, and 15 minutes to the beaches and local events. The house was inspired by the owner's visits throughout ThailandYou will love this beautiful setting.
This is an open living space. There are no "rooms". Instead utilizing "platforms" to set the beds- very "Asian Style" and open. There are stairs leading to the house. There are also stairs/ramp leading to the "bath house". There is cell phone connection unless weather interruptions occur. If guests have "hot spots" on their phones they can connect to internet.
The neighbors are also living on 20-100 acre properties. They are lovely professionals and are not often seen.
Room Type
Entire home/apt
---
Property Type
House
---
Accommodates
4
---
Bedrooms
Pāhoa, HI, United States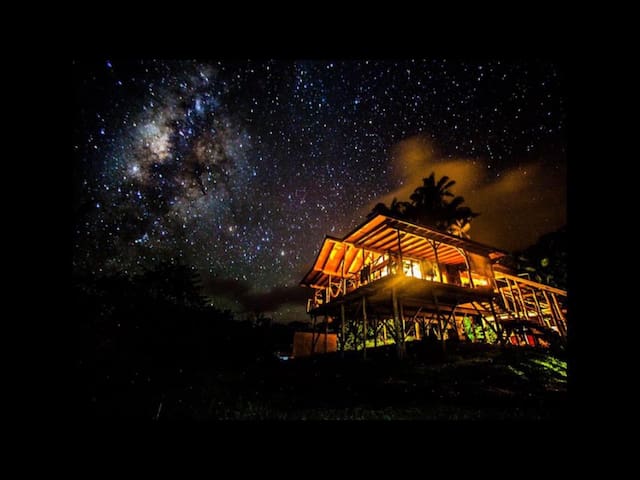 Aug 2016: Currently live lava flow viewing at the nearby Kalapana Lava viewing area. Oceanfront studio right on the ocean with incredible ocean views. Wake up looking at the waves, watch a pod of dolphins swim by. Have your coffee on the private outside Lanai or relax in the Hot Tub overlooking the ocean.
Oceanfront studio on the gorgeous Red Road and a short walk to a black sand beach. Serene yet modern in a natural tropical setting. Wake up looking at the waves, watch a pod of dolphins swim by. Have your coffee on the private outside Lanai or relax in the Hot Tub overlooking the ocean. During the winter months you will see and hear the humpback whales. Explore the Volcano National Park nearby or the Kapoho Tide Pools for exceptional snorkeling or relax in the naturally heated hot ponds. Visit the local farmers markets for fresh tropical fruits, vegetables and fish to create your own Hawaiian gourmet meal. About 20 min away is also a great selection of restaurants. Downstairs studio is small yet complete with Queen-size bamboo bed, ceiling fan, comfortable reading chair and outside dining area overlooking the waves and coconut trees. Wireless Internet, Bluray player and Internet TV with streaming movies. Unlimited phone calls within USA and Canada. The kitchenette has a two burner induction cooktop, microwave, coffee maker, dishes, pots and pans, sink, and full size refrigerator. Full bath with tub and shower. Perfect for couple or single.
We fell in love with the apartment the moment we see the photos and it did not disappoint us after arrival. It is directly ocean front with sound of waves the whole day long, lulling us to sleep in thr night. The apartment is clean and has everything we need. After exploration of the apartment on arrival, i had the impression that Susan took alot of thoughts and effort in setting up the place to make the guests feel cosy. She even provided binoculars so that the guest can watch for dolphines and whales (we did not see one though, only a cruise ship from far in the night). I came to know from Susan later that the apartment is self-sustainable with own filtered water and electricity from rain the solar (what a smart woman). Susan was very responsive when we contacted her for question. She also provided detail and accurate description get to apartment from airport. I like the tree canopy along Route 137, before turning into the destination (looks not less impressive than the tree tunnel in Kauai). The nearest supermarket is 20mins away in Pahoa but we prefer the Safeway near to Hilo airport 50mins away which we passed by when we visited the volcano and Hilo. We have already decided that we will be back to stay if we will visit Hawai'i again ;-)! Thank You Susan!
Biene
2015-05-14T00:00:00Z
The oceanfront studio was great! Having the ocean waves crashing so closely was amazing. We slept every night with the sliding door open and the sound of the ocean crashing on lava rock cliffs and chirping of coqui frogs lulling us to sleep. Sandy provides crystal clear directions so finding the place was a breeze. The location is very nice and felt safe. The room was pretty small but it is plenty of room for two. Luggage can make the space feel cramped but there is a lot of storage space in the spacious bathroom. The lower level is nice because the deck protects you from the frequent rain in that region. When we return to the big island, there's a very good chance that we will stay at Sandy's oceanfront studio again! We will recommend it to anyone that visits.
Angelo
2014-11-21T00:00:00Z
Fantastic setting. This is a great place to stay if you want to spend some time basically off the grid, enjoying the Hilo side of the island. Sandy met us there when we arrived and was a wonderful host. We wanted something cozy and different; this fit the bill and was exactly what we expected. Waking up to the ocean every morning was incredible. We got back most nights as the sun was setting and were able to see whales a few times. Overall, great place!
Trevor
2016-01-12T00:00:00Z
We stayed a week in the Oceanfront studio. It was great. The neighborhhood is very quiet and you are at a nice Black Sand Beach by foot in a few minutes. The location couldn't be better. The view from the lanai and whirlpool is awesome. The kitchen has a lot of equipment, everything you need to cook delicious meals. We missed nothing there and we really enjoyed our stay in the studio. The only con is the distance to many nice places. You have to drive much but it wasn't a problem for us. I highly recommend to stay in the beautiful Oceanfront studio!!
Benjamin
2015-07-13T00:00:00Z
I had a great stay!
Alena
2017-01-12T00:00:00Z
This studio is a hidden gem. We could not have enjoyed our stay more! It looks exactly like the pictures with a picturesque view of volcanic rock cliffs and the sounds of crashing waves in the background not to mention that it's minutes away from a black sand beach--which was easily our favorite beach that we visited! The house is beautifully decorated and the fan was great--we weren't hot at all. The kitchen is well-stocked with utensils and we enjoyed drinks on the patio and a late night swim in the hot tub. For our first Air B&B experience, we are so glad that we chose Sandy's studio. It is the perfect spot for a romantic getaway and we would definitely love to stay again.
Maxim
2015-08-21T00:00:00Z
Sandy's apartment is exactly as described and shown in the photos--perfect for a quiet, relaxing weekend on the beach. The sound setting at night is awesome as you can hear the ocean, birds and frogs. We did not meet sandy but all information was provided beforehand without questioning. I can highly recommend this studio. 15 minutes away you can find Uncle Roberts awa bar which is a pretty amazing spot on Wednesdays
Florian
2016-04-16T00:00:00Z
This rental was simple stunning. The pictures don't even do it justice. The ability to cook, drink, relax in a hot tub and hammock right next to the water is truly amazing. The sunrise was incredible also. Thank you sandy, what an incredible host!
Kawika
2016-08-25T00:00:00Z
Room Type
Entire home/apt
---
Property Type
Apartment
---
Accommodates
2
---
Bedrooms
Pāhoa, HI, United States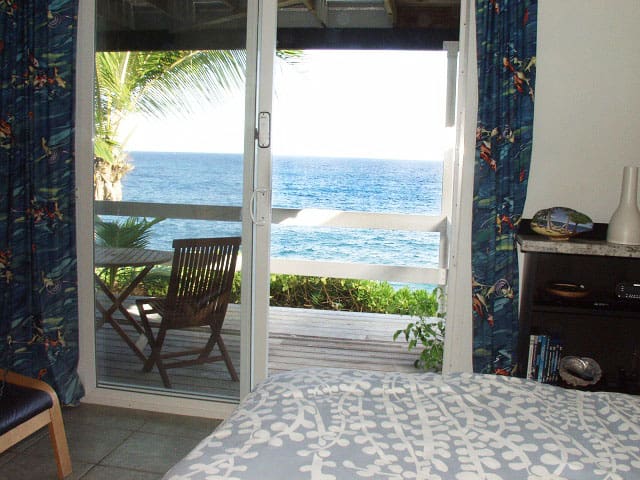 You will be close to nature and hear the birds in the day time and the frogs at night. It is located on 8 acres and adjacent to a 5000 acre forest reserve adjacent to us, so be sure to bring a compass. If you get lost, just head towards the ocean. My place is good for couples, solo adventurers, families (with kids), and big groups and any one who loves nature.
Your private bedroom is quite cozy. Yet most likely you will spend most of your time outside on the Lanai. We are about 12 to 15 minutes from the hot ponds and 3 to 5 minutes from the main road. The drive from the main road to our driveway is an experience within itself. It is a little bumpy but full of nature. Our drive way extends about 500 feet from the main road to the house. It could use some improvements, so go slow on it. But it is safe and it has lovely view
Very comfortable and quiet stay in the discreet company of a great generous man, Tracy and his team. Thanks for your time and attention.
Maxime
2017-03-26T00:00:00Z
Room Type
Private room
---
Property Type
House
---
Accommodates
2
---
Bedrooms
Pāhoa, HI, United States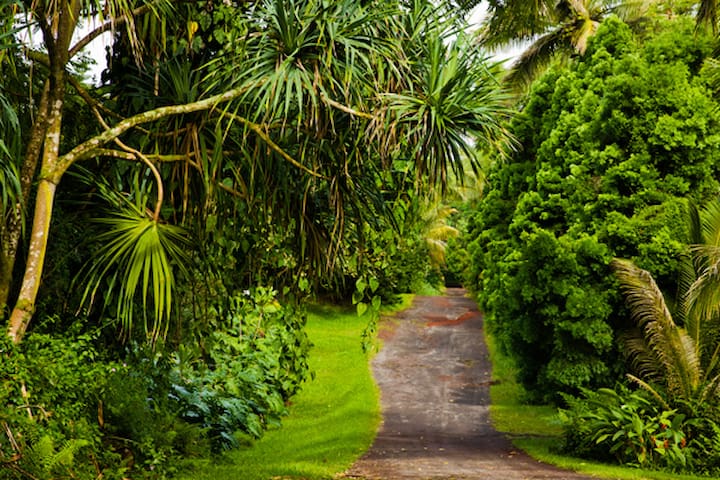 A one of a kind property. Dubbed the House Without Halls, you're outdoors upon leaving your luxurious suite. Fall asleep with the magical songs of the surf; see gorgeous, sparkly sunsets; snorkel, surf, swim just a few minutes away.
This 2 bedroom 2 bath, outdoor style home, is incredibly unique. The property is comprised of 4 buildings, we call them bungalows. Upstairs is the Master, Palm Suite with an great view of the Pacific and a spacious private lanai, a great place to catch colorful sunsets! On the lanai is a high quality full-size futon for lounging or sleeping outdoors. This converts into the third bed. There are also two chair hammocks and one full size hammock on the lanai. Your private bathroom, complete with an outdoor shower is downstairs. Nearby is the Guest, Areca Suite and bathroom on the ground level. The bathroom has a claw foot bathtub and a private outdoor shower with an amazing view! There is also the kitchen/dining bungalow, where you will find a fully equipped kitchen to make whatever delights you. Tucked behind the guest bathroom are laundry facilities. We offer L'Occitane bath products as well as comfy, thick spa robes and slippers. We want to make your stay as enjoyable as possible and have taken care of most, if not all, of the details.
Our neighborhood is very friendly, lots of people walk everywhere. It's walking distance to our beautiful black sand beach (clothing optional), dolphins come in there to rest frequently. (Note: You must pay attention on the rock trail that leads down to the beach.) 10 mins to impressive snorkeling, great surfing, thermal hot ponds to dip in, newly formed lava beach, local farmers markets with lovely crafts, food and music, 20 mins. to Pahoa Village with great restaurants and natural foods market. Your bungalows are minutes from yoga, massage, watsu, acupuncture. There is free wireless, a Roku box with each TV to view a wide assortment of movies as well as TV and cable series'. Boze Sound System docks in the rooms. We have lots of exotic plants, palm trees, coconuts and flowers growing on the property, along with lots of fruit trees, and some herbs. Our grounds are professionally maintained, and are quite lovely to stroll through.
Our time with Suzie and Scott was absolutely amazing! The huts are tucked away in a quiet neighborhood and offered the exact experience we were looking for. The accommodations were clean and functional and outdoor living added just the right amount of fun for our trip. Suzie and Scott were great hosts and told us the only rules were to, "smile and have fun"! We picked a couple ripe tomatoes from the nearby garden and thoroughly enjoyed ourselves. Thanks again, we can't wait to return!
Adam
2015-06-04T00:00:00Z
We loved our first visit so much that we had to come back for more. This time we brought friends to share the experience, and this visit was even better than the first, although that's hard to believe since the first one was beyond amazing. Suzie and Scott couldn't be more welcoming, and we couldn't feel more grateful to have met them both. Thank you so much for another round of lifetime memories!
Lisa
2016-06-06T00:00:00Z
The his is one of the special places on this world that makes you relax, unwind and feel pampered. We all loved this place. The out door showers,great kitchen and comfortable beds. We would love to go back
Debra
2016-04-06T00:00:00Z
Magical is right! This place is absolutely amazing. Suzie and Scott were very welcoming, with a perfect blend of being available and giving us privacy. They were there for anything we needed, including the day we were leaving for the airport and our car keys got taken by an ocean wave! They immediately offered to drive us to the airport and do anything they could to help. They really helped us stay in the Aloha spirit. The nearby town of Pahoa was so cute, and we enjoyed several delicious meals there. There was a health food market that sold terrific coffee beans, groceries, and the best fresh liliquoi juice on the planet! The place was central to Hilo, the volcano park, many local farmer's markets, and a pleasant drive to Kona and many other island sites. The compound, as we like to call it, was such a special place to stay. It had so many cute touches, and the birds and frogs sang us to sleep at night. Between the hot tub, the outdoor barbeque and sitting area, the comfortable beds, and the well stocked kitchen, we were in our very own private paradise. It was hard to leave to see the sites! I couldn't recommend this place more!!! Don't miss out on this once in a lifetime experience.
Lisa
2015-03-30T00:00:00Z
I brought my wife and parents to Suzie's place to celebrate my mom's retirement. We could not have been more thrilled when we pulled up. The place is gorgeous and Suzie and Scott were incredible hosts. We enjoyed our meals outside and sleeping to the ocean waves. This was my first AirBnB experience and this makes me not to every to stay in a hotel again.
David
2016-03-10T00:00:00Z
Fantastic! As far as vacation accommodation goes, it truly is hard to beat this place. The combination of informative, attentive hosts, with a stunning, unique property really sets it apart from the rest. Located on a quiet part of the island, yet with access to the entire east coast and Hawaiian Volcano National Parks. So it's perfect for a quiet day at 'home' or a road trip to enjoy the beauty of the big island. You truly have all you need on hand; a fully equipped kitchen, out door BBQ, hot tub, and a private area to sunbathe and enjoy your time. We read our books and sipped wine, while swinging in one of the many hammocks and listening to the sound of melodic frogs singing at dusk. We fell asleep to the sound of the ocean and occasional light rain, drumming on the roof of the cozy bedroom. It's great for a couple looking for a romantic getaway, or a small family looking to have a fun holiday with private rooms and shared areas. It caters for all. We hope to get the chance to return in the future and highly recommend that you take the chance to book up, and enjoy!
Shaun
2017-04-01T00:00:00Z
We had a great time here. The location is 10 min from Kalapuna where there is a general store and smoothie shack, and 25 min from Pahoa which is a hippie town with restaurants. Very close to the Puuo lava vent and lava viewing. We took a 4 mile rental bike in and 4 miles out in darkness. Bring a headlamp though there are some available with bike rental. Also Kehena beach is a 5 min drive from the house. You hike down a rocky trail to black sands. We drove all around the island from here (Kohala, HAVO, Mauna Kea, Waimea, Hilo, etc) and liked the location. Enjoyed the farmer's market on Sunday towards town- good food. Sushi in Hilo, pizza in Pahoa, smoothies in Kalapuna- yum. Fly in to Hilo airport. The huts are very comfortable and equipped with everything you will need. Scott & Suzie greeted us on arrival and showed us around. Their house is next door but the site is private. The bed was very comfortable. Everything is open air so if you are scared of lizards or bugs this is not for you. We loved the breezes and the lizards are beautiful and funny to watch; no bother. The frogs sing you to sleep. Mosquito net around the bed if you want. Don't really need it. Loved the kitchen hut to hang out and cook & eat breakfast and plan out the day. They have everything you need to cook. They have a nice speaker to play music (Iphone cord) and even Netflix on the bedroom TV. Small view of ocean and you can hear the waves in the distance. Hot tub in a bamboo grove. 2 BR and 2BA so you could have two couples here or a family. All in all a wonderful base camp to enjoy traveling around all to see on the Big Island.
Erika
2017-03-08T00:00:00Z
There's nothing magical about wet or damp beds. We arrived spent one night and left. The rooms have no humidity barrier and the beds were damp. It is important to note that this is the rainy side of the island where rain will be a big issue. The bed on the Lanai (yes outside) was incredibly damp, cold and wholly unsuitable for our toddlers. The hosts reassured us that this was not a problem many months before we arrived. We specifically asked. No sleep. The kids had to squeeze into our damp beds. So on the first day of our vacation on a rainy dark night we were scrambling to find new accommodation in an area with no cellular service. Nightmare. The hosts seemed uninterested in our difficulties or any type of reimbursement. Not their problem. This is an extremely outdoors experience. One step above a tent. The kitchen is not extremely well equipped. Handful of plates. A coffee table only to work with. If you book here be aware. You are outside. The units are small. We feel as though we were robbed.
Gil
2017-02-02T00:00:00Z
Room Type
Entire home/apt
---
Property Type
House
---
Accommodates
6
---
Bedrooms
Pāhoa, HI, United States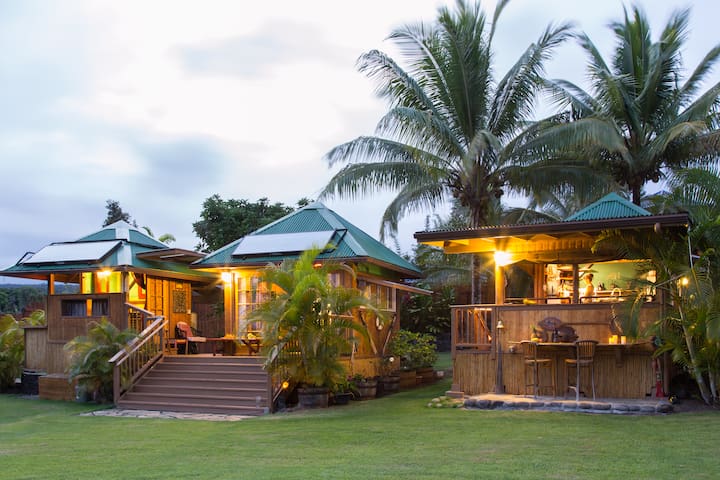 Charming and cozy screened in simple, off-grid cabin with a nice slice of ocean view through the Norfolk Pines. There's a lanai provided with table and chairs looking out towards the lush tropical garden of bananas, avocados and a variety of fruit trees and flowers. A true Hawaiian tropical experience.
There are solar fairy-lights for a little evening ambiance and a lantern for evening light as well, however there are no power plugs in room. It is a very private room with a comfortable porch. It's only a few minutes by footpath through the garden and surrounded by many plants, flowers and wild banana, guava, mango, and sugarcane.
We live down a 1-mile dirt road through the Hawaiian jungle canopy. We live on a 20 acre family farm surrounded by hundreds of acres of pristine Hawaiian jungle. We sit at the foothill of a volcanic mountain range with 2 huge crater holes a short hike away. Down the road about 5 miles there is ocean swimming access at Isaac Hale Beach park and be sure to have a relaxing soak in the thermal warm pond nearby. The Kapoho Tide pools are great for snorkeling and swimming as well. There are steam-vents you can steam in about 10 miles away. The nearest town to us is 5 miles away and is colorful Pahoa with all your basic food, shopping, post, and bank needs.
Loved L'Ohani farm! It was secluded and gorgeous. Would definitely recommend driving in a four wheel drive vehicle if visiting. The entry road is a dirt road that's uneven with potholes throughout...quite an exciting drive! Would definitely recommend staying if you get the opportunity.
Kate
2017-03-12T00:00:00Z
The cabin is a special place to explore some of the Big Islands natural beauty. There isn't a lot for you do there but relax and appreciate the scenic farm. The cabin and bathroom areas were exceptionally clean. It's easy to get too but don't plan on coming and going multiple times a day. Best for travelers who are packing light and don't need too many amenities. Pahoa is a great little town and we enjoyed the coat as well. Hosts are super nice and responsive. Thanks
Nathan
2017-02-17T00:00:00Z
Though we arrived late, John was very helpful in guiding us through the property/jungle. It was pitch black and only the sounds of nature were alive during the night. This is life and how it is supposed to be. A good change to be in such a secluded place amidst all the greenery. Thank you for bringing us back to nature and hope the very best for John and Ariel
Ashok
2016-03-06T00:00:00Z
Olani farm is a peaceful paradise into the wild. We really enjoy our 5 nights in the cosy cabin, surrounded by the coqui frogs' melody ! Thanks for delicious breakfast and dinner with all products from your garden. It was a really nice experience to meet Ariel and John, they shared with us a part of their lifestyle and way of thinking. Mahalo !!
Mélina & JC
2016-10-02T00:00:00Z
Jon and Ari, have created, are creating something that is very special. In tune to the planet on many levels. Sustainability in Paradise. I am so happy l'Olani Farms was part of my life experience. Living in a Henry David Thoreau type cabin for several days in a place like this is, was, very healing. Oh, and Jon is a really good vegetarian cook!! Request breakfast and dinner. You won't get better. Fresh from their farm.
David
2016-11-20T00:00:00Z
John and Ariel welcomed us during one of the common short rains (liquid sunshine ;)). They are super friendly and helped us deal with all our little issues. We had a very good time in the jungle cabin. The nightly jungle concert was very soothing, which might not be for everybody but we enjoyed it. We would come back.
Adrian
2016-05-20T00:00:00Z
John and Ariel are amazing, we had the best stay of our trip here! The cabin is perfect, you can fall asleep to the sound of the forest and the rain on the tin roof - we loved this! You can even see the sea through the trees. The hot outdoor shower is just what you need after a long day of hiking and the toilets are spotless. They also have 2 really friendly dogs that welcome you home every time you return, and best of all they are totally off grid!
Freya
2015-07-23T00:00:00Z
John and Ariel are amazing hosts! If you are looking for an authentic Hilo experience, enjoying the green jungle and local food, this is the right place for you! They greeted us with a warm welcome and we appreciated how John took the time to tell us about their vision and project as well as answering all our questions. Their breakfast was the best one we had in Hawaii and our only regrets was that we didn't get the time to enjoy a dinner with them. The location was perfect for us as we had rented a car and were mostly looking at enjoying the Volcanoes National Park and Hilo region. Everything was perfectly clean and we especially enjoyed the outdoor shower. Without any doubts, we would stay at Oilani again if we ever go back to the Big Island.Thanks again for making our stay memorable!
Cynthia
2017-03-28T00:00:00Z
Room Type
Private room
---
Property Type
Cottage
---
Accommodates
2
---
Bedrooms
Pāhoa, HI, United States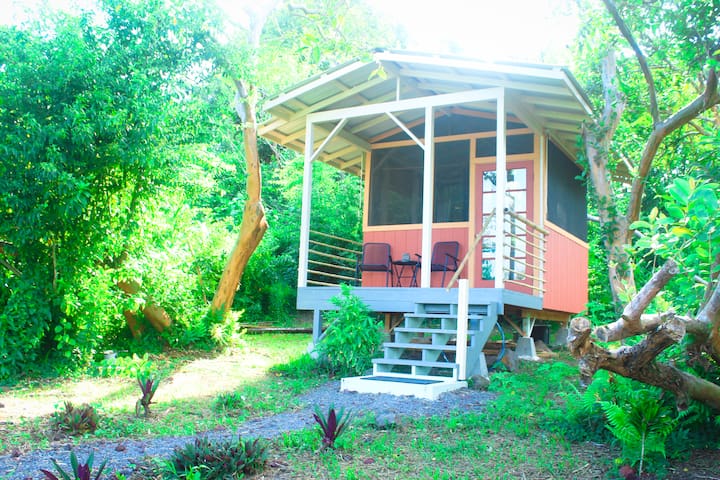 Adorable ocean facing cottage has a true Hawaiian tropical beach feel. The Coconut cottage has a king sized bed, high end mattress and en suite bathroom. Just a walk away from Kehena beach with its beautiful black sand and stunning views. Hawai'i has lots of outdoor activities which include amazing nearby snorkeling at the tide pools, the champagne and warm ponds. Volcanoes National Park, beautiful Akaka & Rainbow Falls, and stunning Waipio Valley, are all within driving distance.
You'll be sure to enjoy your separate stand alone cottage with it's own lanai for relaxing. All this surrounded by lush palm trees, beautiful orchids and a charming fish pond. The room is appointed with a mini fridge, microwave, and electric kettle. The bed is a high end king size Beautyrest with nice linens that will be sure to provide you a good nights sleep. You will be provided with bath and hand towels as well as beach towels. There is also snorkeling equipment available at your request.
The cottage sits on a half acre directly across the street from the ocean and a wonderful park like setting referred to as the point. It's a great place to hang out, relax, enjoy a glass (or bottle) of wine, or a picnic lunch, dinner or just watch the world go by. The black sand beach is a short and beautiful 5-10 minute walk.
Bucks place (coconut cottage) is a Great place to stay close to the lava entering the ocean, tide pools, black sand beach, and the night market.. Very informative and friendly host with nice clean accommodations. I would visit this venue again
Brian
2017-01-18T00:00:00Z
This was my first time on the Big Island, and staying at Buck's place was the perfect introduction. The room is cozy and comfortable. The location on the eastern shore offers a quieter and unique experience. I felt like we caught a glimpse of real Hawaii life here, especially getting to see the Wednesday night community market. It is a short walk to the beach, and there is plenty to see along this coast. Buck was very welcoming and super helpful with his recommendations. AND his morning coffee is delicious! Thanks for a great stay.
Erica
2016-12-16T00:00:00Z
Don't miss the opportunity to stay in this magical part of Hawaii...and be sure that you stay with Buck! We spent 3 lovely and peaceful nights at Coconut Cottage. What a perfect little retreat! So clean, with a super comfy bed, thoughtful attention to details, and helpful suggestions on where to go to best experience this wonderful coastline. Delicious coffee served at our doorstep every (URL HIDDEN) of our favorite air bnb stays ever! Thank you, Buck for a special stay..
Susan
2016-02-14T00:00:00Z
We have stayed in a lot of Airbnb's and this by far was one of the best. Great room, amazing setting and incredible hospitality by the host Buck. We love this part of the Big Island and this place was the perfect location to explore. It was also the perfect place to simply lay low and relax. Can't wait to go back and this place is one I know we will return to. Aloha!
John
2017-03-23T00:00:00Z
Buck was an amazing host and the property is beautiful. He greeted us with a fresh coffee tray each morning and made us a delicious breakfast that we ate on the large lanai with ocean views (this was very handy since there are not a lot of places to eat close by). We love this place and will definitely return if we come to the big island again. It was a great mix of very tropical, lush green foliage and easy ocean access. It is also a great location for all things on the east coast of BI.
saul
2016-11-08T00:00:00Z
This was by far one of the best AirBNBs we've ever stayed at. The attention to detail that Buck has put into this property is magnificent. He was extremely warm and welcoming. The property itself is exactly as described, providing for a very relaxing experience. We'd recommend this to anyone looking to stay in the area on the Big Island.
andrew
2017-03-06T00:00:00Z
Our stay was amazing !!!! We love the cottage and the shower is great and original ! Buck is very very very Nice and have great advice . we thought we were in the jungle but with exceptional comfort !!! It was incredible and great ! Thank you buck
Elise
2016-10-18T00:00:00Z
Buck is a wonderfully gracious and thoughtful host. He's a fountain of local knowledge and just a really lovely guy to be around. The cottage is absolutely perfect - immaculately clean , the bed and pillows are sooooo comfy, the bathroom and outdoor shower ... beautiful. Buck has thought of everything, room has everything you would need. Do take the time to read the guidebook in your room , very informative and witty. Getting coffee delivered each morning is a delightful treat, made me feel very spoilt ! Views from the bed , the surrounding gardens , shared lanai , everything comes together beautifully, you feel at home there from the start . Nice area to stay , you do need a car there but it's all about getting away from it all isn't it ? Thank you Buck for a very relaxing and perfect stay, would most definitely stay there again if the opportunity arose and can only recommend highly.
Kim
2016-05-07T00:00:00Z
Room Type
Private room
---
Property Type
Bungalow
---
Accommodates
2
---
Bedrooms
Pāhoa, HI, United States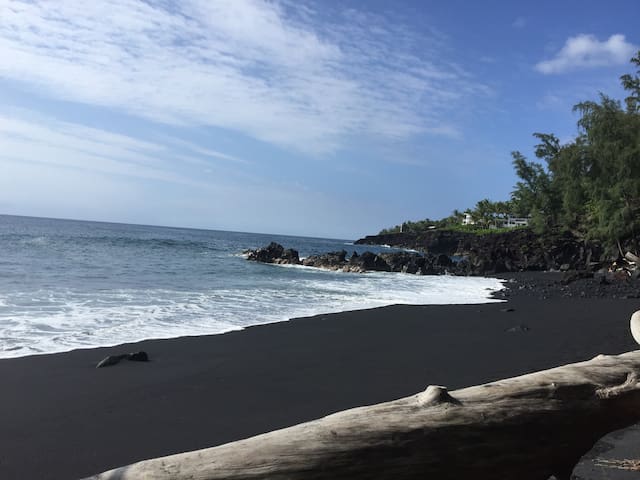 The Absolute Paradise Garden Cottage is close to Kehena black sand beach, Ahalanui hot springs, Kapoho tide pools, farmers markets, restaurants, historic Pahoa town, Volcano National Park, and much more! You'll love my place because of the garden views, outdoor shower, the comfortable living space with beautiful architecture, and lava walls. The Absolute Paradise Garden Cottage is good for couples, solo adventurers, business travelers, and small groups.
The Absolute Paradise Garden Cottage is a popular vacation destination and is available for groups of 1-4 people. It is the perfect place for a health oriented retreat, with great privacy, peacefulness, quietude, and a short 5 minute walk to Kehena Beach. is Absolute Paradise sits on a hill, gracefully nestled up to Hawaii state land and the native Ohia forest. Commanding ocean views from the many areas of the property, and lava rock walls frame a mature landscape of edible and ornamental trees and flowering tropical foliage. The Absolute Paradise Garden Cottage features lava rock walls at one end of the building, and a wall of windows overlooking beautiful gardens at the other end of the building. The cottage has a large bedroom and living area, ½ indoor bath, and a luxurious outdoor shower set amidst the lush tropical gardens.
Puna Palisades is a unique and beautiful neighborhood, in close proximity to Kehena beach.
This little cottage allowed me to have a getaway from my getaway. My place was overcrowded so I needed somewhere to stay and this cottage was in the best location for all the local activities. It was in a remote area but in the hub of Puna I was able to walk to the beach short drive to the markets and short drive to the Estatic dances. This was a great getaway for me and I am sure it would be perfect for anyone wanting a local experience or a secluded get away. The place was clean and tidy with absolute beautiful windows giving a grand open feeling. I defiantly would stay again.
Karen
2016-12-31T00:00:00Z
Everything went great, thank you Leith!
Dima
2016-12-03T00:00:00Z
I stayed 14 nights (1 person). Overall my stay wasn't bad but there is room for improvement. Pros: great location and spacious room with lots of windows and natural light. Cons: 1. On the Airbnb listing it is described as a 'Cottage', the owner's website describes it as a 'B&B' - it's neither; it is a studio apartment with a kitchenette (sort of) and is attached to a 4 bedroom vacation rental (also on Airbnb). 2. The mattress was way too soft for my liking 3. The fridge was tiny (dorm size cube fridge). I know electricity in Hawaii is expensive but even for 1 person this is too small; it's 13 miles to Pahoa where the closest restaurants and shops are so replenishing this tiny fridge 3 times a week or more is unrealistic. It also rattles and hums for 5-6 minutes every hour or so (this is a studio - the fridge is about 8 feet from the bed) 3. In the eaves of the room are 3 ventilation windows, that's good but they open to the pool area of the 4 bedroom rental. From this unit u can hear every conversation around the pool and spa area. Even when only 2 people were staying in the other house it was noisy - that house sleeps 14 and 14 people using the pool/spa would be VERY noisy. Just the pool filter running at night was noisy from inside this unit (and I'm normally a pretty sound sleeper). 4. I stayed 2 weeks and assumed somewhere in all the drawers there would be a second change of sheets - there wasn't (and no, I shouldn't have to ask). 5. For 1 person the price charged is ok and reflects that this is a studio with basic amenities provided - the extra person rate (2nd person) is $30 per person per night. If I had paid an extra $210 per week for 2 people I would feel ripped off.
Alan
2016-10-15T00:00:00Z
We enjoyed our stay in the cottage at Absolute Paradise in the Puna side of Hawaii. The grounds are beautiful and the location close to Kahena beach was awesome. Leith and the caretaker Karen were very helpful and responsive with communication regarding sightseeing, dining options, and logistics. The cottage is spacious and beautiful and has a small kitchenette area suitable for light cooking and food preparation. Sound does unfortunately travel a little too well through the vents from the pool area of the upper unit. One note of transparency is that staying in the cottage does not permit access to the hottub, pool, sundeck, or ocean views at the primary rental unit at Absolute Paradise.
Evan
2016-10-22T00:00:00Z
This guest cottage just below the main house is beautiful, stylish, and peaceful. Located in a safe neighborhood, it's easy to find, near Kehena beach, just off of the Red Road. The caretaker, Karen, is a lovely host and the owner, Leith, is very prompt in his communications. Both ensured I felt quite comfortable and welcome. Bold lava rock walls are the main design feature throughout this architecturally interesting nest. Tucked within is a spacious suite filled with natural light and decorated with hand painted tropical botanicals, stained glass, and potted orchids. A folding futon provides a comfortable extra bed option-the space is appropriate for a max of 4 people. Several fans provide great air circulation and white noise. Strong wifi, landline phone with answering machine, kitchenette with a new mini fridge, several appliances, and plenty of filtered drinking water in a 5gal dispenser. Everything was clean, including the outdoor shower with pink bougainvillea overhead. I would absolutely stay here again!
Abby
2016-11-20T00:00:00Z
Had a great time, great location.
David
2017-03-11T00:00:00Z
Leith's Paradise Cottage was great and his entire property was amazing. It was a truly authentic Hawaiian experience along Red Road in Pahoa. The property is surrounded with lava walls and lush vegetation and the back yard is a lava field! Inside the cottage has walls made of lava and the outdoor shower was amazing! I didn't get to see his other property onsite, but I can only image it's even more beautiful with ocean views and pool/hot tub. Location is easy to find and Tiki, his property manager was very friendly and accommodating! It's also only a mile away from Kalani, which is an amazing place convenient place for a meal instead of driving into Pahoa. Will defiantly stay there again!
Andrea
2017-03-23T00:00:00Z
This is a great place to stay! I would highly reccomend it to others looking for a spot in this location. You can walk to the beach and to Kalani Oceanside Retreat but will need a car to get to the nearest town with restaurants and bars. I slept great on the futon. It is in a safe, quiet neighborhood. The gorgeous lava rock architecture was a beautiful touch.
Hailey
2016-12-12T00:00:00Z
Room Type
Entire home/apt
---
Property Type
House
---
Accommodates
4
---
Bedrooms
Pāhoa, HI, United States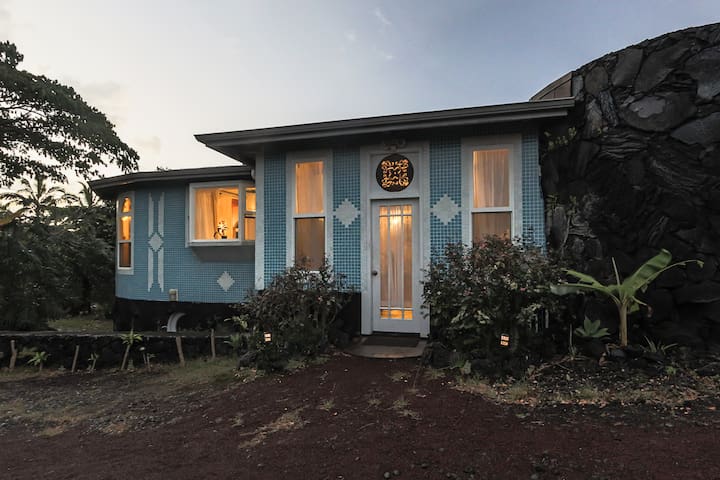 Our contemporary Hawaiian style house is located in the exotic south Puna. Surrounded by tropical vegetation, this property is an ideal place to relax in the luscious tropical garden, far away from the hustle and bustle of civilization.
Our home has two stories, each one with a separate entrance and can comfortably accommodate up seven guests. The house is only two years old, made with mostly natural materials, wooden outside, slated stone floors inside, and a beautiful marble counter top. Second floor room can accommodate four guests. It has a king size bed and a full size futon, is equipped with a fully functional kitchen, smart TV, a bathroom with a bathtub and shower, and a large lanai (patio), perfect for enjoying a family dinner in a tropical setting. If you are traveling as a group of four or less, you will rent this floor only. First floor is very spacious, and can comfortably accommodate three additional guests. The floor is made out of slated rock, the room has a Smart TV and a half bath. First floor room also has a large lanai (patio) with an outdoor bath perfect for relaxing while enjoying the peace and beauty of a tropical garden. Please keep in mind that this bath is outdoor and has limited privacy. Lava Hale is home to some adorable neon green geckos who faithfully gobble up mosquitoes or flying cockroaches that stray into the house if you leave the door open! Geckos are found in practically every home in Hawaii and they complete the Hawaiian experience. They rarely venture down from the walls and are not a cause for concern. Guests are encouraged to wander through the tropical gardens and enjoy lilikoi (passion fruit), Thai peppers, sweet basil, and even strawberries if you are lucky. The banana patch have bananas every once in a while. This property is smoke and pet free, no parties or events, and please remember that taking off shoes before entering the room is a part of Hawaiian culture.
Our Lava Hale is located within a walking distance from Black Sand Kahena Beach, an amazing volcanic beauty, minutes from the active lava flow at Kalapana, and Hot Ponds of Ahalanui Park. Wade through Kapoho Tide Pools and admire the beautiful formations at the Lava Tree State Park. Close to the Kalani Retreat Center, Volcanoes National Park, Kaimu Beach, Isaac Hale Beach, Uncle Robert's Kava Bar, and the beautiful Oceanside McKenzie State Park.
Rafal and Grace have a sweet place in close proximity to many beach attractions and the current lava flow. Their yard is beautiful. Loved the beautiful flooring in the upstairs bedroom area and the large screened in lanai off the lower unit with the outdoor soaking tub. The home was well equipped for eating outside in all kinds of weather because of the large covered areas. Mahalo Rafal and Grace, we enjoyed our short stay!
Marci
2017-02-06T00:00:00Z
What a remarkable experience! I came out with my dad for a month to escape this long winter and the weather was perfect. The hosts don't live on site but they are always available by phone or email and the maintenance man lives in the neighborhood and was also there whenever we needed him which was only once or twice. The back yard is full of beautiful tropical plants and several fruit trees, papaya, lilikoi, pineapple, strawberries! The house is in new condition as listed. We had plenty of hot water and the lanai was where we spend most afternoons enjoying the breeze. It's an easy 5 minute walk down to a grassy park for amazing sunrises and a 15-20 minute walk to a black sand beach and delicious restaurant that serves local organic food. From there driving to the warm ponds, Uncle Roberts or a number of farmers markets and restaurants are all within a half hour drive. Getting to Volcano national park was also about a half hour away. We stayed for a month and neither of us wanted to leave in the end. Don't expect cell phones to work very well at the home but we found a couple of places in the area that they did. Internet is slow but the owners just had satellite television installed. If I get a chance to go back this is where I would stay again. Thank you Grace and Rafal.
Nicholas
2017-03-09T00:00:00Z
This house is the perfect place for soaking up the laid back Hawaii lifestyle, while also being close to the Kalapana lava viewing area. The house makes perfect use of indoor/outdoor space and it really feels great to flow seamlessly between the two. There's not a ton of privacy to the place (big windows without much cover), but you're in such a secluded spot that it really doesn't matter. Grace and Rafal had exceptionally quick responses to all our questions and were more than flexible in making our stay comfortable. If you are planning a trip to go see the lava from Kalapana or take a lava boat tour, you should definitely check this house out as it is conveniently located between both. An easy five stars.
Elliott
2017-03-19T00:00:00Z
Sweet, quiet place in the dropped out Seaview Estates. You will need a car as there are no facilities within 4 miles and I don't recommend walking on the road as there is little visibility for drivers and many people speed. Kehena beach is close by. The house is very functional and pretty comfortable. The upstairs deck and downstairs outdoor shower were my favorite things about the place. The garden is very young and does not have any fruit so don't expect to pick fruit as mentioned in the description. It was hot an muggy in the downstairs bedroom- there was no fan. I would check with the owners to confirm that a fan is provided. The TV downstairs did not have a power cable- check with host to make sure there is one for your stay if you want it. I liked the very natural feel of the area - it is raw and rugged with amazing fresh air.
Alicia
2017-03-14T00:00:00Z
The place is excellent, especially if you are interested in the volcano park! But take care to have a rental car, the island is much bigger (of course that's why it's called Big Island ;)) than the other Hawaiian Islands and you have to drive. The house is very clean, it's cool to stay at the balcony in the evening and everything else about it is also pretty cool! Some extremely cool geckos will check you out in a cute way! The hosts are very kind and will help you with nearly every problem your facing and they will have some tipps planing your trip in prior. Even if Grace & Rafal are not there, the housekeeper (Kevin) is awesome too. He helps you out wherever he cans and gives you awesome Tipps too. We highly recommend the place!
Benedikt
2017-03-26T00:00:00Z
Grace and Rafal's place was exactly what we wanted. Clean, easy access, detailed instructions on everything. We particularly enjoyed a glass of wine and some stargazing on the patio and the outdoor shower! Great place to relax and unplug.
michael
2017-03-30T00:00:00Z
The rental was in a secluded picturesque setting! And the upstairs portion was very tropical and clean!
Nicole
2017-04-02T00:00:00Z
Room Type
Entire home/apt
---
Property Type
House
---
Accommodates
7
---
Bedrooms
Pāhoa, HI, United States
Our Eco-Friendly Solar home is a 4 minute stroll from ocean tidepools in an intimate jungle neighborhood on a safe, dead-end dirt road. Enjoy the fruit growing in the yard. Just 3 miles from famous Kehena black sand beach. Clothing optional.
PLEASE IN COMPLETELY BEFORE BOOKING Pua Lani House is situated on the beautiful Puna Coast of the Big Island, approximately 30 miles southeast of Hilo. Just a 4 minute stroll from ocean tide pools, start each morning taking in the spectacular Hawaiian sunrise. The house is located in an intimate jungle neighborhood on a safe, yet slightly bumpy, dead-end dirt road. (Cell reception is spotty on the drive to the house, so please print directions from your itinerary page before your trip.) The property has a large grass lawn with many fruit trees including banana, mango, papaya, coconut, lime, orange, fig, rolenia, abiu, breadfruit, lilikoi, kumquat, macnut, sapote,mulberry and more. Great place for the kids to run free in safe private environment. The yard is well hidden from the street, so clothing is optional. The property is home to some adorable geckos who faithfully gobble up mosquitoes that stray into the house. Geckos are found in practically every home in Hawaii and they complete the Hawaiian experience. If you are not ok with a few bugs in the house, the Puna district may not be for you. But the gecko's have a hard time eating up all the mosquitos so please bring your bug spray! Hawaii is also the home to the coqui frog which is tiny nocturnal tree frog that sings it's song in the night, often quite loud. If you are sensitive to night sounds, please bring your earplugs. This is a completely off the grid house so you will have to be low impact with your electricity use. There is plenty of power for lights and charging devices. Of course we ask that you turn off and unplug these items when not in use. But anything that uses a heating element (hairdryer, curling irons, etc.) are not acceptable. Soak in the reclining tub in the bathroom with a view of jungle or enjoy the OUTDOOR SHOWER surrounded by mango trees and tropical ferns. Relaxing on the large lanai overlooking the lawn and orchard, you may spend your whole vacation enjoying the property and nearby tidepools, yet the house is the perfect base for exploring the unique natural and cultural heritage of the Big Island. Hilo is the orchid growing capital of the world and is home to several magnificent botanical gardens, museums, galleries, and restaurants. The main attraction of the area is Volcanoes National Park, a 45-minute drive away, where you can see active lava flows and witness the formation of the newest land on the planet. The closest town to the house is relaxed Pahoa, a quick fifteen minute drive away, with a grocery store, a large farmer's market, a health food store, banks, restaurants, and other conveniences. All along the coast in the rural Puna District, you will discover special places to explore, from scenic parks to sheltered coves. Three miles from the cottage is exotic Kehena Beach, where palms and ironwood trees frame a lovely crescent of black sand. Two miles in the other direction is MacKenzie State Park, where steep lava cliffs form a rugged, rocky shore. MacKenzie Park also has interesting hiking trails and accessible lava tubes for spelunking. Five miles from the cottage is Ahalanui State Park with a naturally heated fresh/salt-water swimming pond. And, a little further down the road is Kapoho Tide Pools for some of the best snorkeling on the east side of Hawaii. You will have the entire property to yourself. The property manager who lives on in the neighborhood may pop by to see if there is anything you need or to share directions to the best local spots. The house is approximately 1200 sq. ft (112sq.meters). There is a solar light at the entrance to the driveway. Small private street with friendly neighbors. There is no public transportation. Although there is a culture of hitchhiking in the area, we recommend you rent a car for maximum safety and freedom. Get away from it all and enjoy the simplicity of Old Hawai'i.
Small private street with friendly neighbors.
The house was simple and charming. We were thrilled with the jungle like setting with the numerous fruit trees around the house. A unique experience.
Wendy
2014-10-19T00:00:00Z
This is our second time staying here, so please read prior review for details. With that said, we obviously love kelly's home. The home and property itself are magical. Its real authentic Puna, allowing you to be in a clean and cozy home, but also very connected to Nature. And you can't ask for a better location!
Sam
2016-04-24T00:00:00Z
Kelley is a great host. Everything was like she communicate in her emails and we found our way very well in the house with the welcome-sheet from Kelley. The Place is clean and well fournished. The kids loved to play in the garden. A great house in a great area!!! It's not just another airbnb-possibility. It's a very special, beautyful place, you have to see and live in it!
Matthias
2017-03-16T00:00:00Z
Staying at Kelleys was an adventure. Fun and scary. If you choose to stay at Kelley's, PLEASE READ HER ITINERARY on how to get to the home. I used (SENSITIVE CONTENTS HIDDEN) maps and it took me on a road that I thought I was gonna get murdered. Before we hit the wrong & scary road, there was a little girl in front of a home that gave us this creepy smile as if she knew we weren't going the right way or we were gonna die. Please read the directions Kelley sends lol. Onto the fun part. Everything in the Eco Home was amazing. The feeling of being in a jungle and being close by to everything is what made me choose this place. It's about a 45 minute drive to Hilo, where the best restaurants and beaches are. Fruit picking and showering outside is an experience I will never forget. I wish I can do it more often. The upstairs bed is HUGE. It can probably fit 5 adults. Another favorite of mine was listening to all the coqui frogs, bugs and other creatures singing at night. Kelley is a great host. She quickly responds to any questions or concerns you have. We didn't get to meet the caretaker but she did do an awesome job and keeping the home clean. If I come back to the Hilo side, I will definitely stay here again. I highly recommend this place to anyone. It's an amazing place for a single person, couple or family. Thanks for everything, Kelley!
Maikell & Jessica
2015-12-06T00:00:00Z
We loved the house! Every aspect of the rental was magical. The house can easily sleep 5 people. The avocado tree in the yard drops huge avocados daily. And the roaring ocean is only a short walk down the street. Such a beautiful location. My girlfriend and I hope to stay here again very soon. Communication with Kelly and the property manager was quick and easy.
Ryan
2015-12-30T00:00:00Z
The house is so peaceful and a wonderful example of perfect off grid design and building elements for the climate. We found it quite easy to find using the directions. The grounds are beautiful with a fresh avocado dropping from a tree to great us. We also had coconut and orange from the garden, both amazing. The outdoor shower is particularly special and a great way to start the day washing with nature. The neighbourhood is quiet and evenings with the songs of the frogs and other wildlife in the hammocks on the porch were absolute bliss. We have stayed in many houses around the world and this was one of the best. Kelley was easy to communicate with and the house instructions were perfect. To people that are not used to wildlife and the local creatures or living in an Eco-friendly manner thinking about recycling and energy usage, this may not be for you. For us it was perfect and a great base to explore the Big Island. Rental car is needed. Mahalo Kelley for a wonderful stay.
Ruth
2016-03-20T00:00:00Z
We loved our stay at Kelley's home in Pahoa. It was a serene, peaceful setting with an open floor plan that was perfect for our family. It was immaculately clean and ready for us upon arrival. The tide pools at the end of the road as well as the harbor down the road were amazing spots that we never wanted to leave. Kelley's description on the site and directions were very helpful and accurate. Thank you for sharing your house with us.
Ilie
2016-02-17T00:00:00Z
This house is amazing, in the middle of the nature, close the sea, really calm area... The best place to disconnect and relax! If I will return at Big Island sure I will come back!
Dario
2016-01-05T00:00:00Z
Room Type
Entire home/apt
---
Property Type
House
---
Accommodates
5
---
Bedrooms
Pāhoa, HI, United States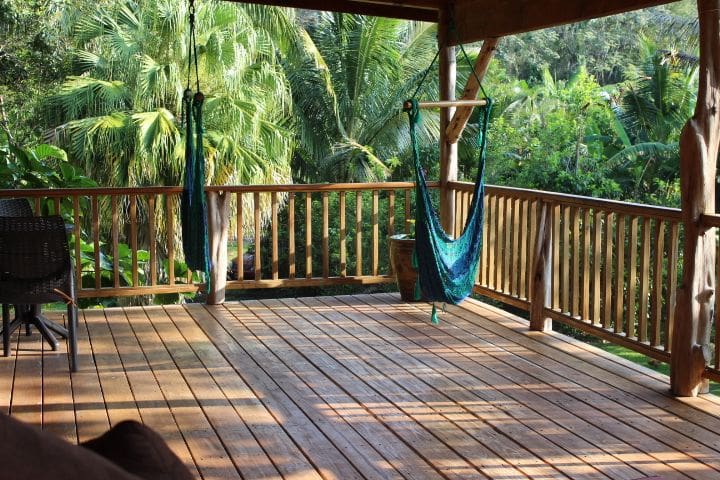 Come stay and experiance the Adventurous Lava Rock Hale, a unique round lava rock cottage situated on 3 gorgeous acres, powered by the sun. Five minutes from great snorkeling in the Vacationland tide pools, ten minutes to the geothermal hotponds and a ten minute bike ride to the lovely mango lined Waa Waa road. The Hale is situated between three volcanic craters, one which is Puu Kikui. Deep inside this ancient crater is a fresh water lake known as Wai o Pele, Peles water. The Hale is just 8 miles from Pahoa town and is centrally located for the exploration of East Hawaii. This is a very special place in the country for an alternative retreat , a perfect spot for the artist, writer, couples, romance...etc. The Hale has solar electric lights, a small solar powered fridge, a ceiling fan, a two burner stove, TV/DVD player with plenty of DVD's and a memory foam queen size bed. There is an outdoor solar heated shower and a covered pavillion with table for barbequing, eating, relaxing and enjoying the scenery. There is also an herb garden right outside for your cooking convienience. If you want to unwind and relax, if you love country/outdoor life then this is the place for you. Visit our personal (email hidden)me stay at the Lava Rock Hale. Aloha
Eric and Diane were awesome! Great people make great place!! Such a beautiful life they have:) and I am so grad to experience that little bit! Thank you for sharing!!!
Kazumi
2017-03-19T00:00:00Z
Amazing. Just amazing. I went solo and I felt like I was on a honeymoon by myself! That said, it's a perfect place to relax, write, read a book, or just enjoy the seclusion. It's near many great spots. If you are here on a Wednesday go to uncle Roberts! And the lava flow. Well worth it. Can't recommend this place enough. Mahalo Eric.
Daniel
2016-12-15T00:00:00Z
We really enjoyed our stay at the Lava Rock Hale. Eric and Diane are great hosts, they warmly welcomed us and made sure that we were confortable. If you look for a place away from the touristy beaches, Pahoa is definitely a place to go.
Cyril
2016-12-19T00:00:00Z
Our favorite house on the island. Beautiful setting, breezy, comfortable accommodations and a sweet hostess make this a winner. I would book a full week here next time.
Michelle
2016-12-12T00:00:00Z
We absolutely loved staying at the Lava Hale for our honeymoon! It was off the grid, peaceful and the perfect honeymoon hideaway. It was close driving distance to great local restaurants, amazing snorkeling and demonstrated the local Hawaiian culture perfectly! Eric and Diane were an adorable couple and great hosts. We were greeted with fresh bananas off of the tree from our front yard when we arrived along with a tour that answered all of our questions. This is surely a little piece of paradise! Mahalo! David and Micki
David
2017-02-15T00:00:00Z
Eric and Diane warmly welcomed us when we arrived, they showed us around their beautiful hale and answered all of the questions we asked about local activities. Pahoa has a cute little town with cafes, restaurants and pubs but we chose to make BBQs and eat under the stars. While we were there we rented a convertible because we didn't pre-arrange a car. I would recommend looking to get a 4WD in advance, although the convertible got us everywhere we needed to go. The lava rock hale is conveniently close to the volcanoes and you can hire a bike for $20 which was a fun ride and well worth the trip. The lava rock hale was like a home away from home in paradise.
Kate and Andy
2017-02-01T00:00:00Z
Lovely! We had a really wonderful and relaxing time. The property and house are beautiful. Plus the bonus of a super friendly horse to hang out with.
Amanda
2017-03-02T00:00:00Z
Eric and Diane were wonderful hosts, and their Lava Rock Hale was beautiful! Very cool space and comfortable bed, right down the street from awesome snorkeling and a 'warm' pond. Really warm people and a lovely place to stay. Hope to be back some day :)!
Jessica
2014-05-24T00:00:00Z
Room Type
Entire home/apt
---
Property Type
Cottage
---
Accommodates
2
---
Bedrooms
Pāhoa, HI, United States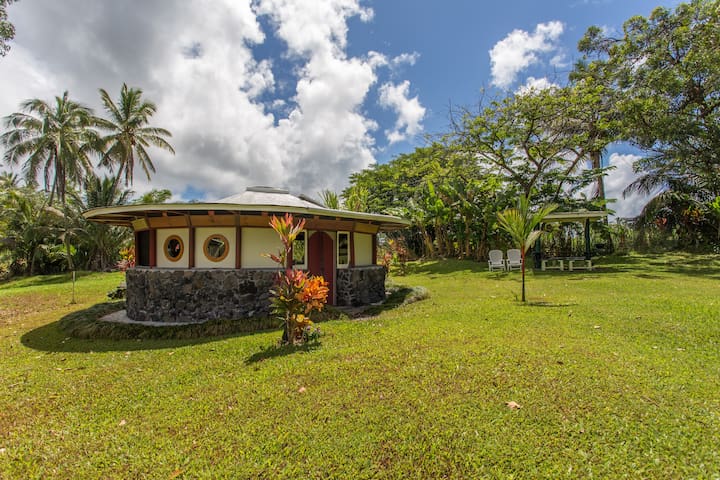 Enter dates to see full pricing. Additional fees apply. Taxes may be added.