My place is close to family-friendly activities. My place is good for couples, solo adventurers, business travelers, and families (with kids). It is in a very peaceful surroundings with a beautiful nature, nice for walking or cycling, 750m away from the bus station.
The apartment is located 15 minutes with car from centre of Ljubljana. It is close to public transport, shops, restaurants etc. Apartment is on top floor of beautiful new modern house - because of that you have beautiful scenic view. If you are wake early enough you can see beautiful sunrise. The apartment is comfortable and filled with natural light. Style is modern with touch of minimalism and lots of details are natural, so the host sure did think of well being - which we absolutely can confirm. We had a blast! Definitely recommended for individuals, families or anyone who want to be near centre, but still in beautiful nature.
Nejc
2017-01-02T00:00:00Z
Все было отлично) Спасибо огромного!
Daria
2017-01-06T00:00:00Z
Room Type
Entire home/flat
---
Property Type
Apartment
---
Accommodates
3
---
Bedrooms
Lavrica, Ljubljana, Slovenia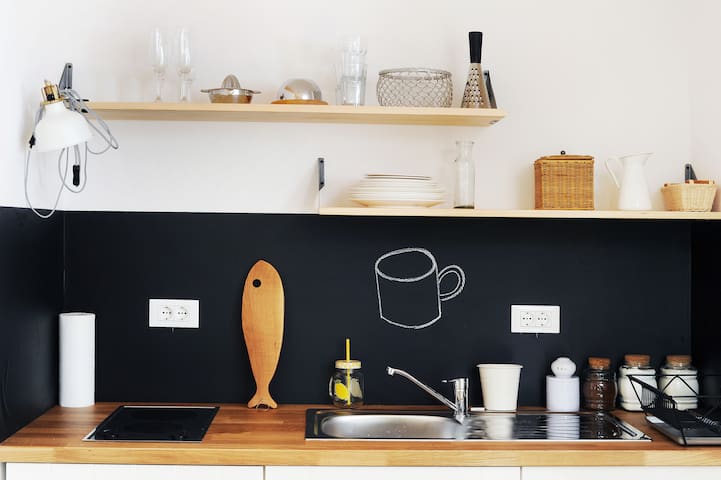 Modern, fully equipped 2-bedroom (50m2) apartment with a balcony (see pictures). Bathroom with tub, extra basement and a parking space available. Including a couch, dining table + 6 dining chairs and all kitchen appliances (oven, fridge, freezer, microwave, cooking hub), air conditioning and a washer/dryer (in the bathroom). Central gas heating, all connections (internet) are available. Quiet location, last row of villa app., has a north-east direction, overlooking the forest.
New residential area Lanovo in Škofljica
Quiet, nice people, basketball court outside the building.
Room Type
Entire home/apt
---
Property Type
Apartment
---
Accommodates
2
---
Bedrooms
Škofljica, Ljubljana, Slovenia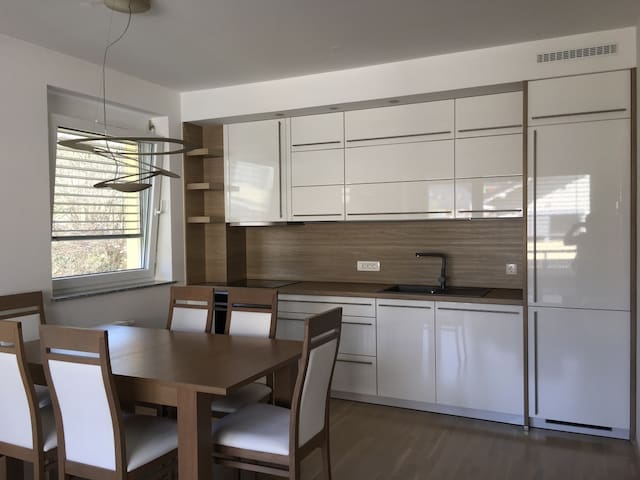 Appartment is bright and quiet. It is in the house where me and my family lives. You have your own parking lot and garden. Separate bathroom and toilet, one bedroom(TV) and living room (radio) with a kitchen (with all appliances and pots and dishes). NOTHING IN APARTMANT IS SHARED.
it is very clean, new....
It is very secure
Ana's apartment was very clean and tidy and was a good space for two people. The apartment however is not centrally located and is a 10 minute bus ride from the centre which you need a bus card for (Ana does provide this) and costs €1.20 per person. There is a supermarket down the road which you can get to by foot in approx. 5 minutes. Overall the apartment was a good stay.
Thomas
2016-08-12T00:00:00Z
Great value for money and very clean. 3km from city centre but the bus station is a 3 minute walk and if you come by car there is parking space. Amazing stay for New Year's Eve.
Brooklynn
2017-01-03T00:00:00Z
The apartment in Ljubljana was very clean, spacious and was only a minute away from the nearest bus stop. Ana was genuine and responsive. TV was not working during stay but WI-FI was excellent. Felt very comfortable during the stay and would recommend for someone looking for an affordable visit in Ljubljana. Can get a taxi from train station to apartment for around 6-8 Euro.
Kyle
2016-10-10T00:00:00Z
We had a lovely stay at Ana's apartment. It was clean, neat and comfortable. Ana and her family were very friendly and helpful. We were about a 50 minute walk to Ljubljana which was fine - the neighborhood was probably typical of an older area away from the city.
Susan
2016-05-21T00:00:00Z
We stayed here for two nights during our stay in Ljubljana. It is a very charming and comfortable place with all the essentials needed for a stay. The host was very kind to help us get comfortable during our stay and answer our questions or help us get a taxi. If you are traveling by foot, the apartment is an hour walk from the city, so it is not very close but there is a bus stop at the end of the road that can take you to the center. It was a pleasant stay, thank you very much Ana.
Ann
2016-04-11T00:00:00Z
great apartman
Ondřej
2016-10-13T00:00:00Z
Ljubljana is a beautiful city and easily accessible from Ana's flat. A two minute walk to a bus stop, ten minutes and €1.20 later and you are in the centre. The apartment is quiet and secluded but has everything you need and is a short walk to an Aldi's (or Hofer). Great value for money and a great host
Craig
2016-04-21T00:00:00Z
Ana was unable to meet us when we first arrived, but gave us instructions on how to get into the apartment and get situated. When we arrived, we were pleasantly surprised by her lovely apartment and convenient location to Ljubljana. We were welcomed shortly after by her parents who live upstairs with a bottle of wine, which we very much appreciated and enjoyed. Overall, the apartment was great. We had a car, so getting to Ljubljana was easy.
Joshua
2016-09-19T00:00:00Z
Room Type
Entire home/apt
---
Property Type
Apartment
---
Accommodates
2
---
Bedrooms
Ljubljana, Ljubljana, Slovenia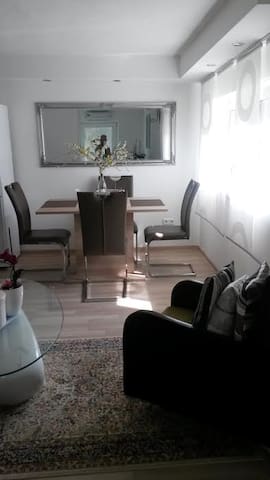 Attractive private room with excellent accessibility and private parking space. Perfect for couples and families with 1-2 children traveling through Slovenia. Dogs and Cats are welcome. 10 min to the city centre, 5 min from highway, 2 min to shopping centre, 1 min to bus stop. Space for parking of
The house in lcoated at the end of the one-way road in our green, quiet and safe neighborhood, just minutes from Ljubljana's most famous recreational areas (PST and Golovec Hill) and Supernova shopping center. Apartment is the only appartment in ground floor of the house. The private garden area is very cosy and perfect to enjoy morning coffee or a glass of wine in the eveninig. If you are on a business trip, you are welcome to use our Wi-Fi, computer, printer and/or scanner.
Room Type
Private room
---
Property Type
Apartment
---
Accommodates
3
---
Bedrooms
Ljubljana, Ljubljana, Slovenia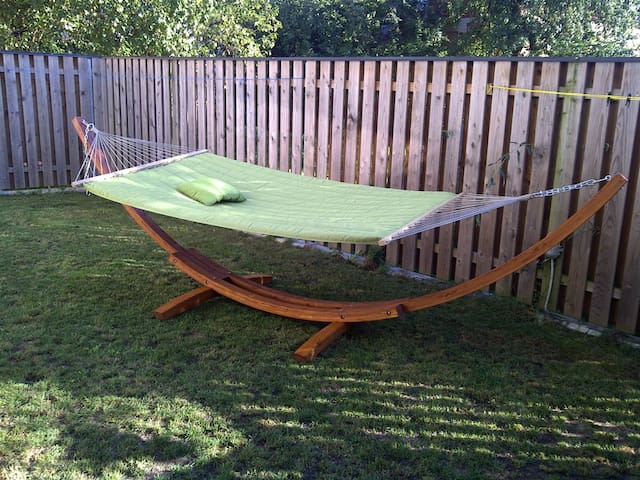 The 120 sqm big and fully equipped apartment offers you a lot of comfort... located on the fringe of Ljubljana in a nice house in nature with a beautiful garden and with free parking & wi-fi... well connected with city center by public transport ;)
The apartment of 120 sqm is arranged stylishly and comes with a wonderful living room, 4 bedrooms (all together 2 single beds and 2 double beds), a fully equipped kitchen with a dining area, a bathroom with shower bathtub double washbowl and a separate toilet. It offers more than enough space for 6 persons (+2 in living room if necessary). There will be fresh bed sheets and towels waiting for you. The exterior area of the apartment provides a furnished balcony with table, chairs and comfortable sun loungers. You are also warmly welcome to use the big garden behind the house, where you can enjoy the nature or if you are traveling with kids, explore the sandpit, swings, trampoline and other toys. A grill is also available.
The apartment is located right between the Alps and Adriatic Sea, on the fringe of Ljubljana, just 9 km south of Ljubljana city center. Within minutes you are in the city center of Ljubljana, in less than an hour you are at the seaside or in the Alps. But why seek far afield when the good could not be any closer by, inspiring you and your children for biking and hiking tours (within reach by foot are Ljubljana's landmark mountain 'Krim' - 1107m and a wild romantical gorge 'Iski vintgar').
Шикарные апартаменты. Самая оборудованная кухня. Очень гостеприимные хозяева.
Pavel
2016-09-25T00:00:00Z
Room Type
Entire home/apt
---
Property Type
Apartment
---
Accommodates
6
---
Bedrooms
Ig, Ljubljana, Slovenia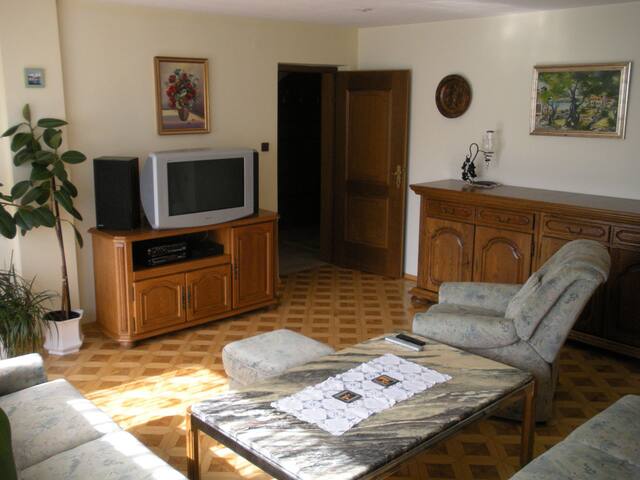 Our apartment is approx. 2,5 km away from the city centre (10 minutes by bike, 10 by bus) and close to the highway. It is located in a peaceful area. The bus station is 4 minutes away from the apartment. A grocery store is next to our yard and it's open from 7 am till 8 pm, on Sundays until 4 pm. A parking space is also available.
The studio was completely renovated in November 2016. We hope you'll feel like at home.
Peaceful neighborhood.
Nice room just as described. The place is easily accessible by car and not too far away from the center, so you're able to walk. The hosts are friendly and quick to respond.
Marcel
2016-09-15T00:00:00Z
Great location for the money you pay! We never got the bus, it's a flat 30 min walk or 2 min drive to the centre. Warm welcome with very clean rooms. Everything was as we would have hoped
Sarah
2016-09-12T00:00:00Z
The place is as promised. The room is good. Beds are very nice. A good place if you come by car. About 200 metres next door is a bus stop, buy a bus card in the shop across the street at the bus stop, for 1,20 euro you can take the bus to centre.
Jw
2016-08-29T00:00:00Z
Simple house but clean and with everything needed. Even though we didn´t meet Bale, the parents were nice and welcomed us.
Kiki
2016-09-24T00:00:00Z
Great stay! We were only here for one night but the place was very clean and warm. Well equipped kitchen which allowed us to cook dinner at home instead of going out. Easy bus to the city centre just 5min walk from her place! Highly recommended :)
Tarini
2017-03-12T00:00:00Z
The apartment is very clean and quiet, and maybe a little cold, but the winter weather doesn't help. It is approximately 25 minutes on foot to the beautiful city center. The host has been super kind to rapidly fix a problem with the wifi even during new year's eve. Overall, totally recommended for a nice stay in Ljubljana.
Lorenzo
2017-01-01T00:00:00Z
Nice and clean apartment to stay in Ljubljana. Only around 5 minutes drive to the centre. We were going to spend another night but the weather wasn't good the next day and so we left the city. Good price, would recommend staying here.
Simon
2016-09-05T00:00:00Z
Nice flat very close to the center by feet or by bus. I recommend everyone to visit Ljubljana.
Quentin
2016-08-20T00:00:00Z
Room Type
Entire home/apt
---
Property Type
Apartment
---
Accommodates
2
---
Bedrooms
Ljubljana, Ljubljana, Slovenia
Located in the quite and green Ljubljana's neighbourhood. Privat free parking, free WIFI, 2 free bicycles, canoe for 3 person free - on request. Ljubljanica river, Livada restaurant and Botanical garden are 10 min walking distance; City centre - Preseren's squere is 20 min walking distance along the river. Free walking city tour on request.
You'll love this modern place because of the location, positive energy, lots of space and nice balcony. This 45m2 apartment features a seating area with a satellite TV and a fully equipped kitchen with an oven and dishwasher. Bedroom with double bed 180x200 and bathroom. washing mashine. Free WIFI, free private parking space. Children's playground in front of the house. Nice, clean, bright, new. Experts for sports activities: Cycling, hiking , running, kayaking, canoeing and cross coutry skiing ... Ljubljanica Apartment is close to the historical city center, Ljubljana castle, food market, restaurants and bars. Sauna, wellnes and swiming pool 5 minutes away walking. Ljubljana's Castle and Golovec recreational area is close to walk or jogging. 3 backery near, Ljubljana Marsh Nature Park, Leclerc and Supernova shooping center 5 min driving.
Ljubljanica river, Botanical Garden, Ljubljana's Castle, Golovec recreational area, Marcetplace and open kitchen, Livada restaurant, 3 backery, Ljubljana Marsh Nature Park, Leclerc and Supernova shooping center Great wellnes, sauna and swimming pool 5min walking distance, Thai massage around the corner
We loved our stay in Ljubljana! The apartment was great, had everything we needed, and perfect for a couple. The walk into town took us about 15 to 20 minutes, but it was a very easy and safe. We were even offered bicycles or a boat to row into town instead :) I only wish we could have spent a few more days exploring Ljubljana. We would stay here again!
Berri
2016-08-12T00:00:00Z
Apartment exactly as described, very clean, in quiet location. We loved its location, since it was not far from city (walk distance). Also a parking space is a big plus. We enjoyed our stay, Andreja was nice host.
Vladimír
2016-08-05T00:00:00Z
Great helpful host with a clean modern and fully equipped apartment. The use of bikes and a canoe was a great addition and made it really easy to access Ljubljana and experience the lovely little city properly. Local made beers on arrival made us feel very welcome. Thanks for everything, we loved our stay
Bryn
2016-10-02T00:00:00Z
I had a great stay with Andreja! She has a wonderful apartment, full of light and with a great little porch to sit on. The walk to downtown is beautiful, right along the river and very easy. Andreja herself is a great host - very welcoming, and had so many great recommendations for my stay. Thanks!
Jess
2016-08-28T00:00:00Z
Andrea was a perfect host. Waited for us until late in the evening, very nice, giving us many reccomendations, explained everything about Ljubljana. Also very supporting when we needed to visit a hospital with our son. The accommodation is a high standard, fully equipped, nicely furnished, quiet, with a small balcony - perfect for family stay. There are Thai massages just round the corner and shopping mall approx. 5min by car. The city centrum approx. 15-20min walking - nice walk.
Petra
2016-11-16T00:00:00Z
Nice and clean apartment in a quiet and green area.
Fabio
2017-03-15T00:00:00Z
The house is clean, comfortable, with all the main appliances as they are described by the host. She's totally reliable, super kind and really helpful. We spent two nights with our two kids (5 and 1 year old) and we enjoyed our stay a lot! The couch was a cosy bed for the older one and we got a fantastic camp bed for the toddler. All the windows have a nice and relaxing garden-view and wifi works just great. There is also a little play ground outside the entrance and private parking. It's close distance to the centre starting from the river, but we always take the car to avoid the first part which is on a residential block not very attractive. We probably walked all the way if no kids, though. All in all we do recommend this accommodation and we look forward to getting back also in the winter time :)
Valentina
2016-08-09T00:00:00Z
The apartment is very nice, exactly as on pictures. There is plenty of space and light. The location is very convenient especially if you are coming by car - there is a parking lot just for you. Andreja was not there when we were coming, but she kindly arranged to get the keys on arrival and to leave them on departure. We were always able to contact her. You will find house rules and a lot of useful leaflets at the apartment. Wifi works perfect!
Gordana
2015-08-21T00:00:00Z
Room Type
Entire home/apt
---
Property Type
Apartment
---
Accommodates
4
---
Bedrooms
Ljubljana, Ljubljana, Slovenia
Private room with balcony and 15 minutes walk from city centre. Free parking and two rental bikes. Shared kitchen and bathroom. Clean and cozy.
The room is ideal for one person or a couple, renovated 5 years ago, with a nice balcony. In the summer you can eat outside, use the grill or just chill on the sun. In the bathroom there is a hair dryer, dusche and washing machine, shampoo, clean towels. Kitchen is fully equipped, big fridge, smoothie maker, toaster etc. so you can prepare hot coffee, meal or fruit salad. In the shared living room there is a Tv with 80 canals, couch, dining table, tea table, radio and free wi fi. Clean bed linen and towels are provided. As well as coffee, sugar, tea, milk, fruit.
Neighbours are nice and friendly. Especially old lady who likes to talk all the time
Well, what can I say? First of all, they were out all weekend, so we had the apartment all for ourselves :) But even without being there, every question, every tip that we asked for, they helped us thoroughly. Beautiful and very well located place, the bedroom was clean and comfortable. If you are in Ljubljana, this is definitely the nicest place to stay!
mimi
2016-09-25T00:00:00Z
Our stay in Ljubljana was great, and if you are visiting my partner and I would highly recommend staying with Tomaž! He is a very friendly and helpful host who made our stay perfect. As we only had a short time to explore Ljubljana and neighbouring Bled Tomaž letting us leave our luggage and check out late on our second and last day as well as check in early following our night train was so helpful as it meant we could do all the things we wanted (and get some sleep after the dreaded night train!). The apartment itself if clean, tidy and well connected by busses to the centre and city station although we walked most times as its a great way to see some less touristy parts of town and follow the river running through Ljubljana. We've already want to go back!
Chanel
2016-09-14T00:00:00Z
We had a great time in Ljubljana with Tomaz as host. Unfortunately he was abroad but was very good in communicating. Big room with balcony and fast Wifi. Thanks for the great time!
rachel
2016-05-04T00:00:00Z
Tomaž and Spela were friendly and easygoing hosts who ensured that I had everything I needed in my stay in Ljubljana. Spela helped me book a taxi to the bus station and printed my bus ticket. Tomaž - who was leaving the next day for a business tripped - took time to fix the flat tire of a bicycle. The room is the perfect size with good lighting, and there were also helpful tourist information brochures thoughtfully placed on the shelf. Their house is a little far from the city centre but that is easily circumvented by a short bike ride. It was raining and snowing when I got there so it was a little hard to bike, but I imagine it would be perfect in the summer as their house is away from the tourist bustle of the city in a quaint and quiet residential area that feels very much like a village.
Esther
2016-04-29T00:00:00Z
It was a very pleasant experience. Tomas and his girlfriend were both very helpful and the appartment was lovely.
Frankie
2016-07-23T00:00:00Z
Tomaž is really friendly and cool guy. He was very communicative and he suggested us things about Ljubljana. The place is just 15 min walking, the room is big and the bed and bathroom were comfortable. I really suggest it to take it :) I hope next time we can grab a beer together.
Javier Ismael
2016-09-06T00:00:00Z
Fantastic room, lovely hosts. We were well provided for at every turn and the location was gorgeous! Thanks guys! x
Ross
2016-05-31T00:00:00Z
Tomaž and his girlfriend was perfect host !! They are helpfull, kind and very sympatic. The room, the kitchen and the bathtoom are very clean and very good. We really loved the few days passed at Ljubljana with this couple. On recommande vivement ! :)
Rémy
2016-08-14T00:00:00Z
Room Type
Private room
---
Property Type
Apartment
---
Accommodates
2
---
Bedrooms
Ljubljana, Ljubljana, Slovenia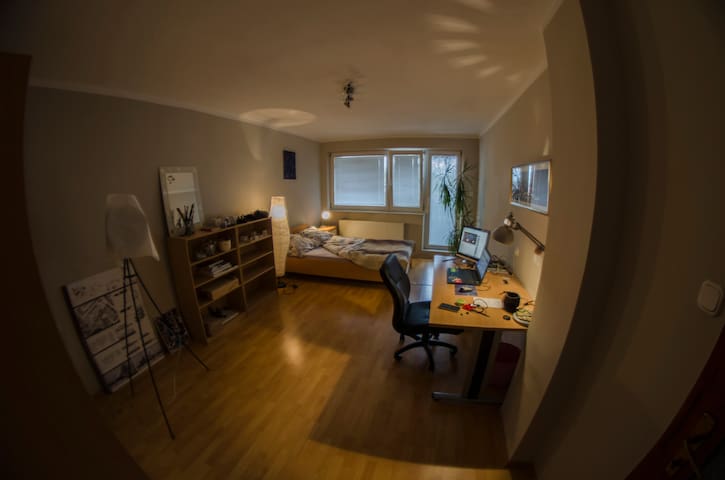 With Airbnb,full of light,cosy privat room well located near city center in a peacefull neiborhood with all essential places(shops,post ofice,bus, parks,Metelkova...)offers a great dubble bed with french balcony and enough space for you.
You will be staying in the master bedroom where there is enough space for a relaxing and soothing stay :)
We had such a great stay here! The room was good, Jan is a great host, and everything we needed was provided. Janez, who is staying in the apartment this summer, is a really cool guy and made us feel really welcome! He also allowed to leave our bags in the apartment throughout the day we left as we had an evening train, which was really kind. Also communication was really easy :)
Polly
2016-07-05T00:00:00Z
Absolutely amazing! Nice and very kind guy. I strictly recommend Jan and his apt.
Francesco
2016-07-23T00:00:00Z
Room Type
Private room
---
Property Type
Apartment
---
Accommodates
2
---
Bedrooms
Ljubljana, Ljubljana, Slovenia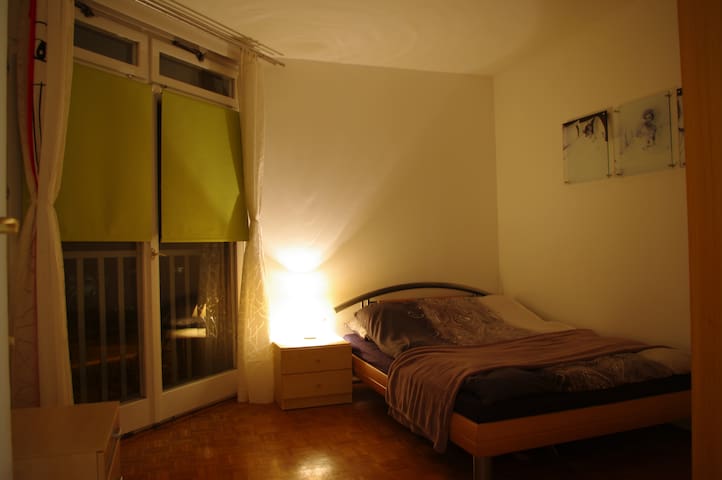 Ideally located ground floor apartment (50m2) is only 5 minutes walking away from Ljubljana's old town, close to the river, under the famous Ljubljana Castle. The location of the apartment is in the Heart of the city but still in very green, safe and quiet neghbourhood. One free Parking in front of the appartment. Grocery store & ATM only 5 minutes away. Fresh bed sheets and towels are provided, Wi-Fi fast and free.In the apartment is no need for the air conditioner!!!
In the apartment is no need for the air conditioner, because the temperature in the summer is 19 to 20 degrees Celsius in all rooms. It is natural air condition (thick walls)! Wery pleasant in the summer.
Room Type
Entire home/apt
---
Property Type
Apartment
---
Accommodates
4
---
Bedrooms
Ljubljana, Ljubljana, Slovenia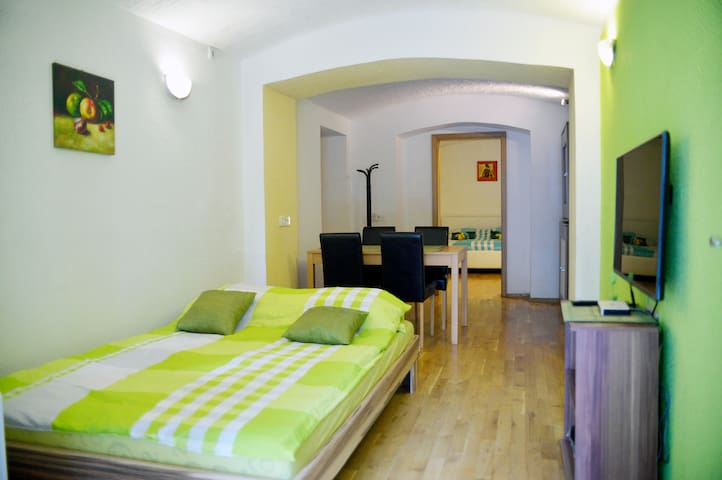 The apartment is furnished in its entirety, complete with bedding, kitchen, bathroom, washing machine, dishwasher, iron and ironing board.
Room Type
Entire home/apt
---
Property Type
Apartment
---
Accommodates
2
---
Bedrooms
Škofljica, Ljubljana, Slovenia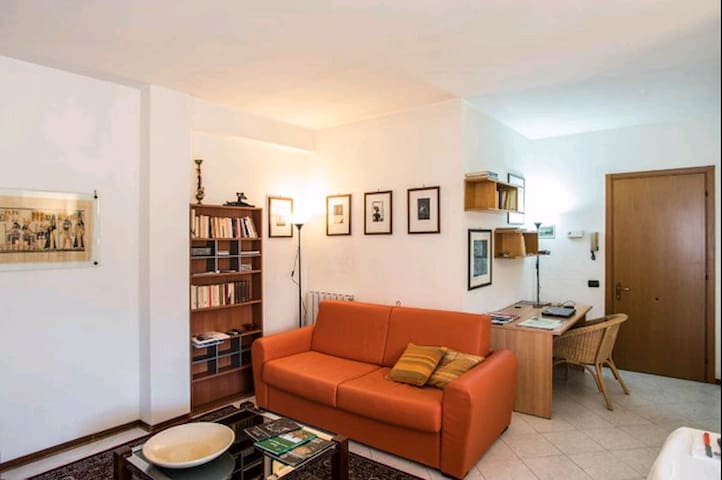 A new, functional and beautiful apartment, near the center of Ljubljana. Situated near a supermarket and public transportation. It includes free parking, two bycicles, free WiFi, cable TV, air conditioning and more. Also fresh coffee in the morning:)
Brand new apartment, with fashionable furniture and appliances. Warm, cozy and ideal for everyday life, or a romantic getaway. Close to University area (Veterinary, Matematics, Computer science, Physics and Inštitut Jožef Štefan). Near is also a Golf course for recreation.
Access to a supermarket, haircut saloon, many different faculties, bars, restaurants, shopping mall, fitness, sports park (golf, tennis, football, basketball fields and a climbing wall), a ZOO is also near :) The center of Ljubljana is within a walking distance.
Apartment is very nice and cozy, with everything you could need during stay. Communication with Karmen was easy both in messages and in person and she was very helpful. I would recommend this lovely apartment to my friends. Thanks Karmen!
Vana
2015-06-29T00:00:00Z
Mini=Maxi apartment is located in a residential villa part of town with student dorms nearby. Thanks to that there is everything one might need. A small shop, around a corner, two supermarkets just 8-10 min walking, a café and a Hombre Pizza (good one to and opened till midnight) where you won't meet any tourists. On top of that the neighbourhood is very quiet, so if you like to have a good night's sleep, you won't be disappointed. The apartment itself is wonderful. We felt at home from the moment we got in. There is everything you need in the kitchen, bathroom is really spacious, entresol bed is really comfortable. Fast Wi-Fi helps to stay connected. To top it all Karmen shared her two bikes with us for free, and the city canter is just 10 minutes journey by bike. Both Karmen and Anja, her daughter, were wonderful and caring hosts. Karmen even gave us a lift to bus station at 6:30AM! This was really unexpected and greatly appreciated. Mini=Maxi apartment was the perfect choice for us as a base to sightsee Ljubljana. We highly recommend staying at Karmens apartment.
Żan Paweł
2016-05-25T00:00:00Z
The appartment was/is great. Everything you need, and more. Karmen and daughter, thank you for the hospitality. For sure we will come back, when we visit Ljubljana. Sadly we could not use the bikes, but this was our own fault, too busy doing other stuff. See you again!
Nena
2016-06-15T00:00:00Z
Karmen has a beautiful and cosy apartment very close to the city center. In addition you get bikes which help you feel the atmosphere of the city :) She owns the bar next to the apartment where 'welcome drink' waits for you. The apartment is clean and well equipped with all you may need. It was a pleasure for me and my wife to stay there :) Thanks Karmen.
Przemysław
2015-09-21T00:00:00Z
Had a great relaxing time at Karmen's place. The apartment is perfect for a couple or friends, has everything you need. Karmen even picked us up from the train station. Was handy having her bar/cafe next door, where there were always friendly people to give us tips.
Chris
2016-07-24T00:00:00Z
The stay was amazing. Karmen welcome us very well from the first minute we arrive. The flat let us feel like home and warm, and have all you need to enjoy a nice stay for how many days you need. It was the perfect flat for 2 or 3 people without any problem.
Cesar
2015-05-05T00:00:00Z
Karmen was lovely!! She picked us up from the train station and even drove us to the airport when we left. She is super sweet and owns the bar next to the apartment. Everything in the apartment was super convenient and all in order. It's an adorable little place and one of the closet apartments we stayed in. Would recommend!!
Maggie
2015-05-24T00:00:00Z
Karmen was pretty cool about the fact that we came quite late. The space is at it is described on the photos. However, I believe that it is more convenient for two people and a kid than for three adults, just because of the commodity.
Sara
2015-02-02T00:00:00Z
Room Type
Entire home/apt
---
Property Type
Apartment
---
Accommodates
2
---
Bedrooms
Ljubljana, Slovenia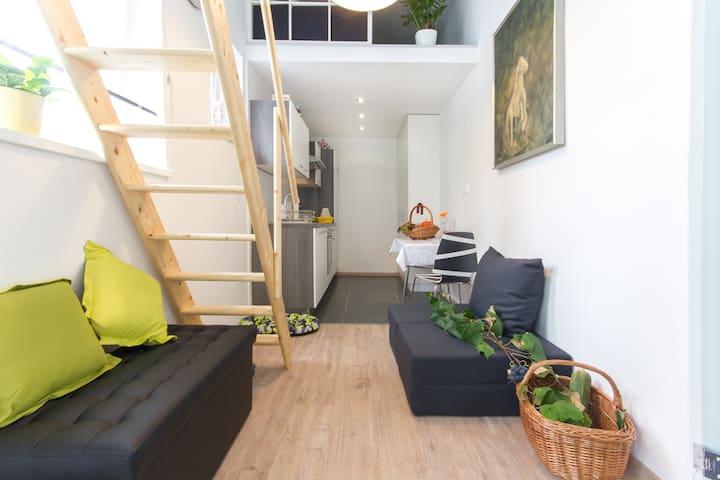 Free Wifi and private parking on site Fully furnished kitchen with herbal touches Living area with domestic filling Green terrace perfect for meals and relaxation Equipped with a washing machine and a flat screen TV Design spirit from beautiful landscape photographs to high end appliances Large scale apartment renovated in 2016
Public transport 1 min away. By taxi you need 3 min to the centre and cost 3 euro for 4 persons.
Room Type
Entire home/apt
---
Property Type
Apartment
---
Accommodates
5
---
Bedrooms
Ljubljana, Ljubljana, Slovenia
Elegant flat is located in quiet quarter of Trnovo yet only 5 - 10 minutes from city center. Restaurant is availiable on the very same street while grocery shop is near. Bus station is few streets away, rental of the flat also provide you free parking spot in front of the house. Studio beside sleeping/living room includes kitchen, bathroom, free WiFi, additional folding extra bed or baby bed and toys (free, but advanced agreement requested), Urbana cards which provide you public bicycle and bus.
Bright studio is especially appropriate for couples or friends who came to enjoy not only the city but also the special ambient of where they are staying at. Freshly renovated studio offers contrast between modern and classical style in carefully arranged objects. It's atmosphere brings feeling of relaxation and welcome. Flat is located in classic block of flats and building itself do not have a lift, despit it doesn't seem to be a problem since studio is just in first floor. Block itself is surrounded with greenery, including small park that could be seen from balcony.
Trnovo is peaceful and green city quarter. Nearby are various faculties (Mathematics, Physics, Veterine etc.) and Institute of Jozef Stefan. More vively City center is only short walk away. Gas stand, restaurant, grocery shop, sweet shop, bus station artery to Ljubljana's southeren highway are all in 5 - 10 minutes walking radius.
Roza and her apartment was amazing! Very stylish, clean and cozy place; the kitchen has everything you need to cook for a day in. It is walking distance to everything. She kindly explained and advised us on making the most of our time in Ljiubljana.
Haku
2017-03-02T00:00:00Z
Great place, good info on where to go, could walk in to centre. Lots of nice extras and well designed for a short stay! Had a great time
Chelsea
2017-03-05T00:00:00Z
Roza is a great host. She was very reliable and her place is gorgeous. She gave great food recommendations as well. Definately would come back again!
Meghan
2017-03-15T00:00:00Z
The apartment is small but very thoughtfully furnished and renovated. Very tidy and clean as well. Totally sufficient for a couple. It takes approx. 15 mins to walk into the city center. You can also reload the Urbana Cards they provide to make use of the bus and city bikes. The kitchen is also small but very nice as well. It offers everything you need to prepare a simple meal. You will also find typical slovenian schnaps and liqueur. Plus, coffee was provided, too. The neighborhood is very calm and relaxing. If you're looking for a place to enjoy a coffee in the sun on the balcony, the balcony is too small, but sufficient to stand and have a coffee or wine. Communication with Roza before our trip was easy and because she couldn't be there herself, her father waited for us to welcome us warmly. We also had an issue with the boiler and no warm water on the first morning. Rozas father reacted promptly and took care of everything really fast, so we had hot water for a nice shower. They are available via phone and (SENSITIVE CONTENTS HIDDEN) and very thoughtful and kind. We would definitely stay there again. Thank you very much for everything! Mario & Daniela
Daniela
2017-03-27T00:00:00Z
The place is very nice! We were the first guests and the hospitality was on point. The apt is suitable for two, it is nicely decorated and very tidy and comfortable. It is 15min walking distance from the centre and it has its own parking. We had great communication with the host and we hope to come back again!
Bruna
2017-02-19T00:00:00Z
Room Type
Entire home/apt
---
Property Type
Apartment
---
Accommodates
2
---
Bedrooms
Ljubljana, Ljubljana, Slovenia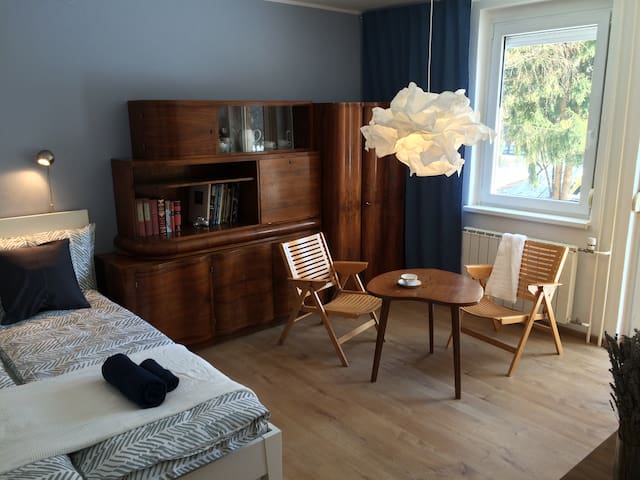 Welcome to my home in central Ljubljana! Enjoy in quiet residential area close to the city centre. Take a 15 min walk along the Ljubljanica river to the Triple Bridge and to the Old Town. Enjoy cozy cafés and restaurants. PARKING AVAILABLE.
***Apartment & accessories*** The guest room is located in a 80m2 apartment. The apartment is newly renovated, comfortable and clean. It's modern, yet cozy. From the living room there is the entrance to the main balcony, where smoking is allowed. We have fast Wi-Fi. The living room has a flat-screen TV you can use, the kitchen is semi-open plan and opens into the living room. The kitchen is equipped with all essentials and with: −a stove/oven −a fridge/freezer −a dishwasher −a water kettle −a toaster −you can also use herbs and spices. −Coffee and an assortment of teas provided. The apartment is situated on 3rd floor of the apartment building.
One of the greatest advantages of this location is that it's central yet quiet. So although you're close to the pulse of the city, your sleep won't be disturbed by traffic or other noise. If you have a car, parking is on-street and free, and we're close to major freeways if you plan to explore Slovenia. There are two grocery stores within a 200 meter radius from the apartment. The area also has pharmacy and ATM. All within 500 m radius. In the area there is many fine walking trails running through Ljubljana, the famous one called the Path of Remembrance and Comradeship. The strict city center is walking distance.
Celina's apartment is lovely & provided us with everything we needed for a lovely, hassle free stay in one of our favourite cities. Thank you!
Kate
2016-06-05T00:00:00Z
Celina is a very nice person and met us on time. The location of the apartment was a long walk to downtown, I wish we would have of stayed closer to Ljubljana. The room is the same as the pictures which was fine but it was maybe a little expensive just to rent a room considering the location. I can recommend staying with Celina because she is a nice host with a clean apartment but next time I would stay closer to the downtown area but that's just me!
Scott
2016-04-05T00:00:00Z
It is really a great experience to be hosted by Celina and Jure. They are not only host, to me, they are like friends that you really felt warm and comfortable throughout our stay! Celina is a very cute, cheerful and easy going host, I fall into the situation that I have to extend my trip for a day, to avoid the frequent change of rooms, even the room is not available, but upon my request, Celina helps to cater and allow me to extend for another one day, appreciate it so much! But Celina has to work in normal day, her boyfriend Jure welcome us during check in! He is soooo helpful as well! He helped us to call taxi whenever we need a ride, and no matter how early or how late it is, it really bring us a lot of convenience and save us some money and energy after long walking by end of the day! And, we love our morning there! Jure made good coffee!! I miss it! He even teach me on how to make a good coffee :) And the coffee acted as our key energizer to begin the day! Talked about the listing, it is really a very comfortable room to stay at, sometime, we even felt lazy to go out as the room is very comfortable! The bathroom is spacious and clean! From location wide, it is not far from attraction point, highly recommended for those who wants to find a lovely and warm place to have your vacation! Thanks for Celina and Jure for your helpfulness, kindness and laughters, will come back to you for sure if I am back to Ljubjana!
Peiyun
2016-06-04T00:00:00Z
Great apartment, great people! It was a really nice experience! Would come back anytime! I highly recommend it!
Raluca
2016-02-22T00:00:00Z
Comfortable apartment and a nice short stay!
Julia
2016-08-01T00:00:00Z
Yes. All very good.
David
2016-08-12T00:00:00Z
Me and my boyfriend stayed in Ljubliana for four nights: Celina and Jure are very friendly and welcoming, the room is clean, with a nice view on the trees and the bed very big and comfortable. Celina has been very helpful from start to finish and made our stay a very good experience! The apartment is a short 10-15 min walk to the old town, and parking outside the unit was no problem. We definitely recommend Celina's room (and her tasty waffles :) Thanks a lot, Celina and Jure!
Silvia
2016-11-01T00:00:00Z
Such a perfect stay at Celina's ! The apartment is spacious, comfortable and clean, and the little walk to get there is so lovely. Celina and Jure are very friendly and warm people, and we spent great moments with both of them, feeling like home. We couldn't have hoped for better hosts !
Myriam
2016-07-23T00:00:00Z
Room Type
Private room
---
Property Type
Apartment
---
Accommodates
2
---
Bedrooms
Ljubljana, Ljubljana, Slovenia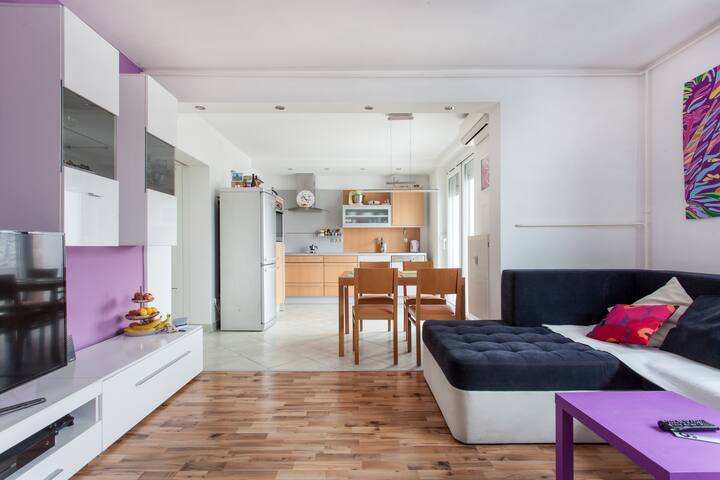 Friendly, peaceful apartment with a lovely garden is situated less than 1,5 km away from main square in the historical centre in a quiet area. In the vicinity is a direct bus line (No. 1,6) to the city center. Free Wi-Fi and parking.
The apartment is half-basement and has one bedroom with bed (160 x 200 cm) and another bedroom with 2 single beds, living room with two sofas, which can be made to two single beds, kitchen with stove, microwave, refrigerator, dining corner, bathroom with shower and washing machine. It is fully equipped with cooking utensils, cutlery, towels, linen, iron, ironing board, hair dryer, CATV, free broadband wired and wireless (Wi-Fi) internet access. The guests can enjoy and relax outside in the garden. It is forbidden to smoke in the apartment! Free private parking space is in front of the house (only for personal vehicles that do not exceed the usual size of 5m).
Apartment enjoys a nice location just couple of minutes walk away from the main square and from all attractions, galleries, museums and numerous different dining and shopping options. The nearest grocery store is 250 m away and couple of bars and restaurants are nearby. Ljubljana Airport is a 20-minute drive away and a shuttle service can be organized at a surcharge. Supermarket, city bus station (LPP), cafes, bars, bakeries, post office, bank, pharmacy and restaurants are in the neighbourhood just 2-3 minutes walking from the building where the apartment is located.
Room Type
Entire home/apt
---
Property Type
Apartment
---
Accommodates
6
---
Bedrooms
Ljubljana, Ljubljana, Slovenia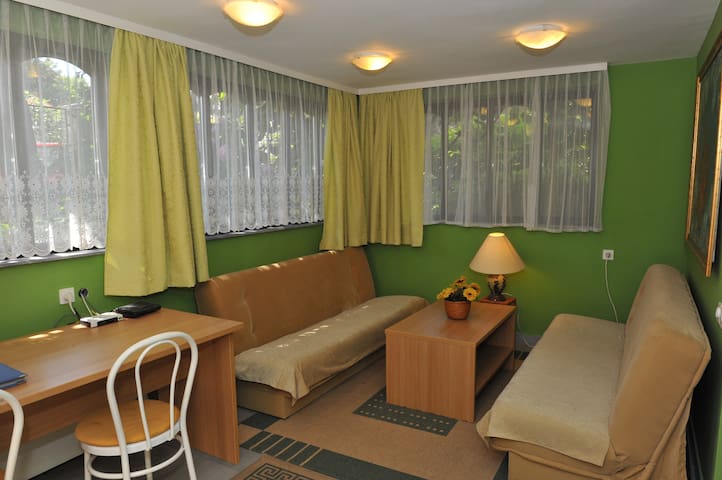 Nicely decorated studio in a guest house with private entrance. Outside is a small terrace with table and chairs. Free parking is available outside on our fenced garden. It is furnished with lovely metal bed and wardrobe, small table and bathroom with washing machine. All bed linen, towels, wifi, washine machine, heating and air conditioning is provided for free and included in price. Located 2 minutes drive from the highway and 15-20 minutes walking distance to the city centre.
Small studio in vibrant colours. It is furnished with lovely metal bed and wardrobe, small table and bathroom with washing machine. All bed linen, towels, wifi, heating and air conditioning is provided for free. Private entrance with secure free parking. Apartment is located 2 minutes drive from the highway and 15-20 minutes walking distance to the city centre.
Very quiet high end neighbourhood.
Really cozy and well equipped guest house in quiet housing area near the city center. We've found there everything we needed to enjoy our stay. Great location - 15-20 minutes of walk to city center, 5 minutes to bus stop and/or bike rental station, 4 minutes to a supermarket and private parking in secure yard. The house itself offers everything you would need - a small kitchenet with an electric kettle and a cooker, fully equipped bathroom even with a washing machine, comfortable bed and other useful furnishing. Ana and her fiance are very welcoming and hospitable hosts, always ready to help. I definitely recomend booking this place.
Karel
2017-03-26T00:00:00Z
Hi Ana, You were very nice, friendly, helpful, with us and we are sorry because we can not prolong the booking time at you place. If we will visit Ljubliana you will be the first host which we will contact. Nice accommodation, internet, safety parking place, everything what you need Ana is best host in the town :)
Florin
2017-03-30T00:00:00Z
Really great place. Small studio but inside is everything you need. It has a lovely furniture and was really clean. Ana is a perfect host, available all the time for any question. Location of the apartment is perfect, near to the city center and old part of Ljubljana. I strongly recommend to book this apartment.
Katja
2017-03-18T00:00:00Z
Room Type
Entire home/apt
---
Property Type
Apartment
---
Accommodates
2
---
Bedrooms
Ljubljana, Ljubljana, Slovenia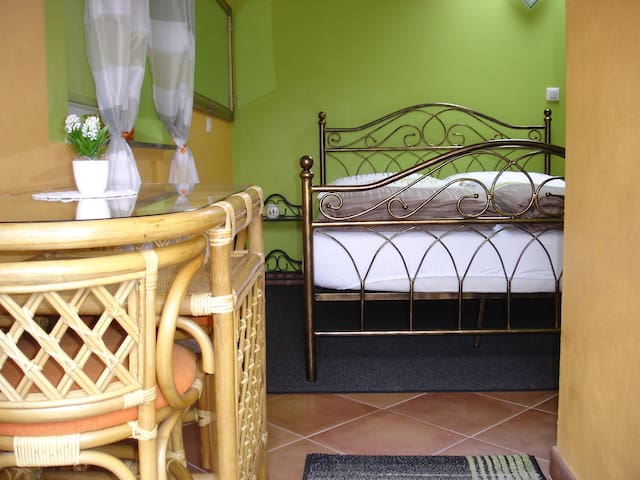 Stunning apartment equipped with aestethic designer's touch is located in Ljubljana's most elite quarter. Literally surrounded by all attractions, at the main Ljubljana's street that leaves no other choice than to fall in love with.:)
Location, location, location! And beautifully designed apartment, of course.
Apartment is very near Kongresni Square which is filled with boutique little shops, cute cafes and excellent restaurants and just step away from Old Town.
The flat is perfect, great location, has all the necessities plus super awesome furniture. Mira was immensely helpful arranging travel to and from the airport and made me feel right at home straight away!
Tom
2015-09-22T00:00:00Z
Mira's flat is beautiful and perfectly located. She helped us settle in and was really helpful throughout. Had a great time and i would recommend staying here to anyone.
rosanagh
2015-07-02T00:00:00Z
Mira was a great host. She was very flexible when our arrival plans changed. The apartment was fantastic! Great location, clean, plenty of space, and very comfortable. The parking spot in the courtyard and the washing machine were very convenient. I highly recommend this apartment.
Matt
2016-07-02T00:00:00Z
Great location plus private parking. The apartment is very well equipped. Downside: A few stairs to climb and sitting in the saloon is not comfortable. The place got makinata coffee maker and free grinded coffee so wake up in the morning make your self excellent coffee and walk short distance to the 3 bridges area is easy and awesome for a day starter . Highly recommended
Oren
2017-04-06T00:00:00Z
Mira's place is top notch!!! Mira was actually wasn't available so her daughter Romina helped us get settled at her amazing flat. Romina was amazing. She picked us up from the train station, took us to her cozy but roomy studio. Her place looks so much better than in picture. Location was amazing too. It was super close to the center, restaurants, and markets that we went out in the morning and came back to the flat to take short nap and went out easily again. But most of all, Romina made our whole experience in Ljubljana an amazing one! She's so kind and warm and we loved staying at her place. Oh and the flat is super clean and neat you will love it. We are definitely coming back to her place if we ever visit Ljubljana again!! Thank you Romina and Mira!!!
Karis
2016-09-08T00:00:00Z
This is a modern spacious tastefully furnished apartment in a nice building. The kitchen is fully equipped and includes a dishwasher. The apartment also has a washing machine. The apartment is located on a rather busy street. The picture of the square Kongresni trg on the listing maybe somewhat misleading. Kongresni trg is indeed nearby but you do not see it from the apartment. The apartment is well insulated so there is no noise problem. The apartment is located right in the center of Ljubjana close to restaurants, shops and cultural outlets. The host Mira is very friendly and helpful.
Michel
2017-01-21T00:00:00Z
Although we came like two hours earlier than announced, Mira was there within 10 minutes to show us everything. The apartment is really artsy and clean with a great bed & sofa construction that turns the apartment almost into a lounge. It is so close to the center that you literally need like 2 minutes of walking. We enjoyed our stay!
Martin
2015-05-28T00:00:00Z
Mira was very friendly and welcoming, and kindly organised taxis to and from the airport for us. The apartment was very clean and comfortable, and extremely well located in the centre of Ljubljana. The cooking facilities were good, and everything in the flat was as described in the advert. We had a great time!
Nina
2015-10-02T00:00:00Z
Room Type
Entire home/apt
---
Property Type
Apartment
---
Accommodates
2
---
Bedrooms
Ljubljana, Ljubljana, Slovenia