Rural property located 35 mins from Perth city. Large rooms, fireplace, 6 bedrooms 4 bathrooms, tennis court, table tennis fun for the whole family or large groups. Located near Millbrook Winery and other reception centres, ideal for bridal groups. Wonderful location for your wedding photos. 10 years of guests with many returning year after year says it all !! Prices start from $250 per night for 4 people on a week night. Please contact us with your requirements and we can price for you.
Yarrabah is set in stunning natural Australian countryside. The homes are surrounded with landscaped gardens, stroll to our lake 1.5kms away, watch the kangaroos at sunset. Keep active on our tennis court which is floodlit for nighttime use. Wander to the barn for table tennis and darts. Backyard cricket for family groups is a must. There is all the peace and space in the world for you and your guests to enjoy. Or cosy up in one of our two large loungerooms in front of the wood fire and read a book or play some boardgames.
Whilst you will feel you have left the world behind and revel in the peace and quiet of our large rural property, you are only ten minutes from a gourmet deli/supermarket and liquor store.
Room Type
Entire home/apt
---
Property Type
House
---
Accommodates
14
---
Bedrooms
Whitby, WA, Australia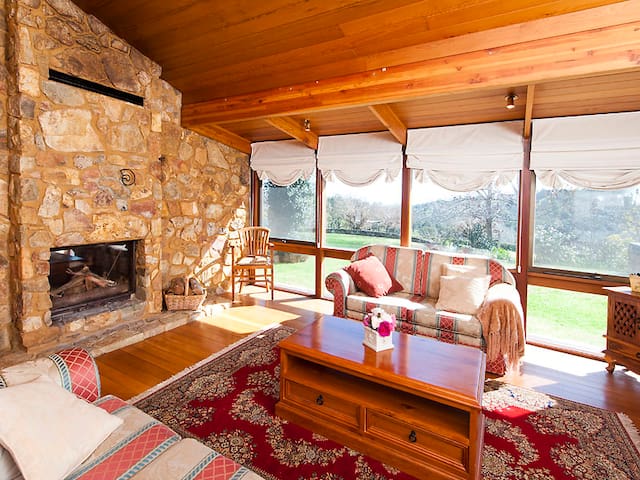 we have 2 rooms available for rent to accommodate 6 ppl. One single room with double bunk bed for 3-4 ppl and a queen for 2 We are situated minutes to Serpentine falls, Armadale Reptile Centre, Cohunu Koala Park, Horse Riding, Shops and Beaches.
4x2 house situated in suburban area called Byford around 35 minutes away from the city by car and 1 hour away by public transport. This is a contemporary and spacious house with grey tile floors. Opened spaced concept. Hallway opens up into a spacious living area with high ceilings. The house is less than 2 years old located on a quiet street facing a farm (sometimes you would be able to see horses). The floor space is about 250m2 including a triple garage. **If you are traveling with children over the age of 3 please include them as another guest.**
The neighborhood hosts events fortnightly throughout spring to summer such as markets, BBQ and much more. Our estate is called The Glades, surrounded by lush bushes, amenities, parks, and etc.
Charmaine and Ryan were very welcoming and friendly. The apartment was very spacious and well equipped with amenities. We were quite cautious of the noise level since there were other people living in the apartment and we didn't want to disturb. Although, the location of the apartment is quiet and far from the city, we still enjoyed our stay nonetheless. Thank you for having us! (:
Vanessa
2016-06-25T00:00:00Z
We had a great stay with Charmaine! Charmaine and Ryan are such a great couple, they are so nice, helpful and friendly!! Their place is more than perfect. My friend and I truly enjoyed our stay and kept talking about how great the place is!! Everything was exactly as described, a lovely and cosy home. Charmaine made us feel welcomed and she allowed us to share and use the common spaces. Thank you so much for making our stay a pleasant one. Highly highly recommended if you wish to stay in Perth.
Lee
2016-01-03T00:00:00Z
Place was spacious and nicely decorated. Owner was helpful and welcoming.
Lim
2016-12-05T00:00:00Z
Glad to have the opportunity to be hosted by Charmaine in her beautiful and well-furnished home! Despite living in a quiet and cosy environment, you'll feel warm and at home. 10/10 would recommend
Shawn
2016-06-29T00:00:00Z
Charmaine is a very friendly & nice host. She was very helpful in our family trip. She will recommend those places to us to visit. And the location is very comfortable.
Kaylee
2016-07-07T00:00:00Z
My stay here was great! The place is homely, quiet, spacious, very clean and Charmaine is really friendly and approachable! She made the stay more enjoyable, my friends and I enjoyed her company! Everything was great!
Mei Yin
2016-12-26T00:00:00Z
The host canceled this reservation 4 days before arrival. This is an automated posting.
Mohd
2016-05-09T00:00:00Z
Friendly boss lady.nice, comfortable big house.great
Phua
2016-07-10T00:00:00Z
Room Type
Entire home/apt
---
Property Type
House
---
Accommodates
6
---
Bedrooms
Byford, WA, Australia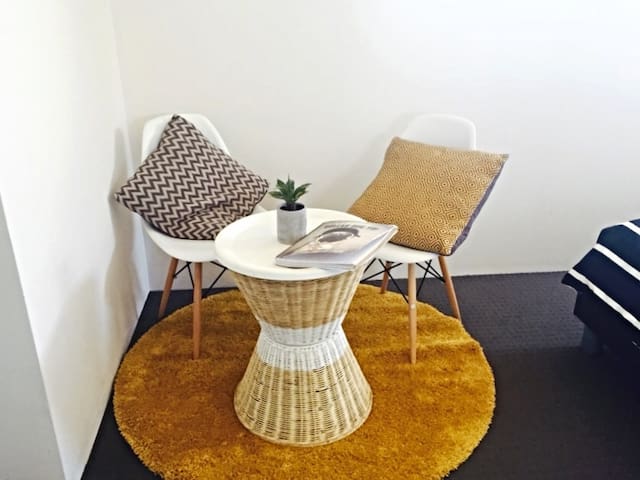 A down south escape - only closer. Something for everyone. Beautiful accommodation 3min drive from Mill Brook Winery/Restaurant, Serpentine & Pipehead Dam & Cafe/Gallery, Wave Park, Cohuna Koala Park, Jarrahdale historic display and walking guides, etc.
A very comfortable 4 bedroom home in 'The Chestnuts' estate Jarrahdale, on door step to Serpentine National Park. Offers 1 acre of garden walks, swimming pool. Kangaroos visit in the early morning or early evening and if you are lucky you may also see the resident bandicoots. Lots of birds blue wrens, parrots (many varieties), red robins, honey eaters, owls, kookaburra etc.
Many local attractions: In April each year is the 'Jarrahdale Ghost Walk' - highly recommended for families - this is a once a year event, held in the historic township of Jarrahdale. Serpentine National Park (1 min drive) walk trails Kitty's Gorge walk & Stacey's Loop Mill brook winery/restaurant (3min drive) Jarrahdale General Store (5min drive) breakfast, lunch, morning & afternoon tea Jarrahdale Tavern (2min drive) Jarrahdale Skate park Old Post Office with historical display (3min drive) Necessities Tea Merchant (2min drive) Munda Biddi Cycle Trail Cohuna Koala Park (20 min drive) Serpentine & Pipehead Dam (10-15min drive) & tea rooms Serpentine falls (15-20min drive) Reptile Park (25min drive) Mundella yoghurt/cheese factory direct (20min drive) Wake Park (20min drive) Rockingham swim with Dolphins tours (30min drive) Seal Island tours
Marian could not have been more welcoming, it was really lovely to have her drive down from Perth especially to light the fire and let us in, and have her introduce us to her much loved house! Staying here was a fabulous experience because the house is beautiful, just like in the photos. It has been thoughtfully and generously equipped for guests, even down to chocolate to sprinkle on your coffee! We loved the garden, specially watching the kangaroos over the road in the late afternoon. It was a great base for us for exploring the area, we really did not want to leave this lovely home away from home. My advice to anyone planning to stay here, is to come for as long as you possibly can since it is such a relaxing pleasure to stay here! Many thanks to Marian for such warm hospitality. Carol and Aidan.
Carol
2016-08-28T00:00:00Z
The accommodation was just as indicated in the pictures that Marian provided. It is beautifully furnished with lovely homely touches, is super clean and in a tranquil setting.
sarah
2016-03-28T00:00:00Z
Marian was very welcoming. Lovely place to bring the family to get away for a long weekend. Beautiful native garden and very close to lots of bushwalks.
Chris
2016-06-07T00:00:00Z
We had a perfect anniversary weekend at the house. The house is very cosy, with a blazing fireplace, comfy couches and bed, and an awesome kitchen. There are plenty of nice bushwalks and a winery nearby, but you don't feel you need to leave the house too much as its so relaxing just being there. We highly recommend it.
Stuart
2016-10-03T00:00:00Z
This house was gorgeous. Very spacious, clean and beautifully kept. Had a lovely fireplace which Marian very kindly prepared for us with all the wood etc. A great location to go for walks in the bush. We had a great stay.
Vanessa
2016-07-10T00:00:00Z
Marian was very accommodating and helpful with our requests. There were a few parties checking in at different times of the day, arriving from various locations for our wedding. We had only arrived in the wee hours of the morning after our wedding reception, our friends had arrived in the afternoon and were greeted warmly. The rooms were clean and spacious and the common rooms were great to hang out in. Wish we had more time to spend on the grounds of your lovely home, if we were not rushing after our wedding to get things organised. Thank you Marian!
Christiana
2016-10-22T00:00:00Z
The house and host Marian were an absolute delight. The house is situated in a quiet area, so much privacy and we were able to completely unwind. The bed in the master bedroom was so comfy, it was light sleeping on a cloud! The kitchen and living areas are so big spacious! The best part of our stay was cuddling up by the fire place. Will definitely recommend this place to friends!!
Kelly
2016-07-17T00:00:00Z
Very nice clean house, worth the dollars.
Mathew
2016-11-21T00:00:00Z
Room Type
Entire home/apt
---
Property Type
House
---
Accommodates
8
---
Bedrooms
Jarrahdale, WA, Australia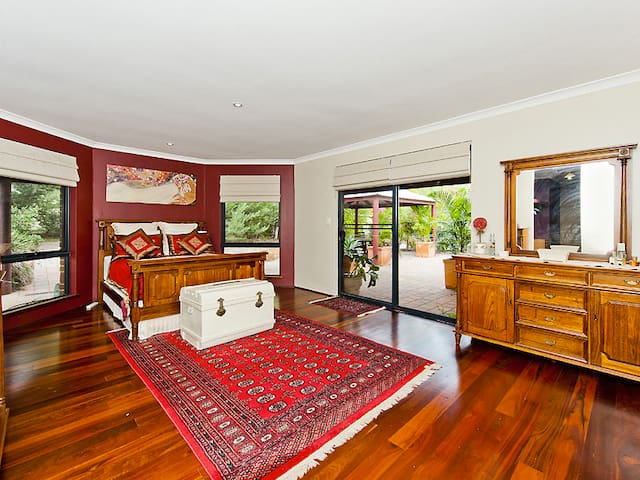 Quiet acre next to reserve, bird watching from the veranda, play horseshoes, walk, or borrow bikes (INC) and ride the paths, hike Kitty Gorge at Serpentine dam, hold a Koala at Cohuna, visit Reptile farm or go to the beach, Perth, Mandurah, Fremantle all 22-41 mn drive, the train 15min drive or walk to the bus stop 1 km away. Onsuite with a spa bath for two, the nearest town is 3.8kms away. Washer, dryer, microwave, kettle, fridge, coffee, tea, millk, and a continental style breakfast. No TV
Self contained with fridge and no other guests to run into. Owners available but separate. A great place for nature lovers, far enough away from the city to be quiet, hear the birds and see the stars, but close enough to see the sights. Alot of space for your belongings, the room is quite spacious.
(URL HIDDEN) (URL HIDDEN) (URL HIDDEN) (URL HIDDEN)
The room is spacious, there's a lot of space to put your stuff and the bed is big and comfy. The bathroom is huge, en suite and the shower has good water pressure. You use your own door to enter your space, and we saw a washer and dryer (but we did not use it). We only had one day to explore the area, but we used the bikes to cycle around town and visit Kohunu Koala park. It's really close by and worth a visit. It is probably better to have your own wheels, there is a bus stop nearby but they don't go very often or late at night. We had breakfast with cereals and fruit, which were available in the room. There's a microwave, fridge and kettle, so you can prepare some simple food when you like. We really enjoyed our stay here, and will come again if we're in the area. There's lots of things to explore, and we got some nice ideas for trips both nearby and further afield from the brochures that were available. We did not spend much time with the hosts, but they seemed very friendly and well traveled. PS a bedside light would make the room just a bit more comfortable.
Sander
2017-01-12T00:00:00Z
Lovely place
Dominik
2017-03-13T00:00:00Z
very clean,quiet. hosts very friendly.
martin
2017-02-20T00:00:00Z
Great little place - we didn't get to explore the surrounding area but the place was a perfect rest stop for us. Very clean, quiet and comfortable and great to be able to have a light breaky before heading out.
Jane & Josh
2017-01-22T00:00:00Z
Nice quiet location with excellent, well equipped accommodation which exceeded our expectations. Friendly, warm and helpful hosts. Highly recommended and much appreciated. Alan & Jenny
Jenny
2017-01-25T00:00:00Z
Beautiful grounds around the house, very friendly and helpful hosts and shops only 4mins away. Lovely bike path just near house, felt like a retreat, but so close to town.
Nicole
2017-02-12T00:00:00Z
Everything was better than expected, room quite large and very clean. was made to feel totally at home
joy
2017-03-10T00:00:00Z
Room Type
Private room
---
Property Type
House
---
Accommodates
2
---
Bedrooms
Byford, WA, Australia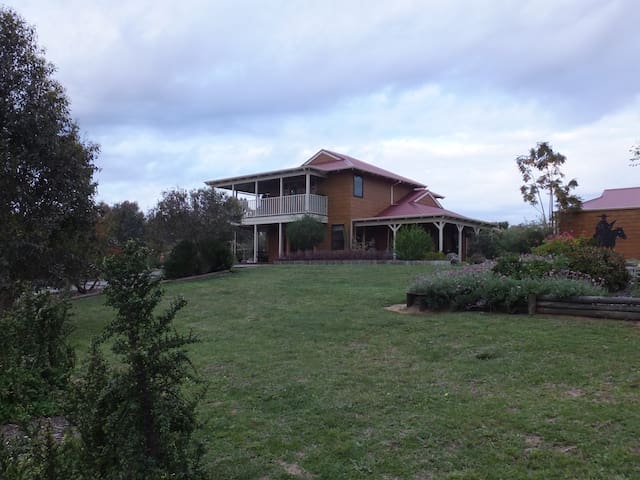 Only 30 minutes South of Perth and 15 minutes to the beach, this centrally located house is set on a quiet rural 60 acre farm. Newly built with everything you need for a comfortable stay. Sleeping 5 people in two bedrooms, in air-conditioned comfort.
Pat and feed farm animals - Including a miniature horse & goat, sheep, chickens and guinea pigs. There is a playground, toys and books. Plenty of room to run around and play. Dogs welcome provided they wont jump a 120cm fence! Beautiful gardens and wedding venue!
We are close to beaches, shops, restaurants, wineries, cidery and breweries, cables water skiing, kite surfing, bush walking, Rockingham and Mandurah. There is a 10 minute drive to the nearest train station and only 5 minutes to the Kwinana freeway.
Farm Stay Baldivis was a new experience for us. My 3yo daughter was very loving it. When we arrived, the property was clean. In child room, there was toys, dolls, storybook. In the living room there was board game, dvd, You will never get bored. The kitchen was complete, it just like your second home. For outdoor activity it had playground. We also met Billy the goat, he loves to play with us :) also Pony horse, and sheep. We would like to say thanks to Paul and Michelle who prepare everything for us. They are very nice host. This property is very recommended if you have children they gonna love it.
Joshua
2016-12-31T00:00:00Z
Michelle welcomed my family and I warmly to her farm. Eggs were provided, but we consumed ours which had been purchased in another town. Being the only cottage on the farm allowed close interaction with the hosts, including her husband. The toys and books came in very handy and kept my child entertained and engaged for long periods, when the weather was still sunny to venture out. The cottage was well-equipped and I made use of them to cook meals. Looking forward to staying at Michelle's place when we next visit WA.
Ch
2015-12-06T00:00:00Z
I took my family (5 adults and 2 toddlers) to Michelle's farm house for two nights. I was quite worried if the house would be a bit too small for our number, but it was spacious! With the huge land around the adorable house, my nephew and niece rather be outside on the grass, chasing the chickens and petting the sheep. Michelle was very helpful and provided extra mattresses for us. She welcomed us with milk, eggs (from her own free range chooks) and other stuff in the pantry. The house was spotless and was definitely a home away from home! The animals on the farm were very friendly! It was such a good experience to see both my niece and nephew (City kids!) having a good time on the farm. Michelle even offered us to stay an extra night for free, which I sadly had to decline due to prior arrangement with my family. I will definitely return to Baldivis Farm Stay for Michelle's friendliness and the beautiful farm. The farm is on the way to Serpentine National Park, where Kitty Gorge is situated. And oh! Don't forget to have a mini kart racing "Mario Style"! There are four mini racing cars that run on petrol on the farm. Sure did remind me of my childhood when I raced with my other sisters :) Thanks Michelle for such a good experience!
Suhaila
2015-07-24T00:00:00Z
it was a very beautiful place for us to stay in before we ended our holiday in perth. definitely will come back again if we are in perth and will higher recommend this place to our family and friends!
Marcus
2015-11-09T00:00:00Z
My husband and I enjoyed a peaceful and relaxing stay after driving for days across the country. Some things didn't work or wasn't cleaned prior to our arrival but we were so glad of the rest it wasn't an issue for us
Barbara
2016-12-12T00:00:00Z
Thanks for a fantastic country escape, Michelle. The kids were so excited by the cottage and the tots, cubby, and farm animals. Fresh eggs were a lovely bonus too! Most comfy bed I've slept on too
Rose
2016-10-01T00:00:00Z
Our family had a wonderful time at the farm. The cabin was very comfortable, clean and cosy. Our 4 year old and 1.5 yr old love the animals on the farm and riding on the hot rod kids' cars! Thank you Paul and Michelle for your hospitality! would definitely recommend is place to our friends!
Angeline
2015-12-15T00:00:00Z
This place is a gem and we had the best, best time here. The cabin has everything you need and is well furnished and has lovely decoration to make it feel more homely. The Cabin is extremely child friendly with high chair, plastic cutlery and cot if needed. Not only that there is masses of space for the children to run around in safety. The animals are lovely and our 6 year old was always over feeding them and petting them. Michelle and Paul are lovely people and very helpful and nothing is too much trouble. The cabin is set at the back of an acre and half plot and on a very quiet road, Michelle and Pauls house is towards the front of the plot and not visible from the cabin so you get a lovely feeling of being the only ones for miles. The cabin is 15 minutes drive from the coast and 10 minutes from the Baldivis shopping center. We have migrated from the UK and have found it to be a fabulous place to unwind after a day driving round looking at houses and doing paperwork, just to be able to fire up the BBQ and crack open a cold beer with only the crickets for noise is priceless. The only problem is we didn't book long enough!! Thank you Michelle and Paul for letting us stay at your lovely cabin and thank you Jacob and Evie for keeping Millie amused for hours on end, she's very bored now!! Jason and Anne
Jason
2016-04-16T00:00:00Z
Room Type
Entire home/apt
---
Property Type
House
---
Accommodates
5
---
Bedrooms
Baldivis, WA, Australia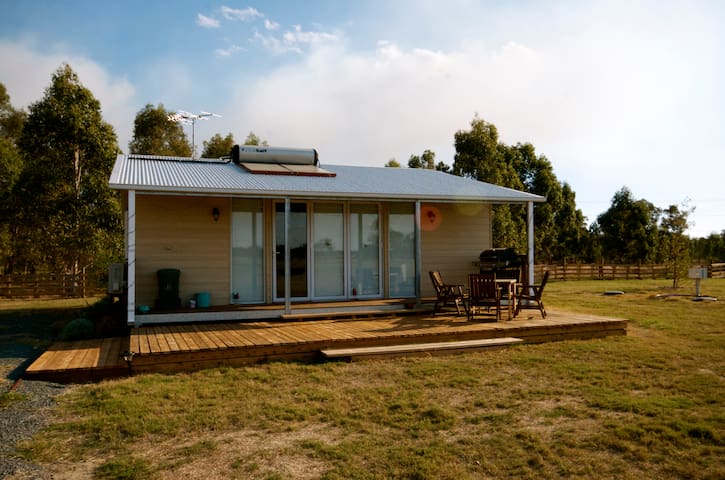 Room with enough beds for four people for short or long term stays
New house in a new estate.
Parmelia is a quiet suburb, approximately 30km away from the city
Gary's house is brandnew and very beautiful. We really enjoyed staying at his apartment. Thanks for everything!
Celine
2016-12-26T00:00:00Z
It a great place to stay. The house is complete with all the amenities as mentioned. The Wifi is very fast. We love it! The house and room are clean. The room is a small for the 4 pax. But it really doesn't matter because its only for one night. We really enjoy during our stay.
Nur Fateha
2017-02-19T00:00:00Z
I stayed 15th-19th November...never again. I arrived to be confronted with loud rowdy neighbours across the street. It really needs to have taken out of the listing, 'Parmelia is a quiet (URL HIDDEN) is not. Especially on my arrival with the neighbours screaming, swearing at each other running in and out of their house, across from your house on the left. Then I came back out to see the house all closed up and 2 police knocking on their front door and your neighbours wouldn't open the door and the police car parked at their drive way...then later another police car 2 houses up talking with a guy, I think was a builder. If I wasn't so tired I would have left straight away but due to fatigue I'd stay one night and find other accommodation. Gary later reassured me that he had cameras put up, so my car would be safe. I also wrote what I witnessed the day of my arrival so Gary could send it to homewest(Gary asked). The police station would also have records of the incidences on Windell Street. I definitely wouldn't have chosen this accommodation if Parmelia was not stated as a 'Quiet' area. I'm checking with Police first, next time I get an airbnb. Dodo is cheap for a reason. Used my own connection most of my stay. Wasn't happy about that considering it states there is wifi. I wouldn't have chosen this accommodation if it stated the wifi is a cheap service(dodo), cheaply priced service, would hardly get a decent reception. Or if there was no wifi. It states there are 2 bathrooms and 4 beds. I had a single bedroom and the other 2 rooms had 2 people in each during my stay. 5 of us used 1 small bathroom. Plus one of the boarder's friends when they came over. So really it should change in the listing 1 bathroom, 1 single room, 2 double rooms- or 5 beds. I wouldn't have chosen this accommodation if the listing was accurate and I knew I was going to a small hostel set up. I have exactly stated what I am looking for when using airbnb. I should have been informed that this accommodation was not what I was looking for due to the listing been inaccurate. Gary could of informed me of this. airbnb would have reimbursed the money. I would have stayed somewhere more convenient to my requirements. So this plus other little hiccups happened ( I got a boarder to check, witness and sign I had left the state of all I used in order and not damaged, just to cover myself) and this is the first airbnb review that I have had to say I will 100% not recommend this airbnb to any one.
Renee
2016-11-19T00:00:00Z
Really nice new place with all the essentials that you need - fast internet, big kitchen, comfortable bed ect. Also, Gary is very nice and friendly host.
Liis-Marii
2017-02-10T00:00:00Z
Beautiful new clean house! Fantastic host! Close to public transport. Overall fantastic experience!
Marlee
2017-02-06T00:00:00Z
很乾淨的房子,住在這讓人十分的放鬆,很棒的WIFI ,在這邊可以度過愉快的假期!
黃
2017-02-17T00:00:00Z
Room Type
Private room
---
Property Type
House
---
Accommodates
4
---
Bedrooms
Parmelia, Western Australia, AU, western australia,, Australia
Our place is great for a relaxing small break or a longer stay. It is a quiet location with stunning views from the back deck. The house is an architect designed, pole house, set on the escarpment and has all the amenities needed for a relaxing stay. A large covered deck has views to the coast. There are two queen size beds in separate bedrooms with a single bed in the upstairs loft. Each bedroom has its own bathroom. There is also a fully equipped laundry.
Enjoy bush walks on the many trails close by including the Bibulman track and Wungong valley walks. Or just enjoy a barbecue on the deck with a glass of wine while watching the sunset. If sporting action or theatre are your passion, the train is only minutes away making the major stadiums and theatres easily accessible. Or, just head to the beach for a day.
The location is at the edge of the darling range escarpment with easy access to the Perth hills region and views to the coast. Shopping centres and transport are also close by.
Absolutely loved our stay in this beautiful cosy home. Comfy bed, spacious bathrooms and loved the added touches of big towels and toiletries. Amazing views and only minutes to shops, restaurants, public transport. Feels like you're secluded in the bush. Also loved being up in the Perth hills. Will being staying here again!
Nicole
2017-03-31T00:00:00Z
We were looking for a place to rest, relax, unwind and be in touch with nature. Brenton's place was the answer! A large and cosy space in Perth Hills, it exceeded all our expectations. We were delighted with the view from the balcony where we had breakfast on most mornings, watched the sunset on 2 evenings (too much sight-seeing to do); beds were 5-star comfortable and clean. Brenton as a host was warm, welcoming and hospitable; he was even at the house to receive us when we arrived very late at night (almost 1am) due to the unexpected delay of our flight. He also arranged with us to drop by later during our stay to have a chat and share with us some interesting changes in the surroundings at different times of the year. We were very blessed to have been able to stay at Brenton's place and recommend his place to all!
Teresa
2016-12-03T00:00:00Z
Brenton was a great host. Very accomodating with our check in and very fast to respond to any questions. The house was beautiful and very spacious for three people on a work trip.
Shelby
2017-03-05T00:00:00Z
Great place, amazing views. Would definitely recommend.
Hayley
2017-02-03T00:00:00Z
Stayed here over new years to celebrate our 1st anniversary, couldn't have worked out better! Brenton was an excellent host, we met on arrival and were made feel very welcome. This beautiful, spacious and well-equipped house is perfect for anyone looking for a convenient getaway close to Perth city - awesome deck, views and a great host what more could you ask for?
Cathal
2017-01-01T00:00:00Z
Nice location with great deck up amongst the trees. The kitchen is well stocked and has a good gas stove . Beds are comfortable and tv is of good size with some DVD's. Host is welcoming and knowledgeable of local area and Australia. All and all a good experience
Christopher
2016-12-27T00:00:00Z
We stayed for 6 days in this beautiful house and we had a wonderful time. One day the temperature went down to 16 degrees so we light the fire in the fireplace which made a cozy atmosphere. Nice!! The Kitchen is well equipped, we missed nothing. It is a very good starting point to explore the Perth Hills. It's better you have a car, the next grocery store is just 1.5km but it's up and down the hill. Brenton was very welcoming and helpful with everything. We absolutely recommend to stay there, the atmosphere and the view will make you an unforgettable stay and gives you a feeling of a home away from home.
Melanie
2017-02-13T00:00:00Z
The host canceled this reservation 12 days before arrival. This is an automated posting.
Hannah
2016-11-23T00:00:00Z
Room Type
Entire home/apt
---
Property Type
House
---
Accommodates
4
---
Bedrooms
Mount Nasura, WA, Australia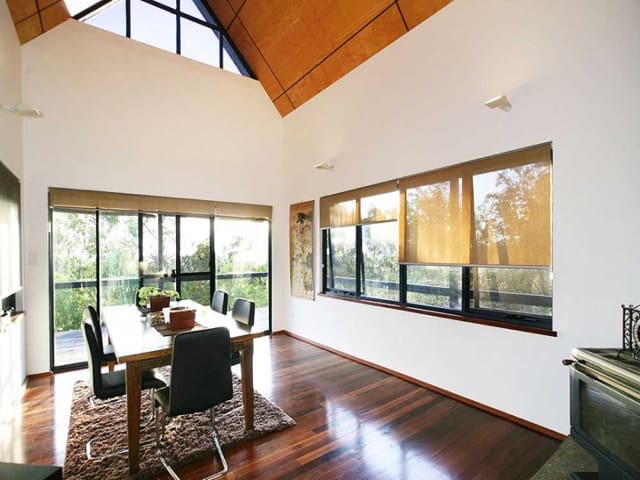 My place is close to public transport, parks, Shopping centre, 15 minutes from airport, . My place is good for couples and business travellers. YOu will have to front of the gorgeous house to yourself, I work alot and will very raley be home, you are welcome to use everything in the house, interent 3D tv, beautiful home only newly built
Room Type
Private room
---
Property Type
House
---
Accommodates
2
---
Bedrooms
Byford, WA, Australia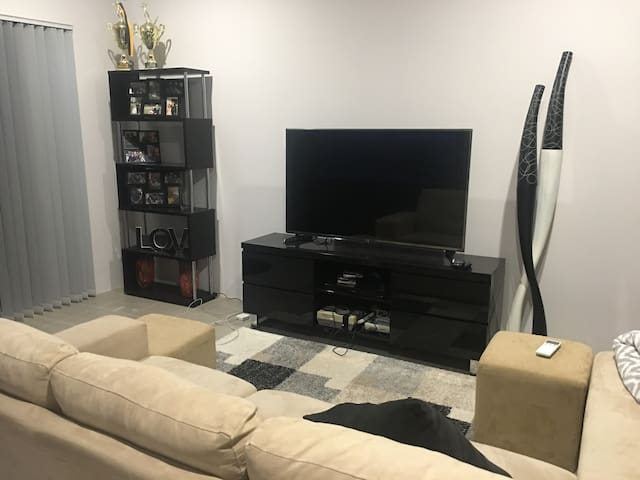 My home is comfortable modern and clean. 2 Rooms are available and the whole house to yourselves. There will be a locked door that is not available for guests use. Ducted Air conditioning keeps the house warm or cool. The house is situated across the road from a lovely park. All linen supplied. Tea, Coffee, milk and continental breakfast supplies for your convenience along with a fully equipped kitchen. No smoking inside the house
Netflix, Wifi and streaming TV all included
Quite neighbourhood, Cafe over a lake walking distance Coles and Specialty shops 5 min drive away. Close to Serpentine and Jarradale
Room Type
Entire home/apt
---
Property Type
House
---
Accommodates
4
---
Bedrooms
Byford, WA, Australia
2 min walk to bus stop, double bed available for single or couple in a brand new four bedroom house. Own bathroom with shower and bath tub, bedding, bath towels provided. Outside area to relax, breakfast provided on weekends. Outside smoking allowed.
Free parking, bedroom suits 2 people 2 Outdoor areas one for meals and the other just to chill
We live in a quiet suburb, lovely parks, good for morning walks
...lovely staying, we couldn't ask for better, friendly couple, massive cleening and confortable bathroom and bedroom, we really raccomand this place !!!really big value!!!
Varrina
2017-02-08T00:00:00Z
The best place I ever stayed through Airbnb. The host, Tracy and her family were very welcoming, caring and hospitable . To sum it all up, this guys and their home are nothing but excellent and superb.
Griffin
2017-02-16T00:00:00Z
What happy to land in this little family all full of attentions. Home is very clean, the room is cosy and clean too, you will have your own bathroom, nice and spacious. Tracy is very nice, sweet and pleasant. She'll know you the best book home and you prepare of great dishes! Very good stay spent in their company. Thanks for everything. Quelle bohneur d'atterir dans cette petite famille toutes pleines d'attentions. La maison est très propre, la chambre est cosy et propre aussi, vous aurez votre propre salle de bain, belle et spacieuse. Tracy est très gentille, douce et agréable. Elle saura vous reserver le meilleur acceuil et vous preparer de supers plats ! Trés bon séjour passé en leur compagnie. Merci pour tout. Serge & Virginie
Serge
2017-03-20T00:00:00Z
Tracy and her lovely family are very hospitable welcoming and Great hosts. The accommodation was extremely clean well priced and has everything you need. Thank you for a very pleasant stay. 5 stars
Jp.
2017-03-13T00:00:00Z
We stayed for two nights in the house of Stacy and her husband. The accommodation is clean. The room and bathroom are spacious and pleasant. We recommend this accommodation. They are very friendly and helpful.
Saidmagomed
2017-03-15T00:00:00Z
Tracy is a good host. She is so kind and helpful to share and suggest me the ways of being there. Her family is wonderful that I am really happy to see. Clean and private room with self toilet and bathroom. Well recommended!
Ngahing
2017-03-09T00:00:00Z
Tracy and her family were so kind at us, and she gave us many advices on what to do and where to go in Perth and surroundings. It was a pleasure staying yours! Hope to meet you guys in Italy!
Manuele
2017-04-08T00:00:00Z
Tracy and her family are very welcoming and hospitable people who do their utmost to make you feel welcome
john
2017-02-21T00:00:00Z
Room Type
Private room
---
Property Type
House
---
Accommodates
2
---
Bedrooms
Haynes, WA, Australia
Great 3x2 bedroom house in great quiet location opposite of a park. Room is furnished with a bed and has own bathroom and toilet. Parking available. Aircon, wifi, and TV available. Close to Shops, Cafe's and a Restaurant. You would share house with host.
The room contains a double bed, and double wardrobe. It is an open plan living/kitchen/dining, you will have complete access to this area as well as the laundry. All appliances/utensils in these areas are able to be used. Also Tea and Coffee is available.
Close to cafe's and restaurants. House is located across from a lovely park with BBQ area.
Great place to stay, I had my own large section of the house. Came and went as I please within reason of course. Stacey was very friendly and welcoming. Was convenient for what I needed and only 15 minutes away from where I had to go each day. The place was clean and tidy and also had a couple of pets which were very friendly which made it feel very welcoming. I would recogmend staying there. Not sure about public transport as I had my own car. Thanks Stacey.
Tracy
2017-02-23T00:00:00Z
Stacey's place was clean, new, modern and very well equiped for mine and my 6 year old's 3 week holiday. Super friendly pets and host and we almost became part of the neighbourhood with our evening visits to the park across the road, well equipped with kids play as well as gym equipment. A great, quite and secure place to come home to after a busy day rantanning around Perth city. Definitely recommend to anyone considering.
Colleen
2017-01-29T00:00:00Z
Room Type
Private room
---
Property Type
House
---
Accommodates
2
---
Bedrooms
Byford, WA, Australia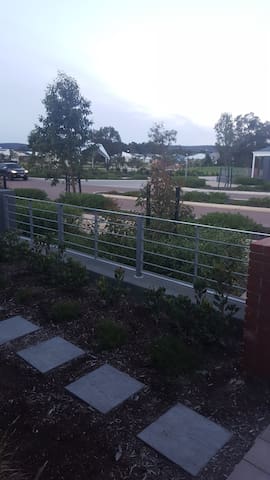 We are situated minutes to Serpentine falls, Armadale Reptile Centre, Cohunu Koala Park, Horse Riding, Shops
4x2 house situated in suburban area called Byford around 30 minutes away from the city by car and 1 hour away by public transport. This is a contemporary and spacious house with grey tile floors. Located on a quiet street facing a farm (sometimes you would be able to see horses). The floor space is about 180m2 with a triple garage. The entire house an Opened spaced concept with grey tile floorings. Hallway opens up into a spacious living area with high ceilings. The house is less than 2 years old. This is a room with double bed bunk that allows to sleep 3-4 ppl **If you are traveling with children over the age of 3 please include them as another guest.**
The neighborhood hosts events fortnightly throughout spring to summer such as markets, BBQ and much more. Our estate is called Byford, surrounded by lush bushes, amenities, parks, and etc.
I had a lovely stay. Thanks for having me!
Olivia
2016-06-14T00:00:00Z
Very warm welcome in a modern and spacious house. Private car park. Comfortable bedroom with individual air conditionning system. Large bathroom with shower and bath. Peaceful quarter. Free wi-fi. Charmaine looks very young but she is really the owner. Easy going person. Byford is not far from Serpentine falls. It takes about 35mns drive to get to Perth International Airport. Coming from Margaret River, it was a relaxing stop before our flight scheduled by noon. I definitely recommend to stay at this accommodation.
Roland
2015-11-28T00:00:00Z
It was a really great stay!!! The house is really brand new and charmaine and her boyfriend are really nice hosts! Would definitly recomend it!
Jennifer
2016-06-30T00:00:00Z
Epic people, attentive, comunicative. Really nice, clean and big house with lot of comfort. I recomand this accomodation to all.. Fast transfer to Perth. Thanks for all and maybe in the future we will see again.
Lubos
2017-02-15T00:00:00Z
Carmine and Ryan was weary helpful with the booking, providing enough information. They were really friendly with everything, and was flexible with check in and check out times. I had wonderful stay at their place, and would highly recommend staying with them.
Hashan
2016-07-31T00:00:00Z
The host canceled this reservation 5 days before arrival. This is an automated posting.
Ainn
2016-04-08T00:00:00Z
Really clean accommodation, with friendly host. Definitely recommended for those who needs a rest after their flight.
Ainie
2017-03-29T00:00:00Z
One word, "perfect" Very relaxing stay, with everything you could needed, thanks Charmaine.
Stuart
2016-11-28T00:00:00Z
Room Type
Private room
---
Property Type
House
---
Accommodates
4
---
Bedrooms
Byford, WA, Australia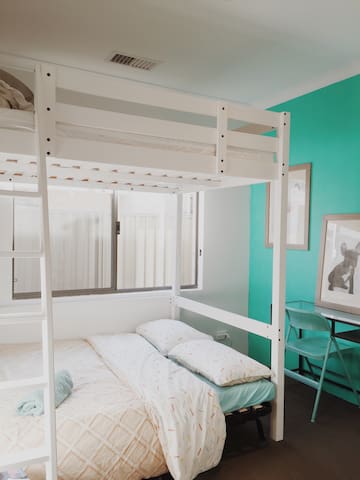 BEAUTIFUL, CLEAN AND FULLY EQUIPPED HOME NEAR SERPENTINE FALLS, HORSE RIDING AND KOHUNU KOALA PARK GREAT FOR FAMILIES & BUSINESS TRAVEL 3 Br + 2 Ba family home w/ kitchen stocked pantry for cooking. 2 car garage. Ample parking. Large park in front w/ playground & running track. Minutes to Serpentine falls, Cohunu Koala Park, Horse Riding, Shops and Beaches.
If you want to get away from the hustle and bustle this is it. We call it 'Pleasant Vill'. Long term rentals are welcome. 3, 6, 12 months at discounted prices. 3 Bedrooms 2 bathrooms. Walk in pantry stocked for cooking asian style. Washer and Dryer is in the house or for more gentle care hang your clothes outside. Large Tv, X-box and Karaoke with over 1000 songs! Modern cosy cottage home with private backyard and locked rear garage for your vehicle. There is ample free parking on the road. Home faces a park directly with pleasant view of the hills. Go for walks morning or evening while kids can enjoy the park and playground. There are shopping centres close by for your shopping fulfilment and plenty of adventures just minutes away. Armadale Reptile Centre, Serpentine Falls National Park, Araluen Botanic Park, Adventure World, Cohunu Koala Park ( you can still hold a koala here even though it is becoming rare. You can also feed the Kangaroos and talk to the talking birds ; ). There is Horse riding, Rock Climbing, bush walking trails, plenty of wildlife and wild flowers all around. You can even smell the eucalyptus in the air. All this and the city is only 35 minutes away with beaches around 15-20 minutes. Sleeps 3 couples comfortably, we have our big cosy corner couch which 2 singles can sleep (total 8 people). Third bedroom is fitted with Winnie the Poo theme, perfect for Winnie fans and children. We know you will just love our Home!
You will find that our neighbourhood is simply pleasant.
I booked Casselyn & Leo property for a couple of guys I had working in the area. The house was clean, tidy and well looked after. Casselyn was a pleasure to deal with and communicated information well. I would recommend both Casselyn & Leo as hosts as well as the property to stay at.
Stacey
2016-05-04T00:00:00Z
We had a beautiful experience staying in this house. It was a beautiful house complete will all the facilities as promised and you feel very much at your own home. Most importantly the hosts were so wonderful by providing us with all the required information and with a very warm welcome. If we have another opportunity to visit Perth, we will be staying at this house again.
Amat Taap
2015-12-25T00:00:00Z
Casselyn is very kind and friendly! She was very prompt in providing the info we need, and personally handover the keys to us upon arrival. The house is very clean, she prepared fruits, milk, bread to welcome us! She also prepared the shampoo, soap and lotion for us. The room decorated with Winnie The Pooh made the kids happy and excited :) strongly recommended family with kids. Thank you so much Casselyn :))
Shirleen
2015-11-23T00:00:00Z
Beautiful, clean and cosy family-oriented house with the kitchen all stocked up! Garage is big enough for our 2 cars we drove. There is also an iMac for easy checks on internet. Baby cot was also provided upon request for our baby. We really felt at home during our stay.
Jia Min
2016-03-22T00:00:00Z
Really well welcomed and Casselyn and Leo where always here to help.
Alexandre
2017-03-25T00:00:00Z
我們非常喜歡這間房子,有五星級旅館的等級,房東很貼心地送了我們聖誕禮物,房間備有沐浴設備,廚房除了基本調味料外,還有許多家庭會使用的醬料與用具,讓我們白天四處旅行,晚上卻有回家的感覺。每天房間都非常美麗。這個房子非常適合像我們一樣,全家旅遊的好地點,唯一的缺點是離火車站需要開約15分鐘的車程。這是我們聖誕假期中住過最棒的一棟房子。 We really like this house. This is a 5 star house for family. House not only clean but beautiful. House owner provide a lot of cooking utensil and even some fruit. This is the best house we ever stay before:) It takes 15 min by car to train station so if you don't have car it will be a little inconvenient for you.
芸想
2015-12-30T00:00:00Z
Room Type
Entire home/apt
---
Property Type
House
---
Accommodates
6
---
Bedrooms
Byford, WA, Australia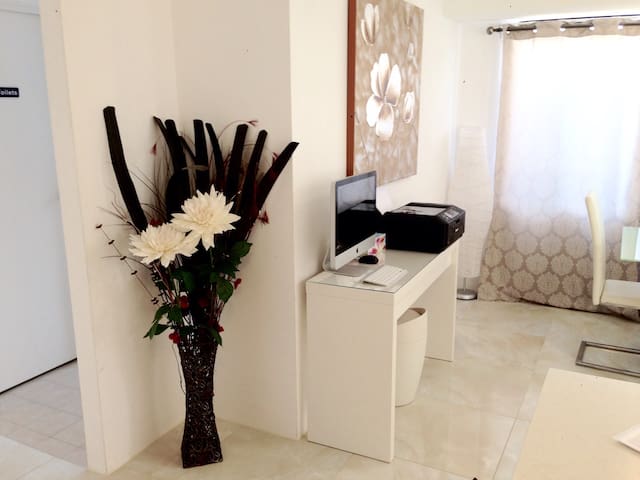 This bright, neat, convenient and fully furnished (new photos with furniture to come shortly) house is at the heart of regional centre, within walking distance to bus/train station, closed to all amenities inc. schools, shops, cafes, transport, and minutes' drive to Armadale CBD, train station and picturesque Perth hills. It has 3 large bedrooms, 1 neat bathroom, kitchen/meal area with ample bench & breakfast bar, huge theatre, new paints & flooring, large gazebo, alfresco & lock up garage.
The master bedroom is with one huge king size bed and the other 2 bedrooms are each with 2 single beds. There are five living areas in the house, 3 indoor and 2 outdoor to offer the maximum entertainment and functions to guests' different needs. The lounge was at front with comfortable sofa and TV for your enjoyment. Followed by the kitchen/meal area with all cooking facilities, dinning table/chairs and breakfast bar to provide guests the right place for cooking and enjoying meals. The huge theatre/activity room is at the back with big screen TV, DVD player and surround sound system to give guests best experience with home theatre in holiday, or just a big cosy place for the whole family/group for some good time together. For outdoor, there is an alfresco area next to the theatre, a perfect place for guests to enjoy an afternoon coffee or tea outside. The huge gazebo at the back with sofa, buffet table and BBQ provides guests the best place for outdoor activities while enjoy the beautiful sunset, or just to watch the kids playing around at the big secured enclosed backyard. Note photos were taken before furniture in. New photos with all furniture and fittings will be updated shortly after current guest check out.
The neighbourhood in the street are quite good and mostly quite. The right neighbour has dogs which are good for extra security at night.
The host canceled this reservation 14 days before arrival. This is an automated posting.
Putera
2017-04-07T00:00:00Z
Room Type
Entire home/apt
---
Property Type
House
---
Accommodates
6
---
Bedrooms
Armadale, WA, Australia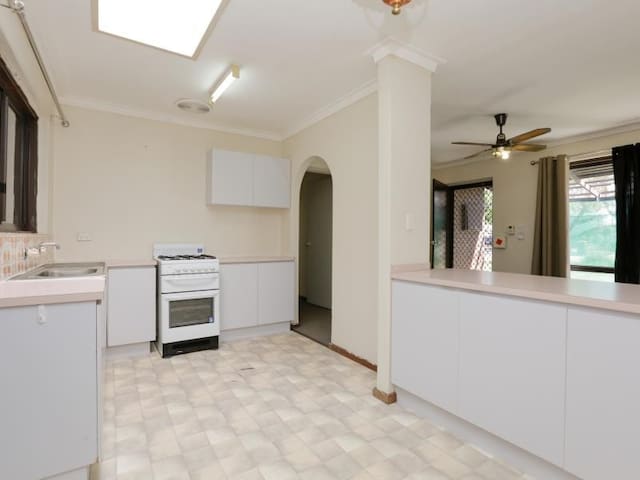 My house is newly built and kept immaculate. I work away for 2 weeks and home for 1 week and the house sits lonely most of the time. It's a short drive to lovely rockingham and the house is a great place to relax and have some time out.
My house is comfortable and fitted out with all the basics. I have a great bath, smart tv, wifi throughout and generally it's lovely. I am away most of the time so the house really is going to waste. There is space in the garage. The house is build in sunrise estate, which has a bueautiful rural vibe. There is a park walking distance and I can advise details on closest shops, about 5 mins drive. Rockingham isn't far down the freeway and offers great beaches, cafes and restaurants.
Room Type
Entire home/apt
---
Property Type
House
---
Accommodates
4
---
Bedrooms
Wellard, WA, Australia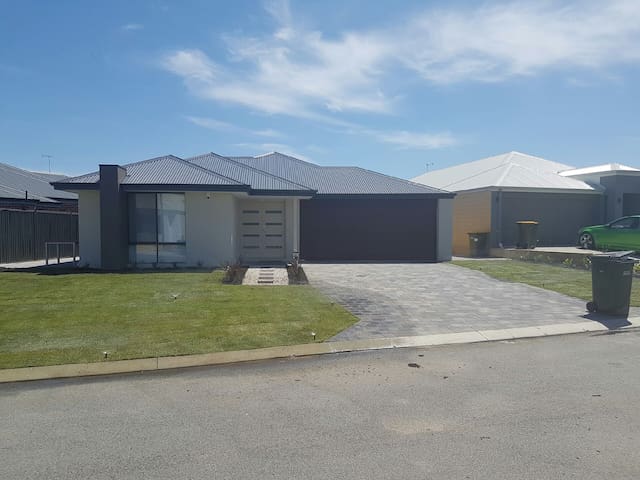 Enjoy the company of people, pets, and plants whilst on holiday or taking a break! A home away from home! Comfortable room with amenities. Outdoor Spa, indoor bath, and native gardens... Breakfast included.. car available.. GLBTIQQ welcome 8)
Appealing to animal lovers! Enjoy the company of my five well behaved & loving pets whilst on holiday or in Perth for business. A very warm, welcoming, and homely house located in a gorgeous area surrounded by virgin bushland and many parks. Big and spacious with many rooms and spaces to enjoy. Shared with two other people... one who is barely home!! Queen sized comfy bed in a freshly painted room... earthy clay colors. Pets are kept out of the room (unless encouraged by you!?!). Dogs are kept in seperate part of the house... Car use may be negotiated subject to licence checks and agreement to pay excess if vehicle is damaged.
Convenient central location for travellers planning to spend time between Perth, Mandurah, Rockingham, Serpentine Falls, down South and the Airport.
Donna was very welcoming and everything was as expected. Good value for money
Murray
2017-02-10T00:00:00Z
Great for indepentant traveller who likes to feel at home in quiet location. Easy access to freemantle and perth with freeway a short distance away. Very enjoyable afternoon with Donna as my guide of local area not found in my research of things to do . Great local touch
Margaret
2016-10-09T00:00:00Z
Donna was amazing. She was away in Bali and still opened her home up to me. Her dogs are beautiful :) I took them for a walk as I missed my dogs from home. Would recommend.
Stephanie
2016-05-29T00:00:00Z
It was a pleasure staying at Donnas place. I will come back here next time.
Roger
2017-02-06T00:00:00Z
Nice lady and place; faultless. I was in the middle of a few gigs and she was very kind but left me in private so I could recover.
Jonny
2016-03-04T00:00:00Z
Donnas home was so exceptionally welcoming. Her partner Candy made my partner and I feel really at home and all 5 of their pets are so lovely. I even took the beautiful Bella and Buddy for a couple of walks. The bed is very comfortable and the area is close to public transport. I highly recommend staying here a true home away from home. I have rarely been to a more welcoming place. I only wish I could give Donna more praise and stars. Thank you for a wonderful stay :)
Zoe
2016-04-05T00:00:00Z
Pleasant homely stay. Great other guests interaction. Will be back.
Michael
2016-09-08T00:00:00Z
Lovely house and Donna couldn't have been more helpful, very nice area and close to shops.
Brian
2016-05-16T00:00:00Z
Room Type
Private room
---
Property Type
House
---
Accommodates
2
---
Bedrooms
Perth, WA, Australia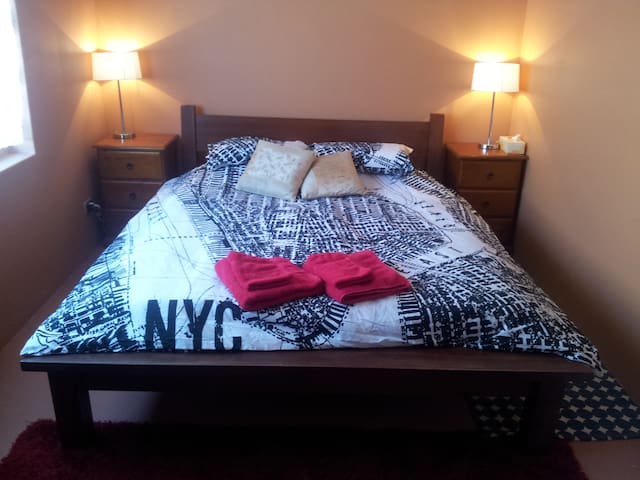 I have 3 rooms available for rent to accommodate 5 people. Two rooms with queen beds and 1 room with single bed. Large living room and home office with WiFi internet, kitchen, dishwasher, washing machine
Room Type
Entire home/apt
---
Property Type
House
---
Accommodates
5
---
Bedrooms
Byford, WA, Australia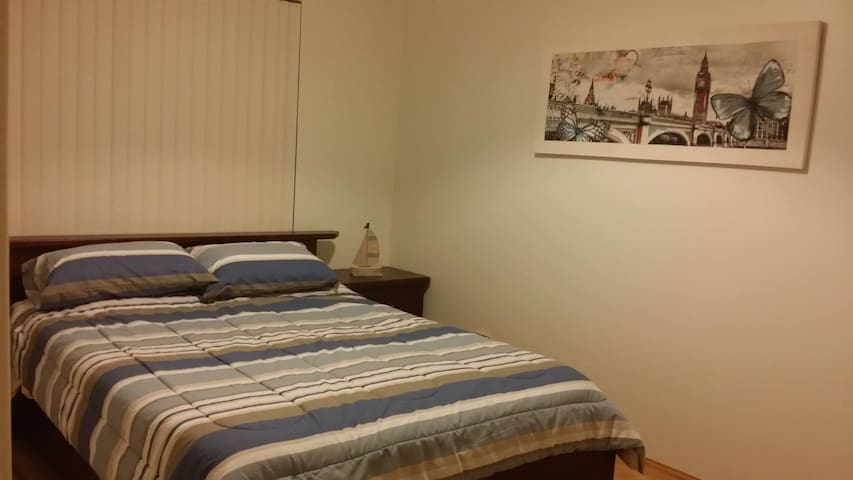 If your mad about Wake Boarding then this is the place to be!!!! (Big garage for you to safely store your wake boarding gear) My place is close to public transport and family-friendly activities. You'll love my place because of the neighbourhood and the kitchen is the highlight. My place is good for couples, solo adventurers, business travellers, families (with kids), and big groups.
Brand new house with high ceilings and as you walk down the hallway you come to the kitchen and living room which is the highlight of the house in its Industrial design. Suitable for long stays and fast wifi available to all guests. I don't have an antenna at the moment but I do have Netflix!
Brand new area which is next to the freeway so easy to get around, however its super quiet and your guaranteed to get a good nights sleep.
Felt good to be on a quiet street in a quiet place. Thank you for letting me stay in your home. Thank you for letting me use your kitchen facilities, your washer + dryer, and your netflix subscription. Felt good to walk into a new home & put my feet up after a tiring day. However, it didn't look like the host had gone back in to check on the place after the last guest. Also, a microwave to heat up food is necessary, I felt.
Tushar
2017-01-01T00:00:00Z
Place was awesome and close to the beach as advertised. Great amenities and the host was real easy to deal with.
Adedayo
2016-08-13T00:00:00Z
Great couple of days away, Saasha's place had everything I needed and was close enough to everything. Will be an amazing space once all the landscaping is finished. Would definitely recommend to anyone looking for a well priced whole home getaway.
Bradley
2016-08-26T00:00:00Z
Very nice comfortable family Home. Close to all amenities. I would recommend Saasha's home.
Terry
2017-03-22T00:00:00Z
Perfect place for the trip I had planned
Matthew
2017-03-12T00:00:00Z
Awesome time. Great place that's very close to the beach
Adedayo
2016-09-21T00:00:00Z
Saasha was very easy to deal throughout the whole process. The place is quite big and comfortable for the 3 of us that stayed. The place is very central and not too far away from the shopping centre (e.g. Woolworths). I would recommend the stay to others.
J
2016-11-13T00:00:00Z
Saasha was an awesome host, contact and check-in was really easy. The house itself was so nice, everything was clean and brand new. The area was great too really quiet and 5min drive to the shops (IGA & Bakery and small restuarants). The house was really close to the freeway as well and super easy to find. Beautiful new house, there's no landscaping out the front or back, but I didn't need it as I was in the area for work so I just needed somewhere to relax. Netflix came in handy :-) Thanks for everything Saasha, if I ever have to work down that way again I would happily book your place!
Pare
2017-02-05T00:00:00Z
Room Type
Entire home/apt
---
Property Type
House
---
Accommodates
4
---
Bedrooms
Wellard, WA, Australia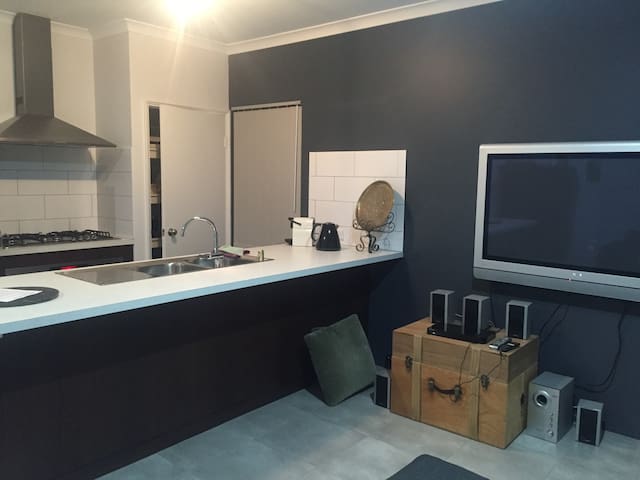 1

–

18

of

300+ Home Rentals
Enter dates to see full pricing. Additional fees apply. Taxes may be added.