This special holiday home is located in the center of the medieval town of Kastav. Nearby there are shops, restaurants, souvenir shops, art galleries and an open-air theater but the house is also located in a small, narrow and quiet old town street. The partially renovated interiors which are colorful furnished provide a pleasant atmosphere. At the first floor, there is the living and dining area with kitchen and an enclosed terrace, while in the second floor are the bedrooms.
The partially renovated interiors which are colorful furnished provide a pleasant atmosphere. On the ground floor, there is a small terrace and at the first floor, there is the living and dining area with kitchen and an enclosed terrace at the house entrance, while in the second floor are the bedrooms.
Euroway House is placed in old part of City of Kastav. In five minutes walking range you can see art galleries, caffe shops and museum filled with interesting history of Kastav. 20 meters from your doorstep there is Boutique hotel and restaurant Kukuriku - proud owner of 4 stars and you just can't say no to go in and look around :) In just a few steps you can enter wood Lužina in which you can find 3 marked hiking and walking trails - we recommend you to go and take a relaxing walk through - its extraordinary! Tourist agency is just outside the old part of the city, few minutes away and there are may of restaurants and pizzerias with delicious food.
Andreja a été parfaite avant notre arrivée en répondant à toutes nos questions rapidement. Andreja a facilité notre arrivée dans ce charmant endroit qu'est Kastav, place de parking réservée, chouettes restaus renseignés, ateliers d'artistes... La maison est identique aux photos: colorée, anglaise, chaleureuse, les enfants ont adorés les jeux à disposition, et moi le thé anglais!. La maison était exellement propre, et la décoration tellement jolie!.
Karine
2016-07-22T00:00:00Z
Room Type
Entire home/apt
---
Property Type
House
---
Accommodates
6
---
Bedrooms
Kastav, Primorje-Gorski Kotar County, Croatia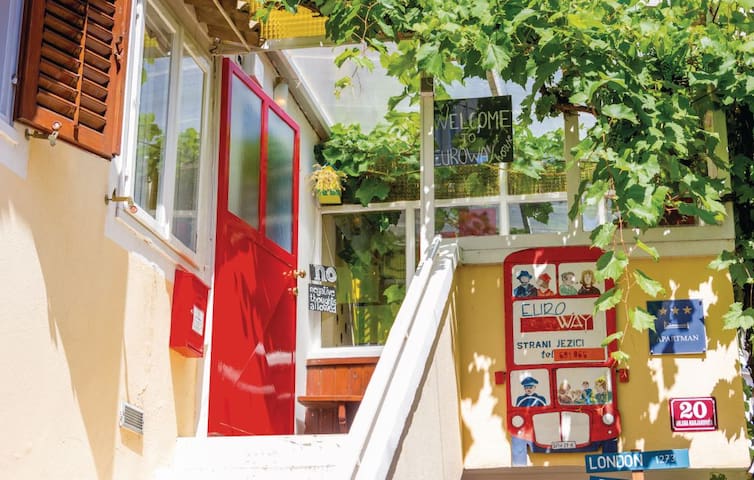 Our house is very cosy, children friendly and easy to clean, mostly kept in a a practical scandinavian style.
Hi everybody! Come and stay in our home, 20 or 30 min from the seaside, depends what you like. Our house is 550 m high, on a small hill, its beautifully fresh on hot summer days. All rooms are air conditioned. We are only 10 min from the Slowene border, 200 m from the old road 'Petrolejska', which connects Trieste with Zagreb - Wienna - Budapest. We are renting one room with two double beds and a bathroom, enough parking space, green area and garden. We serve breakfast free of charge and cook dinner if you wish - we charge between Euro 10 - 20, depends what you would like to eat. The neighborhood is quiet, it is a nice family home suburb not far from the historic village centre Marčelji. Near us is a famous and inexpensive fish restaurant...there are others, too. Shops, a post offfice and banks are in the village centre, 2,4 km away. The city bus runs every hour, the bus stop 100 m from our house. We like children & animals - both are welcome. We have a playroom for children (our sons playroom), and a kennel behind the house, if you want your dog to stay outside; inside the house is possible, too, we have adapted facilities. We rent for a minimum of three days. We are looking forward to meet you, welcome to House Alex!
A very warm welcome from Alex in her lovely house. The room we stayed in was very comfortable. A very good address!
antoine
2015-07-25T00:00:00Z
We liked our stay at Alex'. She really is a friendly host! The children were excited to communicate with cats and dogs, and our dog felt herself very much at home in a good company, because all the furry inhabitants of the house lack any aggression and are very welcoming. We could easily leave her in the garden for the day and be quite safe. The cleanliness of the house is really amazing especially when considering the amount of guests and pets! It was a pity we had to leave, as there were still so many things to expolre in the surroundings and Alex came with good advice! The only thing that may be improved is the internet connection in the room :)
Vera
2015-08-28T00:00:00Z
The room is cosy and spacious with huge wardrobe. The room and the bathroom (and the house in whole despite many pets living there) is very clean because of Alex polishing everything everyday. Breakfasts with homemade marmalade are indeed delicious. Alex is very nice host and person. She've fulfilled all of our numerous requests We couldn't recommend her more. Two weeks have passed but our kids're still asking us "Let's go home, to Alex's".
Eugene
2015-08-09T00:00:00Z
We changed plans just before going to stay with Alex and so we didn't get to enjoy her hospitality. She was easy to communicate with and welcoming.
Larson
2013-07-19T00:00:00Z
Alex runs a cosy, stylish and comfortable home. She helped us with every detail of our journey. She speaks croatian, german,english and italian perfect. We were provided with a tasty breakfast every day. We love her french toast. Alex ha una casa molto moderna e gradevole. Ci ha aiutato e dato consigli per qualsiasi cosa avessimo bisogno. Parla perfettamente croato, tedesco,inglese e italiano. Ci ha deliziato ogni giorno con una buona colazione abbondante. Alex hat ein sehr gemütliches und schönes Zuhause. Sie hat uns bei allen Kleinigkeiten rund um unseeren Aufenthalt geholfen. Sie spricht Kroatisch, Deutsch, Englisch und Italienisch. Täglich hat sie uns ein leckeres Frühstück gezaubert. Wir lieben ihren French Toast.
Rene
2016-08-12T00:00:00Z
We had a great stay at Alex. It's a really warm house and you have all the facilities you need for having a pleasant stay. Alex helped us a lot and gave us all the information we needed! Even when Alex wasn't there, there was still her son who could help us. Also during breakfast you have everything you need! In and around the house you can find a lot of cats and dogs. They 're all really kind and domestic. It's great to see how much Alex care for them.
Alice
2016-08-13T00:00:00Z
We had great time. Alex was very helpfull host.
Kamil
2014-08-23T00:00:00Z
My wife and I had an excellent stay with Alex. She provided great advice for seeing the Istria area. The breakfast was very nice, especially her homemade peach marmalade. The house is perfect for animal lovers who enjoy dogs and cats. I am allergic to cats but she keeps the place so clean that it didn't cause any problems for me. Most of all we enjoyed chatting with Alex about Croatia and other European countries. We would love to return to this Airbnb one day and highly recommend it to anyone looking for a room in this area.
Clay
2015-07-28T00:00:00Z
Room Type
Private room
---
Property Type
House
---
Accommodates
4
---
Bedrooms
Općina Viškovo, Primorje-Gorski Kotar County, Croatia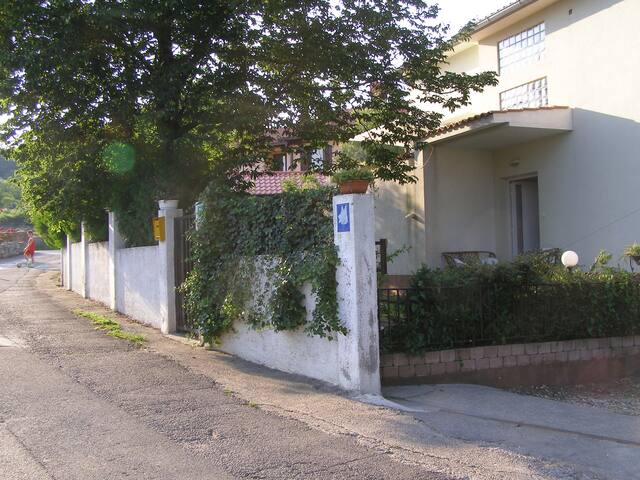 One-bedroom apartment which is on ground floor of family house. Big garden and quiet surrounding, 10 minutes from city center and lovely beaches with nice and affordable restaurants and bars. Ideal for couples with children that would like to get a good night sleep after a day on the beach or for travelers who just want to get some rest on the way to their destination. Beautiful beaches are within 5 or more minutes drive, depends on what you like. Nearest beach is Ploče (suburb Kantrida).
App is newly renovated, clean and with everything you'd need. There will be coffee, sugar, ice and those little things that make day better and easier. :) Ideal for a couple, but 2 more persons can be settlet on a couch. We are registered for 4 persons in total. No cleaning fee.
Neighborhood is safe and quiet. Great inexpensive fish restaurants and pizza/spaghetti places, cool café and beer bars where you can get walking.
The host was Very friendly in the first second of contact. She made Sure i was fine with my bike and asked me if i needed something straight away. When we entered the appartment it looked really really good! The host showed me arround! Even though i would departure the next day. The host was really good ans the appartment was absolute fully equiped. Even an oven!! The bed was really good to and i have really enjoyed my stay! It is really good for a long stay aswell! Quiet neighbourhood and i really recommand this appartment! Thank you again for the stay!
frank
2016-09-16T00:00:00Z
Seka did a really good job of making us feel welcome. The fire was blazing when we arrived and the apartment was nice and warm. The apartment is as described and bigger than expected with a huge comfortable bed. A little way out of town in a quite neighborhood with a lovely outdoor area. Perfect overnight stop on our Croatian tour.
Dawn
2016-10-12T00:00:00Z
Amazing. tidy, clean, apartment smelled of cleanliness in the bathroom and laundered linens in the bedroom. The apartment was in the fridge ready to ice. :) And in the kitchen, coffee, sugar, salt, pepper, pasta, stove and dishes, cutlery and pots. So, as in a normal apartment. We got to taste homemade jams, was perfect. Own seating area in the garden with candles. We got a map of where to go to the beach or the like. A free internet. Gorgeous beach with free parking, just gave, but we had a car so ok. Hostilel very patient with our poor English :) And she was very kind and willing. And they were the best landlady-Cats. So huge, I've never seen. So if you want to enjoy peace and live like a local and you drive (or do not mind the bus) because of commuting to the beach, I recommend :)
Adéla
2016-07-07T00:00:00Z
Seka is a lovely lady. We had a pleasant stay at her apartment. She done everything for four of us to feel welcome. I would recommend this apartment. Definitely worth for the price.
ana
2016-07-13T00:00:00Z
Seka is a very friendly and kind host who lives in a beautiful, peaceful area of Rijeka. Her strawberry (Fragola) apartment was a perfect base for myself and my girlfriend to spend our last evening in the magical lands of Croatia. We visited the nearby Ploče beach and stayed until the last ray of sunlight shone over the Žumberak Mountains and then drove into the town to eat fresh seafood (Monkfish) at Na Kantunu. All amenties are very close by for breakfast and pack lunches. We highly recommend staying here : )
James
2016-09-28T00:00:00Z
Seka is a very kind and caring host . She did everything to make us comfortable while respecting our privacy . The apartment is clean , bright and delightful and well furnished . It is 10 minutes drive to downtown in a very quiet neighborhood . We highly recommend it .
Shakuntala
2016-09-06T00:00:00Z
Seka is a lovely host. The apartment is nice and great to sit outside. Area is nice with everything you need nearby.
Ben
2016-09-14T00:00:00Z
Seka and her daughter are excellent hosts - very helpful, nice and super-hospitable. They provided me with directions to go around the city and even helped with booking a ferry ticket. I was allowed to check in very early as I arrived in the morning. It was a wonderful experience to stay in the house - the area is quiet, green, and located not too far from Rijeka's best beach. I truly recommend this listing to everyone!
Anna
2016-07-06T00:00:00Z
Room Type
Entire home/apt
---
Property Type
House
---
Accommodates
4
---
Bedrooms
Rijeka, Primorsko-goranska županija, Croatia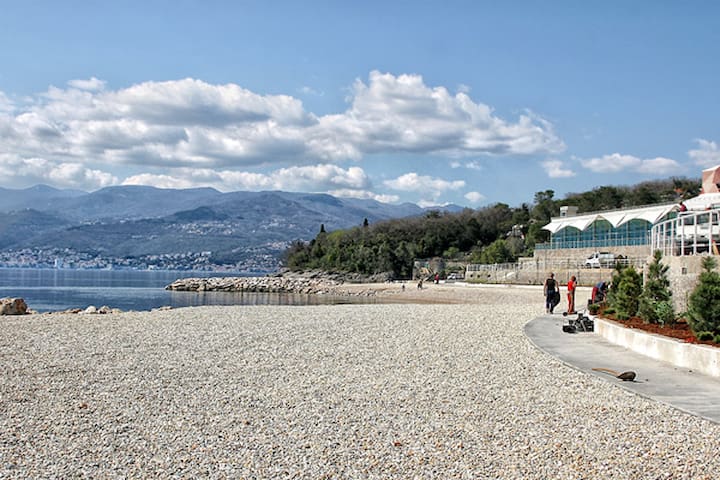 Our charming apartment is perfect for anyone looking for clean and cozy accommodation. It's situated in a peaceful neighbourhood and it's within walking distance (4 minutes) of the most beautiful beach in Rijeka. You will be able to enjoy your mornings on a lovely terrace with picturesque environment, in the shade of a blooming magnolia tree, surrounded by palms and a banana tree. Don`t wait for this time next year, book your holiday at Lovely Jubbly apartment now!
The Lovely Jubbly apartment is on the ground floor of our house. It was recently renovated and it's very comfortable, cushty and squeaky-clean. Situated in the western part of Rijeka, in the most beautiful and peaceful part of the city, the apartment is within walking distance from the beach and a supermarket. The apartment has one bedroom, a bathroom and the (fully equipped) smallest kitchen in the world with a nice dining area. Right in front of the apartment`s entrance there is a beautiful and quiet garden with palm trees, couple of chairs, a table and a sunshade. Bedroom - for a goodnight sleep there is a very comfortable king size bed (180x200 cm) and two brand new single sofa beds (90x190 cm), which are primarily for children (I am not sure if they would be suitable for a larger person). Bathroom - equiped with a bathtub, a sink and a toilet - yes, it has a toilet, although you can't see it on the pictures :) The guests are also provided with 2 towels per person and toilet paper. The apartment is equipped with the following amenities: Wi-Fi, air conditioning, brand new TV (2016), brand new fridge (2016), brand new washing machine (2016), microwave and a water heater. There is also a city map and a bunch of brochures which could come in handy for planning excursions and sightseeing of Rijeka and its area. There is a free parking space on the property. Remember, the best things come in small packages :)
Our neighbourhood is called Kantrida and it is, without any doubt, the most beautiful part of Rijeka. Its perfect location, between Rijeka city center (5 km to the east) and beautiful Opatija (6 km to the west), offers everything you might need during your stay. Distances: → the most beautiful beach in Rijeka 200 m → gas station 50 m → bus station 50 m → bakery 100 m → ATM machine 100m → coffee bar 100 m → local supermarket 150 m → big supermarket (Lidl, Kaufland) 4000 m → swimming pool complex 150 m → fitness center 150 m → nearest restaurant 200 m → tennis center 500 m → excellent fish tavern 1200 m → beach bar 200 m, 1200 m → excellent grill restaurant 1500 m
Marijan and his mom are amazing and caring hosts, she made us feel very welcome and helped a lot with what we needed. Thank you! The apartment itself is very comfortable, clean, well equipped. The garden is a bit of magic and the nearest beach just across the street is very nice, one of the best we experienced in Croatia. Highly recommended!
Zane
2015-09-17T00:00:00Z
We have a great vacations in Marijan's apartament. Marijan and his family was Very Very Very welcoming.Marijan's Mom treated us amazing jam and liquers.Marijan showed us around and gave valuable soviety!)Apartament is very clean and comfotable.Terrase is very cozy. Beach and sea wonderful!! We want to return! Thank you for everything!!!!
Инна
2016-07-24T00:00:00Z
I had a very good time at Marijans apartment! Marijan & his mother are really nice people and everything was clean in the apartment. We had a welcome drink together & there were some welcome-fruits and drinks in the fridge! And Marijan arranged a rental-bike for me, so I didn't have to check this out first. The beach is quite close and the little terrace is really nice to have breakfast :)
Pamela
2015-09-06T00:00:00Z
Really great service, the host called to make sure we had arrived in Croatia safely, he informed us of heavy traffic on the road from Zagreb which saved us from sitting in traffic for hours. When we arrived he welcomed us and took us on a short tour of the area- the local amenities, the best beaches, and also some excellent restaurants which were superb. After the tour he brought us an array of home made Croatian alcohols prepared by his mother, some from fruits in the garden. The fridge was stocked with some beers, water and juice and some fresh fruit which was a really nice touch. We would recommend the apartment to any of our friends and will definitely return in the future as it was lovely and cool inside and only a 3 minute walk to the beach and restaurants
Jessica
2016-07-26T00:00:00Z
Marijan was a great host, making a huge effort to make our stay as comfortable as possible. He helped us with travel to and from the apartment, and also with making reservations. The apartment was perfect for two people, we didn't miss anything.
Synøve
2016-09-26T00:00:00Z
Marijan and his mom welcomed us so warmly it instantly felt like home. After a short tour around the neighbourhood the advices we got from Marijan were all true and fantastic: good food, nice beaches, fine coffee. The place is calm and neat, had everything we needed and is very comfy and clean. You'll need a car to move around town but there is a beach and restaurants in walking distance too. I highly recommend this listing if you're travelling to or around Rijeka.
Gábor
2016-08-13T00:00:00Z
Staying at Marijan's place was great. At our arrival we have found fresh drinks and homemade hummus in the fridge. Marijan showed us the nicest beaches and restaurants nearby which was very helpful. The apartment is clean, cozy and well equipped with everything you need to prepare your breakfast or a small meal. We enjoyed having breakfast outside on the lovely terrace which is surrounded by trees and bushes. Marijan and his parents are great and happy to answer your questions. We really enjoyed our stay at lovely jubbly apartment and we can definetely recommend it! Thank you very much!
Maike
2016-07-11T00:00:00Z
Staying at Marjian´s place was fantastic, the studio apartment was very clean and cozy we loved every singl thing about the apartment and the host and the area in general espcialy his lovely Mom and her welcoming premium house made "raky" we recomand this studio very much because simply it was the best on our trip.
Ibrahim
2016-05-08T00:00:00Z
Room Type
Entire home/apt
---
Property Type
House
---
Accommodates
4
---
Bedrooms
Rijeka, Primorsko-goranska županija, Croatia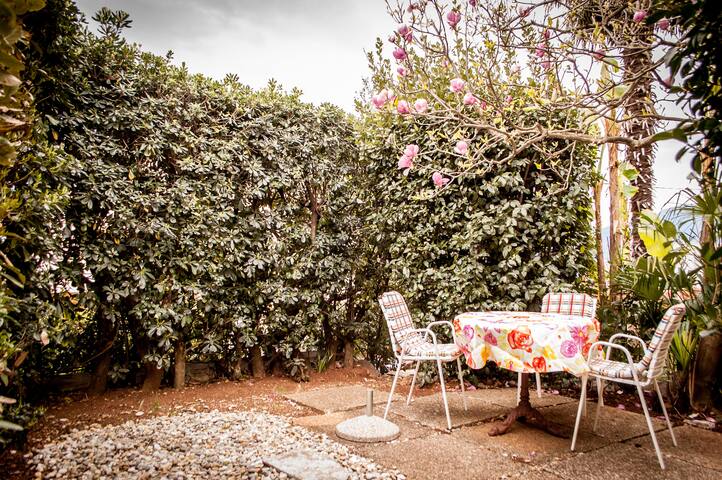 House on two floors with a stunning sea view. House is perfect for families or groups of friends. The nearest beach is only 100 meters away. This popular part of town is situated between Rijeka Downtown and Opatija.
In our villa you will find two separate floors, both with terrace from which you'll have fantastic sea view. Villa is situated in quiet part of town, close to all facilities and also just a few meters from swimming center and very close to the football stadium and athletic hall. Nearest beach is 100 meters away and there's plenty of others in this area. You can choose the favorite one :) Rijeka Downtown and Opatija are on 10 minutes with a car. You can also easily reach them by the local bus or taxi.
House is situated in Kantrida, "sports part" of Rijeka. Here you can easily reach swimming center, football stadium, athletic hall, gym etc. Kantrida is also very popular part of Rijeka, especially in summer, because of the big beach called Ploča and few restaurants and bars located by the beach.
We had a great time, the apartment is spacious and well-equipped, the balcony is wonderful, we spent most of our time there, great view. The beach is a few minutes walk, the city is also easy to reach. Doris was very welcoming, she showed us around, provided us with maps and information, reccommended us things we wouldn't have found otherwise. There was a lady next door (the owner I guess) who was always at our service, wether we needed directions or more toilet paper or a taxi. Thank you for the nice time!
Anna
2015-07-03T00:00:00Z
Doris and Luca made us feel very welcome and the setting was even better than expected. Our visit was to attend a Diving competition at the nearby Swimming Centre so the location couldn't be better and it was an added bonus to be so close to the beach. Doris gave us some excellent recommendations for local restaurants and although we had limited time we very much enjoyed exploring beaches further afield again following Doris' advice. Just hoping the diving competition is located here next year as well ...
Trevor
2016-07-04T00:00:00Z
Wir wurden von den netten Nachbarin in Empfang genommen (die Besitzerin, vermuten wir). Sie hat uns alles nötige gezeigt und war zu jeder Zeit zur Stelle wenn wir Hilfe benötigten. Doris kam auch noch vorbei, um zu checken ob alles in Ordnung ist. Die Wohnung sieht genauso aus wie auf den Fotos und der Blick Richtung Meer ist wunderschön! Leider ist es is zwei Zimmern mit offenen Fenstern etwas laut zum schlafen, jedoch kein Problem mit geschlossenen. Wir verbrachten drei sehr schöne Tage bei Doris! Danke für alles
Katja
2015-07-27T00:00:00Z
Vielen Dank für alles. War eine sehr tolle Zeit
Mahmudur
2015-08-17T00:00:00Z
Room Type
Entire home/apt
---
Property Type
House
---
Accommodates
5
---
Bedrooms
Rijeka, Primorsko-goranska županija, Croatia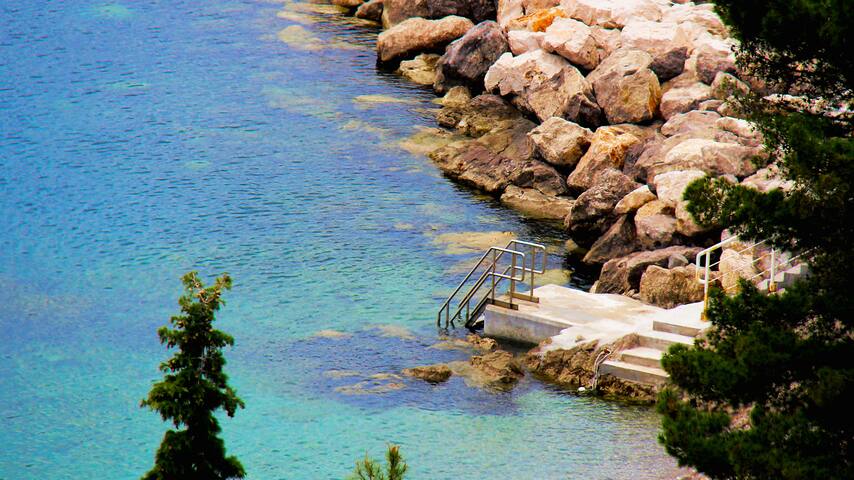 If you are visiting Rijeka or you just want to stop for a night and continue your trip, we'll offer you a room with common bathroom with another room and a terrace to relax and enjoy.
You are welcome to enjoy sunny spring days in our appartment which is situated near coastal walkway. We'll also be open to give you any information you need about Rijeka and places to visit and enjoy your vacation.
The stay at family Pucic was nice. We just met the Mother, she was very kind and carring. It is very far away from the center. But the stay was clean and good for a night or two. Thank you very much family Pucic!
Laura
2015-08-29T00:00:00Z
Tanya and her husband are amazing! very helpful and funny people, staying with them felt like home, strongly advice!
Dmitry
2015-08-10T00:00:00Z
Me and my boyfriend spent one night in the family Pucic's room. . The room is 5-10 minutes from the city center. It's very nice, clean and confortable. Tania is very sweet person and she gave us a lot of tips. All the family speak italian very well. We recommend family Pucic and their rooms.
Silvia
2015-08-23T00:00:00Z
Very pleasant experience, with hospitable and friendly hosts. They greeted me with welcome drinks and cookies, showed me around, gave me advice regarding points of interest around Rijeka. The neighborhood is very quiet and safe, with a private parking lot. The room was warm and cozy. The cleanliness and tidiness of the bathroom was flawless. Would definitely recommend to single travelers, couples or small groups of friends. Looking forward to my next visit :)
Dražen
2016-01-01T00:00:00Z
We loved our stay with Claudio and Nina, they were really friendly and helpful, we couldn't have asked for more. We would deffinately recommend this place to everybody!
Ana
2015-08-25T00:00:00Z
Nice place, very cheap, good value. Owners are really nice people.
Eline
2015-07-30T00:00:00Z
Claudia and her mother are two very kind people, we were really impressed about their friendliness. The apartment is modern and spacious and is located about 10 minutes from the center of Rijeka. I recommend it for those who want to see this city.
Valerio
2014-08-25T00:00:00Z
Great host! :)
Jasmina
2017-01-20T00:00:00Z
Room Type
Private room
---
Property Type
House
---
Accommodates
2
---
Bedrooms
Rijeka, Primorje-Gorski Kotar County, Croatia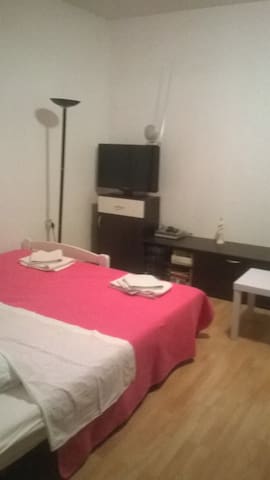 Apartment is positioned in a very safe and quite street, 4 km away from the center of Rijeka and 10 minutes driving from Opatija and 800 m from the sea. Bus station is 200 m away. Shops and bars are on 100 m walking distance. There are two parking places for the guests, free of charge. The house is newly adapted last year.
There are two balconies, a yard and two gardens you can also use.
Very quiet location. Great for families, especially with young children as there is a playground just down the street. Yard is small but good for dogs (grassy). Hosts are very lovely and helpful. Only con was that bed was a little squishy/soft. Awesome pull out couch bed though. Public transit is within walking distance but getting around in a car is very easy. And there is a personal parking spot! Also there is a grocery store within walking distance.
Laura
2017-02-27T00:00:00Z
Room Type
Entire home/apt
---
Property Type
House
---
Accommodates
4
---
Bedrooms
Rijeka, Primorsko-goranska županija, Croatia
Accommodation Marjan is located 7000 m from the sea, 7000 m from the center in the town Ičići (Opatija). Type of beach pebble and concrete slabs. Private accommodation Marjan is ideal for 5 persons and has 2 rooms in the accommodation. Accommodation is equipped with: Television, Heating, Air conditioning, Radio, Iron, Washing machine. To make the hot summer days more bearable in the accommodation there is an Air conditioning. Pet friendly accommodation - only by prior arrangement with the agency (extra fee paid to host).
Room Type
Entire home/apt
---
Property Type
House
---
Accommodates
5
---
Bedrooms
Icici, HR, Croatia
Great view and privacy. My place is good for couples, families with kids and big groups. The house is situated 2 km from the city center and 1 km from the nearest beach. Supermarket is 600 meters away. Private parking. First floor: living room with air conditioning, kitchen with dishwasher, microwave, electric oven/ceramic hub, kettle, toaster, coffee maker. Bathroom with bathtub and washing machine. Big terrace. Second floor: 4 bedrooms + linen and towels, bathroom. Large balcony.
Thank you Ognjen for renting your home and giving us the opportunity too explore your home country. You were quick to response to our requests, you were forthcoming and your home gave us everything we needed. We had a lovely vacation and will absolutely miss breakfast on the terrace with the wonderful view.
Hilde Elgesem
2016-07-28T00:00:00Z
We had excellent view having a food on the terrace. Villa has all equipment and other stuff for pleasant life. Nearest beach is very nice. Owner was very hospitable and helped us with all questions or needs.
Родион
2016-08-31T00:00:00Z
We loved this house.. great location, wonderful view, beautiful and classic house, and nice owner..everything perfect.. highly recommend. .
Yoomi
2016-07-10T00:00:00Z
הנוף הנוף ועוד פעם הנוף. במרחק 3 דקות נסיעה מאופטיה. וילה גדולה 4 חדרי שינה עם מיטות גדולות ומרפסות ענקיות פונות למפרץ עם נוף משוגע לים. שני חדרי מקלחת ושירותים. הבית נקי מאד ויש את כל הכלים לבישול ואכילה כולל מנגל. אנחנו היינו משפחה של זוג הורים (60) ושלושה ילדים גדולים (26-32). הבית עצמו לא חדש אבל יש דוד מים חשמלי שעבד מצויין (להיזהר לא לכבות אותו) ו- wi-fi עם קליטה טובה בכל הבית. סופרמרקט 2 דקות נסיעה עם כל מה שצריך.
דורון
2016-09-11T00:00:00Z
Room Type
Entire home/apt
---
Property Type
House
---
Accommodates
8
---
Bedrooms
Opatija, Primorsko-goranska županija, Croatia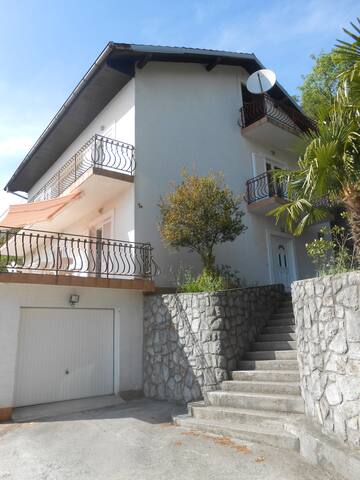 Comfortable and cosy apartment in the center of the town and only few steps from the beaches, from the market-place, supermarket, shops,bars, restaurants and in the same time offers privacy and tranquility in the big park full of beautiful palms.
The apartment is a house of about 80 m2 situated in the midlle of very big and beautiful park with lots of space for playing with children, taking sun, reading in the middle of the trees or grilling in the open and there is as well a free parking place for the guests. The house has a strong artistic touch,full of paintings and sculptures. Rooms are very nice and comfortable, every room has its own bathroom. There is a possibility for separate entrance if the house is rented by two couples friends who want to share the living room and kitchen. The owner lives in the house nearby and is always at guest's disposal. The owner speaks very well english and italian language.
As the house is in the very center of the city at the guest's disposal is everything that beautiful town of Opatija offers. Lot's of beaches,bars,excellent restaurants,open theatre with movies and concerts, public parks...
This home is a wonderful, serene oasis tucked away from the bustle of Opatija. But a quick walk down a path and you are in the middle of it all. Minutes from shops, beaches, farmers' market. Absolutely and totally ideal. But the best part of all? The spectacular host. Vesna gave us the absolute warmest welcome--though we were late arriving, she met us happily and walked our eager kids to the beach and even drove me to a grocery so we'd be stocked for the morning. We didn't want to impose, of course--but she insisted. She was eminently available throughout our stay and was really the most caring, warm and a thoroughly beautiful host. Above and beyond at every turn. Hvala, Vesna!
amy
2016-08-24T00:00:00Z
Vesna was a very kind host. The apartment is very nice and cozy and great for a vacation. It was clean, came with towels and plenty of utensils for us to to cook with. I would highly recommend Vesna as host and would be glad to come back.
Walter
2015-10-26T00:00:00Z
Very nice and friendly welcome. Vesna is helpful and made us feel comfortable. We (two couples) loved our stay here. Overall the accomodation was tidy, has great facilities and the interior design is tasteful. Enjoy some BBQ in the beautiful garden :-) Everything (the center, sea, restaurants & bars..) is in walking distance. We would definitely recommend this place.
Ramona
2016-07-24T00:00:00Z
A very cosy accomodation in the center of Opatija. The entire house with garden is big enough for a family with two children. It has also a BBQ corner and some beach chairs. Our host is warm-hearted lady and she gave us a detailed instruction about the facility and the environment. The beach is just 3 minuits walk from the house. We have really enjoyed the stay there and will definitely come back again!
C
2016-08-15T00:00:00Z
Room Type
Entire home/apt
---
Property Type
House
---
Accommodates
4
---
Bedrooms
Opatija, Primorsko-goranska županija, Croatia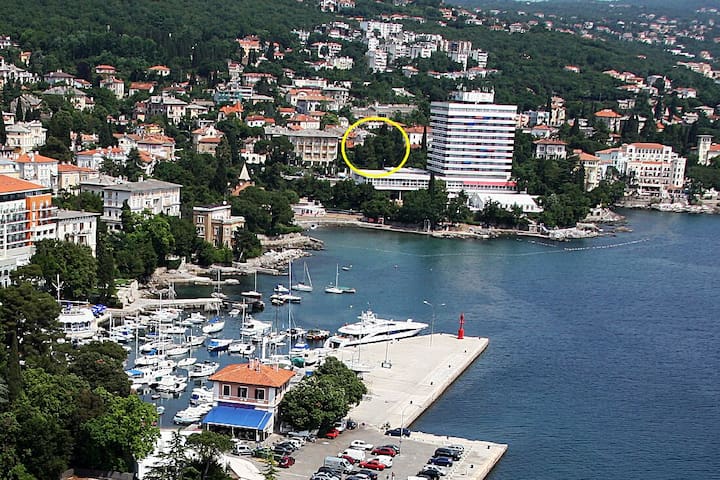 Centar Rijeke i Opatije je udaljen 7 km, a nudi mnoge povijesne sadržaje, noćne klubove, restorane. Javni prijevoz je udaljen 200 m, a najbliži aerodrom je na otoku Krku, 35 km. Od aktivnosti najvažnije: kupanje na mnogim prekrasnim plažama (već od 2 km), setnje uz more,planinarenje i skijanje (Platak-30 km). Mnogo je otoka, a more je izvrsne čistoće i ljepote. U blizini je i Nacionalni park Risnjak. Prekrasan je pogled na Kvarner, mirno okruženje. Namijenjen samcima, parovima, avanturistima.
Prekrasan pogled i mirna okolica.
Room Type
Private room
---
Property Type
House
---
Accommodates
2
---
Bedrooms
Rijeka, Primorsko-goranska županija, Croatia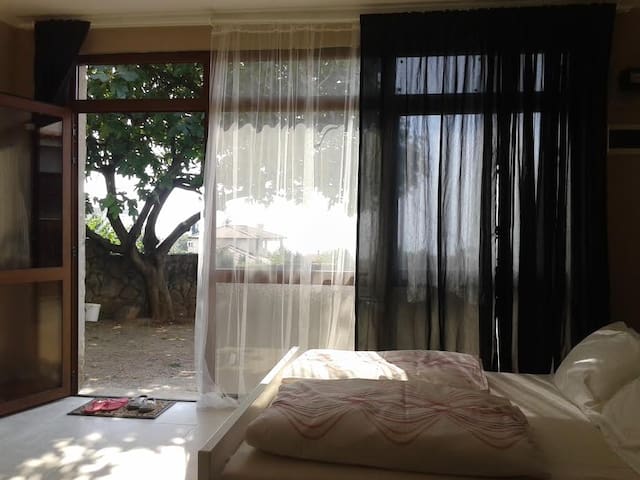 Large and spacious house in the countryside, ten minutes from the sea, surrounded by greenery, with seven rooms, two big terrace, big kitchen, living room (WiFI), dining room, three bathrooms and three thousand meters of garden.
Our room and the whole house are very pleasant. Each room has its own name (blue, violet, white, queen and two single bad room) Each room has its own listing, for example "blue private room, 15min from the sea" or "white private room, 15 min. From the sea" where you can send a request for booking or any question that we will respond quickly. Everything is freshly painted and new carpets were installed. The beds are very comfortable. Since the house is surrounded by greenery and trees is very good air ideal for sleeping. Behind the house is a large meadow where you can play by children without the risk of going on the road. We highly recommend our house for people who like a lot of space and practicality
Our neighborhood is called Pobri and away 2km.from Opatija and (URL HIDDEN) is quiet and no noise from cars. It is located surrounded by many trees and greenery. If you go by car to Opatija need approx 5min drive, or walk 15 minutes downhill, uphill a little longer. In front of the house there is a bus stop which runs every 15 min to 30 min. to Opatija.
Great place! We rented only two rooms in this huge house in the hill side. Barbara was a great host. She has a very helpfull list of places to eat closeby or in the cities nearby. The rooms are very clean and spacious. There is a large terrace and dining room. We parked our car in front of the house. You can walk to the fishermans village downhill but going up it is a huge climb. A very good place to stay!
marieke
2016-08-08T00:00:00Z
Great experience! Very spacious and clean great house. Everything was as described and Barbara was very helpful. We always felt welcome in the house. Thanks a lot for the nice time
Selin
2015-08-20T00:00:00Z
Branko and Barbara are excellent hosts. My friends and I stayed in their house in Pobri/Opatija for eight nights. The house is in good condition and it has nice surroundings. We had everything we needed in the house and if we had any question, Branko was very willing to help us. He managed a cabs to Rijeka for all of us for great price. He also recommended places for us to go like beaches, clubs, restaurants and shops. It was a very nice experience and I am happy we could stay here.
Peter
2015-07-12T00:00:00Z
A fantastic house for a large group of people. We were warmly welcomed by Barbara and we had all the comfort and freedom to use the house as it suited us. The highlight was a barbeque on the sunny terrace, with a view to beautiful garden. I defenitely recommend this house if you are going to Opatija, Rijeka or anywhere in Istria.
Simon
2016-09-18T00:00:00Z
Barbara was a perfect host! Very friendly and helpful. It's such a beautiful house. We had a great stay in Pobri.
Stefan
2016-09-05T00:00:00Z
Barbara egy nagyszerű házigazda, a hatalmas ebédlő és nappali pedig a ház egyik legnagyobb értéke, remek hely egy nagyobb társaságnak. A hatalmas piros fürdőkád is jópofa, de meleg vízzel nem sikerült megtölteni, mert hosszú használat közben langyos lesz a víz.
Péter
2016-08-07T00:00:00Z
Pas de différence entre les photos et là maison. Une hôte disponible qui a su rendre notre séjour plus agréable grâce à ces conseils.
christian
2015-08-14T00:00:00Z
Una casa muy amplia para grupos numerosos y en la naturaleza. 100% recomendable
ALMENIA
2016-07-25T00:00:00Z
Room Type
Entire home/apt
---
Property Type
House
---
Accommodates
14
---
Bedrooms
Pobri, Primorsko-goranska županija, Croatia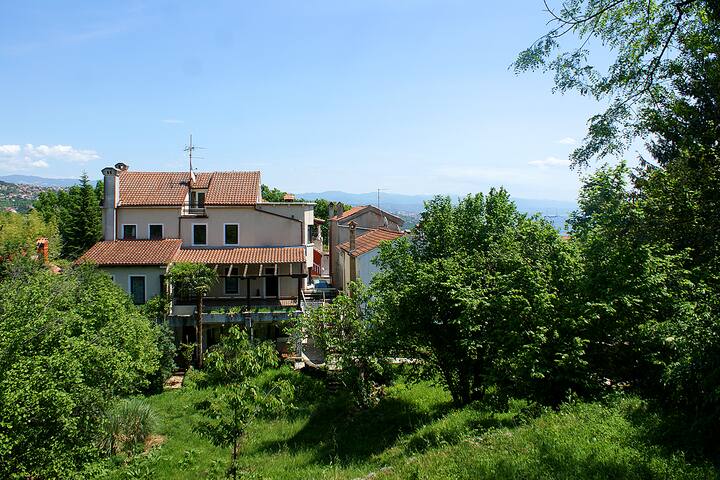 Što se nalazi u blizini: lijepe panorame, restorani, and noćni život. Kod mojeg smještaja će vam se svidjeti: ljudi, atmosfera, vanjske površine, and svjetlost. Za koga je moj smještaj: parovi, solo avanturisti, poslovni putnici, and obitelji (s djecom).
Blizna centra grada. 3,5 km. Blizina plaža 5km..
Drazen was very gently and respons very quickly , the house are as he describe , clean with amazing view on the sea placed in a quite square. Thank you .
Sinisa
2017-02-27T00:00:00Z
Room Type
Entire home/apt
---
Property Type
House
---
Accommodates
7
---
Bedrooms
Rijeka, Primorsko-goranska županija, Croatia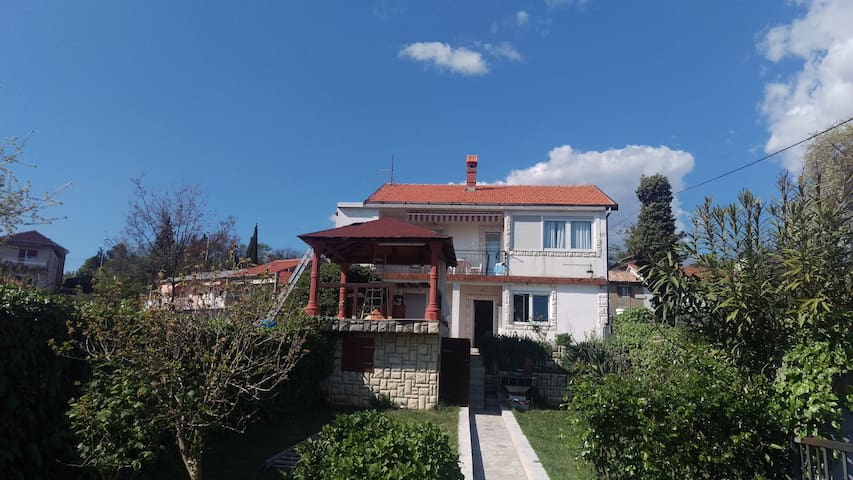 Villa Oscar is run by friendly Australian hosts offering stunning sea views from two modern apartments set adjacent to the forest with numerous walks from your doorstep. Facilities include outdoor spa,private courtyard area with bbq and plenty more.
Outdoor heated spa with stunning sea views over Lovran and the islands Cres and Krk, adjacent to extensive woodlands with numerous walks to Opatija town or mount Ucka nature park Studio features: Queen bed, flat screen TV, Wi-fi, and air-conditioning. Bed linen and towels are included. The kitchen is fully equipped with all cutlery, crockery, pots and pans. The bathroom includes shower, towels and toiletries. Price includes TOURIST TAX. A great base to be located for excursions to Plitvice lakes, the Istrian Peninsula (Pula, Rovinj, Umag, Poreč), Island Cres or Krk, Gorski Kotar region, Park of nature Ucka, Venice.... Getting around: Direct train from Vienna to Opatija (train station Matulji, 5 km to Opatija or Rijeka 14 km away) Nearest airports: Rijeka ( Island Krk) and Pula.
Set in a quiet location with stunning sea & mountain views with natural woodland on your doorstep, within 5km to the seafront by car or a 20 min walk through forest to the hustle and bustle of the Opatija riviera.
On our first trip to Croatia, we couldn't have wished for better hosts or a better holiday! Perfect accommodation for a romantic week away, with so much to see and do! Flew into Pula and was about an hour by car. Ben and Ivana were amazing hosts, gave us loads of ideas for what to do during our stay, and Oscar, the dog, completed the package! Can't wait to stay again!
Spencer
2016-05-16T00:00:00Z
Ben and Ivanka were perfect hosts. They gave us lots of tips and hints about day trips and activities near to the villa ( and there are many!). We loved the walk up Mt Voljak as well as a day at karmenjak NP and Rovinj for a sunset dinner. They both went out of the way to make us welcome with a cup of tea on arrival and a bag of kindle for the BBq. We recommend a night eating in with a BBq, watching the disk draw in from the hot tub!
Katie
2016-06-03T00:00:00Z
We enjoyed it a lot to stay at Villa Oscar. The view and the flat was even better than expected and perfectly located. Benjamin and Ivana were very kind and nice hosts. We would highly recommend to stay at Villa Oscar.
Mascha
2015-09-24T00:00:00Z
My husband and I were honeymooning in Europe. Ben and Ivana we were wonderful hosts! Not only did they accepted us short notice and close to the end of their season. They welcomed us warmly and had a bottle of Champagne in the fridge and the jacuzzi on and ready to go! The apartment was clean and comfortable and had everything we needed. The bed in the apartment is especially comfortable and hard to get out of
Anna
2015-09-26T00:00:00Z
Spend a part of my best holidays so far here. The apartment, the view, the whirlpool and of course the hosts were amazing. Ben and Ivana, thank you for the nice week and all the help. I can only recommend to stay here, if you want to take a trip to the area around Ičići. It is perfect to relax at Villa Oscar all day and to visit the beach sometimes, or if you're more into action and sightseeing - Ben and Ivana will show you the perfect spots. Thank you again for the wonderful stay at Villa Oscar! Leonie & Tim
Tim
2016-07-22T00:00:00Z
My bf&I had an amazing time at villa Oscar. It's perfect for a citybreak (or, I'd imagine, for an even longer holiday - it has everything you might need in a studio apartment!) And even more beautiful than the pics show. Ben and Ivana were wonderful hosts, making us feel super comfortable and giving us lots of great tips! I'd definitely go back :)
Leonor
2016-09-28T00:00:00Z
Ben and Ivana were exceptional hosts. And their apartment is in an amazing location. We had the pleasure to meet two genuinely warm people who helped us have a fantastic weekend. Well, Oscar also helped. We were late arriving and Ben got up in the middle of the night to help. Then told us all the top space to go. Apartment was immaculate. Perfect.
David
2016-04-06T00:00:00Z
Benjamin and his partner are really nice and mindful. They care about their guests and offer a lot of information and entertainment. All our requests have been fulfilled and we even got wine and muffins :D The studio was cozy, clean and exactly as it was shown on the photos. It has got an air-conditioning system but we never started it, because the studio is always well temperate. There is a second studio next to this one, and both can use the barbecue-area and the whirlpool. The approach to the house is very steep, but that is common practice in Croatia. You really need a car there, because the ways are too long for walking. There is a little "Mini Market" five minutes by car and a bigger one down at the beach (15 min.). The "Villa Oscar" is a very quiet place and most of the few houses next to it were empty or seemed like it. We have been there for a whole week and enjoyed every day.
Lukas
2015-07-08T00:00:00Z
Room Type
Entire home/apt
---
Property Type
House
---
Accommodates
2
---
Bedrooms
Veprinac, Primorsko-goranska županija, Croatia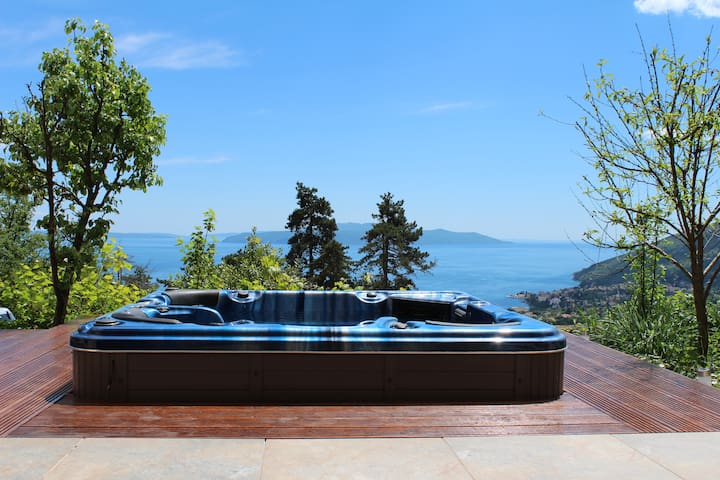 My place is good for couples, solo adventurers, business travelers, families (with kids), big groups, and furry friends (pets).
Room Type
Entire home/apt
---
Property Type
House
---
Accommodates
6
---
Bedrooms
Opatija, Primorsko-goranska županija, Croatia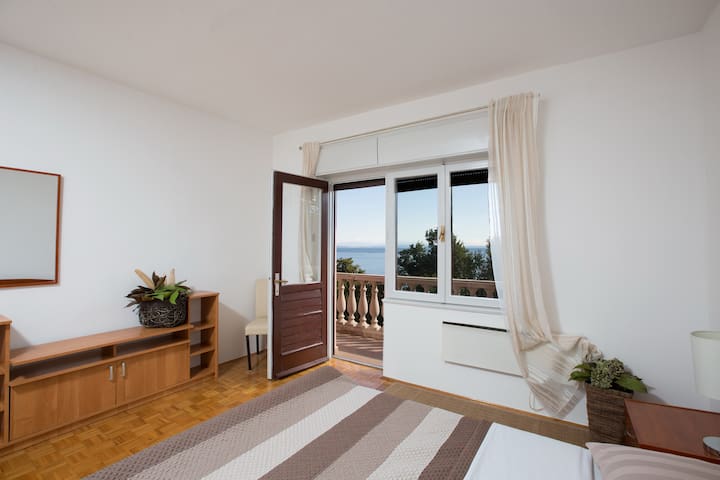 An independent house of 45 m2 overlooking the Adriatic Sea. Designed for 4 people (1 bedroom and 1 sofa bed). Near the house there is a lovely place for barbecue and a large olive grove. Quiet and relaxing. Ideal for families with children and pets.
It consists of a kitchen (fridge, microwave oven) with dining room connected to a main room. The apartment has one bedroom (with double bed) and two bathrooms (shower, toilet); two air conditioners and TV. Free Wi-Fi internet access is available. House Varljen offers sea views and sunny terrace ideal for relaxing.
Our neighborhood is safe, quite & clean. Just a minute walk from our house, there is a great tavern with typical Croatian meal specialities and grill.
Room Type
Entire home/apt
---
Property Type
House
---
Accommodates
4
---
Bedrooms
Pobri, Primorje-Gorski Kotar County, Croatia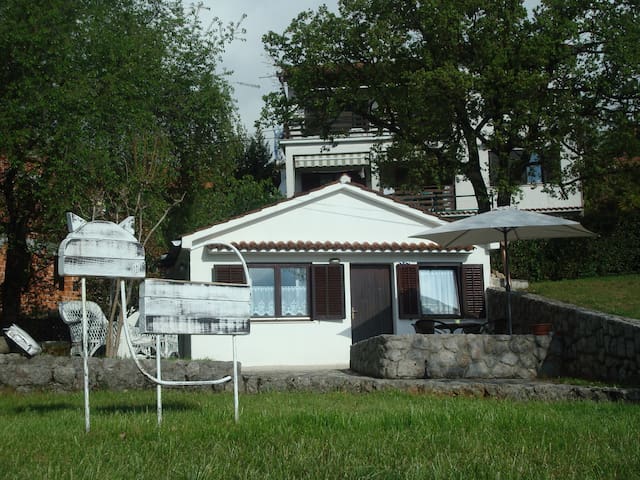 Newly refubrished private room with a sunny balcony and a private entrance, private bathroom and a free parking space.
Property consists of a bedroom with wardrobe, a flat screen TV and internet, bathroom, hallway and a balcony with lovely views of the Kvarner Bay. It really is a private room, as you are not sharing the flat since it has a separate entrance. Unfortunatelly still no kitchen facilities (still in the making:), but we offer our guests water kettle and a free selection of teas or coffee.
Safe and residential neighbourhood close to everything in every direction.
Room Type
Private room
---
Property Type
House
---
Accommodates
2
---
Bedrooms
Rijeka, Primorsko-goranska županija, Croatia
Villa Beller is luxury villa with 8 apartments. It's situated 100 m walking distance from the beach and 300 m from the center. 5 minutes to supermarket, restaurants, exchange office, travel agency. Each apartment has a bedroom, kitchen, bathroom, livingroom and balcony or terrace. Apartments are equipped with firefighting carpet and curtains for guests safety. We have a beautiful yard/garden where you can enjoy in your vacation. Apartments are adapted for 2+2 guest.
Our apartments are equipped with firefighting carpets and curtains for guest safety!
Room Type
Entire home/apt
---
Property Type
House
---
Accommodates
4
---
Bedrooms
Opatija, Primorsko-goranska županija, Croatia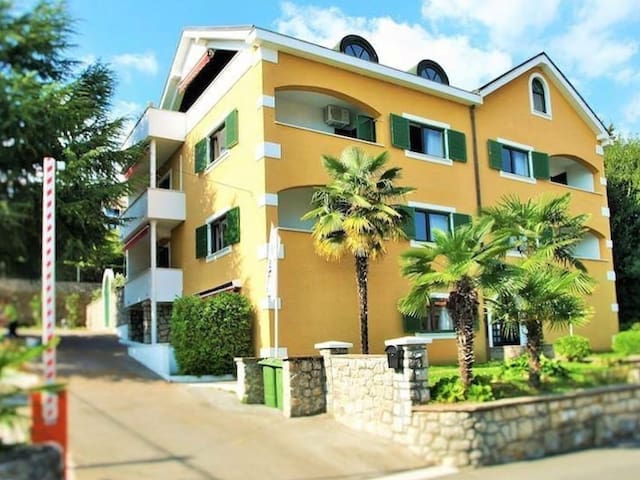 1

–

18

of

110 Home Rentals
Enter dates to see full pricing. Additional fees apply. Taxes may be added.