Superb loft comfort in the heart of the medieval village of Beynac on the banks of the Dordogne, located in a tourist area, close to many tours and activities. 2 terraces at your disposal, breathtaking views of the Dordogne valley ..
OPEN ALL YEAR, this beautiful studio is located in Beynac, in the old forge the medieval village where many films were shot (Chocolate, Joan of Arc, The Three Musketeers, timeline, etc). In the twelfth century Richard the Lionheart lived in the castle of Beynac. Admire the facsimile of the Bayeux tapestry made by me.
The loft is located in the heart of the medieval village of Beynac, just below the castle of Beynac, you have access to 2 terraces with stunning views of the Dordogne, the castles Fayrac, Marqueyssac and Castelnaud. Sun from sunrise to sunset.
This place is amazing, photos don't do it justice. Odile is very friendly and helpful, she even picked us up from the car park. It's peaceful and quiet with incredible views and the apartment has everything you need. I highly recommend this place to anyone and hope to come back again.
Anna
2015-09-10T00:00:00Z
We spent four night's in Odile's loft and had a fantastic stay. The loft is very spacious for two people and is very nicely decorated and furnished and everything was spotless. The views from the windows of the Dordogne are spectacular and worth the trip alone. Odile also let us have access to the terrace in the garden which also has great views along the river. We were made to feel extremely welcome by Odile and her son and of course Arthur the Jack Russell. Highly recommended apartment in a beautiful bastide town in the Dordogne.
Rik
2016-08-05T00:00:00Z
This was an amazing place to stay in the Dorodogne and in Beynac! We loved staying here and Madame Odile was a wonderful host. She was totally understanding when we arrived late because of an accident on the autoroute. She and her son (who was staying with her for a short time) were wonderful hosts and treated us like family. We felt so welcome! Everything was impeccably clean and beautifully decorated. She is also a tapestry artist and one of her creations is hanging above the bed in the apartment. The apartment was a little toasty during the day, but the apartment has two big fans that kept things relatively cool. The view is stunning too!
Ryan
2014-07-19T00:00:00Z
Odile met us at the parking lot with a big smile and helped with our luggage -- we felt like we were home. The loft looked exactly as pictured. It was comfortable, well located, and we really enjoyed the experience of living in a medieval village.
Karen
2015-04-29T00:00:00Z
Our stay at Odile's loft was absolutely wonderful and perfect for our needs. We were in Beynac for a wedding in the old town, so the location couldn't have been better. It was a great experience to stay in the heart of such an ancient place, so for that alone I recommend the loft. In terms of facilities, we had everything we needed for the weekend, and the views from the skylights were lovely too. Odile and Artur (her lovely dog) made us very welcome and we settled in easily. I would recommend this to others certainly. Thank you Odile! Kirsty
Kirsty
2015-09-07T00:00:00Z
Wow, what can I say? Odile was a brilliant hostess from start to finish. Her place is a lovely and well-equipped attic studio apartment, comfortable and stylish in a stunning location amidst the heights of Beynac-et-Cazenac. Odile was warm, welcoming and helpful, and I instantly felt at home as a single female traveller. The loft was secure inside the grounds of Odile's house, but was completely private with its own entrance. It is a veyr short walking distance to the restaurants and shops of Beynac, and I was able to enjoy eating out at a restaurant one evening then strolling back the few paces back to the house. Beynac is in a stunning location overlooking the Dordogne river, and Odile's place is perfectly situated part way up the mountain. Odile was also very gracious in helping me practice my French, which was one of my reasons for travelling. Five star!
Moyra
2016-10-23T00:00:00Z
Odile and her son Yvan were very warm and welcoming. They did everything possible to welcome us and we're always available. Loved their darling dog and cat, as well!
Linda
2016-10-07T00:00:00Z
Odile and her home are a treasure! Her loft apartment is one of the most remarkable places in which we've ever stayed. In the ancient part of Beynac, her home is perched against the wall above the village, with an amazing view of the Dordogne River valley. However, be prepared to climb a lot of steps in order to get to the loft apartment. The apartment is big enough, fully equipped (even has a washer), and nicely decorated--including with one of Odile's original tapestries. There's also a patio outside for dining al fresco, with the same wonderful view. Odile and her son are warm, hospitable, and helpful. We'd like to go back.
Jay
2015-07-20T00:00:00Z
Room Type
Entire home/apt
---
Property Type
Apartment
---
Accommodates
2
---
Bedrooms
Beynac et Cazenac, Aquitaine, France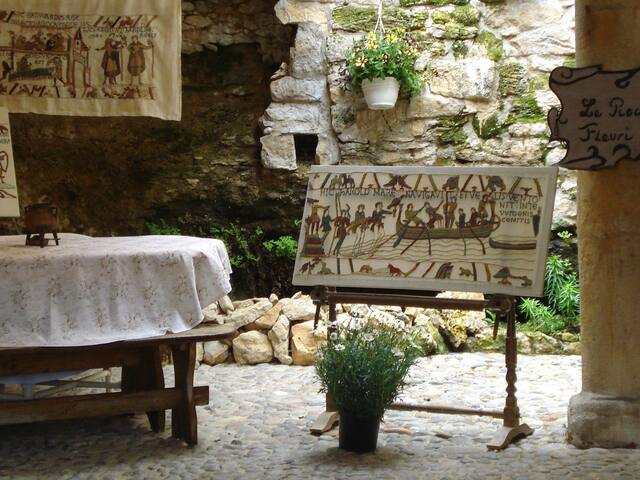 DESIGN NEW APARTMENT of 42 m² for 2/4 people + baby located on private property with an enclosed park of 7000 m². 1 bedroom 12m² - bathroom - separate toilet - living room with kitchen - PRIVATE SPA on wooden deck
This apartment is a dependency of our home but is completely independent, each with its living space and privacy
Ideally located, the apartment is in the heart of the Dordogne. 2 steps from the town of Vitrac (bakery, café, medical office) and just minutes from Sarlat and shops (3.7 km) and all the major sites and castles like Beynac, Castelnaud, La Roque Gageac, Milandes, Domme, Lascaux, Eyzies, Rocamadour, next to the Dordogne river and its beaches such as Caudon or you can swim, or luxuriate make canoes. Beautiful ballads rides await you. Our area is mandatory and must for food lovers. Quiet very nice with wood boletus in front of the house
Thank you for an amazing stay! The accommodation was beautiful, super clean, excellent shower, very comfy bed and wonderful hot tub! We didn't want to leave! The place was private, and the host was on email incase we needed or wanted anything. When we arrived there was a huge orchid for us to congratulate us on our wedding- very thoughtful! The host went out of her way to make it a perfect stay! Can't wait to go back! Thanks!!!! Love N and N x
Nicola
2016-11-02T00:00:00Z
Very relaxing. Beautiful location and apartment. Virginia was very welcoming. We will return. Apartment was very clean and well equipped.
Terry
2016-05-10T00:00:00Z
We spent 4 great nights at Virginie's lovely apartment. She is a great host, very attentive and helpful, providing us with great information on restaurants, things to see etc. The apartment was very comfortable and fully equipped, and the private spa and patio were wonderful. The location is very good, centered between Sarlat and the many surrounding towns and village that are worth visiting. Merci Virginie votre attention et aide pendant notre visite etait le "highlight"
marc
2016-09-08T00:00:00Z
Virginia was wonderful. Neighborhood is superb. Spa was a great asset for watching the evening stars. Owners are extremely fortunate to live in this very beautiful area of The Dordogne in complete quiet and a charming community.
James W
2016-10-07T00:00:00Z
Si vous souhaitez vous retrouver, faire un break ou juste se ressourcer et se détendre, c'est l'un des endroits idéales pour ça. Accueil chaleureux, de l'intimité et on a extrêmement bien dormi dans ce super lit.
Julien
2017-01-08T00:00:00Z
Un accueil super dans un petit nid parfait, avec les conseils d une hôtesse aux petits soins et de très bons conseils.
Pauline
2016-12-30T00:00:00Z
Excellent séjour, très bon accueil avec sympathie et beaucoup de conseils. Appartement très propre et jaccuzzi très agréable ! Nous recommandons sans hésiter ! :-)
Présilia
2017-03-19T00:00:00Z
Jolie location décorée avec gout chez une très accueillante... Endroit très calme et jacuzzi au top
Isa
2017-04-09T00:00:00Z
Room Type
Entire home/apt
---
Property Type
Apartment
---
Accommodates
4
---
Bedrooms
Sarlat-la-Canéda, Aquitaine Limousin Poitou-Charentes, France
Apartamento realizado en una casa de tabaco en el sitio del globo del aire caliente Perigord, ideal para 2 adultos y 2 niños, entrada y un pequeño curso independiente.
Our stay at Martine's lovely apartment could not have been more wonderful. She communicated with us perfectly despite our minimal french and she and Boris were incredibly accommodating and kind. The space is clean, cozy, and comfortable- the three Cs, plus we loved how it was designed and decorated. We slept really well in the bed and the little kitchen is stocked with everything and anything you could need. We ate most of our meals in, utilizing the inviting patio area. And it couldn't be closer to what we had come to the Dordogne region to explore. La Roche-Gageac, Castelnaud, and Beynac are within a few kilometers- an easy drive, bike ride, and even canoe or kayak, and Sarlat, Les Eyzies, any of the other prehistory "hot spots" are a few km farther. I could not recommend staying here more if you are interested in a charming apartment in an enchanting place.
Kaylin
2016-05-23T00:00:00Z
Nice apartment ideal for a couple and very good located near the main tourist spots of the Dordogne Valley. Calm and very well equipped place to relax. Martine and Boris are nice hosts.
P
2016-06-29T00:00:00Z
EXCELLENT!!! everything has been perfect!! location is great to visit Sarlat, Eycies, Domme, Castelnaud, etc. The house is really nice, clean and comfortable. Perfect if you look for peace. Martine is very kind and friendly, and her doughter's crepes are delicious!!!
Maribel
2016-07-07T00:00:00Z
Très bon accueil, logement conforme au descriptif, environnement calme, de magnifiques villages à proximité... De quoi passer un très bon séjour. Un grand merci à tous les deux. Marinette et André
TRANCOËN
2016-06-23T00:00:00Z
Petit appartement vraiment très agréable idéalement situé dans la vallée! !
Didier
2016-09-11T00:00:00Z
Tout était parfait. C' est un gite confortable, propre et très bien équipé. Les hôtes sont charmants, le cadre très calme et reposant. Quant aux environs c' est un bonheur.
Louis
2016-05-19T00:00:00Z
Super logement, très propre, très mignon et très calme. Nous ne regrettons pas du tout d'avoir choisi ce lieu, et aurions aimé y séjourner plus longtemps. Merci beaucoup
Amandine
2017-04-02T00:00:00Z
Logement très confortable très bien équipé conforme à la description.
sylvain
2016-07-09T00:00:00Z
Room Type
Entire home/apt
---
Property Type
Apartment
---
Accommodates
4
---
Bedrooms
La Roque-Gageac, Aquitaine Limousin Poitou-Charentes, France
appartement situe dans une magnifique maison perigourdine au coeur du triangle d or du perigord noir. vous trouverez tout le confort dont vous aurez besoin pour passer un moment inoubliable .
beautifull apartment located in a totally renovated house , in a classified village ....
MONTFORT is in the heart of the black perigord .you will find everything interesting just few miles away : SARLAT, DOMME,BEYNAC,CASTELLENAUD....
Montfort is the archetypical French countryside village, and Emmanuel was the perfect host. Every courtesy was extended, and the flat was clean, comfortable, and elegantly appointed. I would recommend renting a car while in the area, getting about the countryside on foot can be a challenge. We had a wonderful stay in Montfort, and can't wait to come back!
Kerr
2016-09-23T00:00:00Z
Wonderful apartment in a great location. Montfort is a small village about 10 minutes from Serlat and is a perfect spot for visiting the area. The apartment was clean and recently remodeled. Highly recommended.
Jim
2016-10-29T00:00:00Z
The modern apartment is located in a 300 year old building. That was amazing but the building is in the very small village of Montfort with a castle. How Cool! Emmanuel introduced us to the a couple of business owners in Montfort. The apartment had plenty of tourist ideas. The apartment had everything as advertised. It was a delightful experience and we would visited Emmanuel again.
Candy
2016-06-05T00:00:00Z
Wir hatten eine ganz wunderbare Zeit in der Unterkunft von Emmanuel. Die Umgebung ist wunderbar ruhig und die Landschaft malerisch. Es gibt viele Ausflugsziele in der Gegend, bei der Planung war Emmanuel eine große Hilfe. Die Wohnung war super sauber und perfekt ausgestattet von der Terrasse aus hat man einen tollen Blick und kann hervorragend ausspannen, selbst wenn die Sonne einmal nicht scheint. Vielen Dank für die Gastfreundschaft, wir kommen gerne ganz bald wieder!
Simone
2017-03-20T00:00:00Z
Nous n'avons pas été accueilli par Emmanuel mais par une voisine qui a été immédiatement disponible à notre arrivée pour nous remettre les clés du logement. L'appartement est idéalement situé pour visiter les sites situés sur la vallée de la Dordogne, et également pour se rendre à Sarlat. Autre aspect pratique : il est possible d'aller au Leclerc en 10-15 min. L'appartement était nickel à notre arrivée, l'aménagement intérieur est très agréable, c'est un immeuble ancien très bien rénové.
Vivien
2016-08-28T00:00:00Z
Logement top, idéal pour un week-end en amoureux. Emplacement idéal pour découvrir la région de Sarlat. Emmanuel, "huggy les bons tuyaux" de Sarlat. Très prévenant et disponible et plein de bons conseils. Une expérience à refaire et à recommander les yeux fermés.
Fanny
2016-10-02T00:00:00Z
Logement extra dans un environnement fantastique ! On a remonté le temps jusqu'au moyen age au pied du chateau de Montfort. Village paisible à proximité immédiate de Sarlat et de tous les lieux incontournables du magnifique Périgord noir que nous avons silloné sous un soleil radieux, profitant ainsi des couleurs chatoyantes de l'automne. L'accueil réseré par Emmanuel et Charlotte a été irréprochable. Une adresse à partager avec ceux qu'on aime.
Fabienne
2016-11-02T00:00:00Z
Es un apartamento muy bonito y acogedor con todo lo necesario para desconectar y relajarse unos días en pareja. Además, su situación es ideal ya que está en medio de todos los lugares que merecen ser visitados en el Perigord Noir. Emmanuel ha sido un anfitrión muy atento que se ha preocupado para que nonos faltara de nada. Gracias, nos hemos sentido como en casa.
Mariona
2016-04-03T00:00:00Z
Room Type
Entire home/apt
---
Property Type
Apartment
---
Accommodates
2
---
Bedrooms
Sarlat-la-Canéda, Aquitaine, France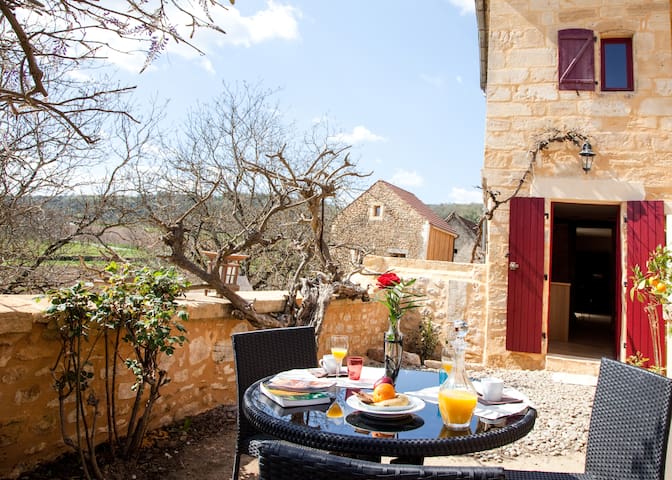 Situé dans la montée du château de BEYNAC, à 200m des commerces, "le TIBALOU" est l'une des maisons de charme les plus pittoresques du village. Elle allie passé médiéval (murs en pierres de taille, toiture périgourdine) et modernité.
Vous bénéficierez d'une superbe vue sur la rivière Dordogne depuis cuisine, séjour, mais aussi depuis les 2 chambres. Situation idéale entre les commerces et le château.
Beynac est l'un des plus beaux villages de France. Son château vaut à lui seul le détour. Que dire de ses ruelles ? De sa rivière, la Dordogne ?
My friend and I had the most fantastic time in Beynac! The house was lovely, the neighborhood fantastic, the views are nonstop and the pace is easy. Frederique was consistently in touch with me throughout the booking and on our way into town and Martine who is almost like the caretaker is fabulous, exuberant and beyond helpful! I plsn on visiting again as three days was nowhere near enough!
Morgan
2015-12-29T00:00:00Z
A beautiful cottage in a lovely town. Martine was very friendly and we would recommend a visit.
Tom
2015-09-07T00:00:00Z
We had a delightful stay at Frederique's house in Beynac. The house is in a perfect location for prehistoric caves and local markets. Lascaux is about 40 minutes and Font du Gaume 25 minutes. Beynac itself is an ideal haven, picturesque and quiet (we went out of season). It has the essentials; groceries, cafes and ice creams! The property is a good size for a family of 4 and the downstairs open layout works well. Martine, who takes care of the property is on hand whenever you need her and is very happy to help and make your stay as comfortable as possible. After a very warm welcome we felt we could ask her for anything we might need. The wifi was a plus giving kids and adults their internet fix. Over all a lovely house in a beautiful village.
Hugh
2016-04-06T00:00:00Z
Everything about this house was amazing - the village is truly picture perfect, the location of the house is right in the village and the house itself completely exceeded expectations. The photos don't do it justice. It's large and airy but feels ancient at the same time. I could have spent forever staring out of those windows. Frederique was an excellent host and always responsive to any queries and Martine who met us insure was charming and very helpful. They responded to a couple of minor issues right away which was great. Incidentally, the house was very suitable for a toddler. They provided a cot and high chair and the place is fairly child proof which was awesome :) We're devastated to leave - this place was exceptional.
Aleksandra
2016-06-25T00:00:00Z
I stayed at the beautiful little cottage overlooking th dordogne with my parents for 3 nights. We all loved it and were sad to leave. The photos do justice to the views! The apartment has such a lovely feel. Frederique was incredibly helpful, and her local contact Martine welcomed us with such friendliness and warmth - marking the start and end of the stay with a glow. Beynac is a beautiful town and the perfect location for exploring the region. Cannot recommend highly enough.
Claire
2016-07-04T00:00:00Z
Our stay at Tibalou in Beynac was the perfect experience. Situated in a charming house with breathtaking views of the Dordogne River from each window, the house was clean, cozy, and the perfect size for the 3 of us. This house exceeded our expectations and made us feel as if were living in a storybook. Frederique, Martine, and her daughter Angelie were quick to respond and were extremely helpful and flexible--not to mention friendly! We unequivocally recommend this place to anyone.
Kyle
2015-06-30T00:00:00Z
From Welcome to Goodbye, it was a delight.
Jean
2016-10-13T00:00:00Z
Frederique was an excellent host. She responded immediately to all of our questions before and during our trip and made sure that our arrival was an easy one. Delightful Martine was waiting for us at the arranged meeting point and guided us through the narrow and charming streets of Beynac to our home for two weeks. She was always always available by phone if we needed help. The "Tibalou" is a beautiful apartment in an ancient building overlooking the Dordogne River. The view from all windows is simply spectacular. The location is not accessible by car and we were much more fit by the end of our two weeks, since the way home was always uphill. Luggage with wheels is a must. It is a six minute walk to the bakery, butcher and grocery shops and one of our best meals was at La Petite Tonnelle, two minutes from our front door. Beynac-Cazenac is in the centre of activity in the Dordogne valley. We took a boat excursion, paddled canoes from Vitrac to Beynac and drove up to the castle which dominates the town. Most tourists walked up the steep hill past our front door. Other castles and gardens are not far away and there are markets and excellent restaurants to visit in surrounding towns . The principal sites and caves are all within easy driving distance. The "Tibalou" was comfortable, very clean and very spacious. We cooked many meals in our own kitchen using the wonderful ingredients available locally. The kitchen has a gas cooktop, a grille/microwave and a portable toaster oven - all the equipment we needed. There is also a clothes washer and dishwasher and full size refrigerator/freezer. The absence of traffic outside meant that we slept peacefully with only the calls of ducks on the river and a local owl as our lullaby. We would not hesitate to recommend this location.
James
2016-11-02T00:00:00Z
Room Type
Entire home/apt
---
Property Type
Apartment
---
Accommodates
4
---
Bedrooms
Beynac-et-Cazenac, Aquitaine, France
Gite fully equipped with living room, bathroom, toilet, tv, shower, kitchen, dining room, 2 bedrooms, parking in the middle of the five castles and facing the castle of BEYNAC.
Room Type
Entire home/apt
---
Property Type
Apartment
---
Accommodates
5
---
Bedrooms
Vézac, Nouvelle-Aquitaine, France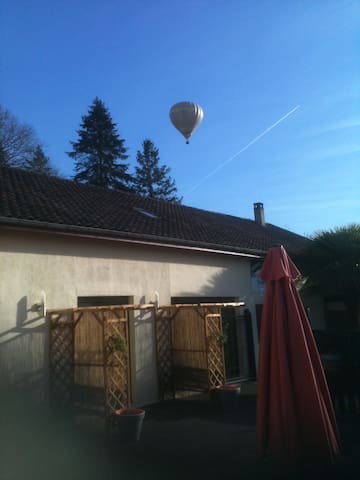 You'll love my place because of the many historic places in the neighbourhood, the ambiance of the village with its many honey coloured stone houses of which Le Rouquet is one. My place is good for couples and families (with active kids) as there is so much to see and do nearby. However if you prefer, just relax and unwind sitting on the balcony and watch the world go by.
The village is historic with the huge castle in the background with Le Rouquet sitting half way between the castle and the lower part of the village down by the river. There are restaurants and shops by the river and also cafes in the upper part of the village by the castle. Castelnaud is a wonderful place at the centre of this most scenic and interesting part of the Dordogne making exploring all the many site very easy or perhaps you want to relax by walking in the wooded countryside or perhaps canoe on the river from the hire place in the village.
Room Type
Entire home/apt
---
Property Type
Apartment
---
Accommodates
4
---
Bedrooms
Castelnaud-la-Chapelle, Aquitaine-Limousin-Poitou-Charentes, France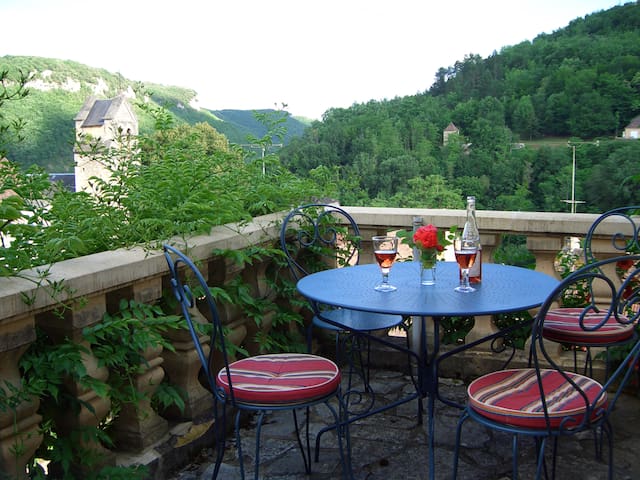 The Oustalou within the domain Roquecombe is located on a wooded hill in a quiet place, yet close to Sarlat (8km), the Dordogne and its castles (2km) and shops (2.5 kilometers ). Enjoy The Oustalou and Roquecombe for calm, comfort, but also for the complete equipment, WiFi, heated pool, air conditioning ... The Oustalou is perfect for couples, solo travelers, families (with children) and four-legged.
Warmly decorated and very well equipped, The Oustalou suitable for a couple or a family with two children. It has two bedrooms, living room, bathroom and a small kitchen. In the living room, sofa bed can accommodate visiting friends.
Imagine a wooded hill circus-shaped opening on the valley, with views of the hills of the Dordogne. Four houses, separated from each other fifty meters so that everyone has the independence, spread along the wood. A heated pool, sun loungers and a quiet ...! And it between Sarlat and the Dordogne, so far from everything .... and yet so close!
Room Type
Entire home/apt
---
Property Type
Apartment
---
Accommodates
4
---
Bedrooms
La Roque-Gageac, Aquitaine-Limousin-Poitou-Charentes, France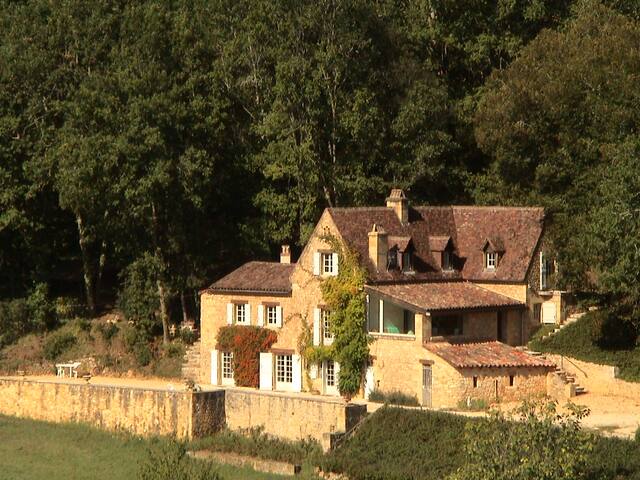 My home is close to restaurants and the beach. Enjoy my accommodation for the neighborhood, shops nearby, comfortable bed and comfort. My accommodation is perfect for couples, solo travelers and business travelers.
Room Type
Entire home/apt
---
Property Type
Apartment
---
Accommodates
2
---
Bedrooms
Cénac-et-Saint-Julien, Aquitaine-Limousin-Poitou-Charentes, France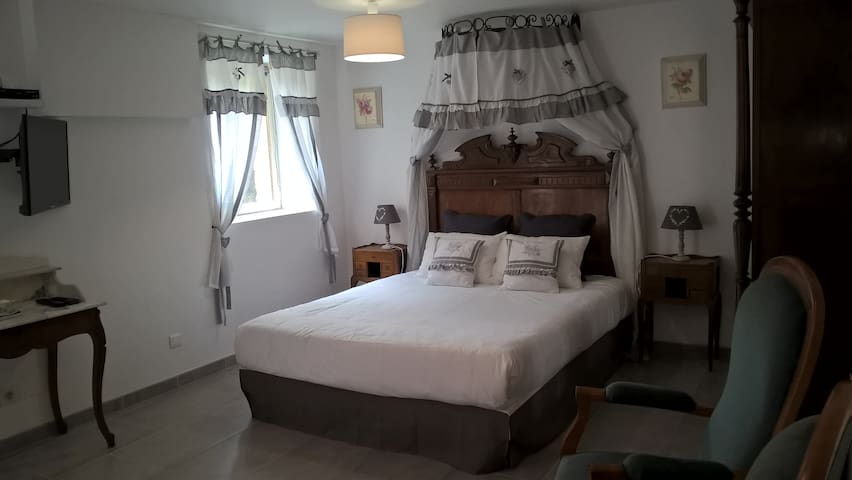 My place is good for couples.
Room Type
Entire home/apt
---
Property Type
Apartment
---
Accommodates
3
---
Bedrooms
Saint-Cyprien, Aquitaine-Limousin-Poitou-Charentes, France
Appartement de charme au cœur du centre médiéval d'un des plus beaux villages de France Beynac et Cazenac. Venez apprécier la gastronomie et la richesse culturelle du Périgord Noir. Calme, tranquillité et dépaysement sont au rendez vous.
RdC : Salon, cuisine, toilette, chambre Etage : 2 chambres et salle de bain Cuisine américaine équipée (four, frigo, micro-onde, lave-vaisselle) ouverte sur salon.
Vue sur la dordogne. Sous le chateau de Beynac. Village avec toutes les commodités (boulangerie, épicerie, boucherie, médecin...) Au coeur du Périgord Noir (Castelnaud, Sarlat, Lascaux, Domme...) Proximité restaurants, activités nautiques, visites sites préhistoriques
Lovely stylish flat in the centre of a beautiful medieval village
Hannah
2016-09-01T00:00:00Z
Great location spacious clean and comfortable.Very nice hosts.
Julie
2016-08-11T00:00:00Z
L'accueil de Chantal et son époux était charmant. Leurs bonnes adresses aussi. Le logement est idéalement situé à Beynac, au pied du château, de la pharmacie ET de l'office du tourisme. Juste en bas coule la Dordogne et une charmante équipe de canoë. Des restaurants tout autour. Un endroit facile pour rayonner et découvrir la région. Le logement est spacieux, moderne. Et en plus nos hôtes nous avait procuré un passe pour le parking : très très utile en haute saison.
Violaine
2015-08-14T00:00:00Z
Charmant logement dans une vieille maison en pierre plutôt spacieux, avec de belles vues sur la Dordogne et proche des commodités dans une village superbe. Notre hôte fut charmante et tout roula sur des roulettes pour la coordination des arrivées et de départs. Le logement est proche de la route mais le traffic est plus tranquille le soir. Pas de suprise par rapport au descriptif.
Odile
2016-08-01T00:00:00Z
Room Type
Entire home/apt
---
Property Type
Apartment
---
Accommodates
5
---
Bedrooms
Beynac et cazenac, Aquitaine, France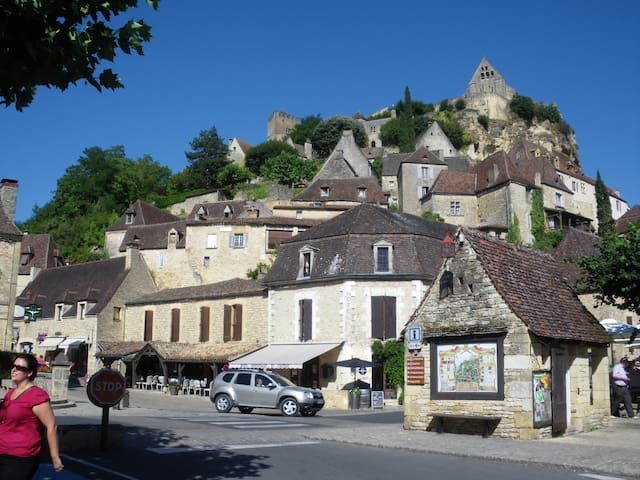 My dwelling is close to the beach and restaurants. My accommodation is perfect for couples and families (with children).
This is a beautiful region and Nathalie' place is in a good location. She has an apartment in an old farm house located amongst other farms. Her mother was very gracious upon meeting us on our arrival. However, we were unable to connect to the Wi-Fi.
Nita
2016-09-15T00:00:00Z
Room Type
Entire home/apt
---
Property Type
Apartment
---
Accommodates
5
---
Bedrooms
Cénac-et-Saint-Julien, Aquitaine-Limousin-Poitou-Charentes, France
Gite completamente attrezzata con cucina, bagno, soggiorno, sala da pranzo, TV, 2 camere da letto, situato nel cuore della Dordogna a 7 km da Sarlat e circondato i cinque castelli più belli.
Room Type
Entire home/apt
---
Property Type
Apartment
---
Accommodates
6
---
Bedrooms
Vézac, Nouvelle-Aquitaine, France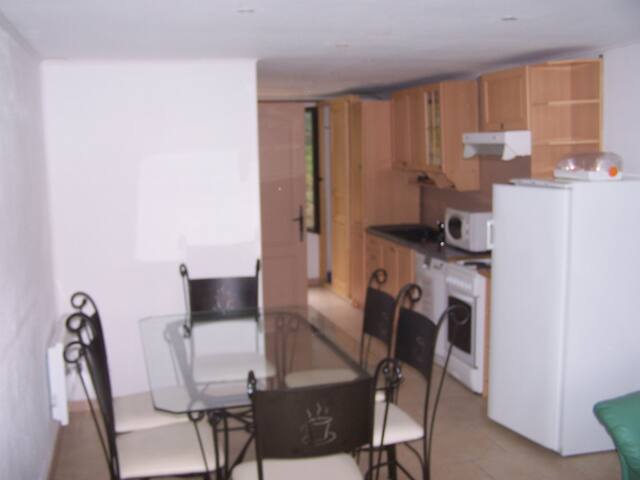 Grand appartement de haut standing , entièrement rénové avec une très belle terrasse. Venez passer des vacances inoubliables en plein cœur de ce magnifique village de Domme situé dans le Périgord noir
This 18th century is upper 2 shops, the apartment is completely new and decorated with great taste, on two floors. 1st floor : big living room, the living room has access to the kitchen, which has an access to a beautiful terrace of 14m2, this is unique in the village. There is also a big room with a bathroom, apart from the toilets. 2nd floor : 2 big room with air conditioning with a bathroom with toilets. To make your stay even better, the apartment is located in the main street of the village, which allows you to visit the village very quietly. You are going to love your stay in Domme !
Medieval village, one of the nicest and more beautiful village in France, with a beautiful cave that you can visit, many shops, and a little market every thursday morning. All of this is accessible by walk.
We loved this very romantic sleepy town of Domme. I would highly recommend this location and flat. It was a beautiful very roomy flat, with a great outdoor patio where you can enjoy your Wine, cheese and watch the hot air balloons in the sky. Come prepared if you arrive late in Domme, stores and cafe's don't open until 10/11 on certain days. Also this flat does not have Wifi witch made it a bit difficult. There is only one restaurant in Domme that has Wifi, witch is located across from the visitor's station. If you are planning on visiting in July it gets very hot in the flat and there is no AC. If you leave the windows open it is lovely but the bugs are bad so bring bug spray.
Renee
2016-07-28T00:00:00Z
L'appartement est idéalement situé au coeur de Domme. Rénové à neuf.Très propre.Décoré avec beaucoup de charme.Nous avons pu stationner à proximité grâce aux conseils de la personne charmante qui nous a accueilli.Nous sommes extrêmement satisfaits de notre expérience dans cet appartement et le recommandons sans hésiter.
Anne Marie
2016-08-16T00:00:00Z
Très belle maison de charme, spacieuse et agréable en plein cœur de Domme. Le séjour est très beau et spacieux, la terrasse permet de profiter de l'extérieur, la literie est confortable, les chambres sont au calme, la cuisine est très bien équipée. Sel bémol: pas de wifi. Je recommande fortement et je serai ravie de pouvoir y revenir pour visiter la région.
Julie
2016-05-17T00:00:00Z
Un accueil efficace, appartement spacieux, tres propre, excellente literie. Localisation peu ordinaire : au coeur du village medieval mais tres bien insonorisé. La terrasse est très plaisante, excellent séjour !
Jessyka
2016-08-21T00:00:00Z
Room Type
Entire home/apt
---
Property Type
Apartment
---
Accommodates
6
---
Bedrooms
Domme, Aquitaine, France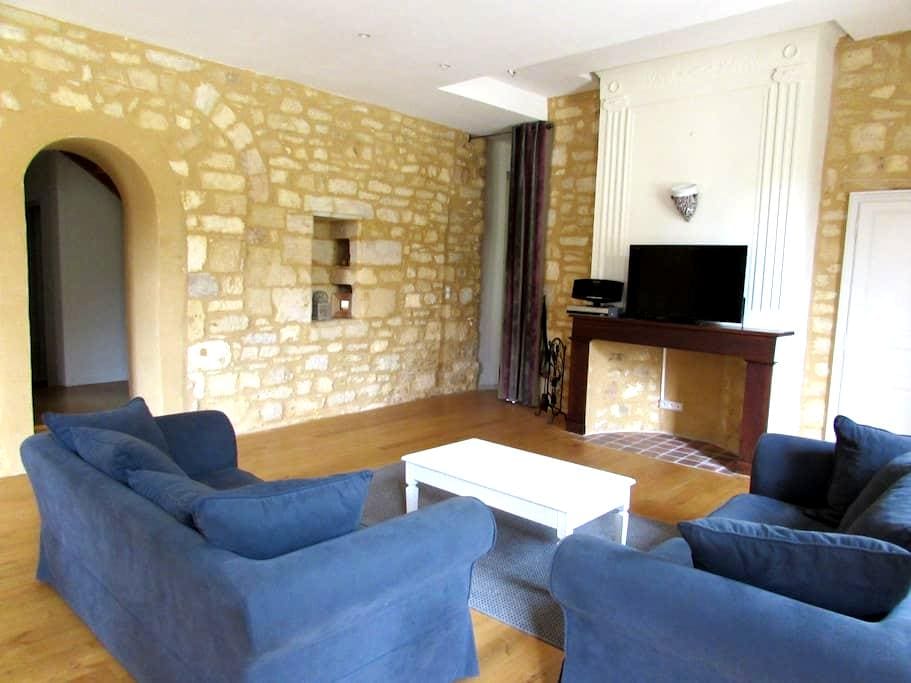 On the outskirts of Sarlat, near shops and quick access to the Dordogne valley and prehistoric sites. Apartment 4 to 6 people - two bedrooms plus extra sleeping in the living room - on the ground floor of a villa, with separate entrance, private courtyard and large garden. Baby kit available (chair and bed) and lent gracieusement.Un kit linen (sheets and towels) can be provided for an additional charge (12 € / 2 persons) including central .Chauffage if necessary.
garden floor renovated apartment comprising kitchen with washing machine, dishwasher and extra sleeping in new BZ. internet.A access about laundry and household - Linen (sheets and towels) is not included in the price If you want a linen set, when finalizing your reservation, please specify when it (price 12 € for 2pers) - Housing must be returned to the cleanliness of your arrival, a check will be made on departure. If you want the service cleaning after séjourd'une week, please specify when booking. (50 € for the stay). Tourist tax of 0.75 € per person to solve.
residential area calmly impasse- two kilometers from the historic center of Sarlat.
The host canceled this reservation 20 days before arrival. This is an automated posting.
florent
2017-03-16T00:00:00Z
Françoise nous a accueilli avec beaucoup d'enthousiasme Très joviale elle nous met à l'aise tout de suite
isabelle
2016-10-27T00:00:00Z
Ce logement est plein de charme, fidèle aux photos et dans un quartier très calme. A proximité des commerces et proche de beaucoup de sites à visiter. Les hôtes sont très chaleureux, et restent à disposition pour toute demande ou besoin durant le séjour. Je recommande ce logement qui nous a permis de passer trois jours superbes, et nous n'hésiterons pas à revenir!
Pauline
2016-08-11T00:00:00Z
Logement très bien décrit, fonctionnel, situé dans un quartier très calme et agréable. Françoise nous a reçu avec beaucoup de gentillesse et a même prévu une douceur. Hôtes très disponibles et discrets (ne logeaient pas là pendant notre séjour). Je recommande cet hébergement pour visiter la région
Nathalie
2016-09-05T00:00:00Z
Location annulée de mon fait, pour cause de mauvais temps.
René
2016-09-15T00:00:00Z
Couple vraiment très charmant, très bon accueil avec petits gâteaux aux noix du coin, logement très agréable, très bien équipé et conforme à la description. Nous avons passé un très agréable séjour chez Emmanuel et sa femme, en plus avec le soleil. Merci beaucoup pour tout.
Manuella
2016-11-01T00:00:00Z
Logement conforme à la description. Environnement calme et relaxant, le logement est qu'à quelque minute de centre ville de Sarlat et des commerces. Emmanuel et Françoise sont très accueillant et nous ont donné des conseils pour les visites d'alentours. Nous les recommandons sans hésitation.
Kathleen
2016-08-07T00:00:00Z
L'appartement est conforme à la description, rien ne manque. Venus à deux couples pour visiter le Périgord, l'accueil a été très chaleureux de la part des propriétaires, la discussion a tout de suite été facile, elle s'est même prolongée. Logement à conseiller.
jacques
2016-09-22T00:00:00Z
Room Type
Entire home/apt
---
Property Type
Apartment
---
Accommodates
5
---
Bedrooms
Sarlat-la-Canéda, Aquitaine Limousin Poitou-Charentes, France
The new Ginkgo suite is a secluded accomodation for two people offering all the comforts and conveniences for your stay, with quiet gardens, patio, pool access and a sumptuous view of the Dordogne
Ouafaa and Daniel are magnificent hosts. You won't find better. The listing was not accurate, because it would be impossible to convey in words or pictures how wonderful this place is. You will feel you are in the most picturesque home in the most picturesque town in the most picturesque region of France.
William
2015-06-12T00:00:00Z
Room Type
Entire home/apt
---
Property Type
Apartment
---
Accommodates
4
---
Bedrooms
La Roque-Gageac, Aquitaine, France
Les Jonquilles is an attractive stone house set in a quiet, rural location yet only 15 minutes walk on way-marked footpaths from the town of Domme, one of the most beautiful villages of the Dordogne with a choice of wonderful restaurants. There are other walks directly from the house and popular destinations are within a short drive, such as SARLAT, LA ROQUE GAGEAC, BEYNAC and CASTELNAUD. Places like ROCAMADOUR, THE GOUFFRE DE PADIRAC, and many cave systems are about an hours drive away.
There are two bedrooms available, each sleeping three plus a cot as required. We are in a tranquil location yet only a fifteen minute walk from the beautiful bastide town of Domme, so no need to take the car out every time. When you do venture further afield most of the popular places to visit are within a half hour drive. WE ARE A NON-SMOKING PROPERTY.
We love our location because we have great neighbours, it's peaceful but we are close to shops and restaurants. The scenery is dramatic with plenty of opportunity to get out into the countryside and is ideal for walking and cycling. There is also a lake with a sandy beach which is ideal for children.
We had a fantastic stay. Glyn and Pam were very welcoming and did everything possible to make our stay relaxing and enjoyable. The room was pristine and we slept very well. So good to have a 'real' shower. Breakfast was well prepared and presented and very sociable - if you wanted. Glyn and Pam are very charming and friendly and are a mine of information about local amenities. The location is quiet and the views fantastic. We had a great break and will be back. Many thanks to both Glyn and Pam. Would recommend very strongly.
Brian
2016-08-24T00:00:00Z
The host canceled this reservation 26 days before arrival. This is an automated posting.
Ben
2016-07-11T00:00:00Z
What a wonderful stay! Delightful location, fabulous food and very friendly hosts. Highly recommended!!
Tim
2015-07-27T00:00:00Z
Except for my not reading Glyn's directions and relying on my Waze gps my stay was one of the best all Summer and I have booked all over France with Airbnb. It truly is a 5 Star property.
Michael
2014-08-10T00:00:00Z
Pam and Glyn made us feel most welcome at their lovely house! Our three year old son enjoyed not only the wonderful swimming pool but also the very warm and family friendly atmosphere. Among the many places we stayed at during our tour through the Dordogne area this was definitely one of the best! Pam being a fantastic cook we especially enjoyed the wonderful dinners we had with the two of them!
Malte
2015-08-08T00:00:00Z
We really enjoyed our stay. It's a lovely location, quiet but yet close to the beautiful town Domme. Glyn and Pam were very welcoming and even gave our boys toys to play with. Hurray!
Monique
2015-08-03T00:00:00Z
Maison d'hôte tenue par un couple d'anglais très chaleureux . Tout était parfait, la maison (dans un cadre naturel) et la chambre privée sont d'une propreté impeccable, très bon petit déjeuner complet. L'accueil est le point fort de ces hôtes, tout est réuni pour que les vacanciers se sentent bien! Merci à eux pour ces quelques jours.
Sandrine
2015-07-31T00:00:00Z
Room Type
Entire home/apt
---
Property Type
Apartment
---
Accommodates
6
---
Bedrooms
Domme, Aquitaine, France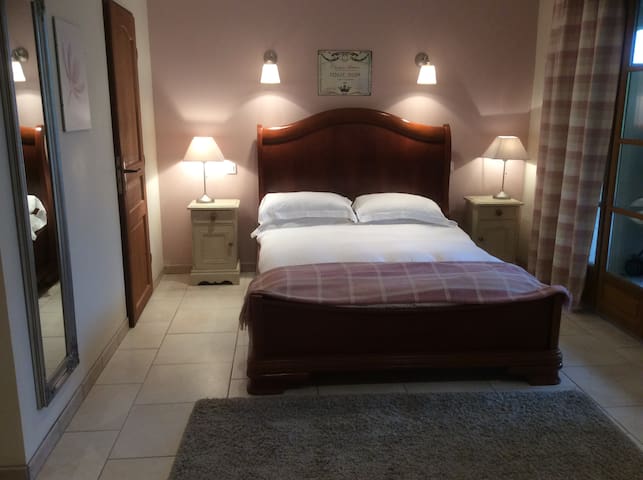 Luxury apartment in Dordogne's Golden Triangle Bright, airy, and comfortably furnished apartment (sleeps up to 4) with pool and garden, central to all the sights and activities of the region.
THE APARTMENT The main room accommodates the sitting area, comprising of a leather double sofa-bed, and a matching leather double sofa. HD TV, Freesat (uk) and TNT (French), is provided, together with DVD and VCR facilities. Also a music centre with radio, cd and tape is there for your enjoyment. The lounge leads on to the dining area, next to the fully fitted and furnished kitchen. Adjacent to the kitchen is a separate utility room, which houses the fridge/freezer, dishwasher, washing machine and essential cleaning and ironing equipment. Leading off the main room is an ante room (dressing room with built-in wardrobe/cupboard) which gives access to both the double bedroom and the shower room (with hydro-spa shower, wc, and hand basin). The whole apartment is well insulated, cool in the heat of summer, and quick to heat (by central heating and/or wall fire) in the winter months. The pool is within the fully fenced lower garden, and enjoys wonderful views facing west over the valley. The pool is unheated and is open for the months of June, July, August and September, unless there is an "Indian Summer", which may extend the season into October. The apartment will accommodate up to max. 4 adults, sleeping on 1 x double bed and 1 x double sofa-bed, and the tariff is inclusive of electricity, hot water, central heating (when applicable), and bedding and towels (not pool) are provided at laundry cost. If the sofa-bed is utilized in respect of a 3rd and 4th guest, then an extra per person per night tariff is charged.
This luxury apartment is situated on the heights overlooking a charming valley, within 1 mile of the riverside town of Cenac (Cenac et St Julien), which has many essential and leisure facilities. Close by is the ancient bastide town of Domme, with its grotto and panoramic views of the river, and the chateau villages of La Roque Cageac, Castlenaud la Chapelle, Vezac and Beynac. The larger town of Sarlat La Caneda is about 6 miles away, with its wonderful medieval "old town", chic boutiques, an abundance of restaurants, bistros, cafes and bars, entertainments, large retail facilities, and many other services. At Cenac you are at the centre of all the activities that La Dordogne has to offer: chateaux galore, grottos, troglodyte dwellings, bastide towns, vineyards, wonderful scenery in which to walk, cycle, horse ride and canoe . . and if you're feeling very flush, you can see it all from the air in a hot air balloon, or a private flight! In the high season, the local towns and villages hold their fetes, and it seems they are in competition to offer the best firework display. Local markets are supplemented by popular 'Marches Gourmande', where you can sit with visitors and locals at long tables, and enjoy hot and cold gourmet dishes purchased from the numerous stall holders, often whilst being entertained by a local band.
Hemos estado muy muy a gusto. Si buscas tranquilidad es el sitio ideal, en una zona más que recomendable. La piscina todo un lujo sobretodo teniendo en cuenta las altísimas temperaturas de esta semana. El apartamento m uy bien equipado, confortable y cómodo. Lo recomendaremos , eso seguro.
Graciela
2016-08-27T00:00:00Z
Room Type
Entire home/apt
---
Property Type
Apartment
---
Accommodates
4
---
Bedrooms
Cénac-et-Saint-Julien, Aquitaine, France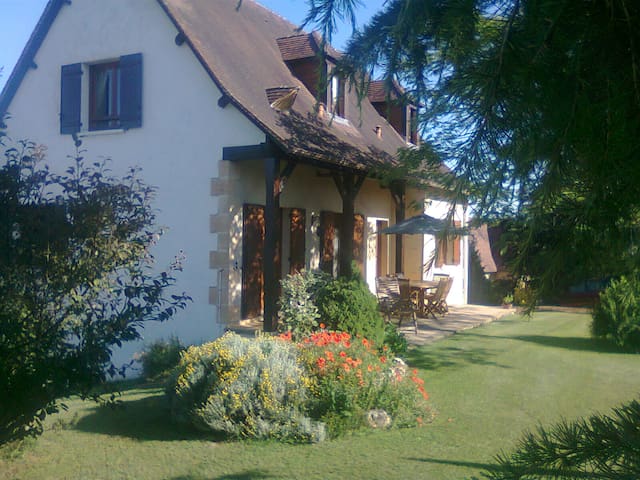 La Roque-Gageac - Airbnb
:
Average

4.82

out of

5

stars from

230

guest reviews
1

–

18

of

197 Apartment Rentals
Enter dates to see full pricing. Additional fees apply. Taxes may be added.