The Mirror Room is our romantic red room...pillow top, very quiet and cozy. Quaint reading corner, magnificent art, wine glasses, snacks. Coffee/ Tea. Close to the main library, TV room, game room and kitchenette. Shared bath! Inside Room (no window).
Welcome to Coeur de Lion B&B - The House of the Lionhearted. We welcome you to our home in the mountains. We have 6 rooms available for you to rent or you have the option of renting the whole house. Below are the links to the other rooms in case you have additional family or friends who would like to stay too. This is Room #2 - Chambre Rouge (the Red Room), which is one of 6 rooms we have available. Chambre Rouge has a queen size pillow-top bed, free internet, wine glasses, private coffee/tea service, cushy reading corner, shared bath, kitchenette and right outside of the game room and TV room, which has over 200 DVD's for you to watch. This room is THE BEST napping room! Chambre Rouge is an inside room, meaning It does not have a window in the room. If that is something that bothers you, you may want to check out one of our other rooms. It does, however, have an exceptional bed and a quaint courtyard with marble water feature close to the room. The kitchenette has been stocked with snacks and beverages. The main gathering area has coffee, tea and hot chocolate ready for you all day long. The afternoon is greeted with fresh homemade cookies or other tasty treats. I also provide breakfast in the morning for you. The whole house has been cleaned and managed using an all natural, non-toxic, hyper-allergenic cleaner by Melaleuca. Please check our other listings to book additional rooms: The Paris Room https://www.airbnb.com/rooms/1316822 The Rendezvous Room https://www.airbnb.com/rooms/1134409 Quilt Room https://www.airbnb.com/rooms/1358566 The Triple Twin Room https://www.airbnb.com/rooms/1557745 The Master Suite https://www.airbnb.com/rooms/2688009 Whole House https://www.airbnb.com/rooms/1821733 Yes, you can also rent the whole house. David and I stay on as caretakers to keep the house clean, take care of trash, laundry, but the house is yours as you need it. We have a 6,000 SF home, 6 bedrooms available, 5 bathrooms. 5 rooms have queen beds, one room has bunk beds and a loft (sleeps 3). Our home is filled with art and musical instruments and sits on 6 acres. We have great walking roads, archery, a huge deck, private courtyards, sun room, music room, TV room, outside fire pit, Tee-Pee for the kids, outdoor BBQ, Central Heat and Air (although we never need the air conditioning) and nine fireplaces to keep us cozy in the fall and winter. Everyone has a lot of privacy and there are wild animals all over! The deer like to cause me great stress as they eat my flowers! We sit in the mountains 7 miles from Coeur d'Alene. The quite neighborhood has more deer than people. The house is a log home with many fireplaces to keep it cozy and a lot of character! We enjoy sitting on the decks for breakfast or in the sunroom with soft music playing. Our home is a great place to host small weddings (50 - 75 people) or men or women's retreats. We are open for guests all year. We are also within driving distance to 4 ski resorts for those of you who enjoy the winter sports. We set regularly scheduled meals if you would like to join us. So technically we offer Breakfast to everyone, but I love to cook so feel free to stay for dinner too. There is no public transportation out here but there are several people with horses so I'm sure you could bum a ride from someone. However, Coeur d'Alene has a free bus service. Our home is filled with art and music. My husband, David, is a working artist so the house if filled with original art. We have a great TV room with great movies, game room. Coeur d'alene is simply lovely. We have the 5th Most Beautiful Lake in the World (according to National Geographic). It's a short drive into town, we have a quaint downtown area with cute shops, excellent restaurants and art galleries. There are a few clubs for dancing and socializing. Probably THE BEST pizza joint around called "Fire". Love that place. We are close to Spokane, literally one hour from the Spokane Airport to our house. We are also close to fun attractions such as Silverwood Theme Park, Schweitzer Ski Lodge, Lookout Pass, Silver Mountain Ski Resort, The Coeur d'Alene Resort and Coeur d'Alene Golf Course, Hiawatha Trail, the Trail of the Coeur d'Alene Bike Trail and so much more. Coeur d'Alene is a great vacation spot! I love cooking and hosting. Our house has enough beds for 13 people, but we welcome larger groups if you don't mind sleeping on couches and air mattresses. Each person over 13 is an additional $25 per person. My husband and I love guests and look forward to your visit.
I love that we are in the mountains and live in a forest. Our roads are quiet so long walks are fun and quite the workout. You don't see a lot of homes because of the trees so you feel like you're the only one around in a beautiful wilderness. You often see wild animals like wild turkeys, deer and moose.
The host canceled this reservation 4 days before arrival. This is an automated posting.
Jackie
2015-05-26T00:00:00Z
Feel at home
Yin
2016-03-23T00:00:00Z
What an amazing space to discover so near Couer d'Alene, a stunning large home in a beautiful forest, with a view of the lake. I felt very welcome by Sandy and David into their awesome castle-like art gallery. Every room was so beautifully appointed, with a stunning array of art and sculpture throughout the house. Not enough time to appreciate all of their collective talents, and to get to know this fascinating couple. I appreciated the freedom to roam through the house, the porches, the yard, the parlor. The gourmet breakfast Sandy cooked for me was huge and delicious, and fueled me all day. I hope to return, and to recommend to my friends. Very pleased with my first Airbnb experience!
Leslie
2014-06-07T00:00:00Z
Sandy and Dave were amazing hosts, they were really accommodating. They were good company and definitely made our first air bnb experience a highlight of our trip. The house was nice and big and everything was far from boring. We would absolutely stay here again the next time we visit Coeur D'Alene.
Yoshiko
2013-08-26T00:00:00Z
We stayed two nights with Sandy and David. Our room was comfortable, clean and quiet. Sandy showed us around their beautiful home and invited us to share it with them during our stay. Both she and David made us feel welcome and we enjoyed a very nice conversation over her scrumptious breakfast. On our second morning my wife, Jill, wasn't feeling well and didn't come to breakfast. Sandy put together a nice little care package for her to enjoy later when she was feeling better. Very sweet! We had a very nice time!
Doug
2014-10-18T00:00:00Z
As advertised. Great setting, extremely nice and friendly host whom we had the pleasure of chatting with for a while. The fresh home made breakfast tacos were amazing! Might seem a little rustic for some but if you are looking for something a little different off the beaten path (not really that far), this is your place!
Duane
2015-08-24T00:00:00Z
Amazing place and breakfast. Highly recommend!
Amanda
2015-06-19T00:00:00Z
I had a wonderful first Air Bnb experience with Sandy in Cœur d'Alene. She is a very nice host. Her house is amazing, clean, quiet and very comfortable. My only regret it's that I spend only one night there ! I hope I'll have to go soon in Idaho to stop by Sandy house !
Amaury
2014-05-29T00:00:00Z
Room Type
Private room
---
Property Type
Bed & Breakfast
---
Accommodates
2
---
Bedrooms
Coeur d'Alene, ID, United States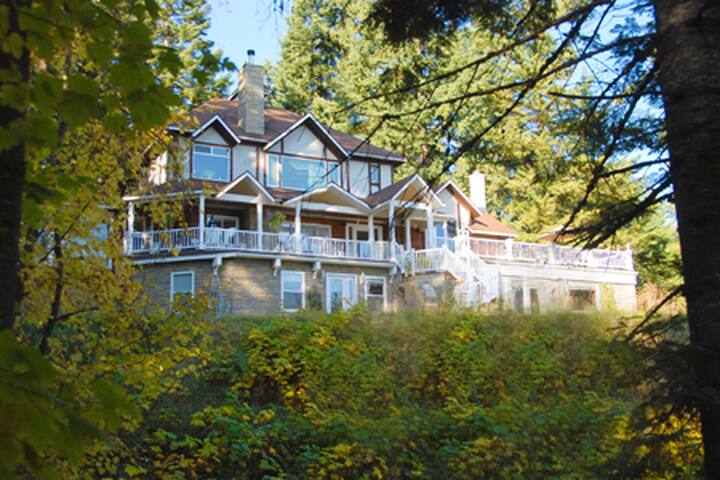 Enjoy this cozy lake view cabin with 2 bedroom and 1 1/4 bathrooms. Spend the day on beautiful Lake Coeur d' Alene water skiing, tubing and fishing or just relaxing while enjoying the surrounding beauty. Come home to BBQ your catch and share a meal with your family while enjoying the spectacular lake view from your private deck.
Room Type
Entire home/apt
---
Property Type
Cottage
---
Accommodates
6
---
Bedrooms
Worley, ID, United States
Clean, cozy and comfortable cottage with modern upgrades in the beautiful Sanders Beach area downtown CDA. 2 blocks from the lake and hiking on Tubbs Hill. Open floor plan with modern furnishings, stocked kitchen and large bathroom and separate soaking tub. Amazing location! Enjoy an entire home to yourself. Perfect for a couples getaway! Walk downtown for coffee or hop on your bike and ride Centennial trail all from the front door! Fenced yard with covered patio for bbq.
Clean, cozy and comfortable cottage in the beautiful Sanders Beach area downtown Coeur d' Alene. Steps away from the lake, hiking and coffee shops. Open floor plan with modern kitchen and bathroom updates. Amazing location! Viking range, Ninja Blender, Keurig coffee maker. Hardwood floors. Unique stained glass windows for privacy. Cozy living space perfect for a couples getaway. Gourmet kitchen, Viking range. Bathroom has separate shower and soaking tub with a skylight. Queen size pillow top bed. Backyard including porch with barbecue grill. All furniture is new. Lots of privacy with the unique stained glass windows.
Sanders Beach is an amazing and beautiful area in downtown Coeur d' Alene. Literally steps away from public beach access and hiking on Tubbs Hill. And a short walk or bike ride to restaurants and coffee shops downtown. Wild turkeys and deer often roam the area. This is a cozy and quiet neighborhood located on the centennial trail bike route. .2 miles from Sherman and downtown restaurants/ shopping.
The cottage was just as described and pictured, with great amenities. Perfectly located right by the lake and right at the base of Tubbs Hill. It was great for hiking on the hill and was a very easy walk downtown. Everything was very clean and well kept, and communication with the host was smooth and informative. Perfect getaway spot; we had a great time in Coeur d'Alene.
Elizabeth
2016-11-20T00:00:00Z
What a wonderful place to stay. It was so cozy and had everything we needed and was within walking distance to everything. We will definately stay here again.
Julie
2016-10-14T00:00:00Z
Ramon was great. Very helpful and perfect host.
Toki
2016-09-26T00:00:00Z
Amazing cottage is spot on! The cottage has a very open atmosphere and all appliances and furniture are updated. Very comfortable sofa that made it easy to stay inside on a rainy afternoon. The older neighborhood was gorgeous and an easy walk to downtown and Tubbs Hill. The kitchen was equipped with everything we needed and the television had every option we needed for a rainy day! I would highly recommend this cottage for anyone staying in Coeur d'Alene.
Steve
2016-08-11T00:00:00Z
The cottage is in a great location near the beach and hiking. Updated kitchen and bath and had everything we needed.
Eileen
2016-11-10T00:00:00Z
Very cute cottage! We had a great time. The place was clean, private, and within walking distance to everything. It was perfect for a couples weekend getaway.
Abby
2017-03-26T00:00:00Z
We had a great stay. Nice and clean house. Close to the lake and walkable to downtown. We'd definitely stay here again.
Stephen
2017-02-25T00:00:00Z
This beautiful little house is in a very quiet, peaceful neighborhood. All of the appliances are brand new and are really easy to use. Ramon has Netflix, Hulu, Amazon, and cable all hooked up to the TV already which is great. We will definitely be staying here in the near future.
Zhenya
2017-02-15T00:00:00Z
Room Type
Entire home/apt
---
Property Type
House
---
Accommodates
2
---
Bedrooms
Coeur d'Alene, ID, United States
New, modern studio apartment located in the heart of DT CDA. Oversized windows feature views of Lake CDA and Tubbs Hill. Your front door is at the center of Sherman Ave's shopping, bars, and restaurants. The back door opens up on the Centennial Trail
The location is unbelievable, and it's extremely quiet for a downtown apartment.
The neighborhood is full of coffee shops, ice cream parlors, shops, restaurants, and bars.
This was my first experience and it was great! Clean,great location and alex was so helpful! I wish we could have staid longer in CDA
Kelsey
2016-10-01T00:00:00Z
It's not possible to be closer to the heart of the action in Coeur d'Alene. The place is spotless and you have everything you need. Alex even stocks luxury shampoo, conditioner, and lotion (this last one helped me in the cold of winter). What a great building (historical bones with modern finishes) and even better location. It was dark when we got in so the view upon waking was spectacular! Alex is a superb communicator and his directions and instructions are spot on! I recommend to any single or couple staying in CDA who want to be in the heart of downtown and just next to the lake.
Ben
2017-02-24T00:00:00Z
Beautiful place, very clean, great location
Bo
2017-03-15T00:00:00Z
This apartment is in an amazing location! We walked just out the door and a few blocks to get to a great dinner and beer Saturday night and then fresh juice, kombucha and breakfast the next morning! The bed is as soft as a cloud and I especially liked the Wes Anderson-inspired artwork hung on the walls and appropriately lit with track lighting. Our one issue was entering the building. The listing states that check-in is "flexible," but we arrived at 8:00pm and found ourselves locked outside for 45 minutes before the building manager came to let us in. It turns out that you have to check into the apartment on the 3rd floor before 6:00pm to get a key with a FOB or else you will be locked outside of the main doors of the building on the ground level. The building entrances automatically lock between 6pm and 8am. We parked overnight in the pay lot behind the building. It cost us $8.00 which I think is reasonable.
Hannah
2017-03-26T00:00:00Z
Wow! First, let me say I had a perfect 24 hours in this lovely place. Coeur d'Alene is a sweet, gorgeous little lake town and Alexander's pad is right in the center of all the great boutiques, shops and restaurants of the downtown area- a PERFECT fit for a single traveler or couple wanting to explore the beauty of the area without having to drive. I was in town for the Coeur d'Alene Marathon and Alexander completely made me feel welcome, even extending my checkout time to help me relax during the race- thank you, Alexander! He even stocked the fridge with Gatorade(URL HIDDEN) The apartment itself is on the third floor so you are only a couple stair flights from all the action, but far enough away to have a sound, quiet night's sleep. The place was super clean and I loved Alexander's Do's and Don'ts list (basically DO enjoy yourself and DON'T stress). The common areas of the building are inviting and decorated with interesting art and furniture- I was taking pictures before I even got in the apartment. The apartment has everything you need for a great stay- even a washer and dryer! There's a view of a huge park from the window- a park I really enjoyed relaxing in after my race! My ONLY complaint about the stay is that Alexander's selection of TV almost convinced me to skip my race and sit in front of HULU all morning! I live in Seattle and don't have a TV, so the opportunity to veg out watching an uninterrupted "Shark Tank" Marathon was INCREDIBLY tempting. But, luckily I tore myself away and was able to run the race(URL HIDDEN)If you come on a Saturday, consider parking at the 2 hour parking directly behind the building across the street from the park (not in the actual lot, but along the road). It is 2 hour parking Mon-Sat until 6PM (free with no time restrictions on Sundays and holidays). I was able to park there around 4:30 on Saturday afternoon and I stayed parked there without a problem until Sunday afternoon(URL HIDDEN)plan to come back to CDA with my boyfriend and have no doubt where we will stay! Thank you SO much, Alexander, hope to stay again in the future!
Karla
2016-05-30T00:00:00Z
Alex was an amazing host! Check in was extremely easy and the location is right in the heart of downtown. Apartment was clean, well decorated, and very comfortable. Highly recommended!
Alex
2016-10-02T00:00:00Z
Would definitely stay here again and recommend to friends and family.
Vanessa
2016-09-04T00:00:00Z
Communication was good and responses prompt. The apartment is just perfect for an air bnb experience. It is right downtown CDA close to a lot of great shops and night areas. Since the apartment is on the back side of the building, it is still quiet at night as well. It is clean and well organized as well.
Scott
2016-08-15T00:00:00Z
Room Type
Entire home/apt
---
Property Type
Apartment
---
Accommodates
2
---
Bedrooms
Coeur d'Alene, ID, United States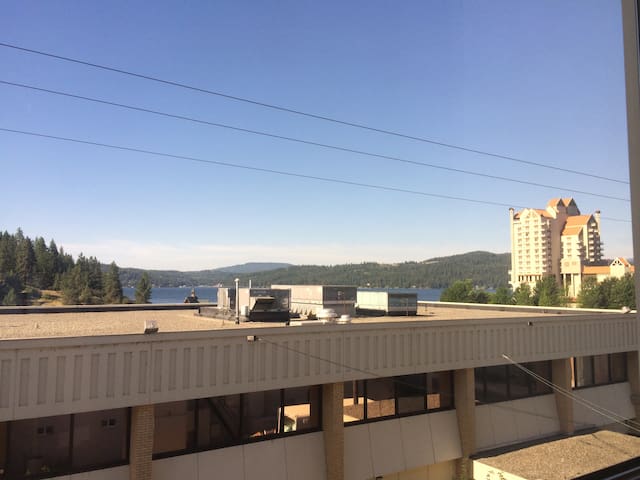 Our beautiful home with a fabulous lake view and sunsets is only a 15 minute drive to the city center, parks, art, culture, restaurants and dining. Whether you are just passing through or want to stay longer we have everything you will need for a comfortable stay. Coeur d'Alene is considered a resort area with almost every activity available within a short distance. Come experience lake living and nature at its finest in our cozy home.
There is nothing like waking up to the beauty of Lake Coeur D'Alene and the surrounding mountains! Grab a cup of coffee or tea and enjoy looking out over the water. There might be a deer or eagle in sight as well. A light continental breakfast is available. Special menu breakfast ( additional fee applies). No problem, just give us 24 hour notice. Our kitchen is shared, so please feel free to store what needs to be stored. Winter time? Feel free to join us in front of the fire place. Summer time? Join us on the deck or utilize the lower deck which you have all to yourself. Every season has it's beauty. We would love to share them with you.
Our property is located in the county with few houses and is very open with nature and a beautiful view. Just a couple of minutes from the Centennial Trail, so bring your bikes. It's an exhilarating ride, walk or run by the lake.
Great hosts and very easy to work with. I had to cancel everything the day before and they were understanding and accommodating.
Kelly
2016-12-31T00:00:00Z
Jon and Cindy were outstanding hosts and their new home is elegant with spectacular views We had a great time It made our Holiday very special
Arthur
2016-12-26T00:00:00Z
Jon and Cindi's place is just an incredible find -- amazing location, great views, and such a comfortable place to stay! Jon and Cindi were welcoming and very fun to get to visit with. I had to leave early in the morning, and Cindi was so sweet and packed me a thoughtful to-go breakfast!!
Ruth
2017-03-24T00:00:00Z
Beautiful location and wonderful hosts who went above and beyond to make our stay great.
brian
2017-03-19T00:00:00Z
Room Type
Private room
---
Property Type
House
---
Accommodates
2
---
Bedrooms
Coeur d'Alene, ID, United States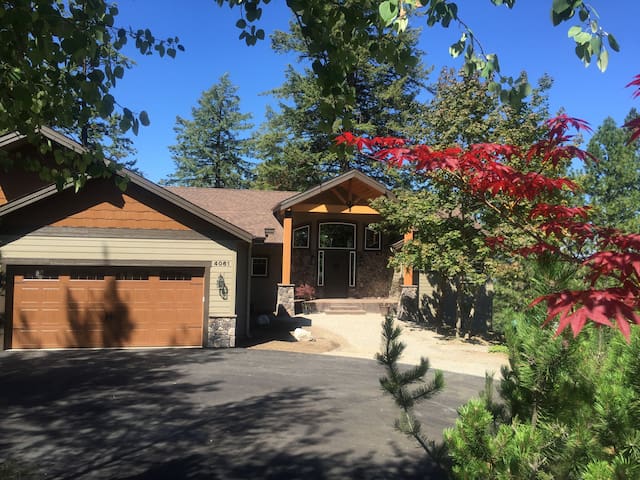 Just a few minutes from downtown, the quiet of the lake awaits. Enjoy beautiful sunsets and lake scenery from the deck of this comfortable, charming home. Guests will have king bed with en suite full bath. Ideal for recreation!
King master suite with views of the lake as you step out into living room. Guests have access to main floor which includes living and dining area, kitchen, and sun room. Please feel free to bring groceries for meal preparation. There is a hide-a-bed in the sunroom that also sleeps two. Reservations do not include breakfast
Centennial trail and lake are close. Higgins point and local hiking trails. On the Ironman course and popular biking routes
Kathy and her little oasis were more than we expected. One of our best places we've stayed via Airbnb. Over the top beautiful and cozy. Thanks, Kathy. It was our first time to ever pass through town but we're already looking for reasons to come back and definitely stay at Kathy's.
Rey
2016-08-08T00:00:00Z
Our 2nd stay in less than a month. We highly recommend Kathy's beautiful home...you will not be disappointed.
Cydnee
2016-09-17T00:00:00Z
This is an incredibly comfortable space in an excellent location near the lake. We were only here one night and appreciated how easy it is to access the centennial trail to bike into town. Kathy is new to Airbnb and she is an amazing host- smiling, kind, providing an incredibly comfortable bed, clean and large bathroom, and water for guests. I would highly recommend this listing and would stay here again.
Michelle
2016-07-15T00:00:00Z
Fabulous space, king bed, movies amazing gigantic ensuite. We were looking for a quiet and well appointed place. Tons of room great lake view you feel that you are far away in nature and yes a white tail deer said goodbye this morning.
Yves
2016-09-25T00:00:00Z
Kathy's place was perfect for our stay. Super large and comfortable bed, we went down and jumped in the lake, it was great!
Nick
2016-07-02T00:00:00Z
Everything was great! It was just a quick stay for us for the night, but it is a really nice place.
Anette
2016-08-29T00:00:00Z
Our stay with Kathy was fantastic, the house was great and we had many pleasant conversations with her while we were there. The house is nice and quiet, just far enough to avoid traffic and city bustle, but close enough that everything is quite accessible. We really enjoyed watching the wildlife from the balcony in the evenings.
Brandon
2016-07-23T00:00:00Z
We had such a lovely stay with Kathy. While a short visit (one night), we were welcomed to make ourselves at home. Guests have access to the top (or second) floor, which includes a living area, the kitchen, and bedroom with an en suite bathroom (amazing shower). We brought groceries and Kathy's kitchen was fully stocked with all the gadgets a chef could hope for. The photos don't quite capture how quaint and elegant the decor is. Location was perfect for our needs (swimming and kayaking at the lake). Thank you, Kathy, for being a gracious and wonderful hostess. Hope to be back soon! Best, Danielle and Nathan
Danielle
2016-10-09T00:00:00Z
Room Type
Private room
---
Property Type
House
---
Accommodates
4
---
Bedrooms
Coeur d'Alene, ID, United States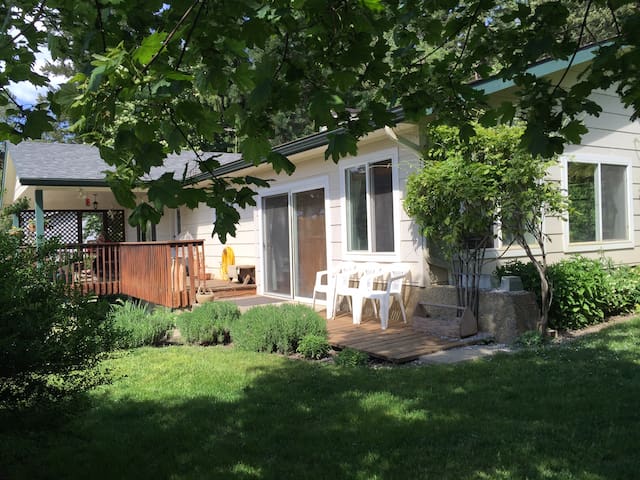 7 minutes from Coeurdalene. And 1 minute from lake. This is a separate apartment with a great view of Lake Coeurdalene. Stays cool in the summer. Daylight basement in house. Has full kitchen with stove, refrigerator, sink, microwave, TV Serene spot!
This spot has a kitchenette with a fridge, stove, sink, microwave. Dining area, couch and 40" flat screen TV with dish Network. Studio apartment with a Queen bed and a large walk in closet. There's a patio right outside your sliding glass doors that overlooks the lake. The neighborhood... It's 1/10th of a mile away from the lake the closest beach is Booth Park which is a nice little beach that sits next to a marina and public boat launch. 1 mile from Higgins Point boat launch and public docks great for if you bring a boat. Great for biking to town on the Centennial Trail. Very quiet neighborhood. You will most likely see wildlife out your door. It's a ten minute drive from Coeurdalene's downtown, and i-90.
As the crow flies it is .1 miles from the lake. There are many nice walks. Close to the marina and boat launch and neighborhood beach, .4 miles great for morning walk, takes 9 minutes walk down the road. Quiet and charming. There is a really good Italian food place about 4 minute drive away called Tony's. There's a great bike/walk path that takes you into town and 2 beaches nearby. We're only 7 miles from I-90. And you can sit on the patio and watch the sunset!
My husband and I had made a reservation for a cabin and due to some construction, Haley was nice enough to put us in another apartment in town. The location turned out really good. Haley was very responsive to our requests.
Melina
2016-06-15T00:00:00Z
Haley's place is wonderful! Very private and comfortable plus a stunning view of the lake and surrounded by pine trees. She was very accommodating as we were arriving very late after a long drive and ensured we could access the studio easily. Would love to stay here again for longer!
Marie
2016-10-17T00:00:00Z
The host canceled this reservation 22 days before arrival. This is an automated posting.
Dakotah
2016-06-14T00:00:00Z
You will not regret waking up to the incredible view of the lake from this studio. The bed is wicked comfy; the studio quite spacious; the shower very comfortable; and the access road to the spot is such fun to drive with beauty out every window. Will definitely book here again if ever in Coeur d'Alene on travels. And Tony's Italian just down the street has delicious food in a beautiful space right on the lake. Worth it!
Meg
2016-11-07T00:00:00Z
This is bare bones, but functional place with a nice view of the lake. A little cigarette smell, and we could not turn off the heat was my only observation for improvement.
Deborah
2016-11-12T00:00:00Z
This place was just as described. The view was gorgeous! It was cozy and roomy and we enjoyed our stay. We had privacy and Haley was very accommodating. It was a great value for the area and I would recommend this place. It had the basic necessities and was great for us!
Christi
2016-10-24T00:00:00Z
The unit is in a beautiful setting with view of Lake Coeur d'Alene. Haley was quick to respond to inquiry and booking. Arrival was smooth. The bed was very comfortable, the tiled shower perfect. The only issue was the TV and satellite were not functioning as advertised. It took 2 hours before it was communicated that it could not be fixed.
Andy and Betty
2016-10-14T00:00:00Z
The host canceled this reservation 25 days before arrival. This is an automated posting.
Patricia
2016-12-05T00:00:00Z
Room Type
Entire home/apt
---
Property Type
House
---
Accommodates
2
---
Bedrooms
Coeur d'Alene, ID, United States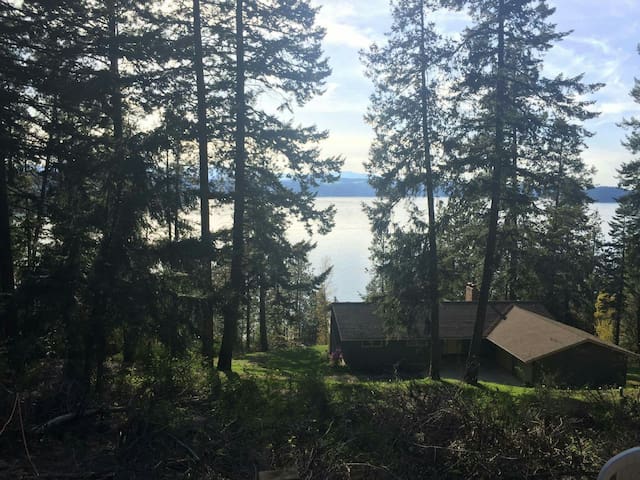 My cottage home is small, but charming with a lovely yard to relax in. It is centrally located in a great neighborhood, and close to major attractions such as lake access, downtown shopping, dining, and local events like Iron Man and Car d'Alene.
My home is a revolving stage for my love of vintage and up-cycled furniture, so you can be sure my style is relaxed and comfortable. The bedroom comes with a "Jack and Jill" bathroom, which means it is shared by both bedrooms.
For swimming, walk to Sanders Beach from the house. It's a neighborhood access that is small and not too crowded, with sandy beaches. It's perfect for an early morning, or evening dip! Also within walking distance is Tubbs Hill, a wonderful way to get an easy hike in with gorgeous views of the lake, and forest beauty. The city park and library are also just down the street, and there is an abundance of coffee shops here. Forget about Seattle!
Sylvia was warm, welcoming and appealing! She made every effort to make my husband and I feel comfortable in her lovely home that is well situated. She even called us when it started raining to see if we wanted to be picked up as she knew we had walked downtown to eat. It wasn't necessary but was so kind. We enjoyed her outdoor patio and garden and she even served us a yummy breakfast the next day. I highly recommend staying here and our only regret was not staying longer. Thank you Sylivia!
Jilly
2016-07-28T00:00:00Z
Sylvia was just as wonderful as all the other reviews say she is. She has a beautiful home and was so welcoming! After a few nights of camping, a comfortable bed was just what we needed. She gave us a map of the city, gave us some suggestions as to where to go, and made us a delicious breakfast in the morning. I can't say enough good things!
Marcy
2016-10-06T00:00:00Z
Sylvia is an amazing and attentive host. The space was perfect for my purposes and I will definitely be staying there again.
Celia
2016-07-18T00:00:00Z
Silvia's place was wonderful and she was a perfect host. She provided me with directions to a nice beach within walking distance and let us partake of eggs from her chickens and strawberries from her garden. Yum!
Michele
2016-06-17T00:00:00Z
We had an incredible stay at Coeur d'Alene! Sylvia went above and beyond to make our time comfortable, and even cooked us a farm fresh breakfast in the morning. Sylvia provided great conversation and helpful recommendations. We would recommend Sylvia to anyone looking for a place to stay in Coeur d'Alene.
Matthew
2016-09-14T00:00:00Z
Sylvia's house was charming and comfortable. She was really flexible with our travel plans and check-in was very smooth. Would definitely stay here again if I'm passing through Coeur D'Alene!
Emily
2016-06-10T00:00:00Z
We were made to feel very welcome. Lovely home close to the lake and downtown and friendly chickens!
Beth
2016-07-26T00:00:00Z
Sylvia was a warm and personable host. Her home was lovely and the room very attractive. Her gourmet breakfast was delicious with eggs from her own chickens and peaches from her fruit trees. I would definitely return on my next trip to Coeur D'Alene.
Linda
2016-08-27T00:00:00Z
Room Type
Private room
---
Property Type
House
---
Accommodates
2
---
Bedrooms
Coeur d'Alene, ID, United States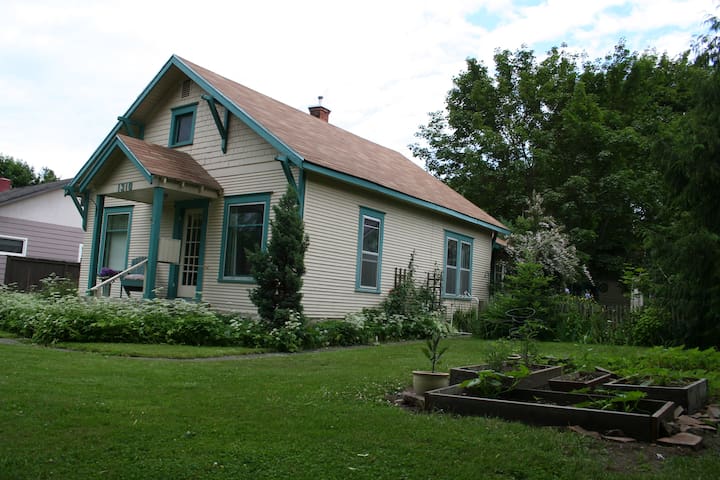 This home is on Tubbs Hill, which is adjacent to the Coeur dAlene Resort and City park, and a ten minute walk from downtown Coeur dAlene.
Stayed for a quick business trip. Perfect accommodations. Master bedroom had its own bathroom and small patio. Only regret was not bringing tennis shoes because a great hiking trail starts across the street.
Doug
2016-04-07T00:00:00Z
Lisa's home is incredible! Beautiful views, very comfortable. Lisa is amazing too! My sisters, mom, family came to walk the trails. We arrived "home" to find Lisa had cooked a huge, delicious breakfast for the 8 of us! Cannot beat the location and comfortable experience. Thanks Lisa! We will be back next year when another niece graduates.
Dennis
2015-06-03T00:00:00Z
We found Lisa's place to be very beautiful, comfortable and practical. It was very well appointed (I could have cooked a turkey dinner if I'd wanted). When we travel, we like our privacy and Lisa gave us just the right amount of interaction. Gorgeous setting. We HIGHLY recommend Lisa's AirBnb
Deb
2017-03-15T00:00:00Z
Lisa's home is in a great, quiet setting. It is very clean, comfortable and quiet. Although, the natural sound of wild turkeys may wake you (we liked the sound). Lisa was very helpful with activity suggestions and advise on good places to eat. We hope we have the opportunity to get back someday.
John
2015-06-10T00:00:00Z
Super Host; super place. Highly recommend!
Steven & Jerelyn
2017-01-07T00:00:00Z
Great location and place. We loved it.
Christopher
2017-03-20T00:00:00Z
Lisa is an amazing host and is very welcoming. She helped with suggestions on restaurants/ activities. Overall great experience.
Gustavo
2017-02-20T00:00:00Z
Very nice, clean and comfortable. Exactly as described.
Dan
2015-09-14T00:00:00Z
Room Type
Private room
---
Property Type
House
---
Accommodates
2
---
Bedrooms
Coeur d'Alene, ID, United States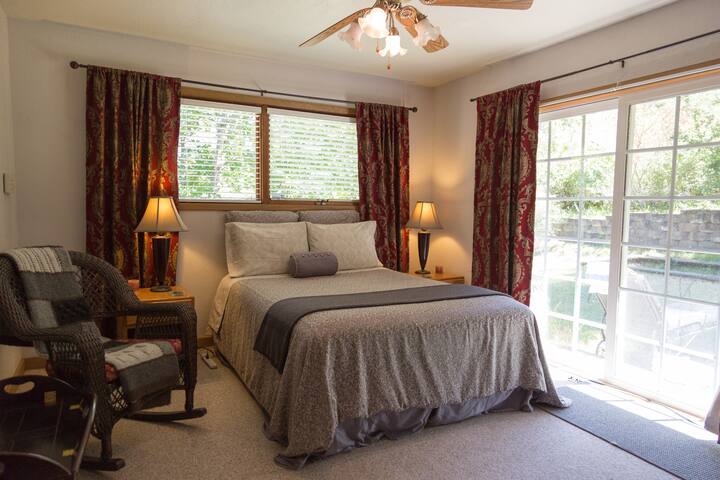 Enjoy this contempory home in a perfect location. Walking distance to downtown shops, nightlife and magnificent lake Coeur dAlene. Explore by biking the adjacent centennial trail or hike nearby nature trails. Everything is close by. The home is beautifully appointed and exceptionally clean and neat. The master bedroom has a new pillow top king size bed with luxury bedding. The second bedroom / sitting room has a deluxe queen size sleeper. The kitchen is stocked with all essentials.
Inside the home has been refurbished and tastefully decorated. The spacious open concept living room / kitchen has everything you need; a stocked pantry if you care to cook ( everything but the groceries) a cozy office nook with wifi, and a relaxing living area for lounging and watching TV. All the windows and doors have screens for cool breezes and each room has a new ceiling fan. The airy bathroom has a jacuzzi tub shower combo and is stocked with spa toiletries.
16th Street near Sanders beach is a quiet residential area. In the summer the area hums with joggers, bikers, strollers and the like. In the winter we ski, snowmobile, or just relax in quiet contemplation. Our beautiful environment is conducive to all kinds of outdoor activities whatever the season. The home is in walking distance to the nearest grocery store, restaurants, bank, coffee shop, and popular pubs; and of course Sanders Beach and our delightful new downtown Mc Euen park.
Room Type
Entire home/apt
---
Property Type
House
---
Accommodates
4
---
Bedrooms
Coeur d'Alene, ID, United States
Located in the charming Coeur d'Alene neighborhood of Sanders Beach, convenient to downtown restaurants, shops, galleries, I-90 and Lake CdA, our spacious and private downtown getaway apartment sleeps 3, has a full kitchen, and secure attached garage parking. No cleaning fee. No pets. Two night minimum; three night minimums on holidays; Ironman in June: four-night minimum. Ironman in August: five-night minimum.
Our 500 square foot guest cottage is spacious, comfortable and well appointed for up to three guests. Features one bedroom with queen size bed, walk-in closet, bathroom with shower, great room with full size futon, fully equipped kitchen, cable TV and Wi-Fi. Two night minimum; three night minimums on holidays; Ironman in August: five-night minimum.
Our Charming Cottage is a cozy vacation retreat located in the quiet and charming downtown neighborhood of Sanders Beach. Convenient access to Sanders Beach on Lake Coeur d'Alene, Tubbs Hill hiking trails, MacEuen Park, the CdA Resort, downtown shopping & restaurants, and I-90. Two bicycles are also available for guests who wish to explore at a more leisurely pace.
Bob and Kathy are great hosts! Very welcoming and accommodating. The cottage is the perfect base from which to enjoy the area. Wonderful location close to the bike trail which gives easy access to the entire city. The house is stocked with all comforts of home. Overall... it is quiet, convenient, clean and cozy. Thanks for a great stay!
Sheena
2015-05-04T00:00:00Z
Bob and Kathy made my husband and I feel extremely welcomed and comfortable. They were very helpful in giving us information on relevant things in the area. The cottage is inviting and so quiet, I slept like a baby. Having a garage to put the car in was a huge plus! Bob and Kathy were very responsive when the WiFi malfunctioned. We certainly will stay there again, when we are back in the area.
Melina
2016-05-02T00:00:00Z
The Charming Downtown Getaway was the perfect place for our family of three to stay while we were in Coeur d'Alene. It was very close to Sanders Beach, and a short distance to downtown. Bob and Kathy were friendly and thoughtful hosts. We very much enjoyed our stay!
Andrew
2015-10-19T00:00:00Z
Bob and Kathy's place was our tenth experience with Airbnb and was exceptional. The space is completely detached from their house and is very quiet. Their arrival tour was thorough and it is clear that they are detail oriented with their guest's comfort in mind. The listing felt very much like a home with so many small details accounted for. Garage parking for our car and a great central location to downtown and the beach was wonderful. We even spotted some deer waking through their neighborhood. I'd recommend their place to anyone traveling through CdA.
Andrew
2015-06-08T00:00:00Z
We thoroughly enjoyed our stay in this wonderful CDA cottage. The location is perfect; very quiet and private, but close to downtown and the shops and restaurants. Bob and Kathy are great hosts would made sure we were comfortable and knew how to use everything in the cottage. The cottage itself is cozy, clean and comfortable. Very nice and quiet.
Josh
2016-11-20T00:00:00Z
My Husband and I had a great time at Bob and Kathy's place. The home itself is exactly as presented in the listing, so there were no unexpected surprises. It was a very comfortable place to stay, and the kitchen was stocked with everything we needed during the three days we stayed. The two bicycles in the garage turned out to be one of my favorite things provided. Having never stayed in Coeur d'Alene before, we didn't realize how accessible the downtown would be via bicycle, and how friendly the community is to cyclists. Having the ability to explore in this way, really added to the immersive nature of this rental. We had a great time and would absolutely choose to stay here again!
Amanda
2016-06-17T00:00:00Z
Bob and Kathy were great. They welcomed us, gave us some info, and let us be for the weekend. The only other interaction we had with them was when one of the bikes had a flat tire. Bob offered me his bike so that we could go on our way. Overall the unit is nice and about what we expected. It is attached to the garage but they don't currently use it to park so there is no noise from it. My wife who is more sensitive to beds than I am had a hard time getting a good nights sleep on the hard bed, but I was fine. The dining/kitchen has a futon near the TV but it doesn't face it so there isn't really any comfortable way to watch TV unless you turn the futon out from the wall. There is no TV in the room. Being 6' the shower is pretty darn small, but manageable. The neighborhood is great. It's not right in downtown, but its a short bike ride away. The unit is near some good food and also near a very small public 'beach'. I put quotes around that because while its called a beach, it's not really the type you'd hang out at for an afternoon. The nearly Tubbs Hill was a highlight of our trip. We took our hammocks there and strung them up on some trees and enjoyed the sun and views of the lake.
Jeremy
2016-05-18T00:00:00Z
Why would you stay anywhere else? As a synic I find I can only say good things about our stay. The accommodations were so welcomed , the best place to relax in a way you can not in a hotel. This is fully equipped to live in , seriously move in and live ready. It is a new building and is well made and very comfortable.
Steve
2016-08-06T00:00:00Z
Room Type
Entire home/apt
---
Property Type
Apartment
---
Accommodates
3
---
Bedrooms
Coeur d'Alene, ID, United States
Peaceful relaxation with a view! Spectacular year-round vistas of Wolf Lodge and Beauty Bay with this serene, nature-enriched log-style B&B conveniently situated just 10 minutes from downtown CDA. Spacious, 2+ person accommodations featuring shared kitchenette, laundry, living room and adjacent covered deck with 180*lake views. Nearby amenities include Centennial & Hiawatha Trails, Silver Mountain Resort, CDA Lake.
We are located about 10 minutes from Downtown CDA. We are very close to multiple trails and recreation areas for hiking, bicycling, boating, etc. Far enough out of town to feel secluded but close enough for quick access to our wonderful community
This is a great location. So glad the clouds went away. Felt secluded which was nice. Vicki was a great host. We loved the cookies. Wish we could have stayed longer.
Justin
2016-10-16T00:00:00Z
Our stay at The Premier Lodge was the perfect end to our ski weekend. Vicki and Travis were generous hosts and fun talk with over an awesome breakfast. Vicki even greeted us with homemade cookies! My favorite part was the beautiful views of the lake/snow covered trees from our room and hot tub!! Nice location and accommodations. Would certainly stay here again, only longer : )
Louise
2017-01-17T00:00:00Z
Vicki and her husband were very accommodating and made sure my girlfriend and I had a great stay. Delicious breakfast both mornings and a wonderful view!
Gray
2017-01-15T00:00:00Z
Amazing stay. The hosts we're wonderful and the place was great. The view was amazing.
Eric
2017-01-27T00:00:00Z
Vicki was great, she texted us with directions and was there to greet us. There were cookies and a fire all ready for us. She let us stay an extra hour in the morning which was super helpful
Ali
2016-12-07T00:00:00Z
Room Type
Private room
---
Property Type
Bed & Breakfast
---
Accommodates
4
---
Bedrooms
Coeur d'Alene, ID, United States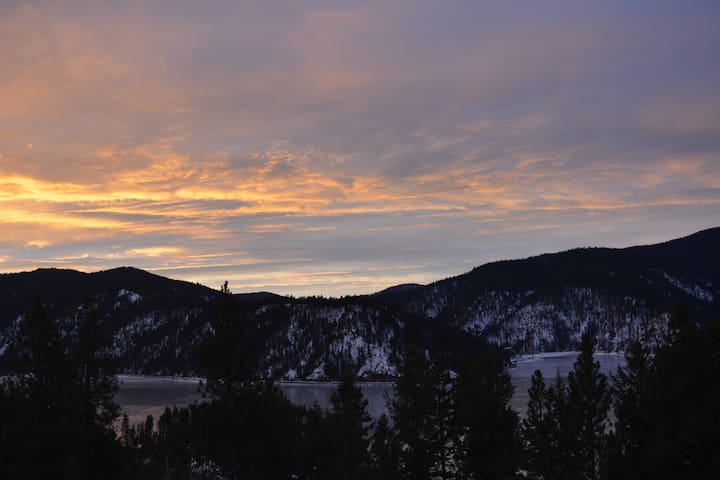 NEW LISTING! A cozy 3-bedroom home with 69 feet of lakefront on Lake Coeur d'Alene's Neachen Bay. Watch the beautiful Pacific Northwest sunsets from the large deck, the beach or the private dock! The dock has a covered boat slip and the water in Neachen Bay is always clean due to the rock/gravel floor. Water shoes recommended. The home is only 16 miles (20 minutes) by car from downtown Coeur d'Alene. You can also get to The Resort by boat in less than 10 min.
3 bedroom home with beach, dock and spectacular views
The home is located in a beautiful neighborhood on the peaceful Neachen Bay.
Room Type
Entire home/apt
---
Property Type
House
---
Accommodates
10
---
Bedrooms
Harrison, ID, United States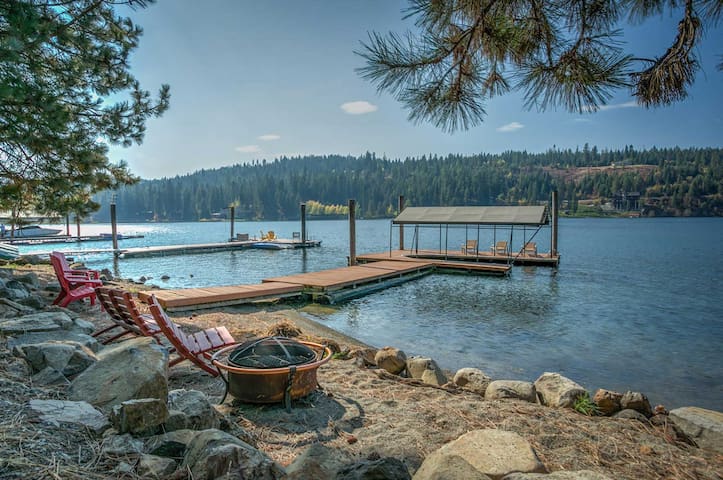 Private Dock, Relaxing Views, Grass to the Water's Edge Enjoy the great outdoors in rustic North Idaho. This adorable cottage on the East End of Lake Coeur d'Alene has everything you need for a great vacation adventure.
Located just 17.5 miles (by road) to CdA and 4 miles by boat, you are just minutes from world-class golf, great mountain biking, hiking, boating, sailing, eagle watching and so much more. Enjoy your own private beach and dock or use the lake as your playground. The fully equipped kitchen can accommodate several cooks at the same time. There are beautiful views from picture windows in living areas and front two bedrooms. The sunsets are often a picture postcard. It is a place where you can truly relax and refresh your soul.
The cottage was an amazing retreat for my family and me! It was very clean and well stocked for a terrific stay (pots, pans, puzzles, bbq, water toys, games, etc). Thomasene made us feel very welcome and cozy. We felt like we were in a real home, not a rental property or motel, and loved the peace and quiet. A couple things to note for those with small children-- there are 100+ steps down to the cottage, and there isn't a sandy beach, or shallow enough water for wading in. However, for my older kids, the dock and paddle boat were heaven, and they didn't mind the steps.
Ursula
2016-09-01T00:00:00Z
Room Type
Entire home/apt
---
Property Type
Cottage
---
Accommodates
10
---
Bedrooms
Harrison, ID, United States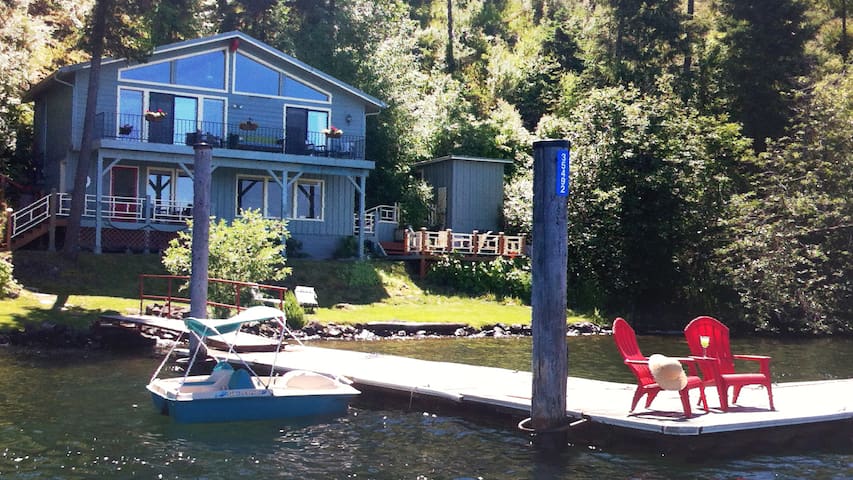 This is the place to lay your head at night if you want to surround yourself with peace from your journey. Take some deck time in the morning/evening watching our herd animals. High end linens and a comfortable bed, sleep well my friend.
Clean, great linens, and pretty unique ranch.
Our neighbors are about 1/4 mile away and they are all very nice and respectful.
My husband and I stayed at Sonia and Andy's Alpaca Ranch to celebrate my 25th birthday and I cant say enough amazing things about this couple and their property. Sonia and Andy were so helpful and welcoming. They made us feel apart of the family and went above and beyond. The room was so clean and comfortable- I loved having a balcony that overlooked the pasture. Experiencing and learning about alpacas has been a lifelong dream of mine and my time on this ranch was absolutely magical. We will be back for sure!
Andrea
2016-06-24T00:00:00Z
Great
Stephanie
2016-09-13T00:00:00Z
Sonia and Andy were fantastic hosts. They made their gorgeous home very accessible. Sonia is a very accomplished businesswoman and she has created something quite spectacular in her "retirement". She is a very loving caretaker for her alpaca, llamas, horses, dogs, cats, and goats. We loved the tour of the ranch, and very much enjoyed getting acquainted with the many animals on Sonia's farm. Five stars!!
Saskia
2016-09-04T00:00:00Z
Sonia's place is amazing! We loved the llamas and even though Sonia was working 14 hour days at the fair we still felt well taken care of.
Ariel
2016-08-26T00:00:00Z
Best ever! If you like animals, this is the place to stay. Will see you again.
Roland
2016-09-19T00:00:00Z
Sonia is extremely down-to-earth and treated us like family. Lovely home, adorable critters, gorgeous setting. Our first Air BnB experience was really fun.
June
2016-12-03T00:00:00Z
Amazing!!! We had a fantastic time. Sonia and Andy are wonderful host. The Ranch is well kept and the rooms are large, clean and comfortable.
Darren
2016-08-10T00:00:00Z
Sonia and Andy were very welcoming and helpful. I really appreciated their accurate description of the experience.... They were very helpful, but at the same time I respect they are running an actual alpaca ranch business, and we were free to come and go as needed. I would absolutely stay here again. We were in Cd'A for a wedding, and this place is about 15 minutes away from downtown. Very convenient, and very fun, unique experience.
Mike
2016-08-15T00:00:00Z
Room Type
Private room
---
Property Type
House
---
Accommodates
2
---
Bedrooms
Coeur d'Alene, ID, United States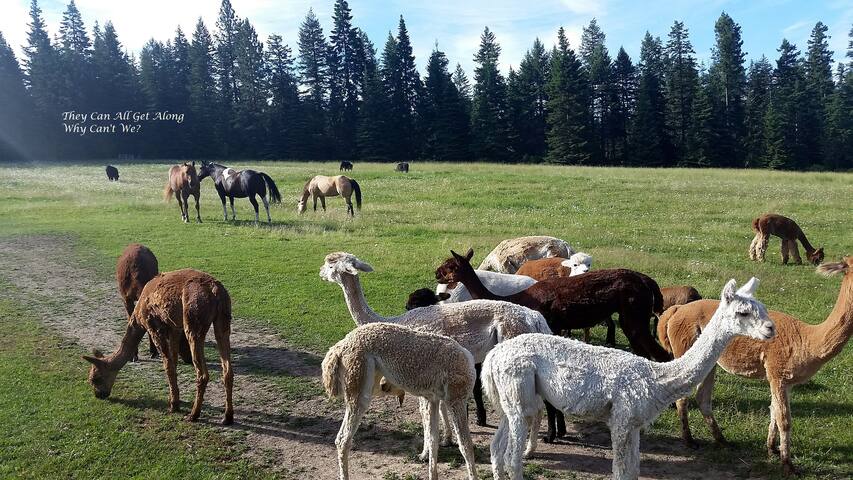 Very unique multi level home with breathtaking views into the trees and through them to the lake. Includes access to a beach and two private dock spaces. Enjoy the private covered patio with a picnic table and propane BBQ. Fully equipped & modern.
Just 15 minutes from Coeur d'Alene by car and even faster by boat. Spokane airport is only an hour drive.
Check out John Elway and Dennis Erickson's "cabins" a short walk away.
Absolutely wonderful place, great location, awesome amenities and communications were spot on! Highly recommended!
Travis
2016-08-24T00:00:00Z
The treehouse was wonderful! The view from the kitchen was beautiful and the back porch area was relaxing. The beds were comfortable; even the pullout bed in the couch. The kitchen was well furnished and held everything we needed to create and eat our meals. The linens and bedding were warm and cozy. It was kind of a walk to get to the lake, but it was well worth it as the view from the dock was breath taking. The host was extremely helpful and a pleasure to work with. I would definitely recommend staying at the treehouse.
Leandra
2016-06-25T00:00:00Z
Beautiful setting, peaceful stay. Namaste
Beth Edwards
2016-09-29T00:00:00Z
What an amazing time we had at Treehouse! This beautiful multilevel home was more than we could have hoped for. It was well appointed and super stocked with all the necessities! Charles was quick to respond to any question we had prior to checking in but after that we were happily left on our own! Amazing treehouse feeling and peekaboo views of Lake Coeur d' Alene through both levels. We even were greeted by the CdA/Kidd Island Bay welcoming committee, in the form of a very friendly black and white cat, that followed us up the path from the lake and back to the house! Our daughters enjoyed the horseshoe pit and we even had our 6 year old convinced a hobbit lived on the property behind the small red doors of the tool shed! (she left food for him daily!) 5 wonderful days was not enough! We will be back! My only recommendation would be to put a guest book in the house...we could have gushed for pages.... PS. Check out the cool artwork throughout..also a cool, built in fish tank, while empty, was pretty neat to see.
Angela
2015-09-03T00:00:00Z
The host canceled this reservation 24 days before arrival. This is an automated posting.
Joel
2016-11-26T00:00:00Z
Beautiful. Would have loved to stay longer. House was fully equipped with everything you could need in the kitchen, bathroom, and living room. Really enjoyed our time and would love to return!
Kayla
2016-08-15T00:00:00Z
Room Type
Entire home/apt
---
Property Type
House
---
Accommodates
7
---
Bedrooms
Coeur d'Alene, ID, United States
My 2 BR, 1 BA finished basement apt. with private entrance & patio is 4 blocks from the public beach, 5 blocks from trailhead to Tubbs Hill, 10 blocks to downtown CDA making my home an ideal location to stay during major summer events. Travelers can walk or ride bikes to events, the beach and much more.
Sally is a fantastic host! This rental is absolutely beautiful, brand-new top to bottom with everything that you could think of needing, including a full sized, fully equipped kitchen, laundry, and outdoor patio in the middle of her beautiful garden. Very large space including two full bedrooms, living room and dining area. It truly is only blocks to the beach and to the charming downtown with great shopping and dining. I'm looking forward to going back. Thank you!
Lindsey
2016-07-11T00:00:00Z
Sally's place was wonderful. Clean, lots of space, and really close to the lake and downtown. Sally was very welcoming and helpful with things to do in town. We'd definitely stay here again.
John
2016-07-19T00:00:00Z
Lovely neighborhood, walking distance to beach and downtown. Very comfortable beds and living room furnishings. Sally was gracious and helpful but gave us our privacy. Really liked staying there.
Christine
2016-08-07T00:00:00Z
Lovely neighborhood close to Tubbs Hill and the lake. We thoroughly enjoyed our stay in Sally's basement apartment. She has just remodeled and everything is immaculate and decorated beautifully. I would definitely recommend to others.
Marianne
2016-08-01T00:00:00Z
Sally was a great host and was very accomidating. We had issues with our travel and arrived very late. She was very helpful and willing to help us out. The place is very nice and the location is great. I would highly recommend this place when traveling to Coeur D'Alene.
Kevin
2016-08-23T00:00:00Z
This home is beautiful, both inside and out! The location is excellent and Sally made us feel very welcome. We did NOT want to leave! Thanks, Sally, for being such a gracious host and letting us enjoy your home for the weekend!!! We'll be back!
Erin
2016-07-24T00:00:00Z
Room Type
Entire home/apt
---
Property Type
Apartment
---
Accommodates
4
---
Bedrooms
Coeur d'Alene, ID, United States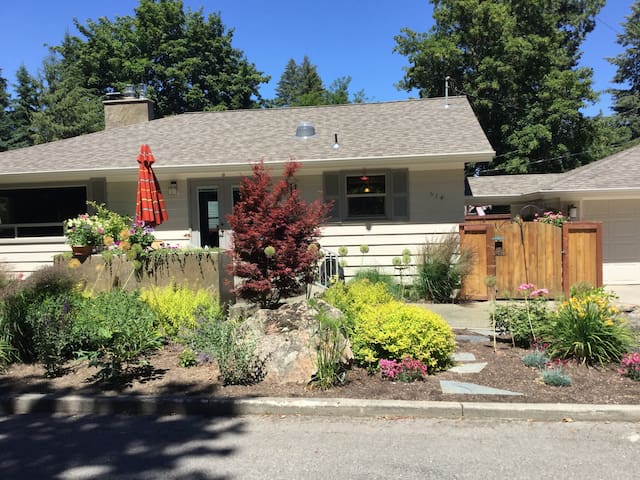 This is a new home & new construction built in 2015. Located in the beautiful and popular Sanders Beach area of Coeur d Alene. Its walking distance to downtown Coeur d Alene, restaurants, Sanders Beach and the famous Golf Course. All new appliances. This is it!
This is a brand new beautiful home with all new appliances, hard wood floors and carpet in the bedrooms. The master bedroom comes with a king size bed large 48 inch flat screen SMART TV and a walk in closet. It also has its own bathroom with his and her sinks. The 2nd bedroom is a queen bed with a spacious closet for your wardrobe, a dresser and ceiling fan to keep you cool during the summer nights. The 3rd bedroom has a bunk bed set up with a Full on the bottom and a twin on the top. This also includes a spacious closet and ceiling fan along with a dresser for extra storage. Outdoor deck with gas grill and seating, gas fire pit with adirondack chairs to enjoy the beautiful evenings in Coeur d'Alene.
The house was just what we were looking for. Very well kept, bedrooms were spacious, close proximity to downtown, and it had everything we needed for the weekend. All-in-all a great experience especially with the owner accommodating us on such short notice.
Christian
2016-09-25T00:00:00Z
Chad was flexible about our arrival and departure times. We loved our stay at their place. In fact, it has been our favorite airbnb stay to date. While we didn't require it, everything you could ever want was at this home. High chair, portable crib, coffee maker, firepit outside, chairs, etc. Perfect for families. We would definitely stay here again when we visit Coeur d'Alene again.
Kristine
2016-08-02T00:00:00Z
Beautiful house with a nice fenced in courtyard in the back. The back porch and gas fire pit fantastic for sitting out and relaxing. About 1 mile walk to tubs hill.
Jake
2016-07-12T00:00:00Z
We absolutely loved Chad's space and it proved to be the perfect central spot for all of our CDA endeavors. The house was brand new and had everything we needed to explore, relax and visit. I would definitely recommend this place.
Brian
2015-07-29T00:00:00Z
Chad's home was perfect for our family! It was a short walk (or drive) into town and close Sanders Beach. The patio was great for BBQ and smores. It was nice to have access to a garage to park or store bikes, etc. The house was clean and cozy. We would definitely come back!
Beth
2016-08-12T00:00:00Z
Everything was absolutely perfect and in a prime location! The house was exactly as described, everything was clean and new. I can't enough great things about this house.
Nicholas
2015-08-16T00:00:00Z
Everthing was perfect! Great house, location, and host. Thanks
Rich
2016-08-06T00:00:00Z
We had a great stay at Chad's house! We had two young families staying and it was the perfect setup! The house is beautiful! Brand new and very clean. It had everything you need and was about a 10-15 min walk to the resort and town. We loved the backyard area and sat by the gas fireplace every night after the kids went to bed. The front porch is also great to drink your morning coffee and watch runners and bikers go by on the trail. Chad was a great host and made everything simple and easy. He even went above and beyond to have a pack n play and high chair available, which was much appreciated!! I would highly recommend Chad's house to anyone looking for a house in Coeur d'Alene! We would absolutely stay here again!
Amy
2016-07-19T00:00:00Z
Room Type
Entire home/apt
---
Property Type
House
---
Accommodates
8
---
Bedrooms
Coeur d'Alene, ID, United States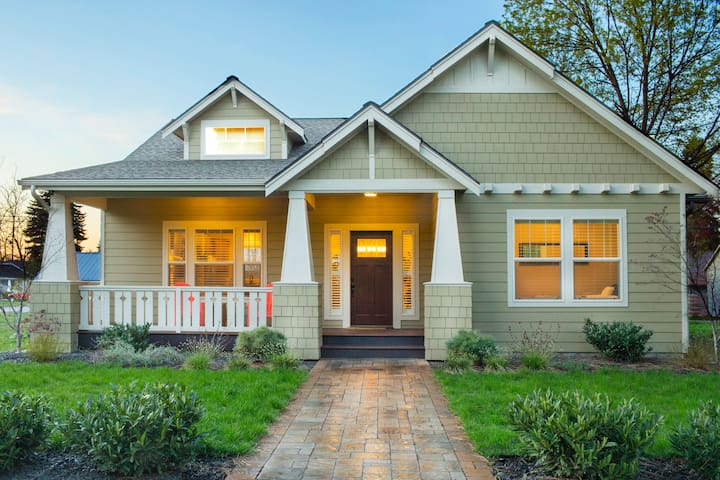 Enter dates to see full pricing. Additional fees apply. Taxes may be added.