Two bedroom basement apartment with one bedroom occupied. The available bedroom has a king bed. The shared space includes a bathroom, eat in kitchen, living room, and a cat. Close to LIRR, airport, and Stony Brook University.
Great central location. Don takes good care of his guests. If you need help with anything, he is happy to oblige. It was a very pleasant stay. Don also shoveled and put salt down so that we were able to park in the driveway. He was very helpful!
Ryan
2017-01-08T00:00:00Z
Nice room and friendly host. I would like to recommend anyone who would like to stay around stony brook
cong
2016-11-20T00:00:00Z
The hosts were very accommodating. Jeff was prompt in his communications and assisted me with my special check in / check out needs. I personally met his brother Don who was a super duper host. He was friendly, helped me with my bag, set me up with lots of towels, soap, shampoo, conditioner, snacks, everything! The room had a king size bed, tons of pillows, extra blankys, AC, TV, there was a driveway to park my car. The neighborhood was residential and quiet. There was an adorable friendly kitty in the apartment which I enjoyed petting, I guess if you were allergic to cats you should inquire about that. It was just what I needed for a short stay in the area on a weekend work trip.
julie
2016-10-01T00:00:00Z
I had a great stay while visiting with friends from school. I was in and out of the room a lot over several days and it was very nice to be able to feel like I had a little "home away from home" to re-charge at. It seems to be a fairly nice neighborhood a few streets off of the main road, with plenty of food options nearby. Jeff and his brother Don were very inviting and I felt very welcome during my stay.
Dan
2016-07-09T00:00:00Z
Great spot, the host was very kind by offering food and anything else I needed, like toiletries. The place was clean and very comfortable. Keep up the good work!
siva
2016-10-28T00:00:00Z
The host was like a friend and I really felt completely at home, something that would not happen at a motel. Nice, quiet clean neighborhood. Nothing fancy, but that's what I like. I don't feel at home with fancy. Large room, and use of the kitchen as well. A real bargain. My first time for AirBnB. I'd surely do it again. By the way, I canceled my room at the motel and saved 120 per night.
Stephen
2016-04-08T00:00:00Z
This was a great place to spend the night. Don was very welcoming and accommodating and we got a good night's rest.
Miguel
2016-12-15T00:00:00Z
Really nice room. Don was a very nice and helpfull host during our late check in. The whole appartment is very clean and tidy. It was a really nice stay and we could recommend this Airbnb to everyone.
Sebastian
2016-07-21T00:00:00Z
Room Type
Private room
---
Property Type
Apartment
---
Accommodates
2
---
Bedrooms
Lake Ronkonkoma, NY, United States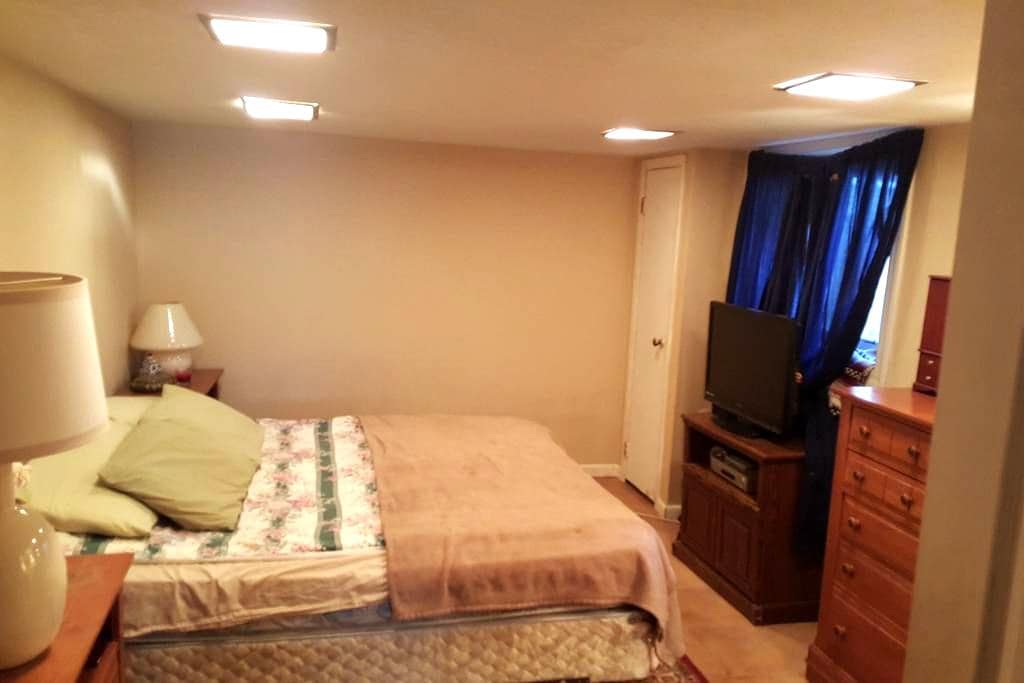 Really comfy, Cable, Washer & Dryer, A/C and Utilities included, near transportation, Great Place. Wi-Fi internet access. 1 flight up, no elevator.
This 2nd floor, upper unit has a balcony with a beautiful view. You'll be able to use the dishes, utensils & pots & pans. Use of the electric stove, microwave and toaster oven included. Your bedroom can be furnished or unfurnished.
Very quiet. You will never hear a car alarm sounding, or a car door slam, or a car engine start. Very close to public transportation and food shopping. it's an Easy walk to beautiful Lake Ronkonkoma.
I enjoyed my stay here. Alex was a great host who made me feel very welcome and comfortable. He was very attentive and responsive. The room was clean and as advertised. Would highly recommend.
Joe
2016-09-26T00:00:00Z
Very quiet place. Cheerful and helpful host. Very clean and tidy. Close to most of the places I wanted to visit. Thank you Alex
Ajay
2015-06-24T00:00:00Z
Room Type
Private room
---
Property Type
Apartment
---
Accommodates
2
---
Bedrooms
Lake Ronkonkoma, NY, United States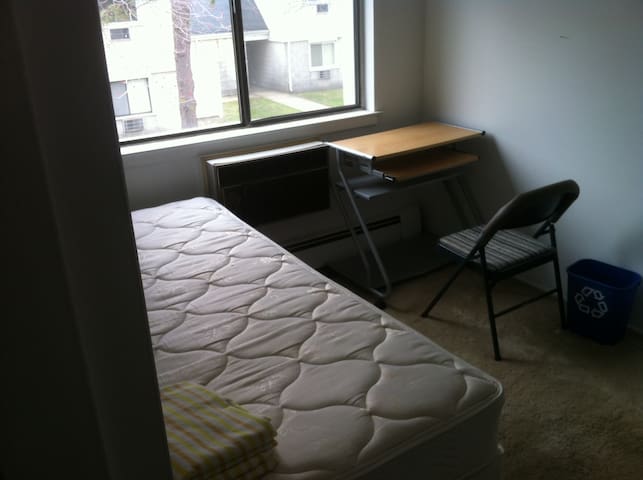 This is a spacious studio basement apartment located in the beautiful historic neighborhood of Stony Brook.
This is a spacious studio basement apartment connected to our private home with private outside entrance. Car park spaces available. There is a large living and dining space with a full size home theater (including surround sound and cable television). The bedroom area features a comfortable Queen sized bed with attached bathroom. There is a small kitchenette/bar area equipped with a microwave, fridge, bar sink, electric kettle, toaster and Keurig coffee machine (with tea and coffee provided). The main house features a large back patio, BBQ and swimming pool, which guests can enjoy during the warmer months! The house is set off the main road in a lovely secluded and wooded area- a little oasis for you to enjoy.
We are located a five minute (maybe even less!) drive away from Stony Brook University and Stony Brook train station. The house is a five to ten minute walk to the lovely historic Stony Brook Village featuring a number of top quality restaurants and cafés. It is a five-minute walk through the lush Avalon Park featuring walking trails through the woods and meadows. There is a large shopping mall, Loewe's Cinema and Wholefoods and Stop and Shop supermarkets located a 10-minute drive away.
Gaby and her husband were great hosts. The room looked just as advertised and there was a private entrance. The room was very clean and quiet. Gaby also provided drinks (bottled water, soda, teas, coffees, with Keurig) and various snacks (cheeses, breads, jams, with a toaster). There was a large television and speedy Wi-Fi. There was plenty of room for two people. We very much enjoyed our stay--it was much cozier than a hotel! We would definitely rent this space again if we are in the area in the future. Thanks Gaby!
Kevin
2016-12-01T00:00:00Z
Gaby and husband Sai were so wonderful. This was one of the best airbnb's I've ever stayed at. The home theater was awesome, and they had lots of fruit, and beverages to enjoy. The place is quite large and the bed, sheets and pillows were so comfortable. They provided everything you could ever think of, from shampoo and conditioner, to qtips and even toothpaste and aftershave. Their pets are extremely cute as well. They were in a separate part of house for people with allergies or whatever. Hands down this was an amazing option for people looking to stay a night or so in stony brook. I recommend them over any place, hotel or Airbnb in that area. Thank you so much for having me!!
Nha
2015-11-19T00:00:00Z
Gaby's studio was just as described or even better, everything was more than I expected. Since this was the first time I ever booked with Air B&B, I was not too sure what to expect, I was very impressed. Looking forward to staying again.
Ester
2016-10-26T00:00:00Z
Gaby and her husband Sai were great hosts! They worked around our schedules to accommodate our needs. They provided lots of snacks and made us feel very welcome. The basement apartment was very clean and looked exactly as described in the pictures. I highly recommend Gaby's place.
agatha
2017-03-04T00:00:00Z
Beautiful home with all that you need for a short trip. Gaby and her husband are very nice people. You'll definitely feel right at home with this place. Highly recommend it to anyone looking to stay in the area
Amro
2017-01-13T00:00:00Z
5 star facility, 5 star host! Excellent living experience!
Chengcheng
2017-02-28T00:00:00Z
We were welcomed immediately and provided with all of the information we needed. The neighborhood was beautiful and safe.
Melvin
2016-11-06T00:00:00Z
Gaby made us feel so welcome in her airbnb by providing a warm, bright, clean and well appointed space for us. She left some lovely treats out for us, was welcoming and kind when we met her to pick up the key, and thought of every detail in the amenities included in her studio. Kudos.
ashia
2015-12-30T00:00:00Z
Room Type
Entire home/apt
---
Property Type
Apartment
---
Accommodates
2
---
Bedrooms
Stony Brook, NY, United States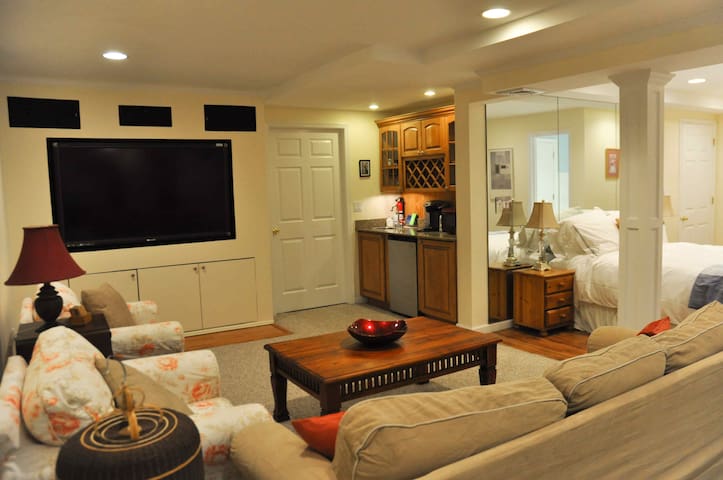 This unusual space above a garage includes its own private garden patio, and steps literally from everything you need: university, NYC train, exercise track, food, fun, stores, nail salon and bank:) yes there is heating and cooling! You have temp controls in the loft
The inner most middle of the room above is six foot making it an easy accommodation for most. It includes tons of windows and sky lights for effect and one queen size bed, a recliner, TV, Netflix, wifi and computer desk and chair: it represents tiny living at its best:) there is also a full kitchenette, seating and full bath on the first level. Steep stairs connect the two levels:)
Our neighborhood has a high walk ability score of 90....even though it is technically a suburb, this little enclave is walking distance to town making it possible to enjoy a visit without a car.
This Airbnb experience was the best one that I have had. Linnie and everyone at the house was so friendly and warm, I immediately felt like I was family. The separate garage apartment was exactly what I was looking for. I was interviewing at SUNY Stony Brook, and this was clean, quiet, and extremely close to the school. Even though it was cold outside, the apartment was very warm. If I am accepted into the school, I would definitely stay here again while I come back to look for apartments!
Meghan
2015-10-19T00:00:00Z
Love staying here! The loft is always very clean and already warm. Snacks and drinks are usually waiting as well:) special touches like this and the great price make this one of the best places on LI Airbnb
Allie
2016-03-17T00:00:00Z
I could not have asked for a better stay. The apartment was extremely comfortable and clean, and in a very convenient location. Linnie Marie was very kind and helpful. Many thanks!
Sara
2016-05-01T00:00:00Z
I had a great experience. The house is spacious, clean, very comfortable. The house manager, was friendly and attentive. I wanted to stay there some more nights. I would definitely recommend this place.
Caio
2016-04-15T00:00:00Z
I had a great stay at Linnie's loft and it was very convenient for my interview at Stony Brook. The neighborhood is very quiet and residential and there are motion-sensor lights installed to guide your way around to the back of the house where the private entrance to the loft is located. Inside, everything was as described & photographed. The bed & pillow were very comfortable and the wifi was great for getting some work done on my laptop. The water pressure and temp in the shower were perfect. Street parking was available right in front of the house. I would definitely stay again!
Katherine
2016-01-16T00:00:00Z
Linnie Marie was awesome about communicating with us since she was out of town. Space was clean, she was easy to get in to contact with via the AirBnB text, and we enjoyed our stay! Super convenient to the wedding we were attending. Thanks again Linnie Marie : )
Kylene
2016-06-13T00:00:00Z
This is probably the best airbnb deal on long island. Very good price, very nice hosts, and very conveniently located. Plus, you basically get your own apartment with a kitchenette + small kitchen table, bathroom, and a lofted bedroom with a desk/chair, an easy chair, TV, and plenty of storage space. The ceiling in the loft is only 6 ft tall at the highest point, but the host was very up front about this, and it was more than enough for sleeping and using the desk. Fantastic stay!
Michael
2015-09-11T00:00:00Z
Overall this was an excellent place to stay. Linnie was a wonderful host and the place is exactly as described. Well worth the price! The area was nice and charming, and it was easy to park on the street. The only downside is that the dishes in the kitchen could have been left cleaner for us to use. That however, is an easy fix. We would definitely stay here again if we were in the area.
Erika
2016-10-11T00:00:00Z
Room Type
Entire home/apt
---
Property Type
Apartment
---
Accommodates
2
---
Bedrooms
Stony Brook, NY, United States
New furnished apt., duplex, downstairs, living room, eat in kitchen, new appliances, private bathroom with shower. Upstairs 16x16 bedroom, with desk and chair, skylight. 0.8 miles to Stony Brook Univ. Private entrance, off street parking.
It's an adorable place to stay. Asked about doing a return visit and John was very forth coming. There's parking, a pool and much to do within a short distance Place was clean and inviting. Although reviews said there was a good wifi connection we couldn't connect. John did try to make it work to no avail. My only suggestion would be for a more visible marking for arriving guests on the road. We almost missed it!
Terri
2016-07-31T00:00:00Z
There aren't any complaints possible with this space. It's very cozy and like a comfy bed and breakfast. Flat screens on both floors, AC when you need it, all the essentials you'll ever need, so many good things! It's a nice quiet getaway, which my boyfriend and I enjoyed a lot. Directions were super self explanatory, we were allowed to arrive after checkin with ease (due to traffic) and I will definitely be coming back the next time we visit.
Tania
2016-08-06T00:00:00Z
Perfect for one night. As described in the ad.
David
2017-03-31T00:00:00Z
Nice stay, perfect enough communication with the host, nice greenery around. Perfect once a curtain is added to the window in bedroom. The sun glares right at the top of the bed.
Varun
2016-05-22T00:00:00Z
We enjoyed our stay at John's place very much. We had a seamless experience in every respect from start to finish. Communication was easy as John was consistently responsive; we found everything according to instructions. The apartment was lovely, very clean and comfortable. It was equipped with everything you'd expect at a bed and breakfast. We felt at home. I was able to easily use my computer on the wifi for essential business I had to bring along. Coffee and breakfast were easy in the kitchen. Air conditioning was more than adequate. The area was just beautiful and added to the pleasure of the stay. At the end when we asked to check out late, we were delighted to be able to "leave whenever" we were ready. It helped us enjoy a leisurely Sunday morning and pack at a relaxed pace. Our weekend stay was for recreational purposes, and the location was excellent for what we wanted to do. From the apartment to Jones beach, the Fire Island ferry terminal in Bay Shore, and the wine region on the North Fork, the drive was very reasonable. We will definitely stay there again next year, given this experience. Thanks for a great stay!
Juliet
2016-07-18T00:00:00Z
We had a wonderful time at John's place. It was clean, there was water and juice in the fridge, and some basic kitchen supplies so we could save a little money by cooking for ourselves. We couldn't really connect to the wi-fi and had no cell reception, but it did not bother us too much because we were busy out exploring the island. Nice stay!
Mia
2016-07-25T00:00:00Z
Nice space. Large bedroom. Very comfortable.
Jeff
2017-03-30T00:00:00Z
The location is great which is next to Stony Brook University. And the host lives right next to us which would make us feel really safe! It's a really peaceful place and there are several shops and restaurants nearby, even a small beach! The house was so cozy and there was a folder that was like a hotel introduction. The host is so nice! He sent us to the train station for several times, any requirements he will make adjustments immediately. Definitely recommended! We lived there for one month, it was such a great experience!!
HONG
2017-01-20T00:00:00Z
Room Type
Entire home/apt
---
Property Type
Apartment
---
Accommodates
2
---
Bedrooms
Stony Brook, NY, United States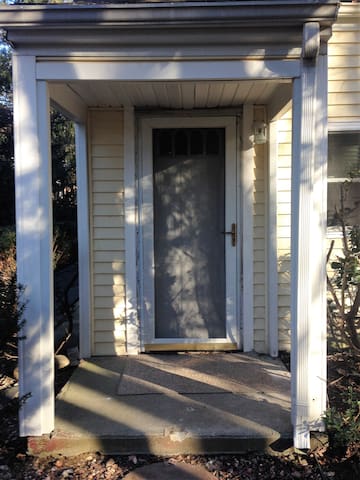 My place is 8 minutes to Stony Brook University, 3 minutes to shopping; near Smithaven Mall. Close to a variety of restaurants and highwaysQuiet residential area.. You'll love my place because it is a brand new apt., with high ceilings, a bright and pleasant apt.. My place is good for couples, solo adventurers, and business travelers.
New apartment. The space is bright and airy. Near area beaches & spots of interest. Private bath with seamless shower. Convenient to highways.
It's quite and country like. Yet I have quick access to highways.
Terrie was very accommodating and worked with me through some travel challenges. The apartment was very nice and just as it is described in the listing. This apartment is in a lovely house and very nice neighborhood. Unfortunately, I did not get to meet Terrie personally but she was in contact to make sure my stay was enjoyable and that I had everything I needed.
Jay
2016-08-01T00:00:00Z
Terrie's Apartment was perfect. Just what we wanted. Spacious, clean. Bathroom was terrific. all the facilities for a full kitchen. Air condition through out. Parking on premises, beautiful back yard. Near large Mall and great restaurants. Great neighborhood. Terrie was a great host she answered all our questions and responded immediately.
Ralph
2016-07-05T00:00:00Z
This place is just wonderful! It is cozy, clean, updated, comfortable, spacious, and lovely. We were busy, so we didn't spend a lot of time here, but the time we did spend felt like home. The bed was very comfortable too.
Becky
2016-09-29T00:00:00Z
Terrie is a wonderful host. Her apartment is very beautiful and clean. The apartment is attached to the main house and has a private entrance. The bedroom is fairly large and comfortable. The eat in kitchen is very nice and functional and the bathroom is new and very well done. I would recommend any Airbnb guest to Terrie's place if they are in the area.
Arif
2016-07-25T00:00:00Z
Communication with Terrie was easy. The apartment was clean, quiet, and comfortable. We would not hesitate to stay there again.
Steve
2016-09-12T00:00:00Z
Great place in a great neighborhood. Terrie was very accommodating for my late flights, and a great host. Place was very clean and had everything I could need! Would highly recommend!
Ryan Boomy
2016-07-18T00:00:00Z
Overall, Terrie's apartment is the nicest AirBnB I have stayed in thus far. It is exactly as pictured and described. It really is a new apartment with a great central location in Western Suffolk County. Stony Brook University, Smithhaven Mall, Trader Joes, Whole Foods, and the LIRR are a short drive away, yet the apartment is very quiet and peaceful at night. North- and south-shore beaches are 20-30 minutes away. The bed is very comfortable and the bath is nice. Although I did not meet Terrie, she is attentive and responds immediately. I go to Long Island regularly and I look forward to staying with Terrie again. Very Highly Recommended!
Leon
2016-09-09T00:00:00Z
Terrie made me feel very special. There were bottles of water and juices in the fridge, candies in a dish on the end table, coffee and tea ready to brew, and shower soaps and shampoos. She communicated with me ahead of time to ensure I could enter the apartment.
Scott
2016-08-08T00:00:00Z
Room Type
Entire home/apt
---
Property Type
Apartment
---
Accommodates
2
---
Bedrooms
Nesconset, NY, United States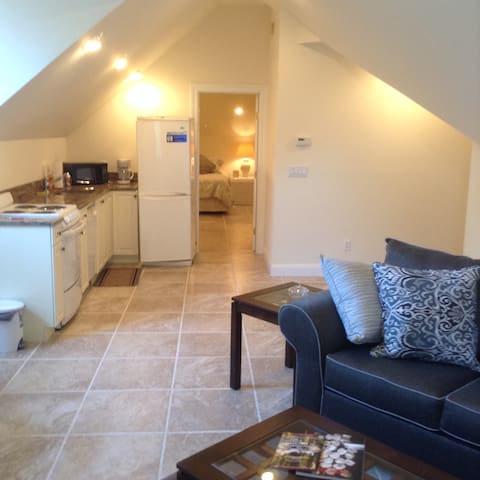 My place is close to restaurants and dining, the beach, and family-friendly activities. You'll love my place because of light, comfy bed, the kitchen, the coziness, and the high ceilings and privacy. Good for couples, solo, business travelers, and furry friends (pets). Located near the airport and train station.
I have private parking. The place also has an out door patio with a couch, table and chairs to enjoy the out doors.
The neighborhood is very quiet and centrally located on Long Island
Phil was very accessible. He had the apt ready a few hours early and texted us to let us know, also checked on how we were doing during our stay. He did a great job leaving plenty of towels, toilet paper and anticipating needs. The apt was perfect for the two of us. Would def rerurn.
Andrea
2016-12-13T00:00:00Z
Excellent private space attached to the main home. Clean, very well maintained with a beautiful stone bathroom. Many thoughtful items in the full kitchen. Skylights make the room very bright and welcoming. Phil is a excellent communicator and host! A great find in Islip!
John
2017-02-04T00:00:00Z
This is an amazing place with plenty of privacy on a quiet road. Restaurants and convenience stores are nearby within walking distance. The apartment was very clean and has a complete kitchen and bathroom. Even has bottled water in the refrigerator. Definitely would stay again.
Daniel
2017-04-03T00:00:00Z
My partner and I stayed at Phil's studio apartment while in town for a wedding. The apartment was a great home base for us, and exactly as advertised. Check in and check out were easy, and Phil was available by phone if anything had come up. Would stay again!
Karen
2017-03-19T00:00:00Z
The place was perfect. Phil made it look like a 5 star hotel. All the amenities and comforts you can possibly need. Phil responded to texts very quickly. I would definitely stay here again.
Artur
2017-03-11T00:00:00Z
Overall, this AirBnb was a perfect location for a stay-cation for a couple who is looking to have a mini get away! The space overall, was perfect for a night to just hangout and unwind. The space was attached to the main house, however, it offered privacy. Phil was a great host overall and I highly recommend his Airbnb!
Travy
2017-03-27T00:00:00Z
Too my surprise after reading multiple reviews and doing research I decided to stay at Phil's "private studio apartment" for a relaxing night with my boyfriend.. this was my first air bnb experience and honestly it was horrible. My boyfriend and I arrived about 530-6 we unpacked I planned on cooking a nice meal and just unwinding.. I noticed the table mats were sticky, there was rice on the counter, and I was looking for pots and pans I noticed how disgusting the oven was, but I let it slide I didn't want it to ruin my weekend so thankfully I brought Clorox wipes and wiped the kitchen counter and table down ... we played music on a Bluetooth speaker at a moderate level... about 20 minutes later Phil is banging on the door trying to get in, we go to the door thinking he's just introducing himself instead he rudely tells us that he can hear everything instead of just saying could you please lower the music.. then accused us of smoking inside which was ridiculous because we would never smoke in someone's house we are more respectful then that.. so after feeling incredibly uncomfortable after being there for a total of 30-35 min we left and contacted air bnb for a refund which they found to be in our favor because we weren't even there an hour... Considering this was my first air bnb and we have one booked for This month I am nervous and hope it's nothing like the experience we had at Phil's.
lindsay
2017-03-26T00:00:00Z
This was in a perfect location for our time on LI, perfect for 2 people, cozy, comfy bed, spacious kitchen & bathroom. It is in a quiet neighborhood and even though attached to the main home, very quiet and private. Phil was an excellent host, very responsive to our needs, while providing privacy that we like.
Lisa
2016-12-10T00:00:00Z
Room Type
Entire home/apt
---
Property Type
Apartment
---
Accommodates
2
---
Bedrooms
Islip Terrace, NY, United States
A very sunny and full apartment like with all the necessities for an extended stay. Private entrance. large Bedroom, Eat In fully equipped Kitchen, Full Bathroom, Extra Large Closet, Living room, Lounge/family room. Full use of our outdoor facilities. WIFI and Direct connect internet.
Very sunny open space concept, Spacious and very quiet.
Quiet neighborhood, Secluded large back yard, Easy access to local transportation, Local Buses, The railroad (Long Island Rail Road), Port Jefferson Ferry's , Islip MacArthur Airport, etc..
This was our 2nd stay with Sam and Viv. This time the basement INN was just as fantastic as their upstairs INN. We had a really busy week so we were not able to take advantage of all the extra hospitality that Sam and Viv offer which is unfortunate because they are fantastic hosts. The backyard is beautiful in the Summer and the outdoor space would offer a lot of relaxing time if we had it to take advantage of. We appreciate everything and we cannot wait until our next trip to Port Jeff. Darin and Stephanie
Darin
2016-09-04T00:00:00Z
Sam was the best host. The apartment was larger than pictured and worked well for 4 adults and a baby. Both Sam and Viv were available to us during our whole time there. Communication was excellent. The neighborhood is safe and close to all that you need to get around, trains, expressway, restaurants, stores. We especially enjoyed being able to use the patio area in the backyard. Tables, chairs, & lights, made it very relaxing. I would highly recommend The Palm Tree Inn, we loved it! Thank you Sam and Viv.
Ginny
2016-09-21T00:00:00Z
This is a great place and the hosts are really nice and helpful.
Eric
2017-03-04T00:00:00Z
Sam and Vivian's place is clean, quiet, spacious and cool in the summer! We had a great three-week stay here for my parents visit. Sam and Vivian have well prepared for our stay, with snacks and drinks on the table, magazines and information for tourists and some nice decoration with Chinese words making us feel homelike. They're very easy to get along with and willing to help with all problems. When I planned to invite my friends coming for dinner, Vivian helped to clean the dinner table in the backyard and Sam would like to offer us wine! This is my first experience in Airbnb and it's very pleasant to stay in Palm Tree INN. I would definitely recommend Sam and Viv's place and will come back when my parents visit again in the future!
Mengnan
2016-07-16T00:00:00Z
Sam and Viv are great hosts. We were visiting Long Island for a family reunion and a memorial service and we appreciated having a home instead of a hotel room. The home is very spacious, with a nice walk-in closet and a large bedroom. The backyard gardens are beautiful with many areas for sitting and enjoying the flowers. We appreciated the snacks that Sam provided for our daughter. Thank you for a great first Airbnb experience.
Janet
2016-07-26T00:00:00Z
Nice family clean house I like it
waleed
2016-06-14T00:00:00Z
I highly recommend Sam's AirBNB for anyone looking for a clean, spacious and very comfortable apartment in Suffolk County, Long Island and near the beautiful village of Port Jefferson. Sam and his wife were excellent hosts. The space is quiet and everything was taken care of for me. They are super friendly couple and went out of their way the make my week spent there special. I give this AirBNB the highest rating possible and I will always look to stay here on my occasional visits to Long Island for pleasure and for business alike. Sam seems to be doing some interesting things in the back yard to make his spacious property almost park-like for the summer. I'm interested to see how that turns out. If the outside space become as wonderful as the inside, guests will be in for a real treat.
Michael
2016-03-06T00:00:00Z
Was such a great place to stay. Sam was very helpful and the apartment was everything you could possibly need
Dhiren
2017-01-15T00:00:00Z
Room Type
Entire home/apt
---
Property Type
Apartment
---
Accommodates
4
---
Bedrooms
Port Jefferson Station, NY, United States
Enjoy a private suite, with your own separate entrance, just minutes from Stony Brook and Port Jefferson. You have you own immaculate bedroom, bathroom, kitchen, WIFI, & central air!
Room Type
Private room
---
Property Type
Apartment
---
Accommodates
2
---
Bedrooms
Selden, NY, United States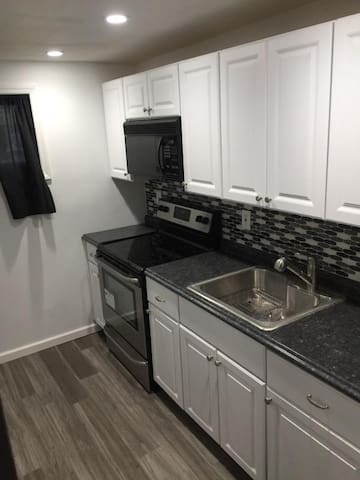 Location, location, location. Beautiful, newly renovated apartment with impeccable interior design-think antique meets modern-chic -located directly across from the Port Jefferson Harbor. Stand alone building steps away from the water, restaurants, bars, farmer's market, the PJ Ferry, and directly above everyone's new favorite coffee shop. Enormous balcony with views to the water. Clean, modernist, beach aesthetic. Bamboo flooring & industrial reflective ceilings throughout. All new appliances.
Listing was accurate! The place was cozy, clean, and overall perfect. I can not stress enough how convenient the location is - super close to restaurants, the water, and a pharmacy. Ashley and Mark were incredibly welcoming. They gave us a lift to their place from the LIRR station, provided toiletries, and sent us a list of recommended restaurants. It made our stay stress-free and fun. I highly recommend!
Nicol
2016-08-09T00:00:00Z
Ashley & Mark's place was absolutely charming and perfectly located - right across the street from my main activities while in Port Jefferson and in the middle of everything happening in town. I couldn't have asked for better accommodations. They were there to greet me when I arrived, gave me a tour and all of the info I needed for my stay. I would highly recommend staying here to other guests.
Lisa
2016-09-11T00:00:00Z
I highly recommend this apartment. The location is amazing (right in downtown Port Jeff) within walking distance of so many great bars, restaurants and shopping. There's also a beautiful 2nd story deck where you can see the water. Mark and Ashley also have a great collection of furniture, books, and batmen.
Amy
2016-10-10T00:00:00Z
A gem of a place. Perfect location in the heart of Port Jefferson, close to the harbor and surrounded by shops and restaurants. this one bedroom apartment will enchant you with its design, layout, amenities and furnishings. Best of all, the hosts's warm and thoughtful welcome will make you feel right at home. Exceeded our expectations at all levels.
Reda
2016-07-25T00:00:00Z
This was a wonderful stay. Our hosts were warm and helpful. The loft was cozy and felt like home. We were here for a 40 yr. high school reunion, so spent little time in the loft. Port Jefferson has plenty of great places to eat and grab a drink. Wonderful weekend! Thank You!
Doreen
2016-09-25T00:00:00Z
The host canceled this reservation 9 days before arrival. This is an automated posting.
Zoe
2016-11-17T00:00:00Z
Ashley and Mark have a wonderful place - it has a cozy feel, but has large rooms and a brilliant roof deck. Would highly recommend to anyone looking for a nice place right in the heart of Port Jefferson.
Timothy
2016-08-15T00:00:00Z
Room Type
Entire home/apt
---
Property Type
Apartment
---
Accommodates
2
---
Bedrooms
Port Jefferson, NY, United States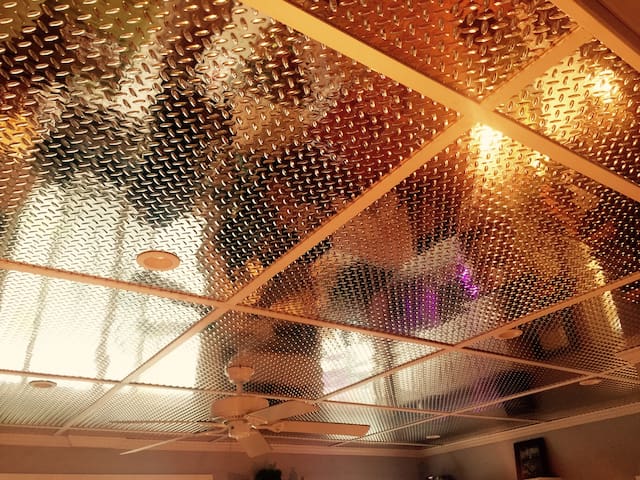 We offer a ; Private, Separate Entrance Ultra Clean, Newly Painted , One Bedroom Apartment, with bright sunny rooms, and Great Outdoor Space. 1\2 btw Manhattan and Montauk Point. After Day Tripping in Any direction Return to Comfort and Personal Service, beyond expectations, Genuine Hospitality.
What makes Mid-Way a perfect choice. Is while its interior decor is sleek, clean retro- modern, using Cool Chrome and Leather, with a Beautiful Double wide Bar/Countertop thats perfect for Dining, Entertaining, Cocktails, Your Laptop, or any Crafts or Play, in the Large living Space , where The Armless Sofa, converts to a Full size Futon. (Appropriate Clean Linen provided) *The completely Separate, Bedroom with a door that locks, features a brand-new full size Bed furnished in Quality Bedding & Serine Colors . *The Kitchen offers 24\7 convenience, for snacks and refreshments. Coffee Maker\ coffee Microwave Refrigerator/Freezer large Steel Sink or Wet bar. Supplied with Dinner&Glasswear/Cutlery For 4. * The New Vanity & Seat & Shower Curtain in the Washroom. Adds just enough Gleam, to fit right in.(URL HIDDEN) By Comparison, The Unpolished Outdoor Area, provides Awning Covered Dining for 4, with Modest Elegance. The Large Country Lawn, allows for individuals or Families to relax or play. But, The Field Stone Terraced Beds are the Moss Covered Crown of this coming of age back yard. Our Location, Says it. Our Town's Name MIDDLE ISLAND From Here - You can see all Long Island, has to offer • The Atlantic Ocean,& Long Island Sound Beaches • Historical Colonial Sites & Restorations • Natural Preservation Parkland • Working Farms w/ stands • The Vineyards • Waterfront Restaurants • The Hamptons • The Outlets Are all within 30 minutes or less. and still a commuter 's journey into Manhattan. Business Travelers can appreciate, the warmth of a home, rather than a stark room in a chain hotel.
This neighborhood is very peaceful. Its quite. Great for walks. Nature Abounds, a Picturesque Pond, Only minutes walk away. ( Pine Lake) part of Middle Island's Cold Water Springs. Including • Pine Lake • Sping Lake • Artist Lake *The former site of American Artist (Alonzo Chappel's) Artist Colony. ( hence the name) Don't be surprised if you see; Deer, Wild Turkey, Foxes, Opossum, As well as an abundance of Beautiful Birds. Many of the homes are DIY converted Bungalows Its simple and rustic, but never forgetting, its only 50 miles from NYC.
Room Type
Entire home/apt
---
Property Type
Apartment
---
Accommodates
4
---
Bedrooms
Middle Island, NY, United States
Enter through a private entrance with sitting porch. Large open den, dining, kitchen host beautiful sunsets and water views. Master bedroom has a queen size bed, fireplace,and seating. The 2nd bedroom has two twins on the lower level and a queen loft above. Bedrooms have A/C, T.V, and cable. The bathroom has a Whirlpool tub for two. Located in Stony Brook 400 feet from a protected Tidal Estuary and 1 mile from West Meadow Beach,Historic Stony Brook, and SUNY S.B.
It's open, airy and very inviting for rest and relaxation with friends or family.
It is a beautiful, natural environment filled with the sounds and sights of nature.
Susan was very nice and welcoming to myself and friends! We enjoyed our stay!
David
2016-09-18T00:00:00Z
listing was as expected. susan had muffins and starter items in the fridge. we were welcomed warmly AND given space to ourselves. susan even made the beds to accommodate our young boys - so sweet! the neighborhood is so charming and couldn't have been better for our stay!
Anne
2016-09-27T00:00:00Z
I had dinner with 10 people and the house is big enough for 10. Susan made everything comfortable. Definitely recommend this house!
Soeun
2016-12-04T00:00:00Z
Place was exactly what we were looking for. Was super relaxing and beds were comfortable. Susan and her son were very pleasant and accommodating and showed us everything. The area the house is located in is also very peaceful and immediately puts you in a relaxed state of mind.
Ben
2016-09-11T00:00:00Z
Room Type
Entire home/apt
---
Property Type
Apartment
---
Accommodates
4
---
Bedrooms
Stony Brook, NY, United States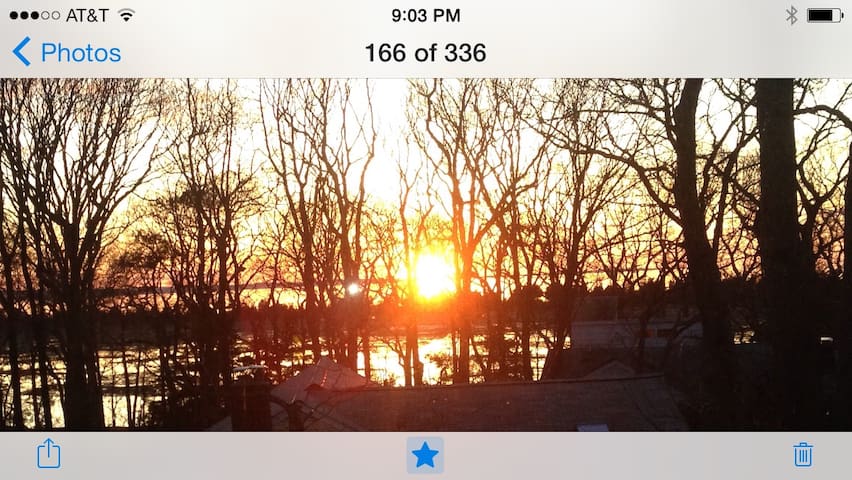 Basement space semi private: with egress windows.Washer and dryer are there..... and my sons drum set which he plays sometimes at 2-4 pm. The bedroom is screened off from the rest of the basement so it is private.... Use of the entire home: click our other rooms for reviews.
I have lived in this space however my last guest who stayed with us from January to July said that in the winter he definitely used the space heater and in the summer he definitely used the dehumidifier... I keep the space immaculate: it is Not a finished basement: at the end of your stay, please strip the bed linens and re make the bed with the new linens available to you for the next student:) also place a fresh towel on the bed: This is the price of ADMISSION for the space being so cheap in an exclusive suburb:) you have to help eachother out...
All guests walk to stony brook university: on the corner of 25a is the stony Brook school, then the ThIRD house on the left that is white with blue shutters, is ours:D
Linnie Marie was a very gracious host. She was extremely nice and accommodating for us, and made sure that we were comfortable for our entire stay. We were staying for a collaboration meeting at nearby (walking distance) Stony Brook University, and this location was perfect for us. The beds were comfortable, and she even provided a little snack for us upon arrival. Fresh towels and linens were provided. Overall it was a very nice place to stay, and I would highly recommend it.
Summer
2016-04-24T00:00:00Z
Linni Marie was FANTASTIC. She accepted my reservation on about 5 hour's notice, and gave great information and communication even though she was not home. I stayed in a basement room which was a tremendous value for the small price, and it felt warm and cozy. I recommend this host and this location whole-heartedly, and I hope I get to stay there again. (There was a really cute dog in the house too, and I LOVE dogs.)
Ward
2017-04-10T00:00:00Z
Great place for the value. Would stay again for sure.
Sean
2017-04-12T00:00:00Z
It was a great stay in Stoneybrook and a great host to beat!
Paris
2017-04-09T00:00:00Z
Room Type
Private room
---
Property Type
Apartment
---
Accommodates
1
---
Bedrooms
Stony Brook, NY, United States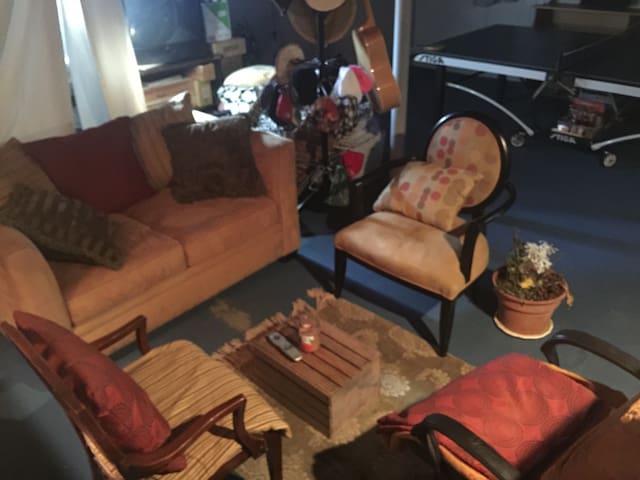 Hello friends! This cozy apartment is located near a strip of restaurants, the Island 16 movie theaters, an amusement park, the Smithhaven mall, and much more. It is about a 10min drive to Patchogue which has a great bunch & nightlife experience. Included with the apartment is a yard area that is perfect for pets to roam in and chairs for you to sit and enjoy the weather. PLEASE be respectable and mindful of the family that lives upstairs.
A large living room with two couches and Papasan cushion chair that can be used for sleeping. Feel free to bring sleeping bags to accommodate more people. There is one bedroom with two dressers, one night table and closet. One bathroom is also available with bathroom accessories. An open kitchen is free to use with an electric stove, microwave, toaster and refrigerator. The kitchen is equipped with silverware, plates, and cups. Please use the dish soap and sponge after using any silverware.
The host canceled this reservation the day before arrival. This is an automated posting.
William
2017-02-14T00:00:00Z
I was in town for a quick business trip, and needed a comfortable place to stay close to SCCC. Ketsia's place was perfect for my needs.
Mary
2017-03-22T00:00:00Z
Room Type
Entire home/apt
---
Property Type
Apartment
---
Accommodates
5
---
Bedrooms
Centereach, NY, United States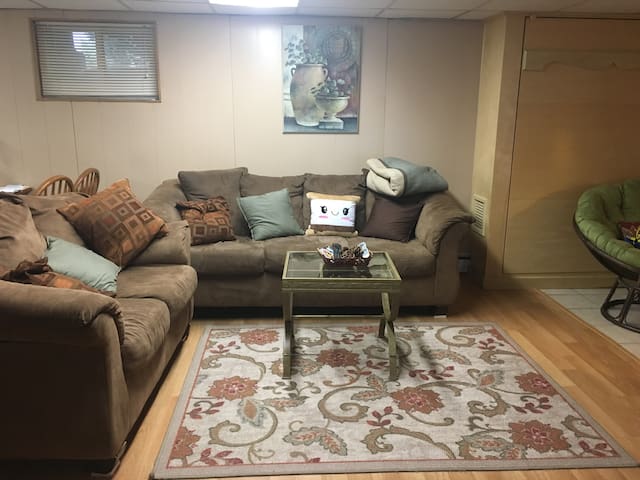 These are all driving distance. My place is located on a quiet, safe residential street near Islip Terrace. Close To: Minutes to Local Restaurants and Shopping Areas. 5 Minutes to US District Federal Courthouse, 5 Minutes to Duck Stadium Bethpage Ball Field, 8 Minutes to Touro Law Center, 12 Minutes to Suffolk Community College, 12 Minutes to Fire Island Ferries, 26 Minutes to Long Island MacArthur Airport, Bay Shore Marina, Connetquot, Robert Moses & Sunken Meadow State Park,
You'll love my place because is very Clean and comfortable, Separate entrance, Quiet Area, My place is good for couples, business travelers.
Nice Clean Quiet Neighborhood with private entrance.
This is a spacious one bedroom basement apartment. Very clean and private. Located in a neighborhood. Parking is on a side street right next to the house.
Rebecca
2016-11-25T00:00:00Z
Totally lovely and cozy space to unwind and recharge!
Joe
2016-10-09T00:00:00Z
Exactly as described if not better and worth every single penny, deff staying there again
Joseluis
2017-02-15T00:00:00Z
Senny was very good at communicating prior to arrival. She made me feel welcome and comfortable in her home. The space was very clean and had a separate entrance. I'll be staying here again in the near future.
Penn
2016-08-08T00:00:00Z
Senny was great. The apartment was very nice and cozy. Highly recommended.
Kelly
2016-10-28T00:00:00Z
Amazing, I would go back again and again host is amazing place was big,clean, close to parkway VERY CLEAN I LOVED IT
Jamel
2017-01-15T00:00:00Z
very easy access to the apartment, very clean and cool on a hot summer day, she was nice enough to leave a bottle of wine and two glasses in the kitchen for us to make us feel welcome! All and all a good experience!
Erika
2016-09-04T00:00:00Z
I only needed a bed for a few days and I got much more. Clean, comfortable, and quiet. She even left me a bottle of wine, which I needed after a few of those days. I would definitely stay again.
Jay
2016-10-14T00:00:00Z
Room Type
Entire home/apt
---
Property Type
Apartment
---
Accommodates
2
---
Bedrooms
Brentwood, NY, United States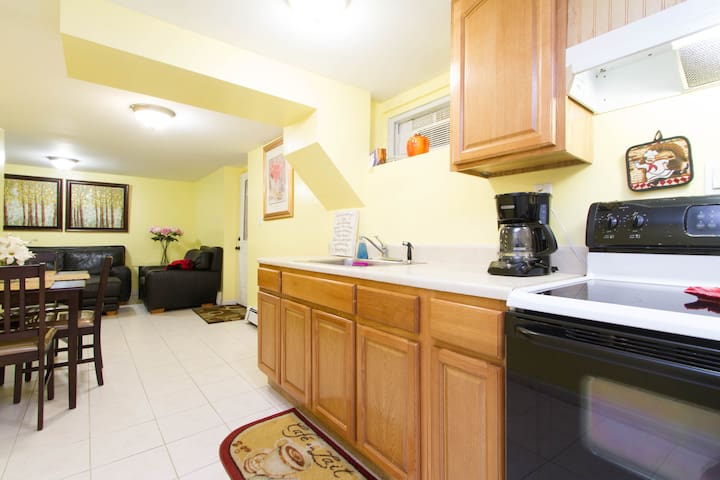 Incredibly Furnished -"Private" - 2nd Floor Suite, overlooking The Great South Bay , spectacular Sunrises with you own private deck. 1-bedroom, w/queen size bed, living area, kitchen, bath, walk to bay, train minutes away, toNYC, Hamptons, Vineyards
WE ARE LOCATED 10 MIN FORM THE INCORPORATED VILLAGE OF PATCHOGUE WHICH HAS OVER 30 RESTAURANTS, PLAY HOUSE, & NITE CLUB, MINUTES TO LIRR - TRAIN SERVICE TO NYC , HAMPTONS & MONTAUK - WINE COUNTRY 40 MIN TO MANY VINEYARDS - PLUS EXCEPTIONAL WATER FRONT RESTAURANTS- VERY SECLUDED PROPERTY-
we are located 100' from bay and waterfront community - minutes from Ferry Service (in season) to many Fire Island communities
Robert welcomed us to his lovely home and kindly carried our bags to the flat. The bedroom is sumptuously furnished and has a sexy romantic vibe and the very attractive lounge has a pretty balcony just right for sipping some champagne and listening to the birds, glimpsing the shy deer with her fawn, then watching the sun go down. Some days we ate in Patchogue on other occasions we took the ferry to Fire Island, visiting Saltaire, Kismet, the notorious Cherry Grove and the nature trails of Watch Hill each one with a perfect beach. The ferries are a short drive away and it's wonderful to enjoy the sea breeze on a hot day. I'd love to return.
virginia
2016-07-02T00:00:00Z
Beautiful location, wonderful hosts, spotless accommodations...what more could you ask for? We had a great stay at Above The Bay. The bedroom is luxurious with a comfortable bed and nice linens. Super big bathroom, a comfy sitting room with a view of the bay and a galley kitchen complete the setup. Robert & Kathleen are thoughtful hosts. We had a late arrival with an added airline delay that Robert took in stride "no problem" for him. He helped us up with our bags, (the spiral stairs are... well, two flights of spiral stairs. A climb, yes. Worth every step? Absolutely. ) There were coffee and goodies in the refrigerator and our host was available whenever needed. We had planned a beach day and asked if by any chance there were beach chairs we could borrow. The next morning they were outside for us! Thank you again Robert & Kathleen for a great stay. We will be back :)
Debra
2016-07-27T00:00:00Z
It was a lovely neighborhood in a convenient spot with a perfect view of the harbor and bay. The apartment was comfortable, well-appointed and clean. Our hosts were friendly and helpful–a great place to explore from!
Carol
2016-07-20T00:00:00Z
Robert made us feel at home and provided many small details that showed he and his wife went above and beyond in an attempt to make our stay comfortable. The apartment was beautifully decorated and provided a view of the harbor (and an occasional deer) that was a thrill. We went on the weekend when temperatures dropped below zero and yet the apartment was warm and cozy. Summertime in this home would be a wonderful experience. If you want a beautiful romantic place to stay, this is a winner.
James
2016-02-16T00:00:00Z
We had a great stay Above the Bay! The location was quiet but close enough to Patchogue that we were able to walk and bike there daily. The apartment was clean, had lots of space, and Robert and his wife left it stocked with some of the basics that were much appreciated. The sweet little balcony overlooking the bay made a perfect morning coffee spot. We'll definitely return!
Karina
2016-05-31T00:00:00Z
Super friendly. Robert put out muffins and bananas. The place is incredibly beautiful. The pictures he put up don't do it justice at all. I will definitely be staying there next year.
Andrew
2016-07-07T00:00:00Z
Kathleen and Robert were very welcoming and gracious hosts. Kathleen welcomed me and showed me the apartment which is on the top level of their beautiful home. She was nice enough to get me extra pots and pans and let me borrow a beach umbrella for my beach day. The apartment looked just like the photos and was very clean. There is a two story spiral staircase so bringing bags up and down might be a challenge for some. Kathleen did offer to help me with my bags when I arrived. The view is gorgeous. You can spend a whole day watching boats from the deck. Very relaxing! The location is great for exploring all of Long Island. Accessible to NYC as well as the Hamptons, Fire Island and the North Fork vineyards. Transaction was very smooth and you can tell that the hosts love sharing their little piece of heaven. They even left me plenty of spring water and some local ale in the fridge. I would definitely go back.
Jen
2016-09-12T00:00:00Z
The balcony was wonderful: Coffee in the morning and a drink in the evening out there was a great way to start and end every day. The furnishings (and bed) were comfortable, the size of the place was perfect, and the hosts were friendly. We really appreciated the kitchen being stocked with some treats and extra ice ready for anything we wanted.
Jeanette
2016-08-30T00:00:00Z
Room Type
Entire home/apt
---
Property Type
Apartment
---
Accommodates
2
---
Bedrooms
Patchogue, NY, United States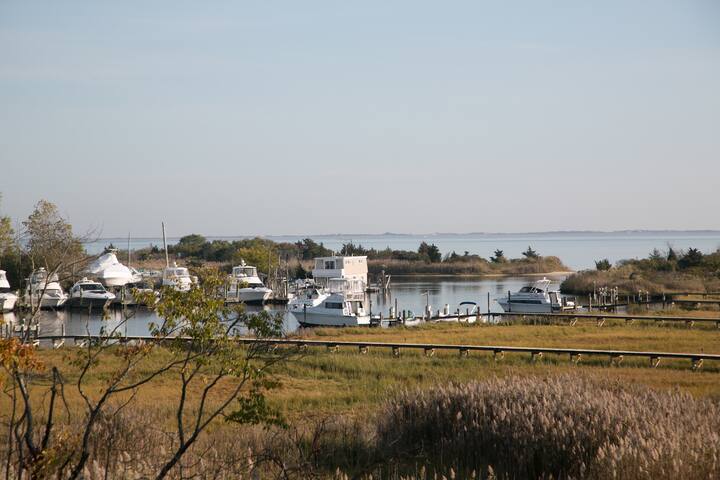 Other things to note Please park on the right side of the driveway, on an angle, making sure everyone can get in and out freely.
Room Type
Entire home/apt
---
Property Type
Apartment
---
Accommodates
2
---
Bedrooms
Smithtown, NY, United States
My place is good for business travelers.
Room Type
Private room
---
Property Type
Apartment
---
Accommodates
1
---
Bedrooms
Central Islip, NY, United States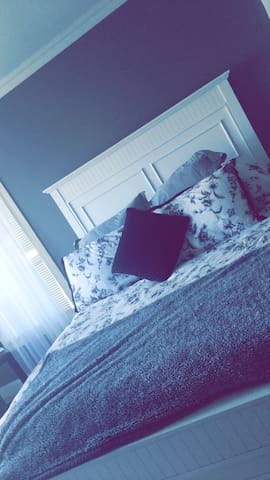 1

–

18

of

27 Apartment Rentals
Enter dates to see full pricing. Additional fees apply. Taxes may be added.