Étable transformée en gîte neuf tout équipé pour 4 personnes à 5 minutes de Vulcania. Frigo congel neuf et silencieux. Venez vous ressourcer au pays des eaux thermales des volcans et des lacs.
Étable transformée en gîte neuf tout équipé pour 4 personnes à 5 minutes de Vulcania, de la chaîne des Puys, à proximité des lacs et des nombreux châteaux, à une demi heure de Clermont Ferrand, ville étudiante animée avec un centre historique typique et sa cathédrale noire. Venez vous ressourcer au pays des eaux thermales des volcans et des lacs. Petit village en pleine nature à perte de vue. Commerces et auberges à proximité. Voiture indispensable. À une demi heure de la gare SNCF et de l'aéroport. La nature est omniprésente. Sur la route de CLERMONT-FERRAND à PONTGIBAUD tourner à droite quand vous êtes au niveau du restaurant "L'Ours des Roches", vous arrivez à une place avec une croix, c'est la maison en face du Charron. Je me tiens à votre disposition afin de vous renseigner sur les sites naturels à découvrir, les châteaux à visiter, les auberges à ne pas manquer. Un livret complet est laissé à votre disposition. Merci de confirmer votre réservation au plus tôt afin d'éviter les doublons. Votre réservation faite, merci de me contacter par téléphone afin de me confirmer votre heure d'arrivée car je ne vis pas sur place.
Petit village en pleine nature à perte de vue Commerces, auberges à proximité.
The accommodation was just what we wanted. The position was great for seeing the local sites. Felt very comfortable and relaxed. Myriam contactable if we needed her. We would be happy to return if we visit the area again and will be recommending to family and friends.
barbara
2016-06-24T00:00:00Z
Staying in this house was extraordinary and beautiful experience for us. Our host organized everything very well, she was very responsive and responsible. We arrived in small and quiet village, in very old (and nice) stone house. But we were pleasantly surprised with the inside, everything is freshly renovated and beautiful combination of rustic and modern. It was nice and clean, as we were the first guests ever. I have to say that the space looks even much better than on the photos! Everything that you need is provided. Nice bedroom with double bed, and one more sofa for sleeping, good-equipped kitchen, place for eating, and really wonderful garden! There is a lot of things to explore and to do around, and we really enjoyed our (too short) stay. We would like to come back.
Denis
2016-03-29T00:00:00Z
Super cool
Benoît
2016-06-01T00:00:00Z
We had a very nice stay in " la tanière de l'ours blanc". Nice house and nice environment. Very clean and comfortable , with everything you need. As it was Sunday, all Restaurants were closed, but we spend a cosy evening " at home" instead. We will certainly come bacj
ingrid
2015-05-19T00:00:00Z
Le gîte est très agréable, fonctionnel, propre et conforme aux photos. L'arrivée s'est faite facilement grâce aux indications de Myriam et l'emplacement est idéal pour visiter la région du Nord au Sud.
Tatiana
2015-08-01T00:00:00Z
Très beau logement. Charme de la campagne. Rien ne manque. Parfait. Et quel beau pays. Merci Myriam.
Bob
2016-12-16T00:00:00Z
À quelques minutes de vulcania, nous avons apprécié la fraîcheur des lieux. Le gîte est dans un excellent état et bien équipé. Nous y avons passé un bon séjour.
vincent
2015-07-16T00:00:00Z
Nous avons passé un agréable moment chez Myriam. L'appartement est agreable et il est parfait état.
Camille
2016-05-17T00:00:00Z
Room Type
Entire home/apt
---
Property Type
Apartment
---
Accommodates
4
---
Bedrooms
Saint-Ours, Auvergne, France
This recently refurbished apartment is part of an old farm. It is located at the foot of the Puy de Dôme, less than 10 km from Vulcania and the Lemptégy Volcano and its surrounding site. It is also close to Clermont Ferrand, Volvic, Bourboule, Mont d
This recently refurbished apartment is part of an old farm. You will find in this apartment a fully equipped kitchen (micro-wave, induction plates, fridge, dishwasher…), a big living room with a view to the village and the Puy de Dôme (including a flat-screen TV and a convertible sofa), bathroom, separate toilets, and finally, on the second floor, two double rooms. Although the hosts live in the same building, in the house next to the apartment, the apartment is independent, as both residences are separated by a stone wall and the apartment having a separate and independent entrance.
Auvergne is a lovely region in France, which is ideal for anyone wishing to spend dynamic holidays among majestic volcanoes and lovely lakes. Auvergne offers wonderful sceneries, where one can enjoy the calm of the nature and the invigorating climate. Multiple activities are also possible in the region. Located in one of the three villages of the commune of Mazayes, the apartment is positioned behind a stone fountain of Volvic from which you may help yourself with extremely pure and fresh water. The village itself is located 6km from Pontgibaud, a small town with shopping possibilities (including grocery shopping). Possible activities in the area include: walks in the forest or the countryside, hiking up the Puy de Dôme from the Ceyssat pass, fishing in the river or the lake. For enthusiasts, activities such as paragliding and parachuting are also available. For the friends of art, approximately thirty castles, but also typical and pretty villages, some of which hold the label Plus beaux villages de France (the Most beautiful villages of France) such as Montpeyroux or St-Saturnin. You may also go all the way to Thiers, the capital of knives, or of course spend a day in Clermont-Ferrand and the historical Gergovie.
I highly recommend this listing especially for families. The house is spacious and very clean. Everything seemed to be brand new. The house is on 3 floors (bedrooms upstairs on 3rd, kitchen, bathroom and living room downstairs on the 2nd floor). The neighborhood is very quiet and well located - it is very close to Vulcania. We slept like rocks, the beds were so very comfortable. The kitchen has everything you need to heat up dinners and do a bit of cooking. The fridge was stocked with a couple necessity items (orange juice, milk). Also, there is a grocery store open on Sunday mornings close to the house. Frank was very helpful and very kind. A lovely family for hosts.
Alexandra
2016-10-09T00:00:00Z
Agnes accommodation was beautiful. Everything was lovingly prepared. For example: The fridge was filled with different things. The surrounding area is perfect for hiking and cycling. Thank you for the nice days.
Björn
2016-03-24T00:00:00Z
The flat was beautiful, and the solid stone meant that it remained cool in the heat of summer. Frank was super helpful with advice as well as being friendly and welcoming. The house is situated in picture postcard countryside, we loved our stay. Merci beaucoup Agnes and Frank!!
Marcus
2016-06-24T00:00:00Z
My family had an excellent stay for our ski vacation at Agnes's house.The house is so clean and it is a very nice house in a small village at Petite Chambois.The sorrounding environment reminds me to the beautiful village life.Thank you Agnes of becoming a very welcoming and excellent host.We will surely come back if there's other opportunity to do so.
Sharizat
2017-02-14T00:00:00Z
Excellent apartment and location, Agnes and Franck were so lovely and welcoming. They had left some little extras like tea, cold drinks and honey for us to use and invited us for coffee. The apartment is part of a beautifully restored farmhouse in a quiet little village very close to the Puy de Dôme and Vulcania. Comfortable beds, well-equipped kitchen and modern bathroom, TV and Wi-Fi. We loved it. Wish to be back very soon.
Liisa
2016-04-02T00:00:00Z
Just perfect: the apartment is amazing, modern, clean and complete. The location is amazing, we will be coming back to have a better look at the area. Although we arrived quite late, Agnes was there for us to show us the place and assist with answering questions. Thanks Agnes and the family.
Vladimir
2015-12-26T00:00:00Z
We had a wonderful 4 night stay, the apartment is even better than in the photos Great rural location but still close to the main sights in the area. The apartment is also really clean and very spacious! Agnes and her husband went out their way to accommodate us - we would highly recommended this listing!
Daniel
2016-09-23T00:00:00Z
Great place to stay at! A whole duplex apartment with kitchen, 2 bedrooms, bathroom and separate toilet. Very nice environment and superb location. Too bad we were there for only one night and could not enjoy more of the nature! Agnes is very friendly and her husband showed us a nice place to eat. I really recommend this place and hope I can go back!
Charlotte
2015-07-17T00:00:00Z
Room Type
Entire home/apt
---
Property Type
Apartment
---
Accommodates
6
---
Bedrooms
Mazaye, Auvergne, France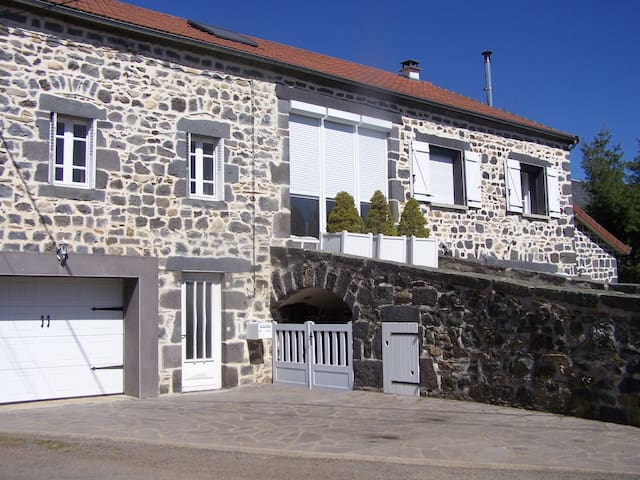 1

–

2

of

2 Apartment Rentals
Enter dates to see full pricing. Additional fees apply. Taxes may be added.