Our home is on the Crocodile River looking into the Kruger Park and 30 minutes drive from KMIA airport. We are within close distance to Kruger, the Escarpment, Barberton, Swaziland and Mozambique. You'll love our home because of the location, the light and the coziness. Our home is good for couples, solo adventurers, business travelers, and families (with kids 10 years and older). We speak English, Spanish, Latvian and Afrikaans. Our home is eco-friendly and runs on solar power.
Rooms with a view and game viewing/bird watching from your room and verandah and pool area. No access to kitchen facilities though occasional meals can be organised.
Our home overlooks the Crocodile River & Kruger National Park. Game viewing almost guaranteed.
Richard and Andrea are great hosts! We love the view from our bedroom and the place is so peace and quiet. Its really close to Kruger National Park and about 30min from Airport. They prepared the BBQ for dinner with generosity. We had a lot of fun. Breakfast is fantastic as well! The make us feel like at home. I definitively recommand their place for at least 2 nights !
Pauline
2016-12-02T00:00:00Z
What a place!!!!! Richard and Andra have been s(PHONE NUMBER HIDDEN) Nice. Their house has a breathtaking view onto the Kruger. Go! Go! Go!
isabelle
2017-01-27T00:00:00Z
This is one of the rare airbnb places where the property is unbelievable quality and views, and the hosts are opening their doors with the primary reason to meet new people and share stories whilst at the same time giving the space we need. Simply priceless! We enjoyed our meals at the outside table whilst admiring wild animals walking through the park. We made friends with their three friendly dogs and a cat. We really felt welcome and an instant friend. Thanks so much!!! Marta and Alex
Alex
2016-12-29T00:00:00Z
Room Type
Private room
---
Property Type
House
---
Accommodates
2
---
Bedrooms
Malelane, Mpumalanga, South Africa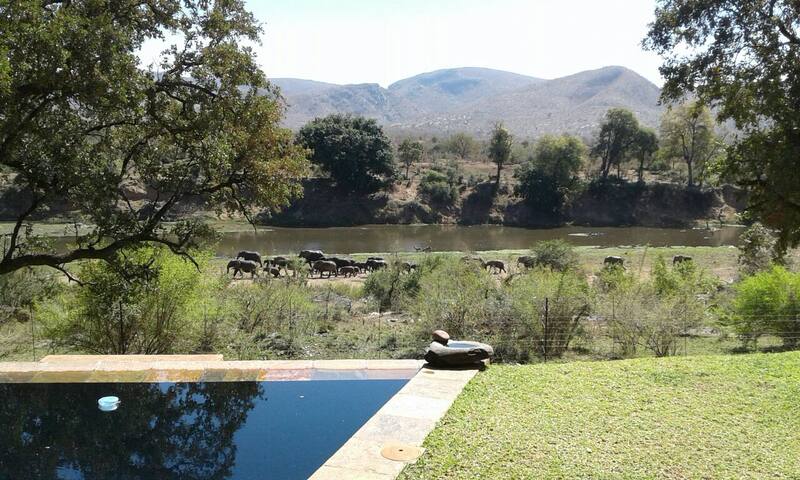 Hennie's Rest is situated on the banks of the Crocodile River overlooking the Kruger National Park a mere 5km from Malelane Gate, the famous Leopard Creek and Malelane Golf course. We are 50 km from Mozambique, 40km from Swaziland and 5 km from sport
Kruger National Park, Crocodile River and wildlife on you doorstep. Large house with lots of space.
This is a quiet neighborhood. Shopping Center only a kilometer away. Local Information: Things to do in and around Malelane/Hectorspruit/Komatipoort Safaris:Malelane Gate Kruger National Park or Sanparks website Bookings made at the gate for Morning/afternoon or evening. Private Safaris: Felicity - (EMAIL HIDDEN) Fishing:Taurus Tiger Fishing Charters - Henk (PHONE NUMBER HIDDEN) Adventure:Elephant Interaction at Kwa Madwala (PHONE NUMBER HIDDEN) Restaurants:Diner Nkwazi Centre (Spar Centre) (PHONE NUMBER HIDDEN) The Deck (close to us on riv(PHONE NUMBER HIDDEN) Hamiltons (Kruger Malelane Gate) (PHONE NUMBER HIDDEN) Red Falcon Spur Malelane (1 Buffel street) (PHONE NUMBER HIDDEN) Wimpy Malelane (Pick & Pay, CentreCorner Air & Kiepersol str) (PHONE NUMBER HIDDEN) Pesto Coffee Shop (Air street, opposite Spar Centre) (PHONE NUMBER HIDDEN) Pub & Restaurant:Duck & Dive Saloon (911 Air street, Sasol Garage, near Steers & Pick & Pay) (PHONE NUMBER HIDDEN) Spa treatments:Ilza de Villiers:(PHONE NUMBER HIDDEN) Yvonne de Bruyn:(PHONE NUMBER HIDDEN) Cornel van Wyk:(PHONE NUMBER HIDDEN) Doctors:Dr Wannenburg (PHONE NUMBER HIDDEN) Dr Nienab(PHONE NUMBER HIDDEN) Dentist:Dr Kusche (PHONE NUMBER HIDDEN) Dr Singh (PHONE NUMBER HIDDEN)
Hennie's Rest was truly a wonderful place. The photos do not do the house justice. The view is just spectacular, Its like having a game park in your back garden. The house overlooks the Crocodile river with a high deck giving you a wonderful view of all the game that might pass by. The house was very clean and well taken care of, with a kitchen full of all the essentials you might need for cooking. We were just there for one night but would love to return for a longer stay.
Paulo
2015-12-05T00:00:00Z
Beautiful place to stay. Great view over the river with lots of wildlife. Amazing to see over 30 elephants from the terrace! Cornelia was very nice and also the pets where a plessant company. Would recommend her place to everyone!!
Tim
2016-05-09T00:00:00Z
We discovered a fantastic place. Very clean and near the Malelane gate. Cornelia is a very nice host and she was always here to give us good tips and discovered the area. We definitively recommend it for other travels. Thanks you Cornelia !
Avi
2016-08-03T00:00:00Z
This place was very clean, air conditioning was much appreciated on hot days, so was the pool by our four boys, cornelia was available when and if needed. We had a great time here and saw elephants the first day!!!! We were able to see hippos in the water going in and out and the crocodiles. It was truly a great place to stay with a gorgeous view of the crocodile river!!!!
Lindsay
2017-03-30T00:00:00Z
Best accomodation for viewing study and discovet wildlife next door - really great place at crocodile river with view in krüger park - we saw elefants nearby - hippos and although a rinho and small crocodiles - this lodge is nearby the malelane gate, to discover krüger on your own - cornelia is a lovely person - so helpful and although full of humor - we all 4 persons enjoyed our time at this famous place - the place to be - save, quiet and clean
Jürgen
2017-01-25T00:00:00Z
Really well located house next to the river with fantastic visitors - elephants, rhinos, buffalos in the garden. Cornelia took care of us and we enjoyed our time there.
Anne
2015-05-06T00:00:00Z
We had a wonderful stay at Hennies rest. Cornelia is very nice and helpful. The house is a dream with beautiful views of the river and the Kruger Park. Highly recommended for all who have a little rest needed. We come back in any case! Thanks Cornelia xxx
Conny
2016-04-25T00:00:00Z
Absolutely amazing views of hippos, elephants, crocodiles and warthogs. Seen from the pool or the lovely deck. Well equipped kitchen and lovely space. We can't wait to come back!
amy
2017-03-09T00:00:00Z
Room Type
Entire home/apt
---
Property Type
House
---
Accommodates
7
---
Bedrooms
Malelane, Mpumalanga, South Africa
LeoLapa is perched on the scenic banks of one of the Kruger National Park's greatest rivers - the Crocodile River - and is surrounded by tens of thousands of hectares of raw African wilderness. This is a ten sleeper, five star house
Accurate listing, fantastic facilities. Highly recommended.
JASON
2016-02-23T00:00:00Z
Room Type
Entire home/apt
---
Property Type
House
---
Accommodates
10
---
Bedrooms
Malelane, Mpumalanga, South Africa
This is a fully serviced game lodge in the stunning Mjejane private game reserve. Mjejane is the only game reserve which has it's own private gate into the Kruger National Park.
This property has an absolutely beautiful "bush" view. Spend your afternoon outside on the deck soaking up the peace and quiet. If you want to, you can cook a "potejie" on an open fire. There is also an outdoor oven and braai available for those of you who like to cook outside. Inside, the kitchen is fully equipped with more than enough crockery, saucepans and cutlery for all of your guests. There is one master bedroom with en suite bathroom which has an indoor and outdoor shower. There is a twin bedroom and a separate bathroom and a lounge area with a sofa bed which comfortably sleeps two. There is a mezzanine floor with two more single beds and another television. There is plenty of space in the wardrobes for clothing and to accommodate luggage for those of you who are visiting Mjejane as part of a long trip away. The property is cleaned daily and there are always staff on hand to assist with any queries you may have.
Mjejane is the only private game reserve with its own gate to Kruger Park. It is in the lowest part of Kruger which has the highest density of game. Crocodile River lies between Kruger and Mjejane so you have a very high chance of seeing animals coming to drink from the river at sunset.
Room Type
Entire home/apt
---
Property Type
House
---
Accommodates
8
---
Bedrooms
Malelane, MP, South Africa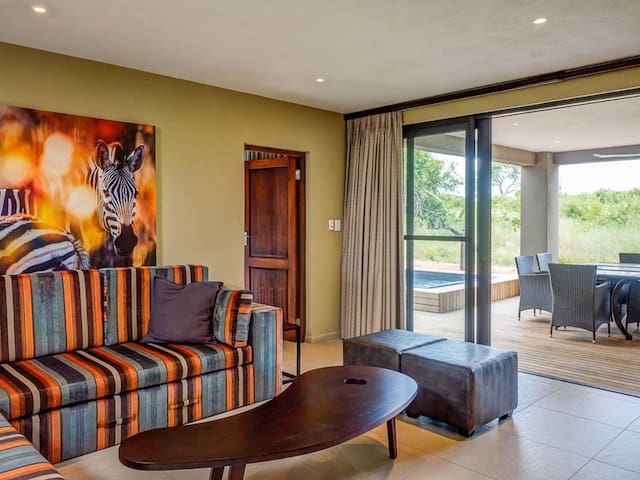 Nestled in the treetops of the African bush with magical views over Marloth Park and Kruger National Park and the distant mountain ranges, this lodge is certain to provide an unforgettable experience. See our reviews to see our guests' experiences. Let us look after your holiday with a manager on hand to help with everything whether any questions you may have or to book game drives. The house can be serviced daily or upon request.
Nestled in the treetops of the African bush with magical views over Marloth Park and Kruger National Park and the distant mountain ranges, this lodge is certain to provide an unforgettable experience. Majuli Tree Lodge is a brand new two-bedroom cottage on a raised platform incorporated around a living tree. Come eye to eye with a giraffe while sipping morning coffee or a well-deserved sundowner while experiencing the magic as the African sunsets directly in front of you. This cosy home in the bush contains two well-appointed bedrooms, a bathroom, a living area and a fully equipped kitchen. To make this lodge extra special, there is also an outdoor open and sheltered braai and eating area, so no need to leave the canopy. Positioned in the bush only minutes' walk away from the famous Crocodile River and Kruger National Park, you can while away the day listening to the grunting hippo and lamenting cry of the fish eagle which are recognized as the real sounds of Africa. Wildlife is never far away and in the garden expect visits from zebra, warthog, kudu and the resident duiker, and become friends with giraffe feeding off the tree. Then as night sets in, experience the thrill as the big boys take over and relax in bed listening to the roar of the lion and the whoop of the hyena. If wildlife is your thing, this lodge is without doubt the place to be.
Marloth Park, in which Majuli Lodges are located, is a unique wildlife conservancy and is fast becoming one of South Africa best tourist destinations. It's 1500 hectares of natural bush land, and abundant wild game. It borders Kruger park. Many wildlife species will visit you right at the house, including several gazelle species, zebras, giraffes and wildebeest. Although well equipped you will feel a unique African bush experience.
Staying in the Majuli Tree House was a wonderful experience! We really liked the outside deck and had dinner there every night. Also, it's not far from the Kruger, about a 15 - 20 minute ride. The only thing I would consider is the fact that the house is made out of wood and therefore quite noisy. We were staying with a family of 4, and whenever someone walked around, the others would hear/wake up.
Malou
2016-07-30T00:00:00Z
Note bas
Yossef
2016-05-05T00:00:00Z
Lovely three house in the bush. Safe game running around in the streets and only 30min from Crocodile bridge entrance. Remember this is a three house so you're one with nature. People who are scared from little armless visitors should look further. But for us this is a perfect budget friendly way to explore Kruger on your own. Would definitely book again in the future !
Nico
2017-02-24T00:00:00Z
We had a great stay in the treehouse. The house is rustic but has everything we needed. We enjoyed staying there and especially liked the tree terrasse with braai and the great view. Mariza helped us fine with the check in. Only problem we had were the roads to get to the house. The canyons there caused us a flat tyre... oh and hot water was an issue. The distance to the Crocodile Bridge gate to Krüger is short and easy to do. We saw all Big 5 within ½ a day at Crocodile Bridge.
Nicole
2017-01-30T00:00:00Z
Stayed 2 nights with 2 toddlers, view is magnificent and pool a treat. Place was clean with all basic things needed. Hot water seems to be inconsistent when showering and extra aircon in 2nd room would help. Would definitely stay there again.
Stefan
2017-03-08T00:00:00Z
We had a lovely time at the treehouse. It has a great view with lots of animals in the park. It is about 25 min from crocodile gate to Kruger. It was clean and more than we expected. Derrick and his onsite managers were very attentive and prompt to respond to all our question and needs.
Joanna
2017-03-03T00:00:00Z
Very nice house, giraffe in the garden and a beautiful view!
Severin
2015-08-28T00:00:00Z
Only stayed one night to break up the jouney home from Mozambique, but well worth stopping over at a beautiful place
Granville
2017-01-08T00:00:00Z
Room Type
Entire home/apt
---
Property Type
House
---
Accommodates
4
---
Bedrooms
Marloth Park, Mpumalanga, South Africa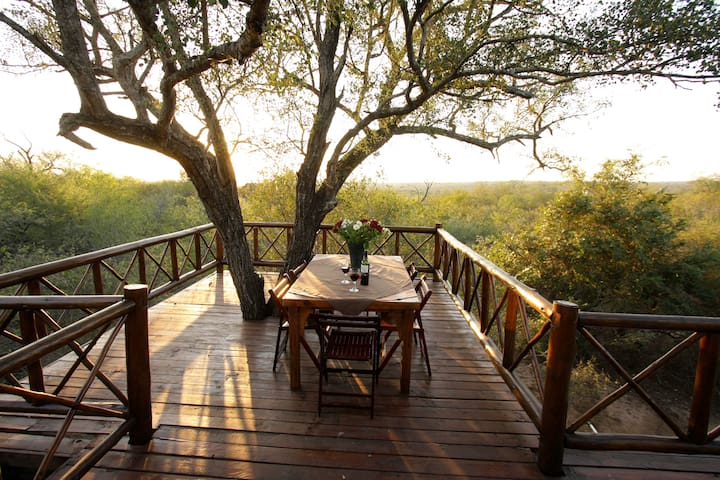 Elephant River Lodge is bathed in natural light. Our home boasts 270 degree views of the Crocodile River as is located at the southern border of the Kruger National Park. Marloth Park boasts 4 of the 'Big 5'. Elephant River Lodge is a family-friendly location with a relaxed setting and all the wildlife you could hope to see. The house is relaxing, clean and in one of the best locations overlooking the Crocodile River.
Welcome to Elephant River Lodge! We love staying here and are so excited to share our home with you and your guests. As you enjoy 270 degree views across the neighbourhood from our two large entertaining decks, kick back with a glass of wine and a book, fire up the BBQ for family & friends or succumb to the sound of the wildlife in the river below & the trees that surround. Our bush escape is the perfect getaway, no matter your mood. Perfect for the family holiday or a weekend away with friends, our split-level home means there is plenty of room for guests of all ages. Enjoy the quiet of the jungle, the visiting wildlife or a walk along the river path running along the front of our property. Professionally cleaned and laundered after each visit. Upstairs our house accommodates x1 Queen bedroom, x2 singles (can be made into a King) bedroom and x1 single bedroom. There is also a bathroom with bath. Downstairs you will find a fully-equipped kitchen, lounge (including day bed), formal dining room, bathroom with shower and laundry facilities. Both upstairs and downstairs offer access to balconies overlooking the Crocodile River. Well-renowned as one of the best locations in Marloth Park, Elephant River Lodge is ideal for nature enthusiasts as well as those who wish to get away from the business of life. Buffalo, Rhino and Lion are restricted to "Lions Spruit" allowing you freely walk the park and stop and view all our other much-loved animals. Often, Zebra, Warthogs and Impala stop to visit. For the bird enthusiasts, Marloth Park is a bird paradise. As we are part of Marloth Park you will have full access to Henk Van Rooyen Park Recreation area, with tennis courts, volleyball courts and swimming pool. Marloth Park provides access to many of its activities and facilities. Besides enjoying Henk Van Rooyen Park Recreation area, there are two restaurants worth visiting: Marloth Park Amazing River View Restaurant has lovely views of the river while Jabula Restaurant is a lovely stop for lunch or a drink. Whilst we provide linen, we ask you to indicate how many beds need to be made up and in what configuration. Our aim is to make your retreat as comfortable and relaxing as possible. Parties are strictly prohibited and our home is monitored, so please don't take the risk. Key access is via our neighbours, so please make sure to inform us if you are accessing the property after-hours so we can arrange access. Whilst we're not on site, you can also feel free to email us at any time should you have any questions. We look forward to hosting your wildlife retreat.
Outside Marloth Park there are many activities and attractions to visit. For those who enjoy a game of golf, Skukuza Golf Club provides nine holes and the Komatipoort golf course as well as the Malelane golf course are not to be missed. Kruger Pride Safaris do open cabin rides and animal tracking tours. For the more adventurous, Kwa Madwala Private Game Reserve offers Microlight Safari. Good restaurants with views around the area are The Decking Restaurant Malelane and Hamiltons. Komatipoort Golf Club has a great balcony where you can enjoy afternoon drinks.
Room Type
Entire home/apt
---
Property Type
House
---
Accommodates
5
---
Bedrooms
Marloth Park, Mpumalanga, South Africa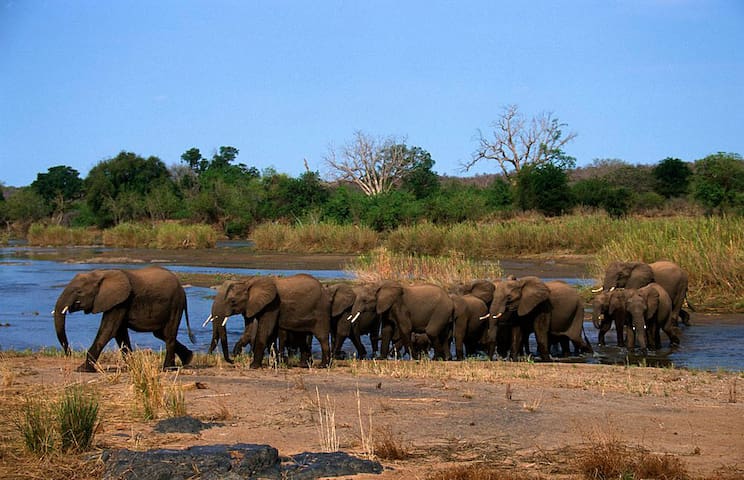 Encapsulated within the Kruger National Park. You can view the big 5 right on your doorstep. Situated on the banks of the Crocodile River, Mjejane Game Reserve is South Africa's premier reserve.
Big open spaces and views of the African bush right on your door step. Replace the zest in your life while viewing the BIG 5 moving freely through the 4000 hectare Mjejane Reserve, incorporated into the Kruger National Park. Attend the open-air school of life, relaxing amidst the sights and sounds of nature, experiencing the age old traditions of the Kruger National Park with a few necessary modern day life's luxuries. Take Game drives, and live life at your own pace. visit our web site (URL HIDDEN)
This is the ultimate African Experience, it's a place where dreams can be enjoyed and come true. The lodge is located within the Greater Kruger national park, but you can quite easily see the big 5 within the 4000 hectares its on
I had a wonderful time at RoosterFoot Bush Lodge. It was a great lodge and well equipped. I would highly recommend it. It's fantastic that its right on the reserve and also very close the Kruger National Park.
Tamee
2016-11-07T00:00:00Z
The host canceled this reservation 349 days before arrival. This is an automated posting.
Sabine
2017-01-17T00:00:00Z
The pictures do not do this place justice - marvelous lodge, excellent hosts. Air conditioning in all the rooms, concrete floors throughout. Main communal area has 2 rooms on each side of it, with the 5th room in a self contained unit. It's a good ~25 mins from the main gate on the N4 to the lodge itself. The Sunset Deck is a must do!
Stefanie
2016-12-22T00:00:00Z
Thank you Mark for a great weekend, although the weather was rainy it was fantastic
Lezaan
2017-02-19T00:00:00Z
we had a fantastic stay at RoostersFoot, enjoyed the luxury , the surroundings and the Mjejane greater Game reserve. Will without a doubt visit them again in future.
Jacques
2016-06-20T00:00:00Z
Room Type
Entire home/apt
---
Property Type
House
---
Accommodates
10
---
Bedrooms
Kruger Park, Mpumalanga, South Africa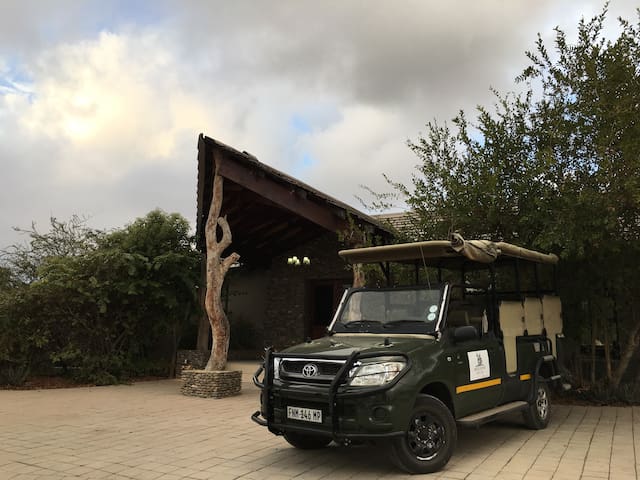 Kierieklapper is situated 25 km,s from either Crocodile bridge or Malelane gate of the Kruger National Park. The fences is off between us and the park which makes us part of the National Park We have had great sightings from our stoop. We have 5 en suite bedrooms with aircons and a pool in a self catering lodge that gets serviced daily except on a Sunday. If you are looking to relax in nature with the big 5 on your doorstep you have found the right place. Game drives can be booked.
Magnificent Private Lodge. This spacious luxury 5 roomed lodge has it all. Each room is tastefully decorated and each had an indoor as well as outside shower. Two rooms had free standing baths. Modern screen sliding doors so that you can feel the fresh air at night. We were visited by a large Kudu right outside our patio one night. There is a view of the river a short distance to the right and hippo were visible on the banks. A beautifully appointed living/kitchen area with a walk in pantry that had a huge double door industrial fridge with sliding glass doors. Plus a very useful mini industrial ice maker. The house is serviced daily. There is a clubhouse and restaurant in the private park. We never made use of it but visited for a cocktail. The Kruger Crocodile gate is a 25 minute drive from the lodge. Would definately visit again.
Andrew
2016-09-19T00:00:00Z
Lovely place in a beautiful nature reserve. Large and spacious - brilliant floor plan with 5 ensuite bedrooms. Hartman is a great host who even advised us on a car repair shop - game viewing guides - and restaurants. Don't miss this one!
Mindy
2017-02-09T00:00:00Z
A perfect spot in the bush. A modern home with all the amenities you require. Luxurious rooms with on suite bathrooms and an outdoor shower. We had a wonderful time. Thank you to our attentitive host Hartman.
Tracey
2016-09-14T00:00:00Z
The most amazing holiday! We have had a wonderful stay at Kierieklapper. We were really lucky to see both a Kudu and two warthogs right outside the house on our first day there. The recommendations from Hartman were great and helped make our stay even better.
Britt
2017-02-15T00:00:00Z
The host canceled this reservation 350 days before arrival. This is an automated posting.
Sabine
2017-01-16T00:00:00Z
Our stay at kierieklapper was all we hoped for and more! The pictures were very accurate, the place was secure, and Phumlani helped us to feel welcome and know everything we needed. Our only regret was not having a long enough stay. We hope to return!
Amy
2016-10-03T00:00:00Z
We thoroughly enjoyed our time at Hartman's place. So much so that we didn't want to leave on Wednesday morning. The house was clean, modern and well appointed. The pool was fantastic and all of the rooms were comfortable with plenty of space. The bathrooms were amazing with indoor and outdoor showers. Some with bathtubs. Note: the mattresses are firm. It does take 45 - 60 minutes to drive to Kruger. Mjejane was a great place though. We booked a game drive through the Lodge and had a wonderful time. We also saw a lioness and her cubs on the main road into the Reserve. All-in-all, we had a great time at Hartman's and hope to return sometime soon.
Jeff
2017-03-24T00:00:00Z
This is a true gem. The lodge is fantastic. Hartman is a fantastic host - he is so passionate about this beautiful property. Once you have been there you will understand why. Perfect lodge for a family get together. Even though it accommodates 10 guests there are lots of areas where you can just chill and enjoy some quiet time and enjoy the wildlife. Everything is of a high standard i.e. Kitchen appliances, linen, cutlery, crockery, pool loungers etc. Real value for money!
Kirsten
2017-01-04T00:00:00Z
Room Type
Entire home/apt
---
Property Type
House
---
Accommodates
10
---
Bedrooms
Kruger Park, Mpumalanga, South Africa
We built this place for our own weekend getaways which you can see from the eclectic nature of the design and decorations. It is colorful and full of life right in the middle of the bush with regular visits by kudu, zebra, wildebeests and more plus countless birds. The bedrooms have air conditioning and on the back deck we have a splash pool for cooling off in the summer. The house is very private and very comfortable.
Two bedrooms and a sleeper couch in the living room upstairs provide sleeping for up to 6 while a loft bed can be used for a 7th guest. We have 2 bathrooms, one with a tub and one with a shower, plus an outdoor shower. The kitchen is equipped with all you will need to prepare your meals, though the antique stove does not have an oven. All bedding and towels are provided for your use during your stay.
Marloth Park is a wildlife conservatory with freely roaming animals and low density housing which gives you a unique opportunity to see animals in a nearly natural environment. There are a few shops and restaurants in the Park that provide for basic needs with a bigger selection in nearby Komatipoort and Malelane. Crocodile Bridge entrance to Kruger Park is a mere 15 minute drive away.
Room Type
Entire home/apt
---
Property Type
House
---
Accommodates
7
---
Bedrooms
Marloth Park, Mpumalanga, South Africa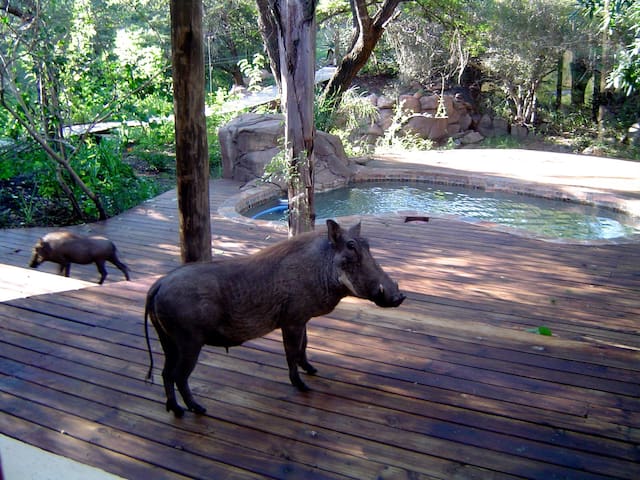 A true bush veldt experience, and so very close to nature. Something for every nature lover. From the animals visiting you whilst having your braai, or morning coffee, the song and view of spectacular birdlife spoiling you under the African skies to the beautiful stars in unspoilt nature at night. Drive, or walk to the river to view the big 5, or simply have a sun downer next to the crocodile river drinking in the peaceful setting only to be found at Marloth Conservatory.
Tucked away in a pan handle and bordering parkland on all sides, lies a well kept secret for your ultimate bush experience in the luxury you deserve. Zinkwazibush in Marloth Park is situated on the Southern part of the Kruger National Park, and is nestled in a wildlife sanctuary. The Crocodile River serves as a border between Marloth Park and the Kruger National Park. Zinkwaziabush sleeps 8. This self catering house has a jacuzzi, 3 bedrooms, each with an en-suite bathroom, loft room with TV, sleeper couches, pizza oven and much more. For exclusive use only, its ideal for families or a group of friends wanting to relax. This is as close to nature as you can get.
With a large part of Marloth Park bordering the Kruger national park. Guests are able to hike next to the fence and view all the animals without having to go on a day trip into the Kruger National park. Nothing does however beat the experience of a Kruger visit. We can arrange game drives into the Kruger National park for our guests. With the entrance to the Kruger National park a mere 15km, it is truly an experience not to be missed.
Zinkwazibush was fantastic! Rita went the extra mile and made us feel welcome in her lovely home. Zinkwazibush was very well equipped in a lovely bush setting. Throughly enjoyed our stay and would recommend family and friends to stay here.
Paulo
2016-04-02T00:00:00Z
Zinkwazibush is an amazingly well planned and kept properties. The house was provided with even the smallest kitchen gadget which may be required by a guest! Rita definetly has an eye for detail. Our stay at Zinkwazibush has been the most memorable one. Will defintely recommend zinkwazibush
Mitika
2016-08-19T00:00:00Z
A wonderful place to stay. The wildlife is all around you daily and the house is a first class place to stay. Kruger is right on the doorstep via Crocodile Bridge but some of its wildlife can be viewed in Marloth Park from the viewing areas alongside the Crocodile River. Will definitely be coming back! Thanks Rita.
Mick
2016-05-31T00:00:00Z
What an awesome awesome place. Thank you so much for your hospitality. We really felt at home in your place. The kids had such great experiences. The wildebeest jumped into the garden! Thank you again.
Audrey
2016-08-26T00:00:00Z
The place was beautiful and had all you need to relax and enjoy your time there. The patio on the pack was perfect for relaxing and enjoying wine. The animal visitors were great. The close proximity to Kruger was great.
Paul
2016-07-21T00:00:00Z
I actually don't know where to begin. Rita and Zinkwazi bush lodge was an experience literally impossible to put into words. From the moment we arrived to the beautiful little lodge we were so overwhelmed by the warm welcome and attention to every tiny detail. The home is equipped with absolutely everything to ensure a perfect holiday. The furnishings and decor so artistic and blended perfectly with the natural surroundings. We arrived in the late afternoon and immediately put out food for the animals. We sat on the deck to catch the quiet atmosphere of the bush and in no time we had visitors of all shapes and sizes keeping us entertained till the late hours. Kudu, wildebeest, zebra, warthog, small deer, bush baby's ... Next day we spent in the Kruger which is a short drive away. Cooking in the well equipped kitchen was really a pleasure and we enjoyed eating on the deck surrounded by the nature. Initially I was a bit nervous about security at marloth park, but Rita and the securicon guys put my mind at ease. We accidently set off the alarm one morning and the securicon guys arrived to check up on us. All in all a very highly recommended Airbnb . We are certainly going to be returning to this little gem in the bush. Thank you so much Rita for an unforgettable experience.
Jo-Anne
2016-09-15T00:00:00Z
What a wonderful home to have been able to spend time in. We wanted for nothing, everything was provided and Rita responded to our questions immediately. Best of all was her house manual with lists of what was provided and what we had to bring. In a Place where shops are not within easy reach this was fantastic to have. Thank you so much for a wonderful stay.
Ingrid
2016-11-30T00:00:00Z
We had a wonderful stay at Zinkwazibush. Rita was an amazing host, and the house was beyond anything we could have hoped for. We will definitely be coming back!
Alice
2016-10-27T00:00:00Z
Room Type
Entire home/apt
---
Property Type
House
---
Accommodates
8
---
Bedrooms
Marloth Park, Mpumalanga, South Africa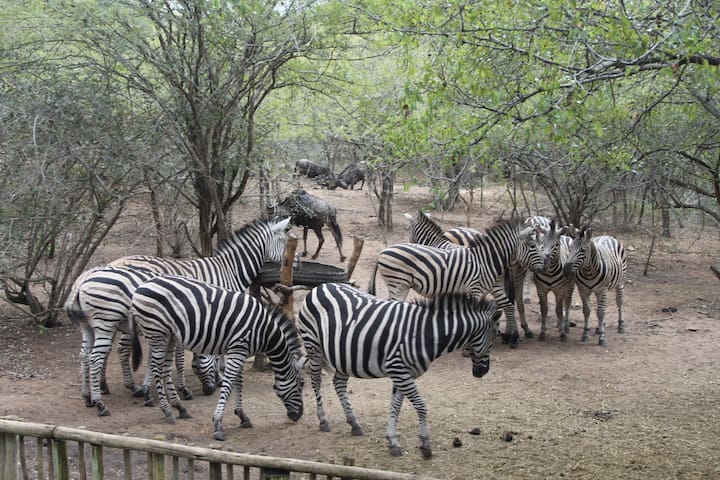 Located in a unique private game reserve bordering the famous Kruger Park, "Les 3 Marulas" is a beautiful manor safari-style fully equipped for 10 guests (4 en-suite bedrooms, air con, splash-pool, BBQ). Giraffe, kudu… roam freely and visit you. Note : no predator animals in Marloth, of course. Those to be seen in the neighbour Kruger Park (see "The neighborhood").
The house is a safari style manor, with a magnificent thatch roof, and can accommodate 10 guests in 4 en-suite bedrooms each individually air-conditioned and 1 safari-room (even on the main balcony or on a mezzanine inside the house). Outside "Les Trois Marulas" has a splash pool to relax in during the hot summer months. You will enjoy the nice and large "lappa" (BBQ place - see pictures). All beddings and towels are provided; the house is fully and luxuriously equipped.
Marloth Park is a unique concept: a town inside a game reserve! There are no fences in Marloth Park allowing wild animals such as kudu, wildebeest, impala, waterbuck, zebra, giraffe and many more (inoffensive of course!) to roam about freely. Writing these words in my bed, I can see 2 wildebeests, 1 warthog and a group of mongooses through my bedroom window… All commodities are available in the Marloth Park trading centre (2 km from the house): grocery, butchery, restaurants, filling-station, ATM, hardware, car renting, car washing… There also are a large swimming-pool and a tennis court in the Municipality, and it is possible to play golf in both cities next to the Park (25 km). Many activities are possible: breakfast with champagne in the Lionspruit, day trip to the Mozambique and the Swaziland, to the famous Blyde River Canyon, horse riding, elephant back safari… You will easily understand why we fell in love with this place! Visiting the Kruger Park is of course the main activity out of Marloth Park. The Crocodile Bridge Gate entrance is our favourite, and closer to the house (20 minutes' drive). You will choose going by your own (very easy, even with a normal car), or with a Guide and his special open car. Don't forget that Marloth is bordering Crocodile River, which forms the southern boundary of the Kruger Park. OUR BEST, DON'T MISS IT: have a nice walk or drive along Croc River fence (200 m from the house). By the end of the day, you will watch animals in the Kruger (the big five can be seen, on lucky times) and in Marloth all along the way. Take your camera…
We absolutely enjoy the house in Marlhot, very spacious and clean. The location was really good, few kilometer from Kruger Park. Philippe was very helpful and describe every facilities nearby very well. I do recommend this house for peaceful vacation with families.
Jolianne
2015-11-28T00:00:00Z
Loved the stay. Philip is most helpful, Joanne is awesome and the house beautiful. Would rent it again.
florence
2016-09-26T00:00:00Z
All I can say is.... WOW! We had a wonderful (EMAIL HIDDEN)munication with Phillippe, our host, was spot on right from the start. Phillippe is very helpful and the booklet he provides when renting the house is great. It explains everything you need to know about the house and the surrounding areas. There are day trip suggestions too. The house is beautiful, spacious and full of character. Everything was spotlessly clean and we had a wonderful stay. Everything was as described by Phillippe even down to the animals visiting. The house is situated (from what we discovered) on a greenbelt where the animals (zebras, giraffes, warthogs, kudus etc) walked through. We had daily animal visits. The "lapa" or bbq area was fantastic and we loved using the splashpool. It is great to sit outside and take in the sounds and smells of the bush. Staying at Les 3 Marulas is something not to be missed. Thank you Phillippe.
Debbie
2017-01-09T00:00:00Z
Our stay at Marloth park was fantastic! The house is gorgeous and so cosy and homely. The pics don't do the place justice. The animals are such a treat! They come right to the porch to feed and they are hugely entertaining. The apartment has everything you need for a great holiday and it's really easy to get in to Kruger. You can either self drive or get picked up by one of the local guides who will take you on a full day safari. We saw 4 out of the 5 but so much more than we imagined. I wouldn't hesitate to stay here again. Joan who welcomes you is a total sweetheart, she has so much knowledge of the park, do ask her!
Conrad
2015-11-14T00:00:00Z
Room Type
Entire home/apt
---
Property Type
House
---
Accommodates
10
---
Bedrooms
Marloth Park, Mpumalanga, South Africa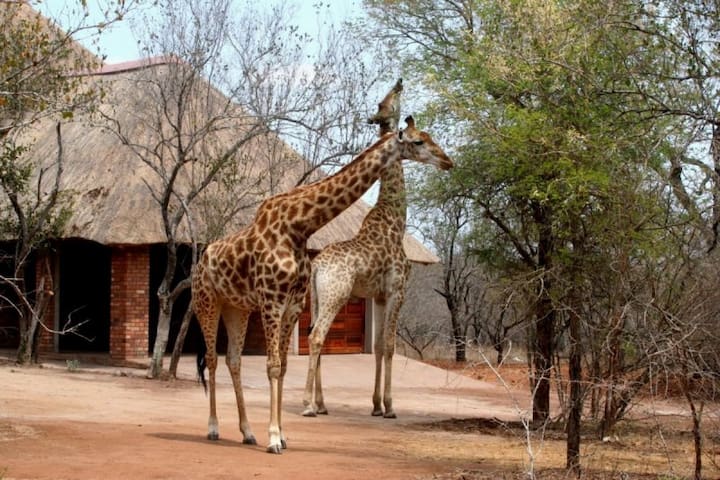 Noro Wa Hina offers the possibility of a wonderful stay in the bush, where you can enjoy nature, tranquility and wildlife of the area. fully equipped, pool, BBQ and stunning views over the Kruger National Park.
Time: 14:00 Out: 10:00
We had the most amazing time during our stay. The property is located in Marloth park and is ideal for coming and going to Kruger national park. The safari team that the caretaker will help facilitate for you will pick you up right at your front door. The house was perfect for the 5 of us. Each bedroom has an an ensuite bathroom mosquito netting and air conditioning. We used the outdoor traditional BBQ on at least two occasion and made good use of the pool as well. We had our own mini safari with baboons, ostriches, kudu, and warthogs, monkeys in the back yard and just a block away were some beautiful giraffes. Hillary was a great host she was easy to communicate with and had an on the ground caretaker who looked after any of our logistical needs. Overall you can't get a better deal for your money, book now and you will not regret it.
Eric
2017-01-04T00:00:00Z
Dear Hillary Thank you for an absolutely phenomenal time at your place. You were so helpful with giving us all the info we needed before our arrival. The house was clean and well stocked. Sitting on the top patio and just hearing the animal sounds nearby and in the distance was one of the most relaxing experiences. We will be sure to visit again!!!!! Thank you.
Batami
2016-06-21T00:00:00Z
Hillary' s house is a very spécial place, à wonderful view over the bush, quiet and peaceful. we really appreciate the atmosphere of the place, perfect for relaxing And discovering Kruger's park. Hillary was very helpful.
Alain
2017-02-09T00:00:00Z
My wife and I were looking for a private house near Kruger to relax in. Somewhere very quiet and secluded. With a pool. This house was great on everything we were wanting. And just a 20 minute drive from Kruger Crocodile Gate. Everything as advertised, pool was amazing. Will be back and bring some friends next time.
Ken
2017-01-12T00:00:00Z
Very spacey house in a good place in Marloth Park. We were 4 persons in the house and had all the space we could dream about. We drove from Johannesburg airport to Marloth Park, it takes about 4,5 hours. The roads are very good and it is a safe drive. Remember some case for the road toll Make sure to book a safari with Laurika. We had a guide, Donald, there picked us up at 5 in the morning and dropped us off aging at 7 in the night at the house. It was a very good safari he knows a lot about Kruger Park and the animals. We very lucky to see big 5 in that day. There are some restaurants in Marloth Park. One night we had Laurika arrange a dinner at one of the lodges, just next to the river – a very good dinner at a very good price. Make sure to do that one or two nights- must be booked in advanced. Would love to get back at some point and will for sure book this house.
Tue
2017-02-04T00:00:00Z
Noro Wa Hina house was an unbelievable experience for the entire family. We were six people ranging in age from 80 to 6 and everyone loved it. The views are incredible, and the house is very comfortable to just sit an relax in. We also like to cook and the house had everything we could wish for to cook inside or outside on the amazing boma. Hillary was extremely responsive and very helpful during my "research" stage, and the house manager was excellent in getting us answers once we were on location. We had many animal visitors during the day and the kids loved that. Thank you for making unforgettable memories for my family!
Hilit
2016-08-19T00:00:00Z
We were met at the house by the hostess and shown around. The neighborhood was quiet, much better location that the last house we stayed at in Marloth.
James
2016-07-13T00:00:00Z
We have just returned from a fabulous stay at Noro Wa Hina. The house is situated only a short drive from the gates of the Kruger National Park and the animal life is fantastic! Beautifully decorated rooms with a well equipped kitchen and the most amazing deck which we enjoyed meals and the sunset on! Thank you for a memorable stay in the bush, I hope we return one day!
Susie
2017-03-24T00:00:00Z
Room Type
Entire home/apt
---
Property Type
House
---
Accommodates
6
---
Bedrooms
Marloth Park, Mpumalanga, South Africa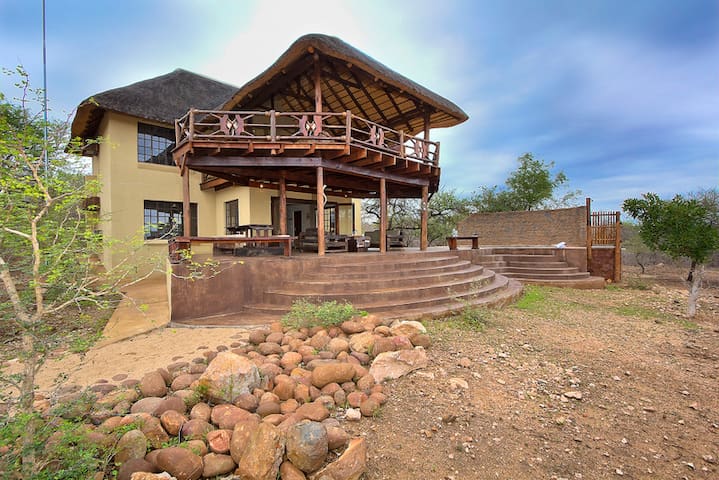 Set in the heart of the bushveld, Bushbaby Eden is available for your exclusive use at the most affordable rates. The ideal self catering accommodation Wake up to the calls of fish eagles and know that you have arrived in the heart of the bushveld.
Room Type
Entire home/apt
---
Property Type
House
---
Accommodates
6
---
Bedrooms
Marloth Park, Mpumalanga, South Africa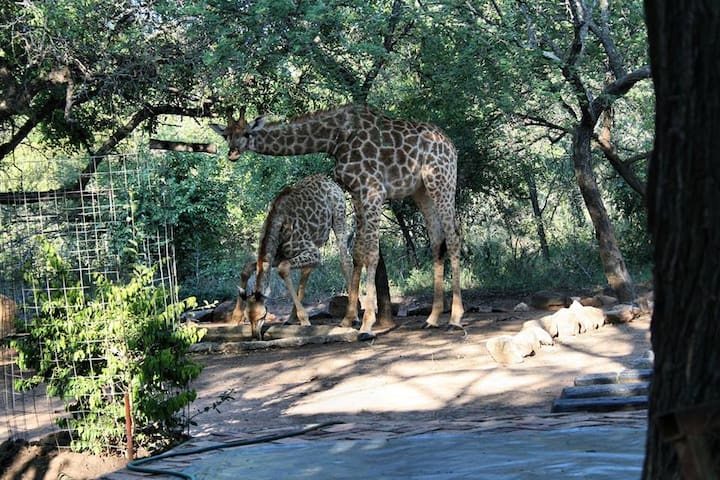 Mhofu stands on a plot of total 2000 m². The house is available for 4 people. The house has 2 separate bedroom with entrance, closet and shower room with toilet on the ground floor. Our detached, built in South African style and furnished house with a thatched grass roof. There is a nice living room with open kitchen, a loft that leads to the lovely covered balcony. Outside there is a covered porch, a splash pool and a large indigenous garden where wild animals graze. A boma with a braai (bbq).
Through the sliding doors (with insect screen) you enter in our bright living room / living room with a dining area, a sofa with two armchairs and a coffee table (surface 31 m²). CD / radio with CD player stands on a shelf. Art of Africans is an important part of the house. All windows have mosquito nets. The ground floor has both ceiling fans and air conditioning. the garden is visible from any place. The open kitchen is equipped with a natural stone countertop with water (purification) -kraan, an electric heater, a gas cooker (including an oven), a hood and combi fridge-freezer. There is a built-in store cupboard. The two private bedrooms with bathroom, shower room with toilet and sink.
Mhofu is an exceptionally beautiful place in the naturereserve Marloth Park at only 200mt from the Crocodile River in South Africa. And can you spot the Big 5 within 20 minutes in the world famous Kruger National Park through the gate Crocodil Bridge.
The host did their best to meet us and provide us with al lthe information required for our stay. The unit has all the equipment for a great Kruger holiday. Compact and functional.
Glenn
2016-03-31T00:00:00Z
Room Type
Entire home/apt
---
Property Type
House
---
Accommodates
4
---
Bedrooms
Marloth Park, Mpumalanga, South Africa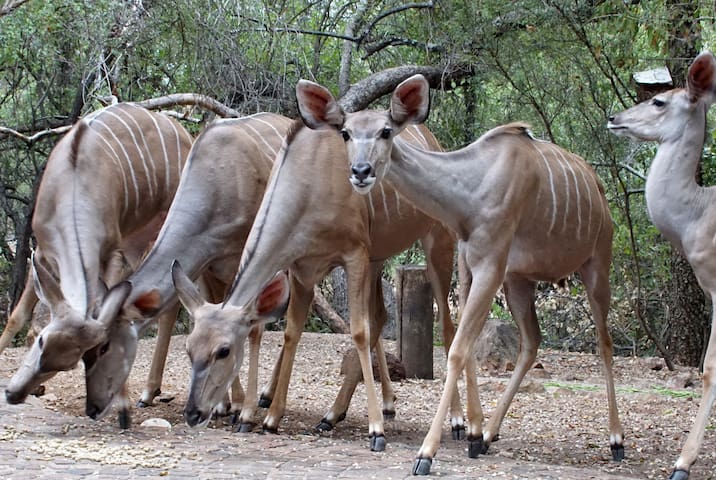 Our private, thatched game viewing tower , with roof mounted fans ,has a spectacular view over the Crocodile River and animals coming from Kruger National Park to drink can be watched in comfort all day long. The house is fully fitted with aircon
Private Planschbecken für die Gäste zur Verfügung , Das Haus ist klimatisiert und voll ausgestattet . Voll ausgestattete Küche und alle Betten zur Verfügung gestellt.
Dies ist der ultimative Ort für Naturliebhaber, können nur wenige Orte mit uns vor Ort konkurrieren
Check in was very efficient through the security company on site. The house was comfortable and had all that we needed. The viewing deck is lovely and very tranquil for sun downers overlooking the park. Also loved watching the bush babies and the fruit bats flying in in the evening. The braai area also met with approval from our braai master! We did have to ask where the washing machine was (it is listed as available) and found it in a locked outside room.
Catherine
2015-06-30T00:00:00Z
we have spend a real good time in this lovely house, well furnished and decorated. The point of view over the river of the Kruger park, it's perfect to watch the animal. We especially like all the small house install for the bush baby around the house, it give the chance to see those small animal, which is really difficult in the wild. The garden is perfectly organised with the deck terrace, the brai side and the swimming pool.
Suzanne
2015-03-14T00:00:00Z
Absolutely stunning - the lodge was comfortable and the setting was peaceful. We loved having our morning coffee and evening cocktails in the lookout watching the birds and animals along Crocodile River. Inge went out of her way to ensure we had everything we needed :) The only upsetting thing was having to leave!!
Erin
2016-06-19T00:00:00Z
Great place, great view, inga is a very sweet person who will do her best to make you stay memorable.
Nanda
2016-10-23T00:00:00Z
We enjoyed wonderful days in Marloth Park. The house was really perfect for our safari vacation. It is beautifully decorated with a personal touch, very large and homey. We immediately felt at home. The accommodation is very clean, there is everything you need. The viewing deck is also great and special, we saw some animals such as elephants, buffalos, impalas. In short, our trip was great, we would definitely come back.
Ernst E.
2015-12-31T00:00:00Z
Nice big house with really excellent views over river. Highly recommend as a relaxing and scenic spot. Good for families and groups. Note that to get into Kruger NP is a 45 min drive.
Marisa
2017-01-30T00:00:00Z
If you are looking for a real African bush experience, then look no further than bona ngwenya . Everything has been geared to providing a haven for the local bird life , bush babies and resident animals.the view into the Kruger park and crocodile river is the best in Marloth park in our opinion. We cannot recommend it highly enough and hope to be back. Thank you jack for a memorable experience
Geoff
2015-10-28T00:00:00Z
This is a really incredible place. This is the second time we have stayed and we had an incredible time. Inge and Dennis are wonderful hosts who went out of their way to make us feel at home. Highly highly recommended.
Ryan
2017-04-07T00:00:00Z
Room Type
Entire home/apt
---
Property Type
House
---
Accommodates
6
---
Bedrooms
Marloth Park, Mpumalanga, South Africa
- A "Oh-wow" factor on arrival. - Eco-friendly home. - We go out of our way to assist where possible. - A lot of extras are available - just ask. - Tours, outings and walks available on request. - A nature-lover's paradise. - Birds galore. - Chill-out factor.
Spacious family home with private wing for guests upstairs. Beautiful verandah witn view to the Crocodile River and Kruger National Park. Nice pool area with sitting chairs or loungers. Personalised game drives, tours and evenings meals on request at additional cost.
It's generally peaceful and quiet except for animal and bird noises. The river often is the center of activity. Lots of space to relax and explore.
Room Type
Private room
---
Property Type
House
---
Accommodates
4
---
Bedrooms
Malelane, Mpumalanga, South Africa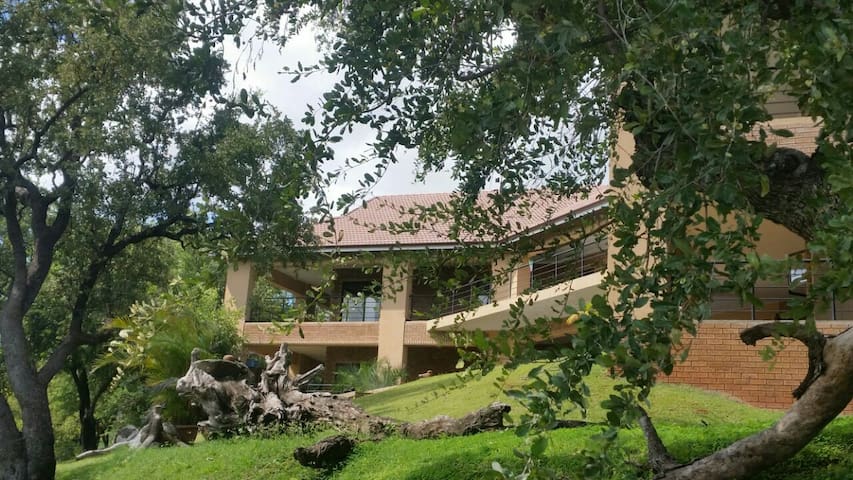 Lions Roar is nestled in the unspoilt bush near the southern tip of the Kruger National Park in Marloth Park. It has its own unique atmosphere with all the luxuries to ensure a comfortable and memorable stay in the bush. This fully furnished self-catering unit has 1 bedroom with en-suite bathroom. The open-plan living space offers a kitchen, dining and seating area with a TV and optional selected DStv channels
The bedroom has a double bed, ceiling fan and the en-suite bathroom is fitted with a shower, basin and toilet All linen and bath towels are provided The unit also features a swimming pool, undercover patio with an outdoor dining set, portable braai and a bonfire area. The unit is located within a private conservancy, offering guests a unique opportunity to appreciate the abundance of free-roaming game.
The unit is located within a private conservancy, offering guests a unique opportunity to appreciate the abundance of free-roaming game on your doorstep. The Kruger National park entrance is only 12km away Marloth Park Close by is a real bush feeling shopping centre for those needed items that have been forgotten, a garage, restaurant, deli, bottle store, laundry, hardware and bakery
Room Type
Private room
---
Property Type
House
---
Accommodates
2
---
Bedrooms
Marloth Park, Mpumalanga, South Africa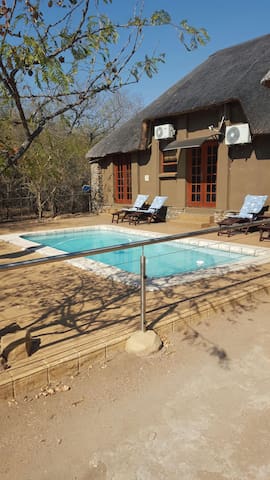 Marloth Park est un site unique au monde et donc exceptionnel, situé entre Malalane et Komatipoort c'est une réserve de 3000 hectares où se côtoient les animaux sauvages et les habitants privilégiés.
Charming house or we call it bushhut with its typical African thatched roof to rent out for holidays. The house is situated in marloth park (south Africa) only separated from the Kruger National Park by the crocodile river.
Nature, tranquillité et détente
Silke's bush hut is a perfect place to stay. It has everything you need to spend your holidays and the location, Marloth Park, is great for game viewing and very close to Kruger. Silke is a very nice and helpful host and we had a very good communication with her during our stay. Me and my family spent a few nights in the house and we manage to see kudus, impalas, vervet monkeys, zebras, servals and the bush baby. It was a great experience and my family love it.
Manuel & Nieves
2015-03-03T00:00:00Z
Awesome location for anyone looking to spend their days in Kruger. The community had everything we needed (restaurants, grocery, gas station) and check-in was seamless. There are some rough edges in the hut itself, but one expects to be roughing it a bit when staying in those parts. All in all, a good experience.
Brian
2015-09-12T00:00:00Z
Loved our stay at the Bushhut. High standard, quiet area and superb information and service from Silke. Close to Krugerpark, just a Nice 25-30 min drive. A lot of animals around the house made the stay absolut fabolous. Thank a lot. Regards the family of 4 from Norway.
frank
2015-07-07T00:00:00Z
We had a great stay. Located close enough to the park for entry each day. The house was clean on arrival with adequate bedding, towels etc. The house has a spacious entertaining area both inside and outside with a lovely braai area. Silke provided good information on the amenities at the house and in the area. Overall a very good stay.
John
2016-07-11T00:00:00Z
The host canceled this reservation 10 days before arrival. This is an automated posting.
Kitty
2015-06-19T00:00:00Z
Lovely stay. We drove all the way from Jo'burg (almost 500km) and were really tired. But we felt so at home and relaxed once we reached. It is very nice for a full family of 4 with 2 kids. We get a bedroom each, and there is a mezzanine with extra beds. It is nicely equipped and the 16 page instruction manual was very exhaustive. There was a small problem with the keys but Silke sorted it perfectly and quickly. The animals around the hut were spectacular. The kids had a great time over the 3 nights we were there. The location is very convenient and Marloth very beautiful with great sightings of Giraffes, Zebras, Impalas, Kudus, Warthogs, Wildebeests and other herbivores. We did 2 SAN parks safari's from the crocodile gate at Kruger and saw the big 5 twice over. The gate to kruger is a fun 25 minute drive from the Bush hut. We'll be back soon.
Lavneet
2015-05-22T00:00:00Z
Chimelus Bushhut is a wonderful place to calm down. It's a great house on a big property where we had a lot of great experiences with the animals. I would strongly recommend it for those who want an unforgettable stay at the Kruger NP.
Torsten
2016-09-26T00:00:00Z
Excellent vantage point for exploring Kruger Park. The children loved the zebra's, warthogs and bush-babies roaming the house!
Gyuri
2014-08-19T00:00:00Z
Room Type
Entire home/apt
---
Property Type
House
---
Accommodates
6
---
Bedrooms
Marloth Park, Mpumalanga, South Africa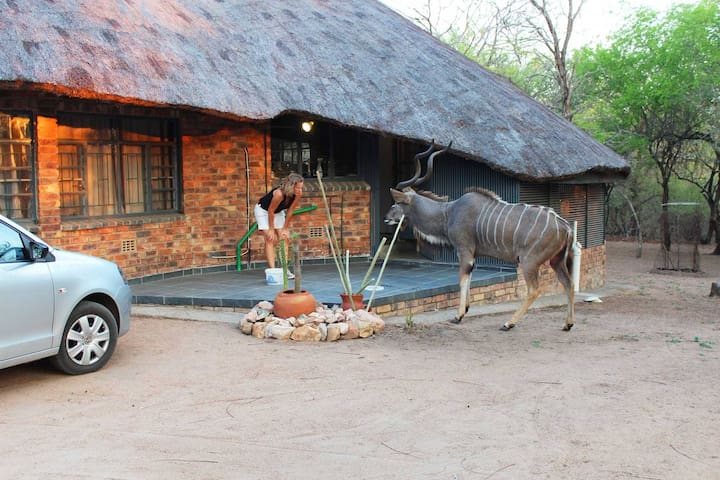 1

–

18

of

105 Home Rentals
Enter dates to see full pricing. Additional fees apply. Taxes may be added.