I have a very clean, well kept home in a quiet neighborhood. We are less than an hour away from the busy Silicon valley ,the beautiful San Francisco, serene Napa Valley, our capital city Sacramento and many more places in sunny California. Your bedroom will be upstairs. You will have kitchen privileges to use my coffee maker, microwave your food, store food in my refrigerator (please ask) and free WiFi. You will not regret staying with us!
Your bed room is upstairs and you have a full bath room upstairs to use. The floor is wood, your double bed has drawers for storage, there is extra storage space in the closet also. If you have an extra guest, I have a single bed and a half bath downstairs that can also be used. Additionally, there is a study table, a computer chair and a sofa chair in your room. WiFi is available in the entire house and is free to use.
The neighborhood is quiet and we have very friendly neighbors. I have lived in the neighborhood for a long time now, and I can say my neighbors are helpful, peaceful and watchful.
A very charming home in Manteca! Juliet was a wonderful host & provided a list of nearby restaurants. The room has everything you need! Looking forward to staying there again on our next trip through California!
Amy
2017-03-30T00:00:00Z
Great value accommodation with a flexible host. Perfect for what I needed.
Haydon
2017-03-12T00:00:00Z
Great place to stay... Super nice cat and very clean! Recommend to anyone... Very friendly as well! Follow my travels @triplesimusic on Instagram
George
2017-03-27T00:00:00Z
Greathe place to stay in a safe respectable area, shops and takeaways within 10 minutes walking distance. Close to the freeway if just after a convenient place to stay.
Martin
2017-03-14T00:00:00Z
Juliet was very accommodating to my late flight in. The room itself is clean, neat with a desk & mirror and pretty much all you need in a bedroom. I got the bathroom to myself as was described. Cat was super friendly
Jina
2017-03-28T00:00:00Z
Great experience. Host was very nice. Definitely recomended
Annel
2017-04-02T00:00:00Z
Juliet place is a really great place to stay. She will take care of all the stuff before hosting. She is a great host!
Yen Ting
2017-03-25T00:00:00Z
Juliet is very sweet and she made me feel comfortable. Her place is nice and clean, the bed is very comfortable and the location is in a nice neighborhood. Highly recommend! :)
Laura
2017-03-26T00:00:00Z
Room Type
Private room
---
Property Type
House
---
Accommodates
2
---
Bedrooms
Manteca, CA, United States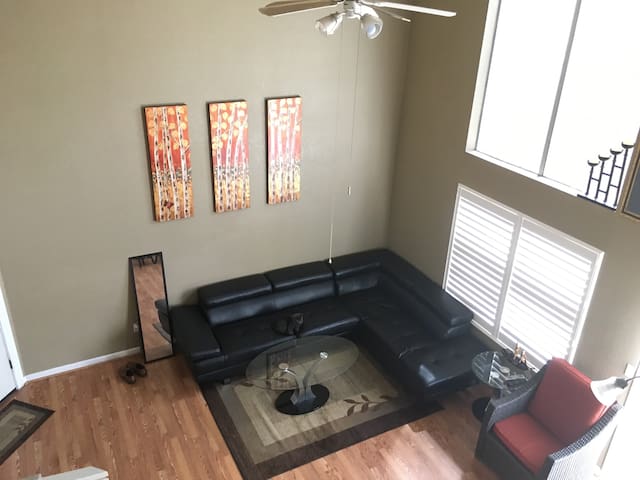 Private Room with flat screen TV, Netflix, Cable and Wifi. Access to kitchen (please bring your own food and clean up after yourself). Huge back yard with fire pit and outdoor seating. Washer and dryer available for use. I am happy to answer any questions you may have during your stay. We live with 2 large dogs and 1 small dog. All very friendly and quite.
Private Room overlooking huge back yard. Private back entrance to home if you prefer to keep private. Or the main front door. Plenty of parking.
Close to the courthouse, ambulance, fire and police department. Safe neighborhood close to schools and shopping.
Their place was clean and comfortable, and Jacob and Aleah were both very friendly and helpful. I would definitely stay there again. Thank you!
Keri
2017-03-05T00:00:00Z
The yard for the dogs and the cleanliness and wooden floors.
Lori
2017-03-09T00:00:00Z
Awesome people! So sweet and accommodating for our situation of needing to find a place in a bind. Thank you again!
Heather
2017-03-04T00:00:00Z
Room Type
Private room
---
Property Type
House
---
Accommodates
2
---
Bedrooms
Manteca, CA, United States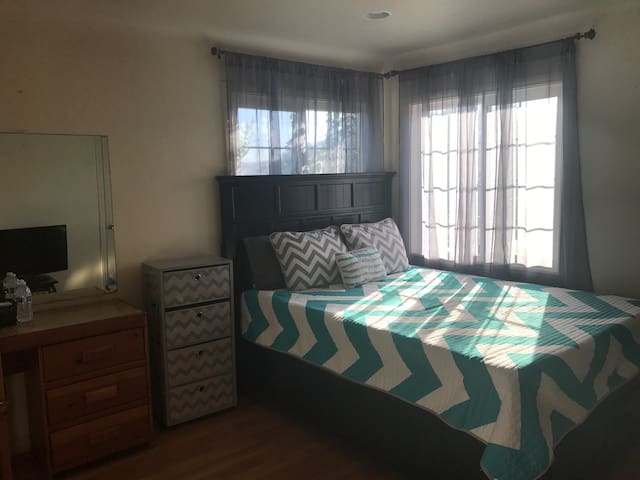 Very clean and comfortable cozy room very quiet neighborhood close to freeway and restaurants 1 full bathrooms with double sinks possibly shared with another air BnB client no smoking in house but okay to smoke outside fresh coffee and fruit daily
Room Type
Private room
---
Property Type
House
---
Accommodates
1
---
Bedrooms
Manteca, CA, United States
My place is close to Target, Savemart, Starbucks, Highway 99 and 120, public transport.. You'll love my place because of the location and the ambiance. My place is good for solo adventurers.
Carolyn is a lovely person and tried to make my stay a nice one but the room is not set up for a long term guest such as a travel nurse like myself. The home is beautiful and in a great neighborhood with a park close by. The room is small and very hot most of the time.
Diane
2016-10-02T00:00:00Z
Carolyn is a great host. I was looking for a quiet place to rest after long days of work and I could not have found a better option. Room is big enough for 1-2 guests. Previous guest complained about air-conditioning issues. However, I found the room to be very comfortable. In sum, I would highly recommend Carolyn's place if you are looking for a quiet and comfortable place in Manteca.
Ravi
2017-01-28T00:00:00Z
Room Type
Private room
---
Property Type
House
---
Accommodates
1
---
Bedrooms
Manteca, CA, United States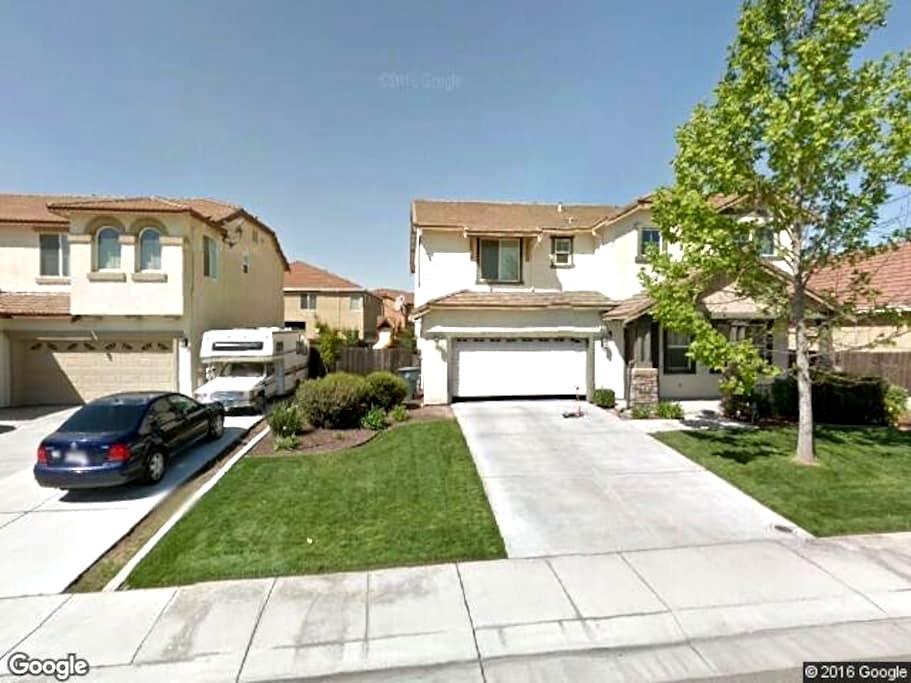 Great room, nice light, great people.
Room Type
Private room
---
Property Type
House
---
Accommodates
1
---
Bedrooms
Manteca, CA, United States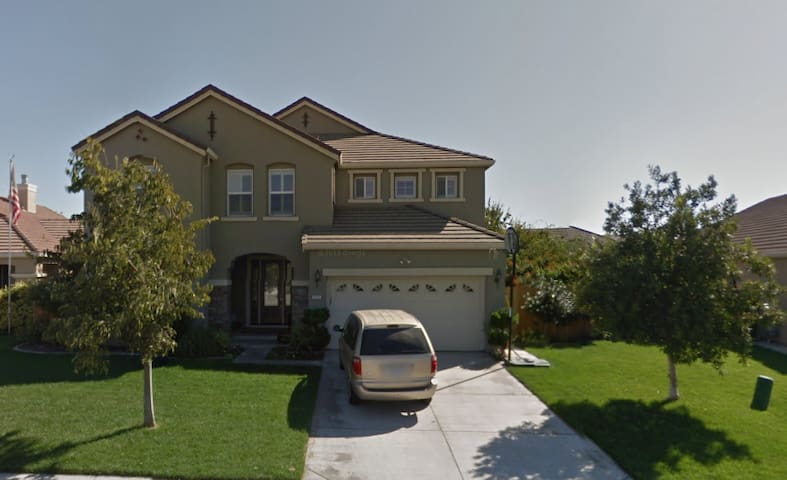 My place is close to The freeway, restaurants, and retail stores.
I'm a nurse who took a night shift contract without realizing my commute would be so intense from my location. Elisia and her place were a miracle find!! Safe, clean, quiet and exquisitely decorated, it's a day sleepers dream!! Elisia is a kind and devoted host who went entirely out of her way for me. She was so flexible and understanding! I can't say enough.
shannon
2017-03-16T00:00:00Z
This was my first Air B&B experience and I have been truly blessed. Elisia was such a nice, kind and welcoming host. She made me feel comfortable and very much at home. The house was very clean and beautifully decorated. The neighborhood was very quiet and I felt safe. There are plenty of restaurants and stores a short drive away. Elisia quickly responded to calls and answered and questions/ concerns promptly. I will definitely stay with Elisia again when I'm in the area. Elisia, her family and her friends made me feel like part of the family. If anyone is in this area, this is the perfect Air B&B home and Elisia is the perfect host... ..
Stephanie
2017-03-05T00:00:00Z
Great hospitality
Gary
2017-02-17T00:00:00Z
This was by far my best experience using Airbnb ! Elisia is such an awesome host ! She makes everything so nice . The room is beautiful and bathroom just lovely . I look forward to my next time staying here .
Erin
2017-02-12T00:00:00Z
The house was amazingly clean, and the host was amazing friendly and welcoming. She did as much as possible to make me feel at home! I would recommend!
Garrett
2017-03-22T00:00:00Z
Best host! Elisia was incredibly welcoming and made me feel part of her family. Would recommend this place to anyone and if I'm in the area I would stay here again in a heartbeat. Loved my stay here! Thanks so much.
Samanta
2017-01-27T00:00:00Z
Room Type
Private room
---
Property Type
House
---
Accommodates
1
---
Bedrooms
Manteca, CA, United States
Ready to relax in the fully air conditioned master bedroom with a king size bed and full private bath. House is completely yours to use with fully stocked kitchen, wifi, cable, Netflix. Located in a quiet safe neighborhood you will feel right at home.
Communication was great had the whole house to myself.
Mark
2016-08-21T00:00:00Z
Great communication and a great host. Everything was perfect.
Mark
2016-08-07T00:00:00Z
Room Type
Private room
---
Property Type
House
---
Accommodates
1
---
Bedrooms
Manteca, CA, United States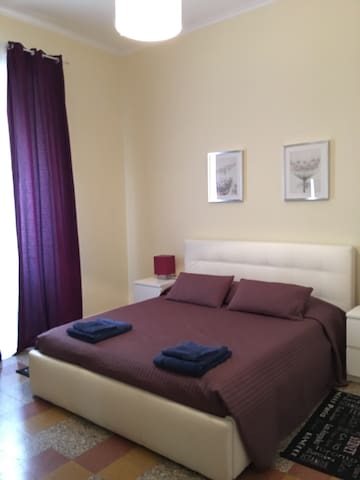 My place is close to all major Northern California destinations. Nothing is more than 1.5 hours away. . You'll love my place because of its central location, the outdoor living areas and pool, the mid century modern 1970s vibe we have going on. . My place is good for gays, straights, couples, solo adventurers, and furry friends (pets). We do run our business out of our home and we work all hours of the day and night. If a quiet space is what you are looking for, we may not be the best match.
With 3 outdoor decks, swimming pool, outdoor projector for movies, hot tub, and very understanding neighbors. We allow and encourage you to have a good time. Want to take a late night skinny dip? Go for it! Want to Stay up late watching movies from the deck or in the pool? Go for it! We have Three separate rooms we rent and we try to ensure that when and if we rent all rooms, that we make sure all guest are compatible. If you are a private person who just wants some quiet time and wants to go to bed early we can accommodate that as well. Just advise us prior to your trip so we can accommodate you. No request is too strange and we celebrate diversity. We operate our business, mid70s, out of our home. Our business sells furniture from the mid century to the 1970s. We showcase the furniture in our home. Anything you see is for sale and our decor changes weekly.
Our neighborhood was built in the early 60s and at the time was Manteca's "it" neighborhood. All of the streets are named after famous astronauts. Crime is very low in our area but be advised it may look a little shady a few blocks away.
This was a fun and kitschy stay! Glad to be able to have the comfort in the evening to come back to Jamie, Billy and Zoe's place to wind down after working on site at my project. Very kind, warm and hard-working hosts. I than them for accommodating me!
Dave
2016-09-14T00:00:00Z
Interesting, eclectic place as described in listing. Fun to talk to the owners, who provided us a bottle of wine and fresh fruit when we got in. Flexibility with quiet hours was helpful for a busy work trip where we were in and out of the house.
Lauren
2016-11-17T00:00:00Z
Pleasant stay. Pristine the house is not but made to feel very welcome and at home. Enjoyed sitting in the back yard chatting. Lots of really cool vintage decor. Enjoyed impromptu bbq dinner. The pool was great. They even made us cupcakes!
Spencer
2016-07-02T00:00:00Z
Great stay, very friendly and accommodating. Will be staying here again when passing through.
Braxton
2016-09-08T00:00:00Z
Great neighborhood, quiet and safe. Billy and Jamie are great hosts, very accommodating.
Braxton
2016-10-28T00:00:00Z
We had a great stay at Jamie's house and we enjoyed the chatting with them and their friends and the drinks :) it felt like being part of the house and not like being a stranger. Jamie and Billy are both awesome guys with big hearts.
Anne
2016-09-27T00:00:00Z
Jamie and Billy are lovely hosts! They were incredibly helpful and mellow, and Zoey is a sweet friendly companion. This home has a spacious, open layout for guests and socializing, but with lots of privacy in the private bedroom. The patio and pool are gorgeous, with shade for warm days and beautiful sunshine if you want it! The home is comfortable with all the things one needs to cook and relax, with the added bonus of unique vintage decor and magical lighting at night! I highly recommend this space for someone who is comfortable with a lived-in feel and a relaxed atmosphere. The neighborhood is quiet, and there are lots of stores nearby for everything you might need. I stayed here with my two dogs and Jamie and Billy were way more than accommodating and helpful with them, as well. Thanks, Jamie, Billy, and Zoey!
Melanie
2016-08-09T00:00:00Z
Jamie and Billy where great host and totally helped me out with a ride to there home from the airport. There back yard is beatiful. They had quite a bit traffic of people in there home but had given me a heads up before my arrival and also let me do laundry
Brittany
2016-09-23T00:00:00Z
Room Type
Private room
---
Property Type
House
---
Accommodates
2
---
Bedrooms
Manteca, CA, United States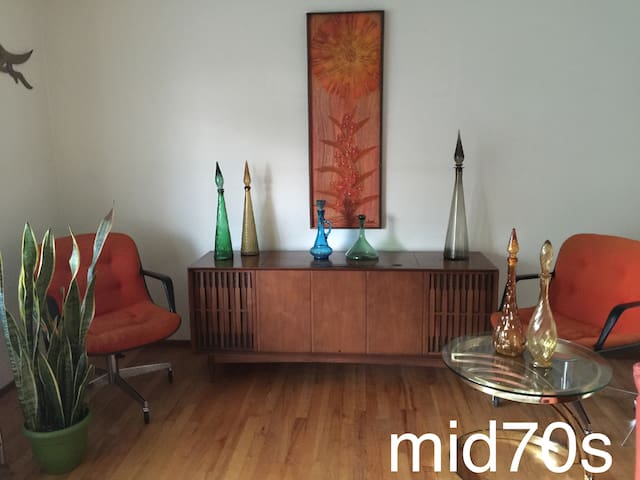 Duplex. Calm cool chill laid back.. Love football gated yard.. Clean cool people
Room Type
Private room
---
Property Type
House
---
Accommodates
1
---
Bedrooms
Manteca, CA, United States
You'll get everything private.Keyless smart lock Self check in and out: Luxury suite with Sunny porch, No owner involve! !! One Queen bed with elegant settings, private luxury bathroom , Free Coffee,Refrigerator, high speed internet, smart TV with Netflix, YouTube etc access, Unlimited movies and TV series.
Sunny's place was just lovely. The room was decorated with attention to detail that made you feel you were in a high end hotel. As you use your entry code to enter your space you come into a small entrance area where coffee service and a microwave and small refrigerator is located. It appears at first as though that is a walk through area for others . . . but it is actually completely private for you during your stay, which makes the overall area perfectly presented, along with the outside porch sitting space. There is convenient parking in the driveway making it easy to bring luggage in. This location is in a very nice residential area, yet not too far away to drive to many good restaurants. Sunny is still working to perfect his Airbnb so we did have to call him to find out how to get Netflix and to get Wifi to work for us, but he was immediately available to help us with that and anything else we needed. It is clean and bright and you will not be disappointed. I am also an Airbnb super host and I recommend this place to any others who will be coming his way. Thank you Sunny.
JoAnn
2016-11-21T00:00:00Z
Sunny was really helpful and his flat is pleasant. We stay for a night and it was a good moment. Unfortunately we cannot find nice place to eat
Francesca & Matthieu
2016-10-29T00:00:00Z
Lovely Quiet Spot!
Laura
2017-03-10T00:00:00Z
Sunny made us feel very welcome. We loved the neighborhood, the room and the privacy. Being able to enjoy the porch was an added bonus.
sarah
2016-08-27T00:00:00Z
Although our stay at Sunny's place was short, it was absolutely perfect. It was secure, clean, and accommodating to what we were looking for and even more. Sunny's instructions were clear and we didn't have any trouble checking in later than expected. It was an excellent stay and I would definitely recommend!
Jane
2016-10-18T00:00:00Z
Sunny and his wife were both friendly and welcoming, and they made every effort to make our stay stress free and enjoyable. Sunny was responsive to our messages and we particularly appreciated the flexible check in time. The room and private bathroom were in great condition and the free candy was a nice touch. All necessary amenities were provided and wifi was fast and reliable. Parking was no problem. If we drop by Lathrop in the future we will stay here again. Highly recommended.
Angela
2016-06-17T00:00:00Z
Great place! Easy to find, cozy and private!
Anya
2016-09-19T00:00:00Z
Sunny's place is great... Very clean, comfy, and down right awesome!!! He went above and beyond to make everything as comfortable as possible. He installed a portable AC unit in the room so you can control the air how you would like without disturbing how they keep their own family room temperature... Big bathroom and shower... He lets you park in the driveway instead of parking on the street. You will not be disappointed in the stay!!!
Tim
2016-07-07T00:00:00Z
Room Type
Private room
---
Property Type
House
---
Accommodates
2
---
Bedrooms
Lathrop, CA, United States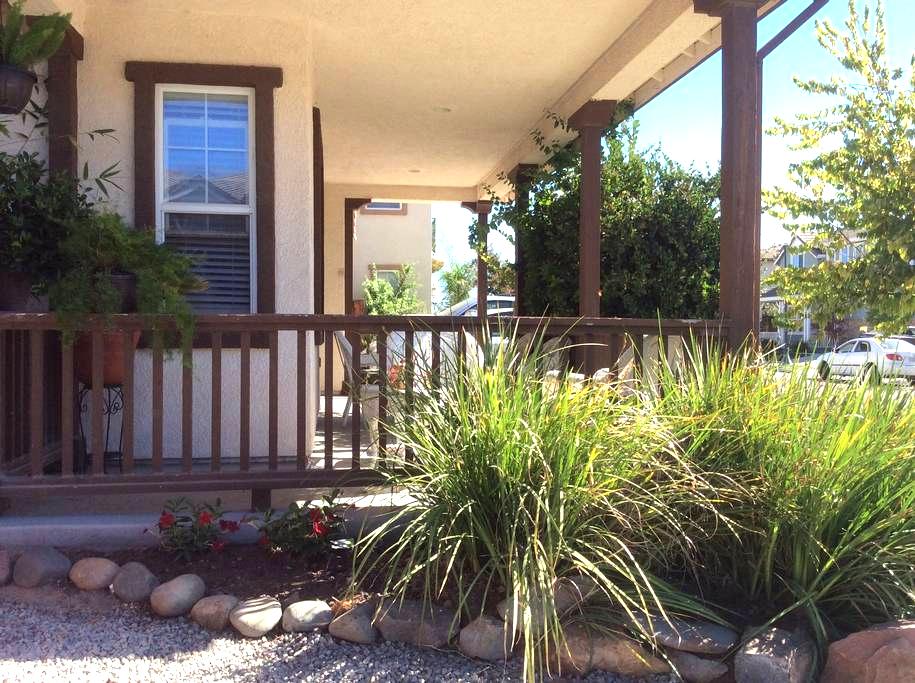 We have one bedrooms available in our 4 bedroom, 2 1/2 bathroom home. Our home is located in a very nice and quiet neighborhood. Must like dogs. *NO SHOES IN THE HOUSE PLEASE*
We have one guest room just for you! Traveler Nurses Welcome and if you are here for business this will be perfect for you.
Very "SAFE NEIGHBORHOOD, at Mossdale Landing. Plenty of free parking. This is a fairly new community. You will enjoy a very quiet time away from the city noise. Beautiful walks. It can get windy and cold outside so please be sure to bring a warm coat if visiting in the fall and winter.
My host was very gracious and welcoming. She gave me a great tour of the space and offered a lot of amenities (muffins, coffee, etc.). The house was great, bed was comfy, private bath, super quiet street. Everything was great
Greg
2016-03-25T00:00:00Z
Lisa, her husband, and her mother are all very friendly and welcoming. I really enjoyed my stay here for 6 weeks. I got to know the family very well and they are all very loving and caring. They were always asking me if I needed anything; they would offer me coffee, snacks, and dinner. They made me feel like it was my home. It was my first time using airbnb and I did not know what to expect, but right when I stepped into their house, I immediately felt the warmth. Their home is very nice and cozy, and they keep it super clean! I didn't think I'd be comfortable hanging out in the living room and dining area at first but they made me feel very comfortable. I'm going to definitely miss watching TV with her husband Jose, watching her mother paint amazing artwork, and having casual conversations with Lisa. I couldn't have asked for a better first airbnb experience. And of course the two yorkies are so fun to be around! Thanks so much for everything! You will not regret booking this place. I had a wonderful experience and I know they will provide you with the same experience!
Dzung
2016-06-24T00:00:00Z
Lisa was very friendly and welcoming, and made sure I had everything I needed for a comfortable stay. When she wasn't there, she still checked in with me to make sure everything was OK. I felt like a welcome guest staying there.
Nancy
2016-03-18T00:00:00Z
Lisa's place is exactly as her page says. She makes sure you have everything you would need for a comfortable stay. I would absolutely stay at Lisa's again as well as recommend it.
Ty
2016-07-05T00:00:00Z
Amazing hosts! Not only great hosts, but quickly became friends!
Daniel
2017-01-19T00:00:00Z
Lisa and Jose were wonderful. They went out of their way to make me feel at home. I bought a house in the local area and had to wait to get into it and they took me in as their family. Sincerely good hearted people that are amazing hosts. Will definitely keep in touch with them and definitely recommend to stay there to anyone!
Dawn
2016-09-17T00:00:00Z
Once again, a nice stay at Lisa's place. Thank you!
Nancy
2016-04-03T00:00:00Z
Room Type
Private room
---
Property Type
House
---
Accommodates
1
---
Bedrooms
Lathrop, CA, United States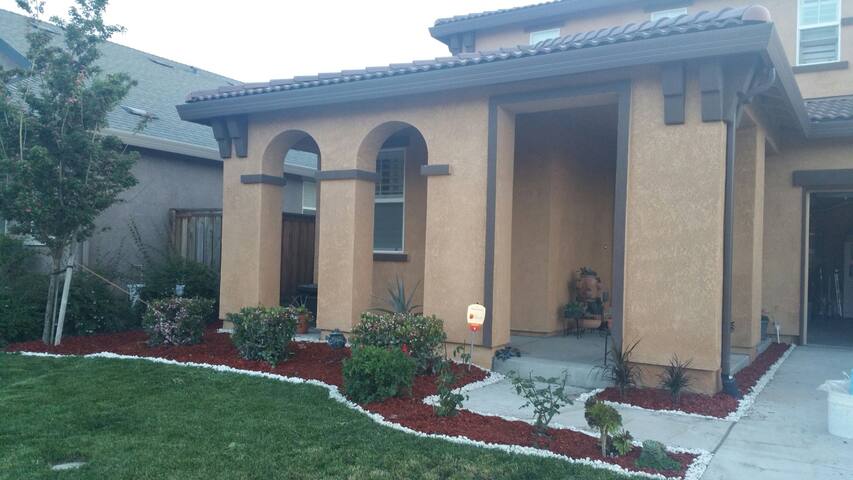 Boyfriend and I welcome you to our home. Very mid century modern with a splash of vintage 1970's vibe. Central location, less than 2 hours to anywhere. Perfect for gays and accepting to straights. Let us know what kind of stay you would like. We run our business out of our home and at times may have really late or early hours. If you are one who goes to sleep early and are looking for a extremely quiet space this may not be the best place for you.
Boyfriend and I welcome you to our home. Very mid century modern with a splash of vintage 1970's vibe. We have a HUGE outdoor living space. Which includes a pool, multiple patios, outdoor heating, covered patio, BBQ, mood lighting, and much more. Central location, less than 2 hours to anywhere. Perfect for gays and accepting to straights. Let us know what kind of a stay you are looking for.. We operate our business out of our home our passion lies in vintage furniture and items from the 50s mid modern to the retro 70's. Our home is also were we showcase a lot of our finds. We frequently have designers come tour the house and buy items right off the floor or the wall. Everything you see in the home is pretty much for sale. We go. Out every morning to our secret spots to acquire the things you see. If you wish we can have you come along and give you some insider tips. Guest will have access to all areas of the home except our bedroom, bathroom and garage. The pool is awesome and so is our huge backyard living space. Perfect for events and parties. We have even had a wedding or two. Depending on our work schedules guest are welcome to go on an underground shopping excursion as we hit up our favorite shopping areas and teach you what to look for and best times and places to go. The neighborhood is one of the first custom developments in Manteca and was built during the boom of the modern day space age. All the streets in the neighborhood are named after famous astronauts. We are blocks away from major shopping centers and the road to Yosemite is right down the street. Public transit is pretty non existent
The neighborhood is one of the first custom developments in Manteca and was built during the boom of the modern day space age. All the streets in the neighborhood are named after famous astronauts. We are just blocks away from major shopping centers and the road to Yosemite is right down the street.
Jamie and Billy was a really good host, they are available to answer at all the question. We have a really nice stay in manteca. The pool was awesome after a day of travelling.
Pierre
2016-07-20T00:00:00Z
My stay with Jamie, Billy and Zoey was delightful. Their mid-century modern home is fabulous. The pool is a lot bigger than it looks in the pictures and it is 10 ft deep! Yard is very private for quiet sunbathing. My room was cool, comfortable and quiet. Private bathroom is separate from the room. Strong, hot shower. Easy access to the freeway in a peaceful neighborhood. Jamie and Billy are gracious hosts but not intrusive. Easy arrival and departure. Zoey, their cute little dog, barks upon arrival, but is just looking for a belly rub
Richard
2016-07-04T00:00:00Z
Absolutely fantastic stay - thoroughly enjoyed myself. Hosts were incredibly welcoming. Many good yarns - would definitely recommend!
Sebastian
2014-08-23T00:00:00Z
Had a wonderful stay with Jamie, Billy and Zoe! Our stay started with a very welcoming glass of wine on arrival and from then on we were made feel at home! The room was extremely comfortable, the pool was amazing and we were pleasantly surprised with the large number of options for breakfast. Jamie, Billy and Zoe are very very hospitable and we would highly recommend to stay with them should you wish to visit Manteca.
Sinead
2014-07-13T00:00:00Z
Jamie and Billy's place is right off the freeway and convenient for my work in that area. They had a nice breakfast laid out the next morning which was great since I had to get up early for work. I never got to meet Jamie, but Billy was a nice guy and met me with the key to their home as planned.
Doug
2014-08-22T00:00:00Z
Room Type
Private room
---
Property Type
House
---
Accommodates
2
---
Bedrooms
Manteca, CA, United States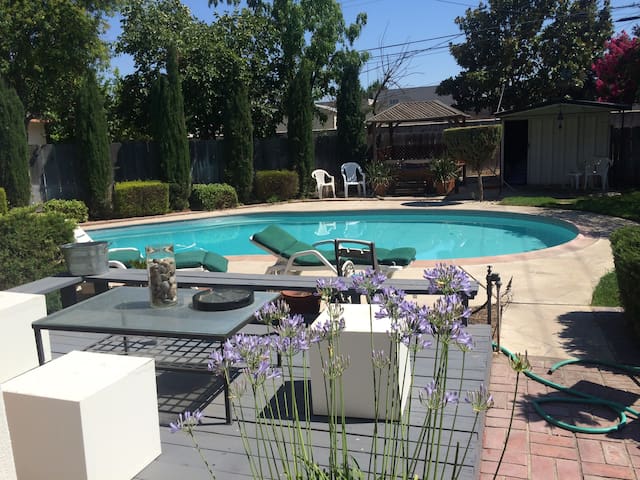 Gorgeous single story home with 4 Bedrooms and a den. Wide open floor-plan and an amazing flow for entertaining. Solar was installed by Solar City. Oversized master shower stall. Moss Landing has built a family friendly community with trails, walkways and the Moss Landing Community Park is a couple blocks away.
Room Type
Entire home/apt
---
Property Type
House
---
Accommodates
2
---
Bedrooms
Lathrop, CA, United States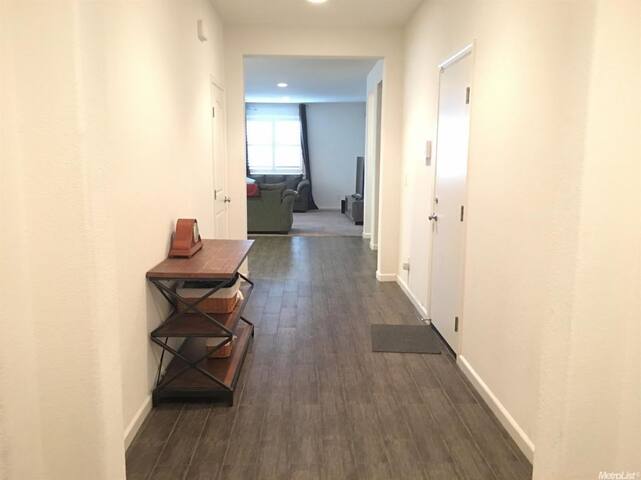 This location is close to everything!! A great segue to the Bay Area - Sacramento - Foothills - Yosemite - Wine Regions. You'll love the style & comfort of this new 3 bd, 2 ba home in a quiet neighborhood. Walk half a block to the San Joaquin river; fish, or stroll along the park or riverside. Perfect for couples, solo adventurers & business travelers. Includes a Smart TV in your private room, shared bath, kitchen/BBQ, common areas, laundry, and - keyless entry. A really great find!
Home is just a year old and the bedroom is ready for you to move in! Queen bed with built in drawers, closet, and smart TV. (Potentially) shared bath includes tub and shower combo. Quiet and comfortable!
Brand new community close to basic shopping, park and river. More serious shopping opportunities in nearby Tracy or Manteca. Community is quiet and quaint, and is close to the freeway without the noise.
Karyn is a gracious host, always making sure you're Comfortable, and provides an atmosphere of relaxation during your stay.
Joseph
2016-09-15T00:00:00Z
If you read my past reviews about Karyn as a Host, She rates 10+ across the board, not much i can add.
Joseph
2016-09-29T00:00:00Z
Karyn is always willing to make you stay as comfortable and relaxing as she possible can. The evening dinners are always a great bonus to the stay. Karyn's place is very relaxing and a great location to re-charge that tired body after a long day.
Joseph
2016-09-22T00:00:00Z
Karyn is very hospitable and has a beautiful and spacious home. This is my second time staying here for a week at a time, and I would definitely come back!
Andres
2017-01-27T00:00:00Z
I've said it before,a home away from home
Joseph
2016-08-25T00:00:00Z
Karyn's home is delightful, warm and clean. I will come back each time I return to the area. Karyn is gracious and generous. Couldn't imagine a better stay!
Nancy
2017-01-09T00:00:00Z
Everything is always PERFECT, A+++ as a HOST
Joseph
2016-10-20T00:00:00Z
All i can say is if you are in the area, this is a MOST location to stay, Week after week and Month after Month it felt great to go to a place that allowed you to RELAX and find PEACE after a CRAZY day.
Joseph
2016-12-15T00:00:00Z
Room Type
Private room
---
Property Type
House
---
Accommodates
2
---
Bedrooms
Lathrop, CA, United States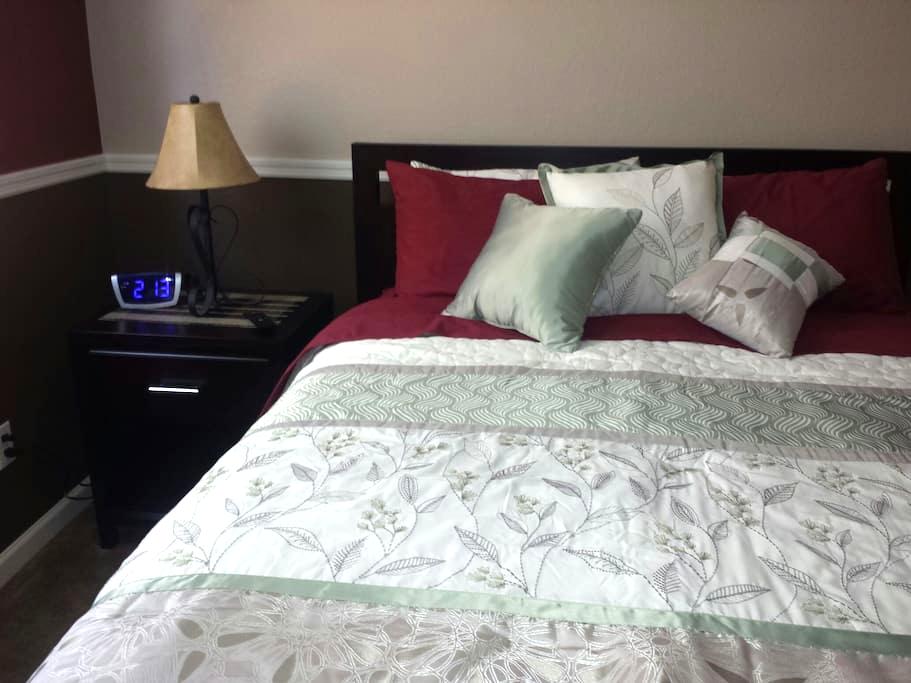 There is a fridge & microwave in the room, WIFI, Firestick & Netflix, open kitchen, dining & spacious garden for your enjoyment.Consider it a home away from home. We provide a clean, safe and happy environment to welcome our guests. This room has all that you need whether here for vacation or work.
This room has a walk in closet along with fully furnished room with desk and lamps etc. You will be asked to possibly share a bathroom if the other room next to yours is rented out. We are located in the central valley of California between Stockton and Tracy. Our beautiful home is located 5 minutes off of i5 highway and is about 1hr East from San Francisco, 45 minutes from downtown Oakland and 45 minutes from Sacramento. You can choose other private rooms with a full size bed or a private room with 1 Queen bed . There is plenty of parking and we can even drop you off at Bart to go to city in the morning or pick you up from there for a small fee. We are very accommodating and easy going people. We have 2 super friendly dogs who are also fun to be around. They are quiet and not big yappers. The house has Central air conditioning and central heating. Every room has its own tower fan with remote control. The windows in each room also has sun screens to filter/reflect out the heat of the sun. All the water in the house is soft, and drinking water goes through reversed osmosis. Free to use washer and dryer on sight. Full access to kitchen and fridge. Feel free to use the kitchen to cook if you need to. The kitchen is fully stocked with most needed appliances, and utensils. If you need a place to rest, relax and possibly enjoy the central valley then this is a good place to call home for a few days. We are also close to the University of the Pacific so if this is where you are planning to go or visit then we are about 15 min by car away. Contact us prior to booking and we can let you know availability.
The neighborhood is serene and very green. There are a lot if parks, walking paths, minutes walk to the levy where you can sit and fish or watch all the wildlife. We are close to lots of restaurants, stores, grocery, costco, movie theater and bass pro shop is less than 15 min away. 1.5 hr from San Francisco airport, 1.25hr from Oakland airport, 1 hr from Sacramento airport, 3 hrs from Yosemite.
The house is really sweat in quiet and peaceful place! Our room and bathroom are clean and cozy:) Our host Wendy and her husband Kevin are really kind and warm person. Me and my friend are happy to stay here and have great time:) Oh! the dogs, Asia and Daisy, are sooo adorable. I was surprise to know how they are like humans and gentle. Highly recommend! 집이 정말 깨끗하고 이쁘게 꾸며져 있어요. 호스트 Wendy 와 Kevin 두분다 친절하고 인정이 많으신 분들이에요. 집에 있는 애완견 Asia 와 Daisy는 애완견이라고 하기엔 너무 조용하고 사람같아서 함께 생활하는데 전혀 불편함이 없어요 ( 불편하기 보단 즐거움만 준답니다.) 동네가 주거지라서 조용하고 안전합니다. 정말 따뜻한 곳이에요. 추천합니다:)
Janet
2016-01-07T00:00:00Z
Right from our arrival I knew that this was going to be a great experience. Wendy and Kevin are great hosts. Their home is beautiful and they made us feel as part of the family. Our accommodations were perfect for us.
Jim
2015-01-30T00:00:00Z
A place with hosts that make it feel like home. Couldn't ask for more.
Pamela
2017-01-15T00:00:00Z
This was my first airbnb stay and I must say it has been a wonderful experience. Wendy and Kevin are amazing hosts. They made me feel right at home from the moment I walked through the door. Wendy gave me a tour of the house and sat me in the massage chair! Perfect after just flying in and driving from Sacramento. Their home is in a family friendly neighborhood and feels very safe. Wendy and Kevin give you all the privacy you need or want. Always available to answer any questions about the area. As a travel nurse I feel fortunate that airbnb exists. Beats staying in a hotel any day. Half the cost of a hotel with all the amenities of home. I stayed three weeks and I and I extended for another 3 weeks! I will definitely stay again if I am in the area! Wendy and Kevin have set the bar high!
Monique
2016-10-27T00:00:00Z
Room Type
Private room
---
Property Type
House
---
Accommodates
6
---
Bedrooms
Lathrop, CA, United States
My house sits back on a quiet cul de sac with a wonderful back yard lined with redwoods and a private courtyard. Close to the Virginia Corridor running, walking and biking trail. I have 2 rooms. 1 with Queen, 1 with two singles and a trundle. Private Bathroom.
Guests are welcome to kitchen and family reading/entertainment room as well as the outdoor patio area.
My house sits in the quiet established neighborhood of Northgate. Very safe and quiet. Also close to major shopping centers running/walking trails and great restaurants.
John was very friendly and the house was clean and comfortable. There were 5 of us and John was very accommodating finding room for everyone and flexible with our arrival time and need to come and go.
Mysty
2016-07-01T00:00:00Z
Even though we arrived late and just stayed for one night, we had a great stay with John! He's a great guy and a very good host! Would definitely recommend this airbnb to others!
Dani
2016-04-16T00:00:00Z
My friend and I stayed at Johns on our way back to San Francisco from camping/hiking in Yosemite. Even prior to our Yosemite trip, John was kind enough to draft up some of his favorite hikes to check out. Upon our arrival, John greeted us warmingly and showed us to our comfortable and clean room. Not only was John perfect host, the man knows how to make a cup of coffee! My friend and I both enthusiastically recommend Johns place! We also can't forget Johns lovely and sweet cat, Ollie, who also made us feel welcome! Thanks for a great stay, John!
Rita
2016-09-09T00:00:00Z
We needed a place to crash for the night heading back from a day hike in Yosemite. John's place was about 1.5 hrs away and accommodates 4 comfortable. There are two private rooms with comfortable beds for four persons. The house was clean and quaint, exactly as John puts it. We reached there late night, well past 2am but John made sure we could get in without any trouble. He had great suggestions for places to visit and things to do in and around SFO.
Srinivas Spurthi
2016-05-31T00:00:00Z
John is such a great host. He was flexible for arrival time, his house is very clean and organized, and he is such a nice person. It was my very first Airbnb experience and for sure I'm gonna repeat it. It is so great, instead of hotel, getting to such a beautiful home and getting to know a new nice person.
Moein
2016-09-27T00:00:00Z
John was very friendly and welcoming and provided tips on things to do in the area
Anthony
2016-07-12T00:00:00Z
John was great at communicating with me in the time leading up to the booking about anything that came up. He was very friendly and welcoming when we arrived and made sure we felt comfortable during our brief stay at his lovely home. The rooms were perfect and kept cool despite the hot weather. Overall, a fantastic experience.
Kevin
2016-07-17T00:00:00Z
John was a great host, very kinda and friendly. Has a lovely home with a beautiful patio. He was very easy to communicate with and made our stay here great.
Michelle
2017-01-29T00:00:00Z
Room Type
Private room
---
Property Type
House
---
Accommodates
5
---
Bedrooms
Modesto, CA, United States
This detached living space was built by us when we remodeled our home 6 years ago. It has a full kitchen and bathroom, with shower. It also has a private back patio. Pets welcome. This property is in the beautiful, tree lined area of the Modesto Junior College. Easy walk to shopping and downtown.
The College neighborhood is the neighborhood surrounding our beloved Modesto Jr. College. It is an older neighborhood established in the 40s, with beautiful tree lined streets and charming houses. It boarders downtown, Graceada Park neighborhood, and Roosevelt Park neighborhood. There is a small shopping center at one end of the neighborhood that has a locally owned grocery store, and several fun and tasty restaurants. It also has several small gyms, a pub, frozen yoghurt, and laundry mat. There is a new walking trail to one edge of the neighborhood that goes north to south for roughly 2 miles. It is a great place to go for an evening stroll, jog, or mellow bike ride. We think this is the best neighborhood in Modesto!
Perfect..... That is all :)
Kristen
2015-03-01T00:00:00Z
Very private!
Angela
2017-01-07T00:00:00Z
Jeff and his family are great hosts, and their guest house is perfect for the small group or business traveler.
Kevin
2014-08-16T00:00:00Z
Jeff and Holly are fabulous hosts! I highly recommend.
Mary
2014-02-03T00:00:00Z
We only stayed 1 night of our planned weeklong stay, as the heater wasn't able to heat the uninsulated room in the unseasonably cold November. Jeff was a gracious host, and the room would have been comfortable in warm weather. No TV in the room! Floor-to-ceiling curtains on the large windows were too narrow to provide privacy.
Susan
2015-12-01T00:00:00Z
Jeff and his family were perfect hosts. They were very welcoming and provided anything you would need for an extended stay. The studio space was perfect for me and my roommate to live while our apartment was renovated and not once did I feel like it was too crowded. I would highly recommend this space to anyone looking for a peaceful and safe place to stay!
Michelle
2016-07-31T00:00:00Z
Overall excellent! Accommodations were as advertised, comfortable and perfect for my needs. Detached guesthouse in a quiet and absolutely lovely neighborhood. running/biking path, supermarket and MJC all within walking distance --Perfect!
Shawn
2014-04-26T00:00:00Z
This studio apartment was perfect for our needs. It is pretty spacious (including the bathroom), clean, private with everything you could really need for your stay. It is well located, with grocery store, gym, laundry, and good restaurants just a few blocks away (we liked to bike to the nearby restaurants). The neighborhood is calm and pretty, with tree lined streets and nice, friendly neighbors. And the kicker is Jeff, Holly, and their kids...they couldn't be nicer people! We would definitely recommend this place and would definitely stay here again.
Katie and Andre
2014-06-08T00:00:00Z
Room Type
Entire home/apt
---
Property Type
House
---
Accommodates
2
---
Bedrooms
Modesto, CA, United States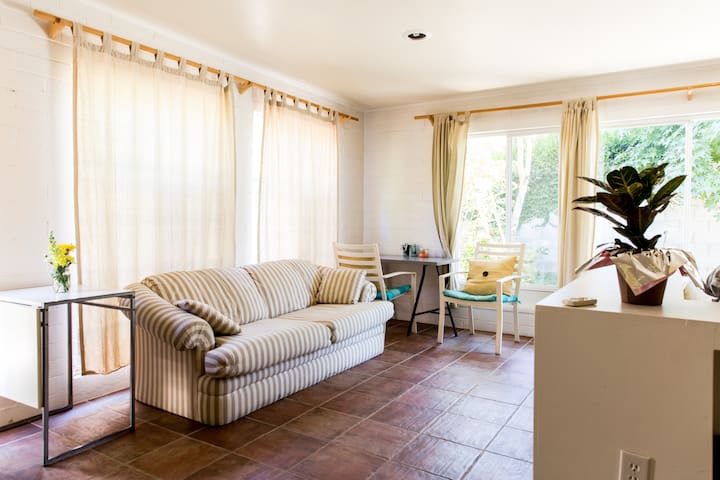 Nice quiet neighborhood, 7 mins from highway 99, 5min drive to Kaiser Permanent Medical Center, walking distance to Vintage Faire Mall, Costco, restaurants and shopping centers. Being in the Central Valley, Modesto is a great central location between the Bay Area and Yosemite, 84 miles to Yosemite via CA 132 or CA 120, about 70 miles from Sacramento, and 90 miles to San Francisco. About 45min drive to Livermore and Lodi which have great wineries.
Great location and quiet neighborhood! You will be sharing the living room area, kitchen and backyard with the 2 residents of the house. There are 2 bathrooms, one is in the master bedroom and one in the common area (which you will be sharing with 1 other person). There is one indoor/outdoor furry animal that lives with us, if you are allergic to short haired cats we advise not renting here. Easy street or driveway parking (plenty of room). Feel free to use the refrigerator during your stay or any of the kitchen appliances. For those who are interested, we are 2 blocks away from a soccer field.
Very quite area and is accessible to downtown! Bed very comfortable. Review is true what host has written. Didn't get a chance to meet Pamela, but she was gracious to contact me letting me know her mom would be there at the house and get me settled in. Wonderful area that was close by my running event.
Denise
2017-03-19T00:00:00Z
Pam and her mother were awesome! They were very accommodating, very kind, and even supplied me with toothpaste and shampoo as I was not allowed to take that on my plane ride. I will definitely book with them next time I'm there. Pam was priced well, her house was very clean, and I would say a great value overall!
Kyle
2017-04-04T00:00:00Z
Thank you so much Pamela and Maria for extending your lovely place to me! I was so comfortable, that I slept in unlike I usually do even at home! Thank you for your after hours check-in, the warm welcoming, letting me meet your beautiful and super friendly cat, and for just being a joy to talk to. Maria thanks for our talk about diet and sharing your journey with me- it has opened my eyes and I think it's a start for me to look in and change a few things! Stay tuned for a newer & improved me I hope . Would recommend your place to anyone seeking a safe, comfortable spot!
Suzie
2017-03-24T00:00:00Z
Room Type
Private room
---
Property Type
House
---
Accommodates
1
---
Bedrooms
Modesto, CA, United States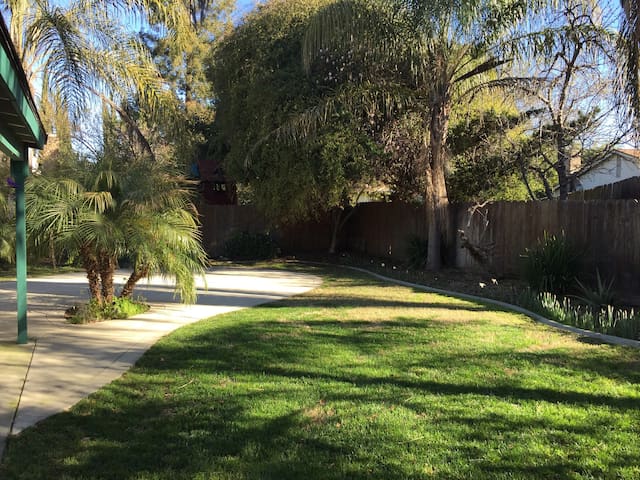 1

–

18

of

218 Home Rentals
Enter dates to see full pricing. Additional fees apply. Taxes may be added.