At heart of the city For single traveller , fridge, wardrobe, kettle, table, chairs furnished.
Nice location. And kind host. It was Perfect.
YOUNG JIN
2017-04-02T00:00:00Z
Room Type
Private room
---
Property Type
Apartment
---
Accommodates
1
---
Bedrooms
Marmaris, Muğla, Turkey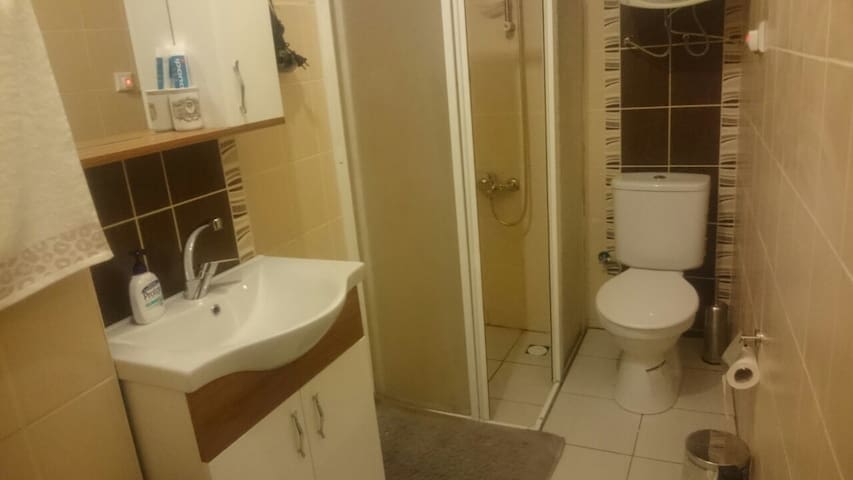 My place is close to the beach, nightlife, and public transport. You'll love my place because of the views and the location. My place is good for couples.
Room Type
Entire home/apt
---
Property Type
Apartment
---
Accommodates
4
---
Bedrooms
Marmaris, Muğla, Turkey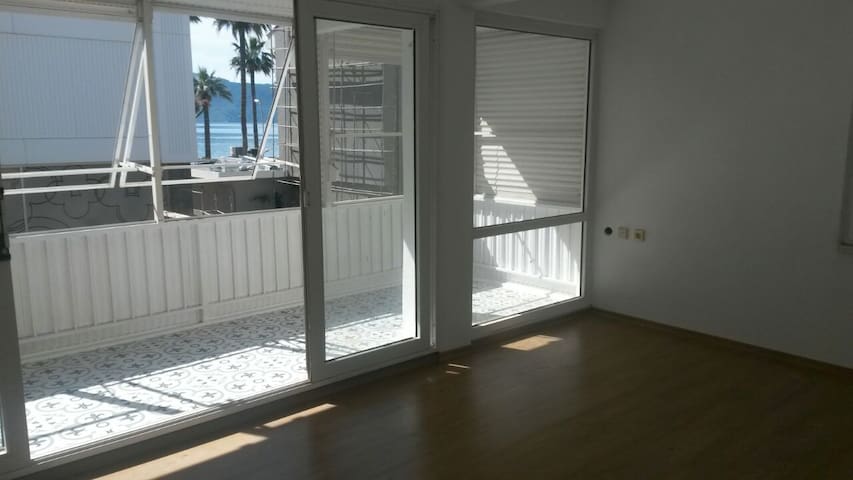 Seaview apartment in a quiet area (summer monthes can be just a bit loud music but only until 00.00).
The apartment was right on the beach lovley views. Was equipped with all home comforts. Svitlana was at hand for any queries you had and was very helpful. Me and my husband stayed here a whole month we came to marmaris to get married. We had a lovley time and hope to come back soon and will hope to stay in this comfortable apartment again soon.
Julie
2017-02-27T00:00:00Z
The host canceled this reservation the day before arrival. This is an automated posting.
Bülent
2017-02-27T00:00:00Z
Fab location overlooking the sea front. Svitlana was very helpful. So much so I extended my stay for another 3 days. Will definitely use this apartment again. Thank you xx
Karen
2016-10-17T00:00:00Z
Svitlana's place worked out perfectly for my all too brief one night stay. Great location right on the beachwalk, upper floor with reasonable views given that this apartment is further back in the building. Svitlana was very responsive via text messages to assist me with driving directions and had someone meet me there with the keys. Great spot, highly recommended!
Wayne
2016-09-01T00:00:00Z
Das Apart war toll, gerne wieder! Ich hab mich wie zuhause gefühlt. Die Lage ist perfekt und das Apart ist direkt am Meer, 20 mim zu fuß zum Zentrum und 5 min mit dem Bus! Einkaufszentrum direkt daneben, 2 min zu fuß. Die Gastgeberin war wirklich nett, sie hat immer sofort auf meine Nachrichten geantwortet, und auch beim Schlüsselabholen hat sie spät Abend um 2:00 Uhr auf mich gewartet um ihn mir zu geben!
Amira
2017-04-05T00:00:00Z
Room Type
Entire home/apt
---
Property Type
Apartment
---
Accommodates
4
---
Bedrooms
Marmaris , Muğla, Turkey
Our place is close to family-friendly activities, nightlife, public transport, and the city center. You'll love my place because of the coziness, the location, and the views. Our place is good for couples and solo adventurers. And of course the beach is 50 meters away.
Room Type
Shared room
---
Property Type
Apartment
---
Accommodates
2
---
Bedrooms
Marmaris, Muğla, Turkey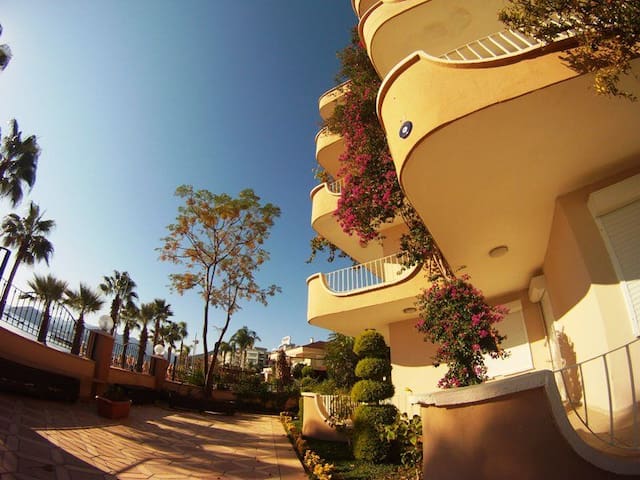 The sandy beaches of Marmaris, just 5 minutes walk from our business has been operating for 25 years in tourism. 24 apartments located in the comfort of our apartments are prepared to meet the basic needs of our customers.
Open kitchen, refrigerator, electric stove, air conditioning, electric kettle
Blue port, cord, hospital
Room Type
Shared room
---
Property Type
Apartment
---
Accommodates
4
---
Bedrooms
Marmaris, Muğla Province, Turkey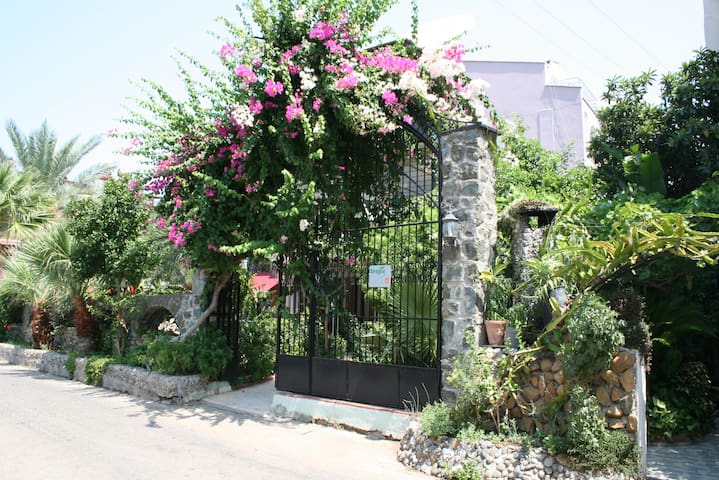 In the center of Marmaris sea, bar street, marina, shopping centers, tennis court, packed full of nature to meet your needs for a holiday home within walking distance of the forest where you can walk Günlücek is adequate.
We could not meet with Emil but we had a great communication with her. We have been welcomed by Emil's friend Celil and his wife Nurcan. They were very kind and helpful. During the our stay we did not have any problem in the place. The flat was very nice and located the centre of Marmaris. Everywhere was close to the apartment. It was fully equipped. It had everything we need. We had a great time there, I really recommend it.
Aren
2016-07-08T00:00:00Z
Great apartment, fully equipped! Emil was very kind and available, we really had a good time. We really recommend it !
Pierre
2016-04-23T00:00:00Z
Fine
majid
2016-08-31T00:00:00Z
Evin lokasyanu merkezde, özellikle akşam gezmeleri ve alışveriş icin oldukca uygun. Evin icinde ihtiyaciniz olan herşey var ve kullanışlı. Ev sahibi hicbir konuda mağdur olmamaniz icin elinden geleni yapiyor. 5 kisi çok rahat kalınabilir. Marmaris merkezde kalmak isteyenler için ideal.
Arev
2016-07-24T00:00:00Z
Ev Barlar Sokağına ve Limana yürüyerek 3 dakika,Hemen altında market ve birçok ihtiyacınızı karşılayabilceğiniz şeyler mevcut.Ev gayet temiz kısa veya uzun konaklamalar içinde gayet ideal.
Meriç
2016-08-11T00:00:00Z
Her türlü gereksinimi sağlayacak şekilde dört dörtlük döşenmiş bir ev de hiç bir eksiklik hissetmedik, adeta kendi evimizde tatil yapmış gibi olduk. Çok kullanışlı ve özenle döşenmiş bir evdi. Ayrıca konumu merkezde olmasıyla harikaydı. Her şeyiyle harika bir tatil geçirmemizi, kendi evimizde hissetmemizi sağladı.
Murat
2016-07-31T00:00:00Z
Room Type
Entire home/apt
---
Property Type
Apartment
---
Accommodates
5
---
Bedrooms
Marmaris, Muğla, Turkey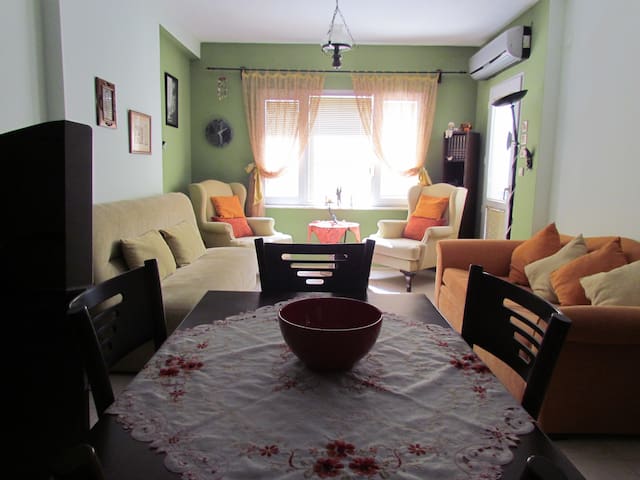 The apartment on offer is situated in the prestigious location of Marmaris near forest offering scenic views of mountains. Ideal for nature walks, bike rides and jogging. Also close to the shops and town centre. The modern accommodation comes with a swimming pool and a short walk to the beach.
2 large balcony's with access from each room including kitchen! Large pool area with beautiful views New whole flat on offer in great location! Freshly made for your comfort! There is a table and two chairs on the main balcony as well as two reclaining sun loungers which u may take with you during sunbathing at the pool or use at the main patio- balcony area. We also offer organisation of local trips and excursions for you with pick up and drop off service - and you can get all information directly from us. Flat is fully insured to cover all risks. Can provide transfer option from airport or advice of getting to home by public transport for more brave travelers! looking forward to seeing you!
3 markets with all your daily needs r just outside the building on the right, u have local restaurant with delicious and cheap food about 2 mins from flat, turn right near main road. try boat trip around the bays of Marmaris ...with us on Black Pearl Marmaris -check it out. F...b
The host sandra was very nice, welcoming and professional, apartment was as described only suggestions would be to get a comfortable sofa and more pillows for the beds they were good quality but not everyone likes memory foam can be a little hard otherwise apartment was cosy, spacious and in a great location definitely recommend.
Natasha
2016-09-11T00:00:00Z
We really enjoyed spending our vacation in this nice, peaceful and clean flat. It was very close to the beach and easy to reach shops and supermarkets. Also, with just one bus it is possible to go to the Marmaris city centre. More than all we really appreciated the kindness and friendly manner of Sandra the flat owner. She helped us with anything we ask for and when we first night arrived , eventhough it was a late hour at night, showed us the kindness of preparing food. Thank you for all... I reccomend this flat to the people who look for a clean place near beach and a polite host. We will with peace of mind prefer to rent it again if we spend our vacation in Marmaris.
Metin
2016-08-22T00:00:00Z
I absolutely loved her; she is friendly, inviting over all an amazing host. The place is clean close to the beach; she has lovely: I had a lovely time and will back soon.
Parisa
2016-06-27T00:00:00Z
Lovely comfortable home with all modern conveniences. Pool is great on a hot day!
Richard
2016-08-07T00:00:00Z
This is a great home to live like a local and be close to all the tourist attractions of Marmaris.
daisha
2016-05-31T00:00:00Z
Güzel bir tatil ortamı sağlayacak evde rahat, konforlu bir tatil geçirdik. Evin lokasyonu çok güzel, yürüyerek 2 dk içinde denize ve kumsala ulaşabiliyor. Ev sahibinin yardım sever tavırları, ihtiyacımız olduğu anda bir telefon ile cevap vermesi çok iyiydi ve kendisine ayrıca teşekkür ederiz.
Onur
2016-09-18T00:00:00Z
Evi çok rahat bulduk. Adres açık ve yerinde. Havuzu denemedik ama serinlemek isteyenler için apartmanda havuz mevcut. Sessiz sakin bir yer. Evin her yeri güneş alıyor. Eşyalar sade ve güzel. Kaldığım süre içerisinde memnun kaldım.
Egemen
2016-07-07T00:00:00Z
Dairenin konumu iyi. Sessiz ve sakin bir yer. Fakat evin temizlik ve konfor konusunda eksikleri var. Mutfakta fırın ve mutfak eşyaları yağ içerisindeydi. Dolayısıyla bir çok mutfak malzemesine hiç dokunmadık bile. Ayrıca klima kumandaları artık kirlilikten renk değiştirmiş. TV ve klima kumandalarını üçer beşer tane ıslak mendillerle temizlemeden kullanamadık. Banyo daha temiz olmalı. Üstün körü temizlenmiş. Ve muhtemelen tüm evin zeminin paspaslandığı bir Vileda, kapkara suyuyla birlikte öyle duruyordu. Fotoğrafta görülen oturma grupları rahat değil, özellikle bir tanesi bozuk, üzerinde rahat bir şekilde 5 dk oturamıyorsunuz aşağıya kayıyorsunuz. Ayrıca oturma gruplarının üzerinde ekmek kırıntıları vardı, bunlar bile temizlenmemişti. Salondaki oturma gruplarının önündeki sehpa yapış yapış vaziyetteydi. Yatak çarşafları sanırım son anda yıkandığı için balkonda aslıydı, kendimiz alıp serdik, fotoğraflarda görüldüğü gibi serili değildi maalesef. Yatakların olduğu biri büyük biri küçük odada dolapların içinde üstünde rastgele atılmış battaniye vb. eşyalar vardı. Daha derli toplu olabilirdi.
M.
2016-08-28T00:00:00Z
Room Type
Entire home/apt
---
Property Type
Apartment
---
Accommodates
5
---
Bedrooms
Marmaris , Muğla, Turkey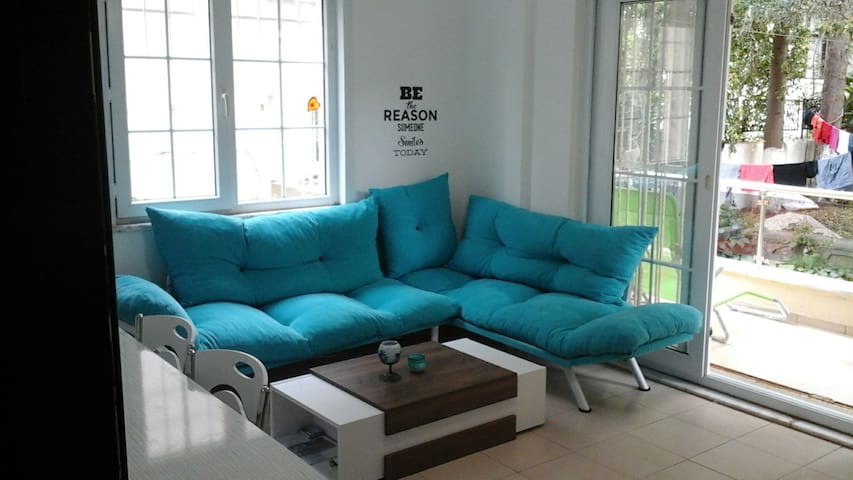 In the heart of Marmaris city, with a grand view and very recently decorated, fully equipped 1 + 1 Very close to beach, marina, dining and entertainment. Contains everything you need for a long term stay. First floor with easy stairs.
Location, comfort and more
Mr. Bürgehan was a great host, he managed everything smoothly. The room was just as it was promised; minimalistic decoration and functional. The location was very central, which makes the area a little bit noisy, but it is perfect for especially young couples. We loved the view and the great variety of services in the area. And we are planning further stays in this house in the upcoming years.
Aydan
2016-09-25T00:00:00Z
The host was so welcoming he wasn't there to join us however recep in the cafe underneath was warm and friendly and certainly does do the best menemen in marmaris. Have recommended this apartment to all of my friends only down side is it doesn't have more bedrooms!!! However will defiantly stay again! Was lovely and clean with all amenities needed. The air con broke half way through our holiday and someone was there the next day to fix it. Thanks again for the stay would love to stay again
Bliss
2016-09-08T00:00:00Z
Nice place. The flat is clean and well located.
Yasemin
2016-09-13T00:00:00Z
Loved staying at this apartment. The kitchen has everything you will need and the balcony has an amazing view. The host was very polite and helpful, even when we checked out slightly late on the last day. The only improvement I would suggest is more flexible check in and out times. Would definitely stay here again!
Lauren
2016-10-20T00:00:00Z
Modern apartment with great location and amazing views. Just a couple of minutes walk to town and grand bazar, beach is just across the road. The owner is lovely and always responds quickly. Only music from bar downstairs gets a bit noisy on certain nights.
Tamara
2016-02-29T00:00:00Z
Lovely property right in the middle of Marmaris and in close reach to the main attractions. Cool, good quality and a good feeling. Owner very diligent.
Marian
2016-11-05T00:00:00Z
Tatil süresi boyunca kendimizi adeta evimizdeymiş gibi hissetmemizi sağlayan Bürgehan beye teşekkür ederiz. Her türlü ihtiyacınıza hızlı ve ilgili cevaplar alıyor olacaksınız. Ev son derece iyi dizayn edilmiş olup konumu inanılmaz derecede iyi bir yerde yer almaktadır. Şimdi den arkadaşlarımıza sizler hakkında tavsiyede bulunmaya başladık. Çok teşekkürler.
Fatih
2016-10-02T00:00:00Z
Hem ev sahibinin iyi niyetli tutumları, hem evin nerdeyse kusursuz güzellikte ve konumda oluşu sayesinde çok güzel 15 gün geçirdim. Şiddetle tavsiye ediyorum. Şimdiden önümüzdeki yıl için tekrar planlama yaparak tutmayı düşünüyorum.
Fırat
2016-08-02T00:00:00Z
Room Type
Entire home/apt
---
Property Type
Apartment
---
Accommodates
3
---
Bedrooms
Marmaris, Muğla Province, Turkey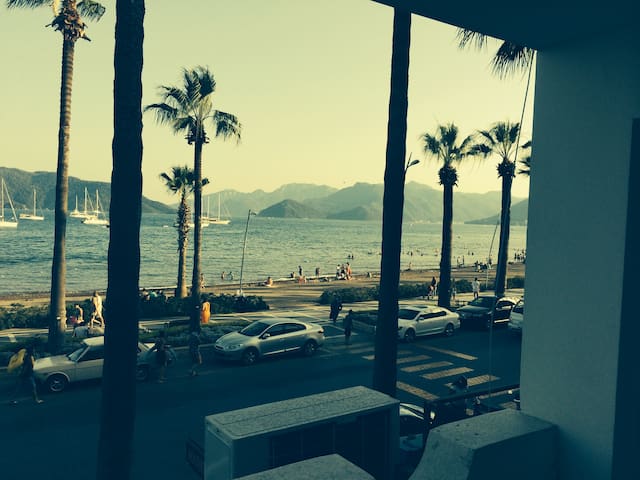 My Locations near: Bar Street, Marina (about 50 meters). So my parlor, you'll love this: The location and environment. Place couples, families (children) and feathered friends (pets) are suitable for.
Room Type
Entire home/apt
---
Property Type
Apartment
---
Accommodates
2
---
Bedrooms
Marmaris, Muğla, Turkey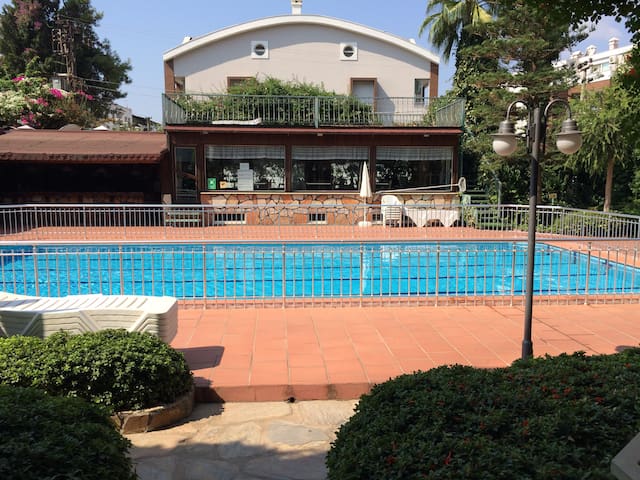 Aegean Princess apartments offer high standard of 4 star self-catering accommodation and a sparkling outdoor swimming pool with children's pool alongside a handy 24hr bar and restaurant where light meals and snacks are served. Enjoy playing billiard and table tennis in the Aegean Princess outdoor play area. Hospitality and friendly service are the hallmark of the Aegean Princess apartments
Room Type
Private room
---
Property Type
Apartment
---
Accommodates
3
---
Bedrooms
Marmaris, Muğla, Turkey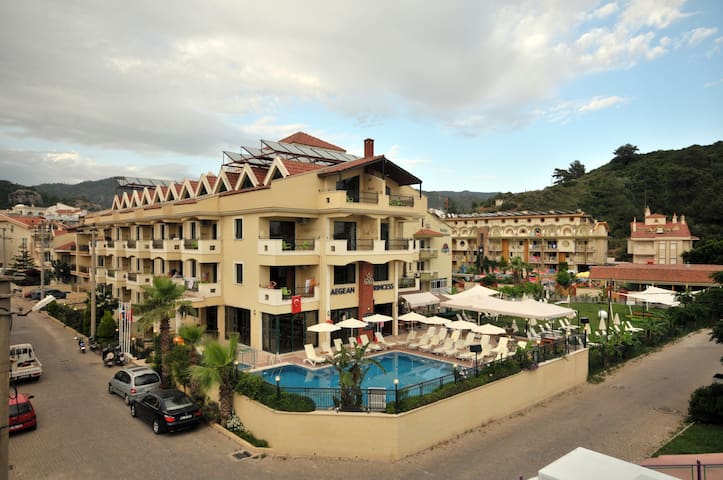 Полностью отремонтировано, чтобы вызвать ощущение высококлассной резиденции будет чувствовать себя как дома, когда вы остаетесь в нашей квартире. Расположенный всего в 100 метрах. Наш домик на пляже это место, которое также является самым тихим, но центральным Marmarisin. Питье прохода перед микроавтобус и сайтов.
Room Type
Entire home/apt
---
Property Type
Apartment
---
Accommodates
5
---
Bedrooms
Marmaris, Muğla, Turkey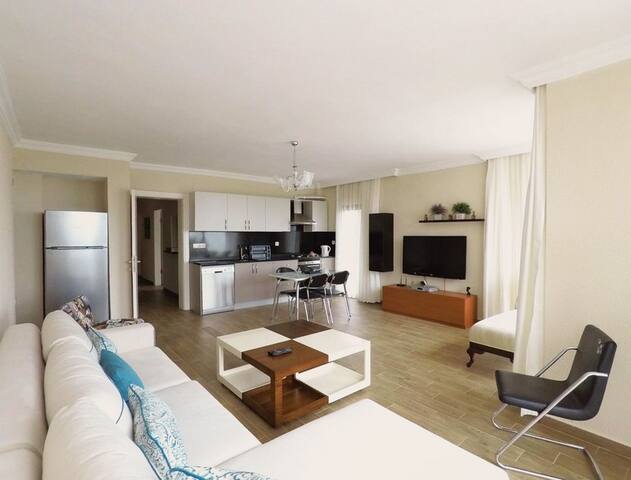 The apartment is on the top floor of our house and the stairs to the apartment are shared with us. There is a seperate bedroom which accomodates two people and a sleeping area in the living room which can accomodate a further two people.
on the top of the house! third floor
It is a neighborhood in development and is not touristy
We have just returned from a family holiday to Marmaris , where our two week stay was spent at Loes's (URL HIDDEN) a great time we had. Loes and her household made us extremely welcome and she was always ready to assist us with any queries or give us the benefit of her local knowledge . The apartment itself was perfect, it was spotlessly clean, had a large fridge, cooking facilities, floor fans ( or aircon at additional cost), a toilet that you could flush loo roll down! Shower, a balcony on which 3 could sit and watch the world go by and wi fi. The neighbourhood was quiet day and night, except when you got the full benefit of the "call to prayer" from the mosque next door! There was plenty of room to park our hired car in the street outside and the local Kipa supermarket was a two minute walk for any drink or food requirements. With the heat of Marmaris the lovely clean swimming pool was an added bonus that kept our daughter happy. I would definitely recommend Loes and her apartment , and still can't believe the value for money she offers. Thanks Loes!
David
2014-08-25T00:00:00Z
Loes and her lovely family met us like old friends. It was easy and pleasant to communicate. The apartment was on the top of the house. The ceiling follows the shape of the roof which makes the room appearance like fairytale, maybe, hobbit-hole. :) The neighborhood is clean and peaceful. It has to be mentioned that the house is right behind the mosque. It can be noticed from the pictures. So, guests should be ready for call for pray around 4-5am. This didn't disturb us much, just add more Turkish flavor which we come to feel. :) We are very grateful for Loes and her family for their hospitality.
Andrei
2015-03-26T00:00:00Z
The place was easy to find - look out for the Kipa supermarket and then a mosque nearby. The apartment on the third floor is very comfortable, very clean and equipped with everything you may need. If something else - you have only to ask. Loes is very considerate and welcoming host, although we did not meet personally and communicated via e-mails, but her cousin was always nearby and very helpful.
Yury
2015-02-26T00:00:00Z
Loes is a fantastic host. She is very friendly and helpful and gave us good ideas of what to see and do in the area. The apartment is spacious and comfortable and we enjoyed preparing our own meals and relaxing at the end of the day. The Thursday market is great for fresh produce and the Saturday market is just 2 minutes away. Bus at the door or an easy 15 minute walk to the beach promenarde made this a perfect apartment for us. Highly recommend.
Ian & Julia
2014-04-12T00:00:00Z
loes was so kind, warm and helpful. house was clean, comfortable and cozy. we can find everything that you need. also near of city center, beach, big market. :) i stayed 3month in turkey. loes house was the one of the most comfortable and best place for me. if i get chance again. i wanna stay again shes home. thanks for your everything. ;)
RIRA
2015-09-02T00:00:00Z
Absolutely wonderful! Didn't' t expect it to be that good. We had a whole level to ourselves with separate bedroom, balcony, kitchen, bathroom and living area. Loes was wonderful as were her family. Amazing value. Bus nearby but the 2 km walk to town was easy. Supermarket around the corner. Definitely want to come back and try the walking trail that Loes suggested. It can go for several days but the buses can return you to Marmaris each day. A big thanks to Loes and family!
Trish
2014-04-21T00:00:00Z
I want to fırst say Loes & Tuncay were absolutely fabulous. Our trıp got off to a bad start, fırstly we left our bag ın one of the cabs. Thank godness Tuncay came to our rescue. He went up to the cab statıon and found the cab and recovered our bag wıth the passports ınsıde. From that day foward we knew thıs was goıng to be a great holiday. The Apartmanı ıs ın a excellent locatıon less than fıve mınutes walk to mınıbus, less than 10 from there to the sea and nıght lıfe. Quıet neıghboorhood and Loes ıs fılled wıth ınformatıon on what to do and see. We where greeted wıth fresh lınen, toothpaste/brushes, shower gels, and endless hot water. It's located dırectly across from the Camıı whıch dıdn't bother us after the fırst mornıng. Comes equıpped wıth mını frıdge, pots, dıshes, and a stove. Much better and more homey than a hotel. The place ıs tıp top & the balcony ıs wonderful for breakfast and dınner. The placeıs perfect for famılıes wıth chıldren as there ıs a playground, pool, and Loes was kınd enough to furnısh us wıth toys for the lıttle one. You have the entıre top floor to yourself and ıt's totally prıvate. All and all I HIGHLY suggest stayıng here and we wıll surely be repeat guests. Thanks Loes & Tuncay
Kaye
2014-08-08T00:00:00Z
Everything about the apartment was perfect! The kitchen had everything we needed. The beds were comfortable. Everything was clean and organized. Loes even had English language DVDs for us! The apartment had maps of the city and information on tours. She was very well organized and ready for new guests! But the absolute treat was Loes and her family! They were so welcoming and helpful.
Olivia
2016-04-02T00:00:00Z
Room Type
Entire home/apt
---
Property Type
Apartment
---
Accommodates
3
---
Bedrooms
Marmaris, Muğla, Turkey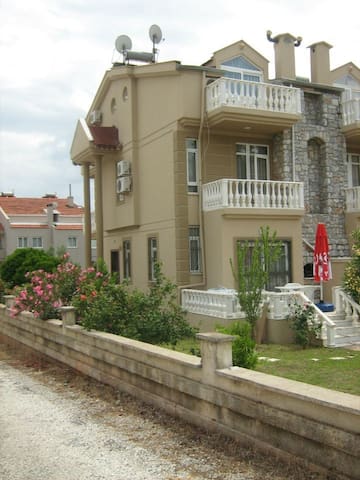 Marmaris | Bedr: 2 | Lr: 1 | Baths: 1 | Sleeps: 6 pax | AirConWiFi This beautiful and fresh apartment is one of our most popular rental apartments in Marmaris. It has been tastefully furnished and decorated. When you come inside it gives you a spacious feeling with its large living room that has a breathtaking sea view. Both the living room and the modern kitchen have a balcony facing the sea and the green nature. It has 2 large bedrooms and we have made sure that the bathroo
This town in the Turkish Riviera is offering a wide range of water sports facilities, such as; scuba diving, waterskiing and many others. Popular beaches nearby: Cleopatra Island, Jesus Beach, Dalyan Turtle Beach, Turunc Village beach and of course Icmeler Beach. Popular attractions; Marmaris Blue Port Shopping Center, Marmaris Bazar, Marmaris Bar Street, Marmaris Harbour Restaurants, Netsel Marina, Marmaris Castle ruin, Marmaris Old Town, Water Parks. Attractions to visit by car; Turunc village, Ciftlik village, Datca, historical ruins like Knidos, Amos and Stratonikea. Possibility to go with Katamaran to Rhodes as a day trip.
Stayed here for the second time last week and was as great as last time. Fully air conditioned and an amazing view from the balcony. To be honest the wifi connection isn't great, but we connected to the wifi of the bar underneath and that was fine. Adem was really helpful, meeting us for check in and helping us with our bags. He was also available throughout our stay if we had an questions or needed any help. Would definitely stay here again.
Lauren
2016-07-11T00:00:00Z
The apartment was great and exactly as described. The view was amazing and the kitchen had everything you needed to prepare food. The location is perfect near to all shops, bars and restaurants. The host was very welcoming and was available for contact if needed. Would not hesitate to stay here again.
Lauren
2016-05-04T00:00:00Z
Very nice apartmant, very close to the beach and town center. Adem was very helpfull. I can recommend this place.
Wolf
2016-05-18T00:00:00Z
War überhaupt nicht zufrieden. Die Wohnung war nicht sauber und hatte kein WLAN, sowie es in der Anzeige stand. Was ich ganz schlimm fand ist, dass es so laut war und es wurde nichts erwähnt.. Wir konnten nicht schlafen. Das ist eine Frechheit. Ich würde diese Wohnung nie wieder buchen und auch nicht weiter empfehlen!!
Linda
2015-09-21T00:00:00Z
...
Ayesha
2016-08-02T00:00:00Z
Ev gerçek çok güzel bir yerde ve çok rahattı.
Tunca
2016-08-08T00:00:00Z
Room Type
Entire home/apt
---
Property Type
Apartment
---
Accommodates
5
---
Bedrooms
Marmaris, Muğla, Turkey
The spacious apartments of Blue Paradise are decorated with colourful furniture. Each apartment includes a bedroom( 1 double or 2 single beds ), kitchen and a seating area. All apartments come with a 32 inc Led TV, air conditioning and a balcony. Including children maximum 3 people can stay.
Renovation date for furniture 2013 Renovation date for toilets and bathrooms 2014 Renovation date for televisions 2015
Lots of Restaurants and shops around us. 200 meters to the sea.
A wonderful apartment. When booking I asked if I could have an apartment with a view and was delighted that I could see the hills. On arrival Alper was waiting for me and after putting my bag in the apartment he drove me to the supermarket so I could get some drinking water and breakfast supplies. If anything needed fixing it was done within a few hours. It is wonderful that they use a solar water heater. It took me a little time to adjust to it as the water is hot between the hours of 9am and midnight....approximately. ..just something to be aware of. It was spotlessly clean and the linens changed for me. The apartment was good value for money and was just like the photos. I would stay there again.
Susan
2015-05-07T00:00:00Z
I loved everything about this place and would stay there again in a second! The room was amazing, large, very clean and newer furnishings. I only met Alper when I arrived and didn't need him while there, but he always returned my messages promptly beforehand. Location is great, as its close to the sea but a few blocks off the main (& noisy) drag. Bus service very easy from there.
Lisa
2015-10-14T00:00:00Z
We spent two nights in this very spacious apartment with kitchenette, lounge, queen bed and large desk. Arriving there at the hottest time of summer made having air conditioning a real bonus. The shower and bathroom were great too. We were pleased to find the apartment had two balconies with seating, plus heaps of storage in every area. All this gave us the sense that you could live there long term quite comfortably. The building is only a few hundred meters from the beach and the main drag, yet surprisingly quiet. We were tempted by the beautiful pool, but didn't take a dip for lack of time. It was easy to park on the street in front of the main entrance where I believe there is always someone available to help if you need it. Alper was easy to communicate with, friendly and helpful. We highly recommend this spot.
Sofia
2016-08-25T00:00:00Z
We had a wonderful stay at Alper's apartments. The location is pretty good - not in the middle of town but easily walkable, or even easier if you take a minibus up and down the main street. The apartment was comfortable and very clean and perfect for two people. Alper and his mom and everyone helping out at the apartment building are very nice. They gave us some plums that were growing in their backyard; the plums were fresh and delicious. All in all, a very good deal and if I went back to Marmaris I would stay there again.
Jason
2014-06-27T00:00:00Z
Alper and his family run a small apartment building in Marmaris which is really modern and clean and in a great location close to a lot of restaurants. Alper was very welcoming and would definitely recommend staying here.
Conor
2014-07-02T00:00:00Z
Amazing place with everything necessary. My first and unique choice for future visits to Marmaris! Thank you!
Vovka
2015-06-30T00:00:00Z
We were not disappointed when arriving to the apartment. The photos look the reality. The apartment is clean and perfect for two persons. Large living room with kitchen and big bedroom and a view on the pool through the balcony (ideal for a breakfast) The location is 2 km away from the centrum and there are frequent buses on 200 meters away. Alper was a very good host. He gave us information when we needed them. And reserved us a tour for a fishing trip.
mohamad
2015-08-20T00:00:00Z
We really enjoyed our stay here with Alper and his family. The apartments are located halfway between Marmaris Old Town and Icmeler, in a nice safe area, with plenty of shops, restaurants, the beach and the supermarket in easy walking distance. Alper speaks excellent English and can be reached easily if you need help with anything. He is a great source of information regarding the local area and very obliging if you need help at any time. Alper's Mum is a wonderful cook and often shares her homebaking with the guests! All in all, a really lovely stay. Beautifully clean and well furnished apartments. Excellent value for money! We can thoroughly recommend this place, and hope to come back again some day! :)
Caroline
2014-05-12T00:00:00Z
Room Type
Entire home/apt
---
Property Type
Apartment
---
Accommodates
2
---
Bedrooms
Armutalan, Mugla, Turkey
A studio in center of city, very well located, 5 minutes to the beach, 5 minutes to the local market, 10 minutes to the shopping center, on foot. It is a brand new studio, furnished lately, has a bedroom, a small kitchen and a bathroom.
Very welll located in the center of Marmaris. 5 minutes to the beach by walking. You may take small busses in order to go to other beaches easily. Villages and coves of Marmaris are awesome, you may take busses to visit Selimiye, Bozburun, Hisaronu, Datca.
We have a long beach, a local market on thursdays, small markets and lots of restaurants around. The apartment is 10 minutes walking to the very center of Marmaris. Our guests should visit castle and have a walk in small streets up to the castle, have a drink at the caffes' on top of the hill. Should visit villages of Marmaris and visit Akyaka and Mugla if they have time.
Pınar is so nice. She suggested us to choose a very nice boat trip and other interesting places, especially the castle bar. Her studio is lovely, clean and quite easy to go to beach. Thank you so much Pınar. Me and Chandra are very happy to stay at your place. Kannika
Kannika
2016-08-21T00:00:00Z
Pinar and her husband were very welcoming and understanding with our late arrival and departure times. The apartment was very well set up - great air con, cooking facilities and even Smart TV/DVD player. The apartment was only a few minutes walk from the beach, and no more than 10 minutes from all the restaurants and bar street. I would highly recommend this to anyone.
Carrie
2014-09-10T00:00:00Z
Apartment not as described, one wall was covered in mould and damp. The host said this has dried but it still affected my asthma so if anyone is sensitive in any way breathing or immune wise you will want to bear this in mind. There was also no toilet paper, which having arrived in the middle of the night was not ideal.
nadia
2015-08-18T00:00:00Z
We met with Pinar for coffee a couple of days after our arrival. She told us about some nice places to visit and kindly wrote down directions for us. She was then happy to show us some of these places and introduce us to the owners. She was also very patient with us when we stupidly locked ourselves out - she drove all the way to the apartment to let us in and we were extremely thankful!
Naz
2016-08-29T00:00:00Z
Everything was nice and comfortable! Location is very convenient for those who at day go to Icmeler, at night go to city center.
Ольга
2016-06-27T00:00:00Z
The apartment is very comfortable, is spacious with beautiful décor and has a very good location for walking at night and go to the beach in the day. They were very kind to us and helped us in what we needed. If I go againt to Marmaris I would love to stay again at the same apartment.
Matias
2015-07-20T00:00:00Z
Pinar and Kubi are great hosts! We had a very enjoyable stay! The apartment looks exactly like the pictures and was very clean and cozy! The kitchen is equipped with everything you need! Definitely recommend staying at this cozy studio!
Navruza
2015-07-31T00:00:00Z
Nice contemporary design studio in excellent location - literally 5 minutes walk from the beach, 10 minutes walk from the centre of town. Good number of nice restaurants in the neighbourhood. Helpful and responsive hosts.
Neil
2016-01-09T00:00:00Z
Room Type
Entire home/apt
---
Property Type
Apartment
---
Accommodates
2
---
Bedrooms
Marmaris, Turkey
Central location, clean and nice room near the sea front..
Room Type
Private room
---
Property Type
Apartment
---
Accommodates
2
---
Bedrooms
Marmaris, Muğla, Turkey
Lovely newly modernised 2+1 near the centre blue port, the apartment is 50 metres from the beach and is in an ideal location for all amenities, all mod cons are provided in a tastefully newly modernised ground floor apartment
We have decorated in a very unique way that will we hope put you in the mood for a great stay and holiday
Room Type
Entire home/apt
---
Property Type
Apartment
---
Accommodates
5
---
Bedrooms
Marmaris, Muğla, Turkey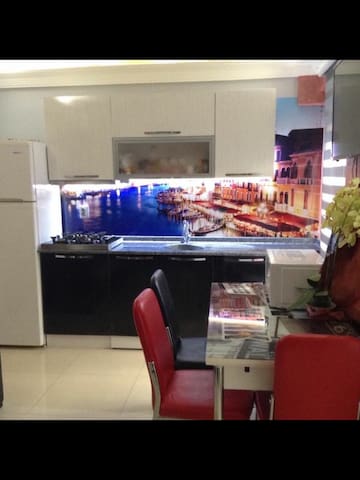 Amaris Apartments are modern and attractive complex and perfect base for families couples and singles. With the experience of being the best apartment in quest satisfaction statistics in Marmaris the Amaris offers a superb holiday in this special res
Room Type
Entire home/apt
---
Property Type
Apartment
---
Accommodates
4
---
Bedrooms
Marmaris, Muğla, Turkey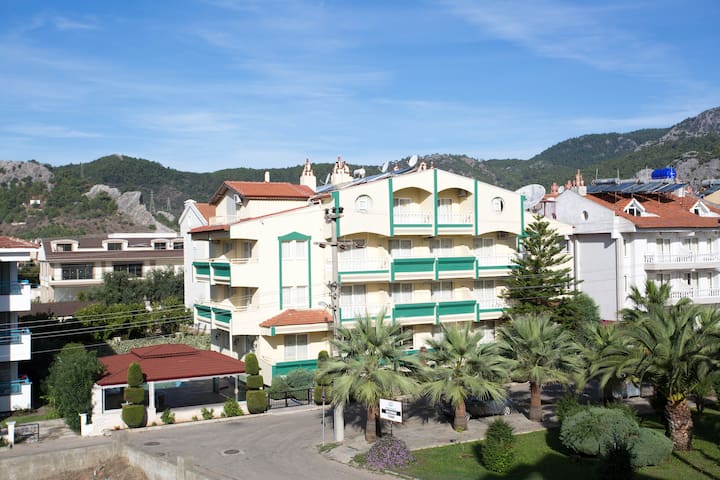 1

–

18

of

103 Apartment Rentals
Enter dates to see full pricing. Additional fees apply. Taxes may be added.