Mon logement est située à 100km de Paris et 15minutes de l'aéroport de Beauvais, la maison permet d'héberger les voyageurs dans 10 chambres indépendantes (2 à 5 voyageurs par chambre). Vous serez séduit par le calme et la verdure environnante. Mon logement est parfait pour les couples, les voyageurs en solo, les voyageurs d'affaires, les familles (avec enfants) et les grands groupes.
La chambre sera attribuée en fonction du nombre de voyageurs. Le prix comprend les draps, serviettes, ménage et les charges. Chaque chambre à accès à une salle de douche qui lui est dédiée et qui n'est pas partagée. Il y a de quoi se préparer un thé, café pour le petit-déjeuner dans la cuisine.
La maison est située en sortie de village au calme.
Everything correct, nice welcoming from the host, cosy house to stay in a quiet surrounding
Mariangeles
2017-02-17T00:00:00Z
Disponible, arrangeante et gentillesse en prime. Merci Martine
Patrice
2017-01-31T00:00:00Z
Room Type
Private room
---
Property Type
House
---
Accommodates
5
---
Bedrooms
Haute-Épine, Hauts-de-France, France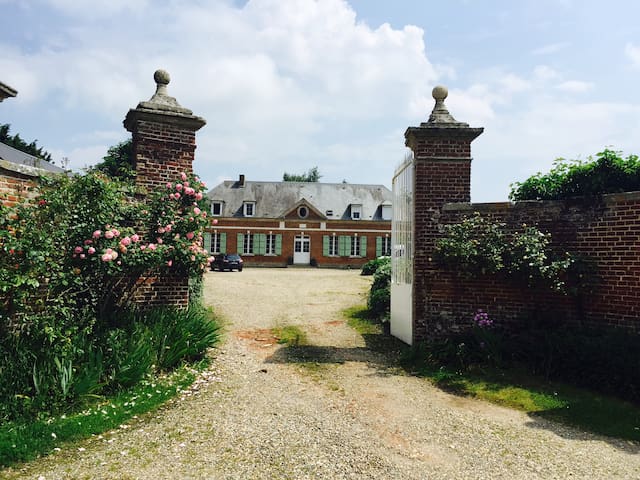 My home is close to restaurants, public transport and train station AIRPORT Beauvais and activities suitable for families. My accommodation is perfect for solo travelers and business travelers. (Commercial Area and major industries a few km)
We provide you with 1 bedroom + kitchen + bathroom + WC on the floor of our house
HALLOY is a quiet village.
Accueil au top de la part de Etienne et Claire. Il y a le nécessaire pour être bien. Je recommande, et très bon rapport qualité prix.
Aurélien
2017-01-18T00:00:00Z
Accueillant, chaleureux, calme. Une adresse à garder. Merci !
David
2017-03-01T00:00:00Z
Etienne et Claire sont très chaleureux et sympathiques :) A refaire sans aucune hésitation !
Alexandre
2017-02-15T00:00:00Z
Accueil sympathique de Claire et d'Etienne . La maison est très spacieuse et confortable . le quartier est calme , les photos sont fidèles au logement. J'y reviendrai avec plaisir.
Julien
2016-12-08T00:00:00Z
très agréable .A refaire
gregoire
2016-12-16T00:00:00Z
Room Type
Private room
---
Property Type
House
---
Accommodates
1
---
Bedrooms
Halloy, Hauts-de-France, France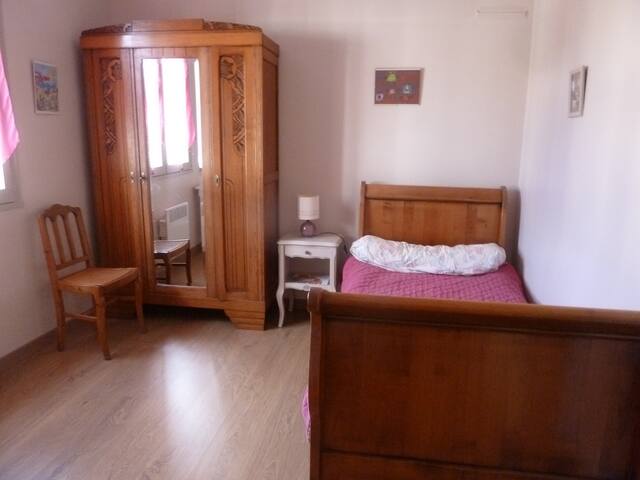 The place is an old farm in middle of nowhere in the french countryside in Oudeuil county . 20 km of Beauvais, 100 km of Paris, 80km from seaside .. difficult access You will love the quiet and peaceful barn, with her large traditional space, away from busy cities, without noises and traffic, beautiful terrasse attach to the loft, perfect for couples, solo travellers, business travellers . Car is recommended, owner can come to get you from Beauvais-Tille airport or beauvais train station .
Rural space open to fields, woodland, lakes and rivers in the agricultural Picardie-Normande . Ideal for retreat, resourcing, multiple activities around (fishing, walking, biking, cultural and attractions, tours .....) One night, one week, you are more than welcome to discover the region .
Ancienne ferme, situee dans un petit hameau perche sur une colline de la commune de Oudeuil, quelques voisins tres aimables et de la nature et des champs, bois a proximite et tout au tour du hameau . Isole de la grande agitation des villes . Vous trouverez a quelques kilometres l'essentiel pour vos courses ( Carrefour - E.Leclerc - plus marche sur la place du grand bourg voisin " Crevecoeur le grand "
Si vous avez envie de calme et de sérénité, de ballades ressourçantes dans la nature, je vous conseille vivement cette maison, atypique et chaleureuse. Sa terrasse est parfaite pour déjeuner ou lézarder. Un parfait havre de paix concocté par Lionel, hôte très agréable et accueillant. À recommander
Ghislaine
2017-03-12T00:00:00Z
Room Type
Entire home/apt
---
Property Type
House
---
Accommodates
4
---
Bedrooms
Oudeuil, Hauts-de-France, France
Beautiful attic room for three people, ideal for couples a child. In an old house of family gathering in a field of flowers and trees. renovated manor house in the village of Gerberoy Wambez 700m.
2 outdoor terraces. Games room: table football and board game.
Located 700 m from Gerberoy, one of the most beautiful villages in France, 15 km from Saint Germer de Fly and 20 km from Beauvais and its airport. Numerous hiking and bike rides
I satyed here with my parents only one night, although all three of us wished it could have been longer. It was a real experience meeting the young french family who occupy this wonderful house. We were welcomed on arrival with a some drinks on the terrace in the sunshine, and had a really lovely exchange together. The space where you stay is a portion of the upper floor. You have your own bathroom and separate toilet. The bedroom is really nice, we were three which was perfect because there was a double bed and a single tucked away in the corner for me. It is very spacious with a table and chairs, is nicely decorated, clean, and has a great view from all windows. There was another big space with a double bed on the other side of the loft area (separate to our room) which we did not use, but I suppose could be used if you were a bigger group, you'd have to check on that. Breakfast was included, which we ate in the big family kitchen, croissants and baguettes and butter and jam, and tea and coffee. Honestly....if you have any doubts about renting a place where you share the space with your hosts, don't hesitate to rent this space and meet these dynamic young people. We felt so welcomed, very comfortable, and free to move about on your own schedule. Also, we weren't sure what time we would be arriving so we didn't take them up on their offer for dinner at 20€ per person, but now we wish that we had! As the smells coming from the kitchen were delicious, and we sampled a little during our afternoon drinks. So we recommend you take up the offer when organising your stay. The little towns nearby are worth visiting, especially Gerberoy. The roses were beautiful.
alex
2016-06-12T00:00:00Z
We were greeted with a warm welcome. The house is similar to a British stately home - gorgeous. The room was beautiful with wooden beams and pretty, large bathroom. - Me and my friend had such a lovely time and were given a delicious three course meal with cocktail and wine (optional extra - well worth it!) And ate with our very friendly hosts, we were also given breakfast - we definitely would go back and would recommend this place highly.
Marie-Louise
2016-06-10T00:00:00Z
We had a very warm welcome from Gregoire and Margaux. They helped us with our luggage and took us up to the top of the house where our room was waiting. It was very spacious and could easily accommodate both of us and our grandson. Once settled they invited us to join them for a drink on the terrace in their huge garden. Beautiful views, pity the sun wasn't shining! Our evening meal cooked by Gregoire's chef brother was tasty and generous. Conversation was easy and comfortable. Breakfast next day was fresh and with a choice of many home made jams. Altogether a very pleasant stay for our first Airbnb experience.
Linda
2016-08-12T00:00:00Z
Amazing place. Gregoire and his family were very warm and welcoming. We had dinner with them one of the nights and we had so much fun. Very positive and smile people. I strongly recommend their home :)
Elina
2016-05-31T00:00:00Z
Gregoire & his wife made us very welcome- a nice family atmosphere.
helen
2016-09-04T00:00:00Z
We truly enjoyed our stay at the renovated family mansion. It's a great place to stay with a small family. Greg & Margaux and there adorable baby son were very welcoming and friendly, which made us appreciate our stay even more after our other stays in France later in the trip. Our 2.5 yo son loved playing with their dogs, visiting the chickens and playing ball in the front garden. It was lovely waking up to the sounds of the birds, going for a walk to the near by village of Gerberoy while passing cows and sheep. Monday means less tourists, which allowed for a lovely walk around the stunning village, but also restaurants are closed early so beware when it comes to dinner plans. Greg & Margaux offer dinner for fair price though. They also offer delicious breakfast with homemade jam. The mansion from the outside is absolutely stunning. The room is warm and nice, with lovely views and all the basics covered. Our visit was perfect and we warmly recommend Belle Chambre!
Dina
2016-06-08T00:00:00Z
We had a lovely stay with Grégoire, Margaux and little Bastien. After a day travelling they welcomed us with a cold drink on the terrasse and were extremely happy to show our little son Enzo who is two and a half around the property, visiting the neighbour's farm and Enzo was even able to collect two eggs from their own hens helped with the lovely hostess Margaux. Even though we were only there one night they made sure it felt like home to us, Enzo settled well playing with the two gentle dogs. We then had a lovely organic meal with fruits and vegetables direct from the garden and all other food was from the local market. The property is amazing, very clean and our facilities were like a private apartment which meant we all had our own area. The bedroom was comfortable with clean toilet and bath facilities. Breakfast was lovely too with a variety of homemade jams and yummy croissants. My husband recommends the confiture de lait and Enzo recommend the praline chocolate spread! Margaux and Grégoire made us feel like we were family friends rather than paying guests and the conversation was flowing all evening. They truly have a heart of gold and we would easily recommend them to anyone who is passing through the area. Merci! Anne-Lise, Dan & Enzo
Anne-Lise
2016-08-25T00:00:00Z
Gregoire and his family were wonderful hosts. They made us feel very welcome in their amazing home. A very special stay for us. We were only able to stay for one night, but we could easily have enjoyed more days with them.
Joanne
2016-07-15T00:00:00Z
Room Type
Private room
---
Property Type
House
---
Accommodates
3
---
Bedrooms
Wambez, Picardie, France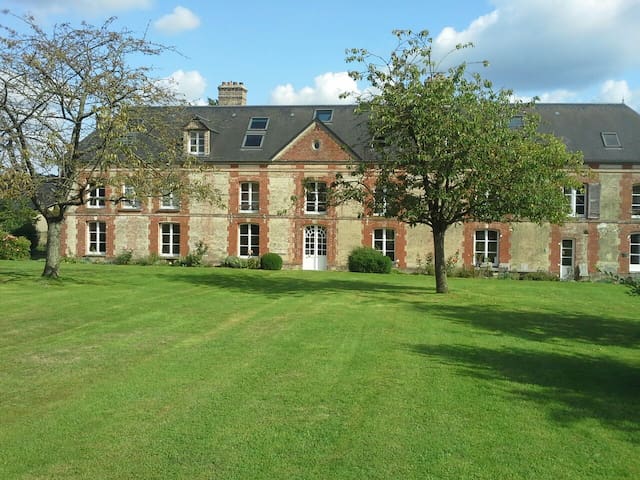 A 100km from Paris and 10 minutes from Beauvais airport, the house sleeps 8/10 people. It is located out of town, quiet, in an old Picardy farmhouse surrounded by greenery.
The accommodation is situated in an independent house of the dwelling owners.
The house is located in the quiet village of output. It has a large gravelled courtyard, a garden and a field where you can observe a family of donkeys.
Ancien corps de ferme, propre et fonctionnel. Propriétaire charmante.
Sandy
2016-04-12T00:00:00Z
NOUS AVONS PASSE UN TRES BON WEND KEN LE LOGEMENT ETAI CONFORTABLE ET SPACIEUX L HOTE ETAIT DISONIBLE ET TRES ACCEUILLANT NOUS LE RECOMMANDONS
mario
2016-12-26T00:00:00Z
Agréable séjour chez Martine ! Nous avons découvert un cadre calme, agréable et très confortable. Martine est disponible et chaleureuse. Nous recommandons !
Pauline
2017-01-19T00:00:00Z
Room Type
Entire home/apt
---
Property Type
House
---
Accommodates
8
---
Bedrooms
Haute-Épine, Picardie, France
My accommodation is close to major shopping centers and indusriels AMIENS, Beauvais and FEUQUIERES GRANDVILLIERS, and by public transportation. Enjoy my apartment for its location, parking, the quiet of the countryside. Couples will appreciate the room, the bathroom, the toilet and the kitchen -living room with television.
We put all the floor of our house available to passengers about 80 m2
Halloy is a quiet village.
Très confortable et très propre, comptant en plus avec la chaleureuse et discrète présence d'Etienne et Claire. C'est un plaisir de séjourner chez eux. Nous sommes très reconnaissants de leur qualité d'accueil!
Sandra
2017-04-01T00:00:00Z
Discrétion et simplicité. Accueil très chaleureux de Claire et Etienne, nous le recommandons sans hésiter.
Alain
2017-02-19T00:00:00Z
Room Type
Private room
---
Property Type
House
---
Accommodates
2
---
Bedrooms
Halloy, Hauts-de-France, France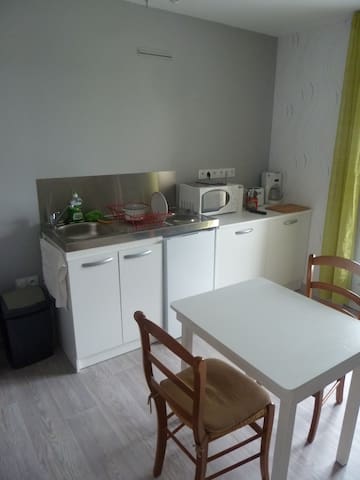 Charmante maison située en Picardie,....
Despite being much later than anticipated, Sylvie was very welcoming to our family. The house was immaculate and a much welcome rest break . We only stayed for 1 night as a stopover from the south of france , before returning to the U.K. Some milk, eggs and homemade jam had been provided for our breakfast which was very thoughtful. We had dinner at Chez Tony a pizzeria/grill at Sylvie's suggestion, which was just a 5 minute drive away, and a lovely family restaurant. I highly reccommend a stay at this lovely property.
Suzanne
2015-08-10T00:00:00Z
Loved how it looked on the inside. Plenty of parking. Yard for the kids to play in. Lots of room for the six of us. Wifi worked great. The provided us with food for breakfast, very delicious jams for toast was our favorite. I was surprised there was no tv but my children did not seem to notice. There was no fans so we add to open the windows, so some screens or fans in the rooms would make a nice addition. The host was very nice.
LIZ
2015-08-13T00:00:00Z
The house is easily reachable and in a good place to Beauvais airport. It's been completely renovated and everything inside is quite new, clean and comfortable. Our host was totally nice and generous, she left us also some bread and everything to prepare us a complete breakfast! I definitely recommend her and this beautiful house for your stay in Crillon. Thank you!!!
barbara
2015-09-13T00:00:00Z
Très bon accueil et maison confortable et totalement rénovée Merci
Clement
2015-07-27T00:00:00Z
Nous avons passé une nuit a Crillon a 4 personnes avec un bébé. La maison est tres grande et entierement refaite a neuf. Cuisine équipée, grand salon, chambres spacieuses. Un lit bebe avait été installé pour la petite dernière. Arrangeant et ponctuel, Sylvie nous a accueillit et tout explique. Petit plus: La cour fermée pour manger dehors sans les bruits de la rue et ou garer notre voiture. Un bonheur au calme a 20 minutes de Beauvais. On ne peut que recommander.
Romain
2015-08-31T00:00:00Z
Notre hote nous a accueilli chaleureusement et a été très compréhensive. (Des petites attentions nous étaient destinées
Naomie
2015-08-16T00:00:00Z
Accueil très chaleureux de la propriétaire Visite du logement avec explications détaillées. Mise à disposition du linge de toilette et des draps lits déjà faits. Logement situé dans un village, dépôt de pain à proximité. Confitures maisons offertes
François
2015-07-20T00:00:00Z
Un bel espace flambant neuf, bien aménagé et bien pensé où il a fait bon vivre le temps d un week-end entre amis! Les hôtes sont accueillants et bienveillants, aucun conseil à leur donner si ce n'est de ne rien changer! Pour une première expérience, félicitations!
Ingrid
2015-07-06T00:00:00Z
Room Type
Entire home/apt
---
Property Type
House
---
Accommodates
8
---
Bedrooms
Crillon, Picardy, France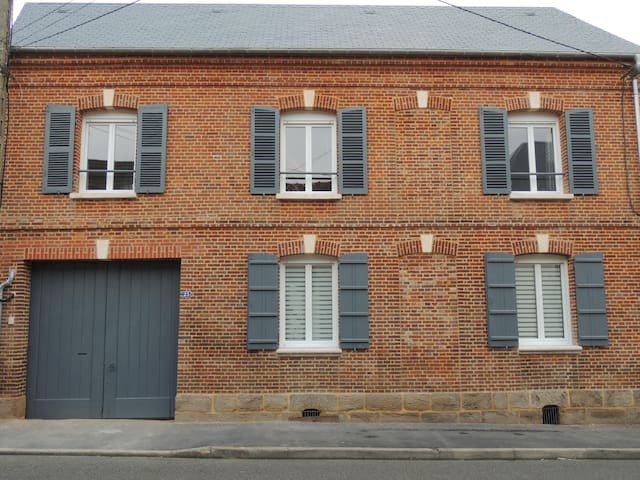 Grande maison à la campagne idéale pour réunir votre famille et vos amis. Le logement comprend 10 chambres, 31 lits simples, 1 double (pas de lits superposés) et permet d'accueillir 32 personnes.
Free management, charges and cleaning included. Excluding linen and towels can be rented additionally. green, very quiet. Two large rooms 50m2 for meals and evening. No restriction in time and noise level. Expandable (8/10 beds) by renting another house of the farm with its own garden.
The house is located in the main building of the farm which is situated in the quiet outskirts of a small village. The farmhouse has a large gravelled courtyard, a large garden and an adjoining meadow where you can see a family of donkeys.
Martine was a wondelful host to our group of 33 people. The house is not only equipped for so many people but also has a real charm. I really recommend a stay in Haute-Epine and hope to enjoy the beautiful and quiet countryside again some day.
Emma
2017-03-19T00:00:00Z
Room Type
Entire home/flat
---
Property Type
House
---
Accommodates
16
---
Bedrooms
Haute-Épine, Hauts-de-France, France
Bienvenue au Logis de Gerberoy .Crées depuis 12 ans, nous vous accueillons dans nos 5 chambres d'hôtes de caractères situées au coeur de la ville de Gerberoy classée parmi les plus beaux village de France. Nos chambres sont agrées 3 et 4 épis
We had a wonderful experience staying at Cecile's B&B in the terrasse room. The historic room is beautifully furnished and opens onto a rooftop terrace with views of the charming village and gardens. Cecile is the perfect hostess sharing stories of the origins of the house and features of the unique village of Gerberoy. A delicious breakfast is served in the morning with choices of many home-made delicacies. We highly recommend a visit to romantic Gerberoy and Cecile's Logis is a beautiful place to stay. Merci!
Wendy
2016-08-21T00:00:00Z
Cecile is very welcoming, the room was wonderfully warm (weather wasn't!), comfortable and beautifully decorated in stylish colours. Gerberoy is a perfect place to stay to see Henri le Sidaner's garden and has a fascinating history. The beauty of it took my breath away. I also had a wonderful dinner and breakfast with Cecile. Highly recommended.
Annette
2016-05-20T00:00:00Z
One of the best B and B's we stayed at on our trip - a true B and B. Our host was warm & welcoming; a real delight. We chose to accept her invitation for dinner 3 times (we paid extra) as all restaurants in town were closed that week. Her husband is an excellent cook and gave us delicious local specialities. We had a large comfortable room with private bath & balcony. The sheets were high quality; towels were fluffy & big. Cecile was extremely gracious & helpful and her English is perfect! She is an incredibly hard worker. We loved the communal dining room and dining (and breakfast) with the other interesting guests.
Martin
2015-07-30T00:00:00Z
On a été très bien accueilli par notre hôte qui nous A bien conseillé pour le restaurant et les balades dans les alentours la chambre elle était charmante avec une belle terrasse Et d'une propreté irréprochable le petit déjeuner délicieux avec des bons produits et convivial dans la salle avec une grande cheminée qui nous réchauffer du froid d'automne Le village de Gerberoy il est vraiment beau idéal pour les personnes qui aime le calme et les balades dans La verdure
Michele
2016-11-12T00:00:00Z
C'est un gîte très confortable, calme, cosy et aménagé avec beaucoup de goût
Pascale
2017-04-01T00:00:00Z
Dans ce merveilleux et indescriptible village de gerberoy , Cecile et sa famille nous ont accueillis comme des rois. Leur maison Est très belle et très chaleureuse . La chambre était parfaite , nous y avons dormi comme des bébés . et le petit dejeuner à ete un moment merveilleux aussi , Avec confitures (à tomber ) et pains faits maison (et exquis) , fruits frais œuf brouillé, et tant D autres choses ... Nous reviendrons , c est sûr, et nous recommandons à mille pour cent la maison de Cecile , et le village de gerberoy .
Marie
2016-10-20T00:00:00Z
Room Type
Private room
---
Property Type
House
---
Accommodates
2
---
Bedrooms
Gerberoy, Picardie, France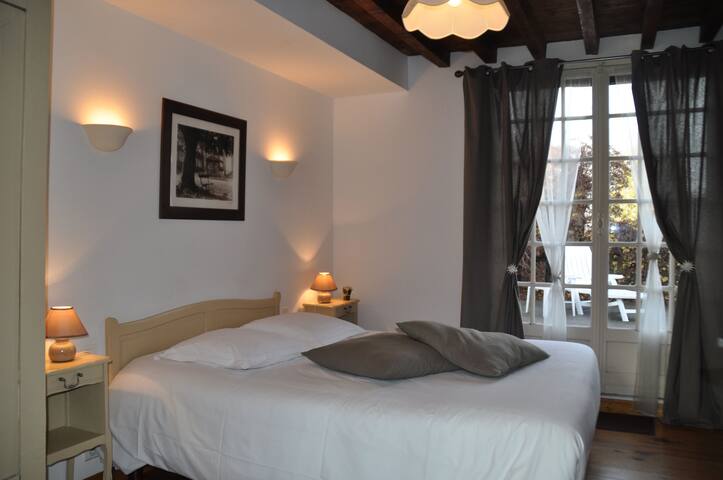 Situé en plein centre d'un village, dans un bâtiment XVIII indépendant de notre propriété de 2 hectares, le logement comprend une cuisine aménagée, un salon avec un insert et un canapé lit , 2 grandes chambres, 3 salles de douche et 3 WC .
A 1 h 30 de la région Parisienne et à moins de 2 kilomètres d'un des plus beau village de France "GERBEROY", dans un bâtiment XVIII entièrement restauré, qui a abrité des soldats de la Grande Guerre, environné de tous commerce et dans un cadre harmonieux, six personnes trouveront les conditions idéales de détente.
Il y a une dizaine d'année nous recherchions une propriété non isolée, disposant d'un grand terrain et facilement accessible depuis la région Parisienne. Le relais de Boufflers offre toutes ces caractéristiques avec la particularité de se trouver à proximité d'un des plus beau village de France.
Michel nous a contacté par sms pour savoir notre heure d'arrivée. Il était là pour nous accueillir. Le gite était plutôt bien décrit, mais il manquait de précision quant aux couchages.
Caroline
2015-10-19T00:00:00Z
Mes amies et moi avons passées un magnifique week-end au relais de Bouffleurs ! La maison est encore plus belle et grande que sur les photos. Nous comptons y retourner ! De plus Michel est hyper sympa, disponible, a l'écoute... Il nous a même accompagnées visiter Gerberoy (magnifique village au passage). Merci pour tout !
Diouma
2015-08-17T00:00:00Z
Room Type
Entire home/apt
---
Property Type
House
---
Accommodates
6
---
Bedrooms
Songeons, Picardie, France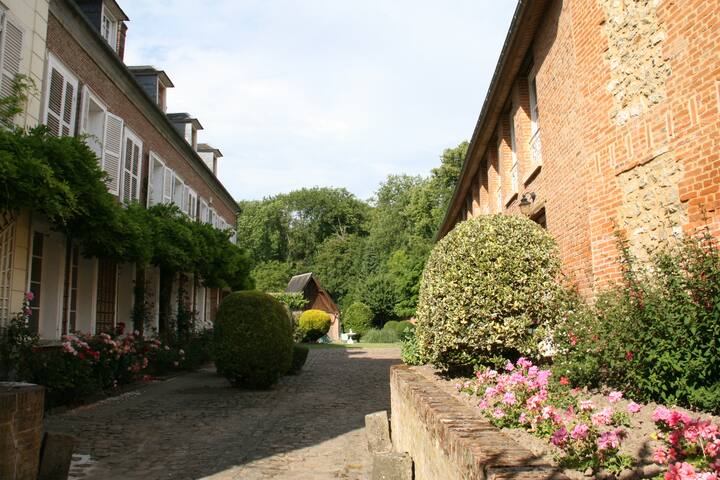 Typical house Picardie being restored in a quiet village north of Beauvais (nearest airport, about 10 km). Ideal for a short stay with family (can accommodate a baby and a child on a sofa bed in the living room). House very pleasant to live with many openings to the outside. The garden is fully enclosed.
Room Type
Entire home/flat
---
Property Type
House
---
Accommodates
2
---
Bedrooms
Verderel-lès-Sauqueuse, Nord-Pas-de-Calais Picardie, France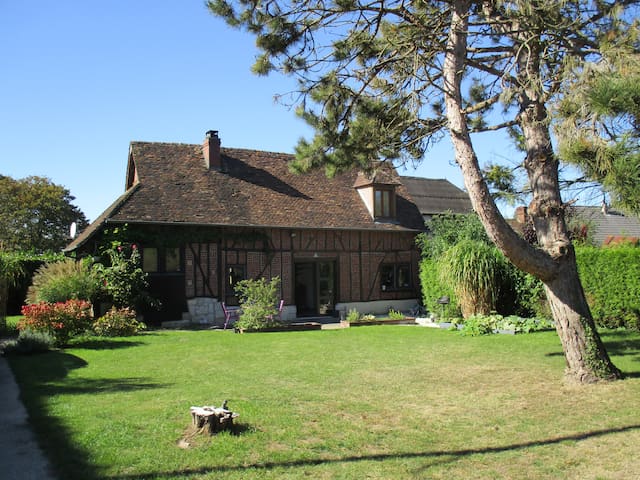 Mon logement est proche des grands centres industriels et commerciaux de AMIENS , BEAUVAIS FEUQUIERES et GRANDVILLIERS,,et des transports en commun. Vous apprécierez mon logement pour sa situation,son parking ,le calme de la campagne . Mon logement est parfait pour les voyageurs en solo, les voyageurs d'affaires.
Nous mettons à votre disposition deux chambres + cuisine + SDB +WC à l'étage de notre maison.
HALLOY est un village calme.
Room Type
Private room
---
Property Type
House
---
Accommodates
2
---
Bedrooms
Halloy, Hauts-de-France, France
Maison typique en colombage et torchi dans un petit village de 100 habitants. Cette maison est un endroit cosy, chaleureux, où l'on peut prendre le temps de se reposer, de vivre. Son équipement ménager rendra votre séjour confortable!
C'est une maison typique picarde, récemment restauré par nos soins. Équipé d'une cuisine aménagée, d'une salle à manger, d'un salon cosy, 2 chambres (et d'un lit d'appoint), 2 salles d'eaux et 1 WC indépendant. Le jardin est totalement clôturé pour vos séjours en famille.
Quartier tranquille dans un petit village. La maison est dans une rue sans issue. Vous trouverez dans le village un producteur de fromage, un producteur de volaille et un producteur de légumes (1,2km). Le boulanger passe le mardi, jeudi et samedi matin (vers 10h). Chemin de randonnée accessible à pied.
Gite's house is absolutely beautiful! It has a gorgeous farmhouse charm with all mod cons - the shower is amazing! Also, a very big garden that would have been great to hang out in in the sun. Gite and her family were incredibly welcoming to us, even giving us some cheese from their farm! There were 4 of us staying for 1 night in May while cycling from London to Paris. Unfortunately due to a ridiculous number of punctures we arrived much later than we originally planned but Gite and her family were still very nice and smiley when we arrived, even after they had come out in the dark to look for us! Lovely people, we would definitely recommend staying here! Even though we spoke very little French, and Gite spoke very little English we were able to get by with the use of (SENSITIVE CONTENTS HIDDEN) translate and lots of gesticulation! There were 4 of us and we had the place to ourselves, all in our own bed (3 sharing one very large room). There was space for more too. A bargain, highly recommended!
Tom
2015-05-02T00:00:00Z
The host canceled this reservation 24 days before arrival. This is an automated posting.
James
2016-04-06T00:00:00Z
Ce Gîte est vraiment vraiment agréable, propre, sain. On s'y sent comme à la maison. Nous sommes venus à 9 et notre hôte nous a très bien accueilli et est très disponible. Le gîte est situé au calme avec un bel espace de jardin. Je recommande cet hôte et ce gîte, allez-y les yeux fermés!
Aurelien
2015-06-01T00:00:00Z
Gîte au calme à la campagne, spacieux. Accueil chaleureux par le petit chien des propriétaires Eole
Sophie
2015-05-26T00:00:00Z
Un lieu charmant pour un week-end entres amis à 11, où chacun a pu avoir la place et le confort nécessaire, avec le petit plus du poêle qui réchauffe bien pour les frileux... extra !
Clément
2017-01-02T00:00:00Z
Maison charmante, bien chauffée et parfaite pour un week-end à plusieurs. Tout le nécessaire y est. Mme Beaudoin est très gentille, à l'écoute et serviable. Nous avons passé un très bon réveillon dans son gîte.
Jehanne
2016-01-03T00:00:00Z
Room Type
Entire home/apt
---
Property Type
House
---
Accommodates
10
---
Bedrooms
Grémévillers, Picardie, France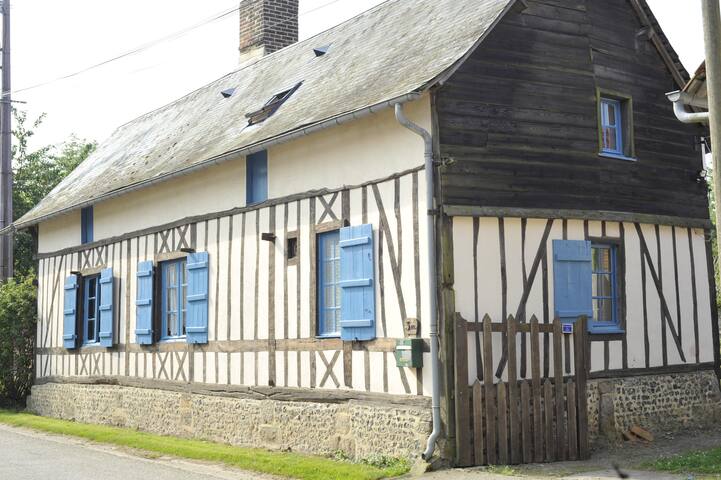 A house at the end of the village in a cul-de-sac. A nice family home with 3 bedrooms and a TV/game room, 1 bath room and 1 shower room, open plan kitchen and split level living room. The tennis court is a bit old but very nice despite some funny bounces... The river is 150 metres outside the property, the spring is close so the water is a bit cold but children still enjoy it. Horse riding club 300m away, Carrefour City is 2 km away, you can walk to the train station (1h30 by train from Paris). In the countryside, one hour from Paris, 1 hour from the Bay of Somme (World Cultural Heritage), 1 hour from Chantilly and its beautiful castles, 2 hours from Belgium... In a few words, an exceptional geographical location to connect with the North of France. Then, between tours to Chantilly or Paris you can relax playing tennis even if the courts are not so new, you will have a good time playing or swimming in the river
We had a lovely time staying in Fanny's relaxing and comfortable house. The garden is large and private and the tennis court was a great addition. Look forward to coming back again.
Shai
2015-08-09T00:00:00Z
Receive your hosts personally and do not send elderly and nice couple that are not familiar with the equipment. If you don't have english channels on TV say it explicitly. Take care the TV controls work. Take care for more lighting at evenings. Replace old half broken chairs. Clean the house.
Jacob
2016-08-22T00:00:00Z
Great house, nice tenniscourt, everything available, with train to Paris, big garden with lovely view (cows!)
Leonie
2012-08-19T00:00:00Z
The House is beautiful, the photos don't even do it justice, huge garden, modern kitchen and bathrooms, comfortable beds, cosy fireplace...what more could you want. We had a very relaxing time at the house, managed day trips to Chantilly and Paris both an easy 1 hour drive away. The village is very quiet and relaxed, a great place to unwind.
Sarah
2014-04-22T00:00:00Z
The house is lovely, garden is very extensive with wonderful grounds and fruit trees growing. A very pretty area of France, lovely for cycle rides in the countryside. The house is well equipped and we thoroughly enjoyed our stay. If you like music there is a great sound system! Fanny was a very attentive host, quick to respond to ensure we enjoyed our stay.
Katy
2014-08-27T00:00:00Z
De ontvangst was echt heel vriendelijk. Een echtpaar verwelkomde ons en toonde ons het huis en toebehoren. Wij hebben echt een super twee weken in het huis gehad. Het is ruim en erg gezellig en de tuin is fantastisch ( zeker voor ons stadsmensen ). De tennisbaan is ook een extra. Het huis is ook zeer volledig ingericht, zodat je gewoon lekker zelf kunt koken. Er is echt alles aanwezig. Tripjes naar Parijs,Amiens,Compiegne,Gerberoy en Beauvais zijn zeer de moeite waard. Alles bij elkaar is dit huis zeer aan te bevelen voor mensen met kleine kinderen. De tuin is helemaal afgesloten en dus heerlijk voor kleine kinderen die nog in de gaten gehouden moeten worden.
Yvonne
2014-08-10T00:00:00Z
Nous avons passé 3 jours agréables à Bonnières dans la maison de Fanny. Nous avons profité du grand salon et de la cheminée tout le weekend - le bois étant à disposition. C'est idéal pour 3 couples ! Le tennis était un plus à notre réservation et la météo nous a permis de jouer un 31 décembre !! Nous recommandons cette belle maison calme proche de la nature.
Olivia
2016-01-03T00:00:00Z
Room Type
Entire home/apt
---
Property Type
House
---
Accommodates
6
---
Bedrooms
Bonnières, Picardy, France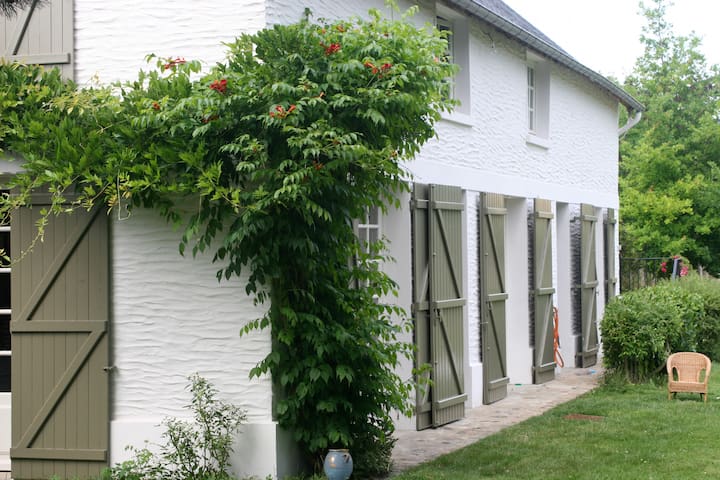 Bienvenue dans la suite de la chapelle.Crées depuis 12 ans, nous vous accueillons dans nos 5 chambres d'hôtes de caractères situées au coeur de la ville de Gerberoy classée parmi les plus beaux village de France. Nos chambres sont agrées 3 et 4 épis
Спасибо Сесиль за гостеприимство! Рекомендую этот дом и эту деревню для всех кто хочет расслабиться после шумной городской жизни.
Vladimir
2016-09-11T00:00:00Z
Room Type
Private room
---
Property Type
House
---
Accommodates
4
---
Bedrooms
Gerberoy, Picardie, France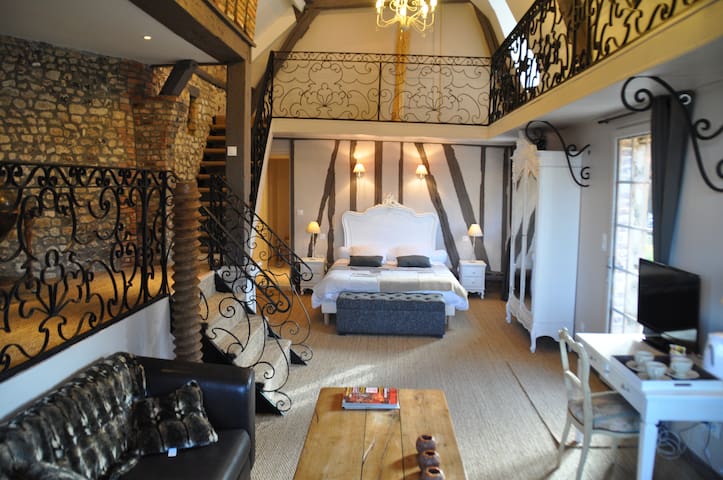 Notre logement est proche de GRANDVILLIERS,sur l'axe BOULOGNE / PARIS .à 70 km de la mer et 100 km de PARIS ,30 km de BEAUVAIS. Commerces,gare SNCF, piscines ,club hippique à 1 km.parc d'attraction 30 km. Vous apprécierez notre maison pour son calme et ses pièces spacieuses. Notre logement est parfait pour les couples, les voyageurs en solo, les voyageurs d'affaires et les familles avec enfants.
Nous mettons à votre disposition: 3 chambres + cuisine + SDB + WC à l'étage de notre maison .
HALLOY est un village calme .
Nous avons passé un weekend agréable et reposant. Claire et Etienne sont chaleureux, ils nous ont très bien reçu. Nous y reviendrons avec le plus grand plaisir!
nejma
2016-10-31T00:00:00Z
Nous avons passés un agréable séjour chez Etienne et Claire . Tout à été fait pour que l on se sente comme chez nous ! Merci pour toutes vos attentions . Daniel et Annick ( parents de Florence )
Florence
2016-09-27T00:00:00Z
Très bonne accueil de la part des hôtes , nous avons étaient mis dans de tres Bonne condition . Dans la chambre il y a même de quoi déjeuner calmement .
Abdelhazi
2016-11-10T00:00:00Z
Room Type
Entire home/apt
---
Property Type
House
---
Accommodates
5
---
Bedrooms
Halloy, Hauts-de-France, France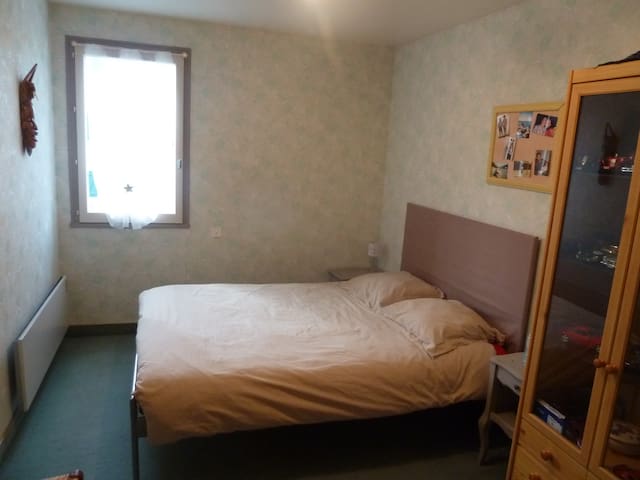 Entre Picardie verte et pays de Bray, très au calme, notre belle longère vous accueille au milieu d'1ha de jardin. Idéale pour passer des vacances en famille ou entre amis, cette maison typique de l'Oise Normande est située à 15 km de Gerberoy (village classé) et à 2 km du prieuré de Saint-Arnoult (monument historique du 15ème siècle). 60 km de la mer, 65 km de Rouen, 35 km de Beauvais , 60 km d'Amiens, 120 km de Paris, 20 km de Forges les Eaux. Salle de jeux, vélos, piano, Canal + ...
Room Type
Entire home/apt
---
Property Type
House
---
Accommodates
14
---
Bedrooms
Saint-Arnoult, Hauts-de-France, France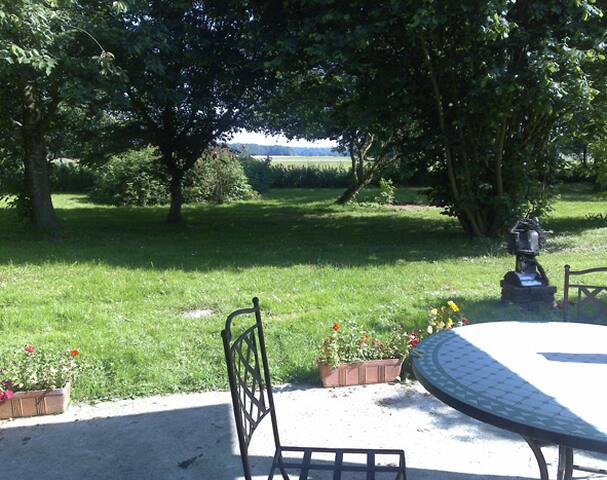 XVIII rectory of 300 sqm, comfortable, heated pool, tennis and petanque. 10 people. Paris 107 km, Beauvais 25 km, Forges-Les-Eaux 22 km, Gournay en Bray 12 km, Rouen / Amiens 65 km Dieppe / Eu-le-Tréport 65 km.
Presbytery XVII 300m, comfortable, heated pool, tennis and petanque. Sleeps 10 people Paris 107 km, Beauvais 25 km, Forges-Les-Eaux 22 km, Gournay en Bray 12 km, Rouen / Amiens 65 km Dieppe / Eu-le-Tréport 65 km. 5 hours of household (at your hours) per week included in the rental price DRC: 1 kitchen 28 m², 10 table cutlery 1 dining room 35 m², 14 table cutlery 1 room 35 m² 1 wc 1st floor: 1 bedroom (double bed 160), anteroom (TV lounge), bathroom, separate wc 1 bedroom (double bed 140), shower room, wc 1 children's room (two bunk beds 90 cm) 2nd Floor : 1 living room 2 bedrooms (double beds 140) 1 bedroom with two single beds 1 bathroom 1 bathroom 1 wc Household equipment: Lacanche 8 lights, piano hob, griddle, two ovens (electric and gas), an oven Three refrigerators, freezer, ice maker 1 washing machine + 1 drying machine 1 dishwasher 2 Nespresso machines, 1 Kenwood boss, toaster, etc. 1 gas boiler + 1 gas water heaters 500 liters + all filtration and water softener. Outside amenities: 4 large umbrellas 9 pool loungers 4 teak chairs 2 outdoor teak tables 2 marble tables outside Metal 3 round tables with 11 chairs and armchairs 12 teak chairs 1 weber BBQ wood 1 weber gas barbecue 1 gas plancha Children Facilities: 2 wooden cabins 1 frame with 2 swings 1 trapezium a rope Recreation Facilities: 6 adult bikes 2 electric bikes 2 kids bikes 1 croquet 1 table tennis 12 bowling balls pairs
Village of Bray Norman Bocage - Upper Normandy - Picardy. Golf Ons-en-Bray (24 km) and Chaumont in Vexin (42 km) trèsnombreux riding center nearby (10km to 20km). Casino in Forges-Les-Eaux (22 km);
We had a wonderful time in this beautifully decorated mansion, pleasantly situated in the Picardie countryside, with its own tennis court and swimming pool. A well equipped kitchen helped to make it a great vacation spot for a three generation family.
Alexander
2015-08-15T00:00:00Z
Room Type
Entire home/apt
---
Property Type
House
---
Accommodates
10
---
Bedrooms
Gerberoy, Picardy, France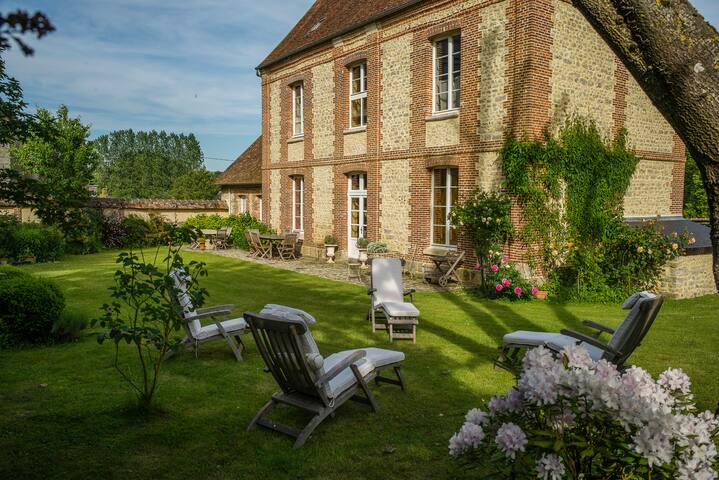 1

–

18

of

99 Home Rentals
Enter dates to see full pricing. Additional fees apply. Taxes may be added.