Ground floor apartment, host lives above. At the quiet end of Port Stephens, close to the waterfront and boardwalk with abundant wildlife and birds. Near to supermarket and shops, Golf Club and RSL Recreation Club. Short distance to Murrays Craft Brewery, Oakvale Farm and Fauna World, the Australian Shark and Ray Centre, Cookabarra Restaurant and Barramundi Farm, Stockton Dunes. Easy drive to Nelson Bay (Whale & Dolphin cruises), Shoal Bay and an hour drive to the Hunter Valley Wineries.
Marita and Henk's accommodation was perfect for a two day stay in the Lemon Tree Passage area. The accommodation is very clean and in great condition and the hosts are very welcoming and generous with local information. The accommodation is comfortable and much more spacious than the photos. We will certainly book the accommodation when we are next travelling to the area.
Kevin
2016-11-19T00:00:00Z
Marita & Henk were amazing hosts made us feel right at home amongst friends. They provided a perfectly equipped Airbnb with all the essentials plus many more bonus nick-nacks, the biggest take away was their hospitality and sharing this piece of paradise through Airbnb. Happy to endorse this Airbnb for those looking for a home away from home amount at friends.
Johan
2016-06-14T00:00:00Z
We stayed here for a night during our drive from Sydney to Brisbane. We did only stay the one night as we were passing through the area – however, we wished we stayed longer as the property was fantastic and Marita an excellent host! The communication before our stay was brilliant, we were driving and were going to obviously get lost, but Marita provided us with some good instructions to help minimise this! Marita greeted us on arrival and was lovely to speak to. She walked us through the house and explained where everything was to help us get settled. She also understood we were only passing through and therefore she suggested some places to see that could fit in with our plans and time constraints! – we really appreciated that and helped us get the most out of our time in the area. The property itself was brilliant – probably one of the AirBnbs we have stayed in. Very clean and tidy and with a large enough amount of space for myself and my partner. Plus, was private enough to relax and unwind after a day of driving and sightseeing. Kitchen was on the smaller side; however, had everything you could need to make a good meal. The bathroom looked very new and was exceptionally clean, including fresh clean towels. The bedroom was again very clean and tidy. Living space, we had more than enough room to relax Can't recommend this place enough!
Sam
2017-03-09T00:00:00Z
Marita was an extremely helpful, welcoming host, and her home was lovely. A short walk to the shoreline of the bay, close to shops, and very reasonably priced.
Simon
2016-12-22T00:00:00Z
Well received and very informative about the area, especially highlighting some nature reserves and beach nearby. Easy to talk to and the accomodation was clean and cosy.
Ben
2017-01-09T00:00:00Z
If you are looking for a place out of the way but in a lovely part of the world then this ticks those boxes. Really friendly host in a comfortable place. Highly recommended.
David
2017-02-12T00:00:00Z
We really enjoyed our stay in Maritas nice house! We had the whole downstairs area to ourselves, almost like a whole apartment. With a kitchen and a big bathroom and a living room plus a really nice sitting area outside. It was very clean and Marita was very helpful with things you can do in Nelson Bay. It was also nice just talking to her. The area is really pretty and there are great beaches!
Bettina
2017-01-02T00:00:00Z
Marita and Hank were very welcoming, and more than helpful on arrival. The self contained unit satisfied our needs for a two night break. It was consistent with the listing, and provided a nice outdoor space. Tanilba Bay is a quiet little community, but has shops and is close to Lemon Tree passage and a very good restaurant.
Stephen
2016-07-22T00:00:00Z
Room Type
Entire home/apt
---
Property Type
Apartment
---
Accommodates
2
---
Bedrooms
Tanilba Bay, NSW, Australia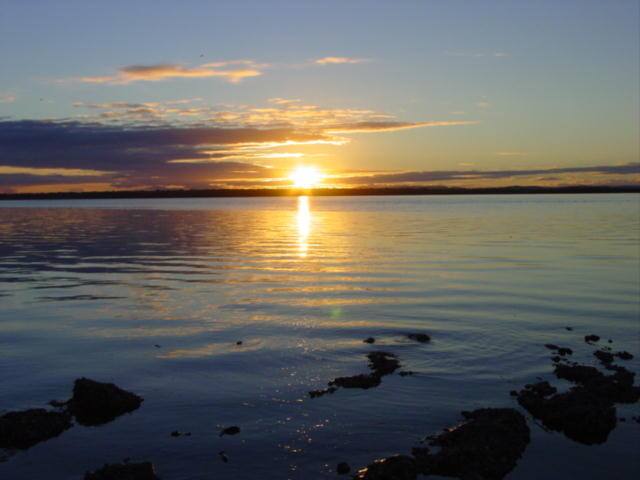 Enjoy absolute quietness, apart from one friendly neighbor there is only the National Park and Karuah river surrounding the house.
The studio apartment is perfect for a couple or young family. It sleeps 4 persons (Queen bed and convertible lounge - not comfortable if 2people over 180cm...) and has a bathroom, kitchenette (inside/outside) and outside deck. You have outdoor seating with river views and BBQ. We have a double kayak available for use by our guests.
The peace and serenity, watching birds and animals, relaxed lifestyle in Karuah
We stayed for a week in Torsten and Breanna's adjoined apartment. It was great value for money, with beautiful lake views, and national park trails right next door. The best thing was we were able to bring out samoyed dog with us on this holiday. Breanna and Torsten were really accomodating of our dog. We had a ball.
Andre
2017-01-07T00:00:00Z
Amazing time on a perfect place for a getaway from the city with no stress.
David
2017-01-29T00:00:00Z
We had a great time and Torsten and Breanna's getaway with the gorgeous river view. It is very secluded, you'll definitely need a car to get around to neighbouring towns and beaches. Pack you bicycles as well, because it's nice to cycle into town (5 minutes) and enjoy sunset in the park next to the river. The kayak came in very handy and was great fun to kayak among the mangroves. The unit is very spacious with everything you need. It's not luxurious, but it's not threadbare either, it's just nice. The hosts are lovely and helpful, yet not in your face.
Annette
2016-12-30T00:00:00Z
Room Type
Entire home/apt
---
Property Type
Apartment
---
Accommodates
4
---
Bedrooms
Karuah, NSW, Australia
Fresh, modern decore with comfort and plenty of room to move. In the heart of Karuah, the Riverside Motel offers quality, comfort and convenience.
We were delighted to be Damien's first Airbnb guests. Everything was fine. There is a fabulous RSA nearby with delicious food -had a super meal.
Paula
2016-10-07T00:00:00Z
Room Type
Private room
---
Property Type
Apartment
---
Accommodates
2
---
Bedrooms
Karuah, NSW, Australia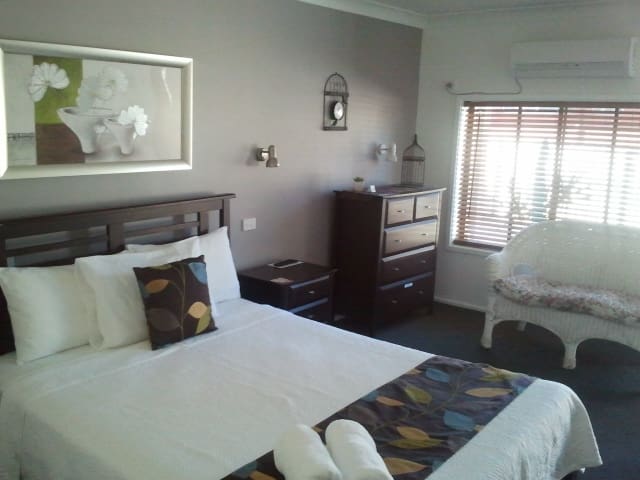 Our apartment is perfectly situated a 3 min walk to/from Soldiers Point Marina. This 3 bedroom stylish apartment has stunning views over Port Stephens. Just a stones' throw from 2 sandy beaches, cafes, restaurants, general store & public transport.
The Flagship Mariners Apartment is perfectly situated with a three minute walk to/from Soldiers Point Marina. The three bedroom stylish and luxuriously appointed apartment has stunning views over Port Stephens. Being just a stones' throw from two sandy beaches, cafes, restaurants, beauty salons, a general store, public wharf, tennis court, with public transport right at the front door, this apartment is all about convenience and quality making for an excellent home base for your stay in Port Stephens. The beautifully coordinated décor creates an enjoyable, bright and airy living space with all the luxury you would expect: •Large flatscreen TV in the living room •TV in the master bedroom •DVD, Sound system •Ducted air conditioning •Fully equipped kitchen •Nespresso Coffee Machine •Internal laundry •Spa bath •Posturepedic mattresses •Large undercover balcony with BBQ setting •Undercover secure parking for 2 cars •Wheelchair accessible
I have to say that this is the best airbnb accommodation I have stayed in! Most of my accom during holidays serve as rest stops after a long day of travelling, but I actually look forward to coming back to this apartment to spend more time (not that Port Stephens has any less attractions), because it's spacious, great views, beautiful furnishings, comfortable and feels like home! Stayed here for 3 days with my family and loved the apartment. Owners Jim and Darrell were friendly and very helpful too. Would love to be back someday :)
Cindy
2016-06-05T00:00:00Z
This place is amazing!! We loved our time here - service and apartment was perfect! Perfect location and Soldiers Point is such a beautiful place! I would not hesitate to stay here again.
Anthony
2016-08-21T00:00:00Z
Darrell and Carmen were fantastic from the booking to arrival. The unit is in a fantastic spot and the unit itself is spacious for our family.
Todd
2016-09-23T00:00:00Z
We enjoyed every aspect of our experience with this Airbnb. We were contacted a few days prior to our due date and a mutually agreed pick up for the keys was arranged. The apartment has all the facilities you could require. The view is to die for and the balcony with comfortable seats and a great BBQ works well. Bed very comfortable. We will stay again.
Denise
2016-08-19T00:00:00Z
Our short and sweet stay at Darrell's apartment was brilliant. Our requests were accommodated with ease and upon arrival at the apartment check in was a breeze. The apartment is fantastic, a home away from home. It is clean, very comfortable, very spacious and equipped with all the basic utilities for a self accommodated stay. I've never felt as comfortable on any stay as I have here. I would have been more than happy to spend all my time on the stay in the apartment other than heading to the beach. The views over Port Stephens are beautiful and a perfect spot to watch the sunset from whilst cooking a BBQ on the very spacious balcony. Two beaches are within a two minute walk from either side of the building and Soldiers Point Marina is a 5 minute walk away where you can dine, and it even has a day spa. There is a general store and hairdresser very close to the apartment and the local bowling club and pub are a short drive or 15 minute walk away. For a peaceful, relaxing getaway without the need to travel into Nelson Bay for meals etc this is your spot. This is definitely my place of choice for any future Port Stephens getaways and I look forward to returning.
Katherine
2016-11-09T00:00:00Z
Great apartment and location! We loved it.
Ben
2016-10-01T00:00:00Z
Had a good time with family. Perfect location for a short getaway from Sydney.
Amit
2016-03-13T00:00:00Z
Highly recommend this apartment and the team running it. Got us out of trouble with a flat battery and provided a new bottle of gas for the barbecue within minutes. Great view of the bay from the apartment. Comfortable beds; plenty of room; good showers; great balcony and barbecue.
Nick
2017-01-23T00:00:00Z
Room Type
Entire home/apt
---
Property Type
Apartment
---
Accommodates
6
---
Bedrooms
Soldiers Point, NSW, Australia
Lovely maintained one bedroom Studio located across the road from Pearsons Park which is located at Sunset Beach, Soldiers Point. Comfortably sleeps 2 people on the Queen size bed. Can also accommodate another 2 people by opening the sofa bed. Offering own entrance with a well equipped kitchen with induction cook top stove, microwave, fridge, kettle, toaster, pots & pans, crokery etc Surrounded by a huge variety of birds, echidnas, koalas etc. NEED BOAT / SKI PARKING??? CONTACT OWNERS
This is a fabulous Studio with water views offering everything needed for a very enjoyable holiday, a short walk to award winning Soldiers Point Marina, clubs and restaurants. Please note this Studio is located in the ground floor of the main house and some outdoor areas are common areas. Own entrace. Short drive to all tourist activities in the Port Stephens area. Close to 3 excellent boat ramps (boat parking subject to discussion with owners)
Soldiers Point known for the fishing and water activities is only a short drive away from all tourist spots in Port Stephens.
Great location and very clean and tidy unit with everything you need. Ines and Steve were also very welcoming and helpful.
Karen
2017-03-04T00:00:00Z
Great people , easy to be there.
Samuel
2017-01-02T00:00:00Z
The place is spotless, had everything we needed and the location was perfect for us. Spotted a koala across the road at Sunset Beach. Steve is so friendly and just a lovely man. Thank you for a lovely weekend!
Sonia
2017-04-02T00:00:00Z
Great location, peaceful surroundings, very clean, comfortable beds and hosts very accommodating & helpful!
Rochelle
2017-02-04T00:00:00Z
Soldiers Point is a very nice place to see the the Nelson Bay locality l
joseph
2017-02-15T00:00:00Z
Hello :) Our stay in soldiers point was unique,right on the sunset beach that offer amazing sunsets. Ines and Steve welcome my family and me being super friendly and smiley.They offer us the chance to use they re wonderful backyard area , with a nice spot to have a bbq, and to relax after a long day to the beach. We would suggest to stay here with any issues.Really nice neighbrood. To do it again,with family or in love:)
Antonio
2016-12-13T00:00:00Z
Ines and Steve have a nice unit. It is good for a couple with good outdoor facilities, sitting area and bbq area. Parking is good and it is in a nice residential area. Walking distance to the water and Marina, other shops, restaurants and Bowling Club are a short drive or longer walk. Facilities are good.
Stephen
2017-02-02T00:00:00Z
Great location - Sunset beach is right in front of the house!!! - enjoy Beautiful sunset - spotted two wild koalas on the tree by the beach - spotted one wild baby stingray - spotted many kookaburras - close to shops, Nelson bay, anna bay (everything is within 10 - 15 minutes drive) Studio as per description and photos - perfect for couples on holiday - love the fast internet wifi connections - love the privacy (own entrance) - parking spot available right in front of studio Ines and Steve - lovely and kind - pointed out local attractions to us Thanks for having us at your lovely place :)
Michele & Jason
2017-01-29T00:00:00Z
Room Type
Entire home/apt
---
Property Type
Apartment
---
Accommodates
4
---
Bedrooms
Soldiers Point, NSW, Australia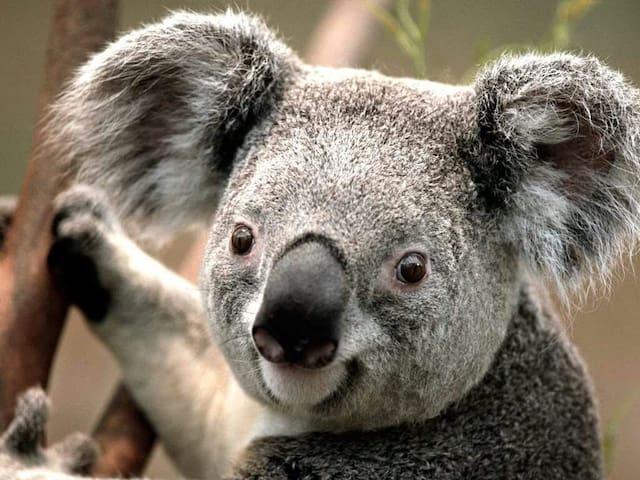 BAY HIDEAWAY is located in Salamander Bay, Port Stephens across the road from the beautiful Wanda Beach. It is located a short stroll from the local shops, cafe and restaurants. The Soldiers Point Bowling Club and Salamander Shores Resort are close by for other dining options. It has a living room with comfortable couches, coffee table, flat screen TV with Foxtel, wi-fi and DVD player. The rear garden is a private oasis with a saltwater pool, sun-lounges & gas BBQ.
Perfect for couples
This is a quiet, residential area with the apartment at the rear of the building.
Mary & Colin were very accommodating, flexible with our check in and check out times and forthcoming with local tips. The place was clean, cosy and had all amenities needed for a comfortable weekend away.
Celine
2017-03-26T00:00:00Z
Room Type
Entire home/apt
---
Property Type
Apartment
---
Accommodates
2
---
Bedrooms
Salamander Bay, NSW, Australia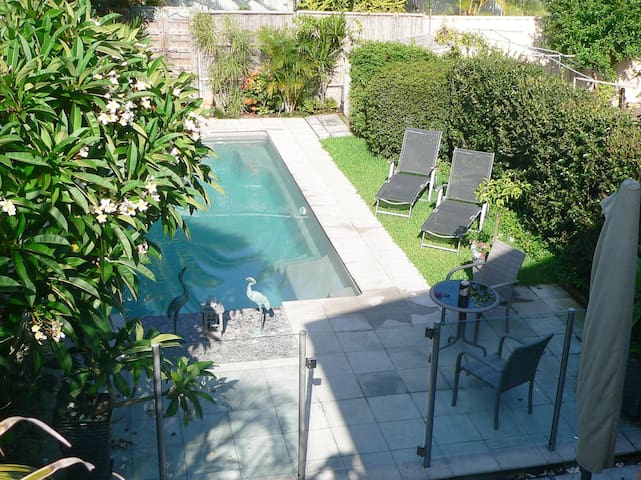 This comfortable first floor 2 bedroom unit has 180 degree water views of the bay and heads, with a beautiful calm sandy beach 150m across the road, and 250m to Marina and 500m to the boat ramp. Cafes, shops, tennis court, playground all within 2 min walk. Secure building with intercom.
This 2 bedroom unit is very comfortable and within a short distance to a calm bay side beach, Marina, tennis court, shops etc, in a tranquil location. It can comfortably accommodate 6 people. The unit has a TV and DVD player. Kitchen appliances and basic condiments are all provided, however you will need to supply your own linen (sheets, towels, hand/team towels). No pets allowed, and no smoking unless outside on the balcony. The building has a swimming pool which is available to all guests.
The unit is situated on the Soldiers Point peninsula in the The Port Stephens area, which is known internationally as an exciting whilst tranquil holiday destination. At your doorstep you have beaches, hiking, hire boats/kayaks, parasailing, whale/dolphin watching cruises, helicopter rides, tennis, golf, camel rides on the beach, horse riding, tobogganing down sand dunes, wineries, lots of clubs and restaurants, art and craft centers, weekend markets, shopping and lots more. Or you can simply relax with a BBQ and a drink on the balcony. For more information visit (URL HIDDEN)
I would recommend this unit to anyone! My family and I spent two nights there over Christmas and we had the absolute best time. Great location, amazing view and the apartment had everything we needed. Will definitely be going back.
Laura
2016-12-26T00:00:00Z
Great and detailed communication prior to arrival. The apartment is absolutely immaculate, with all necessary amenities and the most beautiful view from the balcony. Whilst the neighbourhood itself was particularly quiet, the apartment is just a short trip away (15mins drive) from nelson bay and all it's restaurantS/bars/day trips etc. Lovelyplace would happily stay again!
Alice
2017-01-05T00:00:00Z
A spacious, clean, and very well laid out apartment, with excellent views. Easy parking and easy access. We only stayed the 1 night and wished we'd stayed longer.
martel
2017-01-04T00:00:00Z
Found the apartment to be as described, lovely views of the water and close to all amenities. the place was very clean and comfortable for all our needs. having a laundry within the apartment was a plus.
suzanne
2017-01-01T00:00:00Z
Great view, close to the beach, clean apartment, we even had an opportunity to see an wolf koala from the balcony! It's all here
Kevin
2016-12-30T00:00:00Z
Beautiful apartment. Spacious, clean with a 5* view.
Mick
2017-02-18T00:00:00Z
Thanks so much your place is great we had a really good holiday. Love the area. So much to do. Even a week was not enough. Will be back some time for sure.
David
2017-01-14T00:00:00Z
Apartment was great. It had everything and more. Sea breeze was priceless.
Dean
2017-02-12T00:00:00Z
Room Type
Entire home/apt
---
Property Type
Apartment
---
Accommodates
4
---
Bedrooms
Soldiers Point, NSW, Australia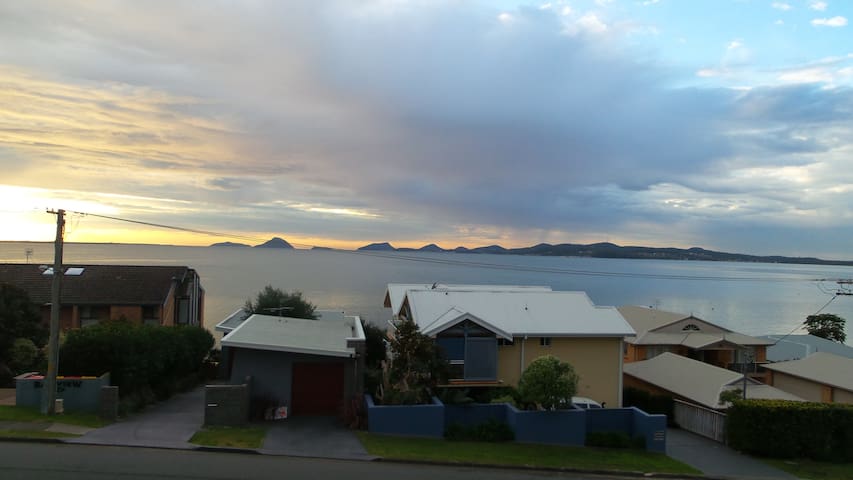 This ground floor unit is close to close to the boat ramp, tennis courts, shops and Restaurants., great views, the beach, family-friendly activities. My place is good for couples, solo adventurers, business travelers, and families (with kids).
The spacious fully equipped kitchen with island serving bench has been equipped with crockery, glasses, cutlery, cooking utensils, pots and pans for your convenience. You do need to bring bed linen and towels.
Basic but clean. No airconditioning. Spent two very humid nights. Suggest ceiling fans. Priced well.
Andrew
2017-02-18T00:00:00Z
The unit is pretty basic but in very good location and close to the water. Comfortable and clean
Paul
2017-04-08T00:00:00Z
The host canceled this reservation 5 days before arrival. This is an automated posting.
Marcela
2017-02-19T00:00:00Z
Room Type
Entire home/apt
---
Property Type
Apartment
---
Accommodates
4
---
Bedrooms
Soldiers Point, NSW, Australia
The whole family will love the space available in this apartment. Some of its features include: open plan design, 3 bedrooms (main with ensuite), lift access, huge deck with BBQ, pool and basement parking in secure complex. Walk to beach and park.
The whole family will simply love the space that this immaculate apartment has. Located on the first floor with easy lift access, this property has many features including: open plan design, 3 bedrooms (1 Queen & 2 Double beds), main bedroom with ensuite and spa bath, modern kitchen with stainless steel appliances, dishwasher, main bathroom plus a powder room, exclusive use of massive entertainment balcony with BBQ, undercover parking and a pool in this secure complex. Walk to world class marina, cafes and restaurants. Located opposite a child friendly park with tennis courts PLUS the choice of 2 beaches all within easy walking distance. Make this your next well deserved break!
Soldiers Point is a beautiful, quiet area of Port Stephens. The unit is within easy walking distance of 2 beaches (both calm water), a world class marina and boat ramp, yacht club, restaurants, cafes and a convenience store. The local bowling club is a 1 minute drive away. There is a child friendly park with play equipment and tennis courts across the road. You may even spot a koala as you walk around the area!
We have stayed here before and look forward to coming back again.
Tom
2016-03-11T00:00:00Z
Thank you Ian and Karen we had a great week at Port Stephens and enjoyed staying in your lovely apartment. Thank you for your recommendations and for being so readily available for our queries. I will recommend your apartment to friends x
Karen
2015-01-18T00:00:00Z
Nice quiet location. Very spacious living and outdoor area.
Tom
2016-01-22T00:00:00Z
A wonderful home away from home. Spacious and great locality. Soliders Point was a beautiful quite spot with surrounding beaches. We will definately have to come back during summer in the warmer months. The hosts were open and honest with plenty of communication prior to departure. We arrived feeling well informed of the accommodation arrangements, location and local attractions.
Tina
2015-07-17T00:00:00Z
Wonderful holidays in this spacious and confortable flat ! Huge terasse, kitchen very well equipped ! Just missing wifi access... And Karen was helpful to reply quickly to all our questions. Thanks a lot !
Veronique
2016-01-01T00:00:00Z
We very much enjoyed our time at Port Stevens. Karen provided excellent welcome information and instructions and we found the unit lovely and clean and welcoming! It is well equipped with plenty of cooking equipment and we enjoyed having a BBQ. The unit is in a great location - our children loved the park and we walked on the beach every day and strolled to the Club one evening for a meal. I would definitely recommend it.
Catherine
2015-09-30T00:00:00Z
Ian and Karen were very much on the ball. Their place is very modern and relaxing. Our family had an enjoyable long weekend! We'll not hesitate to go back should we be in the area again.
Marjorie
2015-10-05T00:00:00Z
Really well appointed apartment! Great kitchen, amazing deck with bbq, plenty of room for everyone with the 3 bedrooms. Wonderful location. A couple of minutes walk to 2 of the best restaurants in port Stephens!! On the drawback side the letting only caters for local visitors given the need to supply own linen. Also in today's world of technology it would make sense to provide wifi - would be happy to pay extra for it.
victpor
2015-04-18T00:00:00Z
Room Type
Entire home/apt
---
Property Type
Apartment
---
Accommodates
6
---
Bedrooms
Soldiers Point, NSW, Australia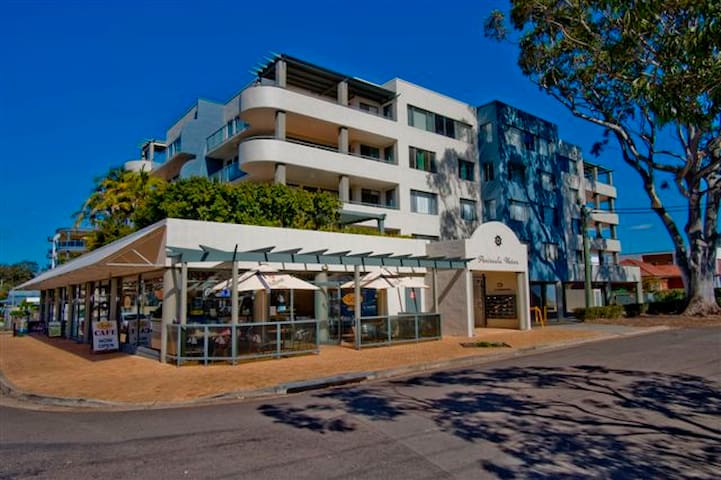 My place is 2 minutes walk to the beautiful sands of Birubi Beach (plus playground & skate park). This 3-bedroom whole-top-floor apartment is light, airy and has a relaxed beach feel - perfect for a seaside holiday. Views down Stockton Beach, huge outdoor entertaining area, great for families (with kids) and big groups.
This is a low maintenance property perfect for the relaxed beach-goer. The property takes up the whole top floor of a small residential building and includes a large wrap-around balcony with views down Birubi / Stockton Beach. With 2 x off-Street parking the space includes; Well equipped kitchen with fridge/oven/stove-top/ microwave. Lounge/Dining area BBQ / outdoor dining furniture Bathroom (shampoo/conditioner/bodywash provided) plus laundry facilities which include washing machine + laundry tub. Linen provided. Bath towels available but recommend bringing extra/some for the beach. Main bedroom with built-in mirrored wardrobe + Queensize bed Second bedroom with Doublesize bed on bottom / single on top Bunk Third bedroom with Bunk bed (2 singles) plus a Port-a-Cot. A baby gate is also provided if needed to ensure safety from internal access stairs.
Relaxed, beach area with park / skate park and family-friendly beach Sunrises and sunsets are stunning! Surf club nearby has a fantastic restaurant 'Crest' 5-10 minute walk to Anna Bay shops with supermarket, takeaways, post office etc. Short drive to all tourist attractions (but secluded enough away from the crowds), including: Dolphin and Whale watching Sand Dunes and Quadbike adventures Camel ride tours Various water based activities Picturesque beaches and waterways Great golf courses Walking trails plus much more
Great location. Family friendly and quiet. We stayed with our 2 children (1 month and 2 years) and brought grandparents along. Sally's place is spacious enough and is well equipped to make it safe (esp for our 2 year old)
Douwe
2017-03-13T00:00:00Z
Great host, lovely location, close to the sand dunes.
Desmond
2017-04-01T00:00:00Z
Sally was very quick to respond to our enquiries. The location is perfect, walking distance to a beautiful beach and tomaree national park. The house was also very well equipped and comfortable. Perfect place for a family vacation!
Yen
2017-03-05T00:00:00Z
We had a lovely family holiday staying at Sally's place. The accommodation was very close to a beautiful (dog) beach and very comfortable. Sally had left a number of household items in the property which made life very easy for us. I would thoroughly recommend it.
Monica
2017-01-18T00:00:00Z
Thanks Sally for a great stay and for your flexibility and ease. It was a wonderful holiday!
Mirella
2017-01-05T00:00:00Z
Nice house in a quiet area, Birubi Beach just down the road well within walking distance and Stockton Beach 4WD entrance just down the road. The aircon worked quite well on the ridiculously hot days we had. The outside area was also quite nice with a huge table with an umbrella and BBQ. The kitchen was decently stocked with plates/cutlery/pots etc.
Jack
2017-02-12T00:00:00Z
Everything was great , right from the location very near to the beach plus all required amenities which make one feels home away from home.
Bhaskar
2016-12-21T00:00:00Z
Sally's place is extremely well-located. It's two minutes to the beautiful beach at Anna Bay and ten minutes to the cafe/restaurant at the SLSC. The beach was the thing for us but 4wd/sandboarding tours and camel rides also operate from the lower parking lot at the SLSC. The place was lovely and well equipped. Thanks, Sally!
Ben
2017-03-20T00:00:00Z
Room Type
Entire home/apt
---
Property Type
Apartment
---
Accommodates
7
---
Bedrooms
Anna Bay, NSW, Australia

Located in beautiful Port Stephens, on the main road in Anna Bay, close to shops and bus stop. 15 minute walk to beach. 10 minute drive to Nelson Bay and Salamander Bay.
'The Pit Stop' is a cosy self contained studio apartment with bathroom, kitchenette and access to a balcony shared with the home owners. There are stairs upto the apartment. The studio is conveniently located on the main road in the heart of Anna Bay right above our family run workshop. We do our best to keep noise to a minimum during business hours (7.30am to 4.30pm, Monday to Friday and some Saturday mornings), but please be mindful that some is expected.
The Pitstop happens to be surrounded by a vast array of beautiful beaches. One for everyday of the week. Whether you like swimming, surfing, fishing, 4 wheel driving or golfing, there is something for everyone. Try a whale/ Dolphins watching cruise. Anna Bay in particular is well known for Stockton beach. Stockton is a 32km beach in which you can drive all the way along the sand dunes from Stockton to Anna bay, Birubi Beach. Local operators provide, 4wd tours, sand boarding and camel tours. If you have a 4wd I'd suggest driving along the beach to visit 'tin city' and the shipwrecked 'signa'. A quick 5 minute drive down the main road and you will come across both Boat Harbour and One Mile Beach. Boat harbour has a lovely enclosed beach great for families and young children with picnic and park facilities. One mile beach is great for all surf enthusiasts.
Samantha's communication was great, she made sure the property was accessible for us when we arrived. She let us know places to visit nearby. The apartment was super clean and everything we needed was on hand. Just a short walk to the amazing sand dunes was perfect. Good little cafes nearby.
Danielle
2016-08-22T00:00:00Z
Great location in town and within walking distance to Buribi beach. Place was very clean and hosts very welcoming. Would highly recommend.
Stephen
2016-12-28T00:00:00Z
My stay at Anna Bay was amazing, the location was great, when i arrive i was greeted and shown my room, everything in the room was clean and met my expectations. I recommend this room to everyone who is going to Newcastle or Anna Bay.
Ali
2016-12-17T00:00:00Z
Sam is very lovely woman, answered immediately to my request and all communication was smooth. She was asking us more times if we`re missing something or if everything was fine. The apartment is very nice and we have enjoyed our stay there a lot. :)
Petra
2016-03-19T00:00:00Z
The pit stop is great spot to stay. It is modern, clean, comfortable, and presentable. Review's read beforehand were absolutly right. I highly recommend staying here. Thanks Sam!
alan
2016-06-19T00:00:00Z
Made very welcome. Liked everything
Juliet
2016-10-04T00:00:00Z
They made us feel very welcome on arrival! It was such a last minute booking but the place was great, clean, tidy and very modern. Good location!
Rachelle
2016-05-23T00:00:00Z
We stayed at Samantha's place for one night only but wish we had more time to enjoy that wonderful place. Samantha is a very thoughtful host. The room was equipped with everything you need. Bed is very very comfortable and everything is super clean and fresh! It is in a very good location close to restaurants and beach! Highly recommend Samantha's place!
Tania
2016-09-26T00:00:00Z
Room Type
Entire home/apt
---
Property Type
Apartment
---
Accommodates
2
---
Bedrooms
Anna Bay, NSW, Australia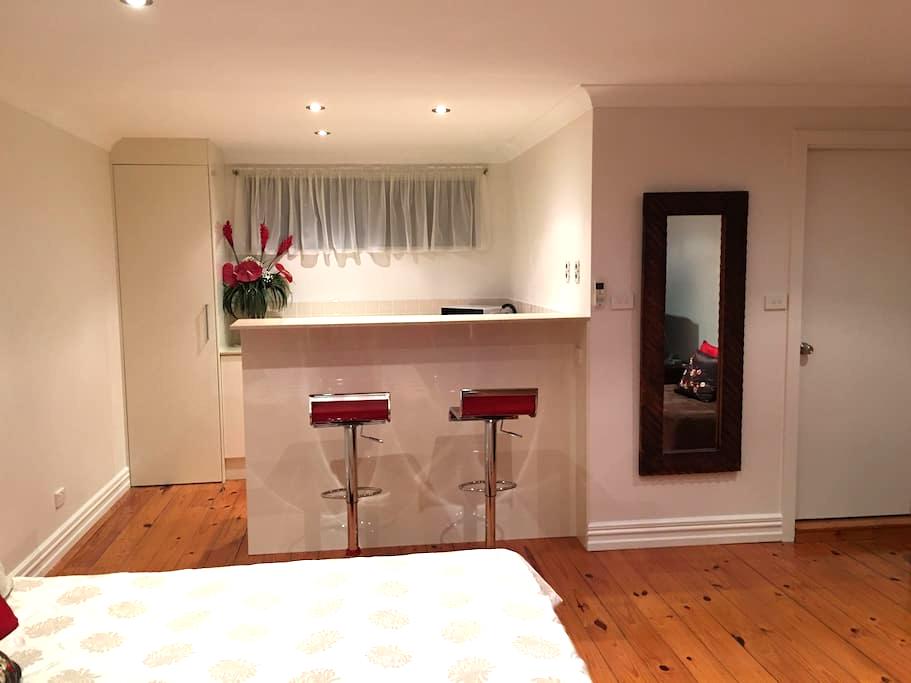 My home is open plan up stairs with 2 bedrooms 2 bathrooms and 3rd toilet up (URL HIDDEN) has a wonderful,elevated,close view of Horizons Golf (URL HIDDEN) Unit is tastefully furnished with Moran Lounge and first class furniture.Best beds and a portable single for 5th guest. Aircon in living area and fans in bedrooms. We have 2 of the best pools 25 m and 5 m,both heated with a large Barbie area(that works well.Gym and Tennis/Badminton. 3 ks from any of 5 beaches.Safe and quiet,walks,
This is a lovely quiet spot a true gem and my Apartment is lovely. My unit is very safe and quiet with so much to do nearby. My beds are the beds quality.
Golf Course Lovely walks Bound to see lots of Birds and Kangaroos. Most who venture out after 5pm will view Koalas(this is quite common) Best at night with a good torch,we have at least 30 of these adorable creatures that like to look at Humans. 3 kms to 5 beaches Bus route at front gate. Salamander Bay shops is 25 minutes walk away with Aldi,Coles and Woolworths(50 shops).
Stayed 2 night with the family at Isabelle's Apartment. The Apartment is very Clean, and the area is quite, family enjoyed the pool and view over the golf course. Close to the shops..
Mohamad
2017-01-10T00:00:00Z
This was a great apartment and a convenient base to explore Port Stephens. We would have liked to stay longer. Our host was very friendly and helpful and gave us some advice about places to visit nearby.
Graeme
2017-01-07T00:00:00Z
Izzy's place was close to the shops and easy to get around. It had a wonderful view
Trisha
2017-01-27T00:00:00Z
Great place, comfortable and easy to find.
Joel
2017-01-15T00:00:00Z
Lovely apartment in a safe and secure environment, short drive to beaches, shops and restaurants.
Brett
2017-01-14T00:00:00Z
Room Type
Entire home/apt
---
Property Type
Apartment
---
Accommodates
5
---
Bedrooms
SALAMANDER BAY, NSW, Australia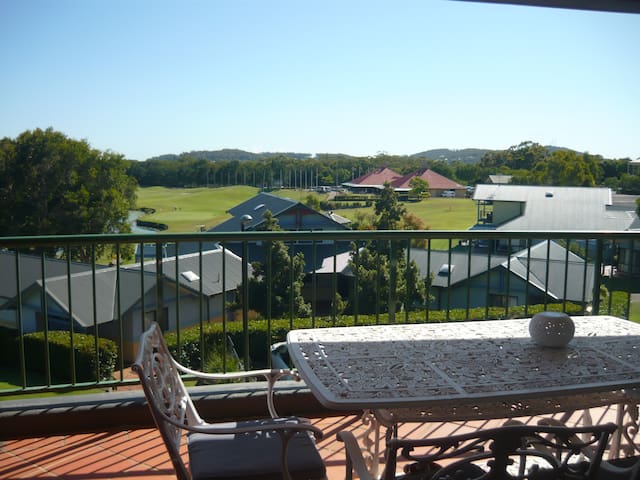 This large Studio apartment, located in Anna Bay, Port Stephens NSW, a perfect getaway for any beach goer. A beautiful self contained studio at the back of our property with all modern interior and furnishings. Large enough to have small families stay upon request with a roll away single bed available for extra charge.
Nestle down the back of the property you will find "The Cave" our studio apartment for you. It has modern furnishings with a spacious feel. In your accommodation you will have a full kitchen, Dining area, bathroom with an amazing rain shower, lounge area with large TV and a comfy queen size bed. Contact us for any more than 2 guests.
We are located around the corner approx. 2 min walk from restaurants, bottle shops, Tavern, Service station, Chemist, newsagent, Butcher, Doctor and small IGA. In the shopping complex we also have a multi award winning Pasta supplier that we highly recommend.
Belinda was a great host. Very responsive and helpful. The granny flat at the back of the house is very close to Anna Bay shops and has everything you need ie equipped kitchen. Nice spacious place for a couple.
Jack
2017-01-03T00:00:00Z
This is the perfect place for a weekend getaway - very close to the beach and to the shops making it super convenient to explore all Port Stephens has to offer! Belinda is also an excellent host - quick to respond to messages and provided us with a great introduction to the area with amazing places to eat and visit that only locals would know! Apartment is also extremely keen and well kept and is well equipped. Thank you so much Belinda and Quentin for your hospitality, we'll be back
Ellen
2017-01-15T00:00:00Z
Great spot in Anna Bay. Spacious and comfy room, lovely welcoming host and close to the beach and cafes and shops.
Michelle
2017-01-05T00:00:00Z
The Cave was an incredible place to stay and very spacious and comfortable. The shower was insanely good and the bed was very comfy. Would highly recommend this place with beautiful beaches and cafes not too far away. We really didn't want to leave!
Amanda
2017-01-07T00:00:00Z
Belinda and Quinten were very accommodating hosts during our short stay. The place is located close to local shops which was convenient. There was a blackout on one of the nights, one quick call to Belinda and Quinten promptly came over with a portable lamp so we weren't in darkness for too long. All in all, was a great place to stay and would recommend to any airbnb'ers looking to stay here.
Kent
2016-11-01T00:00:00Z
Belinda made us feel very welcome and we had a great time in their cozy little cave. It is right next to Anna bay shops so it was very easy to duck out for some supplies or a meal. All in all a very nice place to stay.
Adam
2016-07-03T00:00:00Z
Perfectly presented & accurately described. We were warmly welcomed by Quinton & later by Belinda. Well located, short walk to shops & public transport. We will most certainly recommend The Cave & look forward to another stay.
Rochelle
2016-02-26T00:00:00Z
The Cave was fantastic. Very clean, modern and had everything we needed. Belinda was very welcoming and friendly. Walking distance to Anna Bay shops and local pub. Highly recommend staying here and we will definitely be back to visit the Bay.
Jane
2016-12-29T00:00:00Z
Room Type
Entire home/apt
---
Property Type
Apartment
---
Accommodates
2
---
Bedrooms
Anna Bay, NSW, Australia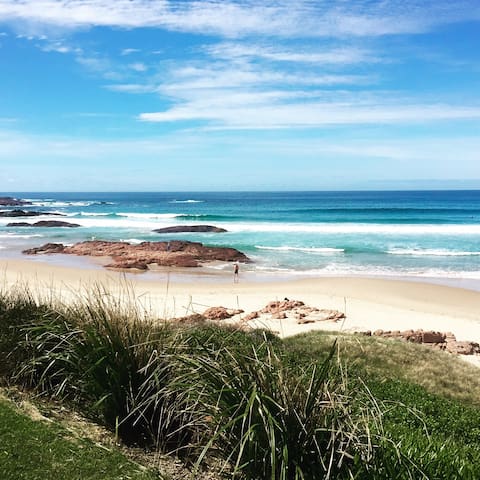 It is a large airy private garden floor studio flat.It is a short stroll to the ocean for views of whales in season, a quick dip in a tranquil rock pool and an easy walk to Birubi Beach, with vistas to take your breath away, surfing , four wheel driving, etc.
Pet friendly,peaceful & close to beaches
Proximity to nature & beaches.Seaside village atmosphere.Short drive to Nelson Bay & larger shopping areas.
Ronda was very friendly and welcoming and made us feel very comfortable. The place is perfect for a couple and in a quiet area, about 2 min walk to the ocean. Super comfy bed as well.
Andrew
2016-08-14T00:00:00Z
A perfect escape. Comfortable, well equipped, private and only moments from the ocean. Ronda is a welcoming and considerate host.
Lisa
2016-03-02T00:00:00Z
Morna Point Beach House is exactly what you need for a beach house. Stunning location, spacious and clean apartment. Ronda was very accommodating and made us feel welcome. Will definitely be back
Craig
2016-10-08T00:00:00Z
Ronda was a wonderful host. The room was clean and tidy and close Birubi beach. You could hear creaking from above, but it wasn't distracting. It was a lovely stay in a quiet, peaceful neighbourhood.
Natalia
2016-04-01T00:00:00Z
Great location, great price. Ronda was super lovely to communicate with and flexible with our needs, thanku ☺
Claire
2016-10-29T00:00:00Z
Rhonda was a great host, very friendly and accomodating. I was arriving late and leaving early and she was more then happy for me to stay. The Apartment was very clean and tidy, also footsteps away from a beautiful beach.
Mitchell
2016-04-06T00:00:00Z
Had an amazing time in Anna bay! Thanks Ronda for being extra kind and giving us a comfortable place to stay, :)
Matthew
2016-07-25T00:00:00Z
Our stay was beautiful! The place was very clean and organised and homely. Only a 2 min walk to the beautiful rock pools and a 2 min drive to the shops, very convenient!
Nem
2016-10-09T00:00:00Z
Room Type
Entire home/apt
---
Property Type
Apartment
---
Accommodates
2
---
Bedrooms
Anna Bay, NSW, Australia
Our place is very quiet and private, with a large backyard garden that backs onto beautiful bush land with a walk/cycle path. The water front is only 500m away and it's only a few minutes away in car to the shopping centre, cafe's and restaurants. It's close to beaches, family-friendly activities, public transport, and the Newcastle airport. You'll love my place because of the outdoors space, the ambiance and the peace. Our place is good for couples, solo adventurers, business or small family
Our apartment is completely self contained and spacious! Surrounded by a beautiful quiet bush land setting; wake up to the sounds of the native birds, and see koalas in the bush behind our place. Best for 2 adults (queen bed) with a sofa bed in the living area for the kids. You can access a walking track through the back gate and we are only a few minutes walk to the waterfront and a few minutes by car the major shopping centre and great beaches.
Our neighbourhood is a very quiet area. Not for those that want to party!
We had a lovely time in Salamander Bay. The house had everything we needed and is really well located. We did not get a chance to meet Robyn but Greg was here to show us around and has been very helpful. We definitely recommend this place!
Angeline
2017-03-18T00:00:00Z
If your after a very relaxing stay, with the beach only a stroll away and the sound of the bush setting behind, this is the pl to come. So close to everything! Robyn and Greg are awesome hosts, we even got to swim in their pool. Great value for money! The photos don't even justify how good this pl really is.
Kristy
2017-01-02T00:00:00Z
We loved staying at Robyn's place. It's spacious, clean and peaceful - just an amazing apartment that has everything you need! Great host - quick in responding and easy to arrange late arrival. Thanks :-)
Kerstin & Andre
2017-01-26T00:00:00Z
great place to stay! Highly recommend!
(PHONE NUMBER HIDDEN)
2017-01-26T00:00:00Z
Great home to spend time in. Close to beaches and restaurants. Robyn and Greg are so warm and welcoming, we felt right at home. This accommodation is absolutely perfect and although we didn't need a thing, the host and hostess were available if one needed anything. Absolutely perfect place to stay!
Susan
2017-02-11T00:00:00Z
Our stay at Robyn and Greg´s place was just perfect. An incredibly spacious fully-equipped apartment just for us and in front of a lovely bush with Koalas and a peaceful breeze. We are decided to come back for sure! Thank you!
Iris
2016-12-23T00:00:00Z
We enjoyed our stay in Salamander Bay in Greg and Robyns apartment. The rooms were very clean and tidy, which we really appreciated. The place looked lovely and we enjoyed being there. The apartment had all the items and appliances we needed, from hair dryers to irons, air condition and everything in between, all in good working order. Greg and Robyn were great hosts and gave us our space, but were friendly and approachable. We would definately recommend this apartment and we will return. Garth and Victoria
garth
2017-02-05T00:00:00Z
Many thanks for the warm welcome and we were very cosy and enjoyed your place. Thanks so much for the wine to help us celebrate our 38th wedding anniversary! Hope to see you again sometime.
Fiona
2016-09-20T00:00:00Z
Room Type
Entire home/apt
---
Property Type
Apartment
---
Accommodates
3
---
Bedrooms
Salamander Bay, NSW, Australia
Quiet location 2min walk to a secluded swimming, snorkelling, kayaking, fishing and rock pooling beach. Rocky shoreline also suitable for whale & dolphin watching and rock fishing. The flat is located downstairs of our house and we live upstairs. It has its own lockable front door and is very private.
The flat is bright and airy and located within the quiet suburb of Fishermans Bay. The space has been recently refurbished and has ocean views from the back yard area. The second bedroom has a single bed and a trundle bed which can be rolled out for a fourth guest if required. Fresh linen and towels are provided. Bring your own beach towels and toiletries.
Fishermans Bay is a secluded suburb surrounding by the Pacific Ocean and Tomaree National Park. There are approximately 40 houses in the village and we consider the area as 'paradise'. You can see whales, dolphins, the occasional seal and turtle from land and experience a rich and diverse marine life underwater. If you love to walk you have access to a number of walks from the apartment that take you through National Park and past some pristine bays. Close to Birubi, One Mile and Samuri beaches for surfing or popular Nelson Bay, Shoal Bay, Corlette, Fingal Bays for quieter water activities. Two minutes walk from the apartment is Fishermans Bay which is a quiet and protected ocean beach which is perfect for a range of water activities or sitting quietly on the beach with a good book. Fishermans Bay is located 5 minutes drive or a 20min walk from Anna Bay where a small shopping village is located that contains a supermarket, baker, butcher, post office, doctors, petrol station, a variety of restaurants and take away food outlets. Larger shopping and restaurant opportunities are located 15-20 mins drive at Salamander Bay and Nelson Bay. There is so much to do and see in the area including whale and dolphin watching, surfing, fishing, snorkelling, sand boarding, four wheel driving, camel rides, quad bikes, exploring National Parks, swimming with dolphins, diving with sharks, turtles and nudibranchs. Not to mention eating fresh locally caught seafood, visiting fantastic restaurants, rock climbing, mountain biking, relaxing on or by the water, visiting the near by vineyards and our very own micro brewery (Murray's Brewery).
We loved everything about our stay, and were sad to have to leave! Eleanor, Gus and Callum were so friendly and welcoming to us all, including two early rising children who adored their new holiday family, Charlie teddy dog (so cute and cuddly!) and collecting eggs from the chickens. Eleanor left us insider hints and tips on what to do, shells and treats for the children. We shared the family's passion for the local area - it was such a pleasure to be granted a taste of their paradise! The apartment was perfectly located for lots of wildlife, sandy beaches, walks and national parks. We enjoyed wildlife tip offs from the friendly locals and were thrilled to find an echidna and koala locally. It felt like we were just meant to be there, waking to the sound of the sea - and would love to be back. Highly recommended for a peaceful retreat in Paradise!
Helen
2016-04-08T00:00:00Z
Lovely place. Amazing location. Kind hosts. Cute dog.
Richenda
2016-02-12T00:00:00Z
Very nice, cosy and well laid out apartment. Very short walk to a nice little beach, and the national park. Quiet and gorgeous area, Eleanor was very friendly, helpful and always willing to provide good advice ! On the plus side, our kids got to play with Eleanor young dog who also gave us a run around the neighbourhood for our money !!! Will recommend Eleanor's place to friends visiting the area !
Sophie
2016-05-03T00:00:00Z
We really enjoyed our stay at the Ocean retreat... Eleanor and Gus provided us with a warm welcome in their lovely flat... The suburb of Fishermans Bay is quiet with beautiful rocky shoreline to walk around... Exactly what we were looking for..
Boris
2016-09-20T00:00:00Z
This is a lovely place to stay. Close to everything. Very Clean and comfortable. Value for money.
sandra
2017-04-03T00:00:00Z
The host, Eleanor was very warm and friendly. I would recommend anybody to stay there.
Andrew
2015-09-28T00:00:00Z
Photos where a little misleading but otherwise Eleanor was a lovely host
Craig
2017-02-18T00:00:00Z
Great place with stunning views.
Marco
2017-02-27T00:00:00Z
Room Type
Entire home/apt
---
Property Type
Apartment
---
Accommodates
4
---
Bedrooms
Fishermans Bay, NSW, Australia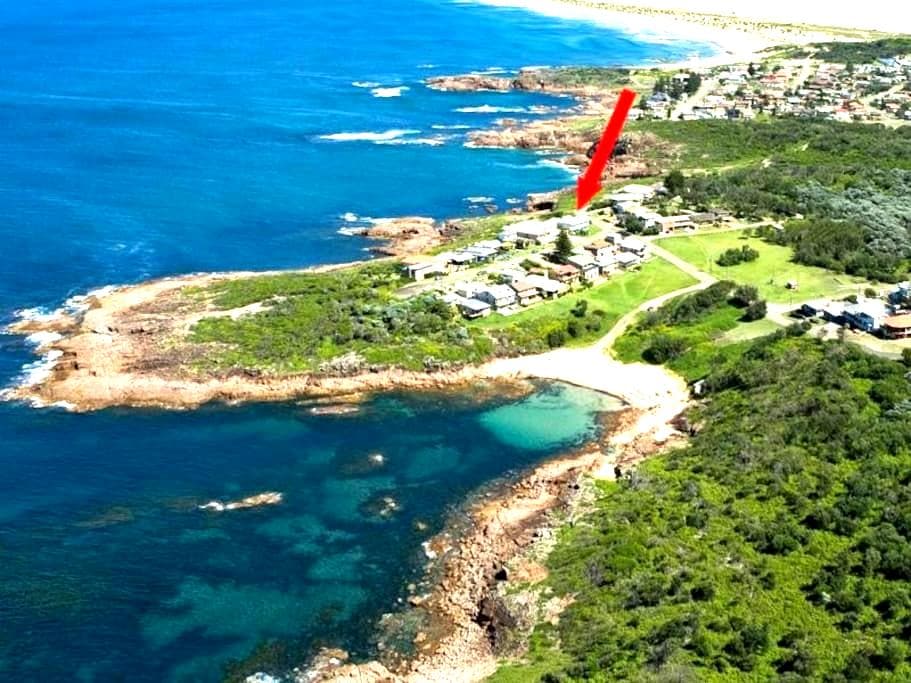 Stones throw to Birubi Beach, minutes away to shops and restaurants. Your own private car park directly at the front of your deluxe unit. Open up to the sunset view of your life! Complete with deluxe Queen bed, full sized kitchenette, fridge, kettle, toaster, microwave and modern bathroom amenities. Modern and fresh living/dining area with extra pull-out sofa lounge, and relax with Netflix on your 55 inch LCD Smart TV. Finish the day relaxing on your outdoor balcony with 4-burner BBQ
Our deluxe unit is only 30 SECONDS away from the water's edge and a 3 minute walk to Birubi beach. You have everything you need in your unit to enjoy a memorable stay in beautiful Port Stephens. Short driving distance away from Nelson Bay where you can participate in a wide range of water sports or shop til you drop at the various boutique shops and restaurants. Closer to home, experience the thrill of sand boarding down the largest moving coastal sand dunes in the Southern hemisphere or laugh your way on a camel ride along the beach. Fantastic scenic walks along the foreshore and absolutely incredible during a Port Stephens sunset!
Close to the largest moving sand dunes in the Southern hemisphere, minutes away from scenic walks and popular Birubi beach. Short driving distance to Nelson Bay, Shoal Bay, Fingal Bay and other surrounding suburbs Walking distance to the Crest Cafe located at the Birubi SLSC, truly a magnificent view of the Pacific ocean while enjoying a morning coffee or breakfast or lunch
Mark and Maria's place was in the most perfect location and exactly as listed. Very clean with great facilities. I really look forward to going back again to stay. Thank you for having us!
Narelle
2017-01-25T00:00:00Z
Mark's place is very spacious and comfortable, stylishly decorated, private and situated close to the beach and shops. The area is quiet and the breezes are lovely. There were biscuits and milk in the fridge waiting for us, plenty of towels, including beach towels and a well stocked kitchen. The beach theme is lovely. We had a really enjoyable stay at Mark's place.
Wendy
2017-02-12T00:00:00Z
Very comfortable and spotlessly clean accommodation which was well equipped for a very pleasant stay. Would highly recommend to anyone wishing to visit Port Stephens.
Nicki
2017-01-14T00:00:00Z
Perfect spot for a beach retreat, quiet and private with plenty of space to spread out and all you need to feel at home!
Lucinda
2016-12-27T00:00:00Z
Very spacious unit with a good deck out the back. Furnishings were tidy and most being new condition and with everything you need. A bbq, George foreman grill, microwave and toaster are provided for cooking if you plan on cooking for yourself. Location is good, short walk to the water and not much further to burubi beach. Found a stunning spot 2 mins walk south-east from the unit to watch the sun set. Mark and Maria are incredible hosts and are very friendly. Their personal touches to the room are very welcoming and really made the stay for us. Keen to come back and stay again!
Alex
2017-03-20T00:00:00Z
Place was fantastic, thank you very much for the hospitality. Will be back again.
Lloyd
2017-01-07T00:00:00Z
Mark's place was wonderful. It was spacious and very close to Birubi beach. We would definitely stay here again in the future!
Charles
2016-12-30T00:00:00Z
The place was absolutely lovely. Very clean and everything you could need for a beautiful stay
Steph
2017-02-18T00:00:00Z
Room Type
Entire home/apt
---
Property Type
Apartment
---
Accommodates
2
---
Bedrooms
Anna Bay, NSW, Australia
Centrally located 500 metres from the beautiful Birubi Beach, and 500 metres to the local shopping centre, and the Anna Bay Tavern. Anna Bay is one of the best surfing beaches in Port Stephens and close to One Mile and Samurai Beaches.
Anna Bay is one of the best surfing beaches in Port Stephens and close to One Mile and Samurai Beaches. A short walk to the famous Stockton Sand Dunes which stretch 37 kms to Newcastle where you can Sand Board, Quad bike or even ride camels and horses. The local shopping centre has an IGA Supermarket, Butcher, Newsagent/Post Office, Petrol Station, Beauty Salon, Medical Centre, Pizzeria, Bakery, Coffee Shop, and other tourist shops. At the beach end of the street is a Skate Park and picnic are with BBQ and playground. Nelson Bay, which boast the d'Albora Marina, is only 10 minutes drive with restaurants, banks and shops.
Anna Bay is a lovely beachside town in Port Stephens which was originally a fishing village. You can drive form our place to Stockton along the firm sandy beach for 37 kilometres. Sandboarding within walking distance.
Wonderfully friendly hosts who went out of their way to make us feel comfortable. Cute and cosy place super close to the beach and surf club. Also walking distance to local shops
Rebecca
2016-01-27T00:00:00Z
Our family of four recently made the long road trip from Melbourne for a five day stay at Deb and Carl's place and we are rapt we did! Deb and Carl are lovely people and great hosts, going out of their way to make sure we were comfortable and had everything we needed. The place is modern, comfortable and has all the necessities - not to mention it is in a great area close to beaches and shops. Our boys loved body boarding on the beautiful Birubi beach and were sad to leave. We hope to return one day soon!
Glenn
2017-01-12T00:00:00Z
Nice and functionally furnished little apartment, well situated within short driving distance to both Birubi and One Mile Beach, clean and tidy. Deb and Carl are very nice and welcoming hosts. Thanks, will come again!
Philip
2016-12-19T00:00:00Z
Deb was very accommodating. The place was nice and clean. Walking distance to the beach and sanddunes. She even provided the laundry liquid wash and even softener. We were sorry that we only stayed for 2 nights, but if we are going back to Anna Bay, we definitely will stay there again. Thanks Deb.
Fifi
2016-03-29T00:00:00Z
We had a lovely stay at Deb's place. The flat is spacious and very clean and comfortable. Deb is a wonderful host. She communicated well ensuring we had a smooth checkin and introduced herself and made use feel very welcome. She gave us a lot of advice about the area and made sure we made the most of our stay. We would highly recommend Deb's hospitality to our friends.
Katie
2015-10-24T00:00:00Z
Fantastic stay. Beautiful accommodation, spotlessly clean, bright and airy with warm friendly hosts. Nothing was too much trouble. Very close to everything. Highly recommended.
Kim
2016-03-14T00:00:00Z
Great location close to the beach and shops. The unit is new, modern, clean and a home away from home. Deb and Carl are fantastic hosts!
Vicky
2017-01-05T00:00:00Z
We had a such wonderful stay (with our 2 young daughters) at Deb and Carl's beach getaway at Anna Bay. They were such friendly & generous hosts, always ready to help and give us tips. We highly recommend this gorgeous little home-away-from-home! Thanks again Deb & Carl.
Julien
2017-01-28T00:00:00Z
Room Type
Entire home/apt
---
Property Type
Apartment
---
Accommodates
4
---
Bedrooms
Anna Bay, NSW, Australia
1

–

18

of

28 Apartment Rentals
Enter dates to see full pricing. Additional fees apply. Taxes may be added.