Enter dates to see full pricing. Additional fees apply. Taxes may be added.
Welcome to pure slope-side luxury just 47 miles from Manhattan! Black Creek Sanctuary is Mountain Creek's only gated neighborhood, and it's a quick stroll from the base of the ski mountain. This modern & cozy two bedroom bi-level unit comes with a gas fireplace, high-speed internet, Wi-Fi, fully equipped kitchen, soaking tub, and laundry. Close to Water rides, Wineries, Lakes, Golf & More! Head over to the excitement of the mountain.
This modern & cozy two bedroom bi-level unit comes with a gas fireplace, high-speed internet, Wi-Fi, fully equipped kitchen, soaking tub, and laundry. Close to Water rides, Wineries, Lakes, Golf & More! Head over to the excitement of the mountain. The unit is ideal for snowboarders and skier, but Mountain Creek offers so much more year round. Each unit in the Mountain Creek resort is individually owned. You can save a lot of money by renting directly from us (the owners) and enjoy all the extra touches. Rates are considerably lower than those offered by Mountain Creek resort. Our units sleeps 6 people comfortably (king & queen bed + pullout sofa), and is ideal for a family looking for a reasonably priced vacation, or a couple wanting that special romantic get away. You will love your visit to our Mountain Creek unit. If you have any questions at all, please do not hesitate to contact us. Longer term rentals are available during certain periods of the year. enjoy the year-round hot tub and a sizable pool in the summer. Roast some marshmallows over the outdoor fire pit or grill on the gas grills.
a free shuttle will take you to Mountain Creek Ski Resort, Action Park Waterpark, Restaurants and spas at Minerals Resort.
Excellent place for a family vacation. If you are just planning on skiing and restauranting. This is the place to go! If you are planning on doing a lot of cooking I suggest bring cookware. There is a high quantity of plateware but a little limited on pans if your goal is to make a feast. I highly suggest going in the winter and using the hot tub and fire pit. It's wonderful! This was a great Christmas vacation for me and my family. Plus, Nathan was nothing but fasts and helpful with any questions I had. I would rent from him again in a heart beat.
Yasmine
December 2016
This was a great place to stay for a few days! All the amenities of the resort while still feeling like you're in a private home. Just don't try the zip lining at Mountain Creek Resort!
Carrie
January 2017
Can't say enough good things! Great location, our host Nathan was super responsive and helpful, and accommodations were clean and top notch. I will defiantly book again.
Tony
May 2016
My family had a great experience at Nathan's condo. The location less than one mile from the mountain, which made our stay very convenient. The description was accurate and we had plenty of space for our family, including the full kitchen, dining and sitting area near the fireplace. I would certainly recommend his place for other family's looking to book in the area.
Bryan
January 2016
My friends and I had a great experience staying at Nathan's condo. The location is very easy to get to. It's less than one mile from the mountain and there was a shuttle bus you can request from the hotel front desk. Although on the second day of our stays The Mountain Creek resort was closed, we had a great time going to a hiking trail nearby. Nathan's condo is clean, cozy, relaxing and gorgeously decorated. I would certainly recommend his place and we will definitely look to come back sometime.
Wei
March 2016
Nathan provided adequate information prior to my arrival, including his phone number to ensure a smooth check in. Information on what to do, and how to get around was also provided in the house. He responded to communication promptly and was willing to go the extra mile to make my stay in Vernon pleasant. Nathan is a great host. Very considerate, accommodating and kind. The accommodation itself is true to the pictures provided, and even better. Beautiful, clean grounds and friendly neighbours. I would gladly stay here again next time.
Ronke
August 2016
Great place and location. Hot tub is awesome!
divya
January 2017
Our stay at Nathan's townhouse in Vernon far exceeded our expectations. The place was cozy and gorgeously decorated. The proximity to the slopes and beautiful ambiance makes it a lovely place to stay.
Henya
February 2016
Room type
Entire home/apt
---
Property Type
Villa
---
Accommodates
6
---
Bedrooms
2
Vernon Township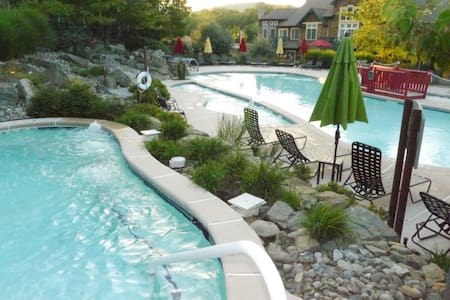 This room has a king size bed, private bath, and breath-taking views of the Hudson. This award winning villa has a garden, porch, gated parking and close to many points of interest.
This newly renovated Renaissance style villa overlooks the Hudson River. Located 34 miles north of NYC, accessible by Metro North to Ossining and ferry to the Village of Haverstraw. Casa Hudson is minutes away from the best cycling, hiking, kayaking and boating in the Hudson Valley. Catch your breath and relax on the inviting porch, taking in the vista while sailboats go by on the Hudson. Located in a village undergoing exciting renewal, it has become home to a burgeoning restaurant and arts scene, all within walking distance. Other conveniences such as rental car service, supermarket, pharmacy and other amenities are located nearby. Kitchen, living/gallery area, porch, garden and dining room. Gated parking also available. I am available for any questions, suggestions and recommendations.
The villa is located in the Village of Haverstraw, nestled between High Tor Mountain and the Hudson River. It is a friendly, walkable village with a variety of exciting new culinary experiences. Come stay at Casa Hudson and experience the tranquility of relaxing on the porch while gazing at sailboats on the Hudson, or stroll through the village and view magnificent historic homes and experience the diverse urban downtown. From NYC: Take Metro-North to Ossining and transfer to the NY Waterway ferry, which stops in the Village of Haverstraw. Casa Hudson is located within a half mile walk from the ferry. Another option is to take the Pascack Valley train from NYC to the Nanuet Station. Rental cars are accessible from all train stops. Please Note: Ferry only runs during commuting hours weekdays. Ask about our Sunday night ferry special. Ask about our Sunday night ferry special. The ferry and train from Grand Central Station will cost about $17.00 per person. Taking the train to Nanuet and then a taxi will cost $10 for the train and $13.00 for the taxi. Based on two people, both options are similar in cost.
Beautiful space & view, communicative hosts, convenient to several lovely hikes. Thank you for a restorative weekend!
liz
November 2016
As you turn the corner onto the street where the house is, you are overwhelmed with a vista of the huge sweep of the Hudson river. Rooms of the house gaze out onto this same view. It is at once serene graceful dramatic, hauntingly beautiful. Didn't the majesty of this great river inspire a whole school of painting? Andrea and Nelson are accomplished hostess and host. They care for their guests as they do their beautiful peaceful home, to a high standard. 100% professional. (And they seem to know intuitively when to be there, and when a guest has what they need.) Staying at the house is a very relaxing experience - for its setting, the obvious care expended on house and guest(s), its totally peaceful and tranquil feel, everything in tippy top condition, contemporary and great looking. Difficult for a guest/traveler to go wrong here!
chris
December 2015
Andrea and Nelson were very friendly and welcoming hosts, and they have lovingly restored their villa, from the floors, to the doors, to the external brickwork. Our spacious room, with a view of the Hudson, was furnished with original artwork and a very comfortable bed. Staying there was a wonderful way to unwind and we would have loved to stay longer.
John
November 2016
This was my first time using Airbnb and Andrea was a great host. The pictures of the space and house itself don't do it justice - a great city getaway right next to the quiet riverfront. Andrea and Nelson were very accommodating, providing maps, directions, a bike, and offering to pick me up and drop me off whenever necessary. Something I didn't know was that the ferry to and from Haverstraw only runs on weekdays, so keep that in mind if booking on a weekend. Highly recommend!
Justin
October 2016
Beautiful house and great stay. Thanks, Andrea, for an excellent weekend.
Craig
November 2016
The Roma Room was very comfortable with everything we needed. The view is incredible. We enjoyed a relaxing weekend at Casa Hudson and Andrea and Nelson were great hosts!
Lisa
September 2016
We had a truly great time staying at Casa Hudson, and would definitely recommend it to anyone looking for a riverside getaway. The house is beautiful, and Andrea and Nelson are gracious, engaging hosts who were available for all of our questions and went out of their way to make our trip a pleasant one. The main street in town is right around the corner and had some good dining options--try UNoodles Snack Bar and Vilma's Bakery--but you'll definitely need to rent a car or be an intrepid cyclist if you'd like to go any further afield. It's easy to get to any of the sites in the area--we drove to Bear Mountain and Storm King, which was an easy, scenic drive--and spent a lot of time hanging out on the house's spacious front porch, which looks out on the Hudson. Our room was large, clean, and decorated with some great art pieces, and also had an excellent view of the river. We'll definitely be back, maybe with friends to take advantage of the second room!
Katharine
July 2015
Andrea was an outstanding host and her home is impeccable. During our three night road trip this was the best place we stayed. The accommodations are in a beautiful part of town and are a short walk from shops and restaurants and right on the bank of the Hudson River. Andrea provided great information and recommendations for the area and room we stayed in was fantastic. I cannot say enough great things about this place and its owner!
Mary
April 2016
Room type
Private room
---
Property Type
Villa
---
Accommodates
2
---
Bedrooms
1
Haverstraw
Beautifully situated on a 8-acre estate with manicured gardens, lawns and woodland. Built in 1858, it has strong connections to the architectural, art, and film history of the Hudson Valley. Proximity to transportation. Metro-North Beacon Station
This stunning 8000 sq. ft. Italian-style Villa, nested in the Hudson Valley, is beautifully situated on a 8-acre estate with manicured gardens, lawns and woodland. Built in 1858, it has strong connections to the architectural, art, and film history of the Hudson Valley. Listed in the National Register of Historic Places, it is also a warm and welcoming vacation spot for those interested in exploring the historic Hudson Valley, hiking in the Adirondacks, or skiing in the Catskills. The Hudson River is minutes away, where you can enjoy sailing or kayaking. Tucked away in a serene wooded area, the Villa also offers immediate proximity to transportation. Metro-North Beacon Station allows its guests the convenience of making day trips to Manhattan, while enjoying the peace a quiet away from the hustle and bustle of the city. The estate is perfect for family vacations, large or small parties, and is an ideal retreat for artists and musicians. The formal garden, designed by famous Hudson Valley impressionist painters Gifford and Reynolds Beal, is the perfect backdrop for small boutique weddings.
We were looking for a house where we could host our large family while visiting West Point. Everything about Stonegate was great. The house and property were immaculate and the communication with Doug always timely. Everyone was very pleased. I definitely recommend Stonegate to any interested party.
Donald
August 2016
The host for the villa was wonderful. The villa was lovely, even on a cold February weekend (it was around zero degrees outside!). The guests all enjoyed themselves and one of the best memories was a photo of all of the guests on the grand staircase. I would highly recommend staying here.
Claire
February 2016
We spent 2 nights over New Years eve at Douglas's property with 12 good friends. We had a wonderful time in this amazing house. The house itself was huge and even with a large group like ours, there was plenty of space to relax and spread out. The photos of the house do not do it justice, it was much grander than we anticipated. The bedrooms are all unique and well decorated and the beds were very comfortable. The kitchen was very well equipped with everything you need to cook up a big feast (which we did several times over). The dining room is grand with a huge table and plenty of chairs. We spent evenings in front of the fire relaxing and listening to music. During the day, even though it was a bit chilly, we played ping pong and hung out on the big back porch. This property would be great in summer, the back garden is perfect for barbecuing. The house was very clean and Douglas was very responsive to our questions and provided great information about the surrounding area and the house itself. The location is very convenient, close to the Beacon train station and an easy drive from NYC. We would highly recommend this house, particularly if you have a big group of friends or a large family. Thanks Douglas!
Jen
January 2016
Beautiful historic home with a well-equipped kitchen and cozy library. Great location for exploring the Hudson River Valley with a large group.
Chris
December 2016
Very impressed with the house and the host. The house is amazing, especially the outside. Expansive amounts of yard space for activities, and a great patio area for grilling, hanging out, ping pong etc. Inside is great - stairs are a bit creaky but that's part of the charm. We had twelve people and almost everyone had their own room, plus there was ample common space and a dining room. The house is an easy drive from Manhattan, and in a great location – when we weren't at the house, we did a hike nearby (there are several) and explored downtown Beacon. Douglas, the host, was very accommodating, and even left a couple of goodies for us to make sure our stay went smoothly. Even better, the kitchen was stocked very well, and there were plenty of baking/cooking/silverware materials – you don't always get that when you visit a house. House rules were very clear and not constraining at all. He was also responsive over email and checked in that things were going ok throughout our weekend. Thanks to Douglas for letting us use your home for the weekend!
Alex
July 2016
Room type
Entire home/apt
---
Property Type
Villa
---
Accommodates
15
---
Bedrooms
7
Balmville
Breathtaking glass, wood & stone modern villa on 12 acres. Cantilevered on a 200' granite cliff over the Hudson. Gourmet kitchen. 10' screen media room. Huge deck, Jacuzzis, steam showers, sauna, hot tub, pool, tennis. 70 mile views. Total privacy.
An architectural masterpiece set in nature's most stunning creation. As magnificent as any European locale yet only 1.5 hours from NYC. One of the greatest estates built in the Hudson Valley in modern times. A private oasis constructed of the finest materials: Limestone, beechwood, electronic lighting controls & more. Its vistas are brought inside through floor-to-ceiling 10' operable glass throughout. Whether staring at the river with its leisurely ships floating by from every bedroom, the hot tub, the salt-water pool (seasonal) or the great room with its huge fireplace, you will enter a state of meditative relaxation never thought possible so close to Manhattan. The only house visible from the villa is FDR's Birthplace & Summer White House, now a national park and Presidential Library. Dine (or take mini-courses) at the Culinary Institute of America, also visible across the river from the villa or any of the superb locally-sourced restaurants in the area or cook your own meal from ingredients bought at the world renown local farmer's markets. Explore the Hudson Valley, with every imaginable site less than 45 minutes away - from antiquing to apple picking to Robber Baron mansions to skiing. Or stay at home and play tennis on the lighted court (seasonal), swim (seasonal), hike the grounds, entertain on the expansive deck, relax in the hot tub or one of the 3 Jacuzzis, 2 steam showers or 2-person real lava-rock sauna. Play ping pong, air hockey, play music, play video games, watch movies on a 10' high-definition screen. Stroll or sit in the private sculpture garden or do nothing at all & still feel like you've got it all. The entire villa is open except the mud room, garage & a few closets. The concierge is available to greet you and for any issues that require an in-person interaction. Your host is usually available by phone for items that can be answered verbally.
This is a property for elite guests who require privacy similar to that provided by an island retreat. It sits on a secluded point accessible by one road and is bounded by private homes on either side and 1,000' of riverfront. There is ample parking on the grounds. The house is 10 minutes from the Poughkeepsie Train Station with service from NYC via Amtrak (1:20) & MetroNorth (1:50). It can be reached by car via I-87 or the Taconic Parkway. Ask the host for exact directions or use GPS. The property has been accessed by helicopter. Stewart Airport is the closest public airport for commercial flights; Dutchess County Airport is the closest private facility. The house is only safe for toddlers with continuous direct supervision. Responsibly-aged children should be monitored. The house is sited in a stunning natural landscape that can be challenging. Guests assume all responsibility for monitoring children and, given the home's perch over a cliff, for their own safe behavior when on the deck and on the property generally.
The house looks exactly like in the pictures. The view is breathtaking; the design of the house, outside and inside, is really well-thought. Bud is a great host and very reactive in case you have a question. I strongly recommend to spend a few days there.
jean-marie
April 2016
The home is a fantastic spot - it worked incredibly well for our large family - swimming, tennis, bbq, drinks over the Hudson - all added up to great days back to back to back - Bud is a wonderful host - attentive , responsive , passionate about the home and the area - couldn't recommend the whole experience more highly...
Tim
August 2016
My wife and I decided to get out of the City for the long Valentine's Day weekend and settled upon this "Hudson Valley Masterpiece." And "masterpiece" might not do this place justice. Wildly luxurious, sexy, modern, elegantly decorated, spacious, and with gorgeous views of the Valley. We absolutely loved the vibe and couldn't stop commenting on how the entire ambiance just seemed to scream "relaxation." Unfortunately it was the winter and we didn't have the opportunity to partake in some of the warmer weather activities (tennis court, pool, etc), but we can only imagine how lovely this place would be during a sweltering summer day or a crisp autumn evening. And then there's the owner, Bud, who went out of his way to make us feel at home, providing detailed instructions for all the appliances in the house and a comprehensive list of restaurants and other nearby attractions. It was clear he genuinely cared about our having the most outstanding experience, which we most assuredly did. Outstanding stay. 10/10. Highly recommended.
Ann
February 2016
Room type
Entire home/apt
---
Property Type
Villa
---
Accommodates
8
---
Bedrooms
4
Highland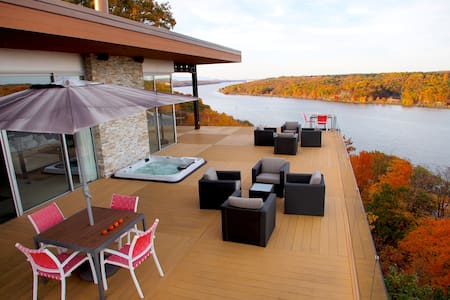 This big room has a queen size bed, private bath, and breath-taking views of the Hudson & a little balcony. This award winning villa has a garden, porch, gated parking and close to many points of interests.
This newly renovated Renaissance style villa is situated on the Hudson River and is located only 34 miles north of NYC, accessible by Metro North, then a ferry. Easy access to the best cycling, hiking, kayaking, boating in the area or just relaxing on the porch and watch the sailboats on the river. The villa is located in an urban village that has some of the finest restaurants in walking distance. There is a local rental car, supermarket and other amenities close by. To the kitchen, living/gallery area, porch, garden and dining room. Gated parking is available too. I am available for any questions, suggestions and recommendations.
The villa is located in the village of Haverstraw which is nestled between High Tor Mountain and the Hudson River. It is a friendly walkable village that has a variety of restaurants. Stay at Casa Hudson and experience the tranquility off sitting on the porch, looking out to the river or walk into the village for a more diverse, urban vibe. From NYC: Take Metro-North to Ossining and the ferry or the train to Nanuet. Rental Cars are accessible from all train stops. Please Note: Ferry only runs during commuting hours weekdays. Ask about our Sunday night ferry special. The ferry and train from Grand Central Station will cost about $17.00 per person. Taking the train to Nanuet and then a taxi will cost $10 for the train and $13.00 for the taxi. Based on two people, both options are similar in cost. Ask me about our Sunday night special, if you book Friday and Saturday night.
Wonderful stay and accommodations. Andrea and Nelson were very helpful with planning our trip and offering local suggestions, and the place itself was beautiful -- clean, very nicely decorated, with a stunning view. Off-street parking available and a nice shared kitchen. Only wish we could have stayed for longer!
Karan
August 2015
Lovely house with great, spacious rooms. Everything is really beautifully and tastefully decorated. House has everything you need and you can really make yourself feel at home. Andrea was very sweet and welcomed us with a little gift for my husband's birthday. As for the area... you have restaurants within walking distance, bikes you can borrow from Andrea if want to explore, and mountains just a few minute ride away. Great weekend getaway from NYC!
Irina
April 2016
We knew nothing of Haverstraw and decided to explore the area after seeing glowing reviews for Casa Hudson. The outstanding reviews are well deserved -- Casa Hudson will exceed any traveler's expectations. I've stayed at a variety of inns/bed and breakfasts, and Casa Hudson is my favorite by a wide margin. The house is meticulously restored, beautifully appointed, and full of cool and unusual pieces and original works of art. Andrea and Nelson are delightful -- super-friendly and welcoming in a comfortable, low-key way. We had a wonderful time staying at Casa Hudson and look forward to returning again soon.
Erica
April 2016
Andrea and Casa Hudson beyond exceeded our expectations and was a wonderful experience! The restored house is beautiful, spacious with modern technology/amenities and a stunning view. Andrea and Nelson were incredibly thoughtful and gracious hosts and made us feel at home/part of the family. Would absolutely recommend staying here and hope to come back sometime soon!
Amanda
September 2016
Nelson welcomed us in a cordial & colorful way. He immediately gave us the history of the house and neighborhood. The home and rooms are of Italian/modern decor. Nelson is very creative and is continuing his many projects to make the home inviting. There is a wonderful view of the Hudson River and the neighborhood is in the phase of gentrification. We are sorry that we did not meet Andrea.
A Patricia
September 2015
This was one of best AirBNB experiences, ever! Andrea greeted us as if we were long-lost family; the house is absolutely stunning, tastefully decorated and well appointed. Rooms are spacious with fine linens: all in all, graceful but homely elegance. We now understand why Andrea gets such raving reviews. We had a great stay and hope to be back in the near future. Thanks for your generous heart, Andrea. We loved our stay! Deborah & Duffie
deborah
September 2015
I had a fantastic stay at Andrea's place in Haverstraw! I stayed in the blauvelt room which was even nicer in person than I had anticipated. The home felt clean, modern, and very comfortable. Andrea was a great host- extremely responsive during the booking process, waiting on her front porch when we arrived, and unfailingly helpful with local suggestions and tips. She was very available but in no way overbearing. The home is easily accessible by train/ferry, though I'd recommend a car to venture further afield.
Ilyse
August 2015
Andrea was accomodating and welcoming during the entire visit. The pictures of the room and villa were what we experienced in person. The best part was getting away, shutting off email, and enjoying the porches and great coffee! Thanks Andrea for a great, relaxing visit!
Michele
September 2015
Room type
Private room
---
Property Type
Villa
---
Accommodates
2
---
Bedrooms
1
Haverstraw
We were suppose to go dec 5 to dec 12,because of an illness we cannot go It a three store villa on the beach.you have your own pool. 2 master bedrooms I can send a link to villa upon request. The price is 2,000 it's a great deal.
There are direct flights into antigua You will have the whole villa No but someone will meet you there
Other villas and restaurants I would get a car. You will get to see the island and restaurants
Room type
Entire home/apt
---
Property Type
Villa
---
Accommodates
6
---
Bedrooms
3
Montvale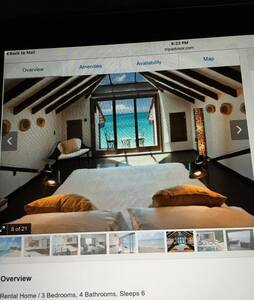 Voted one of the most luxurious homes in Westchester. Located 30 mins from Midtown Manhattan, this gorgeous historical estate is right on the Hudson River. Home boasts apprx 14,000 sq feet of living space. Can sleep up to 26+ guests. All new amenities including fastest wi-fi, high-end chef's kitchen, multiple sitting rooms, a beautiful conservatory, on 5 acres of secluded land. Perfect for corporate retreats and weddings. Inquire about packages- we can offer catering, transportation, everything!
Historical landmarked mansion built in 1852. Having recently undergone millions in renovations, the home is completely updated with modern amenities, luxuriously appointed. Exercise room with treadmill. Billiards parlour. Poker room. Conservatory. Dry sauna. 15 ft custom-built indoor shuffleboard. Ping pong table. Heated outdoor pool. Guests have access to the entire property. Please keep in mind there will be a property manager in a separate apartment wing of the house. Complete privacy ensured and they will be there to take care of any needs that may arise. This is a large estate and maintenance is constantly required to preserve this modern-day "Downton Abbey".
Irvington, New York is an idyllic rivertown located right along the Hudson. Walk the legendary Croton Aqueduct trail way towards town, where there are fantastic restaurants and cute shops. Take the MetroNorth Hudson line that leaves once an hour (twice during peak times). Train station is walking distance to the House. If driving, there is ample room for multiple cars. ***2017 weddings will be offered at full buyouts (Friday-Sunday). Please note that weddings and other major events hosted here are NOT at the overnight base price listed.
I rented Villa Nuits for my sister's Bridal Shower Bachelorette Party Weekend with 20 guests...and it was an absolute smash! There's oh so much to love about this place but here are some of the highlights: The Conservatory, not only does the lovely glass enclosure allow for you to enjoy the well maintained grounds while inside, but at the flip of a switch it was quickly heated so guests stayed toasty. This was also a favored meeting area since the seating is comfy abundant and yet still intimate. I laugh because that room makes you want to whisper and share secrets. ;" The living room off of the kitchen is where we played bridal shower games. Lots of seating allowed for everyone to gather and make toasts. Kitchen #1: I loved it. My sis said her must built her that kitchen. Me I just loved that there was an 8burner stove,two coffee pots and a French press to keep everyone happy. There were also more than enough dishes and platters. And island was the perfect staging area for the chef to final prep, warm and plate dinner for 20. We didn't use Kitchen #2 downstairs, but it was fully functioning and ready for a more robust catering operation if needed. The WetBar/Kitchen #3 was a lifesaver...we'd forgotten ice...and boom industrial ice maker. They have Sonos wired the house so you get to take advantage of the different zones throughout the estate. While we didn't use the billiards room, we did use the Poker room as a a stationary / design station for guests to create beautiful wedding messages. The Main Hall turned out to be the sleeper hit, as guests enjoyed the grand fireplace with crackling fireplace and sofa. Bedrooms...beds were super soft with lots of down blankets. I loved that the towels were nice and thick...(lord knows there's nothing worse than a cheap towel). The rooms are not overly decorated and the art has lots of personality and not what you'd normally expect in a period home. Several of the rooms connect (via locked doors) which is pretty cool and there are also ensuite bathrooms, lots of light and fireplaces. Everything about upstairs makes you want to gather and chat...or have your privacy. In the lower level of the home there was a sauna and yet another media room with wrap around sofas where we all gathered, another bedroom, bathroom, a game room and the previously mentioned catering kitchen. The owner and caretaker are awesome. It's clear a lot of love was poured into the home. Owner was super flexible and friendly. He bumped into one of my guests at the station and gave her a ride to the party. The caretaker also went above and beyond by keeping the fire lit and even acting as an extra set of hands and opening wine bottles pre guest arrival. ...I can't wait to rent it next summer for the pool, bike trails, and sunset drinks on the Hudson.
Malika
November 2016
Our group had an amazing stay for our office retreat. The house is bigger and better than the pictures. We all had a truly epic time at this historic mansion.
Julian
January 2017
This place is absolutely flawless. We we're able to use if for our family and friends Christmas. It is run more like a resort more than a standard air bnb residence - so there is always help on site. Completely amazing for making memories happen. We highly recommended this to everyone.
Adrienne
December 2016
Room type
Entire home/apt
---
Property Type
Villa
---
Accommodates
16
---
Bedrooms
9
Irvington