Luca's House is on Monte Amiata, an ancient and fairy vulcan! please take you're swimsuit with you: several river and free, hot,termal bath all around
Luca's House is in Pescina of Seggiano, on Monte Amiata , in Podere Barbaglia , an old country small-holding dating back to the 19th century. Built entirely in stone it has been renovated respecting the typical architectural characteristics of the area blended with touches of artistic masonry. The result is a small 'village' whose rustic hospitality has grown over the years so that an 'agriturismo' or farmhouse accommodation , has been created. Two apartments are also available for long or short stays for a total of 14-20 people, with a sauna and whirlpool. The agriturismo, that here we offer , is compoused by 2 connected apartments Petra and Fonte: 3 bedrooms, a large living room with a thermal fireplace, two bathrooms and a small kitchen. It is good for 6 people plus children. Alternatively, the two apartments of the 'agriturismo' can be separated, each with its own entrance. Ciliegio and Brezza are the other apartment of Luca's House. WiFi connection is avaible inside the house and in the garden. Well accept pets. We are close to termal places as : S. Filippo, Bagni Vignone, Petriolo, and also to winter ski slopes. The small-holding is in the midst of the countryside, surrounded by the biologically cultivated fields of the farm and by pine and chestnut woods that are typical of the area. It 's not unusual to see roe deer crossing the fields at sunset or the more timid porcupines or badgers or wild boar or even a furtive fox. The area it is completely uncontaminated and visitors can see all types of birds in the trees as well as falcons and buzzards circling up in the sky, watch the fireflies in summer and little clouds of butterflies in spring. The place is ideal for bird-watching enthusiasts, trekkers, mountain bikers and not far practicing paragliding. Ideal to stage Photo Tour, or to get your artistic shots.
Located in the cross area where Maremma and Val D'Orcia Nature Park meet, Mount Amiata is an ancient volcano (1774 m.) with an abundance of underground and springs thermal waters. . The closest thermal bath (20 minutes by car) is at San Filippo; in the area there are thermal baths at Bagni Vignone or San Casciano up to those at Petriolo and Saturnia. Not distant the sea side Argento coast(one hour by car) . The ski slopes are about 10 minutes by car from the farm: in winter there are several kilometers of slopes equipped with two chair lifts and ski lifts. Mount Amiata has always been a crossroads of intense spiritual activity thanks to its churches and to the Via Francigena(from VIII century pilgrim itinerary coming from north europe) which flanks it in the north. At the beginning of the 19th century it witnessed the rise of David Lazzaretti's social-Christian community on Mount Labro. At the moment it is home to Merigar, the seat of the Dzogchen Community,one of the biggest Tibetan Buddhist centres in Italy. In the area of Seggiano and Pescina you can visit the Spoerri Garden, an international contemporary art museum by Daniel ,a museum of contemporary art created by Daniel Spoerri which attracts an international audience. From Santa Fiora and Arcidosso to Pienza and Montepulciano there is a succession of medieval villages and Renaissance towns to visit and numerous local activities in any season.
When I arrived at Lucas house I felt, it's right that I'm here and I already knew I would enjoy my time for sure! The house is not just nice, it's beautiful. By the way, of course you will find everything what you need, it's clean, everything is prepared and well done. And Luca is maybe the best host I have ever had. :-)
Rebekka
2013-10-12T00:00:00Z
Good place very comfortable,nice air and Luca very (URL HIDDEN) vediamo a presto!
yuyu
2016-07-10T00:00:00Z
Luca was a great host and did even pick us up in the village below, as our GPS just couldn't find his place. No surprise, as his house is quite remote from the village, but wow is it amazing and beautiful! If you are looking for an escape this is the place for you. The house is clean and spacious and the gardens are beautiful, overlooking Tuscany with undescribable sunsets. I can't wait to return to this beautiful place.
Anna
2014-09-29T00:00:00Z
Incredible location with spectacular views. Enjoyed the outdoor seating area and lovely walks straight from the house. Luca kindly invited us to a party with his friends which featured true oven baked pizza in the garden. Go with the knowledge that is rural and the nearest shop is a ten minute drive away. The kitchen is basic and could use updating of utensils and plates, but the pots were excellent.
Tracey
2016-07-02T00:00:00Z
Luca's house is located in an amazing setting and he is a great host. The House is very comfortable with a beautiful porch, nice living room, full kitchen, modern bathrooms and comfortable bedrooms. The house is located on a mountain in the Tuscan country side close to charming villages with amazing restaurants. Luca has taken great pride in the renovation and design of his House and it is a great location from where to explore Tuscany. We look forward to returning in the future.
Daniel
2013-06-11T00:00:00Z
The area of Luca house is very welcoming with amazing views on Monte Amiata. It's very quiet, beautifully restored and it's pleasant spending time in the large and zen garden. The appartments are well equiped, beds confortable, everything is clean and organised. Luca is a friendly and accomodating host. The last day, he cooked very good pizza for us. We were a group of friends and spent a wonderful week. The area is interesting to visit : medieval villages, thermal baths, contemporary art garden... I would recommend staying in this relaxing place and I hope to return myself.
Myriam
2016-07-17T00:00:00Z
Positives - Gorgeous/Spacious/friendly/peaceful... It is on a mountain top over looking the tuscan hills and the sun/moon/stars are quite gorgeous up there. This is the place to go if you are looking to be away from things for a while. It isn't close to any of the major Tuscan cities (Siena/Montepulciano/Montalcino are at least 1 hour drive b/c the roads are winding and not always easy to traverse), but that's just fine. It's a reason to drive through the Tuscan landscape and stop on the side of the road to pick grapes! It is close to some of the thermal baths which are wonderful and free! Negatives: Wi-fi was not reliable. Directions to Luca's house were not good. To get there, you need to drive south from Pescina and turn left (East) on the first major road about 500 meters from Pescina. Once you do that Luca's house is about 2 kilometers up the mountain. The driveway at Luca's house is not in the best shape, so watch out if you are driving a smaller car that sits low to the ground.
Todd
2014-09-03T00:00:00Z
Luca's house provides a wonderful place to relax with friends and family. We stayed for 25 days and watched spring come into full bloom on the side of Mount Amiata. The rural setting provides a peaceful rustic and rustic experience. The lodgings have been refurbished and decorated by Luca. All seems to be in perfect integration with the Tuscan countryside and the original farmhouse. From this location you can explore both the large and small towns of Tuscany without excessive driving. You can enjoy cooking your own meals; grocery shopping is 10 minutes by car. Luca can recommend restaurants that are very close. We particularly enjoyed Luca's Pizzeria (no connection to Luca's) only 2.5 km away. It is run by a wonderful family that will assure you are completely satisfied local wines, meats, pasta and local dishes. Luca was a very attentive host and was always ready to provide any help that was needed. Both Dulce and I can heartily recommend Luca's house for your stay in rural Tuscany.
Al
2014-05-24T00:00:00Z
Room Type
Entire home/apt
---
Property Type
House
---
Accommodates
16
---
Bedrooms
Seggiano, Tuscany, Italy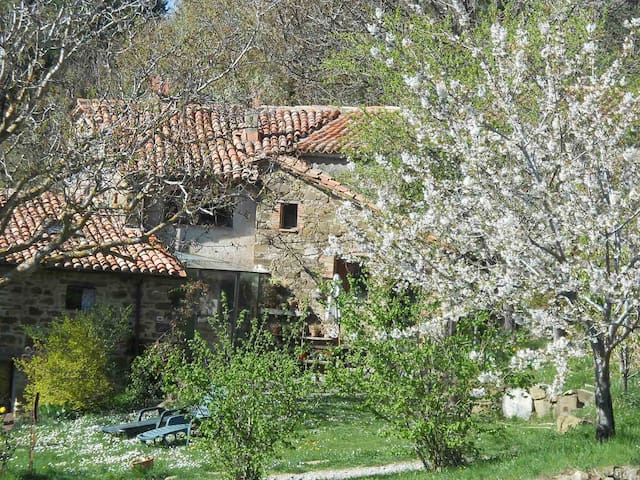 Casa vacanza, piccola ma graziosa, al Vivo d'Orcia. Il paesino più alto dell'Amiata, che si affaccia nella val d'Orcia, famoso per le sue sorgenti, immerso nella faggeta, ideale per gli amanti del relax, escursioni, natura , sport invernali e .... Perché no, del buon cibo...adatto a coppie , solitari o famiglie con un bambino. Dista solo 8 km dalle terme di San Filippo, 20 minuti da Montalcino e da Pienza. La casa
Appartamento di 47 m in una frazione di Castiglion d'Orcia dentro al parco naturare val' d' Orcia, e alle pendici del monte Amiata. Piccolo ma confortevole,con tutti i confort, tv, stereo, lavatrice, ferro da stiro, asciugacapelli, divano ripieghevole. Angolo cucina, ripostiglio, camera, soggiorno. Posto auto. Per necessita' di atrezzature piccolo garage dove metterle in custodia.
L'appartement est très agréable pour un séjour détente près des sources de San Filipo. Il fait très familiale et on a beaucoup apprécié. A l'arrivée, des gâteaux apéro nous attendaient et Giancarlo avait tout prévu pour le petit déjeuné. Il ne parle que Italien, mais est venu avec quelqu'un qui parle français pour bien se comprendre. Je recommande.
Emilie
2017-03-12T00:00:00Z
Giancarlo è una persona piacevole e molto attenta a dare il meglio di se. Comunica velocemente e si rende disponibile per ogni esigenza. L'appartamento è accogliente e confortevole. Ottima posizione per chi cerca la tranquillità. Grazie per l'ospit
Gian
2017-03-07T00:00:00Z
Room Type
Entire home/flat
---
Property Type
House
---
Accommodates
3
---
Bedrooms
Vivo D'orcia, Toscana, Italy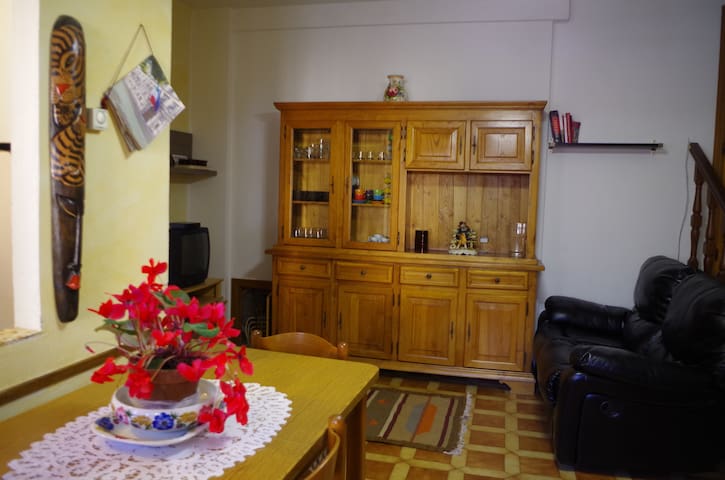 La nostra splendida e accogliente casa! Può ospitare comodamente tre persone ed è posizionato in una via tranquilla.
Room Type
Entire home/apt
---
Property Type
House
---
Accommodates
3
---
Bedrooms
Vivo, Tuscany, Italy
Enter dates to see full pricing. Additional fees apply. Taxes may be added.