Cute little apartment, walking distance from short pump mall. 2nd bed is a sleep sofa
Great place, great location, great host
Jeremiah
2017-03-26T00:00:00Z
Room Type
Entire home/apt
---
Property Type
Apartment
---
Accommodates
4
---
Bedrooms
Henrico, VA, United States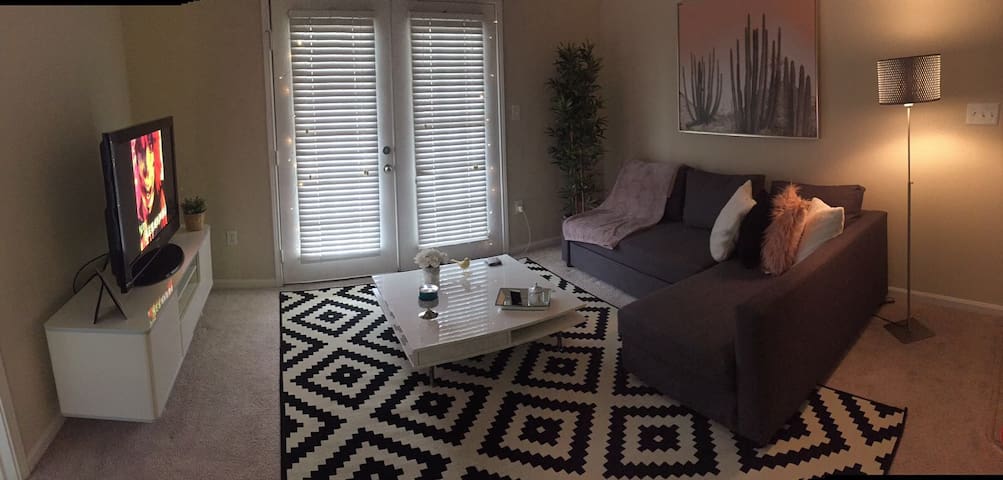 This apartment has a beautiful view from the balcony on a lake. It has a very comfortable brand new bed and couch. I have everything to accommodate your needs: bath, shower, washer and dryer, tv, kitchenware e.t.c. Swimming pool, shopping center.
Room Type
Entire home/apt
---
Property Type
Apartment
---
Accommodates
2
---
Bedrooms
Henrico, VA, United States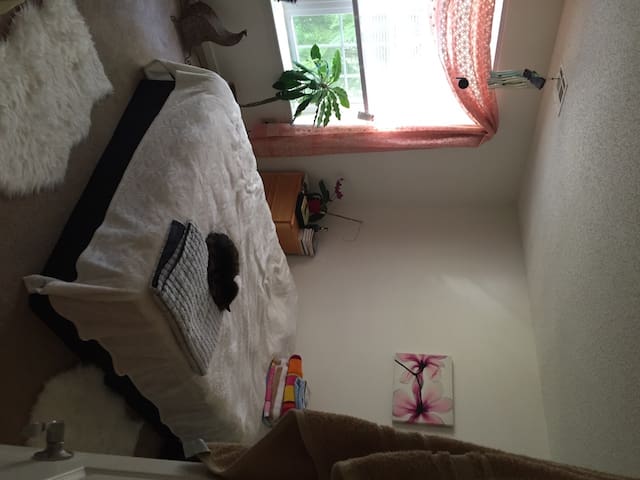 Two bedroom, 1 bath, furnished, full kitchen complete with appliances, washer/dryer, balcony, pool, gym.
Room Type
Entire home/apt
---
Property Type
Apartment
---
Accommodates
2
---
Bedrooms
Henrico, VA, United States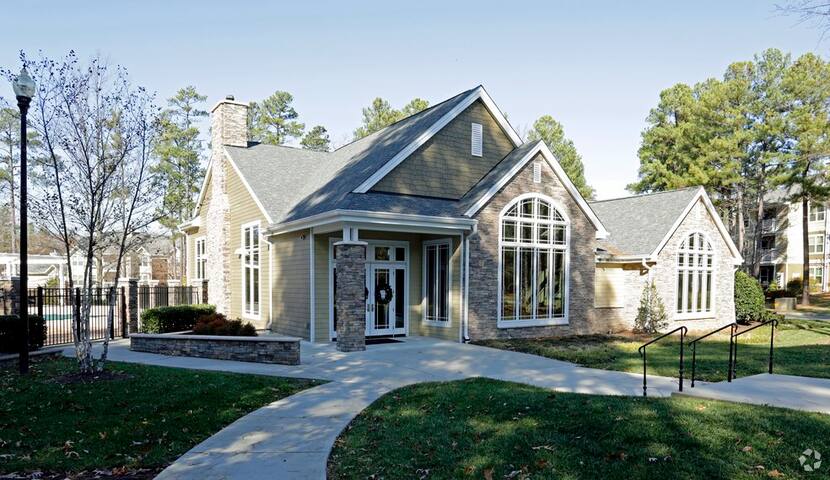 This centralized newly renovated apartment is right off 64 and just minutes from downtown without any of the noise. Free wifi and two cable televisions.
I was moving from Salt Lake to Richmond. Laura's place was perfect! There was plenty of room for my family of 4. I was happy the available parking was able to accommodate the moving trailer we pulled cross country. Laura was very quick to communications care and her husband helped us get situated when we arrived. Stargazing on the patio was a perfect ending after a long drive. Thank you for hosting us!
Lorisa
2016-11-08T00:00:00Z
Great stay and great value for the money!
Janelle
2017-01-28T00:00:00Z
Wow, this place is awesome. It has everything you could want and is very clean. Two nice bedrooms, a kitchen, nice bathroom. Easy in and out! Great stay!
Gina
2016-10-02T00:00:00Z
A great location for access to Richmond. The apartment was clean and well furnished.
Elizabeth
2016-11-14T00:00:00Z
Gorgeous place! Clean, well-furnished, private, comfortable, and quiet - a welcome respite from an otherwise-busy weekend for us in Richmond. Laura was very quick to respond to questions and flexible with our check-in and check-out times, which was very much appreciated. Our only regret was not being able to stay longer.
Tiffany
2016-11-26T00:00:00Z
Laura's place was even better than pictured & very clean & comfy. Perfect central location for 2 couples that wanted to visit various parts of the city, and the price was a bargain.
Jari
2017-03-05T00:00:00Z
Great stay! Clean apartment, comfy beds, and a convenient location.
Jameson
2017-02-05T00:00:00Z
We were staying in the area for a concert at a nearby venue, and Laura's apartment was perfect for our needs. We were only there for one night, but certainly would have been comfortable staying there for a longer period of time. The unit was clean, nicely decorated, and well maintained. The kitchen was well equipped, which is important to us because one of the main reasons we choose to use airbnb is the availability of a kitchen because we like to cook. The only thing I might suggest as a potential improvement is the addition of a small table. If you actually cooked a meal for four here, having a place to sit down and enjoy it together would be nice. We were very please with our stay here and would definitely consider staying here again and would certainly recommend it to others.
Carrie
2017-03-22T00:00:00Z
Room Type
Entire home/apt
---
Property Type
Apartment
---
Accommodates
4
---
Bedrooms
Richmond, VA, United States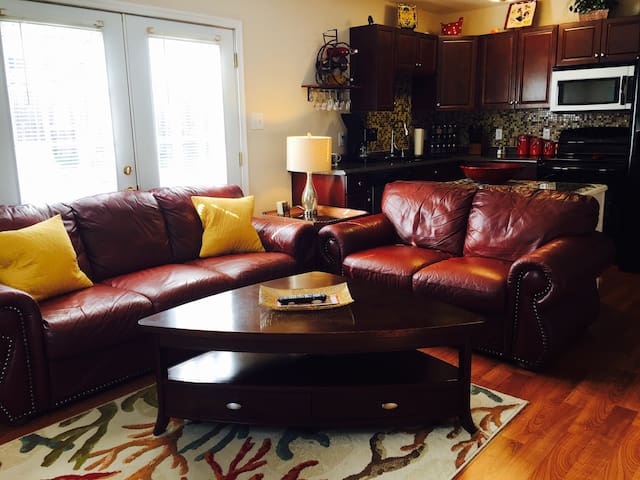 Three room separate 800sf apartment attached to private residence located in Henrico County, Virginia. Situated on a knoll overlooking 1+ acres of rhododendron and azaleas. Quiet neighborhood that has easy access to all services.
Three room separate apartment attached to private residence located in Henrico County, Virginia, situated on a knoll overlooking 1+ acres of rhododendron and azaleas; minutes from the University of Richmond, Country Club of Virginia, Richmond Country Club, James River, and Goochland County. Convenient to restaurants, major shopping centers and all services. Off-street parking, private entrance, large windows overlooking lovely garden, with considerable privacy. •Large Living Room •Large Bedroom •Shower Bathroom •Full Kitchen •Sleeps 2 •FiOS Cable •Wi-Fi Connection •All Utilities
Suburban living with easy access to everything.
This is a comfortable, fully equipped apartment with a private entrance in the basement of a private home. The neighborhood is quiet and very attractive, but is within a 5 minute drive to several small malls with shopping and restaurants. Excellent value and would be comfortable for a single person or couple to stay. It is a bit hard to find so ask for detailed directions if you have any doubts.
Terry
2016-12-13T00:00:00Z
This was the perfect spot for my mother and I to stay while visiting relatives in Richmond. It was a quick drive to the city, yet we felt like we were getting away from it all when we came back out to the home. A beautiful, quiet setting, with plenty of room. We loved having our breakfast on the patio every morning while listening to the birds sing. Our hosts were helpful and friendly.
Elizabeth
2016-06-22T00:00:00Z
My second visit to Robert's place was as pleasant as the first. The unit is a one bedroom apartment with private entrance as advertised. The location is very quiet with great views. Highly recommended!
Tom
2016-07-15T00:00:00Z
I stayed at Robert & Thomas' house for two weeks and my experience was excellent! Nesled, off the main road, on a wooded lot, just outside of the city core, the property is unbelievably peaceful and serene. I enjoyed a fantastic sleep every night! The accommodation is exactly as pictured. In fact, it's much larger than it appears. Communication with Robert was extremely fast. I look forward to my next trip to Richmond and staying at Robert's again!
Dean
2016-11-07T00:00:00Z
Robert and Thomas made me very welcome. I appreciated the explanation Thomas provided of which light switches do what and the warning about instant hot water. The three rooms felt spacious. I especially enjoyed the art on the walls. The rocking chair in the bedroom is a nice touch. The wooded neighborhood is quiet and feels rural, although all the benefits of the city are not far away. I recommend this delightful apartment and hosts.
Julie
2016-10-18T00:00:00Z
It was a great rental. It was Close to the conference I was attending. There were many restaurants near by. The property was clean and spacious. It was stocked with necessary kitchen utensils and even some nice snacks.
Esther
2017-03-25T00:00:00Z
Cute, quiet, and hidden away without being rural or too far from the city. The hosts are fantastic and the apartment itself is great. Comfy bed. Full kitchen. Cute decor and roomy enough that two people never feel cramped.
Justin
2017-01-04T00:00:00Z
I had a wonderful stay at this location. I was visiting my family for the Christmas holidays, and this turned out to be the perfect place. Close to my family and in a really sweet neighborhood. Department itself was impeccably clean. The hosts were very easy to contact, warm, and welcoming . I was absolutely delighted with this stay, and I hope to return. Thank you so much, Robert!
Walker
2016-12-26T00:00:00Z
Room Type
Entire home/apt
---
Property Type
Apartment
---
Accommodates
2
---
Bedrooms
Richmond, VA, United States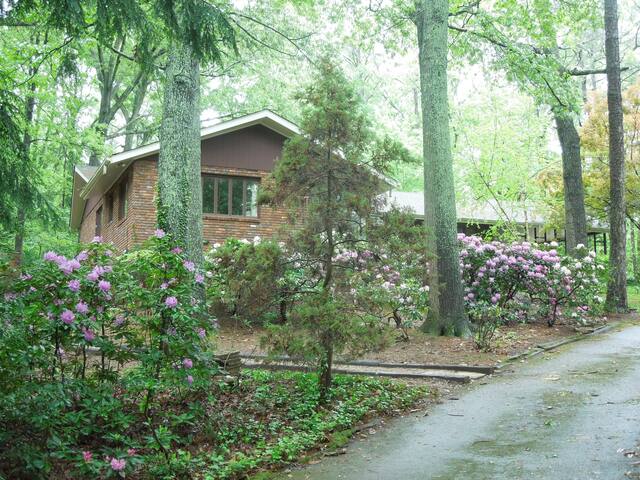 Overlooking James River and historic Bosher Dam, our 2 bedroom apartment with 30 ft. great room with stone fireplace and huge deck offer spectacular views. Enjoy the private beach where you can launch your kayak to explore the mighty James. Or pack a lunch and just enjoy the solitude and wildlife on the beach. (Beach chairs are available.) Located minutes from Carytown so restaurants, bars, shops, the VMFA- all of historic Richmond is readily assessable. Also the UR is just 10 minutes away.
For your use is a complete kitchen. Bedroom #1 has a queen bed and bedroom #2 has 2 twin beds. The apartment is a second floor so there are stairs. Private entrance. Full bath. Great room with fireplace and large deck overlooking the James River.
Our neighborhood is quiet with little traffic and has been designated as a bike route by RVA. Close to Riverside Drive which is a beautiful walk/run/bike ride along the river. Very near University of Richmond campus.
Room Type
Entire home/apt
---
Property Type
Apartment
---
Accommodates
4
---
Bedrooms
Richmond, VA, United States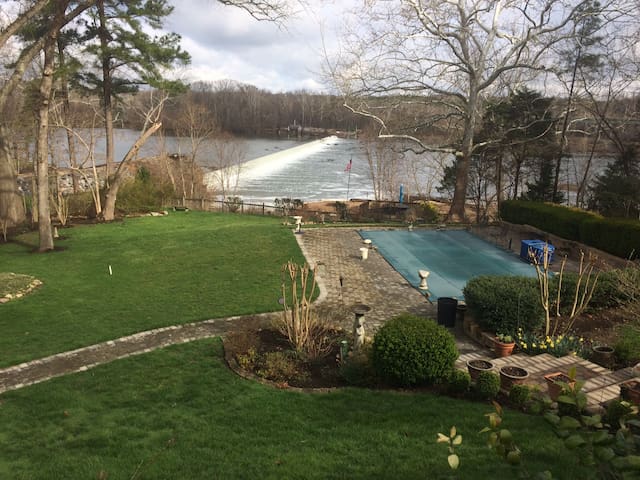 You'll love this location between downtown and Short Pump, near historic sights, shopping, University of Richmond, great restaurants and museums. Park in the driveway with your own separate entrance. Enjoy all the privacy and WiFi you can wish for in this quiet neighborhood.
Enjoy all the comforts of home with bay window, lovely gardens, surround sound entertainment, kitchenette, bath with laundry, and gas fireplace. Whether you're here for sightseeing or business, this location puts you close to everything ~ University of Richmond, museums, restaurants, historical sites and shopping! Your private entrance is separate from the rest of the house and the garden patio is a lovely spot to relax.
This safe neighborhood is quiet and convenient to recreation, restaurants, theaters and museums. The location is close to downtown, the Museum District, Carytown and Short Pump.
Roberta was very friendly and her place was exactly as pictured. It rained the entire time we were there but we still managed to have a great time in Richmond. Roberts's house is in a perfect location if you want to explore downtown or want to visit places in Short Pump, such as the mall. I definitely recommend staying here if you plan to visit the area!
Jason
2016-10-09T00:00:00Z
The place looks just like the pictures, and was very comfortable to stay in. Roberta was very friendly and welcoming, and was available to help if I needed anything. I had a great stay! Would def stay here again.
Alyson
2016-10-25T00:00:00Z
The stay was fine.
Lauren
2016-09-06T00:00:00Z
Roberta is a great hostess, attentive to details and communicates promptly. This was my first time using airbnb and I don't think it could of gone any better. Will definitely rebook with her when I travel back to Richmond.
Edward
2016-08-16T00:00:00Z
Host was fantastic and suite was amazing. Everything that we hoped for. Roberta really went out of her way to make sure that our stay was great. Thank you so much Roberta.
Will
2016-09-13T00:00:00Z
Roberto made my hubby and I feel super welcome. Everything was clean, and the back yard was gorgeous. She even drove us to the starting line of the Richmond half marathon. The location is great because it's quiet and a little outside of town. Roberto even left coffee, fruit and snacks!
Lauren
2016-11-13T00:00:00Z
Roberta was an amazing host that was very welcoming. She was very knowledgeable about the area and gave us suggestions on things/places that might be good for us to check out. The place was the perfect size for my wife and I for a short weekend trip. It is relatively close to Downtown Richmond so getting in and out of the city was a breeze. If we ever make it back to Richmond we'll definitely try staying with Roberta again.
Adam
2016-10-03T00:00:00Z
A great quiet spot outside of the city. Perfect for what I needed. Clean and well stocked.
Kristen
2016-07-28T00:00:00Z
Room Type
Entire home/apt
---
Property Type
Apartment
---
Accommodates
2
---
Bedrooms
Richmond, VA, United States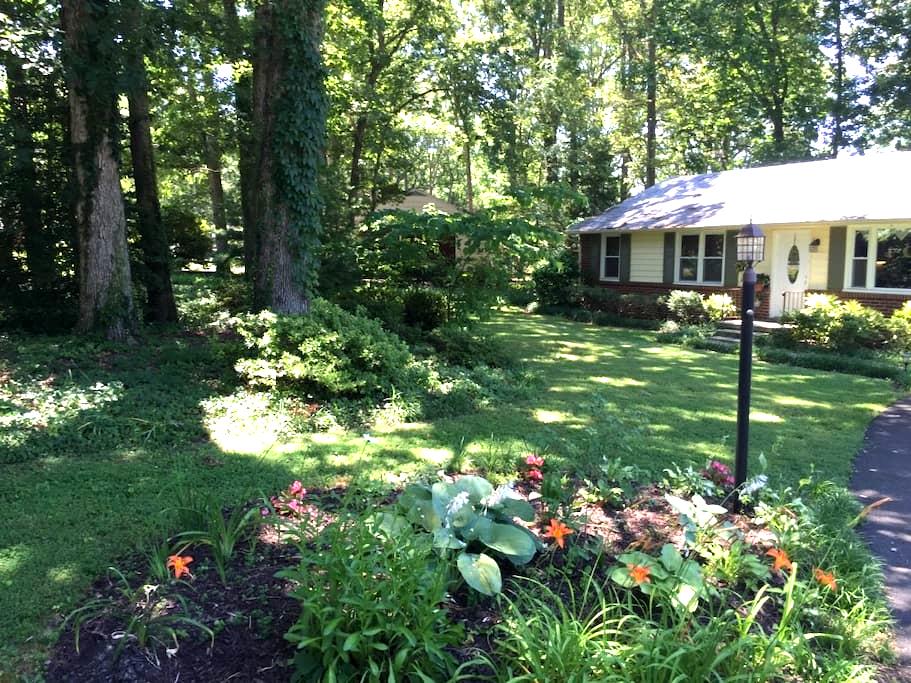 My place is close to The University of Richmond, trails, parks, the James river, Stony Point Fashion Mall, Regency Square Mall, churches, shopping and dining. You'll love my place because of the wonderful central location as well as the clean, bright space. My place is good for couples, solo adventurers, and business travelers.
You will love this bright, airy recently renovated space. It features a fully furnished living room, kitchen, 1 private twin size bedroom and king sized bed in partitioned bedroom, with private bathroom/laundry room. Enjoy the outdoor space to relax or choose to eat outside on a nice evening.
You will be staying in a quiet suburb, but close to the action. Nearby are parks, restaurants, dining, and shopping. We are very close to the river, 15 minutes from downtown and centrally located for all of your needs.
Great central location and comfortable for 2-3 people, great amenities.
Lora
2016-12-26T00:00:00Z
We highly recommend a stay with Jill. The place is in a quiet neighborhood of Richmond -- close enough to easily access downtown and other sites (with a car). We stayed with Jill for one night and left earlier in the morning. Jill was very responsive on text and email - a really wonderful woman. The place was very clean and check-in was extremely easy. When I left my jacket at her place, she mailed back to us! Lovely stay, thanks Jill!
Geoff
2016-11-12T00:00:00Z
Jill was my saving grace and gave me one of the best Airbnb experiences I've ever had. Accommodating is an understatement and I can't wait to come back soon ❤️
Lawrence
2016-09-10T00:00:00Z
First off I have to rave about how amazing of a host Jill was from start to finish. She was very helpful if we needed any suggestions about the Richmond area seeing as how I have never been there. The place was very clean and made you feel very comfortable where you were sleeping. The neighborhood is very quiet and pretty. I would highly recommend this space for someone who wants a quiet comfortable place to rest their head while exploring Richmond.
Nathan
2016-08-22T00:00:00Z
Perfect
mariah
2016-08-25T00:00:00Z
Jill was amazing! My roommate and I were in between housing situations so we were both familiar with the area. This was my first Airbnb experience and it couldn't have gone better. She always responded via text in a timely manner and was very sweet and accommodating. She even went out of her way to purchase an extra set of keys for my roommate as well as a bug light to keep the cicadas away. So thrilled that Jill made my first Airbnb experience so wonderful!
Sydney
2016-09-06T00:00:00Z
Excellent location and value for a visit to the west end if you want to stay in a quiet, safe neighborhood. I liked the way Jill has arranged and furnished the space.
Amanda
2016-12-09T00:00:00Z
Jill made it easy to check in and out. It was also nice to find some groceries to munch on and delicious homemade muffins when we arrived! Nice quiet neighborhood.
Angelica
2017-04-08T00:00:00Z
Room Type
Entire home/apt
---
Property Type
Apartment
---
Accommodates
3
---
Bedrooms
Richmond, VA, United States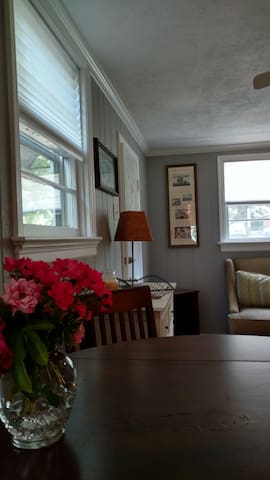 Our place is within a half mile of the University of Richmond. Within walking distance to Bandy Field, Village Square shopping center, St. Christopher's school and the shops at Libbie & Grove. You'll love our place because of the location and the outdoors space. My place is good for couples, solo adventurers, business travelers, gameday goers and furry friends. We have plenty of parking for guests.
900 sq feet living area. We have a blow up with stand queen sized air mattress. This is a very enjoyable mobile mattress that won't collapse. Please give 24hour notice if you all will need. In addition, we do have a dog crate medium sized if needed as well.
This is a safe neighborhood with friendly people. You will see many people running, walking or biking along the avenue. There are lots of dogs as Bandy Field is across thes This is a safe neighborhood with friendly people. You will see many people running, walking or biking along the avenue. There are lots of dogs as Bandy Field is across the street which is a dog friendly park.
The host canceled this reservation 14 days before arrival. This is an automated posting.
Ben
2017-02-11T00:00:00Z
Excellent location. Very quiet. Our hosts do a fantastic. They communicate very well and are always helpful if needed. The house is lovely. We couldn't be more pleased.
Dennis
2017-03-18T00:00:00Z
Nathan's place was a short drive to downtown. Checking in was quick and easy, very nice that we didn't need to bother anyone when we came in. The room was spacious, private and had a large comfy bed. Very nice!
Emily
2017-02-12T00:00:00Z
Great place. Private and big!
JEFFREY
2017-02-05T00:00:00Z
Cary and Nathan were excellent hosts! Their home is lovely, in a quiet, family friendly neighborhood, and close to the highway as well as downtown Richmond. Also if you have dogs, the dog run on the side of the house was much appreciated! We had a great trip and hope to stay here again in the future! Thanks again guys :)
Lia
2017-03-12T00:00:00Z
Great place to stay
Kenneth
2017-01-15T00:00:00Z
This is a spacious, comfortable place. Highly recommended. Neat, clean, private.
Biorn
2016-12-30T00:00:00Z
This is a lovely space -- warm, cozy, sunlit, comfortably furnished, quiet, peaceful, and private but not isolated. Just what I needed!
Dennis
2017-02-22T00:00:00Z
Room Type
Private room
---
Property Type
Apartment
---
Accommodates
3
---
Bedrooms
Richmond, VA, United States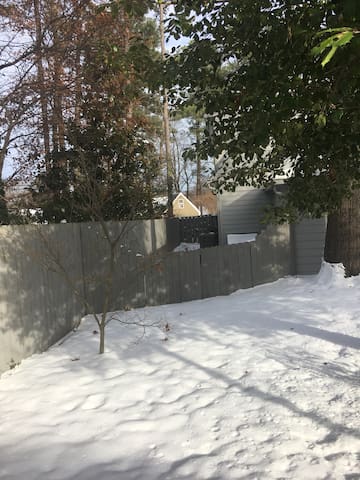 This 900 sq. ft. apartment newly renovated, 2015, is very close to the shopping and restaurants of Short Pump and very close to downtown Richmond . Very easy highway access. We travel with Airbnb and we know what you need.
900 sq. ft. studio that sleeps 6 comfortably.
Amazing shopping and restaurants. Country setting in the city
We had a great experience. Very clean and organized and Betsy just wonderful. We will return if in the area again. Also great location!
Joseph
2017-01-02T00:00:00Z
We were arriving late and they had all the beds ready for us. They were pleasant when we got to meet them when departing the next day. Was a great stop along our route. I was able to workout and keep an eye on the kids-can't do that at a hotel!
Sarah
2016-10-28T00:00:00Z
Hosts were very accommodating with our last minute reservation and extension. The apartment was exactly as described- very spacious, clean, well appointed. Hosts were on site and available to quickly answer any questions. The apartment is located near the west end, Broad Street, and 64 for easy access in and around Richmond.
Peter
2016-08-26T00:00:00Z
Fantastic space, very comfortable, friendly and responsive hosts. The location was perfect for us. We know where we'll stay on our next trip to Richmond! The Ms. Pacman machine was a nice touch.
C.
2016-09-10T00:00:00Z
This is THE spot!
Tara
2017-02-17T00:00:00Z
We are newlyweds and wanted a place to escape from family while we waited to finally leave for our honeymoon. This place was perfect. Betsy and Marc welcomed us with a bottle of champagne and helped us to feel welcomed. we thoroughly enjoyed our stay here and even wanted to extend our time here, but it didn't work out. We can't wait to come back. Thanks again Betsy and Marc!
Devynn
2016-08-14T00:00:00Z
Our first day of arrival was in major storm that hit Richmond with a fiercness. We lost power our first night because of the storm, however Betsy made us comfortable as she could. She provided flashlight that night and cameback to check on us the next morning. The oasis is a great place to stay. It was very quiet and we felt safe. It reminded me of country living with the rooster crowing in the morning :) The place was very clean and beds were comfortable. It is convenient to Short Pump Town Center and easy access to West Broad Street and the interstate. My 7 year old daughter loved the Pac-man game and the work out equipment. We will stay here again, thanks Betsy for being a great host.
L. Nebiyah
2016-06-21T00:00:00Z
They go above and beyond! They offer much more than just a place to stay. Betsy met us at our car and made sure we got inside okay. The house was extremely clean, comfortable, well stocked with drinks and snacks for purchase. They were a wealth of information on the surrounding area, places to eat and activities and special events. They we're both so kind and welcoming. We enjoyed our stay, but only wish it was longer. We will definitely be back.
Julie
2016-11-12T00:00:00Z
Room Type
Entire home/apt
---
Property Type
Apartment
---
Accommodates
6
---
Bedrooms
Richmond, VA, United States
Somewhat empty room save for a few boxes. Practically new wall to wall carpet. Guest room rarely used. One window well lit. No TV, no bed. there is a rarely used pull out couch in the living room. 1 minute to Highway I95. Full strip mall also.
Room Type
Private room
---
Property Type
Apartment
---
Accommodates
2
---
Bedrooms
Richmond, VA, United States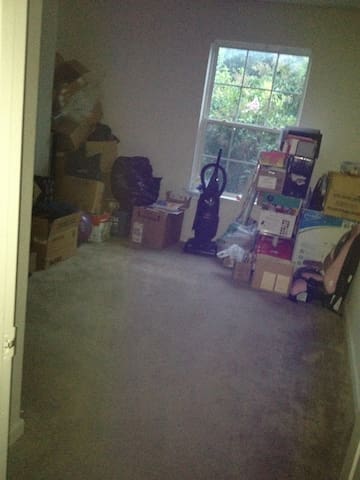 In-law apartment on Monument Avenue house about 2 miles west of Time Trials, Road Circuits, North Boulevard and the Fan. Futon, queen-size airbed, couch, microwave, refrigerator, bathroom/shower, TV, Wi-Fi,. Parking and Garage for bikes. Also offering the entire house for rental for the bike race under a separate listing. Apartment will rent for $1150 for the entire 10 days. Feel free to call me for details at ((PHONE NUMBER HIDDEN).
The house is within a .75 mile radius of over 20 bars/restaurants, shopping, Gold's Gym, etc. The bus goes up and down Monument Avenue, as well. Feel free to use the washer and dryer. Needless to say, I don't mind noise and late nights, so feel free to have at it. The train station is only about a $10 cab ride away.
It's a decent place in a good location. Not far from 20+ bars/restaurants, stores, Gold's Gym, etc. The bus runs up and down Monument Avenue and the house is only about a 10-15 minute walk from lots of stuff.
Room Type
Entire home/apt
---
Property Type
Apartment
---
Accommodates
5
---
Bedrooms
Richmond, VA, United States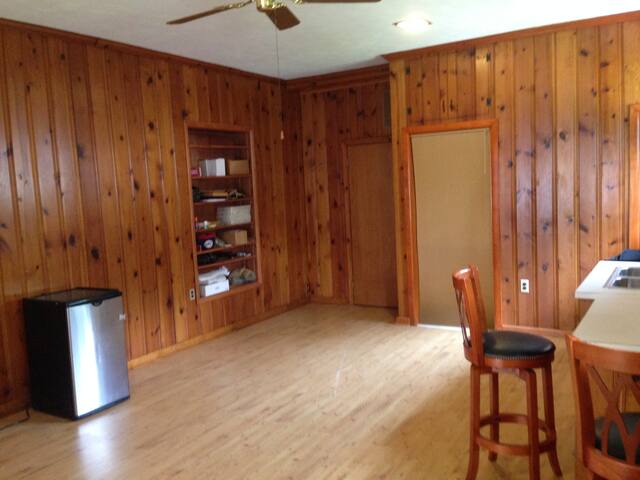 Hello! We have a room open in our fun artistic apartment, large private space, two windows with great natural lighting, 5 minutes from downtown Richmond, one minute to a grocery store and gas station, nice quiet neighborhood! 100% empty spare room.
We enjoy a laid back atmosphere, and just ask you to respect our belongings using common sense :)
Room Type
Private room
---
Property Type
Apartment
---
Accommodates
2
---
Bedrooms
Richmond, VA, United States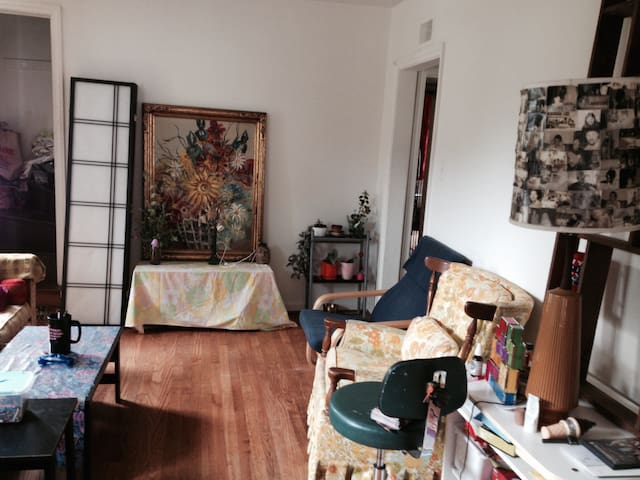 My place is close to the city center, art and culture, parks, the airport, and great views. You'll love my place because of the comfy bed and the coziness. My place is good for couples, solo adventurers, and business travelers. Need more room for your friends - check out my other listing for the upstairs or the entire house. Multiple options depending on our schedule.
Room Type
Private room
---
Property Type
Apartment
---
Accommodates
2
---
Bedrooms
Richmond, VA, United States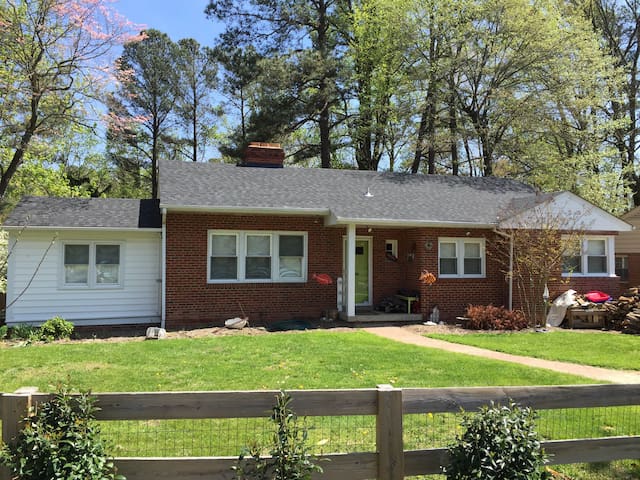 Right on the Lake, 900 sq. ft. PRIVATE apt. with separate entrance, all rooms have lake views, separate heat & a/c, boat ramp, boat slip (accomodates up to 24') and small beach (at private marina 1 house away). FABULOUS long, wide views at wide part of the lake. Winery is 12 minutes, Food Lion/restaurants are 7 min away. Wonderful community for boating, fishing, jet skiing or bring bikes for bucolic scenery right here! Less than 1 hr from Historic Richmond/Fredericksburg/Charlottesville.
The Space This is a 900 sq ft PRIVATE apartment on the ground floor in a large home on Lake Anna and boasts plenty of natural light with sliding glass doors in every room. We live in the home; however, the apartment is private and has its own entrance and separate heating/air conditioning unit to allow guests to set their optimal temperature during their stay. There is a full bathroom with a tub/shower. Living Room and Master Bedroom have flat screen TVs with Direct TV. Meal prep is easy in the new granite, stocked gourmet kitchen complete with a coffee maker and toaster oven. Or, for outdoor grilling, there is a propane grill right off your patio. We have plenty of wood for the fire pit so no need to bring any! There is plenty of parking on the driveway next to the garage & apartment and your boat trailer can be parked here during your stay. Other Things to Note If you are bringing a boat, please let us know so we can leave the Gate Pass for you. There is a marina within 5 minutes for gas purchases. There is a sandy beach for swimming at our community marina, located one house away. Here you can also put your boat in the water on the easily accessible boat ramp. We have a place on our driveway for parking your trailer during your stay. House Rules Check-in is 3 PM - 10 PM Check-out is by 11 AM No smoking No pets Exceptionally clean, well thought out.
This is a lakefront community. It is a lush, beautiful area with bucolic pastures across from the front of the house and offers some of the most beautiful views of the Lake from all of your rooms. Sunrises are AMAZING!
Deb was amazing. She had everything laid out for us from linens, to activities, to small welcome snacks. The kitchen was perfect for our group of friends to make healthy meals, and then make s'mores on the fire pit. The beds were very comfortable, and we even asked her what brand things were so that we could buy them for our own houses. Deb answered every question we had within minutes. We would go back to her rental or recommend her place in a heartbeat!
Karlyn
2016-08-11T00:00:00Z
The house was gorgeous very cozy and modern the view was amazing we really enjoyed it and would gladly stay again!
Marjorie
2016-10-03T00:00:00Z
Frist the frist minute we arrived Deb & George made us feel completely at home. A welcome basket with wine cheese and crackers was a nice surprise the apartment is tastefully done and spotlessly clean. Bedding is beautiful and comfortable. Kitchen has all one needs. The long view of the lake can be seen from all rooms. The lake water is wonderful and we spent much of our time on the comfortable boat dock relaxing &. swimming reading. Boat and paddle board rentals are near by and we enjoyed that as well. We took the sunset cruise which Deb and George offered and we highly recommend it along with the bike rentals. It was one of our favorite vacations we will be back for certain.
Felix
2016-07-17T00:00:00Z
Deb and George were great host. The space was extremely clean and bright. We enjoyed relaxing in the water and sitting on the dock in the evenings. I highly recommend staying here.
Jeff
2016-08-16T00:00:00Z
What a great trip! Deb and George were very welcoming and helpful. We had a blast and would absolutely come back another time. There were a bunch of nice touches in the place that really made us feel special.
Peter
2016-08-21T00:00:00Z
Deb went out of her way to welcome us to her home - fresh veggies from the garden, maps, wine/cheese, and plenty of products to last through our stay (paper towels, TP, toiletries, etc). George even provided us a jump start when our boat stalled! The home was tastefully decorated and very clean! My family of 5 felt very comfortable (kids are 8, 12, and 15). We enjoyed the fire pit with a beautiful lake view and became addicted to the ring toss game under the deck. The property is situated one lot away from the boat launch/dock slips, which was very convenient (one note - the dock slips are 1/2 slips - new for us). Deb and George were fantastic hosts, providing suggestions and even warning us about an impending storm when we were out on the water. We found the washer/dryer combo to be a bit confusing, but we didn't really need to use it for our 3-night stay :-) I would recommend this "apartment" without hesitation!
Amy
2016-08-08T00:00:00Z
Deb was the ultimate hostess for our visit to Lake Anna. Greeted me upon arrival with fresh veggies from her garden, wine and snack basket on the kitchen counter. Her basement apartment was perfect for our 4 ladies visiting together for the weekend- lots of amenities and very comfortable master bed. I would highly recommend!
Jori
2016-09-19T00:00:00Z
Thank you very much Deb, our most hospitable landlord, for this much needed weekend getaway! Your apartment is AMAZING and definitely will come back for an another visit. Highly recommended if you want a short excursion outside the city, an adventurous lake trip, or just a simply some time off.
Perry
2017-04-02T00:00:00Z
Room Type
Entire home/apt
---
Property Type
Apartment
---
Accommodates
6
---
Bedrooms
Bumpass, VA, United States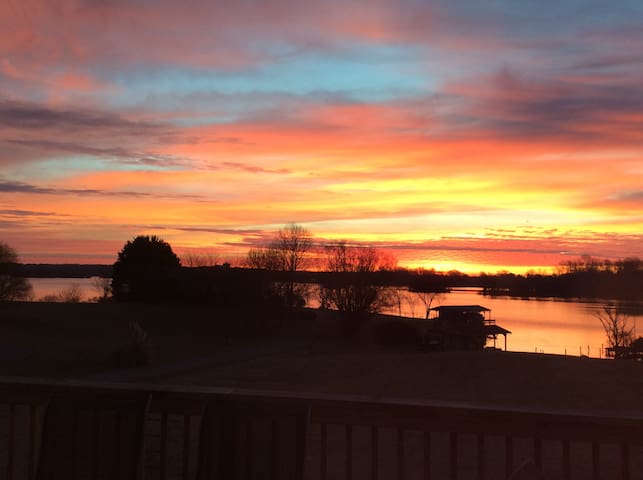 Room with private bath in apartment in upscale complex. Right at intersection of Richmond's outer loop and major road into the city. Ten minutes to upscale shopping centers and twenty minutes to all that RVA city has to offer. Come explore with easy access to Everything Richmond.
Convenient location and quiet neighborhood with an upscale architecture and surroundings.
Convenient and quiet location, private neighbors, nice buildings and landscaping.
Herimar had a great place. She and her family were very friendly, the room and bed were nice and I'll definitely try to come back.
Sandra
2017-01-24T00:00:00Z
The host has a wonderful apartment in a upscale neighborhood. The room was very clean and comfortable, we had total freedom and privacy in her apartment. I would definitely come back to Herimar's place. 5 stars.. Thank you
Nick
2017-01-29T00:00:00Z
Herimar has a lovely apartment and is friendly and engaging. The location was quite nice and really close to the places I wanted to visit. She made me feel very welcome.
Mike
2017-01-08T00:00:00Z
The host was absolutely friendly and accommodating. 10 out of 10 will definitely come back!
Rhy Keith
2017-02-19T00:00:00Z
Herimar's place and location was great. She is very friendly and nice to stay with.
Sandra
2017-02-03T00:00:00Z
A good place to stay with a private bedroom and attached bath. Quiet residential neighborhood. Basic amenities. Relatively slow wifi. Very kind and considerate host (who even made me coffee before I left in the morning). Overall, definitely worth the price.
Elizabeth
2017-04-03T00:00:00Z
Herimar was a gracious host. I have to travel often for work and this was one of my favorite stays. Clean, quiet and comfortable. Herimar is also very warm and friendly.
Raquel
2017-04-09T00:00:00Z
Herimar was wonderfully accomodating, helpful and provided exactly what I needed.
Susan
2017-03-12T00:00:00Z
Room Type
Private room
---
Property Type
Apartment
---
Accommodates
2
---
Bedrooms
Glen Allen, VA, United States
WELCOME! TO THE CENTERSTONE INN DOSWELL Welcome to Centerstone Inn. We are conveniently located next door to Kings Dominion Theme Park, and a hotel partner for the Virginia Sports Complex and the Meadow Event Park. We're just minutes from a host of exciting area attractions and you'll find a wonderful selection of shopping and dining nearby. Centerstone Inn is a pet-friendly hotel with plenty of free parking, free Wi-Fi, a business center, and a laundromat, seasonal outdoor pool and tiki bar.
We are 20 Miles North of Richmond and 70 Miles south of Washington DC.
Disgusting, there were stains on the bedding . Room was Freezing cold. Heater was blowing out cold air. The room looked nothing like the picture. What a waste of money.
Samara
2017-01-15T00:00:00Z
Room Type
Private room
---
Property Type
Apartment
---
Accommodates
4
---
Bedrooms
Doswell, VA, United States

You will love the quiet of the farm and star filled nights The views from bed of the horses and hay fields invite you to adventure out. The lofted ceiling is open and airy while the dining/kitchen area on the lower level is cozy an intimate. a
The "Rosalie" apartment is a one bedroom studio apartment adjacent to the main house on Clover Hill Farm ( A 115 acre horse farm just 7 miles from the Goochland Courthouse ) The farm belonged to my Great Aunt Rosalie and Uncle James Ball It was renovated in 2010 with refinished floors, new windows, a bathroom makeover and a new lower level kitchen and dining area making it self sufficient from the main house. The main house "The James" a 4 bedroom cape cod style house is also available for booking. I renovated it for privacy and comfort for my use as a vacation home from my working farm near Bel Air, Maryland. A farm manager and family help me maintain the smooth flow of guests visiting the "Rosalie and James". Nearby Powhatan State Park and the James river offer a great spot for outdoor adventure off the farm or head east to Short Pump in Richmond for shopping choices ad infinitum. I am happy to share this unique and lovely setting that I find so relaxing with others. I hope you'll consider a stay at my farm for your lodging needs in the Richmond area.
You'll need a car to get around but finding the basics is just a 8 minute trip into Goochland. Restaurants/ library/ Community College and a local Y meet most needs. Want to cook at home then the Gourmet Butcher or local Food Lion can help you stock up with everything you need. Like state parks then head to Powhatan State Park only 10 minutes away adjacent to the James River this 1800 acre hidden jewel will delight.
An unexpected hurricane evacuation brought us to The Rosalie at Clover Hill Farm. Ellen was very kind, responsive, and accommodating as we navigated uncertain arrival and departure times. Although this trip was unplanned, we would love to return. The farm is a peaceful retreat with rolling hills of grazing horses, while being close to shopping, restaurants, and all that Richmond and Charlottesville have to offer. The cottage itself is beautiful with high ceilings and a nice combination of antiques and modern updates. We were given our privacy and space as a family, but knew we could reach Ellen quickly if needed. We felt truly at home and comfortable here. Thank you for hosting us and sharing in your family's home.
Elizabeth
2016-10-09T00:00:00Z
The host made us feel very welcome. The home was immaculate. Easy directions to get to and into the house. Everything we needed to know about the home was easily accessible.
Sage
2016-02-16T00:00:00Z
We had the BEST time at the Rosalie! We couldn't believe our eyes when we pulled up to the property--big green fields, beautiful trees, horses everywhere--it was beautiful and so peaceful. The house itself was also fantastic--charming, very clean and bright, and had everything you needed for a comfortable stay (towels, soap, kitchenware, etc). Ellen was very welcoming and responsive to my messages and questions throughout our stay.
Emily
2016-05-22T00:00:00Z
Ellen is a terrific host, the place is perfect for a quiet getaway and stargazing. It is very close to short pump which is a very popular and hip area of the city, perfect balance between night life and relaxation, higly recommended.
Atilio
2016-12-31T00:00:00Z
We stayed in the Rosalie 4 nights and another group in my family stayed in the James. We all felt like we were at home and were able to relax. The décor really fit the place and was fun. The farm was so peaceful, paths to walk and look at the horses. At night, there were deer, fireflies and the stars are just amazing. Ellen had some kites in the James and my teenagers were out flying kites. We talked around the firepit for hours – even though we didn't think to bring firewood. Both houses had everything we needed confortable beds, full kitchen and were clean. We visited Richmond, Williamsburg & Jamestown. The Chinese restaurant nearby was excellent. We would definitely stay here again if in the area.
Carlos
2016-06-27T00:00:00Z
This is our second trip to this lovely home in rural Goochland County. It's the perfect location for us and our little Annie. Ellen is a lovely host who is available if needed.
Laura
2016-07-24T00:00:00Z
We had the most wonderful peaceful stay at the Rosalie. Ellen's place is so charming. I adore all the cute little touches she has: old books you can read, her personal water color paintings of horses, a polished stone shower floor, a sliver trophy from 1911. I love that her check in/out times gave us more time there and really made the stay worth it. Her 115 acre horse farm is so beautiful and peaceful. Our get-a-way was just what we needed, a sweet break from our busy lives. This busy homeschooling mom of 7 & her night shift working, college class taking hubby felt so refreshed after their time at your place. Thank you Ellen!
Amy
2016-01-04T00:00:00Z
The guest house is located in a beautiful part of Goochland County, just west of Richmond. It has everything we needed.
Mimi
2016-11-27T00:00:00Z
Room Type
Entire home/apt
---
Property Type
Apartment
---
Accommodates
4
---
Bedrooms
Crozier, VA, United States
Montpelier - Airbnb
:
Average

4.93

out of

5

stars from

294

guest reviews
1

–

18

of

21 Apartment Rentals
Enter dates to see full pricing. Additional fees apply. Taxes may be added.