My place is close to and within the Tangalooma Resort, villa is right on the beach and as a private guest you are entitled to use all ground sporting facilities eg tennis, squash, boulle, croquet, putt putt absolutely free. The resort has restaurants, entertainment area and nightly themed nights eg trivia, bingo etc.. My place is good for couples, solo adventurers, business travellers, and families (with kids).
Beatiful location, clean well equipped villa. Close to the resort and overlooking the water. Very private. We had a relaxing getaway.
Nick
2016-09-27T00:00:00Z
Great views and a very relaxing place. Close enough to walk to the resort facilities but also on the edge of the main resort so your not in the thick of it. Also handy to the parking area if you take your 4WD.
Andrew
2017-01-19T00:00:00Z
Beautiful location for a holiday. Villa was very comfortable. Maureen was very helpful as a host.
Joanne
2016-12-11T00:00:00Z
Maureen Place was heaven! The villa was clean and the location was incredible. Beach frontage, we were lulled to sleep by the sound of the waves each evening, after watching the sun set over the bay from our balcony. Compared to the resort accommodation, the villa was very affordable. The resort, however, is very expensive. Food, activities ect are high prices. We were welcome to use resort facilities, but required to put a $50 deposit on everything such as board game, cards, ping pong bats etc. Perhaps a few board games and books in the villa would be a nice touch . If your a family, i recommend taking as much of your own food as possible, as restaurants are expensive for very average meals. Maureen and Don were wonderful communicators, and happily let us check out late as we were on the late ferry. We had a lovely family getaway for my daughters birthday celebration, would defiantly return. Thank you
Elizabeth
2016-10-10T00:00:00Z
Lovely stay, amazing view ..directly across from the beach! Maureen was a great host and very helpful! Would stay again!
Page
2017-02-23T00:00:00Z
Great long weekend!!
Trevor
2017-02-18T00:00:00Z
Great holiday, perfect family holiday getaway. Loads of swimming and snorkelling at the wrecks. We'll be back for certain! Kathy, Rob and boys....
Kathy
2016-12-22T00:00:00Z
Our weekend away staying in Maureens villa was absolutely magnificent. The view was stunning, the villa was very affordable and clean. There is so much to do on the island. We will definitely be back again. Thanks so much Maureen for sharing your beautiful villa with us!
Tenille
2017-02-26T00:00:00Z
Room Type
Entire home/apt
---
Property Type
Villa
---
Accommodates
8
---
Bedrooms
Moreton Island, QLD, Australia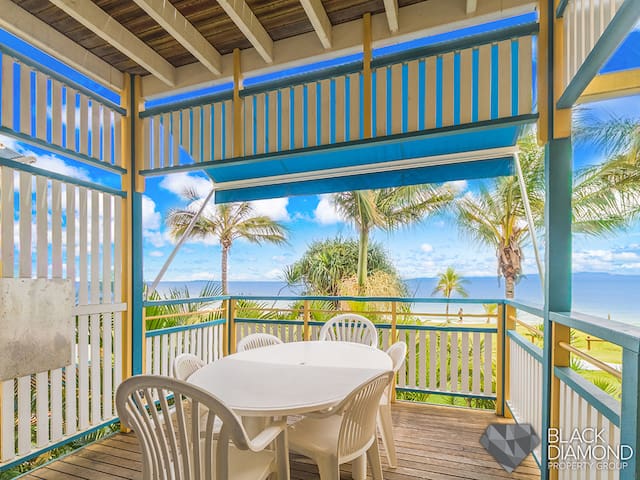 Welcome to Paradise! Relax, unwind & smile! Life is beautiful! This villa offers stunning Post card views of the ocean and beach from both lower and upper decks. Relax, while watching the colours change as the sun sets over Brisbane & Moreton Bay everyday. Enjoy watching the dolphins play and feed at sunset everyday. Swim, snorkel and dive in crystal clear waters with turtles and star fish every day. Stroll the white sandy beaches to The Logs and Ship Wrecks everyday. Fully Self-contained!
Time to make some beautiful memories! Beach front access, dolphin feeding every night, whale watching, ship wreck diving, great fishing, snorkelling & unbelievable sunsets make our villa on unspoilt Moreton Island a dream getaway. Enjoy full resort facilities, this spacious villa sleeps up to 8 people, featuring full kitchen, BBQ and two private balconies. Tangalooma is the perfect playground for those who love the sea. There's a myriad of ways to get out, or get in and enjoy the calm, clear waters of Moreton Bay that line our shore. Adventure unlimited awaits you with plenty of thrills and spills. Take to the hills on the desert safari and toboggan down giant dunes or try a quad bike out for size! With 40 free activities on offer it's hard to know what to do first. Archery, tennis, squash, boule, basketball, badminton and croquet just to name a few. Learn from our Eco Rangers at the Marine Education Centre, stock up on essentials at the Resort Shop, relax in the beachside Massage Hut. Linger longer over breakfast, lunch and dinner or grab a snack to go, our 4 dining options and 3 bars offer local and international menus and a selection of beverages. Discovery the path less travelled, find your way to your accommodation, to hidden lakes and quiet coves, scale rugged terrain and learn the shortcut to your favourite places. Our Villa: The villa imparts a modern, beachy atmosphere which at once will make you feel relaxed and ready to start your holiday. Perfect for 2 families or a small group of friends it features: - a large fully equipped kitchen - fridge/freezer - bar fridge - bar freezer - convection microwave - clothes dryer - washing machine - LCD TV and DVD player in every room - gas BBQ on the front deck Possible Sleeping Configurations: Please read carefully & feel free to ask any questions if unsure... accuracy in description is important to me! The villa is equipped to comfortably sleep 3 couples or 8 x individuals. - king master bedroom which can sleep a couple or 2 x singles (2 x king single ensembles pushed together or separated according to guest wishes) - second bedroom which can sleep a couple or 2 singles (2 x king single ensembles pushed together or separated according to guest wishes) - bunk beds in the alcove which sleeps 2 singles - double sofa bed downstairs in living room sleeps one couple - daybed with trundle sleeps 2 x singles (2 single mattresses) And guess what? Did you know that my Property Manager will make up the beds with sheets ready to go for you? Unfortunately, other accommodation options on the island leave the linen on the beds for guests to make up themselves!! Enjoy my villa and your ready made beds :) Fall in love with Tangalooma on Moreton Island and enquire now!
Your front yard is lush green gardens and white sandy beach... absolutely gorgeous crystal clear water. A walking distance to the famous Shipwrecks for snorkelling - say hi to the turtles and fish that call this place home. Walk in the opposite direction and visit world class facilities, shops, restaurants & cafes. Watch the dolphins swim and see the whales during whale watching season. You share this place with pelicans, eagles, starfish and kookaburras!
Thank you for our stay at Villa 24. It was everything that we had hoped for. Perfect location on the water where we could see our boat mooring and watch the whales pass by. We were greeted by Don who made us feel welcome and made sure we had a neat and tidy villa. We had 8 people stay here during our 3 day trip and there was plenty of room for everyone. Great balconies, kitchen and bedrooms and even a dryer and washing machine. The beds and pillows were hard so if you one that likes to have a great sleep I would recommend bringing your own pillow. We could not fault the villa, it's the perfect location to the water, walking distance to the bar and Tangalooma Water Sports where daily activities are available to book like parasailing, snorkelling and quad biking. Because the villa is apart of Tangalooma Resort we were able to use the resort facilities like pool, squash court and tennis courts for free. We would highly recommend your villa and look forward to coming back soon.
emily
2016-10-04T00:00:00Z
Outstanding location with wonderful views and contemporary furniture guarantees a great holiday. A few steps to the water ! Our host was most welcoming and advised us how to get there smoothly. Room for about 8 people. Three fridges, lovely furniture, a large TV downstairs and two more TVs upstairs add to your comfort here.
Georgia
2016-10-06T00:00:00Z
Villa so clean. Trinh very easy to communicate with. Phone call from Don nice on arrival. Bedding great location handy to everything on the island. Highly recommend villa we will be back
Tracey
2017-01-21T00:00:00Z
Villa was lovely with the beach very close by and the resort facilities easily accessible.
Sheryl
2017-01-07T00:00:00Z
Trinh's villa is in a great location central to go 4wding around the island or just stay on the beach for the day. The kitchen had all that you would need for a week and 2 extra small fridges for extras drinks etc. don't overload the large fridge as it cuts out. So the smaller ones are needed if a family is staying.
Lara
2016-12-21T00:00:00Z
We loved our stay at Villa 24. Very comfortable accommodation and a great location.
Georgina
2016-12-25T00:00:00Z
Excellent location and very clean and well equipped villa. Trinh was great with communication and we thoroughly enjoyed our stay.
Arti
2016-11-11T00:00:00Z
Amazing location on an Amazing island. Trinh and her management team are fantastic communicators. Remember to bring everything with you like tea ,coffee ,toiletries and food as things are expensive on the island and there is none in the villa. The villa is well equipped with several fridges and freezers for larger groups so do a big shop before coming over. We can't wait to return .
Lindy
2017-02-17T00:00:00Z
Room Type
Entire home/apt
---
Property Type
Villa
---
Accommodates
8
---
Bedrooms
Moreton Island, QLD, Australia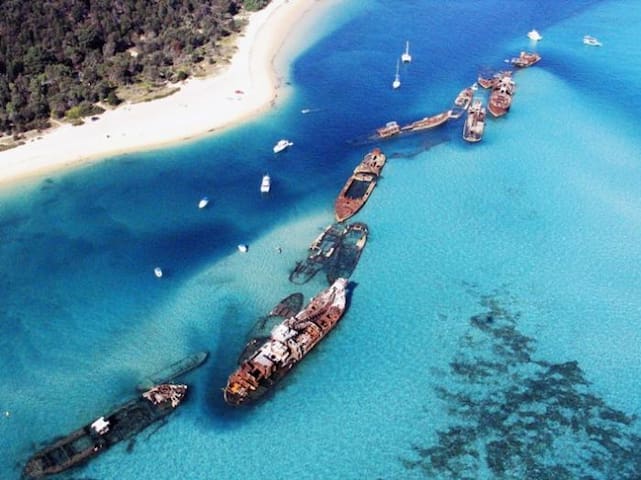 "The Jetty" Extensively renovated, originally a WW 2 building This 2 bedroom( sleeps 4) 1 bathroom, unit is right on the beach The deck is all set up for relaxing or enjoy a drink around the fire pit while looking out across Moreton Bay and The Glass House Mountains Enjoy the outdoor shower when coming off the beach nothing better Please note that linen is automatically provided and there is a additional charge of $15.00 per person
Open plan kitchen/dining, which opens onto the deck, with BBQ & fire pit and just 100m from the private beach. 2 x Queen bedrooms, so sleeps 4 This beach house is environmentally friendly, and relies on you and nature to operate... All electricity is by Solar All water is from Rain...you need to be conservative in using these resources.
Cowan Cowan was originally an Army out post in WW2, with some 900 soldiers stationed here. Now, it consists of some 50 holiday homes and 14 (URL HIDDEN) shop etc, very quite
Very neat and tidy. Really can't beat the location and love having use of the fire pit every night.
Pierre
2015-10-05T00:00:00Z
Great place! Very spacious and clean and in an awesome location. Would definitely stay here again.
Allyce
2016-06-24T00:00:00Z
We were met by Lizzie on arrival (Phil's wife) and she showed us through the house. Everything is as shown in the photo's. The area is quiet and was exactly what we were looking for. Unfortunately there were a few showers around so we only had the fire alight two out of the three nights we stayed. Phillip had the fire stacked with timber the first night but you have to bring timber with you as you cannot use local island wood. We bought firelighters which made lighting the sometimes damp timber easier. The other night we remained inside and watched a bit of TV. Even with a few showers around you could still remain outside on the deck and enjoy watching the passing ships that come in quite close to Moreton Island, maybe a kilometre from the beach. Being from Darwin, we hired a 4wd from Fleet Crew at Enoggera, so toured the north part of the Island one day, and the south part the next. Bring your beach fishing rods as a few whiting were being caught. We bought a couple of small rods but only fed the fish with our bait but it is an easy activity for the kids, just being right at your front door. My daughter and partner did the sand dune surfing on a couple of masonite boards we bought at the local store. They loved this but were worn out quite quickly. The boards now remain in the unit for others to enjoy. Going to Tangalooma, the area seemed quite crowded by comparison with lots of tourists and the units being located on top of each other. Give me the peace of Cowan Cowan and the location of 'The Jetty' couldn't have been better. Their is another unit next door that seems to be a local residence. We saw lights come on at night but the owner never ventured out the back. A few other houses in the area appeared vacant. A great place to stay and fully recommended. It would be my first pick for accommodation on Moreton for 2 couples or a family. Inside there are games, books, a reasonable kitchen and appliances, some condiments, tea, coffee, BBQ outside and a great shower. Thanks Phil and Lizzie.
Graeme
2015-06-28T00:00:00Z
An amazing location, great history on the door step. Great house, clean and everything you need.
Kaine
2016-04-26T00:00:00Z
We had the absolute best time stay at the Jetty ! It was the perfect location , clean , spacious and so relaxing. We can't wait to stay again. Thanks for having us :-)
Cara
2017-01-02T00:00:00Z
Cute little private home 50m from the sea.. rolling lawn for kids to play or adults to chill.. well equipped & very relaxing..
Samantha
2017-03-26T00:00:00Z
The house was even better than expected!!! The view that you see in one of the photos is like that in reality and you can even see it from inside from the kitchen/dining area!! We loved sitting on the deck and being able to see the ocean! It was just divine! The owners of this house thought of just everything - from the kitchen (which was fully equipped with plenty of plates, cups, bowls, glasses and even had cling wrap, baking paper... salt, pepper, coffee, dish washing liquid, washing machine and even laundry detergent!!! to the books and board games (which we would have used most definitely had we been unlucky with the weather) to cushions for the outdoor lounge chairs and extra blankets! I would recommend staying at The Jetty beach house at Cowan Cowan to anyone. We really enjoyed ourselves and loved having the beach right outside the house pretty much to ourselves as no one can drive on that section of beach! We loved Moreton Island - we went snorkelling around the ship wrecks and saw turtles, star fish, swam with dolphins and heaps of other animals! We also loved the Champagne pools. But what really made our holiday was finding this awesome house!
Marlies
2015-04-20T00:00:00Z
We loved staying at 'The Jetty'! The beach is so close and the deck is a great place to watch sunsets and storms roll in. It was very clean and we really enjoyed our time here. A great spot to explore the island from.
Lisa
2016-11-15T00:00:00Z
Room Type
Entire home/apt
---
Property Type
Villa
---
Accommodates
4
---
Bedrooms
Moreton Island, QLD, Australia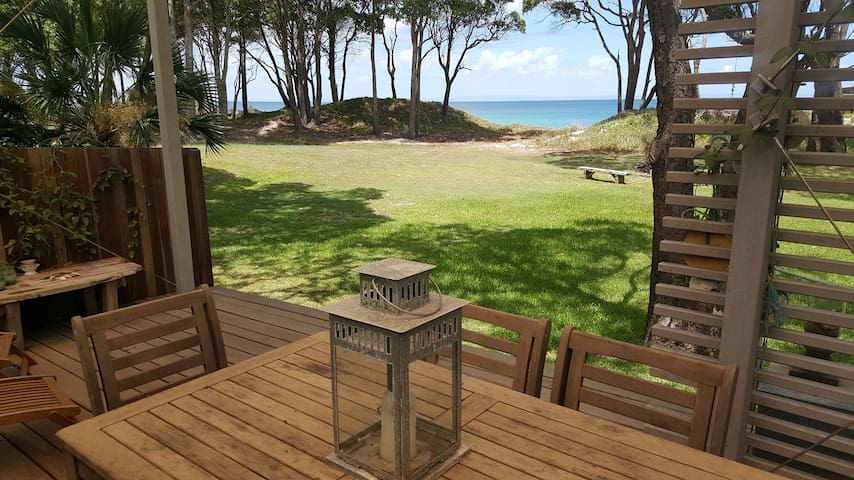 This guest is perfectly located on the front allotment, over looking the TANGALOOMA RESORT and DOLPHIN FEEDING JETTY. The holiday house sleeps 14 and has the easiest access to all the facilities /jetty Tangalooma resort has to offer.
This large guest house is in the best location, nestled high above the resort with a front block uninterrupted views, and only 250 meters from Dolphin feeding Transfers Jetty.
There is only 8 Guest houses in this location. very safe and friendly.
Nice large house halfway up the hill, so not too far from beach and resort. Plenty of space. Some ceiling fans not working. No A/C, which was fine for us, but could be hot in summer. The facilities list wifi and pool, but that's an error. We had a great stay, as the island is just fantastic.
Marnix and Nicole
2016-04-26T00:00:00Z
Gerry's Beach House was just what I expected. Clean, bright & huge house for a large group. Amazing views! Stairs directly outside house leading down to resort & Jetty. I would definitely stay here again.
Rikki-Lee
2016-04-15T00:00:00Z
The location and space provided was perfect, it was good to have a fully stocked kitchen to do our own cooking and that linen was provided. The view is spectacular and the house is nice and close to Tangalooma, shop and restaurants etc Gerry was a good host, responding to all questions promptly and as needed.. We'll be back for sure :)
Helen
2015-10-02T00:00:00Z
This place was absolutely amazing! One of the best views on the island. There were more than enough beds for everyone and just the perfect place for a getaway with family and chosen family! We will definitely be back! Gerry and Jordan were amazing and were always there to respond really quickly to all of my questions.
Faye
2016-09-13T00:00:00Z
Lovely big home, amazing views. Very helpful host. Easter crazy weekend with lots of noise from helicopter and quad bikes. All we needed was available.
Frank
2016-03-29T00:00:00Z
host was really easy going and great with communication. made our stay a pleasure. the home was great value and perfect for the weekend.
chris
2016-10-24T00:00:00Z
Room Type
Entire home/apt
---
Property Type
House
---
Accommodates
14
---
Bedrooms
Moreton Island, QLD, Australia
Our Villa 19 is perfectly located on the beach front within the Tangalooma Wild Dolphin Resort, Moreton Island. Our self contained two storey villa enjoys panoramic views of magnificent Moreton Bay. Relax and enjoy this popular well presented and maintained beach front villa accommodation. Tangalooma Resort is situated on the western side of Moreton Island in Queensland, Australia. Moreton Island is a sand island and is eco friendly national park, dolphins and the occasional whale swim past
Perfectly located in CALM water beaches facing Brisbane within the Tangalooma Wild Dolphin Resort on Moreton Island. It is a 90 min. ferry ride across Moreton Bay from Brisbane. Passenger Ferry terminal is at Holt St, Pinkenba, which is only a 15 min. Taxi ride from Brisbane Airport. Access to island for 4WD is via MiCat which leaves the Port of Brisbane at Fisherman Island
Room Type
Entire home/apt
---
Property Type
Villa
---
Accommodates
8
---
Bedrooms
Moreton Island, QLD, Australia
Modern beach house on Moreton Island with amazing views over white sandy beaches, the Tangalooma Wrecks and sparkling Moreton Bay.
Blue Moon Beach House, with its simple open living spaces and large windows designed to capture the fabulous views and summer breezes, is perfect for families and couples. The kitchen, living and dining all open onto the deck overlooking the Bay. There are 3 bedrooms to sleep up to 8 guests and an extra king sofa bed in the downstairs rumpus room for another 2 if needed. And then there is the usual ensuite, main bathroom, large separate laundry and extra loo downstairs.
Moreton Island is the 3rd largest sand island in the world, 98% National Park surrounded by Moreton Bay marine park and is truly beautiful. With almost endless white sandy beaches, sparkling clean water teeming with marine life big and small, and giant sand dunes (great for sand boarding), you can still be the only person on the beach for miles. Then there is Cape Moreton and whale watching, bush walking tracks and Mt Tempest with 360 degree views. Tangalooma Resort - the house is located in the resort and only a few minutes walk or drive away. You have access to all their tours, activities and facilities (bar, café, restaurant etc) - check out their website!
We felt welcomed and the property was in excellent shape for our stay. It is truly a lovely home with views that are much better than the pictures! I could have stayed there much longer.
Kit
2015-07-27T00:00:00Z
Such a beautiful house in a perfect spot! Marianne is a lovely woman and was extremely helpful. The house is set up perfectly, bed are very comfy, kitchen and bbq is excellent, and the buggy came in very handy! Loved every minute of our stay! We will be back!
Heidi Carole and Brigitte
2014-11-12T00:00:00Z
We had an absolute ball staying at this property and had everything we needed. Million dollar views with a gentle breeze and the sound of crashing waves. Magic! We'll be back!
Dave
2015-11-07T00:00:00Z
Marianne made us feel very welcome for our stay at the Blue Moon Beach House, the house is in a great location, and easily accessible from the Resort and to all resort activities. The views at Sunset are great, although we had a couple of windy days during our stay, the house was well equipped for the children to enjoy table tennis and watch DVD's when the weather was not so great. We will recommend to friends and family as a great location to stay.
Ken
2016-06-28T00:00:00Z
Marianne was a fantastic host from start to finish! She made everything so easy for us and was very accommodating. The entire stay was amazing and the house was perfect for us.
Lahnee
2016-10-11T00:00:00Z
A fantastic place to stay on Moreton island. The views from the verendah were jaw droppingly gorgeous and the house itself very comfortable. It made our stay very special and would love to return!
Julie
2016-08-12T00:00:00Z
The view was stunning, the house is was spacious modern and has everything you need.
Dragica
2017-01-29T00:00:00Z
Blue moon beach house! If you want to stay at moreton this is the place to be! The view was amazing. The house is really nice inside and out and I would recommend this to everyone!
Stuart
2016-05-03T00:00:00Z
Room Type
Entire home/apt
---
Property Type
House
---
Accommodates
10
---
Bedrooms
Moreton Island, QLD, Australia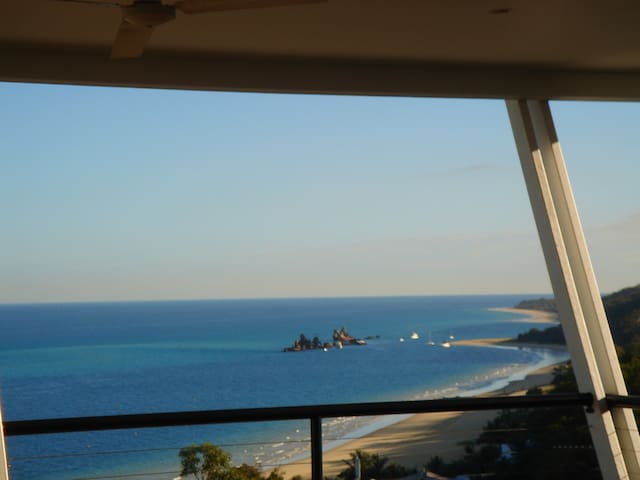 The Island Retreat is the perfect holiday beach house to escape the busy city life and relax. Fully renovated, this four bedroom, two bathroom beach house oozes coastal charm. The pavillion style house allows space for everyone to enjoy.
Access to the island is by 4WD only as there are no sealed roads. The MI Cat ((PHONE NUMBER HIDDEN)) run barge services from The Port of Brisbane to Tangalooma daily, please ring to check availability. It is a very easy 30 - 35 minute drive from the barge landing point at Tangalooma to the Island Retreat at Kooringal. Electricity in the house is environmentally friendly solar. Battery supply is great although guests should be mindful of power usage during their stay. The house is only a minute walk to the bayside of the island, with calm water for children to play. The surfside is a 5 minute beach drive. Check in time is 12 o'clock and check out time is 10.00 am. We are always happy to extend check out times if availabilty alllows. Please ring to confim a late check out 24 hours prior to departure. The pavillion style house allows separation for those wanting to enjoy a peaceful afternoon snooze in the large parent retreat, children watching a DVD in the TV room, or those enjoying a drink on the deck. The house is fully equipt with modern Kitchen and BBQ facilities and the outdoor fireplace will comfort you on a winters night.
Great place to stay, walking distance to the water and bars
Mitchell
2017-01-28T00:00:00Z
We had a great time staying at this lovely house during our recent family vacation on Moreton Island. Kooringal is a very quiet little village at the southern tip of Moreton Island and offers a nice base to explore the island from. The Gutter bar is just around the corner and the beach is a 2 min walk away. The house is super cozy and definitely feels like a home away from home. Page made sure we had all we needed from drinking water through to insect repellent, and was incredibly quick to answer any questions I had prior to and during our trip. Lovely place! We'd love to visit again sometime!
Jolanda
2016-11-27T00:00:00Z
We loved the house and the location was great. We spent most of the time in the house under the bungalow, even when it was raining, we could still sit under there and stay dry while listening and looking at the thunder and lightning.
Maren
2016-12-04T00:00:00Z
Nice accomodation in great location.
Aaron
2016-11-13T00:00:00Z
The house is very eclectic and interesting. It's well adorned for a beautiful day or to weather a rainstorm. Be aware that all water is rainwater. There's a good amount of mosquitoes. You should bring all cooking supplies and firewood to take advantage of the fireplaces.
Justin
2016-06-06T00:00:00Z
Room Type
Entire home/apt
---
Property Type
House
---
Accommodates
10
---
Bedrooms
Moreton Island, QLD, Australia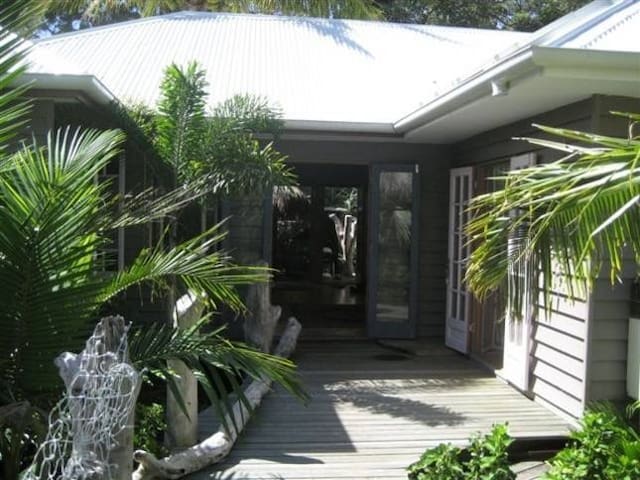 This holiday villa, is 200 metres from the beach, suitable for families and or couple or get togethers. Villas are 2 storey with 2.5 bedrooms and 1.5 bathrooms. Deck off he lounge area overlooks beautiful Moreton Bay, sit back and watch the sunset
The kitchen has a gas 4 burner cooktop and a microwave, (there is no oven as such) BBQ provided, laundry with washing machine
Tangalooma has many activities for you to do while you are on your holiday, parasailing, dolphin feeding, island tours, sand boarding, bush walking, snorkelling
What a gem!! A simple little villa right on the beach! Paula was great, allowed us to check in early and was cool about us leaving our bags in the villa while we explored the island on the check out day, the place was spotless on arrival and had more kitchen utensils than we have at home!! Got lucky with the weather as well!! All in all a perfect trip thanks again Paula we will be back!! :)
Brendan
2016-08-07T00:00:00Z
We had a great stay at Tangalooma. Paula responded quickly to any questions we had. The villa was clean and comfortable and we would definitely recommend it to anyone wanting to stay at Tangalooma.
Tracy
2017-01-11T00:00:00Z
The host canceled this reservation 77 days before arrival. This is an automated posting.
Leanne
2016-09-09T00:00:00Z
You need to take your own bed linen and towels as not provided also be aware that if you need host to come to villa here is a call out charge However we did enjoy our stay and Paula answered any enquiries very promptly
Janice
2016-10-16T00:00:00Z
This property was awesome to stay at - the location could not be more perfect... it was so special sitting on the deck looking our over the ocean. Would definitely stay here again!
Lauren
2016-10-29T00:00:00Z
Great location, easy access, clean space. Wish we could still be at moreton island.
Paula
2017-02-19T00:00:00Z
Wonderful location and beautiful place. There was lots to do on the island and watching the sunset from the deck was amazing.
Rachel
2017-03-06T00:00:00Z
We had a great stay. The villa is perfectly located - not right in the main resort so not too crowded but an easy walk to facilities. Paula was also very helpful and accomodating!
tess
2017-03-27T00:00:00Z
Room Type
Entire home/apt
---
Property Type
Townhouse
---
Accommodates
8
---
Bedrooms
Moreton Island, QLD, Australia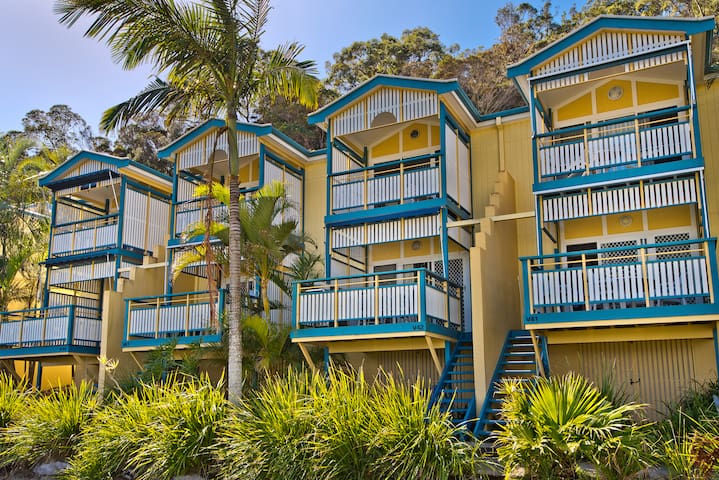 Absolute beachfront, large modern home, perfect for family holidays. Our guests love it .."Thanks very much for a wonderful long weekend at your house. We all had such a great time. The house was so well stocked and really comfortable. Thanks again for such a wonderful experience" Come and experience our house for yourselves. It is right on the seashore, just an easy drive down the sand from the barge, or a short stroll along the waterfront from the passenger ferry.
Highly recommend this house, the outlook over Moreton Bay is amazing and the place is spacious with an awesome location.
Chris
2017-03-18T00:00:00Z
Room Type
Entire home/apt
---
Property Type
House
---
Accommodates
10
---
Bedrooms
Moreton Island, QLD, Australia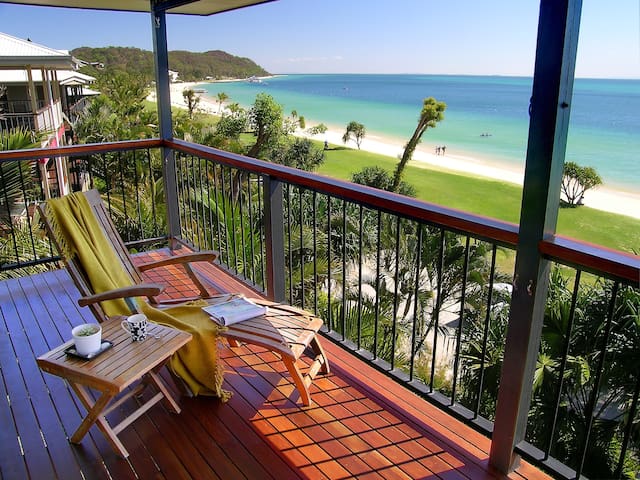 Modern, fully renovated, self contained beachside Villa. Enjoy views of pristine Moreton Bay and the stunning sunsets, snorkel the nearby wrecks or watch the dolphins at play. Rest and relax in this tropical paradise 1 hour from Brisbane.
Brian was a fantastic host. The place is beautiful and just as it appears on the website. Brian was very accomodating with allowing us to check in early and depart late. The place is very well equipped.
John
2016-09-30T00:00:00Z
Absolutely great place and great service from the hosts. The view from the balacony looks like a postcard picture
Dan
2016-12-16T00:00:00Z
Perfect place to escape from the mainland. A little paradise not far away from Brisbane. Highly recommended!
Sven
2017-02-24T00:00:00Z
This a super place for a getaway. We had 3 nights that were fantastic. We only wished we had a little more time. Brian was a super and made the stay very welcoming. Villa 21 is great value. Location is just stunning. We took the Micat which was a big walk for the family. Probably the only downside we had. You can go with Tangalooma, but Micat is better value. Try take your own food and drinks with ... Tangalooma resort has a lot to offer. Can be very pricey to do the "activities" All in all, we hope to come back some time !!!!
Greg
2017-03-11T00:00:00Z
All was great! Very clean and comfy apartment. There a cot as well if you have a Bub. They are new to Airbnb but seasoned landlords on other sites so all was very organised.
Carissa
2016-03-16T00:00:00Z
The host canceled this reservation 54 days before arrival. This is an automated posting.
Zoe
2016-11-13T00:00:00Z
Room Type
Entire home/apt
---
Property Type
Villa
---
Accommodates
8
---
Bedrooms
Moreton Island, QLD, Australia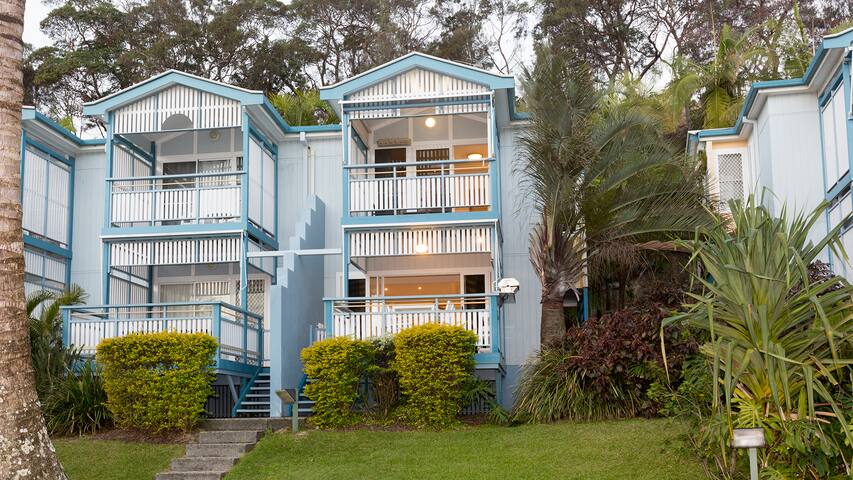 Beautiful self contained apartment with beachfront views located on Moreton Island. Offers a spectacular location with the beach right at your door step. Massive outdoor deck areas perfect for relaxing and watching the sun go down. One of Moreton Island's major attractions is the wild dolphin feeding which can be viewed every night in the privacy of your own balcony. Only a 75 minute high speed boat ride from Brisbane.
Deep Blue 3 is a beautiful apartment with 2 large bedrooms and 2 bathrooms and can sleep up to 6 people comfortably. Perfect for couples or families. It has a fully self contained modern kitchen, a large deck and BBQ with amenities are provided. The deck is a perfect spot to unwind after a day spent exploring Moreton Island. There is also an exclusive pool for Deep Blue guests, which is located on the same level as our apartment, whilst maintaining full privacy. When staying in Deep Blue 3, you are provided with your own garage just below the building if you wish to bring your 4 wheel drive.
The host was so pleasant on the phone, very easy to talk to and was incredibly helpful. A very nice person.
Tucker
2016-12-26T00:00:00Z
Jury's place was the perfect family getaway. I cannot fault the apartment. The kids loved every minute of it. Judy was fabulous from start to finish. No hesitation in recommending this space. We will be back.
Lisa
2017-01-16T00:00:00Z
Judy was very helpful and we had a great time in her lovely apartment :) A baby dolphin was born right out the front! Amazing!! The Chinese restaurant was great and the happy hour at the pub was great value! Make sure you do the walk to the dessert - lovely island bush walk :)
sam
2016-11-09T00:00:00Z
Excellent. Perfect location.
Matt
2016-10-11T00:00:00Z
Thanks Judy, for a beautiful holiday! I have to say it was one of the best holiday's we've had in a long time. Been overseas, but really why bother when you've got beautiful Moreton Island. The only disappointment was why hadn't we been here earlier and it's so close! Loved taking the 4WD and your Unit had a garage, that was great! We will be back soon. Tracey
Tracey
2016-09-25T00:00:00Z
We had a lovely stay in this unit and found it very relaxing. The view is gorgeous and great position. We enjoyed afternoon walks on the beach and eating out on the balcony watching the sunset. Such a great getaway! We found Judy's communication to be fantastic when organising our booking. We will definitely be back!
Storm
2016-11-18T00:00:00Z
Very accurate descriptions, excellent location and very good value for money.
David
2016-10-24T00:00:00Z
Having travelled the world we were pleasantly surprised with Tangalooma. It's the remoteness and it feels close enough to a city, yet far away from the hustle. It really is Island time from the moment you step onto the jetty! The accommodation is perfect, especially for children, you can watch the dolphins from the balcony, visit the pool out the back, the beach across the road and ice blocks downstairs. No distractions and very quiet at night. If you are looking to get away, book this apartment and unwind!
Niki
2016-11-06T00:00:00Z
Room Type
Entire home/apt
---
Property Type
Apartment
---
Accommodates
6
---
Bedrooms
Moreton Island, QLD, Australia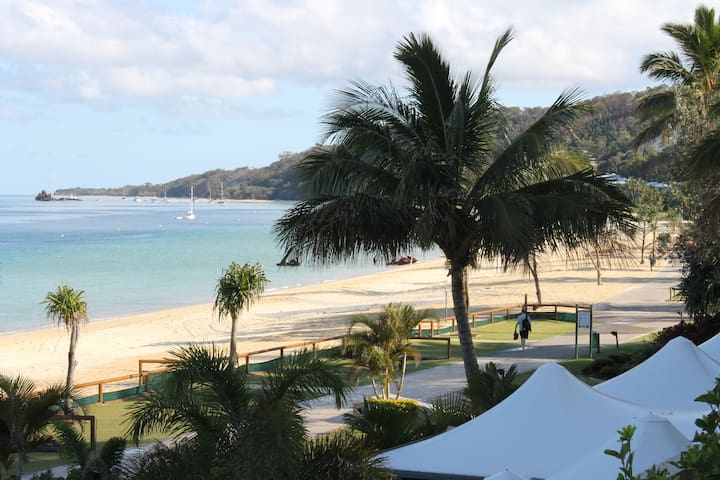 My place is good for couples, families (with kids), and big groups. A home away from home with 5 star comfort. Amazing views. Free 3gb WIFI per booking. But please be aware that it is a Island and Optus and Telstra make minimal effort to serve us. The internet is below expectation. Moreton Island is famous the world over for its incredible beaches and nature, and the wild dolphin encounter, nightly next to the pier. As our guest, you can enjoy all the resort facilities at Tangalooma resort.
One king bedroom, three queen bedroom, one bedroom with two king single and a trundle. One bedroom with 2 single beds and one day bed in the Games room. One bed room with one king single and 2 bunk beds. Four bathrooms and a washing machine in the bathroom. Free bath soap.shampoo and conditioner. The two gourmet kitchen has large 2 door fridge, bread maker, microwave and Gas oven-Hotplates. Granite bench-top and island unit and is fully equipped and has all the basics like sugar, salt, pepper, olive oil, vinaigrette, and some basic spices. Webber BBQ on the balcony. Just bring your food and drinks. There is a shop at the Tangalooma resort if you forget things, but you pay double. Two x 55 inch, one 50 inch and one 32 inch LED TV and DVD library and playstation with karaoke. The private pool is shared between the two apartments. Home gym in the garage Next to the pool we also have a small room room with a Soccer table.
Unspoiled and deserted beaches. Crystal clear waters and safe to swim on the eastern side. Great fishing on the 25 km western beaches. Snorkeling the wrecks is out of this world with hundreds of fish eating out of your hand. Book the trip with the resort or take a 30 min walk along the beach to get there.
The host canceled this reservation 16 days before arrival. This is an automated posting.
Liz
2017-01-10T00:00:00Z
Room Type
Entire home/apt
---
Property Type
House
---
Accommodates
16
---
Bedrooms
Moreton Island, QLD, Australia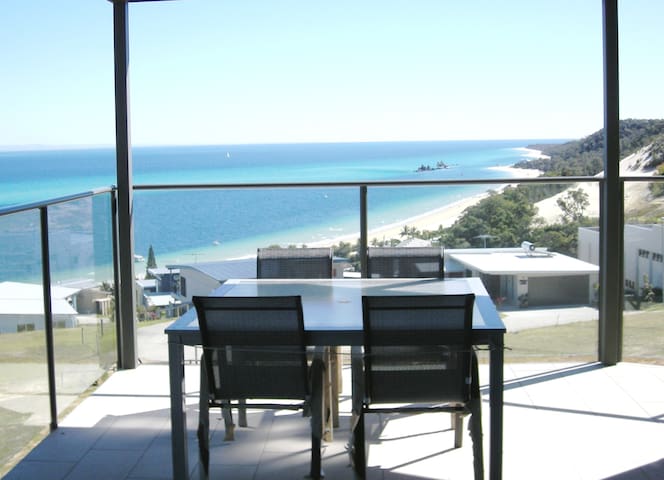 My place is close to Brisbane, situated on the calm side of Moreton Island, wake up to the sound of the sea and the picturesque views of Moreton Island each morning, situated right on the beach. You'll love my place because of what the resort can offer from organized tours, water sports, pools, resort activities. My place is good for couples, solo adventurers, business travelers, families (with kids), and big groups.
Lovely! A great place for families. The view from 2 balconies is nothing but sand and sea! Beautiful! Maureen was extremely helpful and even assisted by booking our ferry! Highly recommended!!
Colette
2017-03-29T00:00:00Z
You couldn't ask for better views of the ocean. The villa was perfectly situated not too far from the car park and restaurant. Literally a few steps over green grass and onto the sand making it convenient with a small family. Sitting on the balcony for our meals watching the sunset was lovely. The host was friendly and easy to communicate with.
Leisha
2017-03-18T00:00:00Z
We have previously stayed at other private villas at Tangalooma and this one beat them. It has laminate floors upstairs, not carpet, so the whole place feels nice and fresh. Bedding is excellent, very comfortable. This villa also has no obstructed views of the ocean and that in itself is amazing. It also has plenty of clothes line at the back unlike other villas, which is great when you've got swimmers and beach towels to hang dry daily. Like most villas, it has no A/C, but we don't mind the heat so that was not an issue for us. We loved staying at Villa 35 and Maureen was great to deal with. Thank you Maureen!
Isabelle
2017-01-21T00:00:00Z
Best value for money on the entire island! Good location, really nice apartment with spectacular views
Kyle
2017-02-22T00:00:00Z
This apartment was perfect for our weekend getaway to Moreton Island. Spacious, clean and included all mod-cons. A very central location, we were only footsteps from the beach and a short walk to the centre of the resort. Thank you Maureen, we had a great stay.
Maria
2017-01-08T00:00:00Z
Room Type
Entire home/apt
---
Property Type
Townhouse
---
Accommodates
8
---
Bedrooms
Moreton Island, QLD, Australia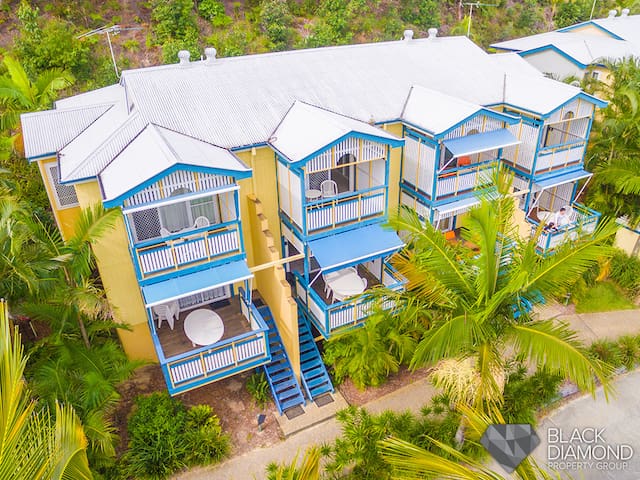 Brisbane's best kept secret - Huge New Years Eve Party - 70+ free activities -
Great swimming, Snorkelling, Tennis, Squash ... so many activities - check tangalooma website
This is truely an amazing resort. Brisbanes best kept secret.
Very beautiful island to stay on, the accomodation was clean with room enough for 4. However, everything is in one room(double bed and two single, kitchen and dining), great for a family. The unit was close to everything with the pool and Bbq right outside. Most activities where free including hiring the the small boat/tinnie which was great ! All tours were discounted with Timeshare as well. We brought our own esky of food over and took advantage of the BBQ. Graeme was very helpful with everything from how to get there and what to do on the island. Would recommend to others !!
Jenny
2017-01-02T00:00:00Z
Room Type
Entire home/apt
---
Property Type
Apartment
---
Accommodates
4
---
Bedrooms
Moreton Island, QLD, Australia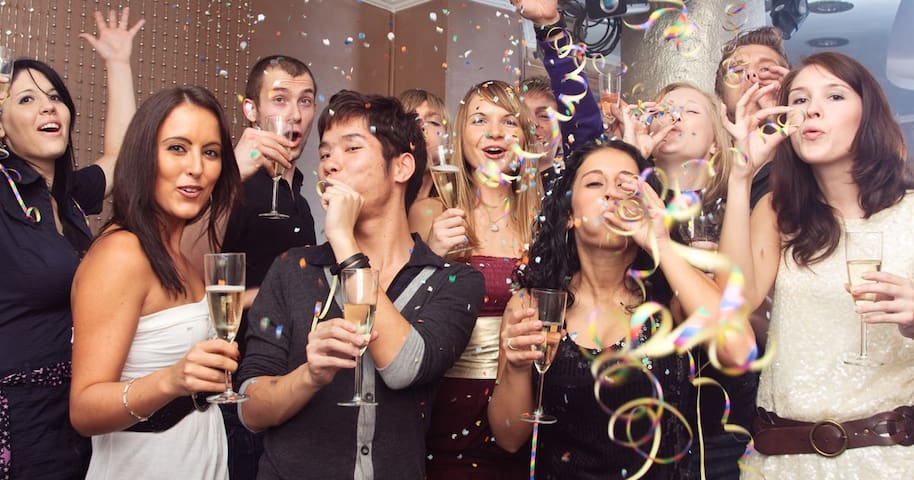 Wow! What a huge house. This family holiday home is just fantastic, its got the space, its got the views, its got the hot spa. What more could you ask for. come and check it out. with 6 bedrooms and 2 bathrooms, the whole family can all come to beautiful Moreton Island
Room Type
Entire home/apt
---
Property Type
House
---
Accommodates
16
---
Bedrooms
Moreton Island, QLD, Australia
Tangalooma Island Resort is located on beautiful Moreton Island, only 75 minutes by ferry from Brisbane. The wide range of resort facilities caters to everyone and offers guests of all ages the perfect destination for unique adventure, education, and nature-based experiences. Vacationers can choose from a variety of activities, including beach volleyball, basketball, tennis, archery, and catamaran and dingy rentals.
This is a Timeshare unit, we normally take a week every year, but unfortunately we will be away during this time, our loss is your gain! Capturing the island style, the resort suites are furnished for relaxed comfort and are located only 50 metres from the beachfront. All rooms feature air-conditioning, ensuite bathroom, 1000 watt hairdryer, TV and DVD player, dining table and chairs, and kitchenette. Surrounded by luscious landscaped gardens, tropical palms and native flowering bushes, the suites are also designed to take advantage of the refreshing Moreton Bay breezes through large sliding glass windows. The family suites differ from resort units in that they offer a separate bedroom and living area, offering more spacious living for longer stays. Each room features a kitchenette with 3/4 size fridge, convection microwave oven, electric frypan, toaster and kettle and can accommodate up to 4. Tangalooma is a natural attraction and the unspoiled beauty of Moreton Island, together with the resort's superior facilities, offers a complete leisure experience.
Room Type
Entire home/apt
---
Property Type
Apartment
---
Accommodates
4
---
Bedrooms
Moreton Island, QLD, Australia

Little Hilton, Ascot, is the epicure of hotel living in Brisbane's premium suburb- Ascot. Carefully decorated for pure comfort & style for the discerning couple, business person or solo traveler that wants more than just a tiny hotel, with over 100sqm of hotel-style accommodation with a chefs kitchen & even space for your car. Close to Brisbane Airport, Ascot Racecourse, Racecourse Road Dining, Brisbane Cruise Terminal, Eat Street Markets, Portside Wharf Dining and Shopping Precinct.
Room Type
Entire home/apt
---
Property Type
Apartment
---
Accommodates
4
---
Bedrooms
Ascot, QLD, Australia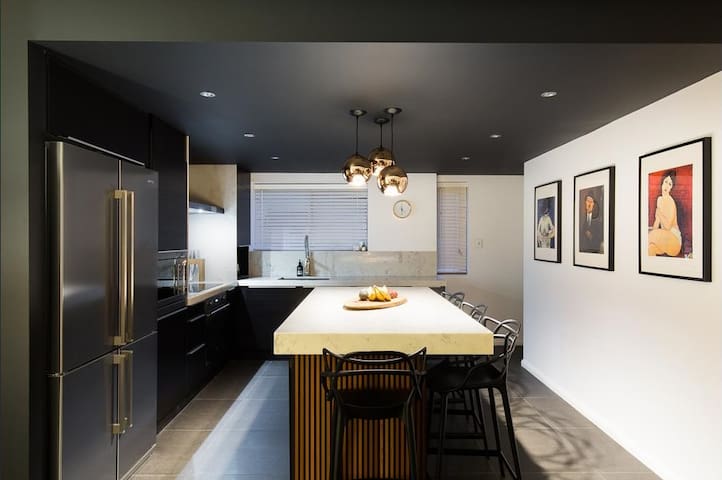 "Pandanus on the Beach" Recently renovated, this 2 bedroom cottage is right on the beach on Moreton Island One up one downstairs, both bedrooms are ensuited. You can relax on the verandah, sit around the open fire or sunset drinks on the beach Please note that linen is automatically provided and there is a additional charge of $15.00 per person
Open plan kitchen/dining/lounge, which all opens onto the verandah, three sides,with BBQ. 1 bedroom downstairs (1 x Q ) and the others upstairs ( 1x Q ), both with large en-suites, so comfortably sleep 4 This beach house is environmentally friendly, and relies on you and nature to operate... ALL electricity is by Solar, so you cannot use electric appliances, such as hair dryers, toasters ,etc, which have a heating element. ALL water is from Tanks, and whilst they are large, we ask you to be conservative
Cowan Cowan was originally an Army out post in WW2, with some 900 soldiers stationed here. Now, it consists of some 50 holiday homes and 14 (URL HIDDEN) shop, and no traffic, just endless beaches of white sand. 99% of Moreton Island is a National Park
The host canceled this reservation the day before arrival. This is an automated posting.
Katy
2016-09-23T00:00:00Z
Love this place.
Darren
2016-04-26T00:00:00Z
We arrived off the ferry and the house was open and breezy. The location is unbeatable, close to the ferry, no 4WDs on the beach in front, so unbroken views of Moreton Bay. Absolute beachfront, with almost a private beach. It takes less than 10 minutes to get there from the ferry. We drove all over the island and I cannot see why you would stay anywhere else apart from Cowan Cowan. Only 20 minutes along the beach to Bulwer for a shop and espresso. No A/C because it solar power, but who needs it with the breezes. We will definitely stay again. Phil and Liz were available and made it pretty easy. I thought I had left a camera behind, and they looked for me twice ! It was of course in my possession in any event. Exceptional escape.
Brad
2015-11-25T00:00:00Z
All was as expected. This was my second time. We love it.
Brad
2016-11-07T00:00:00Z
Excellent location . Great for kids being able to play on beach without 4wd traffic.
Joanne
2016-12-06T00:00:00Z
A great location. The photos did not do it justice.
Brendon
2016-10-04T00:00:00Z
This is a lovely and comfortable 'home away from home' in this beautiful part of the world.
Gayla
2016-12-19T00:00:00Z
As seasoned travellers it was very nice to be left alone as we settled in and got acquainted with the place. Later in the afternoon the host dropped in to say hello which was appreciated. This was the perfect cut off from city life and we're glad we went when we did - not many people on the island at all. We stayed 5 nights but by the time we left it felt as if it had been a couple of months. It's amazing how a beautiful beach house and a peaceful environment can restore one so quickly and leave such a lasting imprint on the mind. The whales were spectacular as were the local dolphins. The sea was perfect - cool and refreshing. This house is very special. One of the very best we've ever stayed in. They say nothing's perfect but this came pretty close to it.
Michael
2016-10-14T00:00:00Z
Room Type
Entire home/apt
---
Property Type
House
---
Accommodates
4
---
Bedrooms
Moreton Island, QLD, Australia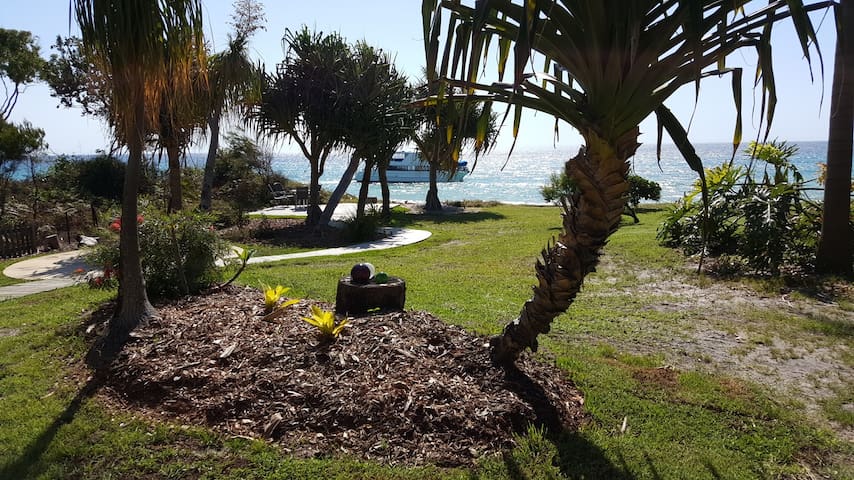 Enter dates to see full pricing. Additional fees apply. Taxes may be added.