Walking/biking distance (.6mi) to Shem Creek (fun area on the water w/ bars & restaurants) & 3.5mi from downtown! 2 Bikes & kayaks available for guests to use whenever. We aren't home much on the weekends-usually out on the boat (if weather permits), + guests are always welcome to join us! 2 lovable dogs live here too.. they are well trained, often outside, & tend to mind their own. Layla & Sully love making new friends, so please bring your dog if you'd like!
Lots available to do! Great place to stay for those that want to explore Charleston! Pet friendly, w/ very easy going hosts. Please make yourself at home!
Very laid back and very generous hosts. Offered lots of helpful advice and tips, laid out snacks and toiletries - and allowed us to use their bicycles (which we did) and kayaks (which we - alas - didn´t have time for). Would come back!
Monika
2017-04-09T00:00:00Z
Room Type
Private room
---
Property Type
Townhouse
---
Accommodates
3
---
Bedrooms
Mount Pleasant, SC, United States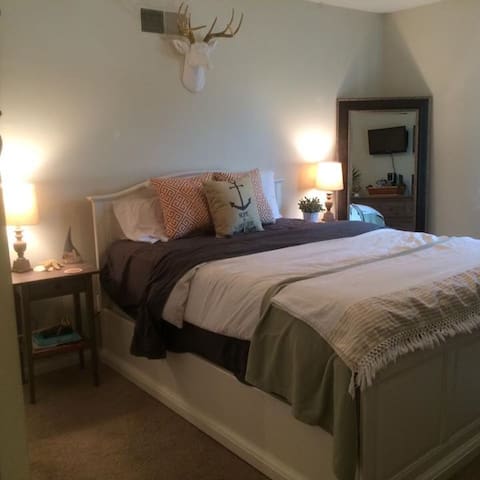 Beautiful quiet cottage with gorgeous & rare views of Shem Creek and Charleston Harbor! Less than 5 min to downtown Charleston and 10 minutes to beaches. Walking distance to popular restaurants, kayaking, fishing, parks, walking/running The Bridge! Golf course and famous Yorktown Aircraft Carrier ~1 mile away.
Spectacular views of sunrises, sunsets, shrimp boats, wildlife, and ships entering and leaving Charleston. The cottage is quiet and privately located on the edge of the marsh with lots of windows to enjoy the views. The interior is decorated, not just old used things so typical in other listings. If you are looking for a relaxing and romantic getaway, look no further. There is a kitchen with a refrigerator, microwave, Keurig machine, dishes and utensils. There is free Wi-Fi and a nice workspace, if needed. A pack and play is available upon request.
We are located in a quiet neighborhood off of Coleman Blvd. near the foot of the Ravenel Bridge. The Cottage is located at the end of our lower driveway.
We had an absolutely wonderful time. Debbie and her husband were excellent hosts, very helpful and accommodating. We would stay again in a heartbeat. Thanks, Paul & Margaret
Paul
2016-10-17T00:00:00Z
The cottage is perfect, beautifully decorated and very comfortable. It's located in quiet neighborhood and close to everything. Host was very helpful and friendly. Gorgeous view!
Sheryl
2016-09-25T00:00:00Z
We thoroughly enjoyed our stay at the cottage. Everything was as described plus more. We had a wonderful time at the cottage. The view was spectacular. We will recommend it to friends.
Dawna
2016-07-04T00:00:00Z
I cannot say enough wonderful things about this rental! The cottage is even more beautiful in person than in the pictures. Waking up to a gorgeous view of the sun rising over the water was such a special treat. Debbie is a wonderful host and went out of her way to make us feel welcome and comfortable. I will be recommending this cottage to all of my friends and family that visit Charleston.
Kristin
2016-10-31T00:00:00Z
Extremely comfortable beautifully decorated. Hostess was delightful. Gorgeous views. Close to everything. We will stay again!!
Lynne
2017-03-19T00:00:00Z
Our only regret was that we didn't book more nights at this lovely cottage on Shem Creek. Debbie greeted us upon arrival and made us feel instantly at ease and at home. The cottage itself is beautifully decorated and appointed. We also enjoyed all the special touches including snacks and extra bath products, etc. We enjoyed the relaxing views of the creek just outside our window including wildlife and ships passing by. We look forward to booking the cottage again in future trips to Charleston.
Meredith
2016-06-06T00:00:00Z
My daughter and I stayed at Debbie Johnson's lovely cottage in Mount Pleasant, SC and had a wonderful time for our mother daughter weekend! Her place is absolutely wonderful and the view was amazing! She created us warmly, showing us around and had a list of favorite places to eat and visit! We will go back again!!!
Catherine
2016-07-18T00:00:00Z
They are such nice people! My fiancé and I stayed here for a friends wedding weekend and fell in love with the place! Beautiful view to wake up to every morning and very convenient to everywhere we went
Candler
2016-06-27T00:00:00Z
Room Type
Entire home/apt
---
Property Type
Guesthouse
---
Accommodates
3
---
Bedrooms
Mount Pleasant, SC, United States
Quiet Charming Large Elegant Bedroom with gorgeous bathroom, Closet, Fridge, Microwave. Private entrance, Private Garden. Old Village area of Mount Pleasant. Tennis Courts just a few blocks down the street, 5 minutes to the beaches of Sullivan's Island and 10 minutes to downtown Charleston. Cable Television and Wifi. Restaurants, Parks. 5 minute walk to the start of the Cooper River Bridge Run. Truly an extra special space. Not suitable for children. No pets
Beautiful 4 poster King bed. Small round dining table for 2. Sitting area good for computer work. Refrigerator, microwave and coffeemaker (single serve) . Large bathroom with garden tub and separate shower and water closet. Double sink.
Walking distance to parks or to view historic Charleston Harbor. Marvelous restaurants.
Katharine was an amazing host. She was attentive, knowledgeable, and the part of her home she opened to us was unique and wonderful. She recommended restaurants, took us on a golf cart tour of her neighborhood in Mount Pleasant and was available for everything we needed. She thought of everything from time frame estimates for the different trips around Charleston we were planning to keeping actual sugar cubes in the mini-fridge for coffee. I wish we'd had more time to spend but we're looking forward to visiting with her again in the future.
Jonas
2017-02-20T00:00:00Z
Beautiful home located in a beautiful, quiet area of Mt Pleasant. Close to everything Charleston has to offer. Katharine is an amazing, gracious host willing to provide and help with whatever you need. Would highly recommend and will definitely hope for her home to be available again on our next weekend to Charleston getaway!!!
Kerrie
2017-03-19T00:00:00Z
Exceeded our already high expectations. Beautiful, comfortable space with an extremely accomodating and pleasant host.
Emily
2017-03-07T00:00:00Z
We had a great Charleston weekend and went to the Volvo tennis tournament. Great neighborhood with easy access to downtown, Sullivan and Daniel Islands. Nice, clean, and well decorated bedroom and bath. We will definitely keep it in mine for our next visit.
craig
2017-04-09T00:00:00Z
Katherine did a great job with directions and providing information about local amenities. Her home is beautiful and comfortable. The location was perfect to access a variety of activities from the city to the beach.
Julia
2017-02-05T00:00:00Z
The gorgeous pictures of Katherine's apartment are certainly not misleading! It is beautifully decorated and well appointed. The garden is lovely as well. It has a charming private entrance and we felt in our own little world. From the super comfortable king bed, large closet space and huge bathroom to the great coffee and welcoming furnishings - we had it all, and would highly recommend Katharine's apartment.
Melinda
2017-02-18T00:00:00Z
Katharine's airbnb was a perfect location for our weekend trip to Charleston. The room is beautifully decorated and the oversized bathtub was to die for. Katherine was a wonderful host, I would highly recommend staying in this quiet and cozy airbnb.
Brandon
2017-03-13T00:00:00Z
Katharine's place was amazing! It was low key outside of Charleston but close to almost every place we wanted to explore! Her place was amazing and very well kept! The room was private and the neighborhood was quiet as well. We would highly recommend staying here to anyone who wishes to explore Charleston!
Chelsea
2017-03-25T00:00:00Z
Room Type
Entire home/apt
---
Property Type
Guest suite
---
Accommodates
2
---
Bedrooms
Mount Pleasant, SC, United States
Gorgeous Charleston style elevated home on the Copahee Sound in Mount Pleasant. Open, bright, and tastefully decorated. Access to coffee, pastries and fresh fruit in the kitchen. Each bedroom has a queen bed, large window, and empty dresser and nightstand for storing your belongings. There is also a full bath with double vanity. The screened porch on the back of the house is the perfect place to enjoy the coastal breezes and listen to the frogs in the back yard pond.
Two private bedrooms are located on the 2nd floor of the home with access to a full private bath. Our home is located just off of Hwy 17 in Mount Pleasant in a lovely and eclectic neighborhood off the Copahee Sound. Our neighborhood is quiet, friendly and beautiful! Take a walk down the street, enjoy the pretty homes, friendly neighbors and oak trees. You also have easy access to the Gadsenville Public Boat Landing for fishing, kayaking, paddle boarding and gorgeous views of the marsh and intercostal waterway. (Sorry, but we don't have kayaks or paddle boards for you to use, but can recommend places that have rentals.) Enjoy the most beautiful sunsets in the low country a short walk from our home. The living room, kitchen, screened porch, and front porch are accessible to our guests. Feel free to use the coffee maker, espresso maker and french press. We also provide fresh baked goods and/or fruit each morning. We welcome you to use the fully equipped kitchen to prepare meals. However, we do ask that you provide your own groceries. Additionally, we ask that the kitchen be cleaned, dishes washed and trash taken out. We enjoy a clean home and ask that our guest assist with keeping it that way. There are linens, towels and some toiletries provided. We do ask that you keep the space neat and tidy during your stay. We are always happy to help, offer advice and give suggestions on places to visit during your stay. We are a short drive to local beaches and lovely historic downtown Charleston.
Our neighbors are the best! Quiet neighborhood just off the Copahee Sound. Easy access (short drive) to the Gadsenville Boat Landing which is a perfect place for a walk, kayaking and paddle boarding. Our neighborhood is known to have weekly BBQ's and you would be welcome to join the fun!
Room Type
Private room
---
Property Type
House
---
Accommodates
4
---
Bedrooms
Mount Pleasant, SC, United States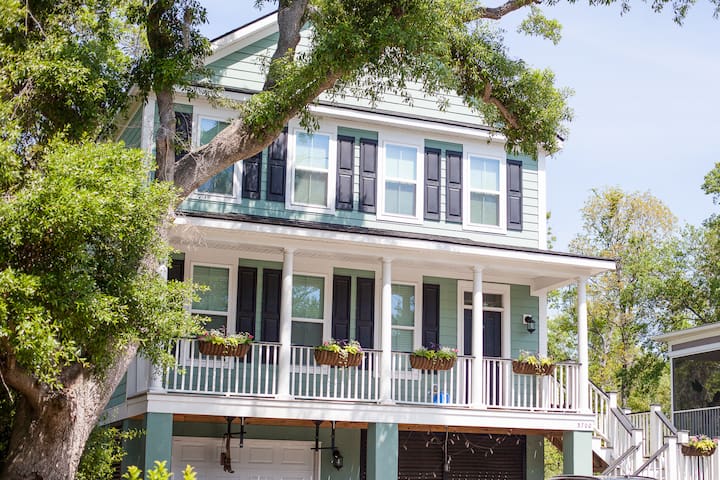 Brand new 2017 Guesthouse! In the old village of Mt. Pleasant. 1 bedroom, 1 bath, with full kitchen, brightly colored interior with an inviting coastal vibe. Located within a couple of minutes of Sullivan's Island and just 10 minutes to downtown Charleston. Very close to a wide variety of grocery stores, restaurants and bars. Very safe and family friendly. Five minute bike ride to Sullivan's Island and close to Alhambra Hall and the pitt street bridge.
Flat screen tv, granite counter tops with stainless steel appliances. Lots of cabinet space. Queen bed in bedroom with dresser.Comfy day bed in living room. Hosts live next door and have lived in the area there whole life. 2 beach cruisers are available.
Old village in Mt Pleasant is minutes from downtown Charleston over the Shem Creek bridge. Centrally located neighborhood that is convenient to the beaches and historical Charleston. Very safe and family friendy neighborhood.
Beautiful clean place nice little porch and place to sit outside. Close to Sullivan's island and downtown Charleston.
Ember
2017-04-11T00:00:00Z
Stayed for a wedding in Mount Pleasant and it was great location between venue and downtown. Great for a quick getaway!
Amy
2017-04-09T00:00:00Z
Room Type
Entire home/apt
---
Property Type
Guesthouse
---
Accommodates
3
---
Bedrooms
Mount Pleasant, SC, United States
Welcome to our quaint home on a quiet cul-de-sac conveniently located minutes from all that Charleston and the Lowcountry have to offer! 15 mins to Isle of Palms, Sullivan's Island, historic downtown, and CHS airport.
Tucked in the back of a convenient neighborhood, this secluded guest house backs up to a wooded area with a pond and is surrounded by lush tropical foliage. The entrance is around the back of the main house and, though there is a shared wall with the main house, the separate entrance provides privacy for guests to come and go as they please. This cozy space has its own thermostat for maintaining your optimal comfort in any season.
Belle Hall Plantation is one of the most beautiful and conveniently located neighborhoods in all of Mount Pleasant. It is family friendly and quiet. Grocery and boutique shopping, as well as several convenient restaurants and coffee shops (including Starbucks and our favorite bagel shop), are just outside the neighborhood entrance.
The backyard is absolutely beautiful! Cleanliness and communication were great! The location is also a plus. It is close to Isle of Palms, restaurants and shops in Mount Pleasant, an amazing cupcake shop, the Cooper Bridge if you want to walk or run, and only a 20 minute drive to downtown Charleston. The area is quiet, great for a good night's sleep or to read a book. I would definitely stay here again!
Jessica
2017-04-02T00:00:00Z
This is EXACTLY the serene retreat you need. Lauren and family were wonderful, the place is close to so much great food and fun. The space is roomy and you can cook in comfortably with all the kitchen amenities. We look forward to returning .
Alejandra
2017-03-05T00:00:00Z
We stayed in this lovely abode for three nights and we were so glad we did! Lauren and her husband were friendly and communicative, going out of their way to help us feel welcome, even offering us the use of a Diaper Genie and playard and lending us a bag of outlet covers to help keep our little one safe. We felt very secure there and had a wonderful sense of privacy. The bed was comfy. The towels were soft. The kitchenette was simple and clean and suited our needs. It probably would have helped to have more detailed instructions on how to set up the tv, but Lauren texted me back immediately with instructions and soon I was relaxing to the Apple TV. The toilet needed a jiggle of the handle but once we figured it out it wasn't a big deal. The decor was like a well-curated attic of curiosities, with old prints of Charleston and bottles, old children's toys and games, film reels and a projector! We were able to reach downtown Charleston quickly and easily and we enjoyed traveling over the spectacular Arthur Ravenel Jr. Bridge each day. Knowing that we had this space to come back to each day was one of the highlights of our trip. Its privacy and safety helped vacationing with a toddler feel a bit less stressful. Recommended.
Matthew
2017-03-22T00:00:00Z
We had a great stay in Mt. Pleasant! Lauren really thought of everything for the place- it was so convenient to have coffee, dishes, Netflix and everything else she thought to include! I was going to joke that there was everything but a mini hairdryer included in the bathroom, only to find one in the drawer! It was a little colder than expected during or stay, so it was so nice to have a homey place to come back to. We mostly kept to ourselves during the trip, but I know Lauren would have recommended more restaurants, shops, or things do to if we had wanted more ideas for our trip.
Julia
2017-03-16T00:00:00Z
Great space for a couple looking to go to Charleston but have some peace and quiet from the craziness! Easy access to Charleston, the plantations and all of the beaches. Lauren and Danny are great hosts - hope to be back soon!
Josh
2017-03-19T00:00:00Z
We had a great stay at Lauren's place- could not have asked for anything better!! The room was so clean and had everything we needed for a week long trip. The location is amazing and was only a short drive to all our day trips (Downtown Charleston, Sullivan's Island, Folly Beach). Coming back to a quiet neighborhood at the end of a busy day was also a plus! Lauren and her husband were terrific hosts, always making sure we had what we needed and ready to give recommendations when we needed them. We would recommend this place to anyone and are hoping to come back one day!
Hannah
2017-03-31T00:00:00Z
The accommodation was such a peaceful and restful setting. And the location is so easy to get to the beach or downtown Charleston. Loved our stay here!
Holly
2017-02-27T00:00:00Z
Amazing! This place is in the perfect location, quiet and peaceful but close to restaurants, shops, parks, etc. Love is in the details and no detail has been overlooked here...from luxury towels to a comfortable bed it was truly a comfortable stay. Lauren is an excellent communicator and is so lovely to work with, she bends over backwards to ensure your stay is five stars. We had the most excellent time here, I highly recommend it!
Charity
2017-04-07T00:00:00Z
Room Type
Entire home/apt
---
Property Type
Guesthouse
---
Accommodates
2
---
Bedrooms
Mount Pleasant, SC, United States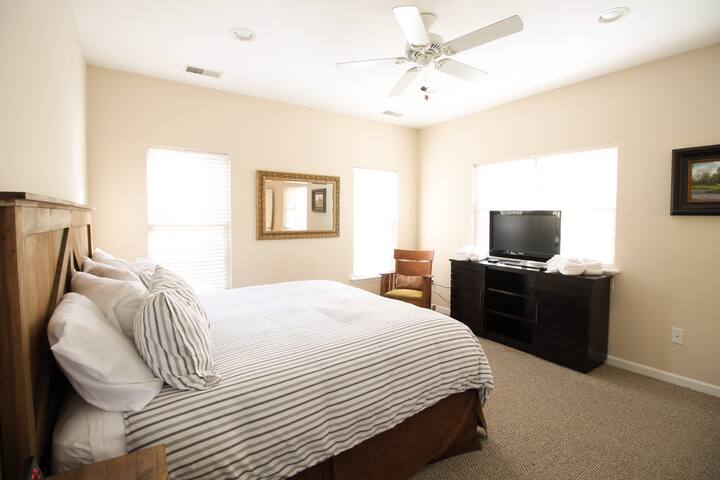 Our mother in law suite is tucked away off of an adorable relaxing back yard featuring a hot tub. It features a full kitchen, washer, dryer, and smart tv with wifi for your convenience. We are five minutes from Shem Creek where you can enjoy, nature, water and the nightlife, ten minutes from lovely Sullivan's Island beaches and ten minutes from downtown. Perfect for a couple or professional visiting the area.My place is good for couples, solo adventurers, and business travelers.
Mother in Law Suite with Private Entrance! Access to hot tub in the adorable back yard!
We are in a sweet neighborhood in Mt Pleasant SC. We are located about 10mins from downtown and 10mins to Sullivan's Island. Shem Creek is a mile down the street and offers great restaurants, a fishing pier and access the boating and paddleboards.
Great location!! Can't recckmend its convenience to the city and Beach enough. Loved the little fountains in the backyard and the hot tub was the icing on the cake. Good value- comfy bed
Dana
2017-02-15T00:00:00Z
Great communication, awesome location. Ashley made it very convenient to check in and out at our leisure. Thank you!
Christine
2017-02-27T00:00:00Z
Ashley was friendly, relaxed, and reachable when we had questions or needs. I definitely recommend her when visiting Charleston!
Casey
2017-01-23T00:00:00Z
Staying with Ashley was great. Her place was comfortable and as-described. Thanks!
Krystal
2017-03-27T00:00:00Z
A very nice, clean, and welcoming experience on Shem Dr. Well equipped bathroom, bedroom, living room, and kitchen. Had everything we needed! Also, very much liked the patio and the accompanying water pond in the morning and evening--a very pleasant way to relax. A very welcomed change to the typical hotel experience. Would definitely return without hesitation!
Laura
2017-03-03T00:00:00Z
This is a nice house and a great value. The only tiny complaint we had was the bed was uncomfortable for both of us and made noise when we would get up. The couch was comfy and having Netflix was a nice bonus. Overall, it was a very good stay.
Sue
2017-03-29T00:00:00Z
If you're looking for a quiet, clean, and private place close to Charleston, this is it! The kitchen is fully stocked with dishes, pans, and a coffee machine, and it's located close to a grocery store, which is a bonus. We really enjoyed our time here.
Lytton
2017-03-15T00:00:00Z
Perfect place!
Lynn
2017-02-21T00:00:00Z
Room Type
Entire home/apt
---
Property Type
House
---
Accommodates
2
---
Bedrooms
Mount Pleasant, SC, United States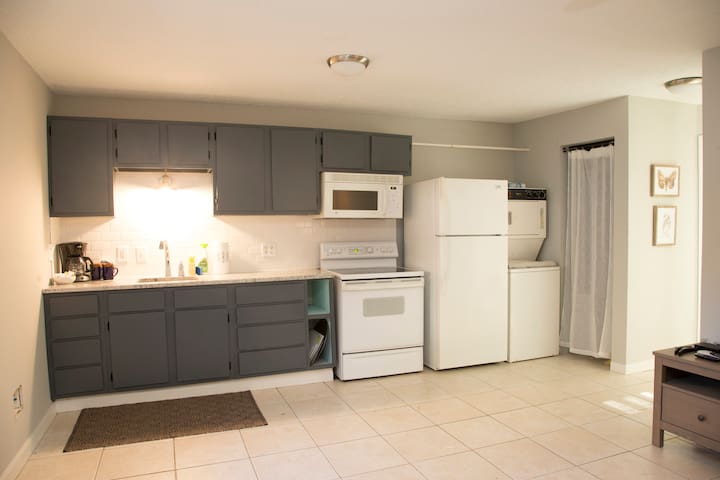 This charming guest cottage offers privacy and comfort. It is particularly cozy for a couple on a special holiday. The manicured yard and gardens surround a heated (seasonal), saline pool. There are two decks, one attached to the guesthouse and other sitting areas throughout the fully fence backyard. The property is very close to the beaches on the Isle of Palms and Sullivan's Island, and is a mere 15 minute drive from Historic Charleston. This is a quiet, laid-back neighborhood, owners on site.
This newly renovated guest house is completely separate from the main house and is a very large open space (400 square feet) with a small bathroom with a stall shower. It comes with a queen sized bed, sofa and a day bed with trundle that makes in to 2 twin beds. You can rent this along with one or both bedrooms in the main house. The two rooms in the main house share a bathroom. We are located in Mt Pleasant 5 miles from the beach, 15 minutes from Downtown Charleston and 3 miles for Historic Boone Hall. We have one very friendly dog that lives here and our property is pet and child friendly. There is a lot of seating in the outdoor living area, garden and around the pool. We also provide a basic breakfast in the main house. We offer dog-sitting, for those who would like their pet cared for while they enjoy the area, for $25. We also have a Pack-n-Play, high chair and play pen available to borrow.
Snee Farm is a quiet well established neighborhood which is close to everything. Mount Pleasant is an upscale suburb directly across the harbor from Historic Charleston.
Lydia was excellent to work with and very accommodating. Her place was lovely, and she even served breakfast! Highly recommended!
Heidi
2017-02-20T00:00:00Z
Really enjoyed our stay at Lydia's place. Lydia and Mike were both friendly but unobtrusive, and gave us everything we needed to have a comfortable and convenient stay. Would definitely recommend, especially for those travelling with their furry friend.
Amanda
2017-02-27T00:00:00Z
Adorable and clean guesthouse with all of the essentials included! Good location and the hosts provided us with great suggestions of things to do during our stay. Would definitely come back!
Elizabeth
2017-03-15T00:00:00Z
We had a lovely stay at Lydia's place. It is comfortable, relaxing, quiet, and Lydia and her husband were wonderful hosts. The guest house is in the suburbs, so I would recommend renting a car. Would recommend!
Victoria
2017-02-12T00:00:00Z
Very spacious guest house in a wonderful yard. They welcomed us and our pup very warmly and we felt relaxed and right at home the entire trip. We only wished it had been a little warmer outside to lounge around the yard a little more.
Bruno
2017-03-19T00:00:00Z
Lovely experience overall. The owners are experienced and understand the travelers needs. The site is comfortable yet very casual and relaxed. We stayed in the carriage home which had what we needed, was quiet; we slept great. A continental breakfast is served in the main home kitchen which is cozy and efficient for the guests. Our only setback was WIFI which was temporarily down in our room but the owners were working it out. All the equipment is in place; seemed like a temporary setting problem. Overall, it's hard to imagine a better place to stay for us!
Rex
2017-01-28T00:00:00Z
Excellent value. Really nice people. Exactly as described. If no traffic it is ten minutes to Isle of Palms beach and fifteen minutes to downtown Charleston. Quiet little guest house that is just the right size for two and very pet friendly.
WILLIAM
2017-01-30T00:00:00Z
Best stay so far with Mike and Lydia. I made a few suggestions on how to improve the "pool house experience" and they made the changes and more! First of all they put in a small side by side fridge and added a table above it which provides more counter space which is great. Also, they added a flat screen TV with a blue ray DVD player. Nice! We were able to stream the NFL playoff games as well as our favorite Downton Abbey, sweet. Our dogs like their place so much it's become a vacation for them as well. We are headed back in late February and looking forward to our stay.
Eric
2016-01-29T00:00:00Z
Room Type
Entire home/apt
---
Property Type
Bed & Breakfast
---
Accommodates
4
---
Bedrooms
Mount Pleasant, SC, United States
First floor bedroom with queen bed, adjacent full bath with a tub/shower; access to the private back yard and on street parking. Great location!!
Private room on the first floor with access to a full bath. Our 3 bedroom home is centrally located in Mt. Pleasant, off the Isle of Palms Connector and 17, in a very quiet, safe neighborhood. Mount Pleasant has everything you need, including numerous grocery stores, shopping, a library, post office, banks, plentiful restaurants and bars, fantastic attractions, beautiful parks, and outdoor recreation such as, kayaking, and boat tours. Come enjoy Charleston's historic culture, renowned restaurants and fabulous night life! The room includes a queen bed, closet, carpet, central air, an operable window, and a ceiling fan. There is Wi-Fi throughout and a TV in the living room. The neighborhood is safe and very quaint, tucked away but accessible to all of the Charleston sights and amenities. Located 4 miles from the Isle of Palms beaches, 8 miles from Sullivan's Island, 7 miles from the beautiful and very popular Shem Creek, and 12 miles from historic downtown Charleston. Close by you have Boone Hall Plantation, Seaside Farms Shoppes, Town Center Mall, Regal 16 movie theater, and a list of restaurants to long to include. You definitely won't go hungry in Charleston! The living room, kitchen, back yard, front porch are accessible at all times. We have a coffee maker, toaster, tea kettle and feel free to fill the refrigerator with whatever you'll need for your stay. Plates, pots & pans, silverware, etc. are available for your use; we just ask that you clean up after yourself and leave it as you found it. We have 4 beach towels, 2 beach chairs that are available for your use.
Just minutes from the beach and all Charleston has to offer! Only 4 miles from the Isle of Palms beaches, 8 miles from the beaches of Sullivan's Island, 7 miles from the beautiful and very popular Shem Creek, and 12 miles from historic downtown Charleston. The Charleston Airport is 18 miles from our home.
Stephanie and Mac made us feel incredibly welcome! We were pleasantly surprised with the lovely accommodations and Southern hospitality. We enjoyed Isle of Palms, and were truly close to everything: beaches, shopping, and downtown Charleston.we highly recommend this stay to friends and family.
Paige
2015-07-23T00:00:00Z
Stephanie's house was a wonderful place to stay! She made me feel very welcome and was very accommodating for my long stay! The room was comfortable and very close to a variety of places which made it easy to get around.
Rachael
2015-07-11T00:00:00Z
Stephanie, Mac, Ginger, and Marley were great! I traveled with my boyfriend and neither of us had used Airbnb before. Everything was exactly as pictured. Ginger and Marley are very friendly and welcoming. Marley weighs more than me and I was never afraid of him. LoL. The quiche was delicious and there was also fruit and muffins available for breakfast. They gave us great recommendations on where to eat and things to do. I even got a card, balloon and cake for by birthday! We plan on using Airbnb for two more trips this year all because of the wonderful hospitality we were shown by Stephanie and Mac.
Candace
2016-06-20T00:00:00Z
This was the second time I stayed at Stephanie and Mac's home. As last time they were very friendly and flexible to meet. Home is always clean and neat as seen in the photos. They had quiche and muffins available for breakfast. They are definitely a great AirBnb host.
Sean
2015-12-09T00:00:00Z
It was a perfect stay! The bedroom and bath were separated on the first level of the house which made it feel more private. Stephanie and Mac made us feel welcomed from the moment we arrived. The location is only a 15 minute drive to downtown Charleston and perfect for a getaway weekend.
Glenn
2015-08-10T00:00:00Z
My boyfriend and I were first time AirBNB users, it was also my first time in Charleston. Stephanie, Mac, Marley, and Ginger were AMAZING hosts! It was such a wonderful experience that we will definitely be re-booking in the future. The home was convenient to everything in Charleston, the house and room were immaculate, and everything was provided from breakfast to q-tips. If you are a first timer or frequent AirBNB user I recommend these five star hosts!
Meredith
2016-05-23T00:00:00Z
My stay at Stephanie's was great. This was my first airbnb stay. I was traveling to the Charleston area to visit the beach. This property was very close and only took minutes. Also, there are many restaurants nearby the house. The pets are very friendly and fun. Also, the muffins and juice were excellent. Perfect snack in the morning. Thank you for having me and I hope to be back again. Thanks! Jared
Jared
2015-07-13T00:00:00Z
Stephanie and Mac were incredible hosts and we had a great time staying in their home. Marley and Ginger (their dogs) were equally friendly and really added a nice homey touch to our stay. My wife and I came to visit Charleston for a 3-day getaway and would definitely recommend this place to anyone looking for somewhere to stay in close proximity to the beaches at isle of palms (10 minute drive) and downtown Charleston (15 minute drive).
Justin
2016-03-26T00:00:00Z
Room Type
Private room
---
Property Type
House
---
Accommodates
2
---
Bedrooms
Mount Pleasant, SC, United States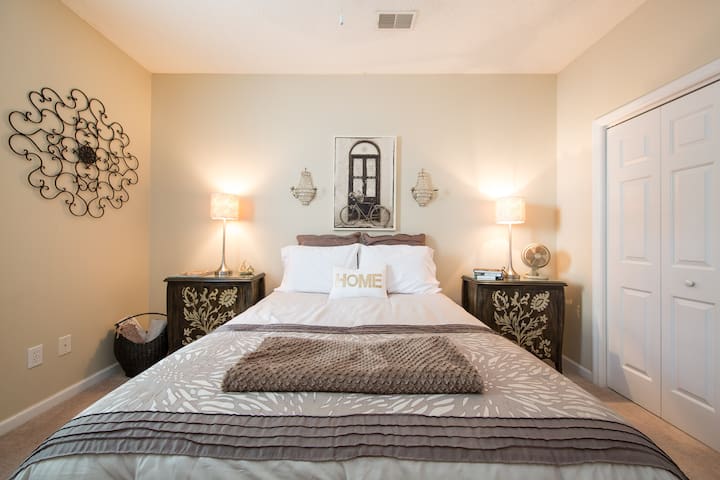 Fantastic location. Located in Mount Pleasant near the base of the Ravenel Bridge. Just over the bridge to downtown Charleston. This is a one bedroom condo.
This condo is great for a long weekend stay. It is about 15 minutes to the beach (Sullivan's Island) and 12 minutes to downtown Charleston- so great stay for a compromise. Ed had everything we needed and more: AppleTV, cooking supplies, shampoo/conditioner, etc. I would not recommend this condo for more than two people and a small child, as there is only one bedroom. Even though the weather was bad we had a great vacation!
Natalie
2017-03-13T00:00:00Z
We had a lovely stay in Ed's condo. We had every thing we needed and felt very at home. Getting into downtown was very easy and fast. We absolutely would recommend staying here and would return if the condo is available in the future.
Natalie
2017-02-05T00:00:00Z
Ed was responsive easy to communicate with. He was a great host.
brett
2017-04-02T00:00:00Z
Great place and cozy!
Jordan
2017-03-19T00:00:00Z
Great location to get around Mt Pleasant. And though I didnt go into Charleston from there-I know it would be an easy jump over to downtown. Slept well there and never heard the neighbors-very quiet.
Karmin
2017-01-08T00:00:00Z
The host canceled this reservation 79 days before arrival. This is an automated posting.
Nicole
2017-04-05T00:00:00Z
Room Type
Entire home/apt
---
Property Type
Condominium
---
Accommodates
2
---
Bedrooms
Mount Pleasant, SC, United States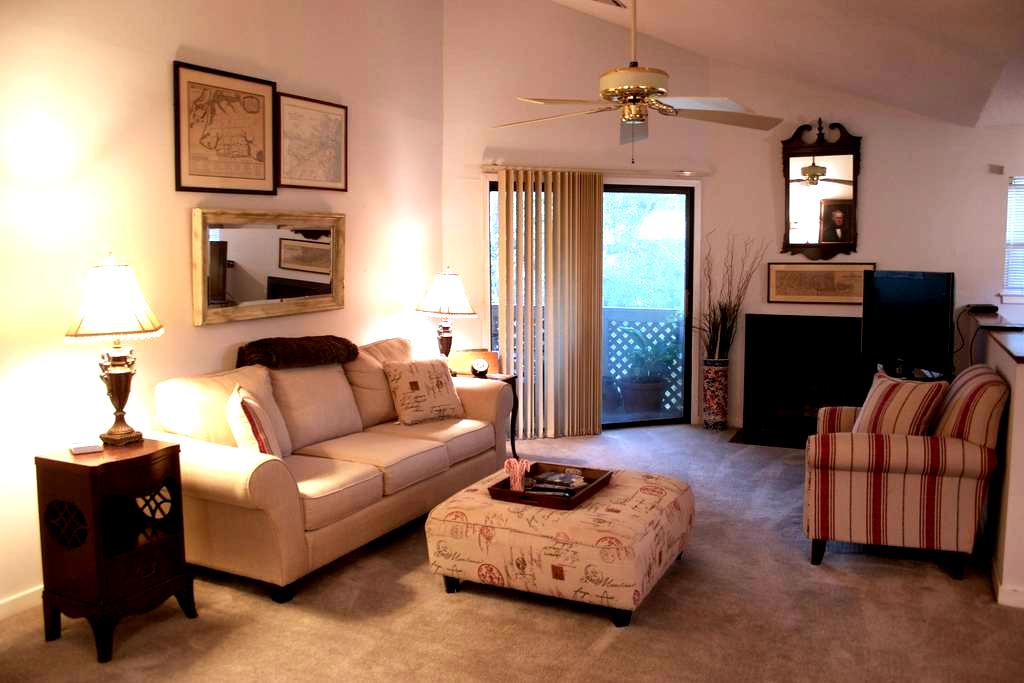 NEW LISTING! A beautiful Charleston style home located just a couple blocks from King Street! With this rental you get both units of the entire duplex home, totaling 6 bedrooms, 3 full baths, enough parking for up to 4 cars, a large back yard and two Charleston shotgun style porches! This historical home is expansive in size, has an open floor plan for entertaining which caters best to those large groups visiting Charleston. We look forward to hosting you!
Room Type
Entire home/apt
---
Property Type
House
---
Accommodates
16
---
Bedrooms
Charleston, SC, United States
Perfect for 2 people, our sunny, 2nd-floor, loft apartment is conveniently located within walking distance of shopping, restaurants & beautiful Shem Creek. Just minutes away from the beaches as well as downtown Charleston, the loft is located in an established residential neighborhood. The apartment includes a sitting area, queen-sized bed, mini-fridge, microwave and Keurig machine. Decorated with funky artifacts from our travels, we're sure you will enjoy the comforts and style. Welcome!
Come up private wooden steps to find your sunny loft space, a totally independent apartment, with private bathroom, a queen-sized bed, and a walk-in closet. Enjoy the organic cork floors, a hot shower and a light breakfast in the nook. Our vintage space is filled with vibrant plants, nourishing energy and warm colors. Empty shelves, ample seating and a cozy couch invite you in to spread out and feel like you're at home. We want our space to become yours...a place where you can relax after a walk on the beach or sleep in after a night out downtown on the peninsula. Check out a movie at home with the new 32" TV equipped with Roku streaming, Netflix, and many other channels. Borrow a book from our little library if you prefer to stay in. There are beach chairs and towels for your use if you'd like. The loft is cleaned with natural products for your comfort. In addition to the house AC, we just installed a new window unit to provide AC to suit your comfort level. We've included a detailed book of info about the neighborhood, a Top 10 List for Charleston, maps and brochures with things do and see, places to eat and where to go to for shopping and entertainment...
Ideally located between Coleman Boulevard and Johnnie Dodds (Hwy 17), we are in one of the most sought-after neighborhoods in the Charleston area. It's the ideal location whatever the reason for your visit. Walk to Shem Creek for a meal and a sunset view. Jog to the Old Village or the Ravenel Bridge. The beautiful beaches of Sullivan's Island and Isle of Palms are a 10-15 minute drive. Downtown Charleston is easily accessible - just a 5-minute drive over the bridge and you are there!
This studio apartment is perfect for 2. You could squeeze 3 if needed. The bed and pillows were comfortable. The host stocked water, coffee, snacks and toiletries which was so helpful when we got up at an early hour to walk to the start line of the Cooper River Bridge Run. This apartment is in the neighborhood across from the Shem Creek park and boardwalk and took no more than 15 mins to walk there, if that. This apartment is over the garage attached to their house. Ample parking is provided. The hosts were quick to respond to any messsges. I recommend this space as a very good value in close proximity to Shem Creek. We will be back!
Lisa
2017-04-02T00:00:00Z
This is a great landing sport for visiting Charleston and surrounding area it's a beautiful quiet neighborhood within a few minutes drive of everywhere. Stacey and Tefo are very nice and very accommodating to our questions
Kyle
2017-03-21T00:00:00Z
The Moroccan-style loft was exactly what I needed! I was getting some work done on my own house so it was a nice getaway. I loved the look of the bamboo floors paired with the charming decor. Although it is a part of their home, it was awesome having my own entrance and i felt totally independent! Upon arrival, Stacy and Tefo happened to be home. They are so kind and made sure I had everything i needed for my staycation! I was so glad to have coffee each morning available in the Kurig and they even had some bars to take to go. The location was ideally tucked away in the best part of Mt. Pleasant where I could walk to my favorites, Trader Joe's and Whole Foods for some light groceries. The best part of the experience was feeling like I was getting a good deal, having a clean space and being minutes drive from downtown Charleston and the beach on barrier islands. Since Charleston has the world's best restaurants I didn't need more (than microwave and kurig) in the loft! I would definitely stay again as I complete my renovations on my own home and will highly recommend to friends and family coming to Charleston!
Brandon
2017-03-31T00:00:00Z
This charming place was very comfortable and the owners made the process extremely easy. They also thought out all the details and made sure the place was ready with any necessities you may have forgotten to pack. We enjoyed the worry free stay!
Dominick
2017-03-25T00:00:00Z
Room Type
Entire home/apt
---
Property Type
Apartment
---
Accommodates
2
---
Bedrooms
Mount Pleasant, SC, United States
Newly renovated and great location! Granite countertops and new appliances just installed (will update pictures when yearly renters move out April 21). Centrally located just minutes from downtown, the beaches, Shem Creek, and much more! Walking distance to the Ravenel Bridge and Water Front Park which includes the Mt. Pleasant Pier and playground. Explore downtown Charleston, experience the beaches, relax by the pool, or walk to the Pier to cast a line and watch the sun setting over the harbor.
Welcome! I've decided to switch from yearly renters to short-term renters beginning in late April of 2017 (hence no reviews yet). New granite countertops have been installed in the kitchen and bathrooms , as well as new appliances (pictures will be updated when renters leave April 21). In addition, the condo will be furnished with all new furniture once my yearly renters move out to their new home. The location of this unit cannot be beat. The base of the Ravenel Bridge leading to historic Downtown Charleston is about 1/4 mile away and there are no stoplights in between. The unit is also about 5 minutes away from Shem Creek and all the other attractions on Coleman Blvd in Mt. Pleasant, and about 10 minutes away from the local beaches. Enjoy quick rides with convenient parking, or call an uber for a cheap ride to a nearby attraction. If driving isn't your thing, the Mt. Pleasant Park and Pier is just a short walk down the road. The Pier provides one of many opportunities to see the harbor, and it also is available for fishing. I worked as a local charter captain while paying my way through school, so feel free to reach out with any questions if fishing is your thing. There is free parking available at the unit, and you will have full access to the pool, gym, and tennis courts. I live 2 miles way, and you are welcome to store your boat on a trailer at my home for a small fee. Please message me for details. Please be respectful of all neighbors throughout your stay, and let me know if you have any questions or concerns.
Room Type
Entire home/apt
---
Property Type
Condominium
---
Accommodates
4
---
Bedrooms
Mount Pleasant, SC, United States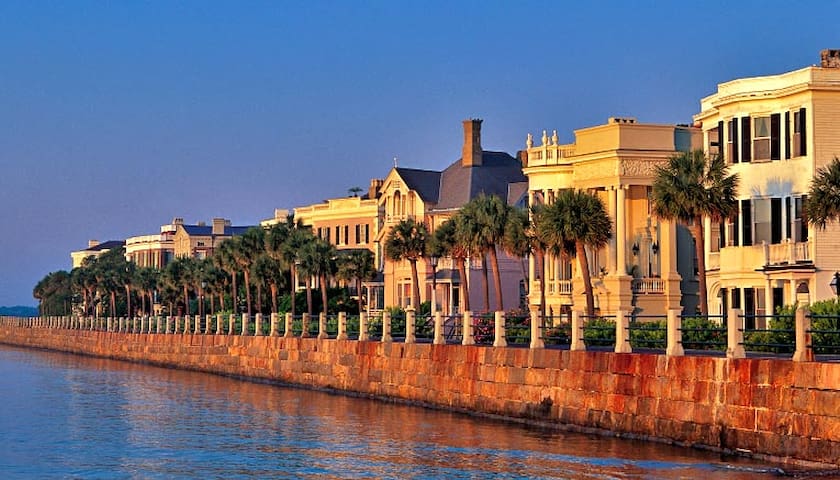 This 800sf private 1st floor is located in a quiet, established neighborhood in the heart of Mt Pleasant. Your private entrance (through white door photoed) opens into a spacious living room equipped with Apple TV, and bar room efficiency (mini-fridge and microwave). 1 Cozy bedroom with Queen Bed plus 1 full Bathroom with Jacuzzi tub. Easy 10 minute drive to beaches, 15 to Downtown Charleston, 5-10 mins to restaurants, shopping, movies, and Whole Foods. Shem Creek area offers local nightlife.
We really enjoyed our stay at Justin's place. It was very quiet and comfortable. He mentions having dogs in the listing but we never saw them or heard them. We would definitely stay again.
Kyle
2017-04-03T00:00:00Z
Justin's bungalow was the perfect spot for a quick getaway to Charleston. The garden tub was HUGE and the space was so clean and cared for. Checkin was a breeze, and Justin answered all questions immediately. Easy 20 min drive into town- enough distance away that you can enjoy the suburbs as well as the city. Would definitely stay here again!
Faith
2017-02-26T00:00:00Z
Justin is a great host and communicates quickly to his guest. Very clean and comfy place. Great if you want to get to the beach or into Charleston. We will be back.
Susan
2016-11-26T00:00:00Z
Lovely space that I looked forward coming "home" to every day. A quiet sanctuary provided by a great host, Justin, who will go out of his way to accommodate. I spent the better part of 2 months there and thoroughly enjoyed it.
Robbie
2016-11-02T00:00:00Z
Justin's place was the best Airbnb experience I've had yet, and I've used Airbnb all over the US and Europe! Justin's an artist, so the place is beautiful. The bed is comfortable, the bathroom great, the sitting room perfect, with a large screen Apple TV. It's a short drive to the beach, and only minutes away from historic downtown Charleston. The neighborhood in old Mount Pleasant is quiet and safe, with many great restaurants and places to shop nearby. It's the perfect place to stay for a vacation or business travel! I loved it so much I'm booking for the entire month of March! It's the perfect "home away from home" for me, and Justin is a sweetheart of a host! I'm thrilled to have found this place!
Julie
2016-11-12T00:00:00Z
What a great place - just as pictured. Very quiet and secluded, yet close to major highways and downtown, beaches, and shopping. Justin was awesome - very responsive to communications. LOVED staying here and will definitely do it again on return visits. A true Home away from Home.
Donna
2017-04-08T00:00:00Z
Room Type
Entire home/apt
---
Property Type
Other
---
Accommodates
2
---
Bedrooms
Mount Pleasant, SC, United States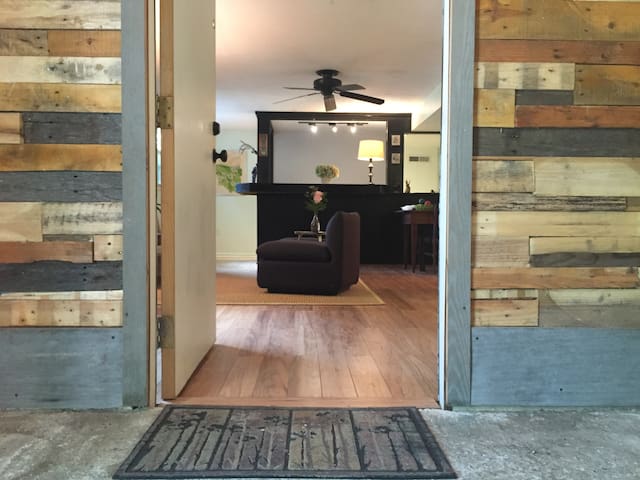 This charming three story building is in a perfect location for visitors who want to explore this great city. Our simple and cute one bedroom apartment is located on the third floor giving a tree house like vista from the cozy porch. HIGH LIGHTS: Historic, clean, only 2 blocks to Shem Creek restaurants/bars/kayaking/boating/walking, 3.5 miles to Sullivan's Island, and 5.5 miles to downtown Charleston.
Our place is a charming 1 bedroom, third floor apartment in the heart of The Old Village of Mount Pleasant. This unique apartment has original hardwood floors, decent size rooms and light filled windows. When the sun is blazing the outdoor area is a cozy shady porch that is a perfect place to chill out and enjoy a cold beverage and when the afternoon thunderstorms are rolling through it's a wonderful dry place to watch the rain come down. There is plenty of free off street parking which is great because you'll be walking distance to the many bars and restaurants on Shem Creek, Coleman Boulevard, and the quaint Old Village Pitt Street shops.
The Old Village has so much to offer and most of it is within two blocks of this apartment. The Pitt Street shops have a fantastic restaurant called The Post House, a couple of very cool dress/gift shops, and an old school pharmacy where you can still get an ice cream float. There's a public basketball court, public tennis courts and a playground that's a pretty 10min walk away. Shem Creek doesn't just boast bars and restaurants, it has free access to the water if you have a SUP, kayak or any other small water craft that you want to launch. If you don't own your own there are two rental outfits that have all different types of small water crafts. But wait, there's more! You're only 3 and a bit miles away from Sullivan's Island where you can relax on the beach and visit more restaurants and then, in the other direction, you're only a 10 min drive to the heart of down town Charleston.
Oh my Goodness! I finally found my favorite Vacation Rental in the greater Charleston area. Merideth was such a gracious host and the place was set up perfectly with lots of little things that made it comfortable and fun.
Joe
2016-06-20T00:00:00Z
Well....I just can't even begin to find the words to describe how wonderful our stay was at Meredith's home in Mt. Pleasant. First of all, the communication with Meredith prior to our arrival was incredible. I had questions and requests to which she responded quickly and graciously. I could go on and on and ON about her, but I will just say that she is a very lovely, caring and helpful young woman. I'm just disappointed that we did not get to spend time with HER! Meredith did everything to make certain that our stay was perfect. On a couple of different occasions, she went beyond the call of duty to help us out. Her home is lovely - very clean, cozy and comfortable. There were fresh eggs, bagels, cream cheese, butter and orange juice in the fridge which was so welcoming since we got in way to late to do any shopping. She even provided toothpaste, soap and shampoo. All the necessities were there. The Bed. Oh my gosh! The bed was amazing. I actually really miss the bed!! The apartment was in the best location with close proximity to everything. Easy, short walking distance to amazing restaurants and a 10 minute drive over the bridge into Charleston. We made a bunch of trips to and from the city and each time commented on how easy the drive was and how close the city was to us. Should we visit the Charleston area again, I can't imagine staying any where other than Mt. Pleasant. It's such a quaint, clean. safe and historic little town. And I wouldn't think of staying any where else other than Meredith's perfect home.
Vicki
2015-10-20T00:00:00Z
Meredith was great and we were extremely happy with our stay. Couldn't have asked for anything better.
Cody
2015-02-24T00:00:00Z
The apartment was nicer than advertised. Spacious 1 bedroom space, functional kitchen, comfortable couch and bed. Meredith had fresh sheets, towels etc out for us. There was even coffee and breakfast food in the fridge. She included post-it notes for various information including the wifi password. Everything was great. I would definitely stay here again when in Charleston.
Paul
2014-09-08T00:00:00Z
Meredith was wonderful and her apartment is charming. Our stay in Mount Pleasant was amazing and starting our day drinking coffee on Meredith's porch in the morning heat was a big part of that.
Holly
2016-05-18T00:00:00Z
We want to thank Meredith for the use of her rental apartment. It was conveniently located to Charleston and the surrounding beaches. It was reasonably priced, cute, cozy and comfortable. We wouldn't haste to stay here again. :)
Maria
2015-05-23T00:00:00Z
Meredith was a perfect host! She communicated well and was easy to reach with any questions. The apartment was comfortable, clean and quite adorable. Loved the porched! It was the perfect distance between downtown and the beach. She even had provisions in the fridge! Would definitely recommend this place, and would book it again.
Carly
2015-04-13T00:00:00Z
We enjoyed our stay in this clean cozy home. Meredith was so friendly and helpful. We were able to make coffee and enjoy the bagels and eggs. (Meredith graciously left for us) we loved the town. So much to do. Would highly recommend
Liz
2016-04-20T00:00:00Z
Room Type
Entire home/apt
---
Property Type
Apartment
---
Accommodates
2
---
Bedrooms
Mount Pleasant, SC, United States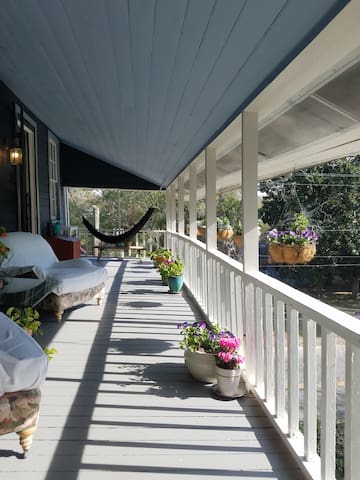 Welcome to the Brookgreen Bungalow! Here you will enjoy the beauties of the lowcountry including beaches, historical sites, and the bustling happenings of downtown Charleston, all while in the comforts of a cozy, family neighborhood. Bike to Sullivan's Island's peaceful beaches or Isle of Palm's majestic waves. Walk to Shem Creek and enjoy the coastal life at its best with water sports, mouth watering dining, and refreshing cocktails all while enjoying our beautiful sunsets.
The freshly painted bungalow offers one bedroom with a king size bed, a queen size sleeper sofa in the living room, and a full kitchen with dishwasher as well. Plenty of fresh new linens are available, along with a Keurig machine for beverages. We have compiled a guide of everything you will need to know to make your trip unforgettable, along with our personal favorites. Enjoy your privacy with a separate entrance behind a fully enclosed privacy fence.
The bungalow sits among the Old Mt. Pleasant neighborhood, which is only 3 miles to Sullivans Island, less than 1 mile to Shem Creek, and only 2 blocks from the starting line of the popular Cooper River Bridge Run! A quick Uber ride (approx 8-12 dollars) will land you in bustling downtown Charleston. Walk or Bike to the stunning Pitt Street Bridge to pop in your kayak and watch the sunset. Walk to popular Coleman Blvd which boasts restaurants, shops and, exercise venues alike, only two blocks away.
Great place. Wish we could've stayed longer.
James
2017-03-25T00:00:00Z
The Brookgreen bungalow was a perfect stay for our anniversary getaway. Comfortable and well appointed. Close to great dining and the beach. We rode the provided bikes to Sullivan's Island one afternoon. Didn't get to meet Jacqui or Patrick, but check in was a breeze and they went well beyond expections to make sure we were comfortable. My favorite Air B and B experience by far!
Mark
2017-02-27T00:00:00Z
Jacqui and Patrick's bungalow was beyond comfortable, cozy and charming. We felt like we were right at home, and they provided everything we needed to ensure our stay was well-equipped and relaxed. The bungalow was extremely clean and decorated beautifully to reflect the coastal charm of the area, and the bungalow itself had everything we needed, from the k-cups for our morning coffee to extra linens. They also provided a very helpful binder of local recommendations, which was great. They were extremely flexible with check-in and allowed us to drop off our luggage prior to check-in so that w could immediately start exploring the area. We also had the chance to meet their adorable dog. We didn't have a car and were able to walk to the local shops and restaurants. Otherwise, There was always an Uber driver available in the area to take us around. Thanks, Jaqui and Patrick for a wonderful stay!
Tammy
2017-03-29T00:00:00Z
Jacqui's place was clean, accommodating and just as described! We had a wonderful weekend in Charleston and would definitely stay here again in the future. Thank you so much for hosting!
LeElaine
2016-12-11T00:00:00Z
The cottage was is a excellent location about 5 minutes from both the beach and downtown Charleston. Neighborhood was quiet and family friendly. Walking distance to restaurants and some shops as well.
Ember
2017-01-15T00:00:00Z
A great base of operations for exploring Charleston. Take Uber to Downtown, Sullivan's beach, etc for $5-6. The space is super quiet, impeccably clean and well outfitted. The hosts were quick to respond to any questions or concerns (not that we had any). Highly recommended.
Arend
2016-12-31T00:00:00Z
Our stay in Mt. Pleasant was amazing! The bungalow was quiet, cozy, and comfortable. We were out and about most days and having a place like this to come home to each night made it so much nicer. We didn't get to Mt. Pleasant until almost midnight on our first night and the bungalow was well lit and made us feel right at home. Thank you again Jacqui and Patrick!
Tony
2017-03-22T00:00:00Z
My stay at Jacqui and Patrick's bungalow was without fault. The location was great, the apartment was clean and pleasingly decorated. Having direct access to a washer and dyer was a plus. After each great, long day with my daughter, I looked forward to returning to the bungalow where the environment was easy to relax and recharge my energy. I couldn't find the time to ride the bike that was available; which this was my only regret. I look forward to staying at Jacqui and Patrick's when my daughter graduates in May!
Deborah
2016-11-07T00:00:00Z
Room Type
Entire home/apt
---
Property Type
Bungalow
---
Accommodates
4
---
Bedrooms
Mount Pleasant, SC, United States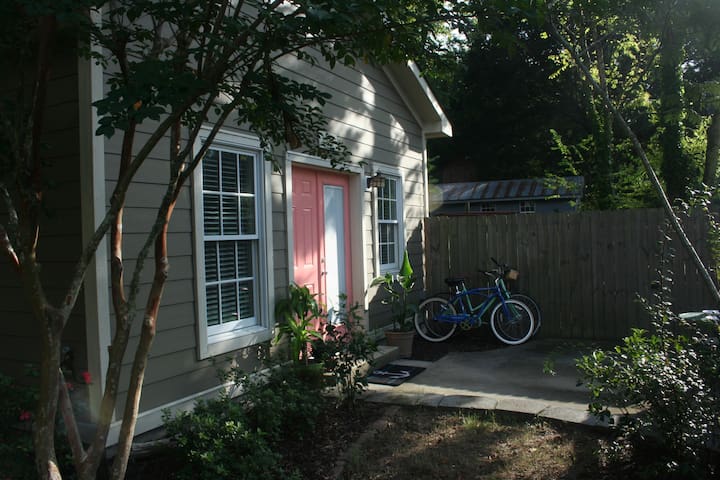 Location! Live like a local! I invite you to stay at my cozy new private 1 bedroom apt located a block from Waterfront Restaurants, Coffee shops, Bars, Gorgeous Shem Creek and Marina. Stunning Sullivan's Island Beaches and Downtown Historic Charleston are less than 10 mins away. Biking, Kayaking, paddle boating and fishing are just some of the outdoor activities within a few steps. So come park your car free and live like a local. On site is Shem Salon and Massage where services can be sceduled
Location Location Location! Leisure Travelers and Business !! Welcome to this Unique newly decorated 1 bed apartment which is bright, cheerful and cozy plus a block from everything! Park your car free and enjoy the front yard charcoal grill, unbrella with chairs and even a crochet set. The space inside is very light and airy with hardwood floors, crown molding, central air, free wi-fi and a smart tv with Premium movie channels. The leather electric fold out couch can accommodate two or make a killer place to put your feet up and relax. There is a kitchen with full size refrigerator, microwave, toaster/confection oven, Keurig coffee maker and all utensils. Located in a separate bedroom is a comfortable queen size bed, down comforter, Egyptian cotton sheets And a ceiling fan. The full bath is a tub and shower combo, storage closet and toiletries are provided. Two rocking chair beach chairs are in the closet as well as beach towels. There is also is a hanging bar above tub for wet bathing suits and towels. Two beach cruisers are onsite and may be used by request. Bike to Sullivan's Island in 10 mins. Walk to the all the gorgeous waterfront restaurants, bars, coffee shops and Shem Creek park with views of Charleston harbor. Dolphins regularly are seen playing in the water. The boat landing is a block away so bring your boat for an extra fee. Schedule a massage or hair design/color next door at Shem Salon and Massage located on site. Fishing, paddle boating, kayaks and art lessons are within the block. Live entertainment every weekend at a variety of places. Walk to Reds, Tavern and Table, Waters Edge, The Shelter and Arts Bar & Grill, the marina and Shem Creek Park to name a few. Art's has all-you-can-eat oysters for $18.99 on weekends! Also Red Drum has a fabulous Brunch with bottomless champagne for $14 with your meal on Sunday. An absolute treasure is Pages Okra Grill across the street that opens at 6am for breakfast and the most amazing country family dishes in the Lowcountry at reasonable prices. It's always packed and is a local favorite. A sunset catamaran cruise in season leaving out of Shem Creek for spectacular views of Charleston, the bridge and the most incredible sunsets you've ever seen. Don't be surprised if you see many dolphin swim up and maybe a manatee. For beautiful shops and an old fashioned soda shop pharmacy check out Pitt Street Pharmacy in Old Village and the park where you can fish, crab, bike, picnic and see a 360% view of Isle of Palms, Sullivan's Island, Ravenel Bridge and Mt Pleasant waterways. The city bus transit picks up on the next block for rides into Charleston or Town Center to go to a variety of chain restaurants and shops. ( Pf Chaings, Long horns, Belk, Barnes and Noble, White House Black Market, Victoria Secret, Movie theaters and many more!
I love my neighborhood because everything is within walking distance. It's a casual and fun place with a friendly atmosphere.. This location puts you in the center of everything at a reasonable price. I hope you will choose to visit !!
The apartment was comfortable and as described. I would recommend the location and LORI was very professional.
Philip
2017-03-31T00:00:00Z
This is a great little place in the heart of a Shem Creek. We arrived to a lovely bottle of champagne and some fruit and food items provided by our host Lori. Very clean. Plenty of towels, shampoo, etc.
Nancy
2017-04-09T00:00:00Z
Lori's place is in a great location - walking distance to many shops, restaurants, and night life! It's also a short drive to the beach or to downtown Charleston. Lori does a great job of taking care of her guests and meeting their accommodation needs!
Stephen
2017-04-02T00:00:00Z
Lori is very friendly! Apartment was just as advertised & in a great location! Would recommend staying!!!!
Amanda
2017-03-19T00:00:00Z
We had a great getaway! The amenities were enjoyable and Lori's hospitality was gracious. We loved being able to walk to Shem Creek as the dining and nightlife were high quality and fun. Perfect balance of price and expectation. Thank you Lori!
Daniel
2017-03-26T00:00:00Z
Room Type
Entire home/apt
---
Property Type
Apartment
---
Accommodates
4
---
Bedrooms
Mount Pleasant, SC, United States
Incredible location between downtown and the beach, brand new renovation, chic decor, and views of Carolina sunsets over the Ravanel bridge. What more could you want? The apartment is spacious, incredibly clean, and well kept. You will feel at ease the second you walk into this space. You can't go wrong with a trip to Charleston, but you CAN make it that much better by staying here.
This is the only area in Mount Pleasant that is incredibly walkable. You're right next to several bars, restaurants, coffee shops, yoga studios, etc. and even a quick bike ride to the beach.
Room Type
Entire home/apt
---
Property Type
Apartment
---
Accommodates
2
---
Bedrooms
Mount Pleasant, SC, United States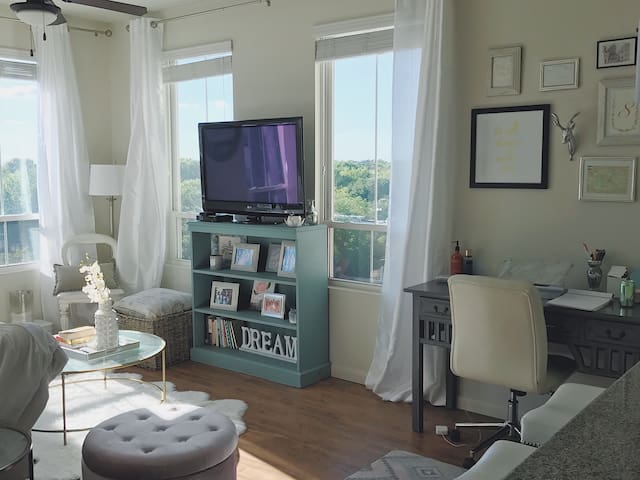 Enter dates to see full pricing. Additional fees apply. Taxes may be added.