Lovely studio,wonderful valley views on one side (often to the ocean) and up majestic wooded mountains on the other side - beautiful 19' by 12' bedroom w/new TV - modern shower bathroom- large,modern kitchen with stove microwave, bar refrigerator.
The apt. is on the ground level of a lovely modern dwelling located on a beautiful hillside in the Pasadena Glen. We are located at the top of a hill which allows for the spectacular views.
It's rural, private and lovely, yet close to abundant city amenities.
Host was very welcoming. Ann made sure we got there safe and sound and called to make sure we knew how to get there. Once we arrived, she gave us a tour of the place and told us everything we needed to know. She also recommended many things we could do. Overall, she and her husband was very helpful.
Ray
2016-06-21T00:00:00Z
We so enjoyed our stay at Glen Delight. The space was clean and inviting. The bed was extremely comfortable. Ann was such a gracious host.
Ruth
2016-12-28T00:00:00Z
Staying here was a extremely pleasant experience. Ann was very kind and made me feel at home. The description is accurate and I highly recommend.
Nasi
2016-12-09T00:00:00Z
Anne was lovely and the location and suite were fantastic. Highly recommended.
Raffi
2017-03-21T00:00:00Z
Ann and her family welcomed us warmly and made us feel completely at home. The accommodation was lovely, quiet with great facilities for preparing light meals. The bed was huge and very comfortable.
Caroline
2016-06-08T00:00:00Z
Glen Delight was a lovely beautiful retreat, nestled in the hills of Pasadena. It was a comfy studio with wonderful views and plenty of fresh linens, lots of space to hang clothes and a working kitchen if you want to cook. Ann was very welcoming and helpful. A nice place to disconnect for a few days, turn off the devices and enjoy the beauty of your surroundings.
Traci
2016-04-11T00:00:00Z
This place is high on a hilltop with an amazing view! Wonderfully gracious hostess and very generous and private space. I hope to return -
Anne
2016-11-14T00:00:00Z
Ann was very hospitable right from the start! She was easy to work with and communicate with. We definitely would come back.
Daniel
2016-09-04T00:00:00Z
Room Type
Entire home/apt
---
Property Type
Apartment
---
Accommodates
2
---
Bedrooms
Pasadena, CA, United States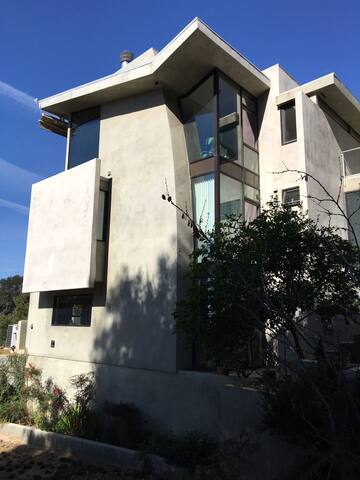 Private studio apartment with separate entrance from our main house. Full bath. Kitchenette, including full refrigerator, microwave, and toaster oven. Off-street parking.
Our street is quiet and near great hiking trails. There's a fun breakfast place around the corner and up the street where locals hang out and eat great food. Downtown Sierra Madre is an easy walk away.
Our town is relaxed and friendly. We're five minutes from the 210, but you'd never know it. The San Gabriel Mountains are right behind us.
Great value and great location. Luisa continues to be a wonderful host!
Ellen
2017-03-24T00:00:00Z
The location is very quiet and private.
Marquies
2017-02-04T00:00:00Z
Great roomy studio-style apartment to one side and below the very nice main house. Has a good-sized kitchen area, full-sized fridge, micro and small toaster over, basic utensils. All very clean and nice. Plenty of hot water. Nice bathroom. Very quiet. Good place to have a restful night of sleep on the superb bed. Fascinating area up in the hills that I know from having lived in LA in the past, but it was really nice to see it again and take a walk on the hillside streets at night. Beautiful.
matt
2016-12-31T00:00:00Z
Nice, Quiet neighborhood, My boyfriend and I needed a last minute stay for one night and this one was available. We were scarred bc this was our first time ever using Airbnb but overall everything was perfect. Clean studio and is actually pretty big! I totally recommend anyone to stay here! Directions given from Luisa were pretty clear and lived how she put sticky notes for more information as well! I would stay here in the future if needed again!
Destinymarree
2017-03-25T00:00:00Z
Luisa was a great host! Wonderful property with a beautiful view. All the amenities one needs. Will definately stay here again, if ever in the area.
Steve
2017-01-03T00:00:00Z
Luisa's place was everything we needed for a quick over night stay. It was very clean and cozy and in a wonderful area. Luisa made our check in seamless. Would definitely recommend staying here.
Rubymae
2017-01-06T00:00:00Z
Everything was as described, very clean and comfortable. Great communication between me and Luisa. I would definitely stay again, thank you for having us.
Josh
2017-01-08T00:00:00Z
Another great stay at Luisa's!
Ellen
2017-03-31T00:00:00Z
Room Type
Entire home/apt
---
Property Type
Apartment
---
Accommodates
2
---
Bedrooms
Sierra Madre, CA, United States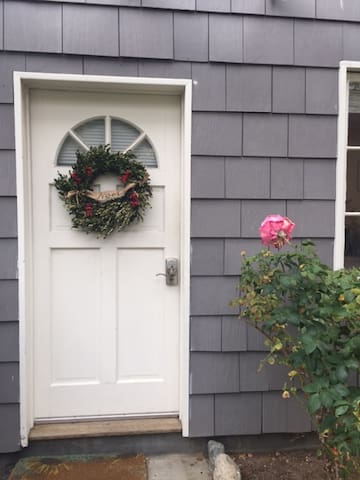 Cozy back house/studio near Hastings Village and Pasadena Rose Parade float viewing. Studio has a California King bed with ortho mattress with a large master on-suite bath and fully stocked kitchenette overlooking a beautiful yard with fruit trees. Has a separate entrance and totally private but attached to the main house.
This space is in a highly desirable and safe neighborhood of northeast Pasadena. It is walking distance to where the Rose Parade floats park for viewing on January 1st, 2nd, and 3rd. It has many restaurants nearby. 10 minutes from Old Town Pasadena and 20 minutes to Downtown LA (La Live, Staples Center, jewelry district, Fine Dining) ALL GUESTS TO STAY IN PASADENA MUST REGISTER FOR STREET PARKING IN PASADENA AREA. No parking allowed on the street after 2:00 am-6:00 am. This is a city ordinance. PLEASE PLEASE PLEASE purchase your guest parking permit and print out for duration of stay BEFORE your arrival. It's 3$/day for the permit. Or you can go to the Kiosk located at 2424 Villa St Pasadena Ca in front of Pasadena Fire Station No 32 which is 5 min from home to purchase the Overnight parking for the duration of your stay. To purchase the overnight parking you would need your full name, Vehicle License plate #, make and model of car, and color of car.
Very safe neighborhood in upper Hastings ranch where they do Christmas light up month of December ALL GUESTS TO STAY IN PASADENA MUST REGISTER FOR STREET PARKING IN PASADENA AREA. No parking allowed on the street from 2am-6:00am.
Amazing place ! Love how big and functional it is ! The location is perfect and close to a lot of things . We felt like we were on an expensive suite of an hotel for how beautiful everything was . Would definitely be back ! The best we have ever experience with airbnb . Also Peggy it's so nice and always available .
makbule
2017-03-13T00:00:00Z
It was a beautiful space, in a cute area, and Peggy made it an easy stay! Would do it again!
Nicole
2017-03-05T00:00:00Z
Overall,I had a great stay and would recommend coming back here if I had to be in the area.
Alex
2017-03-29T00:00:00Z
The host canceled this reservation the day before arrival. This is an automated posting.
Tom
2017-01-02T00:00:00Z
Great place and great host!
Ricardo
2017-02-17T00:00:00Z
Peggy was very helpful in giving my friend and I directions for getting to the place and checking in. However, it can be a bit confusing to find the gate and entrance but the host's son helped us with the key and where to find our place. We didn't get to meet Peggy but she left a lovely note with her phone number and wifi on the dining table. The room has a small kitchen with a stove, a fridge, and a microwave, and as you walk past it, you're entering the bedroom area. Even the bathroom was really lovely but the only downside and inconvenience to this airbnb is the noise level and how it's attached to the rest of the house. Walls are paper thin, and the bedroom is divided by a closed door that leads to what seems to be the living room/kitchen area of the host's house. This means you hear the TV, any music or conversation going on, as well as the fridge opening and (URL HIDDEN) you're lying on the bed. I don't know what was going on but on both late afternoons and evenings, the noise level was quite high to extremely high (second night, volume of TV or music maxed for a good hour). This meant my friend and I couldn't really unwind in the airbnb area until the host's family was also resting up. All in all, it was a decent stay (and we made sure to leave the place clean, with trash bags sealed, etc.) but I wouldn't recommend this space for anyone seeking a private space or a quiet getaway. For those of you who plan on just using the space as a place to catch some sleep, this will definitely suit.
Esther
2016-12-20T00:00:00Z
Nice place to stay.:)
irvin
2016-12-04T00:00:00Z
Peggy's place was great. There was a wonderful shower and bath, a good bed, a large TV, good wifi connectivity, and easy access.
Andrew
2017-03-21T00:00:00Z
Room Type
Entire home/apt
---
Property Type
Apartment
---
Accommodates
2
---
Bedrooms
Pasadena, CA, United States
My place is close to parks, great views, and restaurants and dining. You'll love my place because of the location, the people, space and natural light. My place is good for couples, solo adventurers, business travelers, and families (with kids).
Greg has a beautiful guest house situated in what I consider Northern Altadena. Always a quick trip to downtown LA for business and a relaxing setting to return to at the end of the day. Internet is consistent but may be a tad slow for those who require a lot of bandwidth for teleworking. Will happily look to book again when the need arises.
Duncan
2017-02-15T00:00:00Z
Room Type
Entire home/apt
---
Property Type
Apartment
---
Accommodates
2
---
Bedrooms
Altadena, CA, United States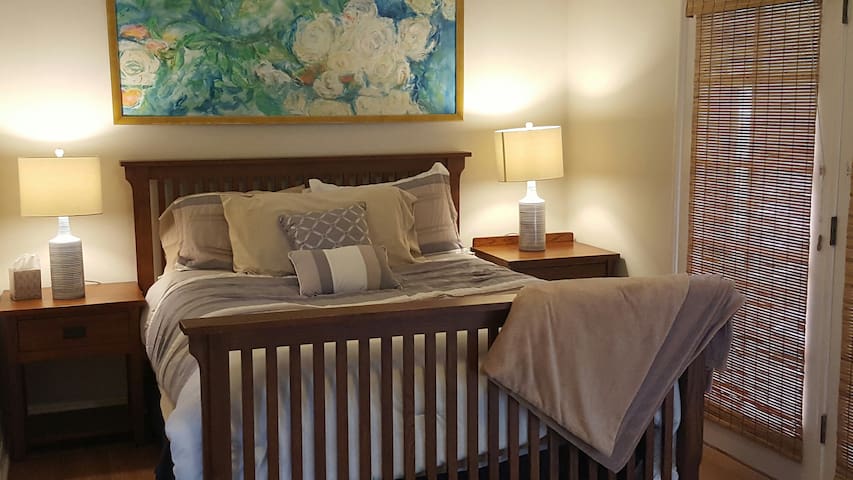 This is a comfortable and unforgettable studio in the mountains on the north edge of Altadena. Located on the Zorthian Ranch. One large room, with a bathroom and large covered porch, as well as a small private yard.
This property is located on a ranch, which also has a few other airbnb's spread across the property. It is in the mountains above Altadena.
Alan and crew did an excellent job describing the property and providing an overall top-notch experience. The studio is gorgeous and clean, and the property is so eclectic and calming, we didn't want to leave. Only downside was the road in - not easy to navigate in the day time and much harder at night. I was in a mini cooper and bottomed out a few times. It would be great if they fixed the potholes. On the plus side, being so out of the way enabled us to see foxes and coyotes and fall asleep to crickets. And we woke up to orange juice and bagels in the fridge =)
Shawnee
2016-08-08T00:00:00Z
This is the most amazing place I've ever stayed at. Originally we were supposed to be in Seattle but got stuck in California due to cancelled flights. Stumbled upon this amazing historical place. Got in late so it was scary the first night. When the morning came it was s(PHONE NUMBER HIDDEN) beautiful. Wandered around and learned the history and was super appreciative of staying here. The view is unbeatable. Can not wait to come back and spend more time on the ranch.
Arnold
2016-07-31T00:00:00Z
The host canceled this reservation 2 days before arrival. This is an automated posting.
Ben
2016-08-20T00:00:00Z
this place is very, very special! even mystical, we'd say. a sort of post-apocalyptic garden of eden. a place where art and architecture combine, where seemingly ancient ruins serve as pedestals for grandiose but whimsical modern sculptures. we live in los angeles, but wanted to get not-too-far out of town for henny's birthday weekend. i had heard stories about the ranch for years, and when henny discovered it on airbnb we jumped at the chance. we spent the timeless weekend exploring, hiking, climbing (once with goats) and even swimming (!) in an amazing salt water pool with a magnicent view of distant, but really not-so-distant los angeles. we felt eons away. our accomodations were very comfortable with a beautiful, palatial porch out front: truly the work of an artist with a vision. the entire ranch has a uniquely personal aesthetic, yet it seemed to share some of the building philosophies of paolo soleri's arcosanti, or the earthship biotecture in new mexico, both of which we had just recently visited. visionary stuff! the staff at the ranch were all friendly and very helpful, both leading up to and throughout our stay, and the few eccentric residents we encountered here and there in our wandering made us feel quite welcome. we had an unforgettable adventure here, filled with peace, tranquility and creativity, and we hope to visit zorthiania again soon. thank you for the unique experience!
Henny and Pete
2016-08-14T00:00:00Z
The host canceled this reservation the day before arrival. This is an automated posting.
Debby
2016-08-20T00:00:00Z
There's a great group of people on the ranch. You feel like you're worlds away, but a quick drive down the hill and you're in the heart of the Altadena/Pasadena area, which has just about any modern convenience you could ask for. The grounds have great character and history. One of the coolest places you could find on airbnb. The pool is awesome and so are the animals. The studio is great and very unique. Open, airy, nice natural light. Bed and sofa/futon are comfy.
steve
2016-08-11T00:00:00Z
Staying at Zorthian was a tremendous experience for us. We were visiting the Pasadena area for a family wedding, and booked out the entire Zorthian Ranch - the main house plus both individual studios for three nights. Among the highlights: - Very clear and consistent communication with Alan and the entire Zorthian staff (including Robert and Gary!) both prior to our arrival and throughout our visit. - The main house is spacious and great for a large family, while the studios are both very distinct and meet the needs of individual travelers or couples. Everything was clean and comfortable. - Having the Zorthian staff around the property was not only fun, but they were able to answer our questions and provided a sense of security. They also respected our privacy. You can really relax in this mountain retreat knowing good folks are always around. - The entire Zorthian property is aesthetically fun and funky, with many areas to eat, relax, walk, and lounge. - The pool is saltwater, with views of the mountains in one direction and downtown Los Angeles in the other - need we say more?! We highly recommend Zorthian as a comfortable and welcoming retreat for families and small groups who want easy access to the Pasadena and greater LA area, while also getting away up into the hills for a distinctively unique experience. With family in the area, we'll be back!
Ebony
2016-06-26T00:00:00Z
Beautiful. Historic. Deffinetly going back but with more friends!
Ian
2017-02-20T00:00:00Z
Room Type
Entire home/apt
---
Property Type
Apartment
---
Accommodates
3
---
Bedrooms
Altadena, CA, United States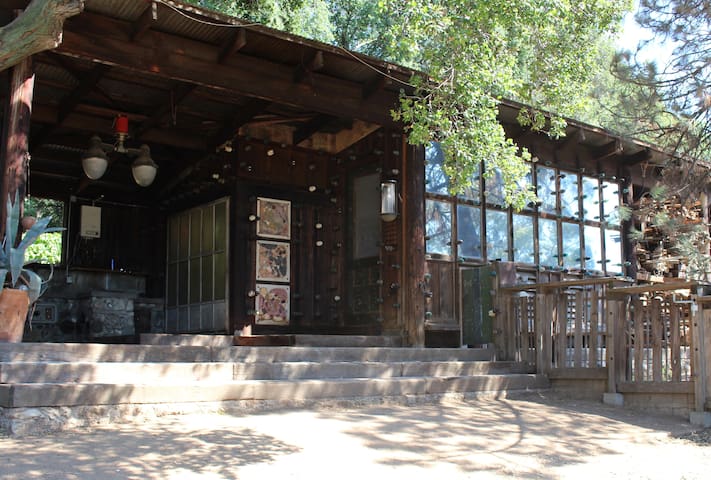 1

–

5

of

5 Apartment Rentals
Enter dates to see full pricing. Additional fees apply. Taxes may be added.