Stunning stand alone guest house located on half an acre of green lawns. Facing a beautiful swimming pool, this home offers a spacious area with a kitchenette, dinning area, TV area, modern bathroom with rain shower, a fold down queen size bed & a single trundle bed.
Renovated with love this beautiful guest house has a balinese ambiance. You can open the french doors to the garden and enjoy a relaxing waterfall in the swimming pool. The outside area is perfectly equipped with BBQ, dining table, swing chair, kids playground and most importantly Bali Hut which is equipped with Sonos speakers & Hue lights that will create a desirable ambiance through an easy app and you can relax and have a drink.
Our neighbourhood is very calm and beautiful, but convenient as it has easy access to many places. Redcliffe, a popular spot with nice beaches, parks and restaurants is only 13 km away. There is a great tavern across the road from us that has excellent food and fun playground for kids; public swimming pool; supermarkets; Westfield Shopping Centre.
The pool house was amazing, Sasha was a great host and had it in amazing condition upon our arrival. The pool was very nice and clean, and Shadow the Labrador was very well mannered and very friendly. Would highly recommend and advise that despite it being a granny flat it has the potential to be extremely private and nice.
Cooper
2017-02-15T00:00:00Z
My husband and 2 small children stayed with Sasha in Murrumba Downs to be close to family, as soon as we arrived we said We're not going anywhere, we're staying here for the afternoon/evening, beautifully set up guest house which is immaculate and nicely decorated as well as awesome outdoor area with bbq,pool,playground and balinese style deck to hangout on. We will definitely return when coming to visit family. Thanks Sasha for your hospitality.
Lisa
2016-11-11T00:00:00Z
Our recent stay in the pool house was fantastic. I needed somewhere quiet to stay with my daughter for a few days while I attended some meetings. The pool house was a perfect base to have. Shadow was a big hit with my daughter who was missing her own dog. The pool was also great. I will definitely stay here again and I would recommend for others.
Angela
2016-01-13T00:00:00Z
We absolutely loved staying here. Lovely space, beautifully appointed and Sasha was a very accommodating hostess. I would highly recommend.
Greg
2017-02-19T00:00:00Z
Where to start with the review. Our stay was fantastic. Firstly we were warmly greeted by Shadow (the happy go lucky canine food vacuum). Sasha, our host was quick to follow, whom makes you feel welcome from get go. Shown to the pool house, where all your needs are met, you soon succumb to the relaxed vibe, and after a quick rundown on the Sonos wifi entertainment system, your chill time kicks into gear. The heated pool, Bali hut and BBQ area were all ours to enjoy and made the time so very easy. Had an absolute ball, all the kids getting along like forever friends, and Sasha couldn't be more pleasant. Highly recommend if you are after an easy home away from home, Sasha's ticks all the boxes. The only negative, was that I couldn't stay longer. A+++
Lee
2016-10-31T00:00:00Z
We thought this was an excellent place to stay, for all the reasons mentioned in the other reviews. Comfortable, private, relaxing environment - with a bonus pool and airy Bali hut to catch the afternoon breezes. Sasha made us feel right at home. Also worth mentioning is that you're well located for exploring Bisbane's northern environs. The freeway to the Sunshine Coast and to the city is a few minutes away by car, as are the beachside suburbs at Redcliffe. Highly recommended.
Tony
2016-12-27T00:00:00Z
Clean, modern, new, comfortable space. Perfectly located for our needs. Easy booking and check in process.
Christina
2015-11-01T00:00:00Z
Unfortunately because of our busy schedule we were unable to meet Sasha but she was the nicest person when we communicated via air bnb messages. This place is lovely, it is the cutest pool house apartment and Sasha even had a nice welcome note and chocolates waiting for us. Great location when visiting Brisbane. Thanks again!
alohi
2017-03-13T00:00:00Z
Room Type
Entire home/apt
---
Property Type
House
---
Accommodates
4
---
Bedrooms
Murrumba Downs, QLD, Australia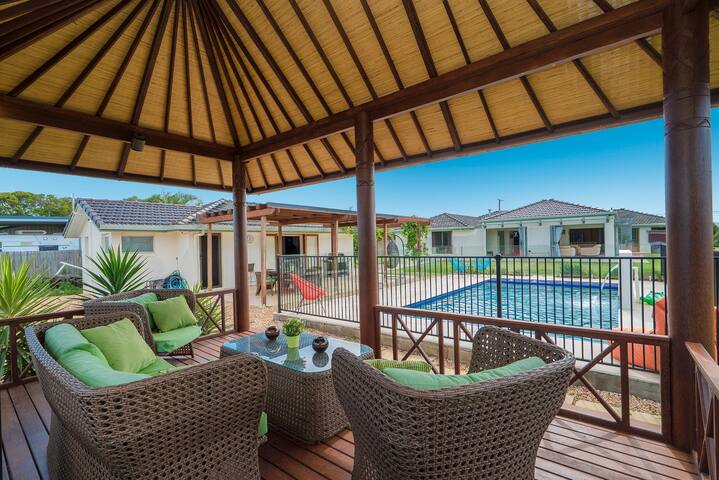 Convenient transportation, 20 minutes from the airport and 10 minutes from Westfield shopping center, 7-minute walk from the new train station. In front of the bus, schools
Room Type
Private room
---
Property Type
House
---
Accommodates
1
---
Bedrooms
Murrumba Downs, QLD, Australia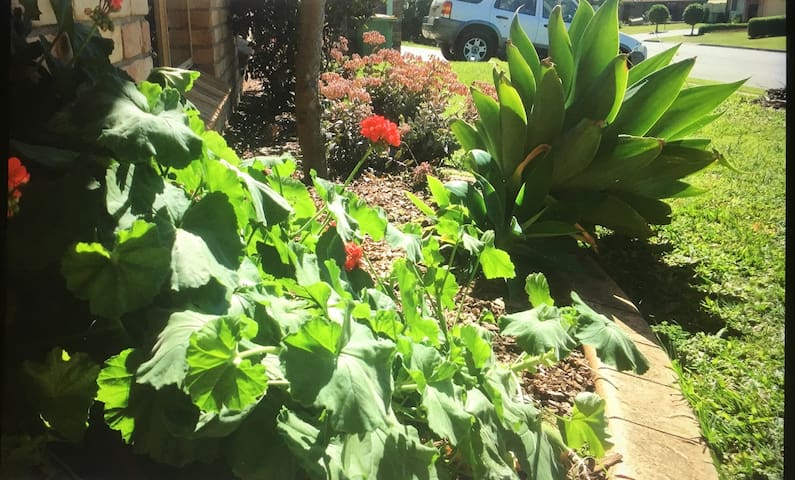 Luxurious, spacious, executive room to rent with own bathrooms, connected into a communal living area within 1 minute to beautiful walking trails on golf course and lakes. Open plan kitchen available for cooking Not wheelchair friendly
High ceilings, modern finishes, air conditioner, hot towel rails with big bath tub to enjoy after a long days work. Beautiful kitchen open to guest
Beautiful, tranquil walking areas to golf courses and beautiful walkways and lakes and parks.
I had a wonderful experience when staying in Len and Susan's beautiful home. It was extremely modern, immaculately presented and very well equipped. The level of hospitality that they both shared was amazing. Their assistance to me was far beyond my expectations and they made my stay so easy, comfortable, memorable and showed so much kindness and care. I could not recommend them highly enough and would defiantly return to stay when next in the area.
Danny
2017-02-13T00:00:00Z
The host canceled this reservation the day before arrival. This is an automated posting.
Bronwyn
2017-02-05T00:00:00Z
Great hospitality and comfortable home.
Marie
2017-02-20T00:00:00Z
There is a small park right outside the front door and the hosts are wonderful with children. There is a very friendly resident dog who is also wonderful with children! The house is immaculate and the hosts are very welcoming and friendly.
Alana
2017-03-12T00:00:00Z
This is an incredible place to stay! It would compare with any 5*star hotel! The host was a true gentleman! We will be looking for an excuse to go to North Lakes again to enjoy this amazing deal! Thanx Len
Heather
2017-03-13T00:00:00Z
Room Type
Private room
---
Property Type
House
---
Accommodates
4
---
Bedrooms
North Lakes, QLD, Australia
Comfortable and furnished queen size bed 25mins Drve to the Brisbane Airport. 25 mins Dr to Brisbane City 3 mins Dr to Westfield , Ikea and 6mins To Costco 30 drive to Sunshine Coast 15 Mins to Mango hill train
Queen size bed, built in wardrobe and ducted airconditioner. please turn aircon off if not in use. 13 Jamie st Mango Hill Qld 4509
Neighbourhood is very quite, house is just 10-15 mins walk to Mango hill East Station. 3mins drive to Groceries, Westfield, Ikea and other food shop. Basically 25mins drive to Brisbane airport.
Everything as expected and a bit more :)
Michael
2017-01-29T00:00:00Z
Ritchell's house is very clean and stylish.important that she is very very nice and very thanks for her helps.I am enjoy that time.
grace
2017-01-21T00:00:00Z
The house and room is really nice, nice bed and shower. Location far from Brisbane CBD but near a Westfield with shops and restaurants etc. Ritchelle is an accommodating and nice host. Did feel the listing missed out some important information though like there being young children in the house, not getting a key and there was no proper wifi despite being listed, we may have stayed elsewhere had we known as we really needed wifi. Apart from that a pleasant stay
Jo
2017-03-20T00:00:00Z
Room Type
Private room
---
Property Type
House
---
Accommodates
2
---
Bedrooms
North Lakes , Qld, Australia
I offer a relaxed setting in my 3 bedroom house. Close to public transport and only 30 minutes away from Brisbane CBD. Close to main highway for easy access to the Gold and Sunshine Coasts. I have all ammenities in my house where you can come and go at your leisure. I welcome all travelers from anywhere in the world and Australia.
Room Type
Private room
---
Property Type
House
---
Accommodates
2
---
Bedrooms
North Lakes, QLD, Australia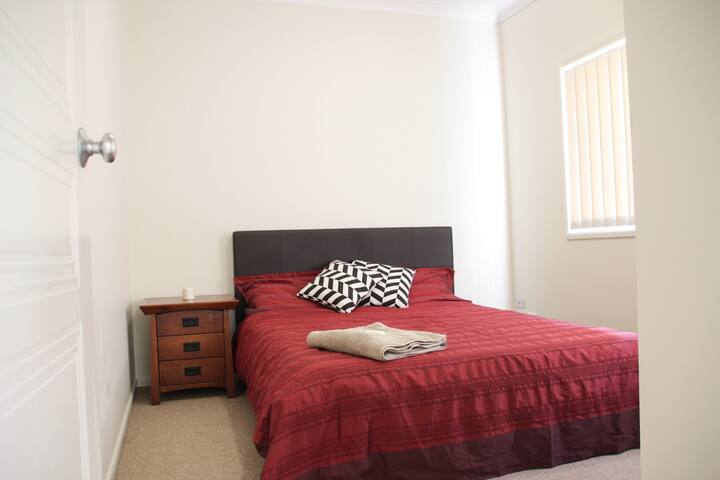 Our home is in North Lakes opposite the lake and golf course and a 10 min walk to North Lakes Shopping Centre, Tavern and restaurants. We have 5 bedrooms, 4 with their own bathrooms and showers, and 3 large living areas and marble floors throughout.
Lovely, welcoming people. We had a wedding at the nearby Golf Club and were so lucky to find such beautiful accomodation. Our room was perfect, nice comfy bed with spacious bathroom. Enjoyed our chat over breakfast. Thank you for a lovely experience
Michelle
2016-10-23T00:00:00Z
Deepak and his wife are very welcoming and are willing to help you with whatever you need
Simon
2016-11-29T00:00:00Z
Deepak's house is situated in the outer suburb of Northlakes in Brisbane. I used this property as I was attending a family funeral in North Lakes and wanted to stay somewhere convenient to the family. The room Deepak offered was clean, well appointed and very comfortable. There was a problem with the bedside light, which Deepak resolved quickly and efficiently. I would recommend this property to anyone looking for accommodation in North Lakes.
Cheryl
2016-11-05T00:00:00Z
Welcome to the Taj Mahal of north lakes. It is a 2 story palace that boasts magnificent views of north lakes and is filled with spectacular furniture and other relics from India. The very large 4 upstairs bedrooms all have there own bathrooms and balcony which connect into a communal living area. Downstairs has 2 living rooms and other sitting areas. Deepak and Lata are very welcoming and provide anything you need to make your stay comfortable. The house constantly has people coming and going either employees, family members or other gusts so there is always someone around. I would defiantly recommend staying here weather for the weekend or for a longer term. It is close to the golf course, Westfield and parks. And you can get the best Indian food you've ever had!!!
Peter
2016-06-07T00:00:00Z
This was our first Airbnb experience so we didn't know what to expect. Thank you Deepak and Lata ( hope I spelt this correctly) for welcoming us into your beautiful home. We arrived quite late around (PHONE NUMBER HIDDEN) pm and they were both still up waiting for us. They were great hosts and made us feel welcome during our stay :-)
Precious
2016-04-05T00:00:00Z
Deepak and Lata were very friendly and their home is magnificent
Sarah
2016-06-24T00:00:00Z
Great place, friendly. Great stay
Jacqui
2017-02-18T00:00:00Z
Deepak was a lovely host, very welcoming and friendly. We felt very comfortable in his home :)
Emily
2017-01-14T00:00:00Z
Room Type
Private room
---
Property Type
House
---
Accommodates
2
---
Bedrooms
North Lakes, QLD, Australia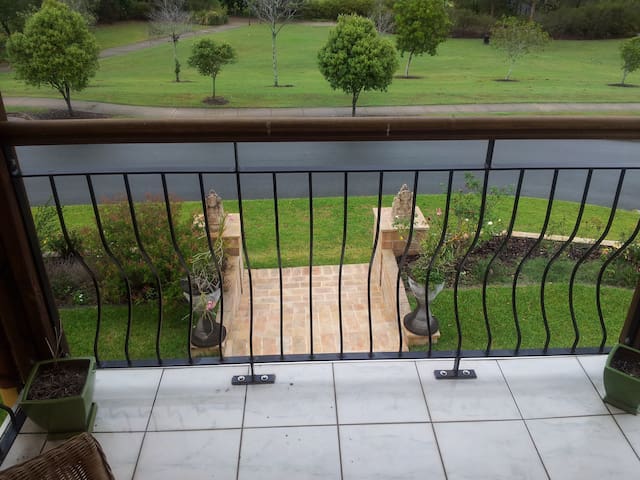 I'm offering short term stay with dates anywhere between Dec 1 and January 12 (with the option for longer if desired) in my house, which has one spare room and a shared bathroom in North Lakes. Shared living room, kitchen and dining area.
The bedroom is furnished but can come unfurnished if need be; option for pullout mattress if more than one guest is wanting to stay.
North Lakes is a lovely suburb 25km from Brisbane, 22km from the airport and 40 minutes to the Sunshine Coast.
It was nice to stay in Bonnie's place. The house and room were very clean and organised. The room has a beautiful view of the bush, it is a very relaxing environment. I definitely recommend it.
Ali
2015-12-28T00:00:00Z
Room Type
Private room
---
Property Type
House
---
Accommodates
1
---
Bedrooms
North Lakes, QLD, Australia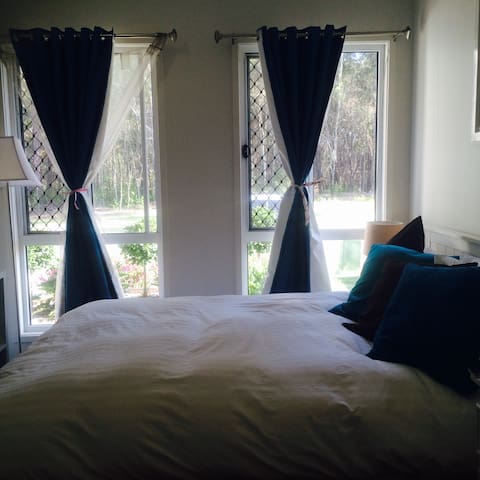 Welcome! I hope make your stay in Brisbane as pleasurable as possible .I offer you a large comfy room with a queen sized bed, innerspring mattress, quality bedding and WIFI & own TV. Quiet permanent guest in the house to help you when I am out.
The space is quiet and comfortable. It has a queen sized bed, side tables and wardrobes. Also a towel rack hanging from the back of your door.Share bathroom with other guests and access to all common areas in the house.
WALKING DISTANCE TO SUPERMARKETS: Woolworths & Coles 5 Mins, IGA open til midnight 5 minutes, ALDI 5 minutes,plus takeaway foods and restaurants all walking distance
I stayed with Rosemary for 11 nights and what a wonderful woman she is. From the moment that I knocked on the door she made me feel so welcome and part of her beautiful home. The accommodation was so comfortable and she made everything available. It was immaculate and fresh and felt like I was at home. She has a wonderful personality and is a very happy host. I would not hesitate in recommending Her to anyone, whether you are single or otherwise, she makes everyone feel welcome. Thank you Rosemary and I will always come back.
Jan
2016-06-20T00:00:00Z
Comfy stay!
Patrick
2016-09-18T00:00:00Z
Rosemary's house was lovely and she was a friendly host
Ann-Marie
2016-04-18T00:00:00Z
She was extremely friendly and met me at the door on arrival. Showed me around the place and made me feel at home. The house was tidy and clean, and the bedroom I stayed in was perfect. Nice quiet neighbourhood too.
Trevor
2016-11-20T00:00:00Z
I had a good stay at Rosemary's, a nice, large, well maintained modern house in a quiet relaxed area. As I was new to the area Rosemary was very helpful when it came to locating all the usual services one requires and all very close by too. The room was nice and large as was the bed. All in all my stay here was good value for money so I highly recommend Rosemary's place to other AirBnb members.
Peter
2016-01-31T00:00:00Z
Lovely spacious room with arm chair and very comfortable queen bed. It's only 20 mins drive north of the airport and very close to Westfield. I had a great stay!
Emma
2015-10-04T00:00:00Z
Rosemary was a very lovely and friendly women who made us feel right at home. Upon arrival she took the time out of her busy schedule to meet up with us and give us a tour of the house. As advertised her house was neat, tidy, modern and without asking, Rosemary provided us with Wifi. In the morning she went out of her way and had left out breakfast, tea and coffee for us before she left for work. As we were new to the area she was very helpful in providing us with all the nearby restaurants and amenities. I would definitely recommend anyone wanting to stay in the area to stay at her place as it was a very pleasant experience.
vinos
2015-07-15T00:00:00Z
Excellent, easy booking and great communication. It was for one of our new employees moving to qld and he was very happy.
Roger
2016-04-13T00:00:00Z
Room Type
Private room
---
Property Type
House
---
Accommodates
2
---
Bedrooms
North Lakes, QLD, Australia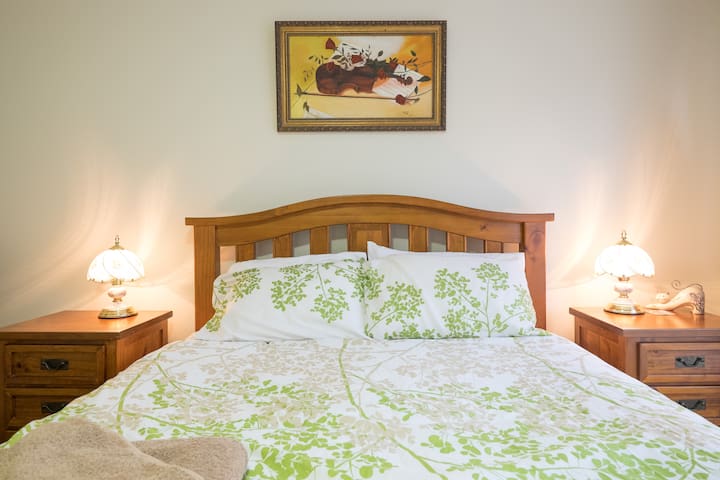 You'll love my place because of the location. My place is good for business travellers as we have full office facility like internet ,Phone ,Fax, e mail excess ,Laptop etc.
My place is only 30mins from Brisbane Air Port if the guest need to be picked I can assist them at a very good rate .
Its a very clean nice neat and quite place
Room Type
Private room
---
Property Type
House
---
Accommodates
2
---
Bedrooms
North Lakes, QLD, Australia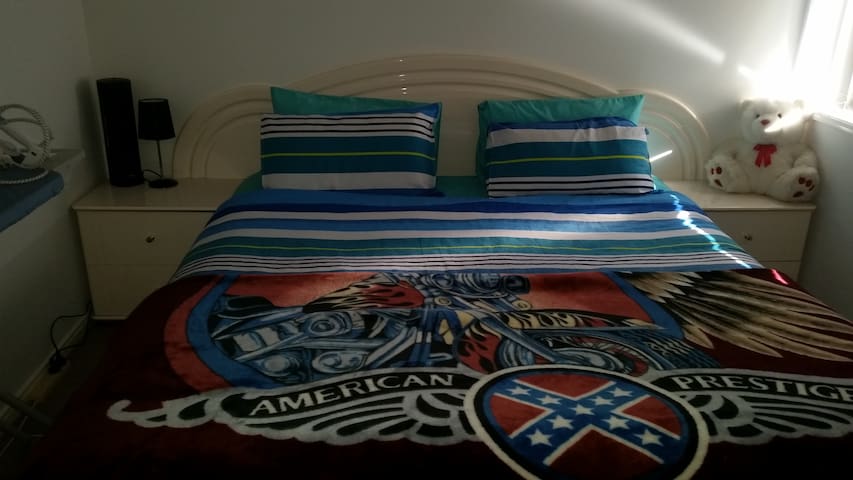 Stay in a prestigious suburb of North Lakes. This private room is nice and cozy with Free Wifi. Access to family areas, backyard, kitchen and laundry area. Complimentary morning coffee and toast provided.
It's nice, quiet and private. The room comfortably sleeps 2 on Queen size bed. This house has 4 bedroom with study/office area, 4 spacious living spaces and a big yard. Only 5 minutes to Westfield Shopping Centre, Costco. Walking distance to a beautiful Golf Course. Ample space for parking. It's beautiful!
Beautiful lakes and parklands, ideal for very close to shops, only a short drive to Redcliffe lagoon and beautiful beaches.
The host canceled this reservation 3 days before arrival. This is an automated posting.
Luke
2016-04-14T00:00:00Z
The host canceled this reservation 8 days before arrival. This is an automated posting.
Glenn
2015-10-09T00:00:00Z
Room Type
Private room
---
Property Type
House
---
Accommodates
2
---
Bedrooms
North Lakes, QLD, Australia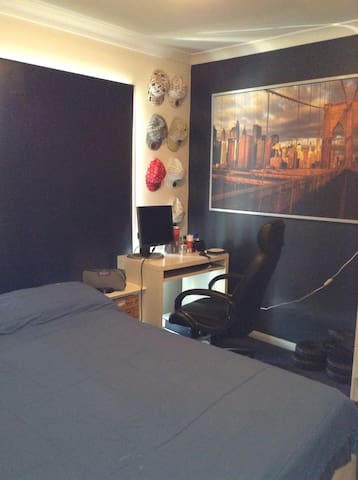 Beautiful executive, stylist room with bathroom
Room Type
Private room
---
Property Type
House
---
Accommodates
2
---
Bedrooms
North Lakes, QLD, Australia
Relax in this stand alone quiet home, situated in a classy pristine residential area amongst beautiful trails meandering past multiple lakes, yet close to major Westfield shopping centre and many other restaurants and shops. Ideally positioned between Brisbane, with the new train station a mere walk away, and the Northern beaches of Redcliffe, Bribie Island and Sunshine Coast. This area consists of a beautiful golf course too. You may even see kangaroos and koalas during your stay. Enjoy.
Very private and quiet, yet only minutes to the Motorway. Australia Zoo in easy reach from here, so too are the hinterland mountains. This area is a quality family friendly area with minimal crime. You will love it, and most likely be content to just stay in our home and local vicinity and not want to leave. We look forward to being your host in this lovely north Brisbane suburb.
An awesome network of bike walking paths. Amazing shops and restaurants - too many to list!
Room Type
Entire home/apt
---
Property Type
House
---
Accommodates
7
---
Bedrooms
North Lakes, QLD, Australia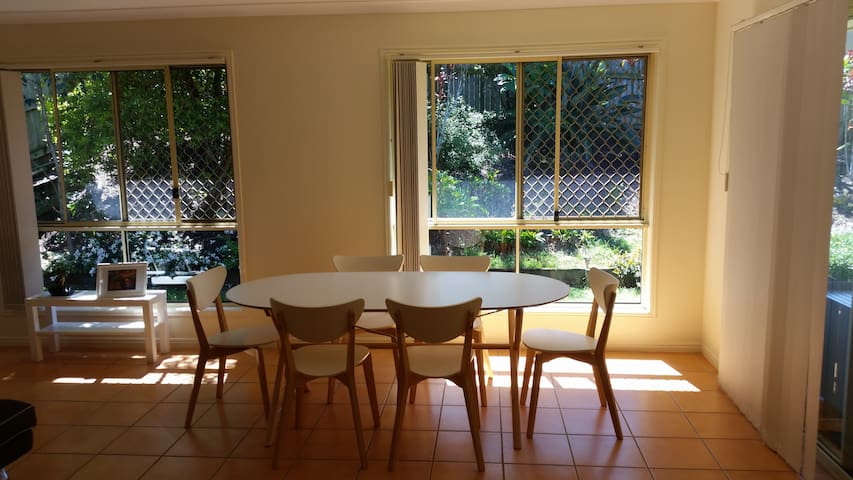 New house. A bed upstairs for you to sleep in. Not much else at the moment, but perfect for those passing through. Bathroom/shower right across the hall.
I was made to feel really welcome by the hosts who were very friendly. The accommodation exceeded my expectations. I will definitely be back to stay again soon.
Simon
2016-09-09T00:00:00Z
Room Type
Private room
---
Property Type
House
---
Accommodates
2
---
Bedrooms
North Lakes, QLD, Australia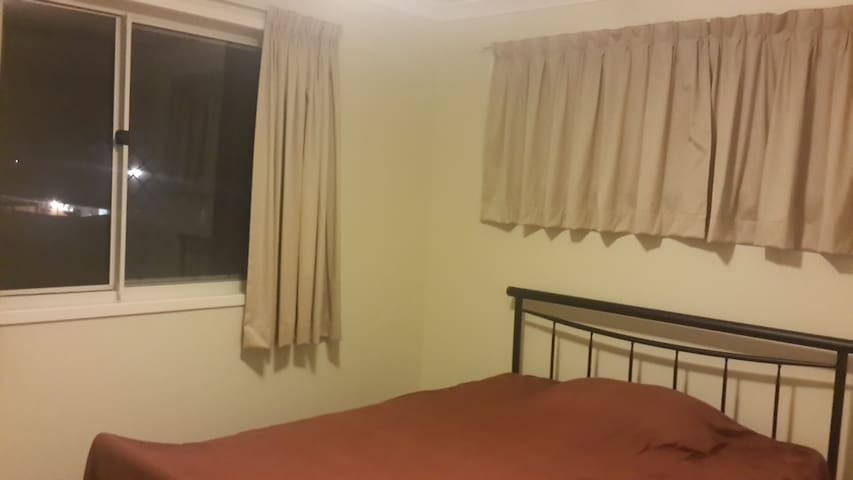 My home is airy and spacious with a large lounge, dining and kitchen area. Its close to one of the lakes for walks and cycling and 5 minutes from the major Westfield shopping centre and all amenities by car. It has a share bathroom with one other.
Great room facing the garden, quiet and catches the afternoon breezes
North Lakes is becoming a community within a community. Many amenities are virtually at the door. Westfield is walking distance and so is the cafe at the Lake. Golf club is a short distance away as is the transit centre. Train station is about to open soon.
Room Type
Private room
---
Property Type
House
---
Accommodates
2
---
Bedrooms
North Lakes, QLD, Australia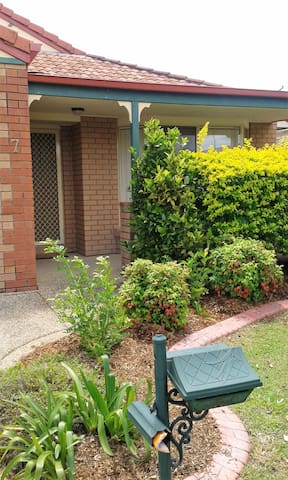 Stay at the beautiful location of North Lakes. North Lakes feature's include: 25 minutes to the Brisbane Airport 30km to the Brisbane City 50 minutes to Sunshine Coast beaches Three of the finest schools in the region and six childcare centres 18-hole championship golf course 80kms of bikeways and walkways 55 parks and eight sports fields Westfield North Lakes Cafés and restaurants Private hospital, medical facilities and vet services Retirement village TAFE Skills Tech (opening soon). Live in comfort in a room with queen size bed for rent. If you like to travel, only 25km away is Brisbane CBD and this accommodation is only 5 minutes away from shopping center. I am currently unavailable to take any bookings or have inquiries from guests until just after the second week of June. Please check out the photos I have uploaded of the North Lakes area and get in contact with me when I am available. I will have a professional photographer take some photos of the place in the middle of June. Stay tuned- Watch This Space.
Room Type
Private room
---
Property Type
House
---
Accommodates
2
---
Bedrooms
North Lakes, QLD, Australia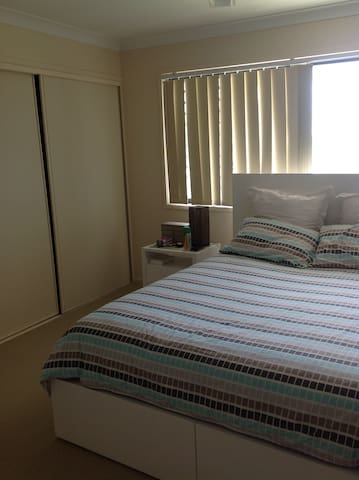 I've a master bedroom (en suite attached) available for rent in a 4 bedroom house. The house is furnished and has everything available in the house. It's a lovely 4 bedroom modern house. The house is fully furnished with double door side by side fridge and washing in laundry area. The living room (AC fitted) has a sofa lounge and 60" 3D TV with home theater system. ADSL2 Internet available. The house is near Costco, just at 900 metres.
The host canceled this reservation 3 days before arrival. This is an automated posting.
Luke
2016-04-14T00:00:00Z
The host canceled this reservation 5 days before arrival. This is an automated posting.
Michael
2016-02-19T00:00:00Z
Room Type
Private room
---
Property Type
House
---
Accommodates
2
---
Bedrooms
North Lakes, QLD, Australia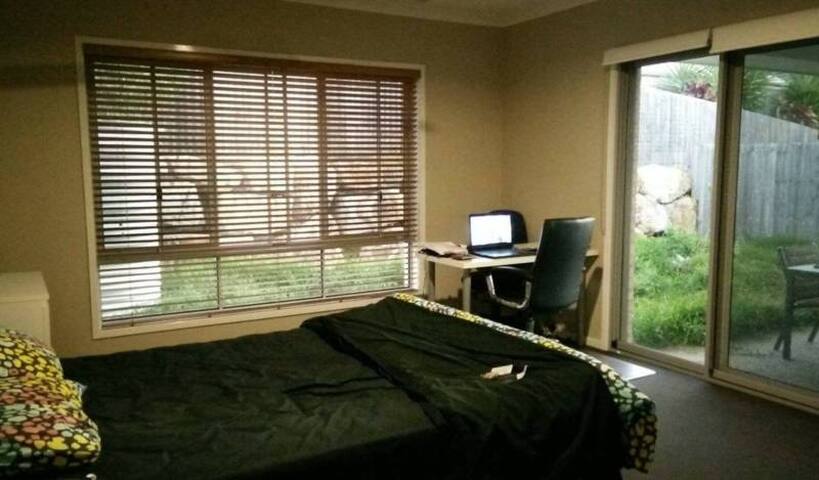 My place is close to the beach, public transport, and the airport. You'll love this French inspired cottage because of the location, the people, the ambiance and the outdoors space. My place is good for couples, solo adventurers, fly in fly out, business travelers, and furry friends (pets). Long term bookings invited.
I have a large back veranda where you step out through the french double doors onto the veranda which is almost as big as the house. It catches sea breezes with views to the farm at the rear. When it rains the cattle come to the back of the property where my dog takes great delight in barking at them. It truly is a lovely spot to sit back and relax and enjoy the sea breezes while catching a glimpse of the country life.
The neighborhood is generally quite most of the time accept after school when the kids are coming home and sometimes at night you may hear a little traffic. Overall its a quite neighborhood.
Very pet friendly, beautiful house and a lovely lady owner. Stayed for a few days to work in the area, with my two well behaved dogs, definitely recommend Jacqui's place, and I'll be back for sure :)
Amy
2017-01-26T00:00:00Z
Jacqualine is very friendly. The house is clean and quiet. Thank you!
Candice
2017-01-13T00:00:00Z
Jacquie's home certainly reflects French chic and she's done a wonderful job renovating it, with many quality fixtures and graceful decor. The huge back deck is a bonus, catching the sea breezes, and is a pleasure to relax on at the end of a day's work.
Rachel
2017-02-11T00:00:00Z
Jacqui is a kind and generous host who genuinely loves meeting people and their animal companions. Her home is absolutely beautiful, and it's a gift to those of us travelling with our much loved pets that Jacqui offers pet friendly accommodation. I can't wait to stay at Jacqui's again!
Louise
2017-01-24T00:00:00Z
Jacualine's house is a very welcoming and warm place to be. Close to the coast and public transport to Brisbane.Also great value for money. I highly recommand it.
Marianne
2017-01-10T00:00:00Z
Beautiful home! Jacqui really goes out of her way to provide such a comfortable and richly decorated stay for her guests. Unfortunately, my job made my hours so that I didnt get to see her, but she made sure I had a warm welcome with an awesome greeter (thank you Amy!!) and was very understanding to my complicated job situation! Loving, and wonderfully kind host, I hope to stay again and actually meet Jacqui ;) !! Highly recommended!
Heidi
2017-01-29T00:00:00Z
Freudlich, sauber, bequem, sehr gut, besser geht's kaum. Preis- Leistung = Perfekt!!! Jederzeit wieder!!!
Frank
2017-01-02T00:00:00Z
Room Type
Private room
---
Property Type
House
---
Accommodates
1
---
Bedrooms
Brighton, QLD, Australia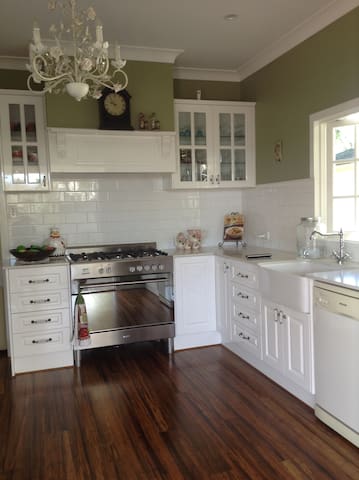 This double balcony room (1 of 3 separate rooms) is available in our private residence. Our house is a 15mins drive to the Brisbane airport and Entertainment Centre. The Brighton area is at the entry to the Sunshine Coast, and the area is popular for kite surfing, bush walking, the RAMSAR wetlands & cycling.
It is a great spot to stay when you work in the city but want to feel that you are miles away from there, when you're not working. Some areas of interest in the city are (interesting spots in the neighbourhood are listed further below): ** Our CBD is about a 35 minute bus trip - here you will find lots of international fashion brands, smaller boutiques of Australian labels as well as David Jones and Myers, Australia's two premier department stores that also carry international brands and the best of our Australian fashion designers. Also many great restaurants/bars some overlooking the river. Here you will find Jupiters Casino on the opposite side of the river from Southbank. ** A short walk from the CBD over the river is Southbank where our art galleries, museums and main performing arts centres are situated. There is a range of great restaurants here all with lovely ambience, right on the river. Also here is a huge swimming pool with a sparkling white sandy beach with the Brisbane River on one side overlooked by bars and restaurants on the other side. ** A further 10 minute walk from Southbank is trendy West End (our Greek community) - restaurants and more shops here. ** Buy a "Go-card" for a bus or train AND you can use the "city cats" (catamarans that are part of the public transport system in Brisbane) to get somewhere or just for a very cheap river cruise! There's also CityHopper, Brisbane City Council's free ferry service. These CityHopper ferries run every 30 minutes between 6am and midnight, seven days a week, and service the more 'tourist' stops such as the Maritime Museum, South Bank etc. ** For free City Loop buses, use your search engine to look for Free City Loop buses, Brisbane.
The Brighton/Sandgate/Shorncliffe area's is a stunning sea-side location. It has a laid back feeling and the accessibility that you have from here to visit the Sunshine Coast and other natural protected areas around, is what drew us to settle here. Our house overlooks a lake area with a bikepath next to it, which will take you to the station, should you wish to cycle (we have bikes for your use). Alternatively, you can walk to the waterfront where you will see training groups such as tai chi, yoga, cycling, kite surfing, paddle boarding and pilates classes taking place in the many parks, almost each morning. Although the waterfront is tidal sand flats it is a great place for fishing, kitesurfing, stand-up paddle boarding, cycling, walking or jogging. Other places of interest include: ** The Boondal entertainment complex, which is two train stops away from the Sandgate Station ** The local Yauht club in Shorncliffe
Very welcome, let us use the Carport for our Classic Car. All as advertised and expected.
Peter
2016-05-04T00:00:00Z
What a awesome house and hosts! We felt literally like home in hanlies and coenraads house and will recommend it for 100%!
Claudia
2016-04-07T00:00:00Z
I cannot begin to express the amazing experience we had with this stay. Hanlie picked us up at Brisbane Airport and on the way back to her home, she showed us a couple places to get food and coffee. One of the places, Satori's, became our regular breakfast place for every day we were there. The location is close enough to get to and fro using the train system, however we ended up getting a car to make it easier for getting to the Gold & Sunshine Coast. The space itself was clean and comfortable. The weather is a bit warm, but a ceiling fan is in the room to cool off the heat. We both slept very well enjoying the sounds of nature outside. If you are looking for a clean, comfortable space, I highly recommend staying with Hanlie. Other pluses, there is a lovely pup named Jack who greeted us and played ball briefly before we left.
Mary
2016-09-29T00:00:00Z
Hanlie and her family are friendly and welcoming. She provided me with fantastic communication and was very accommodating for my arrival. The bedroom and bathroom were immaculate. Tea/coffee area was perfectly set up. Of course Jack (the family dog) was a delight (I'm an animal lover). Both Hanlie and Coenraad were happy to provide local information about getting around and what was happening there and in Brisbane. I having my own little balcony area to have my breakfast each morning of my stay.
Grace
2016-10-21T00:00:00Z
Excellent place to stay in a great home.
Mitch
2017-03-09T00:00:00Z
Hanlie was very prompt in responding to all communication around our booking (which was quite last minute). The accommodation was just as represented on the website and was very clean, comfortable and suited to our brief overnight stay. As a host Hanlie was wonderful and we readily accepted her offer of a lift into Sandgate to the wedding we were attending - along with her umbrella she lent us due to the sudden downpour. We felt most welcome in Hanlie home and would definitely recommend it to others who are looking to stay in the Sandgate / Brighton area. The location is also very handy for arrivals into Brisbane airport - particularly if you are wanting to head North without having to go through the city.
Cathy
2017-01-03T00:00:00Z
Hanlie and Coenraad excellent hosts will be staying there again
Mitch
2017-03-17T00:00:00Z
This large sized family home was on a spacious piece of land. Both the house and the yards were well looked after and were with very artistic decorations. Overall, the feeling was that of a great loving family home. With two young and lovely children, the house and yards were full of joyous toys, equipments (e.g., trampoline), etc., and I was very impressed. On the front yard, old and young trees provided nice shades and cool atomosphere, which birds apparently love them, too. The name Treetop views must come from the lovely view looking down on the front yard from upstairs. The spacious kitchen was the centre of activities for mornings and evenings and I was welcomed directly into it. Upstairs of the house has a separate guest section with a bathroom/toilet, refrigerator and tea/coffee facilities, which were great. This section is shared with 3 guests. Best of all, for me, was that the bedroom had an air-conditioning. Since I was staying to just attend a busy workshop, I did not have time to explore the area, but I imagine that the surrounding area is very nice with a beach and a park with a lake nearby. Hanlie and Conrad have been welcoming and friendly hosts. They were easy to talk to, full of good sense of humour, and very considerate. Their children, Margo and Philip were very welcoming and it was a great pleasure to interact with them, too. Overall, my stay was very comfortable and convenient.
Yoichi
2016-03-16T00:00:00Z
Room Type
Private room
---
Property Type
House
---
Accommodates
2
---
Bedrooms
Brighton, QLD, Australia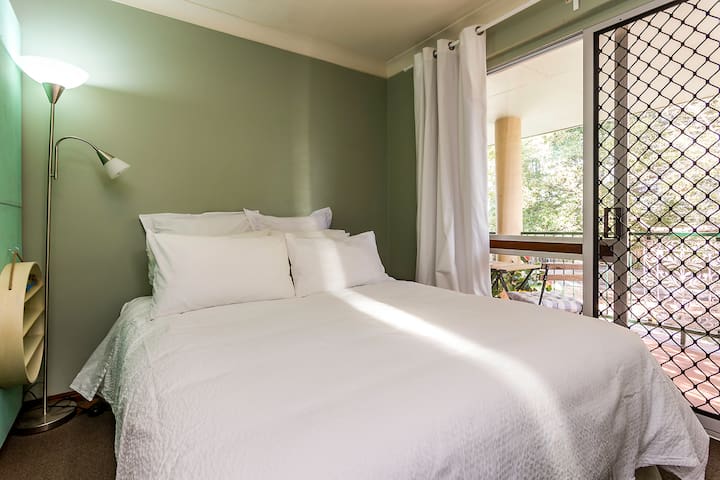 1

–

18

of

153 Home Rentals
Enter dates to see full pricing. Additional fees apply. Taxes may be added.