Enter dates to see full pricing. Additional fees apply. Taxes may be added.
Japanese traditional house in Niigata. You can go to Onsen and ski places! You also have a Japanese food in my house.
Maeda San was an excellent host! Before we arrived, he sent us information about events and places to visit during our stay. He was very welcoming and picked us up from the train station. After our long journey, he drove us to the local onsen for a lovely bath. Every morning we were treated to a full breakfast (included in the fee for the room). The building is beautiful, an old-style Japanese machiya (house) with wonderful features. It is an authentic Japanese old-style living experience. We visited Kosuda during their annual matsuri (festival). If you have the chance to come in late August, it is an amazing festival to see. And the people in town will make sure that you are participating! They invited us to help carry the floats...priceless! If you are looking for a relaxing place to stay in Niigata, this is it.
Sue
August 2016
Clean, beautiful Traditional Japanese House. Breakfast is fully served! Tastes amazing! Host will come see you at JR Yashiroda station and will take you there by car. There's nothing around, and that is the best. Enjoy your stay at old town Kosudo. とても豪華でおいしい朝食をいただきました。 JR 矢代田駅まで車で送迎していただけます。 小須戸の街並みは素敵ですよ。 お祭りの時期に行かれたらきっと最高だと思いますがいつ行っても静かにゆったりと過ごす空間がそこには有ります。 一階がお店ですので夜は美味しいお料理とお酒を楽しむ事も出来ます。
Megumi
August 2016
We had a great stay at Mae San. The room was perfect, 2 separate beds. The dinner he prepared for us tasted well and he even gave us sake. The day after he dropped us 30 minutes from his home as a service. Can recommend everybody to stay at his house.
Pwak1986
September 2016
This was a very beautiful house. It's an old house that's been remodeled with the first floor being a restaurant and the second floor offering two bedrooms and a guest dining area. Don't let the outside of this place fool you into thinking it's dilapidated, it's clean, spacious and comfortable. Maeda picked me up from the train station. Fair warning though, this place is very out of the way. It's about 30 minutes away from Kanazawa Station. There is not much to do around this area, but Maeda was kind enough to drive me to a nearby fish market as well as mountains for the day. Stay here if you want a truly quiet and unique experience in rural Japan. This is the exact opposite of Tokyo. Do yourself a favor and stay at this place, kick back, and relax for a day. Thanks Maeda for everything. Don't forget to hit up Ponshukan at Kanazawa Station.
William
June 2016
We had mentioned before we arrived that, in addition to seeing my girlfriend's family in Niigata, that we wanted to visit an onsen and tour a sake brewery. We didn't request it, but Maeda-san insisted on taking us to the local onsen in his car! I think it was called Hana No Yu Spa. We only had time to stay about an hour because he had also made reservations for us at a sake brewery for their English language tour and sake tasting. He insisted on waiting for us in the parking lot until were done at the onsen. Then, he took us to the train station and told us how to get to the Imayotsukasa Sake Brewery (13 different kinds of sake and unlimited tasting for only 500 Yen (free if you bought a bottle)! Several hours later, when we returned from our tour/tasting, Maeda-san picked us up from the train station and brought us back to our room! By the way, the room is above a restaurant, which is run by his friend, Endo-san. Endo-san speaks English fairly well. We had a great dinner there, which was very reasonably priced, as well as free breakfasts for the two of us for each of the two days (one western breakfast and one Japanese breakfast). They also assisted us with the taxi driver, helping us give directions to my girlfriend's family's home in a nearby town. They were both very nice, hospitable and accommodating! Thank you, Maeda-san!
Jon
January 2017
Super good house, quite Japanese style. Everything is good, especially for the breakfast! Yummy!
Le
November 2016
I was searching for a relaxing and silent place outside of the city and found this wonderful house. Maeda-san tried his best to make me feel comfortable and at home - communication was good and my arrival was smooth. The room was much better than on the pictures - equipped with a small desk and chairs as well as hair dryer and mirror. The whole house is very charming, since it is an old Japanese house with paper doors and tatami rooms. I liked the atmosphere, however walls can be very thin. If you don't like that - better book a hotel. :) As well as the shower and toilet - both rooms were clean and nice, however the toilet was Japanese style and the bathroom was shower only. I was totally comfortable with it, for the people who would like to take a bath - there are plenty of Onsen around. If I go to Niigata, I would totally stay here again. I felt very safe and comfortable. Maeda-san was a great host! Highly recommended! 部屋が大変綺麗でした、前田さんのおかげでとても楽しい三日間すごしました。部屋にはベッドだけどじゃなくて、鏡、ヘアドライヤー、クローゼットもありましたし、とても過ごしやすかったです。快適でした。 日本の古い町屋なので、そこに泊まるのもとてもいい経験でした。
Friederike
September 2016
the host is very friendly and helpful. I'm so appreciated that he always picked me up from the Yoshiroda station.
marufei
February 2017
Room type
Private room
---
Property Type
House
---
Accommodates
10
---
Bedrooms
2
新潟市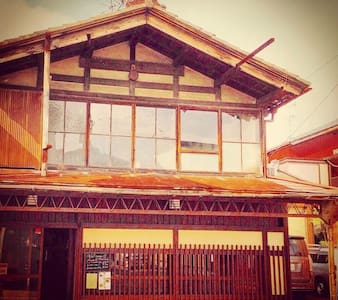 6名以上宿泊OKの2LDKで角部屋です。駐車場ございます。 平日を利用不可の場合もありますがリクエストがあれば柔軟に答える事ができます。アパート住民にも了承済みです。 リビングのソファーは背もたれを倒していただければベッドになります。 寝室は2部屋をご用意し布団の部屋2名用とベッドの部屋3名用です。 キッチンはオール電化を採用しています。 価値のあるお部屋を提供することで新潟の魅力を微力ながら多くの方々に知ってもらいたいと考えています。 ぜひ、新潟にお越しの際はご予約ください。
部屋はリビング、寝室、主寝室と3部屋ですがお一人様もOKです。 6名までとしていますが9名くらいまで宿泊可能です。 リビングに1人、キッチンに1人、サンルームに1人が寝られます。 人数が多くなれば楽しいですが会話などが騒音になるので注意が必要です。 6名以上の場合は寝具の用意が無いので連絡ください。 リビングのソファーベッドに置いてあるクッションは毛布にもなります。 寒いときはご使用ください。 玄関では必ず靴を脱いでお入りください。 押し入れやキッチンシンクの下部収納には備品が入っていますが触らないでください。持ち出し禁止です。 ワンピースが大好きですので、ぜひ読んでください。 住所 新潟県新潟市巻甲3261-1 シャンドラ102号室 102号室がAirbnb用です。 仕事をしているので交流は出来ませんが、時間が合えば交流出来ます。 I'm working, so you can't interchange, but when time fits, you can interchange.
ローソン  ドラッグストア スーパーマーケット ホームセンター お弁当屋   ラーメン屋 医者(内科、外科、小児科、歯医者) LAWSON Drugstore Supermarket Home improvement center Box lunch shop Chinese noodle shop Doctor (internal medicine, surgery, the pediatrics and dentist) 交通 上越新幹線 新潟駅から越後線の吉田駅行きに乗り換え10駅目です。 Traffic Joetsu-shinkansen It's a transfer 10station eye for Yoshida station in Echigo line from Niigata station. 是從交通上越新幹線新瀉站換乘為越後線的前往吉田站第10車站。 교통 조에쓰 신깐센 니가타역에서 에치고선의 요시다역행에 갈아타 10역째입니다. 越後線 吉田駅行き乗り換え ①新潟駅②白山駅③関屋駅④青山駅⑤小針駅⑥寺尾駅⑦新潟大学前駅⑧内野駅⑨内野西が丘駅⑩越後赤塚駅⑪越後曽根駅⑫巻駅 下車徒歩8分 Echigo line Transfer for Yoshida station. (1) Niigata station(2) Hakusan station(3) Sekiya station(4) Aoyama station(5) Kohari station(6) Terao station(7) Niigata University previous station(8) Uchino station(9) Uchinonishi is the hill station(10) Echigoakatsuka station(11) Echigosone station(12) Maki station getting off for 8 minutes on foot. 越後線前往吉田站換車 ①新瀉站②白山站③關屋站④青山站⑤小針站⑥寺尾站⑦新瀉大學前站⑧內場站⑨內場西丘站⑩越後赤冢站[11]越後曾根站[12]卷站下車徒步8分 에치고선 요시다역행 갈아 타기 ①니가타역②시라야마역③세키야역④아오야마역⑤고바리역⑥데라오역⑦니이가타 대학앞역⑧내야역⑨내야 니시가오카역⑩에치고아카쓰카역[11]에치고소네역[12]권역 하차 도보 8분 巻駅からシャンドラ102号まで。 ShanDora is up to number 102 from Maki station. ①巻駅を出て左に曲がります。 ①I go out of Maki station and turn to the left. ②最初の十字路を右に曲がり線路を超えて左に曲がります。 ②I turn to the right at the first crossroad and turn to the left beyond a railroad track. ③まっすぐ進み松村医院の十字路を右に曲がり進むと左側に宿泊先のシャンドラが現れます。 ③When he advances, turns to the right at a crossroad in Matsumura doctor's office and advances straight, Shan Dora in lodgings appears on the left side. 住所 953-0041 新潟県新潟市巻甲3261-1 シャンドラ102号室 高速道路 巻潟東インター 10分 ・アパート内の備品や器具は持ち出し禁止です。 ・漆喰は触ると白く付きます。付いても責任は負いかねますので気を付けてください。 ·맨션내의 비품이나 기구는 반출해 금지입니다. ·회흙칠은 만지면 희게 붙습니다. 붙어도 책임은 지기 어려우므로 주의해 주세요.
Very beautiful and peaceful house located at a walkable distance of 8 minutes from Maki station which is 40min from Niigata station. There is hourly train service from/to Niigata station. There is convenience store, drug store , Mos burger within 2-3 min walk from the house. The Iwamuro onsen area is 15-20 minutes by taxi from the station and it cost around JPY2,500 so no worries if you don't come by your own car but want to go to some nice onsen area .. Highly recommended for family stay .
Mayank
January 2017
The apartment was extremely beautiful and clean. It had everything, to make the stay in Niigata comfortable for us.
Daniel
October 2016
It's a great pleasure to stay at Toshikazu Kaneko's apartment. The apartment is very nicely maintained, with an artistic touch. I also appreciate greatly Kaneko-san's personal attendance, completed with clear information and tasty snacks.
FuJen
September 2016
Me and my family really loved the place! Kaneko san made it really special with complementary drinks. I mentioned to him that I will be bringing my 11 month old son so he even prepared complementary drinks and food for him :D Such a really good service! The place is really new. All clean and very comfortable bed. The location is really good. There were supermarket, drugstores, convenient store, ramen and mos burger around the area. Kaneko san is really a good host. He replies after a few minutes of sending him mail. He was easy to talked with :D In total, we will surely book again and recommend this place to others :D
Erin
September 2016
Host was very communicative and checked up on me every now and again. Was very easy to extend my stay. Apartment was perfect for me - could stay here with more people. Very cosy and good location in terms of nearby shops.
Ella
July 2016
房間十分整潔,居住環境寧靜,良好
Kelvin
June 2016
今回私たち家族が最初のレビューアーになれたことを幸運に思っています。それぐらい快適な滞在となりました。 部屋は過ごしやすく、ワンピースをテーマにまとめられたディスプレイなどとてもおしゃれで、布団もフカフカで子供たちもとても喜んでしました。また家族4人ではもったいないぐらいの広さです。 Toshikazuさんは、事前の色々な問い合わせにも迅速丁寧に回答してくださり、感謝しています。 ウエルカムドリンク、スナック、朝食ようにクロワッサンなど・・かゆいところに手が届くおもてなしをいただきました。翌日残念ながら早く出なければいけなかったのですが、もっとゆっくりしたかったです。 立地に関してですが、近隣には温泉(岩室)などもあり、車ですぐ行けるし、新潟市中心部にも30分程度で行けるので新潟観光にもとても良い立地だと思います。電車でも巻駅が徒歩すぐなので、色々便利は良いと思えました。 コンビニも近いし、行ってみたい食事処もたくさんありました。またぜひ行ってみたいですね! 機会があればぜひともまたよろしくお願いします。 上谷
Takahiro
May 2016
長岡花火の夜に利用させてもらいました。 お部屋はとても清潔で快適でした。ゲスト用にパンや飲み物などが用意されていて、とてもありがたかったです。 またすぐ近くにコンビニもあって便利です。
Masahisa
August 2016
Room type
Entire home/apt
---
Property Type
Apartment
---
Accommodates
6
---
Bedrooms
2
Niigata
江戸っ子寿司という回らない寿司屋さんが近くにあります。。若者や地域の人々が集まる一風変わった米屋さん、日本酒「鶴の友」で有名な酒造などあります。神社も内野町には7つあります。ひとり旅、出張旅行、カップルにもぴったりです。
僕の蔵書を詩集、絵本、画集、音楽本、エッセイ、小説、雑誌、あらゆるジャンルで250冊くらい置いてあります。自由に読んでください。なんかアイディアや発見になればいいなと思っています。あと、ホテルのロビーに当たるところは古本屋です。それも完全予約制の。「古本詩人ゆよん堂」というお店です。隠れ家的にディープな本好きのために営業しています。 二階の宿泊部屋とロビーの「ゆよん堂」はもちろん立ち入り自由です。もう一部屋はプライベートスペースなのでお控えください。一回部分はスペースはご遠慮くださいお。トイレはもちろんOKですが。 なるべく自分は立ち会います。本や音楽、アート、創作の話などしましょう。チャイも作って出します。まあ、ひとりでゆっくりとした時間を過ごしたい人には干渉しないです。
近所にとても美味しくてカウンターがある伝統的なお寿司屋さんがあります。新潟なのに「江戸っ子寿司」と云います。安くて新鮮な握り寿司が食べれます。町内にあと3軒くらい寿司屋があるので、寿司好きにはたまらないはず。若者が集まるおしゃれな米屋、ヴィレッジバンガードみたいな雑多な面白い雑貨満載の雑貨屋、新川という人口河川、駅前には美味しい居酒屋、焼肉屋、ホルモン焼肉、スペインバル、ラーメン屋、中華定食屋、スーパーがあります。昔ながらの銭湯まであります。 新潟大学の方まで足を伸ばせば、居酒屋、バー、美味しくて量が多い定食屋がいっぱいあります。普通の町のようですが、けっこう面白いと思います。 新潟駅からJR越後線で約25分の内野駅から徒歩5分くらいです。近いです!バス停も近所にあります。新潟大学前は高速バスの乗り降りができる停留所もあります。けっこう便利です。 トイレは一階にありますが、お風呂がありません。徒歩6分ほどの所に「旭湯」という昭和にトリップしたような銭湯があります。400円代で入れます。タオルや石鹸など一式、番台のおばあちゃんに言えば無料で貸してくれます。あと、車で7分くらいのところに「ゆったり苑」というスーパー銭湯もあります。露天風呂もあり、広々してます。どちらかお使い頂ければと思います。
Room type
Private room
---
Property Type
House
---
Accommodates
2
---
Bedrooms
1
Nishi Ward, Niigata