Non-Holidays/school vacations- after 2 nights stay, get each night after $99. Enjoy every season at this well located mountain resort. Walk to all the Attitash Resort Activities or drive to parks like Story Land, shopping & other ski/hiking mt.
Enjoy every season at this well located mountain resort. Walk to all the Attitash Resort Activities from this fully furnished, 2 bedroom, sleeps 7 adults and 1 child (on a "cot") condo unit at the base of some of the best skiing in the East. The master bedroom has a full-bath, King bed, child's cot, travel crib, TV, small refrigerator and picture window. The second bedroom has a Queen, a twin bed and TV. The living room has a pull-out queen sofa. The unit has air conditioning and a gas fireplace. Also there is a full-bath with washer and dryer off the living room. Kitchen and bathrooms have granite countertops. Depending on the day, the rates run from around $99-200 a night. The condo entrance is located on the second floor of the building then there are stairs to get up to the 3rd floor where the condo is. To get to the 2nd bedroom, there is another set of stairs that are very steep. We have provided baby gates to close those off for families with small children. Enjoy the spacious and well equipped fitness center in the building that features a steam room and an indoor hot tub. The Condo is located across from the Summer Pool Pavilion which has a year round outdoor (fits 12) jacuzzi with changing rooms and shower as well as a barbecue, close to the playground, tennis, walking trails, water slides, indoor pool and jacuzzi, 2 outdoor jacuzzi's, restaurant, arcade, ski slopes, Nordic trails(private and public), hiking/biking trails, ice skating rink, fishing pond and all Attitash Mountain has to offer. So, why would you want to drive to the mountain when you could just walk? Located just minutes from Story Land, 6 other Ski mountains, outlet shopping, restaurants, river swimming, tubing, kayaking, canoeing, rock climbing and a short drive to Santa's Village, Mt. Washington, the Kangamangus River, Clark's Trading post (45min), Whale-of-a-Tale water park and many other NH attractions. There are games, puzzles, basketballs, tennis and ping pong rackets, etc.. free of charge at the front desk along with movies for a fee. Grab your skis, hiking boots, or shopping gear and head for Mt. Washington Valley today. Price includes taxes, amenities, linens and housekeeping, no additional fees. For more information watch: y o u t u b e . c o m(URL HIDDEN)Dzi0 and related videos suggested. Or (website hidden) Attitash mountain village for more information. Seasonal, Monthly, Weekly and Yearly pricing available. Contact owner.
In the heart of Attitash Mountain ski resort amenities!
Our trip went awesome. Condo was great and it was well described in the listing. Comfortable condo with great kitchen. Rebecca was very helpful and quick to response. This place is also close to various scenic places like Diana's bath, echo lake etc...
Prashant
2015-05-17T00:00:00Z
beautiful place! very clean and cozy and comfortable. would definitely recommend!
Rebekah
2014-11-23T00:00:00Z
We had another fabulous time at Rebecca's place! She had accommodations for our 18 mo old and enough games to keep our 4 yr old entertained! We used the kitchen and everything worked well. We also took advantage of the indoor pool and really love the location. Rebecca is quick and easy to work with! Thanks for another great stay!
Katie
2015-09-28T00:00:00Z
Great condo, nice location, amazing amenities.
Maria
2016-04-05T00:00:00Z
Rebecca was very welcoming and responsive. Her place was so cozy and inviting and very well organized. My family and I had a great time and we loved all the amenities at Attitash Mountain as well.
Mallory
2016-07-12T00:00:00Z
Rebecca was wonderful. From booking to our arrival, she was on top of everything and so great in answering questions. The condo is wonderful for a family. It is a 7 minute drive to Storyland and there is so much to do in the area, including hiking, swimming etc.
Monica
2015-09-21T00:00:00Z
We had a great experience at Rebecca's condo. Everything was as expected, and Rebecca was prompt to answer all our questions. We cooked most of our meals and the kitchen had everything we could possibly need. Clean, pleasant, and full of amenities. Would definitely want to come back.
sebastian
2014-06-13T00:00:00Z
We rented the full condo last year and had a great experience. We were heading back to NH and rented just the room with the king sized bed and were happy once again. We plan on booking this condo again next year. Rebecca is an absolute pleasure to work with as we were making plans and during our stay. She really wants it to be the best possible experience for her guests. The location is perfect and tons of great amenities available. Highly recommend!
Lisa
2014-09-22T00:00:00Z
Room Type
Entire home/apt
---
Property Type
Apartment
---
Accommodates
7
---
Bedrooms
Bartlett, NH, United States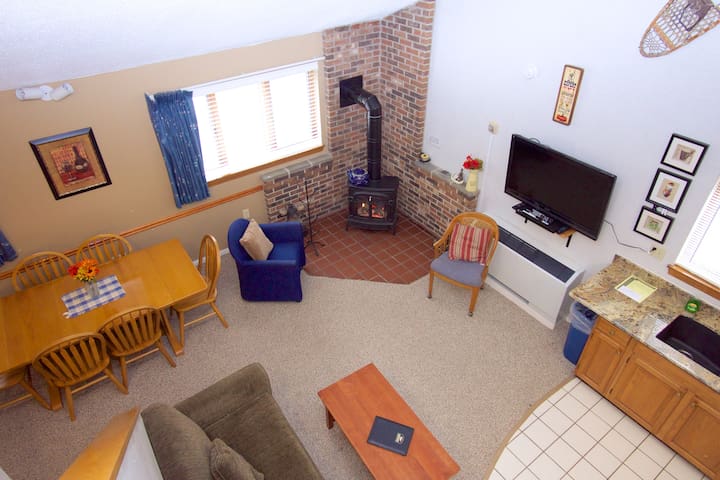 Luxurious 2nd floor river apartment with spacious living room, high ceilings, comfortable king bed and kitchenette with fridge/micro/keurig. Enjoy the Merrimack River water views from your private balcony! Please note this apartment does not have a full kitchen. I am the owner of Furnished Solutions of Manchester. Listed below are the Airbnb links to my other listings, all in Manchester.
Private first floor entrance to a tiled foyer. Walk up the open concept stairs to the loft style oasis. Open and airy awaits you on the second floor for your home away from home. Immaculate, large living room with 40" flat screen TV, vaulted ceilings, ceiling fan. Bedroom outfitted with king bed with brand new Tuft & Needle mattress, and fine linens. Wake up and enjoy the water views from your bed. Or, walk through the double set of sliding glass doors onto your private balcony to enjoy the view and a cup of coffee. Although this rental does not have a full kitchen, it does have a fridge/freezer, large microwave, keurig coffee maker and a new convection toaster oven (not pictured yet) Large bathroom with double sinks, stand up shower with a seat, two skylights and plenty of natural light. Towels, shampoo, conditioner and body gel are provided. Large walk-in closet for all your belongings. Iron and board are provided. 3 things that guest say they love about this apartment is the fantastic river view, the cleanliness and the really comfortable brand new Tuft & Needle bed. 2 things that our guests wish we could change but beyond our ability is the street noise can be heard in the bedroom and it is difficult to get out of the driveway onto the busy road ... the trade offs of being just one of 50 homes on a river in the middle of the city. The apartment is attached to the main house, but both are private and no shared spaces. My husband and I live in the main house, but we do rent it if we are away on vacation.
Downtown is just 5 minutes away, where you will find Museums, entertainment, and lots of restaurants. Just 15 minutes away are the tax free Merrimack Outlets. We are located on a busy road, therefore entering and exiting is a bit of a challenge ... but once you are inside the home and see the beautiful river view, you will be surprised that downtown is just 5 minutes away. Please keep in mind you are staying in a city, and you will hear street noise. Should you choose to stay at my home, please rate our location on the beautiful view, not the busy road.
Love the place! Very clean and welcoming. The view was amazing! Will come back again!
Marilynn
2017-02-05T00:00:00Z
The pictures don't do the lake house justice, especially the views and sunsets from the balcony. My girlfriend and I enjoyed a nice relaxing weekend of exploring and adventuring all that Manchester and the neighboring towns had to offer. It was my first time there and definitely won't be my last and highly recommend the lake house to anyone. I also highly recommend breakfast at Chez Vachon and The Red Arrow Diner, two of the best breakfast places I have ever eaten at in my entire life!!!
Al
2017-03-05T00:00:00Z
Donna's place was great! Everything was as advertised- great location, very private, and immaculate. Would definitely stay again!
ryan
2016-12-05T00:00:00Z
Donna was extremely communicative before, during, and after my stay. The pictures of the home do not do it justice - it is a truly beautiful getaway (I wish Id been here for fun instead of work!). The stairway is a bit narrow if you've got a large bag, but not too bad. Overall, it was a wonderful stay, and I would stay again.
Meahgan
2016-09-20T00:00:00Z
Perfect weekend away by a lovely river! Sunsets on the river were amazing! Accommodations were cosy and beautifully appointed.
Nellie
2015-04-19T00:00:00Z
The location was great with a fantastic view of the river. The decor is very chic and inviting and the bed is very comfortable. Would definitely stay here again if in Manchester but would plan to spend more time on the porch enjoying the relaxed environment.
Lauren
2014-05-26T00:00:00Z
Our stay at Donnas retreat was fabulous! It is exactly how it is pictured- clean, neatly decorated, with a gorgeous view of the river. It was a surprise for my boyfriend, and he loved it, describing it as "like a hotel room, only more spacious and cozy." The room had a few nice little surprise features as well, including heated blankets, a keurig, hot chocolate and oatmeal! Donna made our first airbnb experience very easy, and was quick to answer any and all questions I had. The apartment was close to downtown, with an easy ride to the highway as well. Just heed Donna's warning to be careful of the busy street when pulling out of the driveway- people drive a bit quickly around the corner and it can be a little dangerous. We had an amazing time and would love to stay here again, especially when the weather is warm and we can enjoy the deck!
Stacey
2014-02-17T00:00:00Z
Donna's rental property is an awesome place for a vacation away from the City. It has a great view which will make you not go out till sunset. The apartment is neat and very well kept. It is not very far from the downtown and very conveniently placed from Walmart. Overall a great place with a great view.
Vivek
2014-10-13T00:00:00Z
Room Type
Entire home/apt
---
Property Type
Apartment
---
Accommodates
2
---
Bedrooms
Manchester, NH, United States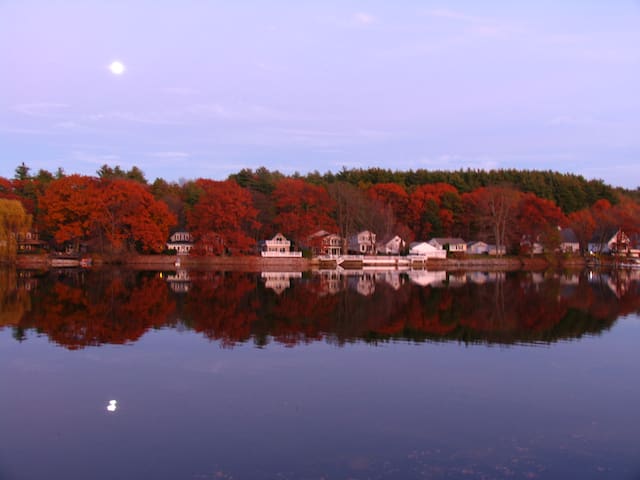 Renovated 125 year old barn. 1 large bedroom, 1 bath, and kitchen. Private patio, spacious yard for kids and dogs. Five mins to Winnipesaukee, hiking, Gunstock, Wht Mtns, Ellacoya, bankofnhpavillion. Come enjoy a relaxing getaway!
My stay at the Quaint Barn was a delightful experience. Deirdre was an exceptional host who went above and beyond to ensure we were comfortable and taken care of. The barn itself was spacious and clean. In the bedroom was a comfy queen bed and we were also able to fit two queen air beds. A twin cot. And a twin airmattress. Plenty room to spare in the living room. Much was provided which made the stay much more pleasant. Each morning was begun with a home cooked breakfast cake to enjoy with the coffee that was complimentary. All appliances worked fantastic. Unfortunately the water system had run into an unexpected problem but Deirdre responded quickly to ensure we were still comfortable and provided with everything we needed. It was quiet and private. Literally a 5-10 minute drive from Gunstock Mountain. And local grocery convient store is a walk away or if you prefer larger stores those are a short drive into town.
Kevin
2016-02-15T00:00:00Z
Deirdre was so nice, she welcomed us upon arrival. She also let our dog play with her dog. She has a beautiful property. She even made us nice breakfast pastries and had some snacks ready for us.
Jeffrey
2016-07-11T00:00:00Z
Deirdre was a wonderful host. She met us on arrival gave us the tour of the apartment and the outside areas. The space was ideal for both our dog and our son. It was a very pleasant stay. Deirdre even made us a yummy cranberry cake to enjoy, and enjoy we did! Would love to stay again...
John
2016-07-02T00:00:00Z
The pictures don't do this space justice. It's more beautiful than it looks. Very clean, full stocked kitchen, bathroom, and living room including a dog bowl and dog towels! The bed is super comfy. We even had home-made coffee cake for breakfast. I could not recommend this place enough. The yard is also big and amazing with a fire pit and goldfish pond too. Stay more than one night if you can to get the full benefit. Your only regret will be having to leave to return home.
Laurie
2016-09-03T00:00:00Z
We had a great experience staying with Deirdre. It's a perfect location for anybody wanting enjoy all that the Lake Winnipesaukee area has to offer. The apartment was very clean and the grounds are peaceful and well maintained. We would definitely stay here again!
Michael
2016-10-13T00:00:00Z
Deirdre was an excellent host! We attended the Florida Georgia Line concert which was held at the pavilion down the road. Had an awesome experience and will most definitely be back!
Kate
2016-06-27T00:00:00Z
Very comfortable and relaxing. It was clean and had lots of room.
Raul
2016-08-08T00:00:00Z
Deirdre made us feel welcome from the minute we drove into the driveway! The barn apartment is beautiful and overflowing with historic charm. Everything we needed to be comfortable was right there for us and we felt welcome to contact Deirdre if anything came up. It felt like home away from home! The surrounding property is such an oasis if you have downtime during your stay here. We would love to stay here again next time we visit the area.
Abbe
2016-06-26T00:00:00Z
Room Type
Entire home/apt
---
Property Type
Apartment
---
Accommodates
6
---
Bedrooms
Gilford, NH, United States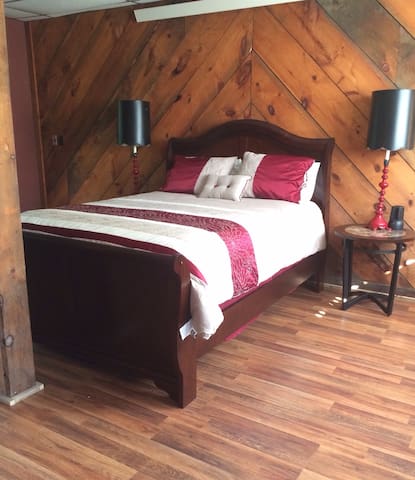 One bedroom apartment in Laconia. One bath with shower, pull out sleeper sofa in living room, full kitchen. Private entrance, third floor walkup in quiet, safe neighborhood, walking distance (three blocks) to town and local restaurants.
We are one block from Lake Winnisquam and have two keewee kayaks for your use.
Quiet, safe neighborhood, 1 block from the lake and 3 blocks from downtown restaurants and shops
Friendly host, very nice folks. Good neighborhood, good location, good deal.
Roger
2015-07-07T00:00:00Z
Christine's apartment was extremely cozy and quaint. We arrived to find a gift of cookies and a fridge with beverages and snacks provided for us. The apartment location is perfect for couples looking for a peaceful and quiet place to stay. It is located roughly half way down the street which ends at Lake Winnisquam, making it a very brief walk to the water, and a 10 or so minute drive to the Weirs Beach Winnipesaukee area. The hosts were very welcoming and friendly, and although my girlfriend and I arrived at a time when Christine was unable to be there, we found a note on the door inviting us to go up to the apartment where the keys were left on the table. An overall excellent and comfortable experience and would certainly stay there again.
Daniel
2015-07-18T00:00:00Z
Christine was great and very accommodating. I had a late start out from work and didn't arrive until later than planned. She stayed in contact with me during my drive and was very gracious upon my arrival. The apartment was lovely with many thoughtful amenities; it was a perfect stopping point for me to unwind and rest before continuing on my drive up into the White Mountains! Thank you, Christine!
Darlene
2016-08-20T00:00:00Z
Nice, quiet street with easy access to the water. Used the kayaks and had a great time. Hike Mt Major if you have time, great views!
Jason
2015-08-23T00:00:00Z
Christine was so nice and the space was excellent. The space had more than enough space for a few people. The area was very cool and there were a lot of sights to see. If you are going to visit New Hampshire, this is the place to stay.
Landin
2016-03-23T00:00:00Z
Cozy, convenient location! Lovely home away from home. I only met one of the hostesses who was lovely. The apartment was just as described, very comfortable with added perks, cookies, juice, muffins, coffee and tea selections. I would definitely stay here again!
Roisin
2015-08-30T00:00:00Z
Christine's place was wonderful. She was waiting up for us even though we arrived late. The location is as advertised and very clean. She also left us homemade cookies! Would definitely stay here again.
Libin
2016-10-07T00:00:00Z
Christine made us feel welcome from the moment we arrived. The apartment was exactly as described and shown in photos. It's in a quaint town just half a block from the lake. We greatly appreciated Chritine's recommendation for dinner as we did not know the area. I would highly recommend this location. A real delight.
Michael
2016-08-30T00:00:00Z
Room Type
Entire home/apt
---
Property Type
Apartment
---
Accommodates
3
---
Bedrooms
Laconia, NH, United States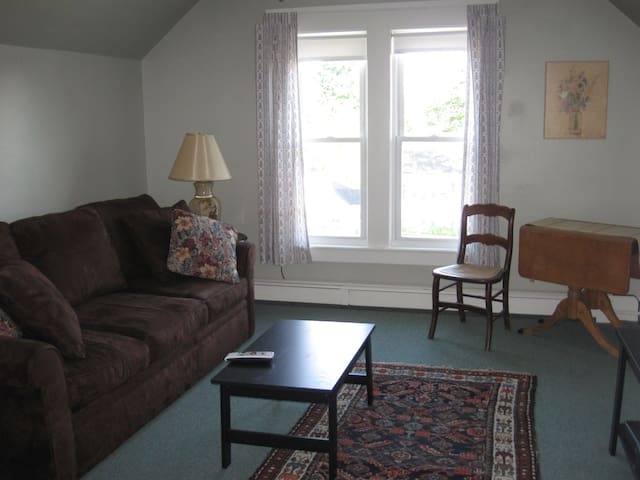 Welcome to our Guest Suite, just 1.5 miles direct to Wallis Beach & 10 minutes to vibrant downtown Portsmouth! Privacy awaits with a full kitchen, living room, bedroom & bathroom, plus so much more! A perfect get away to relax, explore the area beaches, exciting nightlife, weekend farmers market, cocktails at "the Decks," kayaking, live music, historical sites, walking tours, finest dining, biking & shopping! And, WE pay your 9% Room & Meals tax (not you)! :)
Our open concept suite is perfect for 2 people! Bedroom with queen bed, full kitchen, living room area & bath. (Second Floor) This is a private entrance suite (attached to our home) allowing complete privacy. We have a keyless entry, set to the last 4 digits of your cell so you can come and go as you please! Rye is a quaint seacoast town, minutes away from vibrant downtown Portsmouth, Kittery, Maine, and coastal New England! Our home is a direct 1.5 miles to the ocean and gorgeous beach. Portsmouth is right around the corner for more adventurous explorations including nightlife, tours, dining, shopping, kayaking and more. Coastal Maine is right over the Portsmouth bridge! There is parking onsite in the driveway (just beyond the suite) of this residential property with easy in/out access. You do need a car but there are UBER's now in Rye and in Portsmouth. :) And the best part, WE pay your 9% Room & Meals tax (not you)! :)
We believe we have the greatest location! It's so close to the beach (1.5 miles), AND, to active downtown Portsmouth. When you are here you feel the happy peacefulness around you! Please check out our Guidebook for an abundance of activities, along with our favorite local recommendations. Please NOTE the distances to attractions as noted under our photos of those places. Many activities, restaurants and adventure brochures are waiting for you in the suite!
Kim is very kind and accommodating and her place is even better than the photos show. It's clean and bright and spacious! There is a fully-equipped kitchen where my husband and I were able to cook a full meal and Kim left out snacks like popcorn and fruit and yogurt. Kim and her husband Mike has bicycles they allowed us to use to ride to the beach. It was about a 10 minute bike ride on country roads to a lovely beach. Kim suggested going to the beach in the morning and it was beautiful. We had fun watching the dogs run along the sand and swim (they are allowed at the beach until 9:00) and wading in the little tide pools. Kim in really organized and informative when it comes to telling you all about the area, and we found our way to grocery stores and restaurants very easily. We hope to stay here again in the future! Thanks for the great stay.
Sarah
2016-07-22T00:00:00Z
Check in was a breeze. The coded door was a great addition because we could come and go at our leisure. The apartment was immaculate. We wished we had more than one night to spend in the location. Will definitely consider again for a vacation.
Greg
2015-09-13T00:00:00Z
Kim and Mike were excellent hosts! They were attentive to our needs and quick to respond when we reached out. The suite was perfect for a romantic getaway with plenty of privacy and seclusion, while still being super convenient to all the fun of Portsmouth. The bed was comfortable, the kitchen had everything we needed to cook breakfast and dinner, and they even left us some wine to enjoy! We will definitely be in touch next time we are back in the area!
Kevin
2015-11-22T00:00:00Z
First time using Airbnb. I can only hope all hosts are half as awesome as Kim. Kim was super accommodating, kind, and helpful. Six stars!
Brian
2015-06-18T00:00:00Z
Kim's Airbnb rental was wonderful! The set up of the small apartment was even better than what was depicted in her photos. It is tastefully decorated without being cluttered and quite spacious. It is located in a lovely, quiet neighborhood only a short drive to the beach and the city of Portsmouth. Kim provided many extras such as coffee, cream and sugar, as well as juice, water, and snacks. We had the pleasure of chatting with Kim during our visit and she was very helpful with any questions we had. I highly recommend Kim's rental and definitely would plan to stay there again on future visits.
Donna
2015-09-09T00:00:00Z
We have had 3 wonderful days in Rye. Kim's apartement is pretty wonderful. It is very spacious, bright and cosy. Further more it was absolutly clean and there were littel snacks and drinks, as we arrived. Kim and Michael were pretty nice and friendly.
Frauke
2016-09-20T00:00:00Z
We've used Airbnb throughout the world and Kim's place was one our favorites! Great location close to the beach and downtown Portsmouth. Great experience with all the communication and logistics. The apartment and its furnishings were very nice, everything was super clean. She provided lots of information on the area (restaurants, activities, etc) plus all the beach items you forget to bring yourself - chairs, bags, towels, you name it!
Keith & Ellen
2015-08-05T00:00:00Z
Kim's place is fantastic! The full apartment is connected to their home but completely separate in terms of access. Guests will enter through separate door with passcode. The apartment has a full kitchen, living area, closet, bedroom, and bathroom. I appreciated the amenities including the kitchen and bathroom products, Wi-Fi, and cable television. Kim's home is beautiful - wonderfully decorated for Christmas, very clean, and cozy! The house is a 10-15 minute drive to downtown Portsmouth and very close to the beach. Kim and her husband were welcoming and gave plenty of good restaurant and activity suggestions. I would definitely stay again and look forward to the chance to visit again!
Leah
2014-12-21T00:00:00Z
Room Type
Entire home/apt
---
Property Type
Apartment
---
Accommodates
2
---
Bedrooms
Rye, NH, United States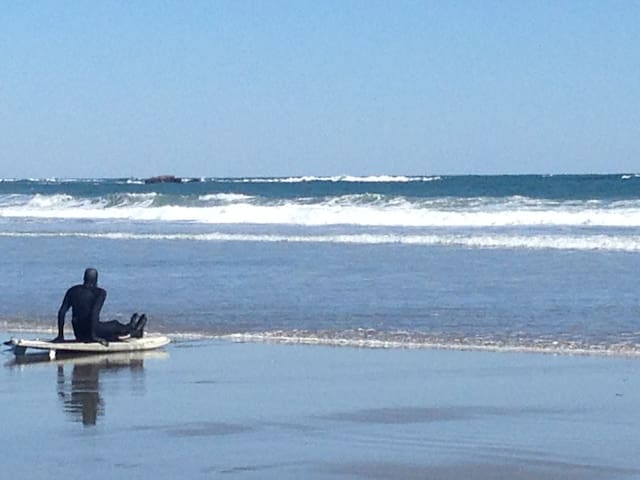 Large 3/4 bedroom condo in the heart of the White Mtns. Close to shopping, dining & the many activities the area offers all 4 seasons. PLENTY of sleeping room. Perfect for multi-families or groups. Fully furnished incl linens! No A/C. Not childproof. Value is great and beats a hotel!
This large end unit is fully furnished with plenty of sleeping room...perfect for small to large families, multi-families, groups, girls' weekends, and more! Can sleep over 20! Very centrally located and close to many of the activities North Conway and the White Mountains have to offer!
Coming for a spring or summer visit? Nearby is hiking, biking, mountain, swimming, floating the Saco river, adventure sports at the ski resorts, Storyland and more! Maybe you prefer to shop at the outlets or enjoy dinner and cocktails at one of the many local restaurants or attend a local seasonal festival or fair! In the fall you are in the heart of the spectacular fall foliage New England offers! Winter brings skiing, sledding, ice skating, snowmobiling and more! The opportunities are limitless! WE LOVE NORTH CONWAY!!!
Thanks to Cindy who was available to answer all of our questions! She also has a guide with activities to do around North Conway which was appreciated. The condo is very big and offers room to sleep a lot of people, and the kitchen is well equipped. If you're a large group going to North Conway, I totally recommend this place!
Julie
2016-06-27T00:00:00Z
We had a very nice time..Condo isn't fancy but that was fine with us..Clean and cozy..Good instructions and directions. Very convenient location to N. Conway attractions. If you have a large group this would be a great choice for you.
Shaun
2015-02-16T00:00:00Z
We had a fabulous time at Cindy and Ron's. They were very responsive. The condo is in a perfect location and the kids had a wonderful two days there!
Jenny
2016-06-30T00:00:00Z
The house is in a great location for touring and hiking around, close to everything, including both nature and shopping. A lot of rooms and sleeping place. When we arrived the cleaning team was still cleaning, Cindy was reachable and we checked in after an hour.
Gal
2016-08-24T00:00:00Z
It was greating staying in Cindy&Ron's place. As expected, there were plenty of beds for all of us who were there, and the overflow parking was also very near and accessible.
David
2016-09-17T00:00:00Z
Cindy's place is a great place for a big family or a number of couples with kids of all ages. The location is perfect and allows you to go for many day hikes or family fun days in Storyland or some zip lining course. The place itself is very homey and clean and has a nice private porch and a big grass field to run around. Cindy was very approachable and accommodating. She left on vacation the day we arrived so she put us in contact with her sister that was also great. I definitely recommend this place for a fun vacation.
Oren
2015-09-01T00:00:00Z
We had a very enjoyable stay here! The condo is spacious and was a great space for our party of 5 adults. We loved building a fire in the outside fire pit, and the proximity to town and area attractions was ideal. The hosts were very accommodating and gave great information about activities and restaurants in the area. They were very responsive to questions. We would definitely stay here again!
Beth
2016-05-09T00:00:00Z
Me and my 14 friends rented the house for the weekend of 9/20-21. We were provided with everything we needed to have an enjoyable stay. We got enough beds for so many adults. We really enjoy hang out in cozy living room with cute fireplace. Cindy provided very detailed and easy to follow instructions for everything we needed to know about the house. The house was clean and in excellent condition, and has plenty of room for a big group. The host was responsive to any questions that we had during our stay and we didn't have any issues. Place is really easy to find and close to town. We went to hike Mnt Washington and was close to our trail. We even saw moose on our hike and other one close to road. Was sooo amazing. We already were talking with my friends to go back. So much to do.
Viera
2014-09-22T00:00:00Z
Room Type
Entire home/apt
---
Property Type
Apartment
---
Accommodates
16
---
Bedrooms
North Conway, NH, United States
Lake & Sky Condo is a peaceful oasis...Ski nearby Gunstock mountain in the winter, a short walk to Weirs Beach in the summer. Tax ID#059864
The condo is very spacious with 440 square feet of marble floor...plenty of room for four people to stay, play and sleep comfortably! The European trundle bed folds out from the couch into a queen size bed and there are two additional twin roll a way cots available.
Weir's Beach is a long time family favorite and only 1/4 mile away from the condo. There you'll find the beach (of course) as well as the boardwalk, arcades, restaurant, the scenic railway station and the drive-in movie theater. Summer favorites, such as go karts, batting cages, rock climbing and mini golf are also nearby
Fantastic, just prefect flat for vacation!! Stayed there for nearly one week and it was very good! Sherri was very friendly for us. Really good person to work with. Если кого - нибудь из русских занесет в эти края, очень рекомендую посетить эту квартиру!! Место просто супер! Хозяйка молодец! Квартира действительно хороша!
Victor
2015-01-12T00:00:00Z
Sherri was such a great host! She was available and fast to respond with any questions. The condo is very centrally located to all the fun activities that are available and it was the perfect, quiet spot to get ready for the Timberman Ironman I was in town for!
Justin
2016-08-22T00:00:00Z
Pictures can't capture the beautiful view from this clean and comfortable apartment. The condo is very peaceful and quiet and can't be in a better location for summer or winter activity. Sherri is a nothing but awesome to deal with, from reservations to checkout I feel she was available for whatever I needed. I will look up this place every time I look to travel back home. Thank you Sherri for sharing this slice of heaven.
Marc
2015-03-25T00:00:00Z
We had a great airbnb experience at this trip! It was a perfect family get-away! Sherri mailed us the keys in advance, so that we didn't have to worry about the check in process. And we could arrive at our own time. We reached late in night, though we were a bit skeptical initially about the location and the lodge (Because it was dark, and couldn't see much), the next day sun rise blow-away all the doubts. It was absolutely stunning experience to see the view of the lake and mountains! The home was well equipped to accommodate everything we need to have for the stay. Though it was a small (compare to a house) kitchen, it was good enough with all pots and pans for us to do minimum cooking for 6 people. The convertible sofa was very comfortable to hangout as well as sleep. It was truly a good Family experience. There was something for the whole family! Books for my parents, Movie collection (DVDs, Blue-rays) and TV, plenty of games and books for kids. And the 1st room was spacious enough for everybody to hang out without feeling crammed. One suggestion is to take slipper scuffs in winter. Though there are rugs and carpets the marble flooring could be cold, especially near the windows. There are some internet cold-spots so being online from anywhere in the home can be tricky. Dining area has a stable connection. I don't think it's a big deal. Who want to miss the amazing view and vacation to internet! Definitely we'll recommend this place for families! (As long that they fit in two Large rooms)
JAISON
2015-01-19T00:00:00Z
While we didn't actually get to meet our host Sherri, the accomadations were as described. First and foremost the view of the lake was spectacular, truly panoramic. The room was clean and comfortable, and the location in Laconia was great, close to everything. There was a very nice woman at the front desk who answered any questions we might have. Great resturants close by also. Overall we had a terrific time and would highly recommend Sheri's condo .
Madeline
2015-05-16T00:00:00Z
What made me want to go here is the view, and I wan't disappointed. The window is the length of the wall. AND it opens, love love loved it. It is very cozy, very clean, and has all the kitchen stuff if you need them. My husband said "so when do you want to come back here?" When we do we will also rent her next room because we need a good bed. In the studio there is a trundle couch which is good for some but he is handicap and couldn't do it. But didn't deter us from having a great time and enjoying Sherri's condo. FIVE stars from me for sure. Nancy
Nancy
2015-09-22T00:00:00Z
The place was beautiful and clean and the location was perfect - can't believe it's over, wish I could go back!
Vishakha
2015-03-20T00:00:00Z
I was lucky enough to find Sherri's lodging listed on airbnb for a group of family and friends, spending the weekend skiing at Gunstock. The unit was very clean and well kept, with linens available for our use. Sherri is very response and very accommodating. She took extra care to ensure that the sleeping arrangements would be comfortable for our larger group. 5 out of 5.
Zachary
2015-02-23T00:00:00Z
Room Type
Entire home/apt
---
Property Type
Apartment
---
Accommodates
4
---
Bedrooms
Laconia, NH, United States
Check out the Lil Red Caboose also. !! Best view out your living room. Great base camp for Franconia Notch. From your door you can: Hike, bike, snowmobile, bicycle. This full kitchen, dining area, living room, Large bedroom with king size bed, bath.
700sf of space with a full kitchen. Jacuzzi tub. King and twin beds. Parking for one vehicle, additional parking space next door at whales tale.
Quite neighborhood with the best views in Lincoln.
We enjoyed our (EMAIL HIDDEN) met our needs and Randy was very good about answering all our questions. It is in an excellent location with lots of things to do in the area. I wouldn't hesitate to recommend the apartment to others interested in staying there.
Janet
2016-07-31T00:00:00Z
Cozy, clean and comfortable in a very convenient location. Would have been nice to have had more than just salt and pepper in the kitchen.
Joy
2015-10-01T00:00:00Z
Great location for hiking in the mountains. The place was really nice, huge bed and lots of space.
Maisie
2015-08-12T00:00:00Z
Randy greeted us on our arrival and the apartment was just as described in the posting. The apartment was very clean and Randy provided everything we needed to prepare, cook and enjoy our meals!
Hank
2016-08-22T00:00:00Z
Randy's place was great - even better than the pictures on the site make it seem. Randy made sure things were set up for us and gave us our space. The location, though essentially right on Rt 3, was perfect for our hikes and quiet inside - so much so that our 4-month old could rest in peace after our long hikes. We'll definitely keep it in mind for our next trip to the Whites!
John
2016-06-26T00:00:00Z
We had a great time in the White Mountains basing out of this apt. The listing is as portrayed and the location was very comfortable and convenient for exploring this beautiful part of NH. Randy is very prompt with confirmations and any questions you may have.
Patricia Lyn
2015-10-05T00:00:00Z
Very nice place, well-stocked kitchen. The chocolates were a nice touch sand the place was very clean.
Nicole
2016-11-23T00:00:00Z
This AirBnB suite was very clean, easy to get to, and a great spot to stay. We were only in Lincoln for a wedding, so got in late and left early, but we were very comfortable staying here and hopefully can come back for a more leisurely visit to enjoy the beautiful area from the perfect launchpad of Randy's place.
Melissa
2016-11-06T00:00:00Z
Room Type
Entire home/apt
---
Property Type
Apartment
---
Accommodates
4
---
Bedrooms
Lincoln, NH, United States
Beautiful tranquil retreat overlooking lush New England landscape of rolling hills and small trout pond. Gorgeous brand new studio adjacent to historic farmhouse. You will enjoy a private entrance via one flight of stairs and a partially enclosed wood patio. Relax outside watching the trout or enter your private space. Fully equipped kitchen & bathroom. Complete privacy. One queen size bed and ample seating.
Private entrance to a brand new studio apartment (build in August 2015) with complete kitchen, including brand new appliances and kitchenware. Your own private bathroom with heated floors and skylight, plus washer dryer. Gorgeous hardwood floors and wood paneling surround your own private getaway. Dish TV on a 20" wall mounted television and complementary WiFi throughout the apartment.
The apartment is adjacent to a restored 18th century farmhouse and down the road from a working dairy farm. This is a peaceful atmosphere on a quiet country road. 5 minute drive from quaint downtown, 15 minutes to Bellows Falls VT and interstate 91 to head north or south. Close to all attractions and beautiful unspoiled scenery, lovely and cool in summer, view of amazing foliage in fall, cozy and warm in winter.
Anna was very prompt to respond, and Judith was the friendliest host! Judith told us that she designed the apartment herself, and it's a masterful mix of reclaimed wood from the old hayloft (which this place used to be!), modern lines, and a touch of Asian inspiration from Judith's travels. The Tranquil Retreat is in a small town and a great getaway from the city, but definitely has its own amenities. Following Judith's wonderful suggestions, we spent some time exploring Walpole and Bellows Falls (right up the road), and loved meeting the locals who call these places home year round. Everyone was so welcoming. I can see how the Tranquil Retreat would be a great spot in summertime, with a small pond next door and a beautiful deck right out the apartment doorway. Since it was winter, we had a blast exploring the local restaurants and traveling 40 minutes to Okemo, which had some great skiing. This was a beautiful retreat, and we would definitely return. Thank you!
Alissa
2016-01-30T00:00:00Z
Judith was wonderful and full of info for us...very private and cozy...beautiful area...we couldn't have asked for a nicer place and a wonderful host!!!
Sheri
2016-09-30T00:00:00Z
I really loved staying at Anna's Tranquil Retreat. The construction of the house was so beautiful and unique, it was just a warm and welcoming feeling as I entered the room. Each piece in the apartment looked as if it was particularly chosen and has a story to tell. From the wool sheets, to the glass shower, or the colorful utensils ... I felt like I was on the other side of the world. Perhaps Portugal or Germany. It felt like I could have been thousands of miles away, but it was only a few hours drive. It was just perfect. Anna's mother is a world traveler, and we shared stories about places we've been. Her mom is such a sweetheart, and gave me a tour of the main part of the house - 1700s old and build with bolts and no nails. She had amazing pieces all over the house, and I could tell this was a woman of eclectic tastes - and I just loved it. Upon arriving at the apartment she was sweet enough to offer us some delicious cookies and crackers, since we arrived late in the evening. It was my birthday as well, and gave me a very kind and sweet present. It made me feel so much at home, and I am very grateful to stay in such a beautiful place - so simple ... and yet, has so much to offer. I would love to stay here again, and Anna's mom has offered me to do so. I would give Tranquil Retreat 5 Stars and my highest recommendation!
Deepti
2015-11-22T00:00:00Z
We absolutely loved the property! Judith was very helpful and attentive to our needs as they arose: from helping us out when we accidentally got locked out, to providing more firewood for us at the last minute. She definitely made the stay very cozy! The apartment loft was amazing, incredible taste in design.
JoseAngel
2016-01-06T00:00:00Z
What a great find this place was! Anna and her mother Judith was the best hostesses we could have hoped for. Judith even gave my fiance a birthday card after I mentioned that was the reason for our visit. Very sweet, indeed. Everything was as it was described in the listing and really, the place is even better than the pictures make it seem. The interior of the apartment is so nicely designed and decorated! It's just beautiful. The location is perfect for a quiet getaway. Close by are farms, quaint small towns, and lots of possibilities for outdoor activities. My fiance and I look forward to coming back someday soon.
Todd
2016-09-11T00:00:00Z
Great little place to stay! Super cozy and welcoming--Judith made sure to have the place glowing and warm for a late arrival, and was really kind in making sure we had everything we needed. The place is charming, complete with a warming wood stove, lovely scenery and a sweet horse who loves to say hello to visitors. I imagine it's great to visit in warmer months, too, with a great covered porch overlooking the pond. Highly recommended--especially if Judith bakes cookies, which are truly delicious.
Jennifer
2016-01-25T00:00:00Z
We've stayed at Anna's wonderful kingdom for two nights and it was magical. Judith was a very nice host and treated us as if we were her family. She let us keep our own quite and privacy, but still offered us a glass of wine while we set sale with the canoe at her lovely pund. The place is fully equipped with all modern facilities, it is well designed and the vibe is generally warm, private and very romantic. We received a very clean and tidy room when we entered, fresh towels were waiting at the bathroom and the kitchen was stocked with milk, wine, cheese, coffee, tea, some fruit and honey (: Best Airbnb experience we had so far. We'll back for sure
Yotam
2016-04-25T00:00:00Z
Thank you so much for the warm welcome. We really enjoyed our stay in Walpole. The apartment is exactly as nice as it looks in the pictures. It really felt like walking into an alpine chalet, especially with the wonderful smell of the cherrywood.
Maxime
2015-10-18T00:00:00Z
Room Type
Entire home/apt
---
Property Type
Apartment
---
Accommodates
2
---
Bedrooms
Walpole, NH, United States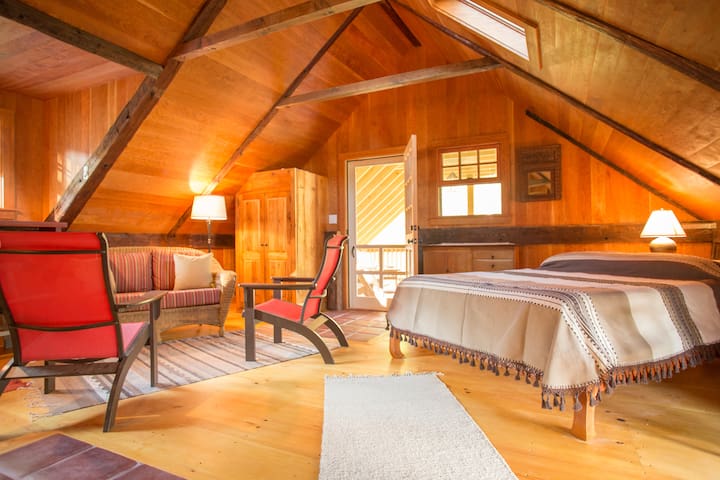 This peaceful White Mountains river valley farm has a comfortable, spacious private room with en suite bath on the ground level. Only a 10 minute drive from the college town of Plymouth, New Hampshire and centrally located near Squam Lake and in the White Mountains. Drink in the view along with your morning coffee and plan your day to include a casual walk to the screenhouse by the river or down to the local historic covered bridge. For a more vigorous itinerary there are country roads to walk and direct trail access into the Sandwich Notch area and the White Mountain National Forest for hiking or biking. Maximum two adults, (& baby is ok) on this private farm. The sunny room has a sofa, desk, chairs, queen size bed, piano, wireless internet, tv with local channels, refrigerator, microwave and coffee maker. The listing Includes full en suite bath with tub/shower. The main entrance is next to the large indoor riding arena (all built in 2000). Dogs may be allowed on a case by case basis. A minimal cleaning fee would apply. (Otherwise, there is none.) Come enjoy the spectacular scenery of the White Mountains and Lakes Region of New Hampshire! Super location - only a few minutes from Plymouth State University in the town of Plymouth with a variety of great local restaurants. Squam Lake is a short drive away with incredible vistas, great boating, and other watersports options including paddle boarding. Kayaking or tubing on the Pemigewasset River are always popular as well. Waterville Valley, Loon Mtn. and Franconia Notch State Park are nearby. This lodging opportunity is a perfect place to unwind, decompress, and get back to basics in a country setting. May all your travels be happy and safe!
Patty's home couldn't be more idyllic and Patty couldn't be more accommodating or kind. It was a little odd at first, driving up and realizing our space was INSIDE the barn - but it was lovely, clean, fresh and well supplied with fridge, dishes, tea & coffee, etc. And no, it didn't smell like you were in a barn! The property and views are stunning, and the stars at night defy description. It was incredibly peaceful. Patty was friendly and helpful. She supplied freshly baked muffins, croissants and hard-boiled eggs each morning, placed just outside our door. I hope we have the opportunity to return some day, we really enjoyed ourselves.
Chris
2014-09-22T00:00:00Z
Patty was great. Andreas (the horse) was so friendly. We didn't stay long but would love to stay again
Gregory
2016-08-18T00:00:00Z
Everything was wonderful and even better than in the description. Patty created a home-like, welcoming atmosphere and helped make our stay cozy throughout. The screen house by the river is fantastic on the hot summer days.
Maxim
2016-07-21T00:00:00Z
Patty's property is a piece of paradise, a horse farm at the feet of the white mountains in beautiful New Hampshire. The room is exactly as advertised, a detached room with everything you need for a wonderful stay. Patty herself is superb! I was not feeling well when I arrived there, and she was very kind to help me in any way she could. I hope to come back in the future to stay more time in the farm as it feels like such a wonderful place to rest and be in contact with nature. Thanks Patty for the short but lovely stay!
Paola
2014-10-07T00:00:00Z
We enjoyed out stay at Patti's farm. She is a gracious host and the room was very comfortable. Note: it is a very private room, not directly part of Patti's own living area.
Susan
2014-06-29T00:00:00Z
Patty's beautiful horse farm in Campton, NH was our first ever experience with Airbnb. She called an hour or so after our flight landed to make sure that all was going well with car rental, directions, etc. What a beautiful location at the foothills of the White Mtns. She provided a 'studio' type living arrangement with tea, coffee, fridge available in the room. Plenty of drawer space. She was terrific in sharing information about the local lore and locations for hiking and adventures in the Franconia State Park area - all well worth investigation. She was a terrific hostess and a great first experience for Airbnb. We have a new friend in NH.
matt
2015-10-11T00:00:00Z
Everything is as described on the website. We enjoyed our stay.
Sreenivas Prasad
2015-10-06T00:00:00Z
After seeing the pictures of the place and driving down the road, there was no question we were there. The only thing not there was the rainbow. The setting is lovely and the place is remote, which is just what we were looking for. We were ready to be there as we drove for a number of hours and Bisous our dog was ready for a romp in the field.
Beverly
2014-10-08T00:00:00Z
Room Type
Private room
---
Property Type
Apartment
---
Accommodates
2
---
Bedrooms
Campton, NH, United States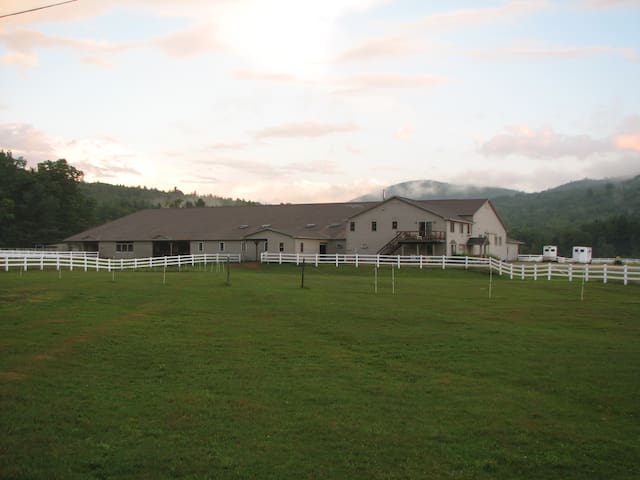 Our warm and inviting apartment is located above the garage and has a private entrance. Built as an in-law apartment so it has all items necessary to make yourself at home. It is bright and sunny with views of mountains to the west for great sunsets.
A roomy one bedroom in-law apartment with views of mountains to the west for you to enjoy some beautiful sunsets. Private entrance leads to the stairs to this quiet, cozy getaway. The unit is bright from large windows on all side for plenty of fresh air. Hard wood floors in the living area and carpet in the bedroom gives it a warm feeling. The kitchen has a full size gas range and refrigerator with ice maker, microwave, coffee maker, and toaster. Sorry, no dish washer at this time. The kitchen is fully equipped with all the things you need to make some home cooked meals. A queen bed in the bedroom with soft cotton sheets and a down comforter and a bureau and lamps for some night time reading. The living room has a queen size futon for extra sleeping space, dvd player for the TV and wifi for your internet needs. The bathroom has a shower, no tub. There are plenty of towels. You will also find shampoo, soap and a hair dryer.
Private neighborhood and road with some children around, but at the end of this cul-d-sac do not see many.
It was a great experience all around! Parked right in the driveway in a dedicated spot, walked right in and upstairs! The key was ready for us and we didn't even need to see Ron or Rosemary. Once we got upstairs, the place was spotlessly clean, cozy and had everything you would want and more. There were fresh bagels and orange juice for breakfast which was super kind! I would 100% stay here again and probably will sooner than later. Thanks for a great weekend!
Benjamin
2016-02-15T00:00:00Z
The house and grounds are very beautiful. Ron has done a great job on his house. The room that you stay in looks a little small from the outside but it's very spacious. Ron himself is a good guy and is probably working on one of his many projects. So if you need something fixed he's more than able to do that. The only downsides I could see is if you're not a dog person you might be turned off from the dog smell. I believe it was only because it was raining but eventually you get used to it. Also there is virtually no cell phone service but most phones can use wi-fi ,which he supplies, to make/receive phone calls and texts. I would definitely recommend Ron's house. I'm very glad I found it.
Derrick
2015-08-22T00:00:00Z
The apartment was GREAT! Even cozier than the photos. We loved everything! Thanks for having half and half, bananas and bagels in the fridge! We had a lovely overnight stay! Thanks, Ron. Aliza
Aliza
2015-06-28T00:00:00Z
Lovely place, nice and hospitable owners, and above all - the most adorable two dogs!!
Raisa
2016-08-06T00:00:00Z
My wife and I had a very nice and enjoyable stay. (SENSITIVE CONTENTS HIDDEN) maps directions brought us to a cul de sac with 3 driveways, but not to the front of the house. However, just pay attention to Ron's detailed directions and they bring you right to the house. They were not home when we arrived, but we were greeted by their 2 friendly and very energetic dogs in the driveway. Check in and getting into the apartment was very easy (once again, per Ron's detailed explanation). It was very spacious for the two of us, clean, and had everything we needed for our short stay. I was pleasantly surprised to be able to catch some football games on the Dish Network box available in the apartment. Although we were never able to meet in person, Ron communicated quickly via the Airbnb messaging feature, and I highly recommend this space and would stay here again.
Tim
2015-10-05T00:00:00Z
This place was the perfect size for over prepared new parents, lots of room to spread out and relax. The bed was very comfortable! Thank you!
Debbie
2016-08-14T00:00:00Z
Very comfortable space. Privacy without isolation. Spacious, airy and surrounded by beautiful woods. Nice!
Peter
2015-10-14T00:00:00Z
Great location and cozy cottage!:)
Shelbye
2016-10-24T00:00:00Z
Room Type
Entire home/apt
---
Property Type
Apartment
---
Accommodates
4
---
Bedrooms
Center Conway, NH, United States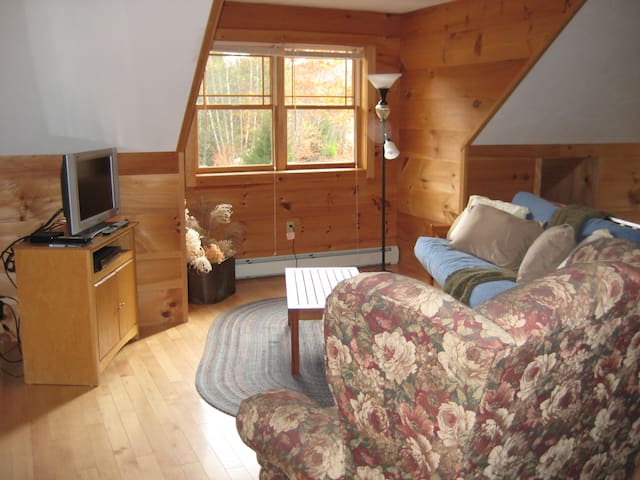 We have a cool and spacious one bedroom basement space on Lake Opechee. This backyard walk out has a private covered patio area as well as use of the grill, fire pit, canoe and kayaks. Off street parking for one to two cars is available. We pay your 9% lodging tax (NH M&R Tax Lic:061987)
We offer a quiet space in a residential neighborhood. Our basement walk out is very spacious and offers over 700 sq ft of privacy. The suite has a large bedroom with a ¾ bath (shower not tub) and separate living/dining room/kitchen, with a pull out sofa sleeper (bdrm 18x13, Common rm 18x30). The kitchen is minimal with a hot plate, toaster oven, bar fridge and sink but functional for the basics. The comfortably fully furnished suite is for your exclusive use. Also included is a shady private covered patio with outdoor seating and grill and access to common amenities including fire pit, canoe and kayaks. Off street parking for one car but we've made it work for more. Just let me know what you've got. We offer coffe/tea, basic condiments and some sort of snack, but not knowing what guests want or need, we leave the rest up to you. We are both off the beaten path yet close to all the action. Our yard regularly hosts ducks and geese and even wild turkeys in quiet times. The occasional loon will grace our little bay and we always have a few boaters when the fishing derbies take place. Enjoy our dock for boating opportunities, lounge by our firepit, grill a few burgers, or head over to the Weirs or Meredith both barely 10 minutes away. We're also excited to share our newly solar powered home. Get me started on the subject and I won't stop. The house is easy to find thanks to the panels. We would love a longer term housemate relationship with a preference for people with some medical background. Nursing students or short term LRGH employees a plus. Longer terms really only work for one or two people as kitchen facilities are limited. We pay the 9% NH Meals and Rental tax and it is included in your payment. We are world travelers ourselves and the idea behind Airbnb is very appreciated. We hope you enjoy sharing our space.
Lake Opechee is what we refer to as the "local's lake" While right in Laconia, it is mostly surrounded by residential property so visitors do not realize it is separate from Winnipesaukee or Winnisquam but sits between the two of them. This means it offers quieter boating away from the hustle and bustle of the Big Lake. Because of that we are hosts to a waterski slalom course and it is excellent for early morning waterskiing as the waters are calm and undisturbed. We are also steps away from the annual Sled Dog Derby course and less than half a mile from its traditional start/finish area.
The pictures were very accurate. Beautiful scenery, nice and quiet. You can use the kayaks and fire pit. Made for a great weekend with my girlfriend. Be sure to bring for your own provisions.
Patrick
2016-08-08T00:00:00Z
Heidi's welcome was incomparable. Everything in the house and outside of the house was easy to use. The atmosphere was pleasant. Heidi's recommendations and tips were very useful to us in the forthcoming days. Thank you Heidi for your help and good attitude. Jacob Laor.
Jacob
2016-10-14T00:00:00Z
Heidi was very welcoming and was happy to chat or give us space. We had a very nice few days and enjoyed having a barbecue as well as spending time on the private late beach.
Elizabeth
2016-09-06T00:00:00Z
Loved this place, the pictures accurately represented it. Great for a quick getaway to fish and kayak. Heidi responded to any question we had promptly, as well as providing us places to eat and other points of interest.
Catherine
2016-08-28T00:00:00Z
Clean, spacious, beautiful! Can't wait to come back! 5 stars!
margaret
2017-03-27T00:00:00Z
Heidi's place was phenomenal. It was exactly what my girlfriend and I were looking for. Gorgeous view of the lake and we loved the dark bedroom as well as the peace and quiet. I highly recommend anyone to enjoy this place.
Jack
2017-01-24T00:00:00Z
This place was awesome! Just stayed for 2 nights, but it had everything we needed. Very spacious, clean and a beautiful view of the lake! Thank you!
Jaime
2017-04-02T00:00:00Z
Great stay, clean and quiet house/neighborhood, just what we needed. We appreciated the accurate local recommendations. Will use the fire pit next visit.
Mike
2016-08-06T00:00:00Z
Room Type
Entire home/apt
---
Property Type
Apartment
---
Accommodates
4
---
Bedrooms
Laconia, NH, United States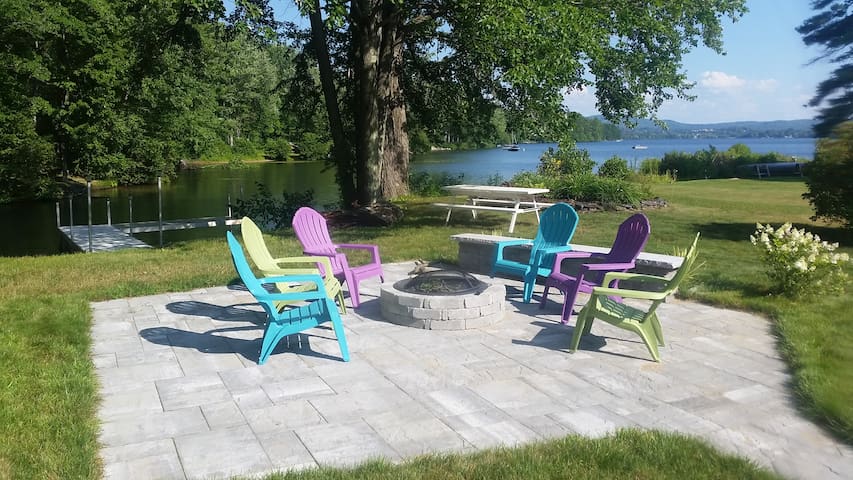 Spacious 2nd floor apartment with private entrance, 1 bedroom, full kitchen, living room and screened in porch in quiet, safe neighborhood, 3 blocks from downtown shops and restaurants, and one block to Lake Winnisquam.
We live in a quiet neighborhood on the corner of a dead end street. Please be respectful of neighbor's space and privacy.
I had a wonderful stay at Christine and Anne's 2nd floor apartment. The apartment was clean, comfortable, and in a quiet neighborhood. Christine and Anne were extremely kind hosts who were committed to making sure I was comfortable during my stay. They provided fresh fruit, coffee, and cookies, and even baked me banana bread! Laconia wasn't the most exciting place in early June, but it was easy to drive to other towns around Lake Winnipesaukee and I had a great time exploring the beautiful Lakes Region. I would definitely visit again and stay with Christine and Anne!
Andrew
2016-06-03T00:00:00Z
We loved staying at Anne's house in Laconia! Beautiful and peaceful location, central to everything. Apartment was spotless and so comfortable and Anne made us feel right at home. Looking forward to staying with her again sometime!
Kristin
2016-07-24T00:00:00Z
Nice appt in a quiet neigbourhood. We briefly met Christine and chatted more with her mom Anne. Both were very friendly. The appt is very spacious and spotless. We loved the drinks and breakfast items provided, and especially the homemade cookies and muffins.
Jenny
2015-09-29T00:00:00Z
We just loved this - a charming upstairs apartment in a lovely neighborhood, and a wonderful host that make us feel so welcomed. The location was superb, the space generous and attractive, the amenities thoughtful, and was great value. As a bonus we were in peak foliage season (such color!), and it was an easy walk to a great meal.
Craig
2016-10-13T00:00:00Z
Lovely, lovely, lovely! Wonderful hosts. Cute, very clean apartment. Quiet, pretty, safe neighborhood. And delicious homemade goodies to boot. We will be back
Sally
2015-08-05T00:00:00Z
We stayed unfortunately only for one night at this wonderful place with a lovely host and we really enjoyed our stay!! The region is very nice and quiet and just 2 minutes away from the house there is a lake that summer travellers can enjoy! This is a place we recommend.
Konstantinos
2015-08-20T00:00:00Z
Good communication before arrival. Pleasant welcome by Anne. Indeed very close by the lake, where we sat and relaxed for a while. Own comfortable appartement with porch, sitting room and large kitchen area. Beautiful sleeping room with good beds.
Hans
2015-10-13T00:00:00Z
The apartment was beautiful, spotless, and much larger than I thought it would be. The lake was just down the street and the apartment was close to cute shops and bars in town. I couldn't have been more happy with everything about this place. Anne and Christine were friendly and informative, and even provided us with some yummy baked goods. We went hiking about 20 minutes away at Mount Major which overlooked all of the lakes and had unparalleled views. I would highly recommend this place and the hosts!
Awbrey
2015-10-18T00:00:00Z
Room Type
Entire home/apt
---
Property Type
Apartment
---
Accommodates
3
---
Bedrooms
Laconia, NH, United States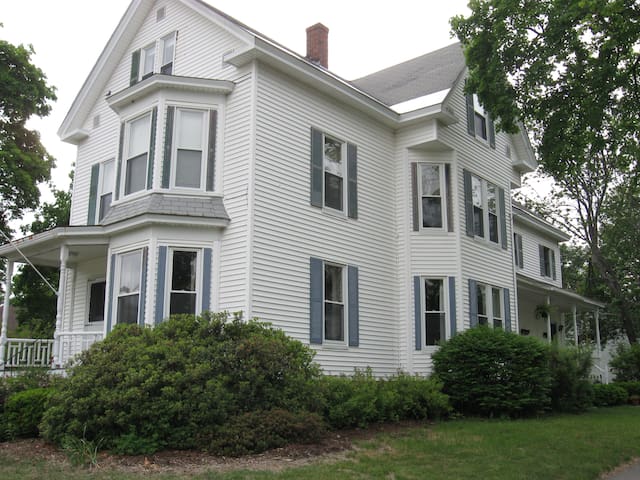 Peaceful setting with a rustic, small and cozy apartment surrounded by woods and fields. Private entrance, with your own bathroom and kitchen. Within walking distance to swimming, x country skiing, hiking and many country attractions. Beautiful walks and bike rides. A NH rooms tax of 9% is included in your fee. The apartment is simple with a comfortable bed. The cooking is simple too. An electric stove, dishes, pots, utensils, sink and of course a waffle iron. Games are in the closet. Have fun.
Bedroom has a queen size bed. Available year-round by the night, the week or the month. Wonderful place for someone transferring to this area or house hunting. 300 square feet. If you have an extra guest there is an adjoining large room with a queen sized bed for an additional $30. Well behaved dogs may stay with prior approval. They may not be left alone in the apartment. There is an additional $20 cleaning fee to return the space to its dog free status.
My favorite places are all close by. In Nelson there are many maintained trails, including waterfalls and views. I have maps for you to use. The library is a friendly place with an on going book sale and interesting programs. Swimming and cross country skiing are a 10 minute walk. Harrisville ( a five mile drive) a historic mill town, with many buildings on the National Register, has a self guided tour map, a top rated general store with excellent lunch and breakfast options and the Harrisville Yarns Store specializing in knitting and weaving favorites. Within 20 minutes, Keene and Peterborough are resplendent with restaurants, movie theatres, farmer's markets and much more. Mount Monadnock and the Monadnock Sunapee Trail are close by. Many smaller mountain hikes are within 20 minutes too. I never tire of all the exciting events in the area. The Nelson Webpage, (URL HIDDEN) has a calendar and links to area events and activities.
The Blue Heron is a dream of a place. We arrived past 6, and were delighted to walk into a room heated with a wood stove! The room is very nice, clean, and well furnished with all you need. Kris answers all your questions within the minute, and even though there is no cellphone service, the wi fi works fantastic. Kris also offers bags of kale, lettuce and arugula from her garden at $1. We took a bunch of them home with us, and they were incredible ❤ Staying at the Blue Heron is an experience, and we'd looove to go back.
Camila
2016-10-22T00:00:00Z
We had a very pleasant experience at Blue Heron. We stayed only one night, arriving later in the evening and leaving the next day, and everything went smoothly. Kristine was always very responsive, both before and during our stay, and helpful in pointing out interesting places to see in the area. The area is beautiful if you like rural environments; there is no one around and you can take many pleasant walks. We were going to take our dog but I'm happy we didn't in the end because the place would have been a little too small for her (she's a very high-energy puppy), so I would say bring your dog only is he/she is very well behaved and calm!
Anna
2016-10-16T00:00:00Z
Blue Heron Suite is a wonderful place to stay. The Suite is conveniently located close to Nelson without compromising on the 'remoteness' of the landscape. I enjoyed a wonderful breakfast with Kristine and her family. It was a great start to a wonderful day filled with hiking and pleasant conversation. Kristine was kind enough to cook up some breakfast at short notice, and i must admit that it was simply delicious.I would highly recommend the Blue Heron Suite and everything else this beautiful place has to offer.
Gautham
2016-11-06T00:00:00Z
Kris was very welcoming and invited us to a potluck before the contra dance which was a perfect way to meet locals and enjoy a fabulous meal. Her directions were good for finding her place in the dark and the place was just as described with homemade breakfast treats; applesauce and granola and a very comfie bed with plenty of quilts for added warmth. we would definitely stay here again. The woodstove was lit and warmed our tired dancing bones upon arrival; a most welcome sight to open the door and see a fire roaring bathing us in its warmth. lots of informative signage and the welcome book had info much needed to find a nearby pleasant hike.
julia
2015-12-23T00:00:00Z
Our stay at Blue Heron was short but soo relaxing and rejuvenating. Kris was a great host and met us upon arrival. She was very accommodating and even picked us some greens from her garden for our lunch. The suite is simple but super cozy and the wood stove kept us toasty warm. The surroundings are gorgeous and we enjoyed peaceful walks amidst the fall foliage along with quiet time back at the suite. We hope to be back!
Dan
2016-10-31T00:00:00Z
Wish we could have stayed longer. The property was a great country getaway. Kristine had fridge full of essentials to start your day off. The space was very clean and tidy. Would love to come back for another stay!
Matt
2015-11-10T00:00:00Z
We could not have asked for a better place to stay in southern New Hampshire! Kristine's Blue Heron Studio was set in the beautiful Nelson, NH along a quiet, secluded road near several ponds and lakes. The studio was perfect; equipped with a wood stove and all other household necessities (clean towels, natural dish soap etc). Kristine provided a wonderful book for the Studio, complete with detailed information on the home, maps of the area and much more. We only got to meet Kristine upon our arrival, but she was always available if we had any questions. Highly recommend this stay!
Anna
2016-05-27T00:00:00Z
Kristine is a great and kind host. She left us some fresh carrots, delicious fresh milk and lovely apple sauce. The neighbors are also very friendly. All of them were waving to us when they passed by us. Kristine asked us how we are and where we are when we couldnt get back because of a very thick fog surrounding the mountains - there was also no reception for Tmobile on our way. We couldnt find our way back to the studio. Its a pity cause we were so excited to experience the beautiful countryside. We were also super excited to attend the candle light church ceremony at a nearby cathedral on that beautiful Christmas evening. Overall, a cozy place in a true quaint countryside home. Thank you Kristine and we look forward to see you again in the future if we ever passed by the area again.
Lanny
2015-12-26T00:00:00Z
Room Type
Entire home/apt
---
Property Type
Apartment
---
Accommodates
2
---
Bedrooms
Nelson, NH, United States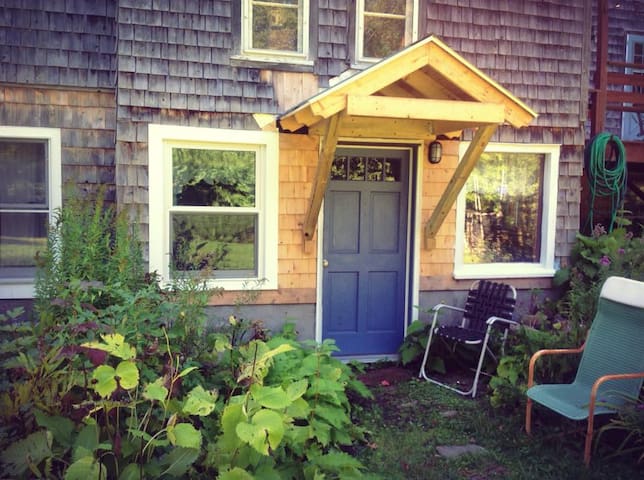 Our home has a full ground-floor apartment with walk-out access to the water. It is generally very quiet here, but we cannot guarantee absolute silence since we do live upstairs. Kayak, canoe, row, swim, hike, (URL HIDDEN) is all here.
The apartment is located on the lower level of our home. The apartment contains a bedroom with a private bathroom plus a living room/kitchen combo, an outdoor screened-in and an open patio with a walkway to the lake.
This community is made up of year-round and summer residents. The people around the pond are helpful and friendly.
Staying at Ellen's Joy was an absolute joy! The beauty and peacefulness of the location is wonderful. Sitting on the patio and watching the wildlife and the pond was so relaxing! Ellen was an excellent host and always available when we needed her. She had stocked the fridge and left us ample towels and linens. We had a fabulous time and can't wait to go back!
Jane
2016-07-09T00:00:00Z
Ellen's lakefront house was absolutely beautiful! Wished we could have stayed longer.
Ana
2016-07-21T00:00:00Z
Wonderful experience, friendly & warm hostess, lovely secluded place... exactly as promised! Simply thrilled with the location, the place itself, and the whole experience.
Jeff
2015-11-09T00:00:00Z
If you are looking for rustic charm in a beautiful and peaceful place then "Ellen's Joy" will be your joy, too. Watching the chipmunks and heron do what they do while having breakfast, overlooking the pond (small lake in UK terms!) was a great way to start the day. The accommodation has lots of interesting books, is adequately-equipped and spacious with a comfortable bed and private outside area. Ellen generously encourages the use of her outside gazebo and water equipment. We appreciated the "extras" found in the fridge and the assistance from Ellen to get the most out of our stay in the area - she was available but never intrusive. As visitors from England, we found the property itself to be in a very spacial place in a wider area which is very pleasant without being spectacular. A good start to our holiday.
Hilary
2016-08-26T00:00:00Z
Spending the week at Ellen's Joy was a perfect setting for our lazy week in New Hampshire. The accommodations were very comfortable and inviting. Ellen was an excellent host, making recommendations on things to see and places to eat. Special touches like grapes and tomato from her garden and fresh eggs for breakfast were unexpected delights. Thanks so much Ellen! Wish we lived closer so that we could come more often. Terry and Jaymee
Jaymee
2015-10-17T00:00:00Z
Ellen was super kind and welcoming. Her place was much nice than I even imagined, full of gorgeous natural beauty and whimsical decor. The kitchen was well stocked and bed was very comfortable. I hope I am able to travel the 2000 miles to visit and stay there again.
LeeAnne
2016-08-27T00:00:00Z
I can not recommend this place more. It is so easy to be at Ellen's Joy, not just because it is beautiful and peaceful but because the hosts are a delight. The location is scenic, the apartment is cool and homey, and there is so much to do including hiking, swimming, rowing in a boat or canoe, but it's just as easy to do nothing at all. You will love this place!
Kate
2016-08-01T00:00:00Z
This was my first experience with airbnb and I am grateful we stayed with Ellen! Ellen was extremely knowledgeable about the local trails and community and her recommendations made the weekend. The apartment was also extremely comfortable for staying the week. If you find yourself with the oppurtunity to enjoy Ellens apartment, jump on it.
Peter
2016-01-31T00:00:00Z
Room Type
Entire home/apt
---
Property Type
Apartment
---
Accommodates
2
---
Bedrooms
Weare, NH, United States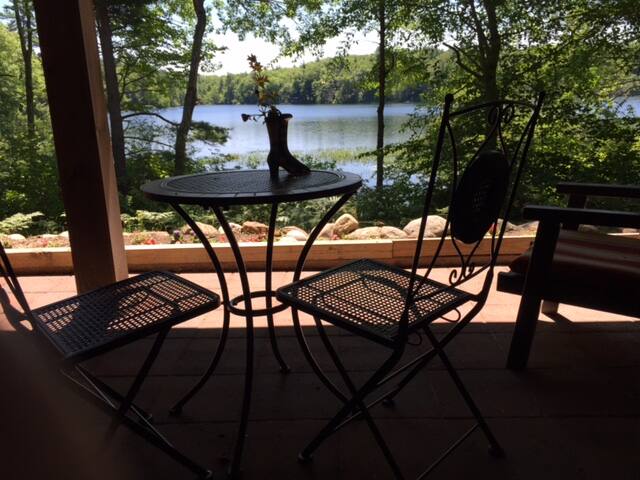 This unique one bedroom condo (2 full size beds, 1 twin, 1-5 guests) offers rustic pine floors, luxurious bathroom, and sun deck. Enjoy access to the Pemi River and convenient access to shopping in historic downtown Plymouth, and the ski slopes of Waterville Valley and Loon. Short drive to the Lakes Region will get you stunning views of the lakes area, and there's world class hiking all around us.Come in the Fall for leaf-peeping you won't see anywhere else in the US,or enjoy Summer activities.
Enjoy our quaint 1 BR 1 BA apartment in the Red Sleigh Condo complex. Our darling unit boasts rustic pinewood flooring and beautiful views of the surrounding area. Includes 2 full size beds (one is on a common area Sun Porch, with privacy screen provided) and a twin in main living area, and can accommodate up to 5 guests. There's a fully appointed kitchen with all that is required to cook up a fabulous meal after a day of hiking, kayaking or skiing, or choose to dine at one of the many wonderful restaurants located nearby (ask us for our recommendations). Plymouth, a short drive away, is home to Plymouth State University and offers all the attributes of a small pedestrian-friendly New England college town: great antique and crafts shopping and restaurants.
I was so impressed at how clean the property was. I loved the large yard area, it was great to have some friends visit while we were in town. Jennifer and Scott were always available to us, but never imposed. It was great to have them so close on the day when we locked ourselves out at 8am! There was coffee and breakfast items, and the porch area was great to sit on and watch the rain. The rain shower head was amazing too! Overall, a great, comfortable stay, that we would certainly recommend.
rachael
2016-09-11T00:00:00Z
Jennifer welcomed us as we got out of the car and explained everything about the apartment and the property. She had lots of information about things to do in the area and restaurant suggestions. The property is in an amazing location just on the edge of the mountains and 30 minutes from the lake region. The apartment was very well equipped and the bagel and fruit breakfast was much appreciated. We were very comfortable there - all furniture was very comfortable and the shower was great. We would love to stay again!
David
2016-10-02T00:00:00Z
Scott and Jennifer were very accommodating with our late arrival. The property was clean and charming, and proximal to many attractions (15 minutes away from skiing, great bars and restaurants, Ice Castles). The only minor complaint we had was that our host entered the space we had rented without notifying us. Overall, the experience was good and we enjoyed our stay.
Thao
2017-01-08T00:00:00Z
Excellent hosts .. second time staying here. Just as expected .. superb attention to detail and hospitality. Great suggestions on scenic hiking trails and local eateries!
Bella
2016-03-21T00:00:00Z
Hosts were accessible & helpful coordinating plans for my arrival. The chalet matched the description. Had everything I needed - was nice to also have a full kitchen to cook in.
Jillian
2016-07-09T00:00:00Z
The place was amazing. The photos don't do it justice, and our expectations were exceeded. The hospitality and care that Scott and Jennifer showed were second to none. They had every single detail and amenity covered. Also suggested attractions in the area. Located only 20 minutes from Loon mountain.
Bella
2016-01-10T00:00:00Z
First off, Scott and Jennifer are really great. They were responsive by phone and email the whole time leading up to the trip, and even checked in to see how things were going during our stay. They also provided coffee, juice, fruit, and bagels for breakfast. The condo really is a chalet and is located among other similar places in nice wooded area. The photos in the listing accurately show what the interior is like. It's nice and clean, and even has 3 beds -- something pretty rare for a place this inexpensive. There are not a ton of Airbnb options if you're trying to stay in the White Mountain area, making Scott and Jennifer's place even more convenient. My friends and I had a great time and would definitely book with them again.
Garrett
2015-12-27T00:00:00Z
We had a great stay. Scott and Jennifer were great hosts, checking in to see if we had any questions or needed anything. The Pemi River is a very short walk and we also enjoyed The Covered Bridge Farm Table Restaurant up the street. Great food and live music.
Renee
2016-05-30T00:00:00Z
Room Type
Entire home/apt
---
Property Type
Apartment
---
Accommodates
5
---
Bedrooms
Campton, NH, United States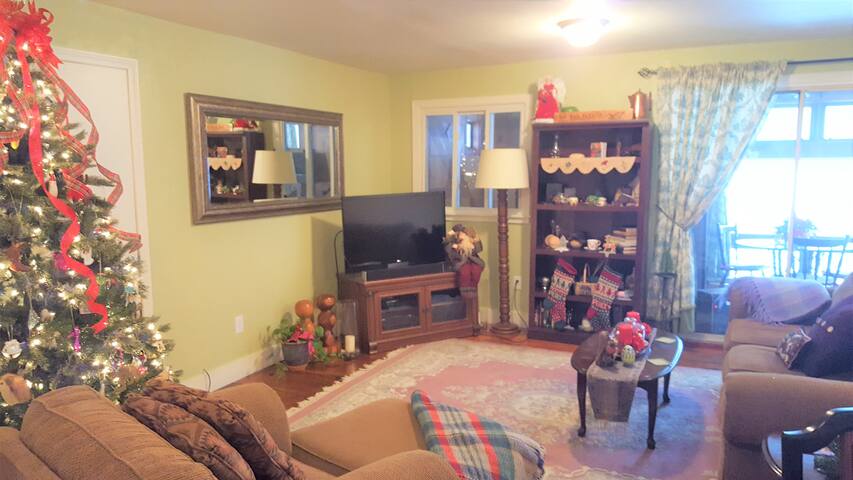 Enjoy gorgeous views of Wingate Farm. George Washington didn't sleep here but he definitely visited his friend Paine Wingate. Queen bed upstairs. Double futon downstairs with extra child's futon. Sleeps 4 1/2.
Just remodeled, private entrance, two floor apartment, with eat-in kitchen and living room downstairs, bedroom and bathroom upstairs.
The small farm sits in front of one of the luxury neighborhoods in Stratham and close to Exeter, Greenland, Portsmouth and the Seacoast.
We stayed at Johns 2 weeks while I was on a business trip and needed to bring my family. The apartment was cute and in close proximity to work stores restaurants etc. John seemed very nice and provided us with plenty of privacy. We brought our 3 and 5 month old and I think they enjoyed the adventure. I would stay here again. My only regret is we didn't find time to check out his cool barn in the photos!
Erin
2016-01-16T00:00:00Z
John's place was wonderful. The space is huge and so worth the value. We enjoyed our stay and were so impressed with the apartment.
Kevin
2016-12-13T00:00:00Z
Location was good for us, and space was adequate for two. Cleanliness could be improved. Hosts are friendly when you talk to them but generally do not initiate contact. This offers a unique, rustic, New England farmhouse experience in a nice setting.
Mary
2017-02-05T00:00:00Z
This place was a great value, we found it comfortable for four adults. It was well appointed with a full kitchen . It was an old fashioned farmhouse with great New England charm.
Erich
2017-03-26T00:00:00Z
The host canceled this reservation 5 days before arrival. This is an automated posting.
Amanda
2016-12-26T00:00:00Z
We had an incredible stay at John's place. Very welcoming and friendly. The place is beautiful! Very peaceful and clean. We will defenetly stay there again if we have the chance!
Ev
2016-06-07T00:00:00Z
My daughter and I had an absolutely great stay. The apartment is perfect. Fantastic hosts... Looking forward to staying there again!
Matthew
2016-05-20T00:00:00Z
The farmhouse apartment is quaint and cute. It is located just off if a major road, but the traffic did slow down at night. It is perfect for a single person or couple - the second bed is a futon in the living area. TV is only via Roku, so don't anticipate an evening of regular broadcasting. You may have to adjust the internet band to accommodate for spotty reception - not a big deal. Access to local places of interest is very good, and I enjoyed visiting one of the beaches thanks to an unexpected winter thaw. Portsmouth is full of history, good food and drink. The only negatives were that the kitchen wasn't clean and the living room furniture could have been vacuumed or wiped down. There was, however, plenty of dishes, pans, etc. and a good microwave! I would have liked softer pillows to lean back against as the decorative ones were hard. I have discussed the other issue with the owners and expect it was a great surprise to them as well! The laundry room door doesn't stay closed so that if there is any breeze in the room, it creaks open and slams shuf reoeatedly. I was a bit spooked the first few times. The apartment is very warm (we were there in early Feb) as is the plentiful hot water. Overall, it is a nice unit, and I could stay again,
Louise
2016-02-03T00:00:00Z
Room Type
Entire home/apt
---
Property Type
Apartment
---
Accommodates
4
---
Bedrooms
Stratham, NH, United States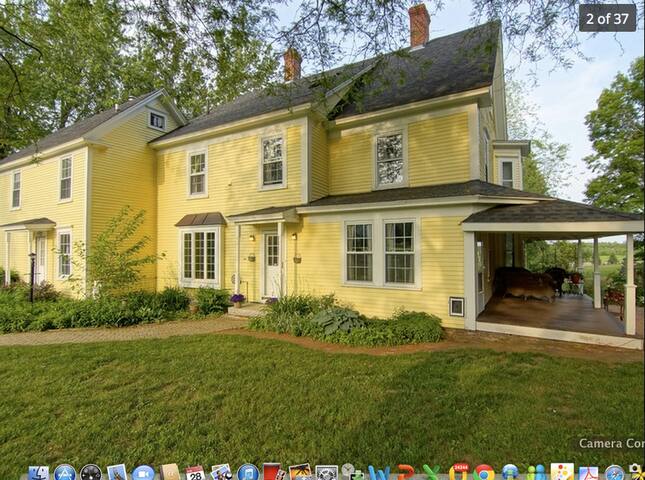 Our place is walking distance to PSU, downtown and the Flying Monkey Theater. You'll love our place, the apartment has been completely renovated and it is fully stocked for your convenience. Very quaint, clean, clean,clean and the amenities of home. One bedroom with queen bed and a full size futon in the family room. Beds are super comfy as that is what we look for when we travel! Smart TV, cable and kitchen fully stocked for cooking. This will be your own little home for you stay!
We have recently completely renovated this space. Granite countertops, new wood flooring, kitchen completely stocked and we have furnished it with comfort in mind. When we travel the first thing we remember is how comfortable is the bed! You will LOVE the bed in this apartment! I'm also a clean freak so you will find the apartment spotless!
The apartment is in a residential neighborhood yet you can walk to downtown, PSU and the Flying Monkey Theater.
The apartment was great and even more than expected. For two people this place is a perfect stay, where you'll feel very welcome and have plenty of room for a more than reasonable price. There is a nice living room/kitchen area where we were able to watch movies, make food, and relax. To add onto that, there is a nice bedroom with a comfortable bed and bathroom. The size of this apartment was very nice for two but could probably fit up to 3 or 4 easily. The location is also convenient if looking for food close by where it is surrounded by diners and restaurants. Overall, very pleased with our choice in staying here, nothing bad to say.
Justin
2016-09-05T00:00:00Z
We arrived late in the evening and we were welcomed by a beautiful smell of ylang ylang essential oil. Very very very clean and updated. We had everything we needed. Kim was so awesome! She took time out to give us a heads up about a pizza spot along our travel! There was many other suggestions inside the welcome book waiting for us. The bed is very comfortable and had plenty of covers and pillows. We will definitely stay again!! Very clean!!!!! Thanks guys!
Corey
2016-10-05T00:00:00Z
lovely, very clean apartment with spotless bathroom!
Audrey
2017-02-05T00:00:00Z
Great place to stay! Walking distance to shops, restaurants and the Flying Monkey! The place was clean, inviting and very cozy. The host was easy to reach and will definitely stay again when in the area seeing a show! Thanks again for opening your place to us!
Tanya
2017-02-19T00:00:00Z
We had a pleasant stay at Kim and Tom's place. It was easy to find, super clean and cozy! It was exactly as described. The kitchen had a good stock of all the basics you need to cook a good meal. The 'Welcome' book has everything you need to know and what's around. We walked two blocks to the town center to get groceries at Biederman's Deli and Pub. We will definitely stay here again the next time we're in town. Thank you for a fantastic stay :-)
Shirley
2017-02-23T00:00:00Z
The cozy apartment was the perfect little place to stay, we never met Kim but she left clear instructions for us. The space was very comfortable, just as described but made even better by the beautiful fresh flowers and attention to detail like the basket of snacks in the kitchen and sundry items in the bathroom. The apartment was in a quaint old house but tastefully updated in like new condition. It was immaculately clean with comfy linens and super cushy towels. Great access to downtown Plymouth, we will definitely be back!
Terry
2016-08-08T00:00:00Z
Kim was a great host. Very responsive and let us know that we could come early if we needed to. The bed was very comfortable and we liked the reclining couch. I would certainly stay here again.
Rebecca
2016-10-02T00:00:00Z
A great place to stay in Plymouth! A great host!
David
2016-08-27T00:00:00Z
Room Type
Entire home/apt
---
Property Type
Apartment
---
Accommodates
4
---
Bedrooms
Plymouth, NH, United States
New Hampshire - Airbnb
:
Average

4.97

out of

5

stars from

1641

guest reviews
1

–

18

of

300+ Apartment Rentals
Enter dates to see full pricing. Additional fees apply. Taxes may be added.