Renovated studio with private entrance, queen size bed, full bathroom, HVAC, WIFI included Transport to NYC: Bus: 5-10m walk to bus stop, 25-30m bus to NYC Car: 15m to NYC ... 8m to Hoboken ... 5m to Weehawken (best view of NYC skyline)
This lovely and tidy studio apartment will make you feel at home. It is located in North Bergen, NJ. It is 15m-20m without traffic away from Times Square/PABT. This is a Non-Smoke lower level apartment of a town house. It has its own private entrance, on the back of the house, providing you a full Privacy. The space offered has a comfortable and firm queen size bed, 55-inch flat screen TV with cable, Wi-Fi is available, full bathroom ( toiletries (shampoo/conditioner, toothpaste, toothbrush, etc. There is not stove in the kitchenette but there is a fridge full with water bottles, microwave, coffee maker. Coffee and tea offered to guests. This is not a shared room. It also provides a free parking space.
This is a quiet neighborhood. There are plenty of local restaurants you can order food and they will delivery to the apartment.
Josephine was an amazing host! She made us feel like at home from the moment we connected! She had the studio ready for us (my wife & I) in excellent condition and even had water in the fridge, maps for public transportation for NJ and NY, etc. She even offered to accomodate leaving our luggage earlier than the check-in (as we arrived very early in the day), while we toured around and the previous Airbnber checked out. She also accommodated our late checking as we took advantage of the day to tour NY and ended up arriving to the studio around 10pm! Awesome Host! Awesome Place! Awesome Location to access NY! Highly recommend it! Hola! Josephine es una anfitriona fenomenal! El apartamento está fabuloso y la ubicación excelente para llegar a NY ya sea en carro o en transporte público. Si vas solo o en pareja, aquí es donde debes quedarte! Lo súper recomendamos sin duda alguna!! Josephine te hará sentirte como en casa y estará allí para ayudarte, incluso como en nuestro caso, que llegamos muy temprano, Josephine ofrecio que dejáramos las maletas y nos fueramos a pasear mientras la persona que estaba antes (Airbnb-er), dejaba el estudio. En resumen: Excelente anfitriona y ubicación! Nos encantó el apartamento. Todo muy limpio y cómodo! Si vas a visitar NY o NJ aquí es donde te debes quedar!
Federico
2015-11-25T00:00:00Z
Josephine and her place were both lovely! Great communication before my arrival and was always on hand to answer any questions I may had! Very quick into NYC and safe, I was walking back at midnight most nights and never ran into any trouble! The studio is exactly like it is showed in the pictures and has everything you could possibly need from toothpaste to bottles of water in the fridge! The bed was very comfy and the air con was great too! The apartment has a nice back entrance with lights to guide you in at night and is very secure! The buses are around every hour and not very far from the studio either which is great! Would definitely stay here again!!
Josh
2016-09-15T00:00:00Z
The place was very clean and looked identical to the photos. You could tell Josephine had put in a lot of effort to make her guests feel welcome, including water bottles in the fridge, hot beverages and toiletries. The short bus ride into NYC was just up the street and was only $3.50. It drops you off at Port Authority Terminal which is a few blocks from Times Square. Would recommend :)
Diana
2015-12-14T00:00:00Z
Josephine was great. I had enough toiletries and everything. I didn't have to worry about feeling safe because of the security, a great experience, thanks for everything, 5 Stars.
Linda
2016-01-03T00:00:00Z
This place was a great find - it was nice to have a room with a completely private entrance. Very convenient to NJ Transit bus stops going to NY.
Dustin
2017-03-05T00:00:00Z
Nice apartment in quite location. Room is very big with pleasant armchairs and big TV with kabel. Clean bathroom with lots of shampoo, soaps etc. Definitely will stay again.
Miroslav
2017-03-17T00:00:00Z
Josephine was great and met us upon arrival. The apartment was great as well, very clean. Josephine went out of her way to leave extra toiletries,tea's and water for us, which was appreciated. The only thing I wish was different was there was no iron available, so I had to buy one. Other than that it was a wonderful experience and I would definately recommend to anyone, and stay there again myself!
Bianca
2016-04-13T00:00:00Z
We only stayed a night but found the place to be very nice. Very comfortable and roomy. Josephine was very nice. We would definitely recommend.
MICHAEL
2016-07-15T00:00:00Z
Room Type
Private room
---
Property Type
House
---
Accommodates
2
---
Bedrooms
North Bergen, NJ, United States
Hi All, i am 34 year old working professional. i have large private bedroom in a large 2br new york style , very secure apartment building .This is a private condominium building with elevator. My place is located in one of the safest and cleanest neighborhoods of NYC area , its only 20-25 minutes from times sq with 24/7 bus service right in front of the building.Easy street parking available with permit.Everything you will need during your stay will be minutes away. looking forward to meet you.
this is a large private bedroom with queen size bed and large closet in a big 2 br apartment. Your bedroom and my bedroom are located on two different ends of apartment. There will be a bathroom, kitchen and living room between the bedrooms.
This is one of the cleanest and safest neighboorhoods with the best manhattan skyline view in nyc metro area where mostly young couples or young families or working professionals live. Very convenient residential area with east street parking. Small local restaurants and markets are a few minutes away. You will have 24/7 access to manhattans night life via bus service in front of apartment.
I can't give you a very good feedback since I stay here for work and the place was just outside the Main Street so it's a busy place 24/7 for motorists. The place describe was exactly as it is. Superb view and overlooking New York! For tourists it's a very good location for a reasonable price and Salim is a very nice and friendly host!
Eva
2016-08-22T00:00:00Z
Everything listed is what you get at Salim's apartment. The apartment is clean and very well located. Only 20 minutes away from NYC. Salim is a great person and me and my husband had a great time at his place. We will definitely be coming back to stay with him if we come back to NY.
Christine
2016-10-12T00:00:00Z
Salim's place was clean and tidy and right next to great views of the Manhattan skyline. Very close to buses to NYC.
Kylie
2016-10-14T00:00:00Z
Really good and responsible
Igor
2016-10-06T00:00:00Z
Had a great stay at Salim's place. Very convenient to New York City. Very gracious host. Very clean and very comfortable bed.
DeAdra
2016-12-13T00:00:00Z
Salim is a very nice guy!! Hosted us very well, and seemed like an old friend. His apartment is great, large, organized and cozy! I think one of the best parts of stayed there was the nice view of NY skyline and the safety of the neighborhood
Renan Richard
2016-12-17T00:00:00Z
Salim was awesome! Thank your much! Really cool place, super close to everything with an awesome host!
Rory
2016-08-31T00:00:00Z
Salim is such a nice guy that my friend and I felt like we were home.He allowed us to use everything.The room is quite big and flat is crystal (URL HIDDEN) addition to clear and big, the location of the apartmant is perfect and one of the bedroom sees the sea. Thank you for entertaining us. I am looking forward to coming again :)
Kerem
2016-09-20T00:00:00Z
Room Type
Private room
---
Property Type
Condominium
---
Accommodates
2
---
Bedrooms
North Bergen, NJ, United States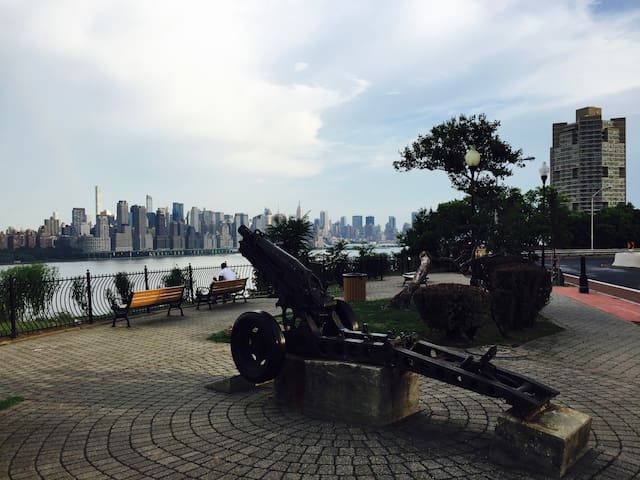 Private room, Private Bath & Private entrance. Only 25 minutes to NYC Time Square. Shuttle busses in front of the house. Room is (PHONE NUMBER HIDDEN)) and newly renovated with ensuite bath. Very safe neighborhood. Walk to local restaurants & stores.
Completely private (no sharing) on ground level with private entrance and private ensuite bathroom. Host & family live upstairs. Spacious room for up to three people. Queen size bed and a full size fold out sofa. There is also a Mini-fridge, coffee maker and bar sink.
There are great views of Manhattan from the Boulevard which makes for a great evening walk in a very safe neighborhood. Everything you need is within a couple of blocks walking distance including restaurants, grocery, pharmacy, liquor and dry cleaners. You can enjoy the great restaurants, shops and nitelife in Hoboken,NJ which is just minutes away by taxi.
John and Sylvia were really amazing! We arrived earlier than expected, but it was no problem for them. The room was just cleaned and perfect. We were 3 guests, and we knew it would be a bit tight, but it was actually ok. Sylvia made us feel so at home and provided for anything we needed. They went above and beyond to make us feel confortable and helped us with any information we had. We really enjoyed staying there and felt very safe in the neighborhood, much safer than NYC. The shuttles to and from the city are so easy to get, it was unbelievable. To go there you could get a bus on the next block, 2min walk and left you at Port Authority in Manhattan. The return shuttle dropped you off literally in front of their house. We had no complaints of our stay there, on the contrary, their shower was so amazing we wish we could have packed it up and taken it home with us! Definitely will think of staying there again whenever we go back. Such a good price for a nice place, welcoming hosts and a really practical location for those wishing to stay away from the city but still close enough that it's not a hastle to go there everyday.
Fernanda
2014-10-21T00:00:00Z
John and Sylvia were wonderful hosts. The room was perfect. It was clean, decorated very nice and had all the amenities you could want. It was also very private. The location is perfect if you have to commute. There is bus service 1 block away that will take you into the city within 30 minutes for $3.50. I would highly recommend staying here!
Carmela
2016-06-23T00:00:00Z
Very friendly and helpfull people. The room was excellent and the facilities were well organized . Shower was perfect. The time to NYC with bus was more or less 30-40 minutes. Bus stop in front of the house. Neighbourhood very friendly and we had a good time in restaurants an cafes nearby. If we come back to NY we will visit John and Sylvia again
Rene
2016-05-09T00:00:00Z
Apartment beautifully furnished, super comfy bed and an amazing shower. Nice and quiet with bus stop right outside to take us 20 min into manhattan ($3.50 pp). All accessories. Overall a fantastic experience. Thanks a mil John and Sylvia.
Duncan
2016-04-21T00:00:00Z
Fantastic choice for an affordable, safe place to stay while visiting/working in NYC. All the other reviews are accurate - spacious room with amazing private bath, separate entrance from the rest of the house and the amenities of a much more expensive hotel room. Was able to explore the area of North Bergen, NJ and can add that the neighborhood is safe, quiet, and charming, and it's right on the river so some of the best views of the Manhattan skyline steps away. The public transportation couldn't be easier - between the NJT buses that pick up and drop off right out front and the shuttles to and from Manhattan, I saved a lot of money on taxis and Ubers. The hosts are lovely and even provided a couple items we had forgotten to pack. All of these five-star reviewers cannot be wrong - save yourself some money and headache and book this room!
Thomas
2015-10-03T00:00:00Z
John and Silvia are very nice people and they do all possible to meet their guests needs. The room is neat and clean and beautifully decorated. We would like to especially mention the new fancy shower with different regimes that was very enjoyable. Our hosts made sure everything works well for us including the Internet and all kitchen appliances. Air conditioning was very helpful since there was very hot weather during our stay. Our hosts helped us in navigating how to get to their home from Manhattan and printed our boarding passes for us for our plane to go back home. It was very kind of them. They also provided us with all necessary information how to get to JFK the most optional way. The room was equipped with mini fridge with complimentary beverages for visitor's convenience. Transportation to Manhattan is reliable and cheap from their location in New Jersey. Shuttle ride costs $3 per person and shuttles are very frequent. We have enjoyed our stay with John and Silvia and are very grateful for their hospitality and care.
Michael
2015-05-29T00:00:00Z
We were given a warm welcome by John, who showed us around the apartment, telling us about the room and the neighborhood. Pre-arrival contact was great. Upon our departure we met Sylvia who's also very welcoming. The place is like described and a great place if you don't want to stay in Mannhattan itself. Accomodations are great, there's a coffee maker and mircowave. The shower was just divine. We fell in love with the view of Mannhattan across the Hudson river. Right outside is a bus stop ((PHONE NUMBER HIDDEN) and 168) and there's a bus to Port Authority every few minutes and it's no big deal to get back from from Manhattan in the evening/at night. I'd definitely love to stay here another time on my next trip to NYC.
Philipp
2015-05-03T00:00:00Z
My daughter and I had an excellent stay (May 2016). All of the previous reviews are spot on in regards to cleanliness, close proximity to the bus and 20 to 25-minute trip into Manhattan's Port Authority and the magnificent, multi-spray shower. The neighborhood was quiet. The bed mattress was a little soft but we slept well, especially after walking miles in the city. We really appreciated the snacks that were provided and the water and other drinks that were available for a small, reasonable fee. Netflix was awesome too! Two thumbs up! We'd definitely stay again.
Monise
2016-05-14T00:00:00Z
Room Type
Entire home/apt
---
Property Type
House
---
Accommodates
3
---
Bedrooms
North Bergen, NJ, United States
1-Bedroom Apt, accommodates 2 guests. Bus Stop to Manhattan is just 2 blocks away. Travel time into Manhattan varies from 30-60 minutes depending on the time of day. Great deal for travelers looking to visit NYC and save! Modern-décor, private entrance, full kitchen, backyard, plenty of room! Safe neighborhood :)
The space is a 1-bedroom ground floor apartment. This was my apartment, which I completely remodeled, I've recently moved to the top floor with my sister. There is a full-size bed in the bedroom. The apartment comfortably accommodates 2 guests, as that is the maximum allowed. Additional Amenities: -Guests have free WIFI, TV, and I also provide a set of speakers that connect to the TV or your music device. (They are pretty loud, so please make sure they are off by 9pm) -Full Kitchen with stove top, oven, coffee maker, refrigerator, and toaster -There is a backyard that you can use at your leisure, there is an outdoor table and grill if you wish to use it. -I provide clean sheets, towels, and other essentials ☺ -As you can see from the pictures, the entrance through the left side of the house around the back. -If you have a car I will provide guests with a "parking permit" for the time you will be staying, and you will be able to park on the street for free. Entering the apartment: -Once you arrive there you can enter the apartment on the left side of the house through the gate. -There will be a small lock safe to which I will provide the numbers to upon booking the trip. When you leave, you can leave the keys on the kitchen table. I live on the property as well and other tenants on separate floors. We are more than happy to help with any questions you may have but we can interact as much or as little as you want. ☺ The house is located in a residential area, very safe. I've lived in this town for 10 years. The house is located on a hill, so you can enjoy a sunset or sunrise in the backyard or on the front porch. There is a bus stop two block away from the apartment that takes you in Manhattan. There are many stores conveniently located down the road, Target is right down the block, and down the road is a Walmart, Chase Bank, liquor store, and other stores. If you go up about 4 blocks you have access to plenty of restaurants. Also, if you like football the apartment is located very close to MetLife Stadium if you want to catch a game or sporting event. If you don't already know New Jersey is the place to get the BEST view of the MANHATTAN SKYLINE. You can find restaurants with amazing views and incredible dining and entertainment variety just a few minutes away. (I PROVIDE ALL THIS INFO ONCE YOU ARRIVE with Maps and all, Don't Worry ☺) -Buses two blocks away from the apartment, about a 30 minute bus ride to Manhattan (this varies on the time of day, and any special events in Manhattan) -15-minute car ride into Manhattan through the Lincoln Tunnel -If you're traveling in New Jersey, I recommend UBER or a rental – if you're planning on spending most of your time in NYC public transport is fine!
The house is located in a residential area, very safe. I've lived in this town for 10 years. The house is located on a very steep hill, so you can enjoy a sunset or sunrise in the backyard or on the front porch. The only downside is you have to climb up and down to get to the bus stop. The bus stop is two block away from the apartment that takes you in Manhattan. There are many stores conveniently located down the road, Target is right down the block, and down the road is a Walmart, Chase Bank, liquor store, and other stores. If you go up about 4 blocks you have access to plenty of restaurants. There's a park with a lake about a mile and away, I usually walk my dogs here. The park is just a block away from Boulevard East. Also, If you like football and want to catch a sporting event the apartment is located very close to MetLife Stadium. If you don't already know New Jersey is the place to get the BEST view of the Manhattan Skyline. You can find restaurants with amazing views and incredible dining and entertainment variety just a few minutes away. (I PROVIDE ALL THIS INFO ONCE YOU ARRIVE with Maps and all, Don't Worry ☺)
We enjoyed our stay at Jenn's place. The apartment is beautiful and Jenn is a very hospitable and thoughtful host. She pays great attention to making guests feel comfortable. Would certainly want to stay here when we go back to visit new York. My husband and I found traveling to and from new York very simple with the NJ transit.
Carol
2016-06-02T00:00:00Z
Me and my partner had an amazing time at Jenn's place. The photos do not do it justice, it is so much larger and homely than the pictures depict. The whole apartment was immaculate and to the same standards of a hotel. Jenn left a large information pack to help us enjoy our stay with info about buses and shops and restaurants. We were truly amazed when we stepped into the apartment for the first time, it is beautifully decorated and very large. There is a refrigerator and a stove and other handy devices, not to mention the huge smart TV with both Hulu and Netflix. The bed was very comfy and cozy. And the bathroom was fresh and equipped with soft towels and a hairdryer which my girlfriend greatly appreciated. The apartment had adjustable heating to keep the place warm. A nice touch was the refreshments provided when we arrived. They were greatly appreciated after a long and stressful journey from the UK. Jenn was available for any enquires and in case we needed fresh towels or anything, and made us feel like we were staying at a hotel. We chose to stay here to visit New York as tourists. It is a 5 minute walk to the bus stop which takes you to New York in 25mins. There is a Target across the road which was great for snacks and supplies. The local restaurants are also fantastic. We would recommend purchasing a 7day metro card when you get there if you are planning on seeing all the sights as this will save money on transport. We would highly recommend a stay with Jenn as it made our trip to New York amazing. Many thanks to her.
Dan
2017-04-06T00:00:00Z
Thanks Jennifer, I like her house very much,
Selina
2016-04-05T00:00:00Z
We visited NYC over Presidents day weekend and stayed at Jenn's place. We didn't get a chance to meet but she is a very gracious and helpful host; always available via phone/text. We were provided parking permits for overnight parking as well as ton of tips on how to get to NYC and enjoy our stay. We were in NYC most days which was a 15 min drive with no traffic. We didn't get a chance to try the buses but the bus-stop was a 5 min walk from the apartment. The apartment itself was very clean, inviting and artfully decorated. We'll definitely try to stay at Jenn's, the next time we are in the area and highly recommend her place.
Bilal
2017-02-20T00:00:00Z
The apartment was cute and was exactly as described! Jenn was prompt and always responded quickly to our questions. The location is close to Manhattan, however, with the NJ transit only running hourly, it was inconvenient to do activities and try to come back to the apartment to rest and refresh. You are literally stuck in the city all day! NJ transit is $3.50 each way (separate from the metro card for the subway). And the hill leading to Jenn's house is extremely steep! Overall we enjoyed our stay and the cute apartment.
Mohammed
2016-07-27T00:00:00Z
Very nice appartement and exremly comfy bed!! Jenn was a great host!! She always helped immediately and made sure everything is fine for us! She left usefull information on the counter and had some little presents there as well :) our first experience with airbnb was perfect thanks to her!
Eduard
2016-06-23T00:00:00Z
I can't say nothing bad about Jenn's apartment. It was exactly as she described it. I didn't meet Jen but she checked in with me via messages to make sure everything was alright and when I did have a question she replied quickly. Only thing I would say is that the apt is on steep hill so be prepared for the walk up hill if you don't drive or get dropped off. Other then that everything was great. She left out a folder full of nearby restaurants to eat at and POI. She gets 5 stars from me.
Barry
2016-08-15T00:00:00Z
This place is Awesome, cute, well decorated and looks just like the pictures. I had a very easy check in, good communication and a comfy bed to rest after a long day of walking. Make sure you get to understand the bus system if you are trying to get to New York (if you are not familiar), although I didn't mind the high uber fare, just warning future people, the uber to get across the bridge is expensive. But Jenn has a full guide, bus routes, uber info and train information ready for you when you check in. I loved this quaint apartment; I wish I could find a place like that here in VA. I also enjoyed having the living room with access to netflix and other movies, very nice touch if you wanna chillout for an evening. I recommend this place!
Raven
2016-12-26T00:00:00Z
Room Type
Entire home/apt
---
Property Type
Apartment
---
Accommodates
2
---
Bedrooms
North Bergen, NJ, United States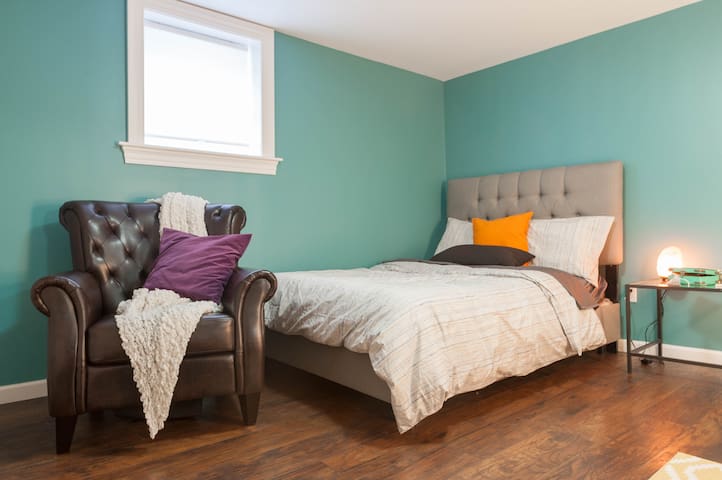 Great Full Bi-Level Loft Apartment with all the perks and amenities. Great Location Close to NYC, Super Modern, Stylish and Very Comfortable. Private parking incl, All new everything.
An Incredible Loft Space that sleeps 4 comfortably. Beautiful design, designer furnishing, positive energy and vibe, nicely laid out, great for everything. If your looking for a romantic getaway, a place to call home when coming to the NYC area or somewhere to wow your friends while your in town, this is it.. Private Off Street Parking as well two spaces exclusively for your guest.
Incredibly convenient, 7 Minutes to NYC by the Lincoln Tunnel, 15 Mins from the George Washington Bridge, 12 Minutes to the Holland Tunnel. The area is very residential with a plaza across the road. Includes a movie theater, LA Fitness, Super Market, and Staples plus many other stores. Lots of great restaurants in the area on Bergen Ave and surrounding streets. Super clean, and safe area.
The John's house is perfect ! The apartment is very spacious and confortable. Our holiday was very pleasant! John is a very considerate host . We had a welcome gift basket! It responds very very quickly to messages . Information for the people who don't know New Jersey : the ride to go to Manhattan is with the bus (10-15min to Port Authority). The price is 3$ each. There are many buses circulating in both directions. To go to Manhattan : on Kennedy boulevard or 30th street (little white bus).To go to New Jersey: gate 51 at Port Authority. --- L'appartement de John est parfait ! Il est très grand et confortable. Nos vacances ont été super. John est un hôte très prévenant. Nous avons même eu le droit à une corbeille de bienvenue ! John répond très très vite aux messages. Petite information pour les personnes qui ne connaissent pas le New Jersey : le trajet pour relier Manhattan se fait en bus (10-15min pour rejoindre Port Authority). Le prix est de 3$ par trajet, par personne. Il y a beaucoup de bus qui circulent dans les deux sens. Pour aller sur Manhattan : aller sur le Kennedy boulevard ou sur 30th street (petits bus blancs). Pour aller dans le New Jersey : porte 51 à Port Authority.
Caroline
2015-05-27T00:00:00Z
John was a great host. He was always available when we had questions about the house, the neighbourhood or New York. He was very accommodating and made our stay easy and enjoyable. The place was as great as it looks in the pictures. The neighbourhood was also really good. There were lots of restaurants nearby and a grocery store too. Everything was within walking distance. The trip to the city was also super convenient.
Elaine
2015-07-12T00:00:00Z
The place was phenomenal, close to transit that went to new york's port authority terminal. Would definitely recommend this place for a group, plenty of space and John was very easy to get a hold of. Great experience with everything we needed :)
Neha
2014-09-02T00:00:00Z
John's place was amazing! It was our first time with Airbnb and It was very clean and comfortable. There was a supermarket in walking distance and the neighbourhood is very quiet. A 5 Minute walk to the bus stop and in 10 Minutes you are in Manhattan.
Birgit
2015-10-14T00:00:00Z
Excellent accommodation, a real treat, very comfortable and of a very high standard. Great to come back to a cool air conditioned space after a day in the city. Easy bus ride to Manhattan, shops are nearby.
John & Anne
2015-09-21T00:00:00Z
I must say this has to be one of the best places I've stayed at, the pictures are exactly what you'll see when you arrive. Very comfortable and cozy place, John was also a great host always answered in a timely fashion whenever I had any questions. If your trying to stay at this side of town this is the place you want to stay at hands down. He's jets fan but we can forgive him for that, his place makes up for it.
Mohammed
2014-12-21T00:00:00Z
My wife and I loved staying at John's on our trip to NYC. It was very comfy and he had beverages for us. The place was close to a bus stop that took us into the city and back. Thank you John!
Theo
2016-12-12T00:00:00Z
John's place looks exactly like the pictures!! It is very easy to get to NYC from the location. We waited a maximum 2 minutes for a bus. Lastly it comfortable sleeps 4 people and John was very accommodating with any of our needs.
Justin
2015-06-29T00:00:00Z
Room Type
Entire home/apt
---
Property Type
Loft
---
Accommodates
4
---
Bedrooms
North Bergen, NJ, United States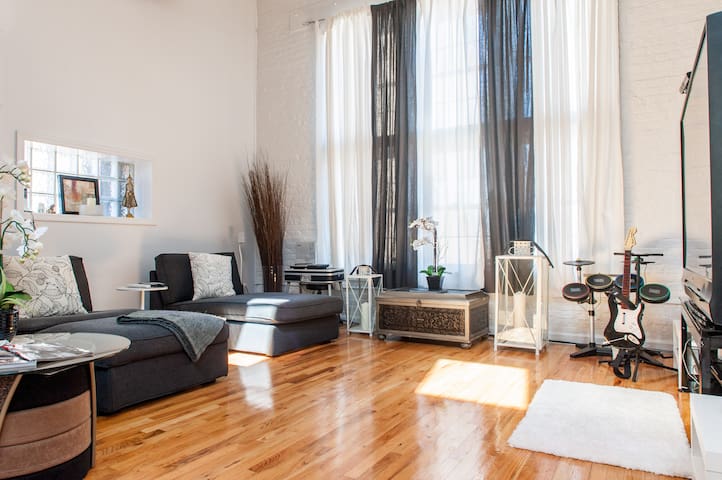 15 minutes from Manhattan Private apartment with its private entrance, Queen size bed, 43 inch tv ( internet tv only) wifi, coffee maker, small electric stove to heat up or cook meals, microwave,two comfortable couches, bus is only a few steps away.
This apartment is very confterble, enough for a lovely stay, you won't be sharing anything with us, everything is private, is a separate apartment from the house
Is a very safe and quite neighborhood, with very friendly neighbors, located right next to the main st ( Kennedy Blvd ) with only minutes to the Lincoln Tunnel.
Had a great time visiting. Rafael was very helpful with everything. We had no problem finding it after arriving late at the airport. The apartment was clean and had a small kitchen to prepare some food. It's location was great to visit NYC. It takes some time to take the bus inside the city, roughly 20-30 minutes. But the bus stop was only a small walking distance away. Also the prices were more reasonable to stay. Would recommend it to anyone who wants to visit and doesn't mind the time it takes to travel to the city.
Annika
2017-04-03T00:00:00Z
Great place to stay! Rafael was abroad but still had everything arranged by his fanily, and was always very reachable via text. Small point you should know before going here: you have to take the bus to get to New York City. Not a problem of course, but the bus system was quite different from what we were used to. Thanks for the great stay!
Bas
2017-01-08T00:00:00Z
Rafael was a wonderful host. Although we didn't meet till several days in to the stay we managed to find everything we needed, and he was happy to help us out when we needed it. The apartment was exactly as advertised and was perfect for what we needed. The only advice we would have would be to provide a few bowls for breakfast. We enjoyed our stay, would stay again and would recommend to others. Thank you for having us.
Mike
2016-05-15T00:00:00Z
Is not only important that the place is comfortable and clean, it is also necessary that your host is a kind, caring and helpful person, and Rafael has all these qualities. Without him, our visit to New York would have been very different. It was a real pleasure to have known him. Thank you very much for everything. We hope to stay with you again. Guillermo and Valeria.
Guillermo
2016-10-28T00:00:00Z
Raphael and his wife were extremely accommodating. I was given full privacy as well as extra toiletries, linens, and fruits. They made parking passes available for me, which I reimbursed them for. Zero complaints.
Adam
2016-01-04T00:00:00Z
We had a great experience staying at Rafaels apartment. The apartment was clean, comfortable and we were given full privacy. Rafael left us shampoo, toothpaste, coffee, water and fruits which was very nice of him. Rafael was very welcoming, friendly and helpful with directions. The location is very convenient and safe, the bus stop is right next to the apartment and it only took us 15min to get to Manhattan. We enjoyed our stay
Alina
2016-02-08T00:00:00Z
Rafael was a very welcoming host. The flat was great. It was nice and quiet and had everything i needed. The location was great with a bus leaving nearby regularly to New York. I would definitely recommend it.
Sarah
2016-05-29T00:00:00Z
Our stay was great and just as expected. Our hosts were so kind to welcome us so late as we arrived to New York late. The apartment was perfect for a shot stay on NY and there was everything e needed on the area. Would recommend staying here.
Thomas
2016-11-05T00:00:00Z
Room Type
Entire home/apt
---
Property Type
House
---
Accommodates
2
---
Bedrooms
North Bergen, NJ, United States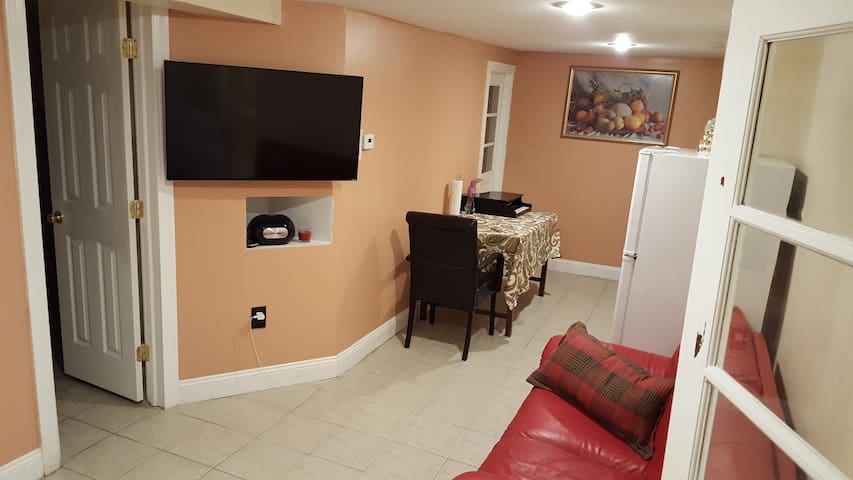 Save money to spend in NYC and stay at our home! We'll treat you like family. Access to full kitchen, comfortable bedroom and close to Manhattan. Read directions to learn how to get here from the airports - is very simple. Safe neighborhood to come back late. Easy commute to Manhattan (this is a bedroom suburb to NYC). Many great latin restaurant super cheap. Ask for direction to Outlet Mall near by and Walmart.
Our home is in a safe neighborhood near Manhattan. I used to work as a bartender in the city for many years and came in at crazy late hours without ever having a problem.
We will give you suggestions on take out food places, places to go for dinner near by, amazing picture opportunity places with Manhattan as the backdrop, etc. We are locals so just ask!
It was great to stay with Cloudya, super nice host. I totally recommand stay there.
Jan
2016-11-04T00:00:00Z
Wonderful experience, we felt very independent but very looked after. When we arrived we had everything explained to us. Blanca gave us friendly advice on how to get into the city, and we were provided with information about local eateries. She even gave us directions on how to reach an amazing viewpoint of the NYC skyline. The place was well equipped and we felt at home.
Aaron
2016-08-20T00:00:00Z
We spent great times there!
Franciele
2016-12-05T00:00:00Z
We enjoyed our stay. It was perfect for us thank you so much. Bianca helped us with everything. We would definitely recommend this place!!! We love you Bianca
Sina
2016-12-18T00:00:00Z
We had a great time at Cloudya her place. It is a nice house in a quiet neighborhood. The connection to Manhattan is easy to make, by bus and by boat. Bianca (Cloudya her mother) helped us out a lot by telling us the best connections to Manhattan, nice restaurants and supermarkets. For a city trip to NY we woukd definately recommand to stay here!
Guus
2016-09-22T00:00:00Z
Everything was great ,cloudy and her mom take good care of me,I would love to stay longer, but it's too popular,I couldn't book longer)
NAN
2017-03-12T00:00:00Z
Bianca waited for us to arrive at 3am. Even Though the hour she still gave us guidelines on how to move in the city and how to get back there. Definitely one of my best airb&b experience.
Ulises
2016-10-23T00:00:00Z
We really enjoyed our stay at the house, because Blanca immediately made us feel very welcome. The bed is very comfortable and the room has a closet and tv that you can use. The room itself is a little small when you are packing or unpacking, but other than that very comfortable. The bathroom and the kitchen also have everything you need. The only thing missing is a washing machine, which is not a problem, since there is a laundromat a couple streets away. The neighbourhood is nice and save, and the busstop is only 3 min. away. But the busses dont come that frequently, maybe once an hour, so keep that in mind when planning your daytrips to New York. I can absolutely recommend staying there and would stay there again. Thanks!
Kathrin
2016-08-31T00:00:00Z
Room Type
Private room
---
Property Type
House
---
Accommodates
2
---
Bedrooms
North Bergen, NJ, United States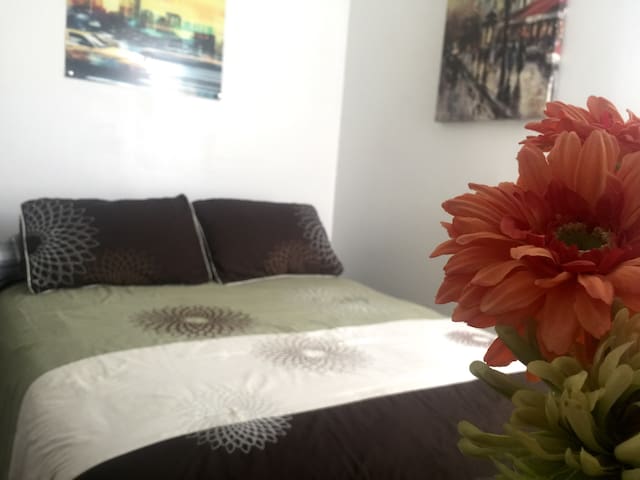 Beautiful first floor, two bedroom apartment located in a pretty, quiet and safe neighborhood. One block away from the shopping district of the town and bus transportation as well. Only 20 minutes away from Times Square NY in public transportation.
Cozy two bedroom apartment with one queen size bed in one room a bunk bed in the other bedroom. There is a big living room with two sleeper sofas one twin and queen size.
The neighborhood is safe, quiet and beautiful. There are many places to shop and eat around.
This house was very good for my family. My family is six. My wife, 3 kids, 1 infant and me. It was nice and clean. Many towels, eggs, milk, some bottle of water was supperted. This house give my family good experience. Thanks a lot.
RyungHun
2016-09-17T00:00:00Z
The house was perfect, the host super nice, it will be a trip we will never forget. Super easy access to NY, nice nice nice!!! I will recommed Hermann place to everybody. Thank you so much, awesome experience!!
Oly
2016-02-28T00:00:00Z
bergenline ave is great and we love this latino american town, very easy to manhattan by bus 159/156
Yoga
2015-07-11T00:00:00Z
Really nice place, really nice place. There's this water-running noise constantly though
Sanghyuk
2017-03-05T00:00:00Z
This is a lovely place located at 30 minutes from NYC, more precisely Timesquare by public transport (bus 156 or 159 at just 5 minutes from the flat). It will cost you 3.5$ to go there. Surroundings are very quiet and with some good restaurant. Although we didn't met Hermann or Lianna personnaly, they were always very responding to our mails and questions. I do really recommend this place without hesitation.
Franck
2016-12-22T00:00:00Z
It's actually super close to NY. Like walk 12mins and you're in the bus station that takes 15mins to take you to NY Times Square for only $3.5
Neaz
2017-03-12T00:00:00Z
thank you!
Kenji
2016-05-14T00:00:00Z
Hermann was a really nice host, and his flat was very comfortable. I had my doubts at first because most homes in NY are very old and pictures usually aren't very accurate. But Hermann's home was exactly as described and depicted, and when I come back to NY, I might revisit this home again.
Alex
2015-07-18T00:00:00Z
Room Type
Entire home/apt
---
Property Type
Apartment
---
Accommodates
8
---
Bedrooms
North Bergen, NJ, United States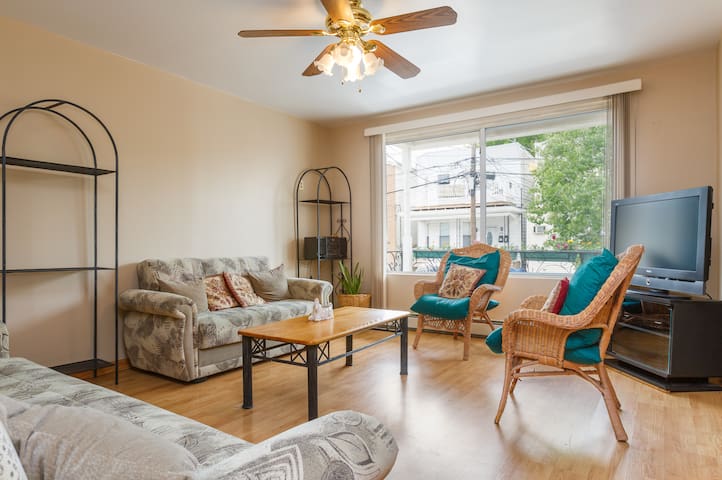 Spacious two floor house located minutes away from Time Square in NYC. $3.20 gets you across the Hudson river and into New York City in 20-25 mins. The house features living room with a flat screen TV with cable, dinning area, fully equipped kitchen, porch and large backyard, 3 bedrooms and 1 full bathroom. If you and your family is looking to spend quality time minutes away from New York City or simply business travels, this house location is perfect for every occasion.
Located in North Bergen NJ, 150 meters from BLVD EAST Transport operates every 5–10 minutes to Times Square/42nd Street NYC, approximately 20 mins. for $3.20. NOTE: We are looking for travelers that want a safe, warm and comfortable place to relax and re-charge while visiting New York and New Jersey. NO EXCESSIVE DRINKING, NO LATE NIGHT PARTYING. ABOUT PAYMENT: When you put in the dates and number of people in either the Airbnb search you will get the subtotal cost for your entire stay in our house. You will not have to pay anything additional. The amount will be charged to your credit card by Airbnb. The money is held by Airbnb and sent 24 hours after check-in. Bookings for the apartment are done with the "strict" cancellation policy and ALL cancellations should be done through Airbnb. THE HOUSE: Spacious house with spotless hardwood floors. House has two floors separating living and sleeping area. First floor featuring, living room, dinning area, kitchen, porch and large backyard. Second floor, bull bathroom and 3 bedrooms. This house can sleep 6 people in beds with 2 extra people in sofa beds. Bedrooms: 1st and 2nd has a full-size bed, 3rd queen-size bed.
Room Type
Entire home/apt
---
Property Type
House
---
Accommodates
6
---
Bedrooms
North Bergen, NJ, United States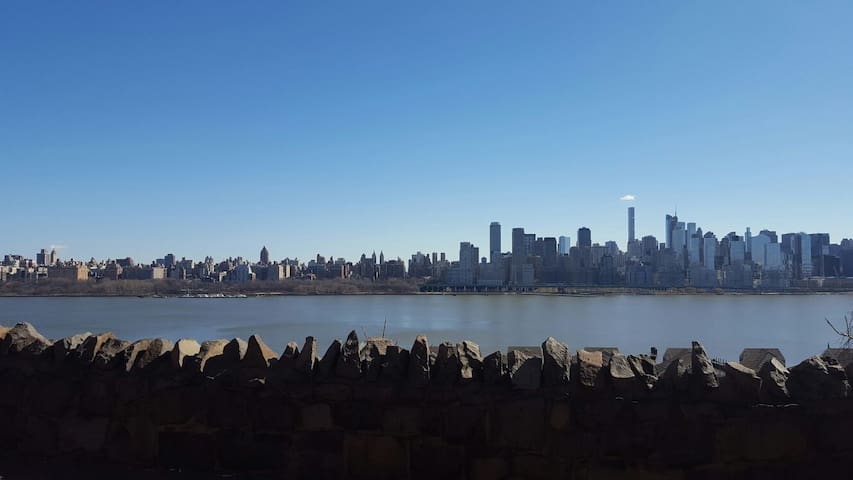 2 BR Ground floor Apartment located only 8 min. From NYC close to bus stop. Fully equipped, furniture, linen, Free Wi-Fi and cable TV gold pkq. channels, LED TV. Ceramics floors, close to the shopping cntr, movies and major highways.
The apartment has one Queen size bed and one Twin size bed in one bedroom. In the second bedroom is another Twin size bed. And one Futon sofa in the living room.
The neighborhood is safe and quiet. It is also close enough if you want to be at the center of New York City the capital of the World!
Carina was always in contact and made our stay very easy. Great information and nice and quiet location yet still easy enough to get to Manhattan. Would recommend Carina and this property to anyone wanting to see a Giants/Jets game or to get away from the craziness of New York City without being too far away.
Zaan
2016-12-19T00:00:00Z
The description of the accommodation indicates 4 sleeping beds.. In fact it is diposed as followed : one room with one bed and another windowless room with 3 beds.. Unsuitable for 2 couples !!! In fact the place is a basement with two tiny windows! In addition, we had to suffer the dogs barking almost every night !!! We didnt see Carina !!! We saw her husband when he came to pick us up at the airport and drop off back with compensation for each trip. We are disappointed .. the description was incomplete and lead us to missanderstand the real comfort of the place. Moreover, to get to New York we had to pay $ 6 per person each day. New Jersey is another state located 20 minutes away from Manhattan. This amount does not fit into a travel package in NYC therefore it is to be added to the cost of rent!
jean
2015-05-10T00:00:00Z
Wonderfully friendly host, great private space for an affordable rate. Even had some food, coffee, and breakfast stuff available to use. Would definitely stay again if in the area. Only slight nitpick: while the main queen bed is SUUUUPER comfy, the small bed in the one room is a rock-hard and the other bed in the 2nd bedroom is a tad too firm for my tastes. But it worked out just fine for me and my friend (who likes firm beds). Like I said, slight nitpick... I'd keep it in mind if someone else was joining me again.
Dawn
2015-04-13T00:00:00Z
We had a wonderful time staying in Carina's apartment! We would definitely stay here again! She was very accommodating and greeted us with a smile when we arrived. She was very helpful with helping us find the transportation into the city. Thank you Carina for being such a wonderful host!!
Jim-Michelle
2016-04-10T00:00:00Z
Our trip was a cousin reunion which grew in number of occupants but Carina gladly accommodated us and prepared the home. Her home is clean, well maintained and ideally located to reach Manhattan with a frequent bus service. Her husband picked us from airport on arrival, showed us home surroundings which was very helpful. Carina and her husband made our first Airbnb experience a great experience ! We would love to be back at Carina's place in our next NY trip.
Umair
2014-12-01T00:00:00Z
We enjoyed our stay at Carina's place. It was conveniently located just off highways, very easy to get into midtown Manhattan quickly (we took Uber which was a bit expensive, but the bus was only about a 5 minute walk apparently). The space is fairly large, three rooms with comfortable beds so is great for families, even stocked with some food which was an unexpected and nice bonus. In a fairly dark basement level so is great for sleeping in soundly! Her husband was able to pick us up at Newark airport at 1 am for a reasonable fee, which was much appreciated. Definitely consider staying there when we travel to NYC again. They even forgave us losing their umbrellas at a restaurant and refunded us money when we had to leave a day early! Nice hosts!
Guy
2016-04-05T00:00:00Z
We really enjoyed our stay at Carina. She is very friendly and welcoming and arranged even groceries and a new water tank for us. She was very helpful in explaining the different walking routes to the different bus stops and explaining the different possibilities of public transportation around the house. I t is very easy and quiet place for our stay in NY City.
Hendri
2016-07-16T00:00:00Z
Carina and her husband were very welcoming and did everything they could to help us and to make our stay as pleasant as possible. They even organized someone to drive us to the airport on short notice! The apartment is exactly as described. Everything was very clean. Carina provided us with some snacks (e.g. fresh fruit) which we appreciated very much. I can only recommend staying at her place!
Isabelle
2015-05-31T00:00:00Z
Room Type
Entire home/apt
---
Property Type
Apartment
---
Accommodates
4
---
Bedrooms
North Bergen, NJ, United States
This is an independent section of a house with own bathroom and eating area, it has a common entrance but the space is totally separated on a different floor. Guests have privacy, but if they want to interact, they also have access to the main area with common spaces. Close to Pizzerias and other restaurants. Near a couple of supermarkets, park and commercial area. Public transportation to New York City is one block away. Good for couples, solo adventurers, and business traveler
You have access to one bedroom, if you have 3 or 4 people you will have access to a second room. This place is decorated with 1950s motif; from Pin Up curtains to Coca Cola popcorn machine and other retro gadgets. You have your own piece of privacy; bedroom, private bathroom and private eating area where you can peacefully have your meals, work or enjoy a drink. Fridge with freezer, sink, popcorn machine, toaster oven, plenty of closet space, washing machine, dryer and ironing kit. Parking on premise is also included. If you are looking for more interaction with the hosts, you have access to the main section of the house where you can use the living room and the dining room. There are TWO friendly CATS in the premise, they won't have access to your private space unless you want them to. Please be aware if you are allergic.
You are in a safe residential area one block away from the park, public transportation to Manhattan, library, post office, various supermarkets, restaurants, pizzerias, breakfast places, liquor store, pharmacies and many other stores. The park is great for all type of exercises and sports; free basket, volleyball and bocce courts. There is a nice lake where you can enjoy nice walks and many benches if you want to read or relax with the NYC skyline in the background.
The description was as just. A lot of privacy. Nice quiet area!
Takmila
2017-04-07T00:00:00Z
The host family are really nice and friendly! The room is cozy and private. You can have your own living room, kitchen and bathroom.
云喆
2017-03-11T00:00:00Z
I love this hose, it really comfortable here to spend my weekend. The location is little bit far from Manhattan, but U also can take bus. House is clean and the owner is really good!
林
2017-03-31T00:00:00Z
Room Type
Private room
---
Property Type
House
---
Accommodates
4
---
Bedrooms
North Bergen, NJ, United States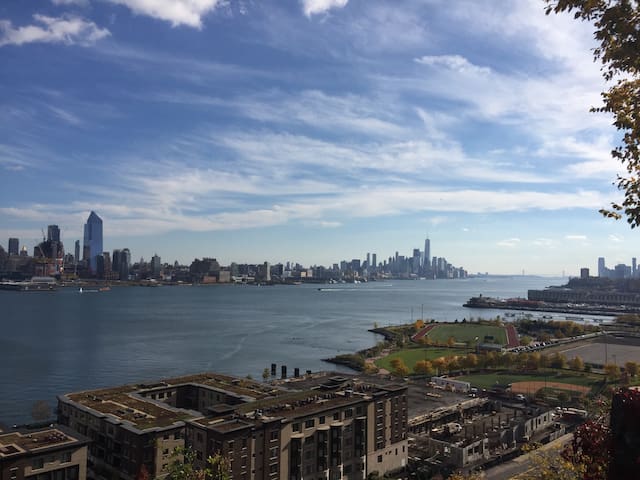 Book your stay at our cute, cozy and clean guest apartment, only 25 minutes from Manhattan through public transport. Enjoy the benefits of staying at a completely private apartment (kitchen, bathroom, free parking) at a wonderfully affordable price!
The studio-style apartment measures 29 x 16 square feet or 43 square meters, and fits 2-4 people comfortably, though larger groups can be considered. The apartment, which has recently been renovated, includes a large living/sleeping area, a cozy kitchen, and a full bathroom + FREE PARKING on premises. Available to all of our guests is a comfortable queen-sized memory foam bed, with an optional queen-sized sleeper sofa, if needed. There are several built-in closets and shelves, which provide space for storing personal belongings. And, like previously stated, there is also a full (sparkling clean!!!) bathroom. Finally, as a welcome/thank-you gift, we supply fruit and drinks with every check-in.
The apartment is located in North Bergen, New Jersey, a residential community full of lovely shops and even lovelier people. There is a park with a lake (and ducks!) nearby, and some major shops and markets across the main boulevard (ex: Walmart, Applebees)
Ana is a very nice host. She gave me a specific introduction of her house and provides fruits for us. I really had a great time in her lovely house!
Xiaodai
2015-05-23T00:00:00Z
This basement suite is small but clean, uncluttered and fully equipped. We particularly appreciated the selection of fruit that was provided. We were greeted by Ana's mom, who was very cheerful and welcoming. The location was a great jumping off point for the one day we had to tour the area. We went to Liberty State Park and caught the ferry to Ellis Island and the Statue of Liberty. We returned in time for an afternoon Segway tour in the Park, then had dinner at PF Chang's.
Bruce
2015-08-27T00:00:00Z
This location was amazing. The apartment was super clean and well organized. The fridge was stocked with food and water. Ana's mother was simply great and made me feel right at home. I would come back to this location!!
Juan
2016-10-23T00:00:00Z
Ana's accommodation was just everything she has laid out in the description. Her father had welcomed us so warmly and it was definitely a home away from home despite only staying there for a day and a half. I was very impressed with the cleanliness and overall home-y feeling once you've entered the place.
Mariedonna
2015-06-29T00:00:00Z
Ana is a really friendly host and the apartment was very clean. Some In around 30-40 min you are in Downtown. I can recommend this place to everybody.
Roman
2015-04-06T00:00:00Z
Ana's parents made us very welcome; fruit on the table, water and basics in the fridge, a well-equipped kitchen and a generous bed. All we could wish was there. Easy access to NYC with the 127 bus which stops close to the house; half an hour and $3.70. Food and wine across the road in a huge Wallmart. The flat is convenient and was great for our needs.
Arne
2015-06-09T00:00:00Z
Ana's mum waited for us at the appartment. She was extremely nice, even arranged some fruits, water and soda for us! She was more than welcoming throughout our entire stay; cleaned the room and changed the sheets after 5 days. One disadvantage we can mention is that getting into the city centre was more difficult than we expected. The bus that runs close to the house circulates quite rarely, and for us it normally took 45 minutes to get to Manhattan. The appartement is clean, very well equipped with everything a traveller would need, even with city guide leaflets and so on. Both of the hosts at home were amazingly kind to us, and in the same time gave us the privacy we needed. In a nutshell, we enjoyed our stay very much at Ana's place and would recommend everyone, who prefers sleeping calmly a bit further from the crowd of Manhattan.
Dóra
2015-10-13T00:00:00Z
The Morron family make you feel welcome as soon as you arrive. There was fresh fruit for me and treats for my dog. They treated my dog and me like family, and that is exactly how I felt about them throughout my 6 week stay. The neighborhood has a great sense of community and it was a pleasure getting to know my neighbors. There is a dog park 1 block away as well as a children's park/basketball court and a larger park several blocks away where my dog and I went running (there are tennis courts, basketball courts., trails, paved walkways, bocce ball, picnic areas. Several stores and chain restaurants are across the street. The bus stop to go to/from NYC is a 2 minute walk, if that. Everything about the listing is accurate. It is a darling studio apartment. I brought enough clothing, shoes, etc for 6 weeks and more because I had to dress for every occasion you can think of and I found a way to fit it all in the closet. The apartment is immaculate! If you stand over 6' tall, you might want to watch your head - the ceiling is a little low. If you drive a long SUV like I do, please take care in backing out of the driveway - it's city parking and you might need a friendly guide to help you back out of the driveway so please do not hesitate to ask. Overall, I had one of the best experiences of my life! Ana and her parents have touched my heart. I hope your experience is just as wonderful.
Bronwyn
2014-08-16T00:00:00Z
Room Type
Entire home/apt
---
Property Type
House
---
Accommodates
6
---
Bedrooms
North Bergen, NJ, United States
Quiet one bedroom apartment in pre-war landmark building with elevator, conveniently close to shops, restaurants, subway (ABCD at w125th). High speed internet, no TV, independent fully equipped kitchen, laudrymat around the corner
Room Type
Entire home/apt
---
Property Type
Apartment
---
Accommodates
2
---
Bedrooms
New York, NY, United States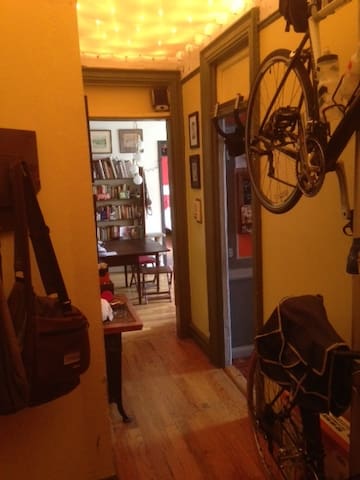 Frequent buses right in front of door step, bring you to time square in 20 minutes! Simple apartment with all the basics you need to visit the big apple.
Unbeatable price with great location for completely private apartment
Quite and friendly
I had a four day stay in Michelle's apartment and it was awesome. The apartment is very clean in a quiet neighborhood, very close to bus stop and convenient to get to Manhattan with affordable room rate. Also you may see the beautiful skyline of Manhattan outside Michelle's apartment. Highly recommended!
Yang
2017-02-16T00:00:00Z
The host made the place very clean and nice. She provided various things such as towels and toiletries. She also was very communicative and the pictures are accurate.
Alex
2017-01-08T00:00:00Z
We really liked our stay. The room was clean, very cozy. Splendid view of NYC right out the door. Michelle is a very welcoming host.
Jessica
2017-03-06T00:00:00Z
Exactly as advertised! Fantastic stay, Michelle was more then helpful and accommodating throughout our stay and I will 100% book this AirBnb again next time I visit the city.
Josh
2017-01-15T00:00:00Z
The apartment and Michelle were both wonderful. The room was clean and supplied with everything we needed. Michelle gave us suggestions on everything from where to eat to transportation. She even gave us a lift to the bus terminal with a mini tour on our last day. I highly recommend her!
Kim
2017-02-12T00:00:00Z
Place was perfect for me...quiet, clean, super convienient check in and out...VERY GENUINE HOST!
B T
2017-01-05T00:00:00Z
Room very well placed in a quiet area with a beautiful view of the skyline of Manhattan. Perfect for a one night stay, nice, well heated, comfortable bed, clean, very helpful host for any requests, quick answers, great.
Jessie
2017-03-12T00:00:00Z
Michelle was quite the considerate host she left bottle water in the fridge and even left a space heater for extra heat in case we needed it, since we were coming from Miami to NYC into the cold weather. The room is very spacious and everything was clean. My husband and I enjoyed our stay.
Angelique
2017-01-23T00:00:00Z
Room Type
Entire home/apt
---
Property Type
Apartment
---
Accommodates
2
---
Bedrooms
North Bergen, NJ, United States
This studio is perfect for travelers that want to spend less & enjoy more (sleeps 4) or students that are looking for temporary housing. You can take public trans to Manhattan and be there in 20 minutes! Safe neighborhood, great place, awesome price!
This studio is perfect for travelers that want to spend less & enjoy more (sleeps 4) or students that are looking for temporary housing. You can take public trans to Manhattan and be there in 20 minutes! Safe neighborhood, great place, awesome price! This flat in on the ground level with an independent entrance from the upstairs apartment, where the owners live. We are a pretty chill young couple that have this apartment built for when our grandparents visit from abroad and in the meantime we would like to rent it to students that are doing an internship in NYC or travelers that are looking to pay less than in a hotel and still have the same privacy. Here you will have bed sheets, covers, central heat/AC, towels, plates, wine glasses, coffee maker, refrigerator, microwave and toaster. We have a bed an a futon to sleep 4 but if you bring your own inflatable mattress you can fit more (paying the extra fee). Bus stop to Manhattan is a block away and it runs from early am until almost midnight. However, if you want to come home later than that there are other cheap commuting alternative as well. We provide you with everything you might need, (email hidden) with local directions but we are always available and if not upstairs, you can always call. We will indicate you where we will leave you the keys in case we are not home when you arrive and you are free to come and go. We are a block away from a Walmart, Applebee's and many other stores! Public transportation in this part of the world is key, specially if going to main attractions so you can really have a blast with few bucks. We do not allow pets and this is a non-smoking apartment.
We are a block away from a Walmart, Applebee's and many other stores!
Everything was as described. We met Gonzalo just a minute but he was here to help us by phone at any time. The bus stop to New York (Nr 127) is just around the corner and arrives in New York (Port Authority) in 45mn-1hr. The only downside with this bus is that it is passing every 1h30 only but that was ok. The studio is perfect for a couple but we won't recommend it for two couples as the sofa mattress may not suit to everyone, especially those with back pain. We were three people, two adults and a child (7 yr) and it was perfect for us. This studio is really a good choice : good price, location and host. We would definitely return to this place on our next trip to New York.
Olivier
2015-04-21T00:00:00Z
Thank you very much Gonzalo ! Everything was perfect ! Everything is close to the house Only $3 Dollares to get to New York by bus
Jackson
2016-03-08T00:00:00Z
The reservation was canceled 16 days before arrival. This is an automated posting.
Erica
2015-03-21T00:00:00Z
Gonzalo was a wonderful host. He was very helpful and explained a lot of things to us. The flat was very nice. The bed was the most comfortable bed I think I've ever rested on. The location was perfect. Close to the bus stop and close, but not too close to the city. If we ever return to New York, we would definitely stay here again.
glenna
2014-10-21T00:00:00Z
Everything was great! The studio is located on the first floor of a single home (the host) although it has a separate entrance way with lock and key. Neighborhood very friendly and close to 24 hour Walmart and other huge convenience centers. There is no street parking available for your car. The closest most safe parking on the weekdays is the Walmart. On the weekends, you can park right in front of the house, which Was very nice! Host let us check in late, which was nice because we had a long drive there. Never met the host but he was very communicative and messaged back very fast. They do have a baby which rarely ever cried! They do have a small dog that never enters your part of the house at all!
Connie
2016-12-18T00:00:00Z
The general experience was super positive ! No tricks, all fair. The only thing is that the place is rather far away from Manhattan, so be prepared for a rather long bus ride (35- 60 mins).
Marat
2015-07-05T00:00:00Z
Beautiful accommodation in New Jersey, clean apartment with all that was needed. The apartment looks exactly like the picture, we were pleasantly surprised and very happy. Very nice and helpful host, we recommend this apartment :-)
Soňa
2015-10-04T00:00:00Z
The stay during our NYC trip in the apartment was great. It was nice and clean! Even though it's not so close to the Times Square, the bus station is right next to the house. 2 minutes walk and 20 minutes later the bus arrives at Times Square. Besides that also Walmart is just a few walking minutes away. We can recommend Gonzalo's apartment and will come back to this choice for our next travel.
Hannah
2014-10-28T00:00:00Z
Room Type
Entire home/apt
---
Property Type
House
---
Accommodates
4
---
Bedrooms
North Bergen, NJ, United States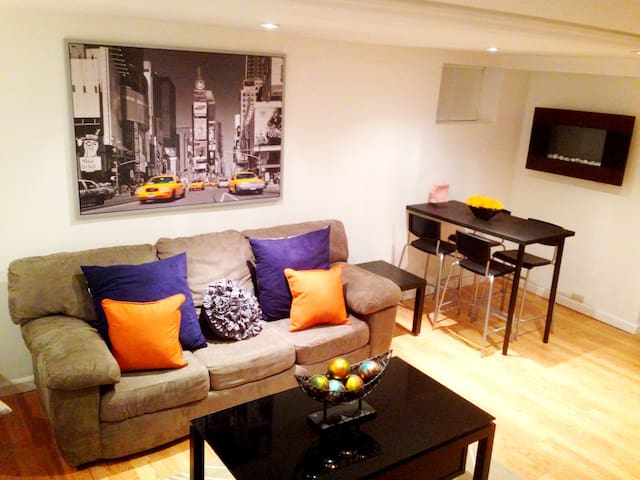 My place is close to the greatest sky view of New York City. There is public transportation a few blocks from my home.
The warm welcome and comfort that my home radiates is what i believe makes my home stand out.
This neighborhood is very quite and there's no traffic. It's not crowded and parking is available. There's parks and gyms nearby and restaurants as well. The neighbors are very friendly and its safe. There is also convenient stores nearby.
Jose and Jose's family members are very kind. While staying here I could feel their warm hearts, happy and no worries. They provided meals as well. The location is good for taking public transit. so easy to get the down city. Jose's house, You can have a great time in there.
지원
2017-02-22T00:00:00Z
I've booked a lot rooms with AirBnB but this was definitely the best!
Christoph
2017-03-21T00:00:00Z
José and his family are one of the kindest people I have ever met! Since the moment that I booked he shows interest about my trip and my plans, and gave me advises and tips to make my stay in NY easier and safer. They treat me as a part of the family, and all that they did for me was priceless, cause nowadays it's really hard to find people like Jose or Alejandrina. I completely recommend his place to stay, cause even though their place it's not in Manhattan, the places is perfectly located, close to bus stops and light rail stations!
Patricio
2017-01-10T00:00:00Z
Good place to sleep and enjoy. But little bit far from Newyork.
태현
2016-12-30T00:00:00Z
José y su familia nos han ofrecido la experiencia más expectacular de nuestras vidas. Es nuestro primer viaje a Estados Unidos y fuimos acogidos como en nuestra propia casa. Nos hicieron sentir verdaderamente en casa. Es la mejor experiencia para cualquier viajero por la atención, ubicación, transporte, orientación, pulcritud y hospitalidad. Estamos seguros que nadie se arrepentirá de esta experiencia y de escoger a los Durán en New Jersey. Es mucho más de lo que cualquiera puede esperar.
Edwin
2017-04-10T00:00:00Z
Room Type
Private room
---
Property Type
Apartment
---
Accommodates
2
---
Bedrooms
North Bergen, NJ, United States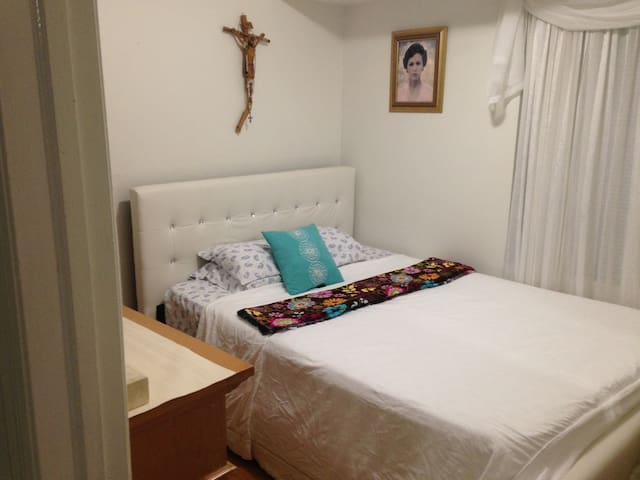 The Best Western Premier® NYC Gateway Hotel is conveniently located with easy access to key area attractions and business locations in both New Jersey and New York. Times Square or MetLife Stadium is just 4.5 miles away. Hotel guests will appreciate the variety of nearby dining and shopping options.
Room Type
Private room
---
Property Type
Boutique hotel
---
Accommodates
2
---
Bedrooms
North Bergen, NJ, United States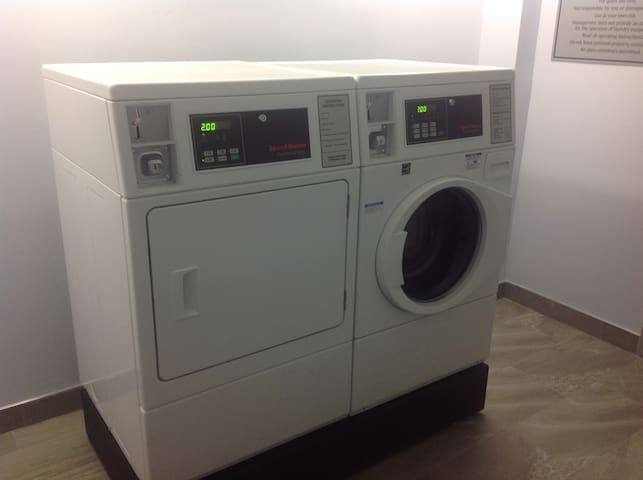 You'll love my place because it is roomy and has plenty of space to keep your belongings. The beds are comfy, there is lots of light in all the rooms. The kitchen is well stocked and nicely upgraded. The house is close to NYC and the bus to Port Authority is practically right outside the door. My place is good for couples, business travelers, families, and large groups. Please read the entire description before booking and feel free to contact me with any questons.
The apartment is the entire main floor of the house with a private entrance. It is 1165 square feet. It has a front foyer and a mudroom in the back. There is a main room that is set up as a large bedroom which is open to an adjacent dining area with a large comfy couch that is suitable and comfortable for sleeping. There are also 2 bedrooms and a small bathroom with a full soaking tub and shower. There are 2 window unit air conditioners. There are 3 steps up on the sidewalk next to the house and 4 steps up to get into the space. There are no stairs inside. There is a 42 inch TV with cable, and a playstation 3 with blue ray dvd player, Hulu, and Netflix.
North Bergen is a culturally diverse urban area of mostly 2 family homes and some apartment complexes. There is a small supermarket about 4 blocks away from the house. There are lots of restaurants and shops, on Bergenline Avenue, which is one block away. You will often hear people speak in Spanish as well as English in the area. The location is very safe, and boasts a comparatively low crime rate. You will have the benefit of being very close to the heart of Manhattan with twice the space for less than half the cost. There is also a beautiful park 7 blocks away with a stunning skyline view and overlooking the Hudson River.
The location provides easy public transport access into New York. Being out of the city centre itself has provided a lot of space, which is well utilized. The bedrooms are spacious and there is a generous kitchen and dining area for communal living. Our host was fantastic and it was delightful to stay there.
Karina
2016-11-11T00:00:00Z
Michelle was absolutely wonderful! When we arrived we found the kitchen fully stocked with all the utensils and items you need. There was even a reasonable amount of food to get us started. The place was also very clean and setup very nice. I highly recommend this place and would stay here again.
Trent
2016-08-28T00:00:00Z
The house is located in a quiet and safe neighborhood. It was very clean and spacious, great for our family of 5. Michele was very warm and welcoming to us --- she stayed up late to guide us into the driveway on our night of arrival, provided plenty of food for our breakfast, gave us detailed information about the transportation to and from NYC. And on our day of departure one of our tires was low on pressure and Michele helped us pump it up using her compressor. Thank you Michele! We really enjoyed our 3-night stay there and will definitely recommend it to our friends!
Yinuo
2016-10-11T00:00:00Z
Michele is a great host and was very hospitable. She made sure we had everything we needed, and completely stocked the kitchen full of food so we never went hungry. Afterwards, my friend left his pillow at her place and she shipped it to him at no extra charge.
Erik
2016-11-26T00:00:00Z
Great spot. Easy to catch the bus to downtown. Apt was roomy and clean. Michele is very helpful and friendly
Melanie
2016-12-10T00:00:00Z
Michele was an excellent host and made our last minute plans to visit the city a breeze! The location is great and offers a parking spot. The apartment was very spacious, clean, and super comfortable. Can't wait to come back again!
Christine
2016-12-16T00:00:00Z
Michele was a wonderful host. She was very responsive to questions and made sure we were aware of everything related to the place. Overall we had a very positive experience staying at Michele's place!
Charles
2016-08-31T00:00:00Z
Michele's place is very very very clean. We arrived pretty late at night but it's not difficult to find the right place. We also enjoyed to have the entire floor only by ourselves. And Michele is very considerate to provide continental breakfast (coffee, eggs, milk, cereal, bread, fruits, etc.) Recommend this place to you if you don't mind long distance travel to Manhattan;)
Yilin
2016-09-18T00:00:00Z
Room Type
Entire home/apt
---
Property Type
Apartment
---
Accommodates
7
---
Bedrooms
North Bergen, NJ, United States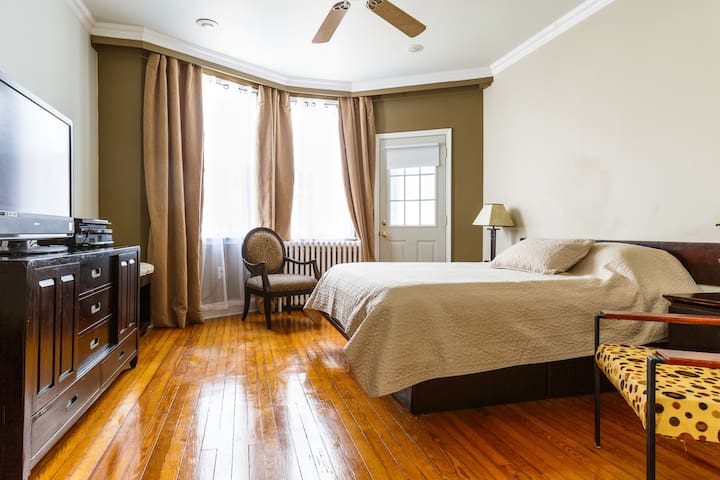 Enter dates to see full pricing. Additional fees apply. Taxes may be added.