Set in the little village of Conceição near the town of Ourique, in a beautiful unspoilt countryside. Spacious country house, 5 bedrooms, 4 with ensuite bathrooms. Big garden surrounded by walls. Swimming pool with sheltered pool house. AL32960
ALENTEJO named one of '52 places to go in 2015' by NY Times The property built in 1889, comprises two houses: the main house and the cottage that have been restored to their original appearance using traditional materials, that preserve the indoor temperature cool in the summer and cozy in winter. Casa da Torre is a seducing small rural white manor house, with a 2600 sqm garden, surrounded by walls, at the edge of a small village, where we are welcomed and pampered by the locals. There is the main house with 4 bedrooms, of which 3 with en suite bathrooms, 2 living rooms with fireplaces, dining room and a big kitchen fully equipped. Next to the main house, is the small cottage with an independent bedroom, an en suite bathroom and a living room with a kitchenette and sofa bed. Near the cottage is the pool house, where there is a big dining table, a fridge, another dishwasher, a barbecue, plates and cutlery so that meals can be taken under the shade by the swimming pool.
The typical old town of Messejana is 5 km away, also 5kms away you have the "Monte da Rocha" lake, where you can swim, and practice non-motorised water sports. Nearby, around 15kms, you have the bigger towns of Aljustrel, Castro Verde and Ourique with historic and cultural sites. The magnificent coastal beaches of Alentejo are 45 km of empty roads away. The Algarve coastline is situated less than 80 km south. Lisbon is only 170 km (1,5hours drive) by motorway. Faro is 1 hour driving by motorway. Look for Ourique, Castro Verde, Aljustrel, Messejana, Panoias, Lake 'Monte da Rocha', all near Beja, in rural unspoilt countryside.
Casa da Torre, in it's rural village of 86 inhabitants, was the perfect "get away from it all" holiday for us. The towns within easy access answered all our shopping needs but we also loved buying from it daily mobile shops with fresh bread (still warm), fish, meat, vegetables and each with a friendly helpful driver. The local tavern welcomed us and served delicious home cooked food when we wanted a rest from cooking. The house has so much character and is tastefully furnished. Its layout permitted our three families to have separate areas as well as room to relax together. Everything was in good condition. It is obviously a well-loved home. Frequent dips in the pools was such a luxury and we made full use of the BBQ and lounging chairs! We miss it and would love to return.
Lyria
2016-08-07T00:00:00Z
Lopo We all had a great experience at Casa da Torre. We had been on the go for 7 days and the stay was relaxing, the facilities were perfect and the pool was an ideal location to spend time. The decor is outstanding and the house has plenty of space. The supermarket in Ourique is well stocked to allow lovely meals to be prepared and enjoyed. Kevin
Kevin
2015-07-15T00:00:00Z
Casa da Torre was magical, the highlight of our month-long trip to Portugal, Spain and France. We fell in love with the house, the village and the whole area. It was perfect for our group of 6 and very hard to leave. The house was extremely well equipped and beautifully furnished. Each bedroom was comfortable, clean, tastefully decorated and had its own pretty bathroom. We especially loved the pool and garden area - with the herbs, fruit trees and stunning views of the surrounding fields. Lopo and his parents were incredibly welcoming and made us feel very at home. We would love to return some time soon.
Shelley
2016-07-16T00:00:00Z
This Idyllic country house was truly an amazing place to relax and spend a few days with my family and friends! Casa da Torre is a must, beautifully renovated and each of the rooms have a great feel and sense of space and style, super clean and fully equipped with absolutely everything you need to have the greatest time ever! The outdoor areas are very comfortable and the swimming pool with a spectacular view is an highlight specially on the hot summer days of Alentejo. Lopo was a really nice host. Our welcome was perfect, from driving directions to a quick house intro and recommendations about touring the area. If you are planning to visit Alentejo, Lopo's beautiful house is a must, is the place to stay. Totally recommended! We are looking forward to keep in touch and plan our next vacations there again!
Isaac
2015-04-06T00:00:00Z
The house is amazing! Located in a small village with very friendly people and a fantastic bred from alentejo it's a perfect place to spend quality time with your friend and/or family. The house is very well equiped and easily accommodate 12 people and children. I spend 5 days with friends in the winter and now we want to go in the summer. It's very easy to get there and it's very well located, near Lisboa and not far away from the beaches to. It has realy good restaurnts and sight seeing. Advise it to all winter or summer!
André
2016-01-05T00:00:00Z
We absolutely loved staying at Casa da Torre! The place is vast and beautifully decorated. Despite being big it still feels cosy and we all enjoyed sitting in the lovely kitchen having breakfast each morning and then after dinner by the pool, we'd gravitate back to the kitchen to finish our wine! The kitchen is well equipped with everything you could possibly want and the pool has lovely views and is very fresh. Although you are in a village it feels very private and you are not over looked. The pool house is a great addition as if you get too hot you can cool off in there (as our kids did most days) and it also is nice to eat in at night, overlooking the pool if it's a bit windy outside. Lopo's directions are very easy to follow and it's a fairly straight forward drive from either Faro or Lisbon. Furnas beach is lovely and about an hour's drive from Casa da Torre and certainly worth a visit. Would certainly recommend staying here and we hope to return next year!
Annabel
2015-09-02T00:00:00Z
Very nice house. A lot of atmosphere. Village is full of atmosphere but a bit remote - restaurants nearby (10-20 km) was not fantastic.
kasper
2016-07-23T00:00:00Z
Beautiful house and lovely village
Jennifer
2016-08-15T00:00:00Z
Room Type
Entire home/apt
---
Property Type
Villa
---
Accommodates
10
---
Bedrooms
Ourique, Beja, Portugal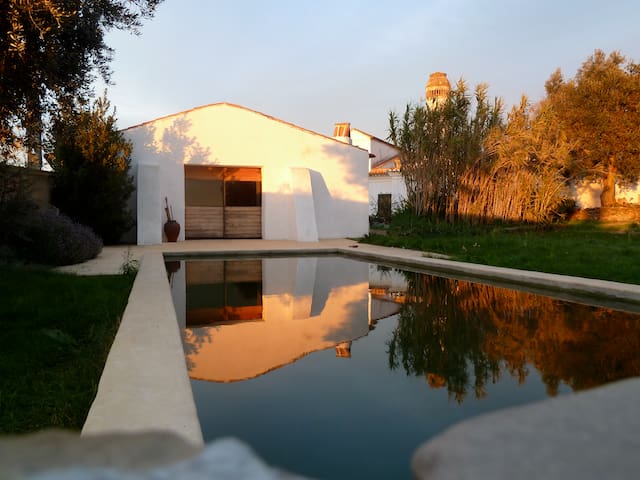 Located in the plain of Alentejo, this house is the ideal place to relax, to retreat to do some work that requires concentration, stroll through the fields, swim in the dam, eat well, read, rest more, chat with friends and being with family. In the heart of Campo Branco, favourite birdwatcher's plateau.
Located in the plain of Alentejo, this house is the ideal place to relax, to retreat to do some work that requires concentration, stroll through the fields, swim in the dam, eat well, read, rest more, chat with friends and being with family. In the heart of Campo Branco, favourite birdwatcher's plateau, Monte das Doceitas is a special place for a relaxed holiday at the countryside. The house has the amenities of country life. The most precious commodity is the weather and peacefulness of the surroundings. Besides the bedrooms, the kitchen is also a big room where you can have group meetings. There is half a hectare of land where you can play ball, sunbathing and walk.The back garden is cooler and ideal for reading and talking later in the day while watching the sunset.
On the contiguous property the only noise comes from cowbells of cattle grazing. Neighbors can provide some assistance and sell farming products such as eggs and chorizo.The house has a wood-burning stove to warm winter nights and a small tank in the garden to cool off in the summer.
The place is as described: quiet, isolated, rustic, simple. If you're not looking for luxury and don't mind some cobwebs, but want an affordable, spacious place with lovely open, starry skies, this is for you. The big farmhouse kitchen is well-equipped for cooking and there's also a barbecue. The tap water isn't drinkable and the fountain water (an outside tap) tastes a bit strange, so you might want to use bottled water.
Rachael and Jethro
2015-08-25T00:00:00Z
We had a great time. The house was exactly what I imaged it would be and the area was very rural and quiet. I can certainly recommend this place if you're not into big city entertainment or packed beaches along the south coast.
Robert Hugo
2015-04-03T00:00:00Z
Tres bon séjour malgré quelques petit problème en début de location mais réparer assez rapidement par Marta. Maison très grande et très calme, agréable pour se reposer!!
Jessica
2015-08-19T00:00:00Z
Très bel accueil par Marta et son conjoint. L'endroit est très calme, très beau et très grand. Cuisine très bien équipée, mais il manque une bonne poêle. Nous avons eu un peu de mal à gérer les moustiques, on constate que la moustiquaire n'est pas populaire au Portugal. Quand même un séjour très agréable au son des moutons, coqs et chiens de campagne.
Sarah
2016-07-02T00:00:00Z
logement non conforme à l'annonce sur le site AirBnB. état lamentable et d'une propreté catastrophique A éviter à tout prix. Equipements proposés inexistants(internet-sèche linge) ou dans un état pitoyable (four,lave linge, lave vaisselle,frigidaire,bouilloire etc...literie,meubles,sanitaires........etc...etc....) Pas d'eau potable, ne figurant pas sur le site que Marta nous a signalé deux jours avant. Nous vivons à la campagne et ne cherchons pourtant pas le luxe.....mais la location est en dessous de tout respect. Nous ne sommes restés qu'une nuit par obligation,nous avons demandé un remboursement, mais Marta ne veut pas l'entendre.
LAIZET
2017-03-12T00:00:00Z
Room Type
Entire home/apt
---
Property Type
Villa
---
Accommodates
8
---
Bedrooms
Ourique, Beja District, Portugal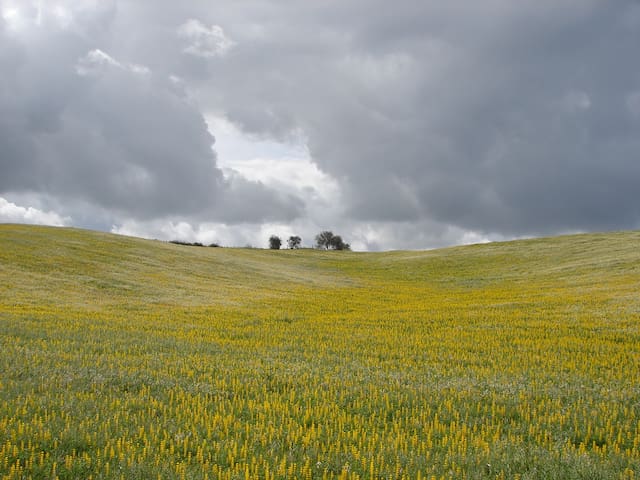 Enjoy your holiday in this spacious fully furnished two bedroom Alentejo country house with private pool on an 8000m2 plot. Located near Ourique yet only 45 minutes from the Algarve or the West Coast. Traditional open-plan interior with high ceiling
Room Type
Entire home/apt
---
Property Type
Villa
---
Accommodates
5
---
Bedrooms
Ourique, Beja District, Portugal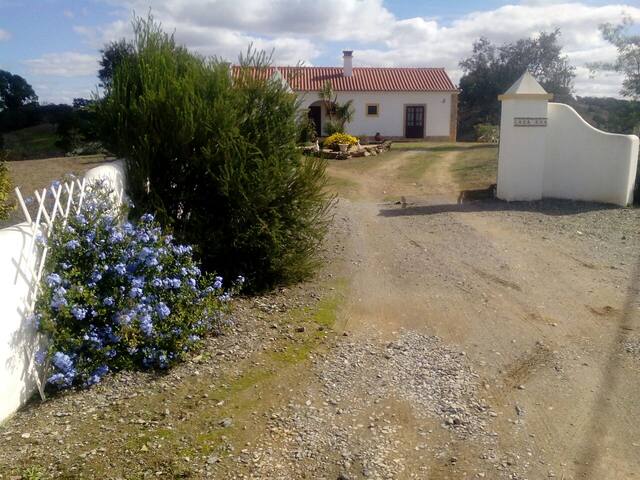 Former school converted into a country house with views across the plains around, great location to be in contact with nature, with salt water pool, jacuzzi, garden with lawn and palm trees, shed for cars, barbecue with wood oven, barbecue and toilet service, shed with table.
Room Type
Entire home/apt
---
Property Type
Villa
---
Accommodates
6
---
Bedrooms
Ourique, Beja District, Portugal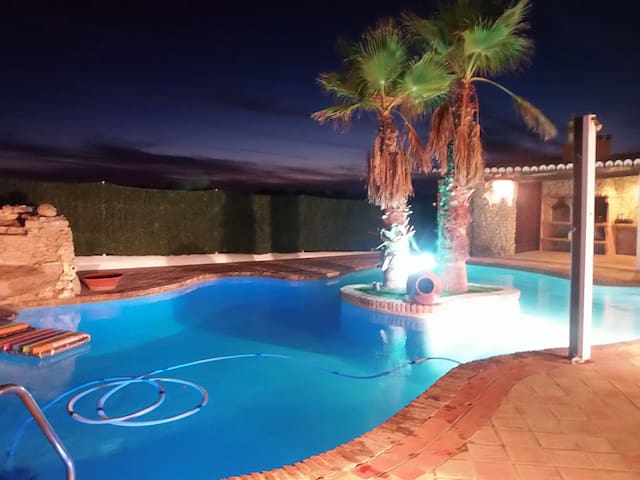 This is a real farm with animals, on an 11 hectares property with a pool. 3 bed room house of 180 m2, with large living room, 1 kitchen and 2 bathrooms. Spend some time at the farm around horses, donkeys, ship, pigs, chicken and ducks. Breakfast included for all guests. Horse hacking also part of the package. Pictures of the interior of the house available on request.
This a a traditional Monte Alentejano with all the modern comfort one can expect. Come and spend some time at the farm around the animals. The farm staff is on duty twice a day for the routine treatment of the animals but you can take part of it it you wish so and when you wish. Ride the horses around the property, be a Shepard, feed the pigs and the chicken and collect the eggs daily. The kids love it! Enjoy the swimming pool or dive in the fresh waters of the dam of Santa Clara only 2 Km away. Ride the bikes or walk around the numerous dirt roads in the vicinity. The price includes a farm like breakfast (essentially made from the farm products or from the nearby region products) for all the guests.
The property is hilly on the upper bank of the Rio Mira. You can walk to the river which is 5 min away. From the house you can see a couple of other farms but the place is completely quiet with no direct neighbors.
When we arrived at Animal Farm after 8 hours of driving, Sandra was waiting for us just right there with a big smile. And all the animal friends had greeted us too. The house was amazing. We fell in love with the house, the whole area. The house was well equipped and beautifully furnished, decorated.. Each bedroom was comfortable, clean and had its own charm. We loved the swimming pool and garden too with the plants Sandra takes care of and stunning views of the surrounding fields. Everything was just perfect. It was even hard to leave. Sandra made us feel very at home. We all enjoyed sitting outside of the house having breakfast each morning Sandra kindly prepared for us with the goat cheese, homemade bread, jam, lemon tea, orange juice and fruits from her garden. My wife loved to participate feeding animals with Sandra. Hand-feeding the donkeys and brushing the horses... Sandra and Benoit's animal farm house was the best choice! Totally recommended, we are looking forward to plan our next vacations there again. We already miss Sandra and all the friendly animals.
Chloe&Leo
2016-08-05T00:00:00Z
We would like to start with the best to describe our trip in the Animal Farm, and the best was definitely Sandra herself. She is kind, thoughful, always available if we needed something. The farm breakfast she made for us every morning (even the last morning which she bring us at 5 am because we had a very early flight back !), it was amazing ! Good bread, homemade jam, ham and cheese coming from the farms nearby and a freshly made orange juice .... Yummy ! She also offered homemade soaps in each bathroom ! The house itself was just perfect. Big and cosy, 3 different terraces, huge bedrooms and closets, not to mention the kitchen. The photos are completely true. The swimming pool was great, surrounded by all the animals living in the farm. Probably our best airbnb experience, thank you Sandra and see you soon !
Romain
2016-07-22T00:00:00Z
This is a magic place. You can tell it is the home of two people who are making their dream come true here. Sandra and Benoit are incredibly kind and friendly. It felt like staying with friends.
Felix
2016-08-14T00:00:00Z
The best place, the best surroundings and the best hosts. It is even better than the pictures and we felt very welcome. Our daughter was really happy to join Sandra and Ben when feeding all the animals and she loved the horserides they kindly arranged for her. The pool was fantastic and the breakfast an everyday pleasure. We can highly recommend this place and those hosts.
Christina
2016-09-04T00:00:00Z
VACANCES de REVE !!! On était déjà très impatients de découvrir le Monte Alentejano quand nous avons reçu tout un dossier avec photos et informations, mais notre arrivée dans cet endroit magnifique a dépassé toutes nos attentes ! La maison est superbe, très confortable, spacieuse et décorée avec beaucoup de goût, le jardin est également très agréable avec sa piscine privée dont nous avons pu profiter chaque jour, sans compter les différents coins terrasses tout autour de la maison. Nos filles ont été absolument ravies de pouvoir s'occuper deux fois par jour des animaux et faire une ballade à cheval. Dès le deuxième jour elles ont décrété que c'était les meilleures vacances de leur vie ! Quel plaisir de trouver le matin au réveil un magnifique petit-déjeuner sur la grande terrasse avec des produits frais de la ferme ou régionaux. La maison est isolée (ce qui permet de profiter pleinement du calme et de déconnecter), mais il y a plusieurs villages charmants à proximité où nous avons pu profiter des fêtes d'été, et d'autres villes très belles ainsi que de belles plages à moins d'une heure de route, ce qui permet d'alterner journées détente à la ferme et journées visites de l'Alentejo. Enfin l'accueil de Sandra et Benoit fut des plus chaleureux, nous avons appris à faire du pain au feu de bois le dernier jour puis dégusté un formidable apéro tous ensemble en regardant le soleil se coucher. Le seul point négatif: que c'est dur de rentrer chez nous après ce séjour au paradis !!
marianne
2016-08-23T00:00:00Z
Nous sommes venus passer une semaine dans l'Alentejo pour profiter de la campagne et l'idée de passer un peu de temps à la ferme nous a beaucoup enthousiasmé. Nous avons passé trois jours dans le petit Monte et trois autres jours dans le plus grand. Les deux bâtiments sont situés sur une immense propriété de près de 20 hectares, composée de pâturages vallonnés pour les animaux de la ferme. C'était formidable de se trouver entourés de moutons, d'ânes et de chevaux qui viennent brouter à proximité des maisons et de se réveiller au chant des coqs. Nous nous sommes promenés dans les environs, il y a une très jolie rivière dans le bas de la propriété et nous avons cheminé à cheval (fournis gracieusement par les hôtes et compris dans le prix) sur les chemins de terre du côté de Castro da Cola, c'est très sauvage et authentique, un vrai dépaysement. Nous nous sommes aussi rendus en Algarve et sur la côte Vincentina pour voir de belle plages et manger une dorade grillée. Les plages sont à environ 45 minutes en voiture et c'est très simple d'accès depuis la propriété. Les hôtes, Sandra et Benoit sont formidables, super sympathiques et ont étés très disponibles pour nous faire passer un moment très réussis en leur compagnie. Nous avons pu approcher les animaux sans problèmes et monter les chevaux à notre guise, puisque nous avons déjà un peu d'expérience dans l'équitation. Les petits déjeuners sont servis à domicile et sont compris également dans le tarif. Sandra nous a préparé tous les matins un petit panier sur la terrasse avec des produits essentiellement de la ferme ou de la région. Œufs frais des poules de la propriété, confitures maison, orange pressées, fromages frais... et même du jambon cru produit à la ferme à partir des cochons noirs élèves sur la propriété, un vrai régal ! (pour les amateurs). Le bâtiment principal de la propriété est un ancien Monte rénové et très spacieux qui comporte 3 chambres. Il y a un vaste salon et une cuisine très typique et très agréable. C'est une bâtisse typique de la région et très bien arrangée. La maison est très confortable, très propre et la décoration est très bien réussie. C'est très joli et possède beaucoup de cachet. Le jardin est très soigné par Sandra qui affectionne particulièrement le jardinage et la décoration. Il y a plusieurs terrasses autours de la maison ce qui fait que l'on peut profiter du soleil à n'importe quel moment de la journée. Il y a également une belle piscine. Nous avons passé un séjour formidable, dépaysant et ressourçant. C'est sûr, nous reviendrons. Un grand merci à Sandra et Benoit pour leur hospitalité et leur gentillesse. Françoise et Steph
françoise
2016-05-18T00:00:00Z
Room Type
Entire home/apt
---
Property Type
Villa
---
Accommodates
6
---
Bedrooms
Ourique, Beja District, Portugal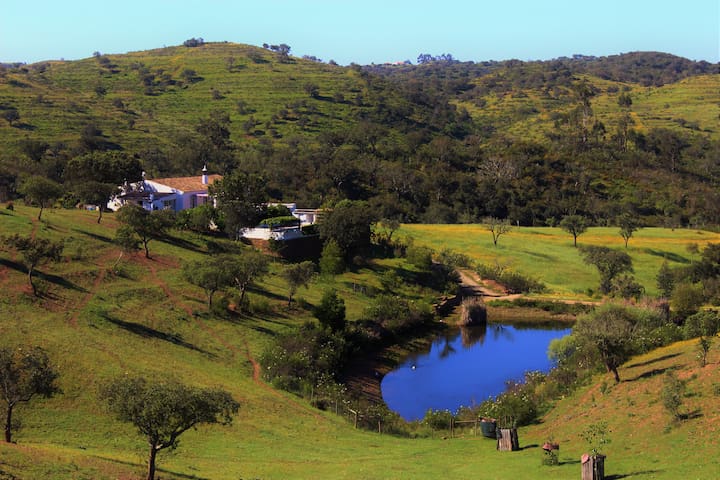 Ma chambre est dans l'Alentejo. Il est à proximité du barrage de Monte da Rocha où vous pouvez pêcher, la fabrication de bougies et windsurf.É un endroit très calme, idéal pour la course, la marche, le cyclisme. Mon espace est bon pour les couples, les aventures en solo, les familles (avec enfants) et les grands groupes.
Room Type
Entire home/apt
---
Property Type
Villa
---
Accommodates
8
---
Bedrooms
Ourique, Beja District, Portugal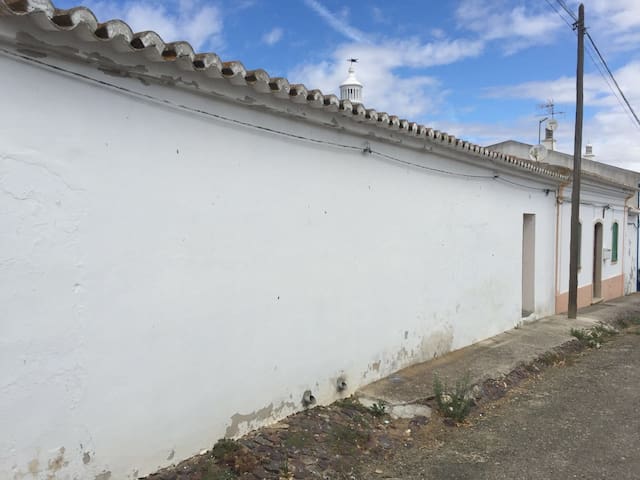 in the centre of unspoiled nature this ancient farmhouse is located. the next road is 2km away. you will enjoy your holiday in an environment full and comfort. most luxury is the calm the forest and the starlight in nighttime.
Very friendly, nice place in the middle of the nature. Invited to a nice pizza party in a neighbouring village:)
Christiaan
2017-01-15T00:00:00Z
Patrick has a wonderful place, set up in a beautiful and truly stunning hill side location. Patrick was very considerate and went above and beyond to make sure we were able to find the place and settle in well. The house is rustically elegant, very spacious and with beautiful furniture, as well as relaxing outside spaces offering a really amazing view of the hills and forests. Just for those (like us) who arrive out of season - the house runs on solar panels and, during the cooler months, there is limited power and amenities like the refrigerator are not available, so you might want to bring some ice for the ice box.
Roey
2017-03-14T00:00:00Z
Patrick is a super host. Friendly and worried about the guest needs. The house is located in a wonderful valley and the rooms and living room are amazing. Definitely a must go.
Mário
2015-09-20T00:00:00Z
Patrick and his house are exactly what we expect and more...the fire place is confortable the bedroom is better than on the picture the livingroom and thé open kitchen are like in a fairy legend. L'intérieur de la maison est décoré avec de superbes meubles, Le bois, la terre le feu(en hiver) Une douce harmonie règne dans cette vallée boisée et dans cette maison. Merci Patrice pour ce moment.
Elodie
2016-11-19T00:00:00Z
Patrick is a very nice and comfortable guy who is always good for a chat but gives you your privacy in his small paradise. He is able to give you advice for your trip. The finca is truelly beautiful and as promised in The middle of the Nowhere. So if your looking for Space and The best night sky you should go to his place! Its a bumpy road up to Patricks small paradise, maybe not possible with every car. We really enjoyed the two Nights up there. Thanks Patrick!
Teresa
2016-08-29T00:00:00Z
Spectacular scenery! Very comnunicative kind host and a dreamy detailed space to live. An adventurous trip to basic living and quiet beauty of wide countryside. It's a trip! Highly recommended!
Ben
2015-09-06T00:00:00Z
This beautiful dwelling has been a perfect place for me to unplug from the pressures of city life and worldly distractions. I was able to unwind to a slower pace in harmony with the earth and a simpler, more natural way of living. Patrick is a very kind and knowledgable man who puts his full heart into making a guest feel welcome and comfortable. He was considerate of my needs and requests, and was highly appreciative of any contribution I made towards the daily routine. He is a wonderful host and a great cook. We shared some memorable dinners. I found great peace in this rustic and beautiful, silent slice of paradise
Helen
2015-12-01T00:00:00Z
Spectacular environment. Patrick has a beautiful home in a beautiful setting. The silence was such a welcome relief, and the bed was so comfortable; just what we needed. His great dog Elke who was kind, generous and playful with Mango was a good reflection of his owner. Relaxed atmosphere with great vegetarian food prepared by Patrick. Interesting conversations. Highly recommended - and preferably others won't book when we wish to return :)
Gary
2016-03-01T00:00:00Z
Room Type
Entire home/apt
---
Property Type
Villa
---
Accommodates
7
---
Bedrooms
Odemira, Beja, Portugal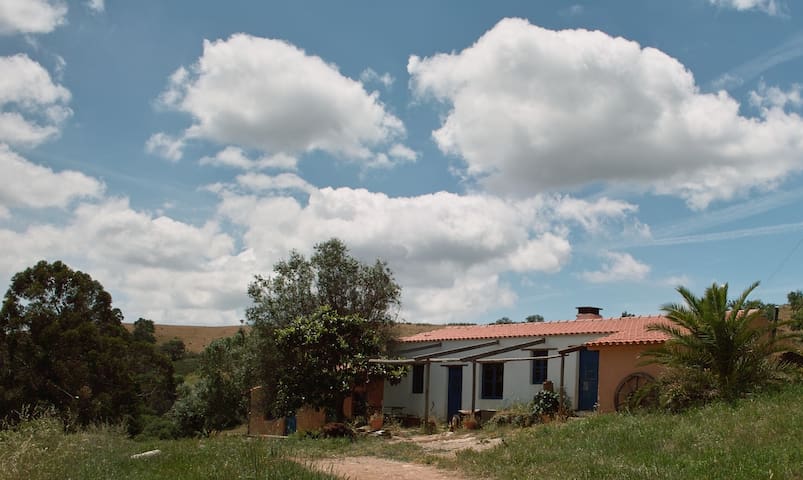 Beautiful traditional rustic cottage with its own pool in 5 acre grounds with views of unspoilt countryside. Secluded, yet within 10 minutes walk of local farming village. Ensuite master bedroom, twin bedroom and bathroom, fully equipped kitchen with breakfast bar, comfortable lounge with TV, BBQ and pergola for outside dining.
Peace and quiet in rural countryside. this is the "real Portugal". Lots of nature, fields of wild flowers in the spring, storks nesting until early July, still, lazy summer afternoons with ample sunshine. Perfect for total relaxation and unwinding!! Great for Cycling, both road and mountain bikes, walking, Birdwatching, birds of prey are common. The sky at night is the best I've ever seen as there is no light pollution, lots of shooting stars in August, make a wish!
Simplicity, nature, solitude yet the beaches of the Algarve and West coast are only an hour away.
We had a fantastic stay in Marten's place in Garvao. It really is secluded, off the beaten track and a great place to unwind. Katharine was very helpful when we first arrived and communication was great throughout. It was a shame our pool was out of action, but luckily Katharine let us use the one at their neighbouring property and it was only just warm enough weather anyway! The house had everything we needed and sunsets from the back terrace were beautiful. It was a shame we couldn't stay longer and we'll definitely be back again.
Alex
2016-04-11T00:00:00Z
BOOK IT NOW. You must get here. An amazing piece of heaven in a true alantejo landscape. The house is fully equiped with all the things you need and in high end quality. The pool is a great benefit and the sunsets are the best sunsets we have seen in portugal. You are going to thank me
Oded
2016-05-01T00:00:00Z
We stayed in Marten's Alentejo house for several days loving the complete peace, privacy and beauty of the area (which stretches for miles all around the house). The property had more space than we needed as a couple plus all utilities required (cooker, fridge with freezer section, washing machine, TV etc). Had an ensuite bathroom off our bedroom and there is also another bathroom with walk in shower beside second bedroom so spacious enough if travelling as a family. The property has 4 sets French doors opening to the front and back of the property for a nice fresh breeze on hot days. We spent most of the time though outside chilling at the pool which is a God send under the mid day Alentejo sun- loved the total freedom of seclusion although Garvao village is only short drive along the track for messages, Ourique is a short drive if you need bigger supermarket/restaurants. And don't leave without a trip to explore Odemira from where you are only a very short distance to some fabulous Alentejo west coast beaches, there are a variety of beaches to chose from depending on your interests (go (SENSITIVE CONTENTS HIDDEN) spectacular!). We loved our stay as it gave us the perfect balance between exploring and chilling, your host Marten will meet, greet and be happy to chat but will also respect your privacy. Alentejo we will be back! X
Liz
2016-09-10T00:00:00Z
What a great place! The house is situated in a very quiet area and the vieuws from the pool and terrace are outstanding. You have a lot of privacy in the house and its outside area. The house itself was spacious, comfortable and completely equiped. The owner was very friendly and trying to make us comfortable We are planning to come back next year!
Marco
2016-06-23T00:00:00Z
We kunnen het huisje in Garvao gerust omschrijven als "paradijs in Portugal". Heel mooi gelegen, rustig, prachtig uitzicht vanaf terras of barbequeplaats, zwembad...We zijn als gezin al op veel plaatsen geweest, en dit kunnen we gerust als onze topverblijfpaats vermelden.
Jan
2015-04-19T00:00:00Z
Attention : les commentaires qui précèdent ne s'appliquent sûrement pas à la maison que nous avons louée. Ce propriétaire ayant plusieurs locations. Prévoyez le nécessaire pour retirer les toiles d‌‌'araignées, nettoyer le balai à WC, du détachant pour les fauteuils, du scotch occultant pour les trous dans les portes, ne cherchez pas à ouvrir la fenêtre du coin cuisine, elle est collée, nettoyez le fond de la piscine, ne cherchez pas à modifier vos dates de séjour car le propriétaire ne reçoit pas ce type de message ... bref, à 120€ la journée, vous trouverez facilement mieux. Nous n'avons pas eu le courage de dormir une seule fois dans cette demeure "rustique". Bon courage
christian
2016-08-21T00:00:00Z
Det var et meget,meget fint sted. Huset var smuk, smagfuldt, med masser af have/mark omkring. Sengene var rigtig gode. Fra terrassen har man udsigt over landskabet. Huset er ugenert, og hvor får du besøg af naboens venlige grise,-vi nød det. Huset var centralt placeret for så vidt angår indkøb, besøg i naturparkens mod øst og mod vest til Atlanterhavskysten, som er utrolig smuk. I området omkring kan du opleve den portugisiske måde at holde husdyr på. Mange har grise,får, høns mv., som ikke er lukket inde i stalde, men ude i det åbne. Vi oplevede enutrolig hjælpsom og venlig vært. Vi vilbestemt besøge stedet igen.
irene
2017-03-02T00:00:00Z
Room Type
Entire home/apt
---
Property Type
Villa
---
Accommodates
4
---
Bedrooms
Garvao, Ourique, Portugal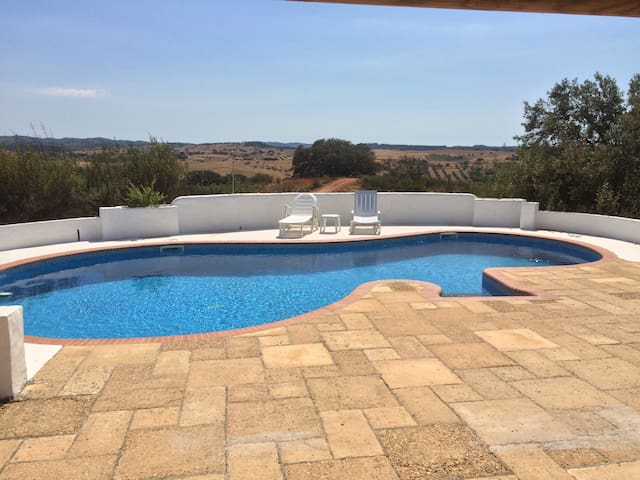 A casa situa-se no Monte das Sorraias com uma paisagem dominada pelo cultivo do cereal e um vasto patrimonio natural integrado na zona de protecção especial de Castro Verde. A casa foi completamente recuperada propocionando aos seus visitantes conforto e a tranquilidade no meio rural que a envolve.
A proximidade do Observatorio de aves (15 Km) - Vale Gonçalinho Um dos locais onde pode observar uma das aves tipica da região - a Abetarda
My parents and I had a lovely stay in Casa Julia. It is a lovely peaceful location surrounded by birds and their song. Great place to retreat to enjoy a book and the sun!
Kate
2017-03-10T00:00:00Z
Excelente opção.
pedro
2016-07-25T00:00:00Z
L'accueil "indirect" (nous n'avons pas rencontré notre hôte) a été charmant . Quelqu'un, qui parlait français, nous attendait en un point facile d'accès pour nous conduire au lieu-dit; Une bouteille de vin et d'eau nous accueillaient ! Vraiment très chouette . Le lieu, d'un calme absolu, on était pratiquement les seuls humains logeant dans le hameau était tout simplement beau ....
Beatrice
2016-08-23T00:00:00Z
A nossa estadia foi ótima, o Sr. José foi muito disponível e gentil mesmo quando nos chegamos atrasados e de noite. A casa é linda e adoramos ver as cegonhas voar a volta da casa julia! Alice
Alice
2017-02-26T00:00:00Z
Room Type
Entire home/apt
---
Property Type
Villa
---
Accommodates
6
---
Bedrooms
Castro Verde, Beja District, Portugal
The "soul" of the Rural Tourism Monte da Apariça lies in the land (or, as so called, in the "Herdade"), where the scent of earth, flowers, grass and animals blend in the air.
One only distracts from this scent when staring into the horizon that, from the top of the Monte, stretches out to the infinite Alentejo…. In front of you, a large dam welcomes ducks and other species. Birdwatching is the heart of Apariça because, in this place, you can watch unique birds, many of which of protected species. In this Rural Tourism Herdade in Alentejo, there are many observation sites prepared for visitors. In Monte da Apariça there is absolute peace! Anywhere in the Herdade, or simply under the porch, while having a typical lunch or just a break.Monte da Apariça is the permanent family house of Jorge and Alexandra Bobone, and their sons, Mariana and Francisco. Considering the unique characteristics of this family property, that is also a farming and cattle-raising business, its hosts started a Rural Tourism that offers its guests one cozy Country House. Here, you will find charm accommodation in the genuine Alentejo. The house has 2 rooms, one with two single beds and the other with a big double bed, bathroom with bathtub, living room with fireplace, kitchenette and porch. Comfortably and rustically decorated, they provide a stay that invites rest and serenity. If you are looking for an accommodation in Alentejo, you are always welcome.
The Monte da Apariça Rural Tourism is integrated in the Special Protection Area of Castro Verde, where steppe is predominant. But since one end is limited by the Ribeira de Cobres stream, the landscape changes to scattered areas of holm oak, with some rock-rose extents. From the Monte, a large 20 ha dam is sighted, spot for a great variety of waterbirds and others, as well as otters, etc. Sites of interest: Main Church of Castro Verde, Adegas, Pulo do Lobo, Mértola, São Domingos Mines and its river beach, Pomarão.
I have used many AirBnBs and this one is my favorite. When Jorge realized my mother's interest in his estate, he shared many hours with all of us, driving us through the estate to see the cattle, trees, and wild life. The house is beautiful with comfortable and quality furnishings. I can not say enough good things about this place except that I hope to bring my grown children for a family vacation in the near future. Wonderful!
Kirsten
2016-10-05T00:00:00Z
Alexandra and Jorge are excellent hosts. They go above and beyond their duties to make you feel welcome in their home. The guesthouse is spacious. It is very clean and modern. The beds are comfortable and the the linen is of good quality. There is all the modern conveniences you need. Washing machine, aircon, coffee maker and cable TV. The property is very large and we had free access to explore. Jorge also brought us on a tour of the farm and showed us some of the wildlife. The lake is beautiful and is full of birds. They offer a four course dinner package for 20 euros p/p which is excellent value. The food was delicious. Homemade pea soup. Jorge farms Mortelinga cattle and we had that for main course. It came as a huge slab of beef cooked to perfection on the barbecue. We will definitely be going back. I would recommend this to anyone who wants a quiet break and enjoys good food.
ROBBIE
2016-03-26T00:00:00Z
We cannot speak highly enough of our stay and the incredible welcome we got from Alexandra and Jorge. The house was beautifully decorated and had all the facilities we needed. Alexandra gave us great recommendations of things to do and see in the area, and also for our next stop when we moved on. Jorge was kind enough to take us on a brilliant tour of the property (a working farm) and showed us the huge array of local wildlife (and his pigs, cows and horses!) We absolutely loved our stay and would recommend this house to anyone looking for peace and quiet in the stunning Portuguese countryside. Rob & Emily
Robert
2016-05-14T00:00:00Z
Room Type
Entire home/apt
---
Property Type
Villa
---
Accommodates
4
---
Bedrooms
Castro Verde, Beja, Alentejo, Portugal
Located in the lower Alentejo heart the lot consists of two houses, an outdoor space that merges with the Alentejo countryside and a swimming pool. One of the houses has 2 bedrooms and the other 5 bedrooms, all with their own bathrooms.
Located in the lower Alentejo heart the lot consists of two houses, an outdoor space that merges with the Alentejo countryside and a swimming pool. One of the houses has two bedrooms, each with its own bathroom, a living room, kitchen and a shared bathroom. The other house has seven bedrooms, also with a bathroom for each bedroom, a large living room, a kitchen and a shared bathroom. The living area of both houses open on a porch in front of the west to the pool. The nearest town is Almodovar, friendly Alentejo village where you can enjoy cultural and gastronomic tourism, all combined with peace and beautiful landscape typical of this region of the country.
We are a family of three with a 2 year old boy, this place was an amazing get away for us. Location was superb and peaceful. Vanessa was great with us and the boy. Breakfast was a welcome surprise. She makes a great cake and even shared the recipe. Highly recommended Thanks
J-me
2016-09-19T00:00:00Z
We had a wonderful experience at Monte Beato. The modern, comfortable and very spacious house is located on a hill top 2.8 km outside Almodovar. It is surrounded by farmland with almond, pomegranite and oak trees and and many, many birds. There is a big group of starlings, a dozen azule winged magpies, swallows nesting under the roof and more birds that we don't know but that sing beautiful. The views from the terrace and out the windows are stunning. Communication with Vanessa was easy, even though her English and our Portuguese are limited. She is very friendly. She gave us tips for where to go for dinner, offered to buy us breakfast and made a fire to keep us warm at night (it can be a little cold at night in April). The house is powered on renewable energy. There are solarpanels and the fireplace heats water for the radiators throughout the entire house. It comes with temperature controls for every room. We are happy to report that we have finally found a comfortable bed in Portugal. So far in all the other places where we stayed, the beds were rock hard and squeeky. In Monte Beato it is firm, but much softer and comfortable. To reach the house you take a dirt track that starts 2.7 - 2.8 km North of Almodovar. There are a sign and a bus stop at the crossroad. Track the distance covered from Almodovar and you can't mis it.
Lennart
2016-04-18T00:00:00Z
Excelente opção para famílias ou grupos de amigos que queiram privacidade. A localização é óptima, muito tranquila, mas perto de Almodóvar caso seja necessário aceder a algum serviço. Óptimo acolhimento e disponibilidade para apoio por parte do anfitrião. Casa muito bem decorada, com quartos muito confortáveis. Recomendo!
Sandra
2016-06-20T00:00:00Z
Ficamos 2 noites na casa pequena do Monte do Beato para celebrar o Natal em familia. Para quem vai de Lisboa é super fácil chegar (2 horas). A casa estava exactamente de acordo com as fotografias, limpa, moderna, decorada a gosto e com os items necessários (toalhas, pratos, etc). Antes da nossa estadia, trocamos várias mensagens com os proprietários que responderam prontamente. Até ao nosso pedido de uma árvore de natal, para que o natal estivesse completo :) A entrada e saída foi super tranquila. Fomos recibidos pela Dona Gina, que nos ajudou a encontrar um restaurante em Almodovar, disponivel para nos receber na véspera de natal em horário tardio. Foi super. Também recebemos um telefonema do proprietário da casa para desejar boas festas e perguntar se estava tudo bem. Muito atencioso. O único ponto que necessita melhoria é sem dúvida o wifi da casa pequena, que é praticamente inexistente. A nossa estadia no Monte Beato foi óptima e sem dúvida que regressaríamos.
Patricia
2015-12-27T00:00:00Z
O Monte Beato é exatamente como nas fotos. Éramos um grupo de 7 pessoas que queríamos um lugar sossegado e com piscina para fazer um convívio e tudo correu às mil maravilhas. As vistas são fantásticas e os quartos também. A sala é gigante e o sofá super confortável. O anfitrião deu-se a conhecer e prestou-se a qualquer dúvida que tivéssemos, dando ao mesmo tempo a máxima privacidade. Chegamos um pouco antes das 14H e não houve qualquer problema. Obrigada pela atenção Monte Beato. O próximo convívio já tem sítio escolhido.
Carlota
2016-09-24T00:00:00Z
Preciosa casa muy tranquila y acogedora. Gina muy amable y dispuesta.
Jesus
2016-03-28T00:00:00Z
Tivemos uma estadia muito agradável o lugar ainda melhor do que o esperado. Os anfitriões fizeram-nos sentir em casa, sempre atenciosos disponíveis e simpáticos. Recomendaria sem pensar duas vezes.
Hugo&Susana
2016-10-30T00:00:00Z
Room Type
Entire home/apt
---
Property Type
Villa
---
Accommodates
14
---
Bedrooms
Almodôvar, Beja, Portugal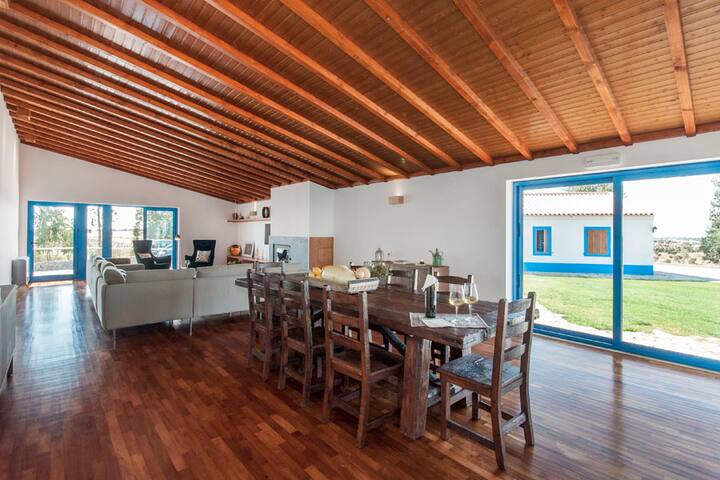 Connect with Nature and Tradition. The house is set in a beautiful and peaceful piece of land, simple, modern and comfortable decor. Expect chickens and ducks in the doorway and the sound of cows and sheeps. There is a lot of traditional heritage museums, ruins and historic villages. Perfect place to stay for animal lovers, families with children or groups. Its 30 min by car from the wonderful beach - Porto Covo - Sines - Vila Nova de Mil Fontes.
Room Type
Entire home/apt
---
Property Type
Villa
---
Accommodates
8
---
Bedrooms
Santiago do Cacém, Setúbal, Portugal
Monte Carpe Diem is a property with 2.5 hectares (6 acres) located in Baixo Alentejo with a distance of 1km (0.6 miles) from Garvão and 13km (8 miles) from Ourique. As the name implies, we seize the day by enjoying the calmness of the countryside, the landscape, superb sunsets and amazing starry skies. To the west you can enjoy the Alentejo coast, and to the south the Algarve where we find the most magnificent beaches.
Monte Carpe Diem has a spacious and beautiful house with 4 bedrooms, 3 bathrooms, living room, kitchen and porch with a barbecue. The outdoor space has a lawned area with a private pool of 14x7 meters where you can cool off and have fun. There is also a small dam, an orchard, olive trees and beehives (properly kept from a distance of the house). Here, you can enjoy total freedom and privacy. The biodiversity in the surroundings is excellent, you can take walks and observe birds and animals of the region. The Monte da Rocha dam is located 3 km (1.8 miles) away where you can relish a picnic or do some fishing. The property is located 1km from the village of Garvão which is a typical Alentejo village, with friendly people where you can find some cafes and restaurants and a minimarket. The village of Ourique is 13 km (8 miles) away. Much larger than the village of Garvão, in Ourique you can find a supermarket and several shops and restaurants. Funcheira train station is only 2km (1.2 miles) from the village of Garvão and trains from Lisbon and Algarve arrive there daily. Lisbon and Faro (Algarve) are cities with international airports. The nearest beaches are about 1 hour away and are on the Alentejo coast (Porto Covo, Vila Nova de Milfontes, Zambujeira, Odeceixe, ...) and in the Algarve (south coast of Portugal). Transportation is required to get to know the beaches due to the distance.
Room Type
Entire home/apt
---
Property Type
Villa
---
Accommodates
8
---
Bedrooms
Garvão, Beja, Portugal
My place is close to Nature. You'll love my place because of the amazing sunsets and starry nights, the tremendous views over the hilly Alentejo it is a very romantic place, and it has a comfortable rooms in the villa and a beautiful authentic restored mill to sleep in. My place is good for couples, solo adventurers, business travelers, and families (with kids).
The host canceled this reservation 4 days before arrival. This is an automated posting.
João
2017-02-13T00:00:00Z
Room Type
Private room
---
Property Type
Villa
---
Accommodates
7
---
Bedrooms
Almodôvar, Beja, Portugal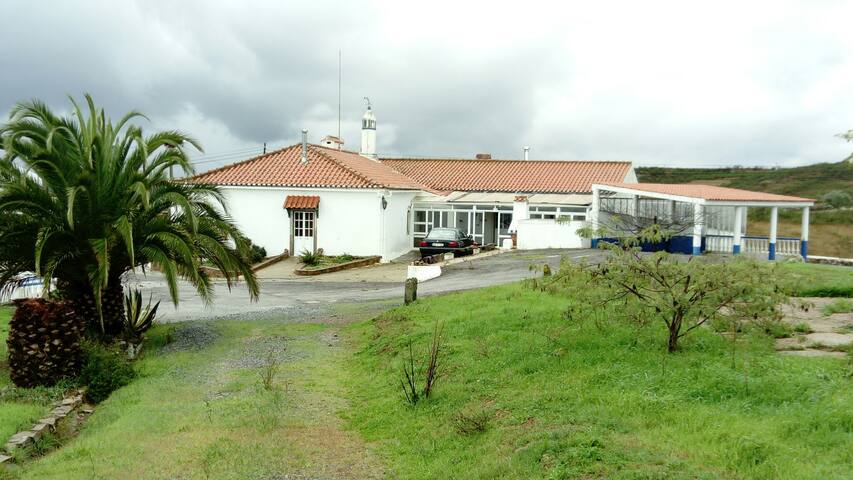 We offer luxury self catering holiday accommodation, consisting of two large, delightfully restored, self contained, adjoining luxury country houses with a large swimming pool. Licensed: CASA DE CAMPO 1/2006
Casa Oliveira is within the property of Monte da Quinta and set in 4.5 hectares of private grounds with stunning views of the Alentejo countryside. Perfectly located just a 5 minute walk into the town of Castro Verde and close to both the west coast and the Algarve.
A unique location with stunning unspoilt views over the plans. Sitting on the southern edge of Castro Verde, just a five minute walk into the town, with shops, bars and restaurants.
Room Type
Entire home/apt
---
Property Type
Villa
---
Accommodates
4
---
Bedrooms
Castro Verde, Beja District, Portugal
O agro-turismo Monte dos Poços, situado no concelho de Aljustrel e com uma excelente localização, a 8km de Aljustrel e 11 km de Castro Verde , insere-se no Biótipo Natural de Castro verde (zona excepcional de conservação da natureza e de visualização
Magical place that makes you think you are in Africa. Rui is very welcoming and calm, he made vis best so that we feel comfortable, we are very grateful for that!
Fabrice
2016-07-11T00:00:00Z
Rui was an extremely endearing and mindful hosts. The peace and quiet were to relax very well. The breakfast was delicious and the cool swimming pool for cooling off excellently. The premises were very clean. The whole crew was facing and very friendly. We enjoyed it very much.
Christian
2015-08-14T00:00:00Z
O local é ideal para quem quer relaxar. O quarto é bastante amplo e minimalista, o que o torna muito agradável. O Rui com quem reservei o quarto foi bastante directo e esclarecedor, e deixou - nos a vontade com a flexibilidade de check in e check out. Como gostamos muito de animais gostamos de saber que o espaço pode ser vivido com eles também, para além de que ficamos fãs da cadelinha "Pipoca" que não nos largou. A sra que serviu o pequeno almoço e fez a limpeza do quarto foi extramamente simpática, atenciosa e preocupada com o nosso bem estar, espero que a recompensem de forma merecida e justa. Ela foi fundamental ao sucesso da nossa estadia. Obrigado pelo descanso que nos proporcionaram. Foi muito bom.
André
2016-02-15T00:00:00Z
Fantástica ...
telma
2015-08-20T00:00:00Z
Room Type
Private room
---
Property Type
Villa
---
Accommodates
2
---
Bedrooms
Aljustrel, Beja, Portugal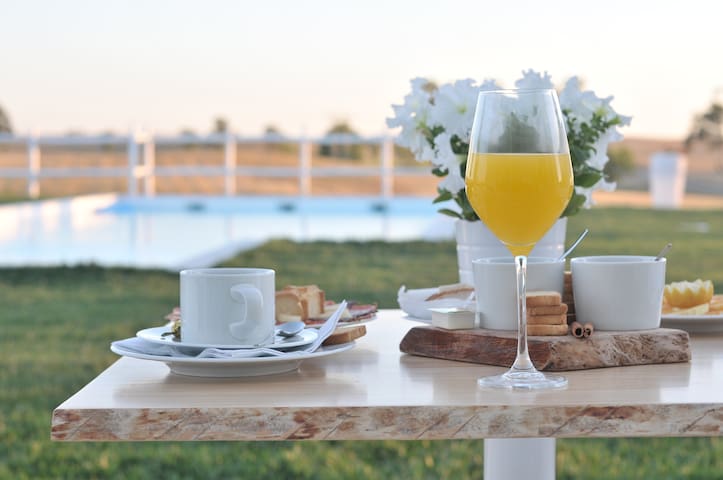 A beautiful little guest house situated in Alentejo 45 mins to the West Coast. With Stunning Views and a Salt Water Pool. 30 minutes to Odemira and 25 to Santa Clara Lake it is a beautiful place, quiet peaceful and very remote.
A beautiful guest house located in the south of Portugal in Luzianes Alentejo Portugal. 45 Mins to the coast and located 25 minutes from Odemira, this beautiful guest house sits on 11 hectares of land and has a salt water swimming pool, and terrace for al fresco dining. A chef available to cook meals at an extra charge, cooking classes and yoga offered. Breakfast can be arranged at an addition of Euros 5 per person. Upon first booking, receive a free yoga class. There is also the opportunity to take private cooking classes as well. Fully furnished kitchen, bedroom with double bed and living room also with double sofa bed. Bathroom with shower and toilet. Its a wonderful place for couples and for families. We have two additional rooms located near the house also for rent Hikes and walks are also offered upon request from guests. The views are breathtaking and there is plenty to see and do. There is a salt water pool, and guests have their own private entrance. Experience the warmth that is South Portugal!
Luzaines Village for jam and general goods. Odemira for more restaurant choices, The Coastline with Beaches 40 mins away. Santa Clara Lake 25 mins away.
Room Type
Entire home/apt
---
Property Type
Villa
---
Accommodates
3
---
Bedrooms
Luzianes-Gare, Alentejo, Portugal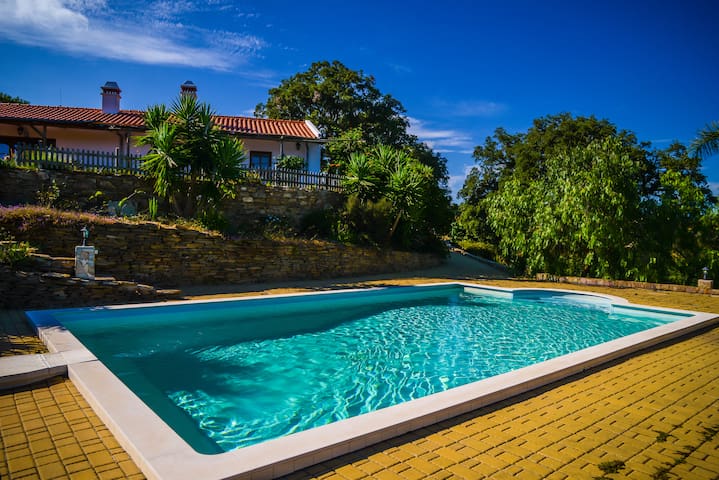 A charming countryside house, amidst an organic garden, producing organic vegetables at the disposal of our dear guests.Hidden in a garden, a cottage, brought back to life as a family home; one bedroom, from 1 up to 3 persons for a quiet sleep.
Find a worderful place to get lost. Buganvilias is a rural farmhouse, sitting in 5 acres of private land in the heart of the beautiful Costa Vicentina Natural Park. Casa Sete Léguas,our third house,offers accommodation for up to 3 people. Has its own private terrace and is set in a spacious garden, filled with blossoming flowers and fragrant smells, make up most of the property. The house is cosy, sheltered from the sea winds by the thriving garden, and built with love by its owners. Secluded and peaceful, it is still only 2km from the lovely beaches at Carvalhal and Alteirinhos. The views of the Alentejo countryside are gorgeous and the coastline with its beaches is only minutes away. The area is teeming with nature and wildlife, including over 750 species of flora and more than 200 species of both sea and land birds. The house is run by Isabel and her daughter Madalena, who gave up the city for the simple country life and who now run the farmhouse with care and attention. The nearestby beach,Alteirinhos, happens to have a naturist area, and is beautiful. We are also available during the pleasantly mild winter months. Enjoy a cosy night in with a book or movie by the antique wood stove, or take a stroll on the many neighbouring pathways and breathe in the crisp fresh air. Relax and come and enjoy the many benefits of Alentejo´s countryside!
We had a fabulous stay at Isabel's 2 bedroom appt. The place is beautiful with nice details throughout. It is a bit hard to find as it is truly in the middle of the countryside but once you are there, bikes and dirt roads take you quickly to stunning beaches. Zambujeira do mar is also superb and we had a blast. We originally intended to stay only 2 nights but we were having such a great time that we stayed one extra night. I highly recommend.
Daniel
2013-05-06T00:00:00Z
Room Type
Entire home/apt
---
Property Type
Villa
---
Accommodates
3
---
Bedrooms
Vale de Figueiras, Distrito de Beja, Portugal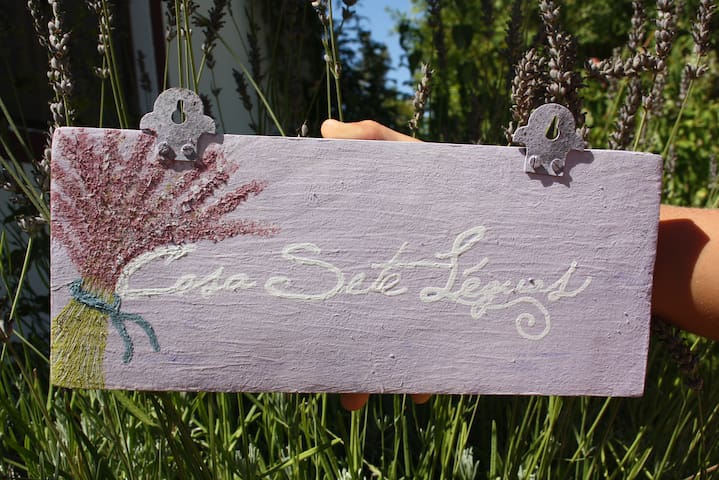 1

–

18

of

21 Villa Rentals
Enter dates to see full pricing. Additional fees apply. Taxes may be added.