House in the mountain of Lousã, near Coimbra, at 4Km from the Vilage whith two bedrooms, in a private property whith pool and a great view
It is a unique space in Mountain blackboard in a quiet location with a fabulous views and a great sunset
We had an excellent stay in this charming place. Hugo and his wife were really friendly and helpful, they introduced us to the place, they gave us a list of recommendations on where we should go to eat or buy our food and they also made us feel very welcomed with a fine bottle of wine, local tea and a huge delicious chocolate cake! The house is cosy and spotlessly clean and the kitchen is fully equipped. The view is astonishing, the sounds of the mountain are very peaceful and the pool is a beautiful place to spend some quality time while watching the sunset over the horizon. The house is just as described and shown in the pictures. We really enjoyed our stay and I can only highly recommend this very nice host.
Telmo
2015-07-03T00:00:00Z
The house is remote, very quiet, wisely designed, well-equipped and really beautiful. Location, ambience, scent, view… everything is simply incredible. And Hugo is a very attentive host, always available to help. It's cold there at February nights, and the house is not exactly supposed to be used in this weather. If you happen to be there this time of the year, dress warmly and provide yourself with firewood – there is a charcoal grill inside that can be used as a fireplace ☺. In sum, it was an unforgettable stay and we would be happy to return there at a warmer time.
Yuri
2016-02-21T00:00:00Z
Our hosts were very welcoming and friendly, and were readily available if we had any queries or needed assistance. They also gave us fresh vegetables from the garden and eggs from the chickens which was great. The house was lovely, absolutely amazing views! Very quiet area, and the interior was well presented and modern. The stairs to the upstairs bedroom were a little steep if you have mobility issues, but there is also a ramp leading around the back which was helpful. The town of Lousa was a 10 minute drive away (house is quite high in the mountains) but had plenty of shops and restaurants. Overall we had a fantastic time, thank-you again to the owners for being so accommodating.
Lydia
2015-07-20T00:00:00Z
When we arrived to Lousa we felt very welcomed and taken care off. The house looks amazing and the views are breathtaking, especially if you like sunsets. The pool and the house were spotless. Hugo and his father and friends were great hosts and made our stay perfect and even helped us out when our rented car didn't work on the very steep road which leads to the house. I hope one day we can return to Lousa and Hugos beautiful house as we spend there three nights full of peace, joy and sun. Thank you!
Beata
2015-08-28T00:00:00Z
Stunning property with an incredible view. The amazing pool (with diving board) was an real highlight.
thomas
2016-08-29T00:00:00Z
"Une semaine de rêve !" in Hugo's mountain house ! The perfect place to rest, to hike, to dream, to swim, to read and discover the center of Portugal. The swimming pool is so dreamy, and the view from it is wonderfull. The house is beautifull and cosy, and Hugo and Ana are very friendly. We will remember of our week for years !!!
Sklerijenn
2015-08-02T00:00:00Z
A beautiful house in the hills with stunning views. The house will really appeal to architecture fans with its stylish design and cool pool area. Ideal place to stay if you want a real 'get-away' - we spent the week lazing by the pool but also went on some great walks on easy paths right from the house. The final section of the drive up to the house is pretty hair-raising but more than worth it once you're there. Hugo was really helpful, he accommodated our late check-in happily and led us up from Lousa as agreed. He also gave us a welcome basket of fruit and bread as we had arrived so late, which was really thoughtful. And fresh eggs during the week from the house hens! Highly recommend and looking forward to a return visit.
Andrew
2016-09-19T00:00:00Z
First of all, after a lot of airbnb bookings I have to say Hugo is one of the best host we ever had. Two weeks before our stay he contacted me with an explanation on the house and how to get there, he also told me where I could meet him so he could lead the way to the house (it's very good to follow Hugo up to the house the first time as it can be hard to find). When we had an issue after a couple of days (due to a pump failure there was no water), Hugo was just one phone call away, he arrived 15 mins later and 10 mins later the issue was resolved. Absolutely brilliant service. The house itself is just amazing, even better as the pictures suggest. We rented this for 1 week at the end of June, and we had great weather all week, tough the evenings after sunset (amazing views on the sunset from the pool area) were a bit chili. This meant we could put everything in this house to full use; during the warm days we spend a lot of time around and in the huge swimming pool (3 meters deep, and long enough to have a good swim), the evenings and nights we passed inside the house. Thanks to the big living room and fully equipped kitchen (with inside bbq) this was extremely enjoyable. On the domain there is 1 other house, yet during our stay no one else lived there (worth checking with Hugo in advance). We were looking for a private secluded house with a pool to spend a week with just the both of us, we defenetly found what we were looking for in this house, our stay was absolutely brilliant!!!!!!
Björn
2016-07-03T00:00:00Z
Room Type
Entire home/apt
---
Property Type
Villa
---
Accommodates
4
---
Bedrooms
Lousã, Coimbra District, Portugal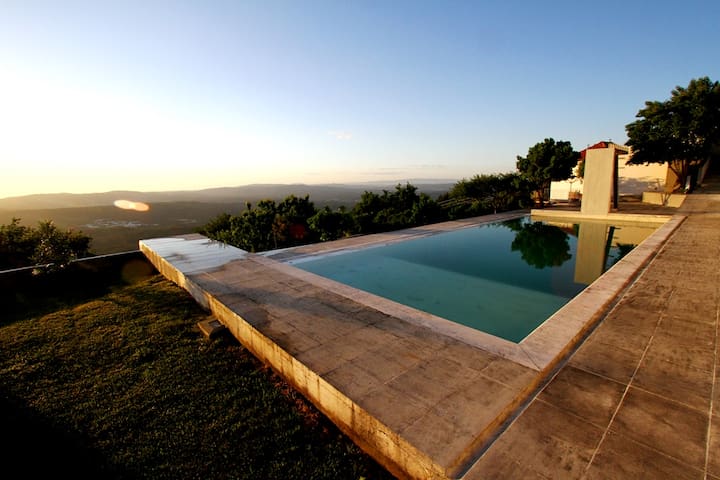 Inserida numa quinta na Serra do Açor a Casa da Eira está a 6 km de Coja, e a 23 km do Piodão. Da aldeia à quinta tem 800mt de estrada em terra batida transitável. Possui 2 quartos com camas de casal, wc, kitchenette equipada e sala com sofá cama. É adequada para famílias com crianças e são admitidos animais de companhia.
The house is situated in a small, wooded valley. The path to the farm is not asphalted, so the destination should be communicated well in advance. In the house itself everything is perfect for 2-4 people furnished. The beds are not aligned for very large people. Now in winter it was cold, of course, but anyone who can handle a wood fireplace will experience wonderful romatic hours. Take a look at the stars, it's the "serra de estrella"!
Andreas
2017-01-22T00:00:00Z
It was the best stay we ever hed, with airbnb or at a hotel. the house was incredible, the view was breathtaking and the hosts are amazing. They made us feel at home on the other side of the world. We couldn't recommend them more strongly. Not only we would stay again, we are already planning when.
Nital
2016-10-09T00:00:00Z
Just one word: WONDERFUL! The place, the house and the family are so lovely! Best stay in Portugal!
Sophie
2016-11-16T00:00:00Z
Great but (far too) short stay with Isabel and Joao! Casa Da Eira is a very nice and very well kept house, we are seriously thinking of coming back there for a longer stay! Obrigado Isabel y Joao!
Henk
2016-09-30T00:00:00Z
Rustic cottage in a beautiful, secluded, peaceful and quiet location up a dirt track which is reasonably passable with a hire car. The home is basic and small but very cute and homely. Hot water can be inconsistent for the shower and standard double beds are fairly comfy, one has a very hard mattress. Basic wood burner does heat the place reasonably although takes some masterery! With little insulation the cottage gets very cold when it's cold outside. The hosts were very helpful and friendly going out of their way to meet us and help with directions and help with lighting the wood burner, plus a lovely pot of homemade blueberry jam was a bonus. Thy live a few minutes walk away which is handy to know.
Lawrence
2016-12-22T00:00:00Z
El entorno maravilloso. La casa muy cómoda y muy limpia.Una terraza y barbacoa de lujo. Pero lo mejor del viaje la experiencia de haber conocido a Maria Isabel y Joao. Personas que son un lujo encontrarse en la vida. 100x100 recomendado
Carlos
2016-08-19T00:00:00Z
Útulná chata na velké farmě v údolí. Naprostý klid. Vzhledem k době našeho pobytu jsme přivítali kamna a zásobu dřeva na otop.
Cenek
2016-11-27T00:00:00Z
A Casa de Eira é um sitío especial, com um Ambiente rural, muito sossegado. Um espaço ideal para as nossas ferias. Sentimo-nos muito bem recebidos pelo Isabel e João, um casal amigavel e aberto. Aconselhamos está casita a quem gosta natureza e boa compania. Obrigado para tudo.
Susanne
2016-08-15T00:00:00Z
Room Type
Entire home/apt
---
Property Type
Villa
---
Accommodates
4
---
Bedrooms
Coimbra, Coimbra, Portugal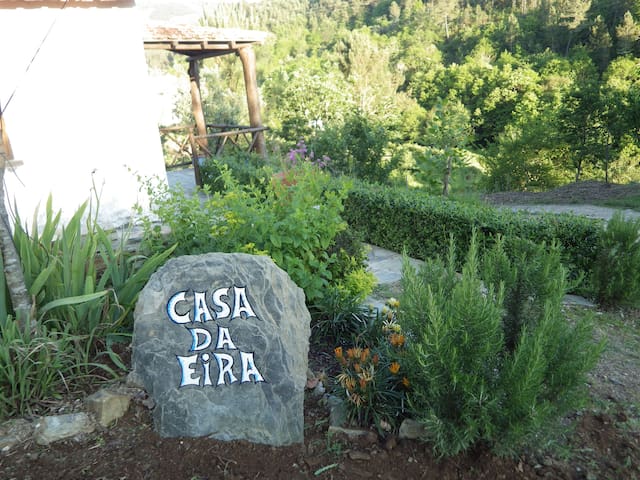 The room has 40m2 with living area and dining table. It has dishwasher, dishwasher, microwave and refrigerator. Barbecue abroad. Quinta das Covas is very rich traditional heritage, has 1 water mill, carried the cross and immense stone walls to the river. It is located 10 km from the Natural Park of Serra da Estrela and 17 km from Piódão. You'll love my place because the views and location. Contact with nature but with comfort and refinement.
Room Type
Private room
---
Property Type
Villa
---
Accommodates
2
---
Bedrooms
Alvoco das Várzeas, Coimbra, Portugal
This cottage was recently restored and is ready to debut! The location is quiet and the house has a garden with more than 200 m2 overlooking the vineyards and Lousã mountains. The proximity to places like Coimbra, Lousã, Luso, Vila Nova de Poiares, Conímbriga, among others, ensures a diverse entertainment and cultural offer. Stands out the numerous river beaches in the region, the gastronomy and the Schist Villages.
Room Type
Entire home/apt
---
Property Type
Villa
---
Accommodates
4
---
Bedrooms
Vila Nova de Poiares, Coimbra, Portugal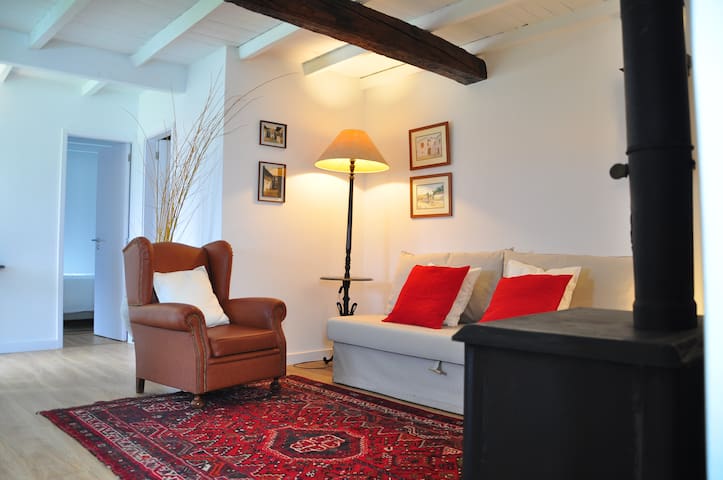 House in Village called "Barril de Alva" where live a lot of English soo easy to talk English. Place to do something with huge family. Calm place Great to walk to river , take a bath , swim
Room Type
Private room
---
Property Type
Villa
---
Accommodates
10
---
Bedrooms
Barril de Alva, Coimbra, Portugal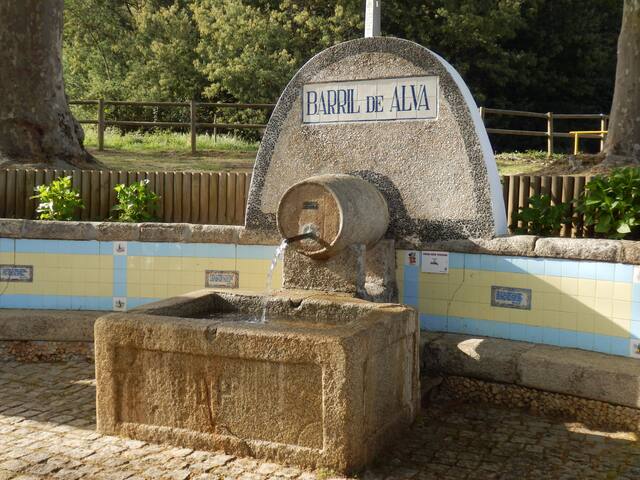 The village is located in the protected area of the Serra do Açor, which is an area of great natural beauty. The flora that can be found in these mountains is one of the rare examples of primitive vegetation cover in mountainous areas of central Portugal which have survived to the present day. The fresh air and invigorating atmosphere resulting from the abundance of water inspires us to take long walks or bike rides on hot summer days. One of the most beautiful spots is Fraga da Pena, a paradise
The house has 3 floors, originally being the lower floor a trade which included groceries during the day, and a bar / tavern at night, even to have fado nights. Currently the lower floor is the kitchen and a large bedroom with private bathroom.
The village is located in the protected area of the Serra do Açor, which is an area of great natural beauty. The flora that can be found in these mountains is one of the rare examples of primitive vegetation cover in mountainous areas of central Portugal which have survived to the present day. The fresh air and invigorating atmosphere resulting from the abundance of water inspires us to take long walks or bike rides on hot summer days. One of the most beautiful spots is Fraga da Pena, a paradise like setting, where water cascades about 70 m high, forming a delightful natural pool, you cannot miss. Be sure to explore all the different river beaches in the area including Côja, Benfeita, Secarias, Avô.
Room Type
Private room
---
Property Type
Villa
---
Accommodates
2
---
Bedrooms
Arganil Municipality, Coimbra, Portugal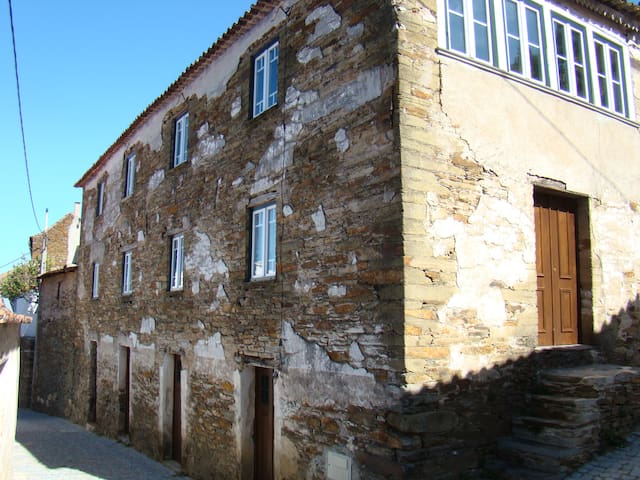 Located in a mountainous region Rustialva is an hour away from Serra da Estrela. A 2 klm. is located the Beach River from Village Avô. Serra da Estrela, Covilha, Coja, Fraga da Pena, Foz d'Égua, Piódão, Woods Margaraça and Açor, are some of the areas that you can visit. Our room is on the roadmap of the Xisto Villages, Tourism Central Portugal.
The villa has 5 bedrooms, three bathrooms, two with shower and one with bath and kitchen. The kitchen is equipped with dishwasher, toaster, oven, microwave and vitro-ceramic, TV room with satellite channels m. Outside pool and leisure area, terrace and porch. The 5 bedroom villa is part of a farm where there are two wood attachments, one reserved for owners, others available to rent to two guests maximum. The exterior spaces may eventually be shared among the guests of the house and up to two guests in the wood attachment. The villa has a minimum availability for 1 person and maximum 10 people. The use of Wi-Fi is available and free. Large animals are not accepted.
A proximidade da praia fluvial, das aldeias de xisto e da serra da estrela, conferem a este espaço um excelente ponto de partida para várias excursões e uma estadia rural adequada para férias e descanso no centro de Portugal.
Manuela was awesome host everything was as expected and the listing is simply spectacular .. good for family and fun.
Ricardo
2017-02-26T00:00:00Z
Foram umas mini-ferias muito tranquilas, o espaço é muito agradável, a anfitriã e o seu pai muito prestaveis e simpáticos. A aldeia de Avô também é muito bonita, bem como a praia fluvial.
Gil
2016-08-23T00:00:00Z
Uma casa muito espaçosa, com uma vista espetacular
André
2017-04-02T00:00:00Z
A Manuela é muito simpática, no entanto existem alguns pontos na casa que precisam de ser melhorados, nomeadamente no serviço de internet, a rede é muito fraca; e a cozinha poderia estar melhor equipada. No geral está bastante agradável
Rui
2017-01-22T00:00:00Z
A Manuela foi uma excelente anfitriã. Arranjou tudo o que era necessário para uma estadia confortável. A casa em si para o preço está ótima e a localização é fantástica... Uma zona muito sossegada. Recomendo vivamente a visita a esta Vila e a estadia na Rustialva da Manuela.
Miguel
2016-08-07T00:00:00Z
Queria agradeçer muito a Manuela pela hospitalidade! Adoramos a nossa estadia! A casa tem todas as condições para um descanso óptimo, especialmente a varanda com a vista maravilhosa! Ficamos muito contente!
Natalia
2016-12-26T00:00:00Z
Passei um fim de semana com a minha família na rustialva - casa de campo. Adorámos a nossa estadia. A casa estava muito bem equipada, é extremamente confortável e tem uma paisagem fabulosa. A Manuela é radiosa e fez de tudo para que nos sentíssemos bem. Teve o cuidado de nos aquecer a casa com antecedência o que tornou a nossa chegada muito agradável. Por incrível que pareça a minha filha tomou banho na piscina coberta em pleno Dezembro e adorou. Melhor era impossível. Agradeço uma vez mais à Manuela por nos ter proporcionado esta estadia e recomendo vivamente a Rustialva. A zona é fantástica recomendo claro a ida à serra da estrela mas também bem perto fóz de égua que tem uma ponte suspensa que os meus filhos adoraram e Piodão uma aldeia histórica a não perder.
Inês Pires caiado
2016-12-11T00:00:00Z
Fomos muito bem recebidos pela Manuela. A casa está bem integrada na paisagem. As vistas são excelentes. Espaço ideal para famílias ou grupo de amigos.
Osvaldo & Susete
2016-12-18T00:00:00Z
Room Type
Entire home/apt
---
Property Type
Villa
---
Accommodates
10
---
Bedrooms
Avô, Coimbra, Portugal
Spacious 3 bedrooom property set in large private garden with own swimming pool. Modern kitchen, large lounge with TV/DVD, sun terrace, rear patio and BBQ area. 5 minutes drive from beautiful town of Coja with shops, restaurants and river beaches.
Room Type
Entire home/apt
---
Property Type
Villa
---
Accommodates
8
---
Bedrooms
Coja, Coimbra, Portugal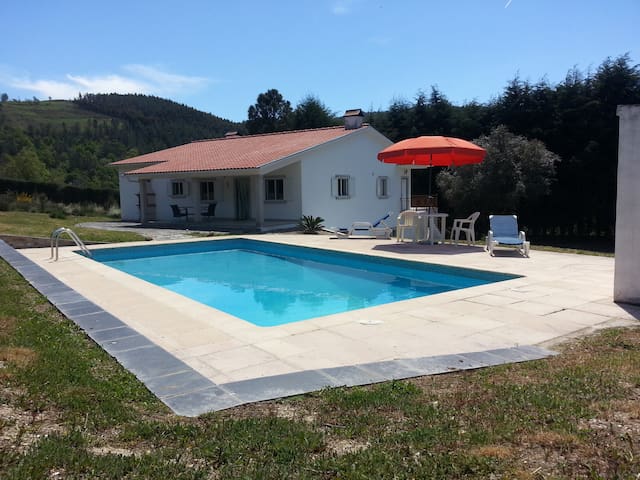 It's a beautiful 150 years stone house, built by my great grandfather, situated on the Hill overlooking the village, with a fantastic view. It's got a beautiful fruit garden with a lounge área. Next you have 2 pure rivers, where you can bathe. You have a mezzanine king size bed for 2, a room in the ground floor with 2 bunker beds for 4 persons and an extra futon sofa bed in the living area for 2. It features an equiped kitchen, bathroom with bathtub, bed linen is included.
150 years old mountain stone house in the village of Coentral Grande. It's a 2 levels house plus a Mezzanine room. It features an equiped kitchen, bathroom with bathtub, bed linen is included. Outside it has a lounge space in a 600 m2 garden with, pear trees, plums, cherries, chetnuts and olive trees. It's got 2 woden stoves for heating. (SENSITIVE CONTENTS HIDDEN) Earth coordinates: (PHONE NUMBER HIDDEN)''N (PHONE NUMBER HIDDEN)''O Elev 2454 ft It is a rustic house built of granite by my paternal great-grandparents 150 years ago and restored and adapted by me, sits atop the village of Coentral Grande overlooking the whole valley, in the county of Castanheira de Pera in the Lousã Mountain, 50 km from Coimbra (URL HIDDEN) A village of 30 inhabitants at the end of the "Ribeira de Pêra" valley, which means no cars are passing by all the time. It is still surrounded by chestnut and oak forest with hundreds of years, a rarity, and surrounded by two streams which start there, pure water with dozens of pools just a few minutes away by foot. It is a beautiful and quiet green area, the air is pure, people are friendly and welcoming, wildlife abounds in eagle, falcon, fox, wild boar, and even the stealthy otter. During the deer reproduction period walks are organized to hear the impressive trumpeting of the males. There are several marked mountain paths to walk and canyoning and mountaineering activities. Close by, 7 Km at Castanheira de Pêra, you have the biggest wave swimming pool of the Iberic peninsula (check (URL HIDDEN) The house has beds for eight people, a room with 2 bunk beds, and a bathroom with bath on the ground floor, living room with a futon sofa bed for 2, stereo, and equipped kitchen on the 1st floor, then there is a mezzanine room in the loft with view over the village and mountains. there are two outdoor terraces with 300 m2 each, with chestnut, olive, pear and other fruit trees, a stone stage with lighting and hot and cold water, in order to eat out day and night, or just serve as a lookout in the shade of the chestnut tree. Looking for a quiet place in the mountains with forests and waterfalls of crystal clear water, to share with friends and family or even to be with yourself? This is the SPOT! Price includes cleaning and preparing for your arrival, support by local lady, house for 8 persons with bed linen included, 600 m2 garden, water, gaz, light and wood for the fire.
The home is very welcoming and beautiful and bigger than what it looks in the pictures. The location is amazing, and the people from the village couldn't be nicer. We had a truly wonderful time.
Inês
2015-07-13T00:00:00Z
Tiny house in a beautiful, secluded village. Perfect place if you seek rest and authenticity.
Katrijn
2015-07-04T00:00:00Z
A stunning place in a cool old town with wonderful streets... just what we wanted!
mark
2013-07-30T00:00:00Z
The reservation was canceled the day before arrival. This is an automated posting.
Chantal
2013-08-05T00:00:00Z
Merci. Nous avons pris beaucoup de plaisir à séjourner dans cette si joli petite maison et à nous promener dans cette belle vallée.
Frédéric
2014-07-27T00:00:00Z
Room Type
Entire home/apt
---
Property Type
Villa
---
Accommodates
8
---
Bedrooms
Coentral Grande, Leiria, Portugal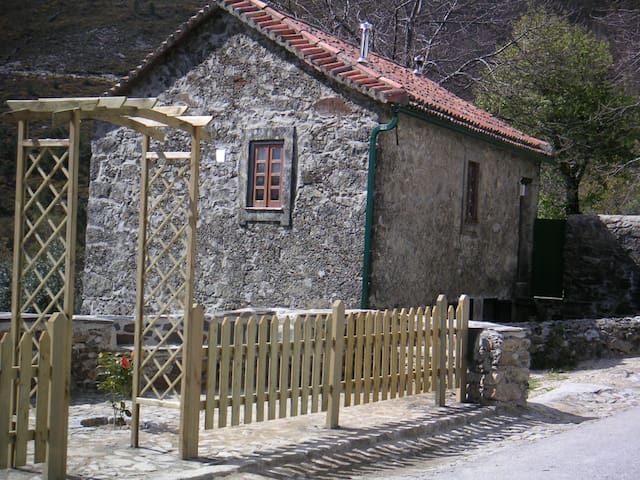 Stone house set in the beautiful surrounding countryside, located between Tomar and Coimbra. 100 sqm, 3 bedrooms, 6 people, large plot of land with spring water, olive and fruit trees. PORTUGAL REAL! Alojamento Local n° de registro: 16281/AL.
Casa das Oliveiras is an old country house on two floors, lovingly restored in 2008, the original 50cm thick stone walls and structure of the house have been preserved. Outside there is a large garden with a magnificent view, surrounded by vineyards, cultivated fields and fruit trees: perfect for outdoor dining and relaxing on the lounge chairs to enjoy the sun during the day ... and the stars at night! The barbecue outside was great for preparing tasty meals. On the ground floor there is a spacious living room, where there is a beautiful fireplace in the winter makes the room super cozy, kitchenette (fridge and freezer, electric hob, microwave, blender, toaster, coffee maker, moka, kettle ...) and a bathroom with shower. The upper floor consists of three bedrooms, one with king bed, one with a queen from "a person and a half" (120 x 180) and one with twin beds and a second bathroom (with bidet, but no shower) . There is also a sofa bed in the living room. For the little ones, we have travel cot and high chair.
The center of Maças de Dona Maria is located at 700m and there are three coffee shops / cafés (with Wi-Fi), my favorite is "O Café do João ", pastry / bakery "Pastelaria Santa Filomena" (with Wi-Fi ), the restaurant do Mercado (good prices), two minimarkets, bakery, bank, pharmacy, post office, internet point and every Sunday there is a market where we can buy products directly from the farmers.
We had a great time at Maria's house. We were welcomed by her friendly brother Amandio. Amandio left us a bottle of his own wine, which was very tasty! Both Maria and Amandio gave us all the information we needed and halfway through our stay informed if we had a nice time, very kind. The value for money is great! The house is clean, spacious and cool when it's hot outside. The garden was nice as well, although it was a bit wild and overgrown, but that was because of the heavy rain the week before we arrived. There are many interesting villages and towns in the area, and Maria gave us great tips. The scenery is amazing.
Niels en Brenda
2016-06-24T00:00:00Z
This place is awesome!the house and the garden are just wonderful. The place is tasteful, clean and kept with a lot of care. Maria has created a little paradise. We were welcomed very warmheartedly and we're treated like friends. Maria, her family and the neighbors did everything for our well being. The village is very sympathetic and nearby river with its pools is breathtaking. We highly recommend this place and will never forget the experience. Six stars for Maria's accommodation!!!
Isabel
2014-07-31T00:00:00Z
This is an amazing place. If you want to experience Portugal's country life off the beaten track, this is the place to go. The town was cute and small, with a fun Sunday market. The house was charming and opening the door every morning was like opening the door onto a postcard. There were flowers, birds and blue, blue sky. I will dream of this villa while dealing with Canada's winters.
Loren
2015-05-25T00:00:00Z
This is about as picturesque as you can get. We had a wonderful, peaceful, rustic retreat at Maria's place. The pictures do not do justice to the beautiful villa that is Casa das Olivas. She wasn't there herself to greet us, but we received a very warm welcome from her brother and her sister in law, and Maria was in contact repeatedly (even though traveling herself at the time) to make sure that we had everything that we needed... and we did! Her restaurant and dining recommendations were also spot on and the river beach that she urged us to explore is something out of a fantasy novel. I cannot recommend a visit to this mountain retreat highly enough. Thank you, Maria!
Andrew
2015-07-04T00:00:00Z
A perfect stay, Maria was very helpful by email before and during our stay and Armandio was always available, helpful and genuinely friendly. The house is well cared for and clean and the family obviously care about their guests - the travel cot and highchair were by far the most pleasant we've experienced!
Jay
2016-10-22T00:00:00Z
Very nice and warm welcome, place is clean and beautiful, owner very helpful and kind. This village gives real countryside experience...
Kard
2014-10-26T00:00:00Z
Very clean and comfortable house with delicious bottle of wine provided.
Lesley
2016-09-27T00:00:00Z
Really enjoyed our stay here. The place is clearly a much loved project, done up with great care and attention to detail. We loved cooking on the BBQ and eating under the stars! Fantastic communication before and during our stay. Really appreciated special touches like receiving a bottle of the family wine on arrival.
Helen
2016-11-01T00:00:00Z
Room Type
Entire home/apt
---
Property Type
Villa
---
Accommodates
6
---
Bedrooms
Maçãs de Dona Maria, Leiria District, Portugal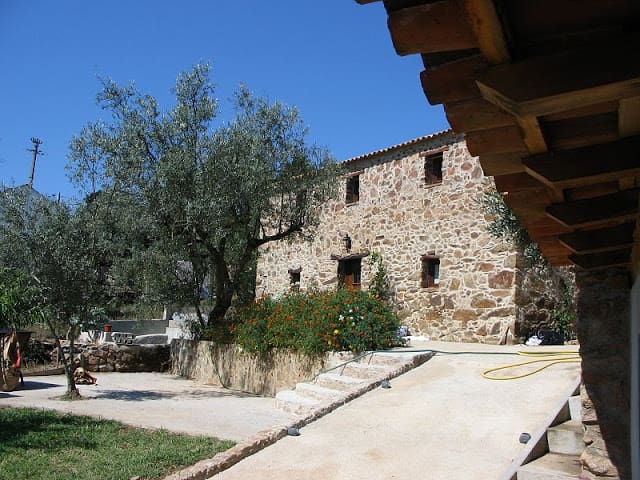 No meio da Natureza da Serra de Arganil, onde a beleza da paisagem e o silencio o deixa descansar e libertar-se...
Espaço para 5 pessoas, criado a pensar em si, aprazível e com boas áreas, onde poderá desfrutar de paz e sossego na companhia de quem ama.
Pacata aldeia, com casas de xisto e habitantes acolhedores, onde pretendemos que seja um pequeno local de eleição para as suas viagens.
We had a fantastic week at the Casa do Vale. It's a very special and peaceful place and the house itself is very comfortable. All amenities that you might need are included and Natalino and Teresa are the best hosts we have ever encountered on Airbnb. We were a bit unsure about what to take as the location is quite remote but when we arrived, there was a wonderful selection of delicious food and drinks ready for us. There's lots to see and do in the area and we would definitely come back again.
Sandro
2015-09-22T00:00:00Z
Our stay at Casa do Vale was fantastic. Natalino and Teresa welcomed us personally with nice food (local cheese, sausage and the wonderful nata de leite) and drinks (wine and port). They are very charming people with a great heart. The next day they surprised us with home made soup and a nice desert ! Also the house itself pleased us very much; it is located in the very quiet village of Bocado, with a stunning view on the surrounding woods and hills. The silence of the place makes it perfect to get fully disconnected from the daily rush we live in. And the wild pigs came very close to the house during the night. A great place to stay !
Alain
2015-07-27T00:00:00Z
We had a lovely time staying in Teresa and Natalino's refurbished schist house. They couldn't have been kinder or more friendly. From the pastries, sausage, cheese, bread and wine waiting for us to the figs and grapes from their garden, we felt very welcomed. The house is comfortable and the view lovely. We enjoyed walking in the area and the drive we took through the hills, stopping for lunch in one of the small towns. It's a beautiful area.
Katie
2016-09-20T00:00:00Z
Teresa and Natalino are simply the best hosts--we felt that we were staying with family! They welcomed us so warmly to the village and led us to the home, so we had no problems finding it. They even had a gorgeous spread of local food (including from their garden!) waiting for us. We loved the serene village location and the spacious, modern and comfy cabin. We wholeheartedly recommend the lovely home to any other couple or family! There's so much to do in the area and you won't find a more wonderful and cozy place to stay!
Susan
2015-09-05T00:00:00Z
Beautiful house at an amazing place, great to relax or visit other locations. Natalino and Teresa are the best hosts I have ever seen, very welcoming and helpful. I hope to come back!
Kristyna
2016-07-12T00:00:00Z
We spent a lovely weekend at Casa do Vale. Our hosts, Teresa, Natalino and Onil, the dog, were very friendly and tireless in making us feel welcome. The listing is everything we were hoping for and more. The house is very comfortable, with all the amenities you can expect. Set in a little quiet village overlooking the mountains, this is the perfect spot for a relaxing retreat. Close by, you can enjoy the wonders of the beautiful mountains, either walking or by car, great food and picturesque villages.
Miguel
2015-10-11T00:00:00Z
Natalino and Teresa were perfect hosts and made us feel completely at home. We couldn't have asked for a warmer welcome. The house was very well equipped and spotlessly clean, with a nice, modern kitchen and bathroom. Bocado was beautiful -- a great time of year to visit, with a nice autumnal feel and the occasional shower but warm sunshine and a nice log fire in the evenings. Lots of places to visit nearby for walking or just to admire the view. thanks again Natalino and Teresa.
Constance
2015-11-01T00:00:00Z
Teresa and Natalino are very nice people! They will do everything to make you feel at home. We had a great stay and will definitely will come back one day. The house is very big and clean and has a great view. We enjoyed ourselves bbq-ing at the patio and loved the welcome appetizers and the soup and dessert that Natalino and Teresa cooked for us. It was the best fish soup we've ever tasted :) We could really relax and enjoy the quiteness of nature.
Hermannus
2016-05-25T00:00:00Z
Room Type
Entire home/apt
---
Property Type
Villa
---
Accommodates
5
---
Bedrooms
Bocado, Arganil, Portugal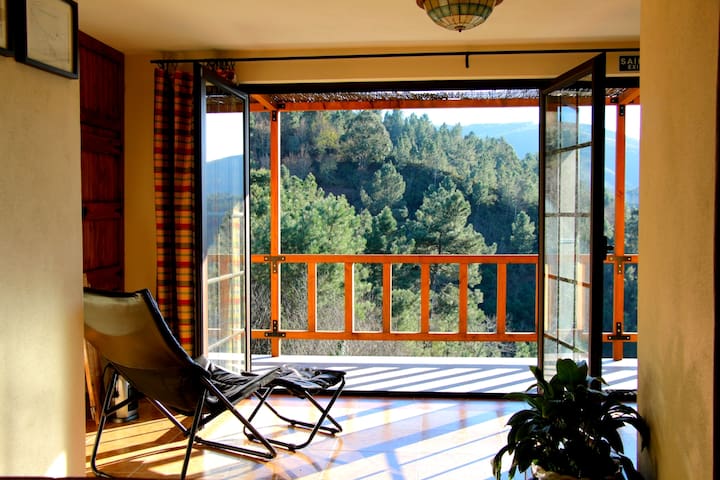 Farm with sheep, organic garden and space for an artist to dream and rest
Let me say first that Antonio was great. Very helpful and a nice chap. The accommodation itself is a lovely place, well equipped with 3 toilets and bidets, 2 powerful showers and 3 bedrooms and a lovely big kitchen and living area. That said, it would benefit greatly from some garden furniture, as there was nothing to sit on outside and no outside dining table. There are 3 very old 1970s style sunloungers, one of which is broken and collapses when you sit on it, one of which is very uncomfortable because it is so old, and the other is uncomfortable as you are basically sitting on the ground. Most of the crockery is tired, chipped and cracked and could do with replacing, including the only 2 mugs provided, the knives and forks bend as soon as any pressure is put on them, and a set of wine glasses would be good. Although there is a microwave and a modern electric hob, there is no oven, so it is something to bear in mind if you are thinking of staying for any length of time. The microwave isn't very powerful and it took 20 mins to do some baked potatoes. We were a bit surprised to find that the bedding is sheets and blankets, which maybe common in those parts, but we haven't seen since the 1970s and so it was a case of having to make the bed every evening before you could go to bed. Overall, although we enjoyed ourselves, it was a bit disappointing, especially as we were woken up every morning by a chorus of barking dogs.
nick
2016-10-10T00:00:00Z
Great place. We had great time and great service.
Lutfor
2017-02-15T00:00:00Z
Lovely place. António is a very welcoming host, and we had a great stay here. The garden with the sheep is indeed relaxing, and the place itself is quite spacious. Everything is as described. Would definitely recommend staying here.
BJM
2016-08-20T00:00:00Z
We rented the house for a little while, to have a comfortable place to cook and clean up, as we are in the process of restoring an old ruin near by. Grat decision! Antonio is a fantastic host, he comes by the house every now and then to check on the sheep (they had a baby!), so we got to talking, and he has been so nice, and helpful. The house is great, it's a really nice place, it's so peaceful to just sit outside there in the evenings, looking over the garden (he also has a really nice garden) and the grazing sheep. If you're coming to the Castelo Branco area, I'd most definitely recommend staying here.
Oda
2016-06-25T00:00:00Z
Antonio has a wonderful place and he knows how to help all of us enjoy it. He is super generous with his garden and fruit trees and made our stay the most enjoyable of our whole summer vacation. I highly recommend it to anyone who is passing through this part of Portugal. It´s a beautiful area. Thanks Antonio for everything!
Rachel
2016-08-29T00:00:00Z
Antonio was very friendly and his house is beautiful. It is in the countryside with sheep near his garden. There is a fireplace in his living room and the cooker is modern. It was a relaxing stay at his place
Denise
2015-12-22T00:00:00Z
Antonio was a very helpful host. We arrived towards the end of day without a dinner plan and he allowed us to pick from his garden to make our own meal and shared a bottle of wine with us. His home is tucked away in a very small local village and his farm is full of sheep, herbs, vegetables and good spirit.
suzanne
2016-05-02T00:00:00Z
We had a wonderful stay at this cozy and charming home in the country. Antonio the owner was extremely welcoming and very responsive to our questions. His English was very good and we were impressed with how much he went out of his way to make sure we were were comfortable and that we enjoyed our stay. The location is very pastoral and serene with bedrooms that were clean, comfortable and overlooking an organic garden with sheep grazing in the fields beyond. Overall, this was an excellent find and if you are travelling in this area, I highly recommend staying here.
Margo
2015-12-08T00:00:00Z
Room Type
Entire home/apt
---
Property Type
Villa
---
Accommodates
6
---
Bedrooms
Cebolais de Cima, Castelo Branco, Portugal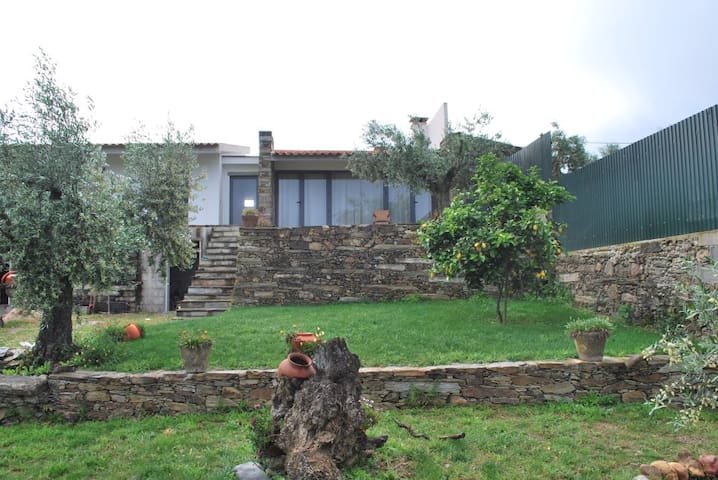 Located in heart of Serra da Lousã, in a small village of Shale, very quiet, with a prime location; next to six similar villages and the Castle of Lousã, accessible by car or pedestrian path. It is a rustic house restored, with walls of schist inside and outside, comfortable and allows to enjoy stunning views from a large terrace and living room.
Accommodation for 4 people + 2 extra. The house has two floors. The living room and the kitchen and the toilet are on the ground floor. The living room has two sofas made with mattress that allow you to bed. It has an extendable dining table, a TV, a DVD player, a hi-fi stereo system that allows you to connect a smartphone .The room has floor and ceiling in wood and has a wood burning stove (firewood is provided), thus making room warm and comfortable. Kitchen: equipped with Refrigerator, stove / oven, microwave, toaster, kitchen utensils, cutlery, crockery, gas water heater and a wood burning stoves. Upper floor has two bedrooms and a large terrace (about 35m2). The bedroom 1 has a double bed, a dresser and, if necessary a necessary, a baby travel bed. The bedroom 2 has a bunk bed Both rooms are air-conditioned from the kitchen stove - even on the coldest days it's easy to warm up these divisions quickly. Near the exit of hot air to the rooms there is a carbon monoxide detector.
Casa muito confortável, com vista deslumbrante. Óptima localização para quem quer fazer trekking pelas principais aldeias do xisto!
sofia
2017-02-28T00:00:00Z
Sitio fantástico, com uma decoração de extremo bom gosto, anfitriã super disponivel e preocupada em que tivessemos uma boa estadia. Voltarei e recomendarei :)
(EMAIL HIDDEN)
2017-03-13T00:00:00Z
O sitio é fantastico, a casa é óptima dentro do conceito de casa de xisto, muito confortavel e com todos os recursos de espaço e equipamento necessarios, os acessos são impecaveis, a vista espetacular, os donos muito fixes. Só não elogio mais pq fiz la a passagem de ano e a minha cabeça nao se recorda de mais adjectivos...
Dinis
2017-01-01T00:00:00Z
Casa com vista fantástica, totalmente equipada e com ótima sala. Uma excelente hipótese para passar uns dias descansado e desfrutar de toda a natureza em redor. A repetir!
Gabriel
2017-02-05T00:00:00Z
Room Type
Entire home/apt
---
Property Type
Villa
---
Accommodates
4
---
Bedrooms
Coimbra, Coimbra, Portugal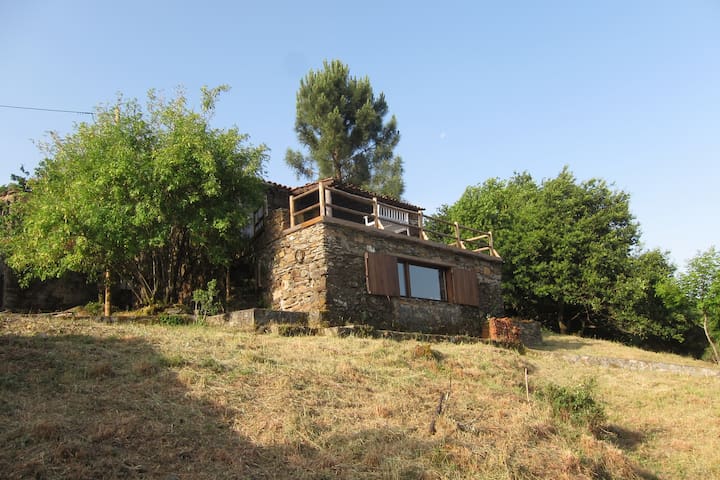 A lovely village house situated in the beautiful mountains of Coimbra,in between Pampilhosa da serra and Gois.full cooking facilities,fridge/freezer,open fire,shower,bath,garden and small courtyard. There are many restaurants,bars and river beaches a short drive away. Sleeps 5 people,2 double rooms and a single. Wonderful views and extremely quiet,there is also a small chapel,convivio and shaded water font in this quaint village.
The house has a fully equipped kitchen,a living room/dining room,a bathroom with a shower and bath.There are 2 double bedrooms and a small room all have beds and bedding.There is a garden with plum and fig trees, a small courtyard at the rear,as well as a nice balcony.The house is south facing,so the garden is sunny for most of the day.
The house is set in a quiet corner of a small village,which consists of around 25 houses,it has a convivio,a small chapel,a lovely font and stunning views of the valley,it is typically Portuguese and very quaint.There are river beaches nearby,wonderful scenery and good restaurants a short drive away.The town of Pampilhosa da serra and Gois are close.
Nice village very quiet in the mountains. A bit cold in winter but very relaxing.
Pierre
2017-03-20T00:00:00Z
A simple very nice house with everything you need in beautyful surroundings
Ilona
2017-02-11T00:00:00Z
Room Type
Entire home/apt
---
Property Type
Villa
---
Accommodates
5
---
Bedrooms
Pessegueiro, Coimbra, Portugal
"The Green Leaves House- Luso, Bussaco" is located just 500m from Luso center and at 5-10min from the national heritage forest- Bussaco. Close to Luso you can enjoy from Bairrada food specialty- roast suckling pig. Luso is located close to other interesting areas: Coimbra (27km),Aveiro (46km),Penacova (19km) and beaches (40km). In Luso, you have available several activities like culture, arts, history, nature, sports and spa. The house is provided with facilites like swimming pool and barbecue.
Our stay at green leaves house was really great! The house is very nice, recently renovated and very clean. The kitchen is fully equiped so you have there everything you need. The greatest thing for us was the swimming pool, it was so relaxing. The location is great - very quite but 10 minutes walk to the center. And Maria - Duarte 's mum is very very nice lady - answered all of our question, was very helpfull and always with a smile. Would recommend this place to anybody - I am sure you will enjoy it!
Karolína
2016-09-20T00:00:00Z
My boyfriend and I had a great stay in Luso! The house is lovely, surrounded by a nice garden and pool. Also plenty to do in the vicinity. Duartes mom was the best host!! She had good advise for activities and was very kind. She even got us fresh fruit from the garden and let us borrow her tennis rackets. I would definitely recommend a stay here!!
Marlieke
2016-07-15T00:00:00Z
Maria's house is wonderful! It's very Large and comfortable,new and well designed. The kitchen is very well equipped- just like home. She have everything you'll need. We asked her for heater and 5 min later we had it. There is a driving parking spot under the house and a pool in the same property. The location is great- 10 min from Luso center (2 min by car). There is wifi by the pool area but not in the house itself. Maria is a wonderful woman and she made our stay much more pleasant! Loved the place, definitely will come back here.
Maya
2016-10-17T00:00:00Z
Die Wohnung / das Haus ist neu renoviert und entsprechend war alles neu und auch super sauber. Ein schöner sauberer Pool und ein Grill standen uns zur Verfügung. Maria war immer um unser Wohl besorgt und sie war sehr nett und zuvorkommend. Wir können diese FeWo guten Gewissens weiterempfehlen. Vielen Dank für die schönen Tage.
Martin
2016-10-01T00:00:00Z
Merci a Maria. Un bel accueil et une grande disponibilité. Appartement bien rénové avec des matériaux de qualité.
Lyne
2016-10-21T00:00:00Z
Een mooie, rustige locatie met een super vriendelijke gastvrouw (plukte zelfs fruit van de bomen voor ons). Perfect huisje om een aantal dagen van de omgeving te genieten.
Maarten
2016-08-03T00:00:00Z
Très bon séjour, la maison est très agréable et tranquille. Nous reviendrons avec plaisir... Merci à la maman de Duarte pour son accueil et sa gentillesse. A bientôt! Famille Alves
Marie
2016-08-06T00:00:00Z
Nous avons été reçus chaleureusement par la maman de Duarte. Logement propre et agréable avec piscine. Merci!
Camille
2016-07-03T00:00:00Z
Room Type
Entire home/apt
---
Property Type
Villa
---
Accommodates
4
---
Bedrooms
Luso, Aveiro, Portugal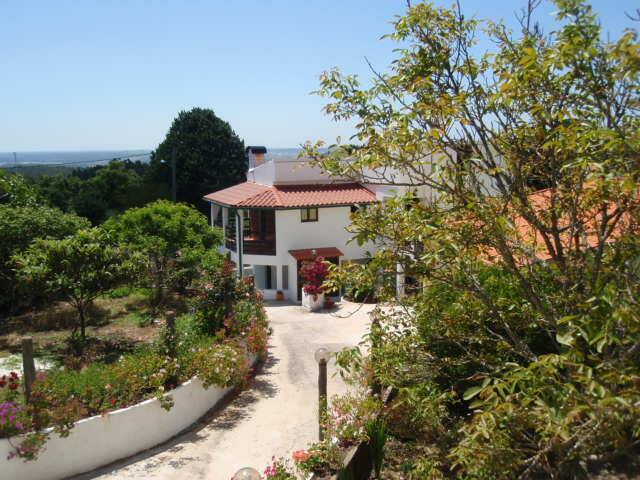 My space is close to the board. you will love it, que, sa magic place ... you can just relax or make same sports. My space is good for couples, solo adventures, families (with children), large groups, eamigos furry (pets).
Absolutely unique location. Rustic house in a rural mountain village with stunning views. The nearest bar is about 1,5 km walk along a mountain trail. The nearest restaurant is located at 2,5 km from the house, but it take at least an hour to climb there. The house has electricity, hot shower, mini-fridge, electric cooker and quite an adequate set of dishes and kitchen utensils. There are no normal beds in the house: just a narrow sofa on the first floor and couple of mattresses on the mezzanine. In general, the house is spacious enough and quite comfortable. We enjoyed our stay in Che's mountain house very much and our children were especially delighted with the fireplace and a crazy wooden staircase to the second floor. :-) Definitely worth a visit!
Alexander
2016-11-06T00:00:00Z
The host canceled this reservation 31 days before arrival. This is an automated posting.
Vanina
2016-11-17T00:00:00Z
The host canceled this reservation 6 days before arrival. This is an automated posting.
Soraia
2017-04-12T00:00:00Z
Che's mountain house is indeed a Magic place to stay. Surrounded by nature, very nice wooden interior, warm shower, kitchen + barbecue outside, everything you need. And a special experience as well. If your are an open-minded Person, getting along with new, simple and warm-hearted People, then Che's house is the right place for you. The best way to go there is by car, from Lousa it's all the way up by serpentines. Bring food and Drinks with you. And enjoy!
Franziska
2016-07-07T00:00:00Z
Muito bem recebidos! Um lugar único.... Obrigado
dora
2016-11-20T00:00:00Z
Adorei a estadia. Nada de luxos mas a casa tem tudo o que é necessário para uma estadia na Serra. Aldeia super acolhedora e ainda sem o turismo que se vê nas aldeias vizinhas, o que a meu ver é uma vantagem! Muito obrigado ao Che e tb ao Zappa... PS : irei voltar em breve...
João
2016-11-01T00:00:00Z
A organização da nossa estadia correu muito bem, sendo o Che uma pessoa bastante acessível. O facto de ser pet friendly é algo que prezamos muito, e é sem dúvida mais um aspecto positivo desta estadia. Para quem quiser um contacto pleno com a natureza, sem confusão (a aldeia é bastante isolada e com poucos habitantes), sem estar ligado à vida na cidade, esta é uma óptima opção. Fez-me alguma confusão no início desligar-me completamente, mas depois até soube bem...mas temos que efectivamente estar preparados para isso... para desligar...O Zappa que nos recebeu, também foi super acessível e o facto de nos deixar lenha ao final do dia, foi um gesto que prezámos bastante. A localização é muito boa para se fazer vários trilhos nas redondezas e sem dúvida para respirar ar puro.
Marta
2017-02-23T00:00:00Z
Pura sintonia com a Natureza. Recomendo. Espaço rustico muito agradável.
Diana
2017-03-05T00:00:00Z
Room Type
Entire home/apt
---
Property Type
Villa
---
Accommodates
6
---
Bedrooms
Lousã, Coimbra District, Portugal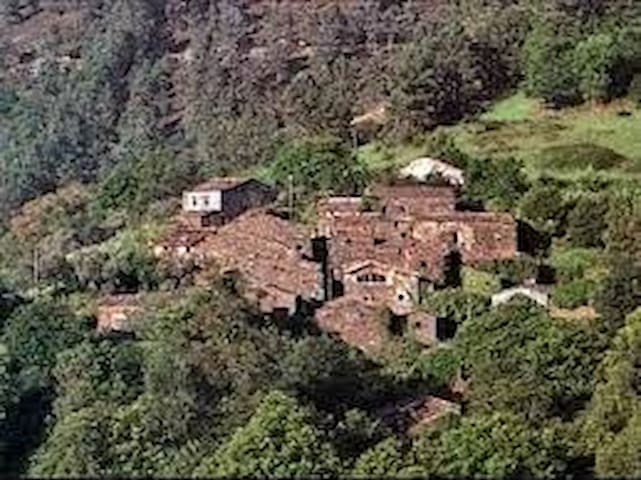 Fully equipped, with three suites and swimming pool, this house is the best getaway to spend some days with family and friends. Built with 100% of Portuguese products the house mixes contemporary architecture features with tradition.
The amazing view to the countryside, the garden with swimming pool and the 3 suites make this house the best place to relax with family and friends. Here you can: LAZE. outdoor garden with swimming pool and furniture RELAX. bathrooms equipped with hydro massage columns/whirlpool bathtub and hairdryers CHILL OUT. Living room equipped with movies, literature and Portuguese music WORK. cleaning implements and laundry equipment (washing machine by request) BUY. every product is for sale (by order) and can be delivered at your home COOK. the kitchen is fully equipped: articles de ménage (pans, dishes, glasses, cutlery and utensils), small appliances (microwaves, toaster, grill, beater, expresso machine and blender) and big appliances (oven, electric hob, hood, fridge with freezer and washing machine) SLEEP. accommodates 6: 3 twin suites (convertible to single by request), 1 extra bed (2 pax) and kids bed (till 3 years old, by request) The bedrooms are named after Portuguese contemporary writers: António Lobo Antunes, Inês Pedrosa and Lídia Jorge bedrooms. Inside the house you'll find the living/dining room, kitchen, common bathroom and 3 suites. Outside you can use the garden with a swimming pool, several fruit trees (figs, sloes, cherries, almonds, lemons, apples, pears, plums and persimmon) and the garden with herbs.
Ferraria de São João is a Schist Village located in Penela territory, Coimbra district. The village is 20 minutes away by car from the nearest town and doesn't have any commercial facility.
What can I say, the place is wonderful heaven. modern house in small authentic village. Neighbors are freindly you feel they are worm and welcoming. at first you need to make sure to prepare the road to the village and not miss exits. there is no shops in village only baker come by in the morning otherwise you can go to the town 15 min by car. The house is charming. you feel it is made with love. we found a lot of Portuguese books and music that gave us a sense of the rich Portuguese culture. kitchen is equipped with more what we needed. Garden is a magical place specially in night you clearly see sky with all the stars, we spent hours of quality time. Patricia, I can easily say the best host we have ever dealt with. she is the most generous, helpfull and kind. It is the first time for us to visit Portugal we discovered that their people are one of finest on earth.
Yazeed
2015-09-20T00:00:00Z
we had a wonderful experience of staying in Patricia's house. The house is so beautiful in the mountains and contains everything you could wish for, top modern furnishings, spa bathrooms, swimming pool with views to the mountain. There is incredible natural beauty of the area and if you are into cycling's fine router and a path for biking. Patricia is a wonderful host, she is super attentive, already just after we ordered the house, she sent links to golf courses, which is our interest. when we arrived we were met at the airport, which was made a detailed roadmap and GPS coordinates to the house. on arrival there was Portuguese specialties that we could taste, as well as an information folder with excursions, restaurant and supermarket addresses and describtion of each place. I can only say that Patricia is the perfect host. my best recommendations for this beautiful house in the Portuguese mountains. a place we would like to visit again.
Susanne
2015-11-15T00:00:00Z
Excelente! 5* ! Não desejar melhor.. desde o acolhimento, a casa foi tudo 5* é sem dúvida um pequeno paraiso no coração de Portugal! Adoramos e queremos voltar! A casa é simplesmente um sonho :)
Antonio
2015-09-10T00:00:00Z
A casa é muito bonita e apetrechada de tudo o que é português. O lugar é lindissímo, muito verde e tranquilo. Ideal para fugir da cidade e esquecer o tempo. A Patricia e muito simpática e muito rápida a responder a perguntas.
Elsa
2016-07-20T00:00:00Z
Jen' ai jamais de villa d'architecte si belle , si contenporaine mzis avec le charme des murs en pierre apparente Esuipements culinaires hifietc top top nickel 3 suites avec leur sdb completes Cheminee piscine sieste à l'ombre sous le figuier Espace bbq separé pas de soucis pour les odeurs de sardines! Des balades dans la foret d'euczliptus vous aurez peutetre la chznce comme moi de voir des biches
Karine
2016-08-03T00:00:00Z
Hemos pasado 4 dias fantasticos en esta casa. El diseño y el nivel de servicios es (URL HIDDEN) zona de jardin y piscina esta integrada en el salon y el entorno es un remanso de Paz para descansar y disfrutar de la naturaleza. 100%recomendable.
Omar
2015-09-01T00:00:00Z
Room Type
Entire home/apt
---
Property Type
Villa
---
Accommodates
6
---
Bedrooms
Penela, Coimbra, Portugal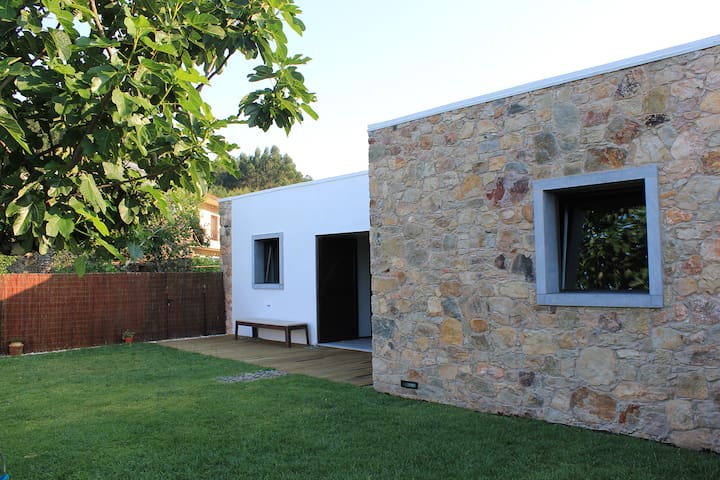 Built and registered in 1947 by Antonio Galvao, where he lived with his wife and children netos.Restaurada (according to Ordinance No. (PHONE NUMBER HIDDEN)) for tourist purposes and means of disseminating throughout the valley Alvôco and arredores.Situada in natural Park
Warm and comfortable house, in a nice and quiet setting, in a short drive to ski facilities in Torre, and other interesting places of Serra da Estrela. We had a wonderful stay! Thank you Marta and Sandra for your hospitality. The "Jerupiga" was awesome! :)
Ademar
2016-03-27T00:00:00Z
Very welcoming host, provided plenty of info on the area, perfect place for a week relaxing and exploring the area. Spotlessly clean house has all the basics required, peaceful location just a few minutes walk from a beautiful river beach, of which there are several in the area all within a 20 minute drive.
Gareth
2016-09-09T00:00:00Z
Casa pitoresca em Aguincho equipada com o essencial para uma estadia de 3 noites. Boa localização para quem pretende não só visitar a Torre mas também conhecer mais do Parque Natural da Serra da Estrela. Chegámos um pouco tarde e fomos recebidos com a salamandra acesa e o aquecimento nos quartos ligado. Sem dúvida que recomendamos!
Catarina Sousa
2016-12-11T00:00:00Z
Fantástica casa com um ambiente muito limpo e acolhedor. As fotos já nos dão uma óptima ideia da casa, mas ao vivo é ainda melhor. Destacamos principalmente o maravilhoso recuperador de calor que funciona na perfeição e que não nos deixou ter o menor frio dentro de casa. A limpeza é formidável e a casa está localizada numa pequena aldeia muito sossegada no meio das montanhas. Aconselho vivamente as caminhadas junto ao rio perto da casa. AH! Obrigada pela jeropiga!! ;)
Carolina
2017-02-12T00:00:00Z
A casa é belíssima, tanto a nível exterior, como a nível do recheio. Móveis em excelente estado, camas confortáveis e cozinha totalmente equipada. O anfitrião é muito simpático e mostrou-se sempre pronto para ajudar - até com a salamandra, uma grande vantagem deste espaço! Fica ao pé de um rio e de encostas montanhosas, o que se traduz num passeio fantástico. Fomos recebidos com a salamandra e aquecedores acesos, bem como com uma bebida e biscoitos de boas-vindas. Apesar de ser um local isolado, é aconselhável para ir visitar a Serra da Estrela.
Tiago
2017-01-23T00:00:00Z
Experiência sem dúvidas inesquecível na casa do Galvão. Fui recebida pela mãe do José que nos recebeu com bolinhos típicos e Jeropiga, e além disso teve o cuidado de deixar a Salamandra acesa e os quartos aquecidos. Comunicação sempre muito boa e o José muito atencioso. A casa muito bem equipada, preparada para os dias de frio, muito confortável e limpa. Apenas aponto o detalhe de que não há Wifi disponível na casa e o sinal para telemóveis é fraco, mas sem dúvidas digo: A repetir!
Bruna
2016-12-25T00:00:00Z
O anfitrião foi muito simpático, e apesar de chegarmos atrasados para o check in, deixou nos completamente a vontade. Fomos recebedidos com um licor e uns biscoito da região ótimos. Casa muito confortável e acolhedora. Ótimo local e tranquilo para se passar uns dias.
Nuno
2016-02-21T00:00:00Z
A Casa Galvão é um local muito acolhedor, ideal para umas férias relaxantes em família. Como chegamos tarde, tiveram o cuidado de ligar a salamandra e os aquecedores no quarto. A recomendar, sem duvida!
Victor
2016-03-06T00:00:00Z
Room Type
Entire home/apt
---
Property Type
Villa
---
Accommodates
4
---
Bedrooms
Alvoco da Serra, Guarda, Portugal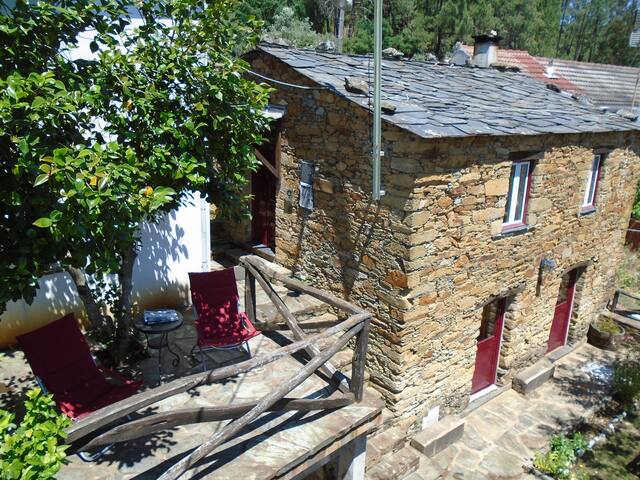 1

–

18

of

128 Villa Rentals
Enter dates to see full pricing. Additional fees apply. Taxes may be added.