Best location in Athens, right next to Acropolis, the Acropolis museum, the Acropolis metro line, Plaka and the old part of the city, and Koukaki which is the new hip part of the city. You'll love my place because of the view from the common terrace, amazing location, ease of going everywhere and countless cafes, restaurants and bars. My place is good for couples, solo adventurers, and business travelers.
This place was quite excellent! The roof area has the inspiring view of the Acropolis and the apartment itself was spacious and very quiet. Photis was helpful and responsive to the few questions we asked. Overall I would highly recommend this.
Greg
2016-09-17T00:00:00Z
We had a wonderful stay at this incredible location. Beautiful terrace and super easy organization. Thank you so much Photis
Christoph
2016-09-07T00:00:00Z
Photis is a super nice guy. His place is a comfortable hideout on a superb location. Near the Akropolis, Plaka and the metro station. At first you think: why are we going to -1 with the elevator but then you notice that his place is actually at ground level with a nice garden and lots of light. The bed is good and there are basic appliances in the kitchen. In short: A great place and awesome host!
Wendy
2016-06-05T00:00:00Z
The location is reaaaaaally good. Metro stop being 15 steps from the main door and the acropolis museum just behind that. The entrance to the acroplis (it's still a long way up from there) is under 2min from the apartment. And you can get food and drinks starting literally next door. Photis was very responsive and the place is exactly as described. Me and my partner had a great time!
Simon
2016-08-10T00:00:00Z
Photis was very responsive and helpful. His apartment is very centrally located and has an amazing view of Acropolis. Note in advance that there is no wifi or air conditioning (it gets a bit warm during the summer). However, the apartment is very cute and was perfect for our stay.
Leslie
2016-06-22T00:00:00Z
Photis was an extremely helpful host. He provided us with all the information we needed and advice on some local restaurants/bakery's to try out. He also came late at night (1 30am) to give us the keys and do the check in which we really appreciated. The apartment was located right beside the acropolis, with great views of the acropolis from the balcony area. Everything in the apartment was perfect, I would definitely recommend staying here
Eoin
2016-09-26T00:00:00Z
Photis was a very helpful and kind host. He helped us before and during our staying in Athens. He kindly answered all of our questions even questions like where can we find the best bakery close to the apartment! :) Thank you Photis for everything! The apartment is literally in the city centre. The Acropolis museum is around 50 meters far, Plaka is also close and you can reach Monastiraki, Syntagma and Psiri on foot if you don't mind to walk a little. :) Transport is perfect, the metro station is opposite the apartment. This is the perfect apartment for a holiday in Athens with an amazing view from the terrace!
Ádám
2016-11-02T00:00:00Z
We had a great time at Photis's flat. The apartment is super conveniently located, very clean and cozy and the view from the rooftop terrace is spectacular! We did not get to meet Photis in person but he made absolutely sure we had everything we needed and was always there to answer questions remotely. Very highly recommended!
Uli
2016-06-24T00:00:00Z
Room Type
Entire home/apt
---
Property Type
Apartment
---
Accommodates
2
---
Bedrooms
Athens, Attica, Greece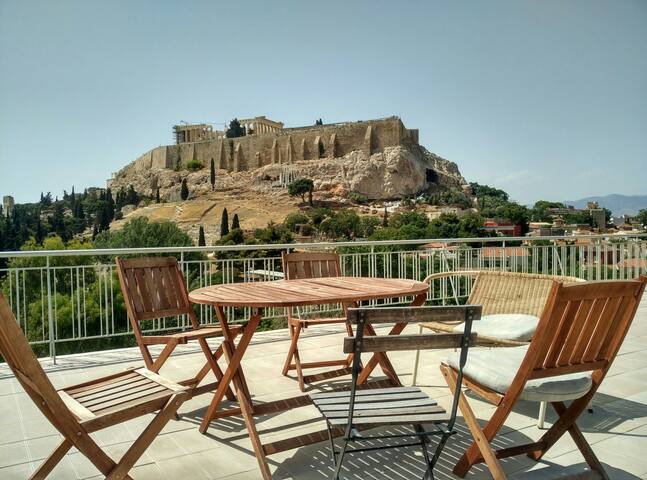 Elegant, renovated 50sqm (538sqf) 1st-top floor apartment offering a breathtaking view to the Acropolis and Lycabettus Hill from its rooftop terrace. My place is located in Thissio one of the most historic neighborhoods of Athens, 50m close to "Pnyx Hill", one of the earliest and most important sites in the creation of democracy, 50m close to Cine Thissio, voted as the best in the world. Due to Thissio position, adjacently to other traditional neighborhoods, pedestrian-only streets join them.
First of all I am a beginner airbnb host, however I will do my best to make your stay as pleasant and comfortable as possible. Since I live in the same building, feel free to let me help you with everything! My place is a beautiful apartment which can host 3 people constists of one master bedroom with a spacious closet and a double bed, a small bedroom with a single bed, a fully equipped kitchen, a big living room with television and stereo music/cd player and a bathroom inluding all the amenities. The whole house is fully air-conditioned and offers WiFi for your notebook, your tablet or your smartphone. There are also two small balconies where you can enjoy your coffee or breakfast. The location is amazing, the living room is eastern, so there is plenty of light all day. Staying with me is not only about the home, it is also about the total experience.
Thissio is surrounded by hills, heights and historical sites which are within a walking distance. The Ancient Agora of Athens, Stoa of Attalos, the Temple of Hephaestus and Kerameikos Archaeological Museum can be entered from Thissio; all others: the National Observatory of Athens, Acropolis of Athens, Acropolis Museum, Philopappos Monument, Mouseion Hill, Pnyx, which is considered the birthplace of Democracy and the Lycabettus Hill can be easily reached or viewed from Thissio. The panoramic views of them and their natural surroundings from the Areopagus hight are spectacular, especially by night. Beautiful restored neoclassical homes and many architectural landmarks make Thissio a cultural, picturesque, distinguished and peaceful neighbourhood. Due to Thissio's position, adjacently to other traditional neighbourhoods pedestrian-only streets join them. Therefore, Athenians go off for a leisurely walk around Thissio and enjoy cultural events and promenades along narrow serpentine-like paths which twist their way through historical sites. Apostolou Pavlou is a pedestrianized street which meets Dionysiou Areopagitou Street to form the main pedestrian zone around the archaelogical site of Agora from Thissio to the Acropolis. There are numerous small and friendly boutique shops, restaurants, cafés where people readily are welcomed and invited to socialize at leisure; all set in a quiet enclave. At Thissio, you can also find Cine Thissio, which is an open air cinema with view to Acropolis, open during the summer and was voted the world's best by CNN Go travel website. The Pnyx (modern greek: Pnyka) is a small, rocky hill surrounded by parkland, with a large flat platform of eroded stone set into its side and by steps carved on its slope. It was the meeting place of one of the world's earliest known democratic legislatures, the Athenian ekklesia (assembly), and the flat stone platform was the bema, the "stepping stone" or speakers platform. The Pnyx was used for popular assemblies in Athens as early as 507 BC, when the reforms of Cleisthenes transferred political power to the citizenry. It was then outside the city proper, but close enough to be convenient. It looks down on the Ancient Agora, which was the commercial and social centre of the city. At this site all the great political struggles of Athens of the "Golden Age" were fought out. Pericles, Aristides and Alcibiades spoke here, within sight of the Parthenon, temple of Athena, thus making the hill one of the earliest and most important sites in the creation of Democracy. Here Demosthenes delivered his vilifications of Philip of Macedon, the famous Philippics.
Visit the rooftop! Akropolis is glooming really wonderful in the dark.
Frauke
2017-04-07T00:00:00Z
Room Type
Entire home/apt
---
Property Type
Apartment
---
Accommodates
3
---
Bedrooms
Athens, Greece, Greece
The apartment is located in Acropolis area one of the most fashionable areas of Athens in the most beautiful pedestrian street. The apart is within walking distance to the Acropolis Rock, a few meters from the metro station "Acropolis".
NOTE: Please inquire about availability before you try to book. It will make your action easier. The apartment is located in Acropolis area one of the most fashionable areas of Athens in the most beautiful pedestrian street. The apart is within walking distance to the Acropolis Rock, a few meters from the Ancient Theater of Dionysus, the Herodion Ancient Odeon and the New Acropolis Museum,15 minutes (walking distance) to Kolonaki area,1 minute from Metro station Acropolis and just a few minutes away from Zappeion and the National Garden. The apartment is situated on the ground floor with view to the New Acropolis Museum. SERVICES • Fine linens and towels • City guide • Welcome with a fine Greek wine and season fruits • Yoghurts and sodas in the fridge The apartment is a fully furnished studio of 40 m2 or 400 sq. feet. Free WiFi internet access, Kitchenette, TV LCD, A/C, Central heating. ID required for check in. UPPON REQUEST (Pls ask for price) • Maid service, linen, towels, and toiletries change • Arrival and departure transfer to and from the airport and port (arriving or leaving after midnight? No problem!) DIRECTIONS from the airport From the airport (line 3) direction Egaleo, change at station Syntagma to line 2 direction Aghios Dimitrios. One station after is the Acropolis Station. Ticket costs 10.00 eur one way.
The apartment is located in Acropolis area one of the most fashionable areas of Athens in the most beautiful pedestrian street. The apart is within walking distance to the Acropolis Rock, a few meters from the Ancient Theater of Dionysus, the Herodion Ancient Odeon and the New Acropolis Museum,15 minutes (walking distance) to Kolonaki area,1 minute from Metro station Acropolis and just a few minutes away from Zappeion and the National Garden.
Manolis' place is wonderfully located near everything in central Athens. You could not be closer to the Parthenon Museum and it's just around the corner from the Metro. Manolis' made sure we were very welcome. We would recommend this place to anyone who wants to spend a few days in Athens seeing the major sites.
Bill
2015-06-25T00:00:00Z
Thankyou Manoli! your apartment was comfortably ideal for my husband & I to stay for a 2 night getaway. The Location was so very convenient to all of the ancient sites in Athens. It was in fact a better location than I'd anticipated. Wish we factored a longer stay. Everything was in walking distance, even the Metro ! We would recommend closing the windows & turning the a/c on. Saves you from the mosquito's at night.
Dimitria
2016-10-03T00:00:00Z
Manolis was a great host! Met us late at night at the apartment after we arrived from the airport. The apartment was in a superb location, right on the footsteps of the Acropolis! Beautiful apartment and well equipped. The only thing was a very small bathroom but it was manageable. Manolis was very kind to help us book a cab for our return journey as we had to get to the airport very early in the morning. Very clean apartment and well maintained.
Richard
2015-07-15T00:00:00Z
Mano lived up to the expectation. He was a nice host, polite and took the time to explain the condition of the apartment and gave some tips on how to get around Athens. The location of the apartment is to-die-for!!! Literally in front of the entrance to Acropolis AND next to the new Museum!! You can't get anything better than this. Highly recommended.
Fairudz
2015-05-13T00:00:00Z
Excellent location, very nice apartment, friendly host. Bathroom size is a bit on the small side, but manageable for a short stay.
Emil
2017-03-28T00:00:00Z
If you are looking for a place to stay in the Acropolis area, then this serves as a fantastic base. I totally agree with other reviewers, that you simply cannot get any closer to the Acropolis. It literally is right next to the Acropolis Museum. Step outside the apartment and you would also be on the main promenade, steps away from some cute cafes, street performers and the Acropoli metro station. Our stay in Athens at Manolis' apartment was great. Manolis was waiting outside the apartment at 11pm after our flights came in late. He gave us a friendly welcome. The fridge was filled with some drinks and snacks as well! The spaces (living and bedroom) were very clean and comfortable. We didn't need to use the kitchenette that much, but a small electric stove or microwave is provided if you need it. If what you need is a centrally located apartment (and don't mind a small shower space), stay with Manolis.
Minh
2012-06-28T00:00:00Z
Location, location, location! We had a fantastic stay at Manolis's apartment. He supplied us with some lovely wee treats including some delicious Greek yoghurt and a bottle of wine on our arrival. The location is perfect being right on one of the main pedestrian streets and moments from the Parthenon. Thanks for a great stay Manolis. Can happy recommend this apartment to anyone wanting to stay right in the heart of Athens!
Olivia
2015-06-28T00:00:00Z
It is IMPOSSIBLE to stay at a better location in Athens. At Manolis' you will be staying in front of the Acropolis. The area is very pleasant for strolling at night. Near the metro. Near everything. The department is beautifully decorated. The bathroom is very small, but we found this to be a minor nuisance considering the apartment's other wonderful features. Manolis is a gracious and helpful host.
Francisco
2012-05-14T00:00:00Z
Room Type
Entire home/apt
---
Property Type
Apartment
---
Accommodates
3
---
Bedrooms
Athens, Attica, Greece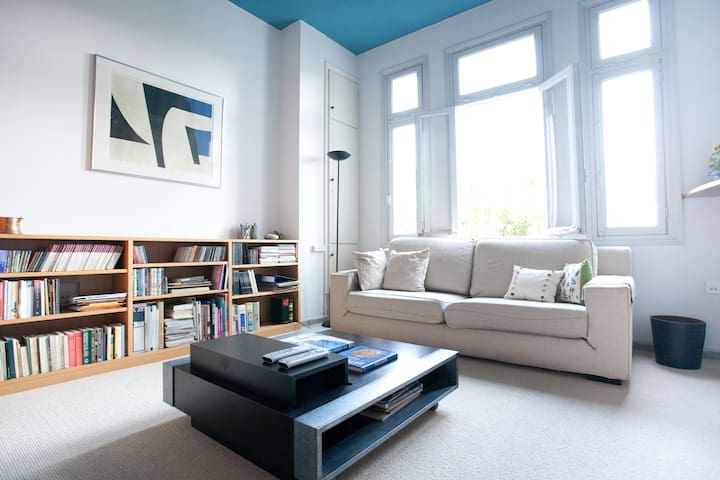 Super cozy and comfortable space, with huge terrace with astonishing view of ACROPOLIS,just 500 meters distance,and breathtaking 360 * panoramic view of Athens, super well placed,in the most central and beautiful spot of Athens,very safe and alive, full of recommended touristic spots,restaurants and bars,and just 2 min. walking distance from Monastiraki metro who connects directly with the airport. with the privilige to be in walking distance from all the major sightseeings and popular spots.
The space is a super cozy and comfy, well designed space in the most central and Historical spot of Athens, As you see from the photos,just next to Acropolis with the most breathtaking view,in a 360 degrees viewpoint.. its very well designed interior surrounded from a huge terrace with fantastic view of Acropolis and a smaller back balcony with marvellous view to the city's debth.. my guests also will have 100% private use of the rooftop of the flat which has fantastic 360 degrees view of all over the city,with amazing sunsets ,and viewuntil the eye can see.. It can host easily 3 persons(4 max),with one super double bed,and a couch which opens to a very comfortable double bed.. it has a fully equiped kitchen and a private bathroom,free wifi,A/C,nespressso and filter coffee machine,and laundry machine.. ofcourse i will provide also you with towels and all the necessary sheets and beddings with the needed back ups..
You will love the location of this apartment! The neighborhood is called Psirri. A multicultural, and vibrant area, with many traditional and new restaurants, bars, coffee shops, famous spices shops etc. It is just a 2-3 min walk from the hip square of Aghia Irini (Saint Irine), an Athens' hot spot for night life and dining. All monuments and sites of interest of the historical center are within walking distance, including the Parthenon, the Acropolis Museum, the Monastiraki flea market, Plaka, Syntagma sq., the National Gardens, the Parliament, Ermou shopping street (the biggest in Athens), and the Varvakios Market (central fish and meat market of Athens). Numerous traditional tavernas and modern restaurants within a few minutes walk. Athens central bars and art spaces are all in same area
Amazing place, the view is amazing! He had everything that we could need. Welcomed us with fresh fruit and desserts! Over all made Athens even more amazing
Neda
2016-10-27T00:00:00Z
Our First airbnb experience, and we were not disappointed! We came from the islands and the boat was very late. Konstantinos waited for us until 9 pm and as soon as we arrived, prepared some local sweets and opened a bottle of wine for us. Such a nice welcome. The flat has absolutely everything to enjoy a great stay - fully equipped, including washing machine, air conditioning - a stunning view on the Acropolis with a beautiful wide terrase - very clean (6th floor with lift) - the area can look a bit "underground" if you don't know Athens, but we were used to live in this country and whe chose Psiri for its location (close to everything), and its little Shoreditch style. - lots of good tavernas around - the sweet shops bakes amazing cakes but Konstantinos is also really helpfull for good addresses. We had a lovely stay, euxaristoume para para pollu Konstantine!! Can't wait to come back!
Magali
2016-08-11T00:00:00Z
My partner and I stayed at this location for three nights and loved it. The apartment itself is small with a low bed and small bathroom. However the view is amazing and that is why it was so great. At night it is even better. The neighbourhood is lively with loads of bars and taverns. However the apartment itself is set down a quieter road meaning you don't hear the busy streets. Its location is great for the metro to the airport and all the major attractions. Our host met us and treated us to some lovely traditional Greek food before letting us know loads of great restaurants and bars which we went to. Overall a lovely weekend in Athens!
Amy
2017-04-04T00:00:00Z
Very friendly host in a great part of Athens. Awsome views and close to all ammenities. Although the apartment was well equiped the kitchen was not capable of cooking for several people.
Ryan
2016-12-01T00:00:00Z
The location was ideal with breathtaking views of the Acropolis. The apartment was comfortable. Our host was very nice and accommodating.
Denise
2017-04-07T00:00:00Z
My husband and I loved staying here! It is the perfect location. Close to Monastiraki Station (where the blue and green subway lines intersect). A subway goes straight from Monastiraki Station to the airport on the blue line which was super convenient. The A/C and hot water worked perfectly. Comfortable bed. Konstantinos was the best host! He greeted us with some fruit and local delicacies and wonderful conversation. He is great!
Jennifer
2016-11-15T00:00:00Z
We had a great stay at Konstantinos' little flat on the 6th floor, the views really are incredible. We were only there for one afternoon before our very early ferry the next day but it was easy to walk to Plaka, and there are lots of bars and restaurants in the surrounding area. Excellent stay and we loved the terrace area too. Thanks :)
Esmé
2016-08-31T00:00:00Z
Konstantinos is amazing! The best spot in the city with a great host and fantastic views! Everything as described and will definitely consider returning. I recommend this place to any and everyone! Thank you so much!!!
Crystal
2016-09-13T00:00:00Z
Room Type
Entire home/apt
---
Property Type
Apartment
---
Accommodates
3
---
Bedrooms
Athens, Attica, Greece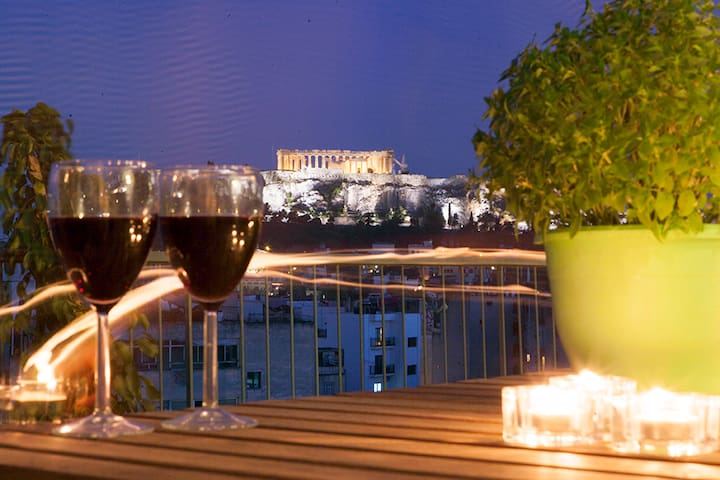 It's a beautiful and marvelous small studio on the 7th floor of a building at the centre of Ancient Athens. It has a magnificent and panoramic view of Parthenon, Philopappou Hill, Thissio, Lycabetus Hill, the Plaka Area and all the other Athens City. It consists of a room with a 2-seated sofa of white colour which will be converted to a comfortable double bed and a double sofa of green colour which will be converted to a single bed, a kitchen and a bathroom. Moreover there is a Terrance with the view of Acropolis with a surface of 25m2
It's a beautiful and marvelous studio with a surface of 36m2 at the centre of ancient Athens and especially at Plaka Area. It's on the seventh floor of a building and it has a magnificent view of Acropolis, Philopappou Hill, Temple of Ephestus, Lycabetus Hill and all the other Ancient Athens. It consists of a room with a two-seated sofa of white color which will be converted to a comfortable double bed and another one sofa of green color which will be converted to a single bed, kitchen, bathroom and a Terrance with a surface of 25m2. It's a perfect choice for your stay in Athens.
Room Type
Entire home/apt
---
Property Type
Apartment
---
Accommodates
2
---
Bedrooms
Αθήνα, Αττικης, Greece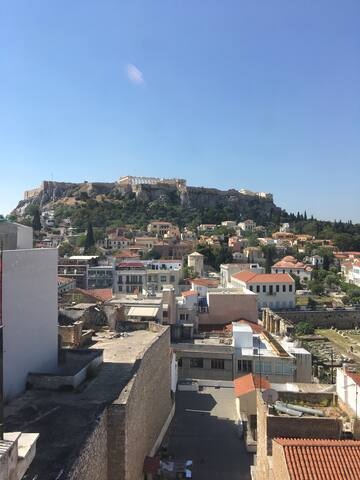 This appartment is located in the heart of Athens. It is inside a lovely mansion built in 1908 and was renovated in 2013.
This apartment is inside an old mansion build in 1908 and is recently renovated.Its a perfect example of the Greek Architect of the early 1900.Big spacious rooms with high roofs and glyphs on the ceilings.Truly one of the best apartments right in the heart of Athens.Two different bedrooms with full size beds and a modern kitchen and bathroom will meet the highest standards.
The apartment is within walking distance from the Acropolis museum.Also 3 mins away on foot from the Greek parliament and the street or Ermou which is the most commercial street of Athens.Lots of coffee shops and taverns for every taste.The road in frond of the house is an old road made by stone and marble and its only for (URL HIDDEN) cars allowed.Staying in this apartment is perfect for anyone that wants either to drink a coffee overlooking the ancient street or to take a few steps and blend with the tourists and locals in the ancient market streets.
We stayed in this lovely central apartment during our recent visit to Athens. It is very close to the Acropolis and museum. The apartment is quiet at night and very comfortable. Jim is a wonderful host. He picked us up from the airport at 11pm, also collected us from Pireus after our trip to Santorini and dropped us off at the airport. He was very good to us. We would highly recommend this apartment
Liz
2015-07-20T00:00:00Z
We have previously reviewed Jim and our opinion is the same as before. Great apartment! Cannot get a better host! Book now.
Sarah
2014-09-12T00:00:00Z
Jim picked us up from airport and was great at at taking care of us. He made us feel home in a new city by providing us enough information about things we wanted to do and places we wanted to visit. He is a very responsive and friendly host.
Nidhi
2016-07-18T00:00:00Z
Our journey was really good! Tha appartement was clean, light & cosy enough. Location is great, 10 minutes to Syntagma and Acropolis, lots of tavernas & cafes around the place, but the street is very calm & quiet. Fair price for what you got. The kitchen area is tiny & no stove, only grill & electric pot, what may be not suitable for family with small children. For 2 adults it's ok. The point that Jim picked us up from the airport was lovely, we were released of find-the-place quest in new city. Due to location we saved a lot of money on transport, we just didn't need it.
Polina
2014-11-04T00:00:00Z
Being hosted by Jim was much more than we expected. He was very considerate, hospitable and kind. Aside from picking us from the airport, he made sure that we got the best feeling of being welcomed in Greece and experience of the local atmosphere and way of life. The place has even more features than listed in airbnb and the location is superb. If we go back to Athens, we will surely stay there again. We have already recommended Jim and his place to our family and friends
Vesselin
2015-03-16T00:00:00Z
Jim was quick with his responses to our questions and very easy to communicate with. The Airbnb was clean, and being in Plaka, close to all restaurants and sights to see. We were sorry we didn't get to take advantage of the offered breakfast and appreciated the offer of a glass of wine instead. This Airbnb is close to everything a traveler would like to see and recommended for those wishing to stay a few days to explore the city.
Kurt & Alysha
2016-10-29T00:00:00Z
I loved staying at Jim's place in Plaka. It's basically the perfect location if you want to explore the sights of downtown Athens, and it's in the heart of the most interesting district. The location is on a quiet alleyway well away from main roads, without much more than foot traffic. I was able to sleep at 10pm and or 10am because it was so quiet. Jim offered to pick me up at the airport, which was unexpected, and was super accommodating. I highly recommend staying at his place! There's a great little cafe just around the corner and the people there are friends with Jim and take great care of his guests, too :)
Nathan
2016-02-28T00:00:00Z
Centrally located, this spot is perfect for travelers who don't mind the quirks of staying in an old apartment. You don't get much better in terms of location and an exceptional host! Jim was extremely kind and generous towards us during our stay. He offered to pick us up from the airport and on the drive back to the apartment, told us of pertinent places in the area and some valuable information. Unfortunately, we never had hot water to shower with during our stay. Jim had given us instructions to switch on the boiler 15 minutes before, but even after doing that and then trying for hours... hot water was to no avail. The wifi also went down in the mid morning. Which was really inconvenient as we depended on it for communication and planning. Despite the challenges, the stay was enjoyable and it is highly recommended!
Nicholas
2016-12-22T00:00:00Z
Room Type
Entire home/apt
---
Property Type
Apartment
---
Accommodates
3
---
Bedrooms
Athens, Attica, Greece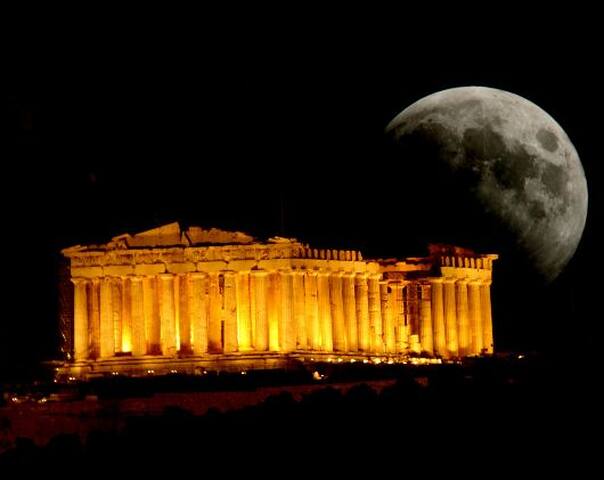 Located in Plaka at the foot of Akropolis a self contained house that accommodates 4 people. Newly renovated, always available for Airbnb travelers.
Ground floor -Bedroom (double bed) -Kitchen -Bathroom (Shower) -Inner yard 1st floor -Studio -Bathroom (Shower) -Balcony
Plaka is the old part of the city, most of the houses are traditional. It has many ancient sightseeing and beautiful walks. There are many restaurants and coffee shops.
This beautiful House has an excellent location in the centre of old town Plaka in a walking distance of almost all important sights, restaurants, bars and shops if you don't mind having some steps up to your accommodation. The house is everything you see from the pictures and more! Marina and his son were wonderful hosts making us feel really welcome! She also answered quickly to all of our questions and left good tips of the town. We were a family of three, but this house could easily accommodate more people. This was a perfect start for our holiday and we can warmly recommend this to everybody travelling to Athens.
Ilkka
2016-07-01T00:00:00Z
Words cannot describe how much we loved our stay at Marina's house. Everything was perfect: 1. Marina was helpful and responsive before we arrived, answering all of our questions and arranging a great taxi driver to meet us at the airport as we were arriving after a long flight. Her charming son, Aris, met us as arranged to help with our luggage and show us around. He was also right on time to help with our luggage as we left. 2. I thought the pictures on Airbnb were appealing, but the house was more magical in real life. It is much larger than we expected, immaculately clean and very well constructed. Both outdoor seating areas (the courtyard downstairs and the terrace upstairs) are huge and very private. 3. Both beds are extremely comfortable, with high quality mattresses, pillows and sheets. The ground floor room has a 2,000+ year old wall in it, which really impressed us. 4. Everything worked perfectly (wifi, appliances) and both bathrooms had great water pressure. 5. It is in a very convenient location in a charming old neighborhood, with a wide choices of restaurants nearby. It was a perfect stay in every way. I can't wait to come back...
Susan
2016-03-29T00:00:00Z
Marina waited for us as we got in late! She was very kind about it. Loved the house and location.
Heidi
2016-08-25T00:00:00Z
Marina and her son were very friendly and helpfull. The apartmant was just great - big, well designed, clean and spacious. It's location just underneath Acropolis was perfect for sightseeing and have good time in beatifull Athens. Streets around were full of small restaurants and shops perfect for evening walk. The apartment is close to the subway station, newly renovated and warm even in winter months. Simply five star recommendation!
Wojciech
2016-01-20T00:00:00Z
This is a wonderful, very private apartment in the heart of the Plaka. It is a beautiful blend of ancient and modern. Marina was a generous and gracious host. The apartment is in a neighborhood full of restaurants and shops, but if you don't want to keep the windows open to hear the bouzouki music, it has great soundproofing and light proofing. I would gladly stay here again any time.
Jennifer
2016-08-15T00:00:00Z
We couldn't have been more pleased with our (EMAIL HIDDEN)munication was very easy before our arrival, and she was there to greet us and help us with our luggage once we did arrive. Her home is amazing--full of character and history, yet beautifully modernized. There was plenty space for our kids to play (both inside and on the patio), and for us to relax (the hammock was great!). The location was so convenient for exploring the highlights of Athens, as well. We truly hope to stay here again on our next trip and have recommended it to all of our friends. Thank you, Marina!
Nikki
2016-07-19T00:00:00Z
WONDERFUL VILLA IN THE CENTER OF ATHENS - the apartment is huge, nice, in the best area of the city, in 2 words: perfect. I highly recommend this apartment and the host. Hope to be back soon !!
Saint
2015-10-28T00:00:00Z
This apartment was beautiful and a hi-light of my trip. Not only was it close to the Acropalis, it was fairly close to Plaka as well. It was a nice place to unwind from a long day.
John
2015-12-04T00:00:00Z
Room Type
Entire home/apt
---
Property Type
House
---
Accommodates
4
---
Bedrooms
Athens, Attica, Greece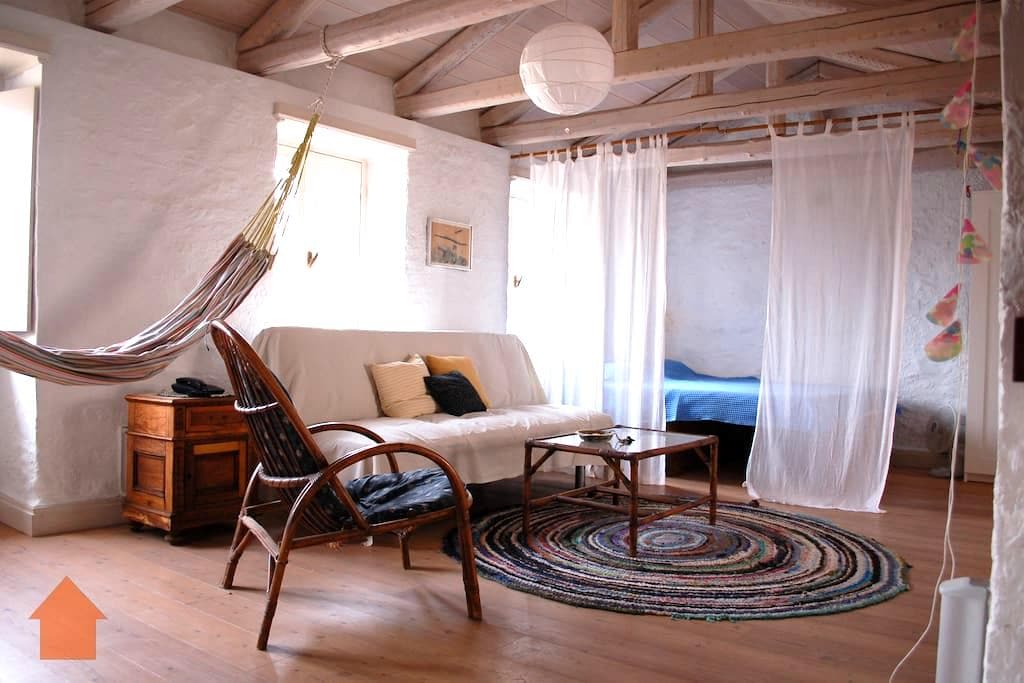 Modern one bedroom apartment on a quiet street located in the heart of Athens' historical center, at the foot of the Acropolis hill.
Modern one bedroom apartment on a quiet street located in the heart of Athens' historical center, at the foot of the Acropolis hill in a high security area. The neighborhood is purely classical Athens centered around the most important archaeological sites. The new museum of Acropolis is within a few blocks from the apartment as well as all the important monuments such as the Herodion theater and the long walkway that connects the temple of Zeus and the arch of the roman emperor Hadrian to the ancient library and the area of Thission and the picturesque areas of Plaka and Monastiraki. The neighborhood is full of beautiful restaurants, outdoor cafes, bars and shops and the apartment is only a few blocks away from the Acropolis and Syggrou Fix metro subway stations and all other forms of public transportation. Syntagma square is also within walking distance as well as most of Athens' major sights. The apartment was recently renovated and furnished and is ideal for friends, family, professionals, students and couples. It consists of a bedroom with a queen size bed and mirrored full closet.The living room area is large, light and airy with a corner sofa that can sleep up to two. There is a dining area that leads to a beautiful front side balcony. The kitchen is open plan and fully equipped with utensils and electric appliances. The bathroom is modern with a glass shower stall and a large shower head. The apartment is equipped with all large and small appliances, tableware, glassware and linen. There is air conditioning both in the living room and the bedroom. TV DVD Air conditioning Heating Dishwasher Washing machine Microwave Coffee machine Kettle Fridge Oven Wifi Iron/ironing board Other amenities include: cold water, soft drinks, filtered and instant coffee, tea, sugar, salt, pepper, oil, detergent, cleaning supplies, shampoo, soap, shower caps, etc...
We had a wonderful stay at Danae's and Ilad's apartment. It is conveniently located and lots of nice cafes and the acropolis was easily accessible. Apartment was clean and had everything we need and more :) I would definitely recommend!
paula
2016-10-18T00:00:00Z
El apartamento es simplemente perfecto. Desde el momento que hemos llegado nuestros anfitriones han sido excepcionalmente maravillosos. Un recibimiento digno de ser eternamente agradecido. Las instalaciones son hermosas, se encuentra en pleno centro de la ciudad de Atenas, con innumerables servicios cercanos a el. El barrio de Plaka, el nuevo y maravilloso Museo de la Acropolis, la Acropolis misma. Solo tengo palabras de agradecimiento a Danae e Ilias por permitirme estar en su hogar. Solo tengo que decirles, por favor, a los nuevos y futuros inquilinos, que lo cuiden como sus dueños lo hacen para brindar el servicio perfecto. Ilias, Danae, muchas gracias por hacer nuestra estadia maravillosa! Volveremos. No tengan dudas. ------ The apartment is just perfect. From the moment we arrived our hosts have been exceptionally wonderful. A welcome worthy of being eternally grateful. The grounds are beautiful, is located in the city center of Athens, near the innumerable services. The Plaka, the wonderful new Acropolis Museum, the Acropolis itself. I have only words of thanks to Danae and Ilias for letting me be in your home. Only I have to say, please, to new and prospective tenants, who care what they do as their owners to provide the perfect service. Ilias, Danae, thank you very much for making our stay wonderful! I´ll Return. Have no doubt. :) ---- Το διαμέρισμα είναι απλά τέλειο. Από τη στιγμή που φτάσαμε οικοδεσπότες μας ήταν εξαιρετικά υπέροχο. Μια ευπρόσδεκτη αξίζει να είναι αιώνια ευγνώμονες. Οι λόγοι είναι όμορφα, βρίσκεται στο κέντρο της Αθήνας, κοντά στις αμέτρητες υπηρεσίες. Η Πλάκα, το υπέροχο νέο Μουσείο της Ακρόπολης, η ίδια η Ακρόπολη. Έχω μόνο λόγια ευγνωμοσύνης για την Δανάη και ο Ηλίας που επιτρέψατε μου να είναι στο σπίτι σας. Μόνο που έχω να πω, σε παρακαλώ, σε νέους και υποψήφιους ενοικιαστές, οι οποίοι ενδιαφέρονται για το τι κάνουν οι ιδιοκτήτες τους να παρέχουμε την άψογη εξυπηρέτηση. Ηλίας, Δανάη, σας ευχαριστώ πολύ που έκαναν τη διαμονή μας υπέροχες! Επιστροφή. Μην έχετε καμία αμφιβολία.
Jorge Eduardo
2013-11-17T00:00:00Z
This is a really good apartment, it has everything you would need and it feels spacious and relaxing. The location is excellent, right next to the Acropolis and very close to the museum and Metro station. You can walk to all the sights in Athens easily. Communication with the host was good, with no problems and someone to meet us at the Metro even though it was late at night. We would recommend this apartment to others. Sandra and Elizabeth Melbourne, Australia May 2014
Sandra
2014-05-24T00:00:00Z
Fantastic apartment,all was as described,perfect location ,nicely decorated, you will find everything you need for your stay.Danae was very nice ,we were late because of the underground strike but our check -in went very smoothly,her guidebook was very useful,the bakery is a MUST! Definitely recommended ,I would like to stay again.Thank you. Agnieszka
Agnieszka
2015-12-20T00:00:00Z
We liked Ilias&Danae's place a lot. The location was perfect for main turistic places. Walking to everwhere was so easy. While we needed any information around the area, we contacted with Danae and he helped us in short time. Thank you Ilias&Danae.
Elif Demet
2015-12-01T00:00:00Z
Thanks to Ilias et Danae for their great welcome. The flat is beautiful, comfortable, clean and well located near the Acropolis We enjoyed a lot our stay in Athens :) !!
Marion
2016-05-19T00:00:00Z
The description and the pictures in the site show the reality of the apartement: very nice, clean and even bigger than what we saw in the pictures. The appartement is in the very centre of Athens, 5 min from the Acropolis, the street and the flat are quiet, so actually noiseless. Illias aswered very quickly to our questions and we were very well welcomed by Danae who showed us the apartement and recommanded us a few addresses! We had a very good time in Athens and if we wanted to go back to Athens we wouldn't hesitate to visit them again!
remi
2015-03-04T00:00:00Z
Perfect location for visiting the Acropolis,Plaka, Monastiraki and other parts of Athens.Metro was 10 min walk away. Ilias is very prepared and takes his Airbnb seriously. He was very responsive on the ph when we arrived at the airport. We arrived 1 hr before check in and the apartment was being cleaned.He let us leave our luggage there and gave us the key. The apartment met all our needs. It was exceptionally clean and tastefully decorated. The location was very quiet. Slept very well. Our nine year old daughter slept in the living room so there was plenty of privacy for all.It was nice to be able to make breakfast and go. There wasn't an apartment below so we did not have to worry about making too much noise.
polly
2013-08-13T00:00:00Z
Room Type
Entire home/apt
---
Property Type
Apartment
---
Accommodates
4
---
Bedrooms
Athens, Attica, Greece
This house is ideally located in the center of Acropolis area offering you a comfortable nest on your vacation,The Acropolis Parthenon, the Herodium theater, the Acropolis museum and the Acropolis metro station are all within a 2min walking distance.
*Please make sure that you have checked availability first before submitting your reservation request !!! The Acropolis: The sacred rock of Athens. The city "fortress"and Athena's temple in ancient times. The ancient market (Agora), the temple of Olympian Zeus, the Odeon of Herodus Atticus, the Parthenon, Philopappou Hill, Hadrian's Arch, Plaka, Thiseion, Keramikos, Monastiraki… You're here, right here!!! This 90 square meter house is right next to these monuments, sights and places and can be directly met in a few-minute walk from your doorstep. The Acropolis and Makrygianni area: A quiet and safe neighborhood which is constantly growing, developing and being modernized without losing its original identity. With all kinds of stores around –cafes, restaurants, bars, galleries, new designers' studio, hotels, restored and crumbling neoclassical mansions , etc., offers visitors a variety of choices and conveniences to go out, explore and entertain themselves by day and night. A meeting spot for people from all over the world. The perfect starting point to wander around the city. You arrive at the house after an only 2-minute walk from the Acropolis metro station. Getting to know the house: Renovated in 2008, a 90 square meter flat with a large cozy living room, a kitchen, a bedroom with balcony and a bathroom. Real timber wood flooring in living room and bedroom. All the rooms are cool and quiet and offer a unique feel of Greek meta-modern art. A King size bed in the bedroom and a sofa bed in the living room can accommodate easily 4 people. If requested in advance, mattresses can be brought in for any extra people at no extra cost. The owner of the house spends time between Athens and Korinthos. This house is their permanent residence when in Athens. The old furniture, passed on by parents, co-exist with colorful and playful new pieces. Feel free to look around the house and discover the collections of objects found in flea markets, bazaars and travels. The house includes all the necessary equipment and appliances of a house that is inhabited and enjoys receiving guests. The house provides: wireless internet connection, a 41 inch TV and a 29 inch TV in bedroom, CD player, radio, central heating, fans, central alarm, washing machine, micro-wave and also , a bookcase with several books in Greek English, French and German. Also, clean towels and sheets are provided for the guests to use during their stay. In the kitchen, you will find all kind of supplies that you might need during your stay for cooking. When you open the door, you'll find a welcoming gift as well! The rest, I leave to you to discover… Don't hesitate to ask anything you'd like to know about the area and the city. I'd be glad to give out, secrets and share my favorite places in the city with you, to help you feel like more than a tourist. PLEASE NOTE : - We Only Accept Reservations From People With Completed Profiles. - Please make sure that you have checked availability first before submitting your reservation request. - No last minute reservations are granted. - CHECK IN & CHECK OUT TIMES NEEDS TO BE ARRANGED IN ADVANCE.
House location is here on maps (website hidden). The neighbourhood will find its way into your hearts the moment you walk out of the Acropolis metro station as you will be filled with the energy and vibe of the Parthenon, the Herodion, Plaka and Monastiraki!!!
John and his wife were very proactive with making sure they were available when we arrived, oriented us completely to the space and left us with a map and left snacks and drinks for us. We loved the neighborhood and it was so thoughtful to have snacks after a long day of travel.
Margaret
2015-06-30T00:00:00Z
John was the best host. The location is great. Staying at his flat definitely made our time in Athens much more enjoyable. I highly recommend staying at John's place.
Boban
2016-07-05T00:00:00Z
The flat is awesome, is very comfortable for 4 persons, modern, and well located (1 block away from the Parthenon) perfect!! in a quiet neighborhood in the city center. We really enjoy the time staying at his place! John waited for us very late at night. He also offered the services of picking us and leaving us to the airport (even in a late schedule!) Don´t lose the opportunity to be his guess!
Vanessa
2016-07-30T00:00:00Z
Awesome host, great location, comfortable apartment! John was very responsive, sweet, helpful, easygoing. He even left delicious treats for my kids! One of my favorite Airbnb experiences. Highly recommended. Thanks John!!
Anna
2016-05-12T00:00:00Z
Special thanks to John for your hospitality. The apartment is located just below the Acropolis. It had everything needed for our stay.
Svoboda
2016-03-06T00:00:00Z
John's apartment is in the middle of everything. The place is clean and tidy. The kitchen is well equiped, you can find anything you need. The neighbourhood is quiet. Its like a 5 star hotel Suite! As for John, he is very helpful. He provides a pack of guides and a list of places of interest to visit. If you are coming to Athens and this apartment is available, don't think twice, book it now!
Mohammad
2016-11-29T00:00:00Z
This apartment really is in the heart of Athens. You are quite literally under the Acropolis and nowhere was more than a 20minute walk away. The area was also great for amenities. Amazing bakery just round the corner and lots of great little restaurants, bars and take-out places. John's apartment itself was clean, comfortable and really well equipped. He even sourced a travel cot for us which was amazing. A great Airbnber and we'd wholeheartedly recommend him and his place to future travellers.
Dominic
2017-01-30T00:00:00Z
The apartment is beatiful, and the localization is perfect , John was kind with us , and bring us many options to do for have a good experience in Athens, we recommend his place
Martha
2016-09-29T00:00:00Z
Room Type
Entire home/apt
---
Property Type
Apartment
---
Accommodates
4
---
Bedrooms
Athens, Greece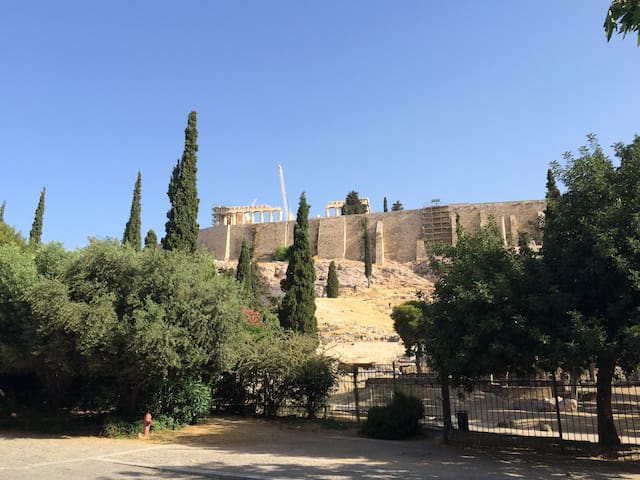 Cosy one-bedroom Studio 30 m2 renovated, in the heart of Athens 200 meters from Acropolis,.. It consists of an living room with sofa bed, a kitchen, a bathroom. Can accommodate up to two people. Ideal for exploring the city on foot or by public trans
Thanks to Anne-Marie for the perfect stay at her flat. The communication was very good, everything was fine and the flat was exactly like we expected.
Felix
2016-03-17T00:00:00Z
BEST KEPT SECRET IN ATHENS! Dimitris' place was amazing! Located just 5 min walk to the Acropolis, less than 5 min to the metro, 7 min to Plaka (the charming ancient quarter of the city) and surrounded by everything you would need. Grocery stores, pharmacy, bakeries, banks, shops, art studios and restaurants all less than a block away. The studio contained everything we could possibly need in a home away from home including a fully equipped kitchen and even toiletries and towels for our use. There were even cleaning supplies provided which came in handy as we stayed a week and it was nice to be able to keep everything tidy! The apartment itself was modern, tastefully decorated and spotlessly clean. Dimitris was an excellent host, checking in and asking if we needed anything during our stay. He was also very flexible and accommodating with our check in and check out times! Letting us check in at 8am when we arrived in Athens and check out whenever was convenient for us on our last day! We loved the place so much we asked last minute to be able to stay another weekend and he graciously accommodated us. We will DEFINITELY be returning! Thank you so much for a wonderful stay, Dimitris!
Nia
2014-11-15T00:00:00Z
Anne-Marie's apartment is ideal for sightseers. It's less than a five minute walk from the Acropolis and a street full of restaurants, but the street the apartment is on still feels quiet and not super touristy. There's easy access to lots of public transportation, but it's also in quick walking distance to all the major tourist destinations around the Acropolis. The apartment itself was clean and modern with a big shower. Anne-Marie was wonderful, and made check-in a breeze!
Claire
2016-12-29T00:00:00Z
This apartment was the perfect place for my girlfriend and I to stay for our first trip to Athens. It is a 10 minute walk to the entrance to the Acropolis. The apartment is south of the Acropolis, in Makrigianni, an urban residential neighborhood that gives you a better feel of the culture of Athens rather than touristy Plaka. Makrigianni is buzzing with locals, especially in the square, which is full of restaurants and cafes (5min walk from apt). Several of Athens' neighborhoods are within walking distance of the apartment. On several nights, we would go out for walks and venture into new neighborhoods. It was very nice having the Acropolis as our landmark to guide us back to where we were staying. Anne-Marie is an amazing host! She met us at the metro stop, which was super nice of her since it can be a confusing and busy stop. She asked us about our interests in Athens and recommended potential places we would like. The apartment was small, yet comfortable. It was very clean and fully stocked with all the amenities we could need (kitchenware, towels, hairdryer, tv). While there was no wifi, plenty of cafes and restaurants nearby offer wifi to customers. I would highly recommend staying here if it's available!
Nick
2015-06-05T00:00:00Z
First and foremost, i would like to emphasize how much of a great host Annemarie is, she was more than happy to show us around, give us ample directions and suggestions about effectively touring the city around. As far as the apartment goes - a small but well equipped and organized place on a really good location within the city. Very close to the Acropolis temple and museum. Everything that is worth seeing and visiting within the city as far as historical monuments go is withing walking distance from the apartment. My sincere and warm recommendations.
Djordje
2016-03-01T00:00:00Z
Excellent appartment, I would surely recommend it.
KONSTANTINOS
2017-03-22T00:00:00Z
The host was really nice, picked us up at the metro station and helped us whenever we needed. The apartment is clean and well located
Elena
2016-06-29T00:00:00Z
Perfect location!! Near the Acropolis and all commodities (tube, restaurants, bars...) Thank you Anne Marie (and your daughter) for being nice and your availability!
Elodie
2016-09-16T00:00:00Z
Room Type
Entire home/apt
---
Property Type
Apartment
---
Accommodates
2
---
Bedrooms
Athens, Greece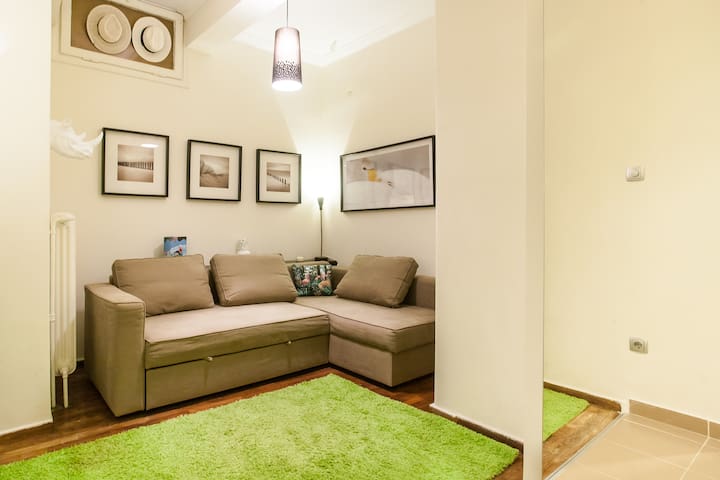 Central Location - Breathtaking Acropolis View - Boutique Design!
The Parthenon LUxury Suite (PLUS) is a luxurious 80m2 apartment ideally situated at the heart of Athen's historic, shopping and nightlife districts and just 200 meters from Monastiraki metro station! It has been recently fully renovated and refurbished into a minimal, exquisite and modern designed residence by one of Greece's most famous Architect. The Suite offers even to the most demanding guest a truly exclusive experience of Athens' best, with breathtaking views of the Acropolis and Pnika Hills and the lively and hip market of Monastiraki - ideally located to satisfy even the most "divided" visitor between historic and modern times. Begin your day having a delicious breakfast with a view of the Pnika Hill; relax on the sofa and pamper yourself while admiring the incredible view of timeless Acropolis; then go out and explore all historic monuments and when it is time to go to sleep, lie in your queen sized double bed overlooking the old city of Athens by night--right in from your bed! Whenever in the mood for exploring Athens' hidden and less hidden gems, all are located at arms' length form PLUS.The Location Advantage! PLUS is located at the historic center of Athens, in the area called Psirri. Being only 200 meters far from the "Monastiraki" Metro station (line 1 & 2), the Suite is easily accessible both, directly, from Athens' International Airport and the port of Piraeus. Choosing the PLUS for your exquisite and quality stay, you can visit on foot the most important historical sites of Athens. Furthermore, you are only steps away from Plaka, Thission and the most chic shopping street of Greece. Equally, the hip and trendy Gkazi area with its boasting nightlife is only 10 mins walk. Nonetheless, Athens' best quality Restaurants, night clubs, and coffee places are all a short walk away from the PLUS.
Great place!!!!! I definitely recommend this place. Great location and the apartment looks even better than in the pictures. Everything is very modern and clean. Aris' assistant was very helpful and friendly during the check in. I would definitely stay here again!
José Miguel
2016-12-20T00:00:00Z
Stop looking at other accommodations. This is THE place to be in Athens. We fell asleep the first night of our honeymoon while watching the glow of the Acropolis FROM OUR BED (which I may add is as comfortable as clouds). The apartment was flawless-not a speck of dirt or dust. The glorious shower is just what we needed after 16 hours of trans-Atlantic travel. However, our hosts were the best part-providing us a mobile phone and 24/7 on-call assistance. Our luggage was lost in Paris, and they made sure to help with phone calls and communication to get our bag to us. The bottle of wine waiting for us, compliments of our hosts, also helped. :) The location on the side of the hill allowed us a easy and enjoyable walk up to the Acropolis within 10 minutes. Dozens of tavernas and amazing dining are steps away as well as the famous Greek "Sandal Poet" who made custom made sandals for my wife. We enjoyed the unexpected luxuries of a lift up the the apartment, a wonderful travel book selection and Greek honey toiletries. We regret we only booked 2 days! Thank you Aris and Panos for the most amazing experience.
Kyle
2016-10-28T00:00:00Z
My visit to Athens was fabulous, made even more so by the hospitality of Agis and his incredible apartment. The views are even better than in the photos he has posted, and its location is perfect for walking around the historic center of town. As a first-time traveler to Athens, it can be a little challenging at the beginning to get your bearings given the layout of the streets, but once you have an understanding, it is easy to navigate from Agis' centrally located spot. There is no doubt that I would stay here again if/when I return!
Chad
2013-05-17T00:00:00Z
If you mix the equivalent of a cutting edge 21st century New York City High Line apartment in a warren of narrows streets from Naples, Italy that has SF's South of Market attitude - THEN (I'm not done yet) add the widest hypnotic view of one of earthlings' grandest monuments.... Well, do you get it yet? We'll be back. Sotto voce: Touristy Plaka is unavoidable at least once when visiting the Acropolis Museum. If it's Athenians that you want, stay north of Ermou.
Stephen
2017-01-29T00:00:00Z
The house is very beautiful and compotable. I don't never forget many lovely memorys at Aris's house. I enjoyed in Athens, thank you very much. warm Regards.
Sujin
2015-11-05T00:00:00Z
Wow! Pictures don't make justice to this amazing apartment. The view is breathtaking. Attention to every little detail that makes this place super special. The area fantastic everything is open 24h. Communication excellent. Thank you Panos and Agis for the great experience you offered us. We will be back soon!
Katerina
2017-01-09T00:00:00Z
Beautiful architect-designed flat with stunning view, excellent location to visit the sites - huge recommandation
marc
2013-08-10T00:00:00Z
Our experience in Athens was absolutely sensational. It provides everything you could ever want for in a city holiday; top bars, oodles to see in the day; and at aris's apartment you can see the main attraction, Acropolis. The property offers some amazing views, from the side streets to the ruins of ancient Greece. Inside the apartment offers all you could need in the highest specification; from a 3D tv, rainfall shower, electric blinds and essential air conditioning. You would be stupid to not stay here, worth every penny.
sam
2015-08-24T00:00:00Z
Room Type
Entire home/apt
---
Property Type
Apartment
---
Accommodates
2
---
Bedrooms
Athens, Attica, Greece
Ο χώρος μου είναι κοντά σε πάρκα, τέχνη και πολιτισμός, υπέροχη θέα, εστιατόρια και χώροι εστίασης και παραλία. Λόγοι που θα σας αρέσει ο χώρος μου: η τοποθεσία, οι άνθρωποι, το περιβάλλον, ο εξωτερικός χώρος και γειτονιά. Ο χώρος μου είναι κατάλληλος για ζευγάρια, δραστηριότητες για ένα άτομο, επαγγελματίες ταξιδιώτες και οικογένειες (με παιδιά).
Myrto' place has great access to the Acropolis; however, as in most city centres, it is a bit sketchy with sex shops nearby. There is a grocery store one block away and access to the metro was just a few blocks. Plenty of space in the flat for 5 or 6 people.
Michael
2017-03-19T00:00:00Z
Piso sencillo, suficiente para pasar una semana. Amplio de habitaciones y el piso es tal y como se anuncia. Pocos utensilios de cocina y la ubicación a 12 minutos andando de la parada de metro Acrópolis. Barrio tranquilo con pequeños comercios y restaurantes y bares a 50 metros.
Natalia
2017-04-02T00:00:00Z
Room Type
Entire home/apt
---
Property Type
Serviced apartment
---
Accommodates
6
---
Bedrooms
Athens, Attica, Greece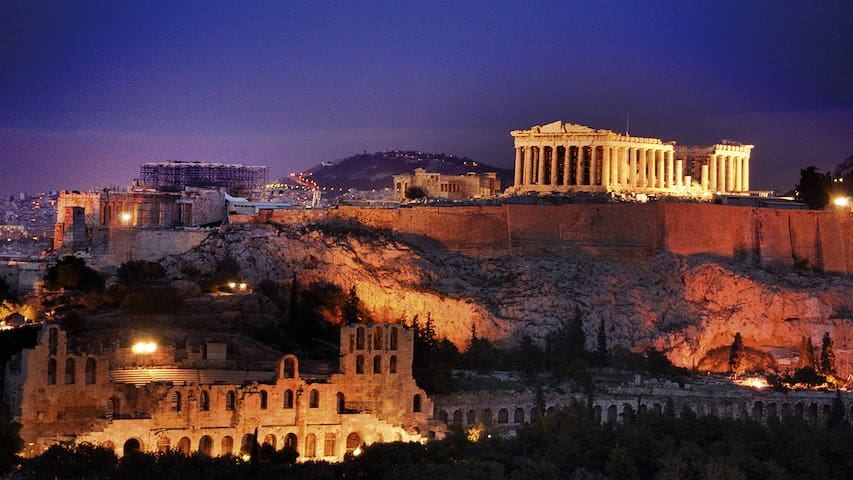 Well, the house is located in the heart of Athens, known also as the "Old Ancient Town" under the Acropolis, where you can see whatever a common tourist (or not ;) ) can see! The pictures speak for themselves and we hope you visit us soon!
I think what makes our Crib Spot special is of course the location and the breathtaking view of the Acropolis. No need to worry about transportation because everything you will possibly need is from 5 to 10 minutes away from home! Not to mention that the metro station is 3 minutes away from here so If you come here you wont have a hard time on finding the place.
The neighbourhood is very quiet but at the same time surrounded by the crowded city of Athens so you can go out and experience both cases ;)
Deni & Andy's place is great. As close as you can stay to the Acropolis. Comfortable and fully equipped at an excellent price.
Peter
2016-05-22T00:00:00Z
The apartment was in a great location, it honestly couldn't have been better, and if you're only looking for a place to rest your head for a few hours at night, this place will work for you. The host and her family were very flexible about time with us.
Sherisse
2017-03-18T00:00:00Z
Absolutely loved my stay here in the Plaka area of Athens. There are restaurants next door and lots of bars and shops to visit. The famous Flea Market isnt far away. I travelled alone and felt very safe here. There is a grocery store named bazzar just minutes away. The roof top terrace is a fantastic place to relax and the view of the Acropolis is amazing, its seems so close. There is so much to explore in the surrounding areas, public transport also close by. There was great contact from the hosts and they responded very quickly to any questions that i had. It was the hosts parents that welcomed me when i arrived and made me so welcome, absolutely lovely people. God bless, hope to visit again soon, would highly recommend a visit.
Margaret
2017-02-02T00:00:00Z
Perfect location near the Acropolis and all the main touristy spots. Even better was the hospitality; they even picked us up at the airport! A great stay.
Jeremy
2017-02-13T00:00:00Z
The home is so quaint and quiet, in the heart of an amazing and busy area. It is truly the best of the city; secluded, yet only a minute from great shops, restaurants and attractions. Breathtaking and so worth the trip!
Steve
2017-03-28T00:00:00Z
The location is excellent. Right in the middle of everything & short walks to the biggest attractions. The place is small & simple. Great value, especially for young people traveling. Denitsa was very accommodating & her parents were friendly.
Jon
2017-02-11T00:00:00Z
Deni's mum showed me place and gave me keys. She was very warm and helpful. I loved the place, it's simple yet functional, quiet, comfortable and very clean. I really felt at home. I'd love to stay again in this beautiful area. You are close to everything next do or to Acropolis that you can see from the roof terrace.
Maria
2016-09-20T00:00:00Z
A terrific place, wonderful location and very warm and hospitable hosts. Be sure to revisit when back in Athens. Thank you Denitsa, Todor and margarita!
Rinske
2015-06-08T00:00:00Z
Room Type
Entire home/apt
---
Property Type
Apartment
---
Accommodates
3
---
Bedrooms
Athens, Attica, Greece
One block away from the New Akropolis Museum and the pedestrian boulevard at the foot of the Akropolis, a newly refurbished two bedroom apartment furnished with eclectic taste located at the safest residential neighborhood of Athens' historic center.
That is is very close to the Akropolis site and the New Akropolis Museum. The apartment accommodates 4 persons comfortably and an extra two in a sofa bed.
The neighborhood is one of the safest of Athens and one of the greatest historical sites of Western Civilization (i.e. the Akropolis and the Ancient Athenian Agora).
Shopping! Food! Steps from everything! Quick and easy to find anything on your want list for visiting Athens. Very comfortable with a lot of space. The 3 of us loved it. If you are looking for a place, no matter the length of stay, look no further. It was even easily arranged for pick up and drop off at the airport. We couldn't have asked for anything else. FANTASTIC!
Joshua
2016-11-20T00:00:00Z
I booked this apartment a few months ahead of my stay and had high hopes after falling in love with the photos on AirBnb. I have to say that the real thing has really surpassed all expectations I had. The apartment is beautiful! It is only a 5 minute walk from Akropoli station and located in a beautiful central neighbourhood in Athens, close to many charming cafes and restaurants, yet does not feel overwhelmingly touristy. It has all the conveniences one needs, including a small kitchen perfect for making light meals. Furthermore, Andronike herself is really the perfect host and an incredibly friendly person - someone you feel you can count on in case of any emergencies in a new city. She was patient with all my queries and requests, and prompt throughout our correspondences, even arranging for us to be able to retrieve a pair of reading glasses we left at her apartment. It was really my pleasure to have been able to stay at her apartment for a few great days in Athens. I was only unfortunate to not have been able to meet her in person to express my gratitude :)
Zen Jie
2015-06-17T00:00:00Z
The apartment is centrally and perfectly located to all main tourist sites even by walking distance. Also, it was very clean and spacious for 6 of us. All amenities you can think of are all there. We met Sophia and she is very helpful and organized our transfer. She is very kind enough to let us store our luggages in the basement storage room. By the time we checked in again after 3 days, our luggages are inside the apartment already - we appreciate so much. Thank you! We would like to stay there again. Regards, Gail and her friends
GAIL
2015-05-28T00:00:00Z
Fantastic apartment in a good area, close to tourist areas. Very neat and clean. Dimitris was very helpful and great to have been fetched from the port. Would highly recommend.
Megan
2016-07-07T00:00:00Z
We were very happy with the apartment. It is nicely decorated and very comfortable. The kitchen is well set up and it was nice to have some water in the fridge we could use. Andronike's friend met us and was helpful. The apartment is in a very good location-quiet but close to the Acropolis.
Marion
2014-07-04T00:00:00Z
Andronike's apartment was perfect! It's beautifully decorated and conveniently located, and I loved seeing the acropolis lit up as I walked back to the apartment each night. This is a great Airbnb find!
Geoffrey
2014-06-28T00:00:00Z
The house is in a great location. Close to Acropolis museum. Everything we needed was close by like restaurants, markets and a great bakery. Andronike is a great host and easy to communicate. Her apartment has well equipped and has every thing. It was clean with a stable wifi. It is in a safe and quiet area. Sofia greeted us at the apartment and show us everything. Also Andronike provided us with a driver ( Dimitri) who was honest with his rate and very helpful. We had a great time over there and would definitely recommend this apartment to every one. Thank you Andronike!
farinaz
2015-07-24T00:00:00Z
Spacious apartment with a great location for exploring Athens as a family. Very close to public transport options. Although apartment is on a well frequented road it is quiet. We visited during an extreme cold spell and the apartment was nice and warm. House had a cabinet full of children toys (puzzles, games etc.) and a wooden kids table & chairs that kept our children well entertained. Kitchen very well stocked. Wi-fi works very well. Host very responsive to queries. She also helped us arrange airport transport (we would recommend Demetris). If you need a hairdresser I do also recommend the hairdresser across the street.
Evrita
2017-01-08T00:00:00Z
Room Type
Entire home/apt
---
Property Type
Apartment
---
Accommodates
5
---
Bedrooms
Athens, Attica, Greece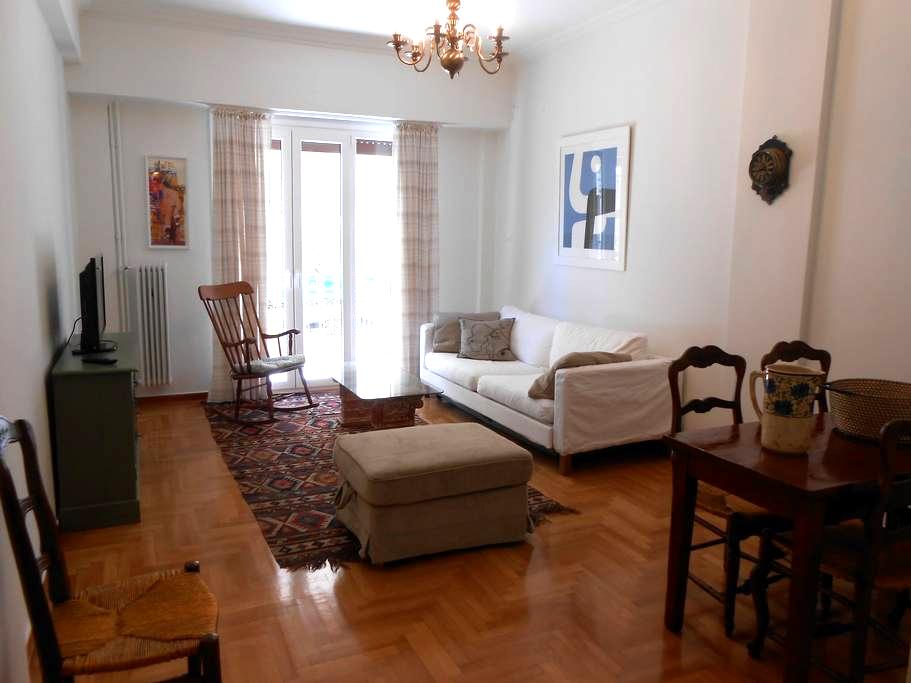 This sophisticated Residence in the Historic Centre of Athens is designed to maximise the resident's experience of Athens while offering amenities of the highest quality and the most inspiring panoramic views of the city, Acropolis and the Parthenon. It probably has the best view of Acropolis.
This spacious Penthouse (130 sq.m), is at the 7th (top) floor of the building, with the most amazing view of Acropolis from a unique private terrace as well as from the inside of the apartment. A group of 5 guests can share this "state of the art" apartment and enjoy their autonomy. Everything that the city of Athens can offer (museums, bars, cafes, bistros, restaurants, archeological sites, gyms, hammam baths, tennis courts etc) is within reach, since the flat is situated in the historic centre of Athens. The penthouse with the absolutely unique private terrace (100 sq.m) can offer relaxation, sun bathing and candlelight or moonlight dinners. The view of the sunset is magnificent. Special arrangements can be made for professional meetings at an extra cost depending on the type of the event.
This Penthouse is located in Monastiraki Square near Aghia Irini Church Square, one of the most vibrant places of Athens, right in the middle of the historic center of the city, with beautiful neoclassical buildings and gastronomic trends. A lot of facilities are available as well as various shops, restaurants, bars, cafes and Hamam. The area hosts a variety of choices such as: Greek art shops,museums, galleries, new designer's studio, neoclassical homes and all ideal for walking around from the apartment. - Monastiraki sq. 1min walk - Ag.Irinis sq. (cafes, restaurants, bars) 1 min walk - Roman Agora, 5 mins walk - Thiseion 7 mins walk - Acropolis and the Parthenon 12-15 mins walk - Keramikos ancient Cemetary 12 mins walk - Syntagma Square (Parliament Square), 12 mins walk - Kolonaki 15 mins walk - Acropolis Museum, 15 mins walk - National Gardens, 15 mins walk - Benaki Museum, 20 mins walk - Byzantine Museum, 20 mins walk - Odeon of Herodes Atticus, 20 mins walk - Filopappou Hill and pine forest, 20 mins walk - Temple of Olympian Zeus, 20 mins walk - National Contemporary Art Museum, 25 mins walk - National Archeological Museum, 25 mins walk Supermarket, bakery, restaurants, liquer shops, bars, pharmacy are within 1-2 mins walking distance.
Gerasimos was a fantastic host and made sure we were happy with the apartment which is truly a great place to start a trip in Greece! Very well situated in the old city, we were able to easily find our way and discover great places to go shop, eat and visit thanks to Gerasimos who was very kind to lead us the way to make the best of our stay. I would definitely go back if I had the opportunity!
Christina
2016-06-30T00:00:00Z
Gerasimos is a wonderful host. The apartment has breath taking views. But it is located in the centre of the old city So quite a contrast when you step out onto the street ! Also suggest to bring your ear plugs if you're staying a Sat night as the local disco can be noisy. Everything we wanted to see was within walking distance. The apartment was very clean and tidy. Fully equipped with everything you need. Plenty of space for ourselves and 2 teenage sons. WiFi worked great The local supermarket had an excellent deli with a great wine selection. The close by metro is easy to use and fast to get around Thank you Gerasimos
Mike
2016-10-24T00:00:00Z
Gerasimos was a great host. He arranged for our transfers on arrival and departure and he was a very welcoming. His apartment is pristine and the living room/balcony view is fantastic! Very well located in the center of the city.
João
2016-09-19T00:00:00Z
No words...Just awesome!
Katya
2016-10-03T00:00:00Z
great location, great view !
Olivier
2017-02-05T00:00:00Z
Fantastic place! Everyone should try this place out!
Darion
2016-12-12T00:00:00Z
We had a wonderful time in Athens and the apartment was spectacular. The terrace and views of the Acropolis and Agora especially after dark were simply breathtaking. The apartment was very spacious and clean and tidy and Gerasimo was the perfect host even leaving us bread and strawberries n the fridge. I would thoroughly recommend you stay here for a trip of a lifetime to Athens.
IAN
2016-03-24T00:00:00Z
For starters, Gerasimos was a fantastic host - making the process seamless and enhancing the experience. The property is in perfect and ideal location - close and walking distance to all major sites and attractions - one block from Monastiraki square. The property itself is great and comfortable for a family of five and offers BREATHTAKING views of the Parthenon and Acropolis - our most favorite aspect - watching the sunrise and sunset from the amazing balcony. We will be back!
Louis
2016-07-22T00:00:00Z
Room Type
Entire home/apt
---
Property Type
Apartment
---
Accommodates
5
---
Bedrooms
Athens, Attica, Greece
Atmospheric house under the sacred rock of the Acropolis in Plaka, the historical "neighborhood of "Gods". The house has a ground and an upper floor an exterior and an interior staircase. On the ground floor there is a room with a double bed, a yard, a dining room, the kitchen, a toilet, a bathroom and the dining room. On the upper floor there is the main bedroom with a double bed, a terrace, an attic with a single bed one bathroom and the sitting room with a bed and acropolis view balcony.
What I love most is the feeling of the ambiance of old Athens, as well as, the feeling of a peaceful spot in the center of the city surrounded by remarkable monuments, carriers of town's diachronic memory.
Dyonisia was amazing! Her home was spectacular with an ideal location and she was super helpful and accommodating. It was perfect!
Dinna
2015-07-21T00:00:00Z
The home is in a wonderful location and provides a perfect base for adventures in and around Athens. It is gracious, interesting and spacious, and affords a good measure of privacy even for a group of two couples and a friend or two. Without being intrusive at all, Dionysia was thoughtful and resourceful, and above all helpful. It seems that almost every place one might care to visit is within a reasonable walking distance, and for things beyond the Metro is close at hand. Να εύχεσαι νάναι μακρύς ο δρόμος. Πολλά τα καλοκαιρινά πρωιά να είναι που με τι ευχαρίστησι, με τι χαρά θα μπαίνεις σε λιμένας πρωτοειδωμένους.... Andrew and Alexandra
Andrew
2015-10-24T00:00:00Z
My family and I were very, very much delighted with the little cozy house just under the Acropolis. And the house turned out not to be so small after all - it had many windows, doors, staircases and rooms, terraces. The accommodation fits the description on Airbnb and I think we were lucky to rent it - it is in the most centre-like location. The host was very welcoming and trusted us with the keys etc. Thank you!
Laura
2014-09-07T00:00:00Z
We are a family of 5 from Montreal. We found the apartment very comfortable and a perfect location. Would definitely stay there again!
Giulia
2016-07-19T00:00:00Z
Dionysia's house is in an ideal location for exploring Athens and the sights. It's in the very quaint and historic Plaka district, but is just a touch off the beaten path, allowing for privacy. The area is very safe and active. The best thing about the location is it is literally steps from the "back" entrance to the Acropolis via the Theater of Dionysus. We got there at 8 when it opened, walked directly to the top, and had the place to our selves! The home has a quaint private courtyard and two porches. We ate on the top porch, with views across the rooftops of Athens every meal we took at the house. The place is spacious and charming. I visited with my wife and two children, and we had plenty of space to spread out. We loved staying here.
Davis
2015-06-05T00:00:00Z
The house was exectly how it was in the photos. The house is really good located and its a fancy house. Dionisia was super helpfull and kind. She sent tips of Athens and let some fresh fruits and another gifts in the house for us. She even called a mini van to send us to the airport, like a hotel. It was the best airbnb experience I had só far.
Yan
2016-05-29T00:00:00Z
It was a lovely and spacious apartment for 5 people. It located in Plaka within walking distance of major attractions in Athens and the Acropolis metro station. Dionysia gave us suggestions for sightseeing and restaurants. She also gave us a warm welcome with fruits and wine. We enjoyed our stay.
Kuei-Ling
2016-06-14T00:00:00Z
It is so unbelievable how close this house is to the Acropolis, you can nearly touch it!. My family of 5 enjoyed our stay here which is right in the heart of Plaka.... Apart from the hard Greek beds this is the perfect house if you are in Athens for a few days
susan
2014-10-06T00:00:00Z
Room Type
Entire home/apt
---
Property Type
House
---
Accommodates
6
---
Bedrooms
Athens, Greece
Exactly under the Acropolis Sacred Rock and one step away from the New Museum of Acropolis, Plaka (the historical center of Athens) and Acropolis Metro Station. A spacious penthouse of 140m2 located on the 4th floor of an elegant building with a 80m2 terrace
A spacious penthouse of 140m2 located on the 4th floor of an elegant building with a big terrace of 80m2. The terrace is embraced by a spectacular view of Acropolis and the New Museum of Acropolis where you can enjoy your breakfast, lunch, dinner. During sunset you can enjoy your cocktail and finally when it becomes completely dark you will be mesmerised by the view of the statues and sculptures that emerge behind the glass of the Museum. All rooms are big, comfortable and sunny with access to the terrace.
The neighborhood is lively and very safe with many restaurants, bars and coffee shops. A supermarket (open till 23.00 daily and on weekends) and one of the best bakeries (Takis) in Athens are across the road. - 3 min walk to Plaka - 13 min to Syntagma Square - 10 min walk to the National Garden - 3 min to the Odeon of Herodes Atticus, where most of the performances of the Athens Festival take place. - 5 min to EMST - National Museum of Contemporary Art (Documenta 14).
Eleni's apartment was great! Eleni was easy to contact and responded to any question very quickly. The apartment itself is in an excellent neighbourhood, close to everything, and very relaxed and safe. A few minutes walk to the Acropolis. The view from the huge balcony is wonderful, and I great place to sit and have morning coffee, or an evening drink. The apartment is a very spacious 2 bedroom, and the master bedroom has an amazing view of the Acropolis from the bed, which is very comfortable! The kitchen is well equipped. There are 2 bathrooms. I would not hesitate to recommend staying at Eleni's!
Katya
2015-04-07T00:00:00Z
Eleni's place was absolutely amazing. Great view and very spacious. She was also a star and was very helpful - highly recommended.
George
2015-07-05T00:00:00Z
We loved staying in Eleni's flat. The views of the Acropolis are even better than advertised, and the flat is equipped with everything you could possibly need. Eleni made us feel welcome from the moment we arrived. Wouldn't hesitate to stay here again the next time I'm in Athens.
Griffin
2015-01-02T00:00:00Z
Eleni was there to greet us as planned & provided us with some helpful local information. We felt the house met our expectations- it was very clean & comfortable, spacious & sunny with good views in a central & quiet location very close to many sights & the metro.
Richard
2015-06-20T00:00:00Z
Eleni's apartment is in a lovely neighbourhood and is walking distance from the places of interest. The apartment itself is warm and comfortable. Eleni was the perfect host- so amiable and helpful. Her thoughtfulness and attention to detail made us feel as if we were in our home away from home.
Bushra
2015-06-01T00:00:00Z
Staying at the house of Eleni has fully lived up to expectations. Eleni was a host attentive and friendly. The house is really comfortable and well positioned in the middle of everything, well appointed; it has a terrace with a magnificent view of the Acropolis and Acropolis Museum; the kitchen is stocked with all the basics and more; one of the two bedrooms has a view of the Parthenon. We would like to return here soon.
Fabio
2015-06-11T00:00:00Z
Room Type
Entire home/apt
---
Property Type
Apartment
---
Accommodates
4
---
Bedrooms
Athens, Greece
This studio for four has one double bed and two single beds. It includes a kitchenette, bathroom, air-conditioning / heating, TV, safe. Linen and towels are provided for free. The room is cleaned daily with no additional charge.
This studio for four has one double bed and two single beds. It includes a kitchenette, bathroom, air-conditioning / heating, TV, safe. Linen and towels are provided for free. The room is cleaned daily with no additional charge. Breakfast is for 4 euros. This includes freshly sliced ham and/or cheese, cucumbers and/or tomatoes, Greek yogurt with honey and free coffee/tea refills, fresh oranges, freshly baked bread from the famous Psirri bakery with butter & jam, cereal, muesli and fresh milk which is delivered daily, all served in our designer's café. Check also our website (URL HIDDEN) See you at AthenStyle!!!
We are within walking distance from all the historical monuments including the Acropolis, Ancient Agora, Temple of Zeus, and Parliament. We are located on the border between Monastiraki and Psirri, two of the oldest and most charming neighborhoods in Athens. You can catch an impromptu street performance or stroll through the flea market in Monastiraki. Psirri offers small intimate cafes and sweet shops during the day and lively nightlife and live music at night.
We thoroughly enjoyed our stay at Athens Style. Fantastic city location, easily accessible, but quiet at night. Our room was better than we expected, clean, comfortable, well equipped for self catering, air conditioned and with a generous supply of hot water at all times. The staff were welcoming and helpful. The rooftop bar a bonus. What a view! Breakfast was basic, but good. The free city tour each morning is a must. If you are looking for a high class boutique hotel Athens style is not for you. If you are looking for good, clean, secure, basic accommodation right in the heart of Athens look no further.
Jane
2015-07-25T00:00:00Z
Room Type
Private room
---
Property Type
Bed & Breakfast
---
Accommodates
4
---
Bedrooms
Athina, Greece