Please send us an email for availability. Our main booking site can be found by (SENSITIVE CONTENTS HIDDEN) search "#456958 Pedasi Panama"
We have our guest suite available for rental at one of the most prestigious homes in the area. A true Spanish Colonial Revival Villa with high end furnishings. The guest suite accommodation is completely independent from the rest of the Villa and you will have exclusive use of the swimming pool, terraces and gardens with no other people on the property. We only rent our guest suite when we are not on the property so you have complete privacy to enjoy the beautiful ocean views and beaches. The guest suite is a very large air conditioned room with exposed beam ceilings, queen size imported luxury mattress, 400 thread cotton sheets and luxury surroundings. Separate large washroom with rain shower head and separate walk-in closet. The guest suite comes equipped with bar refrigerator/freezer, desk, microwave, tv, dvd, coffee maker, mugs, dishes, wine glasses and wine bottle opener. There are no cooking facilities within the suite but we have an outdoor kitchen with BBQ. Restaurants are within minutes of the Villa and prices are relatively inexpensive ($5-12 pp). The freezer/fridge is perfect for cheese, cold cuts, milk, cereals, bread and keeping your snacks and beverages within easy reach. Internet/Wi-fi are included in price. The large pool and grounds are exclusively yours to use along with a huge covered Spanish style terrace where you will find cushioned rattan seating and a burlwood coffee table. The property is situated on the ocean front and there is a path to the beach, Playa La Garita. This is the only property that we are aware of that is located 5 mins from the town of Pedasi (by car) on a paved road that offers beach front accommodation. Please see map and photos for a better idea as to location. The area is very safe located in a gated community. Pedasi is a small town located in the Azueros Peninsula known for it's Spanish Colonial quaintness and charm. There are a number of restaurants, medical clinic, liquor and bakery stores within minutes of the Villa, yet away from barking dogs, crowing roosters, traffic and loud music that is found closer to the town.
Quiet, peaceful, romantic getaway in Pedasi, Panama. Locals are extremely friendly, plenty to see and do.
This was a wonderful guest home and Alan made us feel very welcome. He checked in on us numerous times before our arrival and helped us find our way. Kippy the manager was also quite helpful...and besides their great managent, the home and location are gorgeous! We enjoyed relaxing by the pool and with the spectacular view of the ocean, complete with whales! The nights are also glorius for those who love star gazing. Our only regret we forgot our binoculars. We would surely come back and highly recommend Alan's lovely guest room. Gina and Mattia
Gina
2015-09-16T00:00:00Z
The host canceled this reservation 62 days before arrival. This is an automated posting.
Anja
2016-10-27T00:00:00Z
Great stay
Thierry
2017-03-20T00:00:00Z
Room Type
Private room
---
Property Type
Villa
---
Accommodates
2
---
Bedrooms
Pedasí District, Los Santos, Panama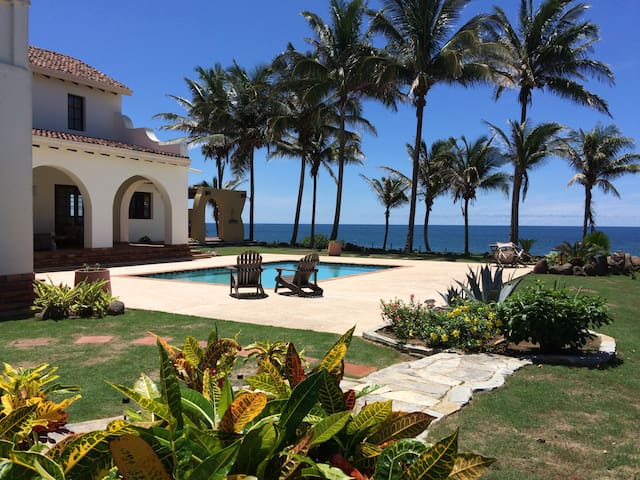 This stunning 2 story 3 bedroom house is located in Andromeda project, in Pedasi. Perfect for a family or friends vacation, amazing pacific ocean views and your own swimming pool. Come and enjoy a complimentary pass to Los Vientos Beach club.
At the southeastern corner of the Azuero Peninsula, Pedasi is very unique destination for vacation. Beaches, fishing, exotic islands, whales, sea turtles and folklore are only some of the things you get to see here...
The home is gorgeous and well appointed, exactly as described. It was perfect for our group of a couple and two friends. Town is a very short drive away and the beach club next door is a nice addition. Yarden, Anca, and their whole team were fantastic - quick to answer questions, follow up, and provide great advice for local dining and nightlife. Highly recommended!
Benjamin
2015-05-26T00:00:00Z
The host was very professional. Upon arrival to their offices they took us to the property and the beach club to give us a tour. At this point they answered our questions and provided us with contact information for emergency purposes. The property and neighborhood were accurately described. The house was clean, bright and well equipped. We enjoyed our time there very much and would definitely return again.
Edward
2016-01-06T00:00:00Z
Maria was fantastic. She was a wonderful host. The property is beautiful and comfortable. I wish it had been closer to the ocean (5 minute walk) but hat was not a problem. The beach club was great
Robert
2016-02-15T00:00:00Z
Muy bonita la casa con todas las comodidades, todo tal cual venia en las descripciones, ninguna pega
Luis
2016-11-02T00:00:00Z
Room Type
Entire home/apt
---
Property Type
Villa
---
Accommodates
6
---
Bedrooms
Pedasi , Los Santos, Panama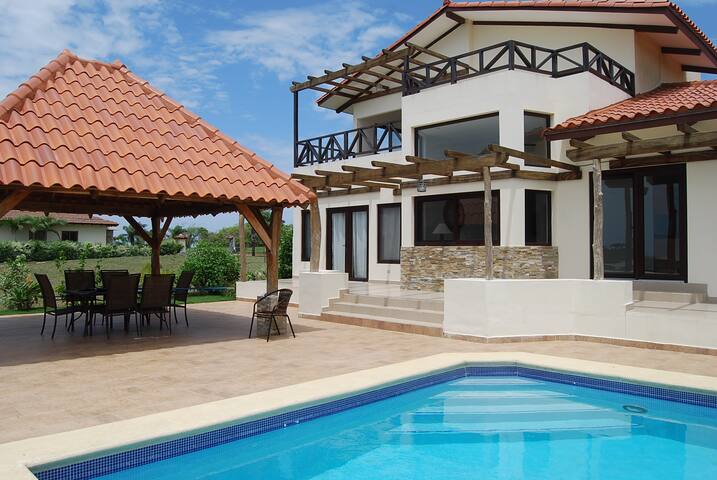 Designed by world class French architect, Gilles Saint-Gilles, this gorgeous villa enjoys a great location right on the beach, in Playa Destiladeros. It features a beautiful garden with direct access to the beach and a pool. The house can accommodate up to 7 guests (3 bedrooms and 3 bathrooms). The area offers plenty of attractions, like beach activities, surf, snorkel and fishing. For fine dining, the village of Pedasi is just at a 10 kms away and the famous Playa Venao is at a 40-min drive.
Nw
Jose
2016-12-30T00:00:00Z
Excelente para una estancia en pareja o con familia y niños un lugar hermoso
Armando
2017-01-16T00:00:00Z
Excelente ubicación, casa muy bien equipada. Zona tranquila y segura. Recomendada para amigos y familia.
Alicia
2017-01-01T00:00:00Z
Muy buena ubicación, sin embargo está un poco expuesta a la playa y las personas que están ahí, quizás una cerca moderada e iluminación hacia la parte que colinda con la playa estaría mejor.
Agustín
2017-03-01T00:00:00Z
Room Type
Entire home/apt
---
Property Type
Villa
---
Accommodates
7
---
Bedrooms
Pedasí, Provincia de Los Santos, Panama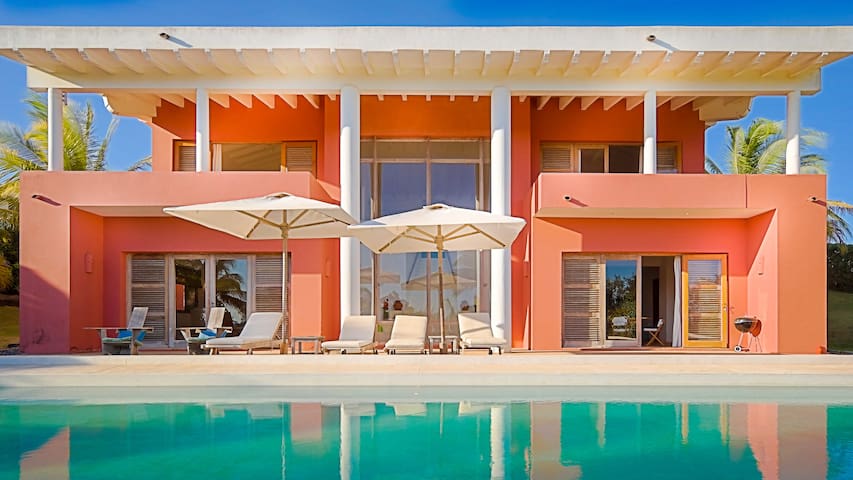 Rare and Exclusive hideaway in Pedasi-Panama Should you wish to Fall asleep listening to the sound of nearby waves, and be awaken to the sound of birds, Villa Estrellita is dedicated for you Surrounded by a tropical garden it's nearly impossible for you not to have a magical time. We are offering One deluxe master bedroom with an astonishing en-suite bathroom, (a concrete tub, a shower with ocean view, a private terrace overlooking the sea, The professional kitchen, Pool and much more.
Please look at website (URL HIDDEN)
Room Type
Private room
---
Property Type
Villa
---
Accommodates
2
---
Bedrooms
Pedasi, Los Santos Province, Panama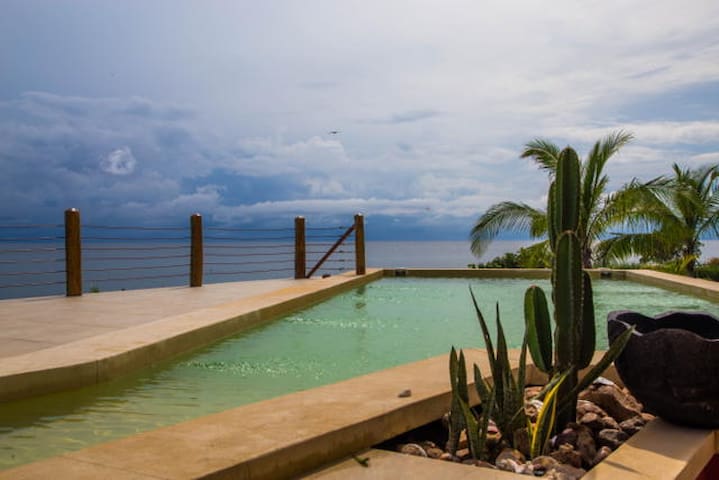 Our luxury "White Villa" is overlooking the beautiful beach of Los Destiladeros in Azueros, only a few minutes away from the lovely town of Pedasi. In the villa, designed by a famous French architect, you will enjoy an unforgettable vacation in a tropical paradise !
Luxury Design Villa in Playa Los Destiladeros, Pedasi fully furnished, total occupancy 12 people. 4 bed rooms, each with a full private bathroom, sleep up to 8. Independant granny, with private entrance, small kitchen, living & dining area, TV and full bathroom, sleeps 4. Five Double Size beds, two Single beds, one Sofa bed, fully equipped kitchen with gas stove, dish washer, large 2 doors fridge/freezer with ice maker, microwave , coffee maker, blender, toaster, washer & dryer, kitchinette in studio, spacious living & dining room, four SKY cable TV's, WiFi Internet, A/C in every room, seeling fans in three bedrooms, five large bathrooms with shower & toilet, visitors toilet, large infinity edge private pool, two large terrace areas, large private parking area with covered parking for 2 cars, luxury landscaping, two water tanks and a gas electricity generator. You will stay in one of the most exclusive properties in Pedasi, in a secured gated community right above the beach of Los Destiladeros and with a spectacular ocean view. Come and enjoy a tropical paradise and leave your worries at home !
The White Villa is overlooking the beautiful beach of Los Destiladeros in Azueros, only a few minutes away from the lovely town of Pedasi. Pedasi is appreciated for it's traditional character, very friendly people, safety and beautiful landscaping. You can practice all kinds of water sports, including surfing in the world famous Playa Venao. Pedasi has attracted many expatriats and retirees from the USA, Canada and Europe. Everybody enjoys the relaxed, peaceful way of life, a low cost of living, a large choice of good restaurants and bars. You will find both, a local and multi-cultural environment. Pedasi and the close-by Las Tablas are also famous for their annual carnivals, attracting people from all over Panama. Whether you like tranquility on the beach, nature, wildlife, bird, whale or turtle watching, fishing or fine dining, Pedasi is a perfect spot and will offer you an unforgettable vacaction. We look forward to welcoming you soon !
Word's can not describe the view and overall experience. You go there with so many intentions of doing other things, but somehow you can't seem to get yourself out of one of the chairs and away from that view. Truly a special place!
Drew
2017-02-22T00:00:00Z
Room Type
Entire home/apt
---
Property Type
Villa
---
Accommodates
12
---
Bedrooms
Pedasi, Los Santos Province, Panama
Panamanian style home in Pacific beachfront in Los Destiladeros, near Pedasi (8km). 4 Bedrooms with 4 beds and 1 king size bedroom with two twin beds. Large living room with open kitchen fully equipped and functional. Terrace with stunning sea view and pool, also has a BBQ and 2 hamaq. well planted garden. The price per night for up to 6 people and $ 350, possibility of 2 additional rooms for a total of $ 500.
The host canceled this reservation 23 days before arrival. This is an automated posting.
Rafa
2016-12-08T00:00:00Z
Room Type
Entire home/apt
---
Property Type
Villa
---
Accommodates
10
---
Bedrooms
Panama City, Panama, Panama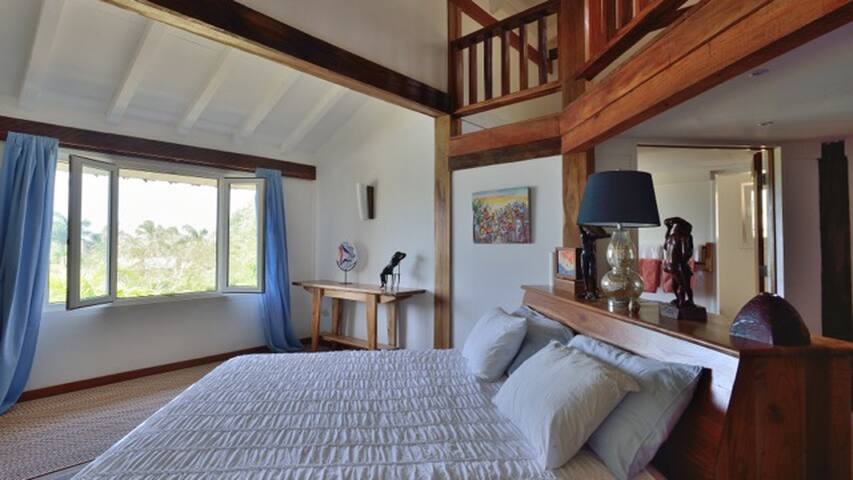 You want the dream of living at the beach come true? Stay with us near the colourful little town of Pedasi! A infinity pool, private beach access and a stunning view is waiting for you! A spaceous house with a choice of king, queen size beds or bunk beds and a sofabed, a big BBQ area and all that while overlooking the see, doesn´t that sound like the perfect space to relax?
The best place for your next family vacation. Private beach, infinity pool, outdoor gazebo equipped with a gas powered BBQ and dining table, internet, laundry room equipped with a washer and dryer. The quiet friendly town of Pedasi and the area has a lot to offer. world class fishing tours, horseback riding, the natural reserve of Isla Iguana, turtle nesting, whale watching, surfing and so much more... Air panama flight to Pedasi takes only 35 minutes and Thrifty car rental has a branch in Pedasi town.
The cute town of Pedasí recently got the name "pueblo colorido", and it´s true: nearly every house shines in another bright colour! Soon you will find out about the charming people of Pedasi who will wellcome you with a smile!
The place is absolutely beautiful and peaceful . The home is in great conditions and as described. The pool is great to have . The view was lovely . The place is family friendly and the club is next to it . We had the beach for ourselves . Pedasi is a beautiful little town . It is a nice place to relax . We definitively will go back .
Querube
2017-02-17T00:00:00Z
People at Pesadi Tours were polite and accommodating. The neighborhood is quiet and calm; there are not very many houses there yet, so we pretty much had the beach to ourselves. The listing doesn't have images of all the rooms in the house, but all three bedrooms are spacious and well-furnished. All 7 of us (6 adults and a 6-year-old), slept comfortably. The kitchen is huge and has every utensil you could ever need.
Tomas
2016-07-04T00:00:00Z
Our group of four adults and three kids really enjoyed our stay at Casa de La Dulce Vita. The house is spacious and modern. We used both the house pool and the club pool. Ocean view from the house is wonderful. Communication good and check-in/out was easy. Pedasi and surrounding area offers lots of activities.
Sally
2016-11-26T00:00:00Z
The host canceled this reservation 4 days before arrival. This is an automated posting.
Alexandre
2016-09-12T00:00:00Z
Amazing location. Infinity pool and right in front of a beautiful beach.! marc was a great host. They were flexible with the check in and check out times, so we where able to enjoy the weekend fully. 100% recommended
domenica
2015-08-30T00:00:00Z
Yarden was a perfect host. The house was exactly as advertised. We loved Pedasi.
Ian
2015-01-08T00:00:00Z
Amazing house! We arrived earlier than expected and the Pedasi Tour rep (I forgot her name but she was so nice and helpful) took us to the house early. The house was beautiful and had everything we needed. There were even containers to store leftovers! Beach towels, laundry and dishwasher detergent even pool play toys for the kids. Since we arrived in the windy season the gas grill had been removed (damaged in the wind I believe) but when I emailed to inquire about the grill.....they brought one right over! The infinity pool overlooks the beach and is surrounded by palms and banana trees. No one was on the beach when we were there so we had a huge beach to ourselves! We found huge sea shells, crab and the kids loved playing in the surf. An amazing vacation in Pedasi....such a beautiful area and a beautiful house!
Stephanie
2016-02-20T00:00:00Z
The host canceled this reservation 30 days before arrival. This is an automated posting.
Kendra
2017-03-09T00:00:00Z
Room Type
Entire home/apt
---
Property Type
Villa
---
Accommodates
8
---
Bedrooms
Pedasi, Los Santos, Panama
Large one bedroom private villa with bathroom and small 2 chair table right on the ocean just steps away from the beach. Double bed and outdoor kitchen área along with terrace and outdoor shower as well for swimmers.
Rod is a nice and talkative guy. The rustic room is located right on the beach. We spent one night there at carnevals season, a good place to relax before or after the crowd. Rod and his family were really helpful. Although we stayed there at carnevals season, the room was overpriced for what it had to offer.
Ursina
2016-02-09T00:00:00Z
Let's go straight to the point: you HAVE to rent Rod's house if you are visiting Panama. I needed a place to stay for the carnival of Las Tablas, and I certainly did not want to be in a crowded (and expensive) hotel, with the carnival loud noise and music playing all night. And I found Rod's little piece of paradise. It is located 5-10 mins outside Las Tablas, on the ocean. The view is breathtaking, the air is super fresh - the whole place is surreal. This house was built with his own hands, and includes a washroom/shower, a very clean and confortable bed, with a kitchen and a chilling area outside (including hamacs to rest and watch the ocean). The house is located on the beach, just a few meters away from the water. The biggest highlight of this house is the stars at night and the sound of the waves that put you to sleep. The whole stay was simply perfect. In addition that all of the above, Rod and his family are great people. They stay in a hostel that they own and operate down the street - called la Tortuga. Another great place built by Rod which has a cool bar, and great food (you must try Rod's tacos). I had lots of fun talking and having drinks with his family. The even joined us for one of the nights at the carnaval. I hope that this long review convinces you to go visit Las Tablas and stay at a place you will certainly remember and strongly recommend to your friends!
Léon
2017-02-26T00:00:00Z
If you're looking for a budget friendly option on the beach, this can't be beat. Rod and his wife have created a nice hostel/cabana beach retreat. The place has unfettered views of the ocean, a deck to sit on and watch sunrises over the beach and an outdoor shower to wash off all the sand. The cabana is basic but it had everything we needed and it was very quiet and nicely tucked away. Rod's place is right down the road so it's easy to drop by if you need anything. He and his wife are very responsive and helpful. He also runs a small restaurant and makes some pretty awesome lobster.
vassil
2015-12-31T00:00:00Z
Lovely cabin! Right at the ocean. Rod was very welcoming and shared many stories with us! Lovely meal at hostel Tortuga!!
eslie
2016-01-04T00:00:00Z
La familia que lo gestiona es muy agradable, nos ayudaron mucho en relación al transporte a las Tablas. La habitación es independiente pero se puede utilizar una zona común agradable dentro del Hostel que regentan. La habitación se encuentra justo delante de la playa. Por otro lado, consideramos que no se trata de una casa completa sino de una habitación con baño. La zona que aparece en el anuncio de mesas y sillas no pertenece a la habitación como tal, estaba ocupada por otras personas. Tampoco existe una cocina en la habitación, hay una especie de parrilla que también estaba ocupada por otras personas. La habitación no cuenta con cortinas ni cristal en las ventanas con lo que la intimidad es mínima.
Almudena
2017-02-28T00:00:00Z
Room Type
Entire home/apt
---
Property Type
Villa
---
Accommodates
2
---
Bedrooms
Las Tablas, Los Santos, Panama
This beautiful secluded home enjoys beautiful ocean views over the Pacific. Villa Jungla features a large terrace where you will feel the ocean breezes and a gorgeous pool. Refined in every details it can host 8 guests in 4 bedrooms (4 bathrooms). This property is perfect for couples, families (with kids), and big groups and is close to great views and family-friendly activities. (Note: Villa Jungla is only accessible by 4x4)
Located on 'Los Destiladeros' beach, close to Pedasi, Limon y Playa Venao.
The host canceled this reservation 34 days before arrival. This is an automated posting.
Jose
2017-03-10T00:00:00Z
Excelente lugar para descansar
Mkl
2017-02-27T00:00:00Z
Muy buena las instalaciones
Vielka
2017-03-02T00:00:00Z
Room Type
Entire home/apt
---
Property Type
Villa
---
Accommodates
8
---
Bedrooms
PA, Panama
Villa del Mar hostel is located 10 mins from Playa Venao. Every detail in our place was hand crafted giving visitors the opportunity to relax within a unique nature setting. Each room is equipped with A/C and TV and comfortably fits two.
Room Type
Habitación privada
---
Property Type
Villa
---
Accommodates
5
---
Bedrooms
Tonosi, Los Santos, Panama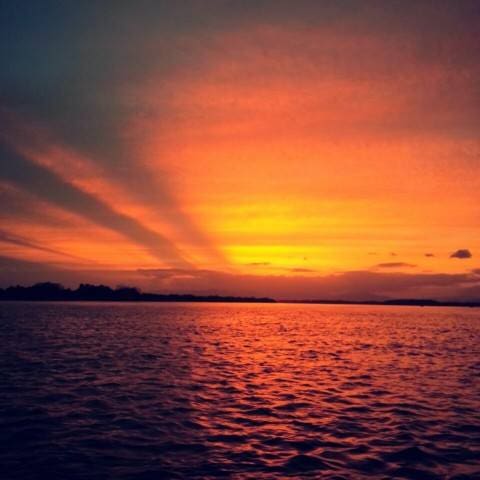 Pedasi - Airbnb
:
Average

4.17

out of

5

stars from

35

guest reviews
1

–

10

of

10 Villa Rentals
Enter dates to see full pricing. Additional fees apply. Taxes may be added.