Enter dates to see full pricing. Additional fees apply. Taxes may be added.
7 Villa Rentals
· Pirmasens
7 Villa Rentals
· Pirmasens
Our stay at Edith and Hubert was perfect. The room is big and clean, and the breakfast was delicious. They are welcoming and very nice with their guests. Surely recommended!
Daniele
August 2016
Edith and Hubert were very welcoming and we had a wonderful stay here! They provided lots of recommendations for local attractions and even made a dinner reservation for us. Edith prepared a delicious breakfast for us each morning. Our room was comfortable and it was nice having a private shower and sink. The location was convenient for exploring further afield to the towns throughout Lorraine. We would definitely stay here again next time we visit Sarreguemines.
David
August 2016
Edith and Hubert are very welcoming and the house is just a short walk from the town center. They were able to advise me on local restaurants and attractions. They also had a nice breakfast ready for me each morning. Thank you
Greg
January 2016
Edith and Hubert were really welcoming and as we had biking in common, they made me at home and were accommodating of my bike and gear. Really quiet and secure. Very helpful with information about the town and food. The town is beautiful. They provided a huge breakfast, which was fantastic. A very peaceful and lovely house. Great for exploring the Vosges.
Steve
September 2016
Edith and Hubert were perfect hosts. They made us feel very welcome and despite the language barrier, took the time to talk with us. We somehow made ourselves understood and had lots of laughs! Breakfast was delicious and our room was comfortable and clean. They had plenty of recommendations for places to eat in Sarreguemines.
Geoff
October 2016
Au fond d'une petite impasse dans un quartier calme ,nous avons été accueillis très gentiment par Edith et Hubert dans une belle maison entourée d'un grand parc/(URL HIDDEN) chambre avec douche et lavabo (les toilettes sont un peu plus loin dans le couloir)donne sur de grands arbres.Le petit déjeuner très complet avec, entre autre, des confitures maison a permis de sympathiques discussions juste entrecoupées par les facéties du petit Augustin de passage chez ses grands (URL HIDDEN) d'aller à l'office du tourisme de la ville, toute la documentation locale et régionale ainsi que les bonnes adresses pour vous restaurer est à votre disposition mais avec les commentaires personnels en plus ! Un agréable séjour dans un très beau cadre et sous un magnifique soleil mais là nos hôtes n'y sont pour rien (à moins que ...... !) Merci à vous
BERTRAND
August 2016
Un accueil très chaleureux, nous nous sommes sentis attendus et l'échange a été très convivial. Je recommande cette adresse
Maud
August 2016
Wir hatten sehr schöne Tage in Saargemünd: Edith und Hubert haben uns sehr freundlich und herzlich empfangen. Sie haben uns viele Informationen und Tipps gegeben und waren ganz unkompliziert und sehr zuverlässig in allen Abmachungen. Das Zimmer ist ganz gemütlich, sauber und total ruhig. Wir konnten wunderbar schlafen. Das Wetter war nicht für einen schönen Abend im Garten geeignet, aber das wäre eine super Idee beim nächsten Mal.
Christine
May 2016
Room type
Private room
---
Property Type
---
Accommodates
2
---
Bedrooms
1
Sarreguemines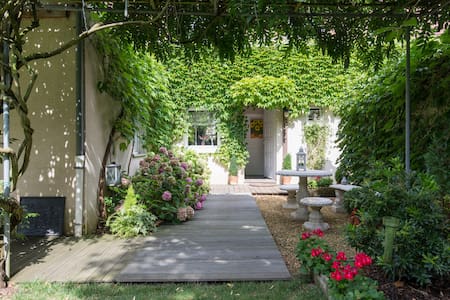 Un grand MERCI à Jean-Louis pour son accueil et sa gentillesse! Nous avons passé un très agréable séjour. Les chambres sont très spacieuses et confortables et le nombre de salles de bain et toilettes, un vrai confort vu le nombre de personnes que nous étions. La Villa est très bien équipée pour toutes les fournitures de bases, ce qui est très utile. Le jardin paraissait très agréable, mais nous avons pas pu en profiter, vu les températures extérieures très froides. La Villa est bien située et à proximité des commerces et de la gare. Nous en avons d'ailleurs profité pour nous promener un peu à Strasbourg.
Rachel
January 2017
Room type
Entire home/apt
---
Property Type
---
Accommodates
14
---
Bedrooms
5
Ingwiller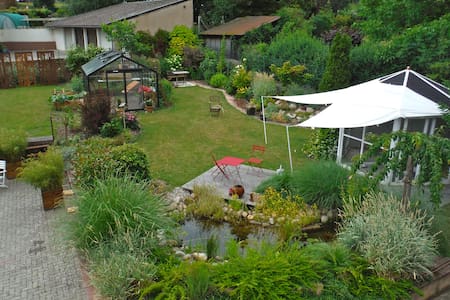 Floor boards, stucco, antiques, old nice lamps, view. An orignal place in a mansion with special designs and solutions . Guests can learn a lot about energy efficiency. A grill / microwave can be made available. There is a fridge.
Situated in Neustadt an der Weinstraße, the guesthouse Villa (= Mansion) Nova offers offers a special ambiente with his antics, the renovated wooden floor, the Villa Nova room and the inner court with his old wooden lounge chairs. The central station, the gorgeous marketplace and the cosy pedestrian zone with his restaurants , "Kneipen" and cafés are within 100 - 300 m distance. The famous Hambacher Schloss Castle and the Wolfsburg ruin are within walking distance (2 - 4 km). In all four directions you can go to visit nice places and come back by train. Every guest can use for free the Villa Nova kitchen with his equipment and the Villa Nova room with his library and big TV and the inercourt. WiFi access is free. The room has access to SAT-TV. The Villa Nova team lives on the 1st floor and uses together with the guests also the Villa Nova facilities. Interested guests get maps, tipps and special Palatina information what to do and where to go. Gregor speaks Pfälzisch, Deutsch, Englisch, a little bit Spanish and French. A friend can help to help russian speaking guests.
Palatinate is the best place to live or to make vacations. Neustadt is the pearl of Palatinate. It has a warm mild climate . On my balcony grows a fig. The possibilites to spend the time in a happy manner are just great. Our wine is one of the best in the world with the nicest winemakers. With the many wine festivals from April - Oktober it is quite easy to "fully" test it. The Palatinate mountains to walk, hike and bike attract many special events e.g. the Klapprad Kalmit cup. As an "old" area you find a lot of important historic places within walking or biking distance (Hambach Castle, Bad Dürkheim Barrel (the biggest of the world), Speyer with the monumental "Dom", many ruins like Wolfsburg, Limburg, Hardenburg... and in the woods the "Pfälzerwaldvereinshütten" where you eat and drink in an informal atmosphere and end up with new friends. My wife enjoys very much the public bath Neustadt and goes there on Saturdays and Sundays to do aqua jogging in a 50 m pool. Bikes after 9.00 am are free in the regional trains.Kaiserslautern, Ludwigshafen can be reached within 30-minutes using public transport, and Heidelberg is 50 km away. Private parking for 6 € / day is available. Gästehaus Villa Nova. The vision of Villa Nova is to become an energy-autonom building. Already with his heat pump, the oven in the Villa Nova room (linked to the central heating) and other water and energy saving ideas Villa Nova is probably one of the most energy efficient guest houses of Germany. Within the next years Solarthermy and Photovoltaik on the roof and big batteries in the cellar will be installed.
Gregor was a great host. He was always just a call away, but never bothered us, which was outstanding for a couple's retreat. We had everything we needed from dishes to towels. He even let me borrow his keyboard for practice! The house is central to the city. Definitely within walking distance of the city and everything you could need for your stay. Literally a couple minute walk from the train! We loved the City Bar down the street (where you can grab a glass of wine and a large beer for about 5 Euros while you watch the game) and next to a gas station where you can grab a bite to eat or a couple of bottles to enjoy a night in, especially on Sunday, when almost everything else is closed. On all other days, everything you need, Restaurants, Imbiss (cheaper take out style food), Mueller (like Rite Aid), Lidl (Groceries open till 9), and H&M are within easy walking. Couldn't ask for a better location or better city so central for a visitor with or without a car. I never write reviews, but I wish someone else would have rated places in Germany better before I came. I understand AirBNB is still a new concept, but after all the planning that goes into a trip, and paying for a place before seeing it, I was extremely disappointed when the place I found in Frankfurt was nothing like promised. I get that language barriers play a part in international travel, but with a bilingual host like Gregor who will do all he can to make sure you're happy, this place will make you a believer!
Jennavive
July 2014
Gregor was an extremely friendly host. Lovely quiet apartment, wonderful city and region. Many thanks!
Benjamin
May 2015
We had a nice stay in Neustadt. There was some confusion upon arrival (we needed separate beds), but Gregor sorted this out and there was no problem. The house is clean and well-maintained, and our room was comfortable. There is a common room and small kitchen for eating breakfast. The house is located a very short walk from the railway station, and the town centre. I can recommend it without hesitation.
Jeffrey
June 2014
Es war alles Bestens. Das Appartment ist Teil eines schönen sanierten Altbaus in bester Lage und sehr sauber mit bequemen Betten. Gregor ist ein wirklich netter flexibler Gastgeber (mit vielen guten Ideen), mit dem wir uns bei einem Wein gut unterhalten haben, welchen er uns sogar spendiert hat. Ich kann voll und ganz empfehlen, Übernachtungen in Neustadt bei Gregor zu buchen.
Tobias
August 2016
Room type
Entire home/apt
---
Property Type
---
Accommodates
6
---
Bedrooms
2
Neustadt an der Weinstraße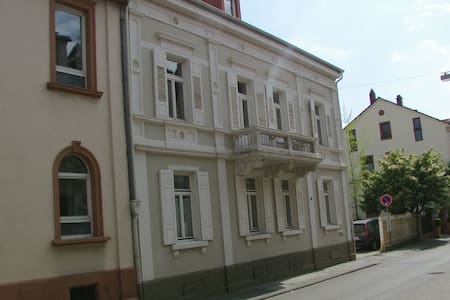 The train station of Neustadt (with IC; ICE) is less than 200 m to. Exzellent suitable for families with people working in Mannheim, Frankfurt, Karlsruhe. Pedestrian zone: 100 m. Very good for hikers, bikers, walkers and café enjoyers.
Entering the apartment you come in a hall. At the left is the 1 sleeping room with 2 small beds. At the right is the bathroom with 2 sinks. Straight ahead is the spacious kitchen (incl. dishwashing machine). Adjacent to it is the bedroom for the parents. The flat is suited for longer stays as well. There is a cosy inner court yard for smoking and chatting with other guests or the host. Wlan and Internet is complimentary. We live in Villa Nova Neustadt on the first floor.
The location of Villa Nova is very central. Central main station (150 m), restaurants (100m), markets or the marketplace are less than 500 m away. It is relaxed living. A parking place can be rented on site. Neustadt is a knot of railways and is exzellently suited for working in Mannheim, Karlsruhe, Kaiserslautern, Heidelberg and Frankfurt. The rules for airing the rooms and dehumidifying the bathroom. In Neustadt are some rules about separating the waste. They should be respected.
Gregor hat uns herzlich empfangen und uns tolle Tipps für Weinfeste und Weinproben gegeben. Wir hatten eine schöne Zeit. Danke!
Henrike
July 2015
Room type
Entire home/apt
---
Property Type
---
Accommodates
6
---
Bedrooms
2
Neustadt an der Weinstraße